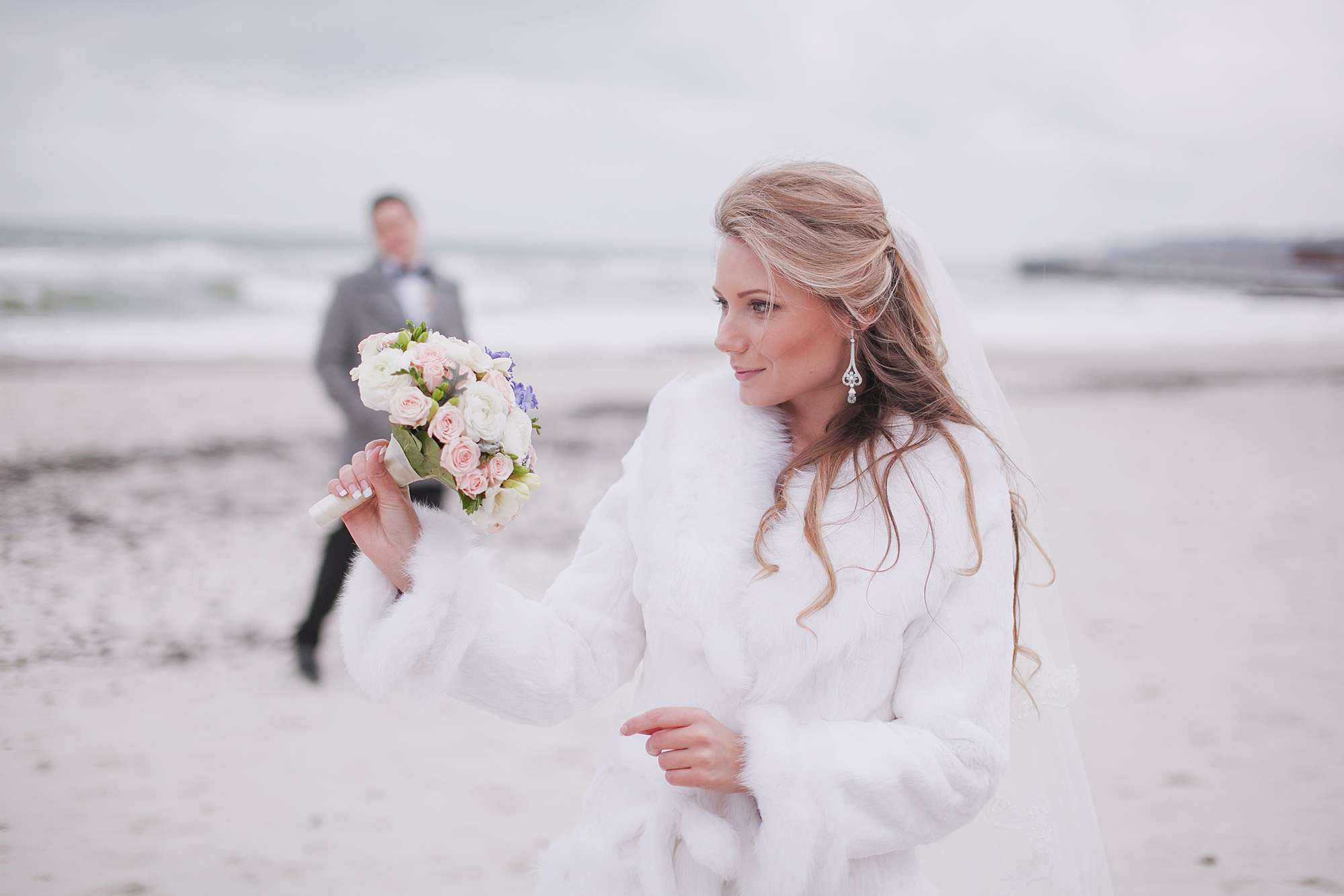 Wedding Services in Melbourne
Planning for your wedding is an exciting but overwhelming experience for most of us. From flowers and favors to choosing your wedding wedding dress and decorations. There are a lot of big things to make not to forget choosing the right place wedding service provider. Melbourne is a hive of activity and has a wide variety of conference venues and function room facility for hosting corporate and even social events like weddings. Weddings in Melbourne are extravagant, beautiful affairs with limitless locations to choose from.
You deserve to be given the utmost importance and undivided attention on your wedding day. After all, this day is all about you. At Vogue Ballroom, we know what it takes to make your Melbourne wedding event special from every aspect.
Our team is full of skilled professionals that are known masters of their craft. From culinary experts and function coordinators to well-trained wait staff, there's a team dedicated to serving all your needs. With the highest levels of sophistication and intricate detail kept in mind, you are in store for a grand wedding celebration.
Premium Melbourne Wedding Venue Services
Our professional banquet supervisor will keep you updated with the venue's arrangements, ensuring every little detail is taken care of with perfection.
To help make sure your bridal party is going to plan, a senior waiter will be designated to overlook all your engagements. Vogue Ballroom has always managed to deliver smiles to a room full of heartwarming guests. And our wedding services speak professionalism every step of the way.
Our ballroom has all the required facilities providing enough space to cater from 100 to 370 guests efficiently. Our 25 years experience has made us the best when it comes to a wedding service and function venue in Melbourne. Our international cuisine with perfect portions of food served by our dedicated team of professionals makes sure that our guests are always happy. Our exquisite venue will offer the best wedding ambiance for you and your guests. The high ceilings and the crystals chandelier ensure the right touch and sophistication. This is a one-stop shop for couples trying to tie the knot. Private secure parking is provided for all guests.
"Best day of our lives"
We had our wedding on the 31st of March 2017. The team at Vogue Ballroom truly made it the best day of our lives. For over a year we've been planning this day and I have to say… Angela and George truly over-delivered, we were absolutely blown away…. 
Suzie & Evgeni
Welcome to a World of Enchanting Dreams and State of the Art Vision
At Vogue Ballroom, it's all about creating a memorable atmosphere worth every second glance. Our wedding services in Melbourne are a vision apart from all others. We take pride in our managerial team, who have worked for hundreds of weddings taking place in Melbourne.
We want you to remember your wedding for a lifetime, that is why you should consider us as your wedding service provider. Of course, Melbourne is a goldmine of both wedding ceremony locations and reception venue locations, and that is why we are bringing an exciting service for your magical wedding day. We never spare any expense in our luxurious décor, from the lavish stone bathrooms, exquisite bridal rooms and the crystal chandelier lined ceiling overlooking the whole ballroom.
We promise to give you a Breathtaking Experience you'll Cherish for Years to come
It's this worthwhile experience that makes clients keep on coming back for more. Your wedding day should allow you to relax, celebrate and engage in an experience you'll cherish for years to come. And we want you to make the most of this special day with our exquisite range of wedding services in Melbourne.
Our sole ambition is to bring beauty, passion, and grandeur into your wedding event. We also tailor food and beverage packages that will suit all your wedding needs by giving you our undivided attention. Our expert team is all at your beck and call to make sure your special event is one that you are going to cherish forever and ever. We have proven to be an iconic wedding service provider with a highly reviewed track record. We will offer you the most comprehensive wedding service out there.  We will fit your budget needs and plan your wedding exactly the way you have envisioned it. We will make it simple for you to get the pricing availability and the answers you might need for your special day in Melbourne.
Elegant Wedding Ballroom fit for Royalty
Your wedding venue plays a huge role in the overall outlook for your event. At Vogue Ballroom, you can expect a world of luxury and finesse, nothing short of royal and regal vibes.  Located in the South East region of Melbourne, Vogue Ballroom is only a 20-minute drive from Melbourne's city center. This surreal wedding venue comprises of a large function room that can cater up to 370 sit down wedding guests in one instance or 400 gala ball event guests in one setting. The Vogue Ballroom innovates old historical charm with stunning architecture and artistic flair. Our team comprising of signature wedding planners can transform your event into a memorable moment in time.
A Modern flair Added to Classic Innocence
Vogue Ballroom strives to give clients a picturesque wedding service in Melbourne, and that means catering to every single one of your needs. From elements such as décor and cake to photographer and dress too, trust us for all of your customized requirements. Its elegance galore at the most sought-after wedding venue and services in Melbourne. With high vault ceilings and vintage themed architecture, it's the last sight of grandeur at Vogue Ballroom.
The sight of crystal chandeliers, marble foyer, and an overlooking regal gallery is enough to keep guests feeling awestruck throughout the evening. It's the ultimate definition of beauty and grace beyond bounds. The stunning foyer is a distinct vision, fit for champagne and canapés for guests to indulge upon before the event begins. With beautifully designed carpets laid and fabulous wall paneling with delicate silk drapery hung, you and your loved ones are in for a treat on your wedding day.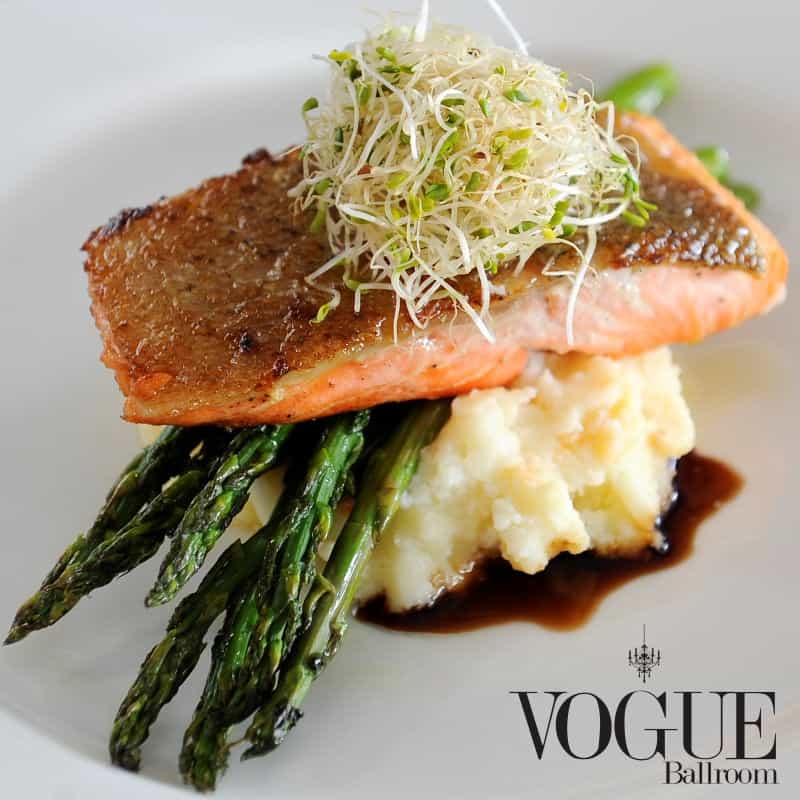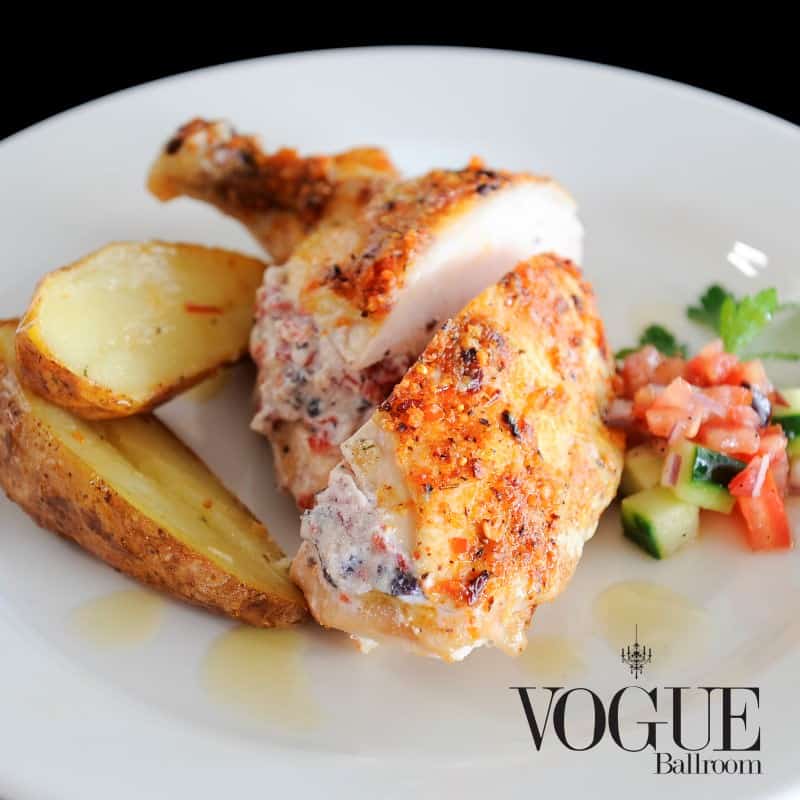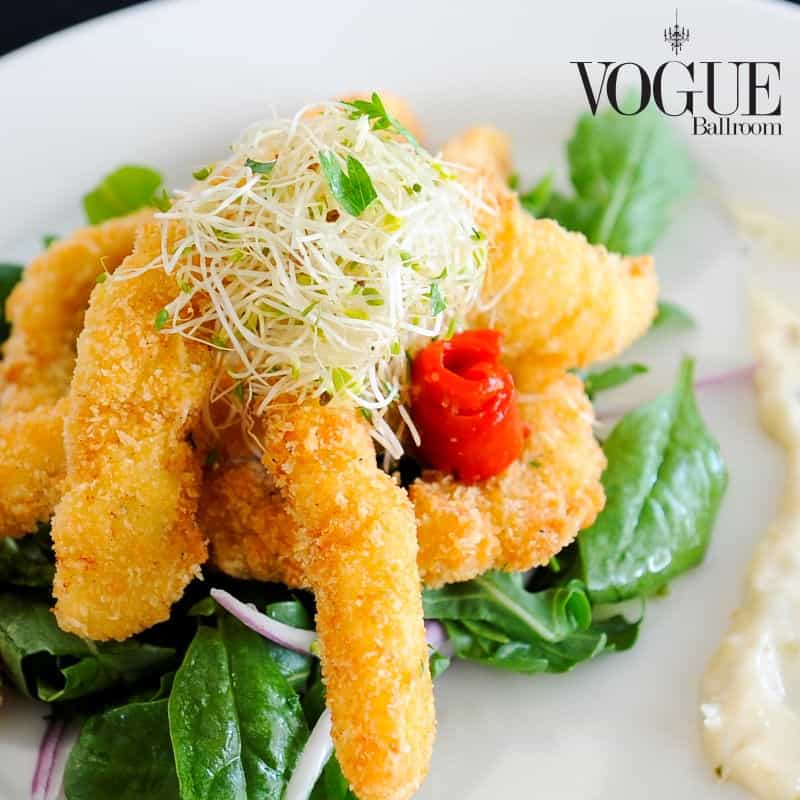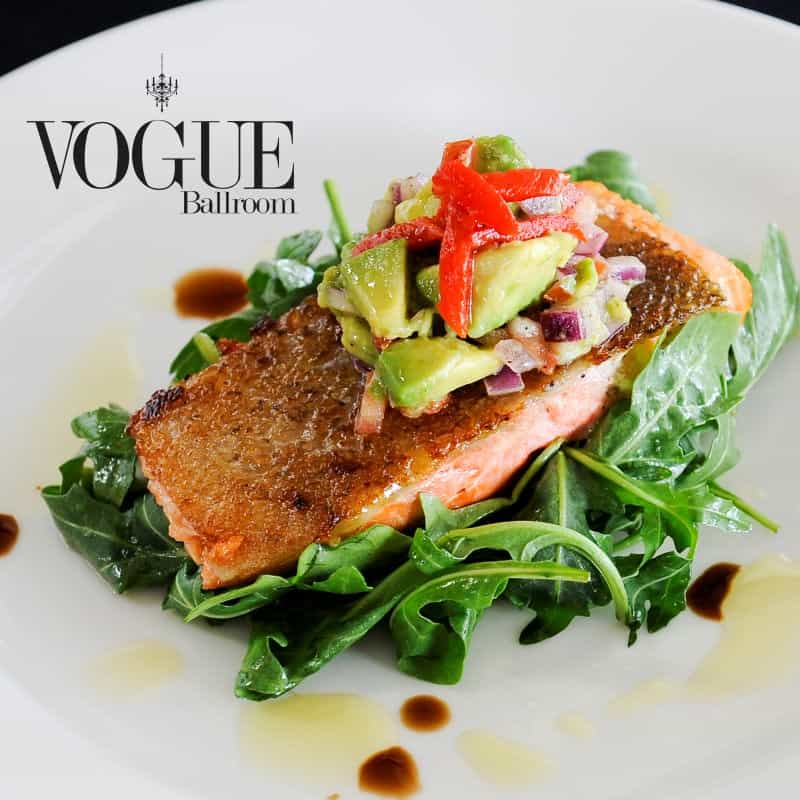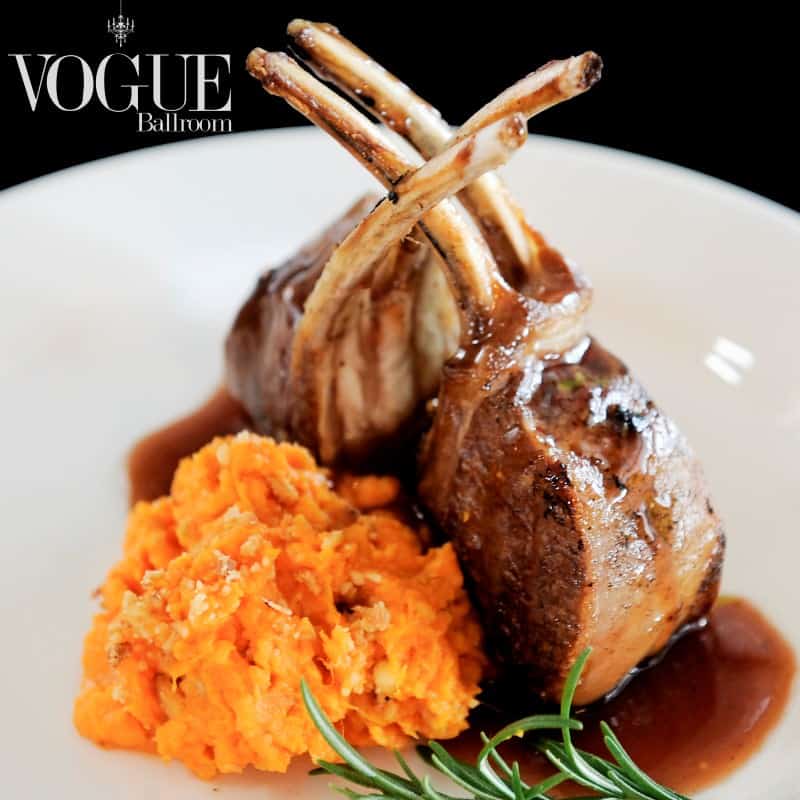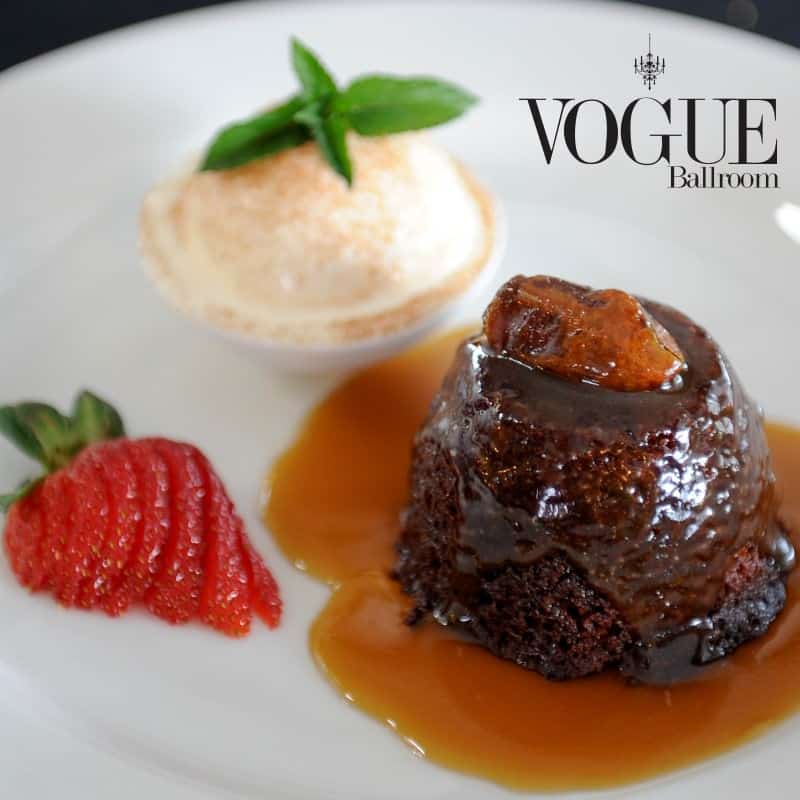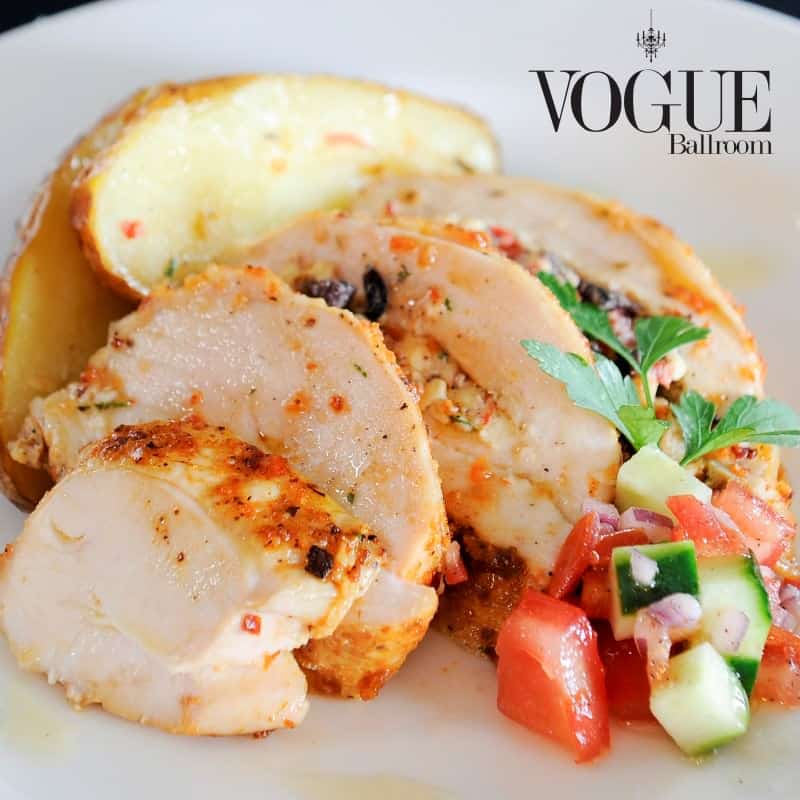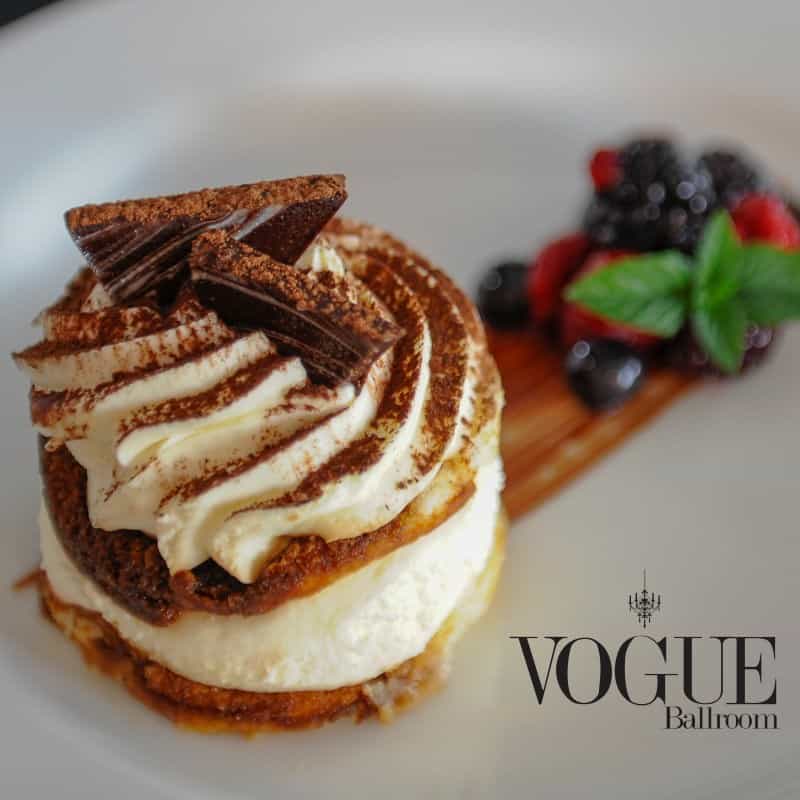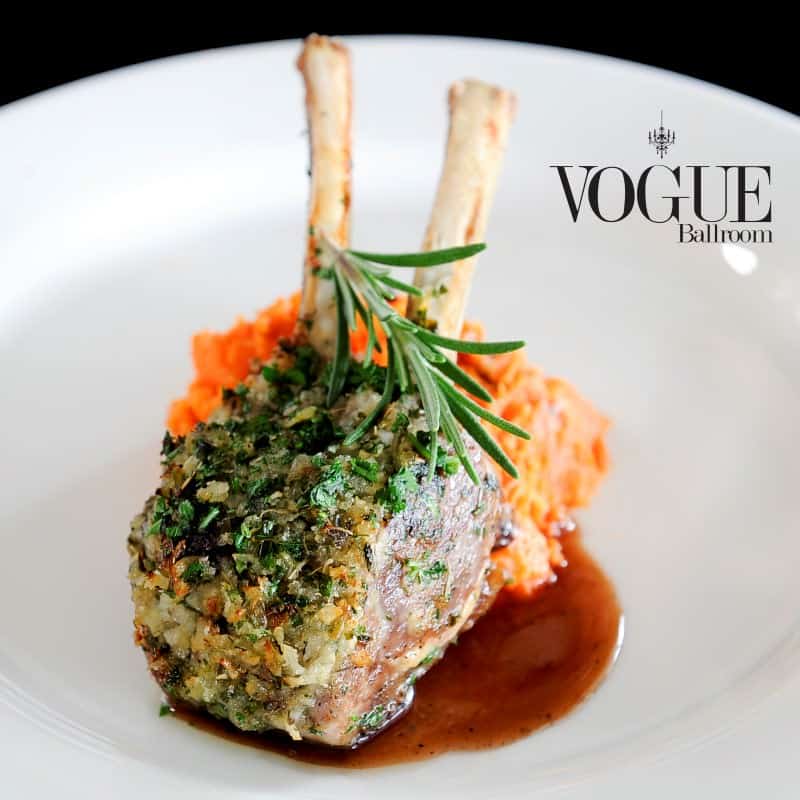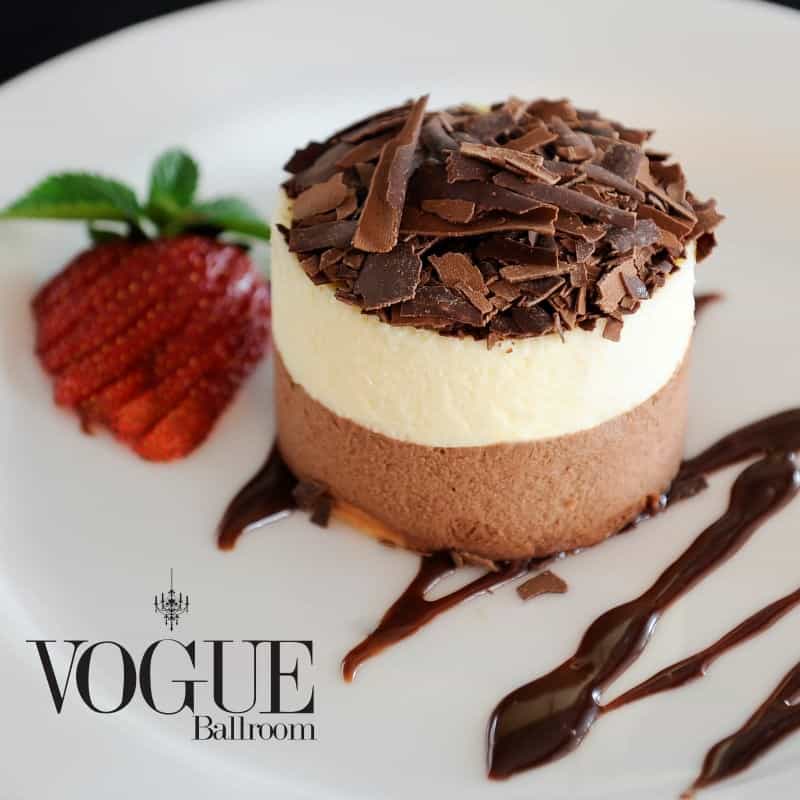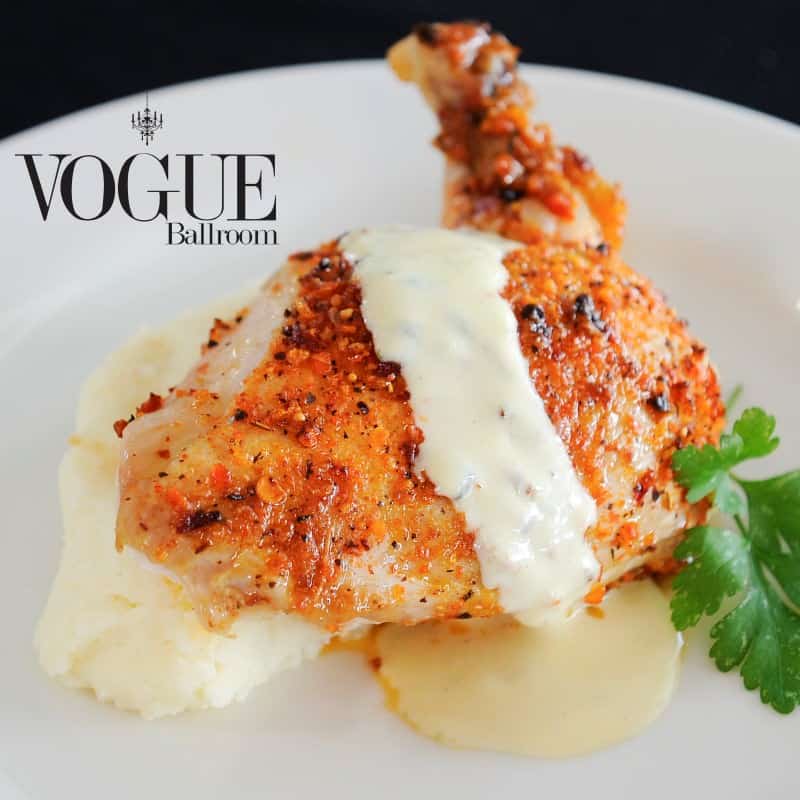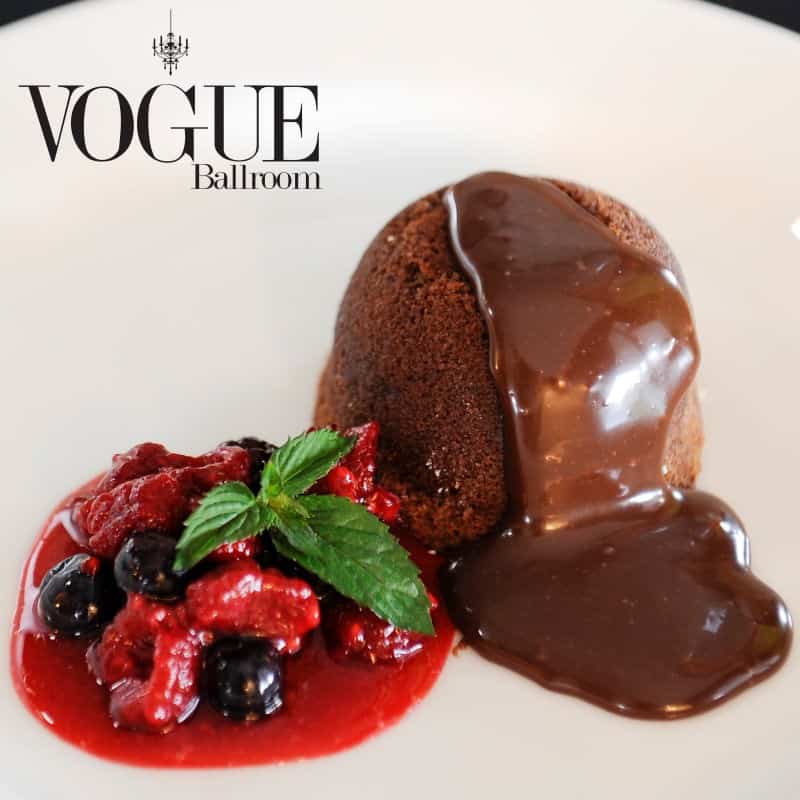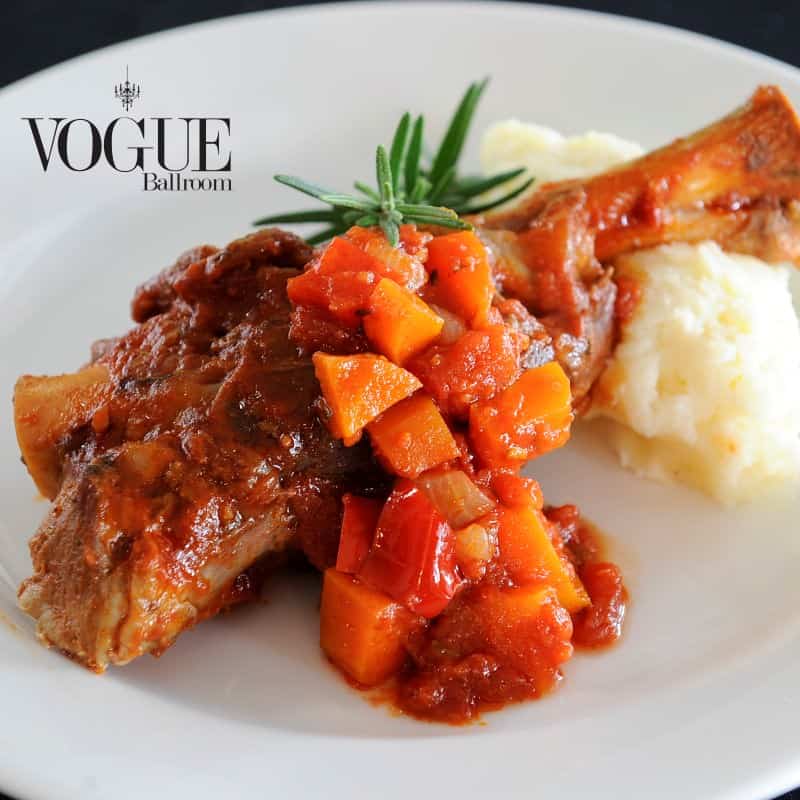 Known for Modern International 5 Star Event Cuisine
Vogue Ballroom is the perfect definition of an exquisite dining experience. We can proudly define our delectable catering as one of the best in Melbourne. Our teams of culinary experienced chefs work relentlessly trying to produce innovative and delectable dishes that depict a unique persona of their own. Each menu is inspired by rich international food culture and can be tailored to perfection according to your specific requirements.
It's a culinary adventure that utilizes the freshest produce in Melbourne to give guests fine dining second to none. Host a grand wedding celebration in the most luxurious style. Let your guests escape into a world full of shimmering lights, subtle music and absolute elegance beyond imagination. Vogue Ballroom is the perfect spot to showcase your wedding or reception comprising of a guest list ranging from 100 to 370 individuals. It's a setting unmatched in today's modern era.
A Classic Venue fit for Numerous Special Occasions
With vast experience and knowledge relating to the hospitality industry, Vogue Ballroom is a venue fit for all occasions. Our indoor venue and large-scale floor plan give Vogue Ballroom the opportunity to cater to a diverse array of functions with capacities extending from 100 to 370 sit down dinner events.
Weddings aren't the only affairs we accommodate to. Vogue Ballroom can cater to a range of occasions in Melbourne extending from lavish school formals, cocktail functions, and over the top New Years Christmas parties to sophisticated corporate dinners, presentations, and other special events. Choose us, sit back and relax as we turn your celebration into something extraordinary.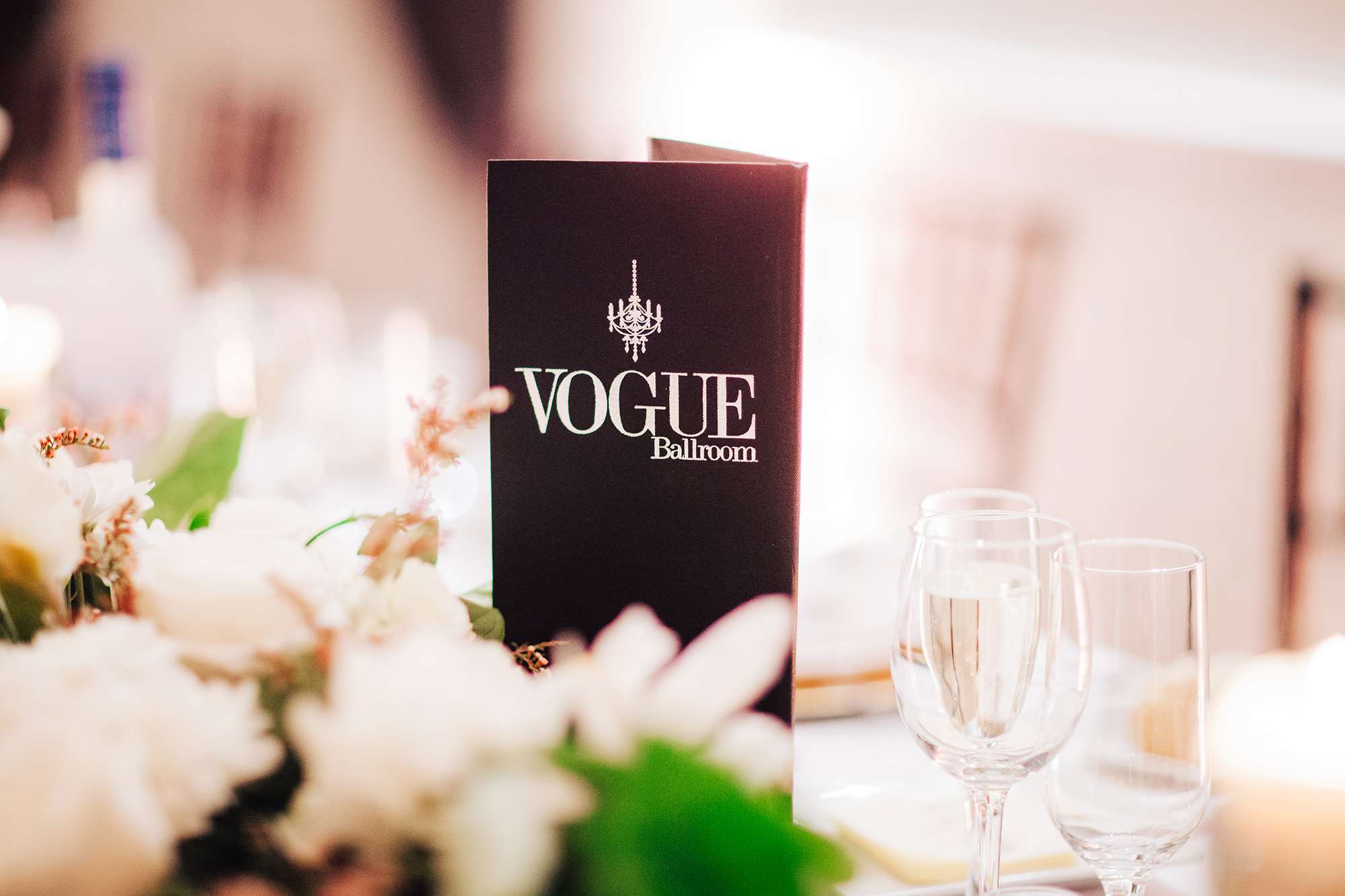 25 years of Impeccable Wedding Services and Planning
With over 25 years of expertise in the field of weddings and entertainment, skilled owner George Ross has taken the concept of Melbourne weddings and events to a whole new level.
The goal is to create something out of the ordinary. And that means a class apart from the rest to be exact. With a burning passion and an inner drive to be unique and explore the world of wedding design in Melbourne, we at Vogue Ballroom will give you an unforgettable experience to recall upon, years from today.
Resourceful Wedding Planning Services
A wedding venue with award-winning wedding planning services has been a part of Vogue Ballroom for years. And we stand proudly in all of our achievements beyond excellence. Weddings are all about giving your loved ones a deep feeling of your journey as a couple. A magical ambiance that can only be created with the right ingredients fit for a wedding. At one of Melbourne's most renowned venues, you can get an ideal setting, trained staff, diligent professionals and round the clock updates on your day to day wedding arrangements.
Budget Guidance
We create wedding plans that fit within your budget.
Planning Checklist and Timelines
We create productive and easy-to-apply wedding checklists timelines for couples that can be carried out before wedding day within three months, six months and a full year span.
Vendor Recommendations
We have a diversified database of wedding vendors to cater your needs according to your budget.
Rehearsal Dinner Planning
From the day you got engaged to the rehearsal dinners, we cover everything for you.
Shopping Guide
We provide personal shoppers to bride and groom so that they get the best value out of their wedding shopping.
High-End Wedding Design Services
Every couple is unique, so do their wedding day! A pleasant wedding affair offers personalized wedding design service to meet your individual needs. Being seasoned experts in wedding design and management, Vogue Ballroom create custom quotes built on your budget, needs, and personal style. Our full wedding design service brings your dream wedding to reality.
Cohesive Wedding Designs
Vogue Ballroom is a venue that can cater an array of wedding themes without adding many efforts. From Royal to Vintage, Seasonal Wedding themes to color inspirations, Vogue Ballroom can adorn comprehensive wedding theme of your choice.
Out of the Box Ideas
We bring unique wedding designs that stand out. Our wedding expert first listens what you'd need for your big day and after a detailed meeting, provide exclusive wedding designs.
Theme Décor
Wedding décor is our specialty. From table décor to venue décor, everything will be customized according to your selected theme.
Flower Selection
Wedding flowers are a must. We celebrate your wedding day with your personalized selection of flower décor styles.
Stationery Design
Wedding stationery is the first look of your wedding. Select from an array of wedding stationery designs and let us create your wedding's first impression in style.
Catering
Guests will not only be able to enjoy a breathtaking moment in time with a venue as grand as Vogue Ballroom, but they will also get the opportunity dine on meals prepared by a team of executive chefs.
We want to be a part of your big day and give you heartwarming results that define your personal style. If you would like to learn more about Melbourne's most distinct events venue or would like to book a consultation meeting with one of our professional team members, feel free to get in touch. We would love to hear about your journey and how we can assist you in making your celebration an event to remember.
Every aspect has been delicately prepared for your ultimate source of comfort and pleasure.
Wedding day needs full-time coordination of experts for a swift follow-up on the timeline. At vogue Ballroom, we assign a full-day wedding coordinator or team of coordinators according to your requirements.
Comprehensive Timeline Plan
Setup and Décor Management
On-site Vendor Coordination
Ceremony and Reception Direction
Personal care to the Guests and Couple
We'll make sure you stay up to date on the latest insights related to your wedding planning details because we value the unique significance this holds in all our client's lives.  Book your function at Melbourne's most beautiful wedding planning and services venue.
Weddings are a once in a lifetime moment that should be celebrated with vigor and the most elegant form of luxury. Allow us at the prestigious Vogue Ballroom to give you an opportunity you'll never forget when it comes to the best event planning and services in Melbourne. If you have any queries or concerns regarding our wedding planning and services, feel free to give us a call or leave a message instead. To help us serve you at the nearest date, don't forget to fill up our form and schedule a consultation meeting.
Our professional team of trusted event specialists is waiting to serve you. We as a whole will make sure you are guided and assisted every step of the way. If you are looking for a unique function facility for your wedding venue, do not worry anymore. We are here for you! We are located in Melbourne's South East, Burwood, and we will provide all the wedding solutions for you for your wedding venue in Melbourne.
So, are you ready to have your wedding venue in Melbourne?
Book a function with us today!
If you would like to learn more about Melbourne's best, most unique function venue, or would like to book in a consultation time with one of our trusted team of event specialists, feel free to get in touch with the team at Vogue Ballroom.
Send us a message via [email protected], via our contact page or call us on
(03) 9802 2477 and one of our friendly team of staff will be delighted to get you started.
Vogue Ballroom – Melbourne's most opulent venue, perfect for any occasion.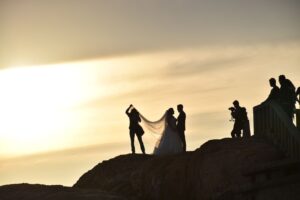 Whether or not you and your partner are music aficionados, having a fantastic band or DJ play at your wedding can transform an enjoyable event into a very remarkable one. ...
Read More

→
Our Smaller Sister Venue - Vines of the Yarra Valley
Breathtaking Backdrops, Exclusive Location, Romantic Experiences
Vines of the Yarra Valley is a stunning property located at the gateway of the Yarra Ranges just 45 minutes from the Melbourne CBD. Surrounded by acres of vineyard in every direction, lush lawns and magnificent rose gardens we provide everything you need in one location including free ceremony time. We offer a ceremony location on site with 360 panoramic views of the valley and mountain ranges.