Ultimate List of Wedding Fireworks Supplier in Melbourne for those who are planning to have fireworks display during their wedding ceremony.
How do you announce your newly married status to the heavens? Wedding Fireworks are the sure-fire way to do it in style. Enjoy this visual spectacular to end all spectaculars. We can create your own shooting stars with our pyrotechnical display of pure magic in the night sky above you and your guests. Ignite the enthusiasms of friends and family, as they witness some boom crash opera lighting up the cosmos. This is the ultimate homage to a special event. Make your wedding day something truly memorable with a beautiful and awe-inspiring firework display. Our professional pyrotechnics are sensational and safe for your guests and all those around. Contact us now for a quote on something sensational, produced, especially, to celebrate your wedding day.
Located in Melbourne, Victoria, planning a wedding and looking for wedding fireworks supplier? When you are planning your big day, you probably want everything just perfect. One of the best ways to make sure that it all turns out the way you dreamed is to select every vendor yourself personally. This way, you can choose the ultimate location, the best entertainment and the most delicious food, and craft your ideal wedding day.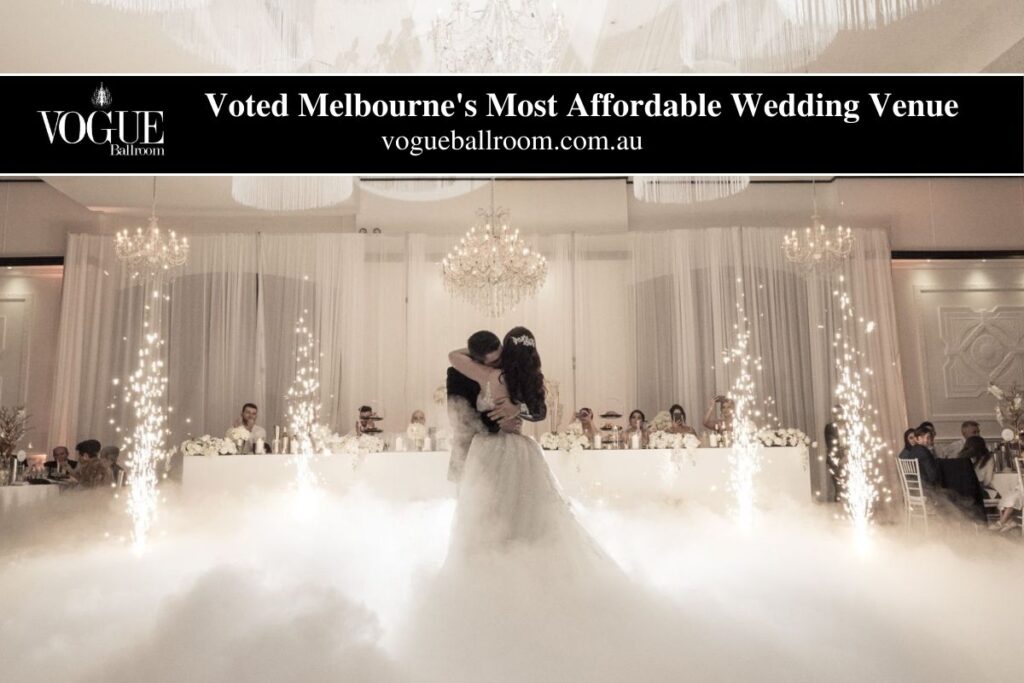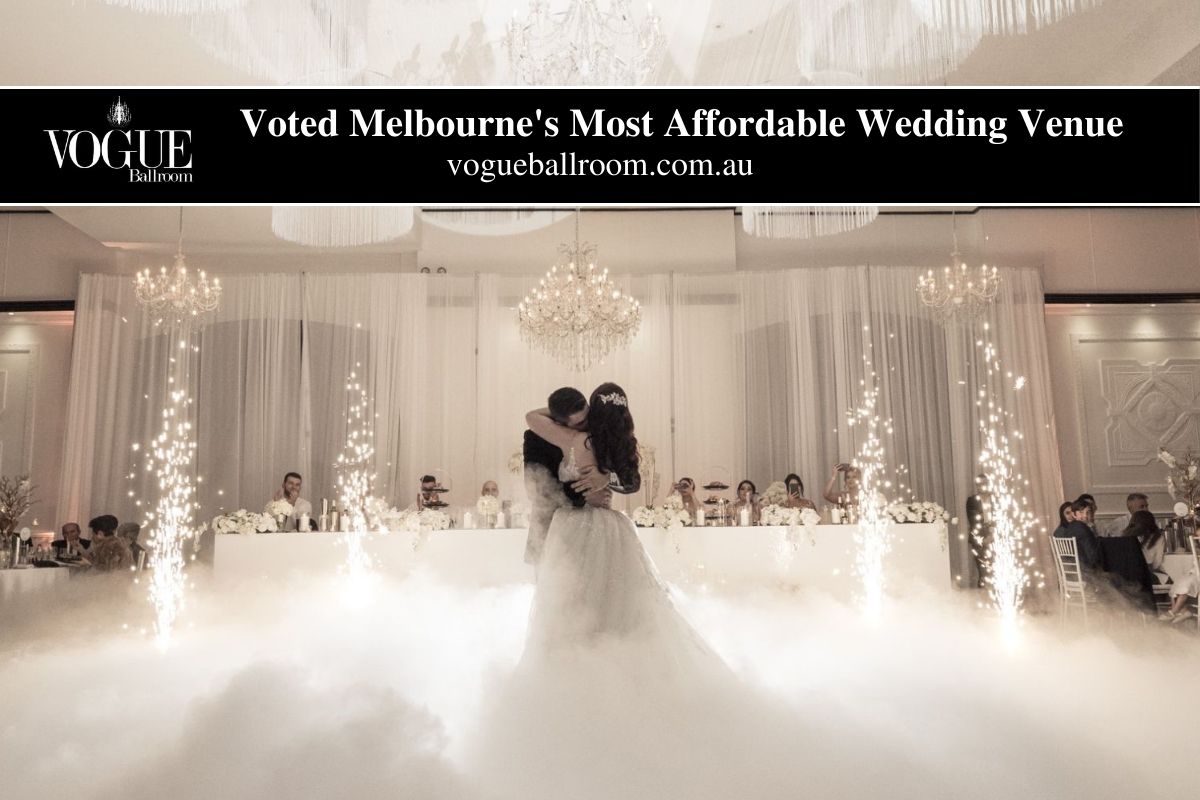 The ultimate list of wedding Fireworks suppliers in Melbourne & Victoria
Frequently Asked Questions About Wedding Fireworks
PYROTEK EFFECTS - WEDDING DRY ICE, FIREWORKS SUPPLIER MELBOURNE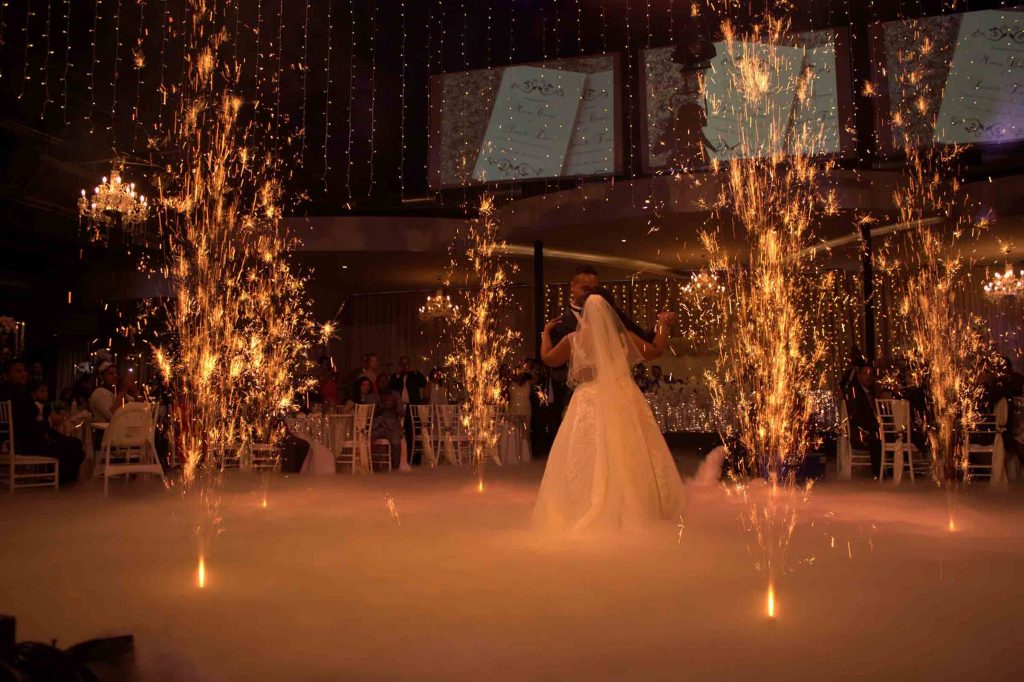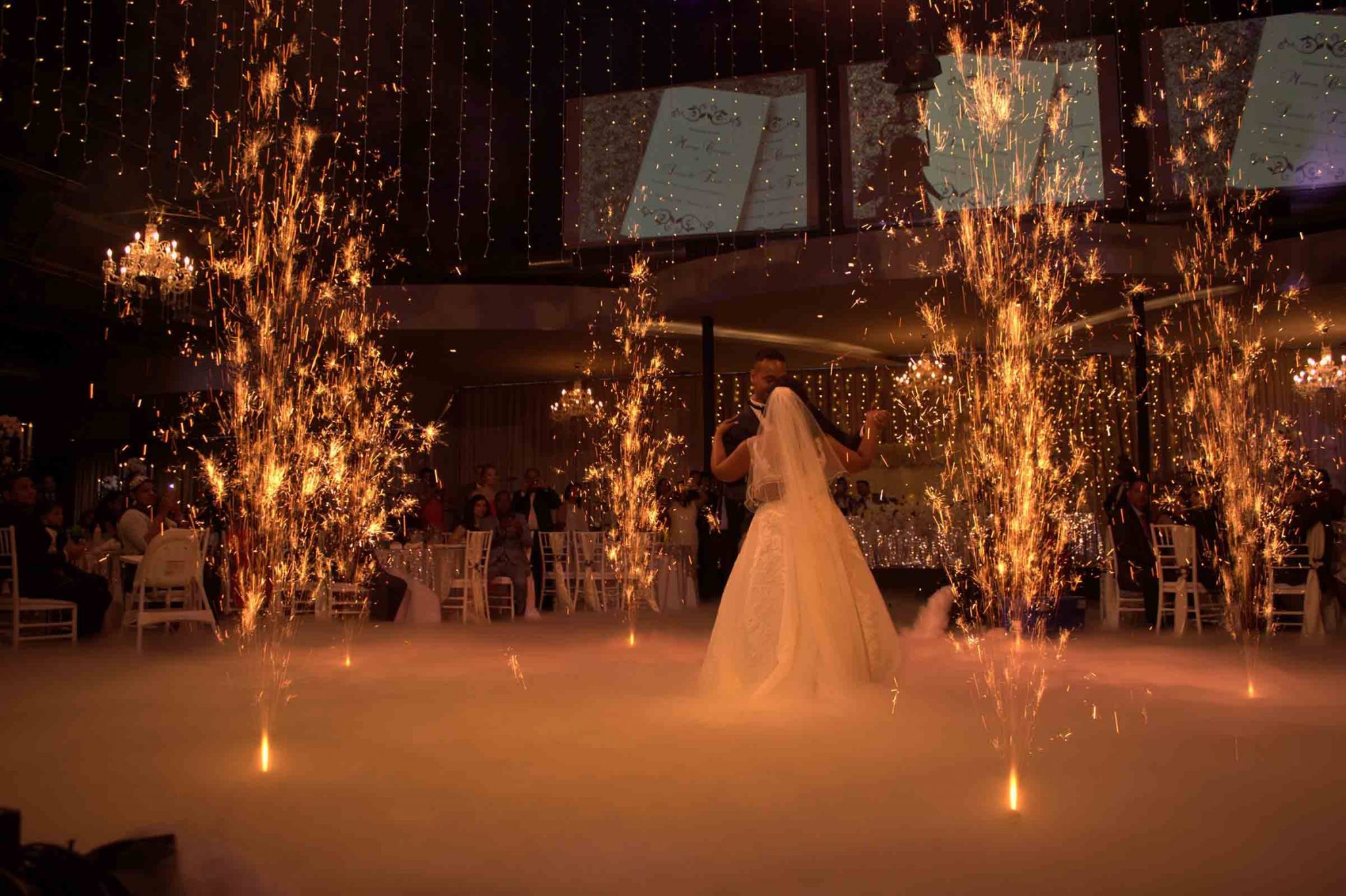 http://www.pyrotekfx.com.au/
Daniil - 0424-270-723
[email protected]
If you're after a highly skilled service for your event or want to have your worksite safe and complaint, please call or email us to get a quote and more information.
INDUSTRY STANDARD EQUIPMENT!
All our equipment is the highest quality and considered industry standard to ensure the best show for you.
SAFETY MATTERS!
At Pyrotek FX, your safety is the most important thing to us, we will make sure any effects we provide are as safe as possible.
UNIQUE EFFECTS!
We love a challenge and love making new effects that will your guests say WOW and envy your show.
Fusion Fireworks Melbourne

Wedding Fireworks Supplier Melbourne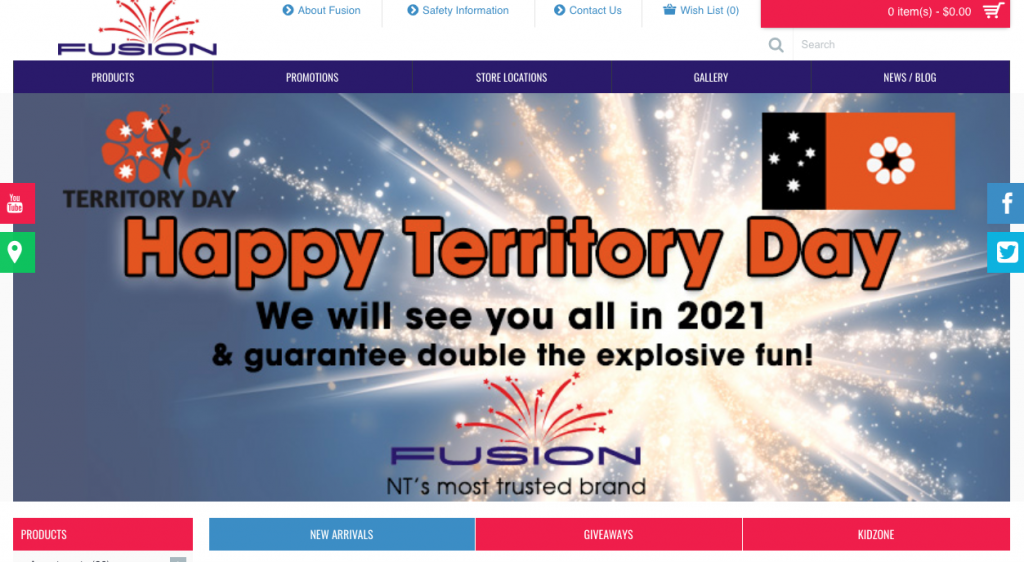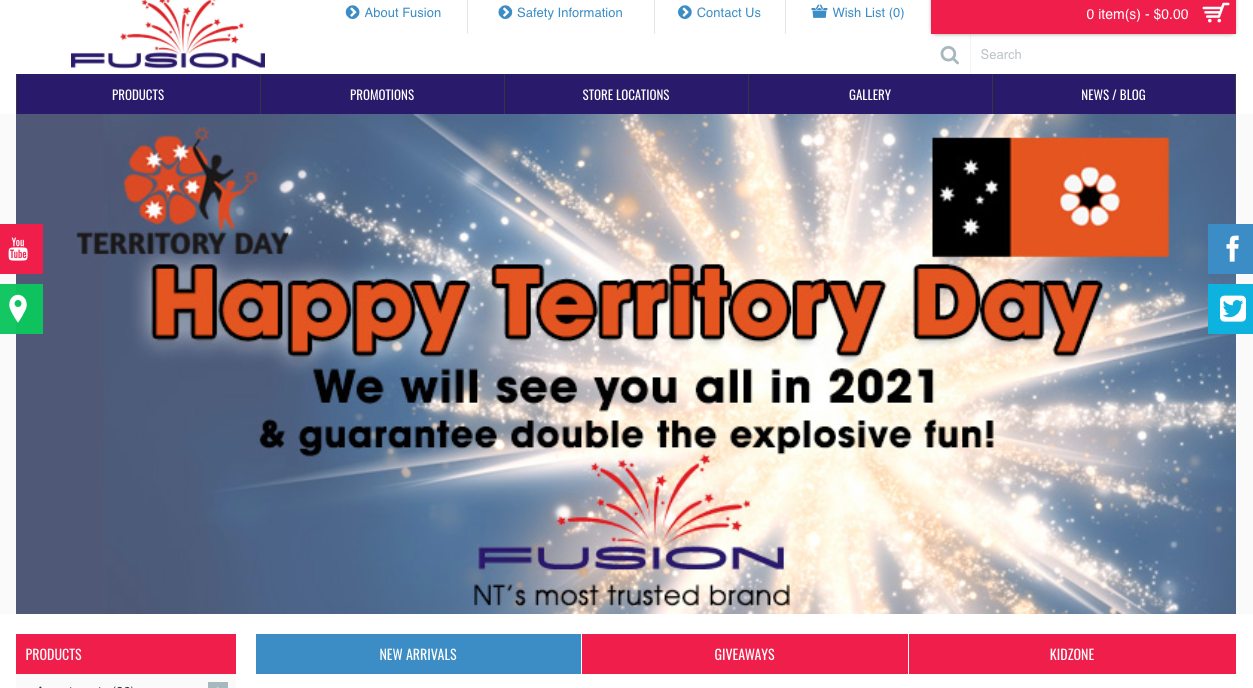 1414086386
Fusion Fireworks: Australia's largest consumer fireworks importer.
Specialising in the development, import, wholesale and retail of consumer fireworks.
For Territory Day celebrations in Northern Territory, Fusion Fireworks is your local pyrotechnic expert.
We have a young, vibrant and dedicated team that works closely with our expert technicians,along with Northern Territory accredited testers, to provide market-leading products year after year. Our superior and accredited products ensure Territorians have access to unrivalled fireworks for their July 1 celebrations.
Fusion fireworks are manufactured to strict quality control standards in factories that exclusively supply our Australian business, which has helped build the success of our business in the past 10 years since inception. 
Fusion Fireworks products are available throughout retail outlets Territory-wide, from Darwin to Katherine, Alice Springs and remote communities.
Fusion Fireworks is the only consumer pyrotechnics operator that sponsors various sporting codes, clubs and charities. We are major sponsors of Darwin Rugby League club "Brothers Rugby League", Northern Territory AFL club "Wanderers AFL Club" and Northern Territory Cricket club "Pint Cricket Club". We are also a passionate supporter and Partner to SIDS and Kids NT.
While our former focus was to grow to become Australia's largest consumer fireworks importer, we are now at a stage whereby we want to give back. Therefore, the current company culture is about thanking the Territorians for their support by offering our Northern Territory customers the best fireworks for Territory Day.
The Fusion promise is simple:
Only import high-performance products

Guarantee maximum product reliability, quality and safety

Offer unlimited customer service and support

Support the Territory as they have done for us
Next time you purchase a Fusion product, you'll be buying a safe, high-performance product, backed by superior customer service, along with an importer that supports the Territory and is grateful to the local customers.
Blasco Pyrotechnics

Wedding Fireworks Supplier Melbourne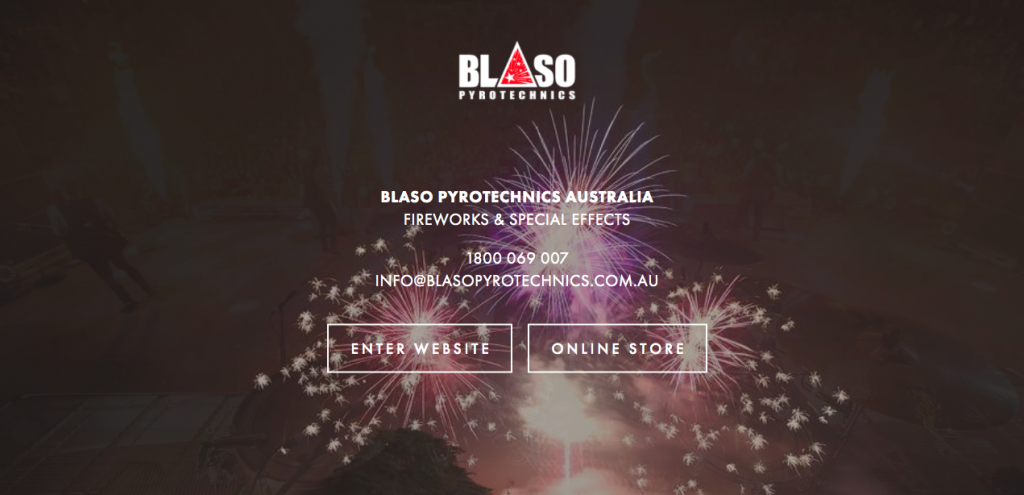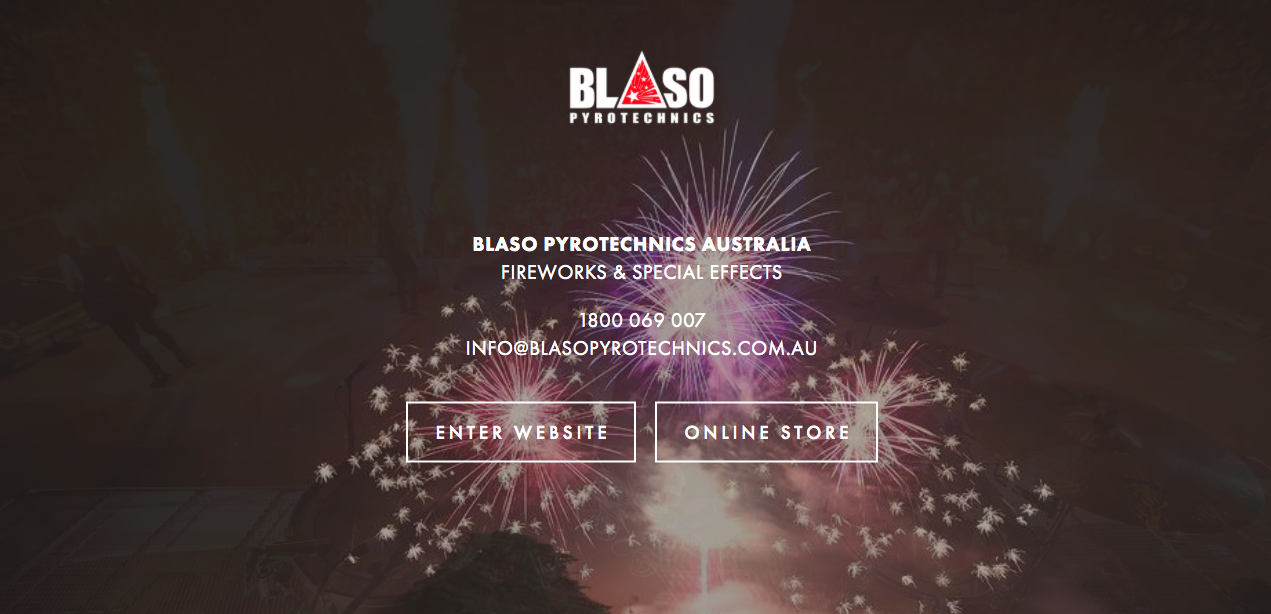 1800069007
WELCOME TO BLASO PYROTECHNICS
FIREWORKS & SPECIAL EFFECTS AUSTRALIA
Professional and dedicated Fireworks, Pyrotechnics and Special Effects for the music, entertainment. and events industry. We work all across Australia providing all types of indoor and outdoor effects specialising in stadium and close proximity pyrotechnics and special effects. We have a huge range of diverse and spectacular Flames, CO2, Confetti and Streamer Effects proudly setting a new standard and precedent of 'WOW' Factor for events in Australia.
WE WILL TAKE YOUR SHOW TO THE NEXT LEVEL!
Blaso Pyrotechnics are masters of special effects! We love what we do and reflects through our work! Whatever your imagination can come up with, we have the expertise and creativity to make it work for your event.
Whether you need confetti for a corporate event, indoor pyrotechnics or flame effects for a music videos, are organising a festival, concert, stadium or arena tour, are looking to buy or hire Confetti or Co2 jets for your nightclub or club night, or need a custom effect built for a theatre production, we would love to hear from you.
LET US MAKE YOUR AUDIENCE SCREAM!
Blaso Pyrotechnics are masters of special effects! We love what we do and reflects through our work! Whatever your imagination can come up with, we have the expertise and creativity to make it work for your event.Whether you need confetti for a corporate event, indoor pyrotechnics or flame effects for a music video, are organising a festival, concert, stadium or arena tour, are looking to buy or hire Confetti or Co2 jets for your nightclub or club night, or need a custom effect built for a theatre production, we would love to hear from you.
We have detailed just a few of our areas of expertise on this website but we do far more than we can list, so if feel there is an effect you need that is not featured on this website or if you are after something in particular, please give us a call or email us. Whatever your imagination can come up with, we have the technical expertise, dedication and creativity to make it work for you and if you need something really out of the ordinary and don't know where to source it, we'll do our best to source it for you.
Northern Fireworks Melbourne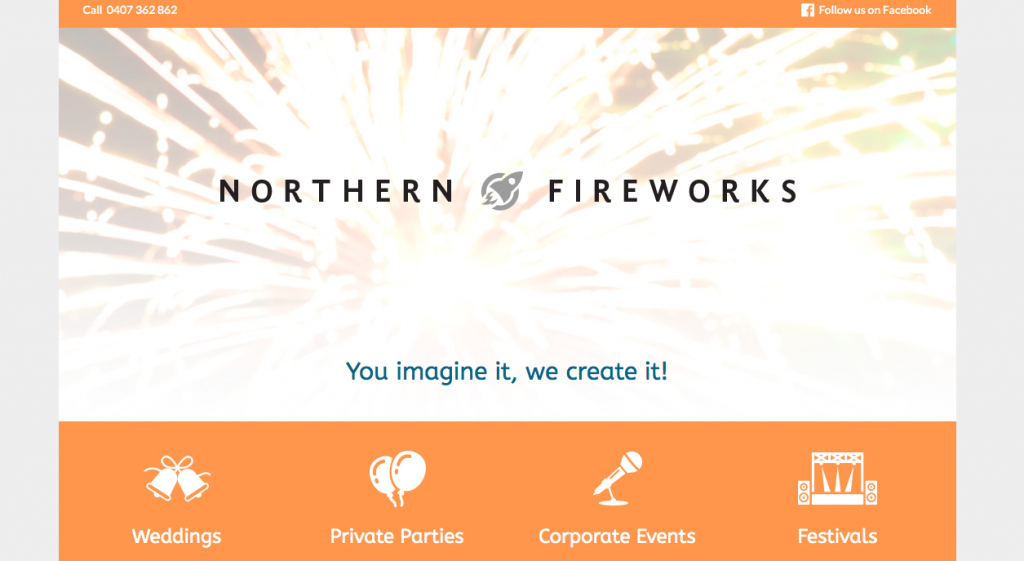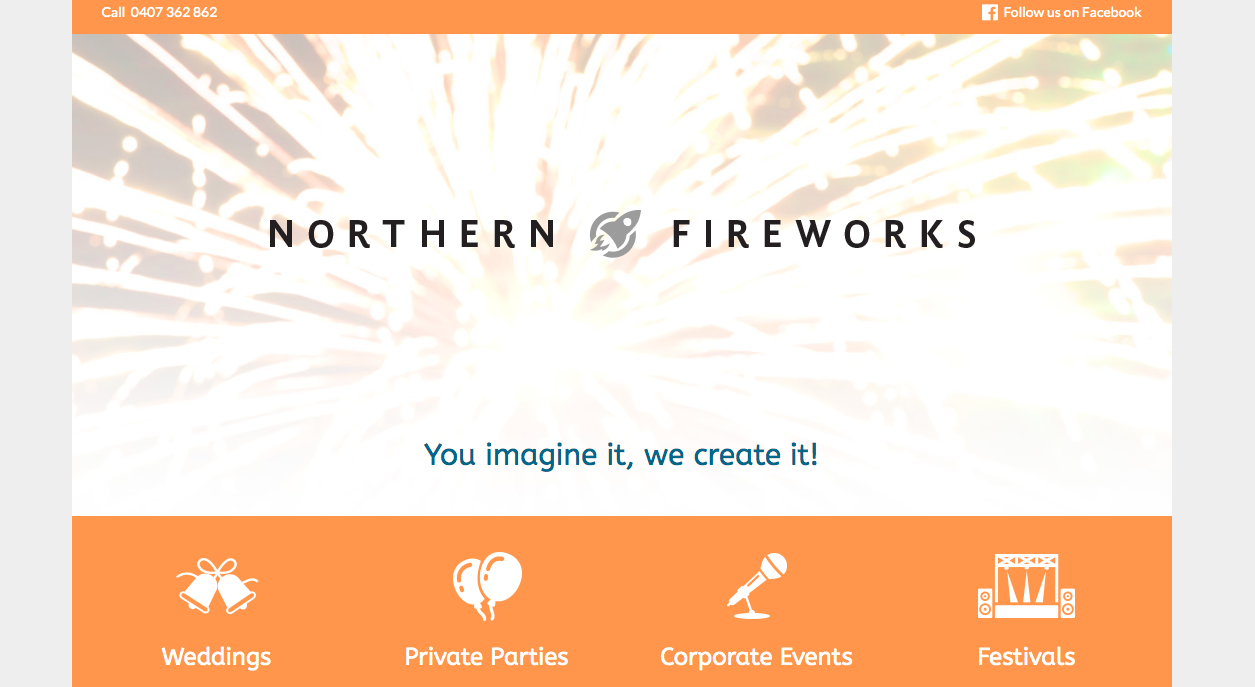 0407362862
Our pyrotechnics
At Northern Fireworks, we source only the very best products for every display.
It's this high standard of selecting every single pyrotechnic effect that makes our displays a cut above the rest.
Talk to us today to find out what type of show we can put on for you.
Our experience
Lead pyrotechnician and director Matthew Batty has over 12 years in the industry. His experience includes small events, indoor and outdoor wedding fireworks, television, corporate functions, community events and festivals, right up to large touring music festivals.
Your peace of mind
With Northern Fireworks there's no need to worry. Our works are covered under a 20 million dollar public liability insurance policy and we comply with all relevant regulations. We can also organise all permits for local council, emergency services and CASA.
Weddings
Add an extra special touch by incorporating fireworks on the dancefloor, or as an end of night display for your exit.
Our close proximity effects are low smoke and can be used indoors. We can also provide a large outdoor fireworks display.
Private Parties
Having a party, 21st Birthday or other event?
We can make it extra special and exciting by including a fireworks display, close proximity effects or something as simple as our bright white ground fountains.
Corporate Events
Make an impact!
There are many ways you can add the wow factor incorporating pyrotechnics. A fireworks display or close proximity effects at an announcement will do the job. Effects can also be added to existing entertainment or performers.
Festivals
Draw in larger crowds and create a buzz with an end of night fireworks display.
This can be a real drawcard for your event and we can put together a package to suit any community event or festival budget. Fireworks attract more people which creates more revenue.
Acme Fireworks

Wedding Fireworks Supplier Melbourne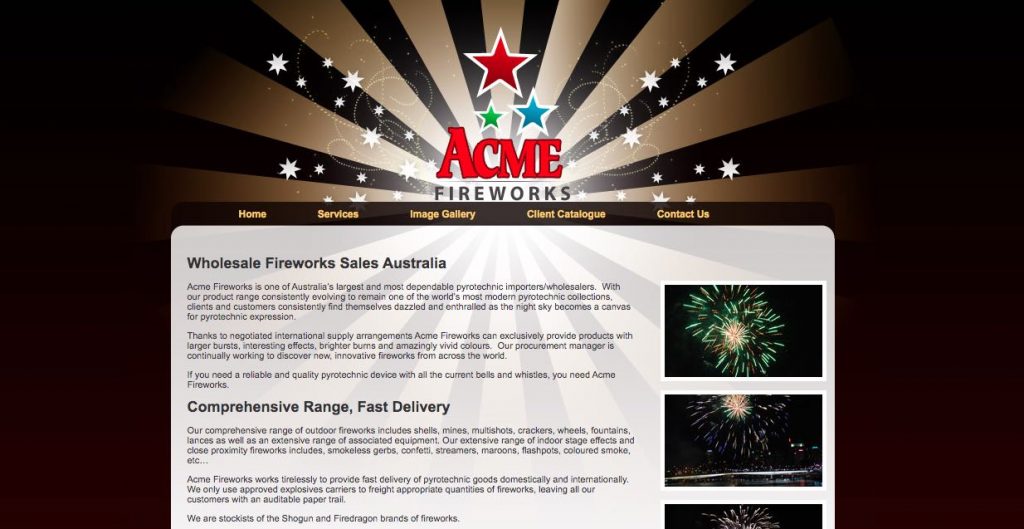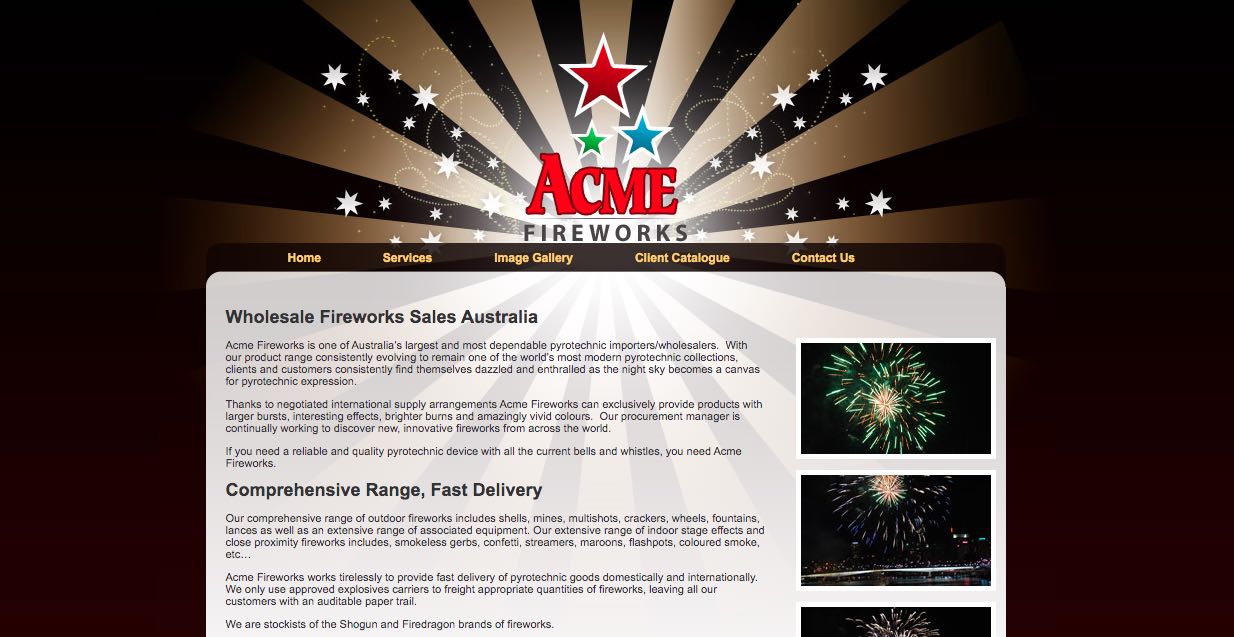 0733488089
Wholesale Fireworks Sales Australia
Acme Fireworks is one of Australia's largest and most dependable pyrotechnic importers/wholesalers.  With our product range consistently evolving to remain one of the world's most modern pyrotechnic collections, clients and customers consistently find themselves dazzled and enthralled as the night sky becomes a canvas for pyrotechnic expression.
Thanks to negotiated international supply arrangements Acme Fireworks can exclusively provide products with larger bursts, interesting effects, brighter burns and amazingly vivid colours.  Our procurement manager is continually working to discover new, innovative fireworks from across the world.
If you need a reliable and quality pyrotechnic device with all the current bells and whistles, you need Acme Fireworks.
Comprehensive Range, Fast Delivery
Our comprehensive range of outdoor fireworks includes shells, mines, multishots, crackers, wheels, fountains, lances as well as an extensive range of associated equipment. Our extensive range of indoor stage effects and close proximity fireworks includes, smokeless gerbs, confetti, streamers, maroons, flashpots, coloured smoke, etc…
Acme Fireworks works tirelessly to provide fast delivery of pyrotechnic goods domestically and internationally. We only use approved explosives carriers to freight appropriate quantities of fireworks, leaving all our customers with an auditable paper trail.
We are stockists of the Shogun and Firedragon brands of fireworks.
We can refer you to the best fireworks display
company near you
 If you're looking to buy fireworks for one of the following events, we can refer you to many of the best fireworks companies in the business.  We only supply fireworks to licensed pyrotechnic companies, but we are happy to give advice and refer you to the best pyrotechnics company in your area.
We can help you find a pyrotechnician for the following events:
| | | |
| --- | --- | --- |
| Agricultural Shows | Corporate Events | Product Launches |
| Anniversaries | Easter | School Fetes |
| Australia Day | Festivals | School Productions |
| Birthday Parties | Funeral | Sporting Events |
| Chinese New Year | Motor Racing | Theatre/Film |
| Concerts | New Years Eve | Weddings |
Please call us on 07 3348 8089 today for a free and fast referral.
If you are a licensed pyro, check out our products, inspect our gallery then give us a call or send us an email today for a great deal and swift service.
 School events and small displays
Don't for a second think because we are a national supplier that we are unable to cater for small events and school fetes. We are happy to help with any event, give us a call and we will talk you through it.
Our Fireworks Services
 We do not provide pyrotechnical services to the public, we are wholesalers to the professionals who produce the displays.
But that means we know the best people for your job and can give you an unbiased recommendation.
Contact us today, let us know what you're looking for, and we'll give you the details of the companies best placed to serve you.
Cardile Fireworks-

Wedding Fireworks Supplier Melbourne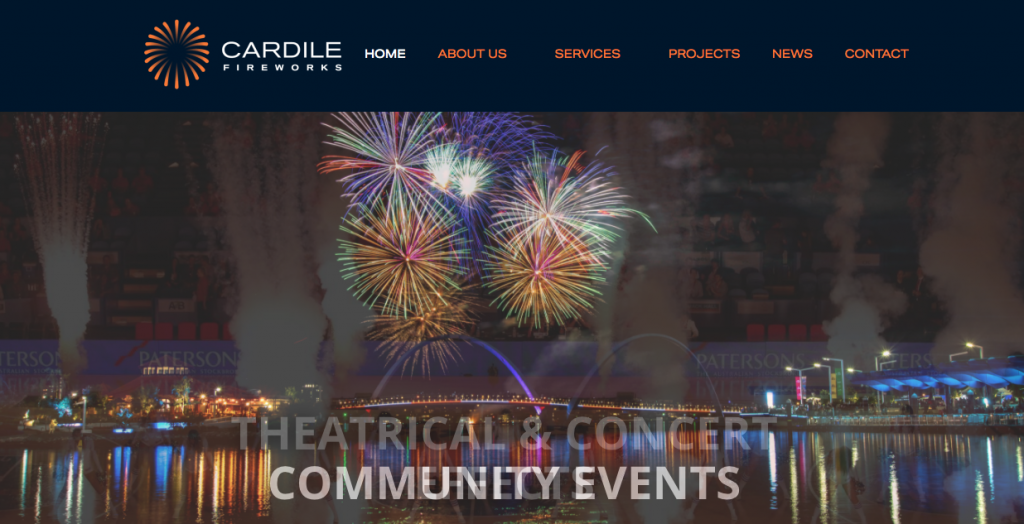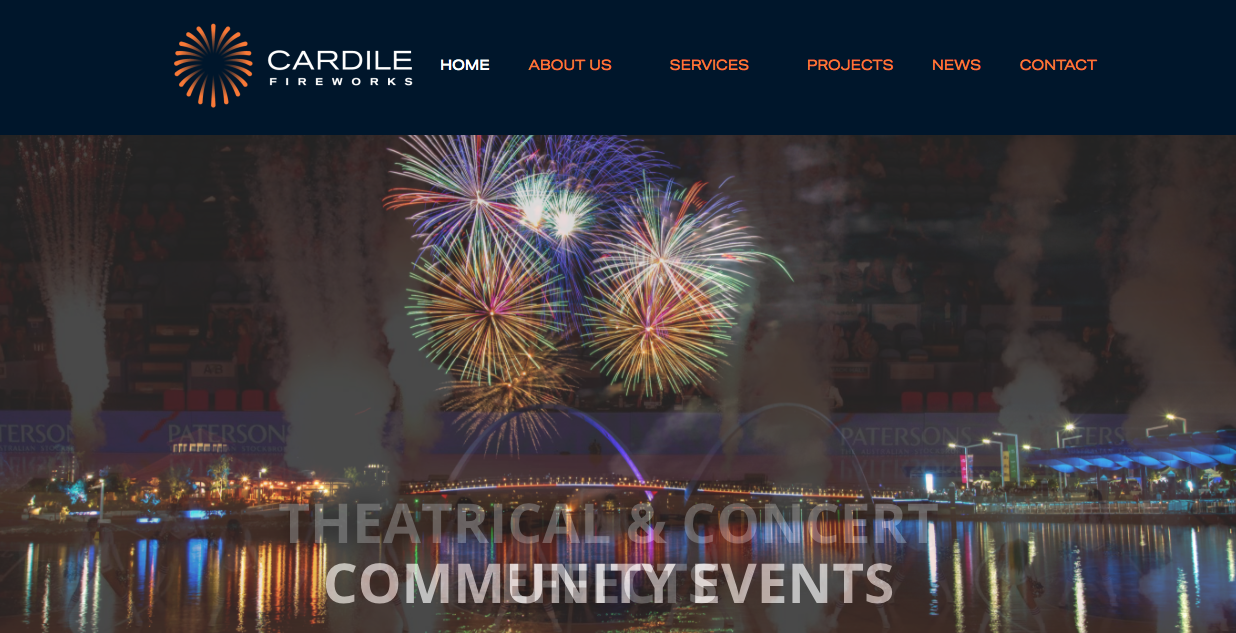 1418848188
CARDILE FIREWORKS  
Cardile Fireworks are Western Australia's premier Fireworks, Pyrotechnics and SpecialFX company.
Combining five generations of experience and involvement in some of Western Australia's biggest and most spectacular fireworks displays, our pyrotechnics team have been entertaining the people of Perth, Western Australia for over 100 years.
Acknowledged as the State's pacesetter in pyrotechnics achievement over the past eighty years, Cardile Fireworks are WA's leading licensed fireworks company.
Managing Director Rob Cardile's Grandfather, Gaetano Cardile, emigrated from Italy to Western Australia in 1909, and brought with him a vast knowledge of pyrotechnical skills and artistry. It was knowledge he'd gained from his father, Carmelo Cardile, who founded the original Cardile Fireworks in 1890.
The Cardile name was well entrenched in southern Europe when Gaetano decided to seek opportunity and recognition in far distant Australia. Arriving in Perth, he quickly opened a modest fireworks factory in Osborne Park, and so began what was to become Western Australia's most successful pyrotechnics company.
It wasn't always smooth sailing for the fledgling firm. Shortly after arriving in Australia, Gaetano, like so many others at the time, found himself caught in the grip of the Great Depression. Despite the terrible hardships of that time, Gaetano never lost sight of his dream. Cardile Fireworks survived, and with a lot of hard work and dedication to the task, it prospered.
Like his father and grandfather before him, Rob Cardile had from a very early age that same fascination with fireworks. By the time he was thirteen, Rob already was heavily involved in mixing chemicals and powders for the company's fireworks, learning all that he could from his father, Jim Cardile.
Rob and his father Jim work endlessly all year round, striving to keep Cardile Fireworks the leader in its field. Today, Rob's son Jimmy is also deeply involved, and he too learned the unique skills from his Father and Grandfather in the family's traditional way.
So the four-generation Cardile dynasty – with its great wealth of experience and skills – will remain for a long time yet as the leader in its field.
Special thanks and mention goes to Alan Meehan, Phil Dartnell and SundaySunset.Images, who supply Cardile Fireworks with their photography.
Skylighter Fireworks -

Wedding Fireworks Supplier Melbourne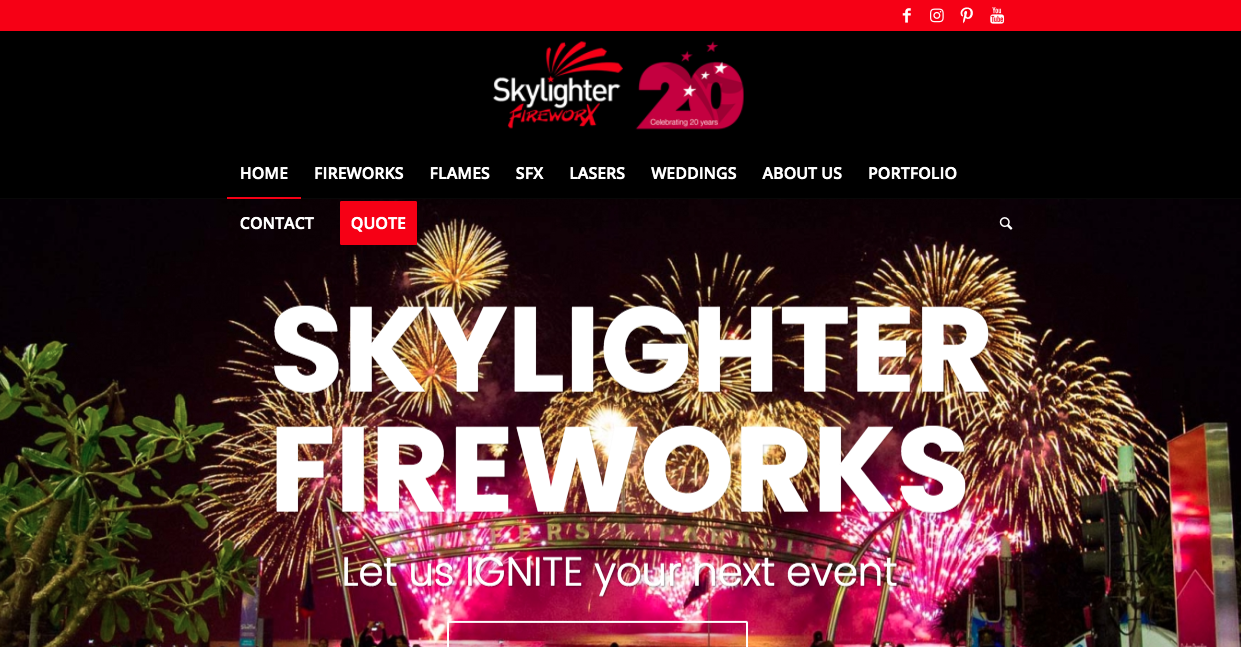 55470510 
LET US CREATE THAT WOW IMPACT
FOR THE AUDIENCE AT YOUR NEXT EVENT.
Skylighter Fireworks is a family owned and operated company and has fast become one of Australia's largest Fireworks display companies. Skylighter produces innovative fireworks displays, exciting sports activations and magical wedding pyrotechnics. Skylighter Fireworks is a fully integrated pyrotechnics business, incorporating product design, manufacture and importation to presenting spectacular displays for a wide range of events. From city wide national events, grand sporting stages or an intimate wedding display, we have the creative flair to ignite your event, the passion to excite your audience and the experience to produce a jaw dropping moment. In short… We do WOW
YOUR WEDDING TO REMEMBER
It's the most important day of your life, so it's imperative that it's a day to remember, and just like finding the perfect venue, photographer and flower arrangements, it's important to also find the perfect wedding fireworks supplier. At Skylighter, we understand how important your day is, it's that magical fairy-tale that you have dreamed about all your life, so it's our priority to make it spectacular for you.
Imagine red hearts bursting in the sky during the cutting of the cake, or the couple's initials illuminated inside a red heart graphic as part of a custom designed display. We can design a display to match your colour theme and seamlessly script the fireworks to your favourite music tracks.
Our fog machines can create a magical cloud of mist that will cover the dance floor during your first dance, highlighted with silver fountains shimmering in each corner. You can be the envy of your guests as you depart the venue in your limousine through a tunnel of silver fountains lining each side of the driveway.
Let Skylighter add the perfect final touch to a day you and your guests will never forget. We offer several specific wedding packages tailored to suit a wide variety of venues, themes and budgets.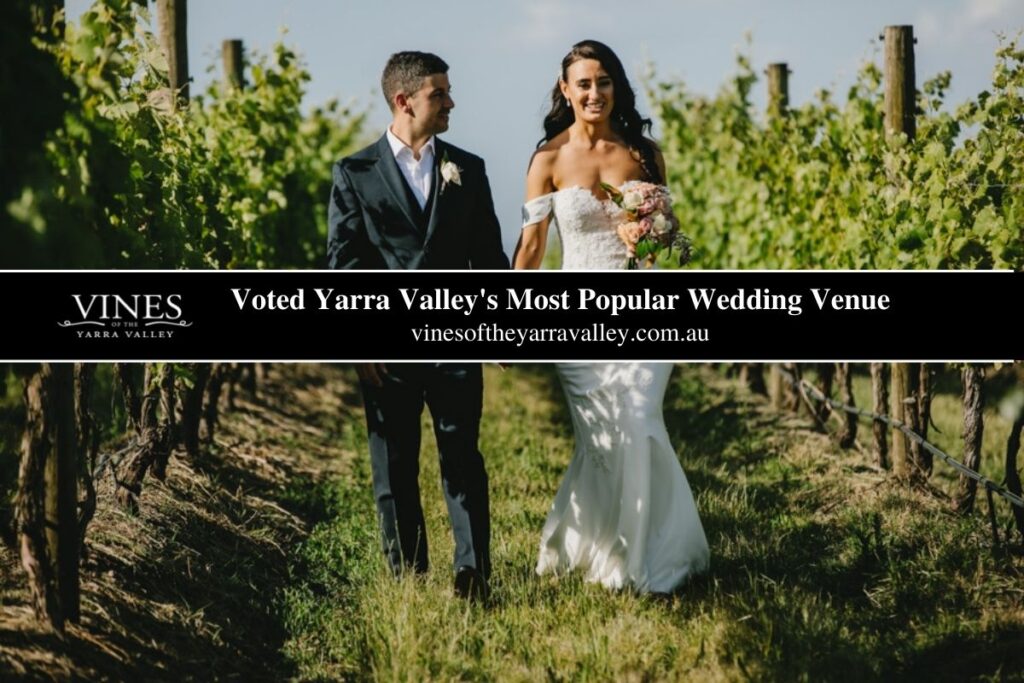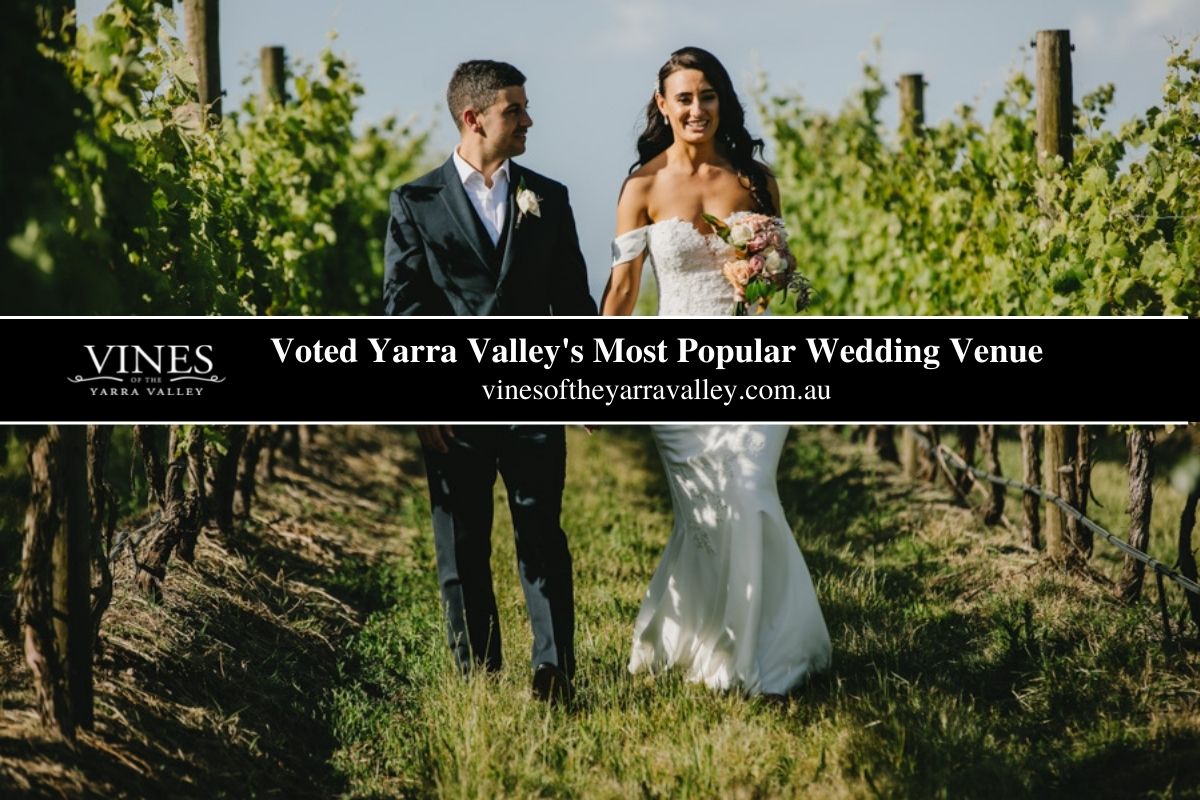 Xplosive Art Fireworks Melbourne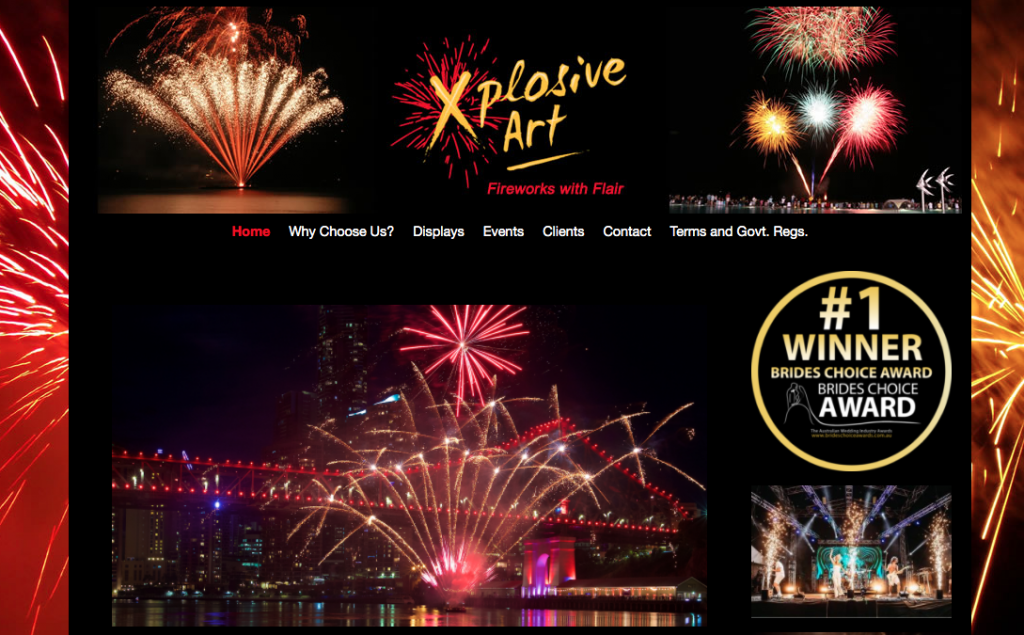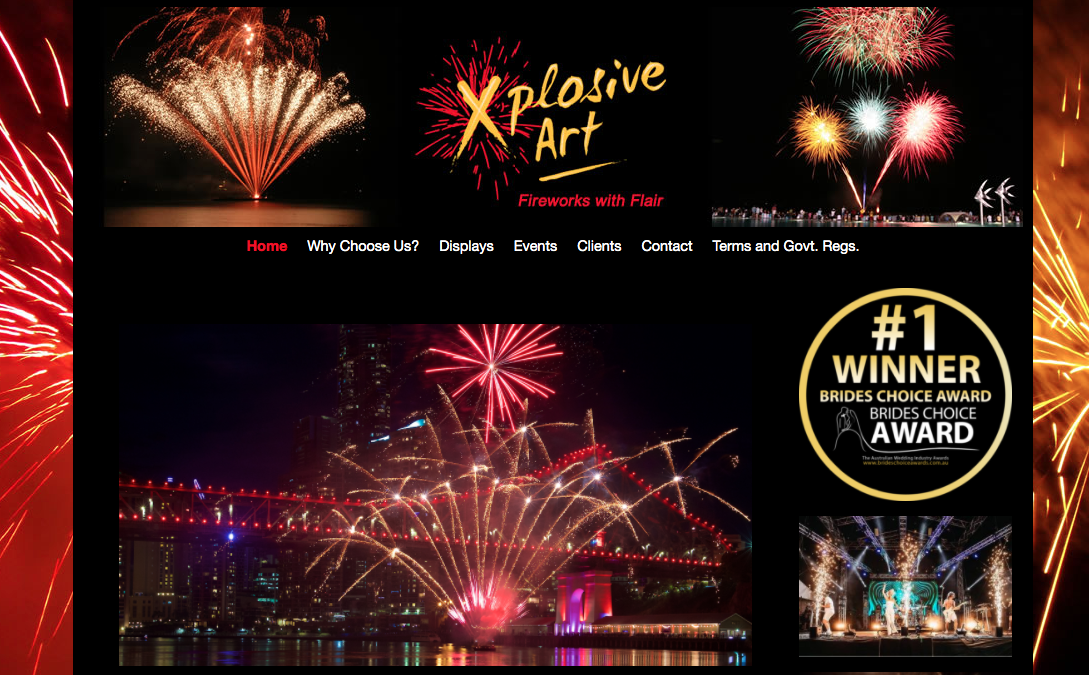 418847258
Why Choose Us?
Xplosive Art is a leader in the pyrotechnics industry and we are very passionate about enhancing our clients events. As our name suggests we are Artists in our own right and the night sky is our canvas. Our fireworks display can add that sparkle, to your special event or product launch, and make it a night to remember.
Innovative
Our thirst for knowledge has resulted in a search to discover new products and techniques including trips to Europe and the US e.g. Winter Blast Fireworks Convention in the United States and the International Fireworks Symposium in Europe. Xplosive Art will continue to be at the forefront of this exciting and exhilarating form of entertainment.
Quality of Product
Our products are sourced from the best factories in the world. All products are subjected to a strict  testing regime and superior quality control.We are continually investing in the development of new fireworks product and computer firing systems.
Creative Choreography
Our computer firing systems and software are world class, this enables us to take a clients brief and provide fully choreographed pyromusicals. Emotionally evocative music tantalises the senses and colour selection creates the mood. Colour without realising it can have a profound effect on how we feel both mentally and physically.For example red is the warmest and most energetic colour in the spectrum. Red can raise the blood pressure and make the heart beat faster. We use this knowledge to build the display into creative 'scenes' enhanced by multi firing techniques.
Exceptional Bangs for your Buck!!!
Our reputation has been built on providing creative and value for money shows. We source our products direct in large quantities which enables us to pass on the savings to our clients. Effective use of management systems ensures labour efficiency reducing overall costs.
Safety Management Systems
We pride ourselves on having an impeccable safety record.
We operate under the strict operational procedures set out in our Safety Management System (SMS version 5) and applicable government regulations. Our Safety Management System is regularly audited  and updated.
Experienced and Passionate Team
Our pyrotechnicians are highly trained with a real passion for their industry. They collectively have over 50 years experience, New product, safety and creative elements of our industry acquired at both interstate and overseas conferences are shared with all of our staff in regular training sessions. They are also required under our Safety Management Systems to continually undergo refresher training. In addition, as members of several fireworks associations we receive invaluable training and informative newsletters
Party Hut Wedding Sparkler -

Wedding Fireworks Supplier Melbourne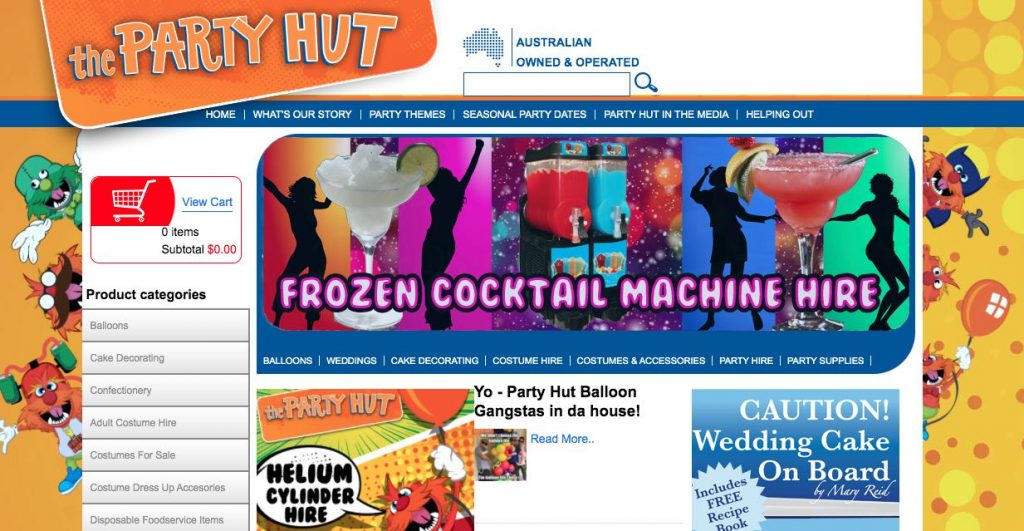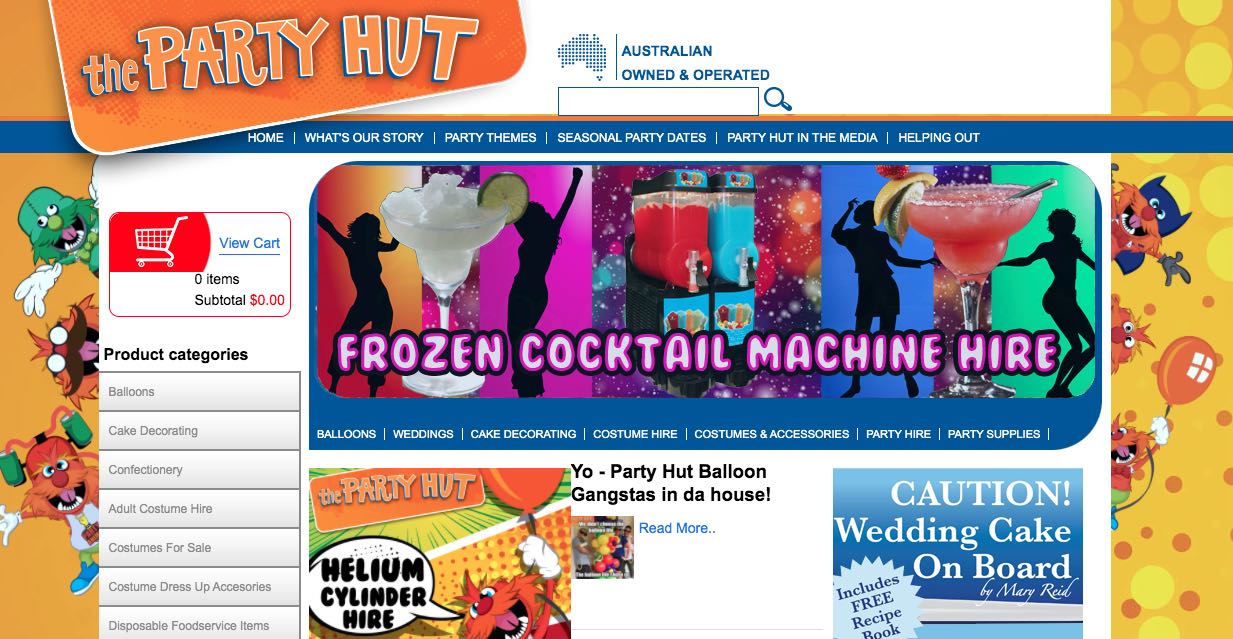 0746379966
Just a few things about our business. We are a privately owned party supply business operating from our premises in Toowoomba, Queensland, Australia. We are very proud of our retail store proudly stocking and showing many exciting and interesting products. We also deliver beautiful balloons bouquets for people who have wonderful taste and appreciate good service. And just when we thought we had enough to do we also go on site and decorate our customers venues. We are more than happy to ship orders locally, interstate and internationally. Unfortunately we do not ship our hire items internationaly.