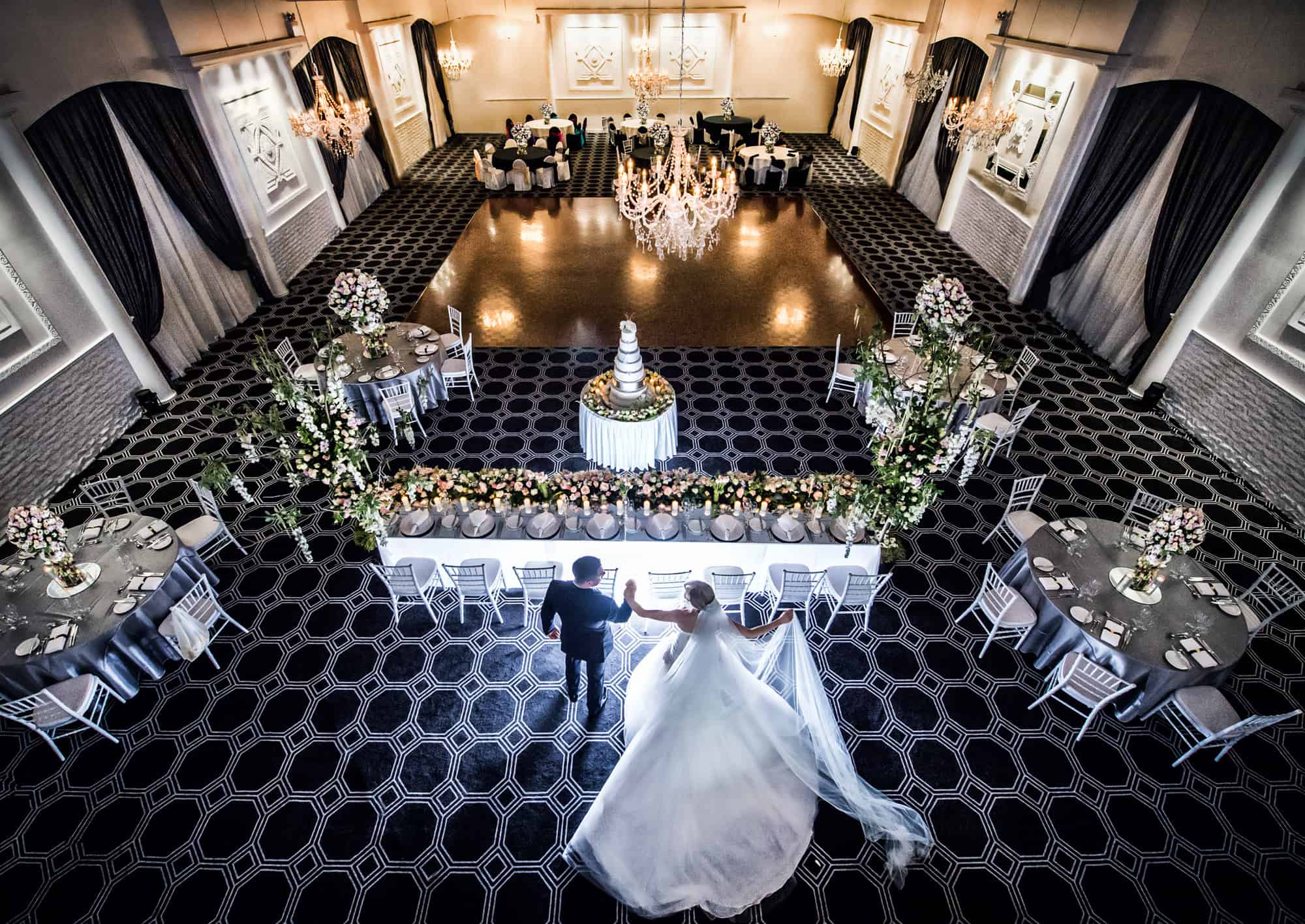 A Modern Day Classic Wedding Venue in Melbourne
Vogue Ballroom's six meter high French provincial crystal chandelier lined ceilings, custom designed carpets, iconic wall paneling, crushed silk drapery to its gracious marble foyer, lavish stone bathrooms and the mezzanine balcony overlooking the whole ballroom, along with luxurious décor, an exquisite bridal lounge gives Vogue Ballroom its own unique level of opulence, that flows through the pillar less ballroom making it the perfect venue to host your celebration.
Our gracious foyer is perfect for your pre event drinks and canapés, your guests will wait in style and comfort for your grand arrival to the venue. We also cater for onsite ceremonies should you want for your entire wedding to be held at the iconic Vogue Ballroom.
Vogue Ballroom is the perfect venue for hire for almost any occasion. With a stunning design and team of expert event planners, you will be left absolutely thrilled with the experience you have at Vogue.
Looking for something intimate or unique for your magical event? An elegant wedding experience?
It is all about creating the right ambience for your wedding day. At Vogue Ballroom our ballroom is exclusively yours for your event. That's right, beautifully presented and decorated free standing building with its own car park facilities.
Our team of expert Wedding specialists, event planners and chefs will work closely with you to create a wedding experience that is truly magnificent, ultimately unforgettable and lives up to your expectations and dreams in every way.
We will assist you every step of the way to ensure that you have the perfect ingredients for your wedding day.
Perfect for any elegant event
Whether you need a venue for an opulent 21st birthday, or for the reception on your special day, or you're throwing a special party for staff at your company, Vogue Ballroom provides the perfect venue for any special occasion. With a team of highly-experienced creatives ready to help you plan out the perfect event, you and your guests will be left astounded with the lengths we go to. From our catering service to our decorations, and even the music, you will not be disappointed with your experience at Vogue Ballroom.
The elegance displayed in the Vogue Ballroom is nothing short of breath-taking. The tall ceilings are adorned with crystal chandelier, the marble foyer is a sight of grandeur, and the balcony overlooking the whole ballroom makes the perfect spot to showcase a newly married couple. This building was designed to showcase the grace and sophistication that most brides seek for their big day.
We love special occasions, this is why we're in the business of providing them, we left no stone unturned to ensure that the event is exactly what you required with your ballroom hire at Vogue, it's our pleasure to make it a wondrous, memorable occasion.
"Our sole ambition is to inject beauty, passion and grandeur into your wedding as we create memories that you will cherish forever."