Real estate experts always say location matters. When it comes to a wedding reception, we agree, as your choice of venue is what can turn an enjoyable celebration into a memorable extravaganza. To help make your choice, here are the top 20 wedding reception venue in Melbourne  and surrounds.
Melbourne  – the capital city of Victoria and the largest city in all of Australia – provides what seems like an endless supply of wedding venue options.
If you've decided to get married in this expansive and dynamic city, you may have a hard time choosing from the long list of top-notch wedding locations.
Located in Melbourne, Victoria and currently on the hunt for your dream wedding venue? Look no further! To take the stress out of choosing, here's the top 20 Melbourne wedding reception venues ranked by their customer ratings.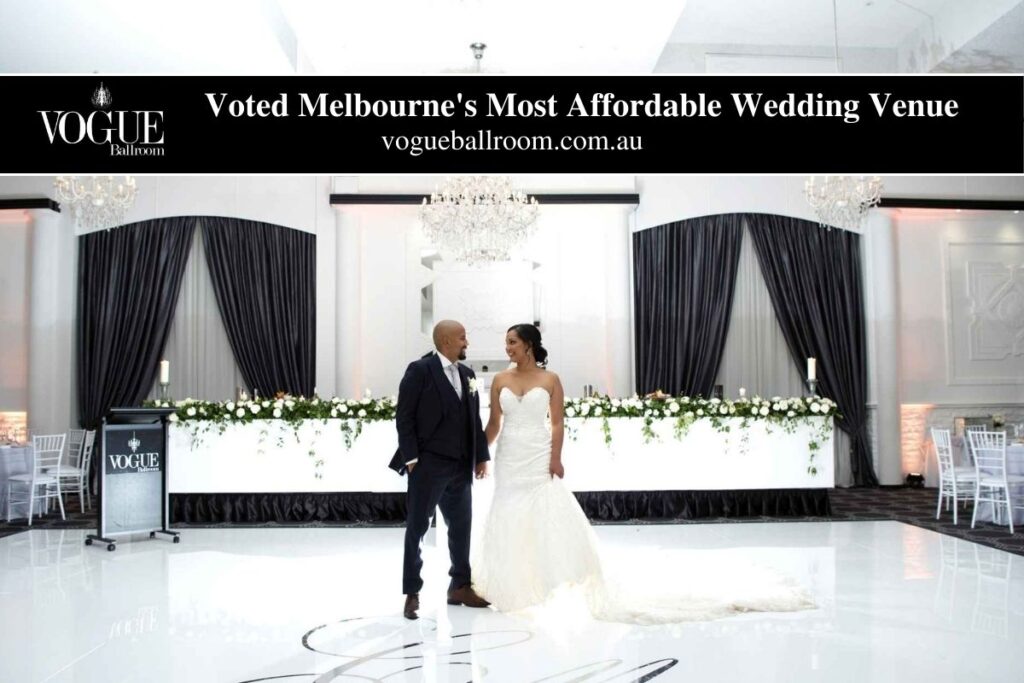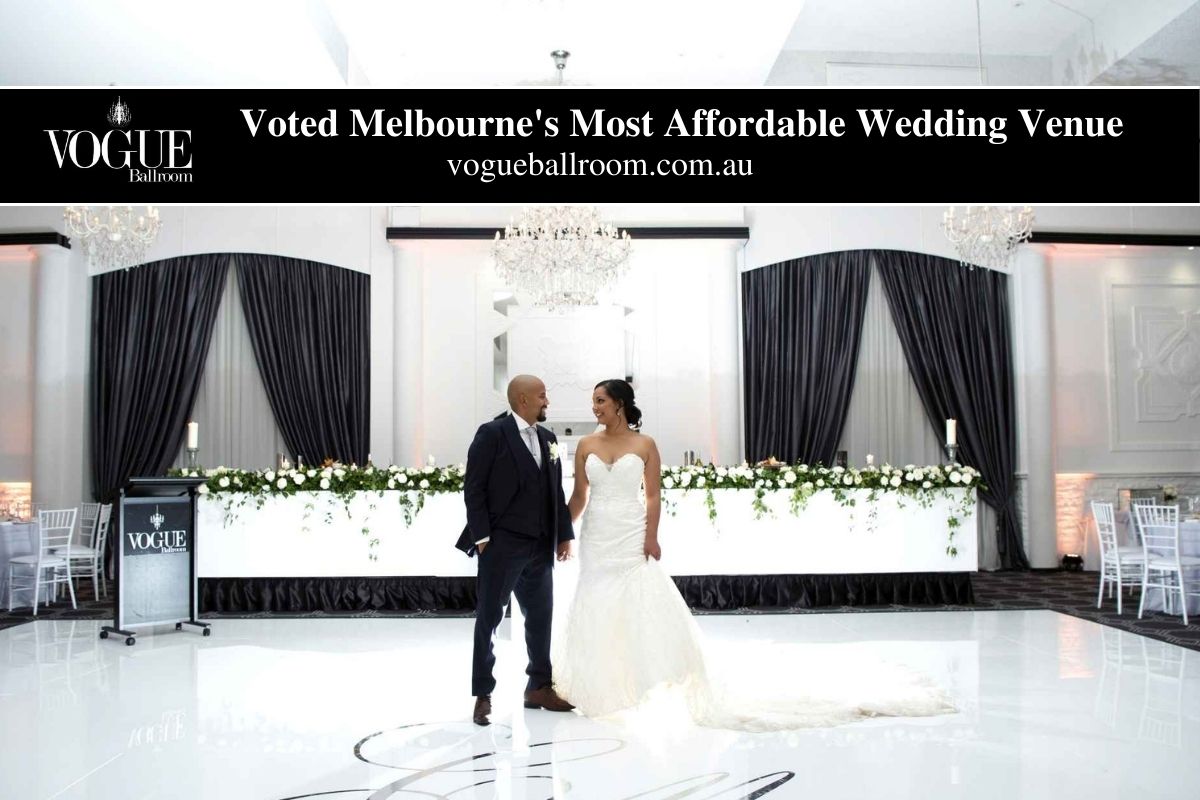 List of Wedding Caterer in Melbourne, Victoria (2020)
Frequently Asked Questions About Wedding Caterers
Shakers on Wheels -
Wedding Caterers Melbourne
Phone: 0422 435 343
Email: [email protected]
Website: shakersonwheels.com.au
Shakers on Wheels is the cocktail catering & mobile bar services specialist in Victoria! We bring together over 10 years of experience in all aspects of hospitality across several countries.
Our passion for great drinks and fantastic service will guarantee you a memorable and stress-free event. We have designed a variety of packages to ensure you find the one that suits you the best. If you are looking for something that is completely unique, we will tailor a bespoke package just for your event.
We'll relieve all the stress from you to ensure you enjoy your event as much as your guests will. Our professional cocktail bartenders will take care of everything from setting up our custom-built bars, bringing all the equipment & glassware, shaking the tins, entertaining and packing down at the end of the night.
All you'll need to do is enjoy the drinks.
Four Side Events - Wedding Caterer Melbourne
foursideevents.com.au
418156280
THERE ARE CATERERS, AND THEN THERE ARE CATERERS, AND THEN THERE'S US.
We combine the very best produce with a creative approach to food design. From weddings, brand activations, not-so-corporate working days, blow out private parties to intimate dining experiences, we tailor our menus for each and every event to provide a customised experience just for you.
Collaborating with some of Melbourne's most influential event experts, producers and suppliers, we cater different. We do it awesome, and we love it.
Our food is sourced from a carefully curated list of local suppliers and growers who provide top quality seasonal produce that we are proud to have on our menus. We get excited by fresh produce and its endless possibilities – the way it should be.
Happy Camper Pizza - Wedding Caterer Melbourne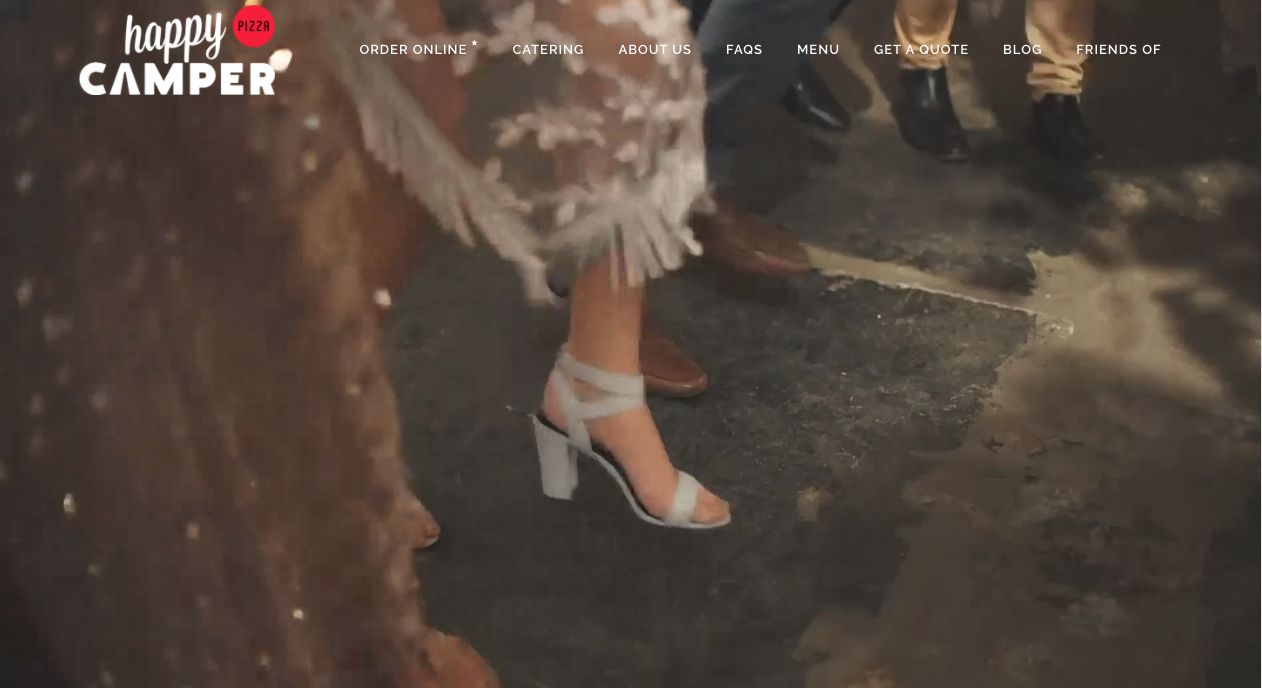 happycamperpizza.com.au
420633495
MEET US
Happy Camper Pizza is the family-run business of Remi and Sonia (hello from us). Our whole family is Pizza obsessed. We have even travelled around Australia in an Airstream and eaten pizza in as far-flung places as Coober Pedy.
When we're not seeking adventure, we're based in Melbourne, serving our yummy pizzas on the street, at festivals, parties, weddings, events and corporate functions.
We have an amazing team of pizza chefs supporting what we do. If we can't be at your function in person, you're in very safe hands with our incredible staff.
Looking for a caterer? We would love to help you celebrate!
HOW OUR PIZZAS ARE MADE
Our methods are old-school: we make our dough from scratch,
use quality ingredients, and make your pizzas FRESH ON-THE-SPOT.
We can cater Gluten-Friendly,* Vegan & Fructose Free.
We cater weddings, corporates, parties, music festivals, school functions and public events too.
The Grecian Kitchen - Wedding Caterer Melbourne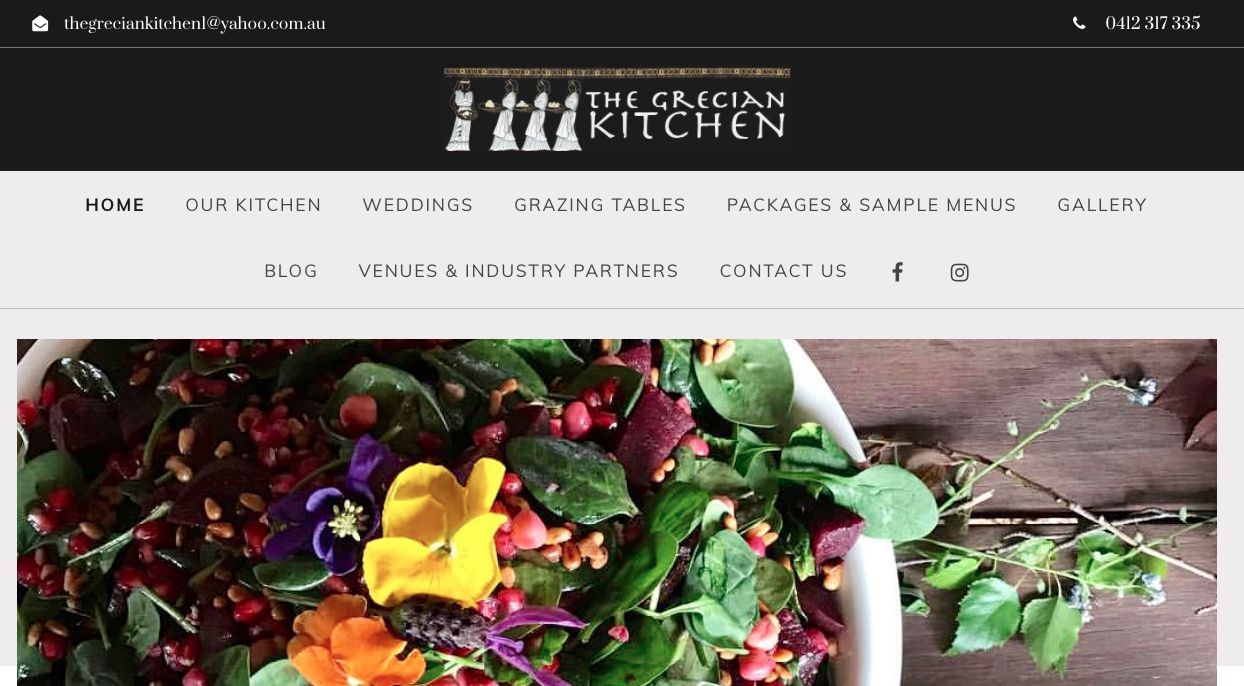 412317335
Welcome to 'The Grecian Kitchen'
Modern BBQ & Wedding Catering in Victoria
Beautifully Styled Self Serve Buffet Tables
Stand Up Platter Service - Cocktail Hour Service
Gourmet Cheese & Grazing Tables - Mobile Catering all over Victoria
Specialising in Weddings and all those special occasions.  Our Menus cater easily and deliciously to all Dietary requirements and our Vegan, Vegetarian and our Gluten Free Guests are amazed at our selection every time. Working side by side with a Stylist with some of our larger Weddings and Events, to enhance our service and guarantee excellence. A friendly and Personal Service from first contact guaranteed. We have a 'One Wedding/Event per day' Policy so we are there for you from your first enquiry to and including your Wedding to make sure no detail is left unturned and what we promise is delivered.  We not only provide catering for your special days, but help create everlasting memories. Our Philosophy is simple.  To share our love of food and cooking by way of providing a fresh and unique catering experience to our clients and will work together with them to create a menu that will suit their individual needs and expectations..  We have over over 20 years experience in the Hospitality Industry.
Weddings
The Grecian Kitchen is proud to offer a selection of Catering Options for your Wedding Day.
Specialising in and bringing your visions to life with Backyard and Rural Property Weddings.
Working closely with a selection of well known Wedding venues throughout Melbourne, the Yarra Valley, Dandenong Ranges, Macedon Ranges and happy to travel to all areas within Victoria.
Your wedding catering is of course a very important part of the day and we love to work closely with our Couples to create the perfect Wedding Menus including Cocktail Hour, Mains and Dessert.
We believe that there's nothing worse than leaving a Wedding hungry, so we make sure all your Guests are well fed so they have the stamina to party all night long...
Our Team will work closely with you to bring Your Vision to life and to design a menu that will ensure that your guests rave about the Quality,Freshness and Presentation of the Foods served to them and your Wedding for years to come.
Coffetti Gelato - Wedding Caterer Melbourne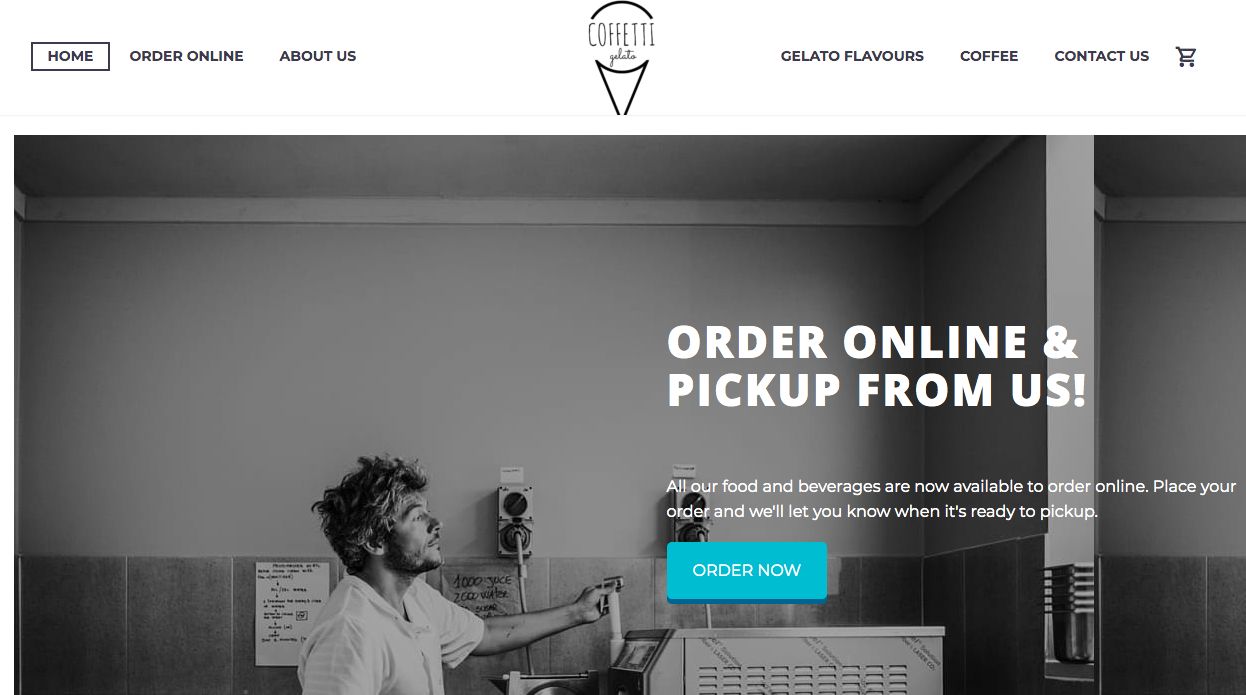 coffettigelato.com
434274781
ABOUT COFFETTI
Husband and wife team, Jessie and Otta, handcraft our gelato in our store on the main street of Barwon Heads. Our sorbets are vegan friendly and are made with fresh fruit and no artificial colouring. We source our coffee from Industry beans in Melbourne, we offer cold brew on tap as well as making all the traditional coffees. Choose from milk lab almond, coconut and lactose free milk, bonsoy and newly added oat milk. If you like quality, pop in store to try a selection of artisan gelato, espresso coffee, pastries, baguettes or chat with our friendly staff.
WELCOME TO COFFETTI
The key to our success is that we love what we do. Heading our team is Otto from Italy, who has studied and mastered creating original Gelato flavours.
FRESH
Our gelato is made fresh in
our kitchen everyday.
HEALTHY
Gelato is made from natural ingredients
and is lower in fat and calories compared
to traditional ice cream.
INNOVATION
We are always looking to create new
flavours that will leave you wanting more
PEOPLE
We value our relationships
with our customers and you'll
find our staff friendly and attentive.
Fabulous Catering - Wedding Caterer Melbourne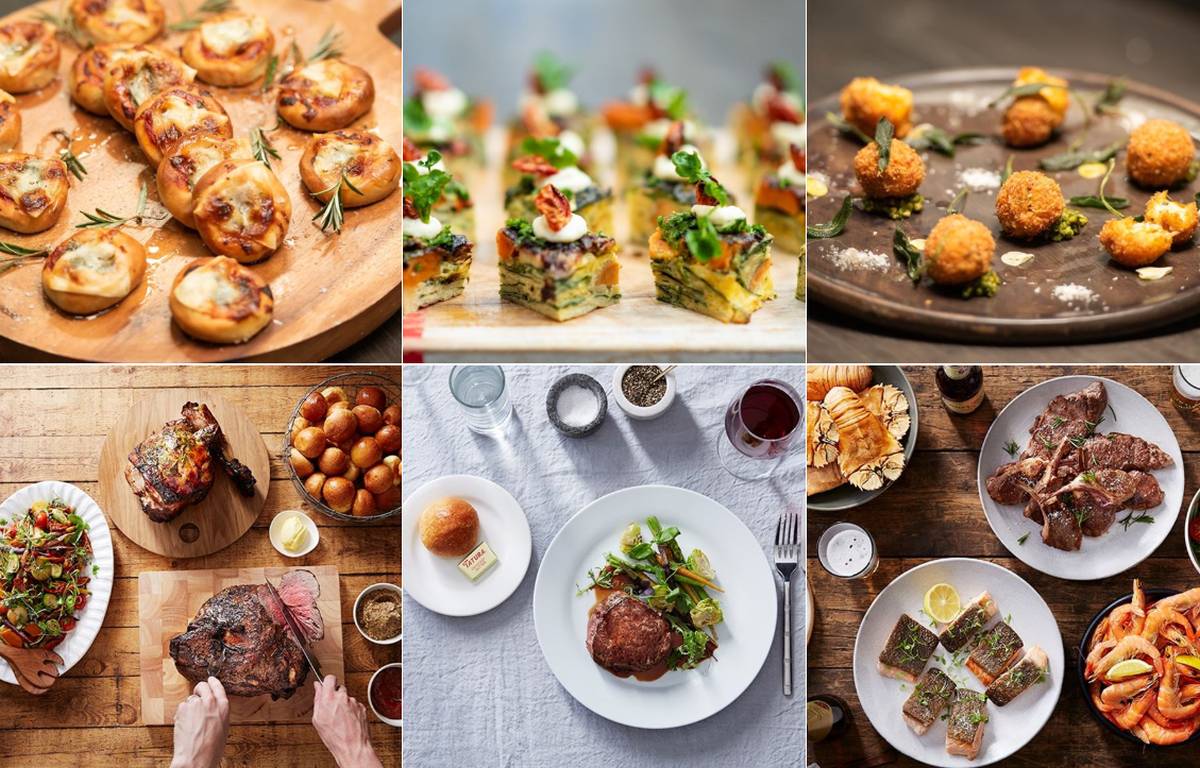 1300850720
CATERING MELBOURNE
FABULOUS CATERING
MELBOURNE WITH OVER 10 YEARS EXPERIENCE IN CATERING SERVICES
Not sure what to order with social distancing? - Don't worry, we can help.
Fabulous Catering is the leading events catering company in Australia! With offices in the major cities of Sydney and Melbourne, we are equipped to look after all your function requirements.
Our friendly office staff will take care of your order when you are ready to book. We can run you through the entire range of our products and give you all the information you require, making catering for your next function a breeze.
Your search for the perfect Catering Service in Melbourne ends here with
Fabulous Catering Melbourne
From delicious gourmet food to decadent desserts, Fabulous Catering is Melbourne's best catering company dedicated to making your next event or celebration everything you desire. At Fabulous Catering Melbourne, we strive to surpass the level of service and versatility offered by other catering companies – providing top quality catering services at affordable prices and incredible food that will impress your guests. With Fabulous Catering taking care of all of your catering needs across Melbourne, your next function is sure to be stress-free and fun! Our uniformed staff will arrive at the location of your event, be it a venue, a private home or a business address. They take care of all the elements of the catering and work incredibly efficiently.
Want to make sure the guests at your party, wedding, corporate function, or whatever event you're hosting are well catered for?
From our base in Melbourne CBD (as well as various other locations across Australia), we provide gourmet catering services that can be tailored to suit any event. No job is too big or too small for our professional team of caterers – call us today to see how we can make your event fabulous!
Have dietary requirements? Budget restrictions? Specific needs to make your event perfect?
Leave all of that to the experts at Melbourne's favourite caterers, Fabulous Catering. We have been able to provide premium quality food and beverage to countless clients around Victoria and across Australia – browse through our various options today or contact us for more information.
Catering for a specific cuisine?
Our wide range of worldly culinary skills will surely delight your taste-buds!
Fabulous Catering provide an array of healthy options, including platters, buffets and appetisers that allows you to put on a delicious meal for your guests.
When it comes to a buffet, we know that there are two important factors – quality and quantity. At Fabulous Catering Melbourne, we offer you both at an unbeatable price!
Fat Cats - Wedding Caterer Melbourne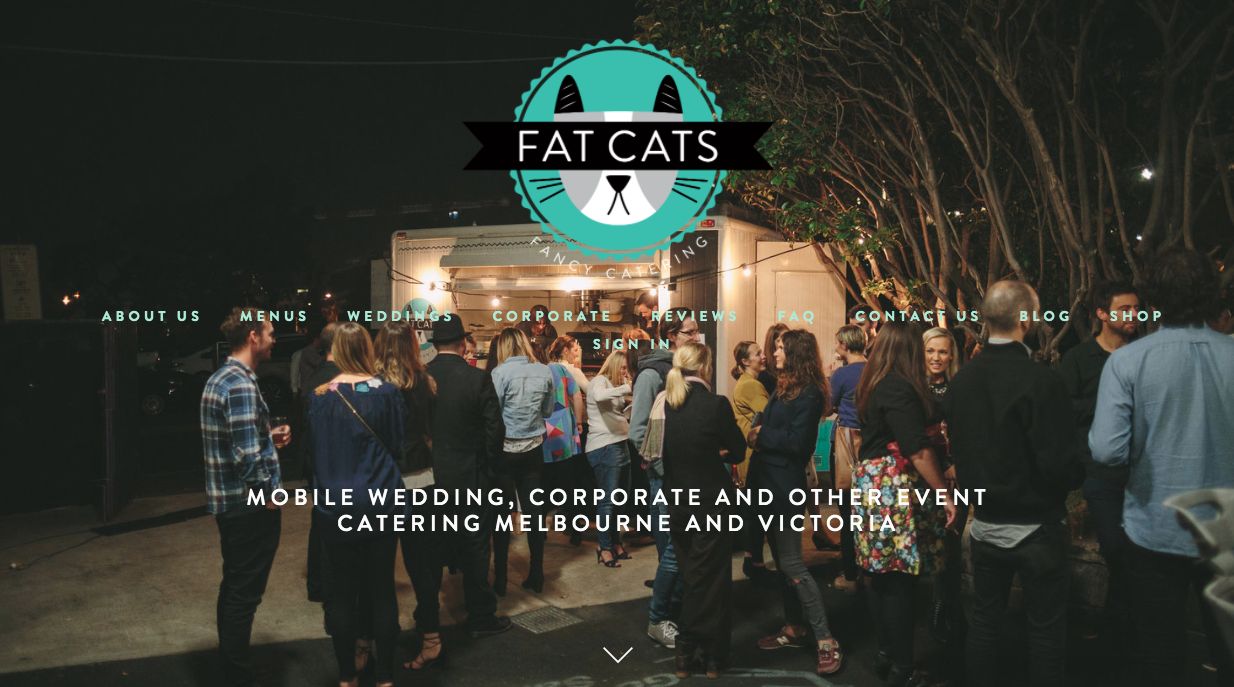 fatcatsvan.com.au
448565321
Food packed with flavour · Service full of personality
Allow us to introduce ourselves! Fat Cats Food Van and Fancy Catering started out of a voracious appetite for food. Cooking it, researching it, refining it and finally enjoying it. Our head chef and Top Cat Adrian has been obsessed with cooking since first helping his mum out in the kitchen as a little tacker. His obsession with food ultimately led him to create Fat Cats food van and fancy catering in 2013, a unique Melbourne-based mobile wedding and other event catering service.
Quickly expanding into one of the best food truck caterers, corporate caterers and wedding caterers in Melbourne, Fat Cats offers something unique - affordable catering that's delicious, fresh and flavour packed! We're constantly on the move so if you're looking for mobile food catering in Victoria we can travel to you!
Adrian has catered for a multitude of weddings and other events, both corporate catering events and private gigs, in and around Melbourne. Adrian truly loves collaborating on unique menus to suit your individual event, dietary requirements and budget. See our most popular wedding and other event catering menus below. Whether it's a music festival, engagement, wedding, office, training or university event or a private gig, Fat Cats aims to create memorable experiences with food, friends and colleagues. Check out our blog for the run-down on some of our most recent wedding and food van catering gigs.
FUN · FLAVOUR · FLEXIBILITY
MOBILE FOOD VAN WEDDING CATERING IN MELBOURNE AND ACROSS VICTORIA
Fat Cats Food Van and Fancy Catering offer menus and catering packages to suit all wedding reception styles. Whether you're going for a food van festival vibe or a more fancy sit-down, buffet or cocktail reception, we've got you sorted. Have a read of our blog for the run-down on some of our recent wedding catering gigs.
VARIETY AND FLEXIBILITY IN ABUNDANCE
As well as offering a variety of wedding catering menus and serving options, we are super flexible and accommodating to your wants and needs. This includes combining across menus, coming up with new and interesting ideas based on your specific brief and meeting all dietary requirements.
Our focus on customer service is obvious from the get-go. Our reviews speak for themselves. We're always promptly available to chat over email and phone. From your initial enquiry right through to those last minute fiddly bits, Top Cat and head chef Adrian and the team prioritise the communication process.
FANCY UNIQUE WEDDING FOOD
We pride ourselves on offering something a bit different. Even our most wedding'y menu is not your typical wedding food. Think delicious juicy slow-cooked meats, and super fresh, flavoursome and interesting salads and sides. Our carefully curated selection of canapés is designed to suit the coolest of cool casual weddings or the fanciest of fancy affairs.  And of course, festival food truck style wedding catering is a specialty of ours.
WEDDING CATERING PACKAGES
Most importantly, we take the fuss out of the planning for you. We offer full wedding catering packages. Our wedding catering packages meet all your staffing needs (bar and wait-staff). We also provide hire of cutlery, crockery, platters, etc. Adrian and the rest of the Fat Cats Team will ensure the wedding catering planning process and the food on the day run so smoothly and efficiently, your guests will be blown away. And you won't have to worry about a thing on your big day!
MOBILE WEDDING CATERING MELBOURNE
As a mobile food van wedding catering service, we're open to travelling far and wide across Melbourne and Victoria. We can pretty much set-up and cater at any location and venue. More details under our FAQs section. Get in touch to discuss your location and/or venue and we'll go from there.
Mr. Platterpus - Wedding Caterer Melbourne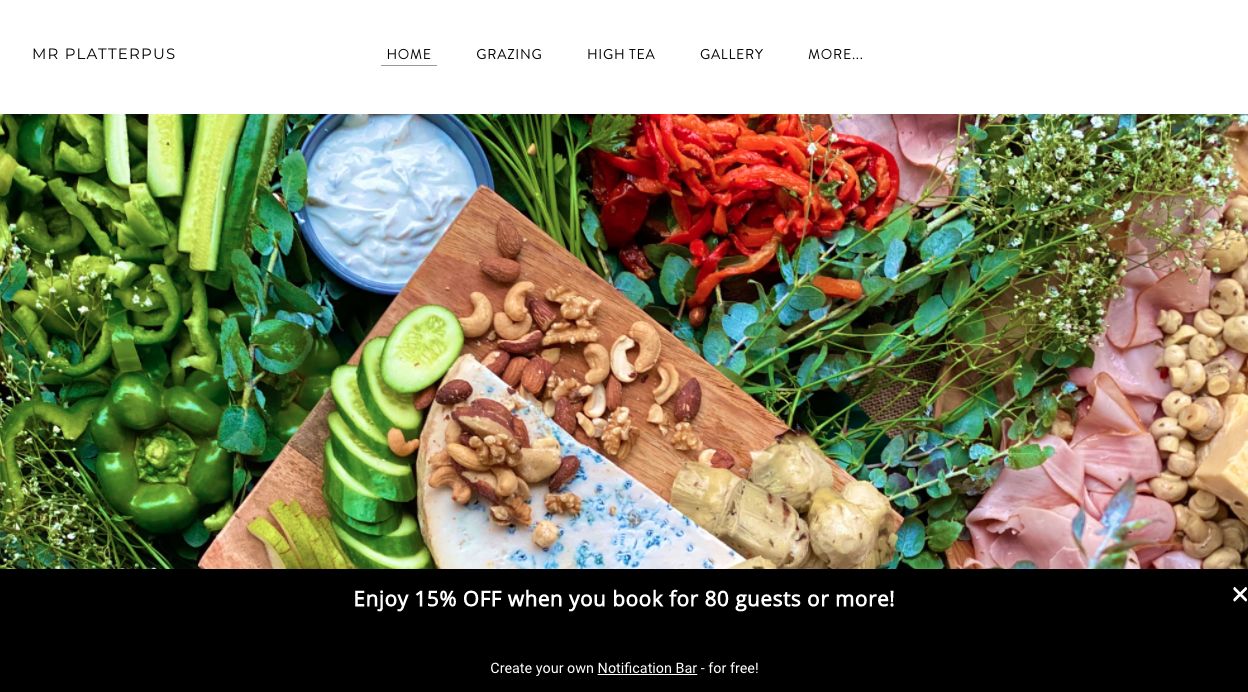 mrplatterpus.com
431709289
The story behind Mr Platterpus.
Nothing beats the feeling of watching someone being overcome with pure happiness and joy that food brings them. It is the one thing that the world has in common and is a vital necessity of being human. The feeling you get when walking into your local deli and being able to personally select your seasonal favourites, cannot be beaten.
A wise Italian Chef once told us "keeping it simple will always restore the taste buds of anyone, no matter what their influences". Mr Platterpus is all about presenting fresh, simple and delicious ingredients making them not only inviting to eat, but ensuring the best of our local suppliers are given the credit they deserve.
Mr Platterpus allows us to share my childhood passion for food with our extended customer Family by bringing our experience and enthusiasm to the table for all to enjoy!
Fortunately for us, we are a team who can say we have crossed many of oceans. We have been smelling distances away from some of the worlds most incredible cultures. Most importantly surrounded our taste buds with countless amounts of incredible ingredients!Our Inspiration
Our Mr Platterpus team have come to realise that everything always boils down to the simple things in life. Family, friends, that stranger you keep bumping into at the local wine cellars tasting night, a sprinkle of hard work, but most importantly a plentiful platter filled with pure happiness!
Grazing Tables
​What type of grazers are you and your guests?
It is our priority to make sure we look after and make sure our Familia are always happy! No catering request for a function is ever a silly one...
Simple Pleasures
Our Simple Pleasures platter is where we turn the basics into the main event. Perfect for those who are wanting the 'Wow' factor without the effort - except that of us at Mr Platterpus of course! Taking your events cheese & cold meats 'platter' to the next level and turning it into a grand graze for all of your guests to enjoy!
From $28.00* per head
(min. 20 people)
Happy Medium
Our Happy Medium platter is where we take it up a notch, adding that slight touch of luxury when it comes to quality! As much as I wish it weren't true, but this package in our grazing world unfortunately does come with a slight price increase, however, you and your guests will not be disappointed! Incorporating prosciutto from Italy, creamiest of worldly and local cheeses and all the goodies we like to tower on top of them! You tell us about your favourites and we will make it happen!
From $38.00* per head
(min. 20 people)
Not Holding Back
Our Not Holding Back platter speaks for itself! A combination of quality, quantity and everything in between. Making sure we tick all hunger boxes for your guests with this package! Including not only the worlds best selection of cheese, cured meats but also our Deli best selections to accompany. Additional small bites like mini bruschetta and seasonal quiche to name a few will also make an appearance along with the rest of Mr Platterpus' favourites!
From $48.00* per head
​(min 20 people)
Sweet Tooth
Yes - Of course we cater for those who are only interested in the guilty pleasures of life! A range of tarts, slices, seasonal fresh fruits and all things sugar related! Spreads vary depending on how big you intend your sugar high to be and we are very flexible to each customer to ensure all favourites are included on your event day!
Standard Sweet Tooth
​From $20.00* per person
Get in touch! Varies upon request - what were you thinking?
Gluten Free
Additional upon request
​Raw Vegans - we haven't forgotten about you!
Additional upon request
Wanting both a touch of savoury and sweet? ​Mr Platterpus has you covered!
Savoury & Sweet
We take pleasure in creating the ultimate 'WOW' factor for all of your guests to enjoy! Mixing both the finest of cheese, cold meats and other savory goodies with the most delicate of bite size tarts, cakes and sweet goods! The only way to do your function right - covering all bases!
Savory & Sweet
From $45.00* per person
​Our spreads offer a selection of all your favourite fresh produce products with a hint of Mr Platterpus inspiration. Product particulars may vary depending on our suppliers availability and season. Our spreads are modified in size depending on how large your event is!
Hudson's Famous - Wedding Caterer Melbourne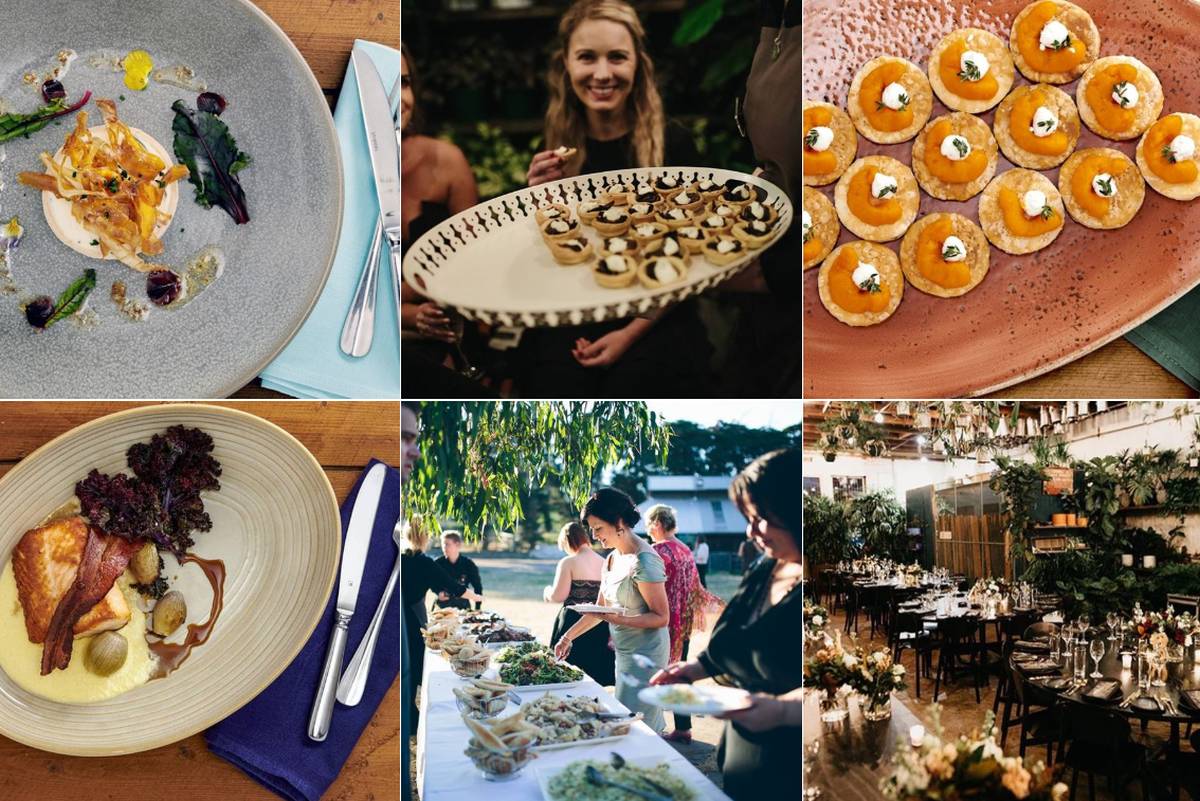 hudsonsfamous.com.au
394215266
About Hudson's Famous
Cutting edge event management
Welcome to Hudson's Famous, Melbourne—creative catering specialists. We draw on years of combined training, hands-on experience, and unmatched passion, to deliver a catering experience that is the taste of the town.
Food
Handcrafted by enthusiastic professionals, our delicious creations are sure to excite your guests. We always aim for fresh, colourful, healthy and plentiful dishes—from the early mornings in our pastry kitchen, to stunning platters, gourmet boardroom lunches and our Famous finger food sensations. At Hudson's we have a catering menu for every occasion.
Catering
Corporate catering
Wedding catering
Finger food catering
Functions
Hudson's Famous is a full-service caterer, providing everything you need to make your wedding or special event a success. This includes glassware, table settings, a DJ or band, flowers, linen—even marquees. We pride ourselves on having every service covered. One of our event managers would love to visit you to talk about theming your event, writing a special menu, or recommending an ideal location.
Catering Melbourne
Don't leave your catering to the last minute thanks to the detailed and dedicated team at Hudson's Famous. Possessing an extensive range of catering options to cover all dietary concerns and preferences we can provide mouth-watering and tantalising catering solutions for private and professional events. Some of the most popular suburbs in Melbourne we have served
Tempted? Contact Hudson's Famous to discuss your next event.
Wedding Catering with Style
Hudson's Famous has extensive experience in catering for weddings in Melbourne. Work with us to create your perfect menu – our food is colourful, healthy and plentiful using the freshest ingredients.At Hudson's we know that each and every wedding is unique and planned based on the vision of the couple getting married. To help our clients receive the most superior and immaculate wedding catering in Melbourne our talented and organised team work closely with the couple to ensure that their tastes are expressed faithfully in the presentation of our catering.
A unique dining experience, all items are served to center of the table, designed to be shared. This communal style of feast is one of our favorites and also our most popular choice!
From $81.50 / person
Why walk to the food when it can come to you? Our chefs prepare and cook your selection of canapes onsite before our friendly staff bring it right to you! Our extensive selection of hot, cold and sweet canapes options ensures there is something to please everyone.
From $47.50 / person
Why walk to the food when it can come to you? Our chefs prepare and cook your selection of canapes onsite before our friendly staff bring it right to you! Our extensive selection of hot, cold and sweet canapes options ensures there is something to please Vegetarian and Vegan guests. These can be added to other menus. Just call or email to ask how we can help. Price includes, Chefs, Waiters and all equipment needed.
From $47.50 / person
Small Bowls
Looking for something more substantial? Our Small bowls menu is for you! Great as an accompaniment with our canape package or a main meal substitute.Designed to be eaten standing with a glass and a conversation, these flavorsome bowls are perfect for large groups.
From $9.50 / person
Sit Down Dinner
Hudson's Famous has extensive experience in catering for weddings in Melbourne. Work with us to create your perfect menu – our food is colourful, healthy and plentiful using the freshest ingredients. This style of menu is ideal for a more formal dining experience where you want to impress all with modern, tasty and stunning dishes.
From $76.50 / person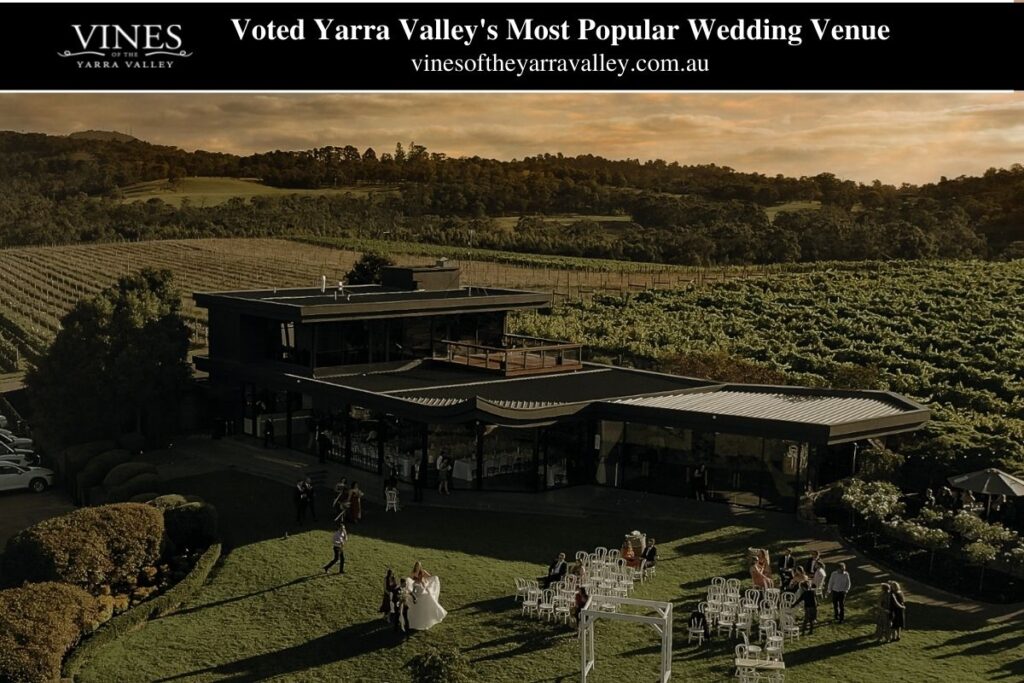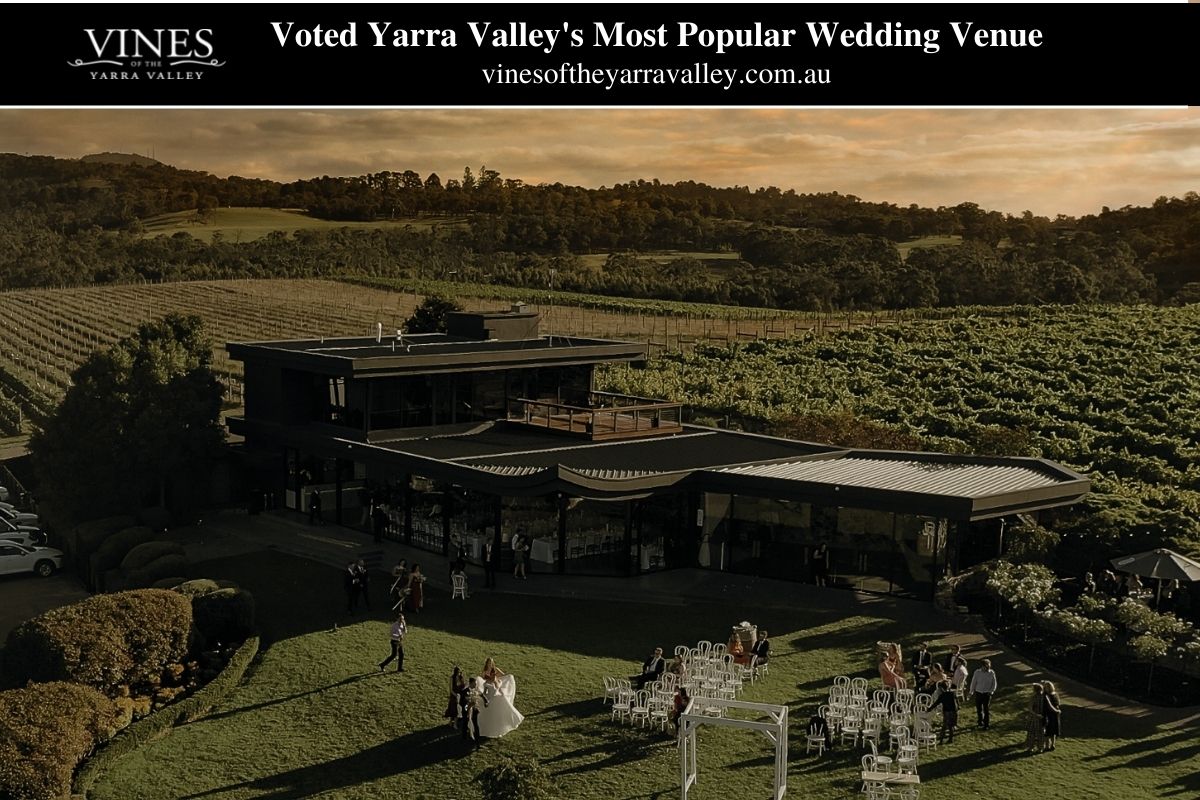 Big Shot - Wedding Caterer Melbourne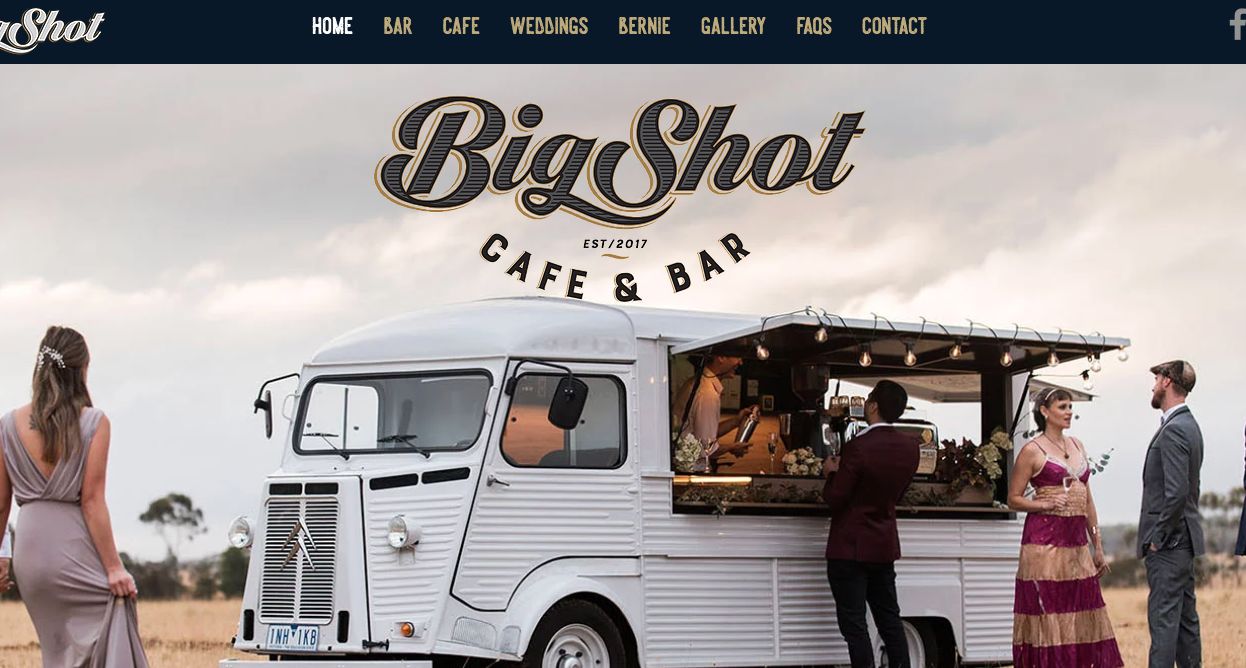 430084125
looking for a Big impact at your next event?
The Big Shot team and our beautifully restored 1969 Citroën HY van 'Bernie', can bring our unique Melbourne Café and Bar experience to you, served with vintage flair and styling, we can provide a range of drinks packages and services tailored to suit your next event.
​We're available for hire for both private and public events. Get in touch with us to check our availability and lock in Bernie for your event!
Melbournes coolest cafe on wheels
Melbourne is renowned for its café culture, which includes more than just a well-made coffee – it is an experience unique to every corner café, coffee merchant, or hole in the wall. This culture has inspired us to jump in and contribute to this growing and innovative scene by creating our own distinctive experience – but on wheels.
​We take pride in bringing our unique take on Melbourne's café experience to you. Find out more about our café hire packages, and get in touch if you'd like to book us in for your next event!
A mobile bar with vintage flair
If you are looking for a bar service with unique vintage style, you are in the right place. Our fully restored 1969 Citroën HY van 'Bernie' is available to hire as a bar for private events, corporate functions, engagement parties, weddings and more.
Big Shot operate as a BYO bar, meaning you provide the alcohol, and we'll take care of everything else - mixing up all your favourite drinks and cocktails for you and your guests. Find out more about our bar hire packages, and get in touch if you'd like to book us in for your next event!
big shot mobile wedding bar cocktails ci
Bring the vintage vibes to your Wedding Day
Getting married? Our immaculately restored 1969 Citroen H van 'Bernie' would love to be invited, and bring his classic French charm to share with your guests, serving up all your favourite drinks in style!
The Big Shot team can offer a complete Bar and Café service for your special day, including bartenders, baristas, personalised drinks menu, glassware, lawn games, and of course, our charismatic van, Bernie.
​If you're looking to wow your guests with a unique drinks service on your wedding day or engagement party, get in touch so we can lock in Bernie for your requested dates!
​We operate and cater as a mobile BYO bar service, which means you provide the alcohol to us on location, and we'll take care of everything else. This also helps keep your costs down as you can source your alcohol at the best price.
Our team of hand picked, experienced bar staff will bring the party to you and your guests, serving up all of your favourite drinks.
Did someone say cocktails? We love mixing up any cocktails of your choice, just let us know in advance what you'd like and we'll source the ingredients to ensure the cocktails are flowing on your Wedding day!
big shot mobile wedding bar barn citroen
byo bar service
big shot mobile wedding bar citroen h va
wedding bar catering
As a guide, we have listed our base wedding bar hire package inclusions below, however we're more than happy to work with you to customise the type and level of service depending on your requirements
​Our base wedding packages start at $1200+GST and include the following:
2 x RSA qualified bartenders
Our beautiful Citroën van 'Bernie'
3 hour drinks service time
Glassware hire (for up to 100 guests)
Bar equipment
Personalised drinks menu
Drinks menu planning and consultation
Generator hire
Ice for service
Setup and packdown
Travel within 1 hour from Melbourne CBD
When it comes to weddings, we understand there's no 'one size fits all', so we're always happy to work with you to customise the type and level of service for your wedding day depending on your needs. If you're after a complete drinks service including post-ceremony cocktails, reception bar service and late night coffees we're more than happy to tailor a quote to include this.
If you're just after an express 30 minute coffee service outside of the church following the wedding ceremony, we can do that too!
If you're looking to wow your guests with a unique drinks service on your wedding day or engagement party, contact us so we can lock in Bernie for your requested dates!
Kitchen Table - Wedding Caterer Melbourne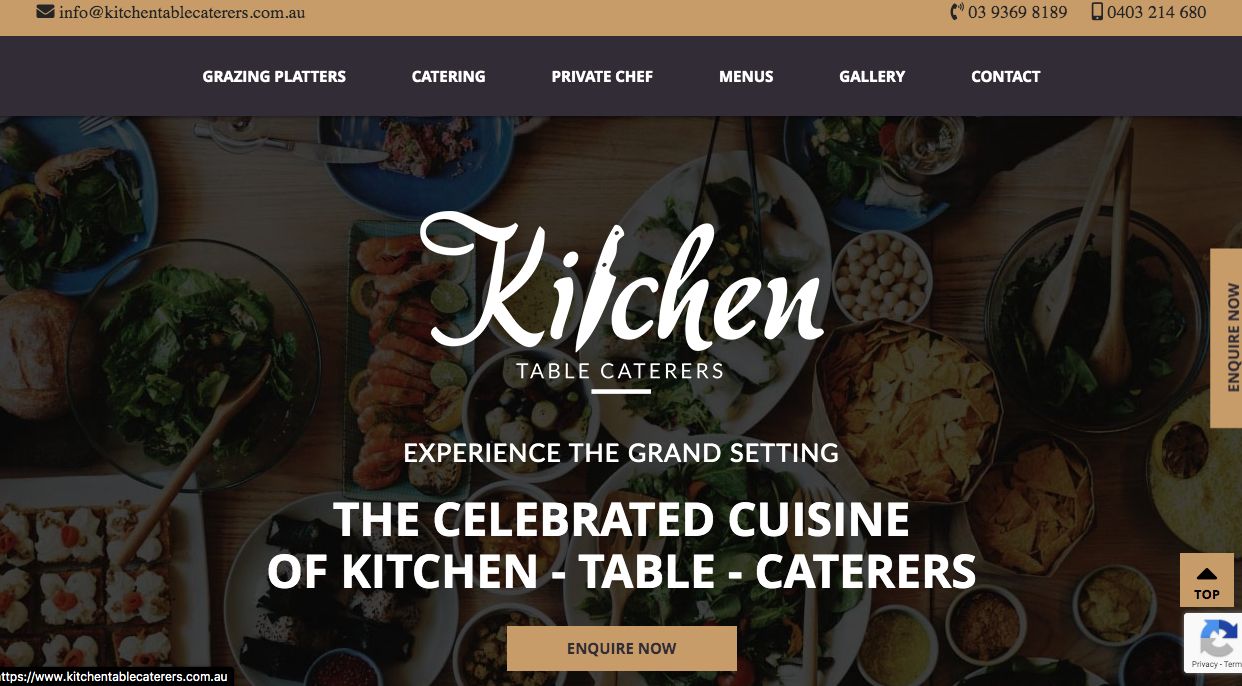 kitchentablecaterers.com.au
393698189
WE SPECIALIZE IN INTIMATE CATERING
GRAZING PLATTERS
Our delicious grazing platters are perfect for larger gatherings and events. For convenient grazing platter catering that accommodates all of your preferences, our chefs can meet your needs.
CORPORATE CATERING
We can provide corporate catering for everything from important business meetings through to large corporate events and functions. Discuss your catering requirements with our team today.
PRIVATE CHEF
Have a dinner party or special event coming up and want to impress guests with a chef-prepared meal? Our private chef can cook a mouth-watering menu that takes dietary preferences into account.
ENJOYABLE & COMFORTABLE
All food we prepare is made with the greatest care, with thought put into each and every flavour and ingredient used. This makes our food enjoyable for all, ensuring your guests will feel as comfortable and satisfied as possible.
KITCHEN TABLE CATERERS − ONE OF THE BEST CATERING COMPANIES IN MELBOURNE
As one of the leading catering companies in Melbourne, Kitchen Table Caterers can provide excellent catering services for your special occasion or event. Whether you're planning a birthday celebration with friends and family or a corporate function with work colleagues and clientele, we can make sure your guests have access to delicious foods and refreshing beverages.
Our professional catering specialist can provide catering solutions that make your special occasion far more memorable. We guarantee that your guests will be impressed by the calibre of our service and walk away at the end of the day feeling satisfied. You can rely on us to provide the very best catering in the Melbourne western suburbs, including Laverton North and beyond.
WHAT WE CAN DO
Do you want to hold an outdoor BBQ on a warm and sunny day? Are you interested in organising platters with a range of options for guests to choose from? The team at Kitchen Table Caterers proudly offer a personalised service, taking dietary requirements and preferences into account to ensure everyone has something they can enjoy.
Our breadth of knowledge and extensive experience means we can cover the entire spectrum, from finger food catering to gourmet catering and everything in between. We even offer a private chef who can come to your home and cook up a storm for family dinner parties, romantic evenings and other intimate occasions. Our goal is to make sure everyone is well fed and refreshed.
CATERING SERVICES FOR ANY OCCASION
Our catering in the western suburbs Melbourne is perfect for any occasion. Our caterers have delivered excellent outcomes for events of all kinds, including wedding receptions and corporate functions as well as casual Christmas gatherings and much more. We pride ourselves on our flexibility and we're fully capable of adapting our catering services to account for different situations and circumstances. For example, we can adjust our menus depending on whether we're catering for breakfast, lunch or dinner. In addition, we can provide alternative options for people with strict diets or allergies. From vegetarian and vegan foods through to gluten-free and lactose-free foods, you can rest assured that our specialist caterers will meet your needs.
DISCUSS YOUR NEEDS WITH US TODAY
If you're looking for the very best gourmet catering companies, there's no better choice than Kitchen Table Caterers. Contact us today to learn more about what we can do and how we can help. You can also request a quote and make a booking at your earliest convenience.
It all started in 2007 when George & John EL -Khoury opened a small family business specialising in the finest coffee and corporate catering. By popular demand the family business expanded their corporate business by supplying over 50 companies, including The Greater Metropolitan Cemetery in Altona for over 2 years. Part of the expansion we managed to find a highly talented chef Jordano Ricardo merlo.
With 20 years experience, Jordano has a natural talent behind the stove and a passion to constantly create new recipes and he's own whimsical food. Jordano has been Head Chef of top restaurant in Europe, his unique relationship with food allows him to turn basic and pure into complex and colorful. He's mission is to turn the simple into magical food moments. They have have combined their friendship and years of restaurant and catering expertise to create KITCHEN TABLE CATERING (KTC). KTC works tirelessly to bring the freshest ingredients from local Melbourne markets to the neighbourhood shops. The team thrives on working close with the client to provide the best quality foods for their special occasion.
"TO TURN THE SIMPLE INTO YOUR MAGICAL FOOD MOMENT "
3 Foxes Distillery - Wedding Caterer Melbourne
3foxes.com.au
1300872306
Our Story
A Generational Tale of Passion, Dedication and Craftsmanship
Three Foxes Distillery is a family owned and operated distillery that dates back four generations to 1901, with humble and honest beginnings. Our tale can be traced to the opening of a micro-distillery in Constantinople, at first established in order to produce spirits to compliment the mezze cuisine served at our family restaurant next door. This is where we showcased boutique batches of Vodka, Ouzo & Liqueurs, which was the perfect complement to the seafood-based menu, and quickly became a favorite for the customers who frequented it. Born out of this simple beginning, and drawn together by a common desire for craft distilling, three generations now work side by side, continuing the family legacy.
Coupled with our tradition, is our firm belief in creating top quality spirits, wine and liqueurs. This is accomplished by honoring each generation and pulling the best from them, uncompromising on quality and working together to passionately create signature flavors and bespoke spirits, liqueurs and cocktails that excite the palates of our customers. Driven by perfectionism and fueled by heritage, Three Foxes Distillery is focused on providing quality spirits backed by hard work and a belief that our product is never finished; we are ever-improving and exploring in order to create refined spirits that are second to none.
Bringing over 100 years of craftsmanship together, Three Foxes Distillery still works within the same family structure as it did many decades ago. Three Foxes has expanded upon our signature Vodka & Ouzo, into Vodka, Gin, Triple Sec, as well as lines of liqueurs and aperitifs, that use and adapt 100-year old recipes, infused with local ingredients, while still upholding our family traditions and standards. We endeavor to maintain our time-honored and old-world traditions while also incorporating more modern techniques. We accomplish this delicate balance by continuing our traditional craftsmanship of meticulously hand-cutting our fruits and rack drying and hanging our hand-picked herbs. Building upon that tradition, we delve into innovation by experimenting with palate-forward botanical combinations and new and inventive increased bouquets. All while never compromising on the integrity of our spirits.
Our passion and perfectionism is equally matched by our attentive quality procedures. Each bottle is a masterpiece honoring our ancestral legacy; hand-filled and capped in our distillery just as it was done over 100 years ago at our inception. At Three Foxes Distillery, our values and dedication can be experienced in the flavors of our liqueurs, aperitifs, and our signature Three Foxes Gin and Vodka, all produced with pride in Melbourne. It is our deepest desire that you and your family enjoy our spirits just as much as we enjoy producing them.
CUSTOMISED LABELS
Bomboniere or wedding favours are the traditional way to thank guests for attending your wedding. Our bottle labels are a fantastic way for you to customise your wedding day, and give your guests a handcrafted cocktail to commemorate the occasion. Salut!