At Vogue Ballroom, we are fortunate enough to see a variety of wedding cakes every week. If one things for sure, it is that no two cakes are ever the same. From elegant centerpieces, to real or sugared flowers, to even cakes that have towered over the bride and groom – we've truly seen it all! Depending on your budget, some bridegrooms choose to allow a small or generous costing for their wedding cake. Here are our some of the different and most beautiful cakes we've had the pleasure of serving at our venue:
The Wedding of Sofia & Edress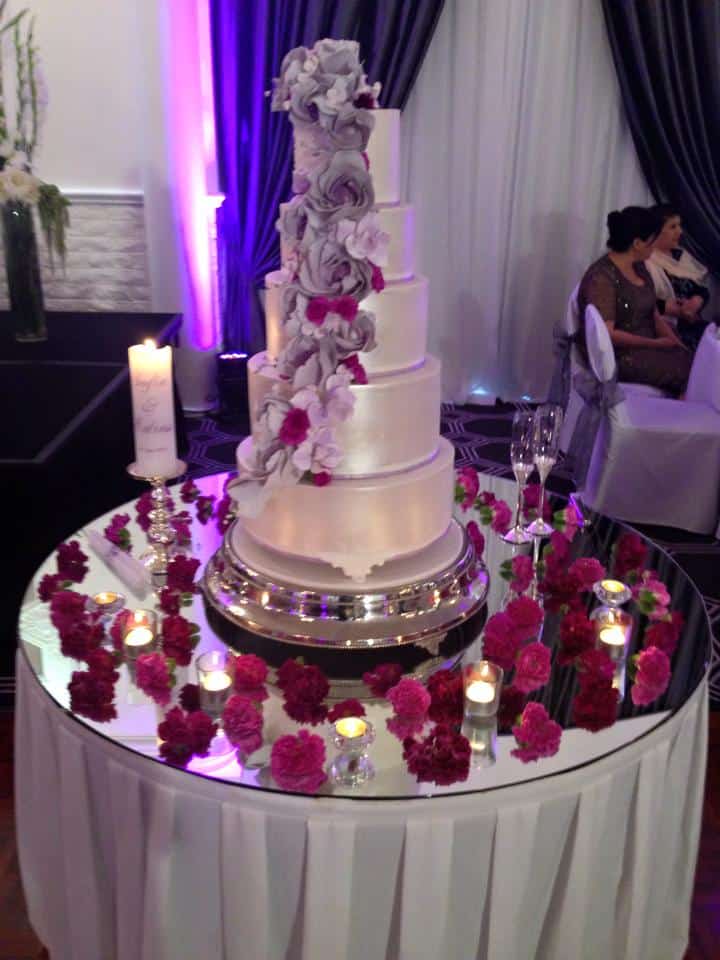 Apart from its height and delicate floral work, what really makes this cake is its stunning base and opulent white colouring. If you are choosing to accompany your cake with flowers, white is always a good choice of colour to show a balanced contrast.
The Wedding of Meelee and Hiep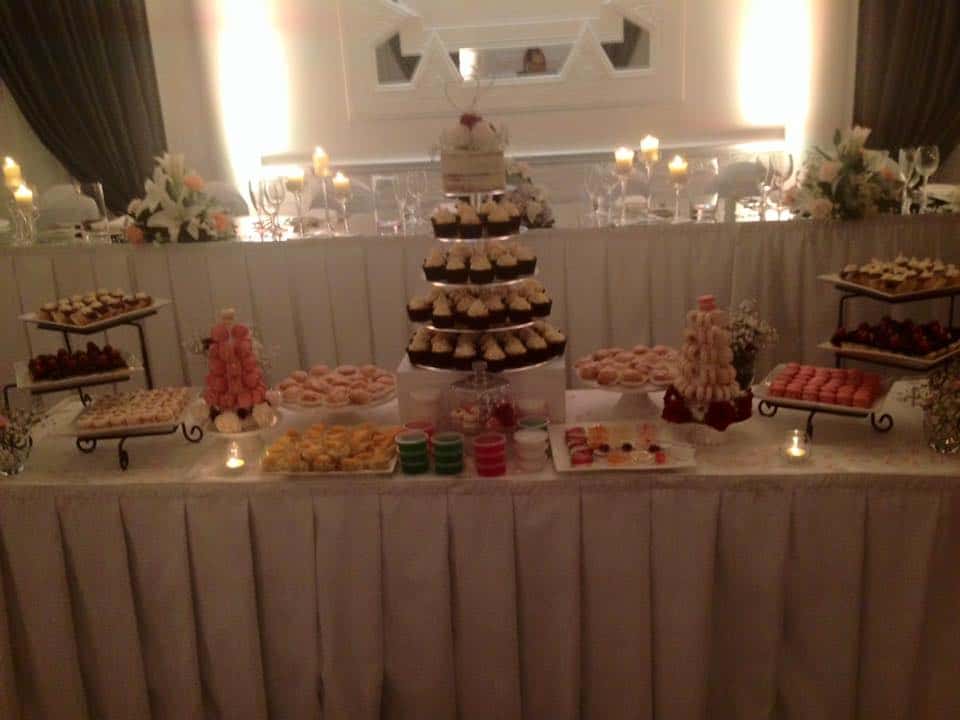 A  dessert buffet is truly worth the time and effort. Here, we have a cake stand filled with cupcakes, finished with a small cake and love-heart centerpiece to complete the look. Having a variety of desserts on offer for your guests will leave them sweetly impressed!
The Wedding of Katelyn and Raymond 
This very simple yet fun wedding cake truly identifies the couple's colour theme – red, and shows their playful side by using cute cake toppers. The cake is also stenciled and has small diamantes, which still encapsulates an elegant feel.
The Wedding of Brigit & Jean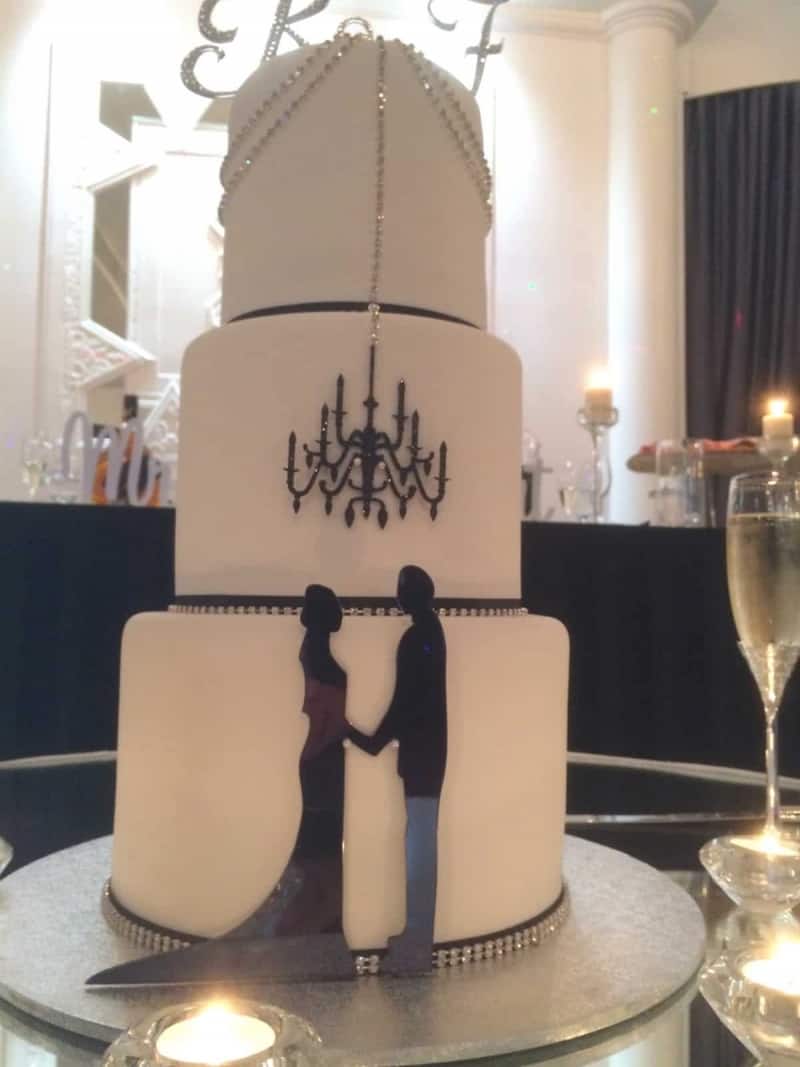 There is so much to love about this cake, particularly the effort and detail that was put into to matching the cake with the theme of the venue. A glamorous cake topper, accompanied with a beautiful chandelier, complete with a beautiful stencil of the couple. Just perfect – and very Vogue!
The Wedding of Connie & Dean
A remarkable 3-tier cake held by an elegant silver cake stand. This cake incorporates silver, black and white and they have made use of the colours in all the right elements.
The Wedding of Rosie & Gareth
All we can say is wow! There was a lot of time and effort that went into creating this 6-tier unbelievable cake, but the end result is phenomenal! The different layers all work so well together, and what truly stands out is the gold bling cake stand!
The Wedding of Kon & Georgia 
This cake truly emanates the bling theme! What is so perfect about this cake is that all the tiers are differently themed, but it still gives that wow factor. The sparkling silver overlay is also stunning, and plays a part in completing the theme!
The Wedding of Suzie & Tim 
This cake is truly completed by its floral arrangements. It has a combination of real and sugared flowers, and it is still able to incorporate the couple's gold theme by using a simple diamante border. There is also detailed stenciling, incorporating a true classic finish.
The Wedding of Nhien & Cong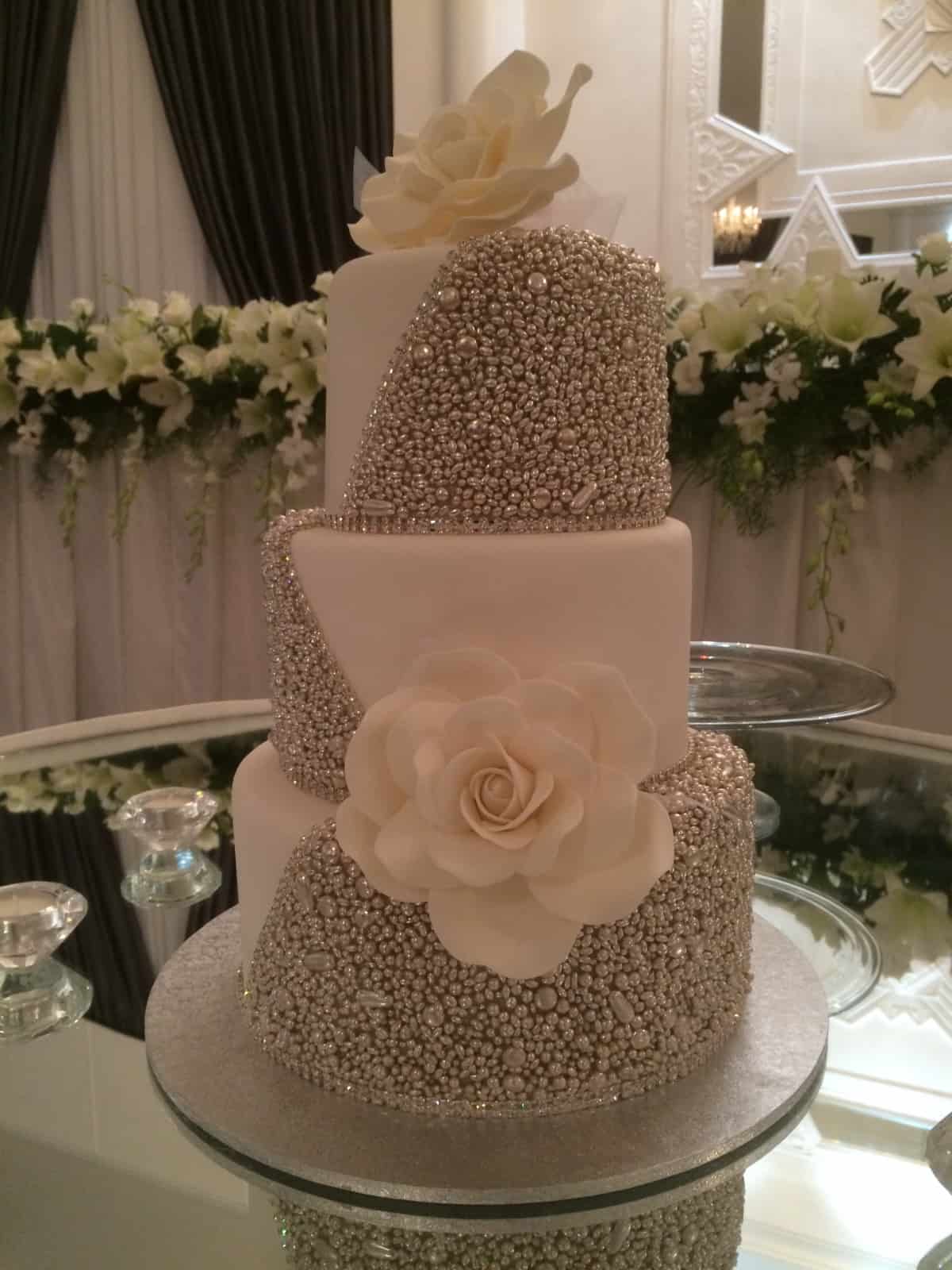 A simple 3-tiered cake, yet it is truly bursting with opulence! This cake certainly has attention to detail and is complete by its silver jeweled detailing. The flowers are centered correctly ensuring that the cake makes a true statement!