Our wedding bands are supposed to match? It's the question that every couple will inevitably face but not necessarily know how to answer. 
Unfortunately, the answer is a little more complicated than you might think. 
The traditional meaning behind matching rings was to signify the unity of two people as one, and this sentiment remains valid today for many couples. 
However, there are also some significant historical reasons why it may be better for your partner's ring not to match yours. 
If you're looking for some guidance on whether or not you should get matched wedding bands, read on!
You can choose matching bands, complementary bands or go in different directions.
When you place a wedding band on each other's ring finger, you take part in a ritual that dates back centuries while also looking to the future. 
In most Western cultures, brides and grooms traditionally place a wedding band on the third finger of each other's left hand (not counting the thumb) because people once believed a vein ran directly from that finger to the heart. 
Medical science eventually corrected that belief, but the tradition remained.
Traditions vary by country and culture when it comes to who, where and even whether a wedding band is worn. 
For example, even in the United States, double-ring ceremonies — where the groom also gets a wedding band — didn't become common until the 20th century.
Today's traditional choice is a matched set — one band for her, one for him (and possibly her engagement ring). 
Are an outward expression that you and your spouse have become one unit.
Demonstrate that you have similar tastes and belong together.

Show that you value traditions and want to be part of them.
However, many couples take the non-traditional route today and choose different wedding bands.
When it comes to your special day, Vogue Ballroom has proven itself to be an iconic wedding venue and function centre in Melbourne
When you choose non-matching wedding bands:
You can each express your individuality.

You can avoid one partner feeling pressured to choose a matching band they don't love.

You can select a ring that best compliments your skin tone and size and reflects your style. 
Do Wedding Bands Have To Match?
Historically, men and women's wedding rings did match. However, during the Renaissance period, wedding bands were made to fit like puzzle pieces. 
So while tradition dictated that rings should be worn on the left ring finger to honour the "vein of love," they were also made as matching pieces. 
Corresponding colours and metals symbolised a couple's union and allowed them to show their commitment to one another. 
Wedding ring traditions have continued to evolve. Dual-ring ceremonies date back to the 1300s when the Greek Orthodox Church introduced it. 
However, it took quite a while for the practice to gain popularity around the world. 
It didn't become common for men to wear wedding bands until World War II when soldiers began wearing rings to honour their spouses at home. 
In the past, wedding bands were made assets to honour a partnership. But today, there are no rules that say your wedding bands have to match. 
Ring tradition is changing in a variety of ways as well—not just in their appearance. 
Not only are engagement rings for men rising in popularity, but couples are also splitting the finances when it comes time to make the big purchase. 
Now, couples are more focused than ever on doing what works for them instead of what historical traditions dictate.
Getting mismatched wedding bands is the ideal option for some couples. 
While there are plenty of classic wedding band options made of gold, silver, diamonds and platinum, there are plenty of alternative materials like titanium, tungsten, ceramic and wood for those with different fashion preferences. 
Given everyone's fashion sense, it can be challenging for couples to agree on one material and colour. 
And with so many alternative ring options, why limit yourself to a design you don't fully love? 
Some engagement ring trends, like coloured gems or lab-grown stones, might not match the style of ring your partner likes, and that's perfectly ok. 
Some people even opt to get a wedding band that doesn't match their engagement ring. 
When it comes down to it, your jewellery choices should reflect the style that you love most. Instead of compromising your taste, it's encouraged for you and your partner to get rings that you both will enjoy wearing. 
So, should your wedding rings match? The choice is entirely up to you. 
If you prefer to stick to tradition, getting matching wedding bands would be a sweet way to symbolise your union. 
But getting different bands won't take away their sentimental value. So whether you have other style preferences or want different rings, mismatched bands are an excellent option for any couple. 
What matters most is that you both love the ring you have—you will be wearing it for the rest of your life, after all.
If You're A Sucker For Tradition
If you both have decided that you want your bands to match, that's great! Brides and grooms can find something that speaks to unique personalities and lifestyles and still is similar. 
Women tend to gravitate toward precious metals, while men usually find interest in the non-precious variety. 
This makes matching achievable without having to sacrifice metal preference. 
Going the traditional route makes choosing your bands a lot easier. If you do decide to get ones that match, make sure you both agree on the style. 
The simpler, the better, unless you're comfortable with sporting a few diamonds or fancy scrolls. 
In most cases, we are going to suggest sticking to the basics. Go for something solid—either in yellow gold, white gold, or platinum—that your fiancé can also wear with her engagement ring. 
Another nice touch to enhance a more straightforward band is engraving something sentimental on the inside of your rings, your wedding date being a good choice. 
Don't get too creative though, remember that it's a ring: how much could you possibly fit?  
Who Says You Can Only Have One Wedding Band?
Purchasing two bands is another growing option and allows couples to enjoy the best of both worlds. 
Maybe you need to match for wedding pictures or other special occasions. No problem – indulge yourself and tradition and have a band for those critical moments. 
It's ok to have another one reserved for day-however, something more rugged and individualised may be used more often for work and everyday activity. 
Men's wedding bands are affordable -, and ours are even more affordable than the jeweller - purchasing a couple to be worn for different occasions won't break the bank.
Saying Goodbye To Tradition:
Maybe you aren't concerned about matching bands – that's ok too. 
You and your groom might have completely different ideas about what your wedding band should look like, and at the end of the day, maybe all that matters is finding something that you'll like and want to wear daily. 
While this may open up additional options, you can still keep the search stress-free by using the same tips above and narrowing down what you like based on colour and material. 
You can also use this as an opportunity to get a band that matches your personality. So whether you're more into simple bands or something more complex, you have great options. 
Did you know you can even add colour to a band like red or blue or add a wooden or meteorite inlay?
If You Are Undecided:
Sometimes, all you need is to feel the metal in your hand, wear the ring around a while, and find out what truly speaks to you as an individual and as a couple. 
Utilising our home try-on kits will help you make that decision. 
We are different from other home try-on companies in that you can pick up to five rings of various metals and styles. 
Pick a couple that matches the bride's ring and a couple that doesn't. Then, you have nothing to lose.
At the end of the day, whether you choose to match or not, we know that you will find the perfect band for you, and we are here to help make the process not only easy – but fun. 
The Heirloom Route
Whether it's your father's, grandfather's, or your favourite uncle's wedding band, incorporating a cherished family heirloom into the big day is a vast sentimental score. 
Your bride may even be game to customising her band to have a similar design to your family's treasure. 
But feel her out before you make any moves. If you're going to use a family member's band as your own, make it known that this is something special to you, and there is no pressure for the rings to match.
 A family heirloom can come with some unique qualities, and not every bride-to-be will be into styling her's up to match. 
You may be down with some of the ornate characteristics, but your bride has probably had her ideal band nailed to her Pinterest board since the proposal.
Looking to purchase your wedding rings? Check out our list of Wedding Ring Shops to help you choose. 
The Ecological Route
Eco-friendly weddings can go beyond the decor and invitations, so why not sport something sustainable on your hand? 
There are endless options for eco-friendly wedding bands, and the price tags are more reasonable than many traditional choices. 
Whether you choose recycled metal or polished wood, jewellery artisans do impressive things to keep costs low and the environment protected. 
Then there's always the tattoo route. But, hey, it's your journey: if getting inked is something you and your new old lady are into, then by all means. 
Go for some skin art of a traditional band, your wedding date, or something symbolic for the both of you. After all, what says "forever" better than a tattoo?
The Matchy-matchy Route  
Matching the wedding band to the engagement ring has become very popular. It makes sense. 
If you know your bride, then you know she most likely has had the ideal wedding ring and band set seared into her mind since junior high. 
Often, a bride will want the two pieces of jewellery to complement one another or perfectly fit into each other. 
But where does that leave you? Typically, you will have free range in these scenarios, but many guys today are leaning towards titanium, tungsten, and even silicone bands. 
All of them are durable and won't break the bank. 
These types of bands are functional, stylish, light, and super durable, making them ideal for guys that aren't used to wearing hand decor on the reg.
What To Consider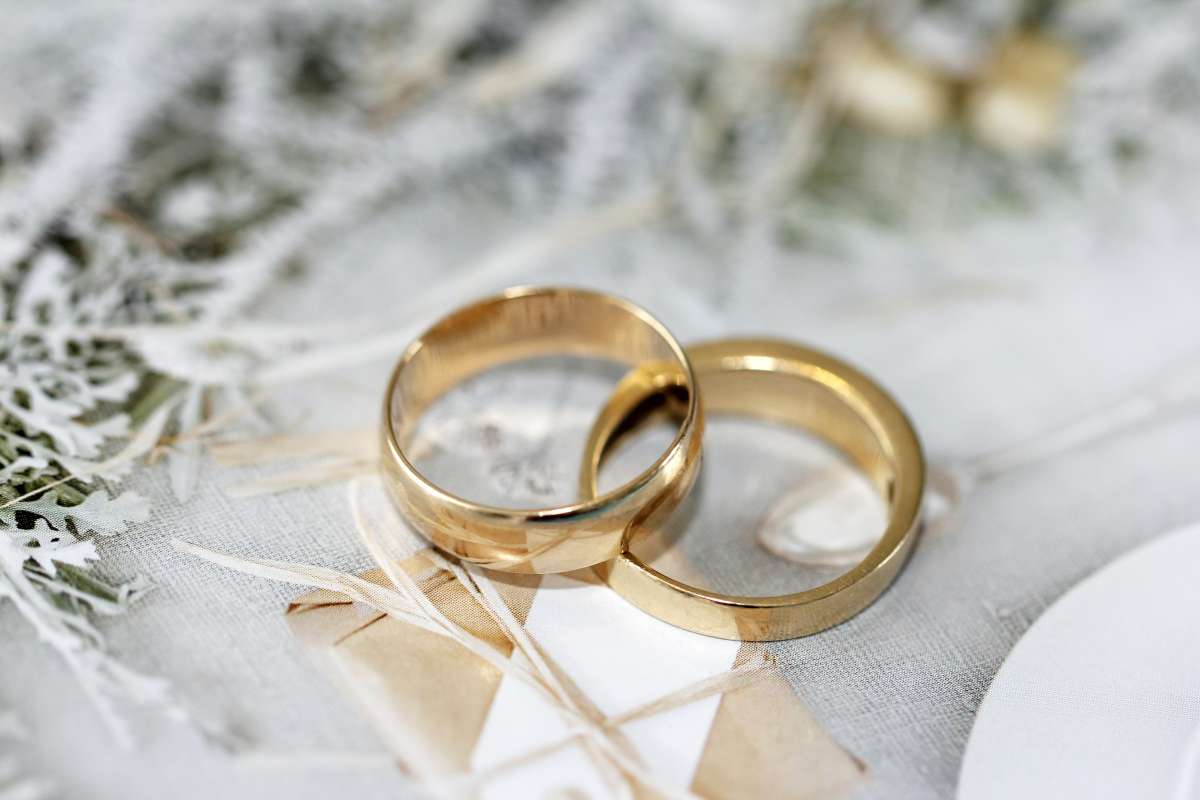 Just like wedding cakes and honeymoon destinations, different couples like different things. 
When it comes to wedding bands, it's essential that both of you love the bar you'll wear every day for a lifetime, whether or not it's part of a matched set. 
Not sure where you stand on wedding band styles as a couple? Before heading to the jewellery store, consider:
Metals
Gold is traditional for bridal jewellery, but platinum wedding bands have made significant inroads and men's wedding bands in contemporary metals such as titanium and tungsten. 
Some people have skin sensitivities and may need to choose a hypoallergenic metal.
Colour
Yellow, white, rose, black? A yellow gold ring is a traditional choice.
If you have a light complexion or your tastes run to contemporary, white or rose gold for her or grey tungsten or black titanium wedding bands for him can be just as stunning.
Finish 
A polished finish is highly reflective, while a matte or satin finish has a softer appearance and doesn't show scratches as readily (a jeweller can easily polish out any scratches that occur over time, though a pattern will have to be applied again).
Diamonds And Color Gemstones
Will you look at rings with diamond or colour gemstone accents? Is there a wedding band that's already part of a set with her engagement ring?
Design
Contemporary, traditional or somewhere between, wedding bands come in every style. Therefore, your wedding band should complement your style. 
What kind of clothes do you wear? What kind of art do you like? That will help you narrow down the choices before you get to the jewellery store.
When A Matched Set Isn't The Answer
What happens if your discussion leads you both to conclude you should select wedding bands that aren't part of a set? Or what if one person still wants a matched set and the other doesn't?
You still have two options to consider before dismissing matching wedding rings entirely. 
The proportion could be an issue, with a particular style looking too dainty on the man's finger or too overwhelming on the woman's hand. 
Ask your jeweller to show you matched sets scaled to different widths. 
If the proportion isn't the stumbling block, ask if your jeweller offers a custom design program where you and your fiancé/fiancée can design a matched set you both love because you created it yourselves.
If you still can't agree on a matched set, it's time to dip your feet into the swirling pool of compromise. 
Complementary rings — rather than matched rings — could be the perfect solution. Jewellers can show you many choices, but here are just a few options to get your creative juices flowing:
Two bands of different styles but identical metals.

Two rounds of different metals but in the same manner.
A band with three diamond accents placed vertically across the centre, for example, will look traditional in yellow gold but contemporary and masculine in grey tungsten.
If one of you likes the simple design and the other likes more detail, choose rings that look the same except that one is highly polished gold all over and the other has a texture or inlay of another metal in the middle.
Some brides choose an eternity ring — with diamonds going the whole way around. In that case, the groom may consider a diamond wedding band with three stones the same size as the diamonds in her eternity ring.
In the end, only you can decide what wedding band will make you happy, and only your fiancé/fiancée can decide for themself. 
It's up to each of you to celebrate the other's view — whether it's the same or different.
Does Your Wedding Band Have To Match Your Engagement Ring?
So we know that you and your spouse's wedding bands need not match each other—though they definitely can if that's your thing—but does your band have to check your engagement ring? The same rules apply here. 
Traditional wedding and engagement ring sets usually match or complement one another in some small way, but that's becoming less and less popular. 
These days, it's pretty common to see mismatched sets. 
We see combinations with different metals, ring widths, designs, and stones instead of the standard white gold solitaire engagement ring with a simple white gold band. 
And with the stacking wedding band trend gaining more and more steam, we often see multiple mismatched rings on a single finger, proving that the way you wear wedding bands can say so much about your sense of style. 
Multiple Options For Multiple Styles
Another great option is to have multiple rings, including one that matches your engagement ring or your spouse's ring and one that complements it, accents it or stands out all on its own.
 Many people choose matching rings as their "official" wedding band but wear silicone rings or other styles to suit the mood or activity at hand. 
Ultimately, the answer to the question of whether or not wedding rings have to match is simple: no! Need help planning your wedding? Check out our list of Wedding Event Planners here.
Like all wedding traditions, there are different degrees and approaches you can take. The best thing you can do is choose an option that suits your partnership and individual styles, so you want to wear yours all day, every day.