A reception menu made up of cheap wedding food can free up money to spend on other aspects of your wedding and leave your guests none the wiser about your budget-saving efforts. 
With various wedding reception food ideas on a budget, you can easily create a low-cost menu that will satisfy and please every stomach.
If you're planning a wedding, you'll learn quickly that food will be one of the most significant expenses next to the venue.
The wedding reception and food account for about 50% of the entire wedding budget. Some brides admit to paying anywhere from $1,000 to $17,000+ on catering and other types of food for their wedding.
While cutting your guest list can help lower the cost of food on your wedding day, if you and your fiance have many family and friends with whom you'd like to share your special day, this may not be much of an option.
You can also scratch the idea of serving a meal at your wedding altogether and stick with light appetisers.
Looking for Wedding Caterers in Melbourne? Look no further, Vogue Ballroom has you covered.
However, if you plan on having a reception and entertaining your guests for a while, they are bound to get hungry.
If you wish to have quite a few guests at your wedding and prefer to feed everyone as a courtesy, many creative, affordable wedding food ideas won't break your budget.  
You don't have to spend thousands of dollars on your wedding reception meals unless you want to. 
We will share with you a few ways to cut costs when planning your wedding reception meals, including:
Not doing a sit-down, plated dinner that needs to be served

Sifting or reducing your guest list

Self-catering with the help of family and friends and

Going with a caterer that isn't associated with the wedding venue
This article focuses on how to save money—both in self-catering your wedding reception and working closely with a flexible catering service. 
Did you know that couples spend around $10 to $300 (even more) per guest for their wedding meals? 
We hope to guide and help you stay on the conservative side of that wedding food budget! Here are our tips.
Feeding Your Wedding Guests On A Budget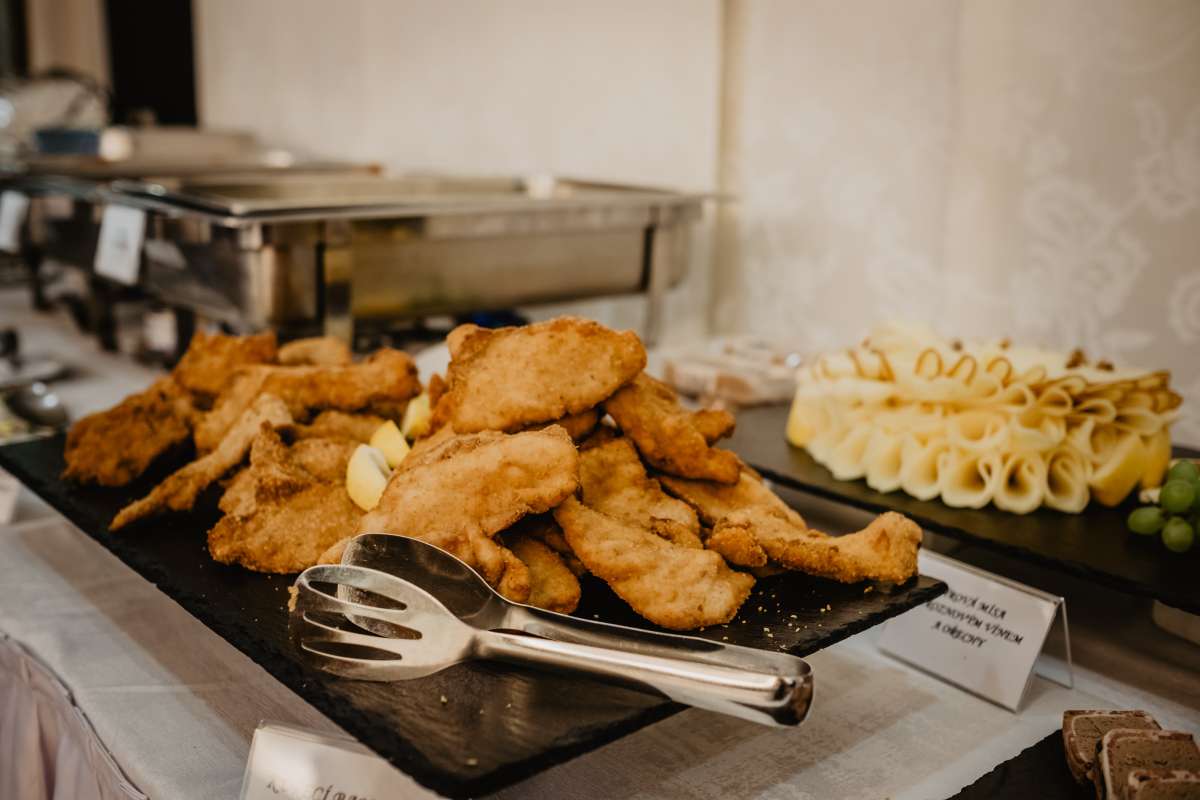 Order A Wedding Meal From A Local Restaurant 
We have seen couples order their wedding reception meals from their favourite local restaurants. 
These could be your favourite Indian or Mediterranean restaurants or any place else. The quotes could be as low as seven dollars per person, plus all the dinnerware and serving equipment. 
Some local eateries even provide the option of serving the food buffet style for usually a very reasonable price.
By going to a family or small restaurant instead of a professional caterer, expectations are not established for either party. 
Therefore, the prices can often be more readily negotiated. We suggest keeping the guest list in mind when speaking with the restaurant's management to calculate the amount of food to order.
Organise A Brunch
If you plan to have a morning wedding, you can always organise a brunch to feed your guests. 
You can choose between breakfast foods and pastries with lunch foods like sandwiches, soup, and salad.
Brunch food is generally cheaper than dinner food, and you can get away with excluding a lot of meat dishes which will also save you money.
Have A Do-It-Yourself (DIY) Dessert Wedding 
Suppose your event is scheduled after dinner time. In that case, you can easily have a 'desserts only wedding reception, which can save you significant amounts of money. 
This means that you will be only serving drinks and sweets to the guests.
You can ask the best baker in your family or friends to bake their specialties for wedding desserts. 
Next, beautifully decorate the serving table along with drinks. This idea may sound frugal to many. 
But believe it or not, a 'Cake and Punch' wedding reception is quite traditional and performed on the church lawn for generations!
Let all guests know what to expect beforehand at the wedding reception so that they do not turn up ravenous with just desserts to eat for the celebration.
Host A Meal At A Caterer's Location
To cut both the reception price and the food, you can also opt to have your reception in a private room at your favourite restaurant if you have a small to the moderate-sized guest list. 
Some restaurants may accommodate large groups, but to be on the safe side, you may find more luck with this option if your headcount is less than 75 people.
When you host your wedding meal at a caterer's location or restaurant, you'll eliminate set-up fees and rentals for tools and other supplies. You might even be able to ask for a group discount.
Set Up Do-It-Yourself (DIY) Food Stations For Guests
In recent years, DIY wedding food stations have become quite trendy. You can also participate in this rage and have your "build your own X" food station for the wedding guests. 
Some fun and inexpensive DIY food station ideas that you can use at your wedding include:
S'mores station around an open fire pit

Doughnut station; where guests can choose their toppings

Make-your-own taco station

Pick-your-own topping stations for hot dogs, nachos, french fries, ice cream, etc.
This can be an economical option only. 
If you purchase all the ingredients and set up the kiosk yourself, or even better, a small group of loyal friends and family can look after the procuring and set it up for you as a wedding present!
Start by breaking down the amounts of everything you require in a shopping list, illustrate a rough sketch of how you'd like the food and other objects arranged on the serving counters, and let them take it from there!
Go Big On 'Cheese & Charcuterie.'
This inexpensive wedding food idea will work well if the majority of your guests are not vegans or vegetarians, in which case, it is possibly best to head in a different direction. 
On the contrary, if only a few of your wedding guests are vegetarian or vegan, be sure to plan another similar food option along with the cheese and charcuterie so that they can eat something as well!
Having cheese & charcuterie at the wedding reception is more like having an hors d'oeuvres-only reception. 
While giving out reception invitations, you will inform and ask guests to join you for some 'light refreshments and dancing.' 
You can perhaps perform your wedding ceremony a little late (around six or six-thirty) so that your invitees can eat something more filling before heading to your event.
Once everybody is informed about the reception, go to a cheese shop or a supermarket and buy large wheels of cheese and excellent fresh charcuterie. 
Additionally, get some crackers, bread, nuts, fruits (like dates, grapes, strawberries, etc.), and maybe hummus. Finally, build beautiful cheese and charcuterie boards for your guests to graze over!
Again, you can use this opportunity to call in favours from close family members and friends, asking them each to bring a kind of cheese and charcuterie to add to the boards.
Have A Potluck Wedding
In ancient times, and even today in several cultures, wedding meals are not outsourced through a venue or a caterer. 
Instead, wedding meals were a family project, carefully made with much love and care by close family members such as mothers, aunts, cousins, etc. 
Nowadays, we seem to overlook this tradition or have forgotten about it altogether. People view potluck weddings as 'lesser than' for whatever reason, and frankly, it's too bad. 
Suppose you have family members or close friends who love cooking. In that case, we suggest you consider having a potluck wedding (where a group of individuals can contribute something to the celebratory feast).
It is essential to schedule a potluck wedding carefully, and tasks must be distributed and delegated. 
Make sure everyone knows what they need to order, in what amounts, and most importantly, take ownership of their supplies and dishes so that you don't have to think about it on the wedding day.
Tip: For a potluck wedding, always ask people who you trust the most!
Hire A Food Truck
A food truck is not only a smart, cute option for your wedding reception; it is also an inexpensive wedding food idea that can save you a lot of cash. 
However, there is stuff you need to keep in view if you plan on heading this route. 
Imagine a food truck operating at lunch hour in a city and seeing how long the queue can get in a bit of time? 
Keep in mind that a food truck works best at a wedding reception only if it operates more like a kitchen, and the meals – a set menu – can be presented as a buffet or if pre-made food can be quickly handed out to the guests from the truck.
If you expect every guest to order their meal and then wait in a queue until it gets ready, trust us, you will have a long line of starving and irritated people. 
Some other things to consider while choosing a food truck for your wedding reception include:
Will it be loud?

Does it need a generator?

Will it require a power supply from the wedding venue?

Is there any place or space at your wedding venue to park the truck?

What flatware and dishware are not included and included with the food truck service?

Will you have to rent out items? How will that cost?
A food truck can end up being a costly choice for your wedding reception when not prepared properly and carefully. 
Therefore before committing, be sure to do some research.
Need help with how the food truck will look at your wedding venue? 360SiteVisit can help you imagine that through wedding venue virtual tours!
Go For Pre-made Or Frozen Appetizers
We are not necessarily referring to heating a bunch of frozen pizzas, but what you can do to make the catering process smoother and easier on the big day is cook the meals ahead of time and freeze them.
This way, you can ask your team of close family members and friends to simply heat the food in the oven or on the stove on the morning of your wedding day. 
Indeed, it is not for everybody, but it can be a partial solution for any chefs out there who love cooking but may not have time to prepare meals on their actual wedding day.
Go Buffet Style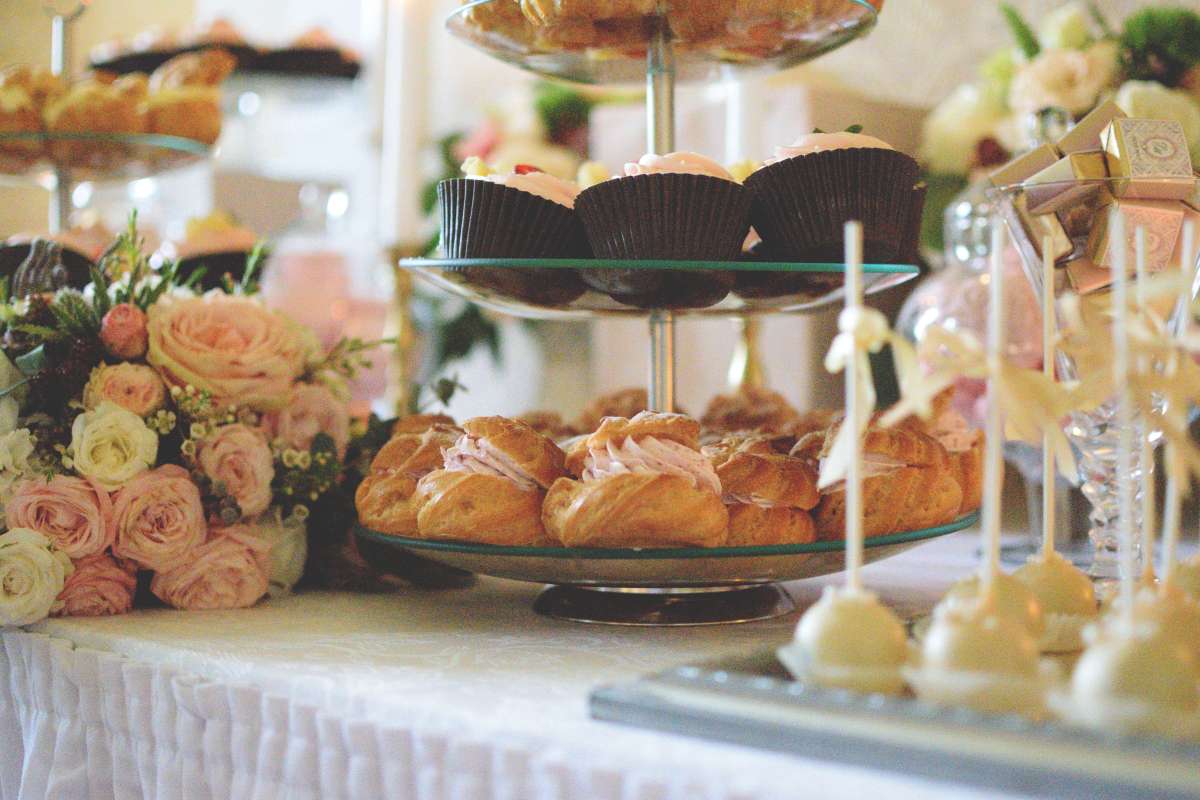 When you sit down and meet with a wedding caterer, you'll learn quickly that plated three or four-course meals are more expensive and take more time to serve than the buffet option. 
Plus, if you only rented your venue for a few hours, you probably don't want to spend 90 minutes waiting for everyone to eat their starter, main course, and dessert.
Having a buffet allows you to provide a variety of cost-effective food options to your guests, and you will save money on wait staff since guests will have the opportunity to serve themselves. In addition, buffet-style reception meals are very casual and economical.
Let Go Of The Wedding Cake Tradition
Some wedding cakes can look like a beautiful work of art. But at the end of the day, it's just food, and your cake will be eaten quicker than the amount of time it took to prepare and assemble it. 
Many couples are abandoning the tradition of having a wedding cake and choosing other more affordable options like cupcakes, assorted desserts, and even pies.
Cupcakes run an average of $2 each, while the cake is often priced at $3.75 per slice or more depending on if it's covered in buttercream frosting and fondant.
Check out our extensive list of Wedding Cake Shops in Melbourne to wow your guests with.
Consider Snacks With A Low-Cost Per-portion
The shorter your reception is, the better you can get away with just serving dinner and cake. 
If you and your guests will be celebrating for several hours, you might want to add some extra snacks or finger foods to the menu.
When you're feeding a large group, try to consider food that you can purchase in bulk with a low cost per portion and try to limit the variety. 
Dessert tables sound lovely and look even more delicious, but sometimes, they can cost almost as much as the cake you ordered.
Plus, when you're offering an array of pies, cookies, brownies, cupcakes, and cake pops, you'll end up feeding fewer people because your guests will be prompted to try one of everything.
To save money, pick one dessert and offer it in two varieties. Cookies have a low cost per portion, and you can order some at your local bakery or even find a home baker who can prepare a big batch for your guests.
You can also serve a seasonal fruit salad with 3-4 different seasonal fruits (or whichever fruits are currently on sale). 
Cheap Wedding Reception Sample Menu
Diy Catering Menu
One way to cut costs on your menu is to cook the foods yourself. In this option, you would be responsible for creating and providing the drinks, appetisers, main dishes, and cake to serve to your guests. 
However, you don't necessarily need to make everything from scratch. This option lets you price out the cost for each dish, choose your favourite words, and make decisions based on merit. 
A sample menu for a self-catered wedding reception consisting of easy-to-make dishes might include:
Drinks
Offering a little bar is a great way to cut down on costs. 
Soft drinks, water, beer, and wine are usually the most inexpensive options at a bar while pleasing most people. 
Picking up various drinks before the wedding on sale is a great way to cut costs.
Appetisers
Cheese and crackers station

Passed appetisers of mini vegetable quiches

Select less expensive cheeses for the station. Many big box stores sell large quantities of frozen vegetable quiches that you only need to warm up before serving.
Salad Course
Salad greens with tomatoes and balsamic vinaigrette
Salad greens of varying types can be purchased in bulk. For example, cherry tomatoes that you cut in half allowing you to buy only a small amount of tomatoes and spread them throughout your salads. 
Balsamic vinaigrette can be easily made in bulk using the easy-to-find and inexpensive ingredients of balsamic vinegar, olive oil, salt, and pepper.
Main Dish And Sides
Sautéed chicken breasts

Carrots

Mashed potatoes
Chicken breasts are sold in bulk at many big box stores. 
You can purchase several packages and prepare them all the same way, pouring a pre-made sauce over or sautéing them with a sauce of your choice. 
Carrots are an inexpensive vegetable, allowing you to serve several to each guest at a low cost. 
You can stretch a few potatoes by adding milk and butter when mashing them and have them serve more guests than if you served each baked potato. 
Keep the chicken and mashed potatoes warm in slow cookers for serving.
Dessert
White wedding cupcakes with white frosting
A few boxes of cake mix and homemade or store-bought icing allows you to create quick and easy DIY cupcakes that are perfect for any wedding celebration.
Cheap Wedding Catering Ideas
Another option for your reception menu is to hire an outside caterer. 
This option is usually more expensive than making the meal yourself, but you can still keep the cost low by paying careful attention to ingredients and the dishes to be served. 
When hiring a caterer, you can choose dishes that might be a little more difficult to make due to their complexity but are nevertheless inexpensive. 
A sample catered reception menu might include:
Drinks
Wedding punch

Signature cocktail
Caterers usually have a list of signature drinks and a non-alcoholic punch that they can create. 
For these options, steer clear of drinks that require fresh fruits, juice or other ingredients, as these tend to be more expensive. 
Also, ensure that your caterer will use the least expensive alcohol brand available for the signature drink.
Appetisers
Mozzarella balls with basil and tomatoes

Red onion crostini
Small-sized mozzarella balls on toothpicks with basil and a half of a cherry tomato allow guests to obtain an individual serving without breaking the bank. 
Crostini only requires slices of a toasted baguette, tomato sauce and a few thin slices of red onion.
Main Dish And Sides
Tilapia with red onion salsa

White rice

Small side salad
A significant way to cut costs is to forgo a separate salad course and add a salad to your main dish. Tilapia is usually a very inexpensive fish that can be grilled or baked and then topped with thin slices of sautéed red onion. 
White rice is inexpensive and can stretch to feed multiple people, and is easy for any caterer to prepare with little labour costs passed down to you. 
The side salad can consist of greens with a cucumber slice or carrot slivers with a vinaigrette.
Dessert
Frosted sheet cake

Small presentation cake for cutting
Most caterers can create a basic wedding cake without a filling or extensive decorations for little cost. 
To cut costs, ask your caterer if they can provide a small cake for you to cut and serve to you and your new spouse and have sheet cakes in the back that can be sliced and served to guests. 
You can cut costs even further by not having a cake for you to cut and just serving everyone a slice of sheet cake.
Hybrid Reception Menu
A third option is to make some of the foods yourself and hire a caterer to provide other dishes. 
This option allows you to avoid the stress of creating all the dishes on the reception menu yourself but still save costs by not hiring a caterer to make everything. For example, in this option, a sample menu might look like this:
Couple's Contributions
Drinks: A glass of champagne for each guest toasting eliminates the need to offer a fully stocked bar without forgoing alcohol altogether. Supplement with water and soda you purchase on sale.

Appetiser: Set up a station with artichoke dip and vegetables. The descent is often inexpensive and can be made in large quantities without needing many cooking skills. Additionally, you can choose inexpensive vegetables to serve alongside the dip.

Cake: By shopping around, you can usually find a bakery offering basic wedding cakes for little cost. The bakery department in many grocery stores offers wedding cakes. This option allows you not to spend much on a cake and avoid having to make the cake yourself or paying a caterer to make the cake, which often costs more. Pasta with sausage.
Caterer's Contributions
Appetiser: Have a server pass an appetiser of mini pulled pork tacos around the reception area. Tacos are easy to create and usually only require inexpensive ingredients; pulled pork tacos allow you to serve your guests a meat appetiser but do not require a lot of money because each taco only requires a small portion of meat

Main dish and sides: Pasta with sausage and a small Caesar side salad. These dishes require a little advanced preparation but still use inexpensive ingredients, making them perfect for a caterer to provide.
Planning Your Menu
Feeding numerous people doesn't have to be expensive. However, by keeping an eye on the cost and amount of ingredients required to create the dishes you choose, you can select less costly foods and cut costs.
We hope these inexpensive affordable wedding food ideas help you have a great wedding, as well as stay on the safe side of the reception food budget. 
Keep in mind that these are just a few of the many things you can do to make your wedding meals cost-effective, fun, and delicious. Check out Vogue Ballroom Wedding Venue for your ultimate wedding reception.
So, use your imagination and come up with something creative! Remember, with your unbound creativity; the sky's the limit!