Videographers are trendy again, nowadays people want to have as many memories of their lives as possible to be recorded and wedding videos are in demand more than ever before. But what does a videographer do? And what does it take to become one? Videographers' responsibilities can be summarized in one main task – recording live events and small scale videos – although this one activity involves several related tasks which we will go through below.
Videographers shoot and edit video footage. That's obvious. But they may also wear other hats, including sound production, or film editing. Many times they're involved in post-production after the video has been shot. They may handle everything from interviewing to editing film, or they may operate the camera itself.
The field of videography has changed a lot over the years as technology has evolved into the digital space. What hasn't changed is that Videographers are strongly creative, with a terrific eye for catching action. You'll find videographers everywhere film is needed: at college basketball games or in a war zone, in an advertising agency or your local nightly news studio.
The job duties of a wedding videographer focus on recording a wedding and related events with a video camera. This career typically involves freelance work, and your responsibilities vary depending on the needs and plans of each client. As a wedding videographer, you usually meet with each couple before the wedding to assess their needs and plan the project. You may film the couple throughout the day, record them at the wedding venue, and capture images during the ceremony and reception. After the wedding, you edit the footage to create a wedding film for your clients.
Need a Wedding Video Company for your special day? Look no further, Vogue Ballroom have you covered. 
What is a videographer? 
Even though videographers' versatility can be applied to a diverse number of videos such as weddings, birthday parties, interviews, commercial videos, corporate and brand promotional video productions, to a large scale, videographers can be involved in large video production or cinematic films, TV commercials and music videos. 
Corporate videos are mainly focused on documenting part of the business and ensuring videos communicate the company's values and vision. Corporate videographers are usually external, although some companies have an in-house team. The latter is usually more convenient for e-commerce stores or companies who need video marketing as a fundamental tool in the customer acquisition strategy. Examples of corporate videography would be charity and company events, product videos or explainers for self-promotion or just video documentation. 
Freelance videographers, just like many independent workers enjoy more freedom and work flexibility as they can choose their projects according to their taste. I know some videographers who choose only to do commercial, fashion and beauty videos as that is not only their expertise but also what they are more attracted to. By being a freelancer, videographers can also copyright their work as opposed to in-house videographer whose work is subjected to the company's copyright. On the other hand, by being self-employed, like many other freelancers, they have to work hard to get clients and manage all the aspects of the business.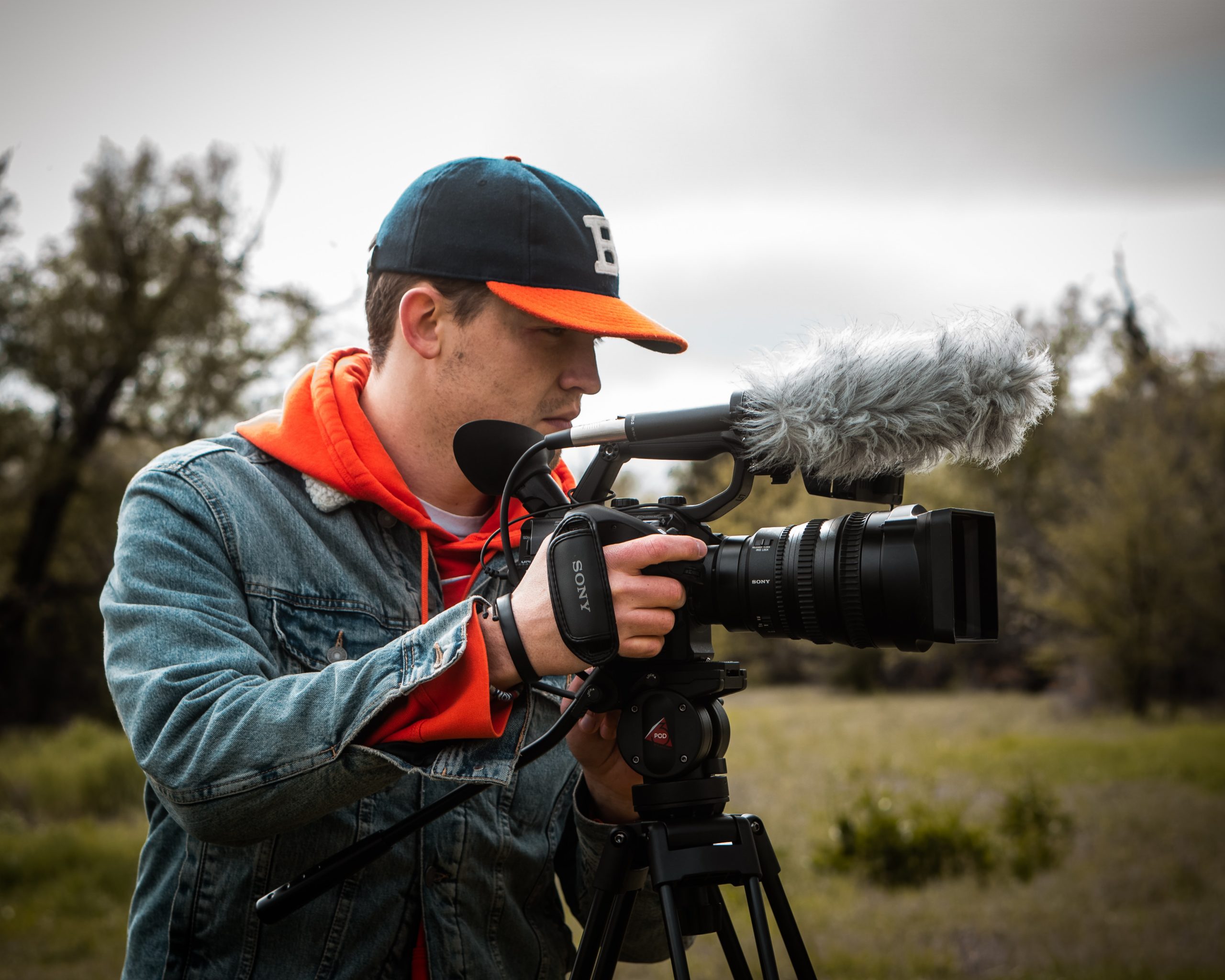 What Is Their Approach?
Documenting an entire event-filled day is a huge feat, and videographers have many different approaches to making it happen. Does yours want to be more hands-off, keeping to the background during your big day? Or do they want to be up close and personal with you and your fiance as you go through your day? Or a mixture of both? This will depend a lot of what your hopes and vision are for the final product, absolutely, but it also depends greatly on the style and preference of the videographer themselves! Some will ask you and your partner to complete specifics tasks—like reading a letter to each other out loud into a microphone—and some will strictly be documenting from the sidelines. It's important to discuss expectations for things like this with your professional ahead of time so that you're not surprised by any tasks or ideas the day of!
What Is Their Equipment?
What a videographer will bring to your wedding depends in part on the person you hire. If their services or packages cost a little bit more than everyone else, you can likely expect more equipment as they create a more dynamic product. Most wedding videographers work with at least two cameras: one stationary, placed on a tripod to get a full recording of your ceremony, and one in hand so they can record different angles of specific shots and moments. If they have an assistant, there maybe even more. If they're particularly inventive, they may even use a drone!
Their standard cameras will likely have a few lenses, microphone attachments, and maybe even external light in case the reception venue or other locations have low lighting. Regardless of these attachments, it is fairly common for a videographer to bring additional sound and lighting equipment. You or your partner may be asked to wear small, wireless lav microphones during your ceremony—even if you aren't using any amplifying equipment in your venues like speakers or a sound system—so the audio of your vows will be picked up by the video cameras. These mics are usually extremely discreet and will be key in making sure the sound quality in capturing your vows is top-notch.
How Will They Work With Your Photographer?
Something you may not have considered is how your videographer and photographer will communicate and coordinate their needs throughout the day. It's a great idea to make sure you introduce both of them to one another prior to the ceremony or as early as possible on the day of the wedding. Hence, they have time to have a conversation about what they need to work well together during your event. Since they are both trying to capture essential visual elements of your day, having a great working relationship and communication skills will be helpful for everyone, so don't be surprised (in fact, be happy!) if they do step aside and have that conversation!
What Is Their Final Product?
And the last but perhaps most important thing to know is what you should expect for a final product. Of course, you should always make sure to read every contract from your vendors extremely carefully, but that is especially true for something as important as wedding documentation. You need to know what type of video your videographer specializes in. Are they creating more of a feature film of your day with full edits, background music, voice-overs, etc.? Are they doing a less-edited, more natural view of your event? Are they only providing you with one full-length film or are they also including a highlight reel for social media sharing? Most of these questions will be apparent in a sampling of their work that you should take time to watch before making your decision, but you can also ask them to describe their work themselves during a consultation.
Additionally, you need to know how you'll be receiving the final product. Will everything is delivered digitally with links to shareable video versions or via a USB drive? Will you receive a physical DVD, and if so, how many copies? All of the above are great options; it just depends on what you and your partner are looking for and what your videographer offers. To make sure you know ahead of time what you will be receiving as an end product!
It's also important to make clear ahead of time if there's anything unusual or especially important that you know you'd like footage of such as certain family members you'd like captured or as much footage of the dancing as possible. Most videographers will be willing to work with you to make those important details happen, but if they don't know what you want, they won't be on the lookout for those things! To communicate, communicate, communicate!
Skills Needed To Be A Videographer
Videographers may be responsible for transporting or setting up this equipment, shooting, hauling it away, and then creating the movie or film clip.
Some typical responsibilities include:
Working with a Creative Director or collaborative team to create the film or video product

Figuring out what type of equipment to use

Cleaning and disassembling hardware

Setting up and tearing down cameras, audio recorders, lighting, microphones, and props

Calibrating and maintaining equipment

Doing small repairs on broken equipment

Preparing background film or "B" rolls as well as a live feed

Troubleshoots problems with the equipment

Interviewing people and creating a film clip via editing raw footage

Working in the studio as part of a production team to edit film

Inserting closed captioning, graphics, or other on-screen text into a video

Adding computer graphics and special effects to a video
However, these tasks vary by type of videographer. For example, a wedding Videographer might spend the day talking to the client and shooting the event. In contrast, a Newspaper Videographer could don a flak jacket and dodge bullets while filming scenes of human crisis. While these two examples are at the extreme ends of this career path, both could be the responsibility of the person behind the camera.
While these are some of the tasks of the videographer, what are the skills they need to accomplish these activities?
Find the perfect wedding video company to help capture those special moments here. 
Videographers need the following characteristics:
Manual dexterity, physical mobility, and some physical strength/stamina

Bravery to get the camera shot in risky situations

Creativity and attention to detail

Ability to work under deadline pressure

Organization to manage their time efficiently

Ability to capture snippets of film and be able to edit it into a cohesive story

Flexibility and good listening skills

Enough patience to wait for the perfect shot

Energy and determination

Technical understanding to be able to operate, configure, set up, and fix video, audio, lighting, or other production equipment

Must know computerized tape editing software and equipment

Understanding of post-production techniques

Can work in a variety of digital venues with software to edit and finish film work

Passion—they have to be all about getting the shot
Videographers have a challenging job, no matter the venue they're working in. It's a very competitive field, so to stand out, it takes determination and a lot of hard work.
Suggested Software Proficiency
A Videographer must know both hardware, such as camera equipment, switching equipment, and digital editing equipment, and software for scripting and video editing.
Some of the software you may run into in the field includes:
Celtx, for video planning and scripting

Pinnacle Studio 16 Ultimate for video editing

The Adobe Creative Suite can be used for editing, scripting, or marketing a film

Corel VideoStudio Ultimate is a great tool to know

Or, for those that are Mac-obsessed, try iMovie or, for the pros, try Apple Final Cut Pro X

For balance, the PC-lovers will like Windows Movie Maker
Many of the software programs a Videographer will use will have multi-function capabilities for editing from several cameras simultaneously, motion tracking, 3D editing, and even keyword tagging.
But wait – there's more. We mentioned that knowing software and hardware is important, so we can't leave out some of the equipment a Videographer might need in addition to their camera. What about microphones and lighting in addition to the other software and hardware?
All of these skills are necessary to become a Videographer. It's an interesting and diverse role, but its main requirement is just one thing — to nail the shot in as few takes as possible.
How to become a videographer? 
Attend workshops 

Get a good video camera 

Earn a related college degree? 

Look for internships 

Create your films

 Apply for jobs 
Videography and photography as visual arts are related, but both share several commonalities, for example, the fact that it is really hard to get into any of them. Videographer jobs are many times erratic and not a regular 9 to 5. You might work 12 hours a day and have no work for the next few days. If you are a wedding videographer, you know your job is seasonal. On the other hand, if you work in the film industry, you might enjoy more stable work schedules although competition is very strong and it will require more than just technical knowledge but also creative and passion for films. Below I have listed a series of step that if taken properly, will give you the highest chances of getting a job. 
Attend workshops 
A videographer is more than operating a video camera. It requires skills, technical knowledge and a creative flair too. I always recommend people to attend a workshop first as this way will help you understand whether becoming a videographer is for you. By taking short courses, you will not only learn some basic camera operation, but also they might teach you filmmaking techniques, video editing and lighting setups. 
Get a good video camera. 
Choose a good beginner camera. I said a beginner camera because once you have developed some experience, you will know what camera to choose but as a beginner, you don't need to spend a fortune on a high-end camera till you know exactly what works best for you. As a beginner, you might find that a good DSLR camera can do the job. Soon you'll learn that a video camera is just one part of the equipment, there are also sliders, cranes, camera rigs, and other technical gear that you'll have to familiarize yourself with. 
You do not have a college degree to become a videographer, but having one will not hurt you. Experience and passion are much more important. Several bachelor degrees are closely related to videography and filmmaking that will provide you with valuable knowledge: 
Communications 

Cinematography 

Broadcasting 

Video editing 

Film theory 

Screenwriting 
Look for internships 
Like most jobs nowadays, even if you have a relevant degree, you have to have some experience. Get an internship or do some work experience ideally while you study, this way once you finish your degree, it will be much easier for you to find a job. Contact local television companies, film studios, and others that offer internships and look for opportunities to start as an assistant. 
Create your films 
Once you have earned some knowledge and your passion is firing. It is time to go solo for some time and pending time building real project with other passionate amateurs, and this will not only help you build a portfolio but also to gain some practical knowledge. Besides, this will help you discover your creative style. 
Check out our post on What is the purpose of Wedding Video editing?
Apply for jobs 
After doing all the above things, you will be a pretty good position to get your career started, and you can finally try to search for job opportunities. Look online for employment opportunities, make a couple of calls to film organizations if you like, and send the word out to family, friends, and partners.
Hopefully, this gives you a good idea of what to expect when getting ready to work with a professional videographer. Remember, if you have a question, request, or concern, you should always ask! Your videographer wants you to have a beautiful film almost as much as you do, but they may not realize you want to know more if you don't say. Every client is different.