'How long is an average wedding video?' is indeed a very good question to ask for a number of reasons which we will discuss in the post.
Wedding videos are usually seen by the newlyweds' family and close friends so you'll need to consider their concentration levels. However, it is curious (instead of saying sad) to notice how many married couples hardly ever see their wedding video, or at least as much as we would like them to.
We think that the wedding video is not simply a beautiful remembrance with showcasing purposes. We firmly believe that it is an asset with a deeper function, which is to work out as a tangible element of their history.
It's common for couples to ask how long their wedding video should be, but the truth is that your wedding video can be as long or short as you wish. However, the average wedding video length is somewhere between three to five minutes for a highlights version or short film, or up to 30 minutes or longer for a documentary or cinematic style. You can always opt for both, depending on what you'd like to use it for and what kind of wedding video packages are offered.
There are no hard or fast rules for how long yours should be, but consider that the longer a videographer films and the more footage he or she has to edit, the more expensive the video will be. The price is usually what keeps couples from having their wedding video go too long. Either way, it's worth it to have your moments collected and documented forever for you and your loved ones to watch whenever you want.
If you're wondering how many hours of wedding footage can be edited down to only a few minutes, that's what the pros are for. They'll consult with you about the style of wedding video you'd like, the length, and the pricing to meet your requests. Prior to meeting with potential vendors in person, prepare a list of questions regarding their wedding videography experience, rates, and availability.
Consider what you want to have covered and other B-roll footage that you'd like to include if there's enough allotted time. By prioritising the elements of your wedding ceremony and reception that are must-haves to include, you'll ensure that you capture the magical moments, and anything additional is a bonus. In terms of length, it's decided by the type of wedding video you choose, what's included in the video, and your videography budget.
With so many Wedding Videographers out there it can be confusing to choose the right one.  Check out our top picks here. 
How a Videographer Edits Your Wedding Video
Your videographer will plan to make a fabulous story from your wedding day. Your story! Using the film, he has created he'll put together a unique story which puts you in the starring role! He or she will craft all the footage from your magical day and create a mini-movie which can be watched and enjoyed for years to come as a wonderful memory of your very special day.
As the day is ultimately about the happy couple, a professional videographer will take scene by scene of footage, with you at the centre of the storytelling process.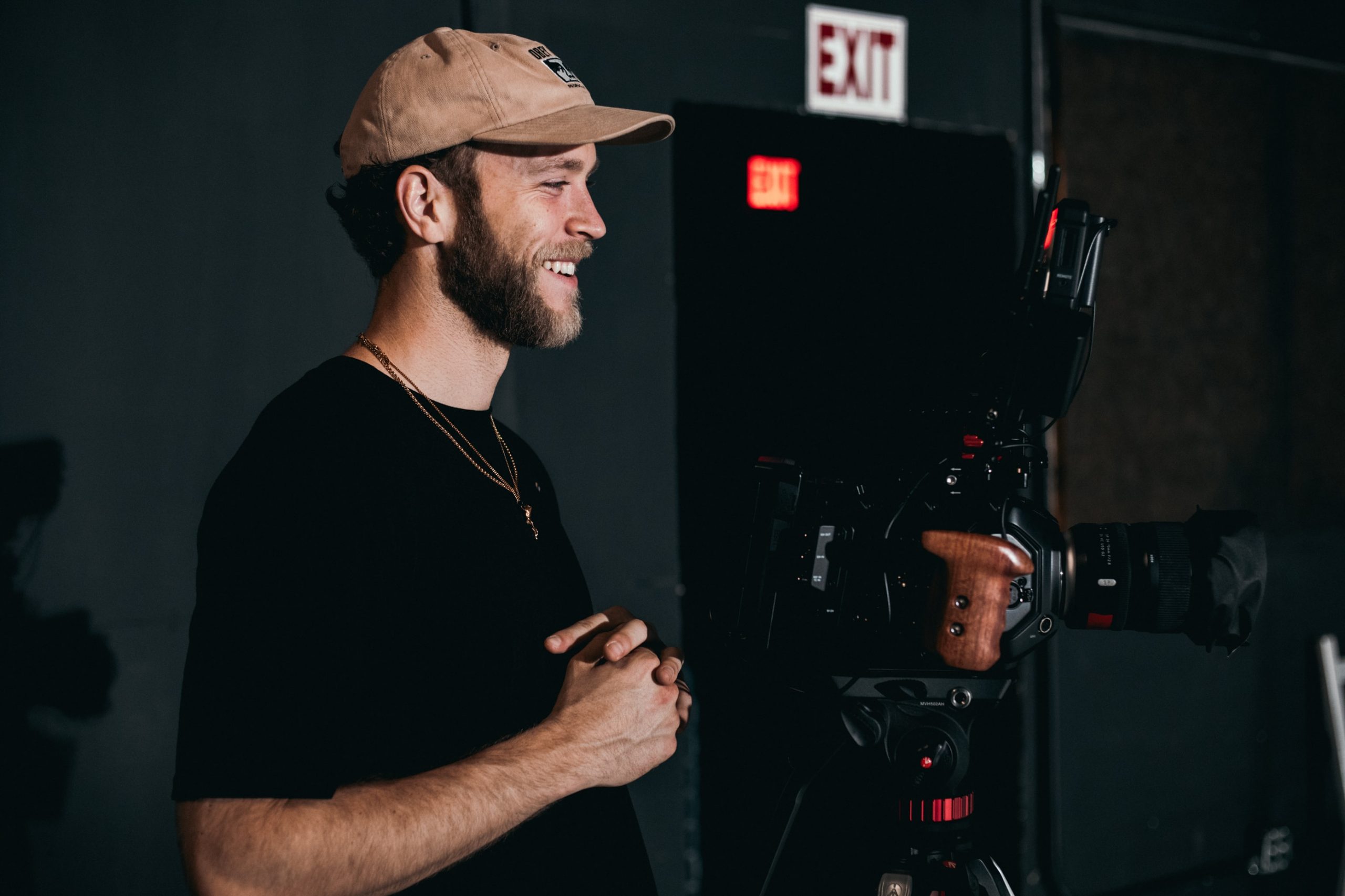 How to Help Your Videographer Edit a Great Video
When you have your pre-wedding video interview, try and give as much detail as you can about yourselves so your videographer can weave your own unique story around the fabulous live film of the day. The more detailed and emotional, the better! So make sure you release your inner story-teller and set the scene! Here are a few examples of the kinds of things you can think about:
Where did you first meet?

What was the weather like?

What was playing on the radio?

What are you both wearing?

What were you both thinking?

How you felt when you first saw each other
All those little details help your videographer to edit your footage, creating a story bespoke to you and a wonderful memory of your journey together.
How Your Vows and Speeches Help Create the Final Edit
The words you use on your wedding day, essentially create the 'script' of your video, which can help you to decide on how many 'scenes' you would like capturing on film, which in turn will help you make a decision as to how long your wedding video will be.
Personally Written Wedding Vows
Your videographer will be able to capture some amazing audio as you take your vows. An important part of expressing how you feel about each other is writing personally written wedding vows. Not only are you creating a perfect way to express your feelings about each other, but you're also giving your expert videographer the tools with which to create a fabulous finished edit of your day.
The words you say to each other whilst exchanging vows are possibly the most important in the whole wedding ceremony. So if you're planning to write your vows, do make sure you let your videographer know so it can be woven into your final edit.
Creating Your Own Story Through the Speeches
Your day is ultimately about the two of you starting your married life together. The way your videographer will create the final edit of your film is by combining it with the words from your speeches to create a powerful narration track of the bride and groom's speeches. These are your own personally written words and story about each other and will help to bring your own personal story to life.
There are lots of ways to write those wonderful words even if you don't think you may be much of a writer! Below are a couple of ways of creating a speech to use that doesn't involve you putting pen to paper!
A poem
Use a beautiful piece of writing from a book.
Something that was written especially for the occasion by a close family member//important member of the wedding party
When you're deciding how long your video should be, you can help your videographer by letting him know in advance if you have any special words or speeches lined up. That way, he'll be able to capture them and use them in your final edit perfectly.
The Typical Length of a Wedding Video
The finished length of your wedding video will all depend on how many scenes you would like your videographer to film. This will depend, of course, on your budget and what kind of style you'd like your finished article to be. The traditional documentary style is usually the most commonly chosen as this will show your wedding day celebrations in the most detail and the order the events occurred. This is what we traditionally associate with a 'wedding video'.
As your wedding video will help to create a long-lasting memory of your special day, you'll be able to share it with friends and loved ones, send it to friends and family who weren't able to attend to see your big day, and you will be able to watch it for years to come (through the good times and the bad!) Think carefully about your budget as your wedding video is probably one of the most important things about the whole ceremony.
There are five main types of edits to choose from to create your wedding video. We'll outline the main types here and how long they generally last. The information below will help you decide. However, be sure to get in touch with us to find out about our other packages available, and we'll be happy to discuss other options with you.
The main Wedding Video edit types are listed below: –
Wedding day edit, – or same-day edit (SDE)

Next day (NDE)

Love story or feature

Documentary

Cinematic
Take a look below at these specific type of wedding videos to get an idea of how long they generally last.
How Long a Wedding Day Edit Video Is
This is a short film often abbreviated to SDE (same day edit) which is usually between 3 and 5 minutes in length. This video is created on the day of the wedding from footage shot during the wedding celebrations. It usually uses footage from the following:
The bride and groom along with main members of the wedding party getting ready for the ceremony

The main photoshoot where the traditional posed wedding pictures take place

Wedding couple and guests entering the reception

First dance by the wedding couple
This video is then shown before the reception, usually before the bride and grooms speeches. It's also possible to include any required footage of pre-wedding shoots into this video.
How Long Is a Next Day Edit?
A next day edit is similar to the same day edit. They're produced overnight and are available the next day for showing. This works well for longer ceremonies based on more than one day. These types of wedding videos usually last 3 to 5 minutes.
How Long Is a Love Story Wedding Video?
A love story edit is a feature edit which is a storytelling video of the bride and groom. These can vary in length depending on how long you'd like your videographer to film for. They generally last between 10 and 20 minutes.
How Long Is a Documentary Wedding Video?
A documentary edit is sometimes called a journalist edit which gives you essentially a documentary type video. This edit takes footage from the whole day's wedding ceremony and the reception – including all the major elements of your wedding day.
It's typically shown in chronological order and is edited to keep the watcher engaged. This is where the real skill of your videographer can shine! This is the traditional kind of wedding video we are familiar with.
These videos usually last between 1 and 2 hours.
Check out our list of wedding videographers to help you capture your special day.
Length of a Cinematic Style Wedding Video
A cinematic video is a more creative way of presenting your wedding celebrations without missing out any of the important parts of your wedding day. It's not necessarily shot in order the events happened. A cinematic style has a Hollywood feel with special camera angles and high-end equipment. This movie of your whole day will have a musical soundtrack to add to the cinematic feel. These kinds of videos usually last between 1 to 2 hours.
Here's a summary for you of the above…
Type of Wedding Video General Length
Wedding Day Edit (SDE) 3 to 5 Minutes

Next-Day Edit (NDE) 3 to 5 Minutes

Love Story / Feature Wedding Video 10 to 20 Minutes

Documentary Style Video 1 to 2 Hours

Cinematic Style Video 1 to 2 Hours
How Long Will It Take My Videographer To Finish Editing My Wedding Video?
Editing
Many videographers work around the fact that most couples go on a honeymoon immediately after their wedding. The average honeymoon period is eight days, but many couples will set aside up to two weeks or more to recover from their wedding antics!
So, be sure to discuss the time frame and your expectations when booking your videographer. It is important that you and your chosen videographer are on the same page to avoid any confusion or disappointment.
How long will it take my wedding videographer to finish editing my DVD?
With you and your new spouse on honeymoon, your videographer has the perfect opportunity to work on your special video without distraction. We're all guilty of a little email now and again, aren't we? "How's the video looking?", or, "When do you think we'll receive the final edit?"
Making a good-quality wedding video is a long process with many stages of editing. We have outlined the basic schedule that most videographers will follow when creating your DVD.
Uploading
Depending on the format and amount of your wedding footage, the videographer will very likely spend a portion of the day after your marriage uploading the captured film to their computer. For your peace of mind (and theirs), they will back up all of the content multiple times. Phew!
How long will it take my wedding videographer to finish editing my DVD?
The rough cut
This is a process that depends to an extent on the lifestyle of the videographer, or the volume of clients that the videography company has to deal with! Expect a wait of between 2-3 weeks for your rough cut to arrive.
Sorting the wheat from the chaff
Your videographer will break down the footage of the day into several clips. From here, they will sort out what can be used and in what sequence for your final film. It's a long, thought out process, with attention to detail being key. Put your trust in your videographer and allow them to work their magic. Besides, you booked them!
How long will it take my wedding videographer to finish editing my DVD?
The rough cut is a basic edit of your wedding, missing out transitions, complete titles and filters, and most certainly does not represent the final product. The videographer will include the vast majority of the useable sequences captured on the day, which will be narrowed down as they ascertain which clips you want to keep. Videographers will use these rough cuts as a basis from which to get vital feedback from you. This is a crucial stage, where you must ask yourself a few questions about how you want your wedding video to turn out:
Is there any particular style that you want your wedding video to match? Quick cuts, slow fades? Do you want your video to have a particular feel? Discuss this with the videographer.

 Are you happy with the general order of sequence in which the clips of your wedding day have been organised?

Which clips are most important for you to keep? Are there any clips that you would like removed?
The videographer will provide the rough cut either in DVD format, online services such as YouTube or Vimeo (if this is the case then the video will probably have to be split up into multiple parts), or even presented in person. Discuss on booking your videographer their preferred method of working, so you are both on the same page.
Second cut or not?
Once you have shared your feedback, then it's down to the videographer to get on with finalising your product! Some videographers will come back later with a second draft, perhaps this time with some basic DVD menu functions in place. Others will plough on and create the final DVD for you. This will probably take between 1 or 2 weeks. Remember, good things come to those who wait!
Providing music
If your videographer has a licence to include music on your wedding DVD, then they may ask you for a list of preferred songs to play in the background. Expect to provide slow and romantic songs for the ceremony and first dance, then some upbeat music for everything else!
We have a little advice for when you are selecting your wedding video music playlist: ensure it is as close to the tracks that were played on the big day as possible. Chose classic songs to ensure you don't tire of them and, lastly, ensure the music is emotive and means something to you and your other half.
Check out our post on What equipment do you need for wedding videography?
The big viewing
Finally, you're home from your honeymoon, bronzed, relaxed and excited to start the next chapter of your life together. You push open the front door to find a small, perfectly formed package from your videographer lying on your doormat. Well, pull up a pew, pour a brew and sit back and enjoy! You could even invite friends, family and the wedding party over for an exclusive viewing. What a brilliant welcome home!
Moving forward, your wedding video will most likely become a key part of your anniversaries, reminiscing at the wonderful memories over a shared bottle of wine and some delicious food. A wedding video is a must-have for your big day. Add it to your wedding budget spreadsheet now… we mean it, NOW!
Your wedding video creates a long-lasting memory of your special day, and we do hope we've given you some ideas of the styles of wedding videos available to help you decide on the length of wedding video you'd like. We provide all of these varieties and can create hybrid variations too based on your needs. So be sure to get in touch to discuss your needs, and how you'd like us to be part of your special day.