For photographers, though, it's a fantastic time. Style afiçionados go all out and let their flagship garments fly, creating the perfect opportunity to get some ad-hoc high-fashion photos.
So roll up that plain white background, put away your light stands and take a brave step outside of the studio – it's the streets that provide the perfect backdrop this season. 
Both the fashion and photography industries are highly competitive businesses to try and break into. That's why you must do all the research you can to get yourself ahead of the competition.
As sartorial people from all corners of the world descend on your city, we thought we'd put together a brief guide on making a great street style shot and what processes you should go through to get a job as a street style photographer.
Be Prepared To Start Free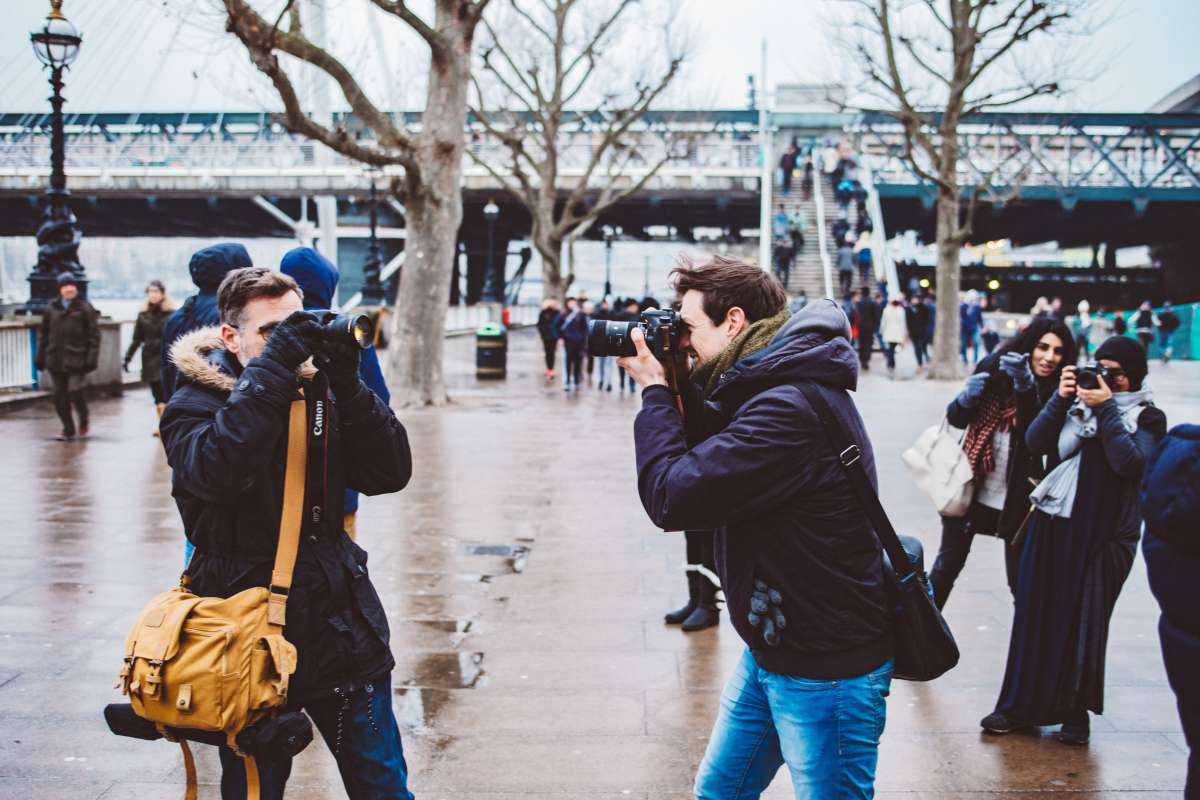 When it comes to applying for this position, brands will be looking for experienced photographers with a portfolio of street style shots to show them.
If you've not done this type of work before, you're more than likely going to have to build a collection you can send to brands first. Unfortunately, this will probably have to be done for free to start with.
Whether you do this for a brand, so you can send published work to a prospective employer, or just a portfolio you build on your blog is totally up to you, but you'll need to show experience to get a foot in the door.
Keep A Calendar
You can take to the streets to find your models, but you should be aware of certain events that will up your chances of being in a concentrated area of well-dressed people.
Shows like London Collections Men, Fashion Week, Pitti Uomo, and any collection launches you can find out about are all going to be attended by stylish people looking for a bit of appreciation for their outfits.
Design Business Cards
If anyone takes you seriously when you're talking to them at events, you need to appear as professional as possible.
Having a set of business cards is vital for getting your contact details out there. Make sure it includes your email address, phone number and URLs to any blogs, websites or online portfolios you have.
Network
With competitive industries like photography and fashion, a large part of making a success of yourself comes down to who you know. So when you turn up to these events, no matter where you are, try to strike a conversation with people.
Let them know who you are, hand them your business card and try to get theirs (so you can follow up the discussion with an email at a later date).
Apply, Apply, Apply
There are plenty of websites out there looking for street style photographers, so get searching and, once you've got all of the above at your disposal, start applying as much as you can.
Please send examples of your work, a list of events you think would be good to cover and let them know your availability.
Read Briefs Carefully
The worst thing you can do if you get a paid role is not to listen to a brief properly.
For example, if your employer has asked for lots of shots of guys wearing single and double-breasted jackets for a bit of editorial on formal attire, don't come back with images of guys trying the rockabilly look. I know, obvious.
But you wouldn't believe the number of people that don't read briefs, provide completely irrelevant images and are then wondering why a company won't pay them for their work.
Backgrounds Are Everything
Stop. Put down your camera and stop photographing that edgy model against a brick wall. The industrial look in fashion shoots is so 15 years ago that there's no excuse for them now.
Instead, think about looking for natural frames like doorways and windows to mix things up. The right amount can lend your images a rustic look or switch it up with themes of modernity, decay and just about any other feeling you can think of.
Step away from the Banksy – think creatively about your incidental scenery.
Wait, No – Light Is Everything.
If your scene isn't well lit, it doesn't matter how good a job you've done scouting a background. Daytime shooting will produce bright highlights and unkind shadows on your subjects – and you can probably forget about photographing anyone wearing a hat with a brim.
Instead, look for exciting opportunities as the evening draws near: in autumn, the golden hour starts increasingly earlier, allowing you to light your subjects from the side with warm, directional light.
When you're scouting for locations, it might be worth having a compass handy – or head to your phone's app store to download The Photographer's Ephemeris. This handy app allows you to predict lighting conditions anywhere on Earth.
Direct, Direct, Direct
This is less important if you've got a professional model to work with, but if it's your well-dressed mate outside his favourite pub, you're going to have to take control.
Poses that look natural in photography often don't feel remarkably realistic, so because someone's uncomfortable doesn't mean they don't look good.
Instruct people to lift their chins or stand facing away from you and turn their heads towards you to get striking images. It may feel weird but looks good in the final photograph.
Pick On People
No good-looking friends? No problem. Head out to your town's most fashion-forward areas and start selecting random people with sharp threads.
Look out for those making a statement with their fashion, as they will most likely want to help you out with a picture. A big smile will get you a long way, as will have a stock of friendly business cards so people can get in touch with you for a shot after you've taken their photograph.
The Secret To Good Street Fashion Snaps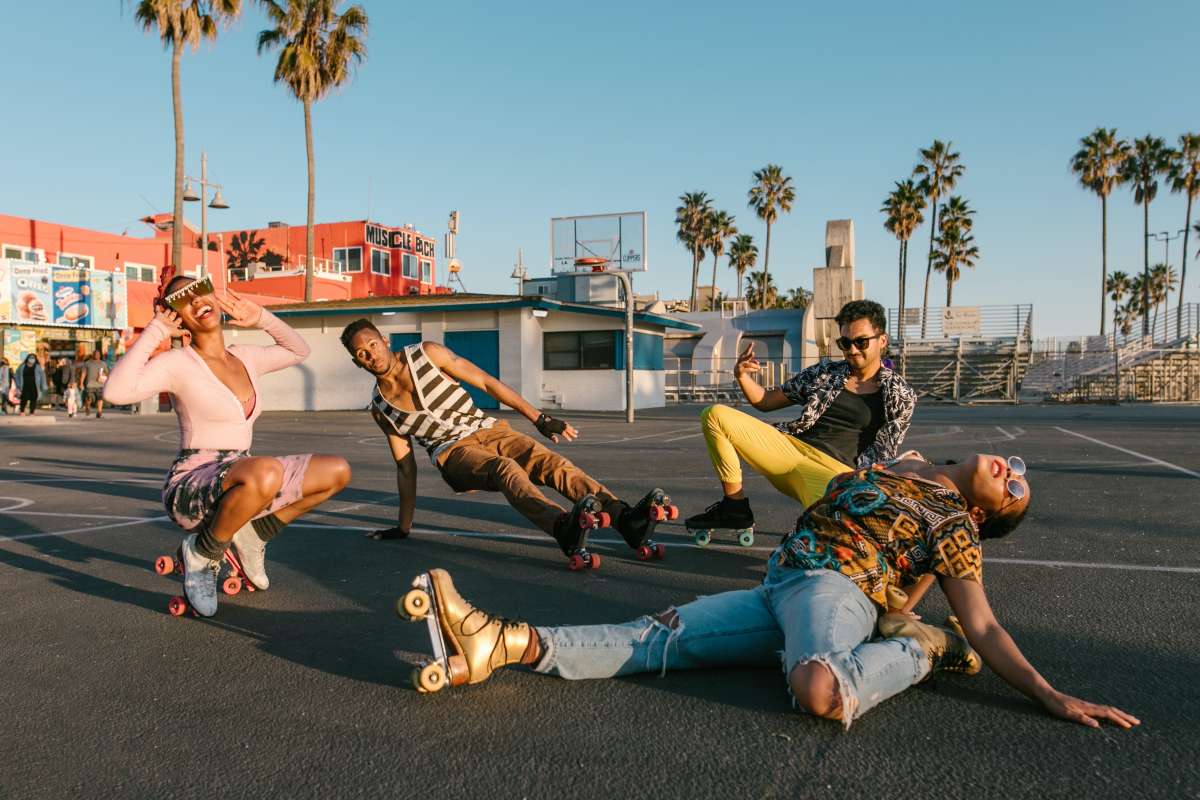 Fashion is the armour to survive the reality of everyday life. Magic could exist in the most mundane of circumstances if only someone were to wear the right outfit.
We asked accomplished photographers to tell us their stories and provide their best street style photography tips. 
They are from all different backgrounds- one started as a model, another as a student- and they each have divergent points of view on the right way to approach a subject and the meaning of a perfect shot. 
They all know what it takes to make it, and they're willing to share what they've learned. The best fashion show is definitely on the street. Always has been. It always will be. 
These artists certainly bring that point home. However, it's not the catwalk that brings them back to Fashion Week every year; it's what's going on just outside the tents, where ordinary people strut their stuff in hopes of being seen.
"When I'm sad or bored, I take out my camera and hit the street." 
"I used to work as a specialist on the stock exchange. Now, I am officially a professional photographer. I photograph for a living: family shoots, portraits, event photography. But street photography is my passion. So when I'm sad or bored, I take out my camera and hit the street.
Street photography requires time and patience. I sometimes spend six to eight hours shooting on the street. I take pictures of people who are interesting to me, who have something that stands out, whether their emotions or clothing.
Usually, I do not ask people if I can take pictures of them. If you ask permission, the magic of the moment passes away instantly. A person begins to pose for you. Most of the time, they have just a couple of minutes for you. If you want to make a good portrait, that's not enough. So mostly, I do not ask.
At Fashion Week, however, everyone waits for the photographers. 
You do not even need to ask permission. Fashion Week is an excellent time to make new friends and find unique models and clients."
Pro tip: 
"My tip to emerging photographers would be that you should always shoot in RAW."
"…look at a huge number of images of street fashion."
"Living in Milan, it was natural for me to begin to photograph street fashion. During the annual Fashion Week held here, you can get many fascinating images in a short period. Before and after the runway shows, most people are interested in being photographed. Some are there almost exclusively for that reason.
In these situations, breaking the ice is easier than you might think. It isn't even necessary if you follow the events season after season because you become known by everyone."
Pro tip:
The advice I would give to someone starting is to look at many street fashion images. Also, take note of the dates of Fashion Week in New York, Paris, Milan and London. 
After the most important runway shows, be there before and put together a substantial portfolio of images. 
These will be indispensable, along with the direct contacts that you might make with potential clients.
"My style of street photography is different. I take a documentary approach…."
"I started as a model when I was seventeen. I had been travelling worldwide, and at the age of 21, I began to do photography. Because models surrounded me, they became my main subject.
A few years ago, I decided to live in Paris for a while, and I was there for Fashion Week in September. I was invited to a few fantastic shows as a guest. 
I realized that it is great fun to run through the streets and take photos of the guests, so during the shows, I was not invited to; I just roamed the streets with my camera.
During Fashion Week, all the guests want to be photographed. Some of them stop and pose. Some of them walk past so you can catch them on the go. You can also prevent people and ask for photos.
My style of street photography is different. I take a documentary approach, so I keep a distance, and most of the time, people don't see me when I press the button.
I like when the movement of each character is genuine and natural. As a girl who loves fashion, it is interesting to see all these famous people from the fashion world in reality. 
For example, when photographers get close to Anna Wintour, she starts to adjust her glasses. 
It's like she is closing her face off to the cameras. She never stops but keeps walking. You can feel her strength through her movements. 
At the end of Fashion Week, Anna Dello Russo says thank you to all the photographers to move fashion-forward. Then, she takes a group photo with everybody. 
Once, Nina Ricci stopped me with my camera to say she liked the way I looked. She wanted to have a picture with me."
Pro Tip: 
"My suggestion to every photographer is to experiment. That way, you will find your unique style."
"They need to be photographed; they crave it."
"When I was a photography student, I also needed to have a job, so I worked at Milan Fashion Week with a historic fashion photographer who paid me a pittance.
For me, taking street fashion photos during Fashion Week is fun and straightforward. All the strange and eccentric people are there to be photographed. 
They need to be photographed; they crave it. I also have no problem asking if they want to be photographed! The secret is to start asking. After you start, it becomes a natural thing.
I love to observe these people during Fashion Week. It is interesting to analyze how these people are related to the fashion world— a world that seems distant to me. 
At the same time, it is a way to find new, exciting models for different work in the future. 
At my last Milan Fashion Week, I met these two fantastic redheaded, bearded twins named Fabrizio and Valerio. We became friends, and we later organized a couple of shoots in Milan."
Pro Tip:
"This is a challenging field of photography. There are many, many photographers and bloggers, and you have to fight with your colleagues! 
My suggestion for the photographers who want to try this kind of photography is to be strong, determined, and confident. Mostly, it would help if you were different from the others. 
Today everyone has a camera. During Fashion Week, the cameras are countless. The secret is in finding new cuts, new lights to explore new emotions. You must not be shy!"
"I like this type of work for the way it exposes me to the trends, colours, garment structures…."
"Street fashion photography came as a derivative of my interest in fashion photography. 
It all started with an invitation from Mr Michele Ciavarella, the Fashion Feature Deputy Editor at Style Magazine, Corriere Della Sera, to shoot a story on the world's parallel reality outside of Fashion Week.
These days, everybody feels flattered when asked for photos. 
Of course, some people become shy once they see the camera, but they get more comfortable after complimenting their outfit and overall appearance and explaining why they got chosen out of the crowd.
I like this type of work for the way it exposes me to the trends, colours, garment structures, and, not least of all, the people— for their personality, not their stardom. 
This cocktail of tastes and diversity educates me and, at times, even challenges my understanding of aesthetics.
Pro Tip: 
"My advice for every photographer who wants to dive into the field of street fashion would be to understand that street style is about trends and characters. 
Staying focused is just as important as breathing is. Don't be afraid to ask your subject to rotate, move or change position, but be careful not to overwhelm them. 
Limit yourself to a maximum of three to five camera clicks. Always do the best work possible, and if you work on commission, try to adapt your visual voice to your client's vision."
Conclusion
Breaking into an industry like this will never be easy; it will take perseverance, hard work, a proactive attitude and a spot of luck. 
But, if you follow these simple tips, you will be giving yourself the best chance of being taken seriously and landing yourself a neat bit of freelance work.