Planning a lesbian or gay wedding? Your choice of wedding photographer is even more critical when you're gay because their familiarity with same-sex marriages is crucial. This creative professional will be getting quite intimate with you and your partner: zooming in with a mega lens. At the same time, you kiss, guiding you into romantic embraces for photo ops and then witnessing your love over and over as they edit all the images. You want them to feel comfortable around you just as much as they need to make you feel at ease.
A symbiotic relationship between the couple and the photographer(s) enables everyone to breathe and just be who they are. If you're not an actor, chances are you've not ever had your kissing formally photographed. If you're comfortable with the photographer, that easy-breezy feeling translates into you looking your best in your engagement and wedding photos.
Without exception, all of your vendors need to be wholly supportive of your relationship. This is especially essential with your photographers, who will be all up in your romantic business. But more than just being supportive, it's even better if they have experience working with LGBTQ+ couples in some capacity. Don't be shy in asking if they have experience in this field if you don't see any mention of it on their website or in their marketing materials. Check out our extensive list of Wedding Photographers in Melbourne to help capture your special moments.
Wedding planning can be stressful, but finding LGBTQ+ friendly vendors shouldn't be. We've chatted with some of the best in the business to get their input on finding an inclusive photographer.
The First Look
Take multiple resources into account when looking for vendors, including social media, personal recommendations, and LGBTQ+ inclusive directories. Websites, portfolios, and contracts all tell you a lot of information about your photographer.
Consider hiring someone who's part of the LGBTQ+ community themself, as they're likely to have a greater understanding of what you're looking for on your big day. In an ideal world, wedding planning would be completely stress-free. Although that's what we strive for, it isn't always the case, particularly when you have the added concern of finding vendors inclusive of the LGBTQ+ community.
Your wedding day should be an escape from the rest of the world, and you shouldn't be reminded that the world doesn't always care about you.
When it comes to your photographer, it's essential to find someone who can both understand and capture your love story in its entirety. Below are some critical tips from professionals in the wedding industry and the LGBTQ+ community on finding a photographer who's qualified to capture your wedding photos.
Familiarize Yourself With Lgbtq+ Friendly Vendor Directories
If you're just beginning your search, it's essential to know your options, and one of the best places to start is digital wedding guides and directories.
Some directories are starting to focus on queer-owned businesses and LGBTQ+ friendly businesses in their listings. They either dedicate the whole site to listing vendors who are LGBTQ+ friendly or have badges that people can add to their sites. They can be a great place to start, and many focus on the local area as well.
Take Advantage of Social Media
We all could get lost in images on Instagram and boards on Pinterest amid wedding planning, but it's essential to know that they can be helpful tools, too. Hashtags are your friend. Utilize social media as much as possible, and search whatever hashtags represent you as a couple.
However, as you begin your search, it's important to remember that a photographer's social media following is just one tiny piece of the puzzle. Just like everyone else out there, we often get blinded by someone's social media following numbers. Just because someone has many followers, that doesn't mean they know how to work in every single setting or especially with LGBTQ couples.
Use Multiple Sources
Whether you've been sorting through wedding vendor directories or primarily using Instagram, it's essential to get to know who they are both as a wedding photographer and as a person. When you search for wedding photographers, don't just look at one source. There's nothing more important than finding one you can connect with since he or she will be spending the whole day with you. It's essential to dig deeper than the initial, most glamorous shots you see, also known as hero images.
Look at the details, angles, emotions, and little moments that they capture," he says. "Just because someone is on page one of something, that doesn't mean they are automatically the best at what they do.
Sift Through Their Websites and Portfolios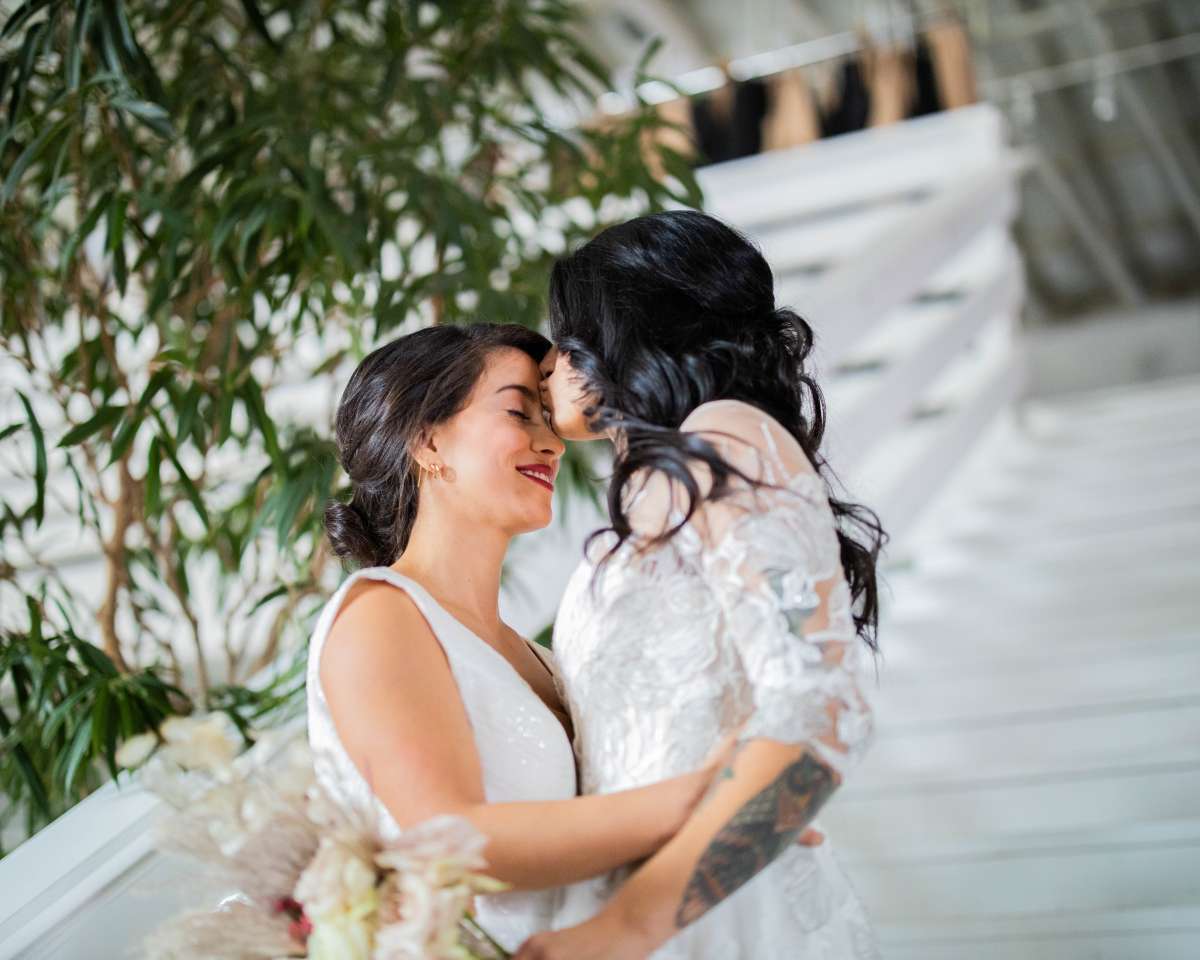 Though many vendors may promote themselves as inclusive, both Kitchen and Tieu say that it's essential to look through their websites and portfolios before asking questions. Do they have a visual representation of couples in the LBTQ+ community? Is the language on their websites inclusive and gender-neutral?
There are plenty that does, so why send that awkward email asking if they will be comfortable working with you?
Prioritize Someone Who Has Worked With Other Lgbtq+ Couples
When it comes to photography, finding someone who has worked with other queer couples is critical, Merrill says. There are differences in posing and interacting with friends and family that an experienced photographer will know about and be aware of, she says, especially when it comes to pronoun usage.
Someone familiar with the LGBTQ+ community will have a diversity of experience that will avoid putting any of your loved ones in an uncomfortable position on your wedding day," she says.
This includes being wary of vendors who say they haven't worked with LGBTQ+ couples but have always wanted to. You're not seeing us as a natural couple. You're visiting us as an opportunity.
Ask Other Members of the Lgbtq+ Community for References
One of the less obvious ways to find vendors in the community is to ask for recommendations from other vendors who may not be available or align with your style. They will have the most local suggestions and often the best advice.
Consider Someone Who's Part of the Lgbtq+ Community
We all have a coming out story, a past ripe with feelings of 'otherness' that changed how we interact with each other and the rest of the world. There is always a feeling of safety being in a place where queerness is celebrated and familiar. Having someone who understands that is huge.
In addition to the collective understanding, it's also a great way to give back to the LGBTQ+ community.
Pay Careful Attention to the Contract
First and foremost, it's essential to go through the contract with a fine-tooth comb before committing to anything. The contract is where you can look for a specific language, such as "Bride and Groom," that might be sending the wrong message. 
If they have experience working with LGBTQ+ couples, she says, then they should have gender-neutral language in his or her contract and ask for your pronouns and including his or their own in the email signature. "You want to hire someone that you know understands gender identity and is not going to misgender you at your wedding. There needs to be more awareness around that.
Be Transparent, but Remember It's Their Job to Make You Feel Comfortable
If you have any specific concerns, you should feel comfortable enough to share them with your photographer. This could be anything from dealing with body dysmorphia to avoiding traditional masculine and feminine dichotomies. You want as much transparency as possible. Your photographer should not be putting your inboxes.
So, whether you're just beginning your wedding photography quest or starting to get contracts in order, it's essential to make sure that you pick someone who's going to have your back on your big day. There are plenty of vendors out there who go beyond inclusivity and are excited to celebrate your love story with you.
It's a rough lesson to learn after hiring someone who takes amazing photos but is suddenly putting you and your partner into over-the-top heteronormative poses. Many of the world's leading photographers are nervous doing their first same-sex wedding because of one simple fact: They've built their entire career on pigeon-holing their couples into gender-specific heterosexual ideals of what's the "norm."
Indeed there's one strong, strapping man who's going to be shot to show off his commitment to protecting the fair, feminine princess bride, right? Not always, though. Sometimes we see this in LGBTQ+ relationships, and that's perfect, too. It's not okay for the photographers to do this disservice to LGBTQ+ couples, though (and straight people too, for that matter). Gender equality translates to all facets of humans. Most people could experience fuller expressions of themselves if society would ease up on expecting people to fall into an either/or category of gender and the typically associated stereotypical expectations of gender. Looking for a wedding photographer in Melbourne? Look no further. Vogue Ballroom has compiled an ultimate list of wedding photo companies to help you choose. 
Questions to Ask Photographers
Have you ever worked with an LGBTQ+ couple before?

Do you consider yourself gay-friendly?

What's your photography style?

You'll already have an idea of this from their website, but see how they describe it—and if you like what they say.

What's your plan if you are sick on the day of my wedding?

They should have a backup photographer who will come up.

What's your plan if your equipment fails on the day of my wedding?

Will I receive high-resolution watermark-free images of all of my wedding photos?

Hint: Make sure that's in the contract.

What's your turnaround time on wedding photos?

Make sure that's in the contract. Some couples mistakenly believe they'll receive them right after the wedding, only waiting for a year.

Will I retain the rights to my photographs?

Get that yes in writing.

Do you charge extra for travel?

Many photographers now include their travel expenses inside their packages for booking ease.

Has the photographer ever worked with an LGBTQ couple previously?

Is the photographer gay-friendly?

What is the photographers' style, and if there is a portfolio they can check out?

Is there a backup photographer that can take your place in case there are any last-minute unavoidable circumstances?

What is your plan B if any of your camera equipment does not work on the wedding day?

Will the photographer be providing watermark-free wedding images, and if the same has been mentioned in the contract?

When will we receive the final wedding pictures?

Will I retain the rights to my wedding pictures and make sure that this pointer has been mentioned in the contract, so there are no surprises at the end?

Are there any travel costs that we would have to take care of?

What will be the cost of the entire package?

Are there any additional charges?

What will be the cost of editing the pictures?

How much will a per cent tax be levied on the total amount?

What will be the cost of the album?

If there are any accommodation expenses, or will they be taken care of by you?

Will any additional photographers will be capturing pictures or taking videos during the wedding day?

What are the things that will be included in the price that the photographer will quote?
Once you get to know all the details mentioned above in regards to the photographer, it will then become a comfortable and smooth experience for you and your family. Apart from these details, make sure your photographer keeps in mind the religious restrictions, location, and other limitations, which will help the photographer capture special moments and document the ceremony through video.
Choosing an LGBTQ-Friendly Photographer: Tips & Mistakes to Avoid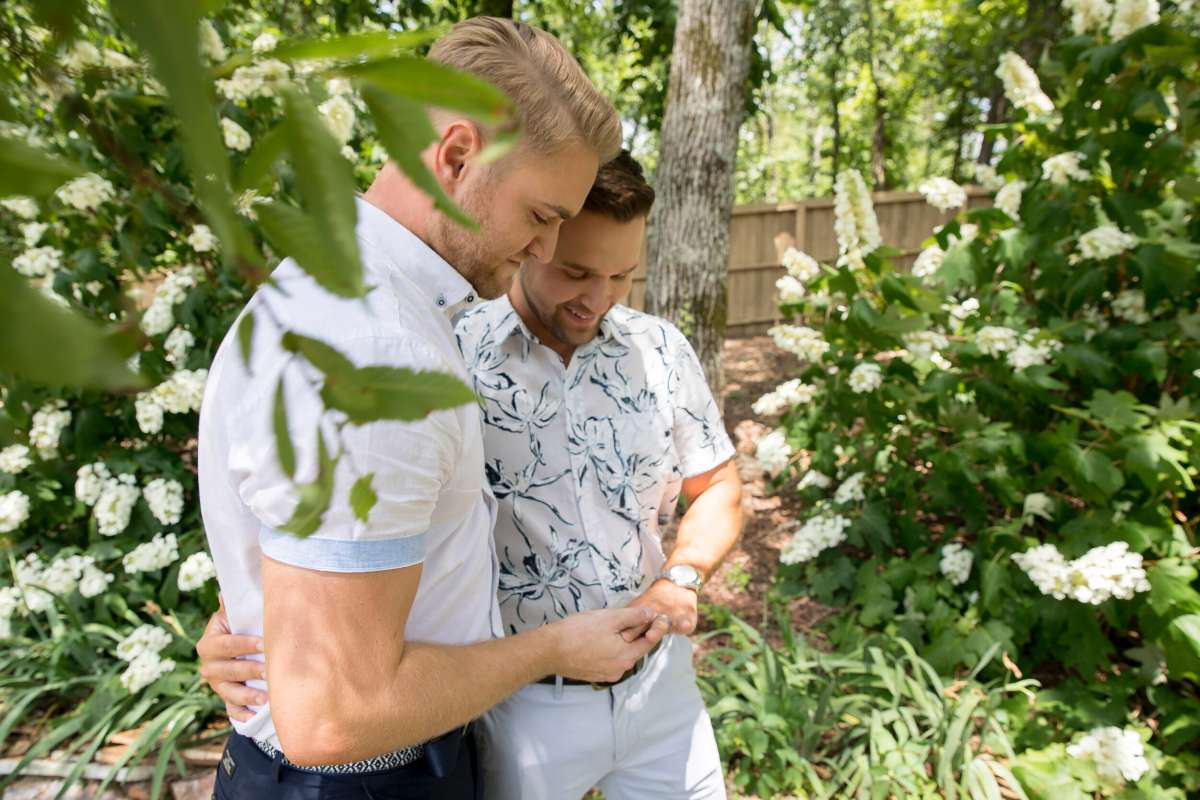 Choosing the right person to record your big day is hard enough but choosing an LGBTQ-wedding photographer comes with added challenges. While most states have laws protecting LGBTQ couples from discrimination, a few don't.
The tips below, especially the last one, will help you make sure you find the perfect photographer.
Talk it Out With Your Partner.
It is not every day you decide to approach a stranger, spend a reasonable amount of time posing to create beautiful picture memories or letting them share in your beautiful moments.
A crucial step to hiring a lesbian/gay photographer is creating an atmosphere of ease by first talking it out with your partner. You want to agree with your partner on certain expectations towards photography. Then, find a good middle ground between what you each envision.
For example, maybe you want all candid shots, but your partner wants those traditional posed pictures. A happy middle ground- half and a half! You agree to X amount of posed photos, while your partner concurs to X amount of candid pictures.  
Decide What Matters Most to You
Do you want to spend less money on your photographer that only covers the basic poses or more money for a "platinum" package with all the works?
Is your same-sex marriage photographer's popularity a factor, or are you okay with going with a newbie? The question of the ideological makeup of the photographer to be hired should be of utmost importance. Yes, random photographers with zero experience in gay wedding photography may carry out delicate jobs.
However, the art of photography involves the full emotions of the photographer. These emotions affect the overall outcome of the memory-making experience.
Reviews, Reviews, and More Reviews
You read the reviews before buying a new toaster or choosing a restaurant for lunch, right? So, it makes sense to check them out before choosing your LGBTQ-friendly wedding photographer!  
Checking reviews helps you understand potential photographers' pros and cons of hiring them and what to expect budget-wise. Start by checking out reviews on Yelp, Google, and other major review aggregator sites. Then, check out portfolios and contact former clients to determine what they thought of your potential photographer.
What Is Their Style?
This is perhaps the most critical question to ask during an interview with a potential photographer. Style can vary drastically. Some take a traditional approach; others prefer to be a bit more artistic.
If you're dreaming of a traditional wedding photo album, you don't want to find out too late that your chosen photographer has an Avant-Garde style. From conventional to documentary photography styles, be sure that your chosen photographer is well suited for your gay wedding.
Flat Out Ask Them If They Are LGBTQ-Friendly
Last but perhaps most important, come right out and ask, "Are you genuinely okay with photographing a same-sex wedding?"
The last thing you want is an uptight photographer taking the gig because he's afraid of a lawsuit and only putting minimal effort into creating beautiful memories for you. It's far better to choose someone who truly wants to be there. Someone who has a vested interest in making sure you remember your day for decades to come.
LGBTQ-friendly photographers with experience in gay wedding photography are more likely to capture your big day in a meaningful way.
For Photographers, in Conclusion
One of the most incredible things about photographing same-sex weddings is seeing the freedom these couples possess to do things their way. Not only do they rewrite traditions, but they also create something beautiful, individualized and dynamic in the process. Same-sex couples, especially grooms, often get ready in the same room. Take advantage of this opportunity to capture the sweet moments, adding the final touches to their partner's attire. One of my couples had their guests sit in a circle, and they got married surrounded by family and friends. They almost always have both men and women at each of their wedding parties. And the day can be highly emotional since many of my couples have been together for 20 or 30 years before finally gaining the right to legally marry. Looking for the best Wedding Photographer in Melbourne? Check out our ultimate list here. 
If you have been wanting to start capturing same-sex couples, do it. You won't regret it. These couples are a blast to work with and are eager to answer questions and calm your uneasiness. And the added revenue is a no-brainer.