Since opening our doors in 2014, Vogue Ballroom has become a renowned Melbourne wedding and function venue. Our venue has won many awards including the Easy Weddings 5-Star Rating award as voted by our brides, winning 3 years in a row now. Our focus though, isn't just about winning a number of awards, and leaving it there. We go that one-step further to be an iconic Melbourne venue, and we do this by providing exceptional service at our weddings, functions, tours and food tastings. What does exceptional service mean to us? Well, we keep it real by  giving you our undivided attention on a one-to-one basis.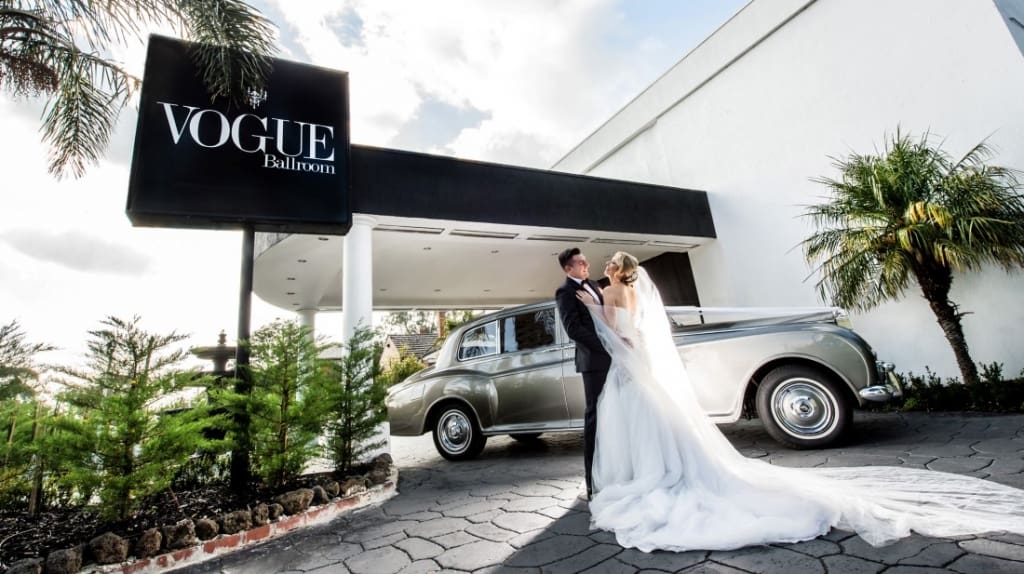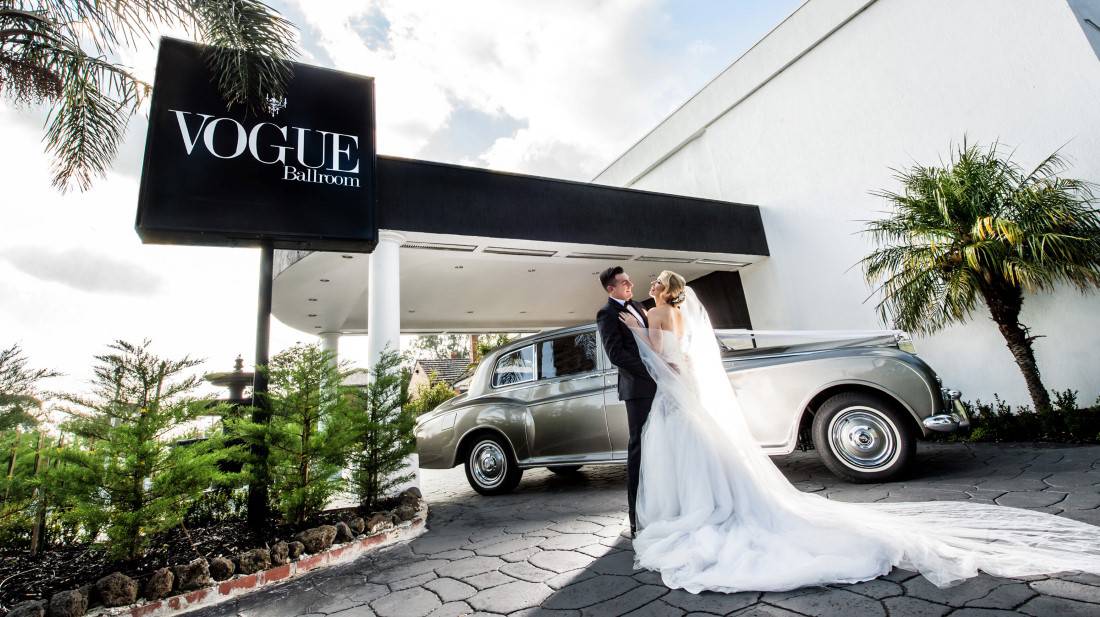 To Vogue Ballroom, your wedding, engagement, christening, corporate function etc. isn't just another function to us. Our previous brides, couples, companies and guests have all said that we have provided them with world-class service, so much so, that they have taken their excellent feedback to Facebook and given us a 5-star rating, as well phoning or emailing us to express their gratitude. Here at our venue, we don't believe in hand-balling people to a 'Function Manager' to look after their event. Instead, we believe in the importance of dealing with the venue owners, George and Angela, and they insist on being a part of each and every wedding and function, as if it was their own.
Our Ceremonies
A highlight of our venue is our gracious foyer. Boasting with elegance and space, it has been a favourite to hold wedding ceremonies. It's sheer beauty including its towering chandeliers makes it the perfect location for any ceremony. The greatest aspect of holding your ceremony within our foyer is the fact that you can style it in your desired way. We also cater for tea ceremonies, and accommodate for any other cultural traditions.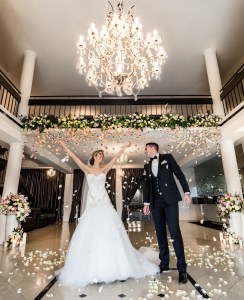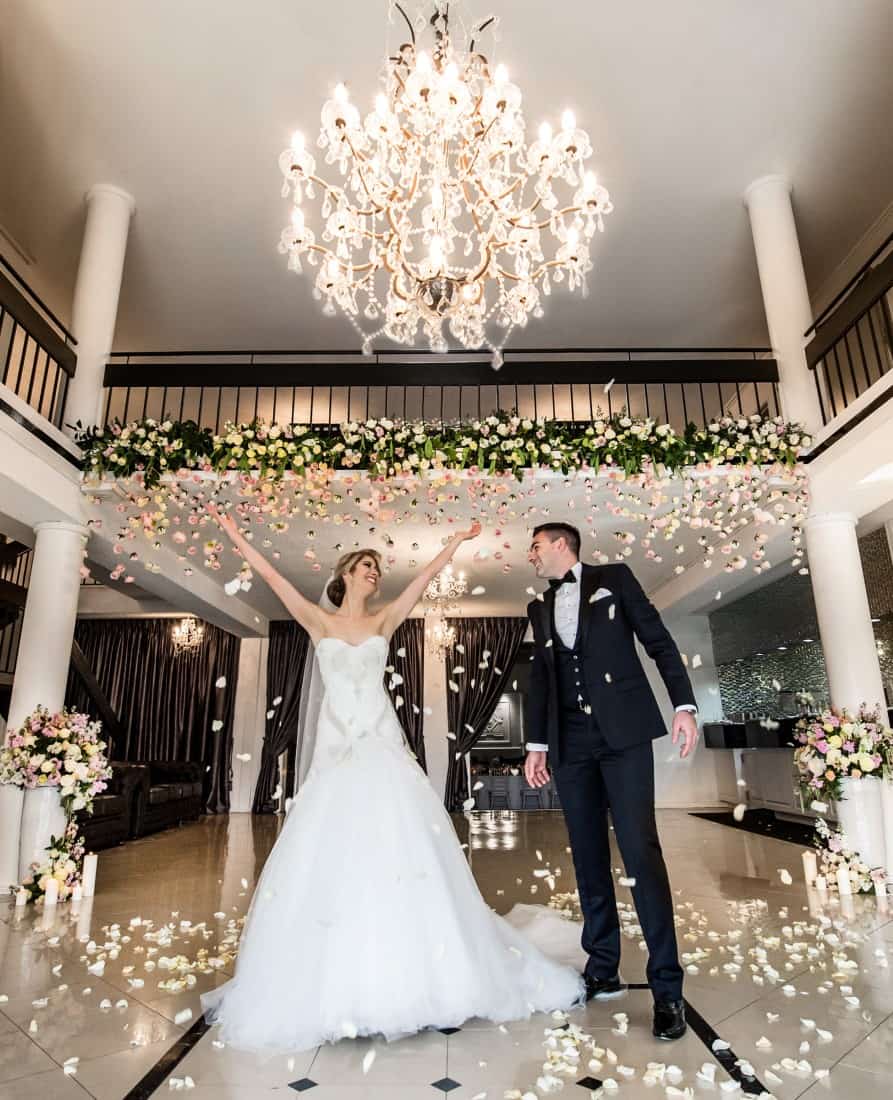 Our Bridal Room
Our spacious bridal room is complete with modern decor. It has a pamper room, bathroom including shower, and a luxurious seating area. It's also fully air-conditioned, making it the perfect place to cool down and relax before your wedding. Another great aspect is that the room is yours for the whole evening, meaning that you and your bridal party have full access to it. So, if you have any personal belongings that you want to store, the room is locked securely – making it hassle-free for you.
Our Ballroom
Our ballroom is our most-talked about feature, and there's no denying why. Our six-metre high French crystal chandelier lined ceilings, custom designed carpets, luxurious décor and most of all – our gracious dancefloor, makes it the perfect place to hold any wedding or function. The ballroom can be styled to suit any theme such as vintage, garden, modern, classic and much more. Our brides have commented that our room alone looks like a modern day classic. Our bridal and cake table have mirrored bases, making them exclusive and stunning. Overlooking the ballroom, is our mezzanine area, complete with a balcony, making it a beautiful space for your photographer to capture some tantalising images. This is a pivotal part of the evening, where our bride and groom are introduced to their guests, as the king and queen.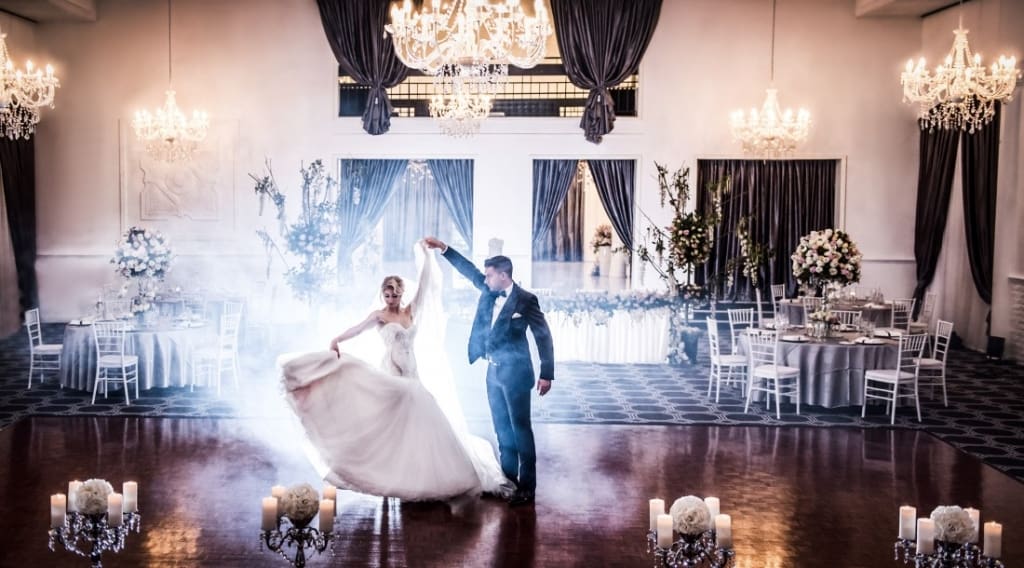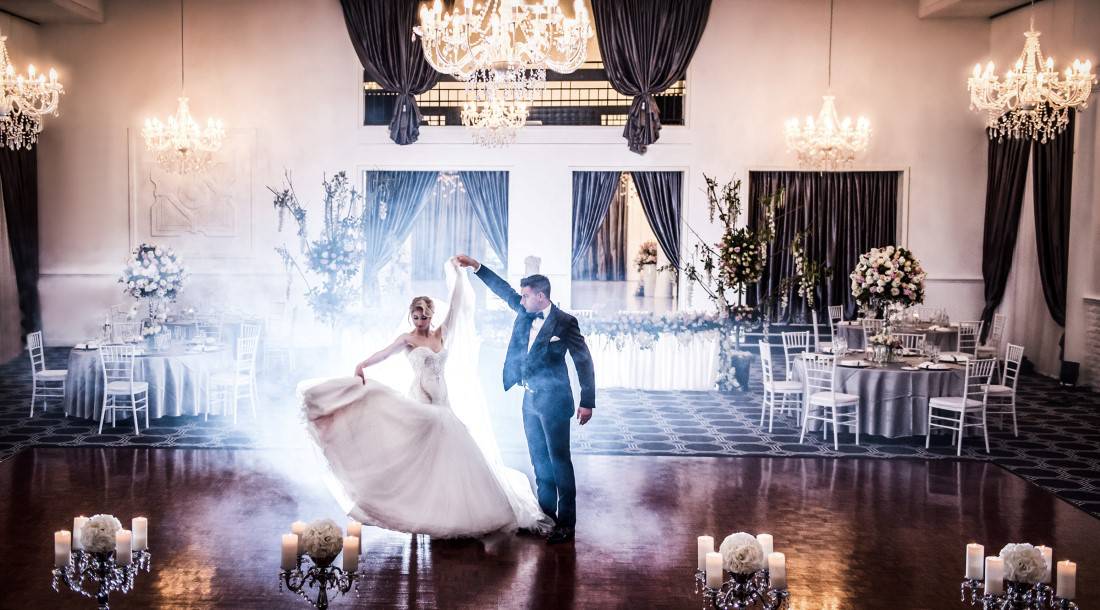 Our Food 
It goes without saying, our food is exquisite and presented in a lavish manner. The menu at Vogue Ballroom is influenced by a modern European cuisine. We believe that every event has its own character and style, which is why we have several different menus that can be tailored to suit any specific personal requirements and tastes, including dietary needs. Our food tastings that we hold for our couples who are soon to wed are so important to us. We make this experience as personal and exclusive as possible. We don't believe in inviting our couples for one night for a group food tasting. We ensure that we dedicate a whole day to our food tastings, and we allow our couples to bring 4 guests with them on the day.
Cultural Traditions 
At Vogue Ballroom, we pride ourselves on being able to accommodate for all cultures and traditions. We happily welcome all cultural traditions such as Mandaps, Chinese Tea ceremonies, Lebanese and Turkish drum players and much more.
Functions 
We can cater for all type of functions including dream weddings, engagement parties, corporate functions, school formals and valedictory dinners, university balls, seminars, charity fundraisers, product launches, luncheons and conferences.
Vogue Ballroom is truly the ideal venue for your next event.
Our Exceptional Feedback