"Can wedding dresses be dyed?" This is a common question that many brides may ask themselves. 
There are so many different reasons that you may want to dye your wedding dress. Maybe you are not into the traditional white and enjoy your creative side to take over. Perhaps a slight off-pink is what you've been dreaming about as a little girl, as it does make you feel like a princess.But can a wedding dress be dyed? Of course! You can dye your wedding dress for any reason you'd like. 
While it is possible to ruin the dress if you don't do it right, it's not nearly as scary as it sounds. Chances are you will want a professional to dye your wedding dress, but the process isn't as hard as you think.  There are plenty of reasons you might want to dye a wedding dress. 
Maybe you're feeling a creative spark, or trying to stretch the budget on your special day, or aiming for a specific colour you've not seen on the market. Or maybe you've already celebrated your wedding and are looking for a unique way to update your dress so you can wear it again without everyone automatically thinking bride.
Regardless of your motivations, dyeing your wedding gown isn't nearly as intimidating as it might sound.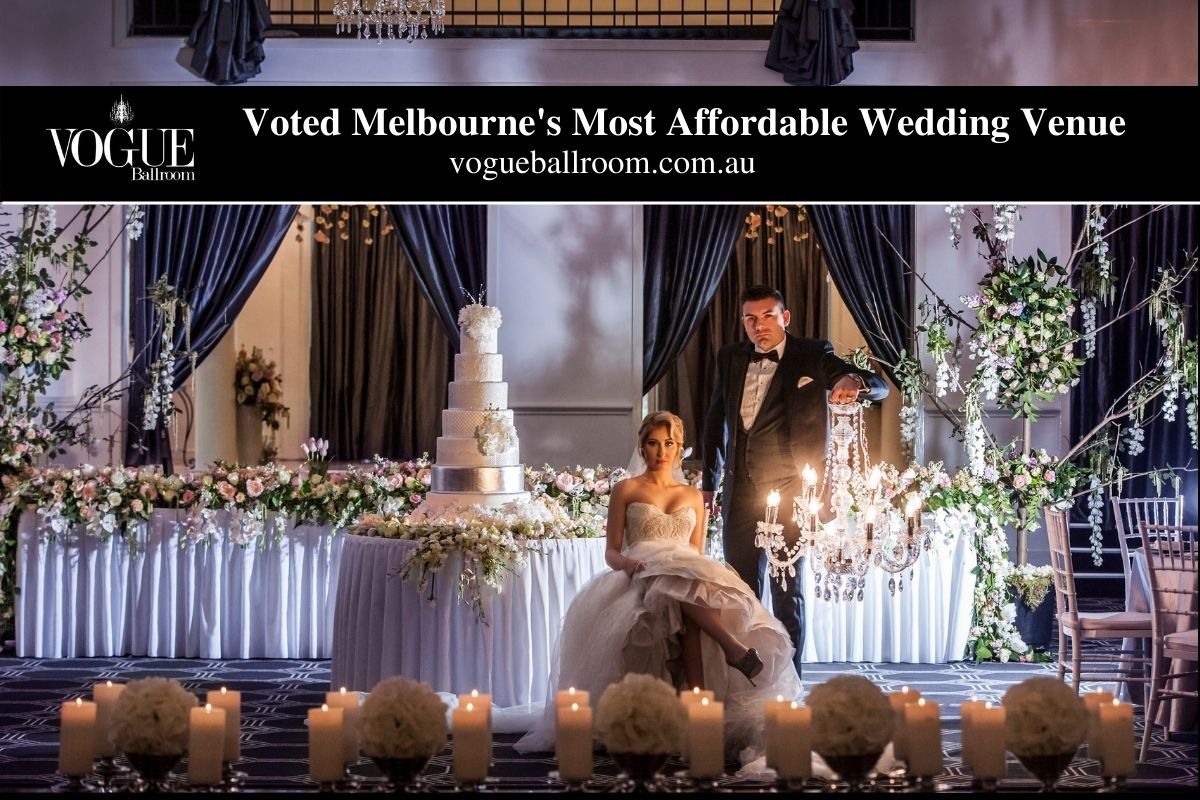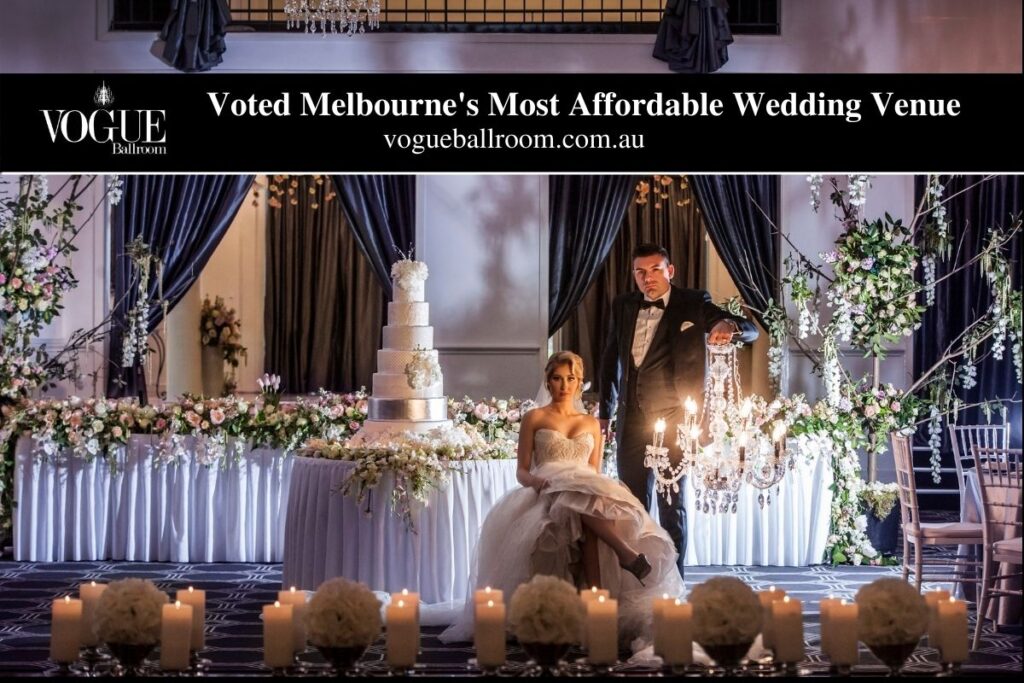 Vogue Ballroom has proven itself to be an iconic wedding venue and function centre in Melbourne. Book today so you don't miss out.
As long as you arm yourself with the suitable materials, are methodical during the process, and don't cut any corners, it's well within your reach to create a stunning, one-of-a-kind gown that will leave you swimming in compliments. 
There are a few ways to go about it so let's explore your options for dying your wedding dress!
Can You Dye Your Wedding Dress?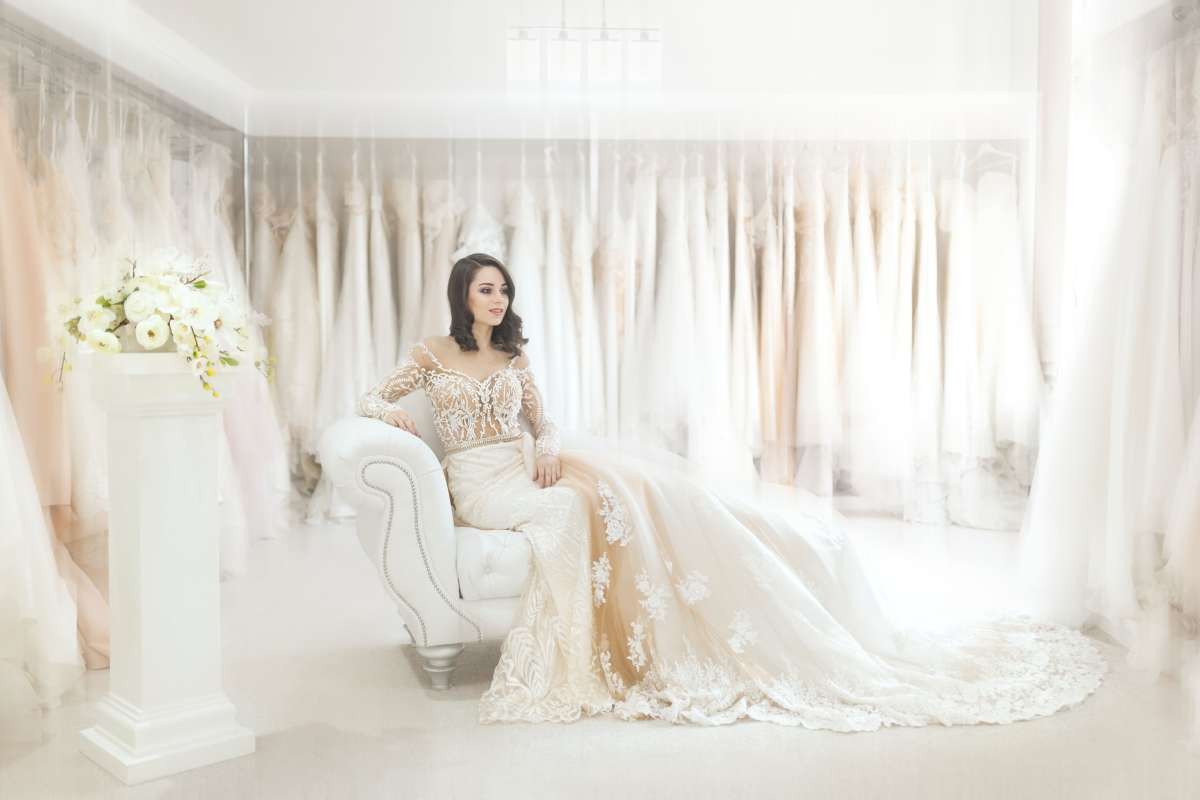 It is entirely possible to dye your wedding dress; either you can do this yourself using a bucket soak or dip method, or you can take it to a professional to do it on your behalf. 
The latter is the recommended approach!
Besides, dresses are expensive, and unless you have experience in dying and knowledge of fabrics, it's generally not a good idea to do it yourself.
But why would you want to dye a dress, to begin with? Well, you may have found the perfect cut and style when it has come to your dream dress. 
But white may not work for you. Maybe it washes you out, or perhaps it's just too bright to look at. 
Thankfully, you can dye your wedding dress an off-shade, still pastel-like but pops the dress a little more. 
You could even be going for a super dark colour or maybe very bright. It's your day, so of course, whatever colour you want to wear is up to you. 
All you need to do is get a trusted dye and choose how you want to dye it. For example, here are two ways your wedding dress can be dyed.
Bucket Soak
Having a bucket soak approach to the dress will completely colour the entire dress. You will have to leave the dress in the dye mix and water for the instructed amount of time. 
When you dye the dress this way, it is essential to move the dress around some to avoid having splotchy areas where the colour build-up is more substantial in some places than others. 
This is why some people may find it better to use a professional than do it yourself.
Dip Dye
If you want to get an ombre effect, you will dip dye the wedding dress. This will offer a beautiful dimension to the bottom of your clothing, starting with the darkest, boldest saturation of the colour at the bottom of the dress. 
It will fade lighter and lighter until the colour doesn't appear at all. If you are using multiple colours, it may be in your best interest to have a professional help you, as it can be challenging at times.
Practice on a scrap piece of fabric, as close to the fabric of the dress as possible. Practising first gives you an idea of how the material reacts to the dye. 
You can gain insight into the timing and the amount of dye needed to achieve the colour you want.
Pick a dye that works with the fabric of your dress. Wedding dresses are often made from delicate materials, and many are dry clean only. 
You must use a dye that is least likely to harm the fabric of your wedding dress. 
For example, a dye like Procion works with silk charmeuse, while RIT dye is not recommended for dry clean only fabrics.
Fill a large container or bucket with hot water from the bathtub. 
You can also use your sink, but dye can harm some finishes and using a disposable container or one that you do not need to worry about will make it easier on you.
Add gasolene oil. The gasolene oil helps create even dyeing. Use one-half of a teaspoon per gallon of water.
Add the dye to the water. Use your previous findings, in Step One — or the directions, as a guide. Next, stir the dye mixture using the wooden paint stick. 
Stir in vinegar and salt. The vinegar acts as a safe fixer for silk. It helps the Procion dye — and other fibre-reactive dyes — permanently bond with the fabric. 
You can also use baking soda as a fixer for silk, while soda ash is used on many other fabric types. 
Use one ounce of fixer per gallon of water. Salt supports the dyeing process by helping the dye stick to the fabric. Add one cup of salt to every gallon of water.
Dip the dress into the dye, up to the point where you want the colour to begin. The gradated effect from dip-dyeing usually goes from light to dark. Leave the fabric in the dye for a few minutes. 
Once the colour changes, gradually lift out an inch or two of the dress every couple of minutes.
If you want a more pronounced contrast in colour — take out more significant sections of the dress — every five minutes. 
You can also add a more robust dye solution to the water each time you remove a portion of the dress to enhance the colour further.
Rinse the wedding dress in cold water. After you pull the hem of the dress out of the dye mixture, rinse the clothing under cold water until it runs clear.
Wash the dress in warm water. After washing, hang the clothing and let it dry.
Tips on Dyeing a Wedding Dress
It's also possible to complete this DIY project without destroying your workspace, so take a deep breath and read on for everything you need to know about how to dye your wedding dress.
Materials
Fabric dye 

Dishwashing liquid

Salt or white vinegar, depending on your fabric type

Measuring cup and a teaspoon

Non-porous spoon or stirring stick

Plastic cover to protect surfaces

Rubber gloves and protective eyewear

Fixative (optional, but recommended)
Decide What You Want To Do
Determining the direction of your project early on is crucial, as not all dyes are created equal. 
If you're aiming for a deep, dark colour like an inky black or royal blue, that's a different process than adding a wash of colour to a white dress or doing a dip-dye. 
Bottom line: the more saturated the colour you're aiming for, the more dye you'll need to use.
The base colour of your garment will also come into play; if your wedding dress isn't white, you'll likely want to use a colour remover first.
Check Your Fabric Type
Check your garment's care label to determine its type of fabric, as each takes the dye differently. Also, weigh your dress, as you'll need that information later.
If your fabric has cellulose fibres, like those found in cotton, linen, or rayon, you'll have the best luck with a reactive fibre dye. 
Materials like silk, wool, angora, and cashmere are made up of protein fibres, typically responding best to an acid dye. 
Many will react best with a dispersed dye for synthetic fibres and blends like polyester, nylon, acrylic, and acetate. Still, it varies from artificial to synthetic, so be sure to do your research beforehand.
Need help planning your wedding? Check out our list of Wedding Event Planners here.
Set Up Your Workspace
Assemble your materials and lay down a plastic cover to protect your surfaces. 
If you have access to a washing machine that's available for this project (read: owned by you and not a laundromat or your landlord), that's one way to tackle this project. 
But for this post, we'll be walking you through the sink or bucket method.
Look for a well-ventilated area and a stainless steel sink or large plastic containers like a bucket or a storage bin. Just as long as it's large enough to contain your dress and is not — I repeat, is not — a ceramic sink or bathtub. Ceramic is highly porous, so it will absorb the dye almost as successfully as your dress does, and you will be unfortunate.
Pre-wash Your Dress
Using warm, soapy water, give your dress good suds to remove any stains or finishes on the garment. 
Once it's clean and well-rinsed, drain the soapy water and refill your receptacle with enough hot water for your dress to swirl around freely in — but leave your clothing out of the bath for now. 
Mix Your Dye
Put on your rubber gloves and mix up your dye according to the instructions on the label, using the dry weight of the garment to determine proportions. 
(For all-purpose dyes, we recommend one liquid bottle or two powder packages per two-ish pound of fabric.) 
If you want a wash of colour, stick to the suggested ratio, but if you're looking for an ultra-saturated shade like a deep magenta or an emerald green, for example, you can double it.
For liquid dyes, shake well and add to your dye bath along with a teaspoon of soap. If using a powder, dissolve in around two cups of boiling water and do the same. 
For enhanced colour, you can also add a cup of salt for fabrics featuring cotton, rayon, ramie, or linen, or a little over ¾ cup of white vinegar for materials containing nylon, silk, or wool.
Test A Swatch
Look for a piece of the fabric to test your dye on before committing to the full dress — check near any seams on the inside to see if there's an out-of-sight area that could be snipped out to serve as a swatch. 
Go For It
Add your wet garment to the dye bath and stir slowly and continuously for ten minutes to avoid splotching. 
The exact amount of time your dress should remain in the liquid beyond that point depends on the fabric, but an hour is just about the maximum. 
Once your dress hits the desired colour, please remove it from the bath and drain the container. 
Consider A Fixative
At this point, you have the option of using a fixative, which extends the life of the colour and prevents bleeding. If you aren't opting for a fixative, skip ahead.
Refill your sink or bucket with hot water and add your fixative in the indicated ratios — Rit recommends four ounces of fixative and three gallons of water for every pound of fabric. Again, stir slowly and continuously, this time for twenty minutes.
Rinse And Dry
Rinse in cool water until it runs clean, and wash with mild detergent and warm water, then rinse your dress again and hang to dry.
And that's it! Less than ten steps later, you're the proud owner of a unique, beautifully dyed wedding dress that you could never find in stores for just the cost of the dye and fixatives. 
How Can You Customise Your Dress, So it Matches Your Personality?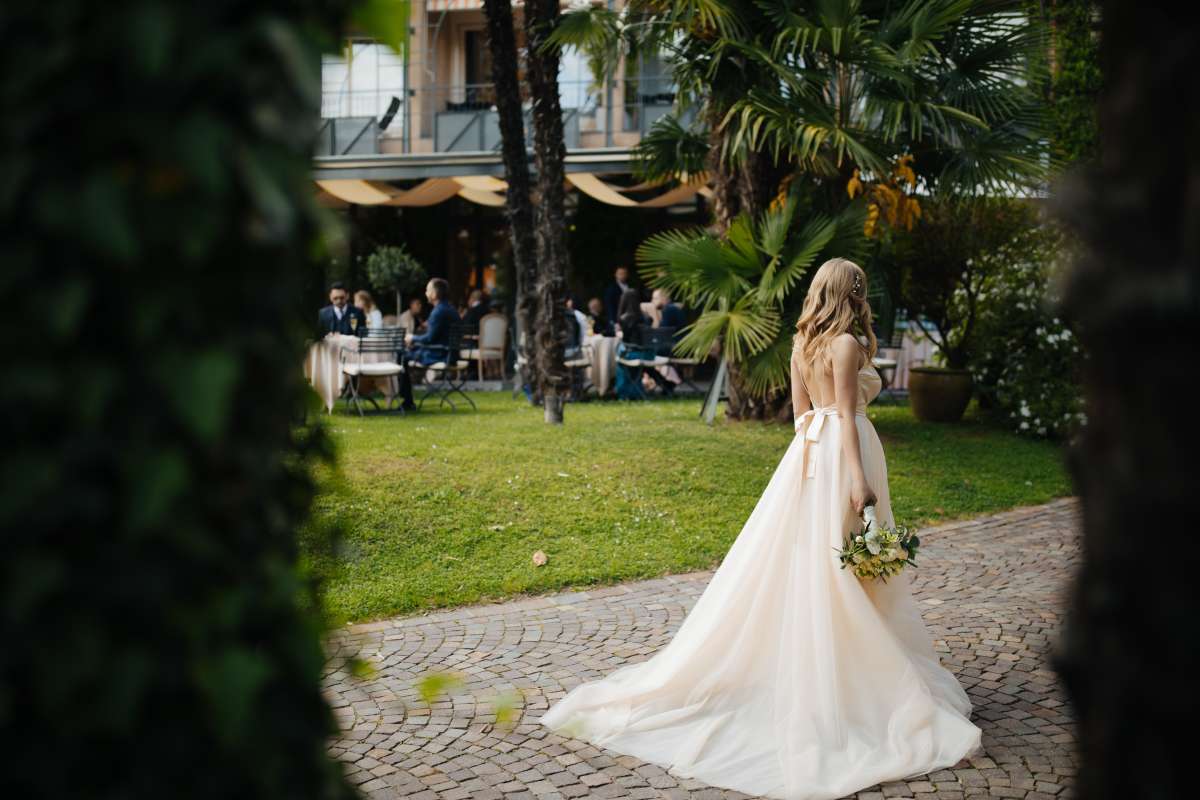 Ombre Design
If you want to follow Gwen Stefani's footsteps (maybe not opting for a completely hot pink gown), ombre is a recent trend for bridal gowns. 
However, it's best left to the experts as you need to be careful of the dyes used. You don't want your beautiful dress to become a crumpled mess.
If you're looking to include a bright colour on your wedding dress, the most influential looks are those that have a little colour on the very bottom. 
It makes the dress look striking (and is a great way to stop the bottom of your clothing from getting dirty!).
Tie-Dye Effects
Tie-dye wedding gowns are also becoming trendier at the moment. It's a great way to incorporate your wedding theme into your outfit and a real twist on the traditional white wedding. If you're a particularly artistic type, it means that you can add a hint of your personality to your big day too. If you're going for a tie-dye, this doesn't mean you have to colour the entire dress. Even just tie-dying the bottom half of the dress would look stunning.
Boho Vibe
If your wedding is centred around a boho theme, a dip-dyed wedding dress would be the perfect match. It's the ideal way to personalise a budget-friendly dress, making it look even more glamorous. 
Don't Forget The Veil.
Whilst all the attention should be on your stunning dress, if you're adding a splash of pink or purple to the bottom of your wedding dress, don't forget to add a hint of this to your veil too. Think about your whole outfit as one – you could also subtly add some of the colours into your hairstyle with some pretty flowers.
Whilst we wouldn't advise dying a designer wedding dress (unless you have a substantial budget in case the dying process goes wrong!), there are many ways that you can incorporate colour within your clothing. 
We always advise that you get an expert to add colour to your dress to ensure the dye is spread evenly.
Don't forget to take into consideration the venue too, and those all-important wedding photos. 
You need to make sure the colour of your wedding dress will be brought out in front of the stunning venue backdrop.
Where Can I Get My Wedding Dress Dyed?
The two best places to get your wedding dress dyed are certain bridal shops and high-end costume shops. But, of course, you will want to ensure they are reputable outlets first and foremost.
There is no shame in calling in for help to get your wedding dress dyed! It's encouraged. 
You don't want to ruin the pretty dress by doing it wrong so sending it out is fine. But where do you send it? 
You can send it to several bridal shops that offer this service as it's becoming more and more popular. There are some other options as well.
Bridal Shop
While not all bridal shops will do this, some will. 
There is usually a catch with this as they may require you to buy their dress to dye it. This may be for liability reasons. That way, they don't ruin someone else's dress. 
High-end Costume Shops
We aren't talking about Halloween stores here. Instead, costume shops meaning costume jewellery and wear. 
You may find this store supplying actresses and actors costumes for theatre. 
This can be a good option because they usually have designers on hand who can stitch jewels, dye clothes, and make alterations. 
In some cases, this may be a better option than some bridal shops because they may be more accustomed to doing this more often.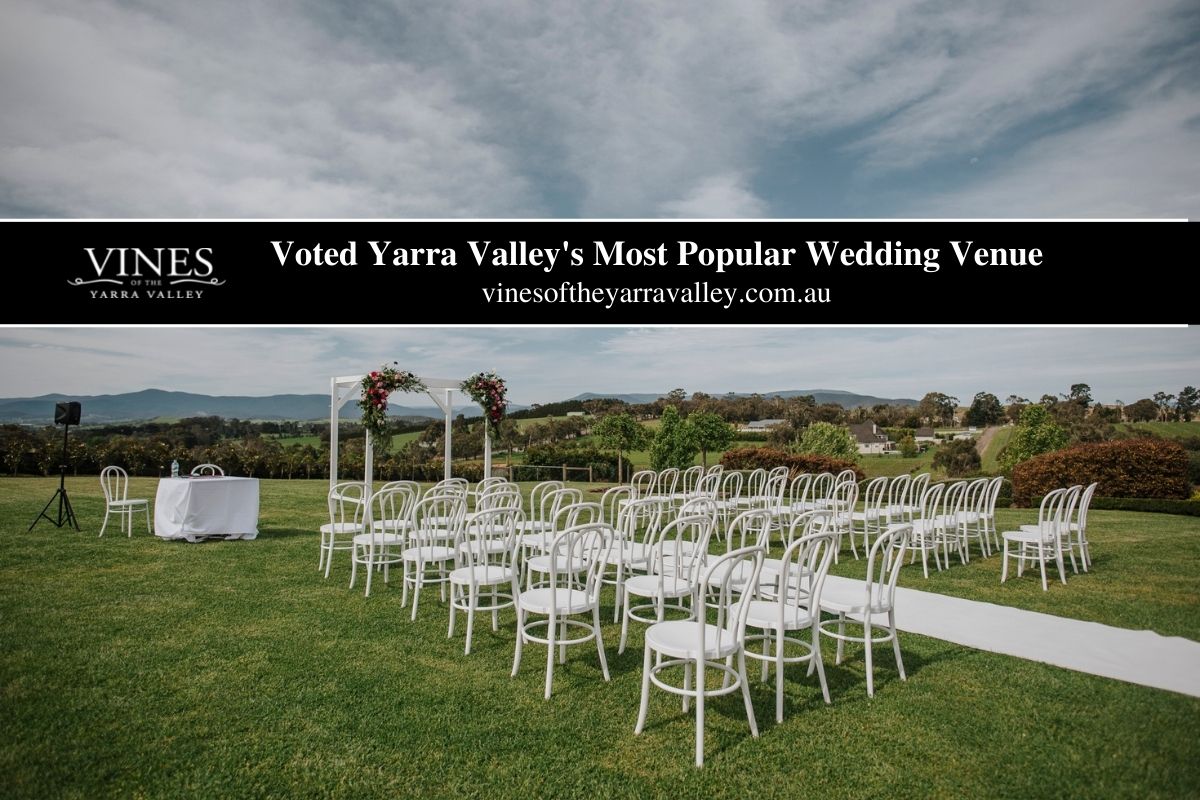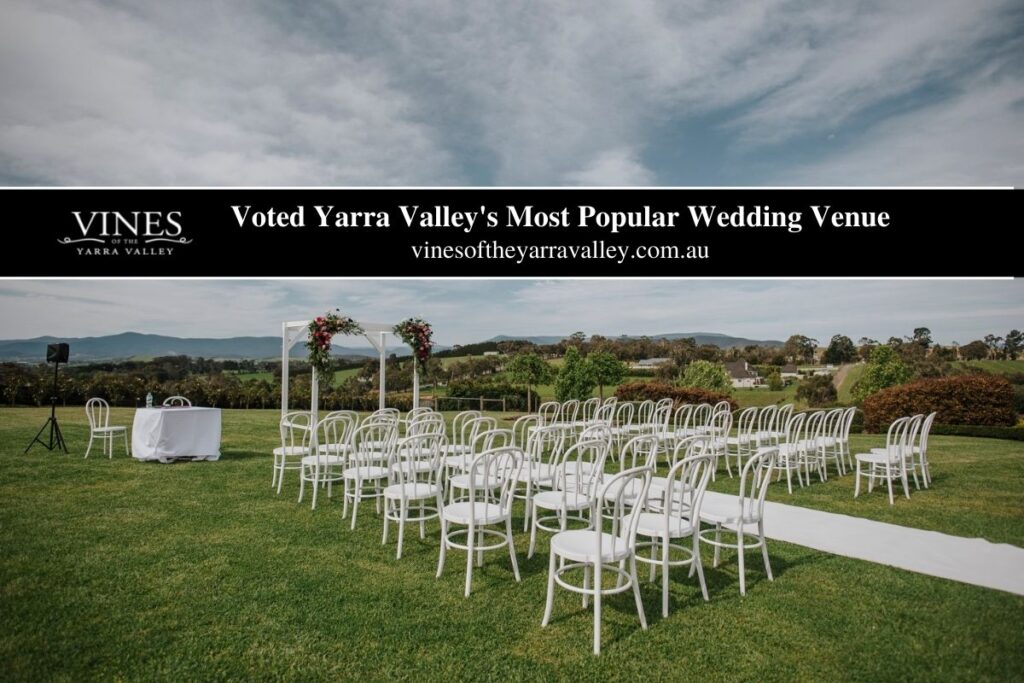 Bottom line: It's Your Day
While the white dress is a tradition followed for so many years, things are changing. 
Not everyone wants to wear a white wedding dress. This is precisely why dying your dress has become more popular in the last few years. 
You may feel like you want to go full-on vibrant and try something different, or you may like the idea of having an off-white pastel-like colour that has a hint of colour to match your wedding party. 
Either way, no one can tell you what you should wear. The cost may make you feel a certain way, though. 
It can undoubtedly tack on a few hundred dollars to the total cost of the wedding. 
So while you can do it yourself, you'll want to make sure you know what you are doing. 
The process itself isn't complicated, but there is always room for error. And since this is your wedding dress, it's a one-and-done attempt. 
You have options for sending it to bridal stores and costume shops. It may cost you money, but you will be sure to get the job done right.
You have the dress, you have the shoes? But what about the Wedding Jewellery? Check out our list of Wedding Jewellery Shops here.
You should have your dress in the colour you want as it is one of the most memorable moments of your life! 
Frequently Asked Questions About Wedding Dresses
Dying of the gown starts at $350 and can go up depending on material content, or any complex/customized dye requests. Individual separates start at $150 for tops and $275 for skirts.
It is possible to dye your wedding gown the color of your choice from the comfort of your home
. By using this dyeing technique, you can save money on the dyeing process and avoid having to buy an entirely new dress in your desired color. The perfect shade of color for your wedding dress awaits you.
The good news is there is hope for your yellowed wedding dress. Advancements in technology along with new breakthroughs in delicate fiber cleaning formulations have made now a great time to consider having your old, yellowed wedding dress whitened and restored.
Dying it is only possible if your dress is made of natural fibers ie silk, satin, rayon etc. You can dye Synthetic fibers but they do not dye at all well especeially if you want a really vivid color.
For lighter shades, we suggest 10 to 20 minutes. For 100% polyester and polyester blends, at least 30 minutes is needed for the dye to be absorbed into the fabric, even if fabric appears to have reached the desired shade in less time.