Most people are unaware of proper RSVP etiquette. In this article, we're going to cover everything there is to know about wedding RSVP cards. 
When it comes to creating and sending your wedding invitation, there's a lot more to it than just sticking a card in the mail. 
Your wedding invitations are one of the essential elements of your day because they provide guests with crucial information (as does your wedding website, which can house all essential details like your venue info, registry, and guest list). 
Still, some questions may arise as you take care of your wedding invitations or save-the-dates (for example, when are you supposed to send them out?).  Looking for the Best Wedding Venue in Melbourne? Vogue Ballroom is Melbourne's Iconic.
RSVP-Related Questions
What Does RSVP Mean?
RSVP is derived from the French phrase "Répondez s'il Vous plaît", which translates to "please respond". 
When you RSVP to a wedding invitation, you're confirming either your attendance or non-attendance on the day. 
Requesting and tracking RSVPs allows a couple to confirm their guest numbers and use this information to finalise everything from catering and furniture hire to place cards and seating charts. 
An RSVP request may also be used to confirm essential details like meal selections, dietary preferences, and plus-ones.
What To Include In A Wedding RSVP Card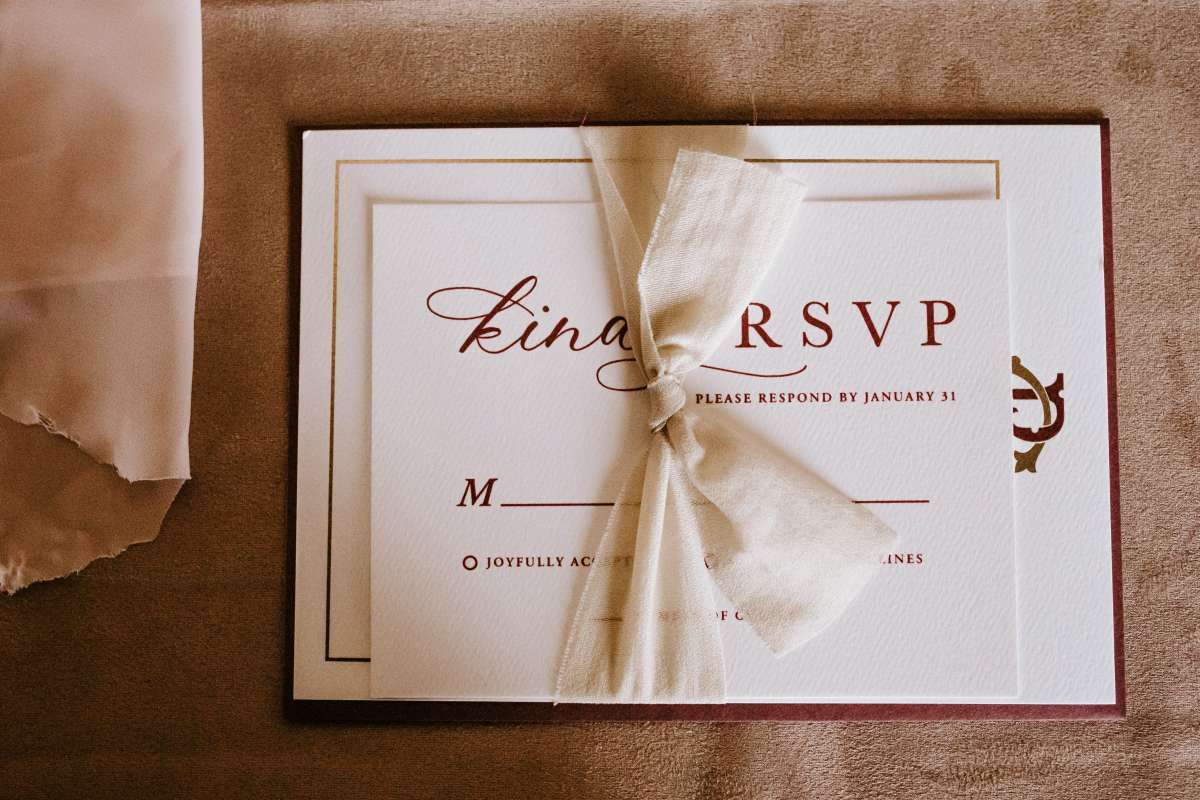 A proper wedding RSVP card requires the following information:
A blank line for the guests to fill out their names.
Your guest will use this space to write in their name as well as the name(s) of a spouse, a date, or children who will also be attending the wedding. 
You will be relying on this information to create your final guest list and create table place cards.
The RSVP reply due date. 
Use a date three to four weeks before the wedding date. The "will attend" line. 
Short and straightforward, this phrase can say anything along the lines of "Yes, I will attend your wedding." These are the final people you add to your guest list.
The "unable to attend" line. 
Although disappointing, use this information to cut down your guest list and reduce your wedding expenses. (Blessing in disguise?)
Choice of entrées. 
Entrée selections should be placed on response cards for weddings offering meal choices at the reception.
What not to include in a wedding response card? 
Information about the registry. It's never proper to include registry information in the wedding invitation or on the wedding response card.
When should we send out our wedding invitations?
Traditionally, invitations go out six to eight weeks before the wedding. 
That gives guests plenty of time to clear their schedules and make travel arrangements if they don't live in town.
If it's a destination wedding, give guests more time and send them out three months ahead of the wedding. 
Most couples also send out save-the-date cards so that their guests can hold the day in their calendar before getting into the nitty-gritty details. 
Save-the-dates typically are sent out six to eight months before the wedding.
When should we make the deadline for RSVPs?
Make your RSVP date two to three weeks before your wedding date to allow enough time to get a final headcount to the caterer (one week before) and finalise your seating chart. 
If some guests still haven't responded by your deadline, give them a quick call and ask for their RSVPs (still via mail) so you have all their information.
Where do we include information about our wedding website?
Your wedding website should be included in your save-the-date. If you'd like (or don't have save-the-dates), you can include the web address in the formal invitations with an insert (a small card that informs guests they can find more details online).
Should we include our registry info on our invitations or save the dates?
Including registry info on the wedding invitations or save-the-dates is considered impolite because it can give the impression you're asking for gifts. 
But go ahead and put your registry info directly on your wedding website. If you're planning on having a wedding shower, you can put your registry info on the bridal shower invitations. 
You can also tell your wedding party, parents and close friends where you're registered and let them fill guests in.
We're having an adults-only wedding (no kids). How can we make sure this is clear to our guests?
Address your invitations correctly—to each guest by name, not "and guest"—and guests should understand that the invite is meant for only those mentioned. 
If you find that some reply with their children's names added, give them a call and explain you have an adults-only wedding and you hope they can still attend. 
If there are many kids in your family, you may want to consider hiring or arranging for a babysitter. 
It's not required, but it's a nice gesture. Just be sure to include this information on the wedding website.
How do we let guests know our dress code?
The easiest way to get your point across is to include a dress code in the lower right-hand corner of the invite or on a reception card. "Black tie," "cocktail attire", or "casual attire" are all acceptable wordings. (Trust us, your guests will appreciate the heads-up). 
Your invitation design can also clue guests in.
For example, an ultra-formal, traditional invite with letterpress and calligraphy will give guests a hint to the formal nature of the event, whereas an invite with a playful font and bright colours would fit a much more casual style. 
Another option is to direct guests to your wedding website, where you can go into more detail about the weekend events and dress code in a more informal forum.
Do we have to invite every guest with a date or a "plus-one"?
No, you don't have to. If a guest isn't married or in a serious relationship, it's perfectly acceptable to invite them solo. 
Most guests will understand that without "and Guest" or another name on the invitation, they aren't invited with a plus-one. But, at the same time, it's always nice to invite everyone with a guest, which can add up quickly ( in terms of both headcount and cost). 
If a guest RSVPs for two, call them and explain you're trying to be diligent about your guest list. Unfortunately, you were not able to invite everyone with a guest. 
If you realise that nearly everyone will be coupled up, you might want to extend a plus-one invitation to your few single friends and family members.
Not sure how you want your wedding stationery to look? Check out our list of 28 Wedding Invitation Ideas to help you choose. 
Where do you put the return address on wedding invitations?
The return address usually goes on the back flap of the envelope. 
Also, the return address used should be that of the person(s) whom you've designated to receive response cards, be it your parents or you (traditionally, whoever is hosting the wedding handles response cards). 
Don't forget that the RSVP envelope should also be printed with this address (including postage).
If our wedding reception is for immediate family only, is it okay to invite people to the ceremony only?
This is a tricky situation. Standard etiquette dictates that everyone who attends the ceremony (or wedding shower, engagement party or wedding reception) should be invited to the wedding—that means the ceremony and the reception. 
By inviting guests to one and not the other, it could send the message that you want them there for the actual ceremony, but you either don't want to pay for their plate at your party or don't care enough to have them there to celebrate your newlywed status.
Wedding RSVP Tips
The guest list is the top priority when it comes to RSVPs. But, unfortunately, despite all your efforts, you'll still have 1 or 2 people who forget to RSVP.
You're going to be plenty busy organising the seating chart in the final weeks leading up to the big day. 
You need to know who is coming, and so do your caterers and the venue. The last thing you want is for something to go awry.
Compile the Guest List
RSVP invitations should go out no less than six weeks before the wedding. Ideally, they should go out eight weeks before the reception. 
Invitees should have received Save-the-Date memos even earlier.
If you previously compiled a guest list when you mailed out your Save-the-Date memos, great! It shouldn't be hard to gather your RSVP invitation list!
You're going to want to number your guest list (we'll explain why later). Make a copy of the list, and keep a checklist of the RSVP invitations you've already sent out.
You also want to make a note of people's locations. Some guests on your list may live farther than most. You want to give them ample time to plan so they can make the trip in for your big day.
Be consistent with how you notify people about your big day. For example, if you sent Save-the-Date memos in the mail, you should also mail out your RSVP invitations.
Brides traditionally mail RSVP invitations through the post office. But these days, more and more brides are opting to send RSVPs by email.
Regardless of how you send, your RSVPs should be concise if you're having a wedding reception.
Confirm RSVP Reply Date
Before you make your wedding RSVP invitations, you need to establish and confirm a reply date.
Guests should reply no less than two weeks before the reception. However, RSVP reply dates greatly vary and depend on a few things…
You need to confirm the RSVP reply date with your venue coordinators and caterers. They need a final headcount by a specific date so they can plan everything accordingly.
Your florist and cake decorator may also need a final headcount. Florists need an idea of how your floor plan will be set up. Whoever is preparing your desserts requires to make sure there is plenty to go around.
You also want to give yourself enough time with the RSVP reply date. You'll need a headcount if you plan to provide your guests with party favours, for example.
Invitees should get an RSVP card at least 2-3 months in advance if planning a destination wedding.
Coordinate RSVP Cards with Wedding Scheme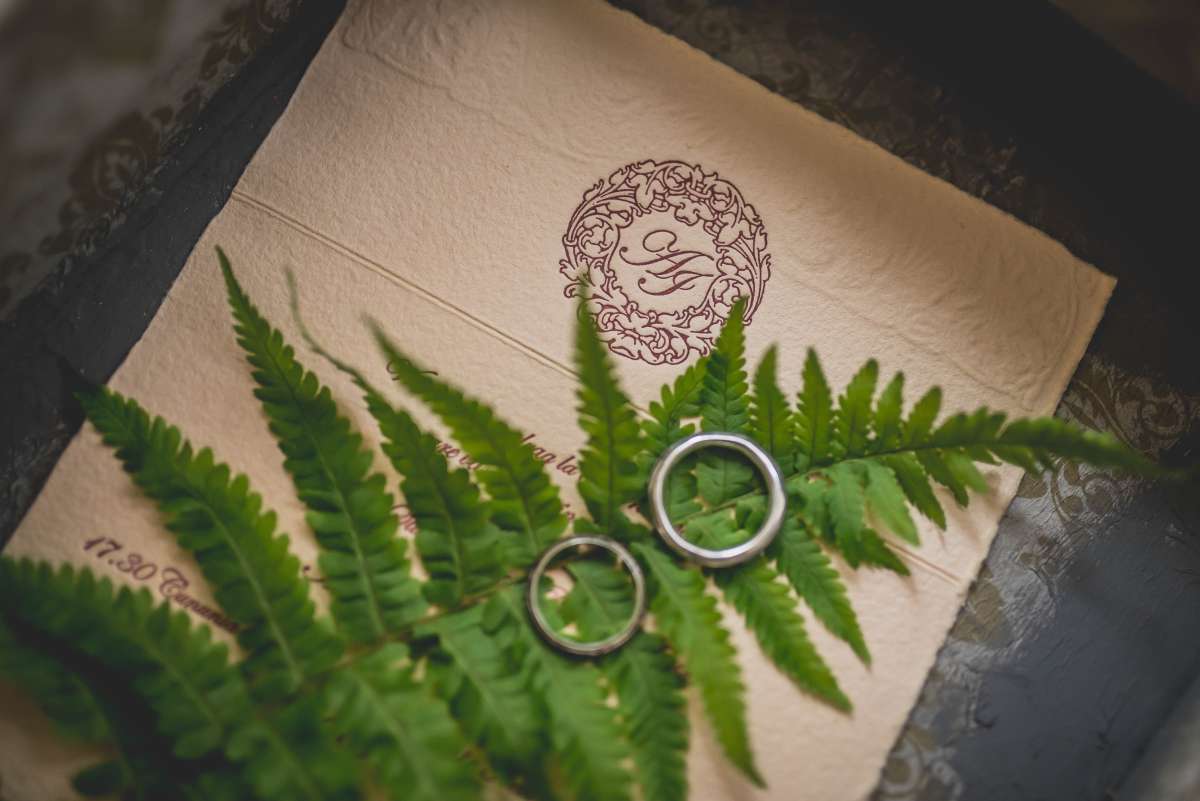 One of the fun parts of sending out wedding RSVP invitations is designing them!
If your wedding has a colour scheme or theme, make sure to incorporate it on the RSVP cards. Doing so reminds people of your colours and design scheme.
Colour schemes and themes help people remember wedding dates!
Summer is the busiest time for weddings. Your guests are likely to attend other weddings around the same time as your summer wedding.
Wedding stationery kits can help you colour coordinate your RSVP cards and envelopes. There are a plethora of wedding stationery sources online. They can help you customise your Save-the-Date memos, RSVP cards, and corresponding envelopes!
What to Include on Your Wedding RSVP Card
Believe it or not, people are more oblivious to the RSVP process than you'd think. Some people don't even know what RSVP stands for! In case you need a refresher, RSVP is the abbreviation of the French phrase: Répondez s'il Vous plaît. It translates to "Respond, please."
Emphasise the RSVP aspect of the invitation. So many brides overlook this small but significant detail.

Make RSVP stand out in big letters. Bold it. Customise the font. Include a design around it. Or include the French phrase it's derived from (with an English translation, of course)!

Invitees need to know the date. The time and date of the ceremony should be the next thing that's emphasised.

There should be an option to accept and attend or decline. Checkboxes are a classic choice for this.

You may find it easier to include the choice of entrées with the RSVPs. It will prevent people from having to go to the mail twice, and it will help you stay organised.

Include all necessary details about the dress code, parking, and directions.

It doesn't hurt to include your phone number and email address on the RSVP, as well.
How to Address RSVP Cards
Wedding guests are traditionally addressed as their titles of "Mr.", "Mrs.", or "Ms.". Nowadays, people are less formal. 
They address their wedding invitees on a first and last name basis.
How you address your invitees on the RSVP invitation and envelope is entirely up to you.
If you decide to go the more formal route, you can leave a blank space with the letter "M" at the beginning. This allows your invitees to fill out the line as they see fit.
It's common for people to assume that they're allowed to bring a guest to a wedding. To avoid confusion or awkwardness, explicitly detail this in the RSVP.
Include a separate line for families to write down the number of people in their party.
Pre-Stamp RSVP Envelopes
Want to make a lasting and classy impression on your invitees? Pre-stamp their RSVP return envelopes!
By pre-stamping the return envelopes, you make it easier on your invitees! It's easier to drop a pre-stamped envelope in a mailbox than it is to go digging for stamps.
Pre-stamping your RSVP envelopes keeps one less hassle off your invitees' plates. You can even save them an extra step by writing in or printing your address on the envelope.
Track Your RSVPs
Every bride is bound to have a blank or illegible RSVP show up in their mail. Before this sends you into a tizzy, try this trick to keep your RSVP invitations in order.
Remember back in Step #1 when we mentioned numbering your guest list? Well, it's about to come in real handy…
Every invitee should have a designated number. If you subtly write this number somewhere on the RSVP, the number can keep you from getting confused.
Sometimes people forget to fill out essential details. So, if you track your RSVP invitations with a number system, you can quickly locate who it belongs to.
When Guests Fail to RSVP
Not only do invitees fail to fill out wedding RSVP invitations correctly. Sometimes they fail to fill them out and send them, period!
Before you let this phenomenon turn you into the bridezilla, know that there is a polite way to deal with the invitee who forgets to let you know if they're coming or not…
Give your invitees a grace period after the RSVP reply date. It should usually be about seven days after the requested reply dates.
If anyone on your guest list fails to contact you after the grace period, you can give them a call or send them an email.
Be gracious. Tell them that you need to let your venue or caterers know or that you're trying to prepare your guest list. Don't come across as annoyed or frustrated.
People can be forgetful, things get lost in the mail, or send items out past due dates. If you respond graciously to an RSVP that's M.I.A, your invitee will appreciate you reaching out to them!
Other Tips for Your Wedding RSVP
Wedding RSVP etiquette is straightforward for the most part. Interested in additional tips to help you send out stellar RSVP invitations? Here are some more:
Whoever is planning your seating chart should receive the RSVPs. Whether you, your maid of honour, your mom, or your wedding planner, make sure this address is pre-written on the return envelope.

If you decide to pre-stamp your RSVP return envelopes, try to use the same stamp as your Save-the-Date. It's a minor detail, but the little things help to jog people's memories.

Don't include your wedding registry information on the RSVP. Mention your wedding registry on your bridal shower invitations instead.

Leave space on the RSVP so people can write to you. This allows them to let you know of food allergies or special accommodations. Your friends and family can also write you notes that can help you get excited about your big day!
Too busy with life to really plan your wedding in detail? Have someone else do it for you and check out our list of Wedding Planners in Melbourne to help take the stress away.