"Are wedding favours necessary?" This is a ubiquitous question that many brides ask as they try to determine the best use of their budget. But, unfortunately, there is no easy answer.
When it comes to wedding favours, there are a lot of different options. 
Some couples don't think the expense is necessary and opt for something more authentic like a bottle of wine or their favourite local craft beer. 
Other couples find that the cost is worth giving guests something fun to take home from the big day. 
Experts say that wedding favours are no longer the obligatory ritual that once permeated the occasion. And it's the rare guest who has an opinion either way.
Need help planning your wedding? Check out our list of Wedding Event Planners here.
Before shopping for favours, take into account how attitudes toward the tradition have evolved. Here's what you need to know if you're wondering whether wedding favours are necessary or not.
The Reason You Should Have Wedding favours.
The sole purpose of wedding favours is for the bride and groom to express their gratitude to guests for taking time out of their day to attend the wedding and reception.
Even though the couple will send thank you cards to their guests after the wedding, a small wedding favour is a thoughtful way to thank their guests for their love and support.
The Reason You Should Not Have Wedding favours.
The most common reason couples choose not to have wedding favours is that they are on a tight budget and cannot purchase gifts.
This is a very legitimate concern. Even though most wedding favours are pretty inexpensive, the unit price must be multiplied by the number of guests in attendance.
If you want to give your guests a wedding favour, be sure to have a section in your wedding budget specifically for wedding favours. 
This will ensure that there is enough money available to give each guest a wedding favour as a token of gratitude.
Is it Okay to Not Have Wedding favours?
In today's wedding world, it's okay not to have wedding favours.
When wedding planning, you need to think about what you want out of your big day – it is yours, after all.
Do you feel handing out wedding favours has to be on the wedding checklist? Can your budget handle it? Are you ready to manage that project on top of the thousands of other things you have to do before the wedding day?
You can delegate the chore to a family member or a wedding party member if you want to give out favours. 
Ultimately though, the result still rests on the shoulders of the bride and groom.
Are favours Necessary for Destination Weddings?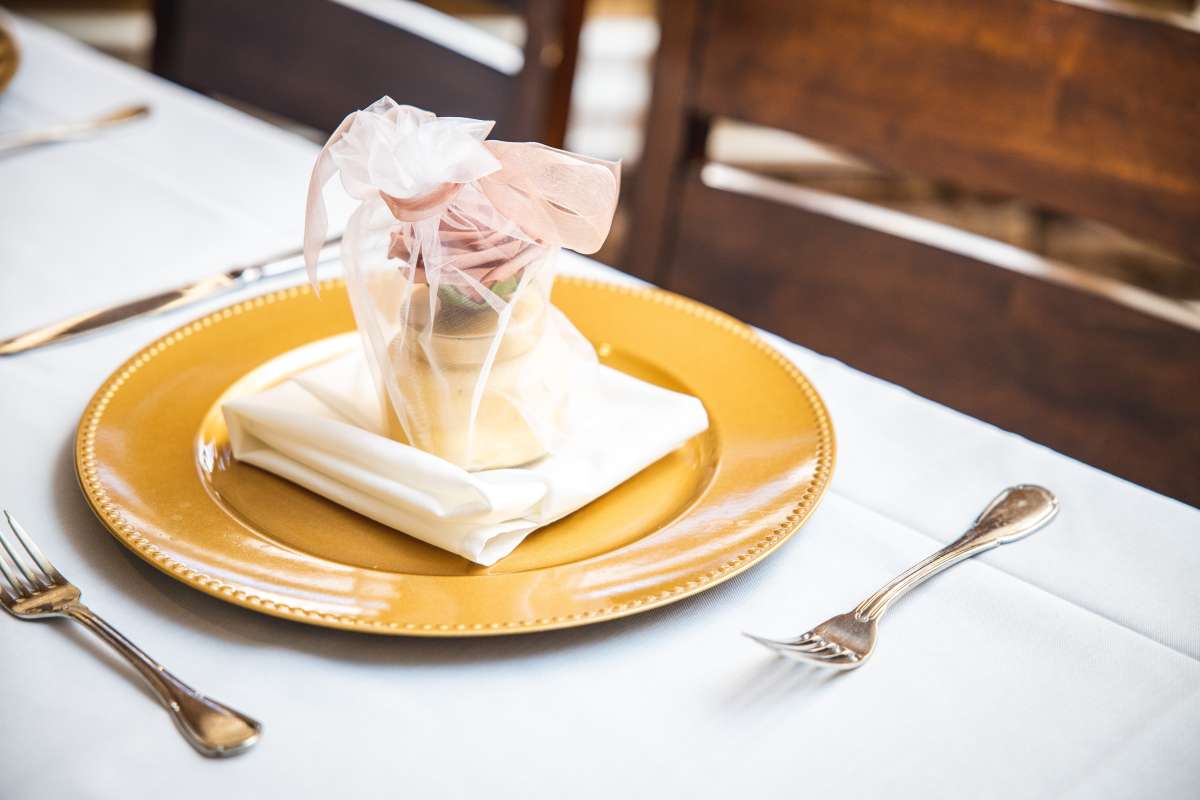 Some welcome is still considered a tradition in even a destination wedding. But, again, it's an example; it's customary to thank guests for travelling to share on your wedding day by giving a meaningful gift. 
Again, this rule is not mandatory. But wedding planners may pencil the gift into the plan.
Unlike yesteryear, you no longer need to fill a bag with monogrammed candy, key chains, and personalised golf balls. 
Think of favours that are practical and purposeful when wedding planning.
Maybe come up with an idea that is related to the local destination. Say, if it's a beach wedding, give guests beach towels and sunglasses. 
Or, consider local delicacies like a bottle of honey from a nearby farm.
Your best bet is to keep it simple. 
Wedding guests famously leave the favours behind. However, by not going too far, you show your appreciation yet cut waste and save money. 
Edible gifts remain a good choice. Boxes of candy or a cocktail kit make for affordable wedding favours.
What Is the Point of Wedding favours?
Wedding favours for guests are a definitive way of saying you embrace your loved one's support.
They are a great way to thank family, close friends, and everyone at the wedding for celebrating with the happy couple.
But today, couples don't rely on traditional gifts like tchotchkes or customised bottle openers. It'sInstead, it's understood wedding favours don't need to be expensive or even extravagant.
The wedding favour was and is a commemorative gesture. It's a way to give your guests an extra something to take home after the festivities, a fun memory of the occasion.
Wedding favours are also a great way to add some fun to a reception. They can include party favours, streamers, and glow sticks left. Guests will have a good time with them on the dance floor or even at their table.
Ultimately, you offer wedding favours for guests to put a smile on their faces, to promote a good time.
Favours are already becoming more creative, personalised, and fitting to the budget. Guests are receiving notices about donations to charity. Couples have designed handmade booklets that tell their story.
You no longer have to spend to make a statement with your wedding favours for guests. Instead, there are inexpensive DIY wedding favours that can be memorable and whimsical.
Inexpensive Wedding Favour Ideas
If there is a concern with the wedding budget, it's important to note that wedding favours do not need to be expensive or extravagant. 
Here are some great ideas for inexpensive wedding favours.
A straightforward and inexpensive wedding favour idea is to give a single flower to each guest. 
If you are already working with a florist for bouquets and centrepieces, you can discuss your options and negotiate an affordable price since you are already purchasing from them.
Alternatively, you could give your guests a synthetic version of one of your wedding flowers. These can be relatively inexpensive and can also serve as a lasting reminder of your wedding.
Another way to keep wedding favours more affordable is to discuss your options with wedding favour distributors. 
Many of them likely have closeout items available as well as discount items.
Lastly, never forget to check out wedding favours on Amazon. Some very inexpensive options would work great as a wedding favour for your guests! 
Average Cost of Wedding Favours
It doesn't matter how much your wedding favour budget is. Like any aspect of a planned wedding, things can change without notice.
So, it can be hard to set a pin on the average cost of wedding favours.
Decide what you want to spend and look at your options.
Order more favours than you have guests. It's not unusual for a guest to grab more than one or for unexpected guests to attend.
You also might want to send a favour to anyone who didn't listen but sent a gift. Check out our list of ultimate Hens Ideas to help your bestie celebrate her last hoorah.
Wedding favours On A Budget.
The value of wedding favours for guests should be the sentiment and significance behind the gift. So buy or create a wedding favour that's personal and less likely to find itself left on the table when the day ends. MyWeddingfavours offers excellent options. You can also find DIY favour ideas.
How to Choose a Wedding favour
If you choose to give away wedding favours, pick something that commemorates your day that's also useful. Use these wedding favour ideas to find a simple, meaningful favour that guests will love. Even a small thank you gift is excellent – it's the thought that counts.
If there's a theme to your wedding, it only makes sense to use it for favours. If the article is classic movies, give out miniature Oscars, perhaps with labels. A folding fan will be ideal if your wedding is Asian-themed. Or, for a Paris theme, a box of macarons.
For those getting married in 2020 or 2021, consider favours like hand sanitiser that are COVID themed.
Something Useful
Come up with wedding favour ideas your guests can use after the wedding. Plants, soaps, candles, or water bottles guests will put to use. Save a little cash, and don't bother with inscriptions. Just tag favours with wedding information. Using picture frames as place cards, kill two birds with one stone.
Something Edible
People look forward to a good meal. Think cupcakes, cookies, candies, mini bottles of spirits, jam, and more as favours. Take a look at regional specialties if the wedding's out of town. If you put together a treat of your own, hand it out with the recipe.
Something Personal
Go with a wedding favour that has value to both bride and groom. It can be a favourite snack when you watch Netflix. Choose an item connected to a hobby or favourite place. Make sure to include a note that explains the importance of the favour.
Consider Donations Instead Of Favours.
Charitable favours have become a go-to. It's ideal for couples that want to avoid the waste associated with wedding favours and also love the idea of giving back. 
Couples take funds budgeted for favours and donate them.
Choose your charity or let guests decide. At the reception, leave a column in the book so guests can select between two charities. 
Do's and Don'ts of Wedding Favours.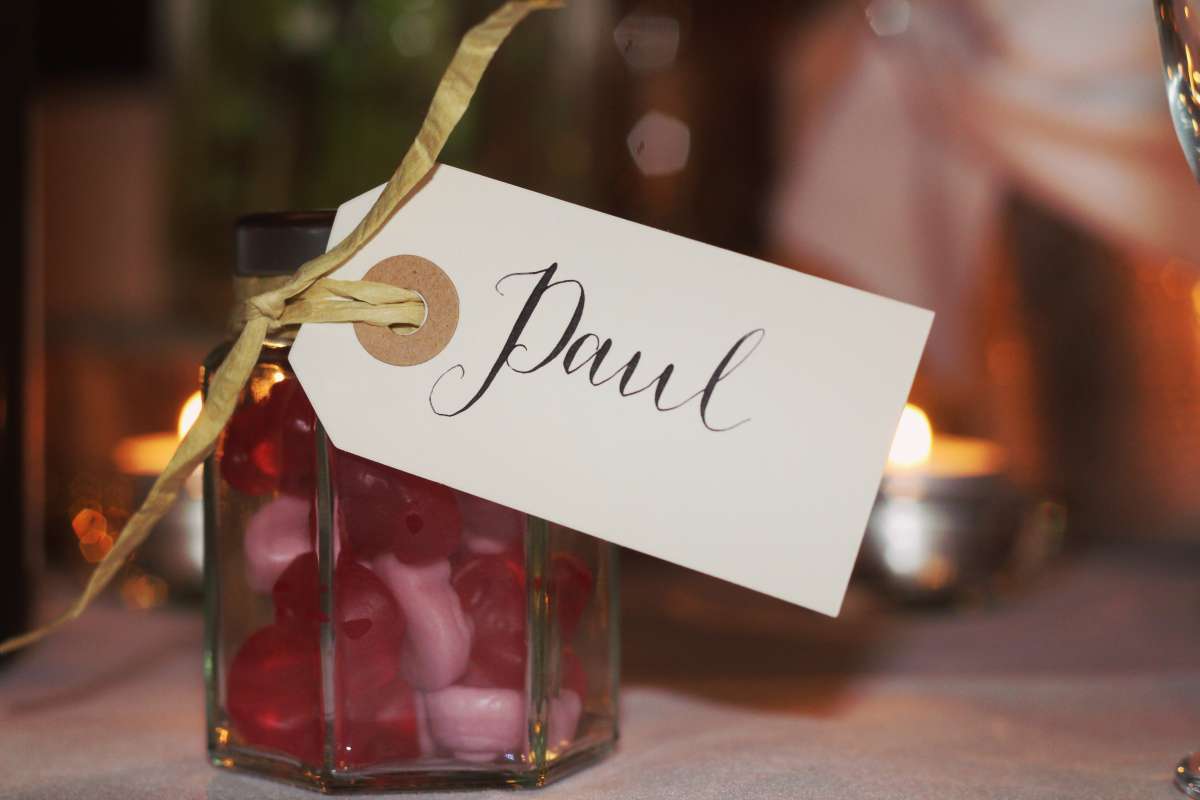 Here are some suggestions from wedding vendors who have been there, seen it all, and lived to tell the tale of wedding favours done wrong and those done right.
Don't: Have favours Out Of Obligation.
If you are only seeking out a wedding favour idea because you feel like you have to, then you're better off skipping them altogether. 
You're already treating your guests to an evening of fun, dinner, drinks, and dancing, so a parting gift isn't required. 
Don't you find yourself short on time (or budget) to put together the perfect favour, don't feel bad. Is it a fun addition to the wedding? 
Absolutely. Will the world come to an end if people don't leave with a favour? Not.
That being said, if you want to give your wedding guests a favour, there are many inexpensive wedding favour ideas to consider. 
You could give them something small and edible, like some candy or a cookie. It doesn't have to be anything elaborate, just a small token of your love and appreciation!
Do: Choose Something Meaningful
Only do favours if they have some meaning to you! Gone are the days when your guests HAVE to leave with something in hand. 
A favour is an item to remember the wedding by and a gift to the guests. We vote that experiences are a way better favour than something without meaning.
You may also use a litmus test for your wedding favour ideas. For example, if you don't have a wedding favour idea that represents who you are as a couple or expresses a unique part of your personality, then consider moving your favour funds to another part of your budget. 
What can you do for the guests to make them feel more comfortable or add another fun element? 
Shift the funds to an activity such as a Photo Booth, caricature artist, poem artist, or paying the band to learn your college fight song.
Do: Consider A Donation To Charity
If you're feeling anti-favour because of the waste aspect, consider donating in honour of a favourite charity or cause. 
A charitable gift is a meaningful gift that ticks that checkbox, especially if you choose a charity that means something to you personally. 
Do: Choose Something Useful
If you're in the pro-favour camp, consider choosing a wedding favour that is useful to your guests post-wedding day. 
Candles make great favours for wedding guests, as they are easily personalised and make for an excellent addition (post-wedding!) to the home. 
Rather than providing guests with something that they'll look at once and forget about, sending them home with candles means they'll remember your wedding every time they light it.
Stick to candles with lighter, more subtle fragrances if you plan on gifting candles to your wedding guests. 
Everyone has different scent preferences, and some may even have allergies. You may also want to consider getting soy or beeswax candles, which are trendy in eco-friendly circles.
For an extra special touch, pair your candle favours with a personalised matchbook to complete the set. Finally, you can tie it all up with twine or a cute ribbon that matches your wedding colours -- your guests will love the thoughtful addition!
Don't: Make Your Edible favours.
If you're planning on giving an edible wedding favour, Paula Ramirez cautions you not to make them yourselves. 
Couples always underestimate how busy they are the week of their wedding.
Unfortunately, it would help if you kept freshness in mind when it comes to something you are giving your guests to eat, so you can't take care of this time-consuming project far ahead of time. 
Depending on the item, most edible favours typically need to be made and packaged the day before or even on the wedding day. 
You likely will find yourself without time to prep and package favours yourself the day before your wedding. 
It may also be challenging to enlist your friends and family, as they are also likely busy with other pre-wedding tasks. 
If you've got your hearts set on edible wedding favours, consider outsourcing that project for the sake of your sanity and the sanity of those closest to you. 
That being said, if you hire a day-of-coordinator or full-service planner, this is a task you could pass along to them while still saving a little money by purchasing the supplies yourself. 
We suggest sticking to something straightforward if you plan to go this route, like a candy buffet. 
Do: Consider Presentation And Distribution Of Your favours.
Keep in mind how and when the favours will be distributed to your guests. Placing them at guest tables is your most efficient way of ensuring there is plenty for everyone. 
Remember to purchase 20 per cent above your guest count if you have general seating, so there is one at every seat.
Perhaps you plan to present your wedding favours in a unique and exciting display -- depending on what your blessings are, this can create a great focal point and detail for your wedding. 
It's essential to ensure your photographer gets some photos of your favourite display before your guests descend upon it.
Should you choose to offer favours as your guests leave, you may consider having someone monitor that each guest only takes one or buy plenty for the guests who grab more than their share.
Do: Think About The Environment
Many couples are turned off from wedding favours because of the waste factor, so think outside the box and consider some eco-friendly wedding favour options. 
Consider a small plant like a succulent or some plantable papers (like from Botanical Paperworks) on which you can write a simple note. 
Your guests can then plant your favour in a pot and watch wildflowers grow after your big day!
In the same vein, make sure to avoid products that create extra waste or won't break down quickly. 
We also suggest avoiding glitter on wedding favours because it tends to get everywhere, causing a big, sparkly mess that your guests may be happier without. 
When we talk about the environment, we're not only talking about being eco-friendly; we also mean the setting where you display or distribute your wedding favours. 
If your reception is outdoors, be mindful that your favours are not heat-sensitive. This is especially important for anything edible, as you don't want your guests' gifts to melt! 
Do: Include A Sweet Note
No matter what you choose as a favour, or even if you decide to skip them, you should find a way to share a sweet note with your guests. 
Use it as a way to thank them for celebrating with you and express your gratitude for their love and support. A little bit of sweet sentiment can go a long way. 
You are feeling stumped on what to write on your wedding favours? If you're looking for inspiration, check out these creative wording ideas for wedding favours. 
Your wedding favour note or word of thanks doesn't have to be an epically long novel, so feel free to keep it short, sweet, and to the point. Your guests will appreciate the effort and the acknowledgment. 
Final Thoughts
Does the question remain? Are wedding favours necessary? That's up to you. But do not feel obligated to give wedding favours. Saying "I do" at Vogue Ballroom is an elegant and luxurious affair.
It's your day, and guests aren't focused on the favour, but the couple. 
Take that money and put it into the food. Trust your guests will talk about the food long after they've forgotten that copper mug with your wedding info scratched into it.