It may be one of the most important days of your life but, believe it or not, the best thing you can do on your wedding day is act perfectly normal!
Yes, we know it sounds crazy, but this sage piece of advice, handed down by generations of brides, suggests that the most effective way to ensure you get through your big day – without too much stress or distress – is to act as though it's like any other day…kind of.
Why? Because sticking to your regular routine means you won't likely be in for any nasty surprises or accidents.
After all, your wedding day is not the time to try new things – or even risky activities that may lead to any sort of disaster, big or small. That said, we don't think we're overly cautious here (because, well, we talk with a lot of brides). There's something to be said for erring on the side of caution. Looking for the ultimate Wedding Reception Venue in Melbourne? Look no further, Vogue Ballroom is here.
You probably won't be your usual self on your big day. You'll, likely, be terribly excited, a little distracted, absolutely delighted, and perhaps, even, a little nervous or shaky, so sticking to your normal routine and avoiding any activity that could go even slightly wrong is a very safe and very smart strategy.
Things Not to Do on the Day of Your Wedding
Stress About the Weather
While you'll want to be aware of what's going on (you'll need to know whether or not you'll need your weather plan B and so on), tearing your hair out over the forecast will do nothing but bum you out. Let your wedding planner deal with setting up the backup weather venue, and your hairstylist find an anti-humidity serum for your half-up do. All you need to worry about is marrying your partner and partying all night. And, hey, weather reports are only accurate, like, half the time anyway, right?
Start (or Finish) Big Diy Projects
Baking mini muffins and tying ribbons around 200 packages for reception favours sounds nice in theory when you're seven months out—not so much when the morning-of arrives. The only DIY projects you should assign yourself are the ones you can complete with enough time to spare before your wedding day without going crazy. (Need suggestions? Here's what you should—and shouldn't—DIY.)
Get a Massage, Wax, Facial or Other Intense Beauty Treatment
Indulging in some of these luxurious spa treatments? Schedule them a few days before your wedding day. You never know if you'll have a funny reaction to a facial or brow wax or if your masseuse will go all deep-tissue on you (aka make you too sore to get down on the dance floor). Finally, mani-pedis are best done either one or two days before your wedding. That way, all you'll need to do is get hair and makeup done on the day of.
Wear New Shoes for the First Time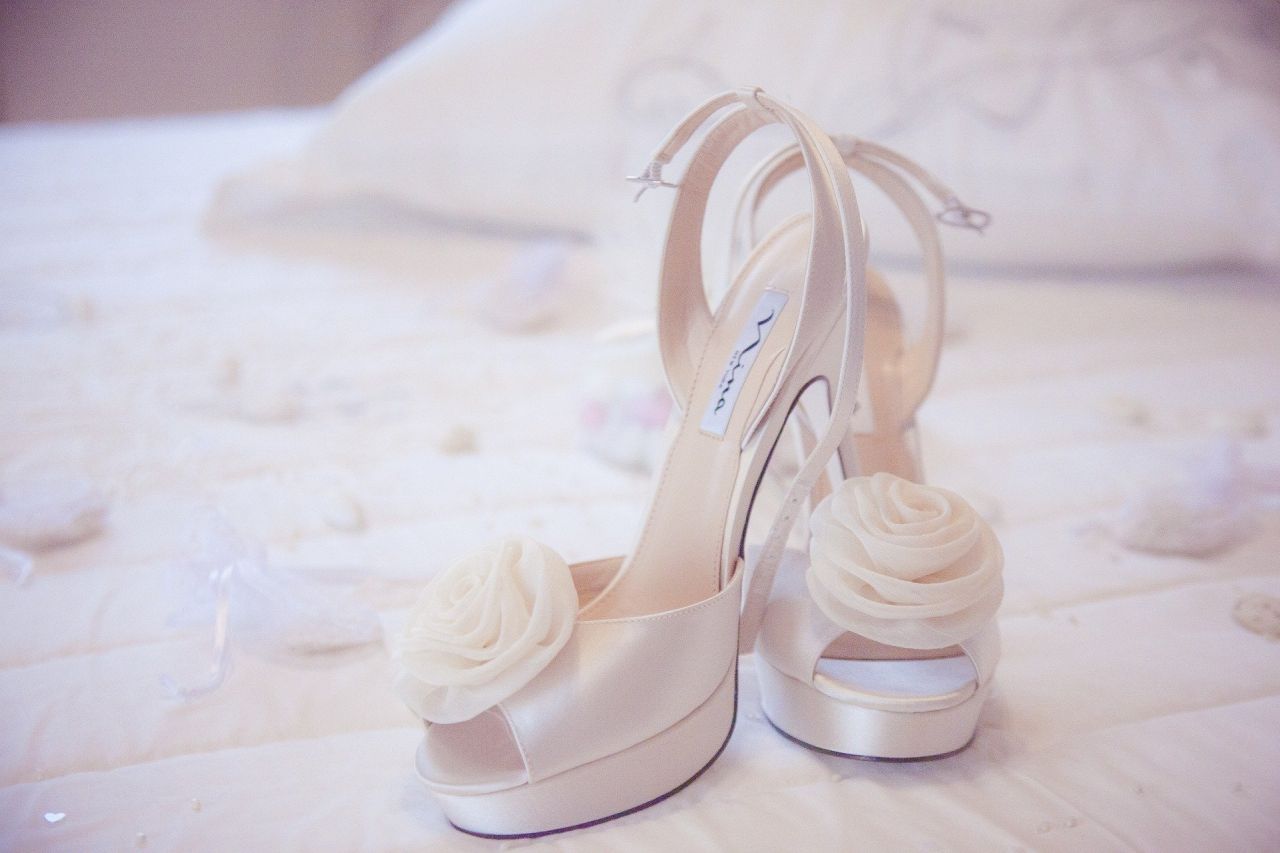 Take the time to break in new shoes several weeks before your day. Even if you're planning to wear flats, you'll want to make sure you're not setting yourself up for blisters. Break them in by putting them on and walking around for an hour or two several times until they feel good. And it never hurts to bring a backup pair of sandals or flats in case.
Exercise Too Hard
If exercise is part of your daily routine and helps you unwind before your vows, definitely get a workout in—but don't push so hard that you risk pulling a muscle or expending every last ounce of energy. You have a long night ahead of you!
Forget to Eat
You might find yourself too busy (or nervous!) to eat the morning of your wedding, but if there was ever a day your body needs fuel, this is it! And yes, peeing in a ball gown is tricky, but having an awesome day when you've sworn off liquids is even trickier.
We cannot stress enough how important it is to stay fueled on your wedding day. Good breakfast and lunch won't affect how your wedding attire fits—but it'll keep your mood and energy level up. Plus, you'll need a little something in your stomach if you plan to indulge in a getting-ready cocktail or two.
Write Your Vows
Please don't wait until the last minute to begin writing your wedding vows. If you want to make a few tweaks here and there to your handwritten vows, go for it. But that feeling of, "Oh my god, I haven't even started" is not something you want to wake up to the morning of your wedding.
Pack for Your Honeymoon
In a perfect world, you'll have packed for your honeymoon a few days in advance. But if you're not quite finished and leaving right after the reception, it's okay to delegate this task to a close friend. If you're not leaving until the next day, put it out of your mind for now and do it after the wedding.
Spend the Entire Day on Your Phone
You might consider your phone another one of your limbs, but do yourself a favour and answer a few texts, emails, Snapchats and DMs as possible. That can wait until tomorrow, but today is all about soaking in every moment.
Try to Control Everything
Just breathe. You have an amazing family, wedding party, planner and squad of vendors who can take care of any issues that pop up. If you're a self-avowed control freak, make your day-of timeline ahead of time and share it, so everyone knows where to be and when. Otherwise, try to go with the flow and delegate as much as possible. We have compiled an exclusive list of Melbourne Wedding Caterers to help you choose your perfect catering option.
Things to Remember for a Wedding You'll Never Forget
The good news is that this doesn't have to be the case with a little forward planning. So with this in mind, here's my guide to the who's, what's and where's to remember;
Put Someone Else in Charge
No matter how much of a control-fiend you are, now is the time you need to delegate!
Whether it's getting a reliable Bridesmaid to round-up your guests for wedding photos, asking the Ushers to help with transportation or asking your mum to be in charge of your handbag – put someone else in control as this will help you to relax, as much as you can, on the day.
When delegating roles, try not to dump everything onto one person, instead, take into account people's existing commitments and then split out the roles according to people's strengths.
Briefs & Schedules
Hopefully, in the lead up to your wedding, you've been busy working away on your wedding day schedules, circulating to those that need to be in the know to ensure that everyone understands and fully acknowledges their role on the day.
Time and time again, wedding day schedules have remained as PDF files or Excel spreadsheets on computers rather than being used! Today is the day when your wedding day schedules, in all their glory, can finally be put to good use!
We are not suggesting you sit there on your wedding day crossing off items on a line by line basis (unless you have an urge to do so!) but instead, why not print off a couple of copies and have them lying around so that you and your wedding party can refer to them if you need to.
This might sound like an extreme case of planning, BUT it will ensure that your day goes according to plan and that nothing falls off the radar, allowing you to spend time on the things that truly matter.
Sort Yourself Out!
Find an area of your house where you can start to stockpile any essential on-the-day items or nice has. This includes everything from THE dress, to your wedding perfume, to some comfy clothes to wear whilst you're having your hair and makeup done.
Having all of these items together in one place will hopefully minimise the risk of any day-before / morning-of hiccups or mad dashes to the shops to pick up those essential items safely stored (lost) at the back of a closet or under a bed.
If you're getting ready at a different location to where you're spending your first night as a newlywed, then also try to have your first night or honeymoon bags packed and ready to go in the morning so you can arrange for a friend to drop them off at the venue where you'll be staying.
Bring Your Kit
Comfortable guests are happy guests, so keep them in mind when writing your list of things to remember. Fill a basket with helpful items – things like plasters, safety pins, tissues. Seasonal saviours will also be welcomed – think a blanket basket in winter or flip flops, deodorant and fans for summer. This can be pre-packed in advance, but make sure someone is on-hand to set it up at the venue before guests arrive. You might like to have a secret stash somewhere just for the bridal party, too.
Make sure you've packed all of your top-up beauty essentials and emergency items in a handbag that can easily be handed over to one of the wedding party.
The standard lip balm and pack of tissues, yes, but also a few things for the 'just in case. For example, emergency cash, white chalk or baby wipes (if you get anything on your dress), hairpins, a sewing kit and a USB of your wedding playlist.
Breakfast Time
Whether your ceremony takes place at 11 am or 1 pm, one of the key things to remember is that you'll have an early start to get you and your girls through hair and makeup. You won't sit down to your wedding breakfast for a few hours afterwards, either, so fitting in a good breakfast is essential. How about a hamper of croissants, conserves and Champagne to get you started?
Stay Hydrated
On your wedding day, you WILL be the centre of attention! As a result, you'll be pulled from pillar to post by friends and family saying hello, goodbye, asking to see your ring, asking how you're feeling… You get the drift.
Before you know it, several hours have gone by, and you haven't had a drink.
It's vitally important that you stay hydrated, especially if you're getting married in the summer months, so keep drinking (water that is!)
Enjoy the Things You've Paid For
If you can, remember to take time to enjoy as many of the things you've spent all of those weeks, months and even years planning.
If there's something you're particularly concerned about that you may forget to experience, then let someone know in advance. For example; if you think you'll be too busy during your drinks reception to enjoy your canapés, why not ask your caterers to save you a selection that you can then help yourself when / if you have a little more time.
Girl Power
It might fly by and feel like a bit of a rush, but try your best to cherish the time shared with your mum and bridesmaids as you get ready. Let yourselves get a little teary (pre-makeup, of course!) and don't forget to have photographs together too – especially one just with your mum, which might otherwise be forgotten.
With the mother of the bride also traditionally left out of the speeches, we think it's a lovely touch to raise a toast to her during your wedding breakfast.
Father-Daughter Time
If you're lucky enough to enjoy a good relationship with your dad and have him with you for your wedding day, don't miss the chance to make memories just with him too. Perhaps you could pause for a moment before you turn and walk down the aisle together? Or revive the tradition of a father-daughter dance?
Thank People
To your friends and family who pitched in during the planning. Your bridesmaids for not grumbling at their fifth wedding fair in a row. To your parents for supporting you. Yes, your wedding is a day for the two of you, but it wouldn't be possible without a lot of other people too. That's what makes it the perfect time to say a few meaningful thank yous.
This might sound like a total no-brainer, but you'd be surprised how easy it is to forget to thank everyone who has supported you in the lead up to your Big Day and on the day itself.
In your speech or person, it's lovely to be able to thank people for coming and for their contribution to your wedding.
The same goes for suppliers!
A little thank you will go a long way, and you'll be sure to make everyone's day!
Take Time for Yourselves
Always try to remember what your wedding day is really about… Two people.
Your wedding will be a whirlwind of happiness, love and lots going on, so you and your new spouse must take a minute out together. You'll have the chance to appreciate the fact that you've just married each other. It's also something our featured couples tell us time and again is one of their favourite memories from the day – to stop, stand back, and see the smiles of all their favourite people.
Some couples barely get to make eye contact until their first dance, and even then, it's with the eyes of 120 guests upon them. With this in mind, try to take some time out together to let everything sink in. After all, you've just got married!
As part of your wedding day schedule, try to factor in some time for just the two of you – whether it's driving between the church and reception, a moment of down-time between photos or a quick stroll after your wedding breakfast and before your first dance.
Have a Moment
Carve out some time for the people that really matter to you and those who have helped you get to this point. Be it Parents, Bridesmaids, your best friends – take a few minutes to have a drink with them, pull up a chair next to them during the wedding breakfast or drag them onto the dancefloor.
They have put a lot of love and effort into making this your special day, so make sure they get some love in return!
Enjoy It!
Most important of all, make sure you enjoy the day. Dance, drink, eat and be merry. Relax, breathe and take it all in. You have worked so incredibly hard to make this the best day of your life, so sit back and revel in what you have accomplished!
Hopefully, you'll be able to put some of these pointers to good use, allowing you to enjoy your wedding day without worry or work. However, if you're worried about the logistics of the day, timings, schedules etc. and feel that you might need an extra helping hand, then please do have a look at Vogue Ballroom.
Don't let the day pass you by! Every fifteen minutes (or however often you remember), take a minute to look around and soak in everything around you. Many couples will tell you that their wedding day was a blur because it all happened so quickly, and they feel like they can hardly even remember it.