With the rise of modern technology, couples across Australia are putting more emphasis on capturing their wedding on film. While photography is still one of the most popular and important elements of a wedding, capturing your day on film will immortalise laughter, joyous tears, and those raw emotional moments that make weddings such a special, memorable occasion.
If you are located in Melbourne, Victoria and on the hunt for a highly sought-after wedding videography studio to shoot your big day, you've come to the right place! To get you on your way, we have compiled a list of the top 10 most popular wedding videographers Melbourne has to offer, as ranked by their customer reviews across the internet. You never know, your dream videographer could be included in this list.
We've searched high and low for the best wedding vendors and inspiration for your Melbourne wedding. Discover Melbourne's best wedding photographers and Melbourne's best wedding planners all right here in our Melbourne wedding planning guide. Looking for more Melbourne  wedding inspiration? Search through our fabulous Melbourne real weddings to inspire your big day!
List of Wedding Video Production Companies Melbourne, Victoria
Studio Orange Video Production Company Melbourne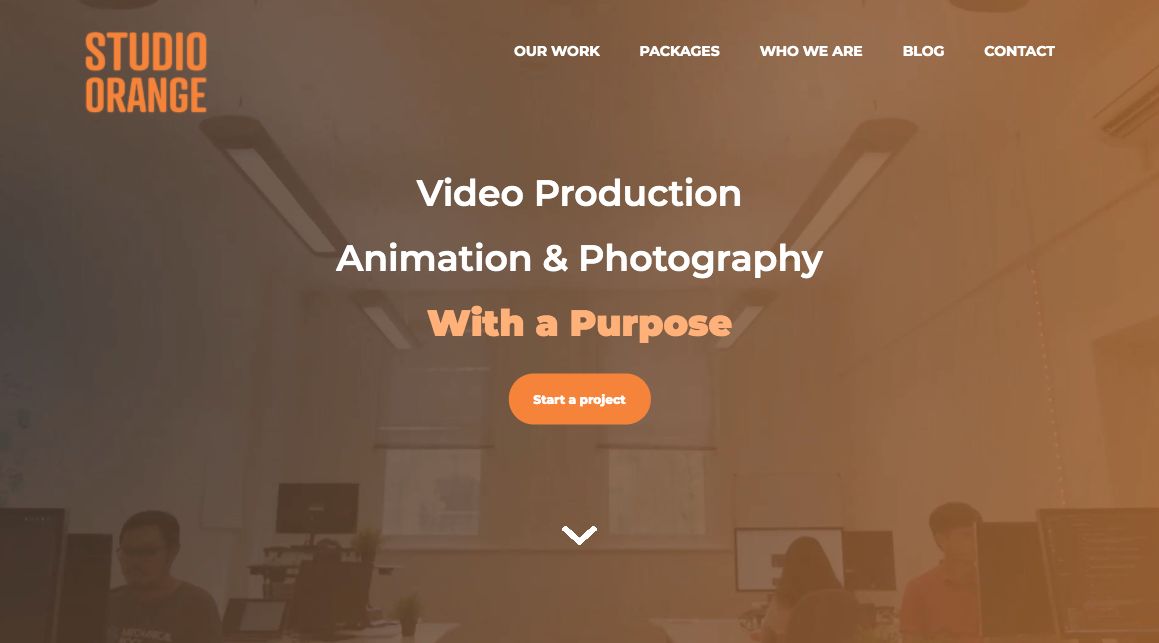 865551821
Creativity With a Purpose
Video, Animation & Photography - Perth & Melbourne
At Studio Orange we believe in Creativity with a Purpose. We work alongside our clients, to understand what it is they would like to achieve, we then use our creativity to best recommend a visual format to achieve our clients goals. We work in three core areas: Video & Film Production, Animation and Photography. Our teams are located across Victoria and Western Australia, with our HQ in Perth. Our services include Advertising, Corporate Videos, Animated Videos, Social Media Content, Documentaries, Profile Videos, Training Videos and more. Our production teams scale to suit the type of content we're creating. This means we can work on smaller productions and can also provide all the works for high end productions.
Video
Video storytelling empowers brands to engage with their audience, contextualise a product or service and connect on an emotional level. Studio Orange works with local Perth based and national clients to help them tell their story through video content.
Animation
Animated video content can help explain complex products and processes in an easily understood video. Animations injects life and movement into a brand. Animation can be used in many different ways, from character based stories to product explainer videos or corporate communications. Our production workflow allows us to work with clients locally in Perth and nationally.
Photography
High quality visual representation is essential for any brand to maintain a professional and consistent brand identity. We work with a range of clients on photography projects and understand that every project has different needs and requirements when it comes to the photos our clients are looking for.
RockStagVid Wedding Video Production Company Melbourne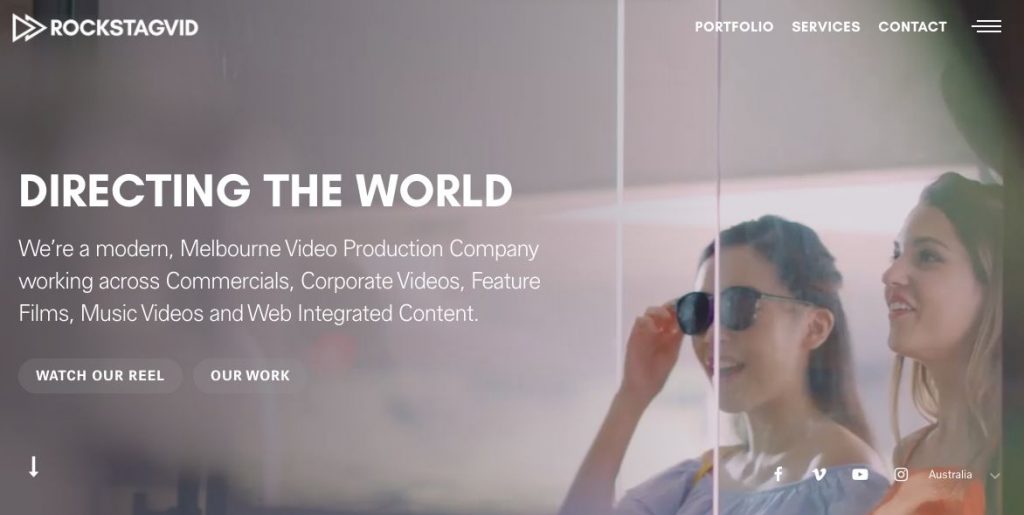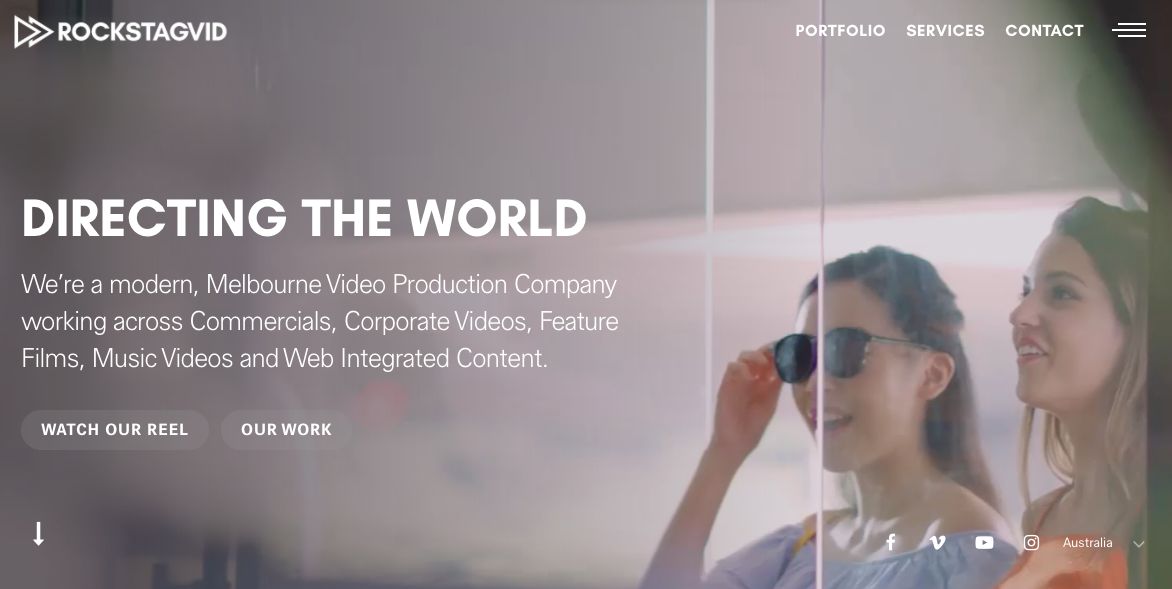 390133943
DIRECTING THE WORLD
We're a modern, Melbourne Video Production Company working across Commercials, Corporate Videos, Feature Films, Music Videos and Web Integrated Content.
Moving visual communication for modern brands
We're a video production company working for various clients and agencies in both Melbourne and Singapore. Over the past 3 years we have created hundreds of Commercials, Feature Films, Corporate Videos, Music Videos and countless hours of Branded Content.
Commercials
Your Ads are a key part of your marketing, and an opportunity to move your brand forward. We help you push that limit.
Corporate Video
Highly polished videos that demonstrate your brand values and vision, helping you distinguish your offerings.
Short Films
Execute your narratives artfully using strong visuals and compelling scripts. These films are the perfect tool for expressive Storytelling.
Motion Graphics
Combine unique Data Visualisation, Special Effects and Animation to make your product stand out. Give your presentation that fun, creative twist.
Web Integrated Video
Beautifully present your products on the Web, using seamless Inline-Video capabilities on our Landing Pages to create an immersive experience for your customers.
MORE THAN JUST GEEKY SUPERHEROES
And even superheroes need to work in a team, that is why our crew works together collaboratively. We celebrate our people and the work they do, and staying relevant in a continually changing world.
GREAT WORK MEANS GETTING OUT OF OUR SEATS
We're serious about making great videos together, but that doesn't mean we can't have fun. That is why we have open spaces – Sketch your thoughts on the whiteboard. Share those wonderful ideas with the crew. We encourage our people to go around and have real conversations.
Expansion Media - Wedding Video Production Company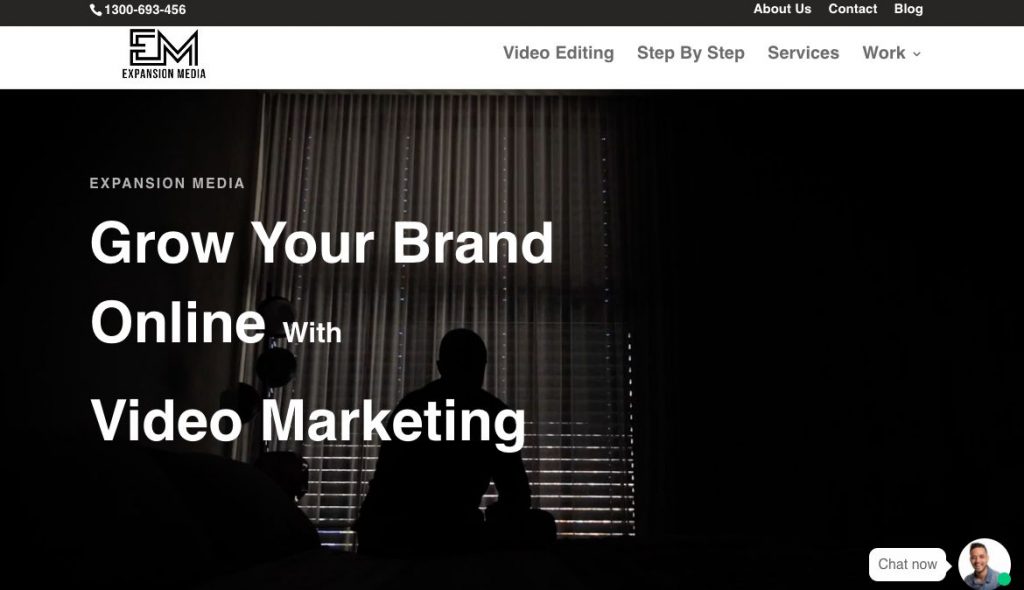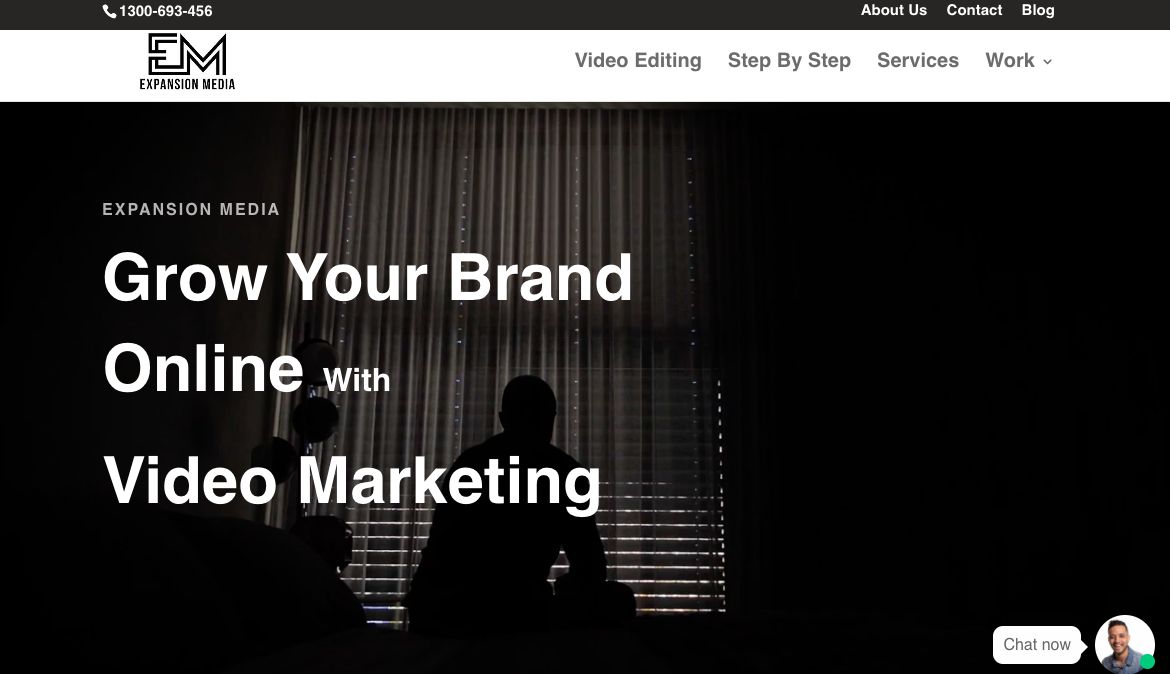 1300693456
WE CREATE VIDEOS For
EMERGING BRANDS &
THRIVING BUSINESSES
Over 100 video projects successfully delivered since 2013.
Engage with a team that understands audience, strategy, online marketing,  distribution, creative direction and of course, in-depth video production.
Having delivered on over 100 video projects for businesses across Australia, we understand what's important to write, shoot & cut.
Always think audience!
THINK AUDIENCE.
As the digital landscape for video expands, the competition to be seen and heard is more fierce. We focus on creating videos that will resonate and hit home with your target audience. We achieve this by understanding where your target audience sits on your customer journey to ensure the message delivered is relevant, engaging and applicable. The healthy balance between storytelling and cinematography mixed with a marketing & sales strategy is the most effective video production solution available today.
OUR FORMULA
WITH YOU
EVERY STEP.
PRE-PRODUCTION  we discuss the creative brief, the concept, finalise the scripting, get our actors, locations and team excited. We set up all our shooting dates and prepare to deliever.
PRODUCTION involves pulling out the cameras, heading out on location with our clients or actors and doing all the filming. We use the best equipment for the project and we're constantly adapting to new technologies.
POST-PRODUCTION brings the story together. It's the cutting room floor. We edit all the best shots together and bring the script to life.  This is where we develop the visual story, add  muisc, visual effects, titles, colour grading &  of course, explosions.
Moon Shine Agency - Wedding Video Company Melbourne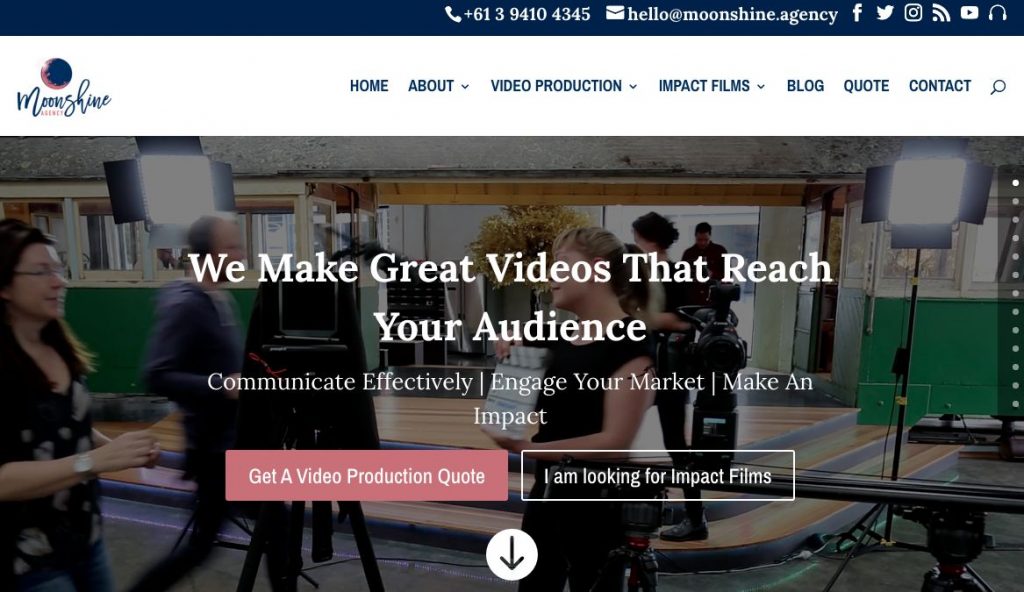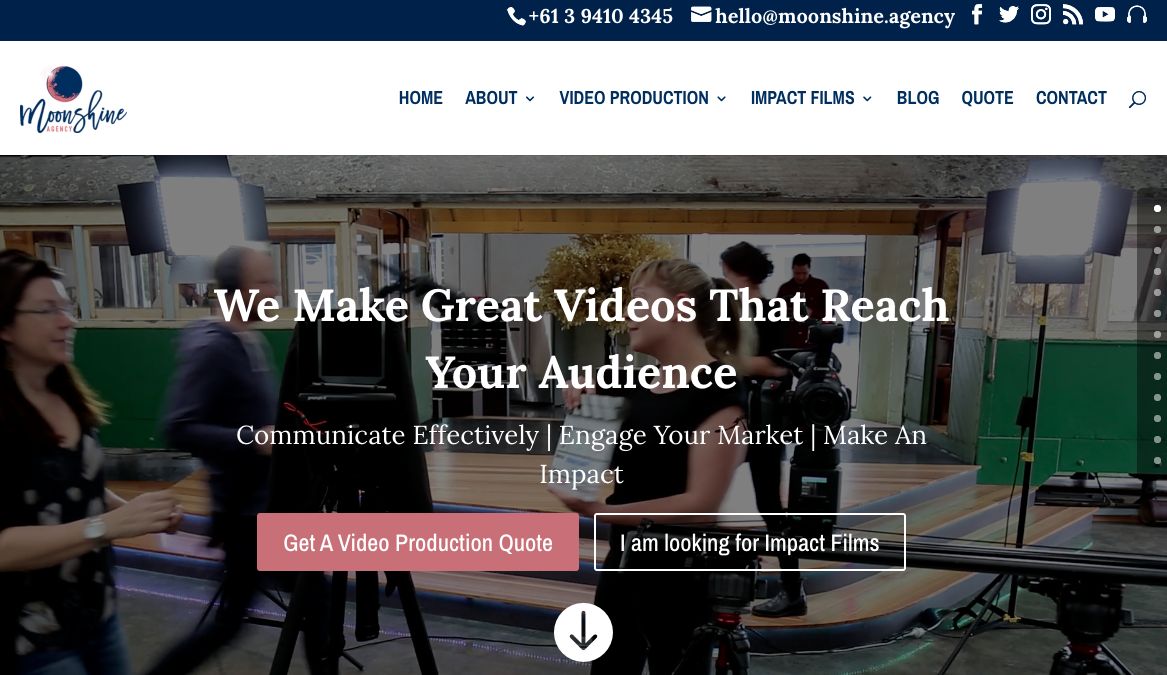 1394104345
Tell Your Story, Change the World
The only thing in the way of putting your story to work is figuring out how to tell it.  At Moonshine Agency, we love this process and work with you to craft your story so that it resonates with your audience.  And we are really good at working with our collaborators to do just that.
We pride ourselves on working with good people because values matter to us and we believe you're only as good a the company you keep.  So, as a result, we are a video production company that tends to work a lot with leaders of purposeful organisations, change makers, philanthropists, activists, entrepreneurs, ethical marketers, educators, artists and visionary executives.
Exceptional Customer Experiences
Above all, achieving the needed results for our collaborators and clients is paramount.  It is our wholehearted commitment to deliver exceptional experiences to everyone we work with.  Because customer service and delivering with excellence are part of our nine core values.  We are proud to have over 20 five-star reviews on Google.
Marketing Video Example – Queen Victoria Market
Hidden Stories of Queen Victoria Market – 600,000+ Views in 30 weeks!
We're thrilled to be working with Queen Victoria Market to create a series of 10 Hidden Stories behind this Melbourne icon as well as this promotional video celebrating one of our favourite places in the world.  We are honoured that this work has been recognised as Best in Show for Social Media Advertising Videos at the 2020 Horizon Interactive Awards.
How do I know my videos will reach an audience and make an impact?
There's no point creating great content that's never seen or fails to engage its intended audience.
So we also offer strategic communications planning services to protect your investment.
This service provides you with a comprehensive action plan based on your specific needs, current trends and proven video marketing strategies.
Our production & release packages include a lifetime guarantee to reach your audience and make an impact.
Clips That Sell - Wedding Video Production Company Melbourne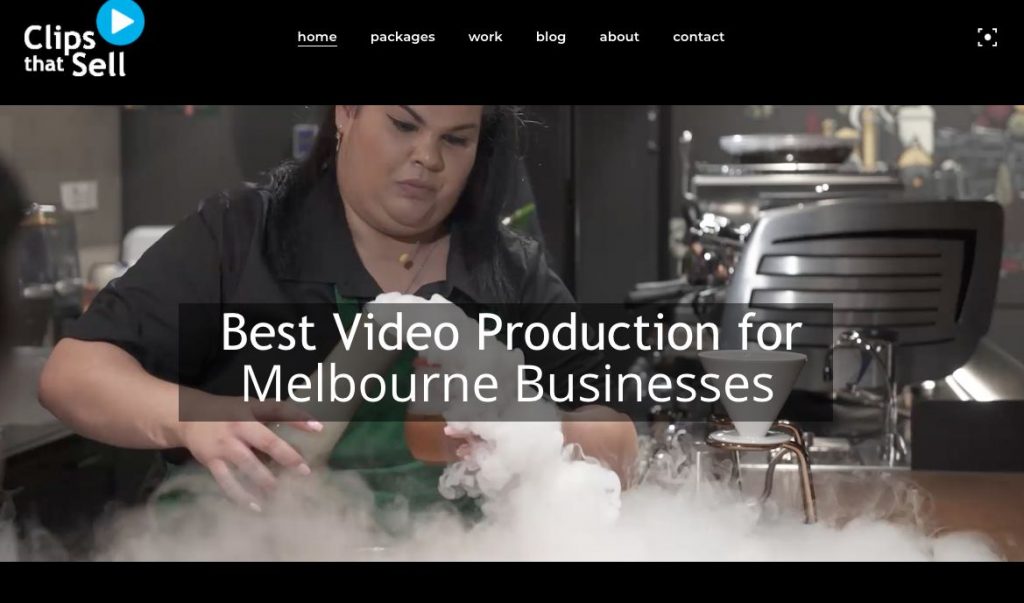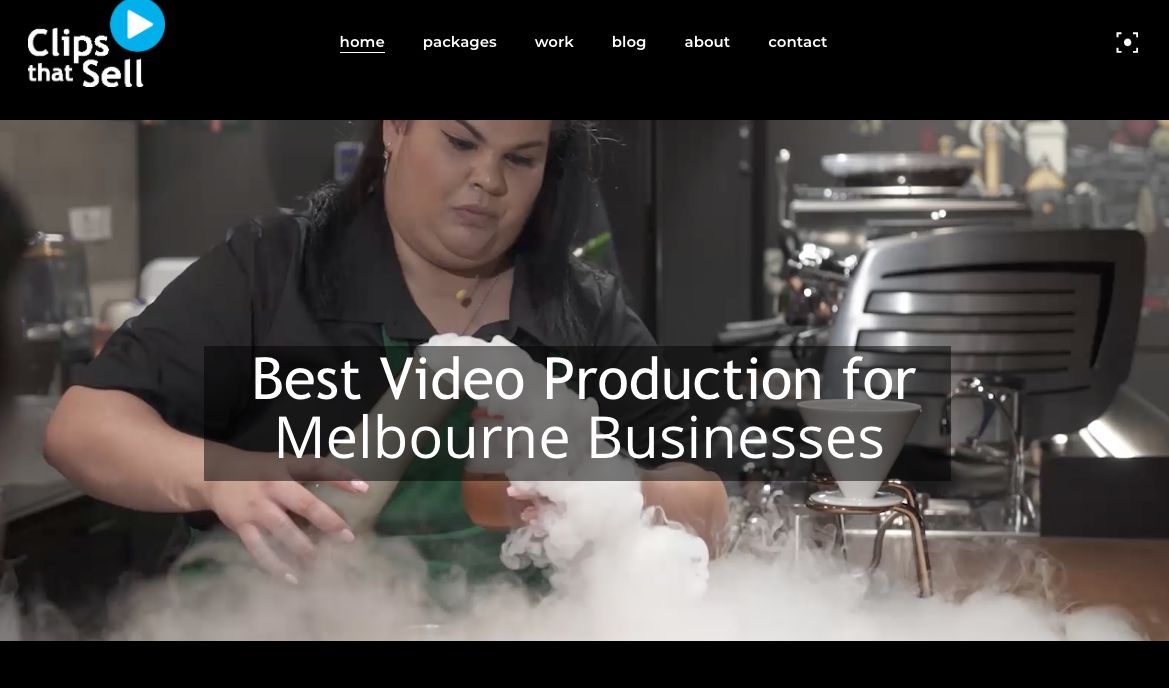 clipsthatsell.com.au
401991866
We work with you to script, film and edit business videos
Please have a look at these examples and you decide how they're positioning our clients.  You can also view our packages, prices and more examples here.
Working with us, you'll get:
well structured, on message videos which make you look good!
great production value for your money (quality versus cost)
Quick and efficient turn around and edit times.
Who is Clips That Sell Pty Ltd?
Clips That Sell is made up of a team of three people. Keith the director and best videographer in Melbourne. A video editor, and an admin support.
Keith established this business in 2012 to pursue passions for  filming, script writing, helping people tell their story and achieve their communication goals.
We use  a network of animators, editors, camera folk and presenters we can achieve the full range of production outcomes.
In the last eight years we have made hundreds of commercial videos, filmed events, telling stories. We love putting them together and getting great feedback from clients.
Clients like:
Councils
Whittlesea Council, Hume City Council, Kingston City Council, Banyule City Council, Nilumbik City Council, Wyndham City Council, Hobsons Bay, Western Water
Marketing/ Web/ Tech
ROI, Studiohawk, SMBIT, Media Blender, IT and Coffee, WiseSync, WisePay, Digital Copywriting, ASENZ, Kiandra, Small Chilli Marketing, D&A Advertising
Consultants/ Business Coaches/ Finance
Aurecon, RB Flinders (lawyers), Accord Conveyancing, Ultimate 48 Hour Author, Sloan Group International, Action Victoria, CS Consulting, Marcus Today, Arthur Roe and Assoc, Lextech, Wholesale Investor
Speaker Showreels
Steve Simpson-UGRs, Karen Gamble, Ailsa Page – AP Marketing, Stu Atkins-Social Seeding, James Anderson-Mindful by Design, Ricky Nowak, Charles Kovess
Wholesalers/ Manufacturing
Sitro Group (Gasmate), Chipstar, Alternative Engineering, L&H (Lawrence & Hansen), Scholz (LED lighting)
Spotlight Productions - Wedding Video Production Company Melbourne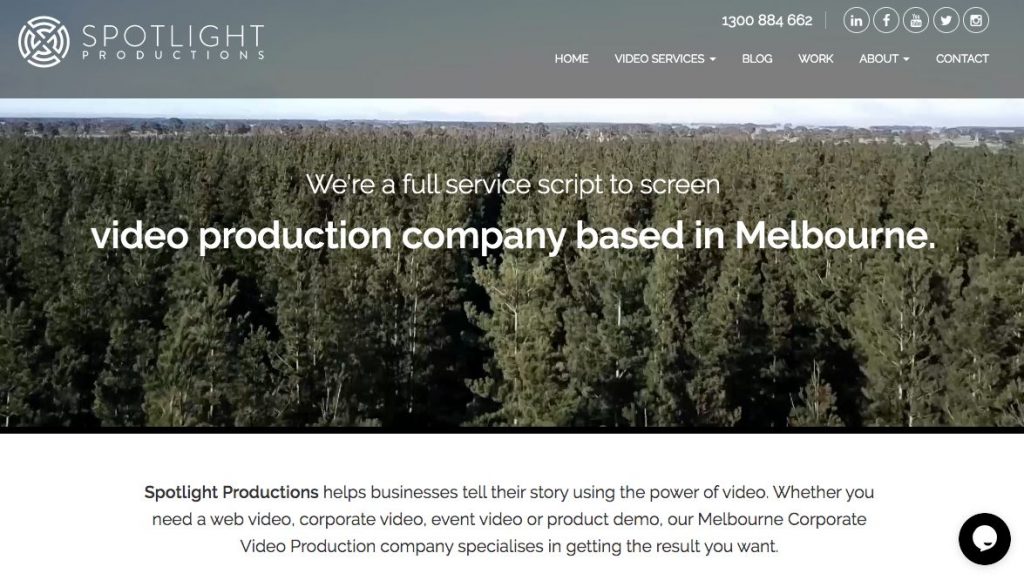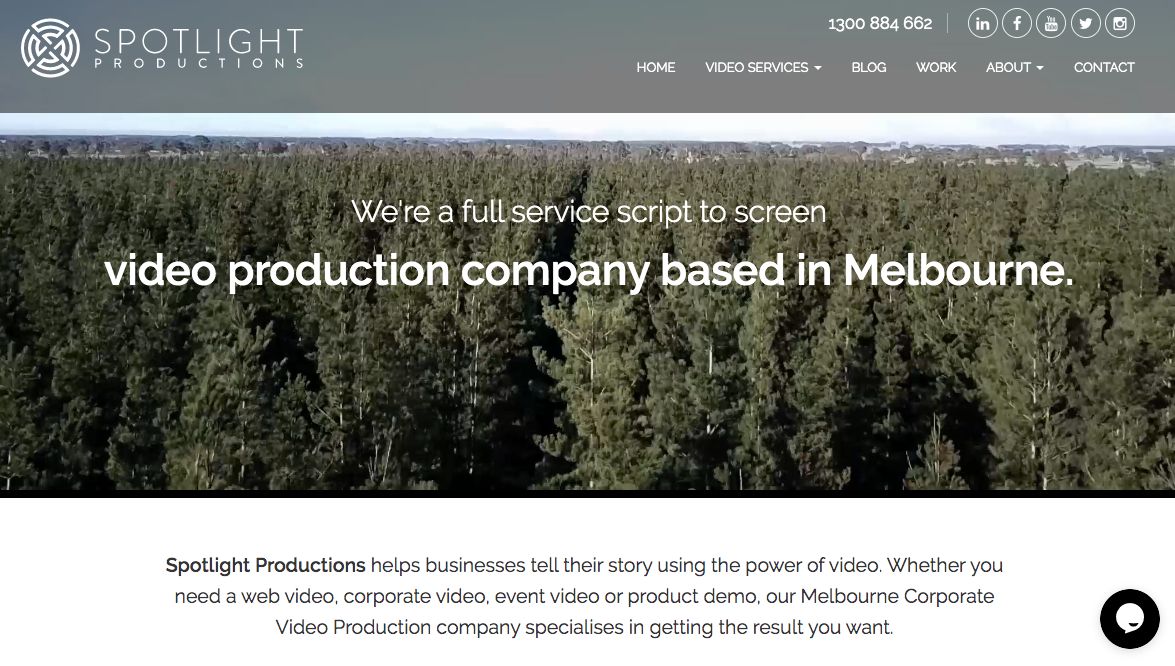 1300884662
Spotlight Productions helps businesses tell their story using the power of video. Whether you need a web video, corporate video, event video or product demo, our Melbourne Corporate Video Production company specialises in getting the result you want.
SALES VIDEOS
Sales videos range from web and social media videos, customer testimonials, product demonstration, case studies, fundraising and explainer videos.
CORPORATE VIDEOS
Corporate videos range from company overviews, client testimonials, staff profiles, company production, internal communications and explainer videos.
TRAINING VIDEOS
Training videos range from staff inductions, online training, product overviews. OH&S and how-to-videos.
EVENT VIDEOS
Event videos range from sponsorship, crowdfunding, event highlights, keynote presentations, seminars, exhibitors and event coverage.
OUR PRODUCTION PROCESS
COFFEE & IDEAS
Meet, plan and brainstorm your project
DOLLARS & CENTS
Provide a full budget breakdown with timeframes.
ACTION
Production and the thrilling action sequence begins
MAGIC IN MOTION
Post Production, editing and bring it all together.
PREMIER TIME
Sign-off and show time! (The really exciting part)
Zebra Vision - Wedding Video Production Company Melbourne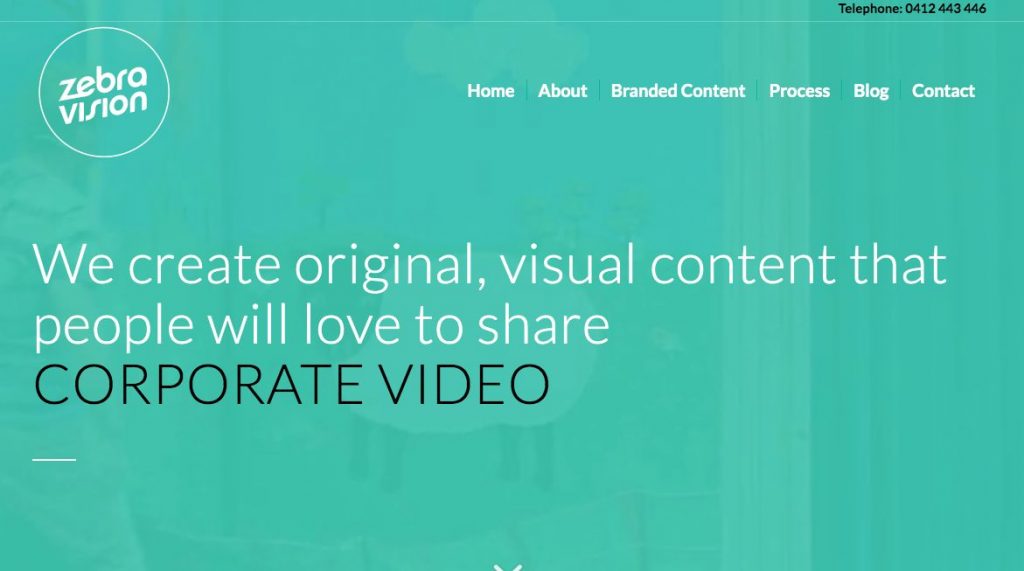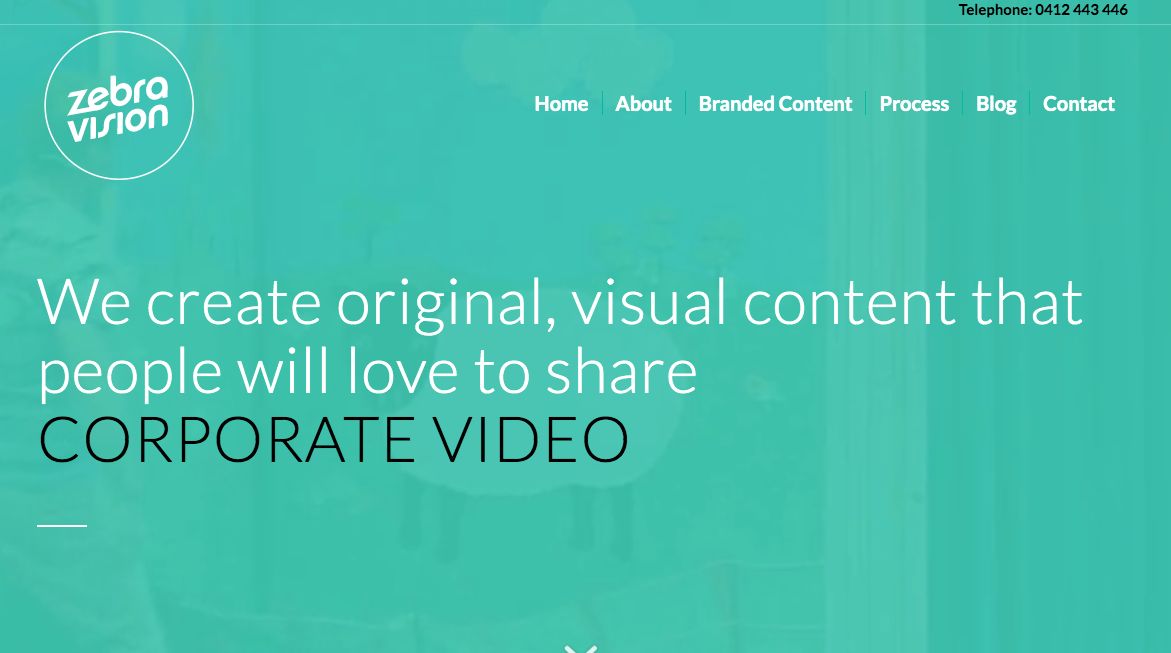 zebravision.com.au
412443446
MELBOURNE VIDEO PRODUCTION
WE CREATE ENGAGING VIDEOS FOR SOCIAL MEDIA, CORPORATE, EDUCATION, EVENTS & NOT-FOR-PROFIT
Zebra Vision is a Melbourne video production company and services clients all across Australia. From Corporate Video through to Social Media content, we've been developing engaging media productions for well over 15 years. Our work is delivered on time, within budget and at a standard you will appreciate.
Our team deliver a wide range of video solutions including: event video coverage, education and training, corporate videos, live streaming (Facebook and YouTube), testimonials, interviews, case studies, workshops, aerial videos, social media content, television commercials and much more. We'll work with you to understand your goals and objectives, tailor a competitive quote and get cracking!
Storytelling & Branded Content
Sleek and beautifully produced video content to support your marketing and social media objectives. Delivered across a range of devices and formats in stunning 4K HD quality.
A range of flexible video solutions
Social video content, event coverage, explainer videos, training films, testimonials, product launches, interviews, case studies, promotions, Facebook live streaming, drone aerial photography and real estate virtual tours.
Fast turnaround times
Our approach is practical, simple and transparent. We work with you to ensure your requirements are met across every stage of a project and have the content back to you when promised.
BREAKTHROUGH THE CLUTTER WITH STRATEGIC VIDEO CONTENT
Zebra Vision works alongside some of Australia's leading companies and brands, delivering professionally shot and produced branded video materials for the web, social media, education and broadcast. It's about the challenge for us, we offer a refreshing approach to video content creation, capture and delivery.
Full Frame Productions - Wedding Video Production Company Melbourne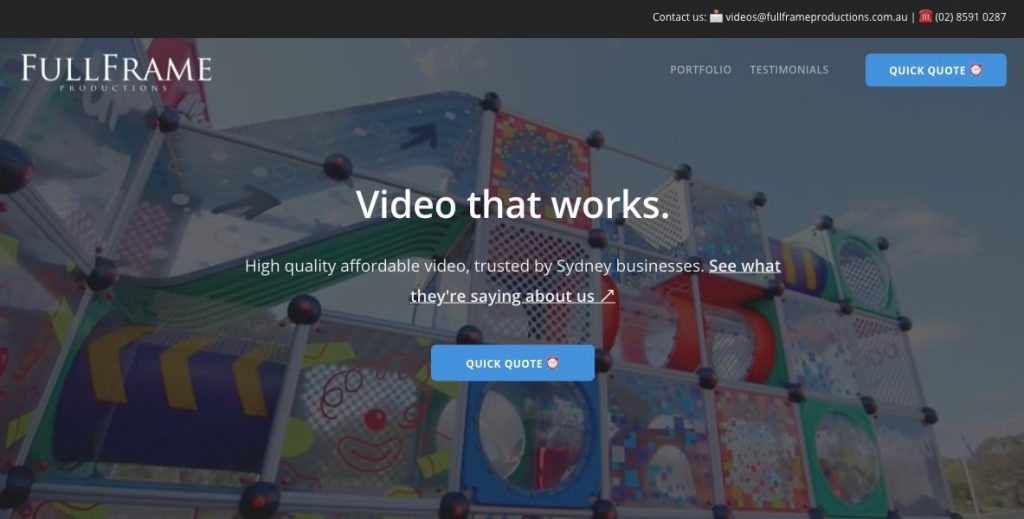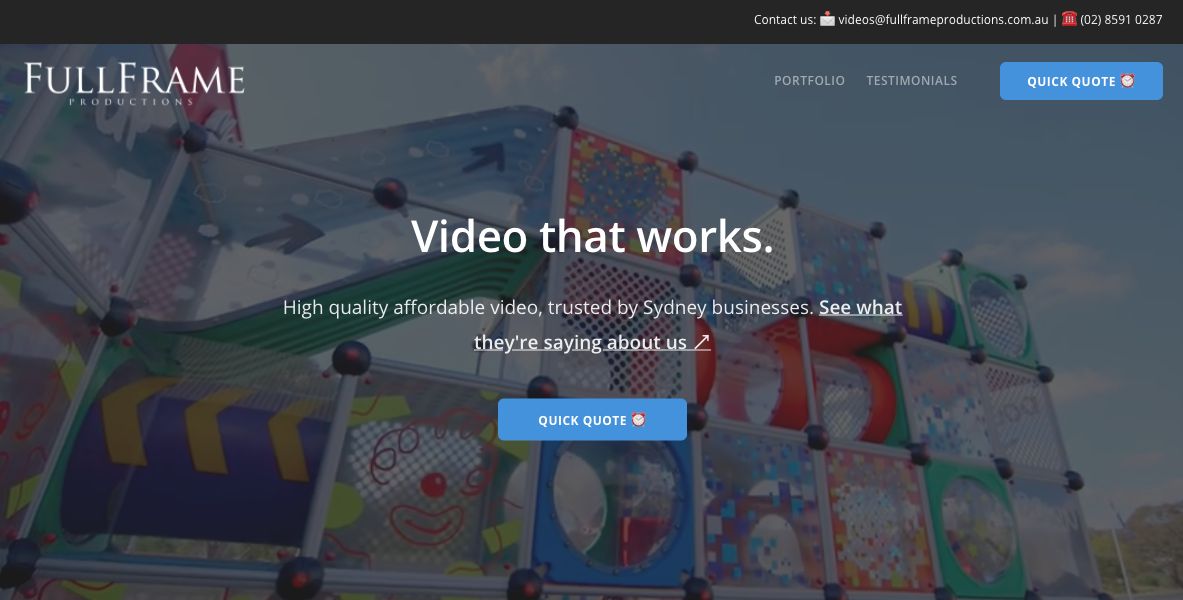 285910287
Video Production
We're Full Frame Productions - a corporate video production company making awesome videos for Sydney businesses. We take pride in the service we give and the product we deliver.
Corporate Video Production
Video production is quickly becoming an integral part of how businesses communicate and engage with their customers.
Video is already consuming the lion's share of internet traffic, and it's only set to grow. This makes video production no longer a luxury, but a mandatory marketing tool for any business.
Full Frame Productions produce high quality corporate videos that don't cost an arm and a leg. Please reach out by getting a quote or simple contacting us. We're looking forward to hearing from you.
Corporate Videos
Corporate videos are quickly becoming the main form of online communication for businesses. There are so many different ways to use video; for training, capturing customer testimonials as well as producing promotional, product and event videos. Video empowers your brand to help it become the #1 authoritative figure in your industry. Corporate videos drive traffic to your website and help convert visitors into paying customers. Any type of corporate video not only makes you look good, but they also get results. The increasing rate in which video production is being adopted by Sydney businesses, is making corporate video no longer a luxury, but a mandatory marketing tool for any business.
Testimonial videos are an open, honest and candid investigation into the experience your customers or clients have had with your product or service. A testimonial video is all about 'social proof' - a social and psychological phenomenon that suggests people are more likely to be influenced into something when they are see another doing the same.
Businesses can leverage video production as a means to train, teach and communicate specific, detailed and complex information. Every new staff member or customer, as some point along the way, is required to learn or be shown something. With video production, you can educate your staff or customers and at the same time, remove the need to repeat yourself over and over. You only need to do it once and from there, you can replicate the same high-quality training again and again.
What's the cost?
Product videos are designed to sell. You know how good your product is, but does everyone else? How are you planning to show off your product and show people that it's better than anything else on the market? Product videos are the most effective way to show, tell and sell what you have to offer. They can be shared over and over and over again — meaning more eyes on you.
Promotional videos are an exciting and attention grabbing way of promoting a place, special event, business, website, service or product. People love watching things online so this type of corporate video is a hugely effective way of promoting to a mass audience as well as entertaining them. Videos are more likely to be shared via social media, giving you maximum exposure. The equivalent of 1 minute of video is 1.8 million words, so the power is in your hands!
Event videos can highlight the key moments in any function, seminar, presentation or event. You can make a video of your event and use it to promote the next one. You can also record a full length video of your event so that you can share it with others that weren't able to attend. You can also turn these full length event videos into a digital product that you can sell.
Company profiles are one of the most common videos for any business. These videos can be produced for any type of business and give an insight into what the business does, the people that work in it and the culture that the business fosters for it's employees.
Take a look at the company profile video we did for Now Careers, to get a better idea of what these videos are all about!
Video is by far the most effective way to communicate complex information. This example video that we did for XTB, talks about balancing risk and return with bonds and other types of investments. The information in this video is made easy to understand because of the way the information is communicated - the viewer is both told and show at the same time. This beats reading from a piece of paper!
Animation videos, also known as explainer videos or motion graphics videos, are an effective and entirely new generation of corporate video that can be 100% tailored to your business and the product or service that you provide. These videos are such a popular corporate video andquickly becoming a staple for any business.
NBS Production - Wedding Video Production Company Melbourne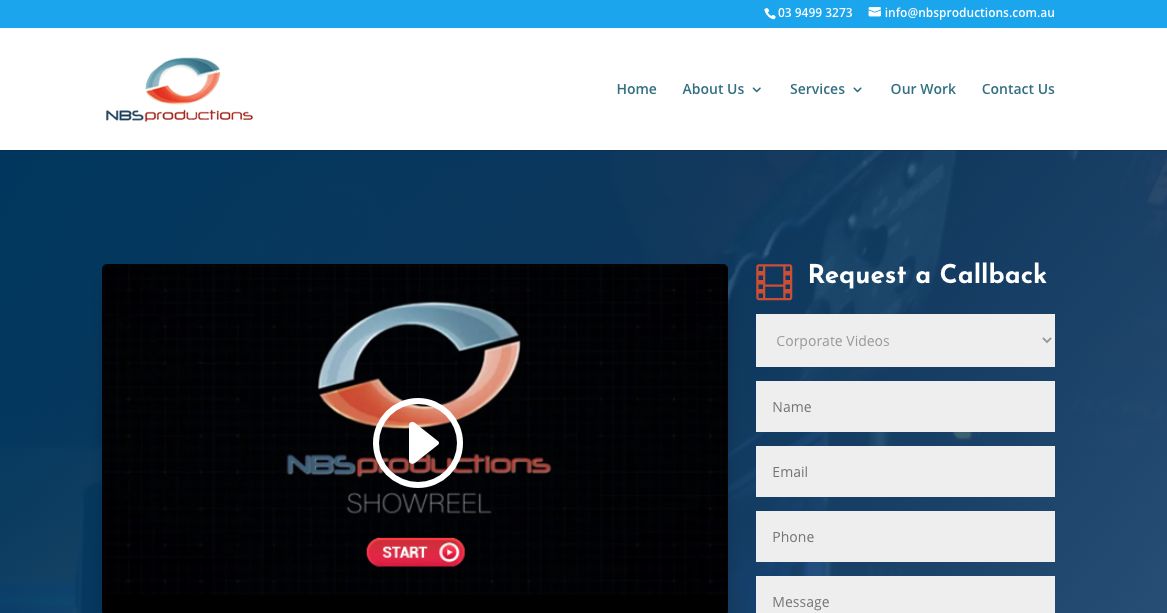 394993273
High-end Video Production in Melbourne
We produce high quality, high-end video production to help Melbourne clients create an intimate conversation with their audience.
Our Process
MEETING
We sit down with you and your team and talk about what you need to captivate your audience and what you want to achieve from the end product.
PRE-PRODUCTION
This part is all about refinement. This is the most important part of the process, we dont just film and hope for the best. We will create the scripts and
PRODUCTION
Now this is the fun part. Lights, Camera, ACTION! Our expert team will take care of everything. Directing, Actors, catering you name it we shine in this part!
POST PRODUCTION
Here is where all the pieces come together! Editing, music, animation and special effects. What we love to do here is have you pop into the edit suite,
DELIVERY ON TIME
We are able to create DVDs, Interactive user interfaces and also export your videos for various online platforms, including websites and social media applications.