A far cry from the traditional white slab, wedding cake design of late has become an adventure in creativity and originality. In 2016 we witnessed a small niche of Sydney's best cake designers serve up the most creative wedding cakes we have ever seen, helping our couples to represent their personalities and wedding themes. From 10-tier monsters to golden beauties, more and more couples want their cakes to be a feature at the reception, to wow their guests and create a lasting impression.
View our gallery of some of the most gorgeous wedding cakes Melbourne has ever seen! Designed to provide you with ideas and inspiration for your special day. You are certainly not limited to what you see on our site, you can choose between modern wedding cakes, vintage wedding cakes, classic wedding cakes and more! What about flavour? Chocolate wedding cakes are the most popular but we have many flavours such as red velvet, caramel mud, marble mud & more! Bring us your inspiration and incorporate elements of your wedding to design a cake that is unique to you! Up to 4 weeks notice can be required for some cakes.
A wedding cake no longer has to be a big fondant-filled spectacular – there's a trend towards pared-back "naked" cakes, as well as the unconventional: think dessert stations and cheese towers. There are even gluten-free and vegan options that can have a blockbuster effect at the reception. Here are Melbourne dessert-creators that can make something as memorable as your walk down the aisle.
List of Wedding Cake Shop in Melbourne, Victoria
Cake Ink. Wedding Cake Shop Melbourne
438319749
ABOUT CAKE INK
Founded in 2009 and headed by Janelle Dedini, Cake Ink is a busy Melbourne-based studio producing highly regarded and sought-after cakes. 
Our works are thoughtfully hand-crafted and made using the finest quality materials and ingredients.
Specialising in wedding cakes, our skilled team create beautifully detailed sugar creations using our own distinctive style of pretty meets playful. We believe that quality and craftsmanship rule. Whatever your event, shop our ready-made collection or work with us to develop a unique look specific to you and your special day.
Drawing inspiration from nature, fashion, photography and travel, we offer a completely customised service and can tailor a design specific to your personality and event styling. We know how important your special day is and strive to provide an unparalleled experience at every step in order to make your vision a reality. To see more of our work, check out our portfolio.
Our work has been featured in many leading online and print publications such as Martha Stewart Weddings, Cosmopolitan Bride, Bride To Be, Real Weddings, Melbourne Bride, Hello May, Style Me Pretty, 100 Layer Cakelet, Once Wed, Polka Dot Bride and Cake Central. You can see more on our press page.
Cake Ink. service the entire Melbourne metropolitan area and surrounds. We also host both local and international students and fellow decorators in our cake workshops!
Custom cakes may be ordered for any occasion. Choose from an existing Cake Ink. design or work with us to develop something specific to you and your event.
The first step is to  contact us to discuss your requirements. Most wedding clients book our services six months to a year before their special day.
We will then work towards a detailed quote that outlines as much information as possible. If we look to be on the same page, a 30% deposit secures your date..
The design process is the fun part! We will then discuss your day in detail; everything from your dress, venue, florals, décor, colour scheme, stationery and styling. It is all taken into consideration whilst working on your design.
FLAVOURS AND PRICING
Each of our cakes is handmade and baked from scratch using quality ingredients. Our statement sugar flowers are hand crafted and custom-made for each order. We layer and mask our cakes in delicious white or dark couverture chocolate ganache. Popular flavours include:
Chocolate mud

White chocolate mud

Orange and almond torte (gluten free)

Spiced banana

Carrot cake

Lemon poppy seed

Caramel mud cake

Raspberry and white chocolate mud

Red Velvet

Matcha (green tea)
Each cake is quoted on an individual basis. We have a minimum order of $260. Most of our wedding clients choose designs costing between $500 - $900 for two tiers and $800 - $1300 for three tiers, including set up and delivery.
On a budget?
Opt for fresh flowers supplied by your florist if your cake style is very floral.

Love DIY? Think about a simple semi-naked style or plain iced tiers that you can style yourself with toppers or accessories. We have a great selection of pre-designed cakes available.
TUTORIALS AND WORKSHOPS
We thoroughly enjoy taking on students and are excited about teaching our techniques! A range of comprehensive tutorials covering a number of our key techniques is available to download here.
We also conduct private one-on-one or small group workshops in our fully equipped Melbourne cake studio. Classes can be tailored to a range of skill levels (including beginner!) and to your desired learning outcomes. We've even worked with wedding couples to create the cake of their dreams for their big day! For further information, please submit an enquiry via the contact us page. 
Botique Cake Art - Wedding Cake Shop Melbourne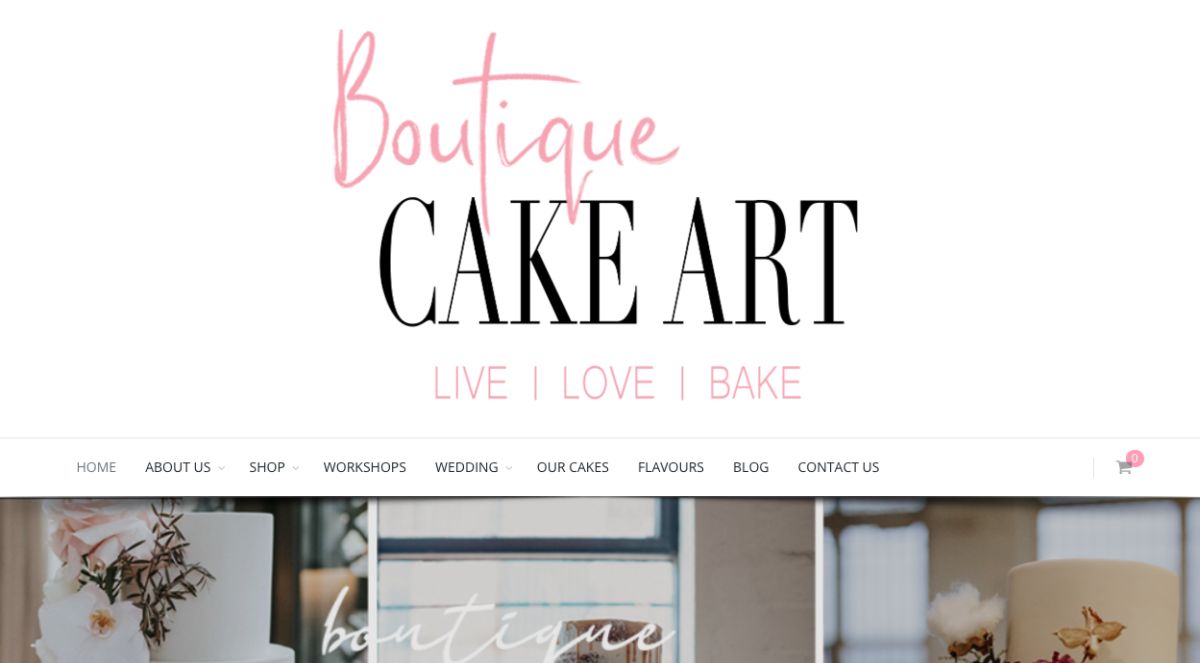 393146776
Here at Boutique Cake Art we have built the business around creating unique cakes for our loyal customer base. Our love of baking led us to open Boutique Cake Art in 2014. We are located in West Footscray and have become a feature of the local landscape with passersby often stopping at the shop window to admire the stunning cake displays. All of Boutique Cake Art's creations are handmade on the premises from scratch. This gives you the ultimate control in choosing the flavours, size and design of the cake.We love to create in collaboration with our clients and we are more then happy to push the boundaries and use cutting edge techniques to ensure you get the masterpiece of your dreams. Whether you're after a traditional tower for your wedding or a funky birthday cake we will take the time to design and create the perfect masterpiece. Bringing your creation to life is what it's all about!We specialise in weddings, birthdays and corporate functions and we truly believe that your creation needs to be as beautiful on the outside as it is delicious on the inside. We are more than happy to work with you to create the perfect flavour combinations. At the end of the day we know the cake is the centrepiece of any celebration and we want your guests to be amazed and delighted.
WEDDING CAKES
People may gush over the dress, or say the ceremony was beautiful but what is the one thing that they really want? The Wedding Cake, of course, the one part of the day they are truly a part of. They want to marvel at its beauty, take photos of it and of course share in a delicious slice, or two. For you the cake is the centrepiece of the reception, it's a reflection of your style as a couple and a part of the day to be thoroughly enjoyed. It's the fun, the love and the best part of the celebration, in our humble opinion anyway.
Choosing the perfect wedding cake is such a fun experience at Boutique Cake Art. There's cake tasting to be had. Are you are red velvet couple, is chocolate your thing or will you go with salted caramel, the flavour of the moment? There's design elements to be considered. Have you always dreamt of traditional white iced cake,  saving the top tier or do you want a thoroughly modern layer upon layer naked cake? Whether you know exactly what you want or you'd like our help guiding you through the selection process we are here to create the Wedding Cake of your dreams.
Our wedding cake designs are at the forefront of the industry and we constantly research the bridal arena to stay on top of current trends. We love to push boundaries, try new techniques and more than anything design unique creations.  We also have a soft spot for the classics, we love there timeless beauty and we know they're always a crowd pleaser.
Please refer to our Frequently Asked Questions page which will help guide you through the ordering/ enquiring process.
Vanilla Lounge - Wedding Cake Shop Melbourne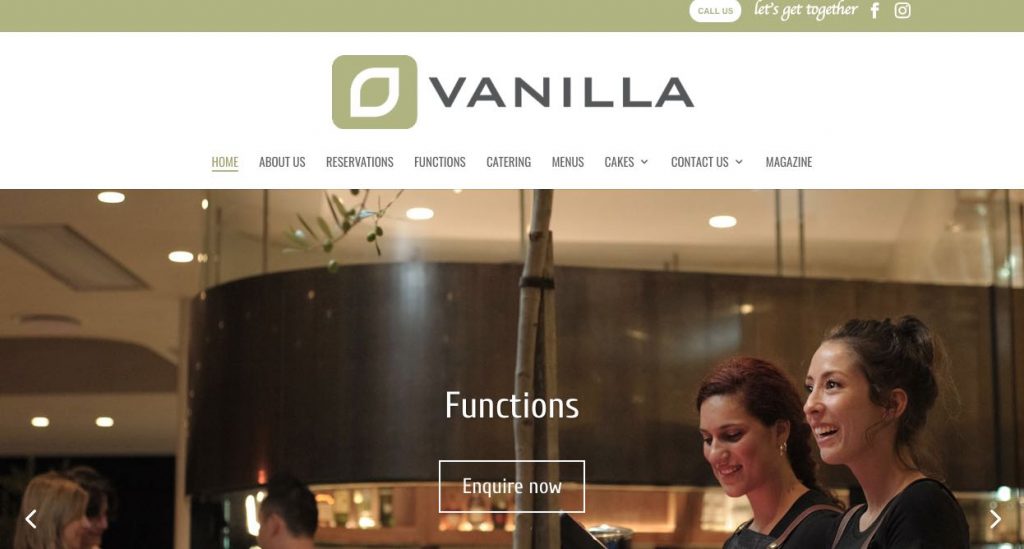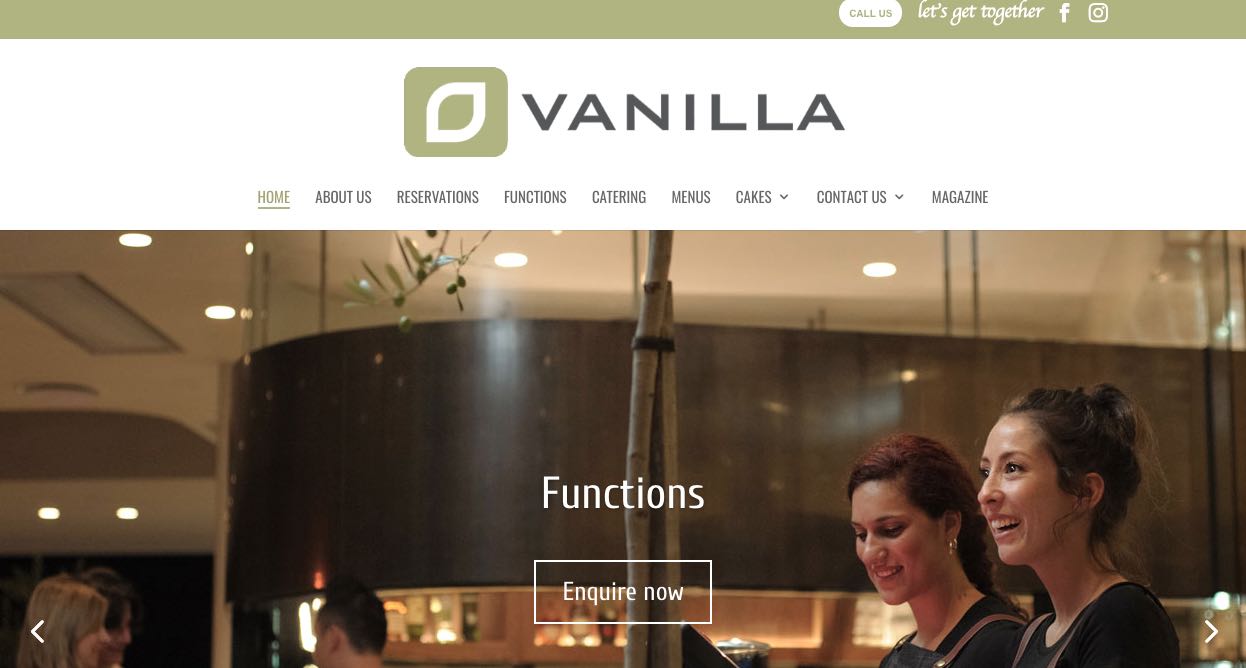 395683358
Welcome to Eaton Mall, a hidden gem located in the heart of multicultural Oakleigh.
Amongst the hustle and bustle of this amazing hub is Vanilla Lounge. In August 2008, we opened our doors and our hearts to the community and everyone gave their love back. Being a coffee and dining lounge, Vanilla has something for everyone. It is a family place, a meeting place, a place where you can come and experience a unique European vibe right here in Melbourne.
The family behind Vanilla have been innovators and pioneers in the hospitality industry for over 45 years. With the opening of Vanilla Lounge, Oakleigh, saw a new dining culture emerge. What is particularly exciting for Melbourne is that it now boasts another leading patisserie that truly celebrates the greatest qualities of it's cosmopolitan heritage. Vanilla was praised as one of the Top 10 Patisseries in The Age Good Café Guide 2012.
We are committed to enhancing our patron's experience by providing our boutique coffee brand, Dukes, our extraordinary music acts on Thursday nights, our extensive menu made with local and fresh ingredients and without preservatives or additives, our world class standard of cakes and biscuits and our latest venture, Vanilla Upstairs which has an amazing pan-Mediterranean cuisine and invites people to come together and share in the simple pleasures.
Vanilla Upstairs is the Perfect Place for Your Event! From birthday parties, Christenings and high teas, through to Christmas parties or corporate functions, presentations, product launches and other events, Vanilla Upstairs can cater for small or large groups in a classy and sophisticated space.
Whether you're celebrating a family night out or a milestone, we can design and tailor a package to suit your requirements and budget.
Baked daily with the finest ingredients
Our sweet treats are made onsite with the best ingredients; from traditional Greek biscuits and specialties to popular classics, signature treats, whole cakes, and celebration cakes. We invite you to browse the galleries below. You can enjoy our cakes at Vanilla, or you can purchase them over the counter take away – the perfect treat when you visit family and friends or even at work! If you are after a celebration cake, our experienced cake consultants will be thrilled to help.
Priscilla's Cakes - Wedding Cake Shop Melbourne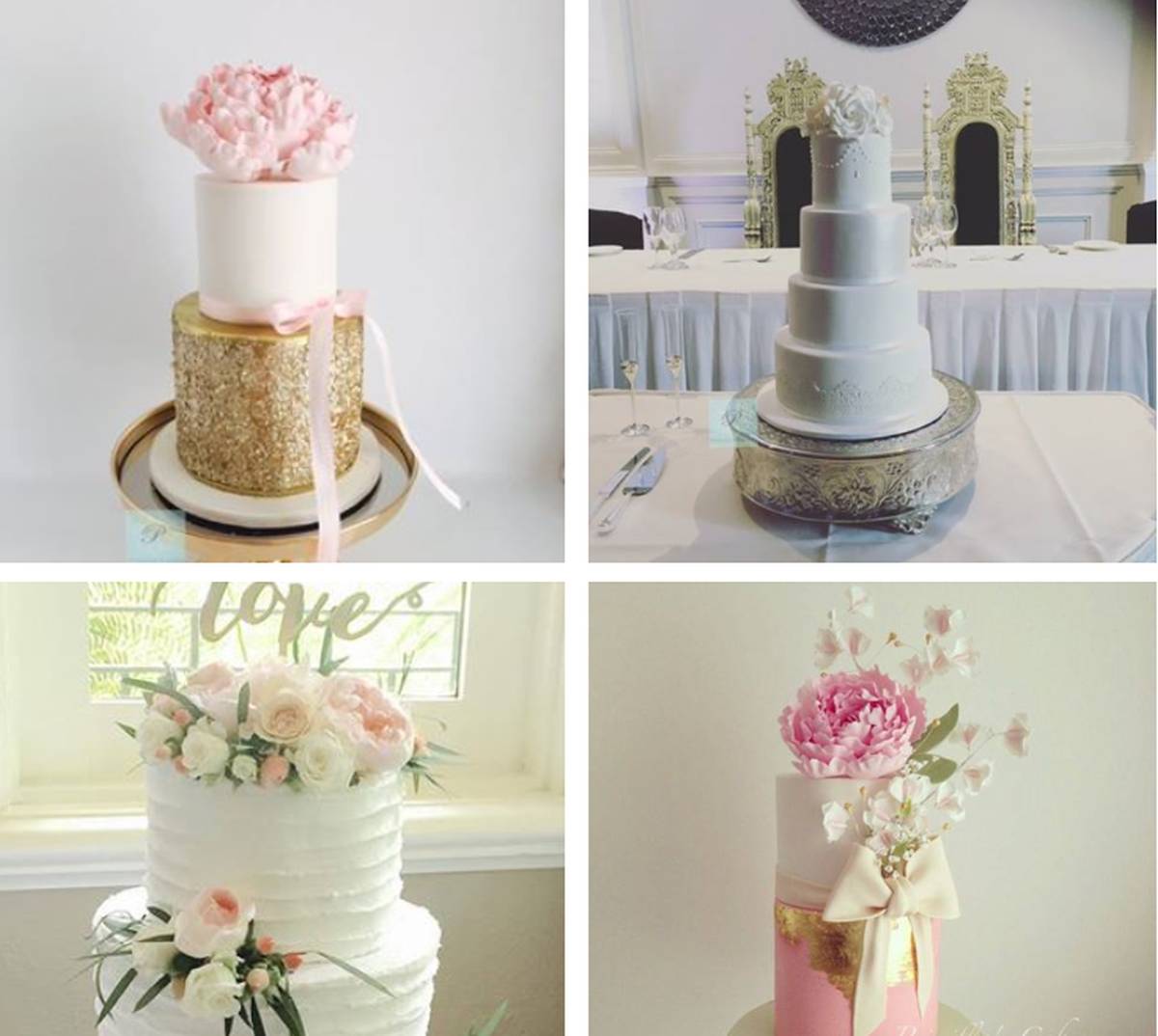 425760611
ABOUT PRISCILLA'S CAKE
At Priscilla's Cakes we also make coordinating cupcakes, cookies, macarons and/or cake pops. Specialising in Weddings, Engagements, Kitchen Tea's, Christenings, Communions, Confirmations as well as Birthdays.
Cakes
Classic Cake flavours 
Vanilla Bean 

Moist Chocolate

Red Velvet

Orange & Poppy seed 

Lemon

Caramel

Rum/Raisin

Jaffa

Choc/Mint                             

Bubblegum
Mud Cake flavours
White Chocolate

Moist Chocolate

Caramel

White Chocolate & fresh Rapsberry swirl

Choc/Mint

Rum/Rasin

Jaffa

Mocha

Bailey's/Chocolate
Fillings
White chocolate ganache

Milk or Dark chocolate ganache

Choc/Mint ganache

Vanilla buttercream

Chocolate butteream

Cookies & Cream

Tim Tam crush buttercream

Caramel buttercream
Cupcakes
A minimum of 12 can be ordered. Prices of these start at $3 for a basic cupcake with buttercream swirl
For flavours please refer to cakes. Excluding fruit and layered rainbow.
Cookies
A minimum of 12 can be ordered and these start from $2.50 for a medium sized cookie (4″ across)
Decorations and packaging are available at an additional cost.
Cookie flavour is Vanilla Bean.
Macarons
Macarons are avaialbe upon request. At $3 each usually a minimum of 12 is required to be ordered, however these can be available in packs of 4 depending on the season, such as Christmas, Easter, Mother's Day, Fathers Day etc
Macaron flavours:
Vanilla Bean

Berries & Cream

Salted Caramel

Lemon

Bubblegum

Chocolate
Cakepops
These cakes on a stick are priced at $3 each with a minimum of 12 ordered.
CakePop flavours:
Vanilla

Chocolate

Bubblegum
Mad About Cakes - Wedding Cake Shop Melbourne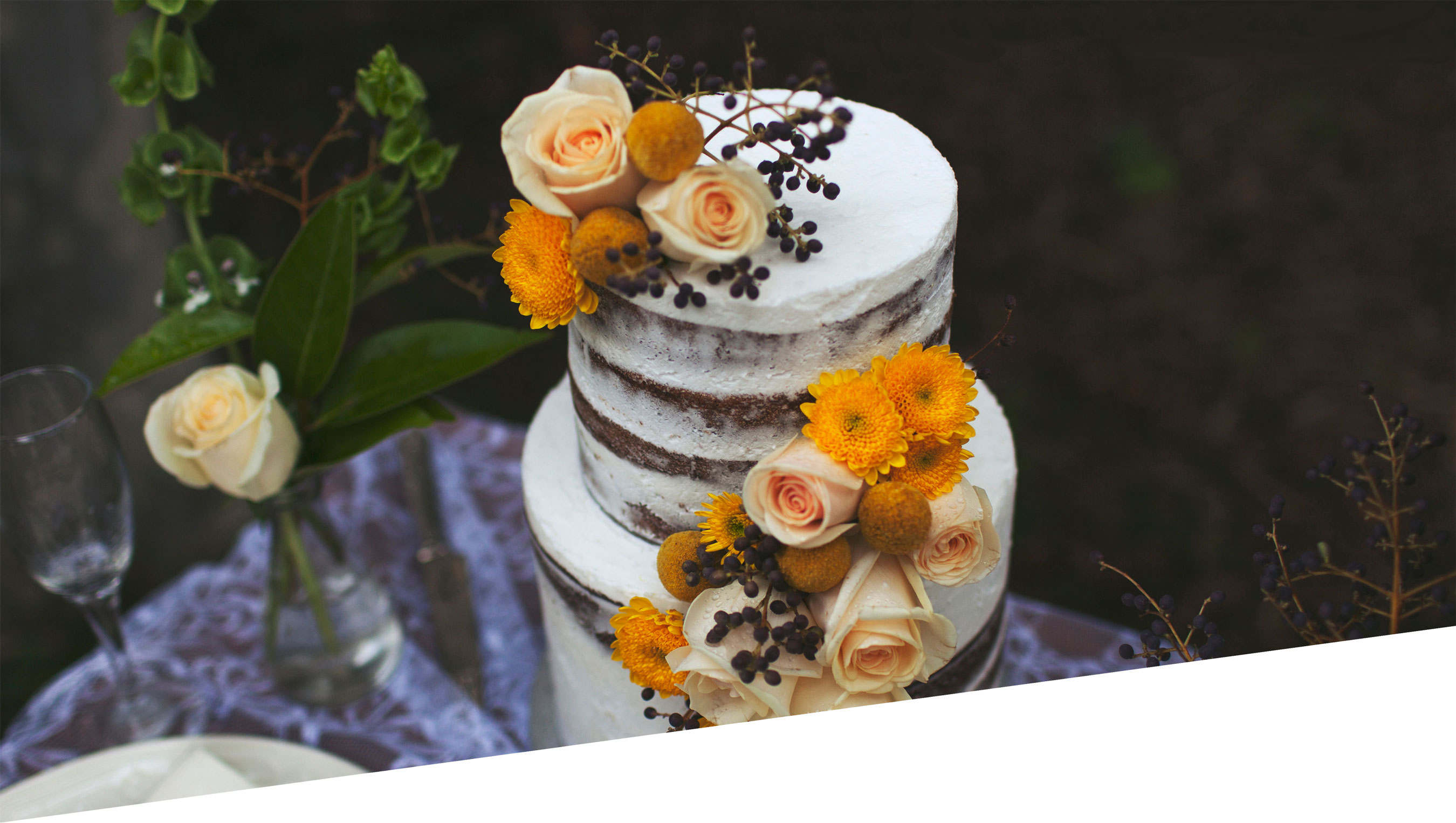 415929608
ABOUT
Mad About Cakes is a boutique bakery based in Melbourne Australia, specialising in dietary requirement desserts and unique custom cake creations. We offer a delicious range of cake and dessert flavours and we have an extensive range of gluten and dairy free options.
Love is put in to all our cakes and desserts from the inside out, so not only do they taste exquisite, but also look exceptional! Every single creation is custom designed and made to reflect your personal style and event theme.
We have experience in weddings, corporate and private events and offer personalised lolly and dessert buffets, bonbonniere, packaging and event styling.
To make your next event unique, scrumptious and beautiful contact Mad About Cakes today and lets get baking!
Elegant Occasions Wedding Cake Shop Melbourne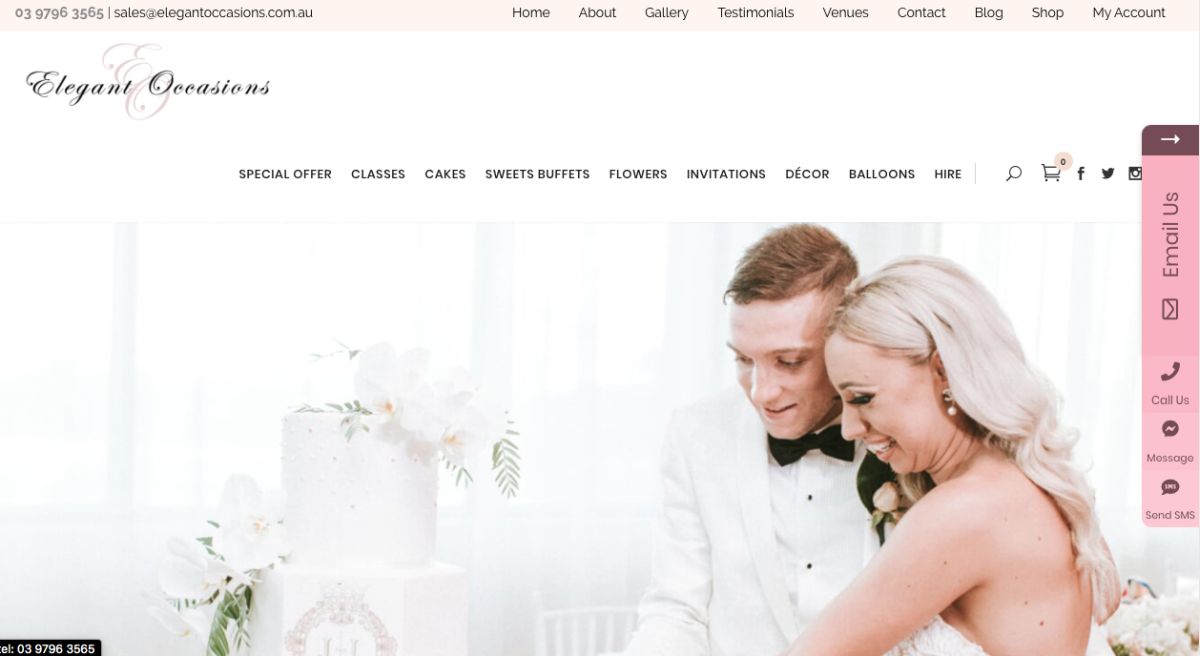 0419528337/0397963565
Our Story
One fateful day in the 80's Yelka Jurinovic – Elegant Occasions General Manager and creative guru – was thrown into the deep end and had to organise her first function for her family.
She travelled all over Victoria for days on end to find the perfect decor for her function. At the end of it all she was so exhausted that she fell asleep and, the next day, couldn't face the prospect of attending her own event.
This was the birth of Elegant Occasions and has led Yelka down a road of study and self discovery to grow Elegant Occasions into one of the premiere event planning and management companies in Melbourne.
Flavours and Types
Gluten free cake

Eggless cakes

Mississippi mud cake

Hazelnut torte

Salted Caramel mud cake

Cointreau mud cake

Marble mud cake

Red Velvet Cake
White chocolate mud cake

Continental sponge cake

Strawberry swirl mud cake

Mocha mud cake

Croquenbouche

Fruit cake

Baci mud cake
Peppermint crisp mud cake

Ferraro Rocher mud cake

Raspberry swirl and white chocolate cake

Butter cake

Citrus and chocolate mud cake
On the special days of your life Elegant Occasions will help you celebrate. We have award winning cake designers and cake artists.We have over 35 years experience in making and decorating cakes. Our cakes don't only look fantastic, they are also taste mouth-watering delicious.
If you can imagine it, we will create it. Your event, and your cake, can be as individual as you are. Elegant Occasions can make and decorate cupcakes, layered, tiered and sculptured cakes. We can make one for your business logo, corporate event, birthday, christening, anniversary, or wedding. Or for your engagement, divorce, communion, confirmation, or unique special occasion.
The galleries below will provide you with some examples of our work and inspiration for your own design. Contact us with your order or come in to view samples and enjoy a taste test.
Wedding Cakes
If you can imagine it we will create it.
Award winning cake designer. and Competition cake decorating judge and teacher; will make and decorate your wedding cake Not only will it  look amazing but also taste delicious. We offer a huge selection with designs that suit your style and theme! Click to see our creations! and if you have a different design in mind..? No problem.
It's Your Wedding – Get the Cake of your Dreams
A wedding is a special occasion no matter where it is, such as in Melbourne or any other place in Australia. Wherever it is, it is hard to imagine one without fancy cakes. It is easy to get carried away with tasks of preparing for your wedding in Melbourne and making sure everything is up to your standards. Award-winning cakes designers, Elegant Occasions has been designing and decorating cakes for 35 years. Besides making sure cakes appear out of this world, our cake artists and ensure they taste good too.
Your wedding day is special and it is best to leave all arrangements to the experts to not only make sure everything turns out perfect, but to take as much stress off yourselves as possible. Get in touch as soon as you have set your date because time flies and the big day will be upon you sooner than you know.
We can bake one of the best wedding cakes in Melbourne for your wedding as per your choice once you have made the important design decisions for cakes. To make sure you do not go wrong, our expert wedding designers for cakes work closely with you every step of the way.
Wedding Services in Melbourne
We provide a professional wedding services for cakes and make sure your experience is a memorable one. We provide cakes at many different locations in Melbourne including churches, gardens, reception centres, special venues and more, and we are trusted by many all over Australia.
You can trust us with more than just wedding cakes in Melbourne. You can also trust us to create your wedding invitations and floral designs. Whatever you need, we are also the people to turn to for planning a perfect event.
Ordering Wedding Cakes in Melbourne
Picking perfect cakes for your wedding in Melbourne does not have to be an ordeal. At Elegant Occasions, we make the process of picking cakes simple by providing details of all cakes and flavours available as well as all the styles or designs that may interest you. All you need to do is to get in touch with us with once you have your wedding date set, and we take full responsibility for delivering the perfect cake for your wedding date.
Vital Tips for the Perfect Wedding Cakes in Melbourne
Planning a wedding in Melbourne requires a lot of effort, and it is easy to go wrong, especially when it comes to picking cakes. Here are a few tips to keep your wedding plans on track:
It is easy to get carried away when picking wedding cakes, so make sure you set a budget and stick to it.

Weddingcakes tend to attract a lot of attention, so it is best to give the design some thought.

Consider likes and dislikes for cakes,including allergies, not only for yourself and your partner, but for your guests.

It is not a good idea to rush anything, especially a wedding plan; take your time during the selection process for cakes.

It is a good idea to opt for bakers who are close to the wedding
Trust Us with Wedding Cake
We have designed award-winning cakes for many weddings and have been designing wedding cakes in Melbourne for over 35 years. All cakes we make are delicious with fancy, unique designs. We have plenty of innovative designs to choose from, but we also give you the choice of sending your own design to have a custom-designed wedding cake.
Elegant Occasions is the perfect place to make your wedding arrangements – from organising an event, styling a venue, designing all invitations, making floral designs and delivering perfect wedding cakes, we are here to take the stress away.
We have a well-trained and experienced people taking care of your special cakes who carry the relevant certification to make sure you get the cake you want for a memorable day.
Reverie Cafe - Wedding Cake Shop Melbourne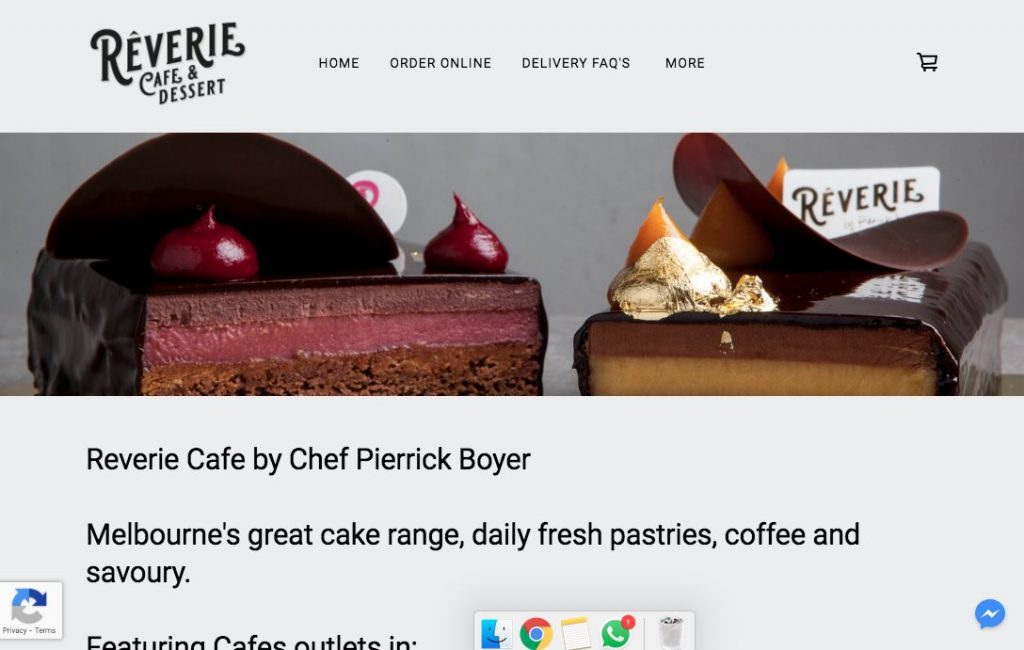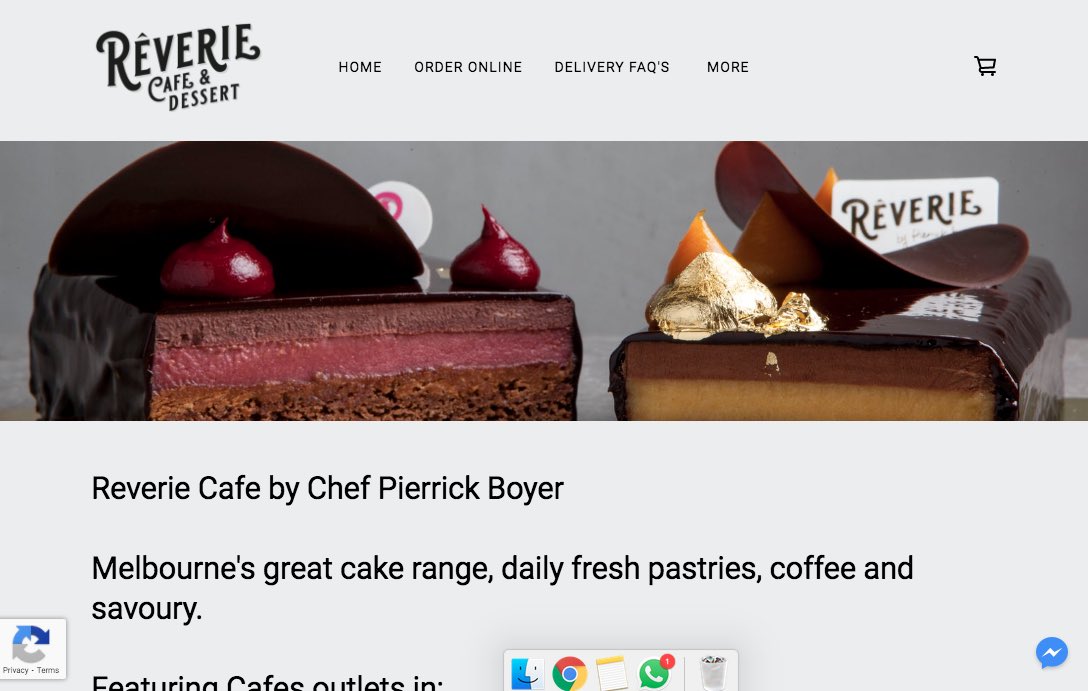 395106868
About Us
Flagship outlet and kitchen in the heart of Prahran,
facing the new Prahran Square.
Reverie Café showcases decadent French pastries
and a contemporary cafe menu.
Our Chefs knows how to excite your taste buds with irresistible creations. 
As a versatile venue, we take pride in catering for a variety of needs. Whether it be brunch, a cooking class or hosting a private event. 
 Come and see why we are Prahran's newest Hot Spot! 
Our elegant space in Prahran is ideal for your next event.
Set in the heart of cosmopolitan Prahran, Reverie Café & Dessert is an amalgamation of opulent French pastries and a contemporary cafe menu with irresistible & quality creations. 
After a grand refurbishment on the venue by ZWEI Architecture, the front doors open into an open plan dining space with millennial pink hues and a pastry and cake display to feast your eyes upon. 
From the unassuming facade you will be surprised with the wide open space as you enter, with different spaces available depending on the size or requirements of your event. 
 Whether you're after an intimate space for smaller groups in our finishing kitchen, a stand up space for a corporate or networking gathering, we are fully licensed for up to 70 people, and able to cater for you. Set between two open park spaces, in close proximity to Chapel Street, we are hospitality and events specialists here to help you deliver the best. 
Pastry Catering
Catering for a work meeting, family function or a group of friends?.
We have a great range available.
Chef Pierrick Boyer, Australian Pastry Chef of the Year.
Ruwi's Cakes - Wedding Cake Shop Melbourne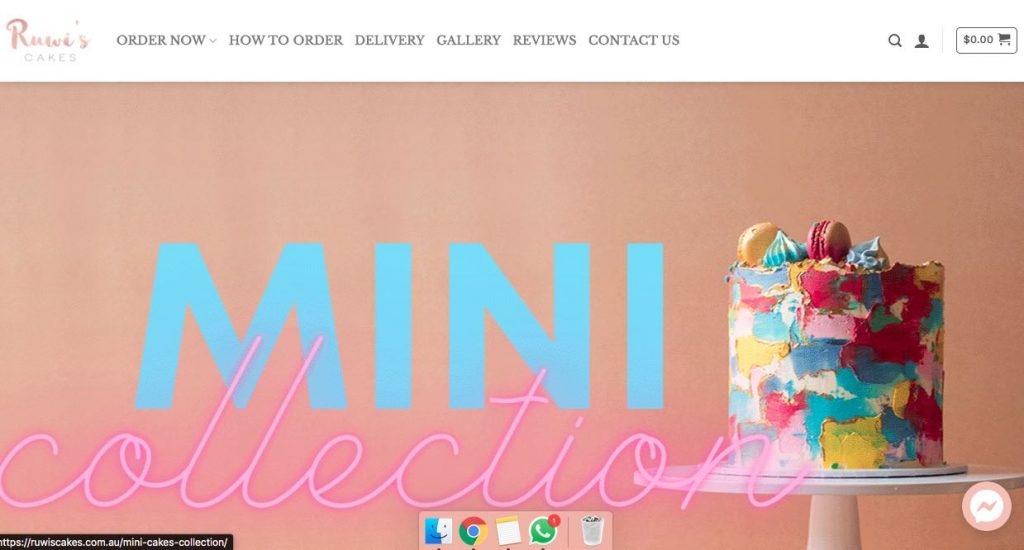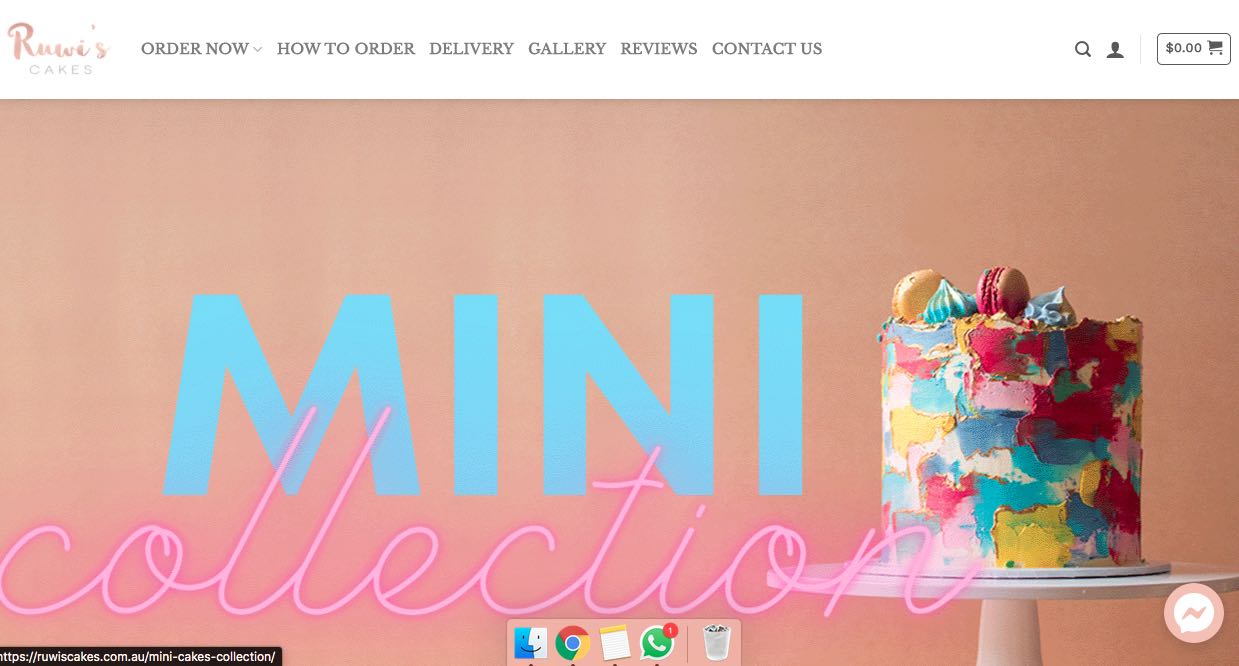 ruwiscakes.com.au
403951882
ABOUT US
My baking journey began in 2009 in a high school food technology class. To my surprise I quickly realised that I loved being in the kitchen baking delicious treats and I seemed to be quite good at it! I had found a new hobby; baking.
In 2010 I suffered a serious injury while playing professional badminton. Suddenly I was an athlete who couldn't train and a competitor who could not compete. During this difficult time, I turned to baking. What had once been a hobby was now helping me to heal and the thought crossed my mind, "can my hobby become my career?".  All I knew was, I had to try.
As a perfectionist and a competitive perfectionist at that, I started to bake for hours on end, not stopping until I had mastered a recipe. My passion for baking grew deeper as I began to realise that what made me happy also made those around me happy. My friends and family were eating a lot of cakes while I refined my baking techniques.
With the encouragement of my brother, Sawan, I started an Instagram account #ruwiscakes, to showcase my creations. Eventually people started to take notice and customers began to call. Sawan is now my business partner and together we have started a business which offers custom cake designs unique to each and every customer.
As I take great delight in delivering exactly what my customers want on their special day, I use this as a force to continuously drive me to innovate the experience of ordering a custom cake. We want to make your special day even more memorable by customising the cake exactly to your needs that will be both beautiful and tasty. 
CUSTOM CAKES
company logos and custom logos 
Our custom cakes can be tailored to suit special events held at your company. You have the opportunity to choose any flavour/s of your choice and design it to impress your co-workers, your boss and even your customers. We can design your cake with your company logo and colours or get an extravagant cake for a special theme with the help of our creative minds! Please send us an enquiry to get a quote for a custom cake.
Macarons & Meringue Kisses
Who doesn't like beautiful Italian macarons made carefully with the best ingredients and some colourful meringue kisses to bright up your work event! Make sure you purchase these and we guarantee you that it will be a huge success and you will get endless comments on its taste.
CUPCAKES & MINI CUPCAKES
Choose your favourite flavour
Cupcakes are your best friend at work for any occasion. We cater cupcakes in 2 sizes in a wide range of flavours. Please click the link to direct you to flavours available for our cupcake section. Each flavour must be ordered in a batch of 12 cupcakes and you have the freedom to order as many different flavours as you please.
Pre-Designed Cakes
If you are looking to celebrate birthdays each month at your company, we are exactly the right people for you because we want to help you to surprise your favourite boss, colleague or best friend at work! Our pre-designed cake selection is available to make a quick pick of your favourite flavour and pay on the spot and have it delivered to your office.
Lavish Icing Cakes Wedding Melbourne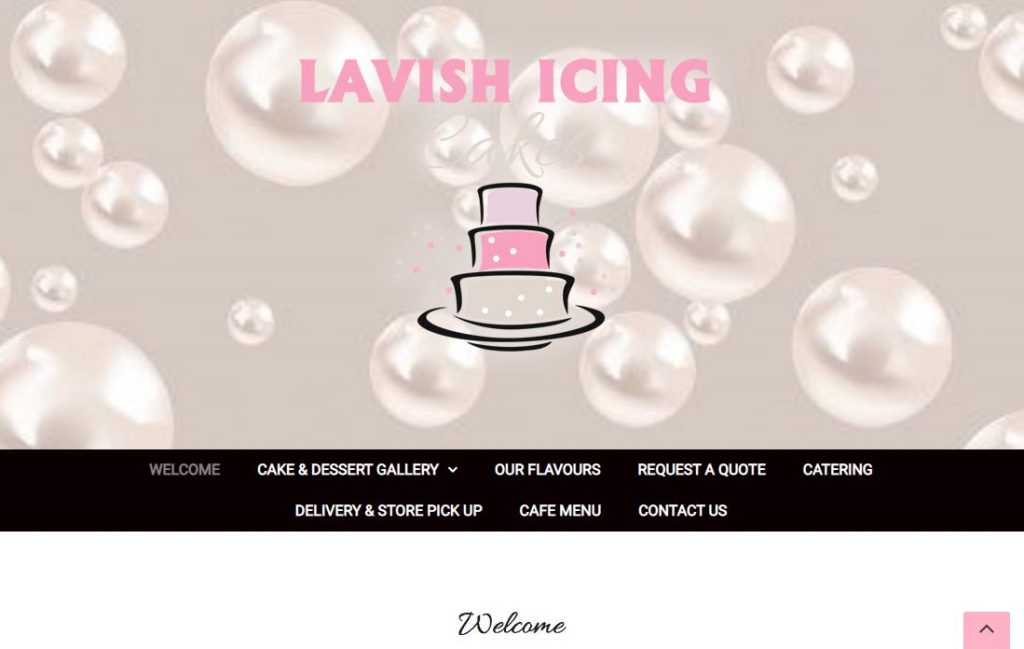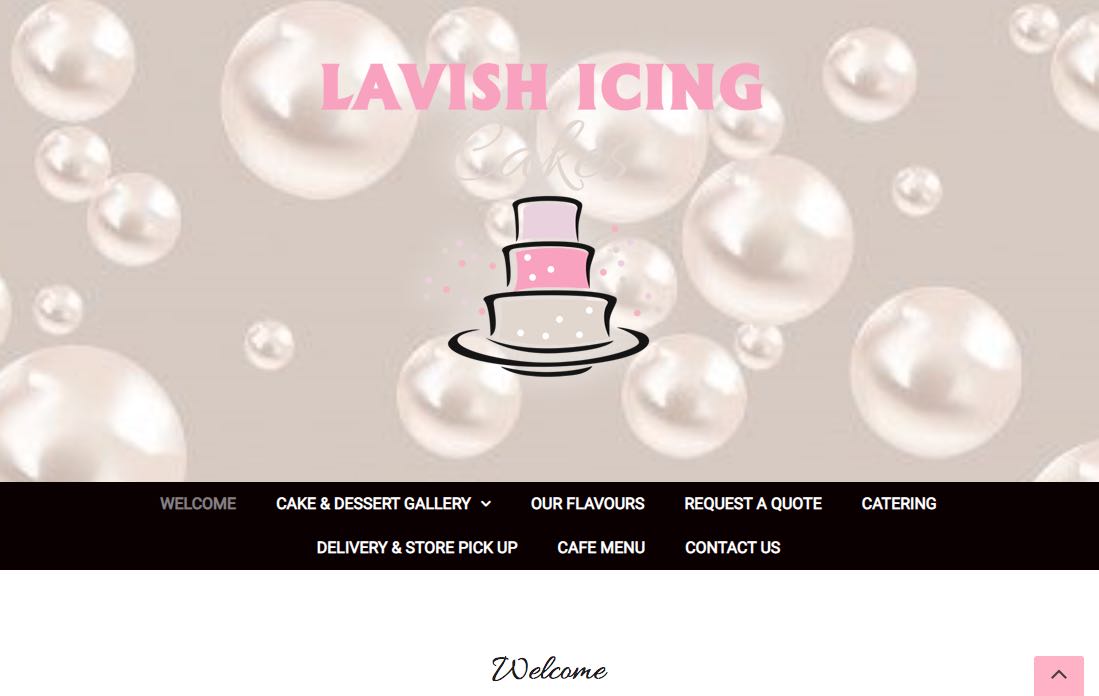 400629022
WELCOME TO THE WORLD OF LAVISH ICING CAKES.
A Great Many things can be settled with understanding and kindness, even more with humour, but there are just some things that simply need Cake!!!!
Lavish Icing Cakes offers a range of Bespoke Cakes, Cupcakes and Confections.
Our store is located inside the homely hub of Airport West and is where we produce our utterly delectable, creative cakes – made with love.
Our approach is friendly and flexible, working with you to create the cake of your dreams.
We make everything to order to ensure that the product we provide used only the freshest ingredients and satisfies your specific needs.
Our aim in creating any type and flavour of cake helps cater for allergens + dietary requirements – Gluten Free, Dairy Free, Nut Free.
We know how important it is to make certain everyone can feel included in the celebrations.
Take a peep into why we are the most well-known custom cake store throughout Melbourne and the surrounding Northern & Western suburbs.
Specialty Cakes
No matter the occasion, we can create cakes that leave lasting impressions.
From Wedding Cakes, Engagement, Christening, Communion, Confirmation, Bridal Shower, Baby Shower, Kitchen Tea, Anniversaries and much more…..
Our range of Specialty Cakes are individually designed to match your personality, style, and theme of the occasion.
Sugar & Spice Cupcakes - Wedding Cake Shop Melbourne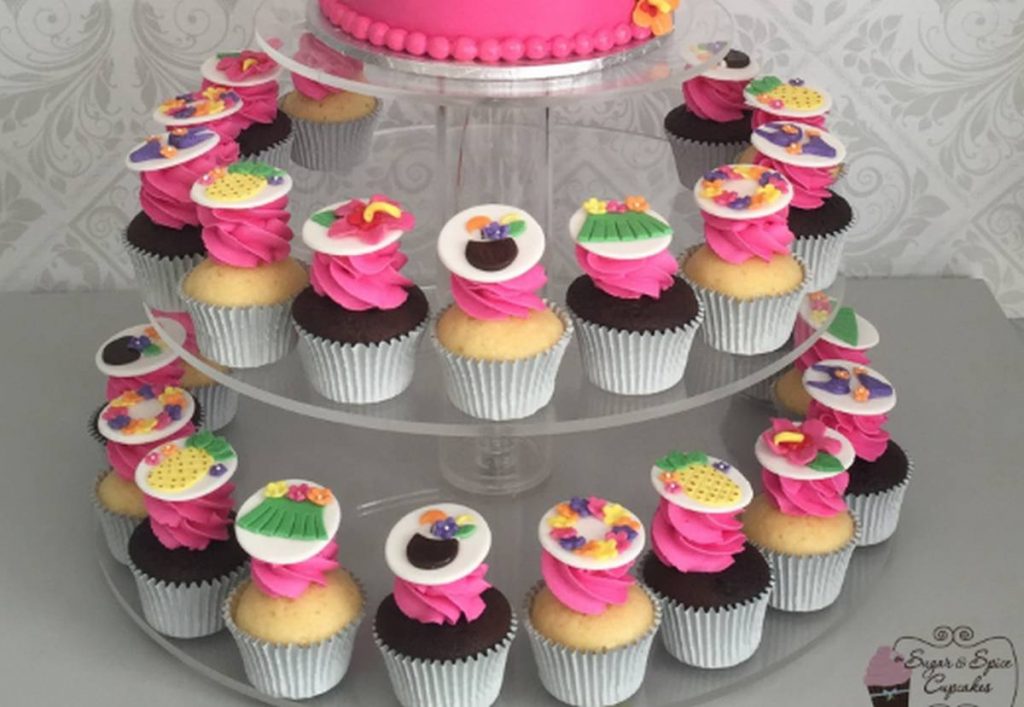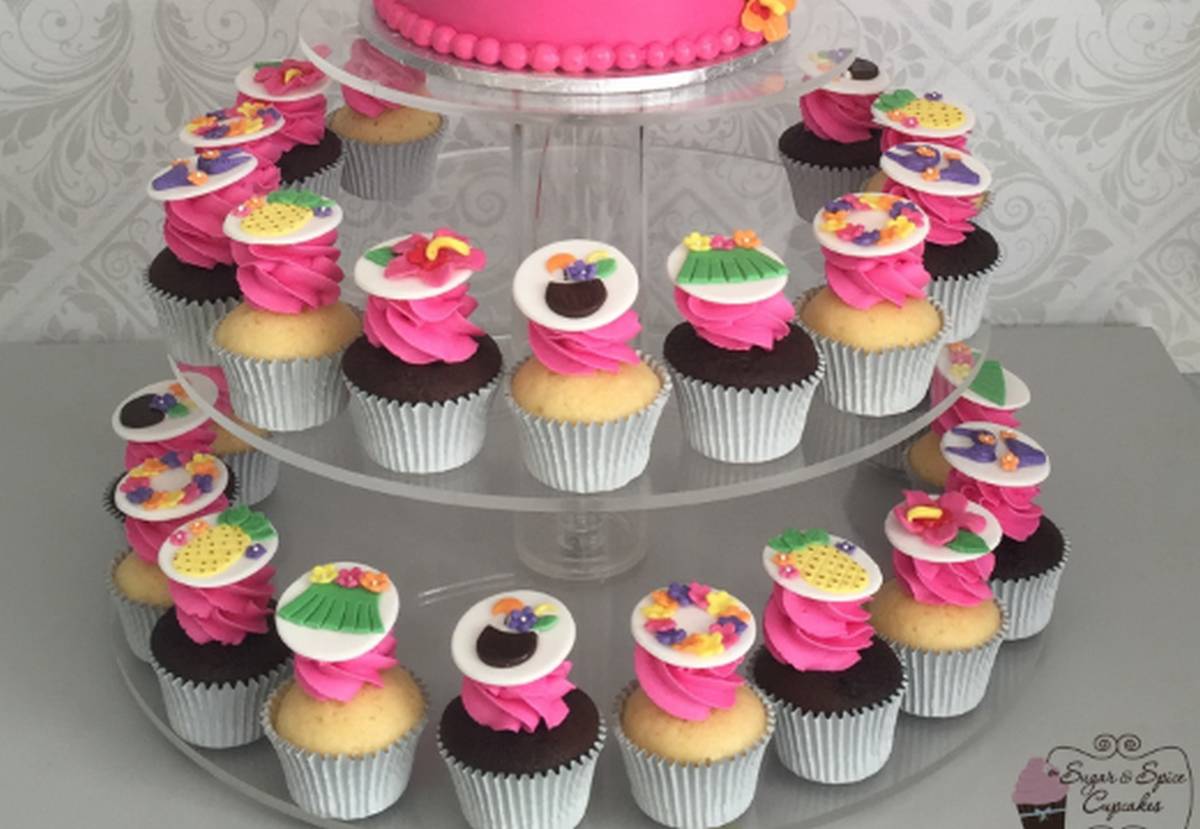 407315544
About
Established in 2009, Founder Stacey Anderson started a Hobby Business; which has bloomed into a full time passion.
Our Team at Sugar & Spice Cupcakes offers a personalised service, with our main focus being attention to detail.
Our Cupcakes are freshly baked from scratch, using the finest of ingredients. We also offer Special Dietary Requirements.
All of our Cupcake decorations are handmade to match your Party theme or colour palette.
Our Delectable flavour list will make it even harder to choose, luckily having Cupcakes allows you to choose several flavours.
Cupcakes are a perfect idea for a Bomboniere gift as well, they can be packaged to co-ordinate with your party & colour theme.Sugar & Spice Cupcakes also offers couture cakes for all occasions and we look forward to working with you to create a memorable centerpiece for your next event!
Flavours
Who knows why cupcakes are so irresistible? Is it their individual size? Is it their delightful frosting's & decorations?
A whole, wickedly indulgent cake in miniature all to yourself! No one is able to resist. 
Here is a sample of our delectable flavours, the lists are endless:
Flavours
Chocolate Mud Fudge
White Chocolate e & Raspberry Mud
White Chocolate & Macadamia Mud
Marble Mud
Caramel Mud
Banana & Butterscotch
Vanilla Bean
Vanilla with Lemon Curd
Raspberry Ripple
Moist Chocolate
Chocolate Nutella
Red Velvet
Bailey's Irish Cream
Hummingbird (Banana, Pineapple & Coconut)
Maple & Macadamia
Fruit Cake
Dietary Requirements & Allergy Free
Vegan – Vanilla, Chocolate, Raspberry Ripple
Gluten free-Vanilla, Chocolate, Raspberry Ripple, Lemon, Red Velvet , Chocolate Mud
Egg & Dairy Free- Vanilla, Chocolate, Raspberry Ripple, Lemon
Sugar Free- Banana, Honey & Pecan
Lactose Free- Vanilla , Chocolate
Deb Lieu Bakes - Wedding Cake Shop Melbourne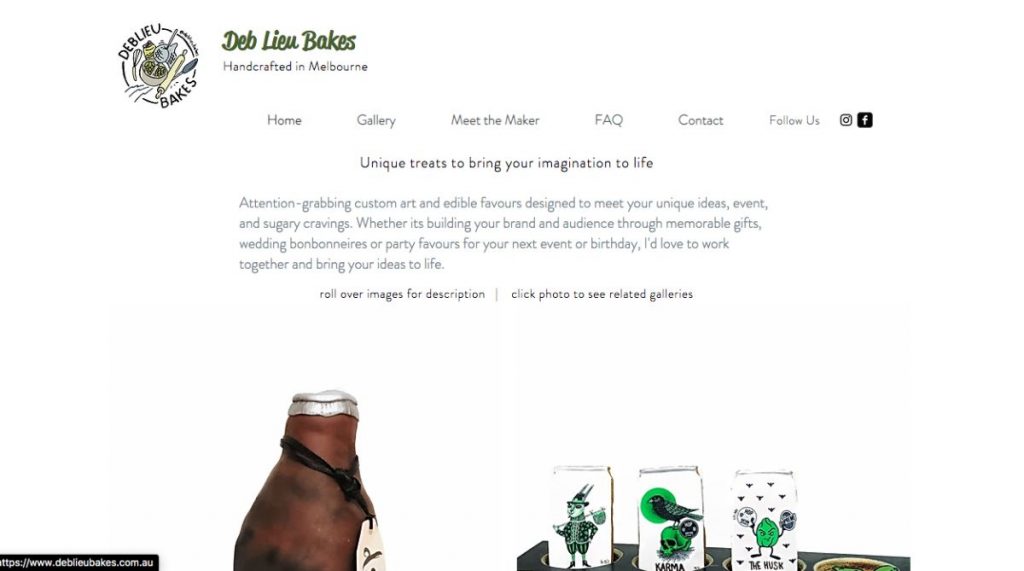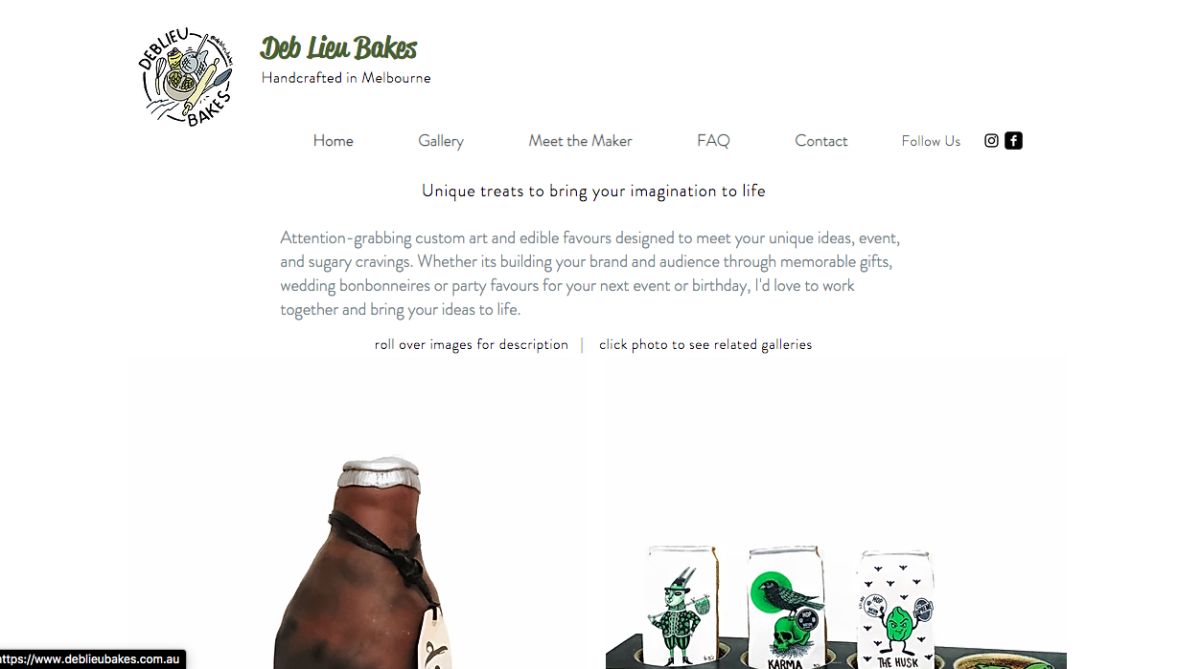 420676465
Unique treats to bring your imagination to life
Attention-grabbing custom art and edible favours designed to meet your unique ideas, event, and sugary cravings. Whether its building your brand and audience through memorable gifts, wedding bonbonneires or party favours for your next event or birthday, I'd love to work together and bring your ideas to life.
About Me
Hello! My name is Deb, and I'm a self-taught baker and freelance photographer -born and raised in Melbourne, Australia. I am also craft obsessed, self-proclaimed professional eater, and beer enthusiast. 
With background studies in Photography, I have always had an eye for detail and love the creative process and design. I specialise in novelty cookies and cakes that are all about fun (and sometimes bad puns). This has led to collaborations with local and international breweries, fashion boutiques, corporate  clients, tourism industry, kids parties and the occasional wedding.
I reached two small milestones in 2018 having had my first ever craft market stall and cookies sold at G.A.B.S Festival. In 2019 I became a 'Beer Nut' and was also nominated to ring the GABS Festival opening Bell - what an honour! I am excited to see what this next year brings.
How It All Began
Deb Lieu Bakes was strangely born from, and is inspired by, my love of craft beer. I initially started making beer inspired desserts and treats to share with friends and favourite brewers in Melbourne. From there, it's expanded to weddings, baby christenings, birthdays, Halloween & Christmas orders for some wonderful clients.
Deb Lieu Bakes combines my love of baking and creative expression with royal icing and buttercream. Each cookie and cake is handcrafted, hand painted details and made with love. All products are made from fresh, quality ingredients and our delicious cookies & cakes will make you come back for more! If you want to know more about the products and services, I'd love to make something for you. 
 Get in touch and say hello! I hope this little world of mine will add a splash of colour & sweetness to your life. Thanks for dropping by.  
​
Me2 Miniatures Wedding Cake Melbourne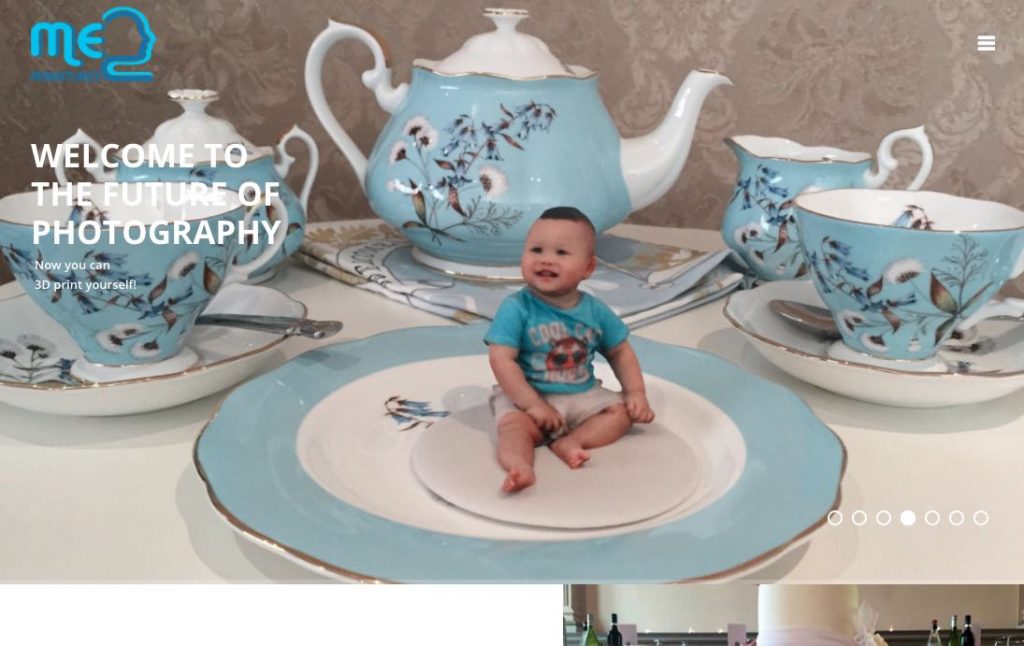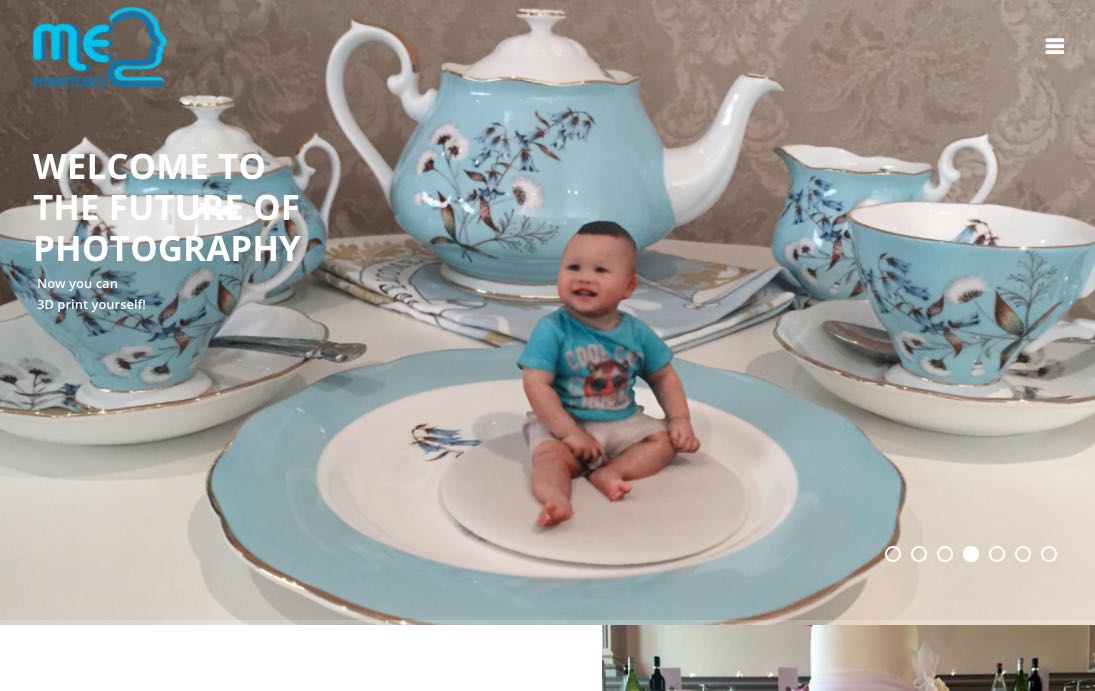 me2miniatures.com.au
0433808812 / 0292211183
Discover Me2 Minatures
Me2 Miniatures was born from the desire to bring memories to life. They offer people the amazing opportunity to relive the most beautiful moments in their lives. We use the most detailed and fast technology capable of collecting 3D data and process it into superb miniature figurines of…you.
What are the 3D printed figurines made of?
They're made out of passion and dedication, and a really cool patent material that looks and feels like plaster, but it's called VisiJet® PXL™.
Why VisiJet® PXL™?
Because it's currently the best material on the market that delivers flawless full-color printing. VisiJet® PXL™ guarantees:
durability

amazing resolution

perfect whites

extraordinary color accuracy
More about our 3D printers
We use 3D System Color Jet printers, the only 3D printers on the market that manage to create 3D prints of outstanding quality. These 3D printers are true to colors and clarity, and provide flexibility in usage to get the exact tones specified.
Safe and user-friendly, the ProJet 660Pro is considered to be the most efficient large-build, full-color 3D printer of its class, and it's equipped with a net Build Area of 254 x 381 x 203 mm (10 x 15 x 8 inches). It is amazingly fast, having a build speed of 1.1 inches an hour, and incredibly accurate. It prints to a resolution of 600 x 540 dpi with a minimum feature size of 0.004 inches. We take pride in the fact that we use an eco-friendly 3D printer, manufactured with non-hazardous materials and with zero liquid waste.
This 3D printer incorporates professional 4-channel CMYK full-color 3D printing to produce exceptional high-resolution models. Ideal for stop motion animation, professional model shops, architects, consumer product design and development, digital manufacturing, fine art production and more. All models produced can be sanded, drilled, tapped, electroplated and have high temperature resistance for use in molding.
HOW IT WORKS
Quite easy and fast! All we need is your presence in a room full of DLSR cameras for about 0.1 seconds. Let's take it step by step! Our work process is defined by the "4P" steps:
PHOTOGRAPHY
We welcome you to our studio to have your full body data captured by our most advanced and effective photogrammetric system that involves the use of no less than 52 DSLR cameras;
PROCESS
This valuable data will be processed by our talented engineers and prepared for 3D printing;
PRINT
The magic begins when our industrial grade full colour 3D printer starts to print;
PRESENT
It's time to present to you the ultimate lifelike 3D printed figurine of yourselves!
VARIOUS USES
Whether we're talking about 3D printed figurines or customized 3D gadgets, our products can become superb gifts for various occasions, such as Christmas, Valentine's Day, Mother's Day, and other special days in your life. Our offer is often updated with seasonal products to fulfill your expectations.
Check out the most popular uses of 3D printed figurines:
Family portrait. 3D printed family portraits reinvent family photography. Instead of getting a traditional family portrait in a photographic studio, bring to life your family in an amazing 3D portrait. You'll feel closer to your family!

Anniversary/birthday/graduation/etc.. If you want to celebrate your wedding anniversary with an unique gift, or maybe you think to offer a special birthday present for someone dear, or simply you want to immortalize your graduation moment, the 3D printed figurines are an inspired idea.

Christmas "cards". Forget about the traditional Christmas cards, when you try to fit everybody in one photo! This year you can send amazing 3D printed figurines of your family to really stand out in the crowd!
My Red Cupcake - Wedding Cake Shop Melbourne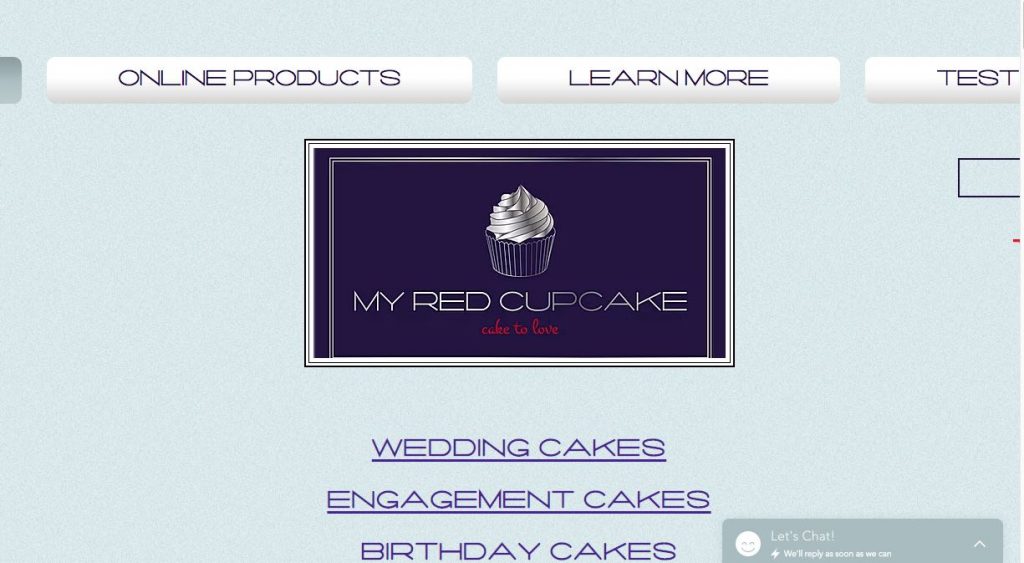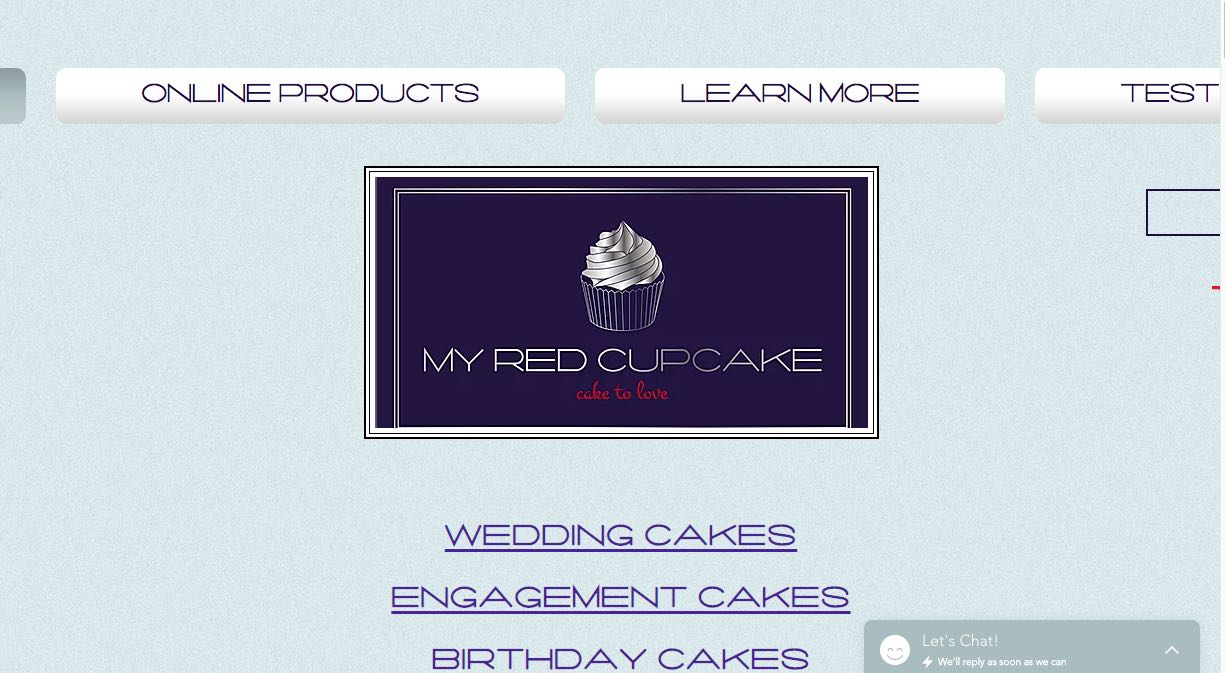 427732338
Together we can masterfully design a Cake that suits your style, taste and budget.  Then add something that is only yours to define your sweet treasure. 
Wedding Cakes
Try Our Elegant Custom Wedding Cakes
Your wedding day is the most important day of your life. You need a cake that's as elegant and beautiful as the bride. That's why My Red Cupcake makes a wedding cake to fit in perfectly with your big day.     
We have a wide selection of flavours to fit any taste buds, including red velvet, champagne rose, vanilla bean, lemon zest, carrot and rich chocolate with fillings such as strawberry buttercream, chocolate mousse, cheesecake delight and more. No matter what your sweet tooth desires, we can make it happen.     
That's because we employ the best baker in the area. Our professional baker works tirelessly to bake fresh, moist cakes every day. All you need to do is choose your favourite flavour, decide on a size, and work with our creative cake decorator on the design of your choice. Not only do our cakes melt in your mouth, but you can create a unique dessert to commemorate your special day.
It doesn't stop at the moistest, most delicious cake you ever ate. My Red Cupcake creates custom wedding cakes for all of our clients. That means no two cakes are ever alike unless you want them to be.  And we're not just talking about piping with frosting.  Our state-of-the-art commercial kitchen includes a food printer that can turn any image you want into a customized work of art.  You can have a grooms cake, cupcakes and even cookies made up for your wedding cake sweets repertoire along with your chosen edible image.  
Click this link to pay for your order, then email us a clear, high-resolution image. From there, you can add whatever text you'd like. From there, we can print the image for 8-inch round cakes, A4 sheet cakes, or 1.5-inch to 2.5-inch cookies/cupcakes. The possibilities are endless.