Are you a maid of honour with a cash-flow problem? Perhaps you are doing just fine financially, but you know that the bride's got plenty of friends on her bachelorette party invite list who could not find two pennies to rub together. Maybe you are just financially responsible and find that the idea of spending hundreds or thousands of dollars on a bachelorette party rubs you the wrong way. Whatever your reasoning, you may have been stressing out about how you would throw a fabulous bachelorette party without breaking the bank. Never fear, the bachelorette party experts are here to give you great ideas for throwing a budget bachelorette!
So, What Do You Mean Cheap?
There is some disagreement about the term "cheap," so we want to clear it up before you get started. If your idea of a grand bargain is finding a pair of new Louboutin's on sale, then this article is not for you. We will not go all Goop on you and pretend that an excellent deal for the average millionaire is realistic for most real people. We went to one site talking about affordable bachelorette parties, and one of their ideas was a party yacht. How out of touch can you be? So, we are focusing on actually inexpensive ideas. That is what we mean by cheap; within the range of affordability to the average person who is old enough to have a friend who is getting married. Are you searching for the great service to spice up your hens? Then  Magic Men is the answer.
Ways To Plan A Bachelorette Party On A Budget, According To Experts
Think Of The Bride's Interests
Especially if the person you're planning for isn't one for drinking or partying, consider their interests and tailor the day or the weekend around that, which can keep things simple and keep overhead low, Jamie Chang, owner and destination wedding planner at Mango Muse Events, tells Bustle.
"Plan a fun experience that fits [your friend's] interests and style, like a cooking class, a wine tasting tour, a kayaking excursion, a museum day, or a city scavenger hunt," Chang says.
A spa day is another good idea since all you'd have to cover between everyone is the bride's services and any snacks and drinks.
Keep It As Local As Possible
"One of the obvious ways to plan a bachelorette party on a budget is to limit travel for everyone or, if that's not feasible, have the bachelorette party in a location that's not going to break the bank," Leah Weinberg, owner & creative director Color Pop Events, tells Bustle.
Mainly, don't make your friends travel outside the country, Weinberg says, but big cities like New York City, Miami, or Los Angeles might not be the best spots either.
"I think that's why places like Nashville have become so popular lately for bachelorette parties. There's a ton to do, but it's not going to cost you a fortune," Weinberg says.
If everyone has agreed they can hack a short trip, definitely try somewhere that isn't too over the top. And opt for cost-saving options like sharing an AirBnB or figuring out if someone has a typical summer cabin in their extended family you can all visit.
Do Something Simple, Like A Bottomless Brunch
Now, remember, you don't have to fly to Cabo for a whole weekend at all. Your party can be a normal, cheerful Saturday gathering.
"If you and your friends are on a budget, you have options," Jenna Miller, creative director of Here Comes The Guide, tells Bustle. "Find an inexpensive-yet-delightful bottomless mimosa brunch near you. Sit out on the patio, people watch, and take your time chit-chatting."
Miller says you can finish off the day by taking a walk, either window shop or go to the park, and enjoy each other's company. You can also host a potluck brunch at home. Looking for Melbourne hens ideas to make sure you and your friends can enjoy hens party? Magic Men has you covered.
Try Hosting An Old Fashioned Sleepover
Going to old school might be the best idea of all. Think snacks, movies, and all night giggles.
"One of my favourite ways to plan a bachelorette party on a budget is to host a slumber party," Weinberg says. "For my bachelorette party, none of my friends was local to NYC, and I was very conscious about how much money it was going to cost them to travel to me or another location. I decided to have them all come to me and stay in my apartment for the weekend."
It's a great way to save money on lodging, and it is an excellent bonding experience, Weinberg says.
If You Want To Go On A Trip, Try Camping
Yes, nothing says before-wedding bonding quite like a trip into the wilderness, and camping is a great way to have a weekend trip that won't cost a lot.
"Another budget-friendly option is good-old-fashioned camping," Miller says. "Forget the 'glamping' trend and rough it. Pitch tents, roast s'mores, and tell ghost stories. And don't forget a couple of bottles of your fave vino!"
You can go for a long hike and find a spot on a trail, or take it a little easier and go to a place with a campsite. And hey, if you want to go easy on a camping trip, there's nothing wrong with pitching a tent in the back yard, amirite?
Think Of The Cultural Opportunities In Your Area
You can also tap into the wonders of your own (or your almost-married friend's) very own area. Think arts and culture or local sights and offerings, Kimberly Allen of Something Fabulous, tells Bustle.
"Spend an afternoon visiting local art museums or city sites and finish your day at a cafe," Allen says. "There are lots of coffee shops that serve up specialty coffee, tea, dessert and local music acts."
Cultural events can offer a fun, exciting experience for everyone to share while being both budget-friendly, thoughtful, and comfortable. Remember, your bachelorette party doesn't have to look like anyone else's.
A Bar Crawl Is A Cheap, Fun Option
There is always the option of a one-night-only bar crawl as the bachelorette party's main event. Make a map of the best and kookiest bars in your city or town, and set forth on a night of raucous debauchery. Or, maybe, you want whiskey tastings and sophisticated conversation. Whatever works.
"Host a happy hour at home and ask a trusted friend or family member to be your driver at the beginning and end of the night," Allen says.
As long as you plan and keep the events, food, and drink pretty simple, splitting costs between all the party guests don't have to make you sweat. Everyone will thank you for keeping the budget in mind. And remember, at the end of the day, it's just about showing your soon-to-be-married friend how much you love and support them, you know?
Hanging with your besties doesn't have to mean breaking the bank.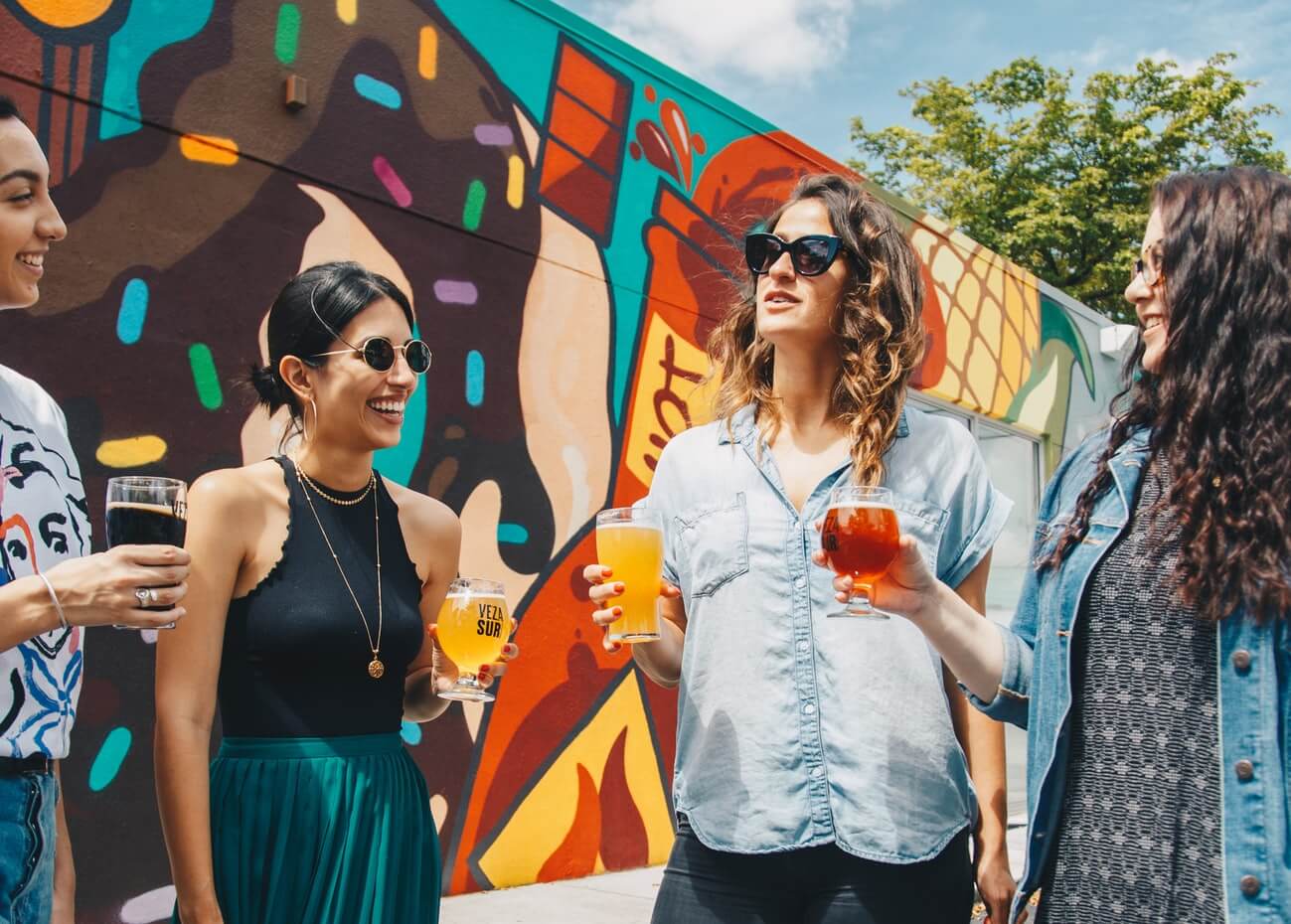 Throwing a cheap bachelorette party is somewhat of a unicorn these days. But unlike the mythical creature, a bachelorette party on a budget is possible—if you will find it. All this to say that as much as you love your friends, those trips and nights out can take their toll on your wallet. So it's reassuring to know that if you want to know how to plan a cheap bachelorette party without dropping too much cash, there's hope. And more than that, there are tons of great ways to show your BFF how much she means to you and all the friends and loved ones she's gathered together to celebrate her last days as a "young unmarried woman." Are you looking for hens ideas? Look no further, Magic Men has you covered.
Here, we've rounded up seven affordable (if-not-cheap) bachelorette party ideas that will be an excellent time for everyone involved and, most importantly, leave your bank account breathing a massive sigh of relief.
Host a Slumber Party
There's a reason why slumber parties are every middle schooler's go-to party of choice. They're fun, they're low-key, and they usually involve all the essential ingredients for a guaranteed great night in. (Not to mention, a cheap bachelorette party idea overall.) Now that everyone's busy doing grown-up things like going to work and raising families, the opportunities to just being together and hang out in one space are fewer and far between. Celebrate your best gal's final fling with a night of wine and cheese boards (or beer and pizza), chick flicks or thought-provoking documentaries, face masks, and, well, life updates (some things never change).
And if throwing that epic slumber party at your or a friend's place isn't an option, consider renting an Airbnb or even the bridal suite at a nearby resort for one night and splitting that daunting cost amongst all the attendees for a cost-efficient way to get away by staying in. A bonus to the rental option? Not having to clean up the next morning, which is one heckuva step up from the slumber parties of yesteryear.
Seek Such Great Heights
These days, bachelorette parties have increasingly become focused on self-care—and caring for each other. So why not flip the bachelorette party timeline on its head and gather everyone together for an early morning sun salutation or summit set to the backdrop of Mother Nature's majesty? 
Start the day at someone's home with some fresh, homemade green juices or DIY acai bowls as a fun ice-breaker for those who don't know one another yet, and then take off into the mountains for a hearty, sweaty hike that's guaranteed to recalibrate your BFF's energies after a stressful few months of wedding planning. Be sure to pack plenty of water and some snacks for an impromptu picnic at the top, where you can play party games, share memories about the to-be-wed, or enjoy the views together.
If the elevation isn't an option where you're at, consider doing a group yoga session or workout class together, which will help get everyone's endorphins going—just in time for the impending wedding. And as an FYI: a fun post-hike or post-workout brunch is a less spendy alternative to a fancy dinner out, and this cheap bachelorette party idea can make for many Instagram-worthy photos apps.
Try a Tasting or Two
If getting boozy is a big part of what makes your BFF and her friends extra happy, then there are a ton of options for fun alcohol-adjacent activities that won't break the bank. Instead of a spendy night of bar-hopping, maybe consider starting off the evening by pregaming at home before heading to local bars. Decorate a cute bar cart and have your guests build cocktails with fun recipes for a bachelorette party on a budget activity. 
Another lively option is to rent out a private room at a karaoke lounge, so everyone can get loosey-goosey while enjoying a shared pitcher of beer or cocktails, depending on the mood and taste of the group. Being able to dance it out while belting nostalgic tunes is always a good time, and the split cost amongst all the attendees will be undoubtedly lower than cover charges for exclusive nightclubs or shelling out for shots at a long string of bars throughout an evening.
Those who prefer the atmosphere of a calmer tasting situation, consider hitting up a favourite winery (or a new one!) and then buying a few bottles to go for a picnic either on the winery grounds or nearby park. Or for those more interested in whiskey or beer, touring a distillery or a brewery with a tasting can be a fun afternoon activity that's low-maintenance and relatively low-cost, with maximum photo opportunities to remember the day by. Don't forget to toast the bride-to-be.
Host a Luxe Dinner Party
What's a great party without good food? Going out for an expensive five-course meal may be out of your price range, but that doesn't mean that you can't enjoy the same good taste from the comforts of your own home. Meals and cooking are a great way to bring folks together — especially those who might be meeting for the first time — so what better way to celebrate your friendships than by hiring a gourmet chef to create a custom dinner for your BFF and her gathered pals, possibly with a nod to all of her favourite, eccentric, foods: pickled vegetables, candied yams, and tuna sashimi? Sure, why not? As a fun way to make the meal even more unique, consider creating personalised menus for the gathered gals, coordinating with the chef for fun names of dishes that reference different aspects of your BFF's personality or relationship with her soon-to-be partner-for-life.
Suppose the crew you're rollin' with is the foodie in nature. In that case, an alternative could also be to create a meal together, with friends partnered off in pairs to create different courses of the menu: an appetiser, a salad, a side dish, the main dish, and dessert, for instance. See who has the most significant kitchen (and dining space!), and get ready for some fun cooking shenanigans with friends, old and new. Think of it as Thanksgiving without the family drama, and with all the best recipe swaps.
Map Out the Bride's Favorite Spots
Make it an excursion by creating a neighbourhood map (that can, of course, double as a scavenger hunt of sorts). Encourage the bachelorette group members to try the bride's go-to milkshake at her favourite burger spot or check into someone's home for hors d'oeuvres before gathering at the final location for drinks.
You can leave clues throughout town or go digital by dropping hints of where to go next via text; the idea is to help your BFF reconnect with her roots (if you're in her hometown) or favourite haunts (if you're in a bigger city) or discover new spaces (if you're in a place that's new to everyone).
An alternative here—if a lot of the bachelorette party guests happen to live in the area—is to host a party where everyone's able to get at-home manicures at one spot and partake in an activity like making flower crowns at another home—hopefully, culminating in a big get-together at the end (complete with a fun banner and backdrop) to cheers the bride-to-be and share memories from the scheduled events of the day.
Arrange a Self-Care Spa Day
Suppose self-care feels to be a big thing for your BFF. In that case, rounding everyone up to go to a Korean day spa is a fun and affordable alternative to a pricier hotel that emphasises treatments and massages that can quickly rack up in cost. With a standard day pass, most Korean spas provide access to saunas, rest areas, jacuzzis, and plenty of spots for lounging. It's a great way to spend a day (or even overnight!) with pals, get a chance to unwind fully, and make it an overall inexpensive bachelorette party. 
For those who are a bit more adventurous, or want to partake in the spa's more specific offerings, there are of course spa menus for full body scrubs, massages, pedicures, facials—the whole nine yards. The takeaway here is that not everybody at the bachelorette party will have to shell out the same amount, so if there are guests who are a bit more price-conscious, this will give them more options and an easy way to opt-out without feeling left out.
Word to the wise, however: most Korean day spas include areas of the amenities that are separated by gender and completely clothes-free, so if there are members of the bachelorette party tribe who are a little more self-conscious, make sure to give them a heads up on this tiny —but important—detail.
If a full spa day is a strict commitment, host a meditation session instead. Transform a bachelorette party member's backyard into a zen space (think about including a sea of pillows and stringy lights) or hire a professional to lead a meditation in a studio space. Wellness and self-care aren't just trends, and they're about taking time to pamper yourself (whether you're a bridesmaid or the bride).
Make Your Scents and Sips
There are a ton of fun at-home activities that are gaining popularity these days, including activities like make-your-own fragrances, make-your-own CBD tinctures, make-your-own candles, and make-your-own signature cocktails. With minimal spending in mind for cheap bachelorette party ideas, you can acquire all the necessary ingredients to give your guests budget-friendly options with a wide variety of options (scents, herbs, flavours and oils). These days, it's all about putting your stamp on the things you imbibe, inhale and rub into your skin, and what better way to spend time together than mix and match ingredients to create a custom scent, tincture, candle or drink?
An extra perk of hosting the at-home party, of course, is that everyone can kick off their shoes, show up in their comfiest pants, and not have to worry about getting all dolled up for a comfortable, affordable night in that'll be memorable for years afterwards.