With the rise of modern technology, couples across Australia are placing more importance on capturing their wedding on film. While photography is still a must-have element of marriage, capturing your day on film will immortalise laughter, tears, and those raw emotions that make weddings such a special occasion.
Wedding videography has provided the bride and grooms nowadays the opportunity to have produced a marvellous video documentary of their wedding. Today's couples invest in selecting the ideal reception venue, bridal flower bouquets, wedding cakes, wedding ceremony decorations, invitations, wedding dress, and possibly end on that checklist is the wedding videos. But wedding videography should not be neglected because it preserves the memoir of the wedding celebration.
Wedding Videography can be a last-minute inclusion, but when you see the work these maestros produce you'll agree that it's something to prioritise a little higher, as these incredible artists balance journalism with an artistic twist on your wedding day.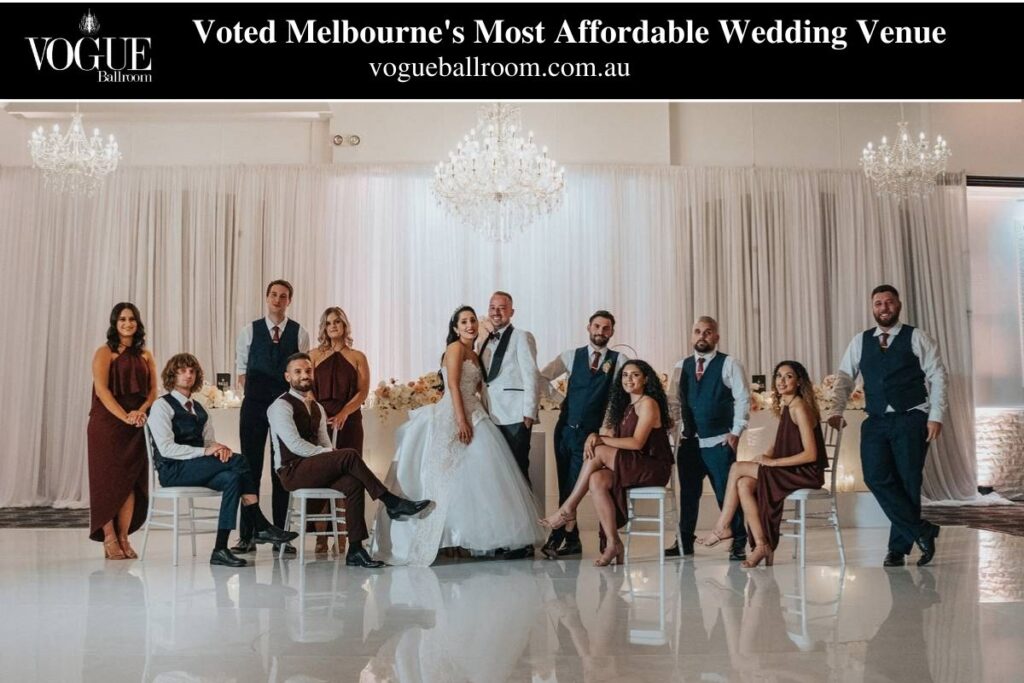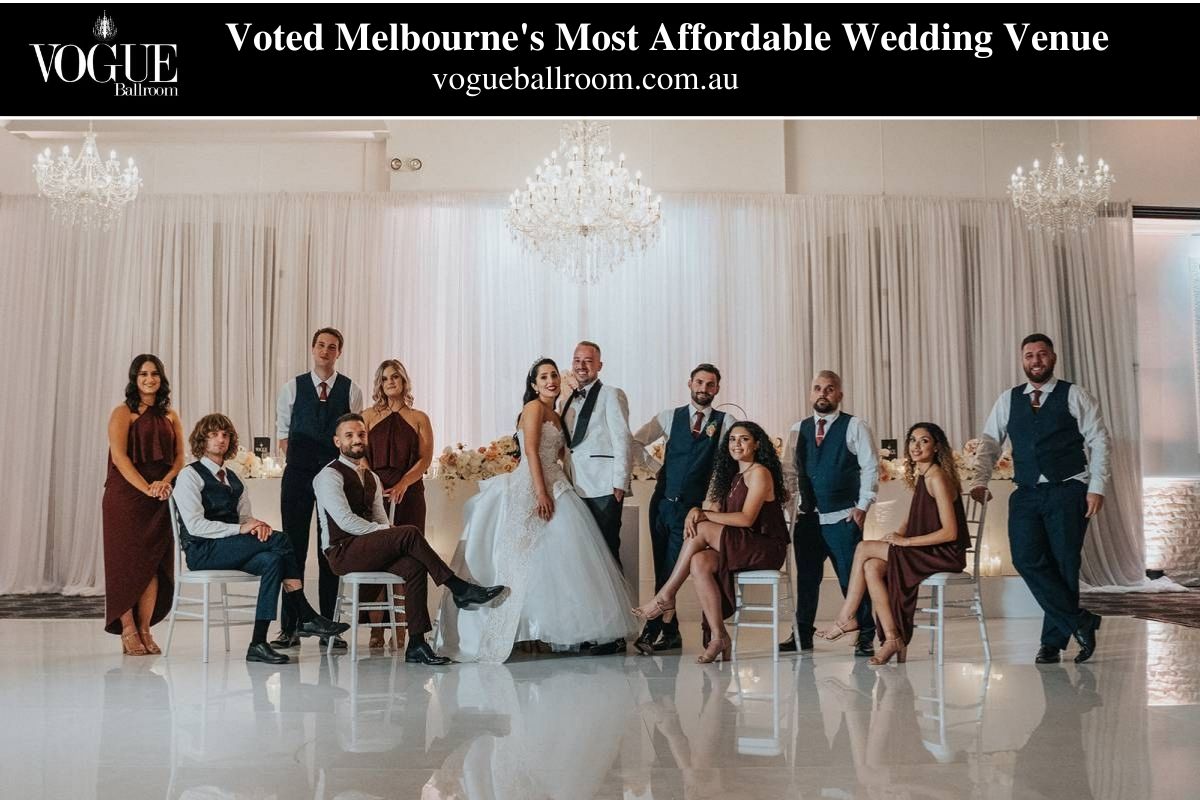 Located in Sydney and looking for the best wedding videographer and video company?
If you are located in Sydney and on the hunt for a highly sought-after wedding videography studio to shoot your big day, you've come to the right place! To get you on your way, we have compiled a list of the top wedding videographers in Sydney. You never know, your dream videographer could be included in this list.
Ultimate List of Best Wedding Videographers in Sydney
Splendid Wedding Videographer Sydney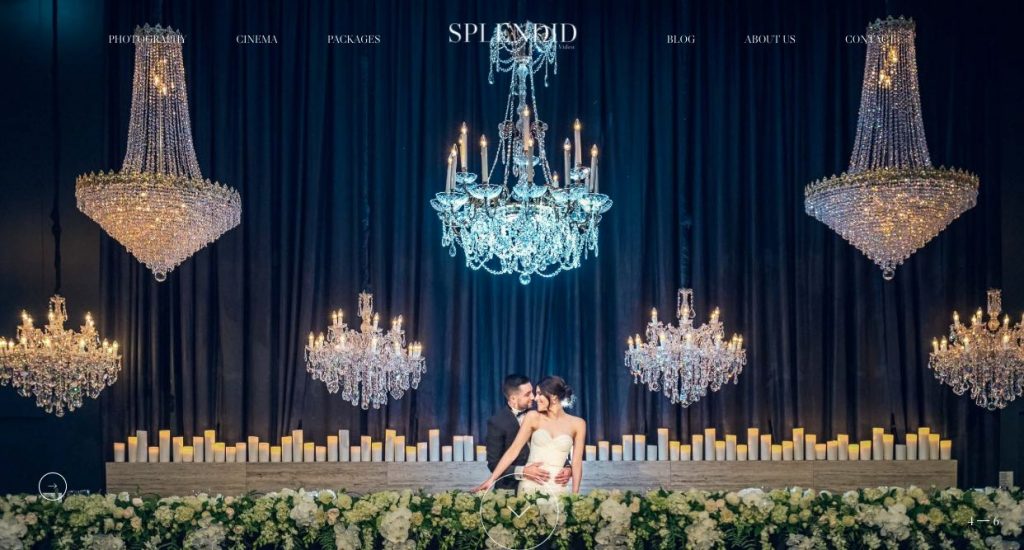 295728884
CAPTURE YOUR TIMELESS WEDDING WITH OUR AWARD-WINNING PHOTOGRAPHERS
We, at Splendid Photos & Video, believe that love, weddings, and commitment are a huge aspect of what life is all about. It is our honour to capture these subtle and meaningful exchanges and turn them into your beautiful story! Our boutique studio is based in Leichhardt, Sydney. Our 10 years of valuable experience of shooting weddings have made us highly recognised, trusted, and talented wedding photographers. Our works have been featured many times in well-known wedding magazines and blog sites.
Our style is all about storytelling, editorial and fine art photography. Our approach is a blend of candid moments with fine art portraiture. We combine a novel artistic approach with storytelling to produce meaningful images that show the connection. Splendid photography focuses not only on creating amazing photos but also on offering you the best experience both before and after your wedding day.
Want your precious memory captured perfectly?
Wedding Movies Video Company Sydney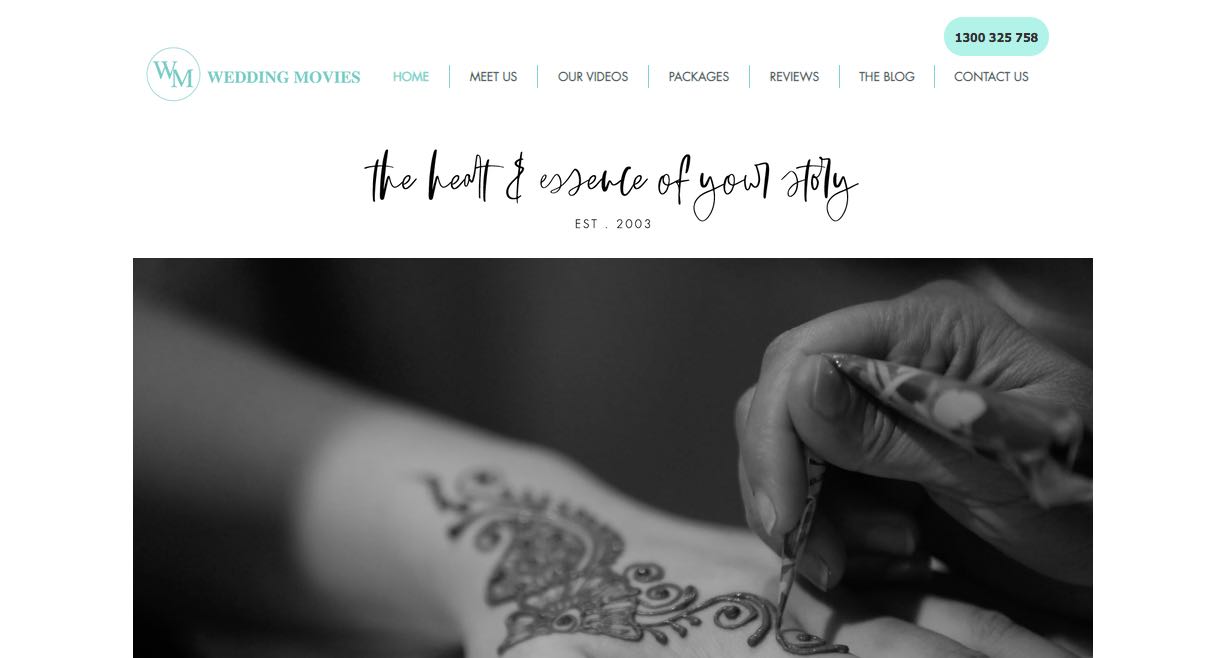 1300325754
Wedding Videographer in Melbourne
Every Wedding Movie is as unique as the couple getting married. ​
We love capturing and telling the heart and essence of your story, so why not let us tell yours today?
Your wedding is undeniably one of those iconic events that you most look forward to in life. After all, this is perhaps the most important day of your personal life, one that you never want to forget.
At Wedding Movies, we just want to play our part in making sure that your memory of this defining day is just as perfect as the wedding itself.
Our experience has made us perfect.
Nobody wants the same old generic wedding pictures anymore. The world is different today – it truly is your oyster. Why not make your wedding videos just as unique as the pearl in that oyster? Wedding Movies brings to you the individuality and distinctiveness that you crave in your wedding film. Our professional wedding videography promises to be a true-blue depiction of the potpourri of emotions that define any wedding day.
At Wedding Movies, we love capturing stories, and we love what we do. We have over 17 years of experience in carefully collecting and curating your memories. With our extensive and diverse experience, we can confidently say that we are the wedding videographers in Melbourne should hire. Our team comprises of several talented videographers and editors. Leave it to them to capture the emotions that transform your life on your wedding day. Each day, they keep adding to our portfolio of your beautiful memories and memorable moments.
So, are you ready to present to the world the heart and essence of your story? Because we sure are.
The White Tree Wedding Videographer Sydney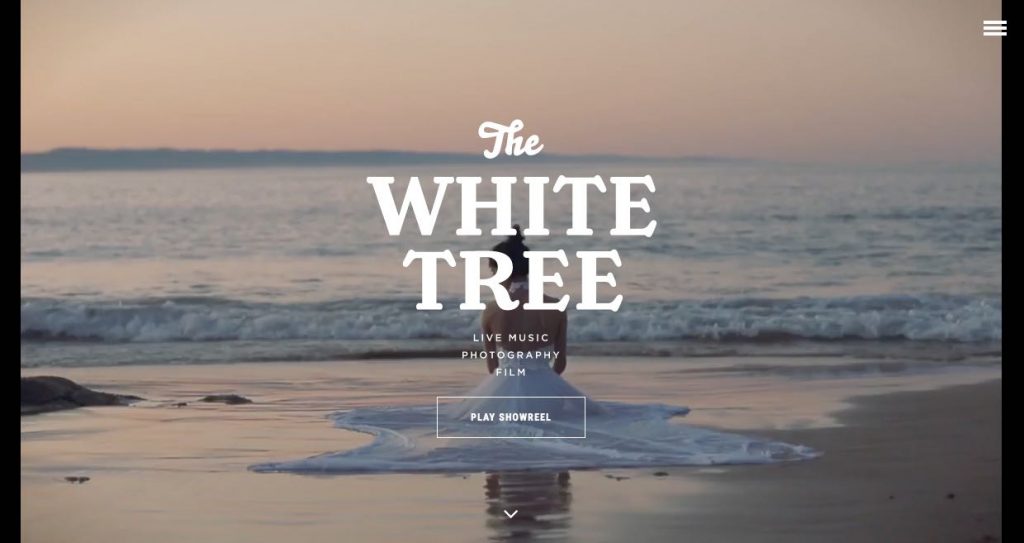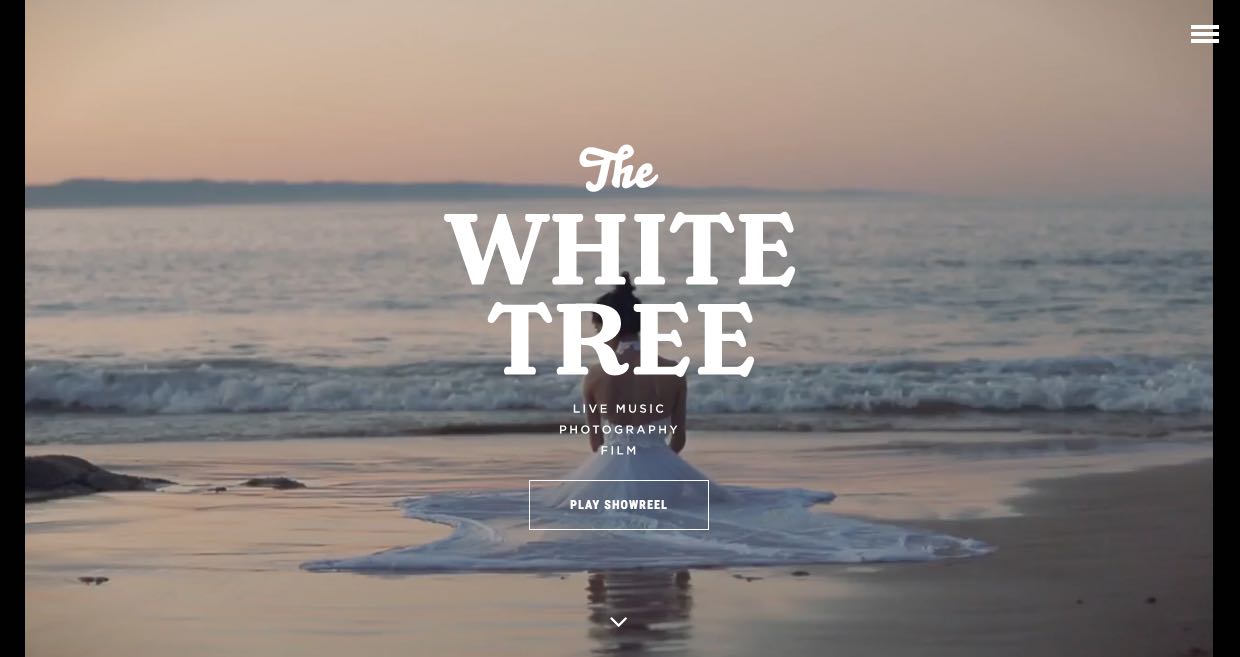 422052071
Two great mates founded the White Tree; one a musician, the other a photographer/filmmaker. They'd been making coil pots together since primary school in Melbourne (true story), but in 2009 they decided they should start a more "serious" business together...i.e. a business that would help them to move out of home!
Back then, they noticed a heap of cheesy work happening within the wedding and events industries. They identified a real opportunity to shake this market up, by providing genuinely cool live music, photography and film concepts - under the one creative roof. This would be offered at a reasonable price and with a super-easy booking and planning process.
So they gathered their respective skill sets, garnered their extensive creative networks, moved into a dilapidated house together to brainstorm day and night, and within a few months, The White Tree was born.
We Create & Capture Epic Memories
The White Tree launched back in 2010, and to this day, we're the only company that offers all three creative services. This makes perfect sense, like live music, photography, and film are the primary innovative ingredients for any significant event – and they should work together in harmony. They also have the collective power to build incredible memories for you and your guests…long after you've downed your final champagne!
Our work is carried out by a select team of musicians, photographers and filmmakers based right across Australia, who are on a mission to cut through the sea of "same-same". Our young, passionate creatives are all incredibly talented, progressive and professional, and they're also great fun to hang out with. Essentially, we take our work seriously, but not ourselves.
The White Tree is a unique wedding business that strives to keep the product cool and creative, and the process fun and easy. We take huge pride in our knack for entertaining, a craft for creating good times and a vision to see good memories become great.
Film
Traditional wedding videography has a bit of a negative stigma. We realised this when we launched The White Tree back in 2010. Since then we've worked hard to develop a wedding film product which is genuinely cool and cinematic…and emotive without being cheesy.
We've handcrafted many wedding videos that adopt our distinct modern style. But at the same time, we also love to finesse our storytelling and create a film narrative which is boldly unique for every couple.
Ford Production Wedding Video Company Sydney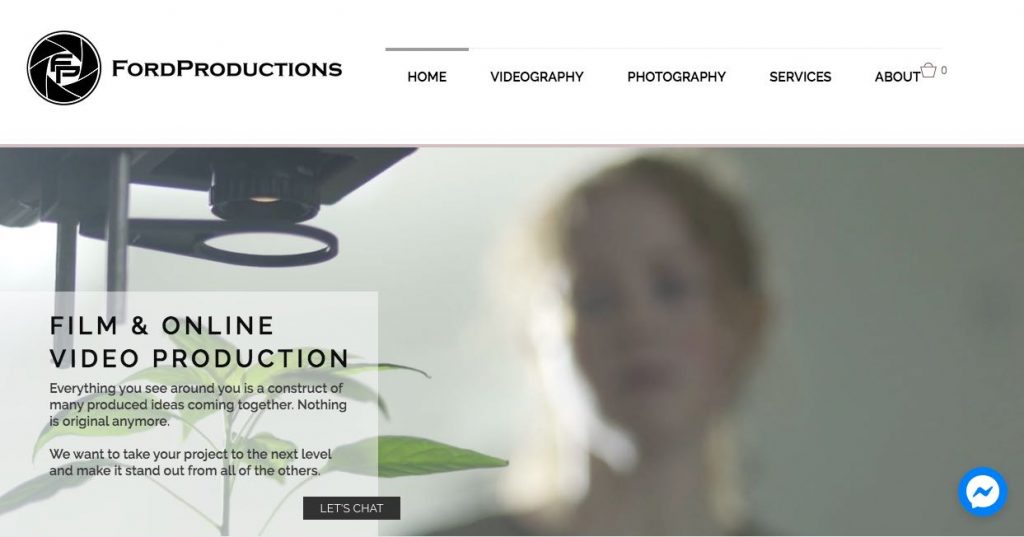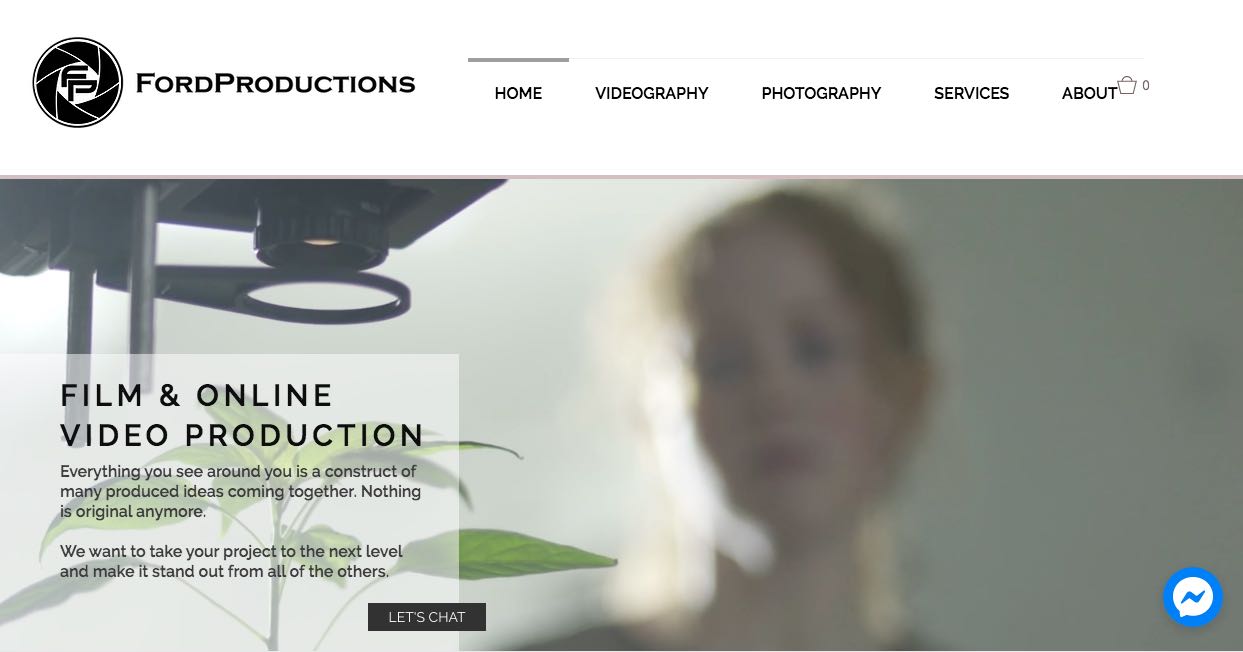 fordproductions.biz
425374471
FordProductions is well known for its creative flair and originality of narrative storytelling.
This passion they have for the industry enables them to show their perspective of the world through their eyes and camera.
FILM & ONLINE VIDEO PRODUCTION
Everything you see around you is a construct of many produced ideas coming together. Nothing is original anymore.​
We want to take your project to the next level and make it stand out from all of the others.
SERVICES
Planning
Plan ahead for your next project, knowing you are working with a professional
Storytelling
Storytelling is what we do. Engaging audiences, making them want more.
Production 
We can produce any idea you want to facilitate in an efficient and timely manner.
Why Choose Ford Productions? 
FordProductions are an honest, hardworking and professional team, that
go the extra mile to achieve the results that go above and beyond what
is expected of the clients wants and desires
Greer Films Wedding Videographer Sydney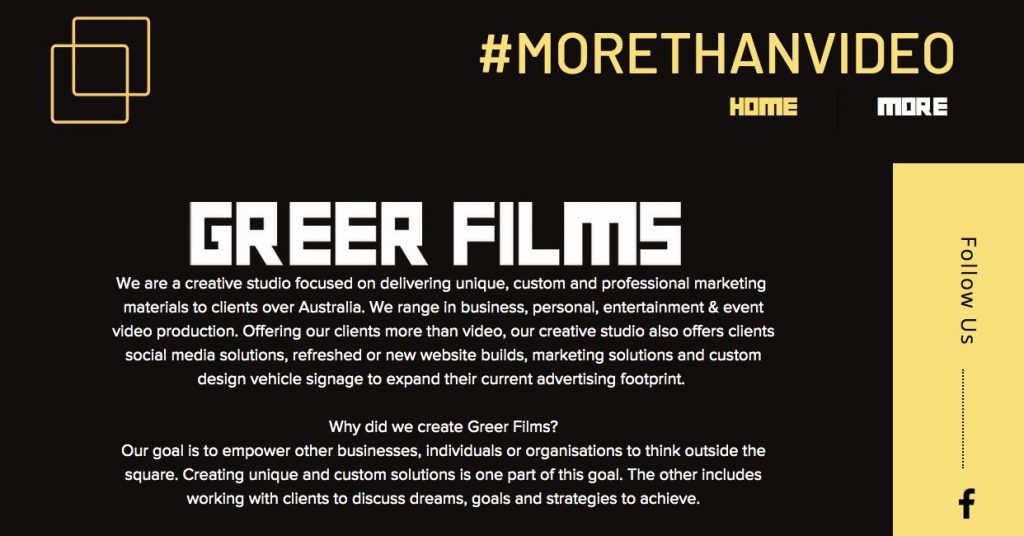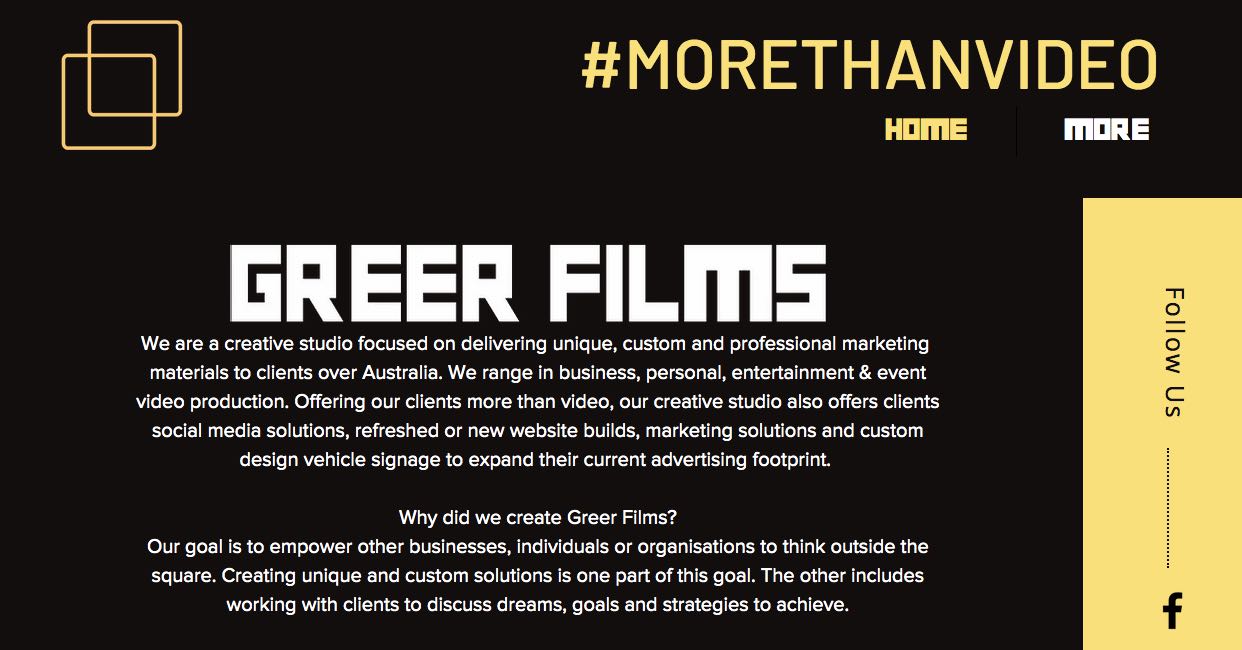 408062937
We are a creative studio focused on delivering unique, custom and professional marketing materials to clients over Australia. We range in the business, personal, entertainment & event video production. Offering our clients more than video, our creative studio also offers clients social media solutions, refreshed or new website builds, marketing solutions and custom design vehicle signage to expand their current advertising footprint. ​
Why did we create Greer Films?
Our goal is to empower other businesses, individuals or organisations to think outside the square. Creating unique and custom solutions is one part of this goal. The other includes working with clients to discuss dreams, goals and strategies to achieve.
​We have developed our way of achieving personal and business goals in one.
Now we want to share that with as many other like-minded people across Australia as we can. We are in constant communication with our clients across Australia with the help of Zoom & Live Chat. We are here to empower you and find the right solution for you.
We also film Weddings in Central West.
Video Production
Creating Cinematic, stylised video for promotional, events, performance or for your Vlog & social needs. ​
What is involved in Video Production?
There are three main processes of putting a video together:
pre-production, filming & editing. ​
Our pre-production involves a creative meeting, concept development & production schedule. This ensures you are involved every step of the way.
Contact us today to set your free video production meeting.
Weddings
Having your beautiful wedding day filmed by Greer Films allows you to capture the special day and relive for months & years to come. Don't miss the opportunity to have your own keepsake.
​Getting to know our couples is a process we enjoy being part of. We want to understand what is unique about your relationship & wedding. This allows us to capture all the essential elements to put together your beautiful videos.
​Pat is on locations all day, not worried about how many hours he has filmed. We are dedicated to you & your video production.
You can explore packages & our FREE printable checklist.
The Tail of Two Wedding Videographer Sydney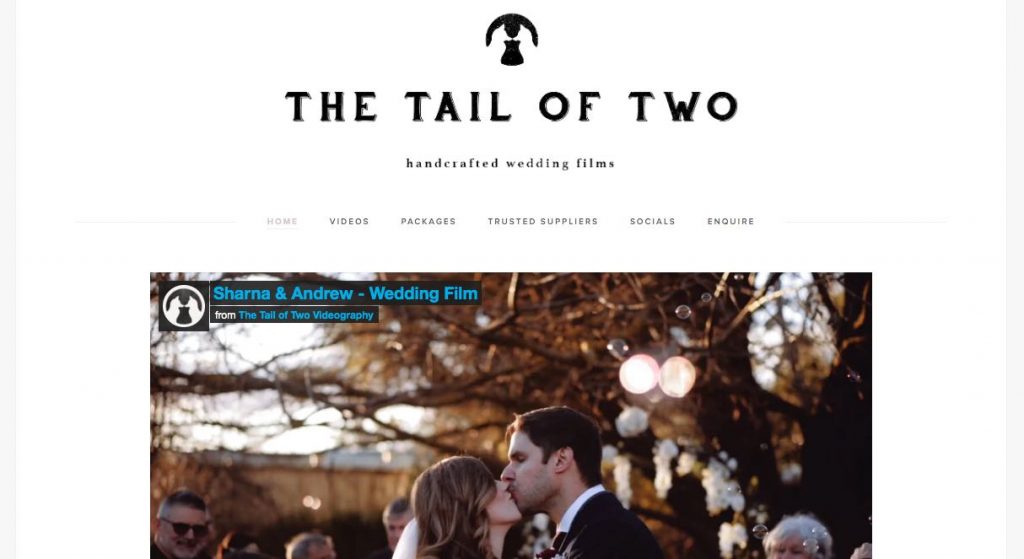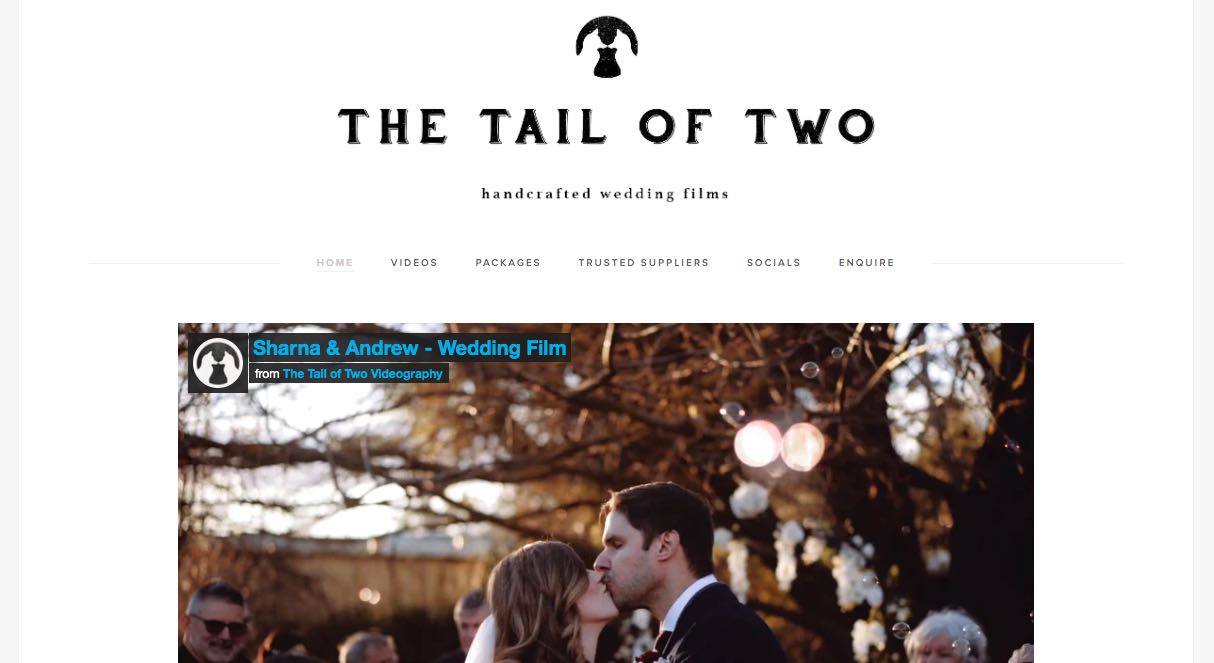 We are a light-hearted couple from Canberra who has a passion for cinematic wedding videography.  We love to laugh, have fun and get a bit silly sometimes. When we're not making wedding films, we're usually watching re-runs of The Office or playing with our fur babies.
WEDDING VIDEOGRAPHY PACKAGES
All packages include:
2 Videographers
3-5 Minute Highlights Reel
Lightly Edited Full-Length Ceremony
Lightly Edited Full-Length Speeches
Package One • 6 Hours
Package Two • 8 Hours
Package Three • 10 Hours
Package Four • 12 Hours
Optional Extras:
Full-Length First Dance and Father-Daughter Dance (or equivalent)
2 x Mini Edits for social media (15-30 seconds each)
Raw Edit of all footage from the day (60-120 minutes)
Agape Studio Wedding Videographer Sydney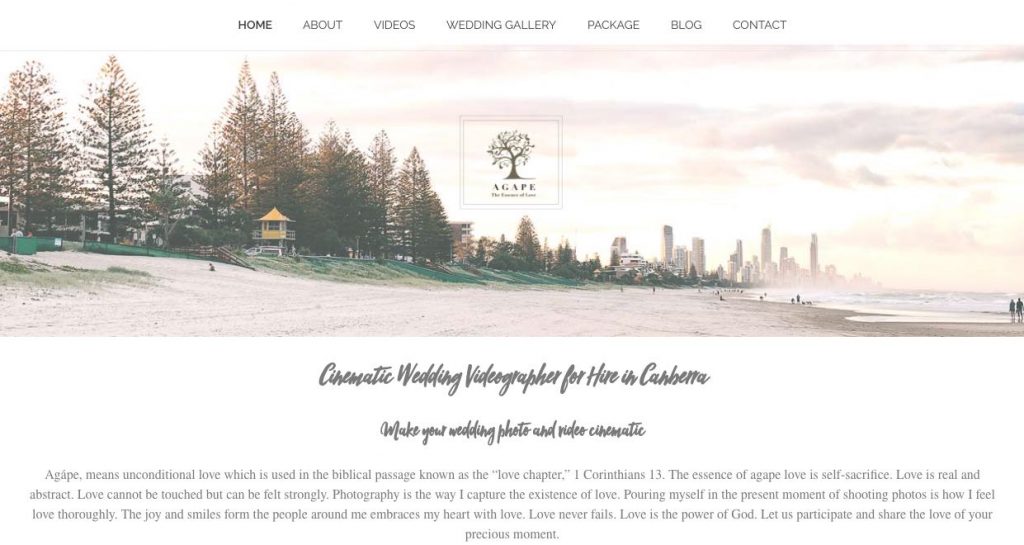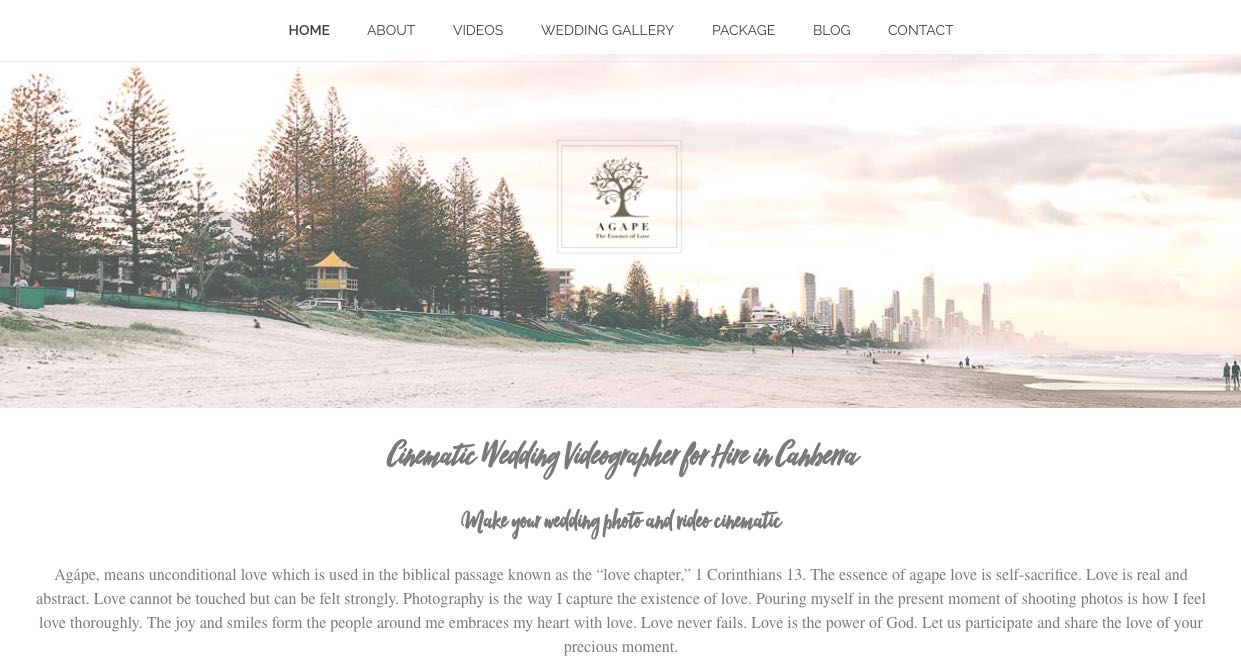 451556303
Cinematic Wedding Videographer for Hire in Canberra
Make your wedding photo and video cinematic
Agápe means unconditional love which is used in the biblical passage known as the "love chapter," 1 Corinthians 13. The essence of agape love is self-sacrifice. Love is real and abstract. Love cannot be touched but can be felt strongly. Photography is the way I capture the existence of love. Pouring myself in the present moment of shooting photos is how I think love thoroughly. The joy and smiles from the people around me embrace my heart with love. Love never fails. Love is the power of God. Let us participate and share the love of your precious moment.
Services provided by our cinematic wedding videography team.
Wedding Videos
Your wedding video can be better than a straightforward documentary; it can be a romantic drama.
A cinematic video delivers much more than piles of pictures; we can make romance travel from wedding to ever after.
Engagement Photo Gallery
Photo sessions can be stressful for some people if it requires a lot of posing stuff. The way I approach it is all about having fun with my clients (or I should say, friends). It's more about making them relax rather than just posing, and that's how I get genuine and candid shots. We've been a part of tons of weddings such as formal weddings, informal weddings, beach weddings, home weddings, registry weddings and elopement weddings in Brisbane, Canberra, Gold Coast, Sunshine Coast, Adelaide, Darwin, Melbourne, Sydney, as well as almost every state and even overseas in Bali and Taiwan.
From the heart
While we shoot every wedding, we feel like we make new friends and try to keep the relationship afterwards.
Like our motto, we're keen to give the best to our clients (or friends).
Apage studio can capture your big day with cinematic wedding videography and photography. If you require a cinematic wedding videographer to film your wedding video in Canberra or Queanbeyan, submit your inquiry to Caleb. We also provide corporate video services in Canberra and Queanbeyan.
Pepper Image Wedding Videographer Sydney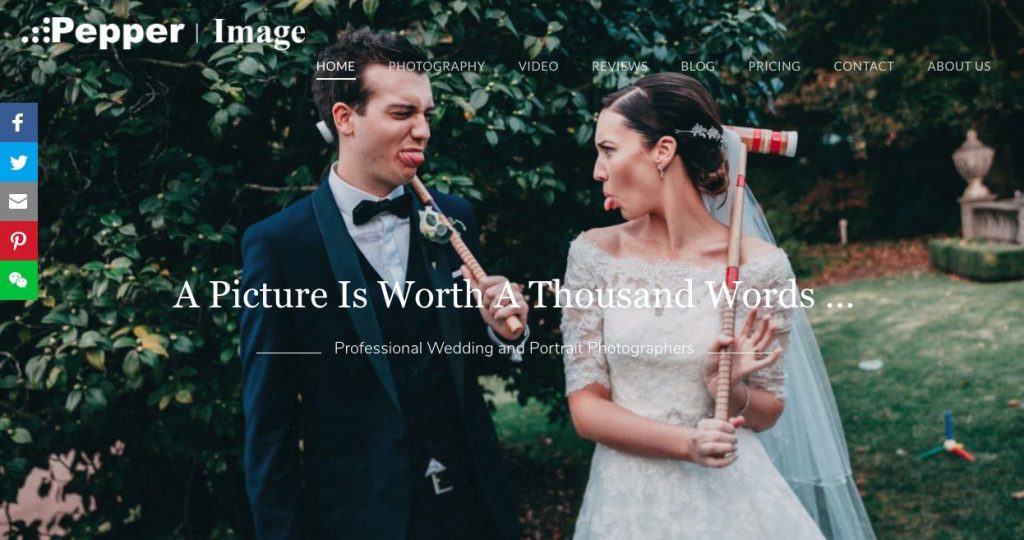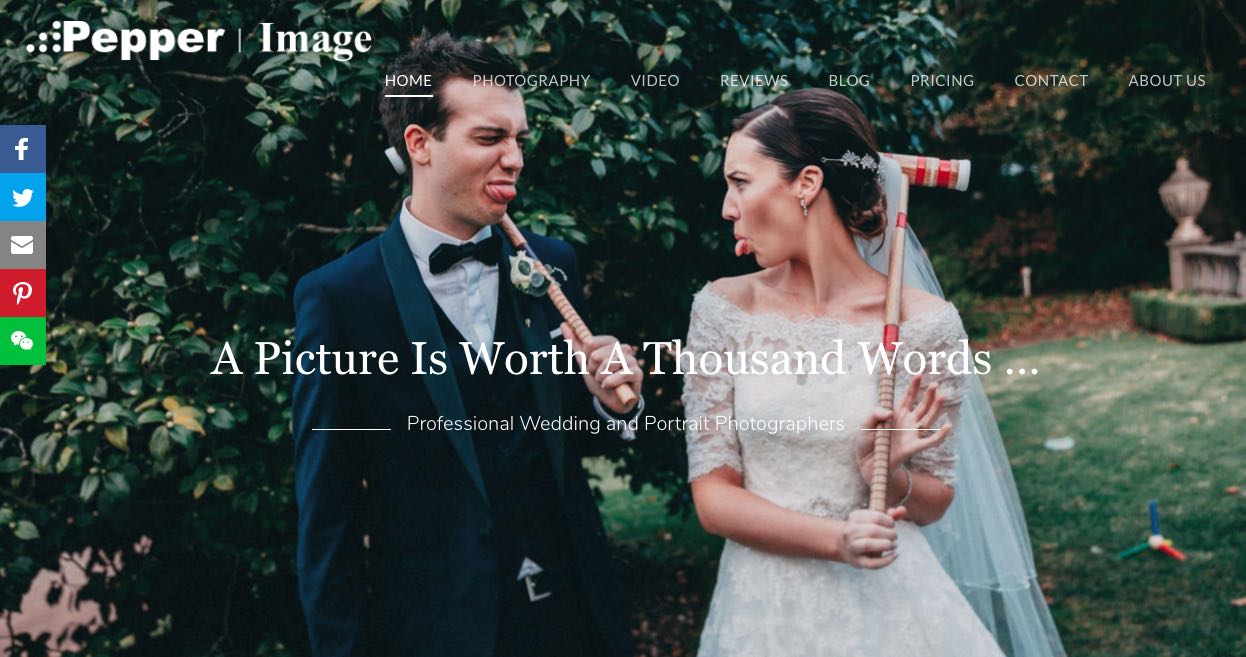 404821202
We Capture That Moment In Time That Will Last A Lifetime
As one of the top wedding photographers and videographers in Sydney with more than 15 years' experience, we know what couples are looking for in a wedding photographer. Over the years, we have been honoured to be featured in many well-known wedding magazines and blog sites. So if you like to find out more about our services and the affordable prices, feel free to contact us today to discuss your best options with a professional photographer.
Award-Winning Professional Photographers Sydney
The team of experts cover everything from weddings, engagements, a new baby or a family portrait. Our innovative and creative team will work alongside you to capture the last and natural moments in your life. A laugh, a tear, a gentle touch or a loving glance, through a single image, is what makes photography magical, that you will treasure forever.
Our approach whilst photographing weddings and families is to tell your story for future generations. You as you are, as unobtrusively as possible, whilst still allowing for an element of creativity.
The Moments In Which You Live, Love And Are Loved
Specialising in capturing beautiful moments with our modern blend of photojournalistic and classic photography.
Pepper Image makes sure to reflect your personal style, needs and feelings on every photograph. Our unique style has something to offer to everyone – fresh and fun, contemporary and graceful, or sophisticated and classic, name it and we can do it. We love making beautiful images that we know you will love too.
We offer affordable deals and packages that let you enjoy our top-notch services, whether for a few hours or the whole day. Based in Sydney, we can also travel to meet all your photography and video production needs.
Kieran Mellor Films Wedding Videographer Sydney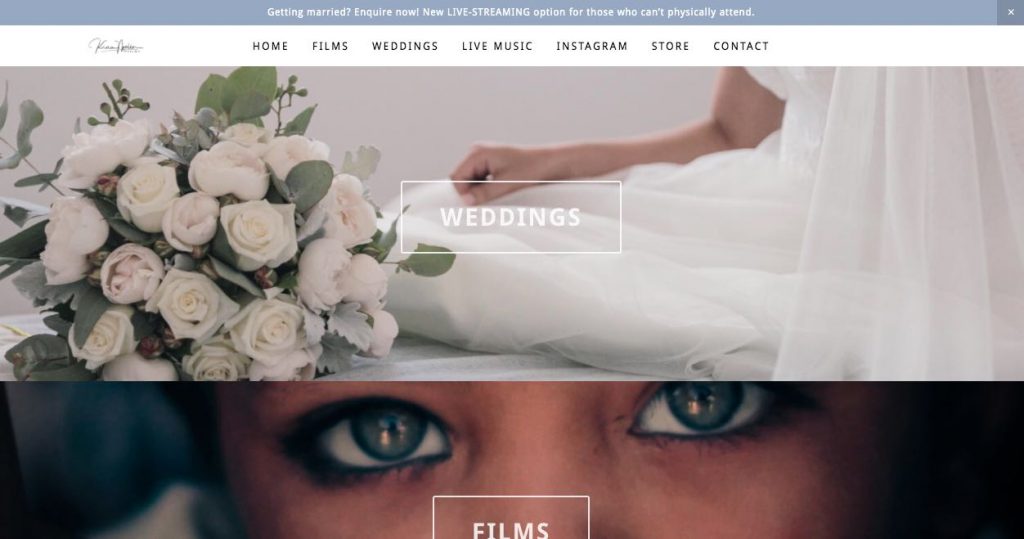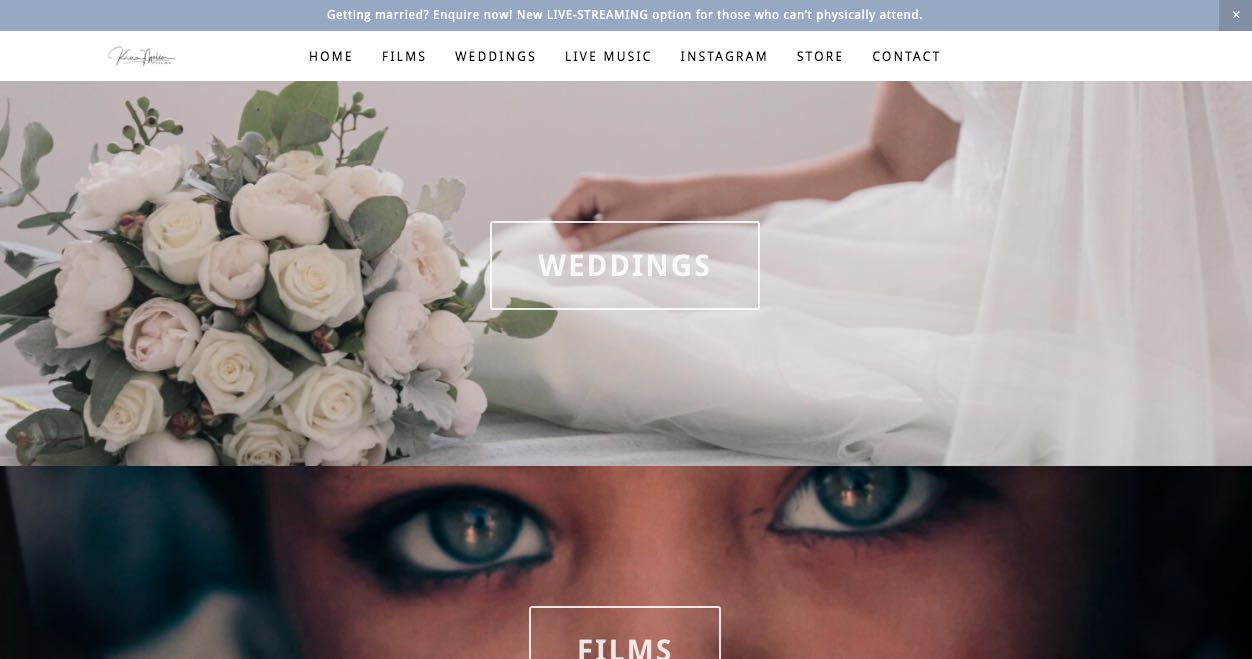 Weddings
Handcrafted films you'll cherish for a lifetime
Way Up High Wedding Video Company Sydney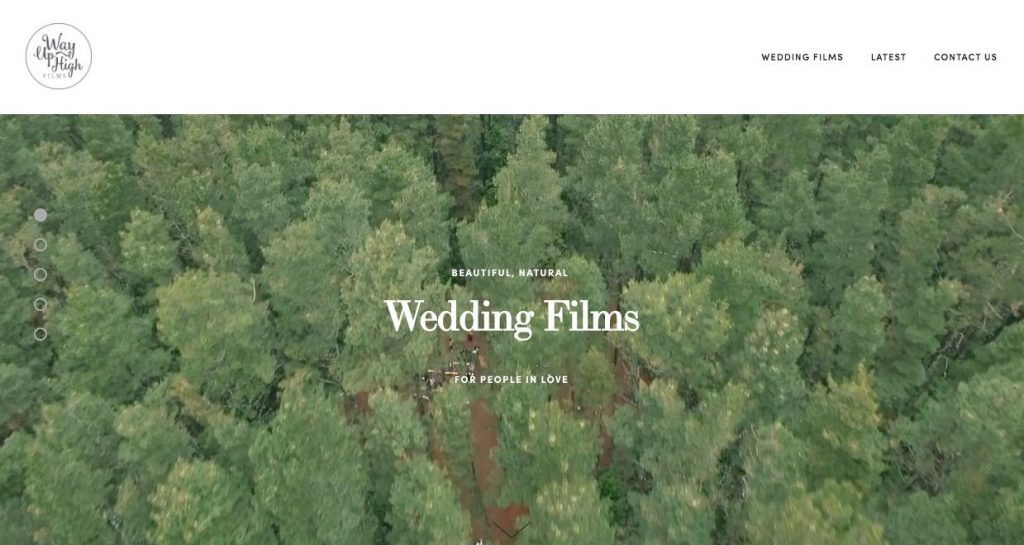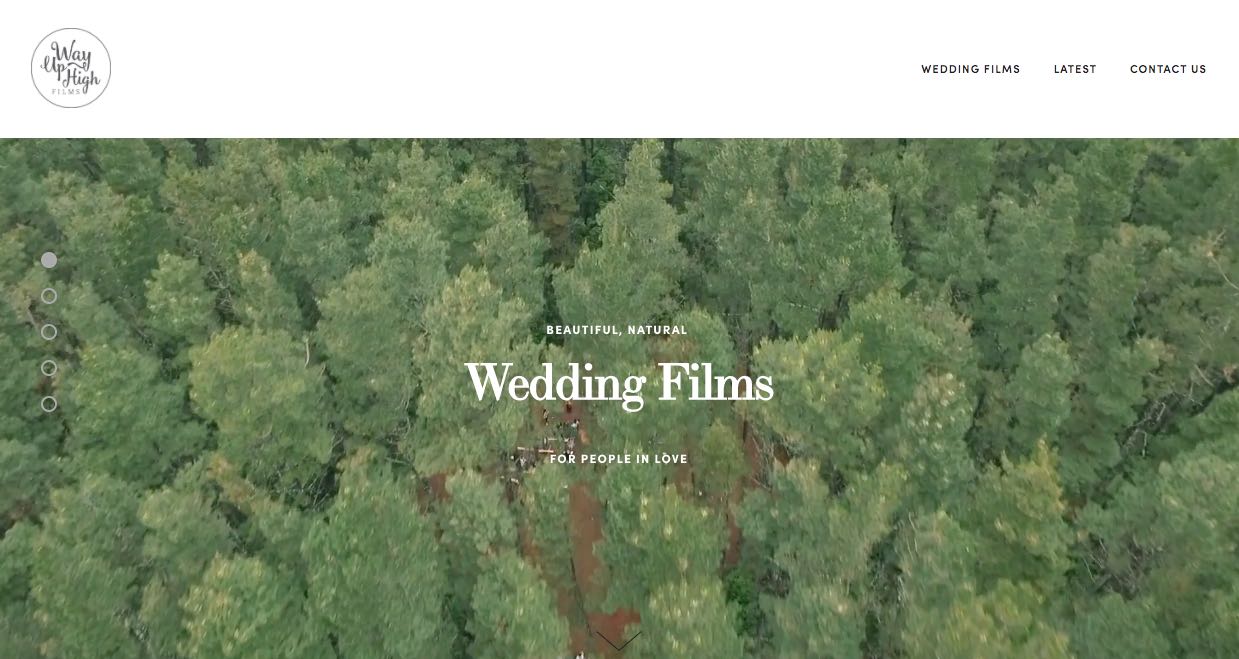 422371360
Natural, Candid Wedding Cinematography
Born from a love of cinema, way up high films your day unobtrusively to capture real emotion, creating a film to love.
We are Kara and Brad. A husband and wife team who love filming weddings, capturing moments and allowing couples, their family and friends to relive the day. This is your memory, and we pride ourselves on creating a beautiful, authentic film to be enjoyed for all the years to come. It's pretty impressive, really!
On the day, we like to remain in the background capturing the day as it naturally unfolds. This approach is perfect for couples who may feel intimidated in front of the camera. Our equipment is kept to a minimum, and we film in a natural hand-held style for most of the day, allowing us the freedom to capture all those special moments unobtrusively and also allowing your photographer to work their magic with little distraction. We both use from our editing suite located in Bowral where together we put our heart and soul into each and the story of every couple.
You might notice in some of our films, and there is some old school footage!! This is a real film!! We have an old Super8 film camera that we can bring along on request.
Pricing
Having your day filmed is one of the best decisions you can make for your wedding.
Being able to watch the emotion play out and hear your vows and speeches again, not to mention reliving all of the action on the dance floor is fantastic! After the day, having your wedding video to share with your family and friends for all the years to come is priceless.
Our wedding packages start at $3300 (inc. GST). We know that every wedding is different though, so get in touch, and we can discuss your day!
The Packages
ESSENTIALS PACKAGE
This package is designed to cover the most critical aspects of the day, with non-consecutive coverage for more flexibility.
HIGHLIGHT PACKAGE
Typically covering from preparation until after the formalities, this package delivers all of the best moments in a sweet Highlight Film as well as the full ceremony and all of your speeches to look back on. Our most popular package and well suited to most weddings.
FEATURE PACKAGE
Allowing for more time on the day, with this package, we can tell more of your story. Usually covering preparations right through until after formalities, you will receive a beautiful Feature Film, as well as the full ceremony and speeches to feast your eyes on!
Wunderlust Media Wedding Videographer Sydney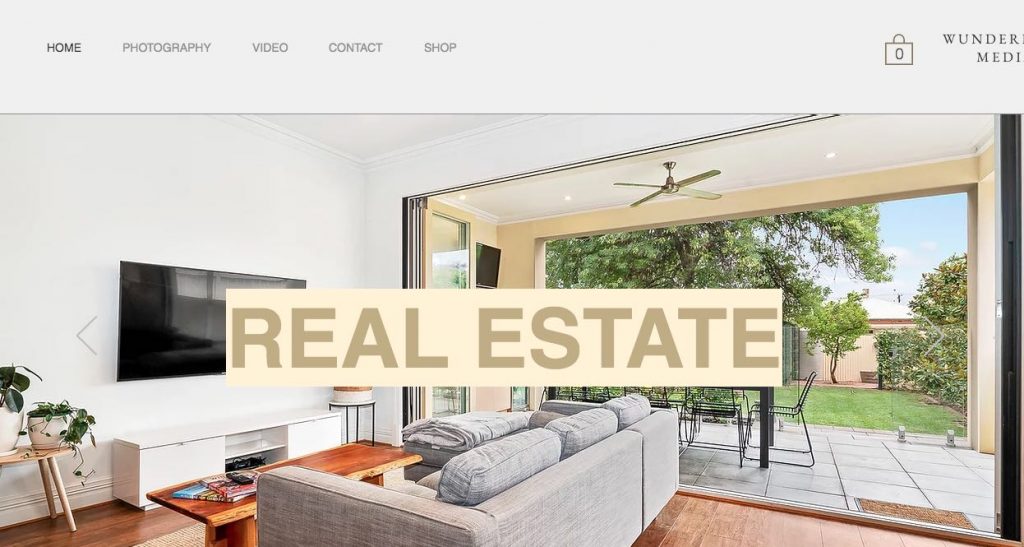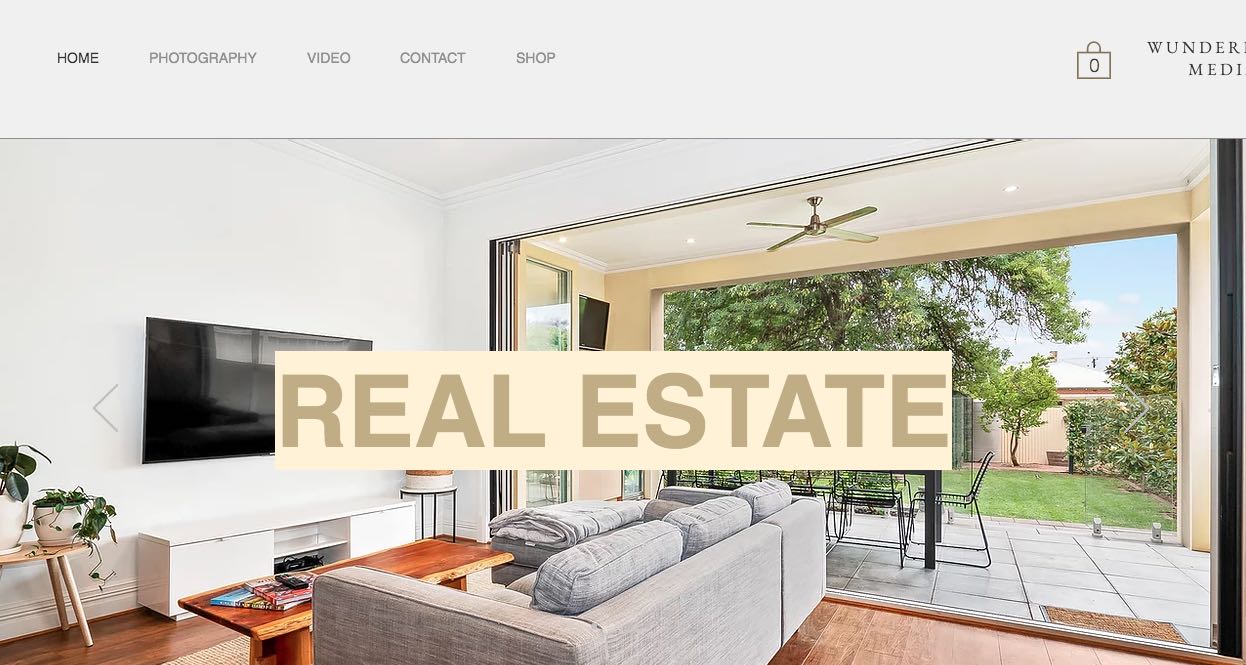 476414274
Welcome!
Wunderlust Media is an NSW based photography business that focused on capturing amazing landscapes, real estate imagery, architecture and weddings—founded in 2015 by Jake Wundersitz.
Wild Acre Studio Wedding Videographer Sydney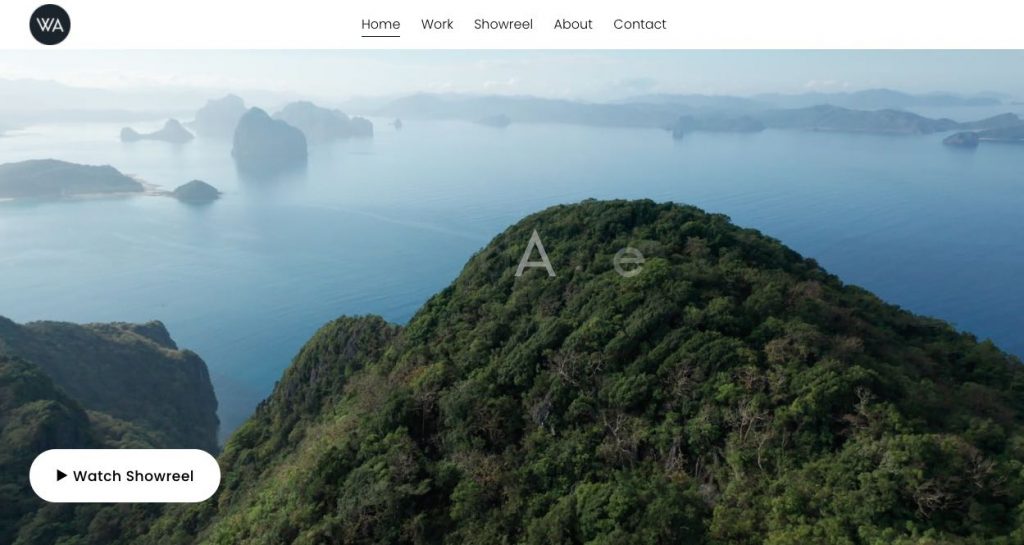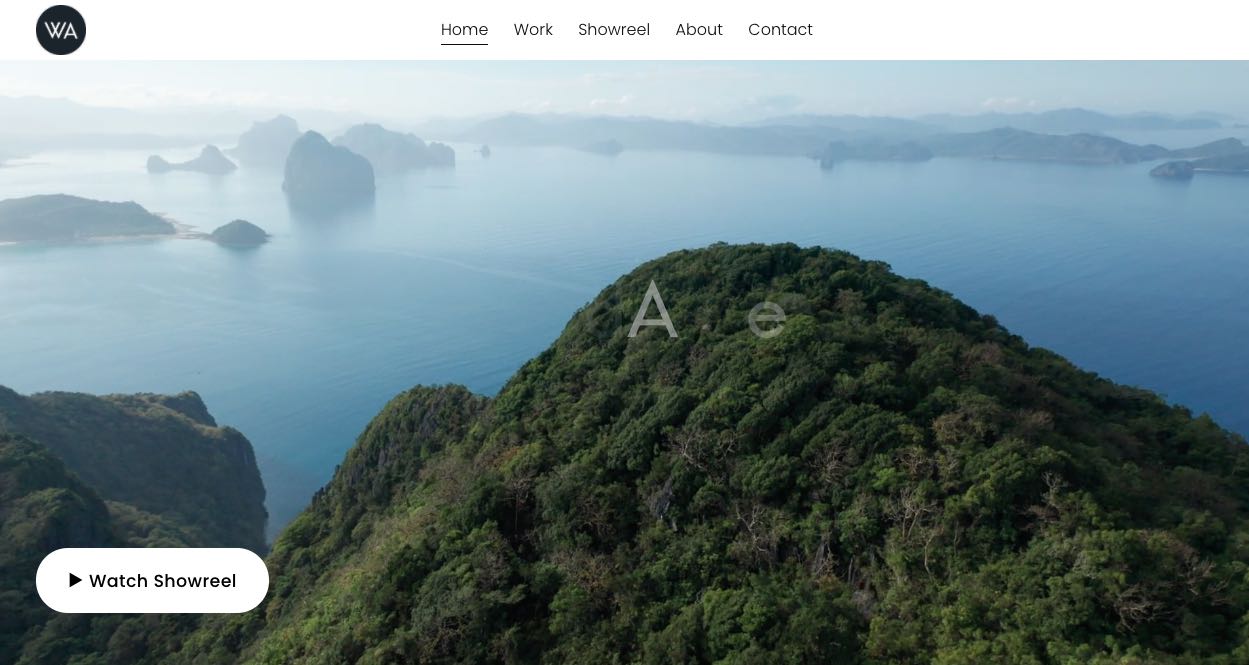 423951563
Who We Are
We create films and videos for brands, businesses, organisations and agencies.
With a background in advertising and documentary, our experience has provided us with a foundation in the principles of creating compelling narratives, which we now use daily to produce engaging content.
We have been fortunate to work with some of the world's largest organisations, from billion-dollar businesses to highly influential NGOs, producing videos that have garnered 1,000,000+ organic views online.
Why WildAcre Studio
We believe good communication is fundamental to ensure the films and videos we create can exceed expectations. Therefore, we work closely with our clients to keep them engaged throughout the production process, from establishing the brief through to the final project delivery.
Whether we're producing a short documentary, a brand film, or a social media campaign, we are excited about creating movies and videos that capture the imagination and earn attention.
If you would like to know more, let's chat.
Honey Bear Films Wedding Videographer Sydney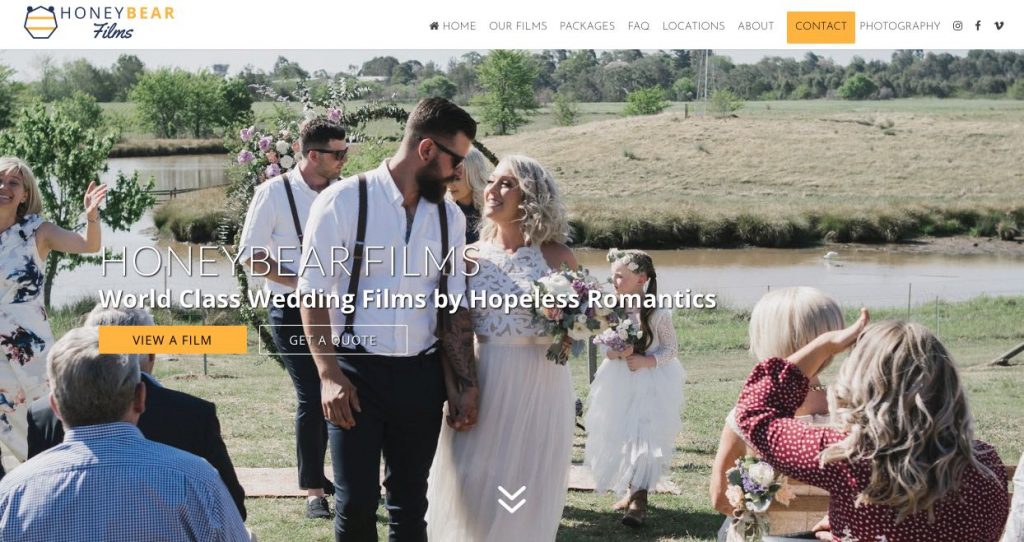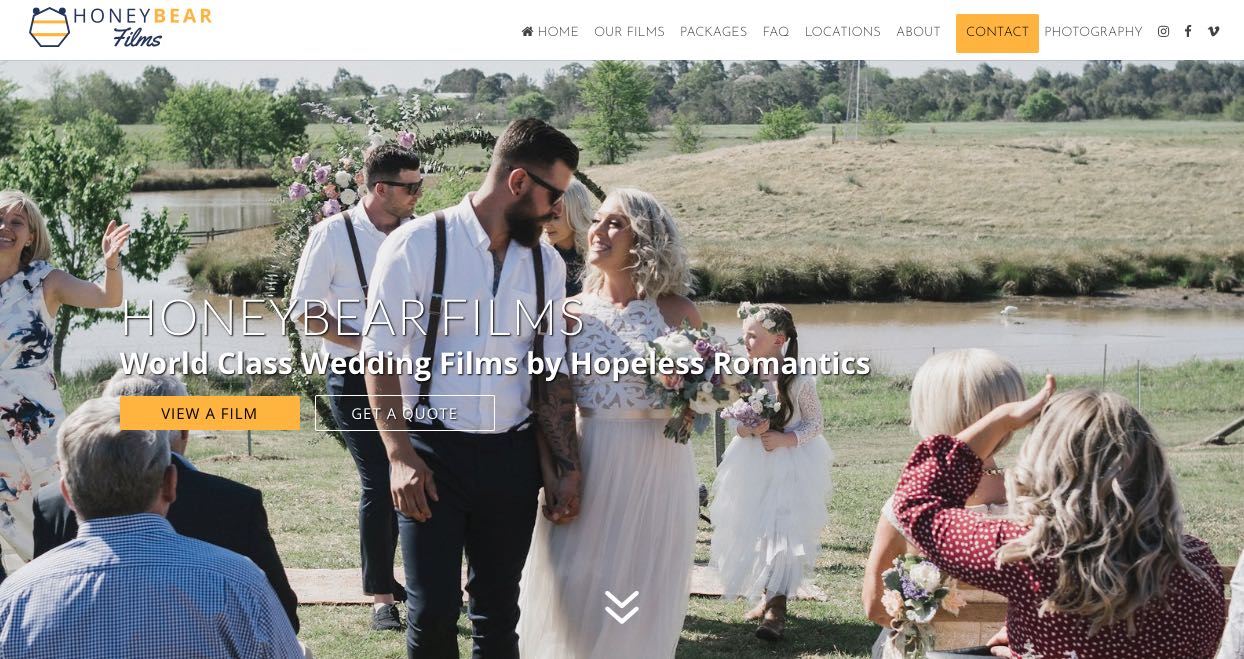 427956763
Get Creative with Sydney's Trusted Wedding Videographers
When you're choosing between wedding videographers in Sydney, it can be hard to know which company to go with. You're looking for a style that is both cinematic and candid, that showcases the significant points of a wedding whilst similarly capturing the intimate moments. All of this must be paired with professional cinematography, skilful editing, and exceptional customer service and commitment.
At HoneyBear Films, well offer all that and more. Our point of difference is our incredible team. Each of our members come from a diverse background of educations and skillsets, all of which have culminated in HoneyBear being a haven for creatives who all have one essential thing in common – we love weddings!
You can learn more about our coordinators, videographers and editors by reading their personal profiles.
Book With Sydney's Best Wedding Videographers
We are excited to get creative, bringing your personality and love to the big screen across Sydney and beyond. We are happy to provide you with quotes for the best package to suit the vision and budget of your wedding. Fill out an enquiry form or send us an email at [email protected].
Our Wedding Video Packages for Sydney Couples
Weddings are no inexpensive venture, mostly when they're being held in major venues around Sydney, Melbourne, and beyond. Having been in the industry for so long, our videographers know that wedding video and photo prices can sometimes be exorbitant. So we've developed packages to suit every budget and need. And if there's something else you're after, get in touch with our experienced videography team, and we'll make it work.
Wedding Videography at the Most Affordable Prices
We take the guesswork out of wedding videography by clearly listing the prices of our packages. When you're planning a wedding, you don't have time to get bogged down in quotes. That's why we choose to be upfront with what's included in each option. Beginning with the TeddyBear Package at $999 up to our Documentary Package at $2999, Sydney lovebirds are sure to find the option that suits their budget and needs. We also have a variety of optional extras that our videographers can assist you with choosing, such as drone use, photographer deals, and other customised alternatives. Speak to our videography team about tailored packages.
Iconic Pictures - Wedding Video Company Sydney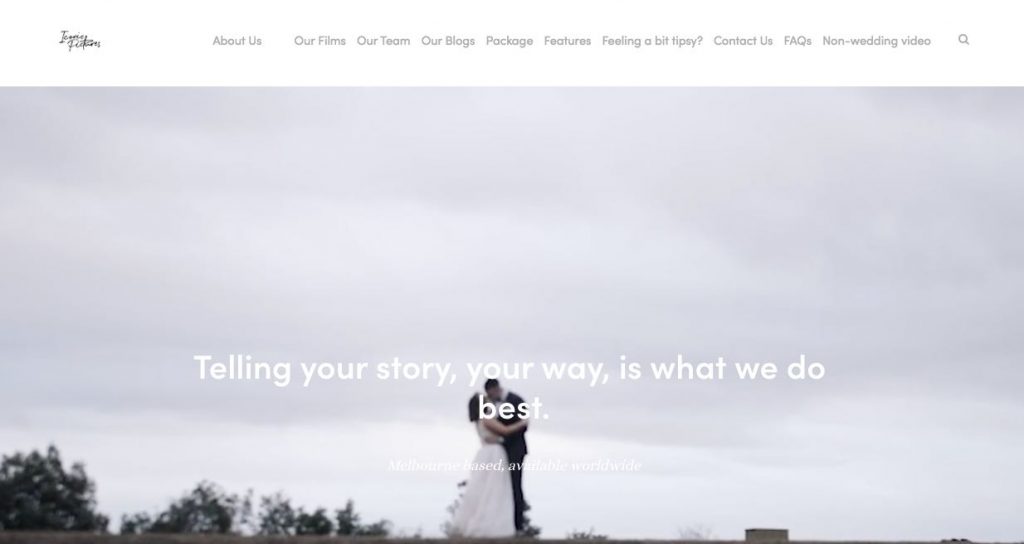 433416313
The story of your wedding day will be one of the most precious of your lifetime. That's why it's such a privilege for us to bring these stories to life. So far, we've captured hundreds of weddings, so we know what works and what doesn't. One of our videos won the Gold Award at the AIPP Video Producer awards, and our rad clients give us rave reviews on Facebook.
Most importantly, we know that every story is different – and therefore every wedding film we make is foreign too. By 'different' we don't just mean grabbing a random soundtrack and calling it done, we're talking about an exclusively handcrafted, premium approach from beginning to end. We get to know you and your quirks in preparation, capture the tiny beautiful details on your day, find the perfect music to complement your footage, and bring it all together in a blow-your-socks-off video that is undisputedly, remarkably 'you.'
Telling your story, in your way, is what we do best.
Our Price List
BASE PACKAGE - $3,850
8 hours coverage on the day
Handcrafted Highlight Film (just like the sample on our website)
Raw Edit contains 2-3 hours long video (everything that is captured on the day, cleaned up)
One professional videographer (with Multicam set up during the ceremony and bridal dance, if possible)
Music licensing for the highlight film
USB Box Packaging
EXTRAS:
Extra hour - $250/hr
Drone Coverage / 2 hours with 2nd videographer) - $400
2nd videographer for up to 8 hours of coverage - $1000
Iconic Edit ( +- 45 minutes of fully edited cinematic film with music) - $1,000
Same Day Edit - $1,350
Jump the queue (2 weeks delivery) - $350
4K Delivery - $350
Perfect Moment Wedding Videographer Sydney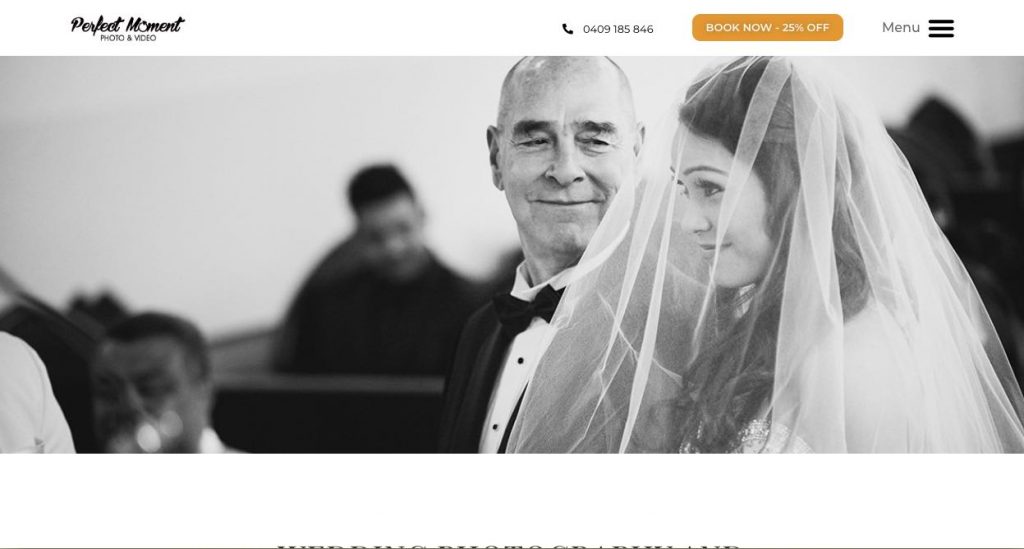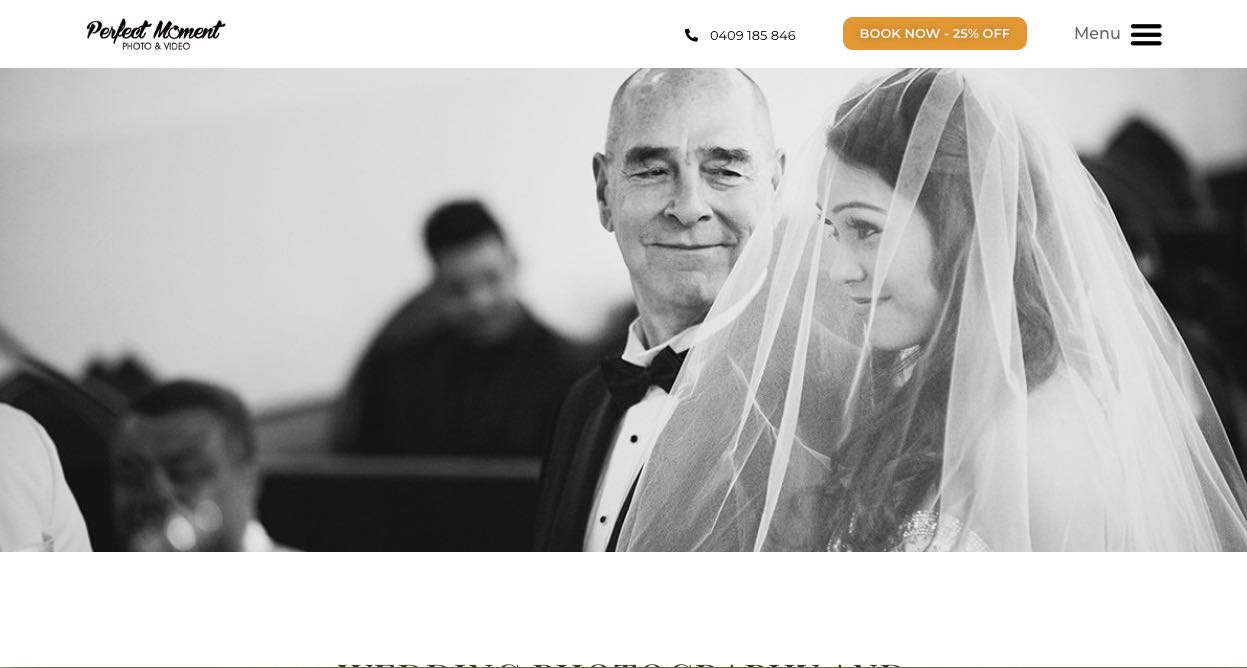 409185843
Finding the Right Way to Capture Your Day
A picture paints a thousand words. But a video paints a thousand different images and can tell the full story of your wedding day.
It's the most important day of your life when you pledge your love to that special someone before friends and family. And having a cinematic record of events, from preparation to the celebration, is worth its weight in gold.
But it has to be perfect, and a wedding film by Perfect Moment Photography and Video will ensure the memories are perfectly preserved for generations to come.
Trust Perfect Moment With Your Videography Needs
Pre-wedding photography is the opportunity to begin building the theme which will be incorporated into your wedding day.
Create Lasting Memories at a Perfect Moment frame by frame
At Perfect Moment, we go that extra mile to deliver the results that our clients are looking for. We tailor our service to give you precisely what you want and our record speaks for itself. Why not peruse some of our previous work to get an idea of what we could achieve for you on your special day.
We aim to tell your story as no one else can, and we are happy to travel to your wedding anywhere in Sydney to capture it. So to make sure your special day becomes your favourite movie, entrust your wedding videography to Perfect Moment Photography and Video.
What Makes Our Wedding Videos Special?
Many companies in Sydney can video your wedding. Some couples even try to do it themselves, relying on Uncle Terry and his camcorder for a record of events.
But why would you want a record when you could have your full story told in the film, a chronicle of your special day shot by experts showcasing not only the essential formal moments but capturing those priceless cameos throughout the day as well.
A good videographer will weave the two perspectives together to show the happy couple in all their splendour, while also capturing the essence of what makes your wedding unique, the true spirit of the occasion.
Top Choi's Wedding Videographer Sydney
294371804
WELCOME TO TOP CHOI'S PRODUCTIONS
We are here to take you on a journey, something new and different, a reel of moments to tell your story for years to come.
Wedding
Top Choi's Productions will provide you with the most outstanding work of art that embodies the unique essence of your wedding day.
There is no standard edit at Top Choi's Productions. We will discuss your video in detail to ensure that we match the tone, pacing and style you desire. You are unique! And our focused goal is to make your video memorable as well.
We believe in a relaxed approach and candidly capture you basking in the glow of your special day.
Our team has excellent knowledge of the various religious traditions such as Indian, Muslim, Chinese, Vietnamese, Lebanese, Serbian, African and Jewish and work diligently to ensure we capture these moments.
We believe in a relaxed approach and candidly capture the bride and groom basking in the glow of their special day.
Top Choi's Productions will provide you with the most outstanding work of art that embodies the unique essence of your special day.
For over the past decade, we have filmed hundreds of events across the world, making us masters of event storytelling. There is no standard edit at Top Choi's Productions. We pull your story from the truth, and this is what makes us unique.
We believe in marriage: what it means, the power it holds, the way it shapes us, our culture and the world. Becoming one—and serving one another—is a worthwhile pursuit and we believe through the wedding films we create, we inspire love and make a difference in our little corner of the world. ​
Our Commitment To You
Having teamed up with thousands of wedding professionals at the hundreds of weddings and events we've filmed has given us many opportunities to create extraordinary films and unforgettable experiences for our clients.
We are humbled and so grateful for the reputation we've gained because almost 80% of our work comes from referrals including both the people who pay us to do our job AND the people in the industry that like us. We are proud of what we are specialised in.
OUR SERVICES
Best Equipment
We film all videos on high-end cinema cameras. No matter what your budget, we still use only the best equipment as we will not compromise on quality. We own all our equipment and therefore, can give you savings of up to 70%...
Peace of Mind
We are experienced, sought-after wedding cinematographers who make premium, cinematic wedding films.
In-House Editing
Unlike others, we do not outsource your film to overseas suppliers for editing. All our editing is done in-house. Your identity and personal details are 100% safe, secure and protected.
All Budgets
No budget is too small or too big. We can customise a package that suits your needs.
Experience team
You don't pose. We won't impose. We want our videos to be natural and not staged. We encourage you to 100% just be yourself.
Drone Cinematography
Get a never-before-seen bird's eye view of your wedding. We offer Drone aerial cinematography that makes your wedding at its most splendid.
Symmetry Media - Wedding Videographer Sydney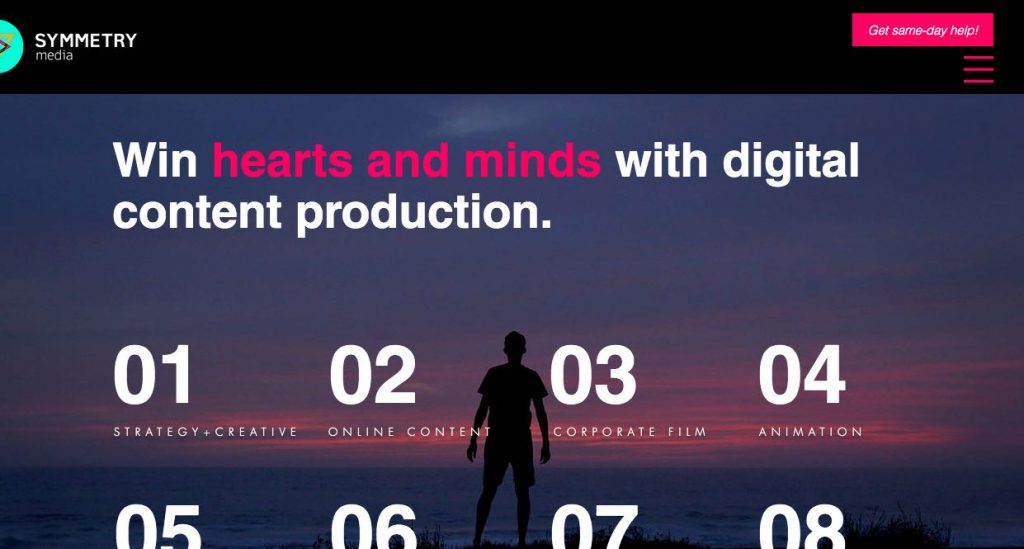 286078623
Strategic Content Production. Fast and effective.
With the world changing at incredible speed, you need a fast and nimble creative team at your disposal.
At Symmetry, we are a company founded by millennials and digital natives who are perfectly placed to deal with the new Australian and global market landscape. Our specialised team of creatives, directors, producers, editors and animators are ready to tackle any brief and help you adapt to the new market conditions, creating fast-turnaround, low-cost content that will help you retain customers.​
We believe in forging long-lasting partnerships with our clients and collaborators; and in times of uncertainty like this, those relationships are more important than ever.
Whether you're looking to engage consumers on social channels with a branded content piece, educate customers with a dynamic explainer animation or inspire employees with a corporate film or UGC piece, we're here to help.
Jesse Lee Films Wedding Videographer Sydney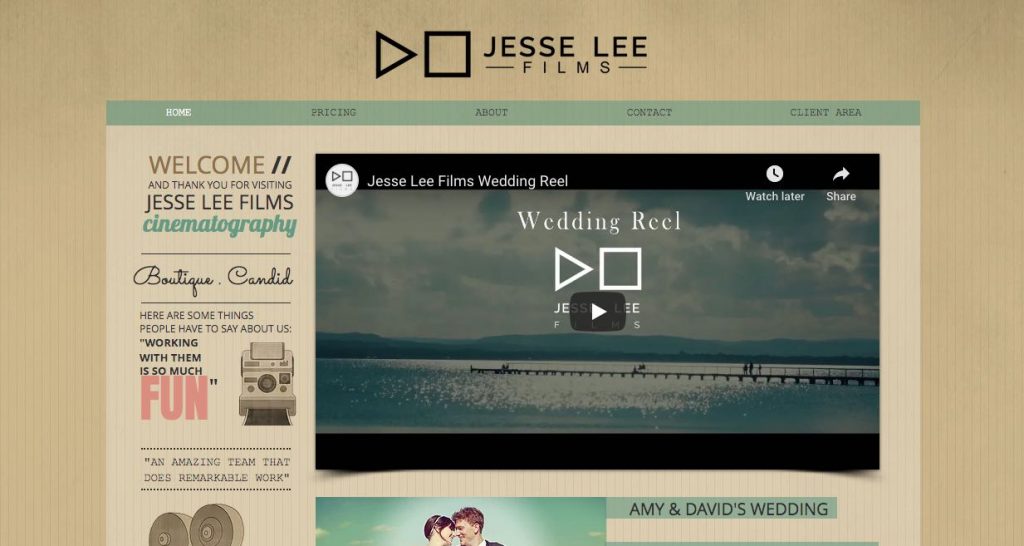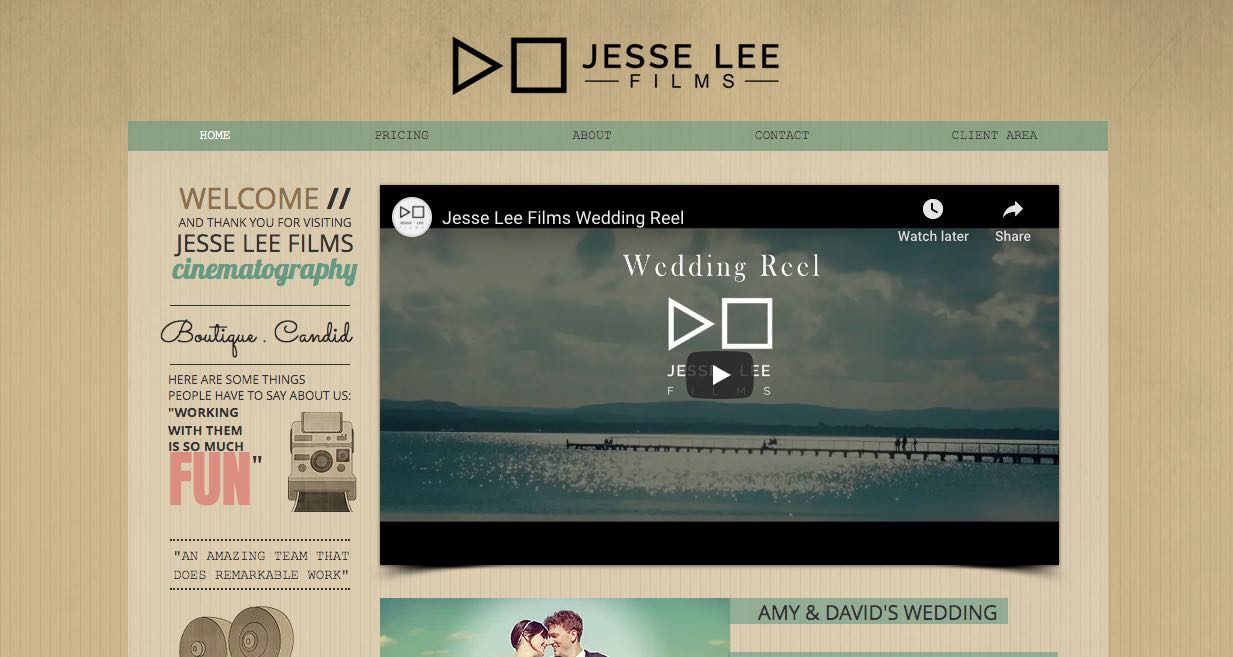 420301612
In 2015, I started shooting weddings, mostly by chance, but I soon realised I found my calling. Here was an opportunity to do what I love, in a way that was honest to me and my passion.​
Since then, I've been lucky enough to win awards for filming, have our calendars booked out few years in advance, able to meet good people along the way and wake up every day loving what I do.
I'd like to thank you for considering me as your filmmaker. I look forward to the fun times at the shoot and also touching your heart in some ways through my films.
I capture real emotions in your own elements and don't ask you to act out a fake laugh.
As well as numerous wedding films, I have experience in short films, feature-length documentaries, music videos, all kinds of promotional films.
As Jesse Lee Films grows, we now have a passionate team of shooters & editors, and we only take limited & exclusive number of jobs a year so don't miss out!
Happy to communicate in English or Korean for your ease.
Keeper Films - Wedding Video Company Sydney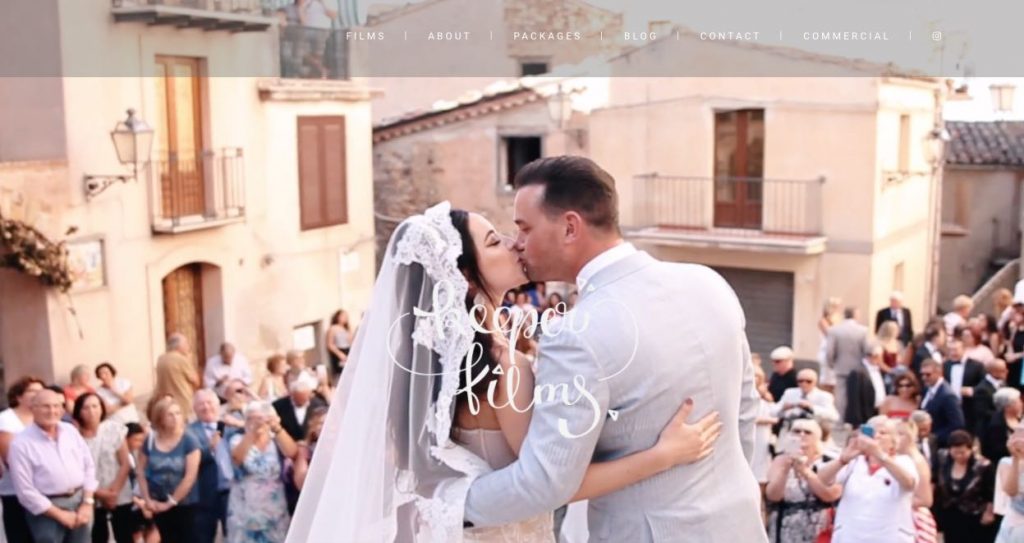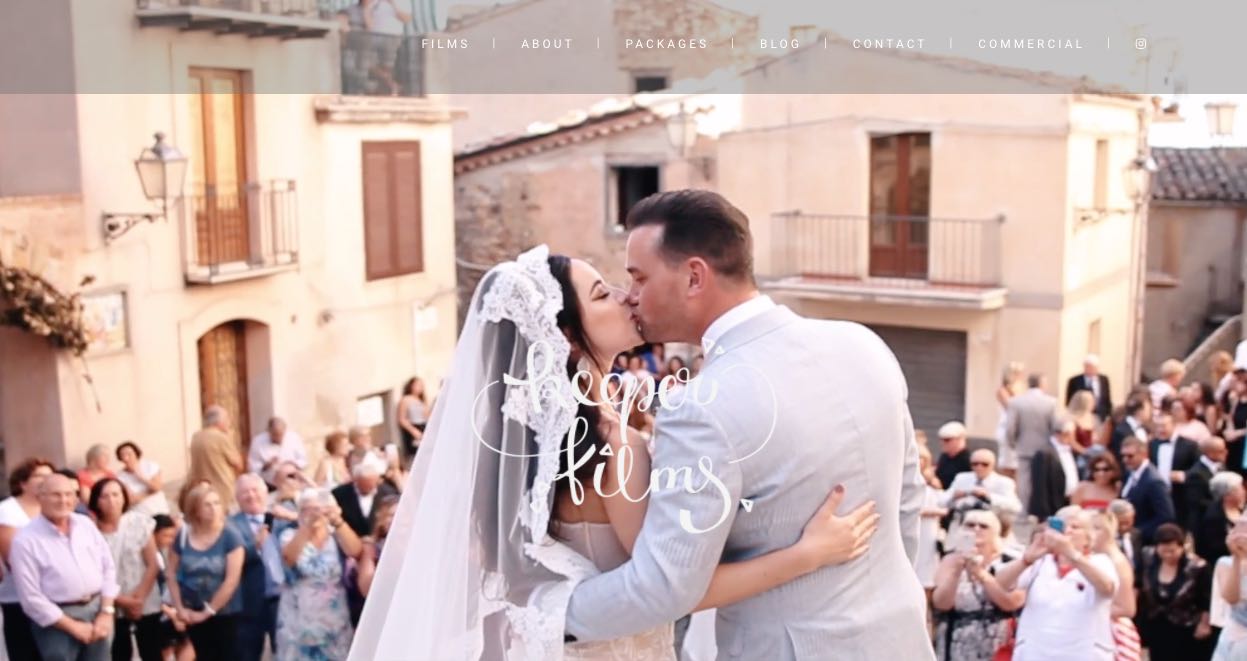 403412573
Keeper Films turns one beautiful day into memories you can keep for a lifetime.
Hello, I'm Ari! I founded Keeper Films because I'm obsessed with telling stories of all kinds, and love stories get me pretty good. I'm all about human connection and getting a little glimpse into the lives of two people I would never have otherwise met – their family and friends, their culture, their style, the unique story of how their paths wonderfully intertwined – is honestly just so fun and special! I get to capture an incredibly precious moment in time, and you get to keep it as a film – forever.
The film is my passion. I went to film school, I watch way too many movies, and I also create many other videos as part of my job, including music videos, brand ads, fashion films, web content, and hopefully some feature films in the future! So you can rest assured that the technical aspect of your film will be ON POINT. Cinematography and editing are my jam.
For most of my life, I've been told I'm very "chill" so hopefully, this is your vibe too! On the big day, I like to keep it calm and natural. I capture the candid in-between moments which work so magically in films, and I promise you, these are the moments you'll treasure forever. We basically just have fun all day, alongside whichever brilliant photographer you've chosen. Speaking of brilliant photographers, I know a few, so please let me know if you're struggling to decide! I also have a team of wonderful second video shooters to call on if your wedding requires this.
If you still need that final push, check out our post on reasons you need a wedding video, and of course, we'd love to chat!
I've been lucky enough to travel to Thailand, Ireland, Italy and Spain to film weddings. I can't even describe how much I loved it. So destination weddings, country weddings, underwater weddings. You name it. I'll be there.
THE PROCESS IS SIMPLE
Get in Touch
If you've had a browse and like what you see, please get in touch through the contact form. We can work together to create the perfect package.
Connect
Let's grab a coffee, jump on Skype or just text emojis to each other a lot. It's critical that we understand your style and what's important to you.
Shoot
This day is all about you. All we need is a run sheet a few weeks before the wedding, and we can handle the rest. You won't even notice us.
Edit
While you relax on a beach in Spain, we'll be working away in the lab, creating a highlight film that hopefully captures the essence of your day.
Celebrate
Within 8-12 weeks, you'll receive your video online. Grab a wine, some tissues, and enjoy! Any extra videos will come in the mail soon after.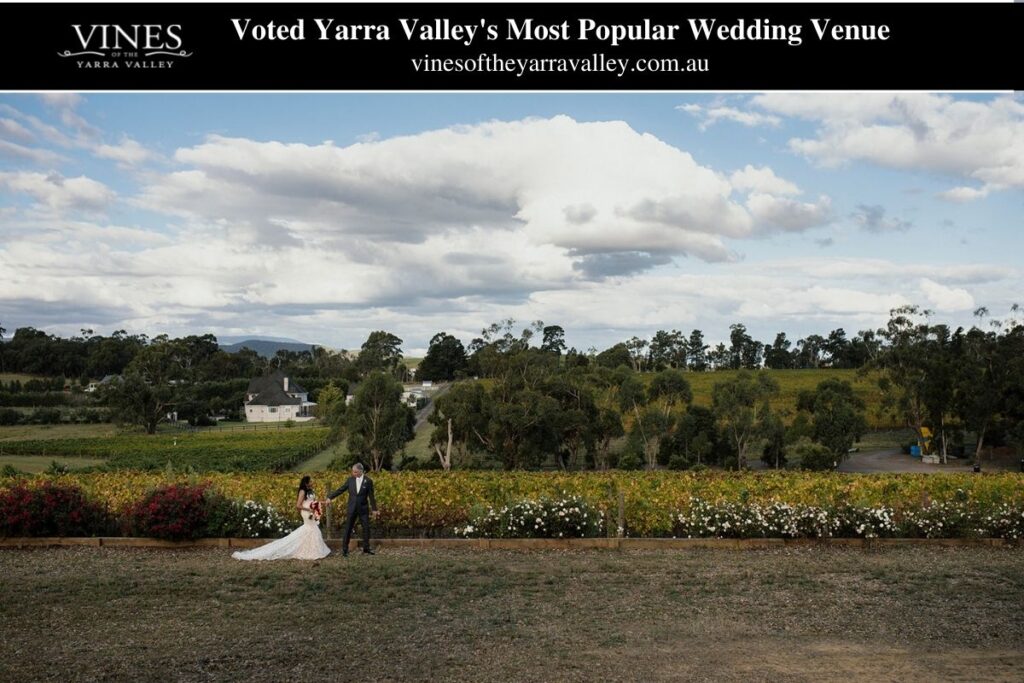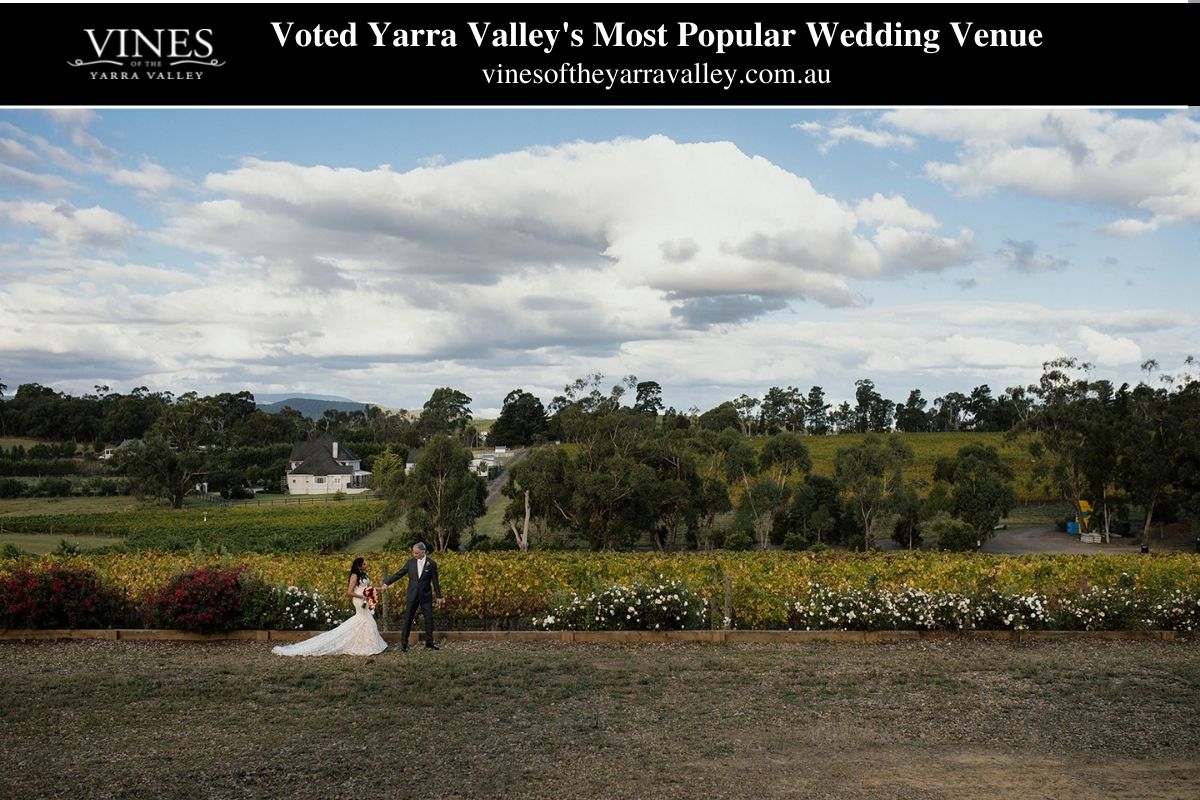 Fame Park Wedding Videographer Sydney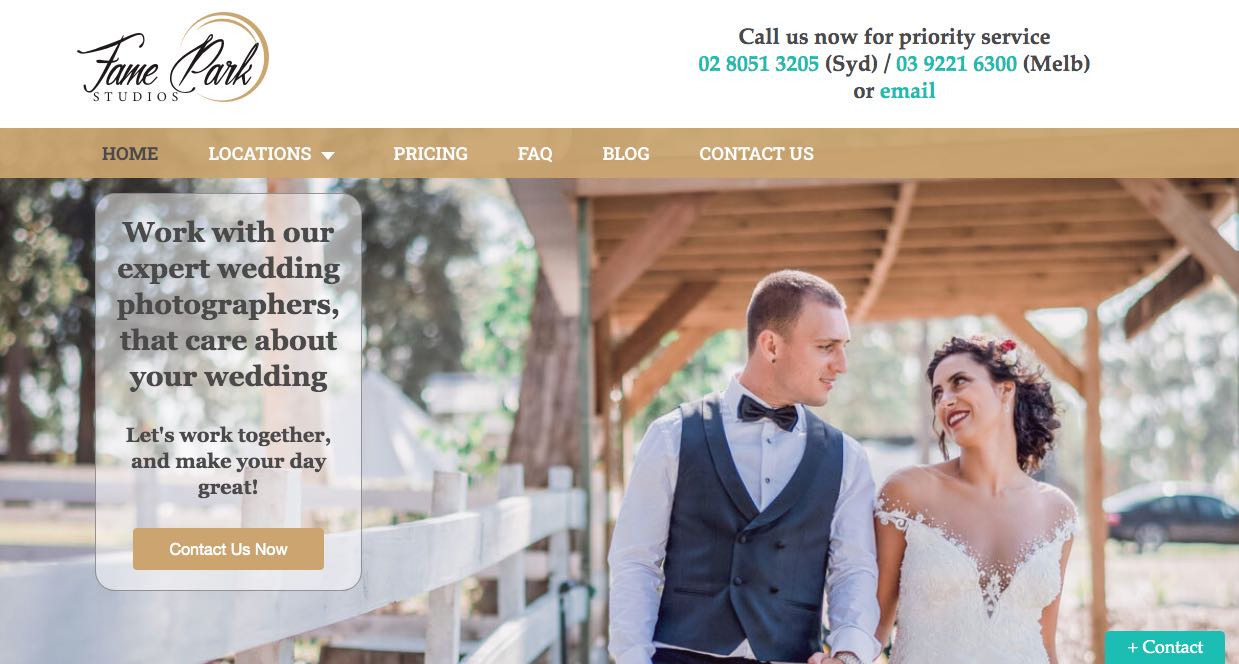 280513202
Cosy, Natural, Candid and so comfortable to work with.
– feedback from hundreds of couples who chose us for their big day and you will be the next one, then give us a holla when you're ready.
Blending popular candid, natural wedding photography style with traditional posed shots, we use photography and videography as a channel of storytelling to capture the epic moments in your wedding. The result is a generous selection of stunning photos and footages that cover your day with a mixture of vibrant colours.
Based in Sydney & Melbourne, we are a team of professional wedding photographers & videographers whose passion lies in wedding photography & film. Blending in popular wedding photojournalism alongside traditional posed shots, we use photography and videography as a channel of storytelling to capture the epic moments in your wedding.
The result is a generous selection of stunning film and photography that covers your day with a mixture of vibrant colours.
We are honoured to provide you with our Wedding Photographer Sydney & Wedding Videographer Sydney services in the most memorable day of your life! We have extensive coverage in both New South Wales and Victoria. It would be our pleasure to assist you for your memorable day with our Wedding Photographer Melbourne & Wedding Videographer Melbourne services to make your big day great!
Wedding Photography and Videography In Sydney by Fame Park Studios
There may be numerous things to keep in mind for your wedding day in Sydney. Still, it's worth noting that finding a good team of photographers, videographers and cinematographers can be especially important. Often, these types of experts will be able to help capture those precious moments for you, allowing you to come back and enjoy your wedding day for a lifetime to come. This is why putting in the effort to find the right team of wedding photographers can be crucial for almost anybody who's getting married.
Fortunately for you, you can read on to get a better idea of what a wedding photography agency could offer, as well as the benefits of hiring a wedding videography studio and professional cinematographers, too.
These individuals can be vital to how couples remember their weddings in the future, which is why it's so worthwhile to take into consideration everything that they have to offer and how they could be beneficial to capturing photos and videos of your dream wedding in Sydney.
Wedding photography
Probably the most common of the three, it's likely that most individuals will hire a wedding photographer regardless of where they plan to host their special day. Photography is such a strong aspect, simply because of the fact that when done right, it can provide you with something that will allow you to relive those special moments whenever you want.
Your wedding photos will commemorate the events of the day and be a beautiful reminder of your vows, your loved ones, and so much more.
Wedding Videography
When it comes to seeing those unique moments in motion, there's not much that a photography agency can do – which is why it's so important that couples look for a professional wedding videographer in Sydney to help, too.
A quality wedding video can't replace a once in a lifetime snapshot, just as a video can provide you with so much more than a static image, so many couples find it a wise idea to hire both types of experts. For a more comprehensive view of your wedding, especially when the day is likely to pass by in a blur for both the bride and groom, having access to a full video and select photographs is essential.
Wedding Cinematography
While similar to videography, a wedding cinematographer plays yet another role that can produce a completely different result. Unlike recording the events as they happen, an experienced cinematographer will aim to provide their clients with a finished video that closely resembles a more stylised film. Rather than showing the event as it happens, cinematographers paint the wedding in a new light and offer a truly remarkable keepsake in the form of an expertly shot and edited masterpiece.
With this in mind, anyone who wants to get the most out of their special day should certainly look into hiring a professional wedding cinematography team, whilst also considering their photography needs.
Pick the best wedding package for the big day in Sydney.
If you're planning your wedding day and want it to be perfect, don't miss out on the opportunity to capture every moment with a team of experienced wedding photographers, videographers and cinematographers. While there are quite a few people in the Sydney area who could help, it's generally best to take your time to find the perfect agency in all aspects of wedding photo and film services to ensure the highest quality results.
When it comes to getting the best photos and footage, it's often best to take the time to find a wedding photography and videography agency you can trust to provide you with the best photo and video results possible at your Sydney wedding.
There are several great videographers in Sydney, as well as some of the best photography companies that Australia has to offer. But if you want the very best services all in one package, it might be worth taking a look at what we could do for your wedding.
The very best cinematography and photography services for Sydney weddings
Fame Park is well known for being one of the best in the area in wedding photography, videography and cinematography, providing clients with the best photos and experiences, as well as affordable and high-quality wedding photo and video packages.
Our wedding photos and videos are all captured perfectly, and our film editing skills certainly aren't lacking either – which is why our services are ideal for essentially any weddings in Sydney. With an award-winning photography company like ours, you simply can't go wrong.
Soda Films Wedding Videographer Sydney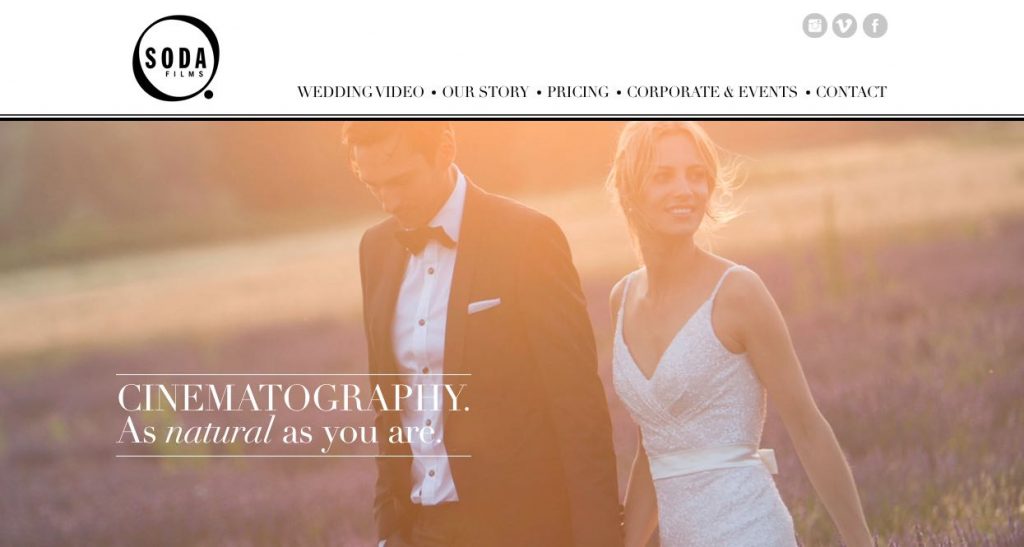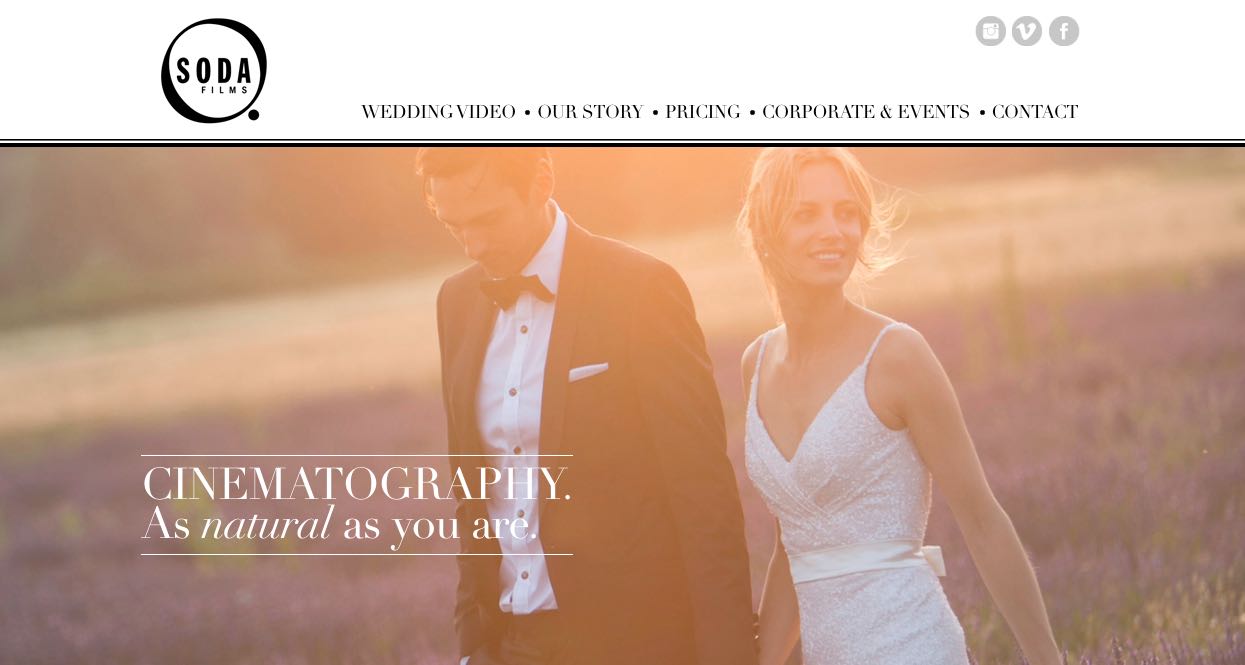 1300878023
Wedding Films & Videography to capture your special wedding day as it naturally unfolds. Creative experience gives you peace of mind. Let us tell your story… Now producing Wedding Films in Sydney, Melbourne, Australia wide, Europe and beyond.
Our Sydney/Melbourne Wedding Film Studio
Soda Films is a boutique Wedding Video studio with bases in Sydney & Melbourne specialising in beautiful, candid wedding cinematography. Our wedding films are produced using Full-Frame DSLR cameras, offering an unparalleled visual experience, nothing short of spectacular!
Soda Films is recognised as leading Wedding Videographers in Sydney & Melbourne in their field with many celebrities and high profile clients seeking our wedding video expertise as well as discreet approach for their wedding videography.
Although producing Wedding Video primarily in Sydney & Melbourne we are also the destination specialists for wedding films & videography, leading to the launch of Soda Films for weddings in Europe.
With our managing director and founder's French background as an influence for our wedding films, we have developed the unique and creative wedding video style we are known for.
Mapleton Street Studios Wedding Videographer Sydney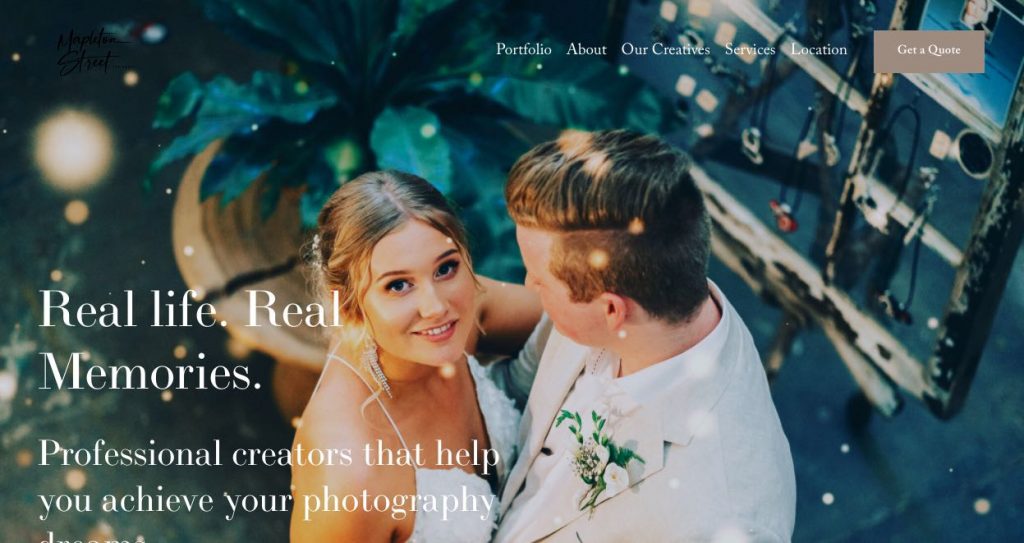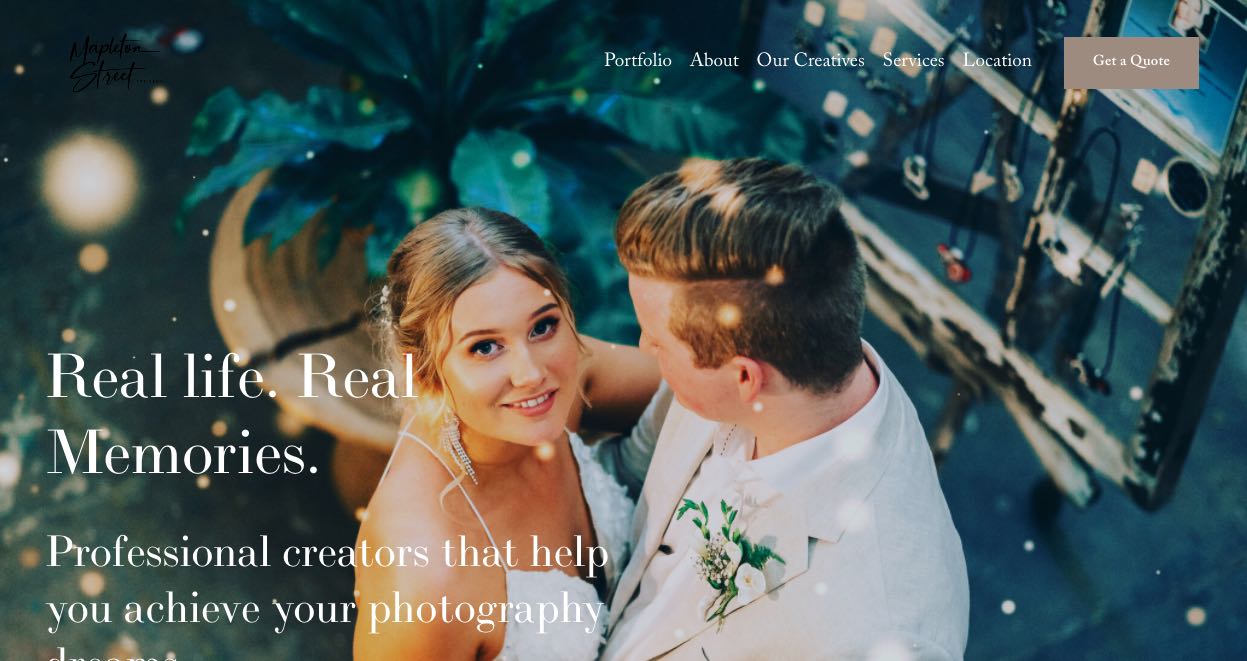 459826173
Who are we?
Mapleton Street Studios specialises in wedding photography, bridal and engagement portraits, corporate or business photography and candid family images.
We are also professional videographers and offer videography services (including live streaming).
To us, photography is about people, capturing candid interactions and allowing us to paint a picture of that moment to remember forever.
This is the story that matters most: real people, real stories, real emotions. We have been fortunate to travel this great country of ours, chasing life and capturing those special occasions.
We continue to evolve and find new ways to show uniqueness in every client's project.
Our blend of photojournalistic imagery and creative flair makes certain that your image or video will be unique and a true reflection of feeling.
Wedding & Event Videography.
Have you always seen those beautiful wedding videos on social media or YouTube and wished that you could document your day like that? Or perhaps you are after a professional videographer to capture your corporate event, or even create a video for your real estate listing.
Look no further!
We specialise in documenting your special day or event. Having an in-depth knowledge of the editing process, and researching the shooting location also ensures that your video is unique to you and not a carbon copy of every other video out there.
Got some ideas on how you want your video to look? Let us know, and we would love to incorporate your wishes, it is your video after all.
HOW TO CHOOSE YOUR WEDDING VIDEOGRAPHER
Be sure that you jive with the videographer
When you bring a videographer on, you're going to have to tango with them from the moment you sign the contract until months after your wedding during their editing process. You're going to want to make sure that before you sign anything, you're tangoing to the same beat.
Being filmed all day when you're not used to it is an experience. Whether it's a good or bad one is entirely dependent on how well you jive with the person behind the lens. And more importantly, the quality of your film is directly related to the degree of rapport you and your fiancee share with your videographer.
If you're comfortable around each other, then your videographer will know the little nuances about you that will make your film uniquely yours.
So grab a coffee or drink with a few different people. Which one do you feel really gets you as a couple? Which one is asking you the right questions? Which one shares your sense of humour?
Be sure you like the way their previous films tell stories
A bride once told me "There has yet to be a wedding video you've created that has not made me cry." Whenever I get feedback like that, it feels awesome because it tells me I am doing my job. I am storytelling.
The truth is, most couples have a story that could bring grown men to tears, but it can only happen if their storyteller (the videographer) takes the time before the wedding to get to know them enough to find that story and tell it with purpose.
I'd urge you to compare as many videographers as you can and see which videos really stand out to you. Why do they stand out? Why did one film make you cry when another didn't?
Make sure they have assistants to help split the tasks at your big day
I used to shoot weddings solo, and I would not recommend it to my worst enemy. There is just too much gear, too many balls in the air, too little time, and too many places to be at once for it to go smoothly. Choose someone who will send at least two people out on your wedding day.
Don't be afraid to budget for a videographer- a quality often depends upon what you pay
A lot of brides still consider video a luxury item to add to their wedding if budget allows. I would say that with that mindset, you may not want to get a video at all because you could end up paying for something you don't love.
There are no discount stores, coupons, or Black Friday sales for quality wedding videos. Filmmaking is a craft, and a well-put-together film takes thought, preparation, physical demand, high-quality gear, and editing time. I'm not going to suggest a price since prices vary so much, but I would budget at least the amount you plan on paying your photographer, and perhaps slightly more. No need to dismiss someone based on price, but be sceptical of someone who tries to sell you a highly discounted package.
Frequently Asked Questions About Wedding Videographers
Peak wedding season may also affect the cost for some vendors, making coverage from June through October a bit pricier and harder to secure. The range can often run between $1,200 and $1,500 nationwide or as much as $12,500 for a luxury shoot that turns you into a television-quality star for a day.
Wedding videography can be a significant investment within your overall wedding budget. After all, video footage is one of the only elements from your big day that you'll be able to cherish for a lifetime.
The reason wedding videographers appear expensive is because of the high costs involved in running a videography business. There are expensive overheads including equipment, insurance, training, advertising, the time cost of editing, and taxation.
Tips for Choosing Your Wedding Videographer
Be sure that you jive with the videographer. 
Be sure you like the way their previous films tell stories. 
Make sure they have assistants to help split the tasks on your big day. 
Don't be afraid to budget for a videographer- a quality often depends upon what you pay.