Choosing a private school for your child is one of the most difficult decisions you will have to make as a parent.
There's co-education, single sex, religious and non-denominational to start with, all before you consider whether to choose public, private or independent.
To give you a feel for the private options we've compiled this list of some of  Melbourne's leading private schools.
Let's be clear on one important thing: this is not a definitive ranking of Australia's best private schools based on pure ATAR metrics, and this can't be interpreted that way.
Our approach to selecting the schools was to look at those that had excellent student performance, were recognised as a prestigious institution, had distinguished alumni, and were reasonably priced.
Too many private schools seem to think that parents have a prolific "money tree" which can fund $30k+/year in school expenses (per child!). 
So in this list, we're actually going to consider school fees. These private schools provide an excellent education for your child, without you needing to remortgage the house. Let's dive right into our list of the Top 10 Best Private Schools in Melbourne.
The ranking of schools expressed in this article are author's research-based information and is not an objective ranking.
List of Best Private School in Melbourne
Sacred Heart Girls' College Oakleigh Private School Melbourne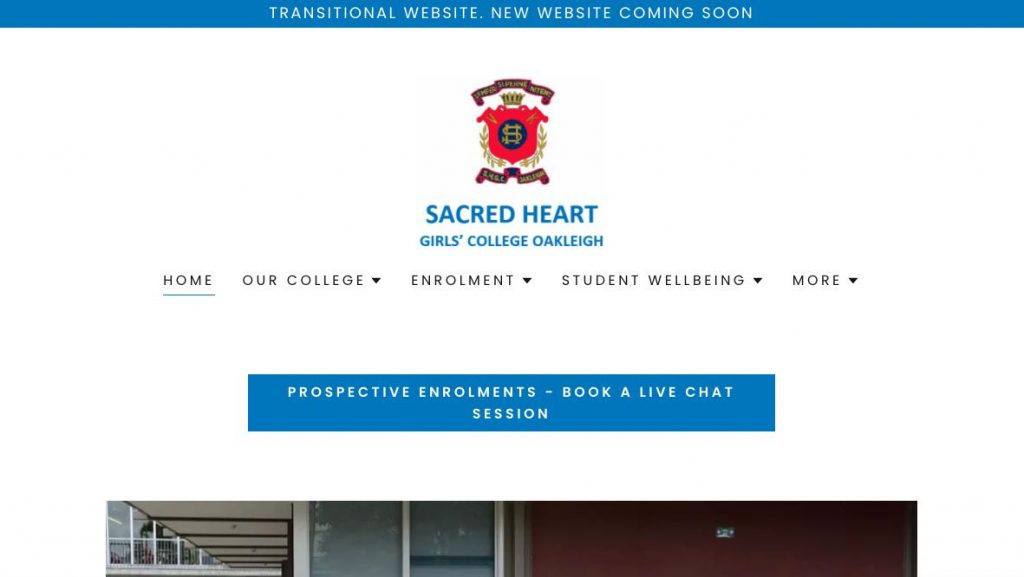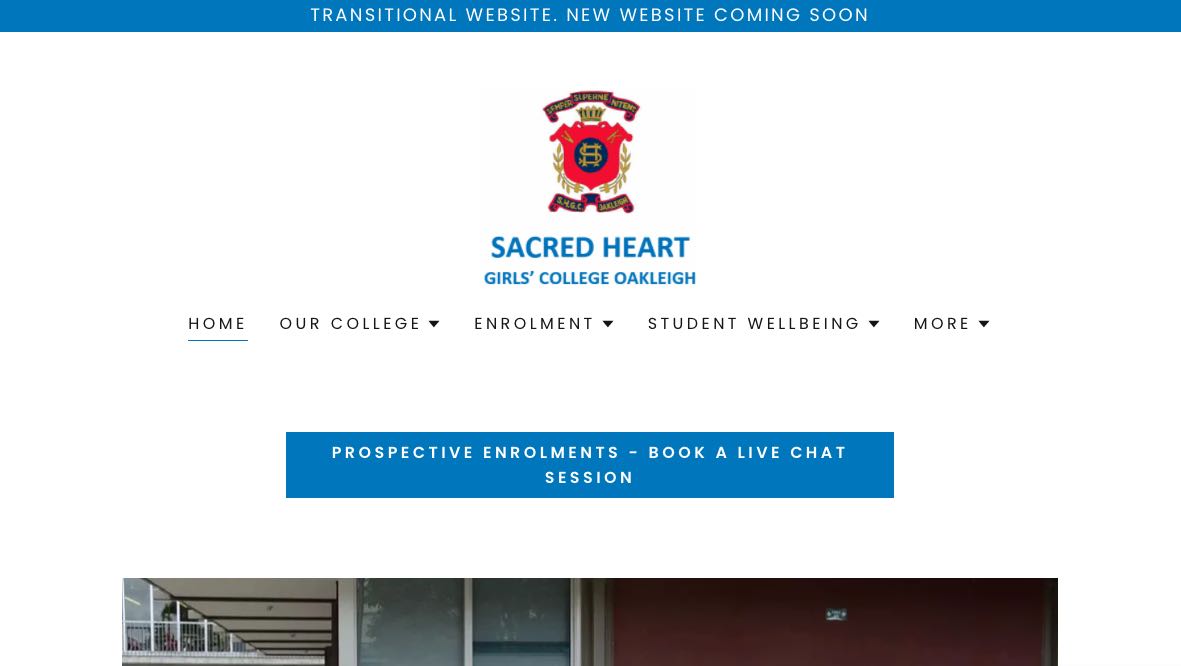 1395685488
Early Learning Centre

No

Primary School

No

High School

Yes

Course Range

Year 7 to 12 

Main Gender 

ELC to Year 6 - Co Education 

Year 7 to Year 12 - Girls Only  

Boarding School

Yes 

Estimated No. of Students

1,100

School Fees

Low 

Link to the school fee page: 
Our College, founded by the Sisters of Our Lady of the Missions (RNDMs), builds on the wonderful traditions of the founder, Euphrasie Barbier. It was she who had a dream "that all people would be loved, honoured and respected for the wonderful gifts of their difference and the amazing gifts of our oneness".  
PRINCIPAL'S MESSAGE
It gives me great pleasure to introduce you to the wonderful learning and faith community of Sacred Heart Girls' College, Oakleigh. 
It is a community that enables young women to engage fully in life as they grow and develop in preparation for life's journey - a journey that is continuing to unfold through their secondary education.
In association with our families, we enable each student to develop all those attributes and skills for life long learning: initiative and excellence, confidence and self esteem, discipline and dedication, self awareness and a generosity of spirit, integrity and honesty, creativity and imagination and an understanding of their spirituality.
Our supportive and nurturing environment values each student as an individual. She is known by her teachers and is recognised as a valued member of the community, one who is affirmed and celebrated in many ways.
Learning is valued at Sacred Heart. Our dynamic learning and teaching environment encourages positive engagement as all seek to gain further understanding of the world in which we live. It is learning that promotes the growth and development of the whole person. The programs and activities on offer at the College cater for the many individual needs of all our students. Our balanced, broad and challenging learning environment seeks to create a love of learning, independence and solid preparation for tertiary education and the ability of our graduates to take their place in the world of the 21st century.
Our faith and mission leads us beyond our community, inspiring all to see what is possible in our ever-changing world. Our pastoral care is exemplary in practice, enabling our young women to express their uniqueness and feel connected to our community, knowing that their well-being is important to us. Our exciting learning culture enables our young women to be active in seeking knowledge and understanding. At Sacred Heart, we aim to facilitate the development of young women who are committed individuals full of insight and understanding, knowing who they are and being prepared for leadership and service beyond the College.
We are proud of this College and all that it has achieved since its foundation in 1957. The College has developed a rich tradition firmly embedded within the Catholic faith, a tradition that is expressed in all aspects of College life. Gospel values such as: love, compassion, service, peace and justice are at the core of all we do. The experiences of these values as they are lived every day at Sacred Heart, enable our young women to take their place in our community and in the world with great hope and enthusiasm.
This website provides you with a glimpse of life at Sacred Heart. Enjoy your experience of our wonderful College.
HISTORY
Sacred Heart Girls' College was opened in 1957 by the Sisters of Our Lady of the Missions. The Sisters came from their convent in Highgate, Perth, Western Australia, bringing with them the wonderful traditions of their congregation.
When Euphrasie Barbier established the Congregation of Our Lady of the Missions in France in 1861, she took on a new name: Mother Mary of the Heart of Jesus. It is from her name and her special devotion to the Sacred Heart that our College is named - like many others established by her sisters around the world.
Euphrasie wanted to continue Jesus' mission: to reveal to all peoples God's spirit and love, alive and present in the world. Her sisters were to be witnesses to the good news, that everyone carries the image and likeness of God in their hearts, and recognizing this enables them to live their lives to the fullest. She especially wanted her sisters to go out of their way to carry this message to women and children. Her tradition of Christian witness among women and her love of Mary as our model have a special value at Sacred Heart Girls' College. 
VISION AND MISSION
Sacred Heart Girls' College is a school within the Catholic ethos, educating young women for life and always striving upwards for excellence in learning and growth of faith.
We are committed to providing an environment which enables the development of strong, articulate women, faithful to Gospel values, with respect for themselves and compassion for others - discerning, confident, prepared and willing to embrace life's challenges.
ENROLMENTS
Sacred Heart Girls' College draws its enrolments from priority parish zones, as defined by the CEM, as well as catering for pastoral needs beyond these zones.
Priority Parishes
The priority parishes from which we draw our enrolments are as follows:
St Mary's & Holy Eucharist, Malvern East

St Patrick's, Murrumbeena

Sacred Heart, Oakleigh

Christ Our Holy Redeemer, Oakleigh East

St Peter's, Clayton

St Andrew's, Clayton South

Good Shepherd, Mulgrave

St Justin's, Wheelers Hill

St John Vianney's, Springvale North

St Anthony's, Noble Park

St Kevin's, Hampton Park
Presbyterian Ladies' College Private School Melbourne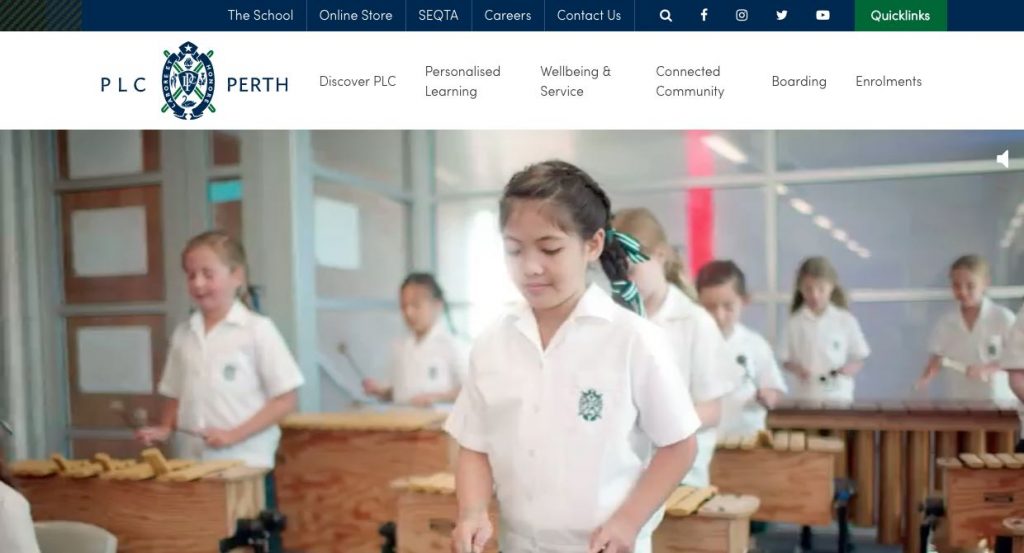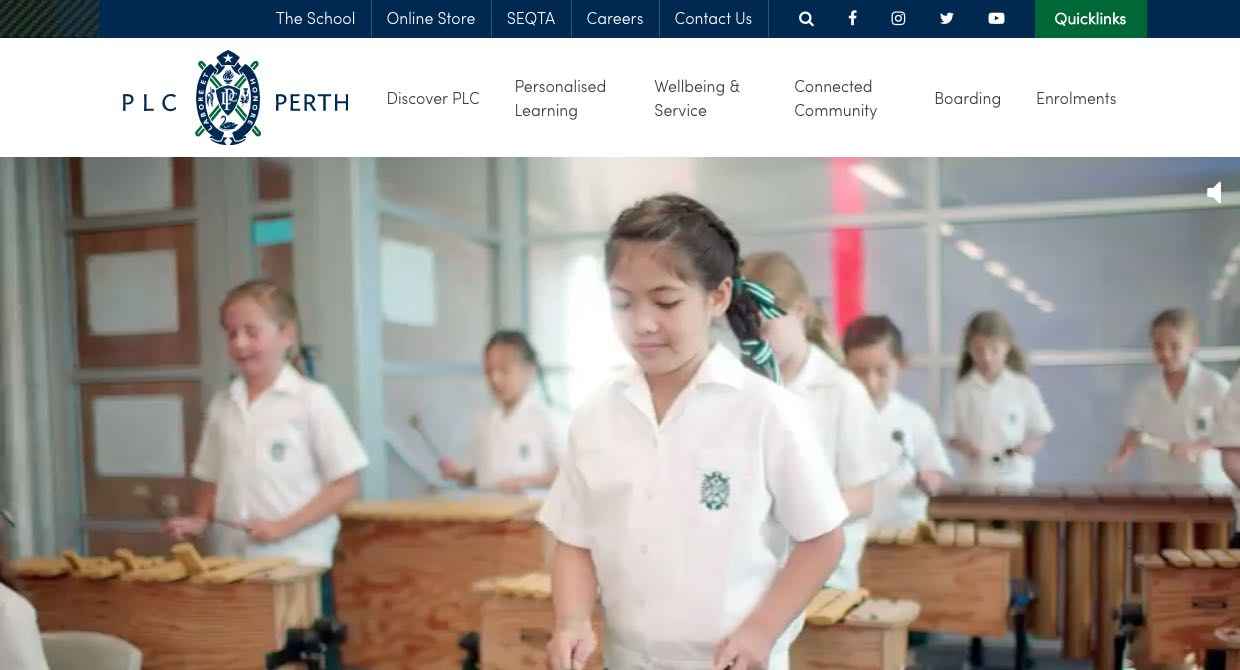 0894246555
Presbyterian Ladies' College was founded in 1915 and has since sustained an international reputation for academic excellence and outstanding success in preparing young women to lead active, purposeful lives.
Evidence of our Scottish heritage is apparent throughout the beautiful Peppermint Grove campus as well as in the distinctive Blackwatch tartan uniform and PLC Pipe Band. However, perhaps the most significant legacy of our Scottish tradition is a belief in educational excellence, combined with a whole-of-person approach to intellectual, social, emotional and spiritual development.
Today this continues to be the philosophical foundation on which a PLC education is based.
At PLC, every girl is given the opportunity to:
Develop an appreciation of intellectual challenge and a love of lifelong learning

Gain the confidence to question, challenge and be creative

Give and receive warmth and human understanding

Belong to a community in which to experience the beauty and joy of life itself.
PLC students are encouraged to become critical and compassionate thinkers, to assume responsibility for their own learning and to be informed and engaged participants in local and global issues.
Underlying these pr ecepts is the conviction that women can, and should, make a difference in the world. At PLC we measure our achievements through theirs.
Discover PLC
A PLC education is infinite; it's an attitude and approach your daughter will take with her for the rest of her life. Our aim is to ignite her curiosity where she will discover her unique passions and strengths across a broad curriculum. At PLC we care for each girl and give her the abilities, skills and confidence that empowers her to become an inspiring young woman.
Personalised Learning
Ensuring each girl feels known and valued provides the strong foundation of what makes PLC so special. Our dedicated and highly qualified teachers provide a world-class education, inspiring and developing each student's individual gifts and talents. PLC girls are encouraged to take risks in a safe and supportive environment, to develop resilience and discover their strengths.
Wellbeing & Service
A personalised approach from the Wellbeing and Service team, research based programmes and PLC's emphasis on supporting the community through extensive service learning programmes, enrich our holistic approach to education. The Wellbeing team has developed a culture of inclusivity and understanding that supports our girls' growth, providing them with the confidence to lead others in positive and meaningful ways.
Fintona Girls' Private School Melbourne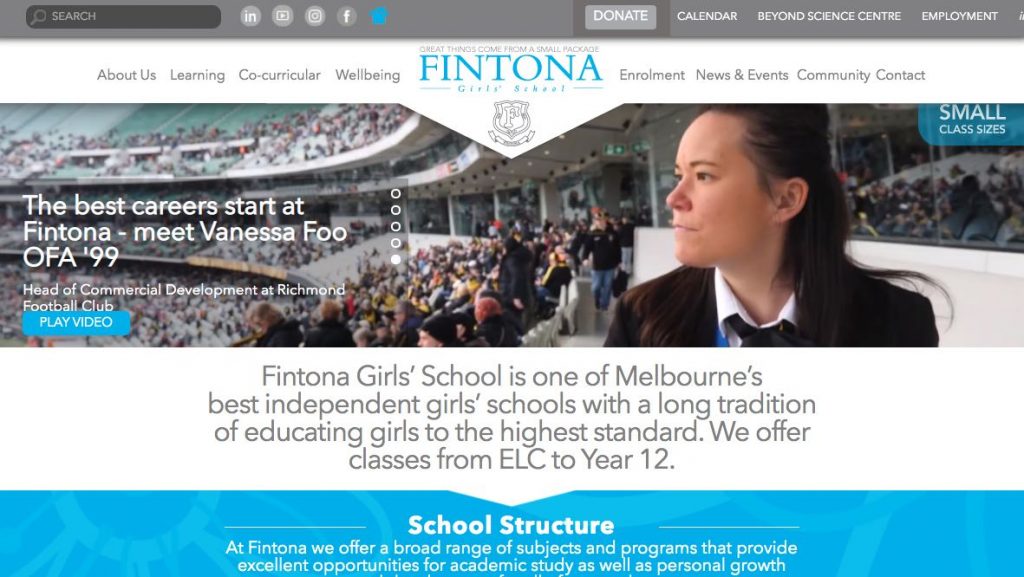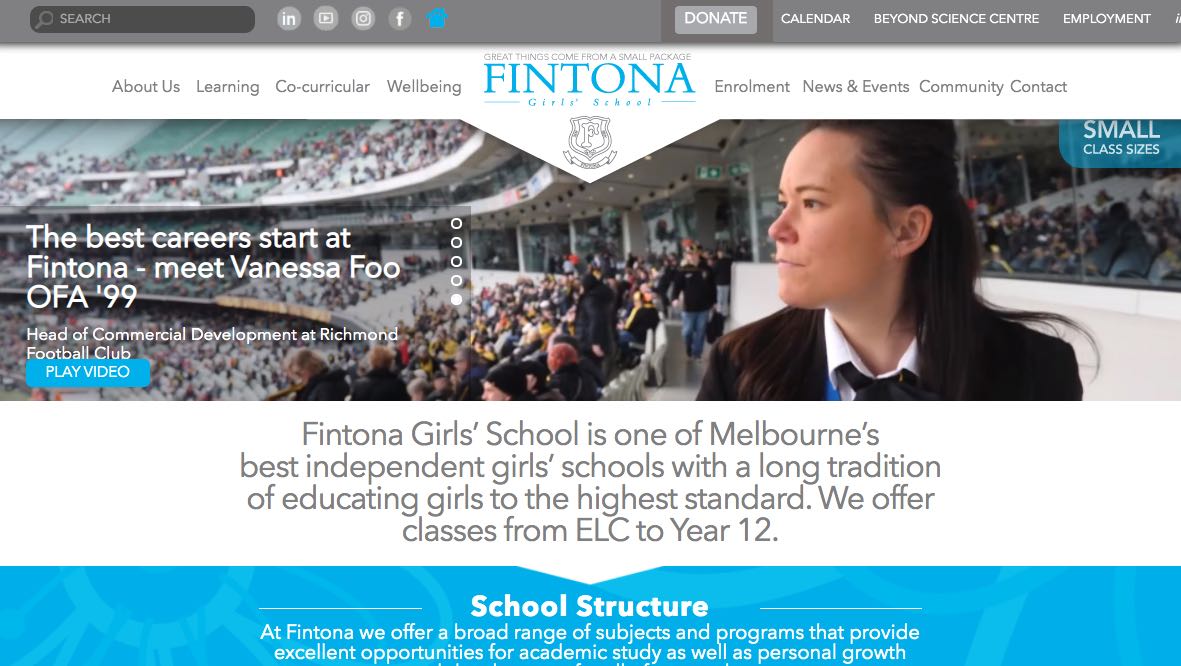 1398301388
Early Learning Centre

Yes

Primary School

Yes

High School

Yes

Course Range

Prep to Year 12

Main Gender 

Girls Only 

Boarding School

Yes 

Estimated No. of Students

1450

School Fees

Low 

Link to the school fee page: 
Fintona is a warm and friendly school where girls receive an outstanding education.
Fintona is one of Melbourne's leading independent girls' schools with a long tradition of educating girls to the highest standard.
Renowned for consistently achieving outstanding VCE and NAPLAN results, Fintona is firmly placed among the best performing girls' schools in Victoria.
Situated in the inner eastern suburb of Balwyn, Fintona, a non-denominational school, caters for girls only from Prep to Year 12 and offers a co-educational early learning program for girls and boys. The International Baccalaureate is taught from ELC to Year 4.
Our friendly, supportive and caring environment, together with our broad-based curriculum, provide girls with a variety of experiences that challenge them beyond expectations, as well as establishing skills to help them cope with life beyond school.
Inspired by strong leadership and exceptional teachers, a Fintona girl will  find the confidence to achieve her academic and personal aspirations, whatever they may be.
If you are considering a school with a focus on personal development that fosters a 'girls can do anything' mindset, then join us on one of our scheduled tours.
Learning
Fintona is a place where girls achieve outstanding personal and academic success.
Fintona provides a diverse and challenging academic curriculum, where girls with a wide range of abilities are supported. Our girls consistently achieve outstanding VCE and NAPLAN results, placing Fintona among the best performing girls' schools in Victoria.
At Fintona, we value small class sizes. Our students have more one-on-one time with teachers who are willing to spend extra time with them to ensure the best possible outcome can be achieved.
To facilitate an optimal learning framework for our students, Fintona is divided into four smaller schools:
Early Learning Centre (ELC) - Three and four year old programs
Junior School - Prep to Year 4
Middle School - Years 5 to 8
Senior School - Years 9 to 12
In addition to the rigorous, rich environment of the classroom, our students participate in many co-curricular activities to support their personal development and growth.
Opportunities for building resilience, self-esteem and responsibility abound through leadership positions, overseas trips and exchanges, the Connections Program offered in Year 9, House activities, special interest clubs and Life Skills.
Our aim is to educate students to be creative, independent learners with a strong work ethic who leave Fintona feeling confident, resilient, tolerant and optimistic about their future.
The successful career path of many of our past students is testament to the quality of a Fintona education.
We extend a warm welcome to you and your family.
Fintona Girls' School is an open entry girls' school from Prep to Year 12 and also offers a co-educational Early Learning Centre.
We realise that choosing the right school for your child can be a daunting decision and that is why we welcome all prospective families to visit Fintona during one of our regular tours. All you have to do is Book a Tour online.
Places are limited and we encourage you to apply online for a place on our Waiting List. Our Application Procedures are detailed in this section of the website.
You may also like to request our Prospectus, where you will find out more about our learning, co-curricular and wellbeing programs, as well as the more practical aspects of a Fintona education including fees and transport.
We would love to see you and your family at one of our tours very soon.
Fees and Charges
Application Fee
Applications for entry to Fintona, for the Early Learning Centre (comprising 3 year old and 4 year old Kindergarten) to Year 12, must be made on the School's official Application for Admission Form. An application is a prerequisite for enrolment but does not guarantee a place. A non-refundable Application Fee of $150 (inclusive of GST) is payable before placement on the waiting list.
Enrolment Fee
A non-refundable enrolment fee per student is payable upon acceptance of a formal letter of offer.
The fee is $1,000 for entry into the Early Learning Centre (ELC) to Year 12.
Fees in Advance
In addition to the Application and Enrolment fees a non-refundable full term's fees in advance is required to secure a place at Fintona. When the student commences as scheduled, this deposit is credited against the first Tuition Fee account. If the designated place is not taken up by the student within three years it is forfeited. Enrolment at this point is subject to a place being available.
Due to the high demand for places in the ELC and Junior School, in addition to the fees in advance required for entry into the 3 year old program (due in May of the year prior to commencement), a deposit of a term's fees in advance are required the following year if the student wishes to progress into the 4 year old program and Prep.
School Fees and Business Terms and Conditions 2021
Local Students
Overseas Students
Due Dates for School Fees 2021
Please note that fees are charged a term in advance at the commencement of each school term.  Please find following the due dates for School fees for 2020:
Term 1 2021 - due 31 October 2020

Term 2 2021 - due 21 February 2021

Term 3 2021 - due 12 May 2021

Term 4 2021 - due 4 August 2021
If you do not receive a fee statement by the end of the first week of each term please contact the Finance Manager, Rowena Vitarelli at [email protected] to request a copy. There will be no extension of the due date because of the non-receipt of an account.  Please check carefully if you have a Hotmail account as your statement may have gone to junk-mail.
Early Learning Centre - changes to program 2021
Please note at the end of 2020, the 3 year old kindergarten (K3) two-day program will discontinue. From 2021 we will introduce a K3 four-day program. Also from 2021 there will not be a K4 three-day program. Fees for 2021 will be set by the Board in September 2020. You may use the 2020 fee schedule as a guide. Please contact the Registrar for further information.
Scholarships
Fintona awards a number of academic and music scholarships annually, for entry into various year levels in the following year. Further details and registration for the following year's scholarships are provided on the website in December.
Old Fintonian discount
A 20% fee discount applies to daughters and granddaughters of past students who are also members of the Old Fintonians' Alumni and who attended Fintona for a minimum of two years. The discount relates to Tuition Fees from Prep to Year 12. This discount will only apply in the absence of the student receiving any other concession.
Co-curricular Activities
An extensive variety of co-curricular activities is offered to students from Prep to Year 12. The charges for participation are included on the Fee accounts.
Ruyton Girls' Private School Melbourne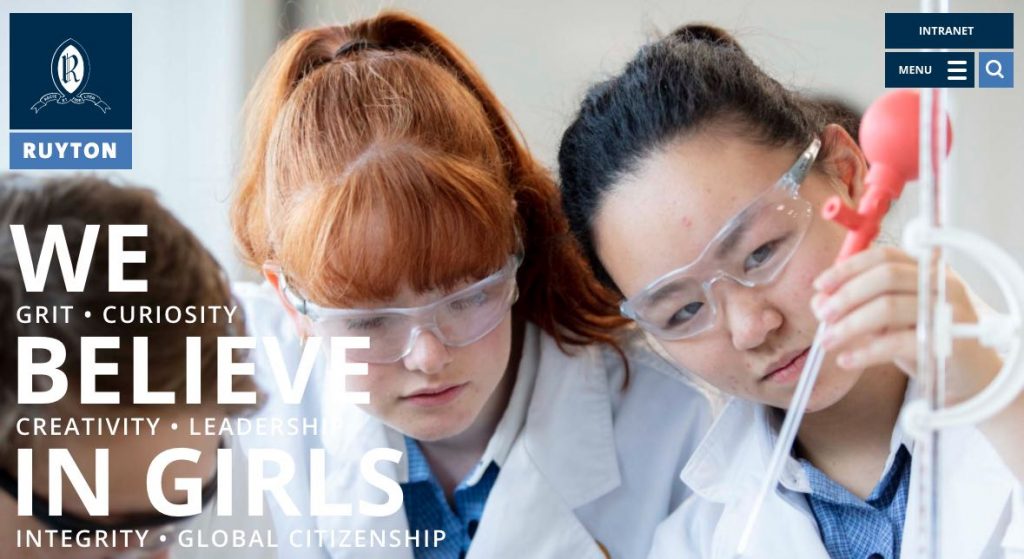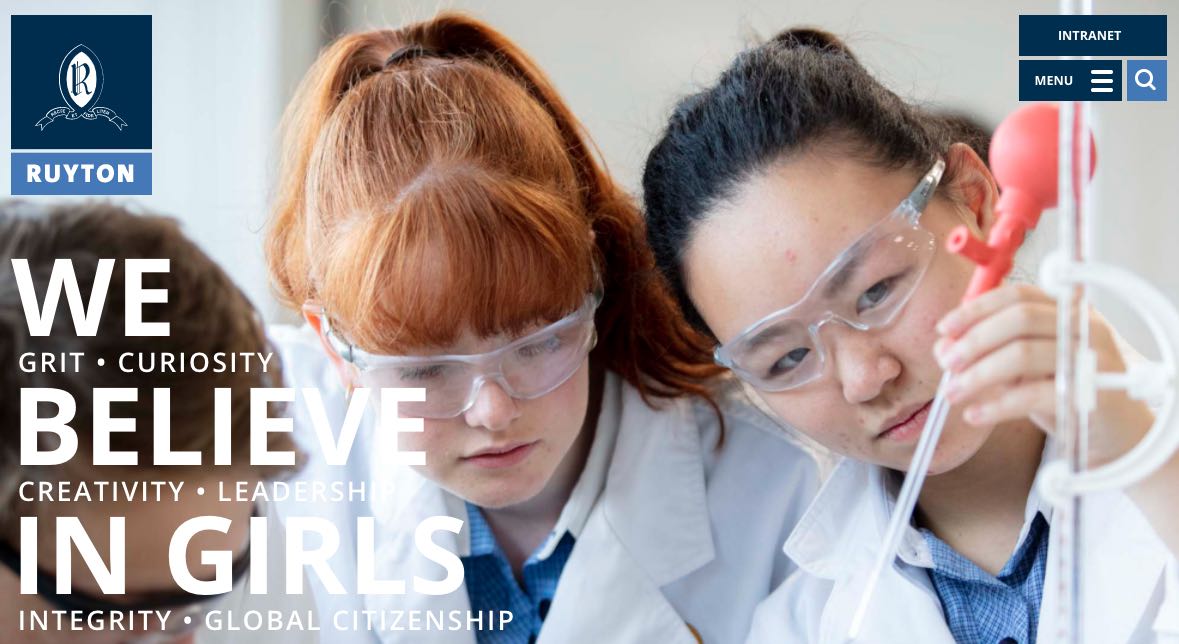 1398192422
Our School
As an independent, forward thinking girls' school we are committed to preparing girls for a lifetime of learning, leadership and engagement in our global community. We believe in girls.
At Ruyton we foster the individuality of each girl in a caring and safe environment, nurturing her intellectual, physical, social and emotional qualities essential to flourish.
Powerful learning is central to the Ruyton culture, building on our strong academic reputation. We focus on advancing the learning of every girl through the engagement of intellectual curiosity, building knowledge and skills about how to learn and supporting them to achieve their personal best and be exemplary citizens. We believe in real world learning beyond the classroom, collaborating with the wider community to promote growth, discovery and sustainability.
We empower our girls to lead lives of purpose with courage, character and compassion. Through the development of values and action-focused learning they are inspired to pursue equity and justice for self and others. By embracing diversity and raising their voices our girls effect positive change and make a difference.
Build a customised prospectus for your daughter.
Why a Girls' School?
Girls' schools specialise in girls' education. Research indicates that all girls' schools have the ability to educate the girls of today to become the leaders of tomorrow.
Through a tailored curriculum and a focused culture, all girls' schools can inspire and nurture girls to grasp diverse opportunities to develop and excel. Academically, girls in a single-sex environment produce stronger results. All leadership roles in a girls' school are filled by girls. Girls meet the challenges of adolescence without fear of ridicule from boys in a single sex environment and girls have the confidence to 'have a go' at a wide range of co-curricular opportunities.   
At Ruyton we are committed to preparing girls for a lifetime of learning, leadership and engagement in our global community. We seek to inspire our girls to be bold. We educate them to live lives of impact and purpose.
The Ruyton community lives by the values of Character, Citizenship, Endeavour and Integrity, providing support, role models and a sounding board for our girls as they make their mark in the world.
We are proud to be a member of Alliance Girls Schools Australasia and an international member of National Coalition of Girls' Schools
Listen to why the student leaders of Australasian girls' schools believe in girls' schools.
Vision, Values and Strategic Direction
As an independent, forward thinking girls' school we are committed to preparing girls for a lifetime of learning, leadership and engagement in our global community.
Vision
Inspire girls to be bold. Educate girls to live lives of impact and purpose.
Values
Our values shape and define the Ruyton woman and the way she leads her life
Character to be resilient and to act with confidence and compassion

Citizenship to effect positive change through civic and environmental action

Endeavour to be curious, creative and courageous learners seeking to achieve personal best

Integrity to live a life with honesty and virtue
The Ruyton community lives by these values, providing support, role models and a sounding board for our girls as they make their mark in the world.
At Ruyton we embrace diversity and value the enrichment it brings to our learning community. We are committed to fostering respectful relationships and endeavour to create a culture of justice and fair treatment that extends to our broader community. This culture is central in preparing our students to be respectful and socially aware global citizens.
Korowa Anglican Girls' Private School Melbourne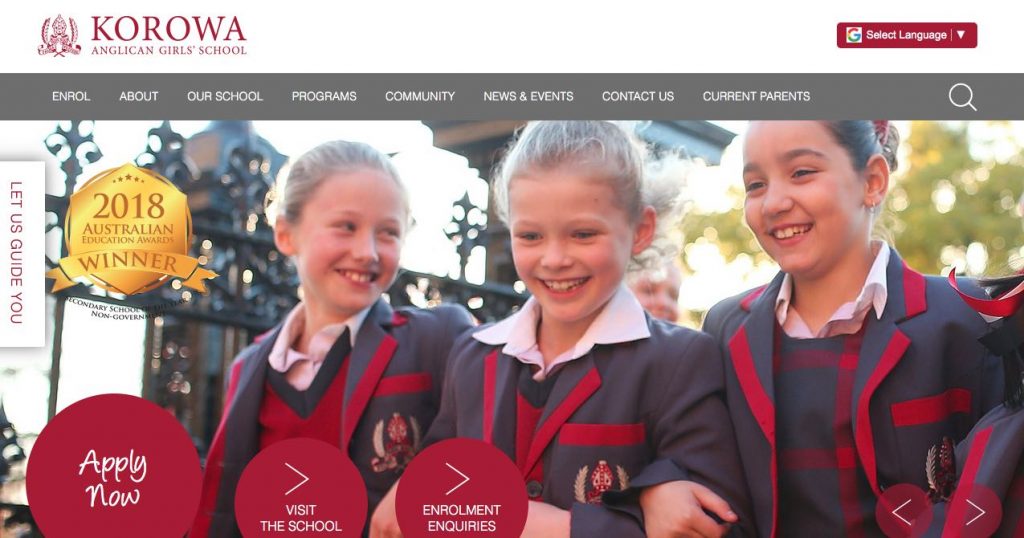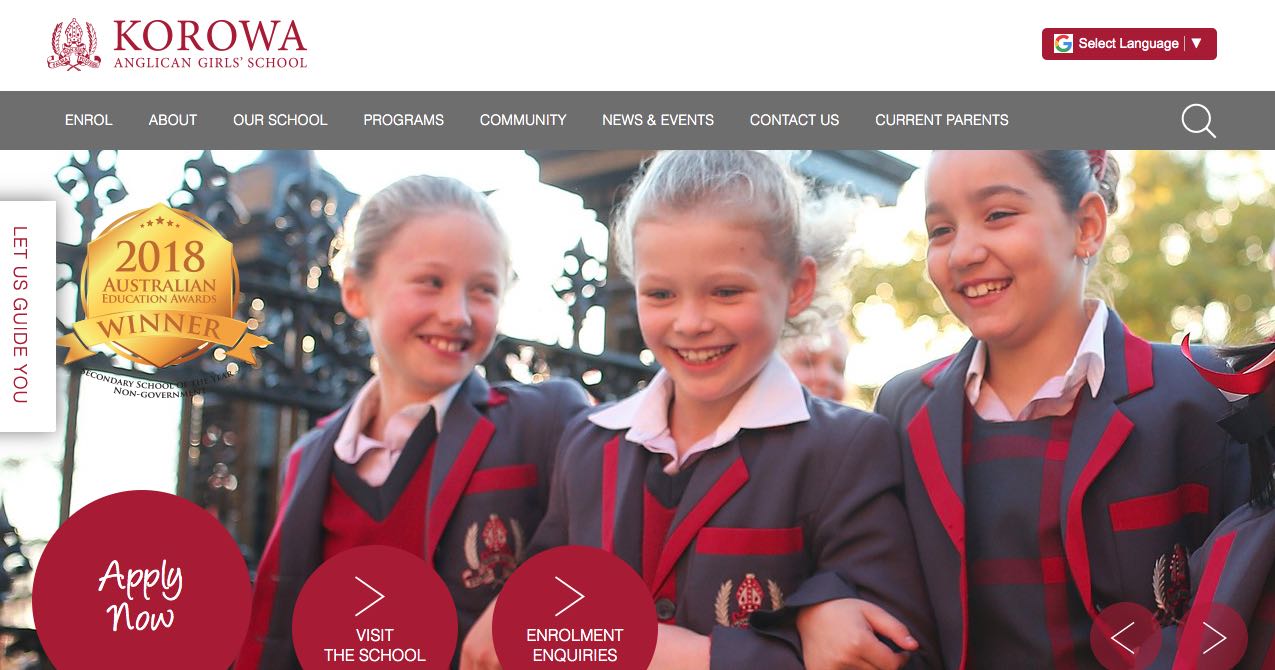 01388088888
Early Learning Centre

Yes

Primary School

Yes

High School

Yes

Course Range

Prep to Year 12

Main Gender 

Girls Only 

Boarding School

Yes 

Estimated No. of Students

1450

School Fees

Low 

Link to the school fee page: 
WHY CHOOSE KOROWA?
A leader in girls' education since 1890, Korowa is renowned for its academic excellence. Our Early Learning Centre welcomes 3 & 4 year old girls and boys, then from Prep - Year 12 we offer a specialised all-girls' environment. 
A strong focus on the individual student
At Korowa, every teacher knows every student and encourages her to pursue her own unique interests, talents and ambitions - wherever they may lie.
An outstanding record of success 
Korowa is renowned for our long history of academic excellence. Our NAPLAN and VCE scores consistently place us in the top tier of schools across the state. Our students' achievements span Sport, Music, Art, Science, Literature and many more. 
Limited class sizes
We offer small class sizes so that every student can receive the support they need and build positive relationships with their teachers. 
Flexible learning styles and curriculum
Our School offers a broad curriculum. Our teaching is student-centred, drawing on the natural curiosity and interests of students to engage them in the learning process. 
A connected community
The Korowa community is one of the main reasons why families choose us. Our community is connected, engaged and welcoming. Our students travel from more than 60 postcodes across Melbourne each day and we are proud of the diverse nature of our community.
Co-curricular programs 
Our Co-curricular and Wellbeing programs aim to develop the girls' breadth of character, confidence and values, allowing them to make the most of their future.
Campus & Facilities
Korowa enjoys a picturesque, leafy campus with modern facilities necessary to cater for all areas of study and interests.
Public Transport
Korowa is conveniently situated near numerous public transport options. We are only five minutes walk from Glen Iris train station and even less from tram stops on High Street and Wattletree Road. Glen Iris station is on the Glen Waverley line, with a trip from the CBD taking less than 30 minutes and even less if travelling from Glen Waverley.
Buses from Camberwell, Box Hill, Chadstone, Ashburton and Glen Waverley all stop at Glen Iris station. There is a bus from Caulfield station. 
Tertiary Education 
Korowa students earn admission into the most selective tertiary institutions in the country. Typically, all students seeking university entry gain a first round offer each year. Korowa girls are not limited to traditional post-school options. Each year Korowa graduates embark on tertiary studies as diverse as medicine, business and design. Some take up cadetships with top level companies, sharing their time between study and work.
Alumni
Korowa has an active alumni community comprising more than 9,000 members. Regular reunions and ongoing friendships are distinguishing characteristics of our Korovian (alumni) population.
Industry Recognition
In 2018, Korowa was awarded 'Secondary School of the Year' in the Non-Government Category of the Australian Education Awards. 
Accreditation
Registered as School No. 5 in Victoria, Korowa Anglican Girls' School is accredited by the Victorian Registration and Qualifications Authority.

Korowa is a federally registered provider of education to international students through the CRICOS register (CRICOS Provider No. 01022G).

Korowa is a member of Independent Schools Victoria (ISV), the Alliance of Girls' Schools, Australasia, (AGSA), and Girls' Sport Victoria (GSV).
Our Mission
Our Mission is to develop self-aware, confident and capable young women who understand their responsibility and capacity to influence the world in a positive way.
Our Values
Our values guide every decision we make, and are the standards to which we hold ourselves accountable. These are;
Courage - to strive for success in learning and life

Respect - for Anglican values that promote authentic social responsibility

Integrity - in our conduct, relationships and leadership

Service - to our local, national and international communities
Statement of Democratic Principles
The VRQA Minimum Standards for School Registration includes a standard concerning the school's adherence to Australian democratic principles and practice.
This standard is as follows:
The programs of, and teaching in, a school must support and promote the principles and practice of Australian democracy, including a commitment to:
elected Government;

the rule of law;

equal rights for all before the law;

freedom of religion;

freedom of speech and association;

the values of openness and tolerance
Korowa Anglican Girls' School is committed to the principles of a liberal democracy.
We believe in an accountable, democratically elected government.

We respect and observe the rule of law, and believe that no person is above the law.

We believe in equal rights for all before the law, regardless of race, ethnicity, religion, sexuality, gender or other attributes.

We believe not only in the freedom of religion, but also the need to practice tolerance and understanding of others' beliefs.

We believe in the value of freedom of speech and freedom of association, but also acknowledge that we have the responsibility not to abuse this freedom.

We believe in the values of openness and tolerance, and value and respect all members of the school community regardless of background.
Camberwell Grammar Private School Melbourne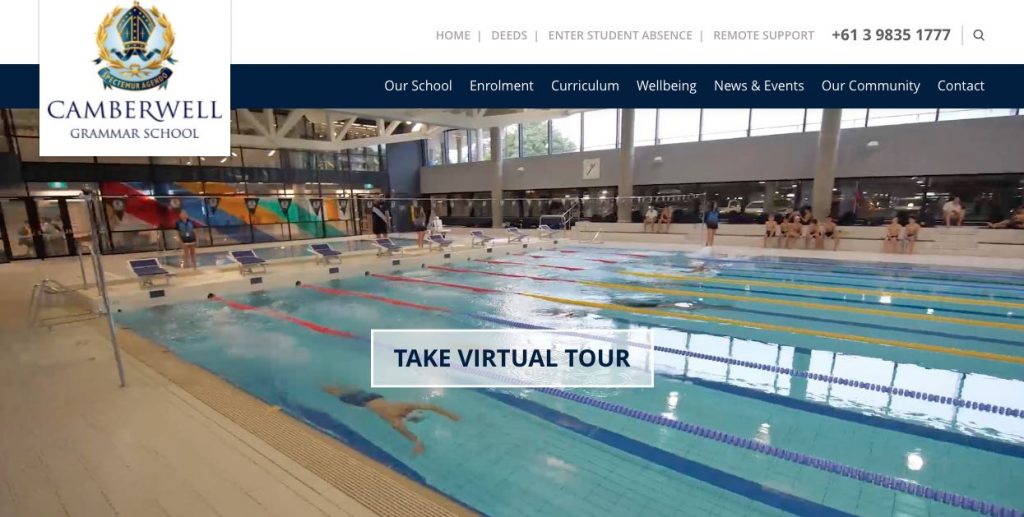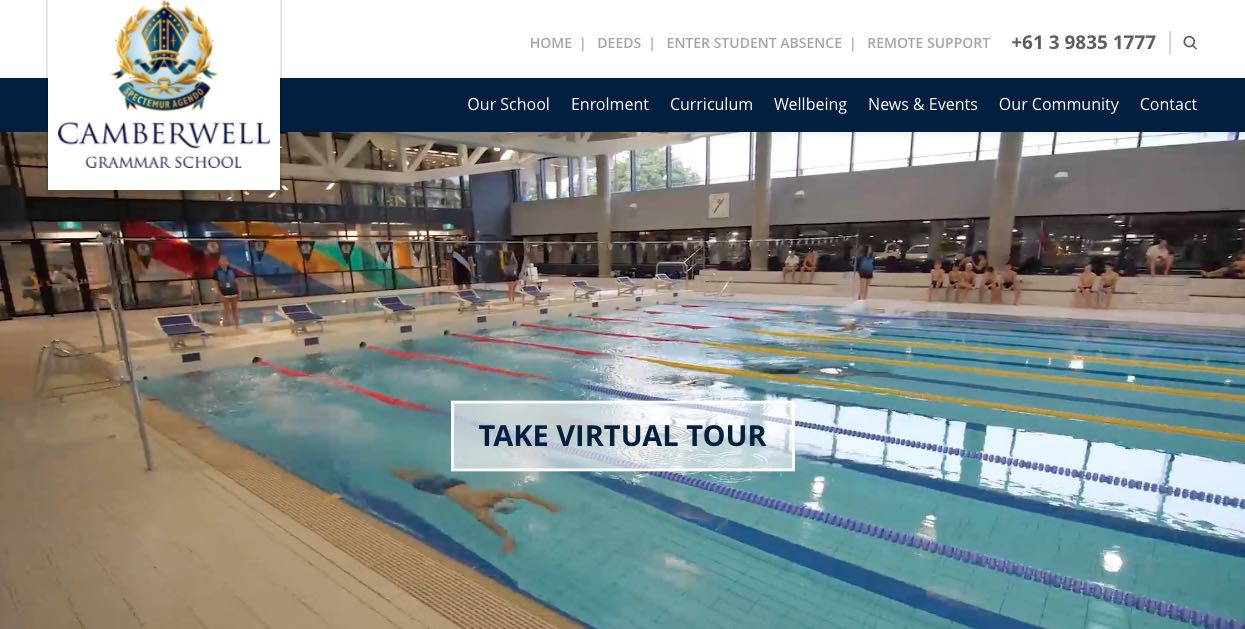 01398351777
Early Learning Centre

Yes

Primary School

Yes

High School

Yes

Course Range

Prep to Year 12

Main Gender 

Girls Only 

Boarding School

Yes 

Estimated No. of Students

1450

School Fees

Low 

Link to the school fee page: 
Enrolment Process
Join the Camberwell Grammar School community here by enrolling your son. Student admissions are processed through our Admissions Office, which runs regular tours and information mornings throughout the school year.
Join Our Community
Join the Camberwell Grammar School community here by enrolling your son. Student admissions are processed through our Admissions Office, which runs regular tours and information sessions throughout the school year. It also administers the school's scholarship and overseas student enrolments. The School Prospectus outlines the opportunities that await new students while the Enrolment Booklet has detailed information on curriculum, VCE results, the Pre-Preparatory Centre and travel to and from the School.
Intake Years
The key intake years are those years where extra classes are added. Our main student intake years are at four-year-old Pre-Preparatory*, Year 4 and Year 7. There are also some places available at other year levels, for example Year 9, but these are dependent on individual vacancies as they arise. We usually have an indication of vacancies at non-intake years by the October prior to the year of entry. Please contact the Admissions Office for details.
St. Kelvin's College Toorak Private School Melbourne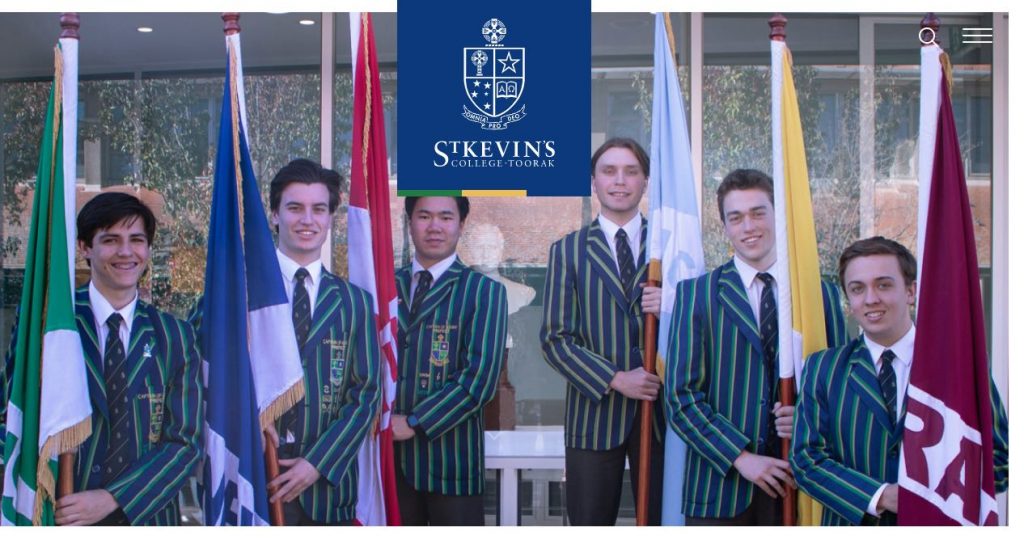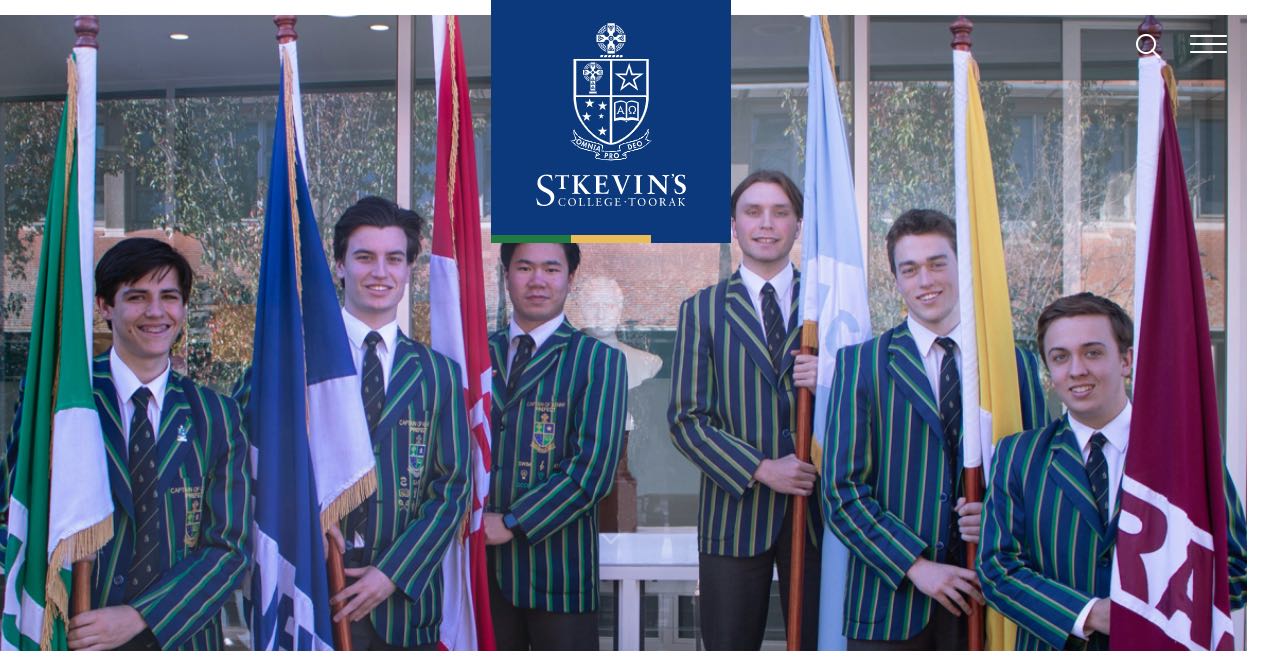 0398220911
Early Learning Centre

Yes

Primary School

Yes

High School

Yes

Course Range

Prep to Year 12

Main Gender 

Girls Only 

Boarding School

Yes 

Estimated No. of Students

1450

School Fees

Low 

Link to the school fee page: 
Faith & Mission
Edmund Rice was a victualler. You don't hear the word much these days. It means that he sold supplies to ships getting ready to leave the port of Waterford on long voyages to heaven knows where. Victuals are things you eat: Edmund's specialty was supplying food to ships, a career which brought to the waterside lessons he'd learnt in his rural upbringing.
The image of supplying ships is a good one to describe a lot of what we try to do at St Kevin's and especially for understanding the work of the ministry team. We'd like our boys to take on board the right kind of supplies to feed them on the long and unpredictable voyage of life. This makes for an inventory of things you can't buy in shops: compassion, humility, honesty, prayerfulness, hope and a deep commitment to the liberation of the whole human family. These qualities are victuals: they nourish and sustain us at the deepest level. They are all signs of God's presence.
One way of looking at Edmund Rice Education is to think of it as something which grows in many directions but which has four touchstones. 
They are:
Everyone is welcome to Mass on Friday at 8.10am (during the term) in the Chapel of St Kevin.
Often one of our senior students presents a reflection which expresses something profound from within the Edmund Rice tradition. 
Here is an example:
Late last year, the father of a close friend of mine lost his battle with cancer. Her mum was left in a very tough situation to raise four kids by herself, two of them below the age of three. As things got tough for my friend and her family, the local parish came together to help lift them out of their difficult situation. Money was raised through a fete and everybody helped out around their house, looking after the two young boys, cooking meals and even taking the kids out for the day to give the mother some much needed time alone. All this gave the family a strong sense of belonging within the community, letting them know they were not alone at all. This is the message of the Gospel. We are not alone. 
Religion and faith in general are seen by some as archaic today, something that does not belong in this era of science and discovery. People need to prove things, testing, collating and forming logical conclusions before they can invest in faith; however, knowing something exists is not the same as believing. Trying to prove the existence of God is like trying to prove the existence of love, we cannot see tangible proof of these concepts, yet we see evidence of their existence by the tracks they leave behind, like the footprints of a bird in wet sand. We struggle to come up with the answers for the hard questions of life: What is the purpose of life? Does God exist? Is there an afterlife? But at the end of the day, with our questions still unanswered, we still have faith, we still believe. This is the beauty of religion. Not a belief without proof, but a trust without reservation. As Jesus stated in John's Gospel: 'blessed are those who have not seen and yet believe.'  
Fees
2020 Tuition Fees
| | |
| --- | --- |
| Year | Per Student |
| Preparatory - Year 4 | $17,470 |
| Years 5 - 12 | $20,050 |
| Subject Levy Prep - Year 12 | $990 |
Family discounts on Tuition Fees apply:
5% for each of two brothers (when attending the College at the same time)

20% for all of three or more brothers (when attending the College at the same time)
For students entering the College for the first time after the beginning of a Semester, Tuition Fees and Associated Charges will be charged on a proportionate basis.
A term's notice is required in writing to the Principal prior to the departure of a student from the College. Without this notice, a term's fees will normally be charged.
Building Fund
Tuition Fees & Associated Charges finance the yearly operating costs of the College. The Building Fund finances the capital development of the College, is fully tax-deductible and ensures optimum educational facilities for our students.  
Contribution: $1,000 per student or $1,600 per family with two or more students. A tax-deductible receipt for the St Kevin's College Building Fund will be forwarded at the end of the Financial Year (i.e. July).
Old Collegians' Associated Subscriptions
| | |
| --- | --- |
| Years 8 - 11 | $95 per student |
Fathers' and Mothers' Association Subscriptions
This charge contributes to the set-up costs for College social and fundraising activities.
| | |
| --- | --- |
| Prep to Year 12 | $50 per family |
Religious Education Textbook
| | |
| --- | --- |
| Years 7 – 10 | $10 per student |
Associated Compulsory Charges
Camps (Years 3 - 12)
Associated Optional Charges
Music
Swimming and Diving
Caulfield Grammar Private School Melbourne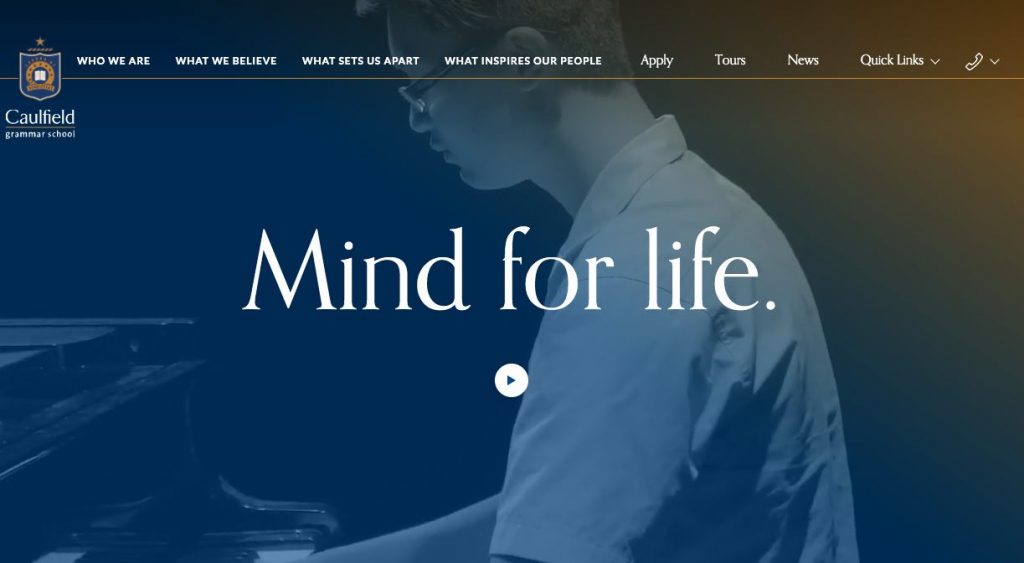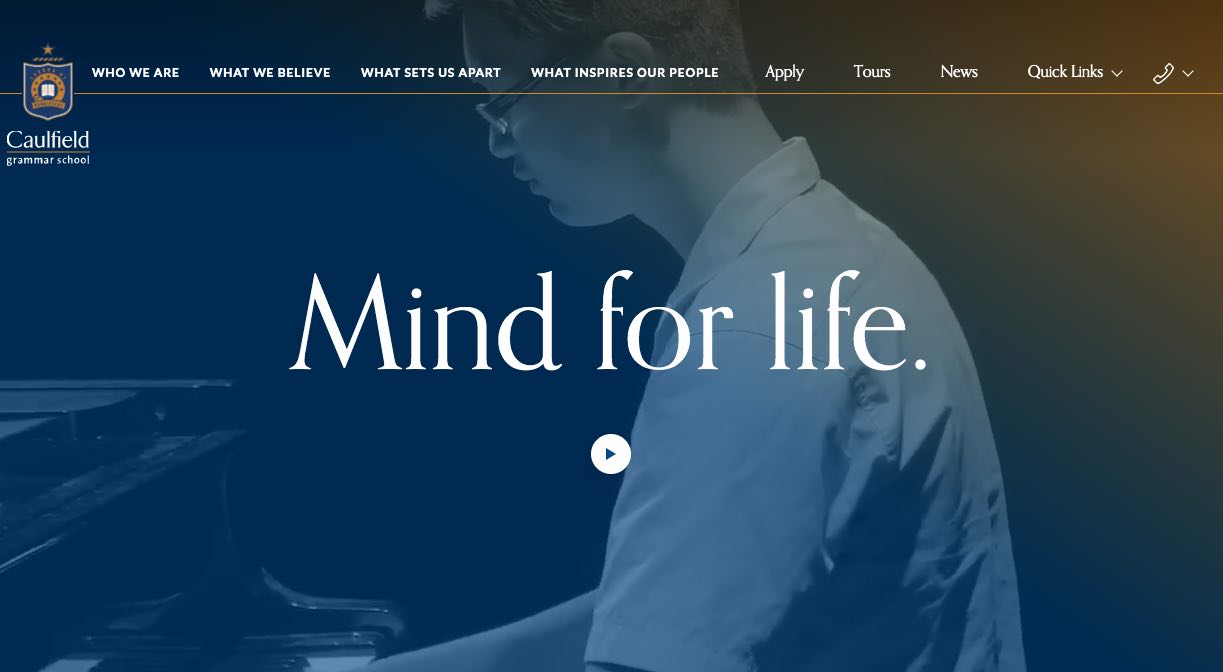 0395246300
Welcome to Caulfield Grammar School
We are a five-campus school with 3320 students, 700 full-time and part-time employees and over 400 sports coaches.
Our size and scale allows us to provide a vast range of broad and balanced programs for our students. And yet, because students are spread over multiple campuses, we don't feel 'too big'. We have all of the benefits of scale, without students ever feeling like a small fish in a big pond.
Day-to-day school takes place at a choice of three Melbourne campuses: Caulfield, Wheelers Hill and Malvern. Our campuses in Yarra Junction and Nanjing offer specialist education programs for our students. One school, five campuses
Wheelers Hill Campus
Co-educational school based in Wheelers Hill, offering 3-year old Kindergarten to Year 12.

The spacious campus has an Early Learning Centre (ELC), Junior School and Secondary School.

Broad learning programs available for VCE studies, with more than 50 subjects offered in Year 11 and 12 and university subjects available.

Established in 1981 and home to approximately 80 students in early learning, 350 in primary school and 1020 in secondary school.
Caulfield Campus
Co-educational secondary school in Melbourne's inner suburbs (St. Kilda East), offering learning from Year 7 to Year 12. 

Broad learning programs for VCE studies, with more than 50 subjects offered in Year 11 and 12 and university subjects available.

On-site boarding house for students in Year 9 to 12.

Established in 1881 and home to approximately 1450 students.
Malvern Campus
Co-educational junior school located in a beautiful national trust classified mansion in Glen Iris, offering early and primary learning with 3-year-old kindergarten to Year 6.

Reggio Emilia inspired Early Learning Centre (ELC) on campus 

Commenced as a junior school in 1980 and is currently home to approximately 70 students in ELC and 360 in primary school.

Students transfer to the Caulfield Campus to complete secondary school.
Yarra Junction Campus
This unique campus is home to our immersive Education Outdoors Program.

Yarra Junction provides a natural learning environment where students are challenged to consider the effect of their actions and lifestyle on the world around them.

Established in 1947, the Experiential Learning Programs are provided across various year levels from all campuses.
Nanjing Campus
Fostering responsible global citizens is a fundamental part of our school's vision and our campus in Nanjing, China is the heart of our Internationalism Program.

Each year, around 400 Year 9 students are given a unique opportunity to study abroad, spending five weeks immersed in overseas life and Chinese culture.

The Nanjing campus encourages a global perspective amongst students and builds practical skills associated with living, learning and operating in an unfamiliar environment.
Our purpose
To enable quality learning every day in every experience for every learner for life.
Our vision
To be a leading, internationally recognised, co-educational school fostering responsible global citizens.
Caulfield Grammar School prepares open minds for open horizons
We nurture our learners not just to become capable and highly skilled, but also emotionally aware.
In order for students to chart their own course in life, they must develop character, creativity, compassion and connection. These competencies are nurtured through a number of ways at Caulfield Grammar School – in the way we teach, the breadth of co-curricular offerings and our commitment to every learner's wellbeing.
We believe in developing a mind for life, so that learners are equipped with the mental, emotional and academic capabilities they need to follow whatever path they choose.
We are preparing for unwritten futures
The future of education and the future needs of our learners are ever changing.
We live in a rapidly-changing world and can't predict what the future holds for our learners. To equip students for unwritten futures, we support them to develop the competencies, self-confidence, and resilience skills required to cope with and overcome life's changes and obstacles. It's what we like to call 'a mind for life'.
We are committed to helping our learners observe their individual mind and its ability beyond its mental state – reflecting on social, physical and humanitarian qualities.
Focus on the whole person
We want our school to be the leader when it comes to mental health outcomes of young people.
Academic excellence will always be important. We have a strong history of academic achievement and are committed to exceptional results for our students. However, we recognise that this is only part of a person's learning journey. Caulfield Grammar School prides itself on focusing on the whole person. We provide broad and balanced programs that inspire all learners to find their pathway.
In nurturing minds for life, we strive to ensure we can enrich the life of every individual in this community. In particular, for learners to:
Find meaningfulness through developmental reflection, exploration, deep learning and individual encouragement.

Develop mindsets that help them as learners define who they are.

Understand their place in the world.

Feel better equipped with self-confidence, resilience and self-belief.
We believe it is equally important to equip our learners with the emotional and cultural intelligence tools to build the life that's right for them. We want our school to be the leader when it comes to mental health outcomes of young people.
Caulfield Grammar School maintains a commitment to collaborative partnerships and community contribution.
Our learners are empowered to give valuable feedback on their learning, taking ownership of their education.
Learners can safely discover who they are, and who they can become.

Learners take risks, realise their potential and retain a sense of balance.

Co-education reflects an equitable life, regardless of gender.

Experiential learning challenges students to consider the effect of their actions and lifestyle on the world around them.

The community can examine, explore and feel empowered to set goals with optimism.

Learners can anticipate their future directions with confidence, courage and capability.

We think innovatively, ask questions and pursue passions.
We are a connected community
Our holistic approach to growth and nurturing humility is invaluable in building self-worth.
Pursuing Excellence

Inspiring Creativity

Thriving Together

Embracing Diversity

Living Wholeheartedly
Our values
Inspired by our Anglican tradition of faith, hope and love, our values drive our behaviour, inform our decisions, shape our perspective and underpin our culture.
We prepare learners for life
Our learners engage with a rigorous learning program to prepare them for whatever the future brings.
Caulfield Grammar School is highly regarded for offering a thriving learning environment that supports our learners to feel empowered, deeply engaged and encouraged to become people of character and contribution.
We have a passionate vision for innovation in education, with a globally-focused curriculum that prepares students with skills for life.
We have a passionate vision for innovation in education. Offering state-of-the art technology and learning facilities.
Our campuses offer a modern and flexible learning environment with state-of-the art technology and world-class facilities. We foster a teaching team invested in improving their knowledge so that they can anticipate and plan for emerging skills and careers. Our curriculum is constantly adapting to suit today's world. 
Caulfield Grammar School has always looked to leading schools around the world, actively seeking out examples of best-practice and innovation in education from which the school can learn. 
We evolve and adapt to empower our learners. 
We enable quality learning every day, in every experience for every learner
Caulfield Grammar School's teaching and learning differences:
Co-education that reflects life: We focus on academic and social needs, regardless of gender.

Mind for Life learning: We provide a curriculum that allows learners to engage academically whilst also exploring new skills, concepts and relationships, helping to develop a sense of self-efficacy and independence.

IB World School: We are an authorised school to deliver The International Baccalaureate® (IB) Primary Years Programme (PYP) and we are a candidate school for the Middle Years Programme (MYP).

Experiential Learning: We offer immersive learning through real-world experiences, with outdoor education and sustainability programs at our Yarra Junction campus, and cultural immersion for Year 9 students at our Nanjing campus in China.

Learning and Community Projects in Year 9: Students are prepared for VCE by taking control over their learning and skills development based on an interest or passion that appeals to them.

Learning Mentor for Years 7 and 8: Quality teaching focused on academic and pastoral care.

Focused Learning Framework: Research-based approach to teaching ensures all educators at Caulfield Grammar School teach in a consistent and contemporary manner. 

Tailored Learning in Senior Years: Year 10 students can choose a range of VCE units to suit their interests and abilities, with the option to spread VCE over three years rather than two. This allows students to tailor their own individual learning journeys, helping prepare them for entry to the tertiary course or career of their choice. 

Global Connections and Culture: We equip learners to engage with and in the real world, developing a long-term interest in language, culture and world views.
We equip our students with the skills for life.
Caulfield Grammar School students are:
Respectful and reflective

Confident and courageous

Curious and enterprising

Tolerant, knowledgeable and broadminded about world affairs

Compassionate and compelled to give back

Energetic and expressive

Ready to thrive in a changing world
Our Learning Programs
Learning programs are designed for each learner's developmental stage. For example, the Reggio Emilia philosophy is drawn upon at kindergarten and pre-preparatory level, where Year 7 learners undertake an extensive orientation program that includes developing study skills and an investigation of each individual's learning preferences.
At Year 7 and Year 8, the broad core-curriculum further seeks to ensure a strong foundation for success in the senior years. The Learning Journeys at Year 9 level engage learners in a holistic, experiential approach that is designed to engage with real-world learning experiences. Learners may begin their studies for the Victorian Certificate of Education in Year 10.
Explore more about our Learning Programs:
Caulfield Grammar School has always looked beyond Australia to similar schools around the world.
We actively seek out examples of international best-practice and innovation in education from which the school can learn. We evolve and adapt to empower our learners.
We foster enterprise energy and collaboration
Our lessons are designed to stimulate student engagement through active and challenging learning.
Our learners are investigating new ideas, exploring their place in the community, developing practical skills and applying what they are learning to projects they are inspired by.

Our learners are confident innovators, using creativity and logic, and learning from a healthy dose of project failure and mistakes.

Our learners take full responsibility for what they are learning as they discover new pathways to progress in studies and life.

Our learners lend their voices to conversations that matter, to causes and calls for skills that impact across the world.
We capture attention and build yearning to learn
Success is seen through the sense of ownership our learners take.
Our learners absorb moments that form their education so that they continue to become lifelong learners. Our school does not just focus on successes, we also value the lessons that come with making mistakes.
For our learners, mistakes are an opportunity to take stock, overcome frustrations and re-focus for success. This helps them contextualise their learnings through relatable experiences.
We are an engaged and active contributing community
We maintain a commitment to collaborative partnerships and community contribution.
It is the connections we make as a school community that help nurture children to become adults who can realise their full potential.
Our teaching teams are passionate, hard-working, brilliant and focused individuals who are committed to our learners.
We are committed to maintaining pace with the world our learners live in today and the world they will work in tomorrow.
World-class teaching faculty.
Guided by world-class teaching faculty, our learners learn to make their own unique way in the world, valuing authenticity while thinking audaciously.
Every learning day provides our learners with support to encourage their intellectual curiosity, problem solve with confidence, achieve compassionate perspectives and become independent contributors in an ever-changing world.
We know that children learn best when they feel secure about themselves and know they are engaged in their school and community.
We foster global friendships
We are a school that equips our learners to engage with the global community.
As the learning landscape alters, we support our learners in making confident connections, building their personal and social competences and inter-cultural understanding. Cultural immersion provides an unparalleled learning experience of different cultural practices, social mores and traditions while providing a context for learners to appreciate and reflect on their own way of life.
Our learners use what they discover in the real world, they exchange ideas, express themselves and communicate with confidence. Our learners are challenged personally through being exposed to the unfamiliar and needing to adapt to a different way of living within a diverse cultural context. Our learners became more astute in interpreting cultural diplomacy and international issues through language and culture immersion studies. Our learners foster long-term interest in language, culture and worldviews.
We are always learning to provide an exceptional education
Few schools can match the range of ways in which Caulfield Grammar School provides quality teaching and learning.
We set high expectations for our educators and learners with challenging programs that include leadership development and an international perspective. Informed by eminent education theories and innovative practice, our acclaimed program supports learners to broaden their perspectives, take risks and reach their individual potential.
Our highly qualified and knowledgeable educators draw upon a world of current and emerging expertise. As lifelong learners, they undertake weekly professional development with a focus on evidence-based, quality teaching and learning.
Our extensive professional development program and specialist teachers approach, ensure our teachers understand how children best learn and how educators can best teach them.
Committed to professional development
We set high expectations for our educators and learners with challenging programs that include leadership development and an international perspective.
We foster a teaching team invested in improving their knowledge so they can anticipate and plan for emerging skills and careers.
Melbourne Grammar Private School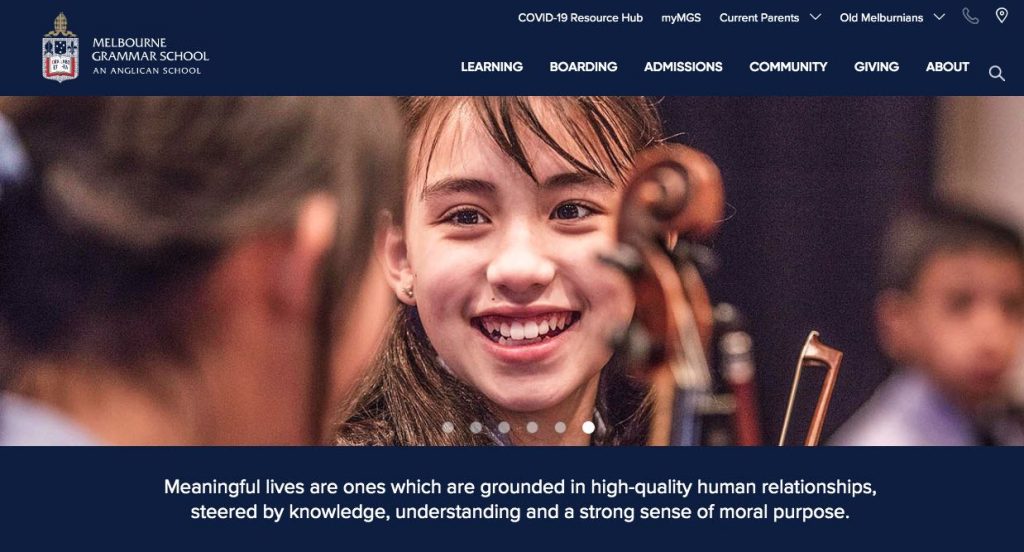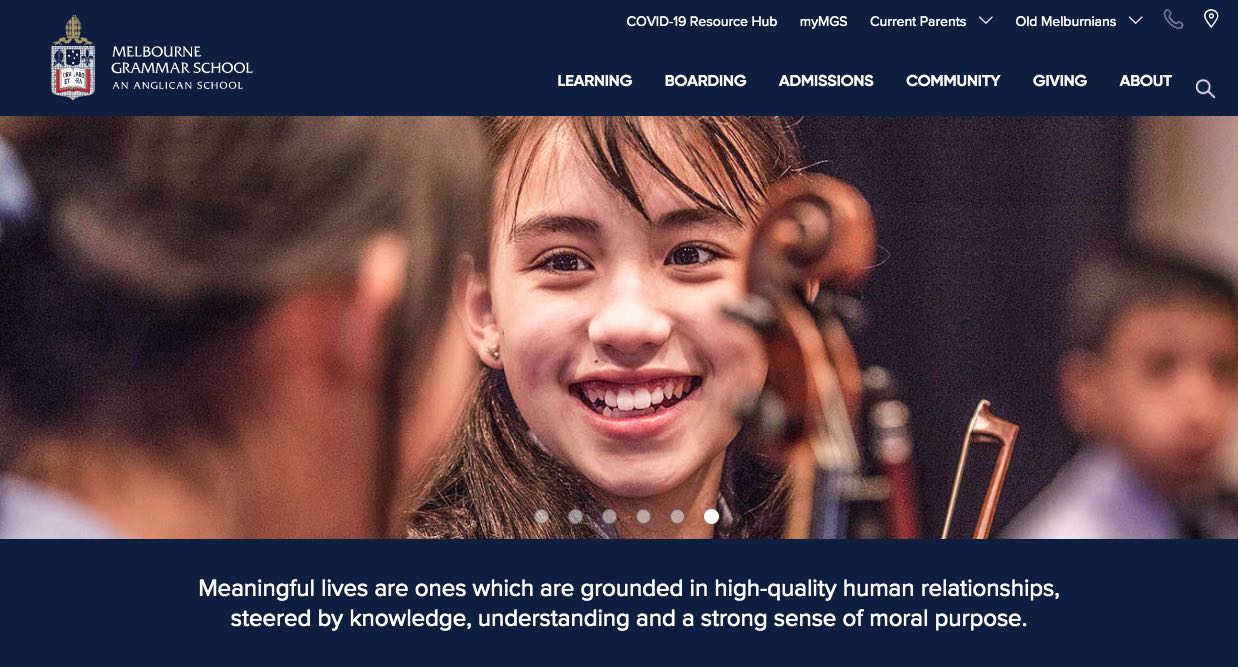 01398657555
LEARNING
Melbourne Grammar School offers a distinctive learning culture. We are focused on instilling a fundamental passion for learning in every student.
We believe this motivation to learn should come from a curiosity that surpasses the desire for external reward. We want our students to look at the world with wonder, question current paradigms and challenge themselves to reach beyond their current understanding.
THE ROLE OF IDEAS
Our ability to question received knowledge is part of what makes us human. Our goal is to develop this quality in those who are part of Melbourne Grammar School – our students and our teachers – and this requires us to push the boundaries of our thinking.
This approach takes us much further than building the ability to complete tasks and recite facts. It means that in each new learning task we must ask ourselves: what can this student truly achieve? How much further can we go toward reaching new knowledge and ideas?
THE ROLE OF SERVICE
Along with recognising the potential of our students, we are also interested in what each student does with that potential. How will their knowledge, skills and passion for understanding contribute to the lives of those around them?
This question is at the heart of our idea of service. To us, service encompasses everything from supporting an individual or community, to the service of contributing to the knowledge base of the world.   
Our campuses
Grimwade House (Prep - Year 6)
Wadhurst (Year 7 - 8)
Senior School (Year 9 - 12)
ADMISSIONS
We are delighted you are interested in joining the Melbourne Grammar School community.
We look forward to welcoming your child into our School.
Melbourne Grammar School has a rich history of success and achievement. However, it is
our values and the quality of the human relationships within our School that define us. We
aim to guide our students to become productive, responsible and caring global citizens of
the future who are conscious of their responsibility to society and have the capacity to make
a real contribution to it.
ENROLMENT INTAKES
Our main entry points for new students are Prep and Year 7. We also offer a small intake at
Year 3 and additional places at Year 9, with places occasionally available at other year
Levels.
We enrol a relatively even mix of boys and girls into Prep to Year 6 at our primary school –
Grimwade House – in Caulfield. At the end of Year 6, boys move on to secondary education
at our middle school Wadhurst and (then) Senior School campuses in South Yarra, while
girls continue their secondary education at a school of their choosing.
We provide strong orientation and transition programmes for students entering the School,
and for girls departing at the end of Year 6.
PLACES FOR DAY STUDENTS AND BOARDERS
We offer places for day girls and boys from Prep to Year 6 and both day and boarding boys
from Years 7 to 12. Our boarding precinct is a close-knit family of boys from regional
Victoria, across Australia and overseas.
SCHOLARSHIPS AND BURSARIES
Our scholarships seek to recognise the talents of very able students. Bursaries provide
additional opportunities for students who may not otherwise be able to attend the School.
We welcome your enquiries about our School and application process.
ABOUT
Melbourne Grammar School is one of Australia's leading independent schools, with a tradition of excellence extending over more than 160 years.
We believe in the holistic development of young people: intellectually, physically, emotionally, psychologically, socially and spirituality.
Ours is an inclusive, community-focused culture in which both student effort and achievement are recognised and celebrated.
Our culture is further enhanced by an involved network of staff and parents, the knowledge and experience of our alumni, and the depth of our connections with the broader communities around us.
OUR SCHOOL STRUCTURE
Melbourne Grammar is an Anglican school founded in 1858 by the first Bishop of Melbourne, Charles Perry. Today, we remain proud of our Anglican heritage and retain our strong Anglican traditions, while also warmly welcoming families from diverse religious and cultural backgrounds.
From Prep to Year 6 we provide co educational classes at our Caulfield Junior School, Grimwade House.
Year 7 and 8 boys attend Wadhurst, our Middle School based at St Kilda Road in South Yarra. Students in Years 9 – 12 learn at the adjoining Senior School.
Our Year 7 - 12 students attend as both day students and boarders.
Every student's learning is supported by dedicated pastoral care programmes along with our exceptional learning facilities.
TUITION AND BOARDING FEES
The following fees have been ratified by the School Council and apply for the 2020 school year.
Melbourne Grammar School fees are levied four times per year for Prep to Year 11 and three times per year for Year 12.
LOCAL STUDENT TUITION & BOARDING FEE SCHEDULE
Tuition

Fees per term

Fees per annum

Year 12

$11,880*

$35,640

Year 11

$8,910

$35,640

Year 10

$9,550

$38,200

Year 9

$8,910

$35,640

Years 7 - 8

$8,360

$33,440

Prep - Year 6

$7,145

$28,580

Boarding

Year 12 

$9,300*

$27,900

Years 7 - 11

$6,975

$27,900
*Levied Terms I, II and III
OVERSEAS STUDENT TUITION & BOARDING FEE SCHEDULE
Tuition

Fees per term

Fees per annum

Year 12

$17,540*

$52,620

Year 11

$13,155

$52,620

Year 10

$13,795

$55,180

Year 9

$13,155

$52,620

Years 7 - 8

$12,610

$50,440

Boarding

Year 12 

$13,260*

$39,780

Years 7 - 11

$9,945

$39,780
*Levied Terms I, II, III