Most event planners recommend to start looking for a site at least six months before your event. This will give you ample time to source out and book a venue that best fits your needs. Event planners are master jugglers, balancing multiple tasks at once. Above all of them is perhaps the task of choosing an appropriate event venue, which can make or break your event. Event planners spend the majority of their budget on the venue.
The hunt for a venue can be a long and exhaustive process, but we've got you covered! After all, there are so many stores, options, and prices out there to consider. The list of the top function venues in Melbourne, Victoria will help you find the most suitable venue for any event.
Read on to discover where to start your search.
Ultimate List of Melbourne's Best Function Venues
Vines of the Yarra Valley Function Venues in Melbourne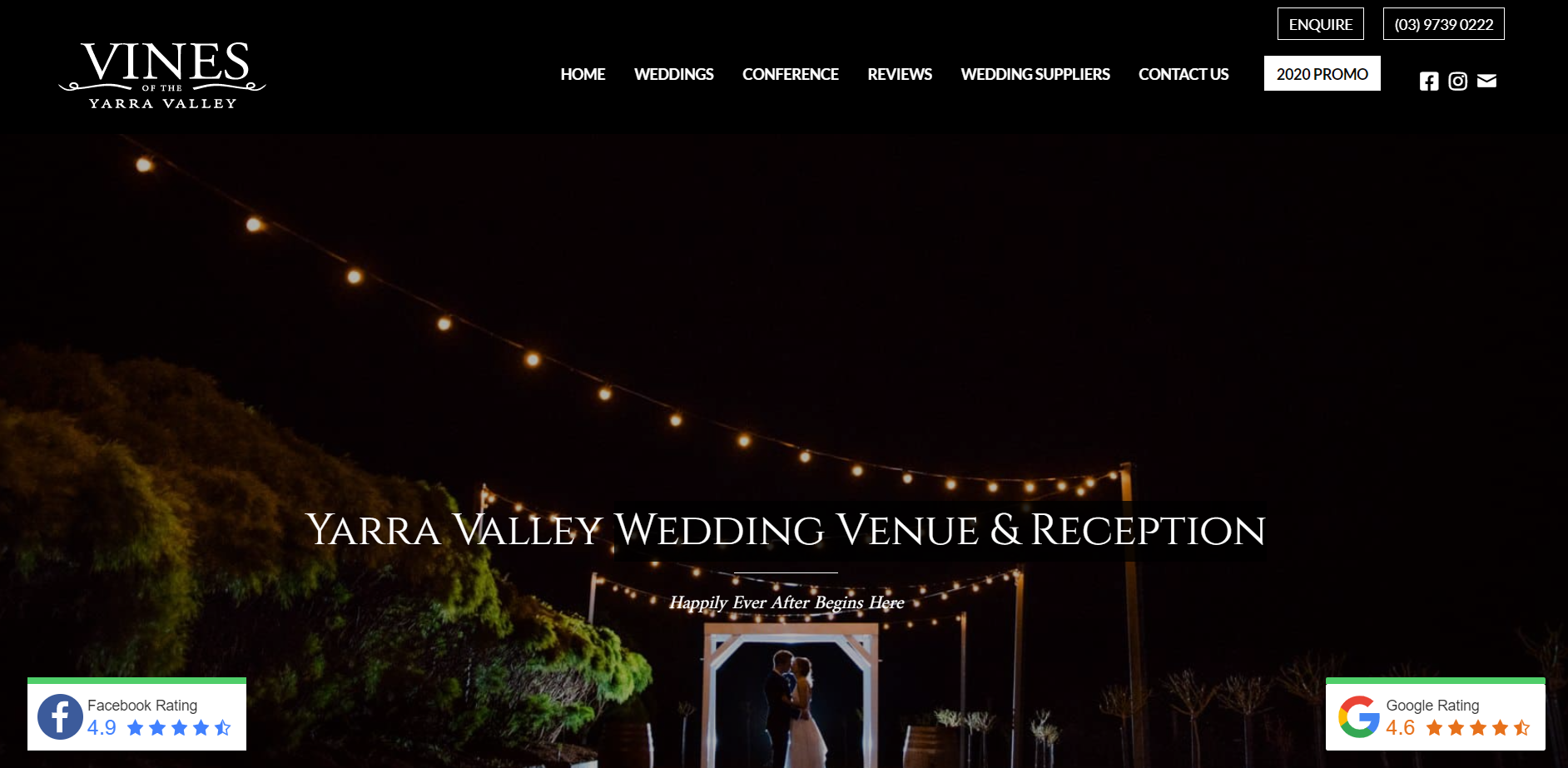 (03) 9739 0222
Yarra Valley Wedding Receptions at Vines is as Unique as the Couples who Marry Here
All-Inclusive Packages to Suit All Weddings
Our all-inclusive Celebration Package, designed with 'no hidden fees' will ensure that all of the details for your day, are taken care of under one price per guest. You will be pleasantly surprised at all the little touches we include.
Our prices do vary depending on the season and day of the week, so it would be my pleasure to discuss with you, your personalised needs and budget to tailor a quotation and package that is perfect for you.
The main room at Vines of the Yarra Valley seats 120 guests, and 140 can comfortably be served for a stand-up cocktail style event. Our upstairs scenic function room sits 50 and is perfect for cocktail style corporate events, engagements and birthdays.
Vines Luxury Events & Functions Venue
If you have always dreamed of a winery wedding, you may not need to go much further than Melbourne's outskirts. And with the unmatchable food and wine, that vineyard venues offer, not to mention the spellbinding views of rolling hills and lush green vines; what more could you want? With capacity for 150 guests, including a dance floor, the room allows for flexible layouts to weddings of all styles. 
Our experienced wedding coordinators are always available to assist with ceremony & reception enquiries, supplier details and create bespoke menus for your special day. The team are dedicated to assisting and planning your special day to perfection, ensuring dreams are turned into reality. 
Weddings are wonderful occasions; full of love, happiness and with all the people you love in the same place. Here at The Vines of the Yarra Valley, we have a fantastic Bridal Services Team who go above and beyond to make your dream day a reality!
Imagine all your guests staying under one luxury roof your ceremony in a soaring gallery with floor to ceiling windows, then. At the same time, you have photos taken your guests can enjoy drinks on the terrace before your reception starts in the ballroom with its picturesque views over the Yarra Valley.
Winery Wedding & Function Venue To Remember
Exchange your vows surrounded by the beauty of nature
With breathtaking views of the Yarra Valley and Yarra Ranges beyond, Vines of the Yarra Valley provides a setting of unforgettable beauty for your magical wedding day. We specialise in exclusive, romantic, and personalised weddings to make your big day simply perfect in every way, with everything you need in one fabulous location. 
Sophisticated Understated Rustic Glam Elegance
Your guests will be hosted in our romantic, sophisticated rustic-lam space while sipping wine made on the premises. Our events team will carefully assist with all of the details, from helping you select your individual wedding menu to ensure every element is perfect when it's time to walk down the aisle. We've expertly designed our weddings to provide you with a full-service experience as we help you craft the day you've always imagined. You will remember the Vines of the Yarra Valley wedding venue of your dreams with photos taken against the backdrop of our wineries and Yarra Valley. Enjoy estate-grown wine and dance your way into the night under the stars.
Conference Events Venue Yarra Valley
Corporate Events & Work Functions
Social or corporate events, conferences, product launches, media events, functions; whatever the occasion, the Vines of the Yarra Valley caters to it. The larger of the two function rooms cater for up to 150 guests that experience 180-degree floor to ceiling windows overlooking the Yarra Valley.
Vines of the Yarra Valley Events & Functions venue is a stunning property located at the gateway of the Yarra Ranges just 45 minutes from the Melbourne CBD. Surrounded by acres of vineyard in every direction, lush lawns and magnificent rose gardens, we provide everything you need in one location, including free ceremony time.
Best Reviewed Wedding Receptions in Yarra Valley
Perfect for Corporate Functions a mere 45 minutes from Melbourne CBD
Hold your next event, function or accommodate your conference in a spectacular setting overlooking the Yarra Valley. Vines of the Yarra Valley is an events & function venue located on Helen's Hill within a family-owned and operated vineyard. The site offers a spectacular 360-degree vista of the valley and the mountains beyond. With the main room that seats 120 for meals or 140 for stand up cocktail functions, Vines of the Yarra Valley can accommodate your conference, work Christmas party, cocktail party, or wedding. For extra seating or a little more privacy, there are upstairs rooms that will seat up to 50.
We're committed to creating a truly unique experience for you and your guests. Vines of the Yarra Valley offers you a perfect venue for your function or corporate event. We are renowned for serving the finest quality cuisine, focusing on fresh, local produce and Estate-grown wines. We are guaranteed to leave you and your guests delighted with our level of service and guest experience, which is second to none. A stunning vineyard backdrop gives you a myriad of photography options, and the view from the top of the hill is stunning.
The Brighton Savoy Function Venue Melbourne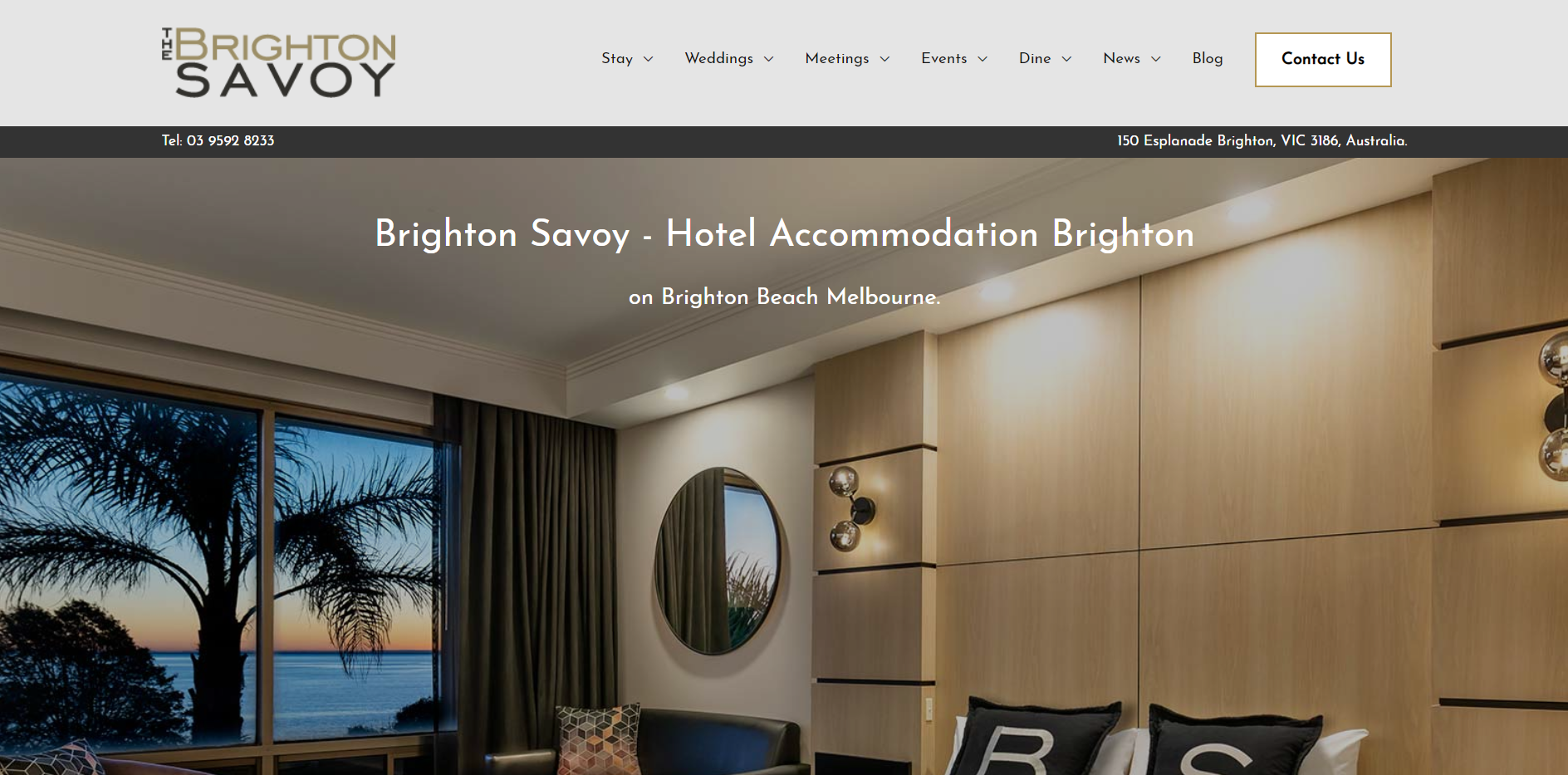 03 9592 8233
Beachside Accommodation, Weddings & Hotel Services
Brighton Savoy is a 4-star hotel in the Bayside suburb of Brighton, Victoria in Australia. It is located opposite Brighton Beach at 150 Esplanade, overlooking Port Phillip Bay. Brighton Savoy has been in operation as an accommodation complex since 1959 and during that time has hosted a number of high-profile events, such as the second TV Week Logie Awards presentation ceremony in 1960. Brighton Savoy has hosted a variety of notable guests, including English glamour model Sabrina and Australian politician Bob Hawke.
Enjoy the fresh air and the wide-open spaces of Brighton beach.
Award-Winning Wedding Venue & Receptions Melbourne, Victoria
The Brighton Savoy is located directly opposite Middle Brighton Beach where you will find the iconic, colourful and world-famous Bathing Boxes. Host your wedding at one of Melbourne's premier wedding venues, featuring waterfront and beachfront ceremonies, four event spaces catering from 30 to 220 guests.
We have celebrated with many bridal couples over the last 50 years in the Wedding Industry and look forward to hosting your special day with your family, friends and loved ones.
Be assured that you will have access to an experienced wedding and events team to make your wedding day one to remember.
Hosting Great Functions in Melbourne
Melbourne's best bayside function venue in Brighton
The Brighton Savoy has been hosting special events and celebrations for many years. We offer a range of packages to suit any occasion. Why not reach out to our events team to discuss your next event.
Corporate
Financial or annual year balls

Company presentations or award nights

Breakfast Meetings

Victorian Police graduation balls

Christmas dinner dances or celebrations
Family Celebrations
Engagement parties

Wedding anniversaries

21st birthday parties

Milestone birthdays 50th, 80th, 100th

Afternoon or high tea
Remembrance Events
Tertiary Events
University balls

Graduation nights

Valedictorian dinners
Superb Beach Accommodation & Hotel in Brighton.
The Brighton Savoy is the area's only full-service boutique hotel and is located directly on the beachfront.
During your stay, we invite you to enjoy our full range of services including 24-hour front desk, free high-speed wi-fi internet, Seaview dining, daily housekeeping and free on-site parking, and much much more.
The Brighton Savoy has been a long-standing Bayside icon since 1967, our award-winning facilities serve as a wedding reception venue, full-service function & conference centre with hotel accommodation, and Seaview Restaurant making us one of the finest Hotels Brighton has on offer.
Owned exclusively by the Lee Family, the Brighton Savoy is one of the premier hotels in Brighton which features the best of contemporary design with unparalleled customer service and attention to detail that only a 4-star hotel can provide.
Vogue Ballroom Function Venue Melbourne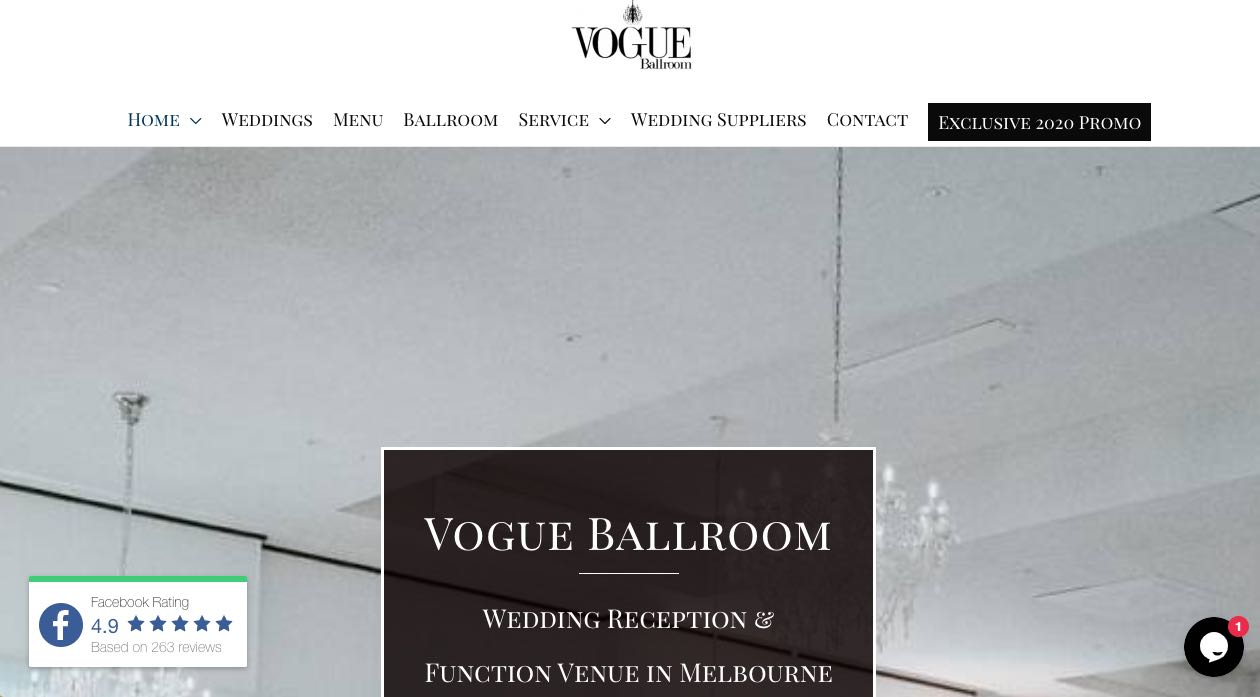 (03) 9802 2477
Melbourne's Iconic Wedding Reception Venue
Vogue Ballroom, an exciting wedding and reception venue located in Melbourne's south-east suburbs of Burwood East, a short 20 minutes from the city centre Vogue Ballroom is where Melbourne "happily-ever-after" begins in grand style. The moment you say "I do," weddings at Vogue Ballroom are an elegant and luxurious affair.
From our Grand Ballroom with its exquisite details, sparkling crystal chandeliers, and majestic staircase, brides-to-be have a wealth of elegant options in the selection of their wedding venue for their special day.
When it comes to your special day, Vogue Ballroom has proven itself to be an iconic wedding venue and function centre in Melbourne with a highly reviewed track record.
Looking for an elegant wedding reception venue in Melbourne?
It is all about creating the right ambience your magical Melbourne wedding day.
At Vogue, our grand ballroom is exclusively yours. A beautifully presented and decorated free-standing building with its own car park facilities. Our team of expert wedding specialists, event planners and chefs will work closely with you to create a wedding experience that is truly magnificent, ultimately unforgettable and lives up to your expectations and dreams in every way.
We will assist you every step of the way to ensure that you have the perfect ingredients for your wedding day.
Your perfect events venue for a range of occasions
The elegance displayed in the Vogue Ballroom is nothing short of breath-taking. The tall ceilings are adorned with crystal chandelier, the marble foyer is a sight of grandeur, and the balcony overlooking the whole ballroom makes the perfect spot to showcase a newly married couple. This building was designed to showcase the grace and sophistication that most brides seek for their big day.
If you've been searching for a unique wedding ceremony or other event venues in Melbourne, our ballroom is the best option for almost any special event you can think of.
Need a stylish, unique or intimate venue for the perfect wedding reception?

Putting on a lavish school formal?

Want to put on the biggest Christmas Party your company's ever seen?
The elegant ballroom at Vogue is the perfect location for you.
Over 2000 Happy-Ever-After Wedded Melbourne Couples
Our ballroom is unique for all party sizes for the wedding and reception you have play banned. You and your guests will enjoy your special day surrounded by the elegance and style that represent Vogue Ballroom.
Ideal Melbourne Function Venue to host your Special Event
Vogue Ballroom, an elegant function and reception venue located in south-east suburbs of Burwood East, a short 20 minutes from Melbourne city centre.
Vogue ballroom with its sheer elegance and style, onsite complimentary private car parking for up to 120 cars, large 10m x 10m dance floor catering well to traditional European dancing and debutante balls can accommodate from 100 to 370 guests. 
If you've been searching for the perfect wedding reception centre in Melbourne, look no further than Vogue Ballroom! This elegant and exciting Melbourne wedding venue and reception centre are located in the South-East suburbs of Burwood East, a mere 20 minutes from the city centre it comes to your special day, Vogue Ballroom has already proven itself to be an iconic wedding venue with a highly reviewed track record.
Incredible Gala Balls
Vogue Ballroom is the unique and most lavish special occasion ballroom in Melbourne. Located just 20 minutes' south-east of the CBD, our event venue is perfect for a wide variety of special occasions. Our venue is perfect for hosting a gala ball in Melbourne, with its stylish and elegant interior the perfect location for a truly special experience for guests and hosts alike.
Our team of event planning experts cover all bases to ensure that your special event is a fun and memorable occasion, covering everything from music to catering, bar and decoration. We work closely with the host to ensure that every requirement they have for the night is looked after, and dress each event with that extra special wow factor.
Memorable Birthdays
Vogue Ballroom is Melbourne's most elegant and stylish special event venue available for birthday party venue hire. With an extravagant ballroom and exceptional list of services on offer, you will be more than impressed with the experience provided at Vogue Ballroom. We provide our ballroom for birthday parties, covering all the bases to ensure that the birthday boy/girl, as well as your guests, have the time of their lives.
We work closely with the hosts, ensuring we cover all bases to make the birthday party a memorable one, and keep you in the know with every aspect of the planning process. Simply get in touch with the team at Vogue Ballroom to begin the planning process for that special person's big night.
Lavish School Formals & Graduations
Vogue Ballroom is Melbourne's premier special event venue. With lavish décor, top-class catering, and an expert team of event planners, we are the perfect venue for any special occasion.
We provide our venue for school formal functions. Our ballroom is the perfect location to celebrate the school year and alumni, with an elegant ballroom and expert services on hand to make the night unforgettable for students and staff alike. We work closely with the formal planner to ensure that every expectation is met for this important event, from catering, decorations, music, and lights. We take care of every element to ensure that your school's formal is an outstanding one.
University Functions & Gala Balls
Vogue Ballroom is one of Melbourne's best and most stylish function hire venue. With an opulent ballroom and top-class services on offer, we are the perfect location for almost any occasion you could think of. This goes the same for university functions and gala balls. Special events are an awesome part of being a university student, and the team at Vogue Ballroom want to ensure that your upcoming law ball, charity ball or masquerade, is a special and memorable one.
We work closely with the hosts to ensure that every aspect of their university function is taken care of. From catering to the bar, lighting, effects and music, we work hard to ensure that your event makes a grand statement.
Corporate Office Christmas Parties
It must be said that Christmas is a pretty good time for corporations. The team wrap up all the loose ends of the year just in time for a relaxing summer break, and on top of that, you get to throw an enjoyable Christmas party venue in Melbourne to show your staff that you appreciate all the hard work they did throughout the year.
Vogue Ballroom is the perfect venue for putting on that special corporate Christmas party, the one that causes all kinds of regret in the following weeks. At least you won't have long to deal with it until you can hide away from colleagues before the start of the new year.
We have a team of event planning experts on hand to cover all aspects of the party, from decorations to drinks, food to lights and effects, and of course music (even if it's Michael Buble's Christmas on repeat), the team at Vogue Ballroom leave no stone unturned to ensure that your company's Christmas party is one to be remembered for a long time to come.
Elegant Corporate Cocktail Parties
With a stunningly designed venue and a team of expert event planners on hand to make your cocktail party in Melbourne a memorable one, you can be sure that when you hire the venue at Vogue Ballroom, you and your guests will be left wowed by the experience. We work closely with the host of the party in order to cover each and every aspect of the big night, and specially tailor the evening to your requirements.
We want to ensure that everyone leaves our venue with fond memories of the occasion and the venue itself, and take every step necessary to achieve this. We take of everything: catering, bar, decorations, music, and do this to not only match but far exceed your expectations for the big event.
Vogue Ballroom – more style than a martini on the rocks.
First Class Work Conferences
Vogue Ballroom is like stepping into another era. One of sophistication and elegance not seen in modern times. When you step into the marble foyer of our venue, you will immediately see the astounding amounts of style and opulence put into the design and construction of the ballroom. We have created a venue for hire that is perfect for corporate functions and conferences.
Are you planning an upcoming corporate event and need the perfect venue to make a statement to staff, partners, and competitors? Then the venue at Vogue Ballroom is the perfect location for you, savvy business owner.
Whether you need a ballroom for unveiling a new product or want to throw that extravagant Christmas party your staff have been waiting for all year, the team of event planning experts will help you put on the perfect event, big or small.
Corporate Business Seminars
If you need state-of-the-art seminar facilities in Melbourne to pull off a successful business focused presentation, conference, or event, Vogue Ballroom is here to help. Our ballroom in Melbourne is conveniently located a short 20 minutes from the centre of Melbourne's CBD and can easily accommodate any group size.
Our seminar venue is filled with the latest technology for you to utilise, but if you'd prefer to bring your own devices, then you won't have any problems with connectivity. So, that you have ongoing support during your event, our team of event planners are at your service to make your seminar one remember.
Office Breakfasts
If you need state-of-the-art breakfast facility in Melbourne to pull off a successful business-focused event, Vogue Ballroom is here to help.
Breakfast events or meetings are a more informal, cost-effective way for your delegates to meet others. An ideal option to communicate keynote speaker messages in a time-effective way. Our flexible venue and catering options can cater for all types of breakfast events, allowing you to choose from sit down or stand up breakfast packages in your ideal location.
Breakfast events of all sizes and durations are welcome at Vogue Ballroom. If proximity to the city centre and classic elegance is what you require then Vogue Ballroom is the perfect venue for you.
Business Corporate Luncheons
Corporate lunch events are a great way to collaborate on ideas and networking opportunities during the working day. Unite in an informal gathering for common meeting goals and enjoy a superb dining experience at Vogue Ballroom. Our experienced event specialists and catering teams will work with you to cater a lunch package that best suits your needs.
Whether you're looking for Melbourne's best corporate lunch venue for an intimate luncheon to a networking luncheon for hundreds, our stunning function centre will meet your needs and taste. If sophisticated elegance and grandeur are what you are looking for, Vogue Ballroom is a wonderful choice.
Charity Fundraisers
Vogue Ballroom offers a spectacular location to host your next fundraising gala. Soak up the atmosphere of our elegant ballroom and treat your guests to superb food and beverage packages while drawing attention to your cause. Our professionalism and experience in organising successful charity events will allow your organisation to focus on your event goals.
Fundraising events of all sizes and budgets are welcome at Vogue Ballroom events venue. From grand auctions to gala dinners, our fundraising event venues offer inspiring settings that will assist in delivering your fundraising goals. For sophisticated elegance and grandeur, Vogue Ballroom is a wonderful choice.
Extravagant Barmitzvahs
There are few occasions in a child's life which combine family solidarity, momentous significance and exuberant joy such as their bar or bat mitzvah. To celebrate a coming of age often involves the first party at which a child, now reaching adolescence, can fully appreciate and enjoy the effort being invested in an event. Being treated and respected as an adult by their peers is a heady prize. To celebrate this milestone with a truly glamorous, adult party is the greatest confirmation of a meaningful transition in their lives.
Melbourne's Vogue Ballroom can provide you with a specialised team dedicated to organising and hosting events which live up to the lofty standard of our name. Our exclusive signature venue, with its own theme and special features, is legendary among the city's elite, with fantastic parties thrown regularly with the help of our caterers, managers and events team.
Make your child's bar mitzvah something memorable with a celebration in the genuine splendour of Vogue Ballroom. Fully catered bar mitzvah parties at Melbourne's most fabulous venues. No matter what style and tone you have in mind for the upcoming bar mitzvah, you will find Vogue Ballroom can cater to and amplify it in ways you'll never imagine. Speak with our team to discuss your options.
A professional events team in one of Melbourne's best function venues
Our executive international a-la-carte chef has decades of experience in world-renowned kitchens and will create a mouth-watering menu that will suit your individual taste. Our award-winning managerial team boast working together for number years. They have collaborated on hundreds of weddings, reflecting a flawless experience, ensuring all your worries and concerns about the big day are put to rest.
A banquet supervisor will oversee your reception, and a senior waiter will be dedicated to looking after the bridal party.
If you've been searching for the perfect Wedding Reception & Function Venue in Melbourne, look no further than Vogue Ballroom! This elegant and exciting Melbourne wedding venue and reception centre are located in the south-east suburbs of Burwood East, a mere 20 minutes from the city centre.
QT Hotels & Function Venue Melbourne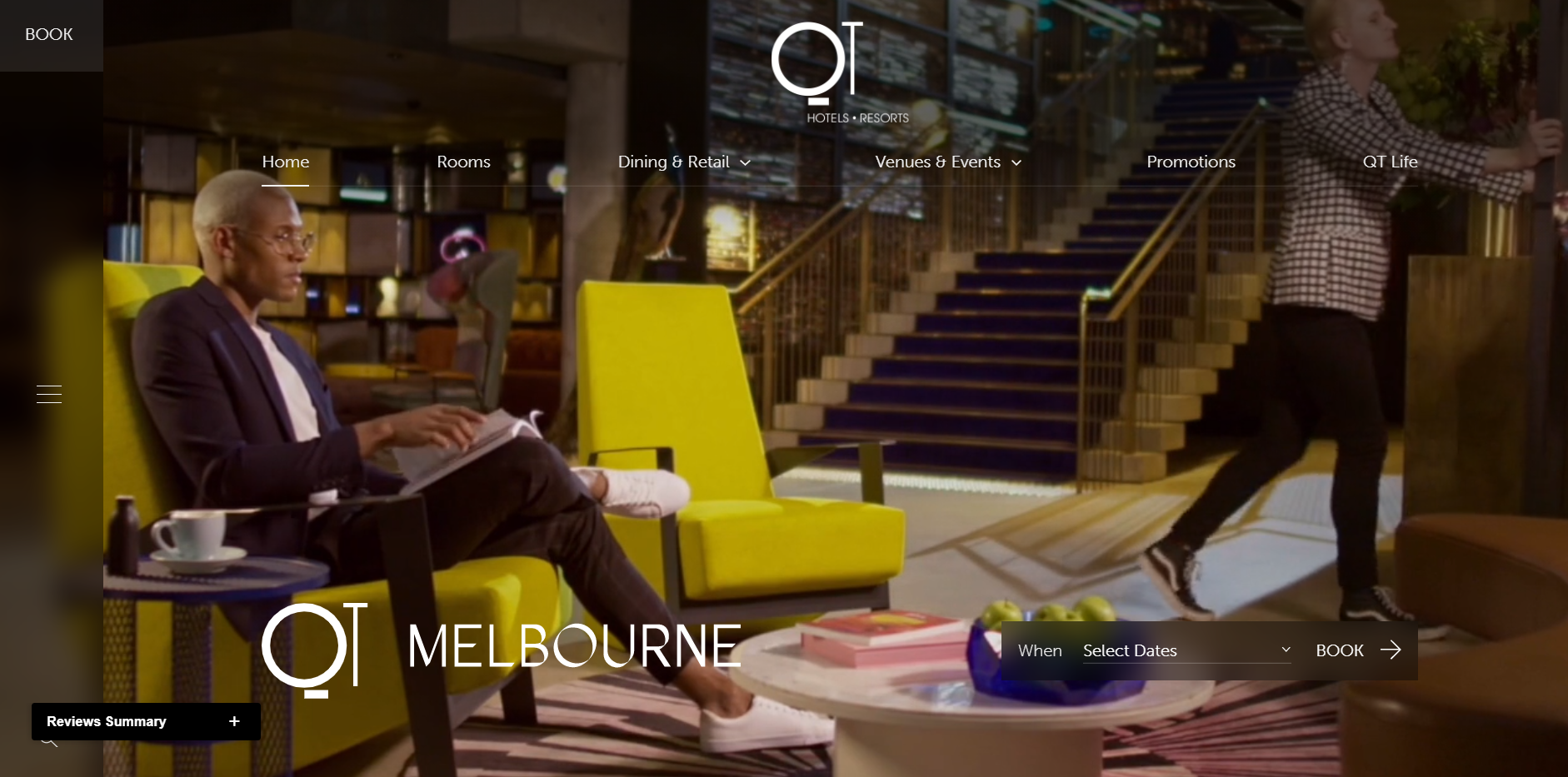 +61 3 8636 8801
The world's a stage and some sets are just more sumptuous than others. At QT Melbourne, your scene is dressed in velvet detail, sultry soundscapes and three courses for the five senses. This is luxury in a landscape of industrial chic, low-light and high-fashion. From our famous rooftop bar to undiscovered laneways, QT Melbourne is a path that leads somewhere different every time. You might say our regulars are irregular; the rules change as often as the cocktail list, and the door is your ever-open invitation to step on through.
Pascale Bar & Grill
Theatrical opulence meets adventurous local produce. Experience New Orleans' 'French Quarter' with an extensive wine list and home-made potions in this open-plan day grill and bar.
Rooftop at QT
Skyline savoured over an exceptional cocktail. Escape the chaos and soak up the views from our sophisticated cocktail bar. Enjoy Melbourne's splendour from above.
Tanto
Become a Samurai in your own kitchen. Explore a selection of handcrafted Japanese knives or bring your own for sharpening.
The Cake Shop
An indulgent treat when you're on the go. Take a break with delicious snackettes, impressive coffee selection – or something a little stronger.
We hate to play favourites, but some of our guests are lavished with even more special attention than usual. Want to know what you're missing out on?
Join The QT Club right now – we'll keep it just between us.
Red Scooter Venue Function Melbourne 
03 9429 2647
WELCOME TO RED SCOOTER THE UNIQUE EVENTS VENUE
Thank you for considering Red Scooter The Unique Events Venue for your forthcoming event.
Surprise your guests, share the excitement and bring your events to life at Melbourne's most unique venue. Combining a touch of New York style and eclectic decor, along with a passion for giving our guests the very best experience... Welcome to Red Scooter.
We live to entertain and thrive on the great feedback we receive from our guests. Tell us what you have in mind, then we will add our creativity and experience, and the result is…. exactly what you want it to be! Whatever your occasion, we will come to the party and help you make the most of it.
When you choose Red Scooter, you will be in good company. We have been awarded "Best Function Venue" by Restaurant and Catering Victoria along with being awarded The Victorian Sustainable Business Award from the EPA for our environmental practices.
Now we are waiting to hear from you. Call us on 03 9088 0757 to find out why your next celebration should be a Red Scooter occasion.
Unique Events Venue in Melbourne
UNIQUE FUNCTIONS BEGIN WITH THE PERFECT UNIQUE FUNCTION LOCATION. WITH A COLLECTION OF PRIVATE UNIQUE EVENTS VENUES AVAILABLE FOR HIRE, RED SCOOTER THE UNIQUE EVENTS VENUE PROVIDES THE PERFECT BACKDROP FOR YOUR NEXT UNIQUE EVENT IN MELBOURNE. IF YOU'RE PLANNING A WEDDING, SOCIAL CELEBRATION, CORPORATE EVENTS, OR A UNIQUE ENGAGEMENT PARTY, LET US HELP YOU MAKE IT A TRULY UNIQUE EVENT.
LOOKING FOR A CORPORATE VENUE AND FUNCTION ROOM IN MELBOURNE?
Red Scooter has established itself as Melbourne's premier Corporate Venue perfect for your next corporate event. Our award-winning venue showcases the very best in New York style, providing exceptional quality to ensure your corporate event is truly memorable.
Our corporate venue for functions and events is uniquely Red Scooter. With the venue's ambient lighting cascading from chandeliers, high ceilings, and the timeless New York warehouse aesthetic, space transforms effortlessly for your event.
ALL-INCLUSIVE CORPORATE VENUE PACKAGES
4 fantastic function spaces

Fully secured free on-and-off street parking

Dedicated event coordinator to make the

corporate venue planning process easy

Flexible event packages with customisation options

Delicious food and cocktails

AV, slideshows & microphones

Exclusive venue hire upon request
Red Scooter is a highly trained team celebrating 25 years of delivering memorable events.
As our mission statement suggests, we want you to walk through our venue and know that all of your needs will be catered for. In short, Red Scooter the event venue takes the guesswork out of choosing the right venue. Small things can make such a big difference. Our aim is to create a unique overall experience, adding that extra something special to your event. Event Venue
4 fantastic function spaces

Dedicated event venue coordinator to make the planning process easy

Flexible event packages with customisation options

Award-winning delicious food and designer cocktails

AV, slideshows & microphones

Exclusive venue hire upon request
Overnewton Castle Function Venues Melbourne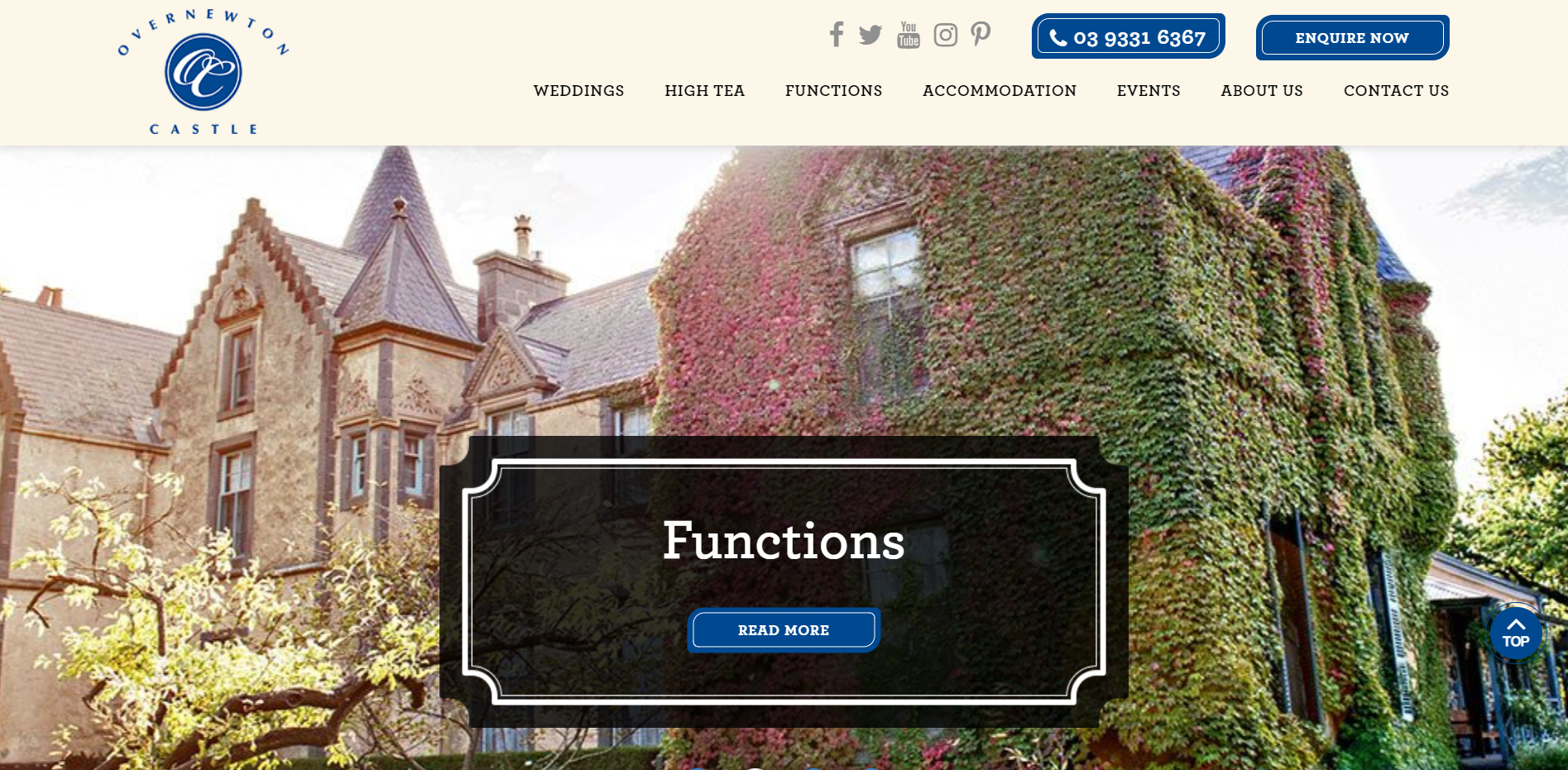 +61 3 9331 6364
Luxurious Private Function Rooms to Accommodate Any Occasion
Planning a lavish milestone birthday party or an important business conference and need function room hire. Overnewton Castle is based in the northern suburbs of Melbourne, and are capable of hosting a diverse range of events. There's no better time than now to take a look at the spacious, gorgeous rooms available at Overnewton Castle. We can cater for any special occasion you may need, from intimate events to large and spacious functions. If you'd like to hold your function outdoors, our four and a half acres of vibrant gardens and picturesque views make Overnewton Castle the perfect outdoor venue. Only 15 minutes away from Melbourne's CBD, come and escape to a beautiful country atmosphere with free parking, welcoming staff and breathtaking spaces.
Corporate Conferences
Overnewton Castle is one of the premier function centres in Melbourne that specialises in hosting high powered, corporate conferences for businesses both local and from across Australia. Our room and its seating are easily configurable to accommodate everyone in attendance and encourage maximum involvement. Overnewton can supply seating, light catering and technology to help your conference run smoothly from beginning to end.
Christenings
A Christening isn't just a celebration of birth within the Catholic Church – for adults converting to the faith, it's a celebration of rebirth. If your local church is booked out and you're struggling to find a suitable venue for your Christening ceremony, be sure to look at Overnewton Castle in Keilor East for quality function room hire in the Melbourne northern suburbs.
Our spacious function rooms can accommodate up to 150 seated guests. Meanwhile, our picturesque English gardens provide a wealth of photo opportunities for friends and family, making the event one you'll never forget.
Receptions
Make the most romantic day of your life all the more unforgettable by hiring a reception room at Overnewton Castle. Whether your wedding ceremony is at another location, but you can't look past the beauty of Overnewton for the reception, or you want to make things easier for everyone by holding the ceremony and reception at the one venue, you'll be able to take advantage of picture-perfect views that are ideal for wedding photos. You'll also enjoy a range of catering options and highly professional staff to ensure your reception goes off without a hitch.
Parties
From milestone birthdays through to surprise engagements and everything in between, parties are central to celebrating life's special events. Finding the right function room hire in Melbourne's northern suburbs is crucial to the event being a success. Overnewton Castle offers superior quality facilities for major parties. Whether you're turning 18 or 80, saying farewell to friends and family as you move overseas for the next stage of your life, or you're announcing your engagement to the world, you can rely on Overnewton to make your celebration a success.
Private Wedding Venue & Hotel in Melbourne
As you plan one of the most special events of your life – your wedding day – you'll want to make sure it's an unforgettable experience. Everything from the time and date through to the photography and the reception plays its own part towards creating a day full of romance and celebration. One of the most important points of consideration for your wedding day is the location. When deciding on venue hire in North Melbourne, you want a location that not only looks breathtakingly stunning but also accommodates everything from the needs of the bride and groom through to the city's dynamic weather patterns if you're looking for gorgeous wedding ceremony locations in Melbourne that will make your day perfect, arrange an appointment to view Overnewton Castle.
Overnewton castle was built by William Taylor in 1849. The Scotsman bought 13,000 acres of rich grazing land just west of the Keilor township. Taylor built a simple single-storey bluestone colonial-style homestead. This consisted of 6 rooms with large shuttered windows and wide verandahs. The homestead was positioned on a gentle slope overlooking Keilor and afforded extensive views of the surrounding countryside.
During the 1850's Keilor became an important and busy stopover for travellers on their way to the Victorian Goldfields. This included the building of 2 schools, a new bridge and a new hotel.
It was not until William Taylor returned from a trip to Scotland in 1859 that the grandeur of his dreams became apparent. He set about turning the functional colonial homestead into a miniature Scottish Baronial Castle. The Stately two- storyied wing was added, along with the bluestone Dairy & Butcher Shop and the Private Billiard room now used as a chapel for wedding ceremonies.
Overnewton is built in the Victorian Tudor style, inspired by 16th century English & Scottish architecture. The Scottish baronial style is characterised by its rough-textured masonry, steeped pitched roofs and overhanging battlement corner turrets. The candle snuffer roofs show the influence of French architecture. The bluestone walls were quarried on the estate and rendered with a yellow gravel and stucco finish. Above the large windows of the master bedroom is the Taylor family crest – a mailed arm and fist enclosing a dagger and the motto "Semper Fidelis" (always faithful) and above several other windows are the carved initials of HT, T 1859 and WT.
After the completion of this wing, the homestead consisted of over 35 rooms including 7 bedrooms (the master room included a small circular room and a dressing room) schoolroom, library, drawing room, 2 kitchens, 5 servants rooms and the Billiard room. There are still many original features such as tiles in the bathrooms, claw foot bath and the old IXL wood stove in the kitchen. Several outbuildings on the estate include a bluestone butchery and dairy, lamp room, boot room, coach house, stables, woolshed, shearing sheds and machine shed.
William Taylor passed away in 1903 aged 85 and six months later is wife Helen aged 71 passed away. Their eldest son William Henry continued to manage the estate until he passed away in 1939 aged 81 and his wife Beatrice in 1948. The estate remained in the Taylor family until 1959.
The Carr Family purchased Overnewton in 1959. They raised their three children on the property using part of it as a family home, and the downstairs rooms were used as a wedding reception centre.
In 1975 Dr. L. J. Norton purchased Overnewton Estate to raise his own family on the property. Since then there have been many upgrades, and changes to the property including mains water in 1976, a fire in 1980 burnt the old timber stables. Dr Norton purchased back 6 acres of land which included a drystone wall and some of the original outbuildings.
The years have been kind to Overnewton, today it remains much the same as when it was originally built. Hidden away amongst the old trees, it has seen many changes throughout the years. Gone are the days of horse and carriages, gaslight and servants, but the old world grace and charm along with the elegance, grandeur and atmosphere of a bygone era still remain. Having been restored over the years and an elegant dining room added to the estate, this is definitely a hidden treasure.
Mawarra Functions Melbourne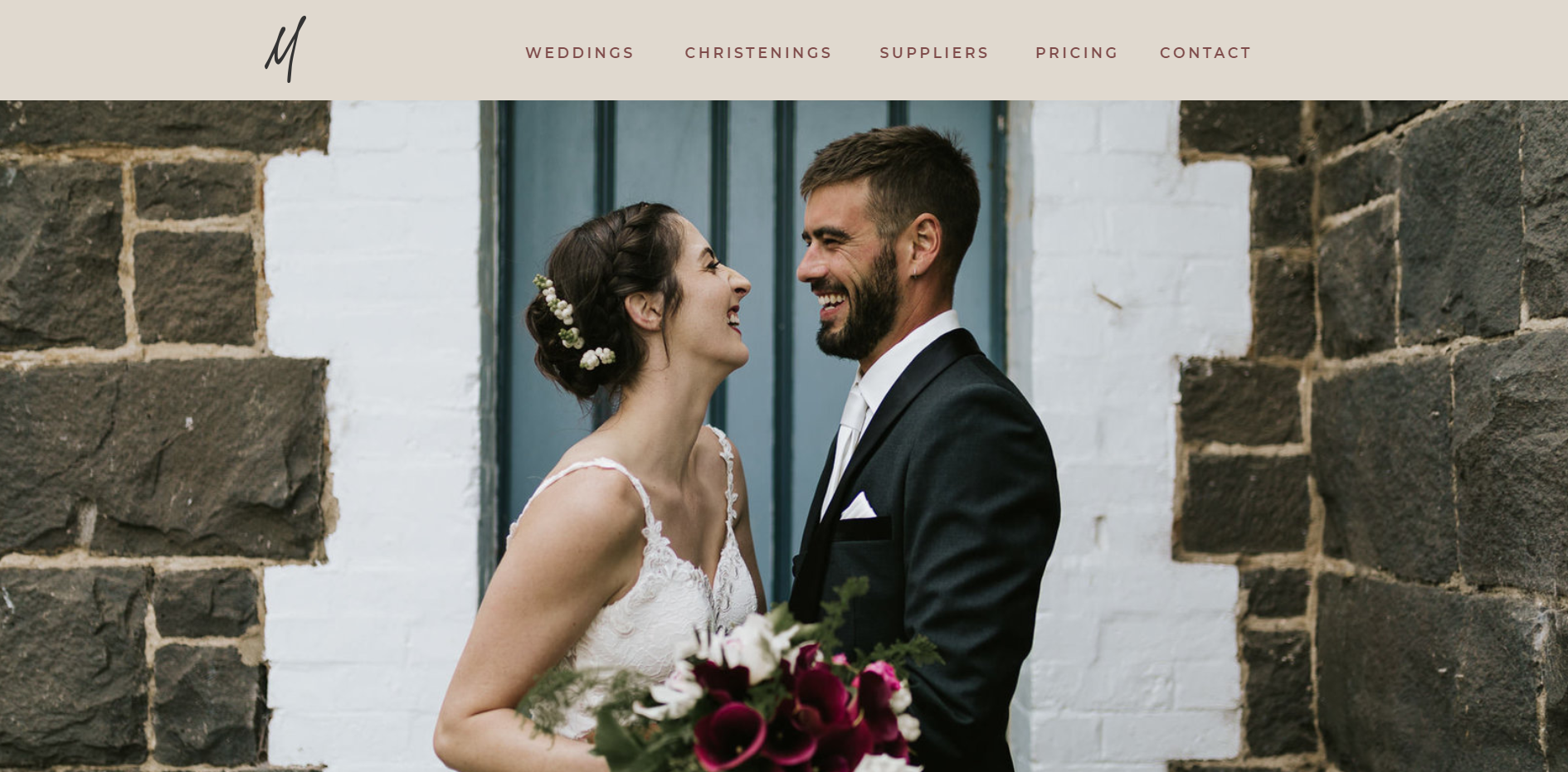 0449 189 090
Small Wedding Venue Melbourne
If you are looking for a small wedding venue in Melbourne, then you have come to the right place. Mawarra Functions is a beautifully restored bluestone venue located just 25km north of the Melbourne CBD. The reception hall dates back to 1877 when it was used as a school for children from the local farming communities. This small wedding venue includes an alfresco deck area where guests can dance the night away while the sun disappears below the horizon.
Receptions
Finding a small wedding venue in Melbourne can be difficult, as many venues focus on larger numbers. Mawarra is perfect for intimate wedding receptions of 60 or more guests. Get in touch with us for a copy of our wedding packages.
Celebration Packages
Our beautifully restored bluestone reception hall seats up to 100 guests, and we can cater for a maximum of 130 guests at a cocktail style event. The most popular menus for celebrations such as engagement parties and birthdays include our Gourmet Barbeque Menu and Cocktail Menu. If you have read any of our Google reviews, you would know that Mawarra is dedicated to providing delicious food and top-notch service. When you book an event at Mawarra, you will have exclusive use of the venue for up to 5 hours and your own team of the dedicated wait staff. Please note that we have a limited number of dates available in 2020 and generally recommend securing your date at least 6 months in advance. Our current Celebration Packages range between $65 and $85 per head (excluding alcohol) with a minimum spend of $6,000.  
Australian Venue Co. Melbourne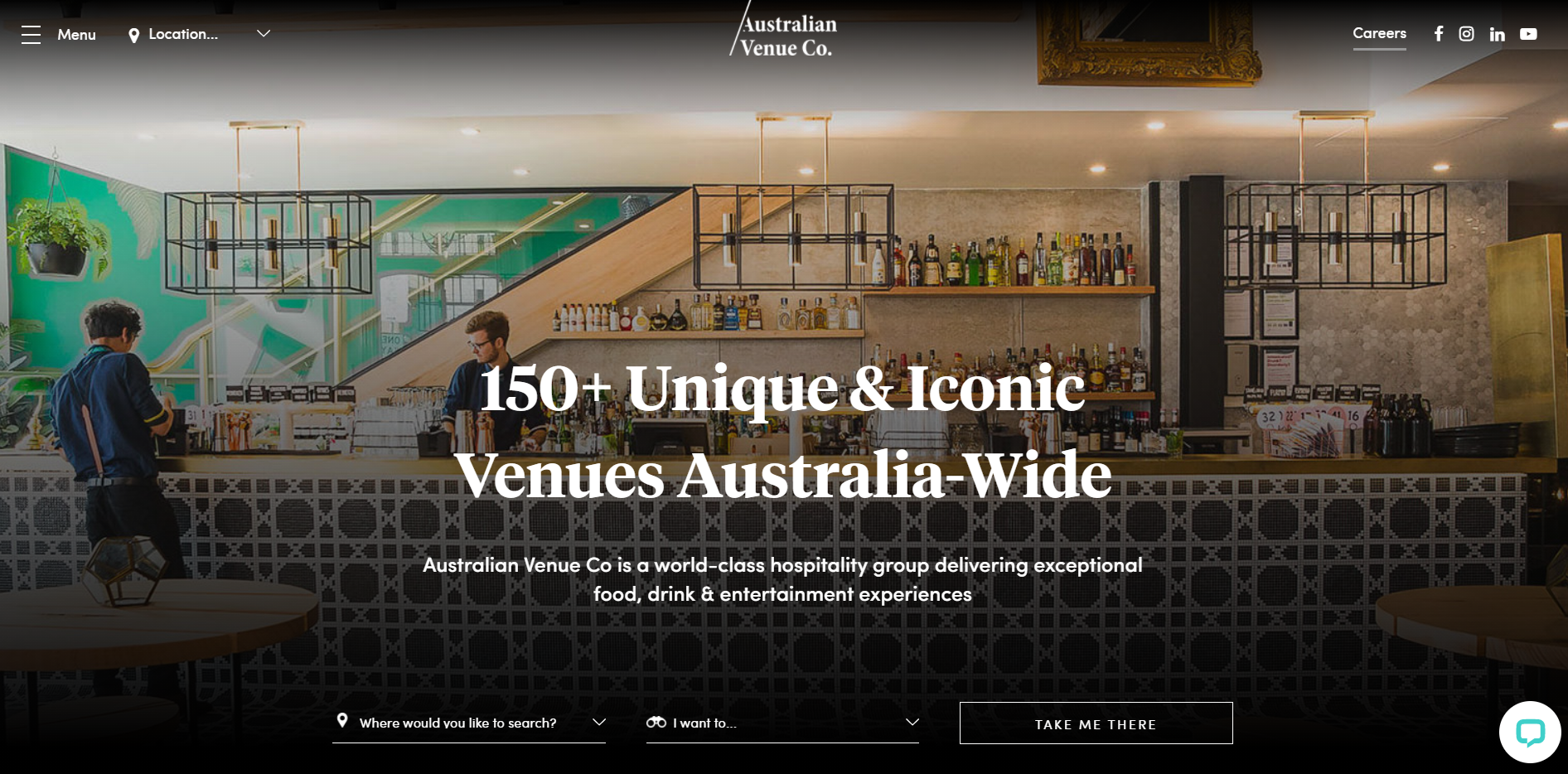 1800 836 834
150+ Unique & Iconic Venues Australia-Wide
Australian Venue Co is a world-class hospitality group delivering exceptional food, drink & entertainment experiences
The hospitality landscape in Melbourne changes more frequently than the weather, our aim at the Australian Venue Co is simple - stay ahead of the curve. Think of us as your merchants of fun in Melbourne, and we'll keep you in the know of the next big thing and must-visit venues.
Regardless of whether you're looking for a secret cocktail bar, rooftop oasis or a good old fashion corner pub, you'll find what you need in our portfolio of over 30 venues. Start exploring the best Melbourne has to offer.
River's Edge Events Melbourne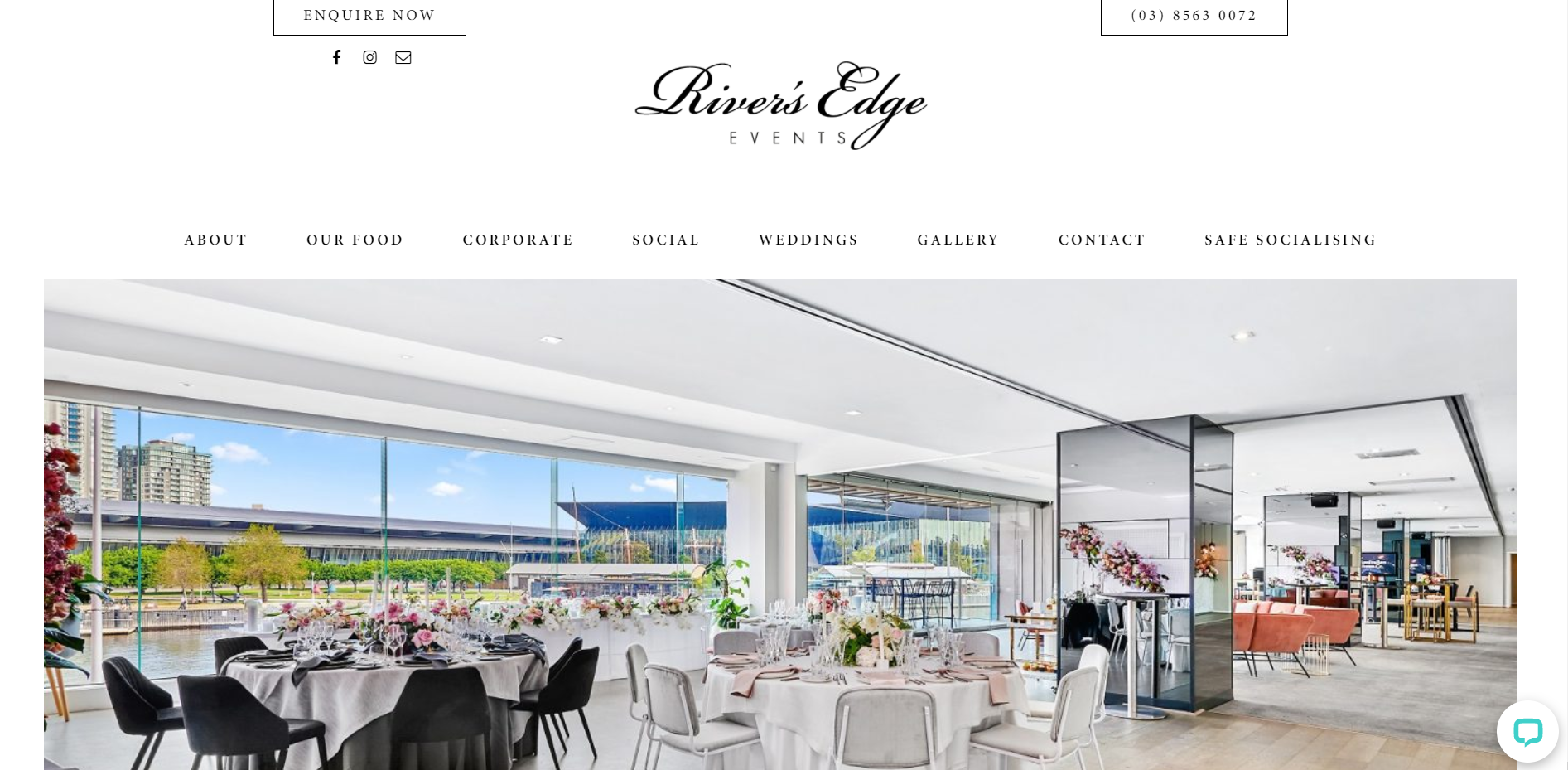 (03) 8563 0071
WELCOME TO RIVER'S EDGE EVENTS
Perfectly perched along Melbourne's Yarra River with city skyline and waterfront views, River's Edge Events is located within walking distance of South Wharf, Melbourne Convention and Exhibition Centre, Crown, Crowne Plaza and Southern Cross Station. Featuring stunning polished concrete floors, neutral tones, floor to ceiling glass windows and large marble bar, River's Edge Events offers a modern space with the opportunity to create a unique event in the style of your choice.
WEDDINGS
Boasting 180-degree views over Melbourne's city skyline and Yarra River; sunlight from spring to autumn and sunset panorama over the water during the long summer evenings, a wedding at River's Edge Events is one your guests will long remember. With a sophisticated and minimalistic approach to styling; neutral tones, polished concrete flooring and industrial styled lighting, River's Edge Events provides the perfect canvas to add your personal touch.
CORPORATE
Perfectly perched along Melbourne's Yarra River, River's Edge Events is located within walking distance of South Wharf, MCEC, Crown, Crowne Plaza and Southern Cross Station. With a premier location, River's Edge is sure to impress your guests whether you're after a sit-down dinner or stand up cocktail event. We pride ourselves on delivering unforgettable experiences that can be tailored to suit your taste, budget and style.
SOCIAL
Birthdays, christenings, bar or bat mitzvahs and more! Looking to host your celebration at a venue? We love a good party! Offering a beautiful light-filled space with multiple breakout areas to create your dream party, fun and mouth-watering menu options and extensive beverage list, River's Edge Events has all you need for your special event. Don't take our word for it, book a site visit with one of our dedicated event team members to see for yourself.
ABOUT RIVER'S EDGE EVENTS 
River's Edge is located within Melbourne's Waterfront development, WTC Wharf, on the fringe of the city. This unique event space is a refreshing and vibrant addition to Melbourne's event industry.
River's Edge delights with exquisite sweeping views of the Yarra River and city surrounds and boasts an abundance of natural light through clear floor-to-ceiling glass expanses. Featuring polished concrete floors, neutral tones and industrial style lighting, River's Edge provides a modern and minimalist event space to host your event.
The formal entrance to River's Edge is marked by a grand staircase with feature lighting and plasma screen. The room extends further towards the river with two stunning Juliet balconies, perfect for a cocktail and canapés upon arrival.
Additionally, operable doors ensure the room can easily be configured to suit more intimate groups as small as 20 guests. Whether it be a meeting, seminar, conference, luncheon, fashion show, cocktail party, or celebratory dinner, the experienced team at River's Edge will ensure your event's success.
With a premier location, River's Edge is sure to impress your guests whether you're after a sit-down dinner or stand up cocktail event. We pride ourselves on delivering unforgettable experiences that can be tailored to suit your taste, budget and style.
The Wharf Hotel Function Event Melbourne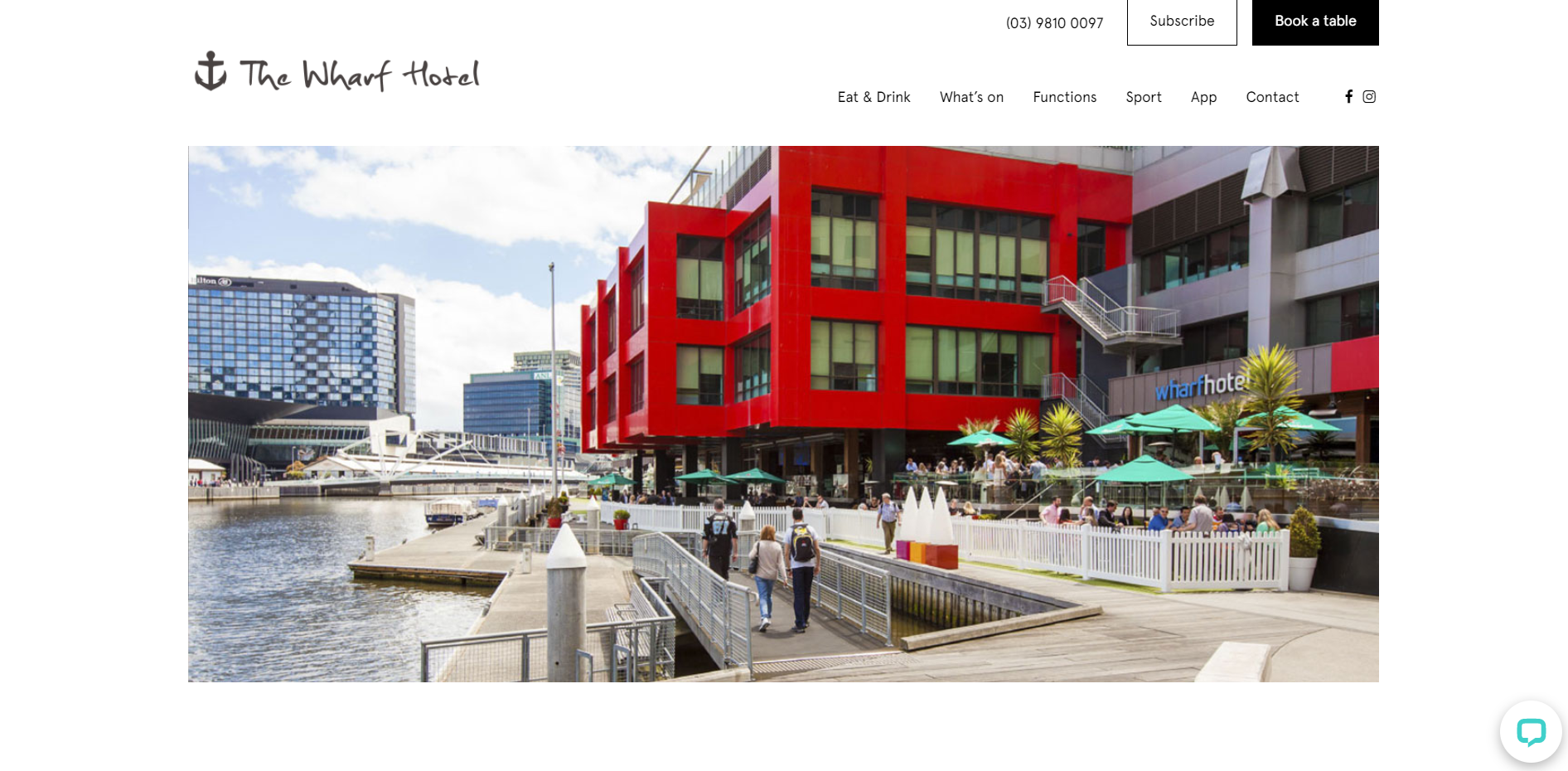 (03) 9810 0091
Welcome to the Wharf Hotel
Perched on the banks of the Yarra River, The Wharf Hotel is superbly located within the modern WTC Wharf precinct.
With premium areas both indoors and outdoors, The Wharf Hotel enjoys the unique combination of a friendly local pub with stunning city views and waterfront ambience.
Did we mention we've got some of the finest local musos on stage every weekend and 8 big screens showing all the latest sporting action from around the globe? So sit back, relax and say cheers with us!
Our function spaces
Eat, drink and celebrate as you take in unbeatable views of the Yarra River.
The Wharf Hotel has a number of function spaces, and menu options available for anything from corporate lunches to casual birthday drinks, team workshops to large scale cocktail parties across the entire venue.
You'll only be limited by your imagination as you explore the many choices available throughout our riverside venue.
Garden Decks
Standing: up to 150
Celebrate riverside in one of our outdoor garden decks overlooking the banks of the Yarra River, by far our favourite spot! Astro-turf, hardwood tables and plants galore give our Garden Decks the inner-city oasis vibe! Available to split into two spaces, catering for 60 - 90 guests standing.
Portside
Seated: 100
Standing: 250
This newly renovated, picturesque space caters for cocktail style groups of up to 250 guests, and 100 seated indoors with access to your own private bar, plasma screen and scope to combine with the Garden Decks for both indoor and outdoor space. This light-filled area is ideal for birthdays, engagements, pre or post sport event gatherings or corporate groups.
Lower Wharf
Melbourne's best-kept secret, The Lower Wharf is a hidden gem offering a versatile open air space for your next event!
Available exclusively on Fridays in December, this space caters for up to 200 guests and boasts uninterrupted views of the city skyline. Nestled right on the banks of the Yarra this unique spot comes with flexible furniture options and a pop-up bar.
Covered Promenade
Seated: 70
Standing: 130
This outdoor undercover area offers your guests the best of both worlds! Complete with stunning views, fireplace & overhead heating, this space can be split up for smaller groups or booked as one large space for up to 130 guests standing or 70 guests seated.
Captains Quarters
Seated: 20
An intimate and semi-private space, the Captains Quarters is ideal for private dining for up to 20 guests. Additionally, the room is perfect for corporate meetings & seminars during the day, featuring an in-room plasma screen and sound system for your presentation needs.
The Nook
Seated: 25
Enjoy a semi-private space that seats up to 25 guests. Overlooking our Portside bar, the Nook shares the vibrant atmosphere whilst providing a more secluded space to enjoy a group gathering.
Crows Nest
Seated: 50
Standing: 70
In the heart of the venue, this newly renovated semi-private space is ideal for groups wanting some exclusivity whilst enjoying the atmosphere of the venue. Available for both seated and standing events.
The Industrique Function Venue Melbourne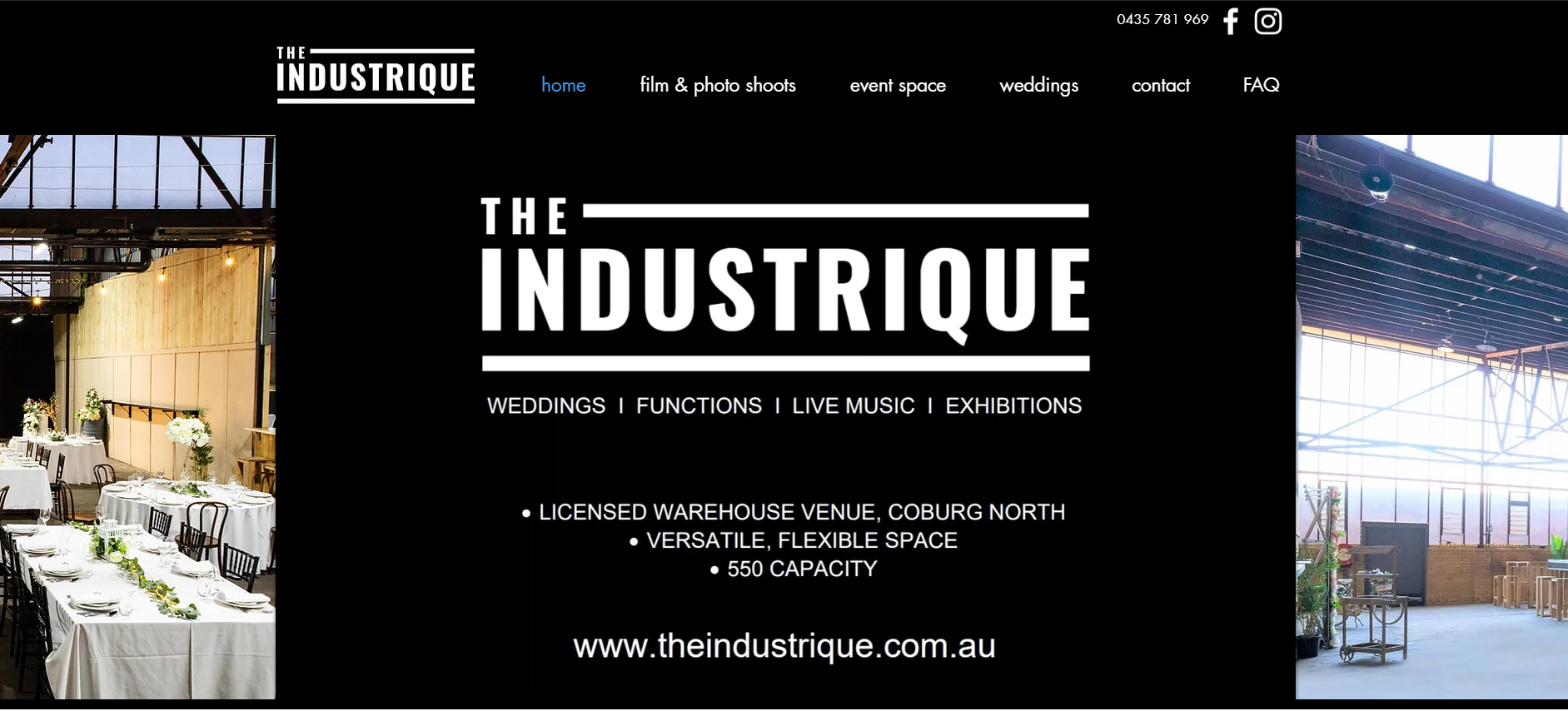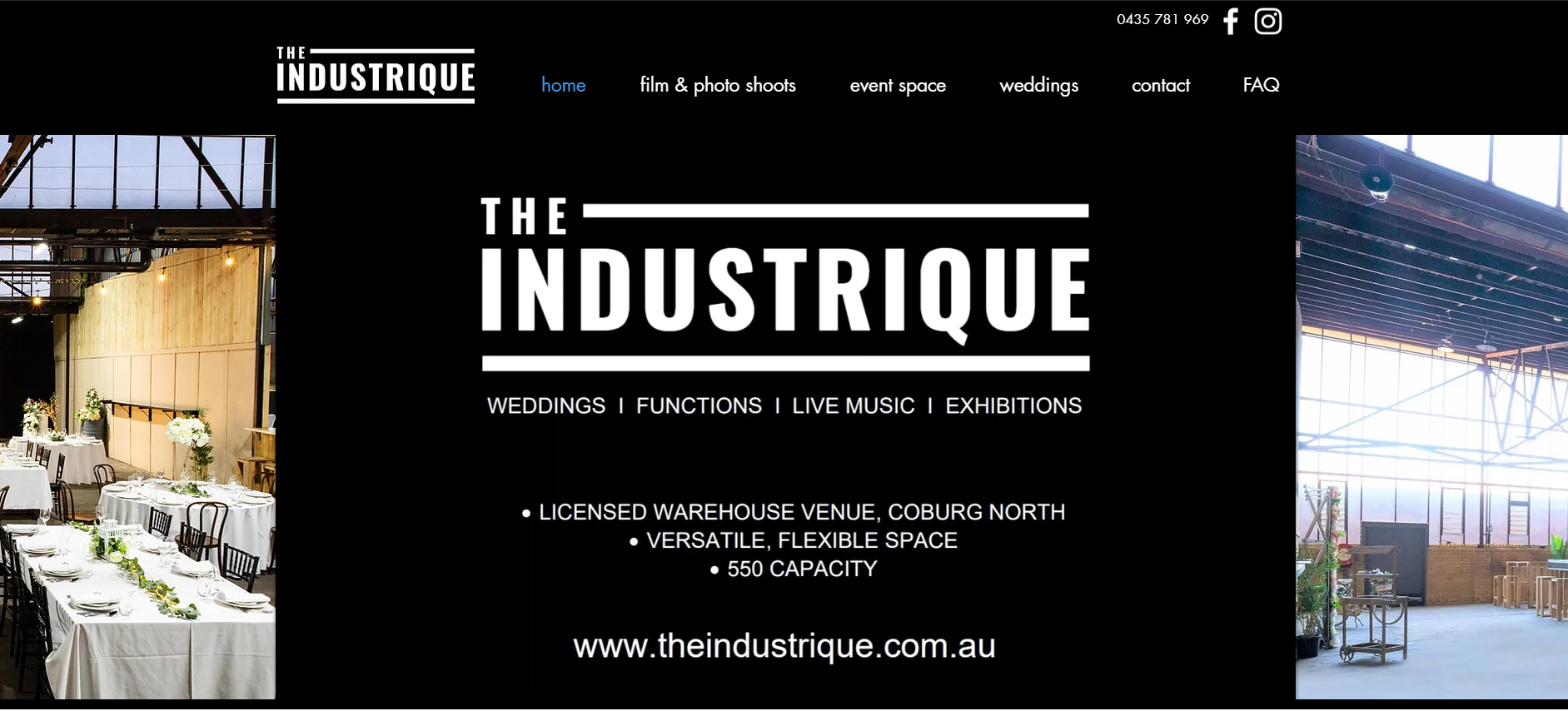 +61 1300 206 446
The Industrique is the ultimate blank canvas for any event. Not only is it the most affordable wedding venue in Melbourne, but it is also the ideal choice for live music events, private & corporate functions, film shoots and exhibitions for anywhere from 50 - 550 guests (up to 900 by prior arrangement).
The Industrique has been designed as a completely versatile space, allowing you full flexibility to create and style your event as you choose whether it be big all small. The unique rustic industrial design adds to its multipurpose charm. With 88 square metres of south-facing windows, it boasts a tonne of natural light providing an amazing summer daytime vibe as well as a unique night-time experience.
The Industrique also provides two outdoor spaces including a garden bar which seats up to 120 guests.
Having a floor space of 1250 square metres plus a large outdoor garden bar means we can comfortably host up to 550 guests whilst comfortably maintaining social distancing.
Located next to the Velodrome with loads of free off-street parking and just 5 minutes walk from many forms of public transport, The Industrique is hard to beat as a venue choice in Melbourne.
The Industrique is ideal for live music, film shoots, private & corporate functions, bucks & hens parties, engagement parties, banquet dining, exhibitions, cocktail parties, seated seminars & workshops, product launches, Christmas parties and birthday parties.
Space was designed with total versatility in mind. It provides complete flexibility to set it up perfectly suit your event, and our team will work with you to ensure your ideal set up is achieved. Being 1250 square metres, we can cater for 50-550 guests seated and standing (up to 900 by arrangement), as well as provide a smaller more intimate space for lower capacity events and functions. Our outdoor bar can seat up to 120 people. 
​550 seated 

550 standing

10 am-11 pm, Sun-Thurs

10am-1am, Fri & Sat

7 day a week licensed bar

1250 square metres
*Quality d&b sound system, stage, lighting, LED's and professional sound, a technician
*Outdoor garden bar which can seat up to 120 people
*Licensed bar 7 days a week (no BYO)
* Food & beverage packages available 
* Plenty of room for food trucks and stalls to a drive-in 
* Outdoor area for BBQ 
* Private artist rooms 
* 7 minutes walk to tram, train and bus 
* 20 minutes to Airport & CBD 
The Views Functions and Events Melbourne
03 9676 6961
The Views is Port Melbourne's only beachfront conference venue and is located only minutes from the CBD and 20 minutes from Melbourne Airport. We offer free parking on-site and are uniquely placed to host your next meeting, conference or special event.
We are a division of Life Saving Victoria and revenue from The Views is used to support the community activities and charity work of the broader Life-Saving Victoria organisation.
We have 5 separate meeting spaces, all featuring stunning elevated views over Station Pier, Port Phillip Bay and the Port Melbourne to Brighton coastline. With an abundance of natural light from our floor to ceiling windows overlooking the water, we offer a relaxed yet professional environment for delegates or the perfect backdrop for your special event.
Flexible floor plans allow for intimate boardrooms for 10, complex multi-room setup for educational and planning days, dining rooms for 180 guests and theatre-style presentations for 300.
The addition of the Boulevard Bar, two ground floor boardrooms, access to the beachside deck and adjoining beachfront grassed area for outdoor activities, means we can deliver the venue best suited to your event's needs.
Our spaces are fitted with integrated AV equipment including data projectors, 100" screens, wireless microphones, speakers and WiFi as standard inclusions. We have a range of specialised equipment including 4k data projectors, video conferencing available on request and can provide full technical support if required.
Our London trained Chef and kitchen team can work with you to create the ideal package to suit your guests, culinary tastes, and your budget. You can choose from one of our standard packages, or we can develop a custom menu just for you.
Beach Wedding Venues in Melbourne, Parties & Private Functions
With an abundance of natural light from floor to ceiling windows overlooking the water, we offer the perfect location to celebrate your wedding or special occasion.
The Views is suitable for both intimate and large-scale functions, and panoramic views across Port Phillip Bay provide a spectacular backdrop for photographs – plus we have direct beach access for fantastic photos on the sand.
There is ample free parking for guests, we are close to Melbourne airport for interstate travellers, and can assist with booking suitable local or CBD based accommodation.
Contact us today to book your next function, meeting or event.
The Purple Emerald Lounge Bar Melbourne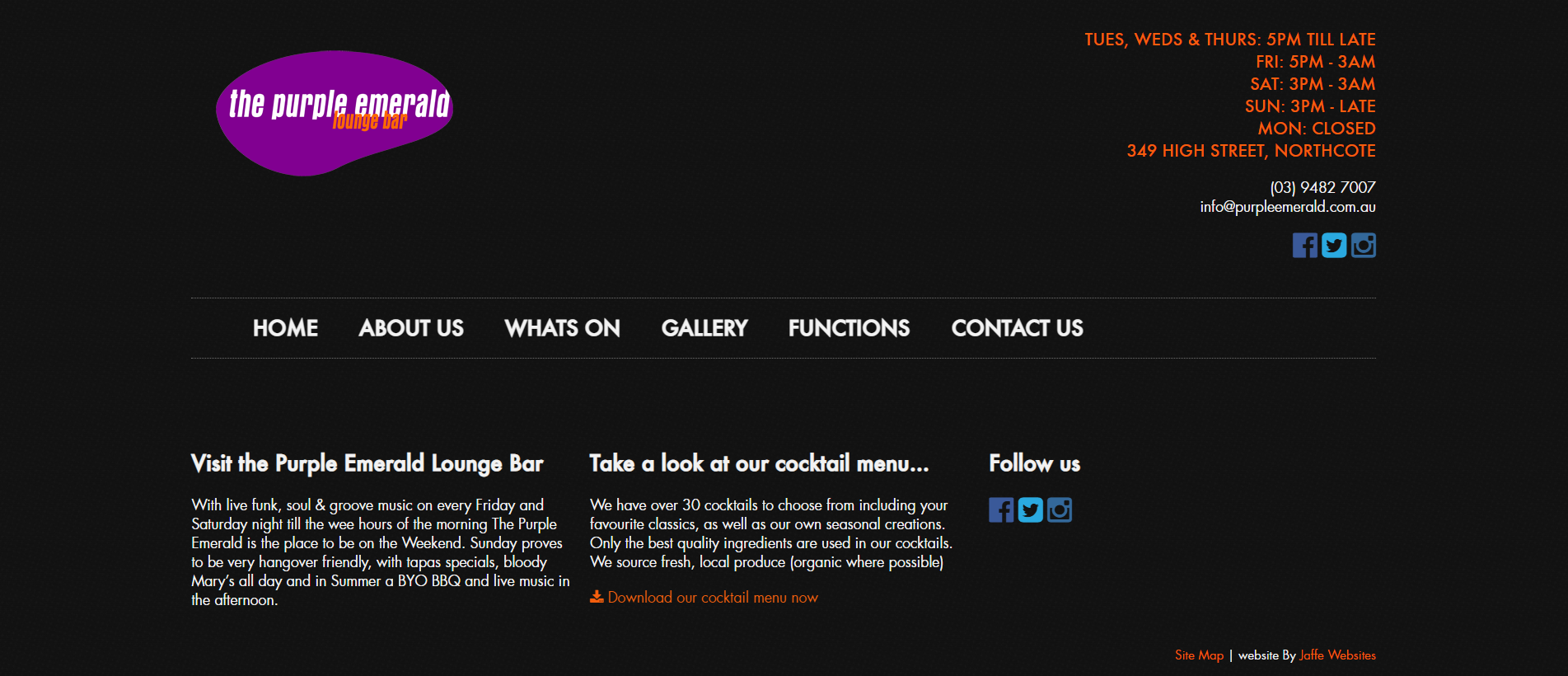 (03) 9482 7001
Visit the Purple Emerald Lounge Bar
With live funk, soul & groove music on every Friday and Saturday night till the wee hours of the morning, The Purple Emerald is the place to be on the Weekend. Sunday proves to be very hangover friendly, with tapas specials, bloody Mary's all day and in Summer a BYO BBQ and live music in the afternoon.
Take a look at our cocktail menu...
We have over 30 cocktails to choose from including your favourite classics, as well as our own seasonal creations. Only the best quality ingredients are used in our cocktails. We source fresh, local produce (organic where possible)
Venue Hire Northcote
Purple Emerald is located in the heart of Northcote, offering High Streets best cocktails and venue hire.
You have the reason to party, the friends to party with, but nowhere to party! Purple Emerald, conveniently situated in Northcote, can solve that for you! With the ability to WOW your guests, the atmosphere to delight and the team to indulge your every food and beverage desire, our Function Venue is the perfect setting for either an intimate gathering, a funky birthday celebration or a business meeting in Northcote without the dull setting!
But the versatility of our venue doesn't stop there! How about charming your wedding party with cool cocktails, seasonal brews and sumptuous food platters? The Purple Emerald is the perfect venue, whatever the celebration or event.
With a relaxed vibe incorporating lounging areas, space to boogie and cosy corners to gather, all with a touch of retro, the Function Team at Purple Emerald will listen to your ideas to create the event you dream of.
And because the best way to create a vibe that fits you is for us to get to know you, why not give us a call and tell our friendly and creative Function Team, exactly how you roll.
Does our Venue offer variety Looking for more than just indoor venue hire in Northcote?
In addition to our beautifully furnished indoor function rooms and killer cocktails we also have a beer garden available to you and your guests. Purple Emerald boasts one of Northcote's best beer gardens. She offers an inviting space that is easily able to host both casual and formal events. With cold beer on tap, mulled cider, cocktails and funky beats, Purple Emerald never fail to deliver the goods! Get your friends together on our oversized shaded deck, and this comfortable meeting space is yet another reason why Purple Emerald is one of Northcote's best-kept secret!
Venue Hire Packages
If you are looking to impress your guests at your next celebration, look no further
Purple Emerald is located in the heart of Northcote, offering High Streets best cocktails and venue hire. We will keep your guests in the mood to party with our signature range of cocktails and delicious tapas – let the Purple Emerald venue hire team help you plan an unforgettable event.
We like to cover all the bases for your next occasion, which is why our venue hire comes with complimentary use of our multimedia projector, sound system and microphone for speeches.
Exclusive venue hire is possible, minimum spends and conditions apply. Please contact the venue hire team at Purple Emerald to find out more.
Purple Emerald provides function and venue hire in Northcote for party goers looking to host their next …
Birthday celebration

Engagement party

Wedding

Corporate event

or anything else really!
About us
After 16 years of trade on Flinders Lane, Melbourne, The Purple Emerald Lounge Bar has relocated, opening its doors to the wonders of High Street, Northcote – and it hasn't changed a bit!
This iconic gem was a long time favourite for Melbourne's CBD twenty-somethings. Renowned for its quirky vintage decor, Purple Emerald has stuck to its roots, keeping to the rustic charm that earned this little treasure it's iconic status as Melbourne's hidden gem.
Purple Emerald has raised the bar for cocktail standards in Northcote, dishing up a 6-page menu of classic cocktails and award-winning creations, skillfully prepared by their innovative bartenders.
Tapas are available right through till late, with seriously the best authentic house-made arancini you've ever tasted!
Local beers and cider on tap, as well as a large range of craft beers. A good range of wines varieties available by the glass or bottle.
The expansive outdoor area is popular all year round, in Summer boasting DJs, cocktail parties and blue skies, in Winter a fire pit, fairy lights and shelter from the elements.
If you're thinking of having a party with a few or a lot of friends, give us a call. In true Purple Emerald style, we don't believe in hire fees or cover charges, just good times!
Pulo Pool Function Melbourne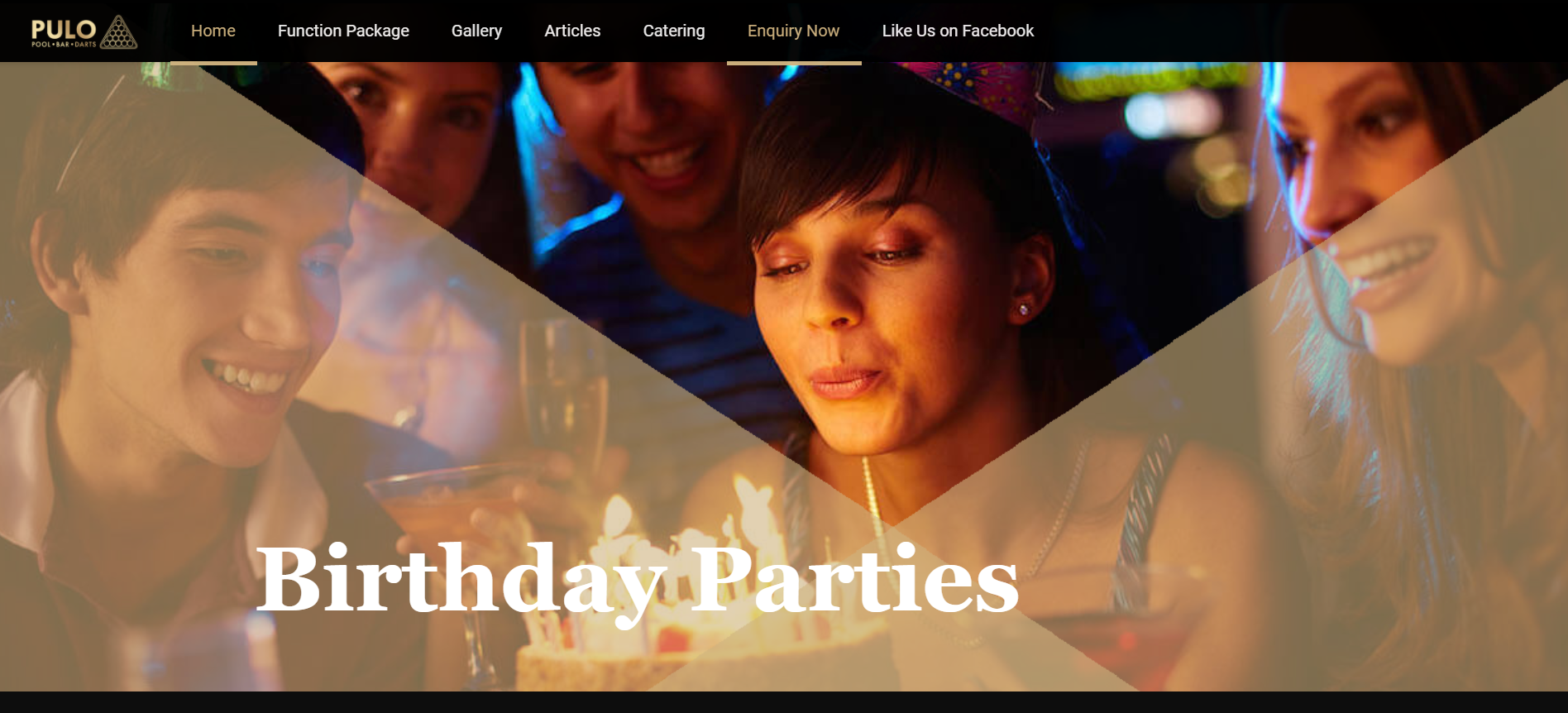 03 9620 0698
Party Venue Melbourne - Who We Are -- Pulo Pool
Did you know that Collins street has a whole glorious function and party venue dedicated to offering an excellent place to hold together of all kinds of events, providing an intimate atmosphere where everyone feels cheerful. At Pulo Function & Party venue, we not only offer guests a stylish environment to play pool, but also the best quality equipment, not to mention the free WiFi, latest music videos, state of the art digital dart machines, football table and much more. With a fully licensed bar and daily drink specials, guests can enjoy core and premium spirits, beers and wine, or have your favourite cocktail mixed! Get fun and relax after works!
Pulo Pool is a fantastic function and party venue for your next private or corporate function!
Our Function Packages
We take functions very seriously as it forms a large part of our business and has many different packages to suit the size of the group. With over 7 years of experience, we continue to make improvements to enhance your function experience.
Corporate Event
Now you're here, let's see if we can find you something a little different to excite you and your crew for your next business or social event. Pulo pool parlour is a unique, fun and exciting venue and is widely regarded as Melbourne's premier pool venue. Located centrally in the CBD, it's the perfect location for your next business or social event!. Everyone has had a game of pool in their time so whether you would like to run a tournament, play killer, or even 'Beat the Boss' Pool is a brilliant way to bring your staff together! Some of the most valuable practices for any company are team building and leadership development. This is a much more desirable alternative to tedious "fine-dining" functions and death by Powerpoint.. not to mention you pay a lot less!! Our friendly staff will cater to an exciting and entertaining day to suit any of your needs with some great packages available. Get in contact with us and our experienced function co-ordinator with talk you through all of your options.
Birthday Party
Is your birthday coming up? Fancy something a little different? With an established reputation of hosting parties and events, our birthday party venue has everything you need to make your celebration a grand success and memorable.
We have 12 pool tables and a fully licensed bar for all your party needs. We have wi-fi & surround sound throughout the venue and full climate control. We also have a wide selection if you would prefer to organise music through us to make your own theme night. Let our group of friendly staff assist you in hosting a fabulous party without burning a hole in your pocket. We have a dedicated team of function professionals, to help you plan and co-ordinate your party or function. We work overtime to make sure it all comes together. Our birthday venue will be the perfect place to celebrate your special occasion in style. Modern, elegant and stylish, we ensure that each function is as unique and as individual as you are. Contact us today and find out more about our birthday packages.
Christmas Party
It is never too early to start planning your company's Staff Christmas Party and an early booking is definitely recommended to secure your preferred party date and avoid any disappointment with our venue being booked out. No more boring Christmas parties at a restaurant or bar down the road where umpteen corporate Christmas parties have been held. Our venue will not fail to create great Christmas memories for you and your co-workers. Pulo has become the favoured Xmas party venue with company size from 25 to 120 people.
Bucks Party
Located in the Melbourne CBD, Pulo pool parlour is the perfect place to start a bucks day in Melbourne. It is also a great option for birthday parties, team building, Social events & Christmas Parties. We have 12 pool tables, fully licensed bar and a private room for all your party needs! We have wi-fi & surround sound throughout the venue. We also have a wide selection if you would prefer to organise music through us for your event. Pool in Melbourne has never been so good with the best pool tables in town and professional staff. With the nightlife and gentlemen's clubs located a footy kick away to finish off your night, Pulo is the perfect spot for your best mates bucks party! We have great packages available so give us a call to find out more!
Masque Bar Function Venue Melbourne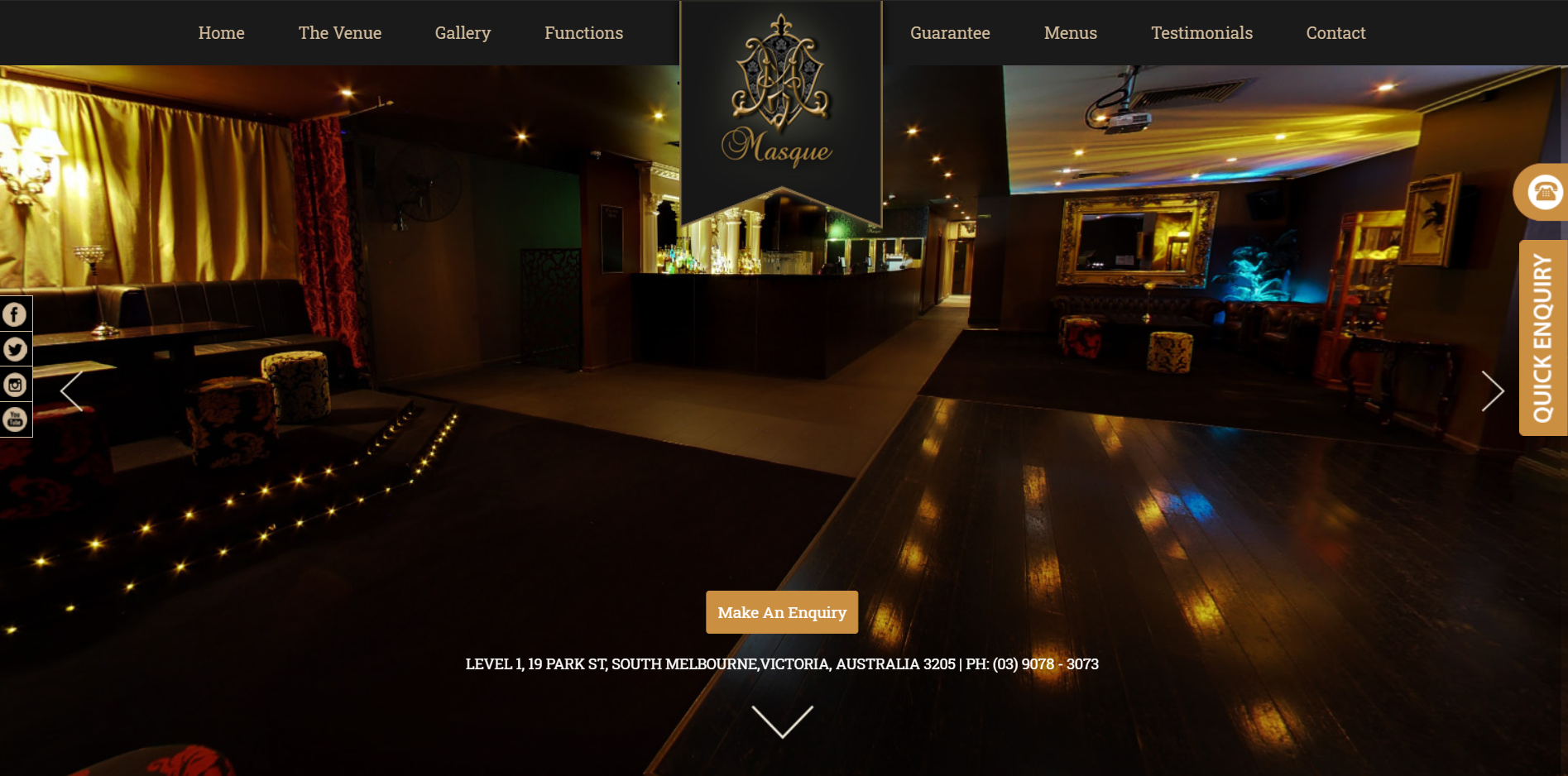 (03) 9078 3078
Melbourne's Most Popular Function, Party & Event Venue
Overlooking vibrant Park Street in South Melbourne, this exquisite cocktail bar encapsulates elegance, beauty and sophistication.
Since opening in 2010, Masque has become one of the most sought after venues in Melbourne for hosting those special events. The milestone occasions that are important to you; engagements, weddings, birthday celebrations, corporate events. We specialise in creating an ambience that allows your event to be enjoyable, memorable and above all fun and entertaining, giving you and your guests an unforgettable sensory experience.
The decadent space that encapsulates elegance, beauty, sophistication and a warm ambience.

You will have the ENTIRE venue and all its facilities available to you for your exclusive use without public interference.

The experience of our bartenders, waiters, managers and event coordinators.

Our high level of service & attention to detail.

The location of our venue is just 5 mins away from Crown Casino and the popular night strip that is Chapel Street, South Yarra.
Our packages have been designed to cater for a variety of functions and events. The best option is to select from one of our packages, or if you have a unique event, we can certainly tailor a package to suit your requirements. 
Projector & Screen
A great way to entertain or inform your guests is through a slide show projected onto our 100" screen to highlight your memories or presentation. A lectern and staging can also be provided on request along with stagging if required. The room may also be re-arranged and set up in many different forms to suit your function and event.
Music
With our state of the art audiovisual equipment, you may organise your own personal DJ, or alternatively, we can arrange this for you, with many of our in-house DJ's at our disposal we make a selection depending on your preference in music. We have all the audiovisual equipment required at no extra charge.
Drinks
Select from our beverage packages customised to suit your budget and requirements. Once the package has been depleted, you may have the options to continue the event subject to attendance, on pay on consumption option. Alternatively, you may choose to increase the bar tab for your guests to enjoy.
Food
We set no minimum quantities on food as you are free to choose from our canape range of gourmet items to suit your budget and number of guests. We also have tailored packages to take the guesswork out of deciding what will be suitable for your event. Roaming waiters deliver the canape items to your guests, ensuring everyone enjoys the food on offer.
Public Transport: The Domain interchange on St. Kilda Road is 200m away from our front door down Park Street.
FREE PARKING: From Friday 6 pm up until 8 am Monday every week of the year.
Harbour Kitchen Events & Functions Melbourne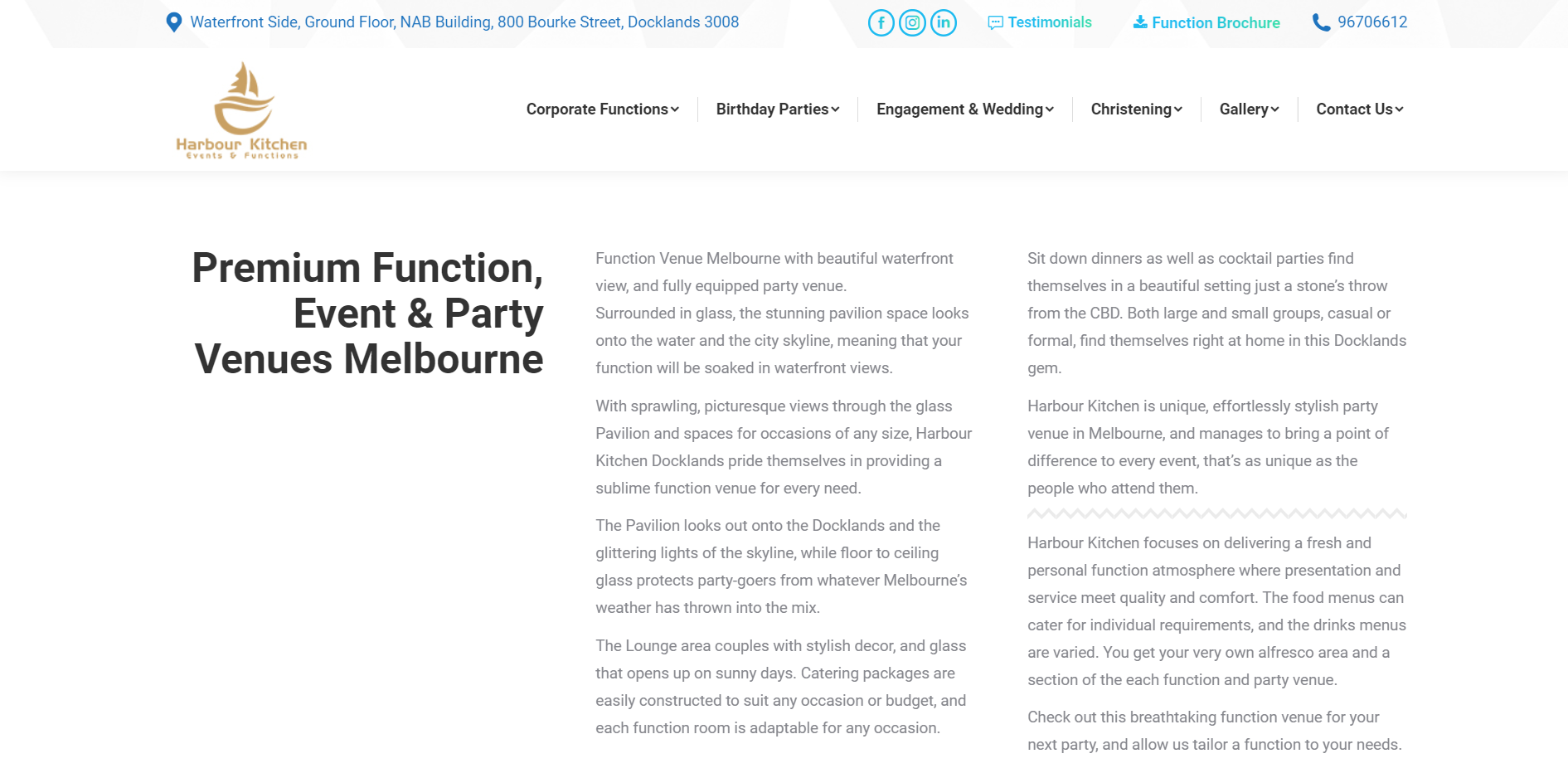 03 96706611
Premium Function, Event & Party Venues Melbourne
Function Venue Melbourne with a beautiful waterfront view, and fully-equipped party venue.
Surrounded in glass, the stunning pavilion space looks onto the water and the city skyline, meaning that your function will be soaked in waterfront views.
With sprawling, picturesque views through the glass Pavilion and spaces for occasions of any size, Harbour Kitchen Docklands pride themselves in providing a sublime function venue for every need.
The Pavilion looks out onto the Docklands and the glittering lights of the skyline, while floor to ceiling glass protects party-goers from whatever Melbourne's weather has thrown into the mix.
The Lounge area couples with stylish decor, and glass that opens up on sunny days. Catering packages are easily constructed to suit any occasion or budget, and each function room is adaptable for any occasion.
Sit down dinners as well as cocktail parties find themselves in a beautiful setting just a stone's throw from the CBD. Both large and small groups, casual or formal, find themselves right at home in this Docklands gem.
Harbour Kitchen is the unique, effortlessly stylish party venue in Melbourne, and manages to bring a point of difference to every event, that's as unique as the people who attend them.
Harbour Kitchen focuses on delivering a fresh and personal function atmosphere where presentation and service meet quality and comfort. The food menus can cater to individual requirements, and the drinks menus are varied. You get your very own alfresco area and a section of each function and party venue.
Check out this breathtaking function venue for your next party, and allow us to tailor a function to your needs.
Situated right on the waterfront in Docklands, this unique Function, Event and Party Venue offers sweeping views over the water and across the Melbourne city.
With the capacity to cater to both small and large groups; as well as a wide range of food and beverage options, Harbour Kitchen is the ideal function and party venue for your next important corporate event, private function or celebration.
Alto Events Space Melbourne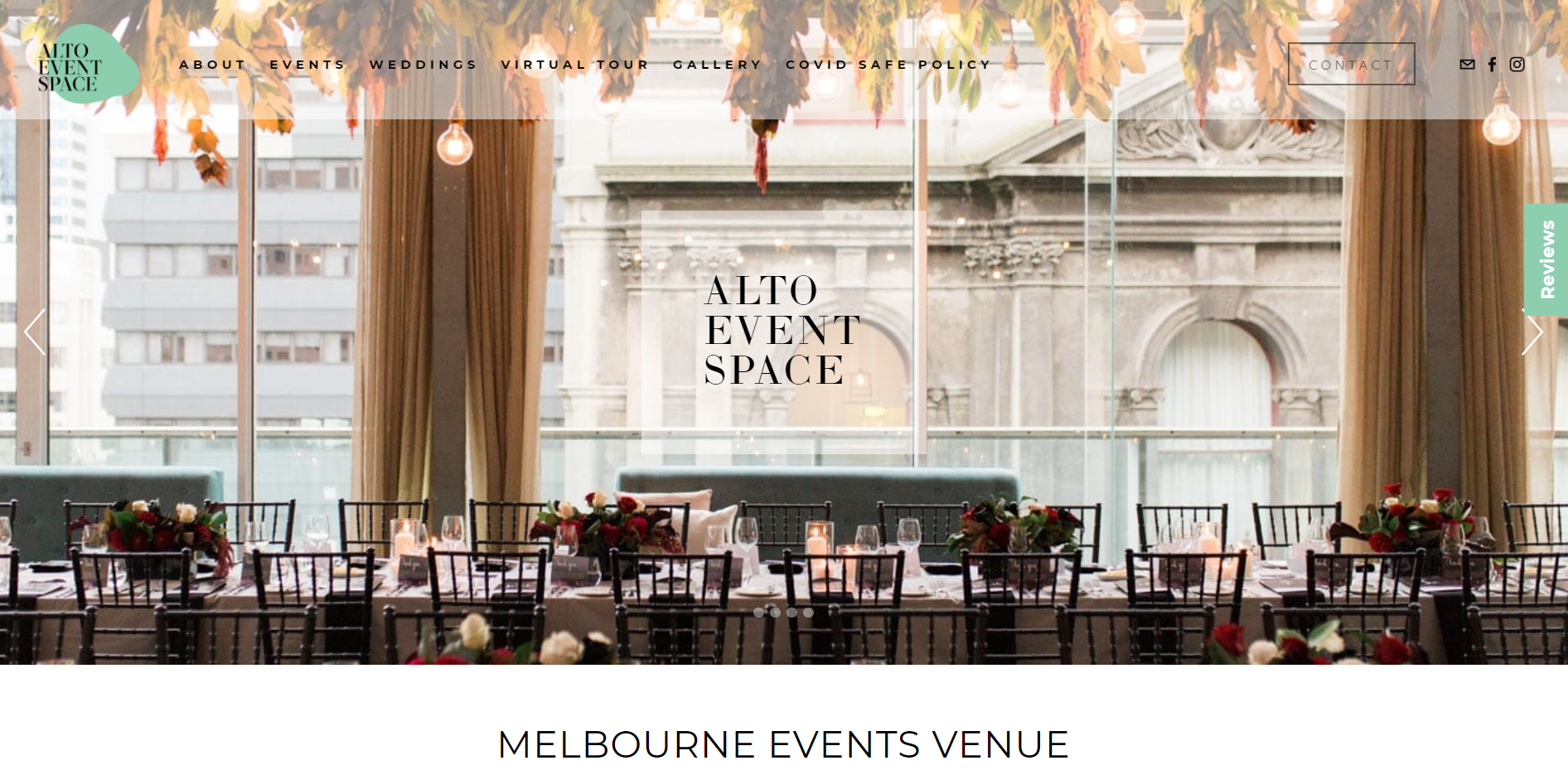 (03) 9281 1409
MELBOURNE EVENTS VENUE
ALTO Event Space is located in the Melbourne CBD on the top floor of the GPO building.
This warehouse-style venue features high ceilings, polished concrete floors, a striking brass bar and an outdoor terrace with city views.
ALTO is exclusively operated by DAMM FINE FOOD Co. and can host up to 400 Guests for cocktail style events and up to 150 guests for sit down dining experiences. Contact us with your event requirements today.
EVENTS AT ALTO
WEDDINGS
Host your dream wedding at ALTO Event Space, one of Melbourne's premier wedding destinations.
All-inclusive dining and cocktail packages are available. View our weddings page for further information.
CORPORATE FUNCTIONS
ALTO Event Space features high ceilings, a stunning brass bar, polished concrete floors and a large outdoor terrace.
Located in the Melbourne CBD, ALTO is the ideal venue for your next corporate function, Christmas party or EOFY party.
CELEBRATIONS
Treat your guests to the party of a lifetime at ALTO Event Space.
This one of a kind venue is ideal for birthdays, significant events and celebrations. View our events page for further information. 
ALTO Event Space is a spectacular venue located on the top floor of Melbourne's iconic GPO building. 
Sweeping city views, thirty-foot high ceilings, floor to ceiling glass walls and a chic industrial finish gives this space a unique edge. 
With a versatile floor plan and large outdoor terrace, ALTO is the perfect function venue for wedding receptions, product launches, corporate events and private parties – any event that requires a space with 'wow' factor.  
All Smiles Function Venues Melbourne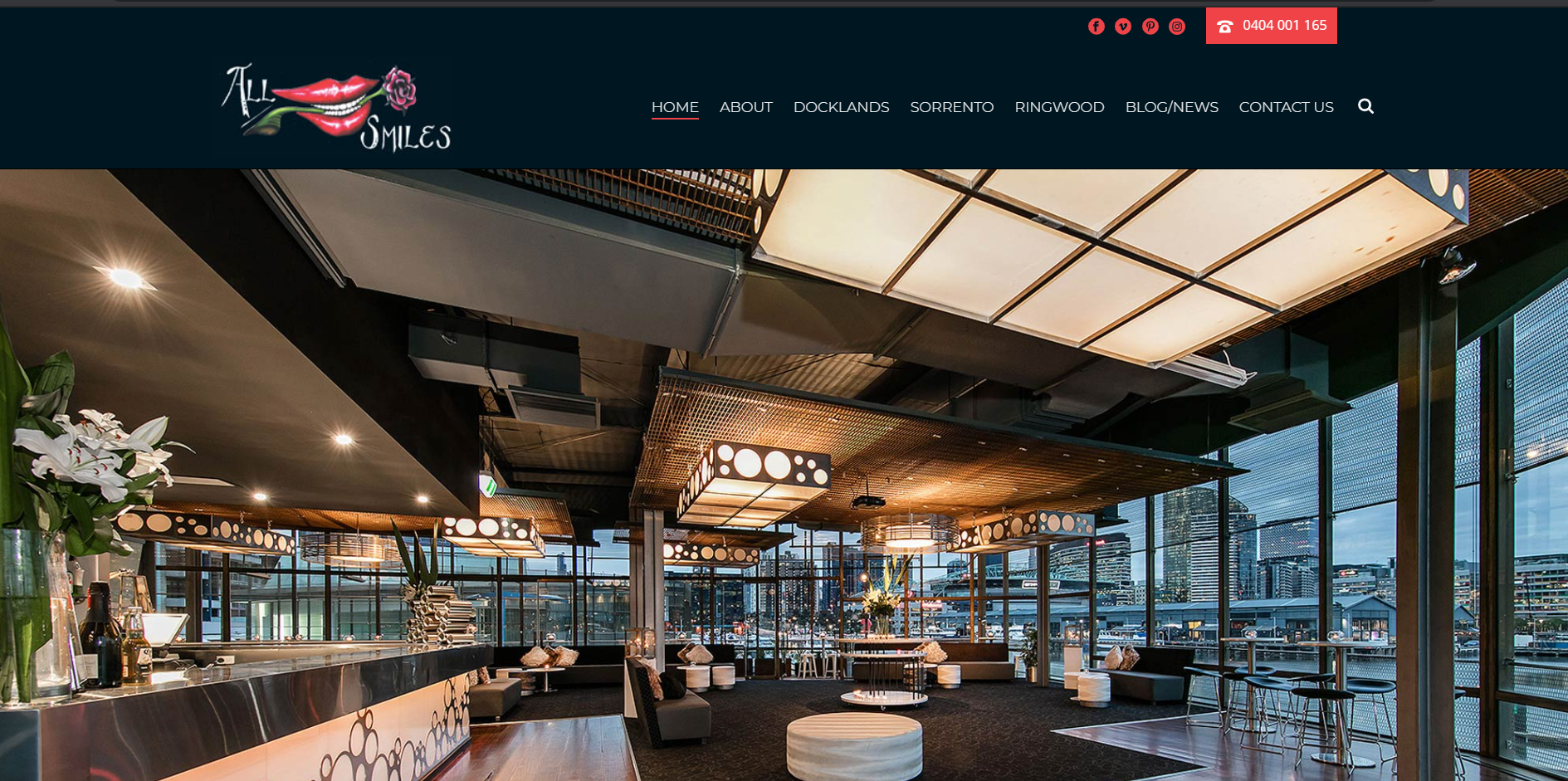 0404 001 166
Cocktail Wedding Receptions
All Smiles Melbourne Waterfront at the Docklands is set in a spectacular waterfront location overlooking the majestic Victoria Harbour in Melbourne. This sensational function venue with its modern architecture and high ceilings offers a relaxed environment with well-appointed surrounds, creating the perfect atmosphere for any event. With world-class facilities and sweeping panoramic views of the magnificent City of Melbourne skyline towards the famous Bolte Bridge, this wedding and cocktail venue will provide the perfect setting for one of the best nights of your life.
Not just a normal cocktail function
We aim to provide a far more social environment for you, your closest friends and family to enjoy incredible food, an amazing venue and outstanding service.
The Food Quality and Quantity
Probably the biggest concern for people choosing a cocktail style event is the food. Not just the quality, but more importantly, the quantity of food served. This is a genuine concern, as we have all left cocktail functions and gone straight to McDonald's on the way home. We guarantee that this will never occur at our cocktail functions. The other concern with food is Quality and variety. No one does it better. Our menus are designed to appeal to a broad cross-section of people and are created using only the freshest of ingredients.
Our Passion.
We have dedicated a large portion of our lives, helping others have the time of their lives. We've spent many years perfecting our food and drink offerings and find ourselves in a position where our guests know we have their best interest at heart. We are professionals at throwing a party and not just any party but a party you'll remember. Every aspect of our business has been constructed to make sure our guests have an amazing event, and this has always been our passion.
Our Service.
Some say that our name, 'All Smiles' is silly they just don't get it! We, however, say that it is the total essence of what we stand for. We are extremely fortunate to have the best staff in the industry who share the same passion and values on personal service that we have since our inception in 1997. We are very proud of our amazing venues and fantastic food, but it is truly our people and the level of service they provide that sets us apart.
Locations
All Smiles has three spectacular function and wedding venues located in and around Melbourne, specialising in amazing cocktail wedding receptions. Our first is located the ocean beach aloft at Sorrento on the glorious Mornington Peninsula. The second and newest of our event and wedding venues is located in one of Melbourne's landmark buildings, perched over the water at Docklands with uninterrupted views of Victoria Harbour, New Quay promenade and our panoramic City of Melbourne.
The original All Smiles venue is located in Ringwood East, established in 1997 our Ringwood location is a vibrant multifunctional venue made with a chic industrial feel.
Commitment to Service
Variety and volume of food are absolutely paramount, together with an exciting yet comfortable environment that is accommodating for all that are present. Add the best staff and service in the business, and you have the perfect combination for an unprecedented cocktail wedding reception, corporate function or event celebration.
We want every one of your guests to say, "That was the best wedding or function I've ever been to!"
Take your time to research
Please take a little time to peruse the photo galleries for each of our function venues, featuring a selection of images from some of our recent cocktail party weddings and functions. You can also read some of the fantastic testimonials that we receive every week from our two spectacular wedding venues.
If you are as passionate as we are about your special day is one to remember for all the right reasons, please allow us the opportunity to show you first hand, our stunning function venues around Melbourne and how we can make your wedding or event… the best it can be!
The Park Function Venue Melbourne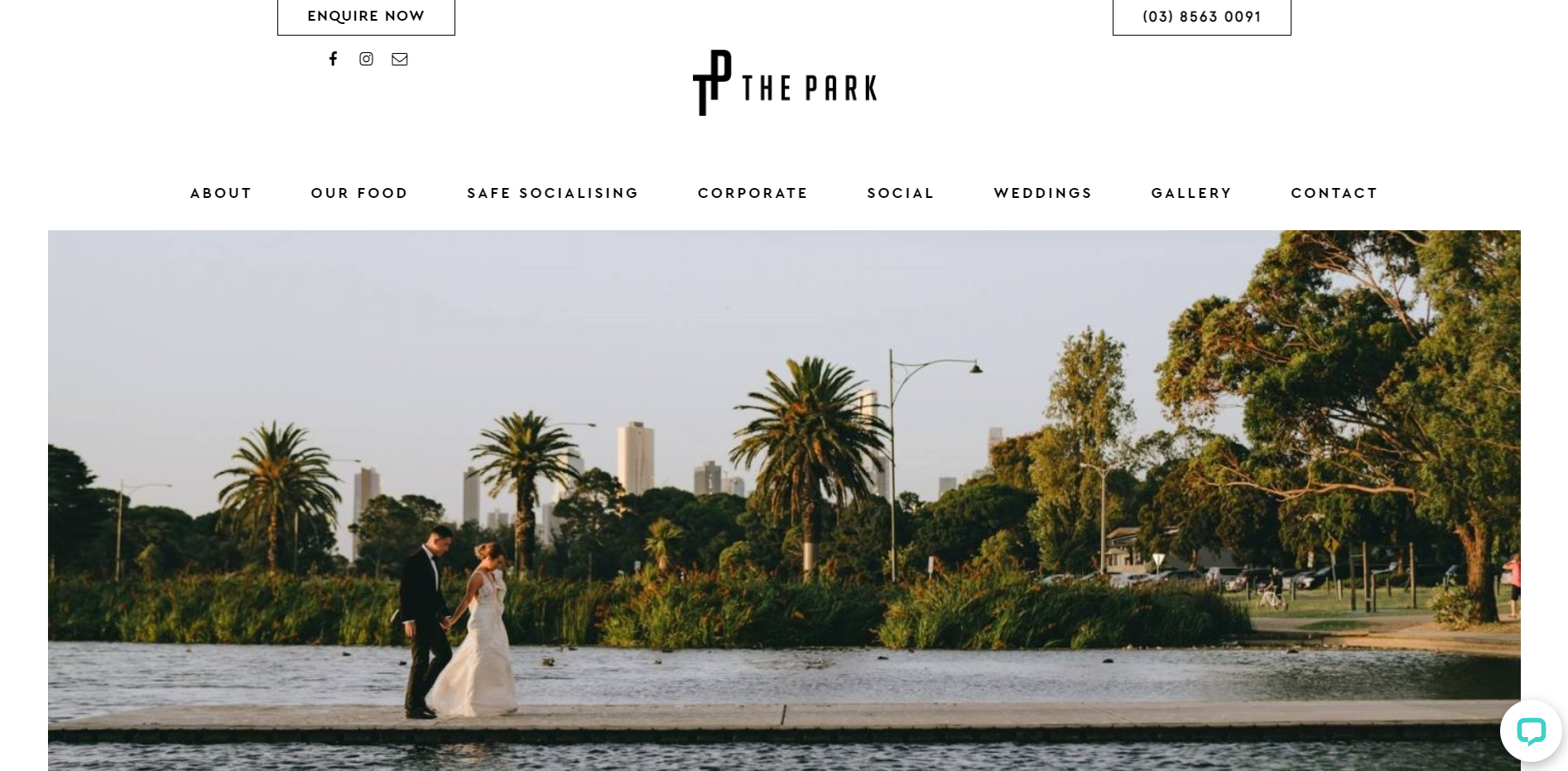 (03) 8563 0090
The Park is renowned for its tranquil lakeside views, extravagant chandeliers, open and stylish warehouse interiors and dramatic arched windows which offer an abundance of natural light from all angles.
CORPORATE
With a highly desired location and unmatched lakeside views, The Park is a short ten-minute drive from Melbourne CBD and close to a number of premier hotels and public transport.
From galas dinners, seminars, luncheons or lavish cocktail parties, The Park can host events from 50 through to 500 guests, with standing room for up to 1,000 guests. Adjustable walls ensure space can easily be configured to suit more intimate groups.
An outdoor, covered balcony offers the perfect location for cocktails and canapés upon arrival. Additionally, the venue offers complimentary use of all in house audiovisual, as well as feature lounge and dining furniture and centrepieces.
Corporate events with panache come together at The Park. This renowned Albert Park venue is not only Melbourne's premium wedding and special events venue, but also offers conference venues for corporate events to wow your client base.
Team building is assured with the corporate functions and specialised event spaces on offer at The Park.
Within easy reach of the Melbourne CBD, yet a world away from the stresses of corporate life, The Park is perfectly situated at the tranquil lakeside setting of Albert Park. Stunning interiors, featuring polished concrete floors, glass chandeliers and a pristine outlook over Albert Park Lake, parkland and the Melbourne city skyline showcase The Park's winning ways with corporate events. The Park is also Melbourne's premium special events and party venue, which sets the benchmark in service, cuisine, beverages and style.
SOCIAL
With complete lake-side frontage and truly inspiring views, The Park is located a short ten-minute ride from Melbourne CBD, close to a number of premier hotels, and public transport.
Impress your guests with a dinner feast or cocktail party to remember! From engagements, birthdays, christenings, bat/bar mitzvahs and more, The Park can host events from 50 through to 500 guests, and has standing room for up to 1,000 guests.
Adjustable walls ensure space can easily be configured to suit more intimate celebrations and the outdoor covered balcony offers the perfect location for cocktails and canapés on arrival.
The venue also offers complimentary use of all in-house audio visual, feature lounge and dining furniture and centrepieces.
ABOUT THE PARK MELBOURNE
Located within the highly sought after Albert Park Lake, the Park is celebrated for its tranquil views, extravagant chandeliers, open and stylish warehouse interiors and dramatic arched windows which offer an abundance of natural light from all angles.
The Park can host receptions from 50 through to 500 guests and has standing room for up to 1,000 guests. Adjustable walls ensure space can easily be configured to suit more intimate wedding parties. An outdoor, covered balcony offers the perfect location for a memorable and romantic ceremony or cocktails and canapés upon arrival.
Chef takes a modern and creative approach to the menus, working with local suppliers and seasonal influences. Wow your guests with a bespoke menu or transform your event with an interactive Food Station!
The events team at The Park take care of every detail for your special day, providing comprehensive event consultation in the lead-up, right through to the seamless execution of your special day. Contact us today to organise a personalised meeting and tour of The Park.
Melbourne's Best Functions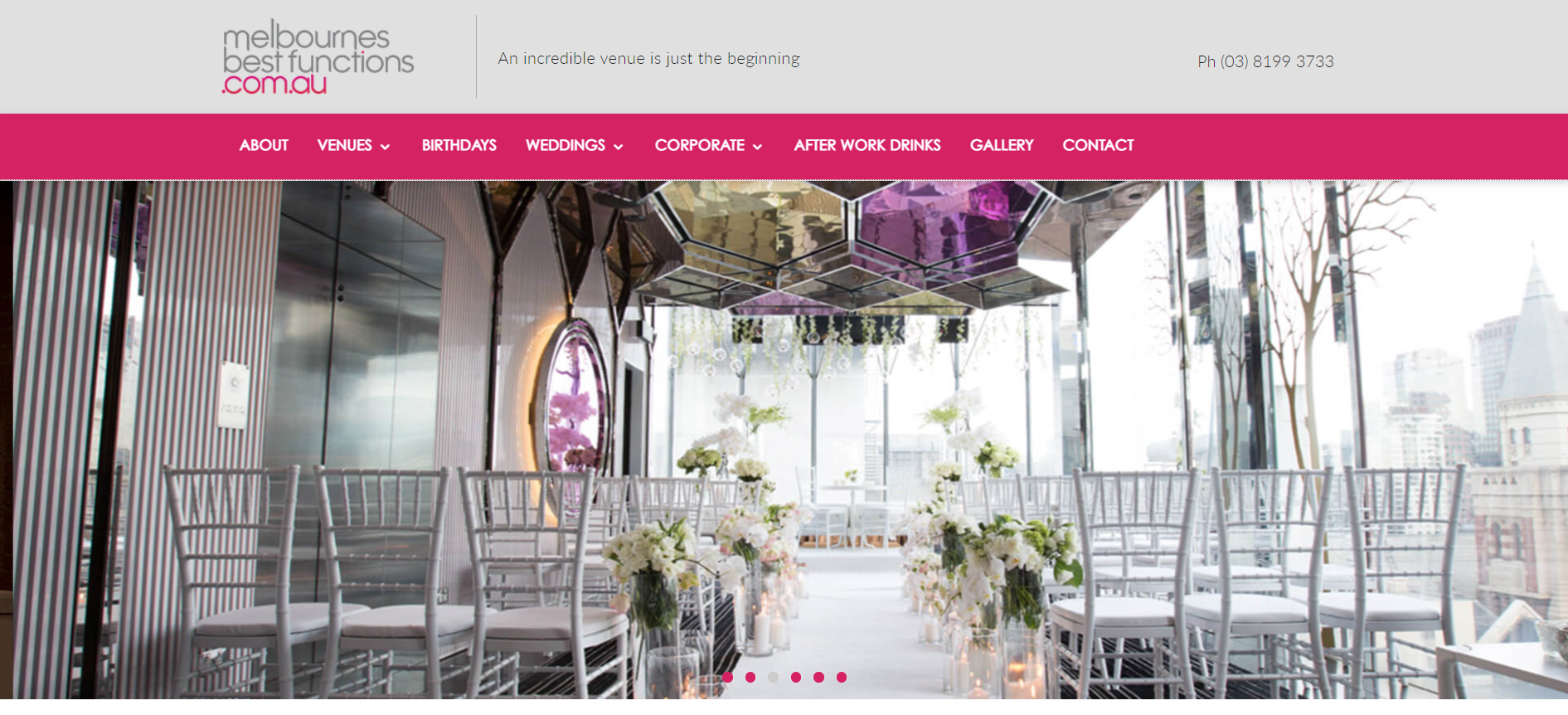 melbournesbestfunctions.com.au
(03) 8199 3738
Event Venue Hire in Melbourne
At Melbourne's Best Functions, hosting an unforgettable event comes easily to us. Whether it be a wedding, a corporate get together, a birthday party or even a product launch, we challenge the norms of the industry to offer the ultimate catering, event management services and function and party venue hire in Melbourne. We don't do anything half-baked; from drinks to photographers and everything in between, we help you create memories that last a lifetime, every time.
The Best Function Centres in Melbourne
With more than a decade of experience working with a range of different clients to plan a number of events, there's no better team than the experts at Melbourne's Best Functions. Since we're full of creative ideas, we take your likes, dislikes, budget and special requirements and turn them into something memorable, whatever the occasion. When it comes to club hire, Melbourne's guestlist of party-goers can enjoy a range of versatile venues.
When it comes to choosing your party venue, hire either a rooftop space with scenic views or a private function room in the most glamorous of venues. From the luxurious Baroq House and the elite Bond to the breathtaking Mon Bijou, each setting can be tailored to suit hens nights, Christmas parties, weddings and corporate functions.
Party Room Hire for Events of all Sizes 
Whether you rent out an entire space for a corporate party, a private rooftop venue to celebrate an engagement, or you're looking for the best event venue for hire in Melbourne for your birthday or product launch, and we're dedicated to creating extraordinary celebrations. With an eye for detail and extensive knowledge and experience across event planning and management, our qualified team consistently deliver incredible results. 
Simply select the location from our list of exquisite party venues for hire, and we'll do the rest. From limousines to modern catering, private hosts and anything else you envision, we'll take care of everything to make your party dreams a reality. 
Rooftop Function Venues Melbourne
Planning the perfect event to suits your needs, unique style, and the budget doesn't need to be a difficult process. We make it simple. Whether it's a grand corporate function or a small and intimate engagement party, at Melbourne's Best Functions, we understand that you only want the best, and that's what we deliver.
Talk to an event expert via the online form, email us or contact us by phone on (03) 8199 3733.
Let's make your next party an unforgettable one.
Whether it's a small birthday party for 5 or a corporate extravaganza, our venues offer you an unparalleled event experience.
You will be spoiled for choice from the decadence and sensuality of the 17th Century offered by Baroq House, to the impressive panoramic city views from the sky-high Mon Bijou.
For over 10 years our venues have been hosting Melbourne's finest cocktail style functions. With a renowned reputation for stocking rare spirits, premium French Champagne and a decadent cocktail list, our experienced staff will guide you through the extensive beverage options. Our venues let you explore function choices others simply cannot offer, from private rooms to your own level or exclusive access to an entire venue there is a solution for all.
From celebrating your 21st or 51st birthday to entertaining corporate clients or perhaps the cocktail style engagement party or wedding, we guarantee to deliver your function in style.
twotonmax Function Venues Melbourne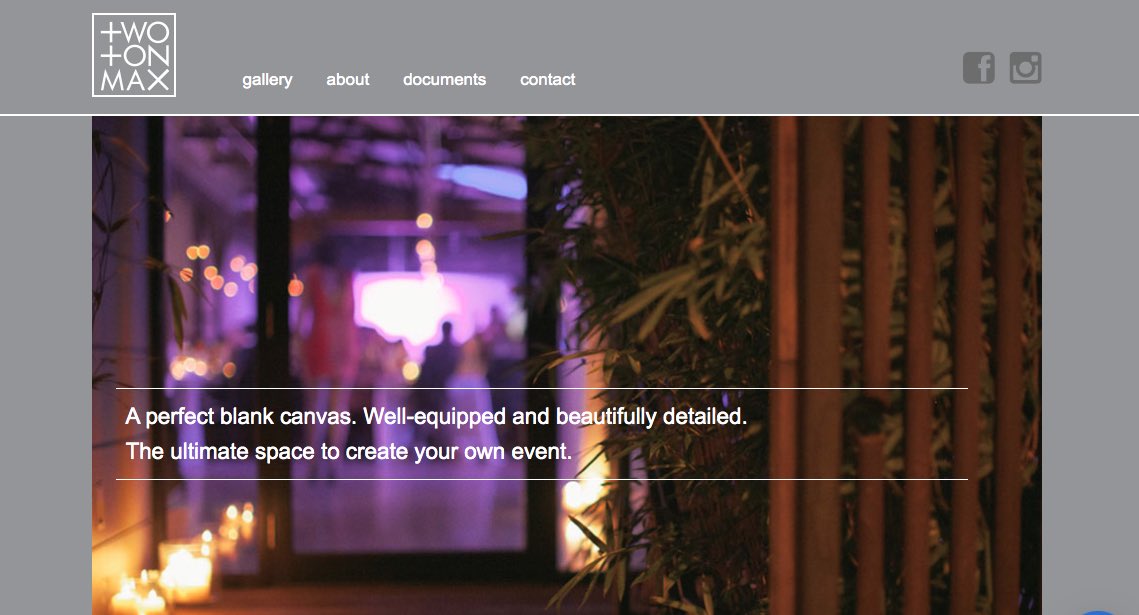 0478650881
A perfect blank canvas. Well-equipped and beautifully detailed.
The ultimate space to create your own event.
twotonmax is a sensitively transformed, beautifully detailed industrial warehouse located in North Melbourne. Hidden behind an anonymous street front, it is a blank canvas you can quickly and easily transform. This is a rare opportunity to create a unique event, with your own choice of caterer and limitless options for decorating and furnishing the room.
The venue's stunning burnished concrete floor, neutral white walls and discrete lighting are easily enhanced with additional fixtures as required. An oversize marble service bar is coupled with a commercial kitchen, sparkling bathrooms, air conditioning and other facilities, all well integrated into the venue. The vintage overhead crane (two ton max capacity) can be called into duty should it be required.
Direct street access allows for easy bump-in, ample rigging points and flexible electrical layout make it an easy venue to quickly and effectively tailor. The venue offers you the opportunity to create a unique event in the style you choose.
Capacity:
Venue Features:
Polished concrete floor

Private outdoor garden/smokers' area

Direct street access via a secure gated pedestrian entry

Internal height in excess of 4.5m

Marble service bar 3.6m x 1.0m

Filtered natural light via skylights throughout the space
Access:
Vehicle access via roller door

Functioning 2 ton overhead crane
Amenities:
Heating and A/C

Male and female toilets and separate staff facilities

Commercial kitchen, back-of-house area

Separate outdoor area for additional cooking/refuse store/staff egress
Audio/visual:
Integrated stereo with iPod cradle, cordless mic, and lapel mic

Permanent video projector

3 phase power up to 32 amps

Security system

Pre-wired circuitry for additional lighting as required.
Location:
The venue is located on the fringe of a warehouse precinct, with close proximity to Macaulay Station (100metres) and excellent road access via Citylink or other main arteries. It is approximately 3km from the CBD. On-street parking is unrestricted and is particularly abundant after normal business hours. There are no residences in the vicinity.
Green:
Twotonmax has been developed with the environment in mind. Firstly, it is a re-use of an existing (very old) building, so it benefits from low encapsulated energy. In some instances, the materials normally discarded during the demolition phase have been re-crafted and employed in the finished product. Examples of this include the slatted timber cladding on the entry gate and bulkhead areas, the main timber stairs, and the metal fence and handrail components.
Equally importantly, all consumables used in wet areas and all cleaning products used in the venue are carefully considered to be environmentally sensitive and wherever possible, non-toxic.
History:
Just a few years ago twotonmax was a small part of a rambling industrial workshop involved in the manufacture of generator equipment. Although its proportions seem generous for its current use, it was woefully inadequate for the daily movements of bulky items – sometimes as big as shipping containers. Once the heavy engineering business had vacated the building in favour of wide roads and high clearance, the building that remained was able to tell a long story of hard work.
By looking at the array of columns and beams, the patchwork of brick and concrete floors, and the piecemeal arrangement of driveways and overhead cranes, it was possible to track changes over time and understand the chapters of the building's life.
In the process of resurrecting useful spaces from the industrial chaos that had evolved seemingly without a plan, one area immediately stood apart. Beneath a thick layer of diesel soot, ignoring the distraction of brackets, shelving units, and decades of redundant plumbing conduits and electrical wires, was a relatively unmolested gem. Cleaning, careful removal of clutter and the addition of modern infrastructure have all occurred without major disruption to the original building. Wherever possible, materials have been recycled and redeployed to new use, so they're still part of the evolutionary story.
The area now occupied by twotonmax was originally built around 1910-1920. During its century of working life it has housed a company that manufactured ship's boilers, then general welding/boiler making, then heavy industrial roller shutters, and finally the generator business. During each period the building was modified to suit the work of the day. Large pulleys, beautifully detailed in steel and laminated timber, hang overhead as a reminder of a time when enormous engines drove canvas belts, that in turn gave motive power to equipment in the workshop.
When electricity became available the travelling overhead crane was added to the mix. Its scarred metal and elegantly efficient design were an important influence on the style and tone of the venue. The ever-present spectre of the yellow crane, spanning the entire space and waiting patiently to be called into action, left no doubt the venue should be named in its honour.
Melbourne Venues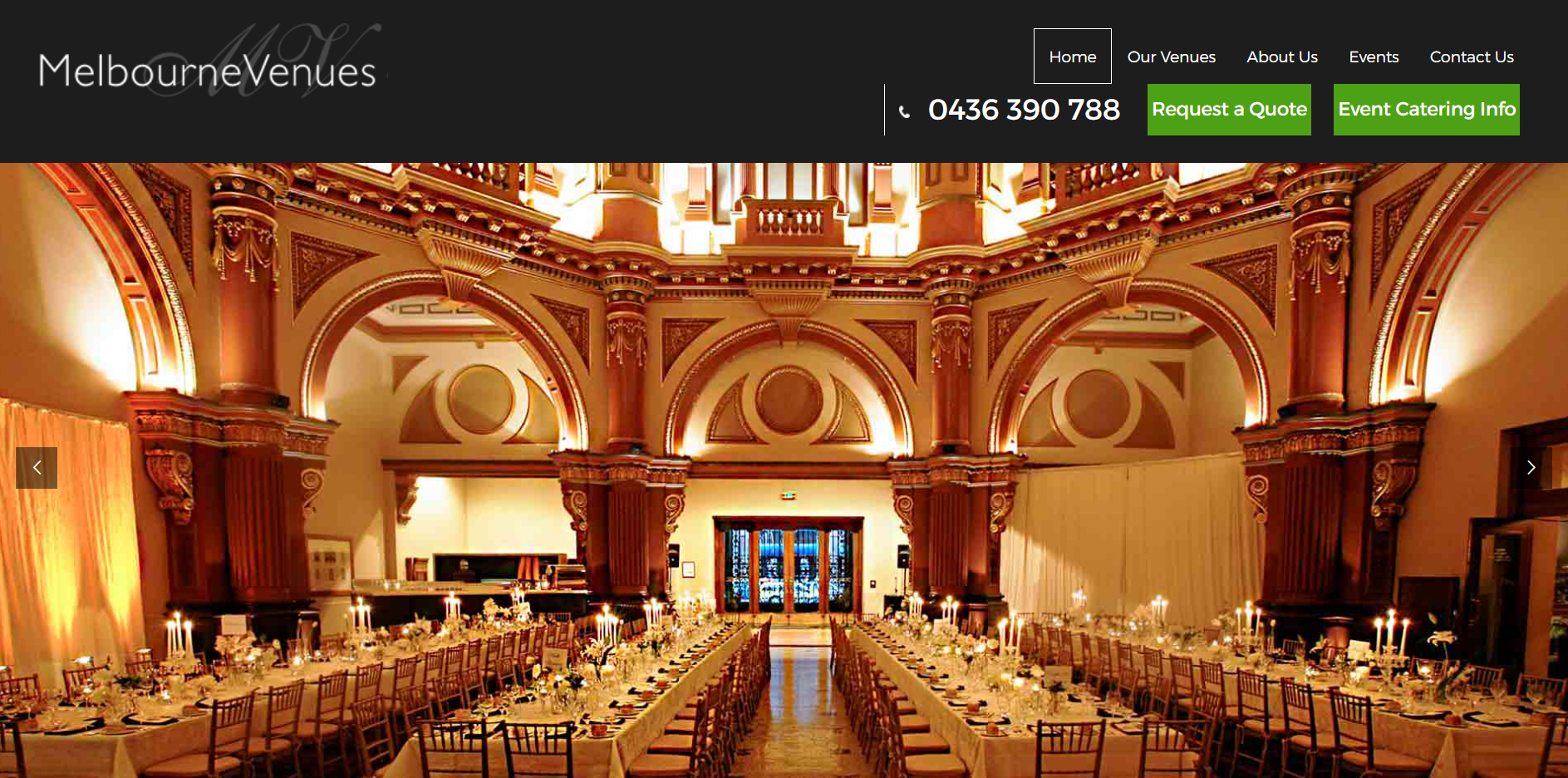 0436 390 789
Melbourne Venues pride ourselves on being the definitive guide to the best venues Melbourne has to offer; perfect for wedding venues, cocktail parties, corporate functions and events.
Soak up the atmosphere in a 19th-Century bank, immerse yourself in motoring history at Fox's Car Museum, or drink in the views of the city, the river, the bay or the Yarra Valley at a choice of different venues.
Melbourne Venues are proud to be able to offer access to a range of beautiful private homes for select events.
We can supply a venue with a point of difference that will suit your needs, impress your guests and make your next function a truly memorable occasion.
Melbourne's Best Wedding, Party, Corporate & Conference Venues
Function & Venue Room Hire in Melbourne
When organising a special event, you need a venue that is just as memorable as the occasion. Whether you are arranging a luxurious wedding; a family birthday party; or a corporate product launch, there's no doubt that the venue selection is instrumental to you and your guests' overall enjoyment of the event.
However, choosing from the plethora of function and event venues in Melbourne can easily become an overwhelming process. Melbourne Venues has made it our mission to simplify this process by curating the city's most prestigious and reputable venues on our website. We pride ourselves on being the definitive guide to the best venues Melbourne has to offer; perfect for wedding venues, cocktail parties, conferences, corporate functions and events.
Melbourne Venues is proud to offer a diverse selection of the city's most unique and captivating venues, from wedding venues to cocktail party venues for Melbourne locals. You may wish to soak up the atmosphere in a 19th-century bank for a corporate event or immerse yourself in motoring history at Fox's Car Museum for your next event. Perhaps you'd rather drink in the views of the city skyline, the Yarra River, or in a nature garden with roaring fire pit for a social event, wedding or cocktail party. Whatever the occasion, Melbourne Venues has a unique venue in Melbourne to perfectly suit.
Once you have chosen your venue with the assistance of Melbourne Venues, you will also need to arrange all the logistics of your event: the catering, entertainment, décor etc. Our preferred supplier for all our catering and event planning needs is ACC Catering, who you can visit here. Ensure your event is unforgettable in the surrounds of a stunning event venue, with beautiful handcrafted food, friendly and attentive service staff and all of your event planning from a single point of contact.
There is no management fee or commission charged on our services.
All Our Venues:
St Kilda Life Saving Club

Half Moon Bay Surf Life Saving Club

The Sandringham Club

Mount View Estate

The Dome

Fox's Car Museum

Club House

The Meat Market

Warrawong Woolshed

Mountain Goat Brewery

Ace Hi – The Shearing Shed

The Melbourne Pavilion

Mercantile Rowing Club

Skyline

Astor Theatre

2 Brothers Brewery

The Old Cheese Factory

Hazeldene

St Kilda Town Hall

Space @ Collins

Seven

The Moser Room

Melbourne County Court

Kingston City Hill

Malvern Town Hall

Bellarine Estate

Private Homes
OneSevenOne Function Venues Melbourne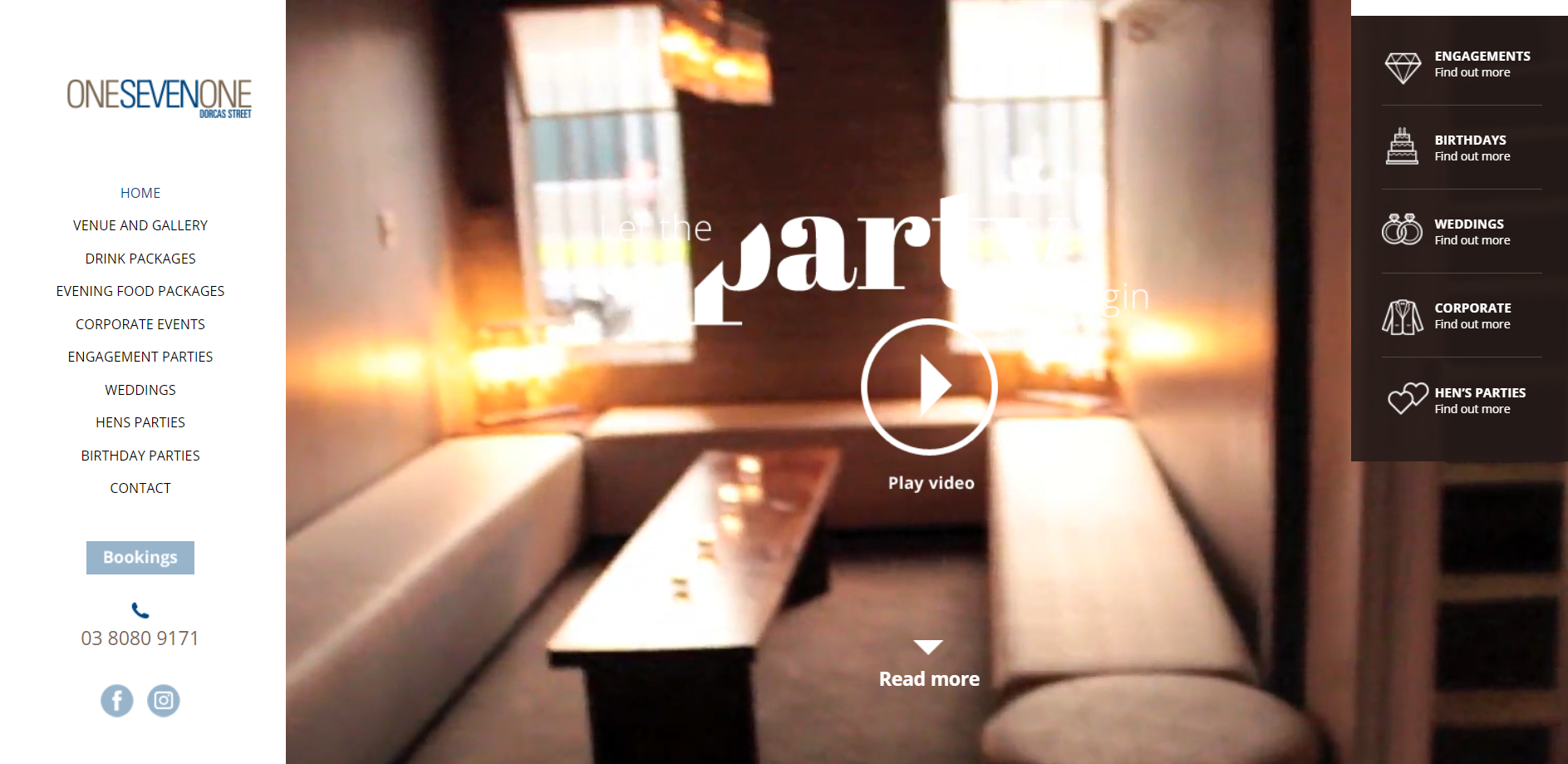 03 8080 9170
Corporate Events
OneSevenOne is a boutique space, malleable enough to launch a car, a new jewellery showcase, a skincare range or a new tablet app.
Every product launch at One Seven One has really hit the mark for the various businesses.
Come and feel the space; it is incredibly inviting and intimate enough to trigger those discussions with customers and team members that help lead to business success.
If it is team building you are after, let's roll out the table tennis tables and have a great time.
If it is a seminar, use the AV to the fullest and enjoy our catering for an hour at the end of the educational.
Think of a reason to celebrate and let us help you impress your clients or reinforce the fact that your team members are part of a wonderful organisation.
Engagement
We are away from the challenges that currently face the CBD, but close enough for people from around Metro Melbourne to easily locate 171 Dorcas St and find ample parking out the front.
We are 2 minutes from both the Burnley Tunnel and Westgate off-ramp. Contact us to arrange a time to see our venue in Melbourne.
We always have a doorperson to welcome your guest on the red carpet and provide the courtesy and service you have hoped to be given for your very special day. All you need to think about are your guests and your engagement party.
Weddings
Perfect for a wedding party
Easily a more celebratory style of wedding from the moment people arrive.
Our caterers know how to make an impression. Mixing filling food with stunning bowled food, or substantial canapés, you can have the best of both worlds.
Have a cocktail party wedding at 171 Dorcas St, and have enough left in your budget for an awesome honeymoon.
Hen's Party
Hen's parties are often featured in a monthly calendar. Life Drawings, Spanish and Beyonce style dance classes, novelty games, and male entertainment (not full nudity) work exceptionally well in our intimate setting. You can dance like no one is watching with us.
If held during the day, from 1 pm till 5 pm, you will also enjoy a significant discount.
Red Rock Venues Melbourne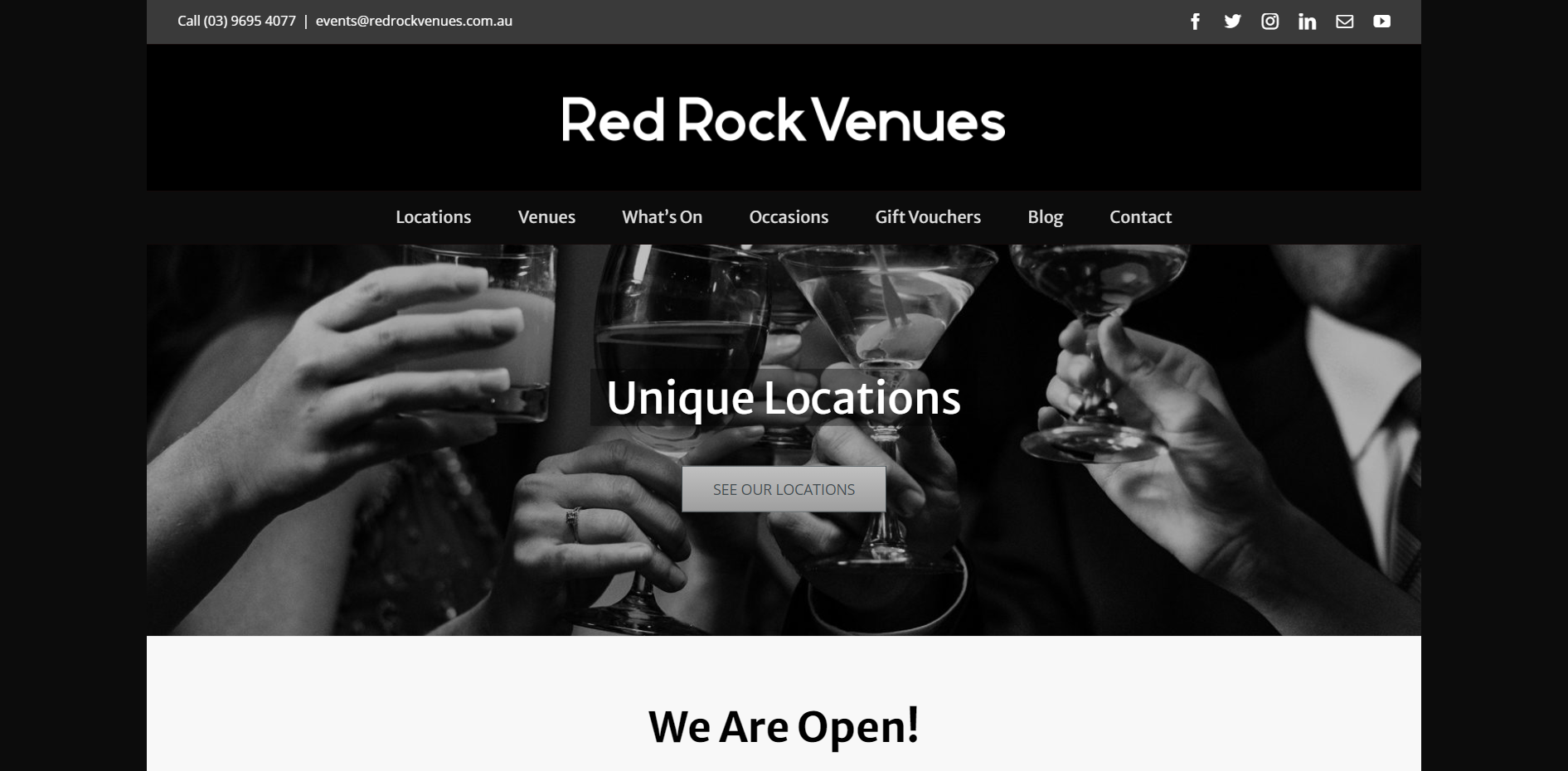 (03) 9695 4078
If you are looking to host a function or event in Melbourne, then you have come to the right place.
Red Rock Venues have six unique function venues across Melbourne's most prominent areas – the CBD, Southbank and South Yarra. As specialists in the industry, we host all kinds of functions and events year-round, from corporate functions and birthdays to engagement celebrations, Christmas parties, weddings and more.
With flexible, versatile and truly stylish spaces that can accommodate anywhere between 10-700 guests, you will be sure to find the perfect function venue.
Red Rock Venues is one of Australia's leading hospitality groups offering a range of function spaces and venues in spectacular locations across Melbourne, Sydney and Cairns.
Our venues are as impressive as they are diverse and we can cater for almost any occasion.
Canvas House Function Venue Melbourne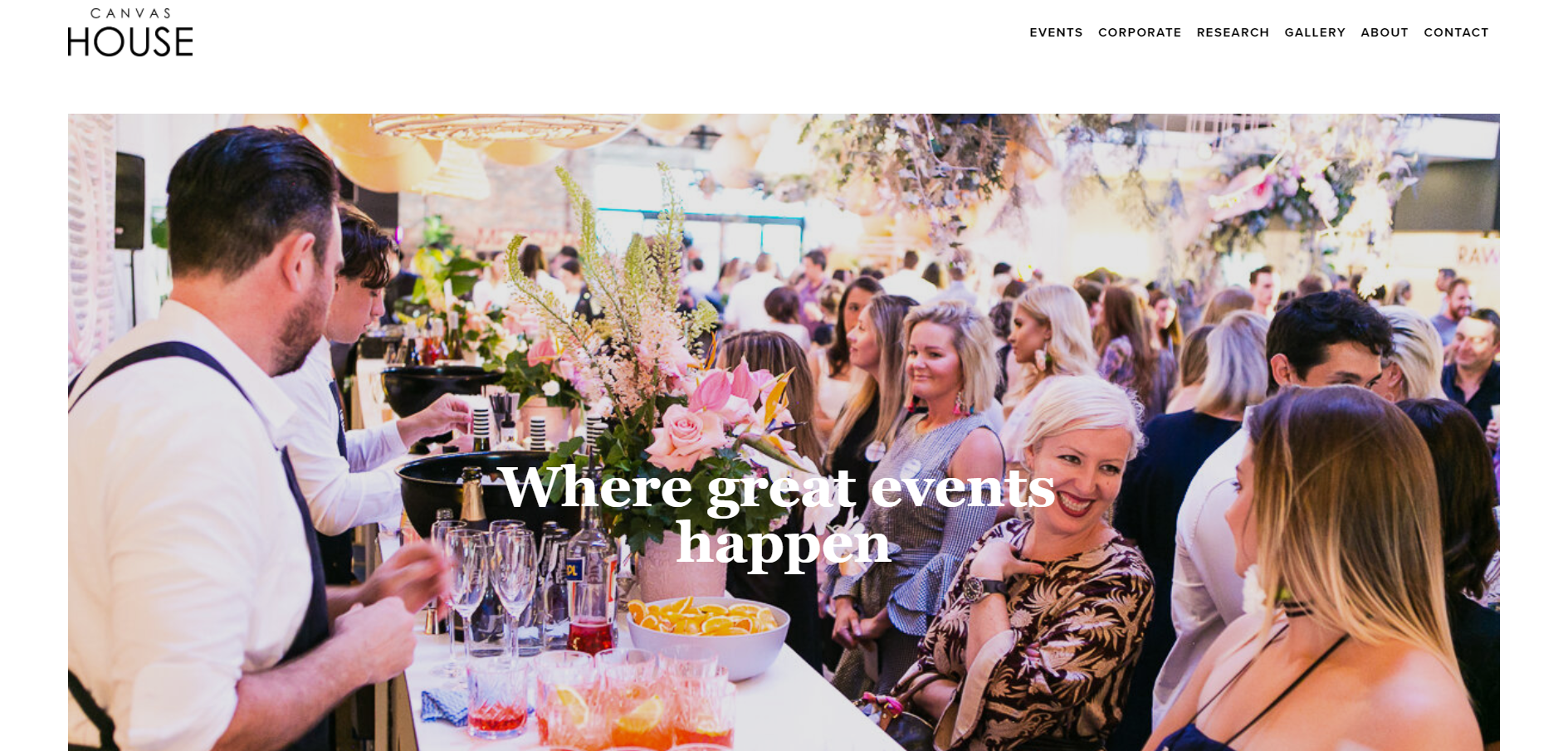 0478 056 399
A space for new possibilities
Nothing in Canvas House is a coincidence. Everything is there to create an experience that is authentic and genuine.
Canvas House. Where great events happen.  
From weddings, private dinners and corporate meetings to press events and fashion shows. 
In the heart of South Melbourne lies one of Melbourne's newest and most exciting event spaces, Canvas House. Loft-like, with exposed brick walls and beams, black steel frame inspired doors and windows, Canvas House is the ideal contemporary alternative to the customary event space. Its design is noticeably inspired by the way we live, making it a warm and welcoming space from the moment you walk through the front doors. Equipped with modern-day technology, yet staying true to its architectural integrity, space lends itself to limitless branding opportunities and has the ability to be easily transformed. 
Our Kitchen
The hub of our main gallery space is our kitchen. Our beautifully designed kitchen is appointed with Ariston appliances throughout. The uses for this space are endless - think celebrity chef's cooking for small intimate gatherings, film and photography shoots, corporate team building events, cooking schools, informal market research focus groups, or simply hanging around the island bench after a long corporate offsite and enjoying great food, wine and some downtime with your colleagues. But don't let this space fool you. Behind closed doors is a full state of the art catering kitchen.
Events - We love celebrating at Canvas House. 
We like to say that we don't do functions. Instead, we help create great experiences. So whether you're looking for a space to celebrate a milestone birthday, somewhere to tie the knot, or you need to pull together an awesome corporate event, your guests are guaranteed to have an amazing evening. 
We want you to feel at home at Canvas House, which is why you can bring in your own suppliers and caterers who can have full use of all of the equipment that we have on-site. As you can imagine we have also worked with some of the best in the industry so if you would like some recommendations, we would love to help. 
Or maybe you are thinking about food trucks, or something a little different to the norm. Too easy. Our doors from the courtyard fold back neatly, so it is easy to drive in vehicles from the rear laneway.   
Building Features
6m high cathedral style ceiling with black steel exposed beams

Skylights that flood the main event space with natural light

Polished concrete floor, original exposed brick and v-groove panel walls

Suspended fireplace

Outside seating areas at the front of the building and private rear outdoor courtyard

Vehicle access via a rear door (up to 2.6m)

Privater lounge room for hosts to access and use of our boardroom for suppliers.
Facilities
Men's, women's, disabled and separate staff toilet

Heating and cooling

State of the art speaker system with DJ points throughout the venue plus 2 x handheld microphones, 2 x headset microphones and 1 x 75 inch TV. 

Additional power points at the end of each roof truss for ease of styling, e.g. fairy lights

Presentation kitchen that can be used for cooking demonstrations or by private chefs for a chefs table experience. It is also ideal for film shoots and can be easily converted into a bar for larger functions. It contains a 4 door bar fridge and dishwasher

The additional bar at the front of the venue with 3 door bar fridge, glasses dishwasher and coffee machine

Caterers kitchen with 20 tray combi oven, double fryer, gas oven and cooktop, cool room, fridge, freezer and a separate dishwashing room with a pass-through dishwasher

Recently upgraded power supply.

Black drapes that can be suspended on three truss lines to separate the large warehouse space into two.
Corporates
Nothing in Canvas House is a coincidence.
If you want to generate great ideas, gain deep insights or cultivate genuine relationships, it won't happen in uninspiring clinical and soulless environments.
Canvas House is a multi-purpose space that has been designed to foster a unique and warm experience. It is beautiful, flexible and intuitive and will have your guests immediately at ease. In designing Canvas House, thorough consideration has been put into the psychological effects of the spaces. With its cool vibes, natural light and incredible food, Canvas House is a space that will inspire free thought, trust, creativity and a sense of enjoyment. 
We understand that there's a lot to cram into the day, so it's vital that your guests stay focused and on point. Space speaks for itself. Plenty of natural light, amazing surrounds, comfortable and organic furniture, two outside areas and plenty of other breaks out nooks. But our secret weapon is our food. We pride ourselves on delivering a menu that will keep your guests focused and energised. 
The best creativity and brain efficiency comes when you have clarity. That can not be achieved through the consumption of huge amounts of carbohydrates and processed sugar. At Canvas House, you will not be greeted by a bowl of mints or sugary treats in the morning.
Instead think smashed avocado on sourdough, protein bowls and yoghurt pots with seasonal fruits for morning tea. Favourites on our lunch menu include Roast pumpkin salad served with toasted pumpkin seeds, caramelised onion and spinach leaves topped with a chilli yoghurt dressing, chorizo, zucchini and ricotta quiche and heirloom tomato salad with pickled red onion and a basil vinaigrette.
But we are not all about kale and quinoa. We understand that a sweet treat is in order now and then, we just save that for late in the afternoon - chocolate ice-creams with raspberry dust, homemade choc chip cookies and delicious brownies. 
The ultimate checklist for choosing a venue Melbourne
Want to know how to choose the perfect venue for your event? A venue is a big-ticket item that sets the tone of your event, so it's important to get it right. Before setting your heart on a space, make sure you know exactly what kind of requirements and expectations you have for your venue.
To help you out, we've put together a handy event planning checklist with all the questions you should ask when scouting venues.
The Cost
One of the biggest considerations when choosing which venue to hire is the budget. You've no doubt got a price range in mind, but sometimes it's not as black and white as just hiring a room. Meeting rooms, conference venues or party space, whatever the venue type, they all offer different price points. They will all calculate space prices differently, hire fees, cost per person and minimum spend are all common price models, and the one you choose can make a big difference to the final cost.
Do your homework before your first meeting with any venue manager read up on venue market prices so you will know what to expect. Know exactly what's included before signing the dotted line. Don't be afraid to negotiate either. Being flexible on the date can help, as certain days of the week usually cost less. Remember to always confirm the cost, dates, times and details in a written contract.
Calculate Your Budget
With an open-ended budget, anyone can plan a great event and have an infinite selection of venue choices. But more than likely, your financial resources are limited, and you should be aware from the beginning of what your financial limitations are - even if your event budget is simply a ballpark estimate or range. An event planner can always plan a great event within a reasonable budget.
Do the venues fall within your budget parameters for space, technical and catering expenses?
Have you negotiated a favourable rate for services and demonstrated the value of your role?
Have you allowed flexibility in your budget in case line item expenses exceed the plan?
The Location
Book a venue in a convenient location. Access to the venue should be easy, convenient and available for the duration of the event. You may need to check public transport links, airport access and whether there's onsite parking or valet service. Using an online venue marketplace platform will make this process especially easy as you can adjust the map to show you only the venues in a particular area.
Scope Out Different Locations
Once the guest list numbers and possible event dates are narrowed, it's important to identify the locations where the event could be held. Hotels and event or conference centres are some of the most popular event spaces for corporate events and wedding receptions, but they are not the only options. This is a time to be creative in your thinking. Consider the following:
Based on the theme of your meeting, what three best locations come to mind?

Where would your guests prefer to attend this meeting?

What will be most convenient for your guests?

Other than a hotel, what unexpected locations could increase the RSVP rate?
Date and Season
Why is this so important? Well, several factors can influence your preferred date. While the weather's never certain, you can at least hope for a warm, sunny day for your outdoor party in the summer, and know that a cosy room with a fireplace will be welcoming in the winter. And remember: any time you book a space with a nice garden, make sure the venue has a Plan B in case it starts to rain.
Another thing to consider is that in peak seasons you will have to book in advance. When should you hire? The answer is simple: as soon as possible, so talk to the manager about the best time to book and get on it before you run out of places for that Christmas Party or New Year's Dinner everyone else is planning as well.
That said, if you can't plan your event in advance, you could try to make the most of the last-minute bargains that some venues offer. You really shouldn't rely on this last option, although it is possible to hire a venue at the last minute, we don't recommend it.
Capacity
Along with the budget, the number of guests is the most crucial aspect of event planning, because it will help you quickly eliminate many venues based on their capacity alone. Try to utilise online search platforms with filters that will allow you to specify the capacity of the venue you need whether you need something small or large.
Choose a venue that's the right size for your event. Booking a venue that's just able to accommodate the number of people you expect will help give your event a lively atmosphere and save money. One final detail to consider, however: if you're promoting an event such as a conference or a party, you may end up with more guests than you expected, so don't select a place with just the right capacity, choose a roomy space instead.
The venue you choose must have an appropriate space for the type of event you are planning. Will your event require a dance floor? Will you need a PA system? What about a speaker's podium or a projector screen? What sort of table setup do you need? In addition to considering these sorts of questions, here are some of the top venue planning questions to ask yourself:
Does the event venue meet the special criteria of your program or event?

Can the venue accommodate your production, entertainment, A/V, sound, and other technical needs?

Does the condition of the facility reflect the high standards of your organisation?
Style
Think about the type of venue that would best suit your event style. You can save money by choosing a venue that fits the theme or style of your event.
Be specific. Are you looking to host a Christmas Dinner or a Christmas Party? If you stop to think about it, you will realise they have different needs. Every type of celebration has the right type of venue for it, and you can easily find out which venue has more experience in the type of event you're planning. The ideal venue for your function has held similar events in the past and understands what it takes to make your event successful. If you start with defining your event as much as you can – whether you are looking for unique, luxurious or anything else at all – you'll be on the right track.
Schedule a Visit
Unless logistics and time prevent it, every event planner should conduct a site inspection before contracting any venue. Pictures can be extremely helpful, but there are many aspects that can only be evaluated in person. Ask for a tour of the venue, including everything from the parking to the entrance and the event space to the bathrooms. You'll be glad you did.