Ultimate List of Flower Shops in Mt. Eliza
When you're in need of some fresh flowers, where do you go? If you're looking for the best flower shops in Mount Eliza, Mornington, look no further! We've got all the info you need to make your decision. 
Whether you're looking for a bunch of flowers for a special occasion or want to take care of someone's funeral arrangements, these shops will have what you need. So check them out and find the perfect arrangement for any occasion.
Maison Mai - Flower Shop Mt. Eliza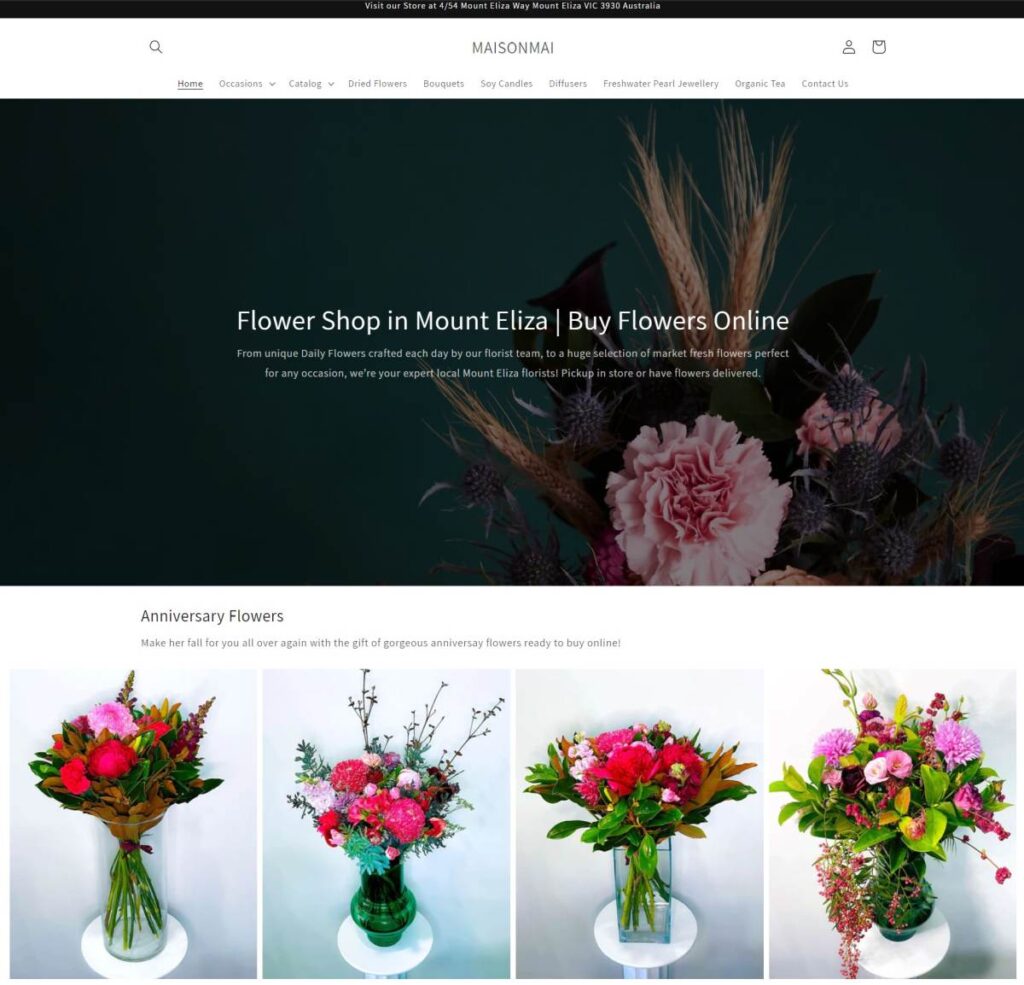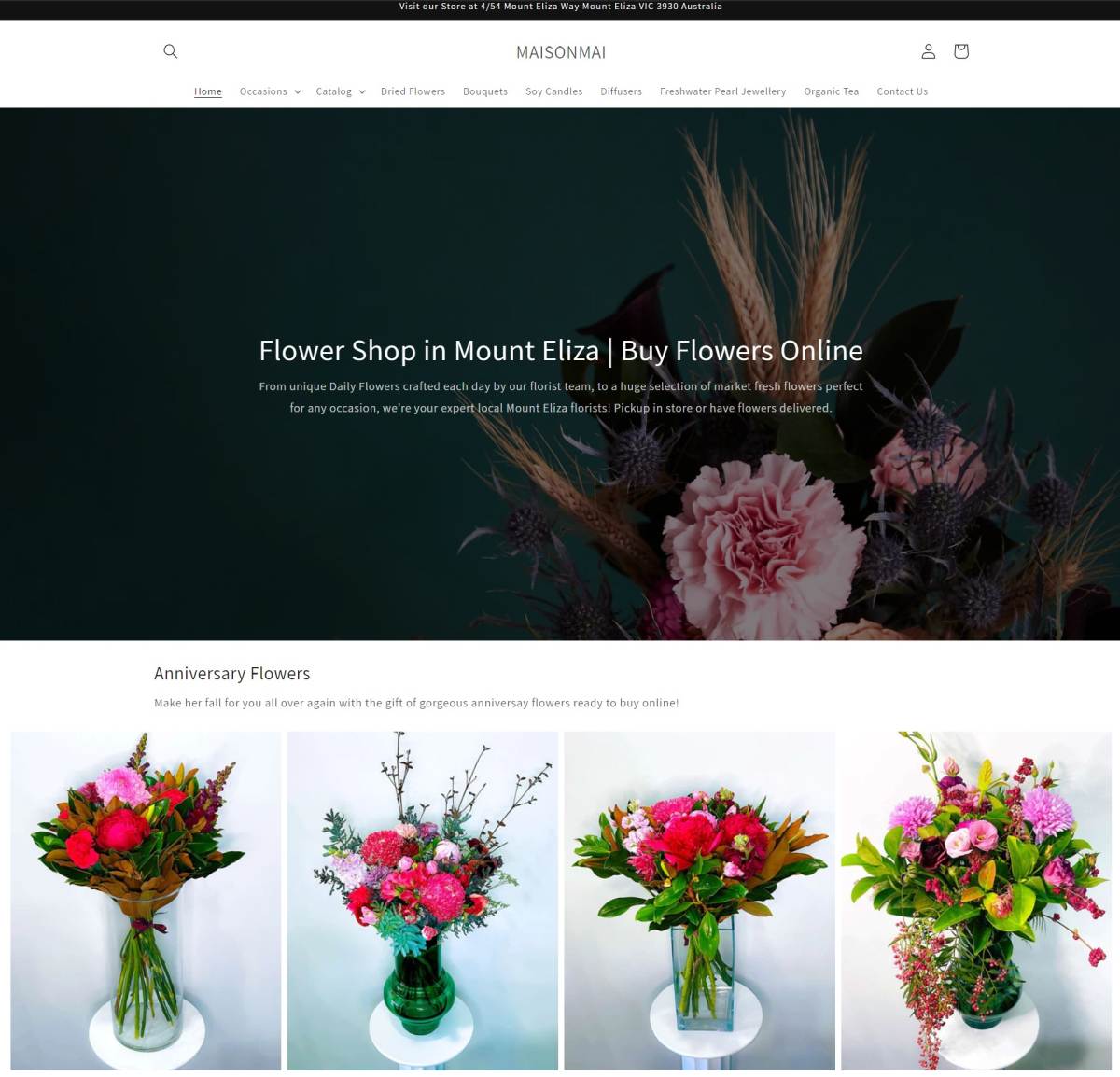 maisonmai.com.au
0413 521 013
Address: 4/54 Mount Eliza Way, Mount Eliza VIC 3930
Fresh and dried flower arrangements and bouquets, vases and pots, soy candles and home fragrances, jewellery & gifts, organic tea and soaps are carefully selected by the Maison MAI team.
Maison Mai is a family-owned business, and our first store was opened in 2019 in Melbourne. Maison MAI main mission is to bring beauty to the world. The beauty of flowers, the beauty of things and the beauty of relationships. Life is generous to people who give gifts often and with pleasure. And we have all the gifts - with world names, time-tested and approved by experts for quality, aesthetics and comfort.
WHY DO WE USE COCONUT SOY WAX?
Most of the candles on the market are made from paraffin wax or from paraffin mixtures. In Maison MAI, we only use coconut soy wax and cotton wicks - these are non-toxic materials that burn cleaner than paraffin wax and do not emit toxic gasoline-carbon black. All of our candles are hand-poured by the Maison MAI team in Melbourne.
Australian Products and Affordable Prices
Our benchmark is affordable prices for an Australian product. And we are doing our best to follow this guideline. We bring rare beautiful items for interior and exterior decoration. We find amazing gifts for adults and children that combine aesthetics and functionality. At the same time, we try to keep prices at an affordable level and often even make them lower.
Herbaceous Flowers Shop Mt. Eliza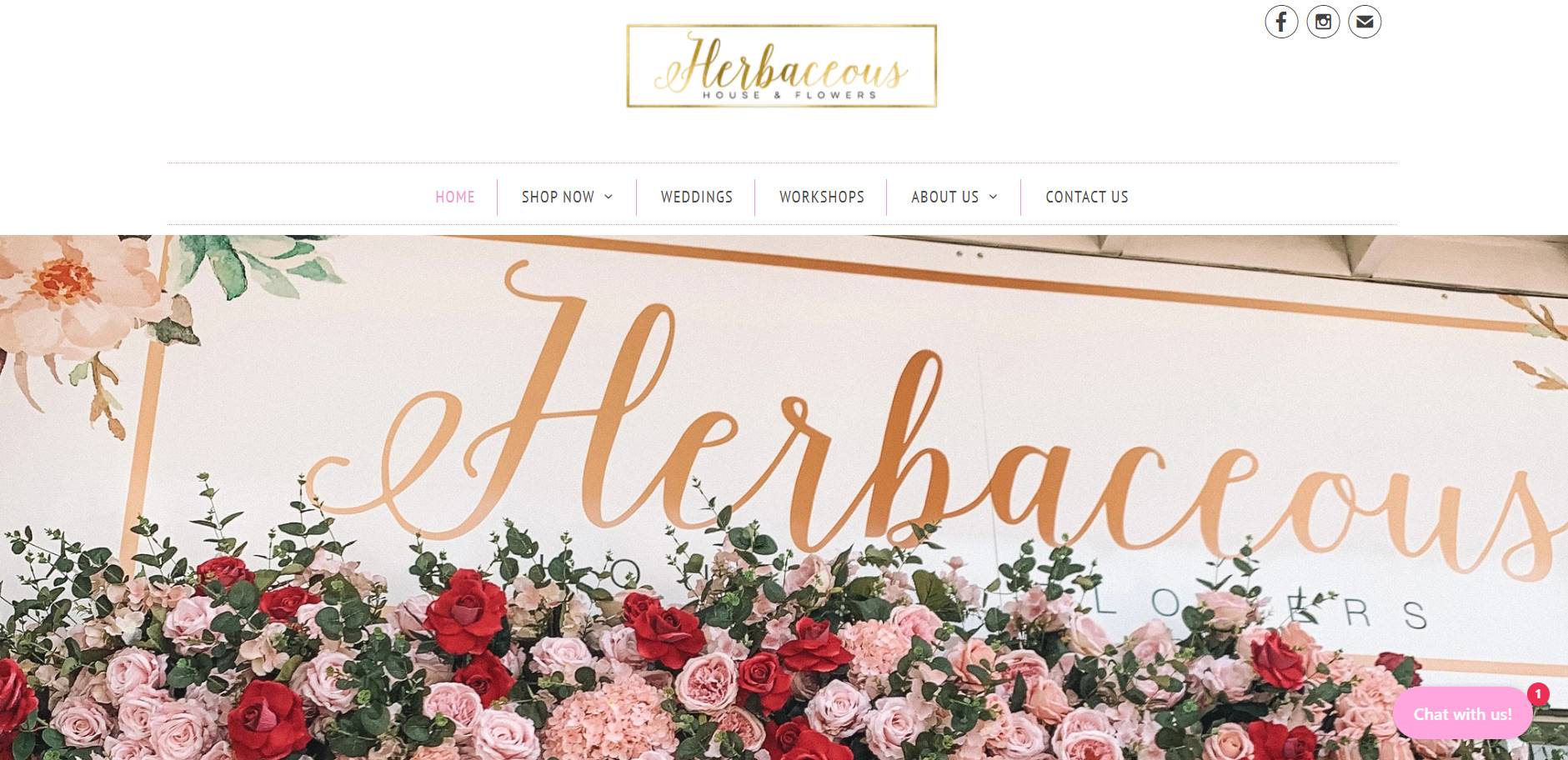 herbaceousflorist.com.au
Herbaceous Flowers has been a part of the Mount Eliza community for over 20 years and is owned and operated by mother/daughter duo Jody & Maddy Abel and their team of Herbaceous girls.
We source fresh flowers daily and support local growers where possible. 
We deliver flowers Monday through Saturday within the Mornington Peninsula. 
We also deliver into the city and surrounding suburbs, please call the shop on 03 9787 4955 to organise your order. 
We are a contemporary florist with a natural freestyle of artistry and always aim to have something a little different on offer.
WEDDINGS
intimate, handcrafted floral design
Flowers are a wonderful way to add romance and elegance to your wedding day – they add to the beauty of the experience and create a wonderful atmosphere for your guests.
We focus on creating beautiful bouquets and arrangements for small, intimate weddings.
Our designs feature the best of what the season has to offer, relying heavily on roses and other seasonal blooms. We also love incorporating Australian wildflowers and natives into our designs.
We take pride in sourcing the best ingredients from a range of local growers as well as the Melbourne Flower Market.
You can expect quality customer service and attention to detail, as we only take on a limited number of weddings every year.
Enquire today to see if we're a good fit for you.
Our wedding menu is carefully curated to focus on items we feel present the best value for our clients.
Holly Ginnane - Flower Shop Mt. Eliza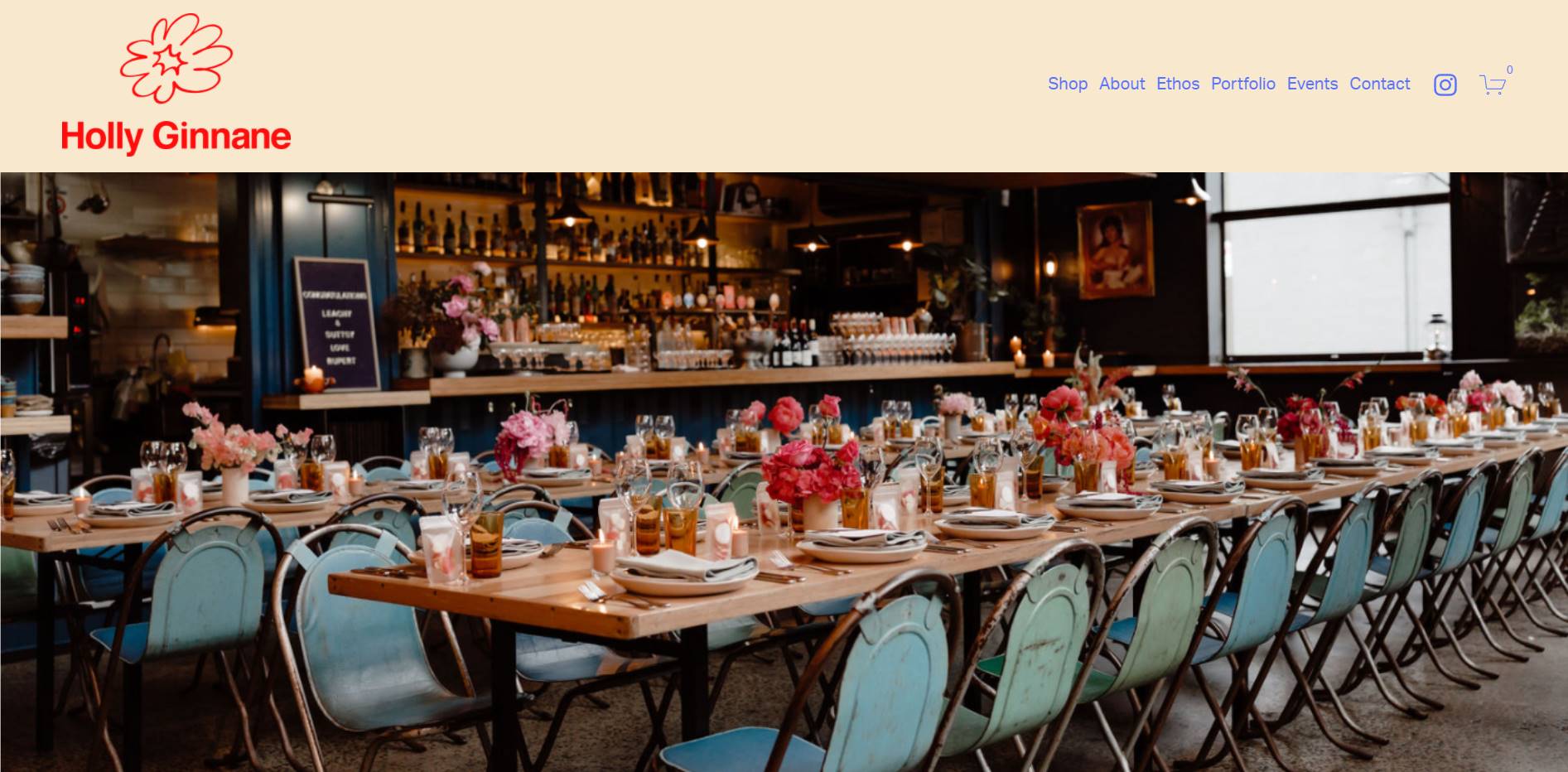 hollyginnane.com.au
Holly Ginnane is a creative floral studio located on the Mornington Peninsula. The studio is available for events, weddings, shoots, commercial weekly accounts and bouquet deliveries each week. Holly works locally as well as travelling for events.
With a passion for design and a love of nature, floral design made complete sense, and the studio was born in 2020.
Our business promises to bring the most beautiful blooms to your door without leaving an impact on the environment. Sustainability has been and always will continue to be our focus. We take this seriously from the moment we source, purchase and how we deliver your blooms. This means our carbon footprint is small.
Our blooms are unique. No two are the same. This is why we know you're going to LOVE them. 
Enjoy your blooms xx.
Once upon a time, brides carried flowers because of their magical effects – to protect them from illnesses and misfortune. It was believed that the intensive fragrances of various plants would chase evil spirits. During the Romanesque period, the bride and groom wore flower garlands around their necks that symbolised new life, hope and faith. This tradition continues today on some tropical islands.
A wedding bouquet is considered to bring happiness and satisfaction in marriage, while the ribbon with which the bouquet is tied symbolises fellowship. A tradition of wearing decorations (usually made of the same flowers) on a groom's lapel first appeared in the Middle Ages. Then, knights wore wearing the colours of their ladies in their armour during tournaments. During the wedding ceremony in the Victorian age, the bride and groom exchanged flowers that had a specific meaning to them.
Inspect the Petals
When buying flowers, it is extremely important to check the petals. You want to make sure you do not see any dried black ends or brown spots.
Dried black ends are an indication that the flowers are past their prime, and brown spots are an indication that the flowers were cut improperly (see my post on flower care for more information on cutting flowers properly).
In a nutshell, dried black ends or brown spots on your petals are indications of shortened flower lifespans (i.e. they will die relatively quickly post-purchase).
Check the Stems and Bulbs
Stems should be wet at the time of purchase, indicating that they have been stored in water (thus properly preserving them). In addition, you want to look for flowers that have not yet bloomed. Tightly closed bulbs indicate that the flowers have been freshly cut and have not yet peaked. Flowers that have opened their bloom have been sitting for a while and will most likely not last very long once you take them home. The only exception to this rule is if you need to buy flowers for a party you are hosting that same day, then I would endorse the purchase of blooms that have already opened.
Don't make a purchase based on colour
One of the worst things you can do when going to buy flowers is to already have determined the flower colour you plan on purchasing. Flowers are not a predictable product, meaning that there are days at the store when the red roses are looking awesome and other days when the white hydrangeas are riddled with brown spots on their petals.  
You will set yourself up for floral disappointment if you try to force a purchase decision based strictly on colour. Go into the store with an open mind and ALWAYS buy whatever looks best. Flowers are beautiful regardless of colour, and it is much easier to work with a beautiful bouquet of yellow sunflowers than working with limp snapdragons.
Seasonal is best
Just like produce, try to buy flowers that are in season. Purchasing a flower during the peak of its season will yield the most aesthetically pleasing version of that bloom, but the floral varietal is also most affordable because it is currently in abundance.  
Always consider the vase
Flower arranging most certainly involves a degree of planning. When selecting flowers for an arrangement, considering the vases you have at home is critical. Colour, shape and size are all necessary components of your decision. From my experience with flowers thus far, I know I have certain vases that work best for hydrangeas and certain vases that I can only use to arrange ranunculus.  
To ensure that your flowers look their best when you arrange them at home, have a vase in mind at the time of your flower purchase. This will also ensure that the flowers are trimmed and transferred shortly after arriving home, thus increasing their longevity as well.   
Give Them a Snip
You've probably heard that you keep flowers fresh by cutting the stem as soon as you get them home. Here's why it's a good practice: Flowers have a vascular system in their stems that draws up water and nutrients to feed the blooms. If you neglect to cut them, air that has been drawn into the stems while they were out of water can block water absorption. 
Use very sharp scissors or pruning shears, and snip at least one-half inch off the bottom of the stems to be sure you're cutting above possible air bubbles. Schleiter suggests doing this if your flowers are delivered in a box or tied with a rubber band.
Place Them in Water Quickly
You can cut stems underwater to prevent air bubbles from forming in the stems to speed the process. It's also okay to put the flowers in a vase of water right after you cut them. Just don't dillydally, Schleiter says. Arrange your bouquet first, then cut the stems and put them in water.
Watch the Water Temp
Placing stems in hot water will cook them, Schleiter says. Room-temperature water is best, with one exception: Blooms from bulbs that flower during cooler months, like anemones, daffodils, and tulips, will do better if the water is below room temperature.
If you have unopened flowers and want to speed blooming along, perhaps because you plan to use them as a table centrepiece in the next day or two, use warm water to help them open up more quickly. (The trade-off, of course, is that they'll also die sooner.)
Remove Below-Water Foliage
Any plant leaves and flowers you leave in the vase water will rot quickly, which will spread bacteria that will kill your flowers before their time.
Keep 'Em Cool
Heat will hasten your flowers' demise, so place arrangements in cool spots, away from heating ducts and vents. You can also keep flowers fresh by avoiding direct sunlight.
Change the Water
Bacteria are the enemy, so wash out the vase and refill it at least every three days, Schleiter advises. Trim another half-inch off the stems while you're at it.
Always Cut the Stems Before Placing in Water
If you purchase your flowers, you should always cut the stems before putting them in water. If you are buying an arrangement from a professional florist, they should already be cut, and your flowers will be good for a few days. However, it's still important to clip the stems after a few days to allow fresh water to penetrate the flower's stem. It also is helpful to replace the water every couple of days.
Cut back or remove the extra leaves
Before you place your cut flowers in a vase, take some time to remove any extra leaves at the base of the stem if the leaves would likely rest under the waterline of the container. Eliminating the foliage will decrease any bacteria in the water, helping keep the water clean and free of foul odours. This will also allow the focus of the bloom on the flowers, enabling them to stay fresh longer. Pruning fresh flowers and removing leaves is a regular part of our daily flower care at Green.  
Choose the right size vase or container
Picking the correct vase size is an essential element in the life of your cut flower arrangement. Our trained florists can help you choose the right vase or container size to ensure that the clipped stems fit nicely into the opening or mouth. If the opening is too narrow, the flower stems might look cramped or squished so either remove some of the flower stems to create a smaller bunch or find a larger vase to utilise. In the opposite direction, if your vase's mouth is too wide, the arrangement will not have any form or shape. If you're unsure, ask one of our friendly florists to help you decide from the many options available online or in our Hillcrest shop. Some work best for short and stocky arrangements, while others are better for tall and showy designs. Again, our team can help you make the right choice.
Don't be afraid to cut those stems
Most beginners shy away from using a low vase like a cube or small bowl because this size requires a drastic trim to the stems of your flowers. 
Change the Water Every Two Days
Fresh, clean water will keep your cut flowers alive longer. You should take the flowers out of the vase every two or three days, rinse the vase out, and fill it with fresh water. If you have a packet of "plant food" provided by many florists (see below) to help keep your arrangement alive longer, this is a perfect time to add it. If you have dying foliage, be sure to remove it.
Remove dying flowers
Everything has a season, and there will be a time when some of your flowers will start to fade and turn dark. Despite all the hard work by those supplying your flowers, and your extra effort to keep them alive, some blooms will begin to wilt within a week.
To continue to enjoy your flowers, remove blooms that are wilting and dying as they can begin to grow mould and contaminate the healthy flowers. While this won't do anything to extend the life of your flowers, it will keep your arrangement looking good longer.
Monocot flowers are condensed shoot regions that are specialised for the function of sexual reproduction.
The most definitive characteristic of monocot flowers is that these flowers usually have flower parts that occur in threes or multiples of threes.

The observation of flowers and their parts, thus, can be used as a method to differentiate between monocot and dicot plants.

Even though the general pattern of floral parts is similar in all monocot plants, the flowers' colour, size, form, and anatomical arrangement vary greatly among different species.

Monocot flowers have a similar structure to dicot flowers consisting of vegetative parts and reproductive parts.

The vegetative parts consist of calyx and corolla, which protect the reproductive parts and attract different pollinators. Most of the monocot flowers pollinate via wind and water as the flowers are smaller in size and, thus, light.

In some monocot flowers, the calyx and corolla are undifferentiated, and a structure perianth is present.

 Most of the monocot flowers are complete flowers with all four floral members. The number and arrangement of the parts, however, might vary.

The part in the stem from where the flowers arise is called a bract. The size of the flower depends on the length of the flower stalk, called a pedicel.

The thick upper part of the pedicel where the floral parts exist is called the thalamus. The size of the thalamus also varies among species and even within the same plant, depending on the stage of the flower.
Florence Avenue - Flower Shop Mt. Eliza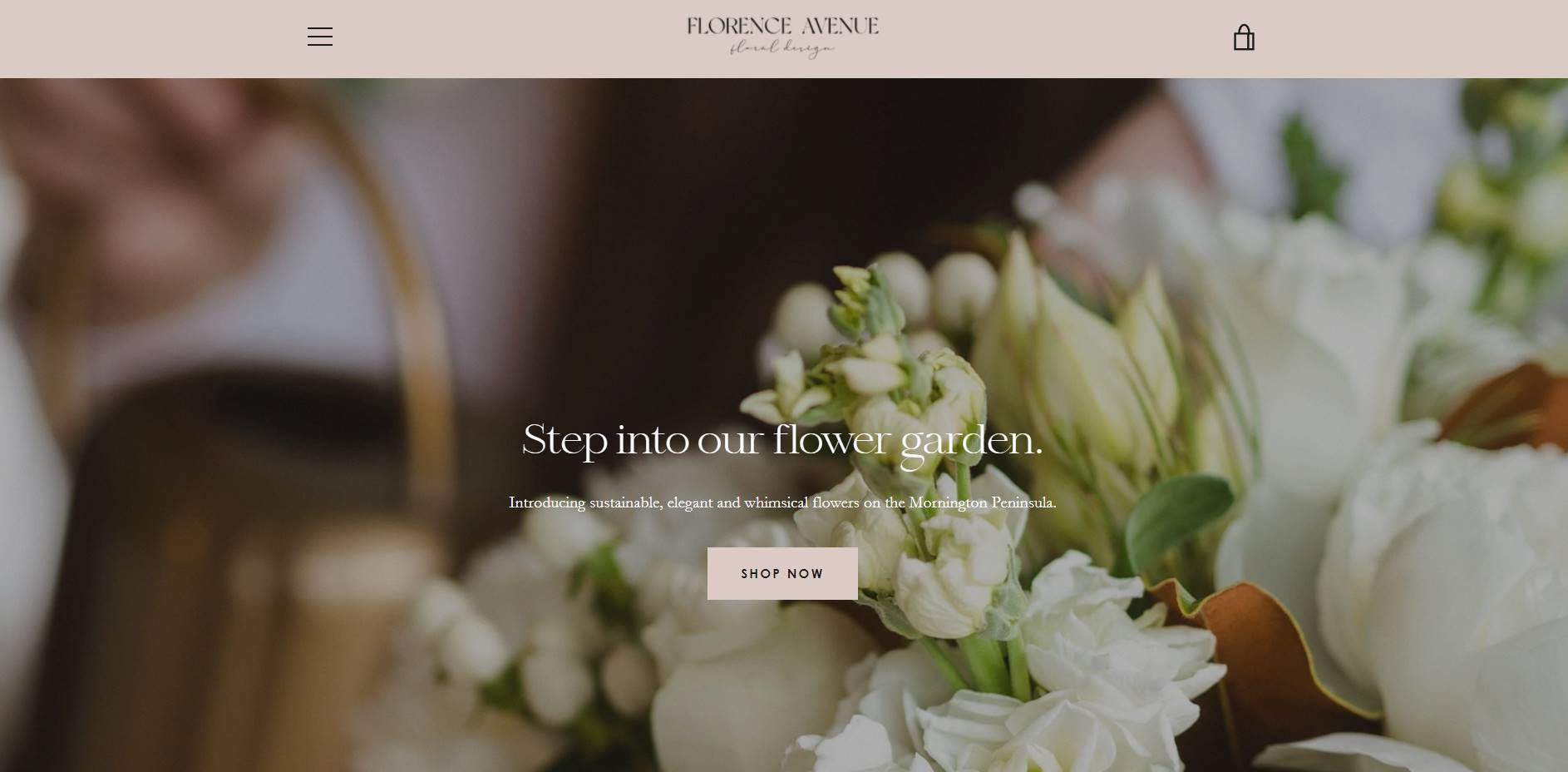 0413 715 250
We're your seasonal florist on the Mornington Peninsula
At Florence Avenue, we bring nature indoors and spark joy through eco-friendly flower arrangements.
We're here for life's little moments, whether that's making someone smile, connecting with nature, or bringing colour to your home.
Our arrangements are earthy, soft and elegant, with each bouquet being as beautifully unique as the people who display them.
At Florence Avenue, we believe in honouring nature, not depleting it. We minimise our environmental footprint by using recycled stickers, paper and ribbon (made from recycled water bottles). Our floral wrapping is recycled and biodegradable, with absolutely zero floral foam. What's more, we dispose of green waste responsibly.
Florence Avenue is the Mornington Peninsula's new destination for elegant, timeless and whimsical flowers. I'm so happy to have you here.
What would you do if you won the lottery?
For me, my answer has always been the same. I'd open up a small floristry shop bursting with fresh, beautiful and soulful blooms. Then, I'd spend my days sharing the joy of flowers.
Okay, I didn't win the lottery. But in 2021, I chose to bring my dream to life anyway. Florence Avenue was born.
For me, floristry is about small acts done with big love.
The large achievements. The birthday milestones. Or the simple act of making someone feel loved. Flowers are a warm, colourful hug that connects us to each other, nature and ourselves.
Our arrangements are Australian grown, rolling with the changing seasons. That's why the flowers we have in February and different from the ones we have in June – and isn't that the way it ought to be?
Florica - Flower Shop Mt. Eliza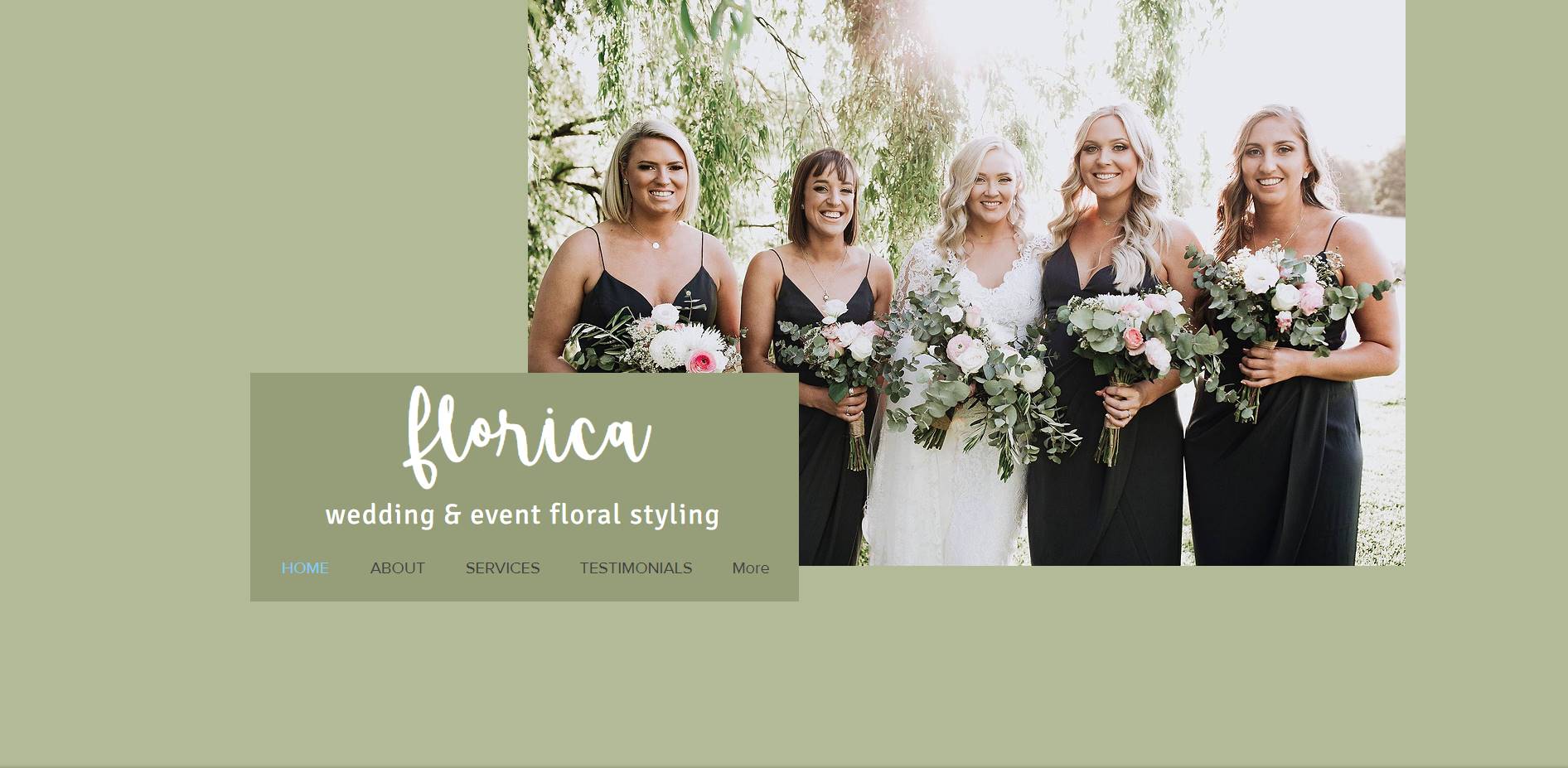 0412 411 996
At Florica, we are so much more than just bouquets!
We offer a wide range of services that are all designed to help you create a beautiful wedding or event.
WEDDINGS
What kind of business would we be if we didn't do weddings? We love everything about weddings! So for your big day, we can do anything from bouquets to arbour design, table centrepieces, throw away bouquets, buttonholes, floral installations and anything else your heart desires. Also, when you become a client, we create a personalised Pinterest board that allows us both to gather the right inspiration for your day and get a good idea of what you are after. We also offer a delivery service before or on the day, as well as a setup service.
EVENTS
Throwing a party and thinking it needs an extra touch? We agree! If you think your event could do with an added flourish, why not add a touch of fresh flowers? Otherwise, we love putting our thinking caps on and coming up with ways to help you create an event that is #extra and exactly like the one you've been coveting on Instagram and Pinterest. So why not relieve yourself of the stress and hand the styling reigns over to us?
About Us
Hi! We are Pam and Brittany, a mother and daughter duo from the Mornington Peninsula. We are thrilled to be supported by our awesome team. Chanelle, our sister/daughter, assists with social media engagement. Noel, our resident handyman and logistics coordinator for all things movement related on our big days. And Aunty Kim, our best friend, wine connoisseur and apprentice.
What started out as a small passion for floristry has flourished into this small business that we cherish so dearly.
Florica is all about bringing our clients the best in botanical style and quality for their wedding or event.
We don't subscribe to any particular style as we allow our clients to explore their vision and allow us to bring it to life for them.
Mimosa Flowers Shop Mt. Eliza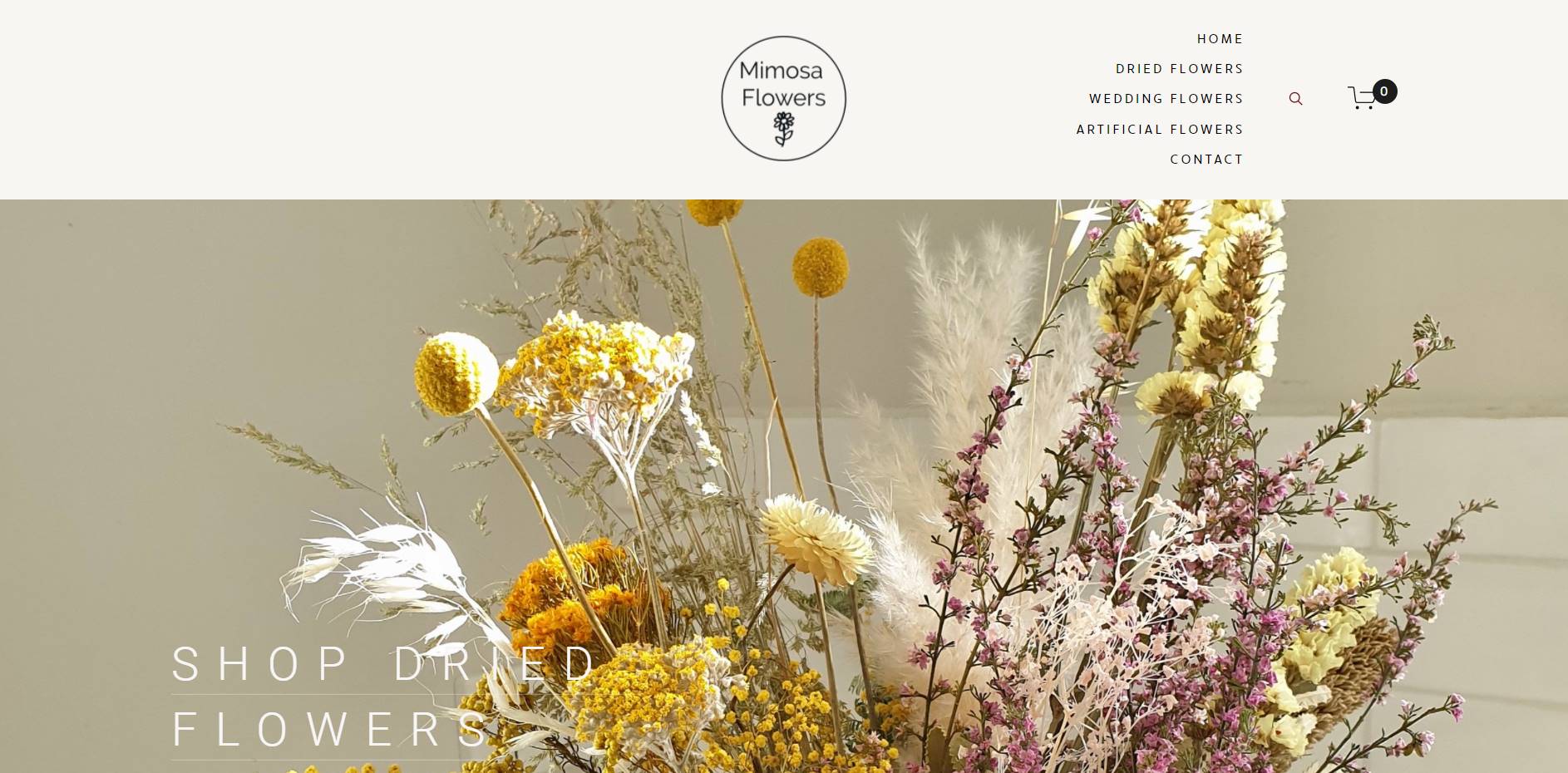 Mimosa Flowers is an Australian flower studio located in Melbourne, Victoria, specialising in lasting artistic floral design using dried and preserved flowers. Our aim is to create floral bouquets, arrangements and installations that can be enjoyed for a very long time, sometimes indefinitely. We use predominantly Australian native flowers and greenery, which we dry and preserve for a long-lasting result. Our arrangements are floral foam-free and environmentally friendly. 
We also have a limited range of artificial flowers. We only source silk and real touch flowers of the highest quality to ensure our flowers exceed expectations and are authentic down to the tiny details.
You can choose from our selectively created dried or silk bouquets from our online store, but if you would like a special touch or something entirely different, please get in touch.
Our delivery area is Melbourne metro and the Mornington Peninsula. Outside this, please contact us prior to ordering.
We are focused on creating a unique but natural-looking arrangement, whether it is a free-flowing or a more structured design. In order to ensure that our dried flowers arrive in perfect condition, we deliver them ourselves in Melbourne Metro and the Mornington Peninsula.
Flowers by Zak - Flower Shop Mt. Eliza
0458 988 745
Simple, affordable, memorable flowers for all occasions
Based in the coastal town of Mornington, I came to be a home florist, and after a lot of hard work and lots of online communication, I started to find my place among all the other Mornington florists.
Whether you want to send flowers all the way down the Mornington Peninsula to Sorrento, Merricks, Rosebud or Dromana, I will deliver flowers seven days a week. I believe that birthday flowers should arrive on an actual day, so I deliver on Sundays as well from Cape Schanck to Frankston.
With so many florists to choose from in Mornington, why choose Flowers by Zak?
The answer lies in the way I do business. I am an old school florist like you used to find in country towns. I take a sincere interest in all my clients and feel their emotions with them, celebrate their milestones and cry a bit when sadness folds over them. I call my florist clients my flower family.
Creating flowers that suit your requests perfectly sets me aside from other flower sellers, whether it is including a special colour flower, a certain type of flower with personal meaning or simply a feeling the sender wants to create for the recipient, every arrangement that leaves my flower shop carries with it a potential warm smile and a message of love and caring.
Flower recipients, whether for a sad or happy occasion, always flash me a smile and a twinkle in the eye as they delight in the flower gift. I live for these moments like the Opera singer live for the applause.
Talk to me about your flower needs, and together we will find the perfect solution. Sometimes it is as simple as a bunch of roses grown in Baxter, or other times a spectacular arrangement to say a final goodbye to a loved one.
I am looking forward to meeting you all and welcoming you to my flower family.
Zak
Blossom Club - Flower Shop Mt. Eliza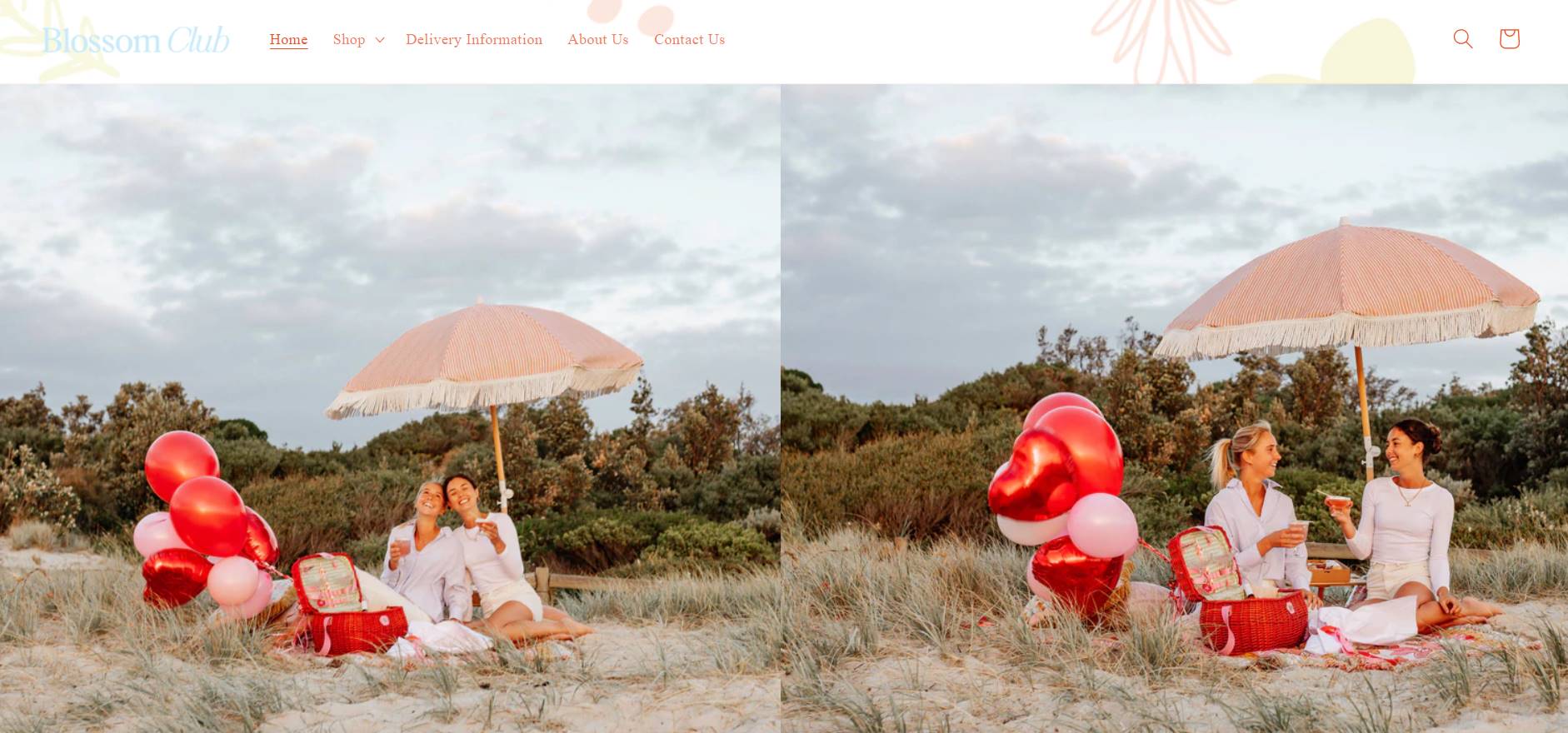 I absolutely love flowers, the creativity of floristry and all the beauty that lies in between. I love working with clients to deliver and provide a personal service where no two bunches are the same, knowing that the creations I make will bring joy and love to the recipient.
After spending the last 14 years in Fashion, I became obsessed with always being around beautiful flowers, going to a course after course and always wanting more. I was very lucky to be gifted two courses for Floristry lessons from my Sister and Partner for the amazing Bloomin' Marvellous School. Soon after, I was addicted to learning, finessing, and creating arrangements to fulfil my creative side.
Blossom Club was born out of the need for me to continue with my passion, share it with others and deliver beauty day in and day out. I have a studio based in Melbourne's South Eastern Suburbs, which was established in 2021. I create flowers that are a little quirky, less traditional and have an element of wildness to them.
I can't wait to create a special bunch of flowers just for you!
Nicole x
Eliza Flowers Shop Mornington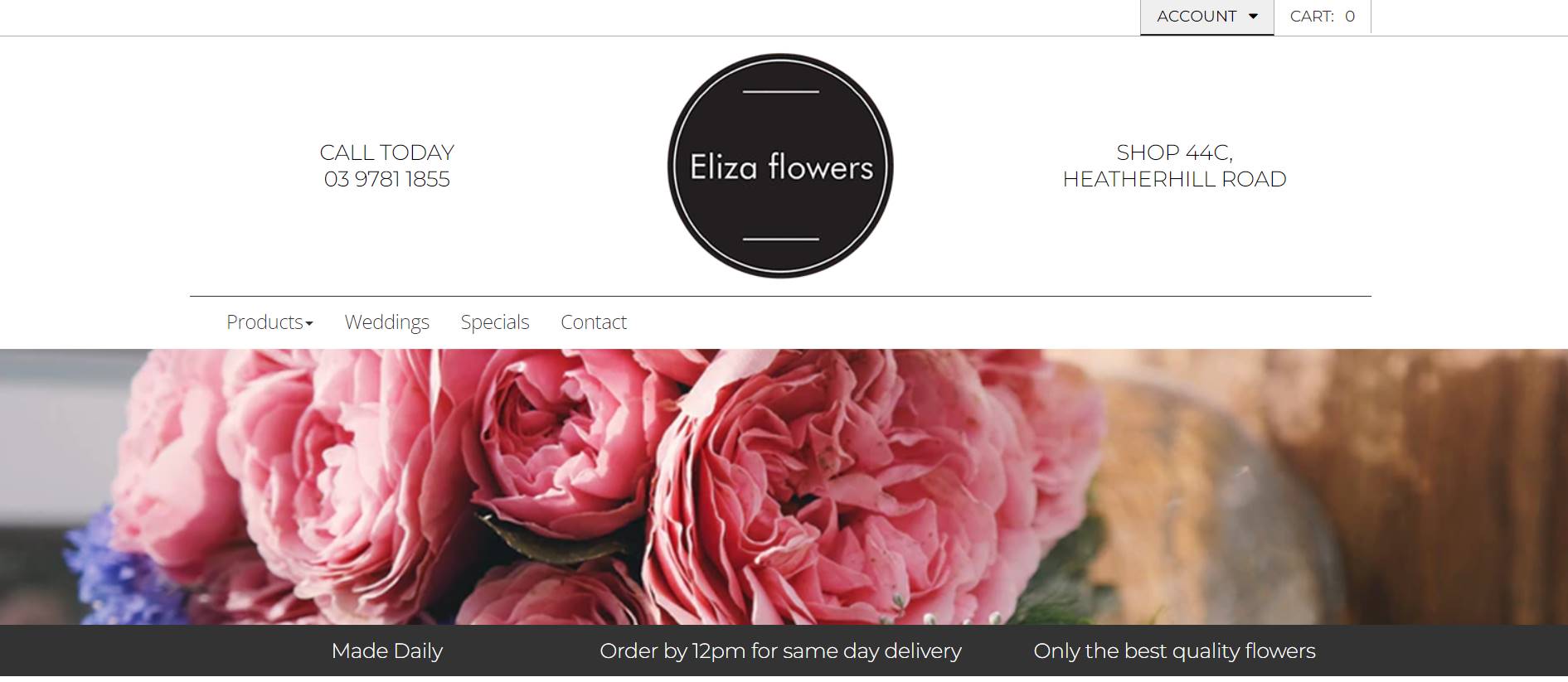 03 9781 1856
Eliza on Heatherhill has been providing for the Mornington Peninsula's (Victoria, Australia) floral needs for 60 years.
At Eliza on Heatherhill, our aim is to provide our customers with good old fashioned personal service and quality products. We offer a range of friendly advice to make your floral gift that much more special.
We cater for all your needs with a range of Gifts, Plants, Teddies, Balloons, Wines. We go to the Footscray Flower Market every Tuesday, Thursday and Saturday mornings to ensure we provide you with the best quality, fresh cut flowers.
We are here to look after you and help you make the best selection for your needs. The girls can look after all your floral requests whether they are in our own local area or anywhere worldwide.
Whether the occasion is a Birth, Anniversary, Wedding, Sympathy, Corporate arrangement, or simply to say that you love someone, please give us a call and let us give you our prompt, professional and personal service.
Tully's Flowers Shop Mt. Eliza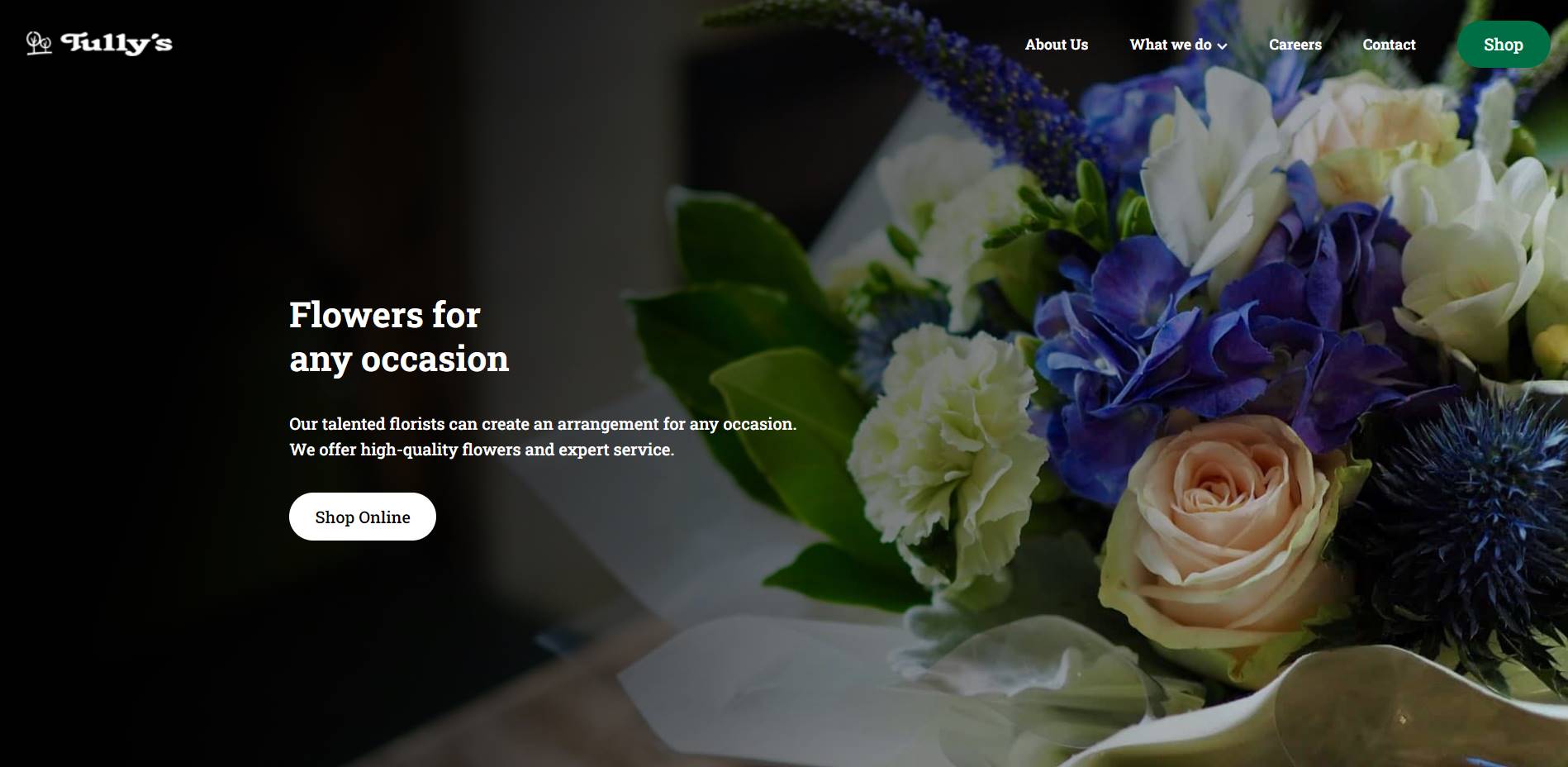 03 5978 8716
Beautiful fresh flowers for every occasion. Native flowers and timeless classics.
The experienced florists at Tully's Flowers can create custom floral arrangements for any occasion. 
We source our flowers fresh from the farm and from local markets. This ensures that they'll stay beautiful and fresh for as long as possible after you take them home. By sourcing our flowers locally, we're supporting local families and communities. 
Our florists love getting to work with such a varied & vibrant selection of flowers. You'll find lots of exciting native flowers in our range, as well as plenty of classic arrangement flowers like daisies, roses, daffodils and hydrangeas. 
Not sure what you want? Our talented team can help. Come in with an open mind and a few key colours, and we'll take care of the rest. We guarantee only the freshest and highest-quality flowers here at Tully's.
The best that Mornington Peninsula has to offer.
What started as a humble fresh fruit and vegetable corner store has become a buzzing community hub. Over the years, Tully's has evolved to include a deli, groceries, a butcher, a florist, a 'food truck' style juice bar, a Stockfeed, an in house kitchen and a bustling cafe. Whatever you're looking for, you'll find it at Tully's.
Our family has been a part of Mornington for three generations. From hand picking our local suppliers to deliver our friendly old-fashioned service, Tully's is all about giving back to the community and sharing delicious, authentic food with our customers.
We offer the largest range of fresh fruit and vegetables on the Mornington Peninsula. With a focus on locally-sourced products, our team is committed to offering the highest quality to our customers. 
We love showcasing all that our region has to offer, sourcing most of our meat, cheese & fresh produce locally. When you shop with Tully's, you're supporting local growers, farmers and families.
Secret Garden - Flower Shop Mt. Eliza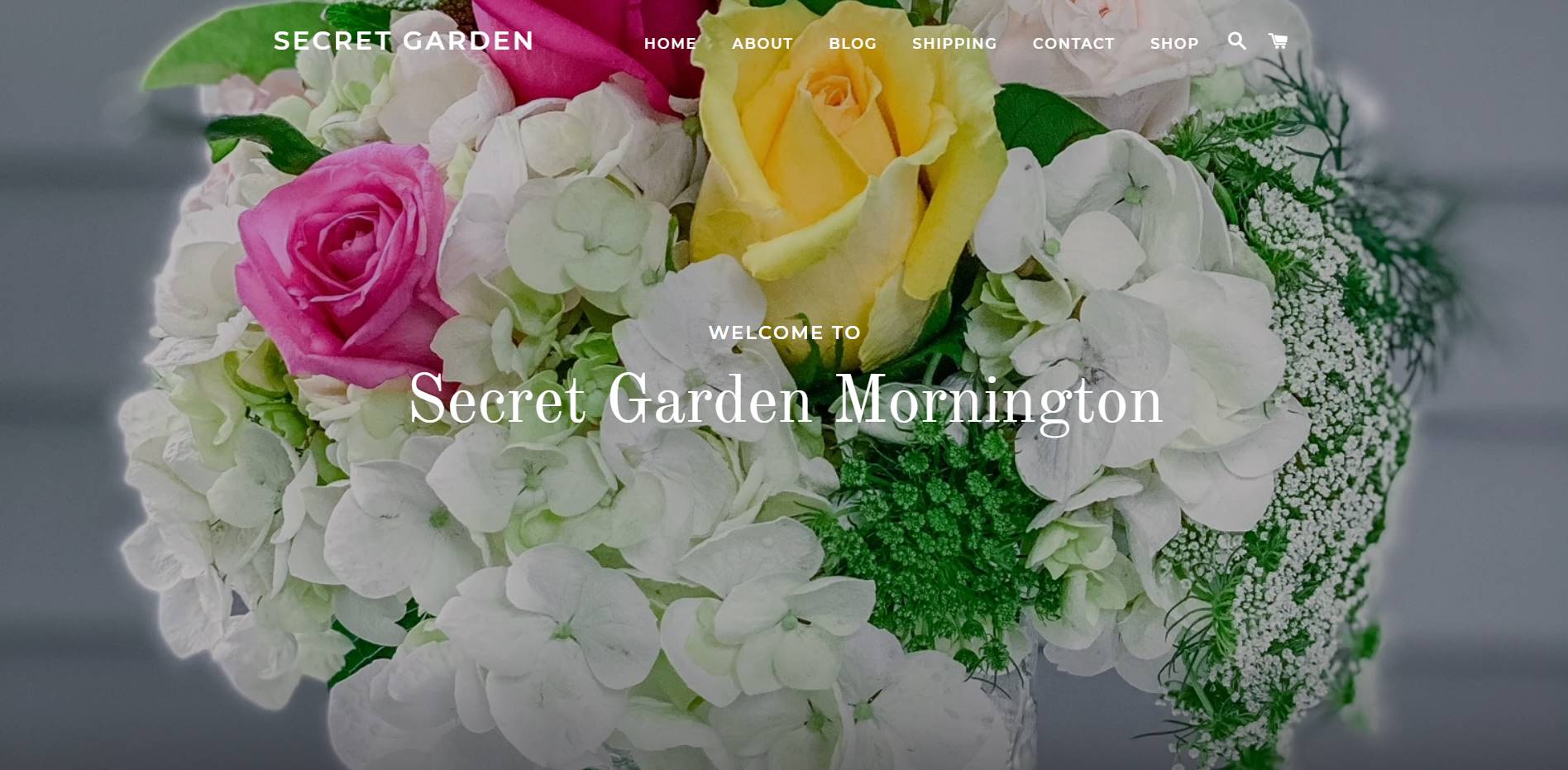 03 5975 0974
Beautiful flowers for every occasion on the Mornington Peninsula.
Located in beautiful Main Street Mornington, Secret Garden is abundant with market-fresh and locally sourced quality flowers from the Mornington Peninsula.
We take pride in sourcing the best blooms the season has to offer.
Our beautiful flowers are complemented by a talented team of floral designers who create stunning arrangements to suit every occasion.
Located in beautiful Main Street Mornington, Secret Garden is abundant with market-fresh and locally sourced quality flowers from the Mornington Peninsula.
We take pride in sourcing the best blooms the season has to offer.
Our beautiful flowers are complemented by a talented team of floral designers who create stunning arrangements to suit every occasion.
We cater for all occasions, including Births, Marriages, Birthdays & Bereavements. Our Selection of Flowers includes Oriental Lilies, Roses, Garden Roses, Asiatic Lilies, Orchids, mints, Herbs, Protea, Gladioli, Hydrangea & Posies & whatever season has to offer.
Stem by Stem - Flower Shop Mt. Eliza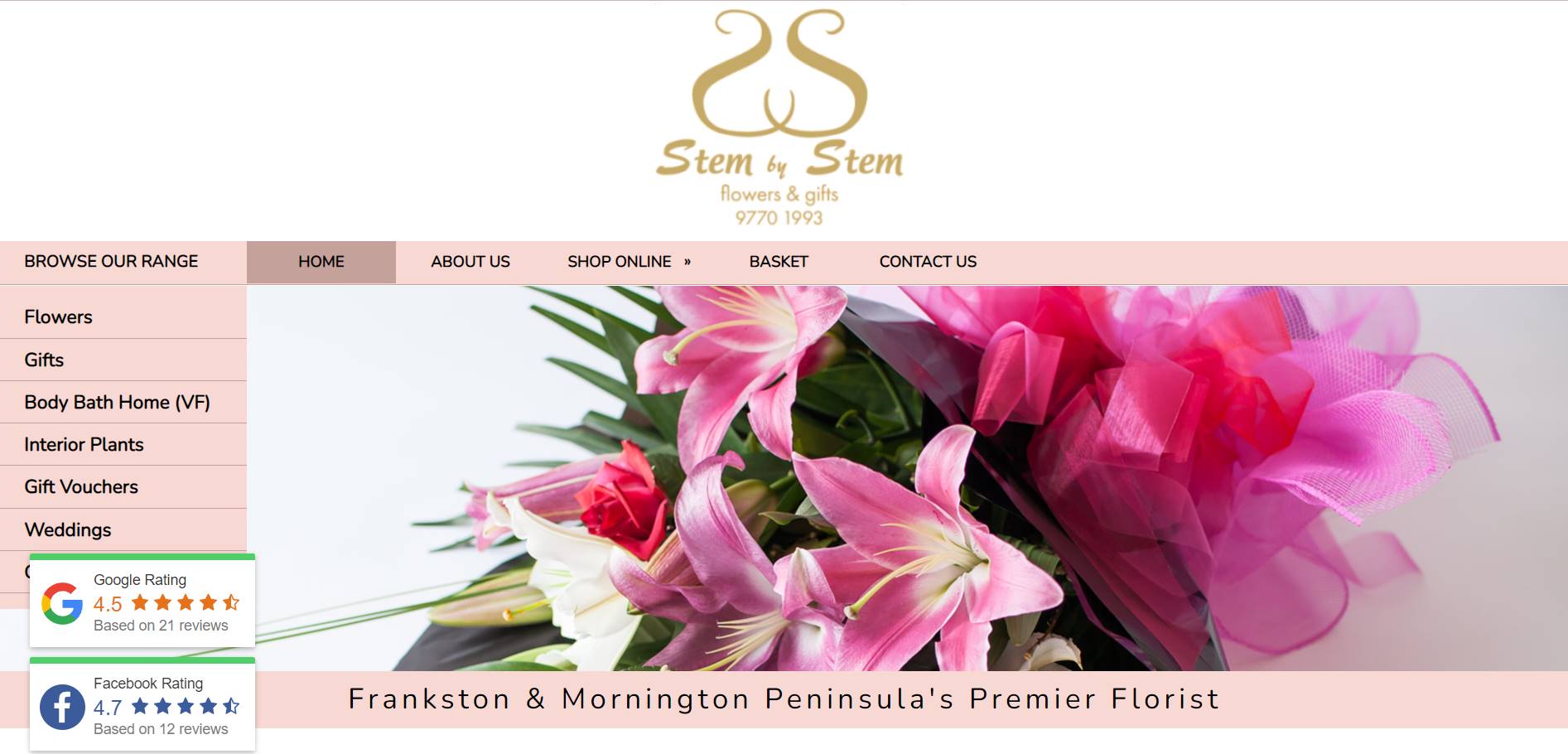 03 9770 1998
WELCOME TO STEM BY STEM
Stem by Stem florist has been delivering the freshest of flowers and beautiful gifts to Frankston, all local surrounding suburbs, businesses, hospitals, schools, the Mornington Peninsula and Worldwide for almost 20 years. Delivering twice a day to local areas Frankston Mt Eliza Seaford Langwarrin & Mornington.
Our flowers are delivered fresh straight from the growers ensuring longevity. We pride ourselves on freshness and quality. Our selection of seasonal cut flowers and our arrangements is vast and simply beautiful. Our Australian Made and owned gifts are all elegantly gift wrapped free of charge.
Stem By Stem offers ...teddies, indulgent body products, plants, balloons, wine and chocolates, jewellery and homewares for all occasions such as births, anniversaries, weddings, sympathy, love, thank you, birthdays, congratulations, 'just because" and corporates. We can create for any occasion, please talk to one of our award-winning florists or use our online flower ordering service.
ABOUT US
Stem by Stem was established by Adrianne Hall to provide the Frankston South and Mornington Peninsula with a fresh and unique shop.
Stem by Stem florist has been delivering the freshest of flowers and beautiful gifts to Frankston, all local surrounding suburbs, businesses, hospitals, schools, the Mornington Peninsula and Worldwide for almost 20 years.
Delivering twice a day to local areas Frankston Mt Eliza Seaford Langwarrin & Mornington. It is truly an experience to visit Stem by Stem with its' calming ambience. The ambience, quality and uniqueness of Stem by Stem has created much interest.
We can create for any occasion, please talk to one of our award-winning florists or use our online flower ordering service.
Lost In Florals - Flower Shop Mt. Eliza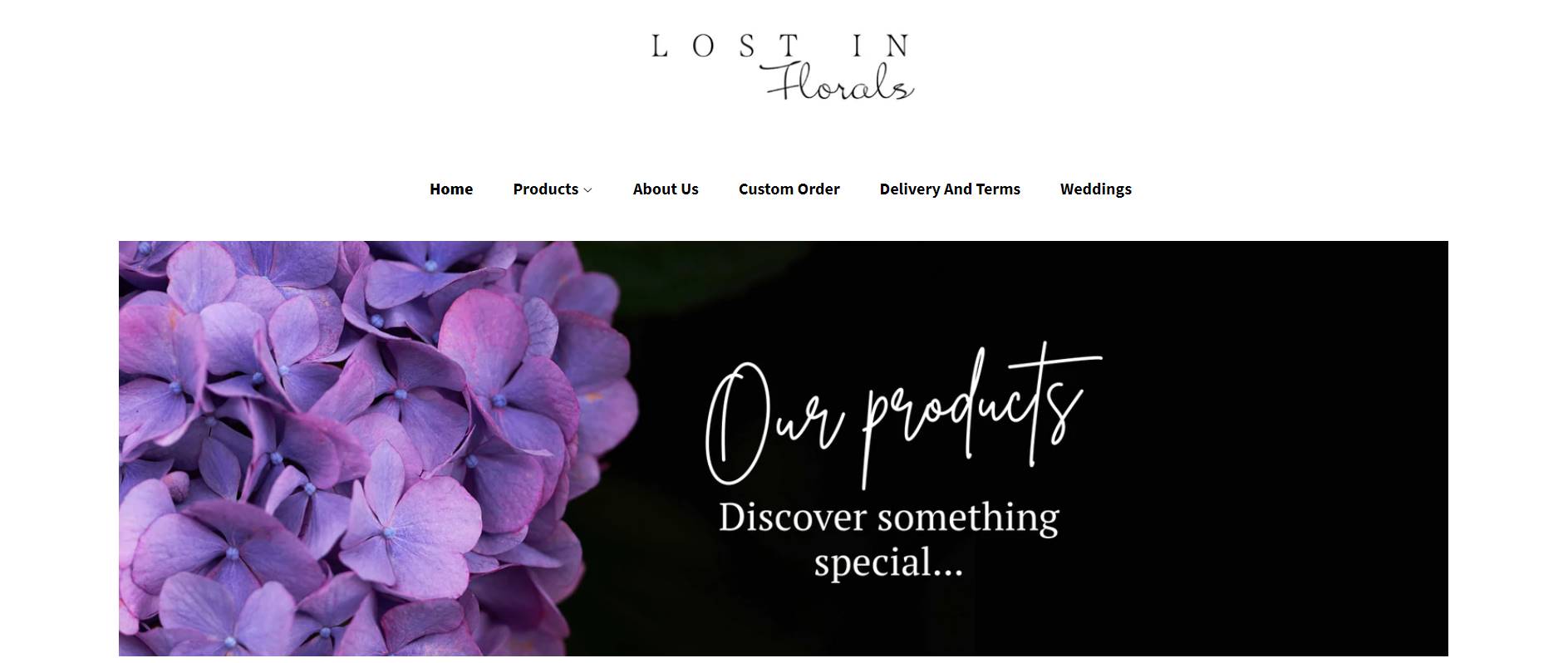 0403 669 635
Welcome to our store! Lost in Florals is an online-based florist specialising in daily deliveries, weddings, events and tributes.
Based on the Mornington Peninsula, Lost In Florals was founded by Hayley Veale, a qualified florist with over ten years of experience. Over the years, she has worked at some of the best florists in Melbourne, creating breathtaking floral designs and styling events. Hayley decided to expand her passion and open Lost In Florals to continue to use her creative flair and create unique, high-quality floral designs.
At Lost In Florals, we pride ourselves on making your journey with us as effortless and professional as possible. We love delivering stunning blooms and creating events across the Mornington Peninsula and South East Melbourne.
You can view all our latest offerings by navigating to products. We love to meet custom requests, so if you would like something unique, you can head to our custom order form, and we will be in touch with you shortly to meet your request.
Blooms on Bentons - Flower Shop Mt. Eliza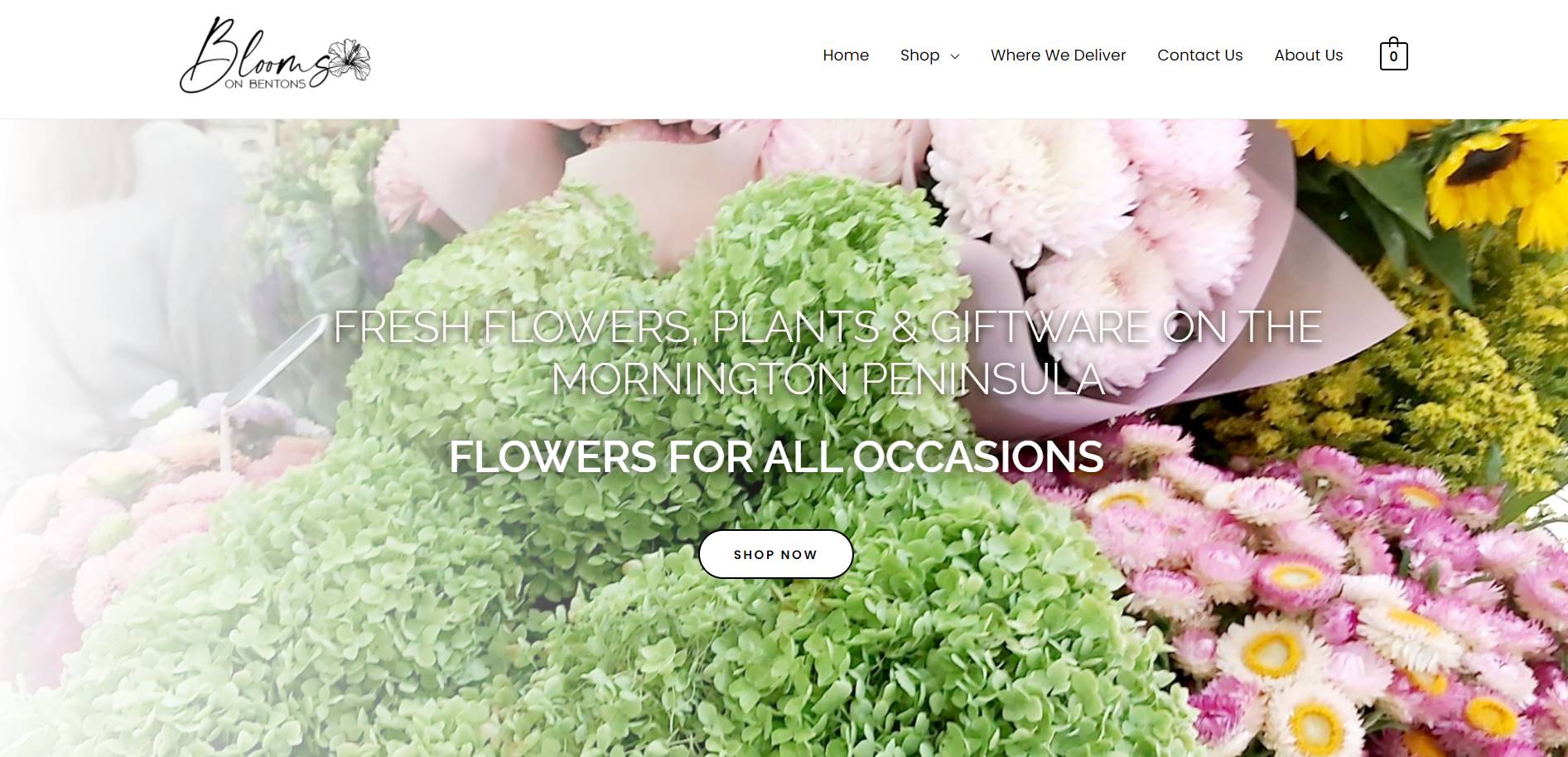 03 5973 6439
For the best and freshest flowers, plants, and giftware in Mornington Peninsula, we have exactly what you are looking for! 
Located in the beautiful area of Mornington Peninsula, reputed for its beautiful beaches, historic country house retreats, vineyards, and olive groves are reminiscent of the Mediterranean.
Blooms on Bentons has a combined floristry experience of over 40 years and continually strives for details and excellence through the entire delivery chain from flower selection, flower care & respect, floral designs, customer service through to our delivery commitment. We continue to take time to listen, provide advice and explanations to our clients, which seems to be lacking in today's fast-paced society.
Poppy Culture - Flower Shop Mt. Eliza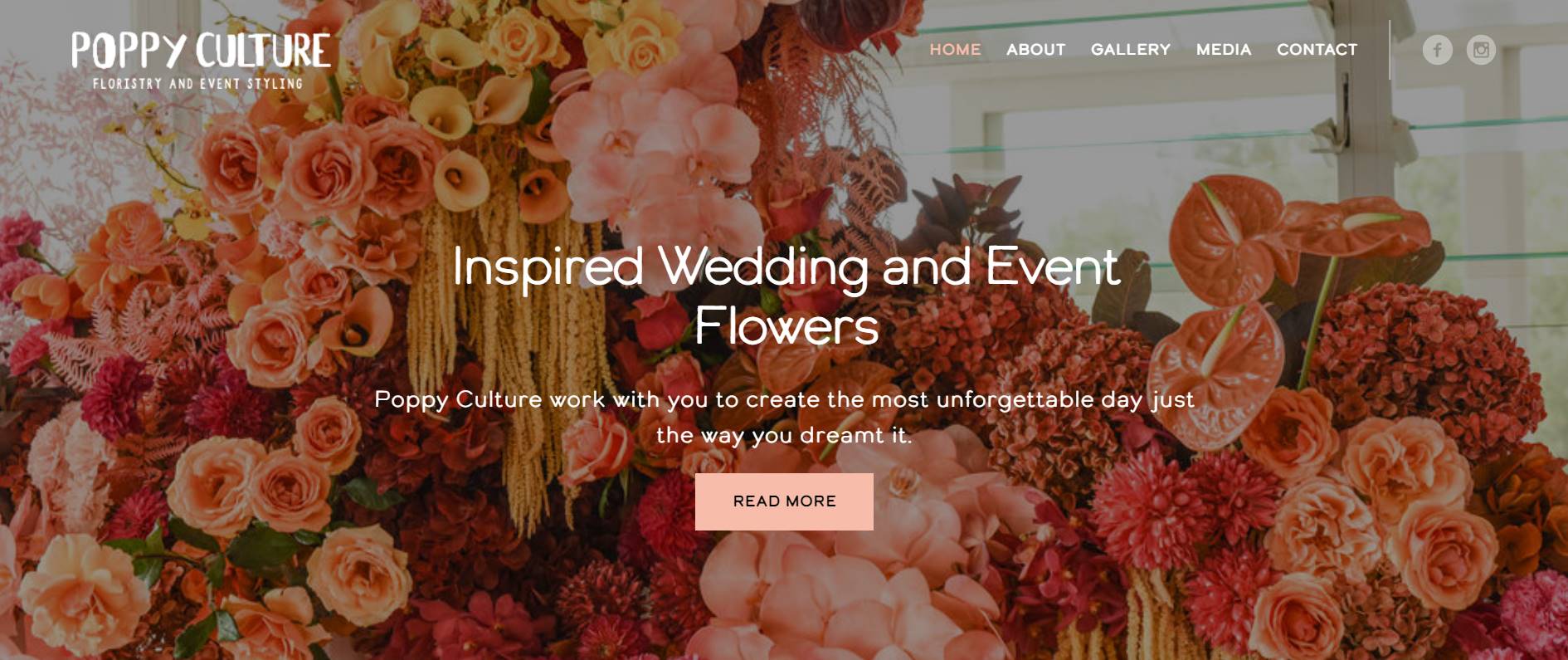 0472 767 791
BRINGING YOU ARTISTIC & CREATIVE FLORAL DISPLAYS
We create artistic floral designs, custom events and decorative styling for brides, businesses and beyond on the Mornington Peninsula, Melbourne and surrounds.
Launched in 2012 and based in Mornington, we have a combined total of over 50 years worth of experience in our florist team and are proud to have produced over 750 events and counting. Let our professionalism and 'can do' attitude put you at rest when looking for decorative solutions for your wedding or event.
Large or more intimate, we treat each occasion like our own, tailored specifically to your needs. Poppy Culture is your trusted florist partner on some of life's most important occasions.
We Love Flowers!
Our passionate and multi-talented team take great pride in providing bespoke creative concepts and bringing them to life.
Launched in 2012 and with a combined total of over 50 years worth of experience between the team, let our professionalism and 'can do' attitude put you at rest when looking for decorative solutions for your wedding or event.
Poppy Culture has proudly had its florals featured on the cover of TOAST Magazine as well as published in Cosmopolitan Bride, Ivory Tribe, Magnolia Rouge, Bride To Be magazine, Wedding Playbook, Modern Wedding Magazine, Hooray, Melbourne Wedding and Bride, Hello May as well as blogged by TOAST weddings, Polka Dot Bride, Style Me Pretty, Weddings HQ, Hello May and White magazine.
Flora By T - Flower Shop Mt. Eliza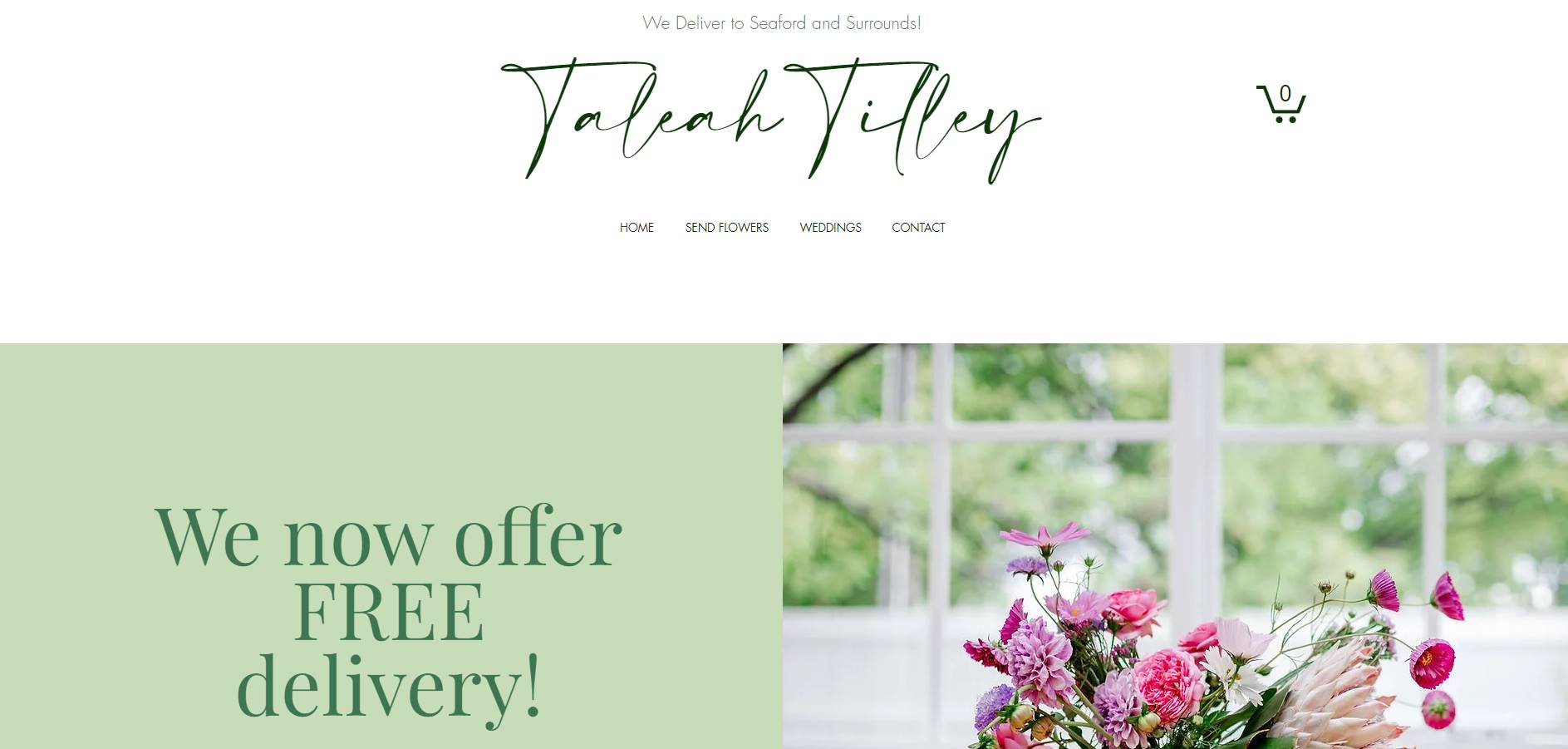 0412 063 444
Flora By T is a fine art floral studio based in Melbourne, Australia. Our floral designs reflect the flawless beauty evident in nature. We specialise in elegant and timeless wedding floral design, modern corporate events, weekly home and office arrangements and group workshops for bridal showers, baby showers and events.
Your Wedding Day
This is your special day, we want it to be perfect. Your bouquet will reflect your personal style, taste and very essence of you. It will be what gives life to your ceremony. Your bridesmaids bouquets are made to complement yours in the way maids support you on your day, and the buttonholes add the final, delicate touches.
The moment when you make your vows are life-long memories; these moments are intimate. Our arrangements are made with special care, having this in mind.
Add to the essence of the special time of your receptions with a personal touch through your florals. Bring the outside in.
We provide services all the way from the planning, designing, delivering your arrangements and setting them up at the venue through till 'bump out' - this is when we come in after the wedding has finished, we wrap up flowers and offer them to your guests to take home, disassemble any installations, and collect vases. 
Whether you are having a lavish or intimate affair, Flora by T will add the special touches you need for an elegant, perfect day.
Somerville Florist - Flower Shop Mt. Eliza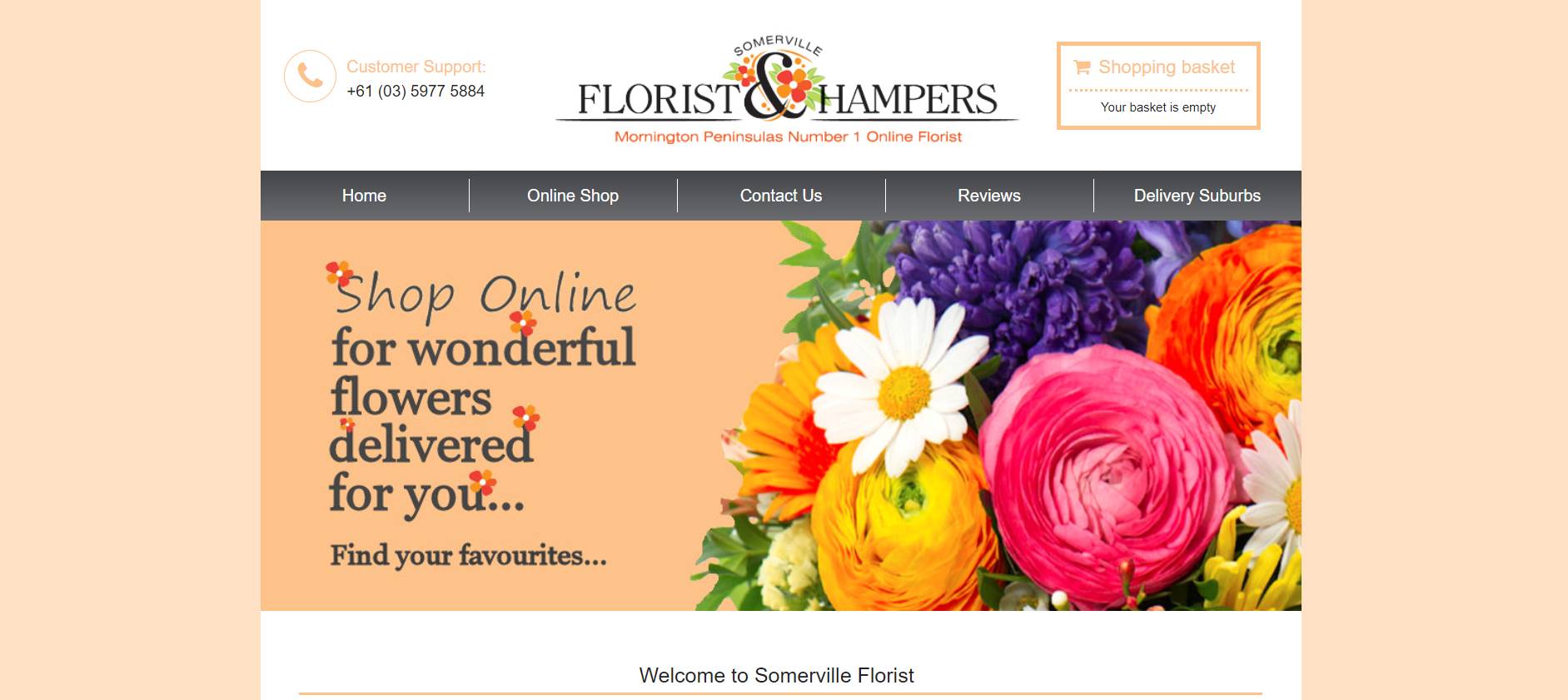 (03) 5977 5887
Welcome to Somerville Florist.  
Established for over 50 Years!
Our extensive delivery area covers the Mornington Peninsula and surrounding suburbs.
Our team of florists pride themselves on arranging the perfect arrangement for you.
Should you require one of our team to assist you further, please feel free to call us.
Thank you 
NO# 1 ONLINE FLORIST FOR THE MORNINGTON PENINSULA
Bodhi & Me - Flower Shop Mt. Eliza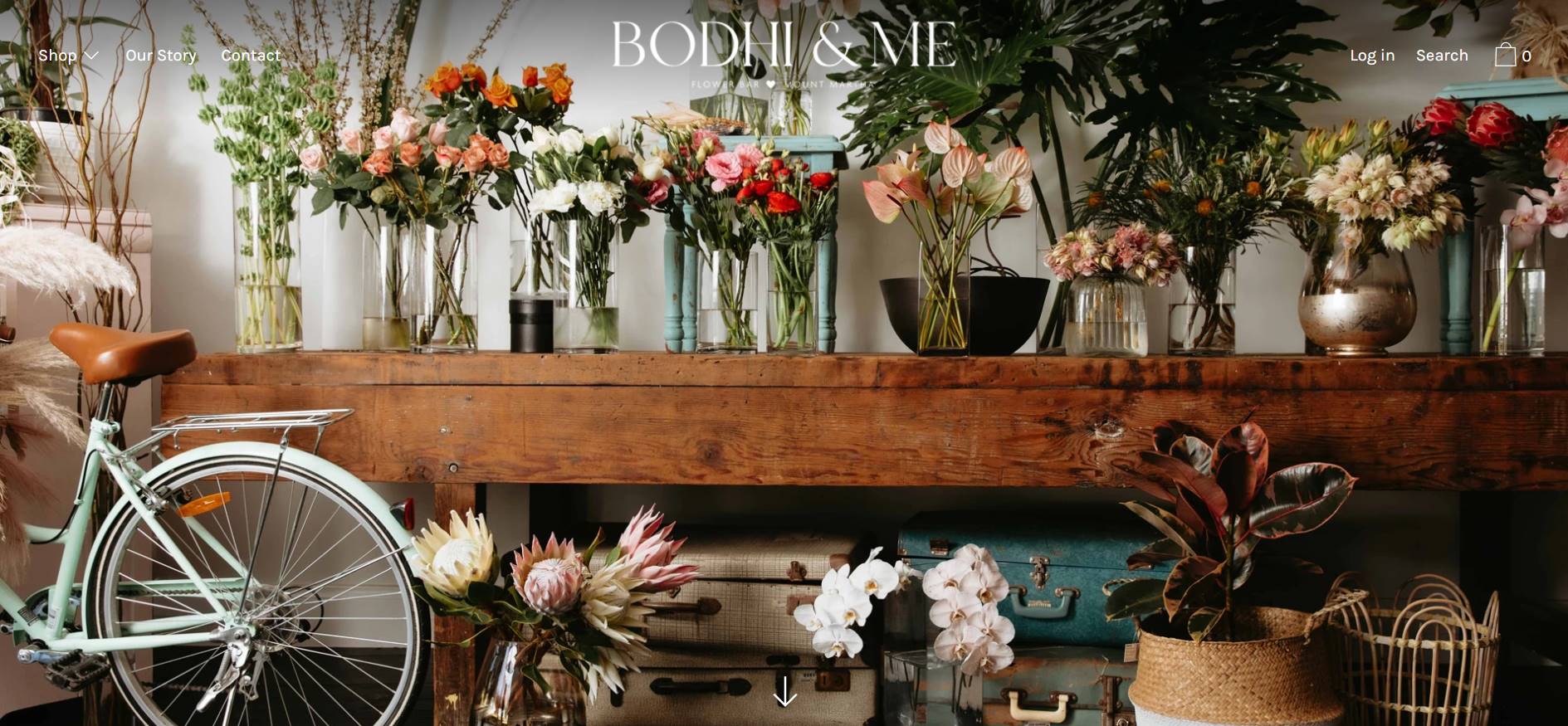 (03) 5916 1299
Welcome to our Flower Bar, Mount Martha.
Lovingly prepared by our team and carefully delivered across the Mornington Peninsula or available for collection in store. Pre-made bunches can be ordered from our website and collected at our shop in Mount Martha.
Love from Leanne & Jess.
Beachside Mount Martha Florist is committed to bringing local and Peninsula residents the best, locally grown flowers with the best service.
Preserved Fleurs - Flower Shop Mt. Eliza

0410 514 495
Preserved Fleurs is a studio-based florist located on the beautiful Mornington Peninsula in Victoria.  
At Preserved Fleurs, we are committed to providing all of our customers with a beautiful selection of dried and preserved flowers. These flowers are thoughtfully transformed into bouquets and arrangements suitable for gifting, home styling, and/or styling for your cafe or retail outlet.  
Our dried and preserved flowers are long-lasting, allergy-free, and there is no need to water them. They are also highly durable, low maintenance (just a light blow dry every so often) and represent great value. You can order them online whenever you like. We also offer Aus wide shipping for a flat fee of $15.50.
If you have any questions, we would love to hear from you. You can use the contact form on our website or send us an email to [email protected] and address it to Suze Debernardi.
Hello, I'm Suze!
We create all of the beautifully preserved and dried flower arrangements from my home studio on the Mornington Peninsula.  
Our focus is on using the best quality dried and preserved florals, maintaining those natural, earthy tones found in nature. All florals have been chosen with much thought and care. 
We will deliver direct to your door if your area of delivery falls within the stipulated delivery areas (as shown on the delivery page); otherwise, your flowers will be posted the next business day.
Preserved Fleurs prides itself on its commitment and focus on all of its customers.
Fresh Floral Designs - Flower Shop Mt. Eliza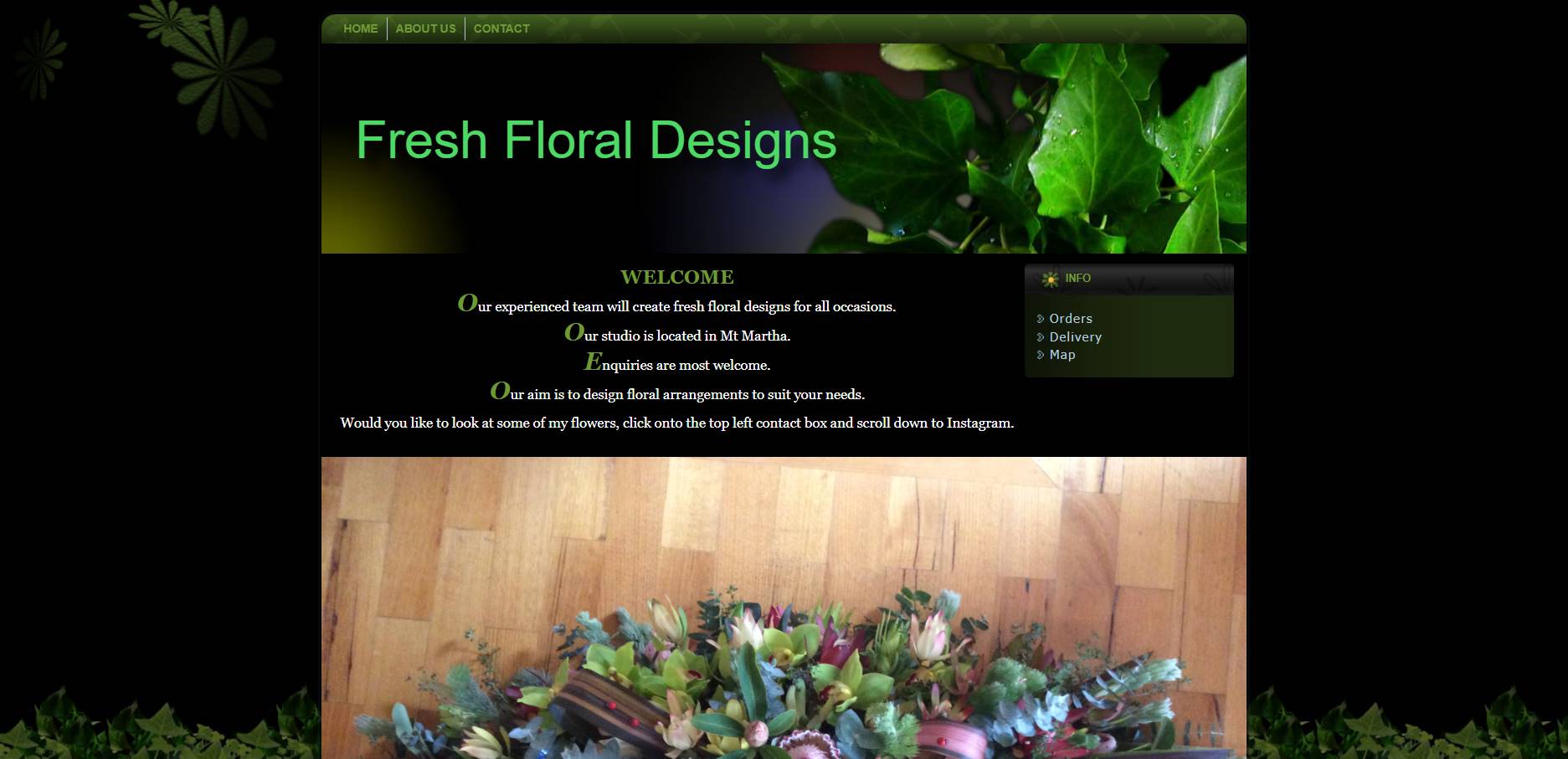 0418 387 131
WELCOME
Our experienced team will create fresh floral designs for all occasions. 
Enquiries are most welcome.
Our aim is to design floral arrangements to suit your needs.
Would you like to look at some of my flowers? Click onto the top left contact box and scroll down to Instagram.
Fresh Floral Designs became a registered business in early 2010.
We are located at our home studio in Mt Martha on the Mornington Peninsula; this is a tranquil environment that consists of a small group of ladies who are dedicated to designing each floral design with great care and attention to detail.
The business has grown out of great love for floral design, and our aim is to design a fresh floral arrangement to suit every occasion.
We can help you with your special floral requests, from the celebration of a new life to a final tribute to a great life.
Everyday floral arrangements, births, birthdays, engagements, weddings, wedding anniversaries, corporate design, thankyou and thinking of your moments, get well wishes and funeral designs.
We have designs that stem from the heart.