So you have decided that it is finally time to choose an engagement ring. Whether you are the future groom to be and have popped the question or choosing to find the dream engagement ring together as a couple. 
Find the girl who is the "one." Ask her father for her hand in marriage. Plan the perfect proposal. Buy an engagement ring. Hmmm….. Buying an engagement ring can be an overwhelming task. There's a lot of pressure on this purchase. It's a symbol of your love for your girlfriend, and it's a token of your willingness to take the relationship to the next level. Plus, it doesn't help that your fiance will be showing off the ring to her friends and family.
For many men, the purchase of their lady's engagement ring will be their first experience in the wild world of jewellery. When they walk into a jewellery store, they're inundated with terms and concepts that they've never heard before. 
Never fear. We've put together the ultimate list of places to buy an engagement and wedding rings in Perth, Western Australia to help you purchase a perfect ring for your special someone. Let's get started.
Ultimate list of places to buy Engagement and Wedding Rings in Perth
Temple & Grace - Engagement and Wedding Rings Perth
0414 500 999
Australia's finest engagement and wedding rings
Planning for your big day is exciting, and Temple and Grace can ensure that your special day is celebrated in style with finely crafted engagement rings and wedding bands. Temple and Grace take pride in being trusted Sydney based engagement and wedding ring specialists. Being a master jewel-smiths themselves means that every piece of jewellery is handmade with careful attention to detail. If you're planning for your big moment, you can visit Temple and Grace in Sydney or buy wedding rings online. Temple and Grace have over a thousand wedding bands and wedding ring sets to choose from. While the engagement ring and wedding ring look is important, it is recommended that you keep both your choice of precious metal and lifestyle in mind.
To ensure that you get the best value for your money, it is pivotal to note that when you buy engagement rings, diamond rings and wedding rings online from Temple and Grace, you will save over 40% compared to high-street jewellery retailers. So how do you save so much? It's simple. All Temple and Grace jewellery is made in-house. Every diamond ring, engagement ring and wedding band that you see online is handcrafted directly at the Temple and Grace jewellery boutique in Sydney. We are renowned goldsmiths and loose diamond specialists. With an in-depth understanding of precious metal such as gold and platinum, we guarantee that we can make you the finest diamond wedding bands and gold wedding rings. Visit us or shop online to experience finesse and high-quality wedding and engagement jewellery.
Engagement Rings, Wedding Rings & Bridal Jewellery
Experience brilliant design and fine craftsmanship in our collection of jewellery online. Shop directly from jewellery makers and save up to 40%. We also offer a complete 'peace-of-mind' money-back guarantee. Discover an exquisite assortment of men's and women's jewellery. At Temple & Grace, we stock Australia's finest range of engagement rings and wedding jewellery including diamond rings, wedding bands, earrings, necklaces, bracelets and more. 
All our jewels are GIA certified, and we guarantee unparalleled craftsmanship to ensure that every piece of jewellery is nothing short of a masterpiece.
With over 20 years of experience in making brilliant jewellery, we take pride in being the only Australian jewellers who offer a 100% free returns guarantee. Visit our jewellery design studio in Edgecliff, Sydney or call us on 0414 500 999 for a personalised jewellery presentation.
Over the years, we have helped our customers save up to 40% on their diamond rings and jewellery by buying directly from us. Shop online, or if you are in Australia, you can call us to customise your masterpiece. We will also be happy to showcase our sparkling collection in the convenience of your home or office.
Australia's most exquisite collection of fine jewellery online.
Temple and Grace are reputed Sydney based jewellers. Here we handcraft stunning jewellery, including the finest engagement rings for your special day. Being a master jeweller means that we design and make all our jewellery in-house. This is why every piece of jewellery we deliver is made to the highest Australian standards. Being jewellery makers also means that we can offer a plethora of jewellery styles. For example, our diamond engagement rings come in a variety of centre-stone settings. Some of the popular ring settings include solitaire engagement rings, pave engagement rings and halo engagement rings. If you're looking for an antique style, you can browse our vintage engagement rings. All our engagement jewellery is made in 18K gold or platinum 950. Need a choice of precious metals? Shop from white gold engagement rings, yellow gold engagement rings or floor her with a gorgeous rose gold engagement ring. We also have a large range of gemstone engagement rings beautifully set with precious stones, including ruby, sapphires, emeralds and many more.
Temple and Grace also have Australia's most exceptional selection of wedding rings online. If you're looking for women's wedding rings, you can choose from plain precious metal bands or opt for a diamond wedding ring. From traditional and classic wedding rings to modern and trendy styles, we have them all. If it's your anniversary, you can browse from Australia's widest range of anniversary rings and eternity rings online. We also stock and customise a wonderful collection of men's wedding rings online. Need a wedding band customised for him or her? Call us, and we can have it designed and handcrafted for you.
Did you know that at Temple and Grace we stock some of Australia's best-known wedding ring brands? With a stunning range of over 300 styles of PW Beck and Dora Wedding rings, we have grown to be known as a specialist store for wedding rings in Australia.
Temple and Grace are known for designing and handcrafting precious diamond jewellery for men and women. You can shop from a gorgeous range of diamond studs and diamond earrings online. Make her look glamorous with a beautiful diamond necklace or surprise her by gifting her a stunning diamond bracelet.
At Temple and Grace, we offer exceptional value on our collection of fine jewellery. Remember, when you buy jewellery online from us, you can save over 40%. That's not all - every piece of Temple and Grace jewellery comes with a complete money-back satisfaction guarantee. Shopping for your diamond and gemstone jewellery is now quick, easy and convenient.
Sydney's finest Jewellery Concierge - Need a piece of bespoke jewellery handcrafted to the highest standards? Our popular jewellery concierge service offers just that. At Temple and Grace, we are passionate about enhancing your jewellery buying experience. Shop online, visit us or give us a chance to visit you and understand your jewellery requirements. Over the years, we have designed and delivered hundreds of beautiful custom engagement rings and bespoke wedding bands to our customers in Sydney, Melbourne, Brisbane, Adelaide and Hobart. Our lovely clients from Townsville, Orange, Mudgee and Newcastle, love our bespoke jewellery design experience and often refer our jewellery concierge service to their family and friends. Schedule an appointment with us. Being jewellery makers ourselves means that we understand the design and science that goes into making custom jewellery. We also offer excellent personalised service and guarantee savings of up to 40% compared to high street jewellery retailers.
Designer wedding rings for men and women.
For your special day, the wedding band should be spectacular. Whether you're looking for wedding rings for women or men's wedding bands, Temple and Grace have the best collection. A well-finished gold wedding band can handmade in 9K as well as 18K gold. Some of the designer wedding bands we stock include PW Beck and Dora. Both of these brands have a wide selection of gold wedding rings, platinum wedding rings and diamond wedding rings.
Buy a loose diamond for your engagement ring at wholesale trade prices.
Looking for GIA certified loose diamonds at the lowest prices in Australia? Buying a loose diamond for your jewellery is now easy. Temple and Grace have a large selection of certified as well as non-certified diamonds in Sydney. No matter how big or small your budget is, Temple and Grace guarantee to beat any quote. Choosing the right diamond and setting for your diamond engagement ring or diamond wedding band is important. Temple and Grace have the reputation of providing incredible value for money for a loose diamond in Sydney.
The story behind the making of Temple and Grace
The difference between high-end and classy fine jewellery and cheap looking jewellery is the finesse with which it is made. Temple and Grace's jewellery is crafted with much-needed passion and precision. Trading in fine jewellery is very different from making fine jewellery. Being skilful jewel smiths, Temple and Grace understand how to make gold and diamond jewellery to exacting standards. When you open a Temple and Grace wedding ring box, you can see how beautifully the ring has been made. The smiles on the clients' faces keep Temple and Grace in business day after day. A wedding is a special occasion, and choosing a reputed jeweller is vital. A perfect wedding ring cannot be bought off-the-shelf. Even if you like a certain ring style, it needs to be customised precisely to your finger size. A well-crafted platinum or gold wedding band looks extraordinary and feels ultra-comfortable. Since 2015, Temple and Grace have been passionate about handcrafting the finest gold rings, platinum rings and diamond rings for men and women. You will also find a fine selection of women's jewellery, including gold bracelets, diamond bracelets, necklaces, earrings and gemstone rings.
Temple and Grace's success is due to continually striving to design, handcraft and retail the most stunning wedding bands and engagement rings online. If you're looking for cheap wedding rings, Temple and Grace have Australia's largest range of titanium wedding rings, zirconium wedding rings and stainless steel wedding rings. No matter what metal and budget you have in mind, Temple and Grace are Australia's finest online jewellers for a good reason.
The Temple and Grace team take immense pride in knowing that they are part of someone's special moment every day. This joy of playing a role in a couples' dreams and their commitment to a lifetime together makes the team at Temple and Grace come to work every day.
Rosendorff Diamond Jewellers Perth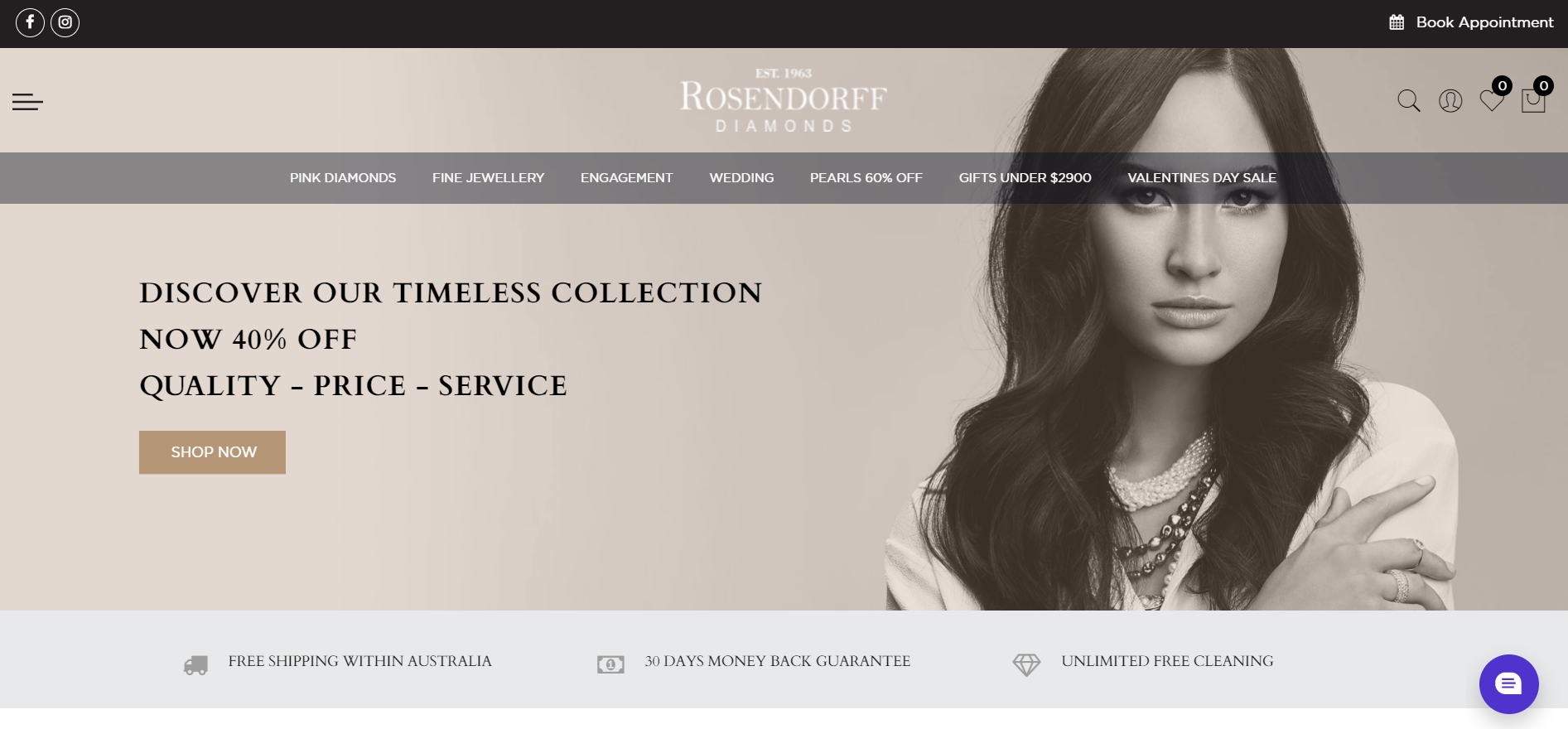 08 9321 4016
For over 5 decades, we've captured the hearts and delighted generations with our handcrafted pieces.
The distinguished Rosendorff name is the story of a Brand that has since 1963 grown to become one of Australia's most revered diamond jewellers. Since its early days crafting fine jewellery and acquiring the exquisite art of diamond buying and cutting has been at the forefront of this reputable brand.
We take time to understand the unique stories of all our valued customers, with a dedication to discovering the perfect diamond. From milestone events, through to those meaningful 'just because' moments, we believe every diverse chapter deserves to be celebrated.
Over the years, the exacting parameters for the "Rosendorff Diamond" have been developed and, with a new diamond expert at the helm, the legacy, integrity and excellence in the brand continue on as owner, Yoni Levy, actively leads and inspires the specialist Rosendorff team whilst personally negotiating and supervising the buying of all Rosendorff diamonds across the globe. This process ensures each uniquely stunning diamond meets the highly credible Rosendorff standards.
Through his international diamond connections, Mr Levy combines exquisite design, fashion and art in a quest to create the finest jewellery pieces across the globe.
Rosendorff is an exquisite icon that is regarded as one of Australia's pre-eminent luxury brands & holds a priceless network of industry contacts across the globe, providing unparalleled access to the finest raw and polished gems and jewellery craftsmanship the world has to offer.
There's nothing like the feeling of discovery – that rush of emotion and sense of accomplishment that we can all personally own. Immerse yourself in these feelings with a personalised diamond discovery experience at Rosendorff. Book your appointment today by calling 08 9 321 4015 or email [email protected].
Tiffany & Co. - Engagement and Wedding Rings Perth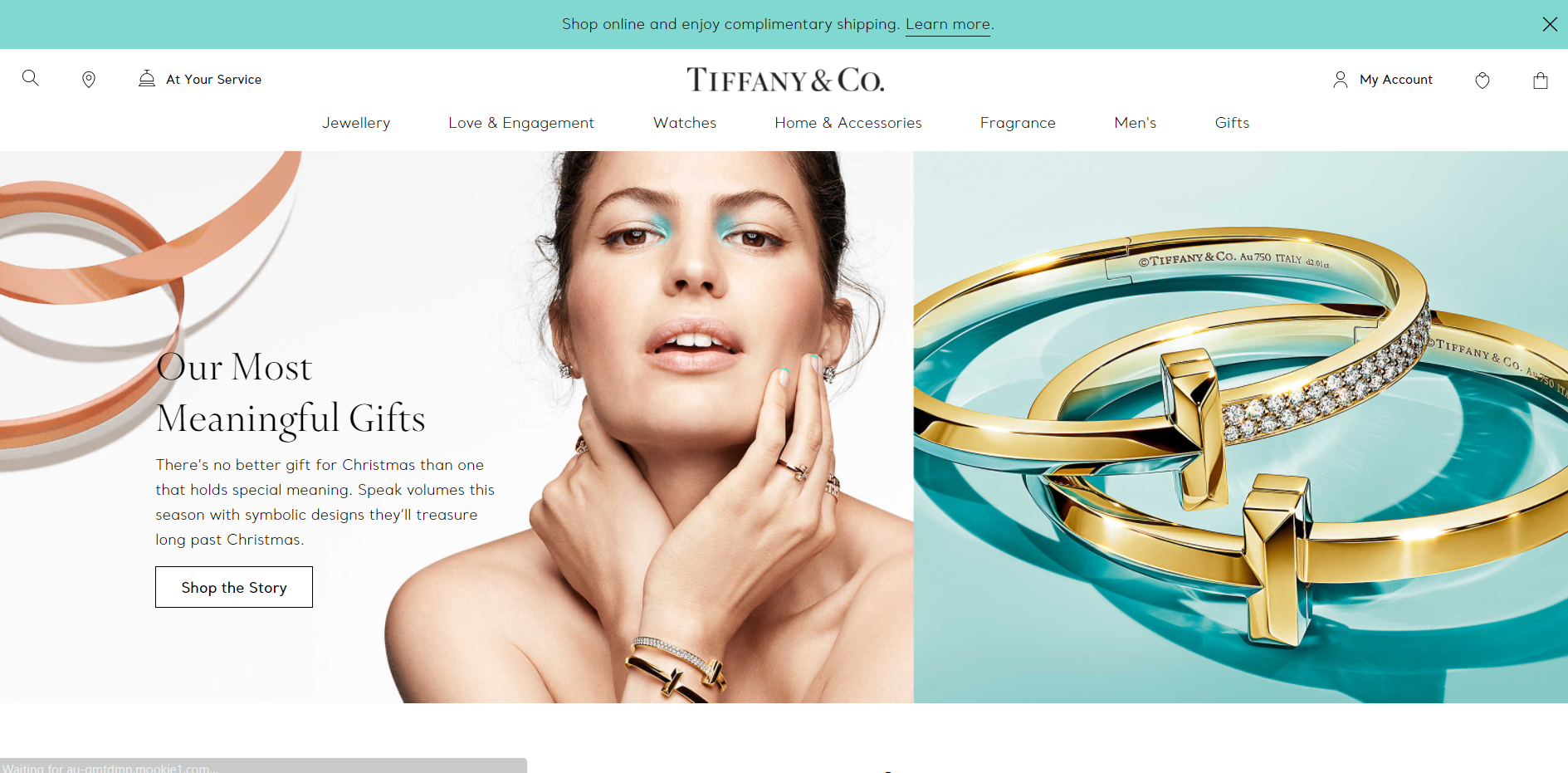 (02) 8637 1711
The World of Tiffany
Every story has a beginning. Discover how Tiffany & Co. began in 1837 and grew into a global design house at the forefront of innovative jewellery design and expert craftsmanship.
An Iconic Heritage
Journey through the milestones that established Tiffany as an international icon of legendary style, bold artistry and innovative design.  
Dazzling Discoveries
Charles Lewis Tiffany's passion for acquiring rare and unusual gemstones paved the way for Tiffany & Co.'s longstanding legacy of discovery and exploration, establishing the company's reputation as a world-renowned jeweller.
The King of Diamonds
Behind every dream is the dreamer. Charles Lewis Tiffany, our visionary founder, helped define legendary jewellery design as we know it and established the diamond engagement ring as an enduring symbol of love.
The Tiffany Blue Box
The world has been enthralled with the Tiffany Blue Box since its debut. Today, it is recognised as an international symbol for style, sophistication and unparalleled design.
Rings
Sleek bands, bold cocktail rings and must-have stacking rings—make a striking statement with our superbly crafted rings for women and men.
Stelios Jewellers Perth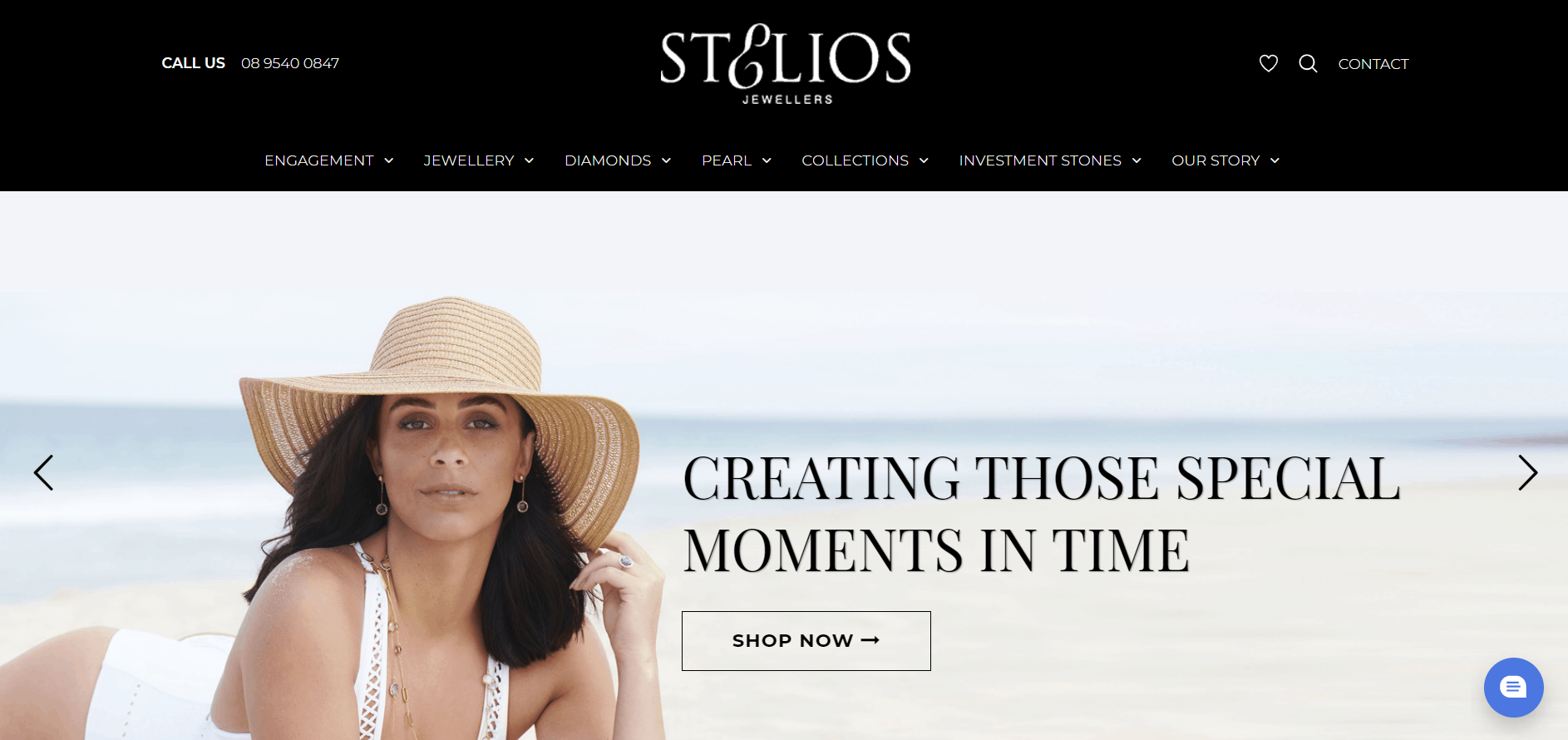 08 9540 0841
WELCOME TO STELIOS JEWELLERS
PERTH'S BESPOKE JEWELLERY STORE
In a world of mass manufacture and production lines, true beauty, quality and value can still be found in a custom-designed, craftsman, created a piece of jewellery. Such is the bespoke jewellery you will discover in Stelios' studio. Start your journey by browsing our current jewellery designs exclusively created by Stelios and his team of expert jewellery designers or organise a private consultation to create that unique piece you desire. Stelios' unmatched knowledge and expertise are at your service to find the diamonds, select the metals, and design and create your exclusive jewellery piece without pressure and in total confidence.
As one of Perth's renowned bespoke jewellery stores, Stelios Jewellers are dedicated to ensuring that every piece is as unique as the person who wears it. When you choose to have a bespoke jewellery piece expertly crafted at Stelios, our jewellery makers will work closely with you, not a sales representative, along the entire journey. From elegant art deco jewellery designs to pieces that sparkle with timeless luxury, we are committed to creating the most amazing jewellery pieces that will stand the test of time. We believe that our handcrafted designs will one day become precious family heirlooms that are passed on for generations to come.
With quality craftsmanship that is second to none, Stelios has been entrusted with the creation of notable bespoke pieces, including the 2020 Miss Universe Australia crown and custom brooches for the West Australian Symphony Orchestra. If you'd like a spectacular piece of your very own, explore our breathtaking jewellery designed and crafted by our expert jewellery designers online or instore today.
Hardy Brothers Jewellers Perth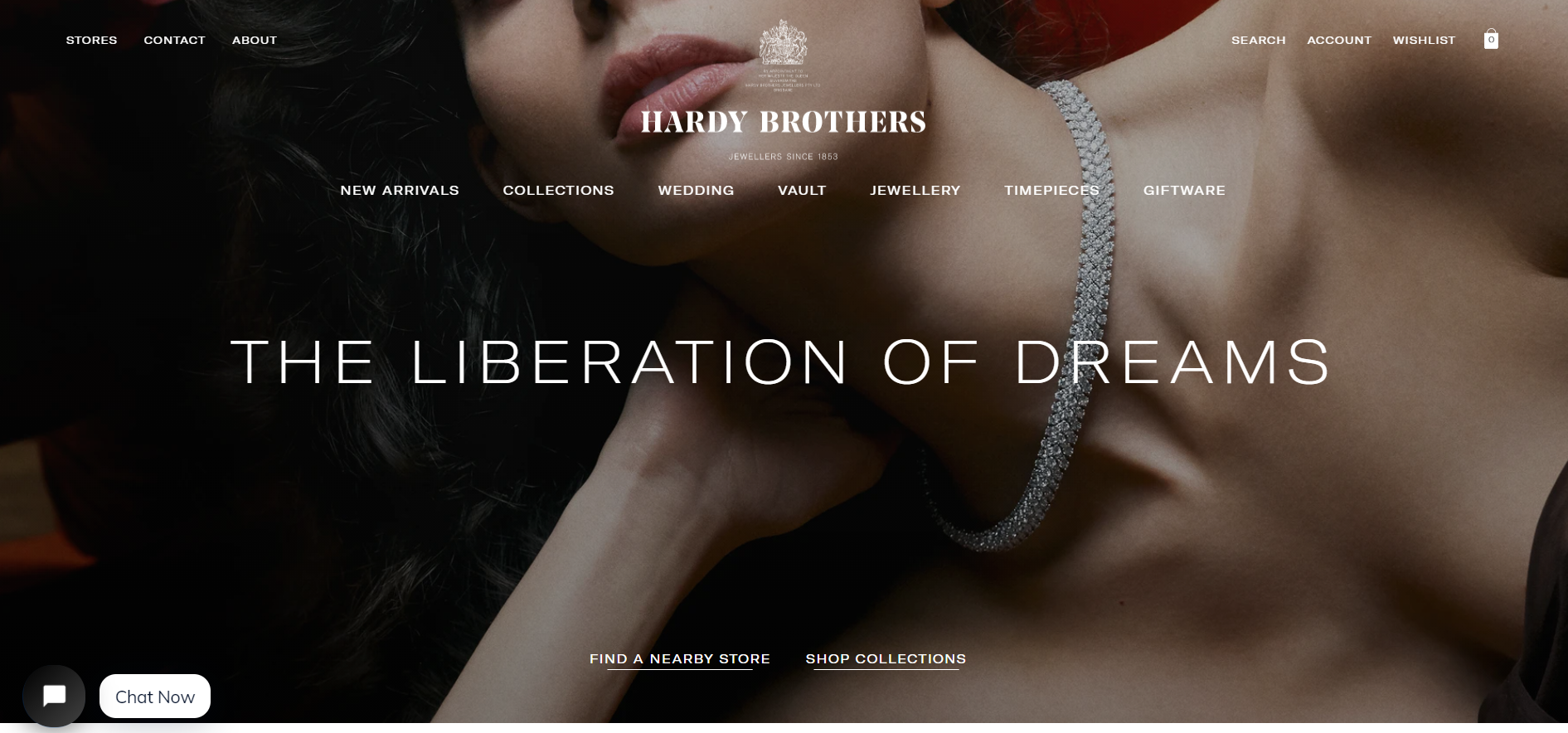 +61 8 6318 1001
For more than 165 years Hardy Brothers have held in trust the dreams and aspirations of clients who seek out the world's most coveted jewellery and timepieces.  
HARDY BROTHERS WORLD
Hardy Brothers' long association with those at the vanguard of their craft is testament to our ongoing commitment to quality and innovation. 
ARTISANSHIP & DESIGN
As a conduit for creative expression, our bespoke services allows our clients to explore the bounds of their imagination. Underpinned by a commitment to creativity and personalised service, our suite of customisation and commissioning services provide direct access to our master craftsmen.
Welcome to our world. 
The Management and Associates of Hardy Brothers Jewellers are aware of the beautiful Australian landscape's fragility and ecology. The company is also aware of the potential negative impact that non-regulated industrial activity may have on the earth's environment and the lives of workers and their families engaged in the industry.
WE CELEBRATE A UNIQUE LINEAGE, HERITAGE AND PLACE OF ORIGIN.
Founded in 1853, Hardy Brothers has remained faithful to the values of quality, craftsmanship and creativity that have defined our history but are the distinguishing precursors of our future. Distinguished by the Royal Warrant of Appointment to Her Majesty the Queen, Hardy Brothers has served all sovereigns since George V and continues to serve Australian leaders and families with excellence for a meaningful legacy.
As an Australian luxury jeweller, we accept responsibility to our respected clients in crafting the world's most stunning jewellery and honour traditional craftsmanship and artisanship that conjures the quality pieces expected from Hardy Brothers.
HISTORY. CREDIBILITY. REPUTATION.
These are some of the characteristics that have distinguished Hardy Brothers for more than 165 years and allowed our business to become one of the most revered luxury jewellery and timepiece destinations in the Asia Pacific.
Stefans Diamonds Engagement and Wedding Rings Perth
(08) 9485 2881
DIAMOND JEWELLERY PERTH
Find the style she will say yes to at Stefan, Perth's diamond engagement ring specialist.
For over 90 years, Stefan Diamonds' determination on the highest possible standards has resulted in diamonds of spectacular beauty.
View Perth's largest selection of diamond engagement rings and certified diamonds, including GIA and Argyle Pink diamonds, at the Stefan Diamonds two-level showroom located in the Perth CBD, and allow Stefan to create your perfect ring in our onsite workshop.
View our exclusive Stefan Collection, Necklaces & Pendants, Earrings, Bracelets, South Sea Pearls, Wedding Bands, Men's Wedding Bands, or Coloured Diamond Collection.
DESIGN YOUR OWN RING
At Stefan Diamonds we love to custom design exquisite jewellery just for you. From your initial consultation to sketches and the final piece, we will involve you in every step of the creative process.
ABOUT STEFAN'S ENGAGEMENT RINGS
OUR PROMISE
Exceptional. Stunning. Dashing. For over 90 years, Stefan Diamonds determination on the highest possible standards has resulted in diamonds of spectacular beauty.
LEGENDARY DIAMONDS
Stefan Diamonds is known for diamonds of exceptional quality and brilliance, each meticulously selected to be the centrepiece of extraordinary rings in a wide array of styles.
OUR NETWORK
Buying with the world's leading diamond cutters and traders in Tel Aviv, New York, Antwerp, Hong Kong and Johannesburg, Stefan Diamonds is guaranteeing only the finest quality and most competitive prices.
WE CUT FOR BRILLIANCE
Stefan Diamonds cuts to maximise brilliance. Others are cut to maximise carat weight. The difference is breathtaking and results in a more striking ring.
STEFAN DIAMOND CERTIFICATE AND LIFETIME SERVICE
Unlike the documentation that may accompany diamonds purchased elsewhere, the Stefan Diamonds Certificate is backed by a Full Lifetime Service. Your ring will be cared for forever.
We understand that tastes and fashion change over time, and we are committed to you and your style throughout your life. As your unique personality and character grow over the years, Stefan jewellery can evolve alongside our in-house remodelling service.
Jogia Diamonds International Engagement and Wedding Rings Perth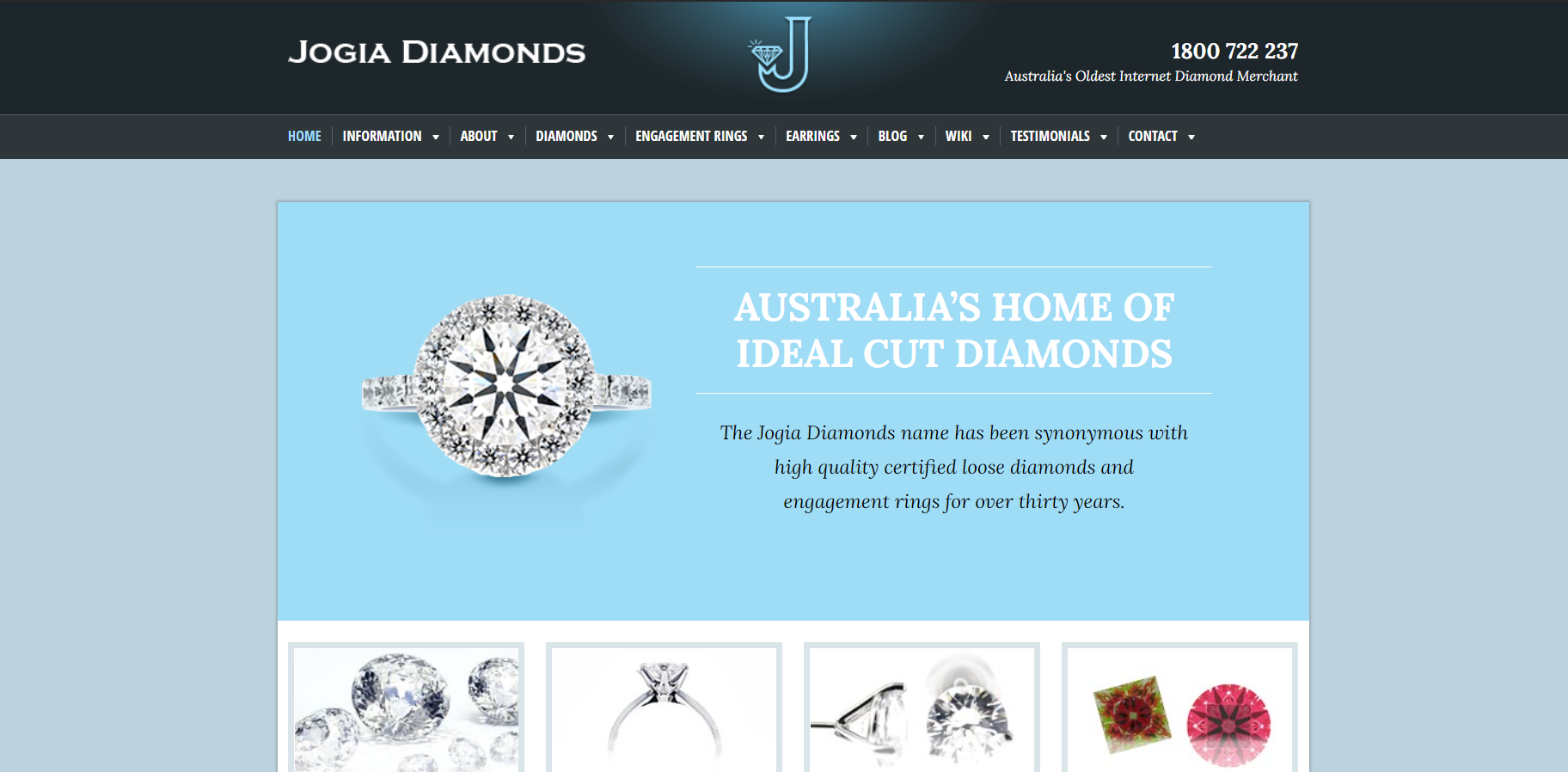 1800 722 234
AUSTRALIA'S HOME OF IDEAL CUT DIAMONDS
The Jogia Diamonds name has been synonymous with high quality certified loose diamonds and engagement rings for over thirty years.
DIAMOND ENGAGEMENT RINGS
Design your own engagement ring using our unique ring builder to match your perfect diamond with a perfect setting. Alternatively, we can design a setting for you with our design service.
FOR DIAMONDS ONLINE
We offer over 130,000 GIA, and AGS certified loose diamonds to choose from in our International Selection, 45,000 of which have at least one image. Coupled with our Crossfire & Signature Series diamonds featuring detailed analysis, you can be sure that you will find a diamond to perfectly match your needs and budget.
With our roots going back 30 years as jewellery manufacturers, designers and exporters, Jogia Diamonds International (previously VY Jogia Diamonds) was established in 1996 and incorporated in 1998 to take advantage of selling diamonds over the internet.
Back in 1996, the web was still in its infancy (especially in Australia), and the online diamond market was a fraction of its size today. However, this reduced competition also allowed us to compete on an international level.
Today, with the internet being fairly ubiquitous in Australia and New Zealand, combined with larger overseas competition, our focus is now entirely on servicing the needs of clients from Australia and New Zealand.
In 2007, control of the company was handed to the younger generation in the Jogia family. This has allowed us to grow and innovate even further both online and offline.
What and How We Sell
Jogia Diamonds predominantly sells GIA and AGS certified diamonds with top light performance, meaning the diamonds we sell shine and sparkle no matter where you take them.
Rather than just sell what a certificate and cut grade says, we choose to objectively analyse each diamond to ensure each client receives complete disclosure using the best diamond analytical tools available today.
We use the following tools to assess each diamond's quality, which allows even the most distant customers to "view" the diamond before purchase:
AGS ASET

Trinocular Microscope

Sarin DC-3000 Colorimeter

OGI Megascope Proportion Analyser

AGS Performance Grading Software

OGI Firetrace Software

Diamond Calculator V3
To complement our diamonds, we also offer a jewellery design and manufacture service, allowing our clients to buy the very best diamond, along with the perfect setting.
Diamonds and Pearls Engagement and Wedding Rings Perth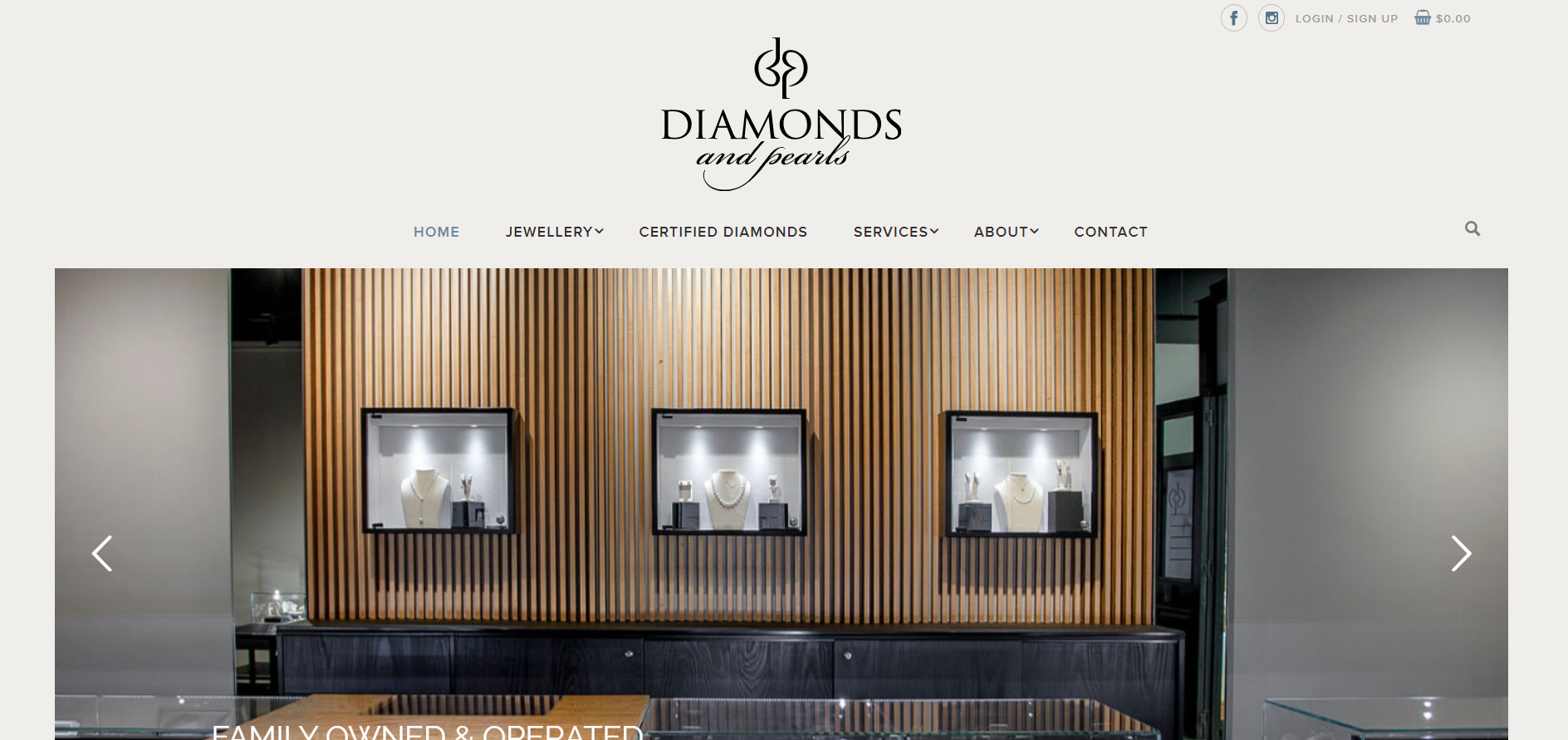 (08) 9321 8241
Perth's #1 Diamond And South Sea Pearl Jewellers
Our team of qualified jewellers, gemologists and diamond graders will work with you to create the perfect diamond engagement ring, wedding ring or piece of fine jewellery. As a family-owned and operated jewellery store, Diamonds and Pearls Jewellery has served generations of customers across Perth and Western Australia for over three decades.
Our high standards for craftsmanship, customer service and reliability have seen us become the trusted 'family jeweller' for many of our customers, as well as their families and friends.
Diamonds and Pearls Jewellery is a family-owned jeweller based in the Perth CBD. We are members of the Gemmological Association of Australia and National Council of Jewellery Valuers of Australia.
Meet The Team
Joe Madonini
With over 30 years of experience in the diamond and jewellery industry, Joe is highly regarded within the Western Australian jewellery community for his knowledge and design expertise.
He is an experienced diamond grader, qualified gemologist, diamond technologist and registered valuer. Joe adds his personal touch to every customer interaction, and when he's not working in the store, he is travelling the world to source and handpick diamonds, gemstones and unique jewellery pieces.
Belinda Madonini
Belinda joined the 'family business' in 2015 bringing with her a background in marketing and management, following the completion of a Bachelor of Commerce at the University of Western Australia and a Bachelor of Arts Management at the West Australian Academy of Performing Arts (WAAPA).
Her passion for high-quality jewellery allows her to assist customers in selecting the best jewellery for their needs, whether it be an engagement ring, wedding ring, birthday gift, anniversary gift or something 'just because'. Belinda's role at Diamonds and Pearls stretches across all areas of the business; from buying and sales, marketing and assisting with the overall management of the company.
Tiana Fenner
Tiana has been working with Diamonds and Pearls for over 12 years in her role as Workshop Coordinator, she also assists in custom designs, repairs and sales.
She was trained and became a Certified Diamond Grader with HRD Antwerp in 2010. Also having a good understanding of South Sea pearls and precious gemstones.
In this time, she has created professional relationships with her own clientele, joining them in life's journey – beginning with the engagement and wedding rings, and any other celebrations that follow. Tiana makes sure that anyone she assists has a relaxed experience, gaining not only a beautiful item of jewellery but a nice memory to go with it.
Carly Burrell
Carly began her jewellery career in early 2012 as an apprentice jeweller, she studied and completed her cert III at Central TAFE in Northbridge, and by the age of 20, she earned her qualification in jewellery manufacture and worked for a further two years as a qualified jeweller not long after she relocated herself to Perth and joined us at Diamonds and Pearls, wanting to broaden her knowledge and learn the sales side of the industry.
Since starting, she has gained a strong understanding of diamonds, pearls and precious gemstones. Her passion for high-quality jewellery and friendly nature will make it a pleasurable experience.
Aaron Prince
Aaron has 14 years of experience in the diamond, luxury jewellery and watches industries.
Over the years, Aaron has worked with notable brands and most recently an American luxury jewellery brand where he specialised in creating perfect moments with clients using his extensive knowledge of diamonds, and engagement and wedding jewellery.
Aaron brings to Diamonds and Pearls a touch of luxury paired with a personalised approach to help you find a special piece for that special someone.
Thomas Meihofer Jewellery Design Perth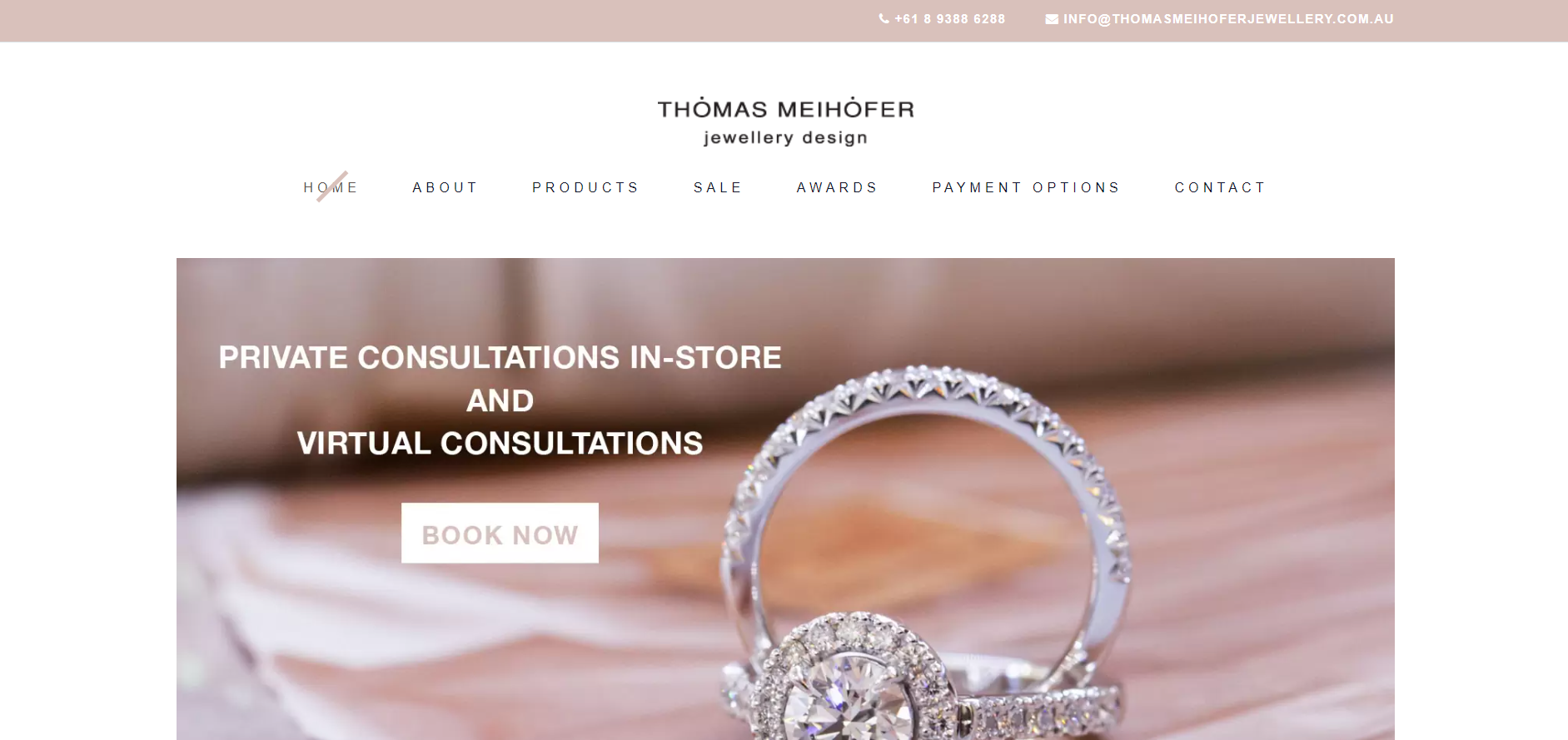 thomasmeihoferjewellery.com.au
+61 8 9388 6283
At Thomas Meihofer Jewellery Design, we are passionate about design and strive to create unique and beautiful jewellery. As one of Perth's leading jewellery stores, we take great pride in our work, and this is showcased in each of our pieces.
Our exquisite artisanal pieces are crafted by our award-winning jewellery makers, who take inspiration from a blend of European and Australian influences.
Our experienced team is composed of jewellers, gemologists, diamond graders, and designers who work tirelessly to ensure our jewellery is the best Perth has to offer.
In addition to the Thomas Meihofer collection, we specialise in custom-made rings, engagement rings, bracelets, earrings, pendants, necklaces and men's jewellery. We also offer remodelling services and stock a range of corporate gifts.
PERTH'S AWARD-WINNING CUSTOM DESIGN JEWELLERS
With a focus on creating custom jewellery, we are dedicated to working collaboratively with our clients to produce jewellery they can wear with pride. Our goal is to bring our customers' personal style and design aesthetic to life.
Conveniently located in Subiaco, we remain one of Perth's finest jewellers. Our clientele extends throughout Perth and Western Australia – including Claremont, Nedlands, Dalkeith, Mosman Park, Mt Lawley, Leederville, North Perth and beyond.
We are proud to be one of the premium jewellers in Perth and would be honoured to design your dream piece of jewellery. For a piece that you can wear with confidence and style, see Thomas Meihofer Jewellery Design.
ABOUT THOMAS MEIHOFER
Our company's story started over 25 years ago when Thomas Meihofer opened his jewellery design studio in Subiaco. Thomas soon became known for designing and creating unique jewellery in Western Australia. This encouraged him to open his first Perth jewellery store, Thomas Meihofer Jewellery Design.
Thomas' influences and inspiration come from architecture, sculpture, and all things design. He is particularly fascinated by Art-Deco design and also draws on innovative contemporary design influences as his inspiration. These design influences are represented in each of the custom designs that are showcased at his Subiaco jewellers.
Rohan Jewellers Perth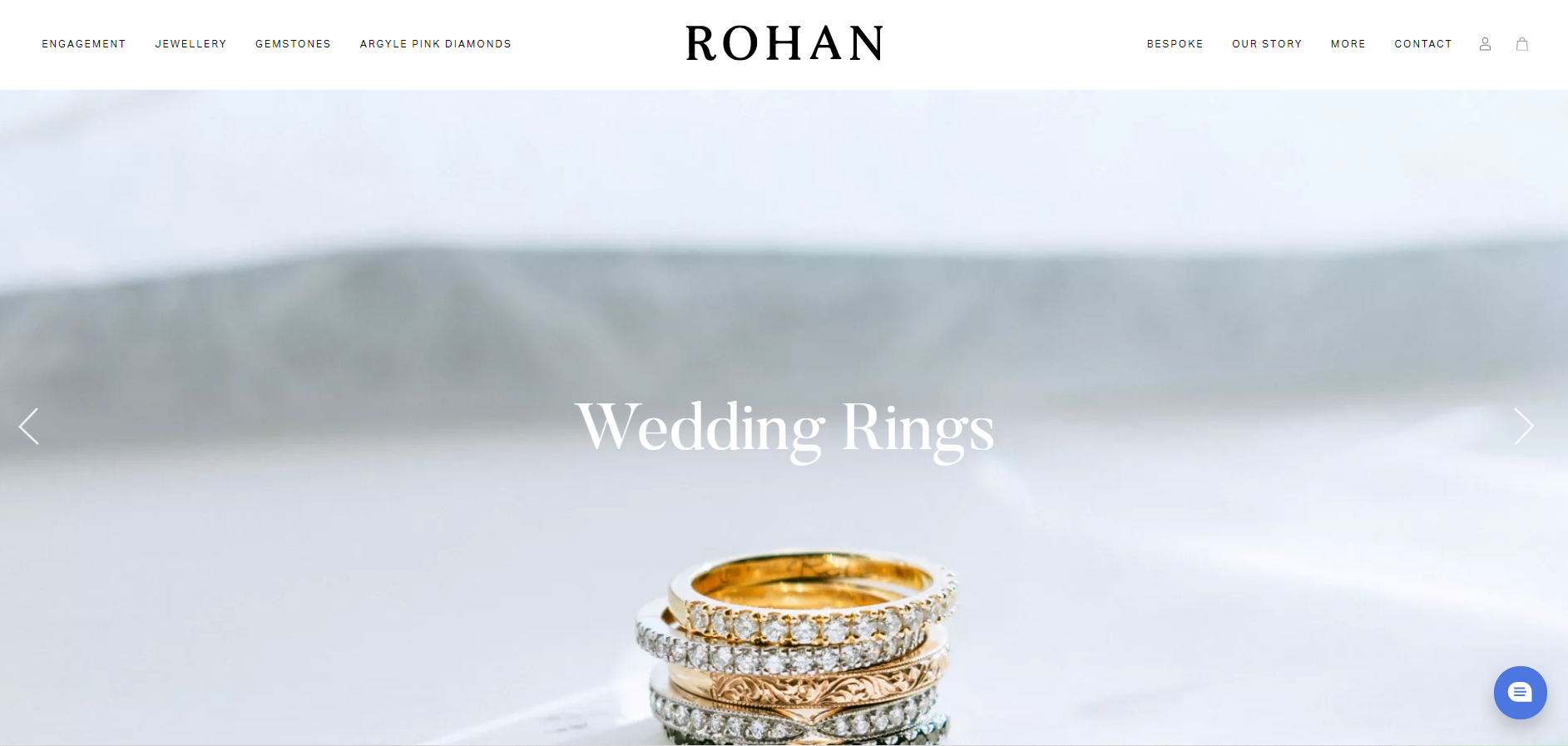 +61 (08) 9242 1156
Bespoke Engagement Rings
As unique as every love story itself, each Rohan Jewellers engagement ring is inspired by you, then crafted to life by our skilled designers.
We listen, collaborate, and then share the design journey, as you choose from a selection of the highest-quality metals and precious stones. Then we handcraft your vision into the most personal of treasures.
Design your own engagement ring, or be inspired by rings we have crafted in our collection and make it your own. Our design consultations are complimentary, and we welcome you to make an appointment.
ARGYLE PINK DIAMONDS
Only a small and carefully chosen selection of jewellers globally are appointed as Argyle Pink Diamonds Select Ateliers. Rohan Jewellers is proud to be among the few – acknowledged for our fine craftsmanship and deep respect for the integrity of these precious gifts of nature.
Their natural colour palette ranges from the palest of blush pink, through to ocean-like blue and violet, and rarest colour of all diamonds – red. Admired as the most concentrated form of wealth in the world, Argyle pink diamonds are extremely rare.
Even with approximately ninety per cent of the world's pink diamonds produced by Western Australia's Argyle Diamond Mine, a whole year's worth of production of stones over half a carat would fit in the palm of your hand. Rarity by any measure.
As an Argyle Pink Diamonds Select Atelier, we are a trusted source for the assured provenance and chain of custody for the most scarce of all diamonds. Argyle pink diamond viewings are available by appointment. Please contact us.
The Designer
Born in Western Australia, the great-grandson of Captain James Tilly a founding father of Broome's pearling industry, Rohan Milne developed a passion for designing and crafting jewellery at a tender age. As a multi-award winning apprentice jeweller, Rohan would seek out the finest craftsmen in the world to become a constant student of the art. It began with a rare invitation by the world's most awarded jewellery designer, Henry Dunay, to travel to New York City for a trial in his workshop. After just one week, Rohan was offered a position in Mr Dunay's Production Workshop, working with a team of 22 jewellers. Shortly after, he was personally invited by Mr Dunay to join his Private Workshop, consisting of a team of just five jewellers creating one-off pieces for valued clients.
Under the watchful eye of this world-acclaimed designer, Rohan was taught the age-old traditions of handcrafting jewellery; using techniques rarely practised in the present day. In his continued pursuit for excellence, as a highly accomplished jeweller, Rohan moved to Rome, where he had the privilege of training under the instruction of Maestro Giorgio Guccione and his son Gianluca. Described by Rohan as 'a true master of the lost art', Rohan was inspired by the highly traditional methods of jewellery design and creation. During his time in Rome, he was honoured with the request to handcraft cufflinks for Pope John Paul II and the then Prime Minister of Italy. He returned to his home town of Perth in 2007, and with wife Toni, founded Rohan Jewellers.
With a finite commitment to traditional handcrafting, Rohan now showcases his original designs in a Leederville studio and workshop, and Rohan Jewellers at Perth's State Buildings. In 2011, Rohan Jewellers was chosen as one of just thirty jewellers worldwide by Argyle Diamonds, to become an Argyle Pink Diamonds Select Atelier; representing the rarest diamonds in the world. An honour to say the least – and a position we are extremely proud to have attained.
Personable, relaxed and with a renowned eye for the aesthetic, Rohan and his team enjoy nothing more than to sit with their clients to discuss, sketch and select the perfect stones and precious metals to create an original Rohan design.
Allgem Jewellers Perth
+61 8 9325 2256
ALLGEM JEWELLERS
Allgem Jewellers is a Three Generation Western Australian owned business still operated by the original founding family. We have been creating unique and stunning pieces of jewellery since 1978.
The founders are Joseph and Bessie Gryg, along with their son Alfie and his 3 children, share their knowledge and a life-long passion for Australian Opals, Pearls, Precious Gemstones, Semi-precious Gemstones, Diamonds, and beautiful Gold Jewellery with customers from Perth and around the globe.
GEMSTONE JEWELLERY SPECIALISTS IN AUSTRALIA
Allgem Jewellers is a family-owned business which has been supplying specialist services to Perth retail jewellers since the 1970s. Allgem founders, the Gryg family, are experts in precious gems and Australian opals. Joseph and Bessie Gryg began mining for precious gems in 1960, travelling to mines in Anakie, Sapphire, Emerald and Rubyvale in Queensland looking for a sapphire.
They also travelled to Lightning Ridge, mining for black Australian opals and then to Coober Pedy and Andamooka looking for white Australian opals. They eventually settled in Western Australia, setting up a business as wholesalers, supplying retail jewellers, cutting precious gems and carrying out jewellery work throughout the 1970s.
PROFESSIONAL QUALIFICATIONS
Founders Joseph and Bessie Gryg along with their son Alfie have extensive training and experience with precious gems and Australian opals and have qualifications in the fields of Master Jewellers, Gemmologists, Registered Valuers and Diamond Graders.
Joseph Gryg completed his Fellowship of the Gemmological Association of Australia (FGAA) in 1974 and was president of the Gemmological Association of Western Australia for two years.
Bessie Gryg was the top graduate in Australia when she completed her Diploma of Gemmology in 1977 and was a practical demonstrator for the GAA. Bessie also studied jewellery design from the Gemmological Institute of America and has achieved her British Gemmological Diploma (FGA).
Alfie Gryg completed his Diploma of Gemmology in 2005 and was the present of the Gemmological Association of Western Australia for two years just like his father. He has also completed his Jewellery & Gemstone Valuing course which has allowed him to be a registered Valuer since 2007.
Claremont Diamonds Engagement and Wedding Rings Perth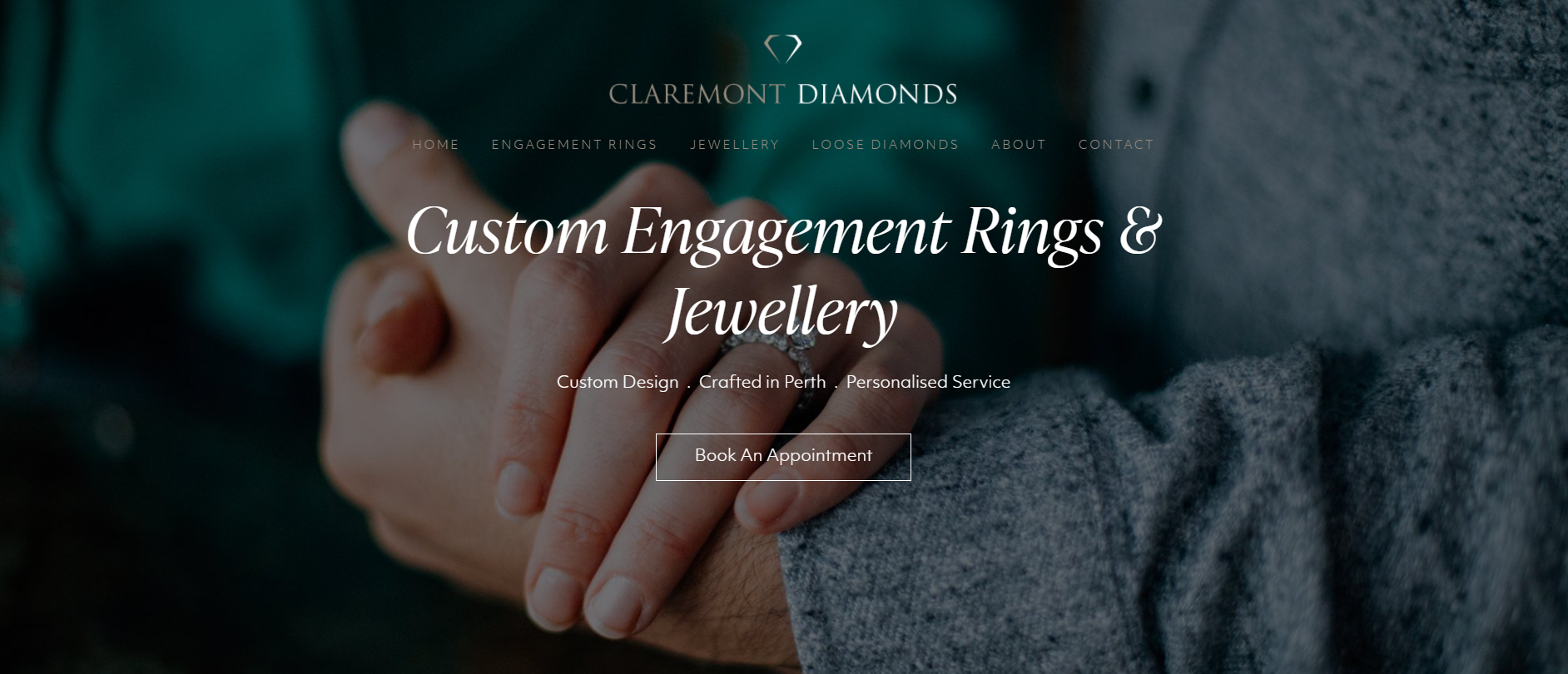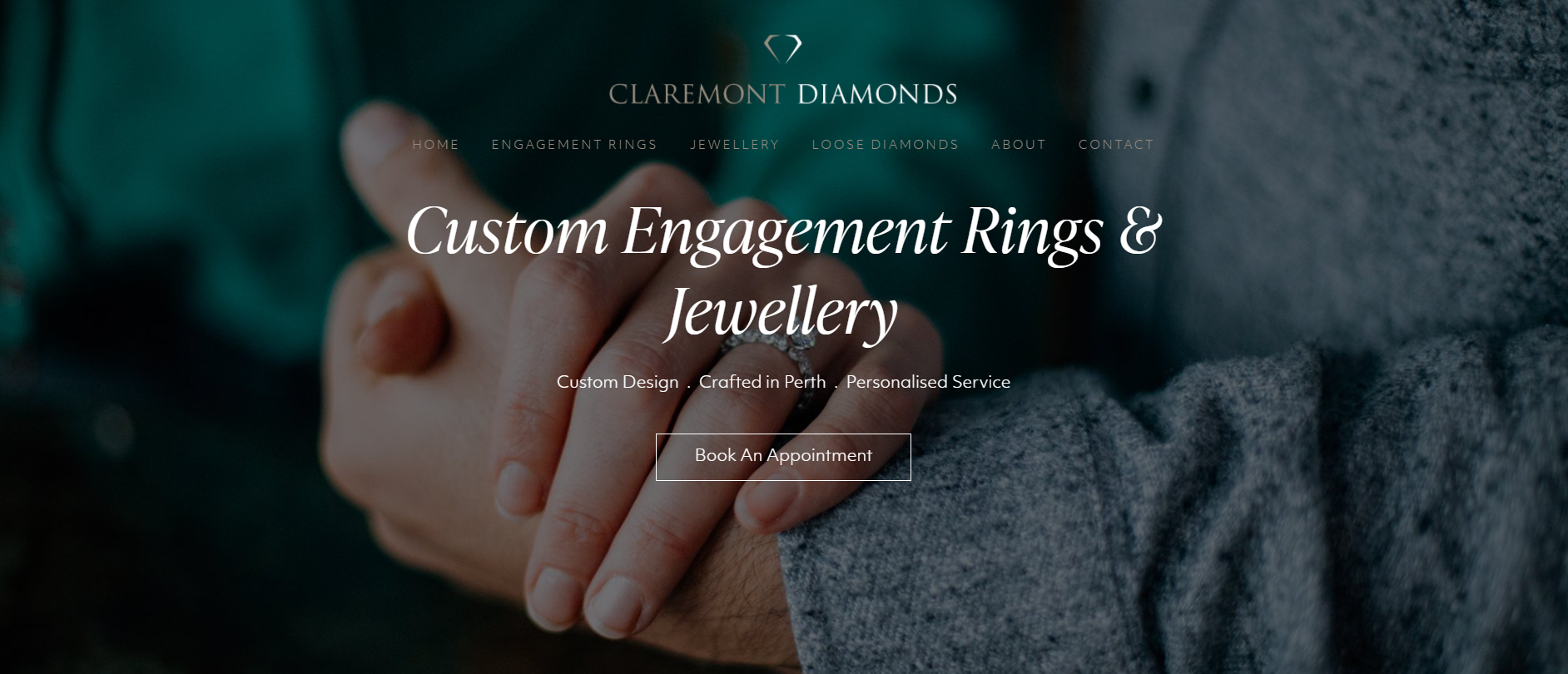 +61 8 6245 0456
Express Your Love with Confidence
Buying a one-of-a-kind engagement ring shouldn't be stressful. We understand the pressure you feel when deciding on the perfect engagement ring or jewellery piece that will mark your special occasion.
Will she love it?  
How do I know that I'm not paying too much?
I don't understand where to begin in the type of ring she will like. 
Come in knowing nothing about diamond rings, and leave feeling educated, empowered, and proud of what you've created: a one-of-a-kind engagement ring you designed just for your love.
As one of Perth's trusted engagement ring jewellers, we have carefully designed to take away the uncertainty & pressure off you.
No men should overpay for a distinct high-quality ring or a stone that loses its sparkle over time. When you design your ring with Claremont Diamonds, you get:
Locally designed by top local Australian jewellers

The lower price point for the highest-quality stones

Lifetime warranty on the manufactured product

GIA Certification of the highest rating

Family-run and owned business

Ethically sourced stones
We exist to help you express your unique love story with custom engagement rings and jewellery that perfectly suits the person you love – crafted locally in Perth.
We believe the right ring means a few things – one that your love will be over the moon, one that she will love showing to her friends and family, one that you will present to her with confidence.
Claremont Diamonds is not your typical jewellery store: we have nothing to sell, only things to make. You work one-on-one with your jewellery designer to craft the perfect ring for your unique love story, lifestyle, and values. Come in knowing nothing about diamond rings, and leave feeling educated, empowered, and proud of what you've created: a one-of-a-kind engagement ring you designed just for your love. The story of your engagement is one you'll tell for the rest of your life, make it a good one.
Your love is one-of-a-kind. Your engagement ring should be too.
Solid Gold Diamonds Perth
(08) 6117 8279
Personalised gifts you're guaranteed to love!
From everyday wear like our diamond studs to precious pendants and necklaces, we have a beautiful collection for you to choose from.
Surprise your loved one with a beautiful message engraved on their jewellery. Our engraving service is carried out at our Perth based jewellery manufacturing workshop, which means it's even easier to personalise your engagement ring, wedding rings or jewellery.
Let us know your style and budget - we'll be happy to provide a selection of jewellery for you to choose from.
Search for your Perfect Engagement Ring
Search by design and diamond shape to see the range from our beautiful collection. If you don't see your dream ring, please contact one of our expert diamond consultants to arrange a time to discuss your dream design.
Diamond Wedding Rings & Bands Australia
Whether you want an exquisite diamond wedding ring to complement your engagement ring or a simple, yet beautiful wedding band for him, our experienced jewellers can help you find the perfect wedding jewellery ring right here in one our Solid Gold Diamonds showrooms in Australia.
Your wedding band is a special symbol of your marriage and commitment to one another and should reflect your very own personal taste and style. Solid Gold Diamonds have been providing stunning diamond wedding bands and rings to couples across Australia for many years, with showrooms located in Perth and Adelaide.
Providing Exquisite Diamond Jewellery in Australia
Solid Gold Diamonds offers an extensive range of superb diamond jewellery for every occasion. Contact us to find out how we can bring your dream design to life.
Our beautiful diamond jewellery for our Adelaide and Perth stores is made locally in our Perth Studio Workshop. Our team of highly skilled master craftsmen and women work daily to create our beautiful range and custom-designed jewellery pieces for our clients. Visit our showrooms or browse our range online and see why we're Australia's most trusted diamond jeweller.
From our range of diamond earrings and stunning engagement rings to our elegant men's wedding bands and women's wedding rings or diamond pendants; whatever your taste or style, we have something to suit.
Pink Diamond Rings

Pink Diamond Pendant Necklaces

Designs of the Month

Photo Gallery
With our beautiful showrooms located in Perth and Adelaide, we can help you find the perfect diamond creation you'll love now, and for many years to come. We also offer virtual appointments from the comfort of your home!
Diamond Jewellers Perth & Adelaide
Established in 1983, Solid Gold Diamonds is known as one of Australia's premier manufacturing diamond jewellers. Awarded full certification from the Responsible Jewellery Council, Solid Gold Diamonds boasts the largest collection of ethically sourced and sustainably manufactured loose polished diamonds and diamond set jewellery available to view in Australia.
For more than 30 years, Solid Gold Diamonds have been helping Australians celebrate every occasion with beautifully crafted diamond jewellery. Thousands of happy couples have utilised our complimentary design service to create their dream engagement ring.
It is an honour when our team are entrusted with restoring or remodelling heirloom pieces into modern jewellery designs.
With a breathtaking range of diamonds, including Argyle pink diamonds ranging from delicate light pinks to vivid purplish pink hues, champagne and colourless diamonds, as well as a range of traditional and fancy shaped diamonds to choose from, we are proud to offer a collection of diamonds unmatched in the industry.
Secrets Shhh Engagement and Wedding Rings Perth
+61 8 9301 5889
We are the Home Of The Diamond Alternative, and home to one of the most amazing selections of engagement rings you will find anywhere. We invite you into one of our boutiques to immerse yourself, and to try on as many of our beautiful designs as you like. Our friendly team are waiting to help, to have fun, and make your special occasion one remember!
Our incredible range of high-quality engagement rings, along with their larger, irresistible centre stones will simply take your breath away! They are exquisitely designed and crafted from solid 14ct and 10ct gold to the highest standards, combined with the world's finest lab-grown diamond simulants.
Our revolutionary approach means you now have the freedom to choose a more responsible choice. The heirloom-quality engagement ring you have always dreamed of that doesn't cost the earth. 
MORE REASONS TO CHOOSE A SECRETS RING
Secrets celebrates large centre stones - unlike many other diamond designs which consist of tiny chips pieced together.

Secrets engagement rings are all crafted in the finest metals - solid 10 and 14-carat gold.

A Five Star Lifetime Warranty which guarantees the internal fire and brilliance of our diamond simulants.

Secrets diamond simulants rate 8.5/10 on the Mohs scale of hardness, just behind diamonds which are a 10/10.

A luxurious ring that doesn't cost the earth compromise on quality or break your bank!
OUR STORY
Founded in Noosa, Australia in 2000. Inspired by the philosophy that everyone should be able to enjoy the diamond of their dreams. Combining decades of jewellery experience, Secrets Shhh revolutionised the diamond industry by being first to introduce a high-quality diamond alternative. 
Giving customers a Better Choice - one more affordable, more sustainable and more beautiful.
A Better Beautiful.
Our brand was inspired by a passionate belief that beautifully designed luxury jewellery, with irresistible centre stones, should be in reach of all women to enjoy. Our Founders truly understood how wearing a piece of luxury jewellery could elevate and make women feel amazing. The feeling of joy, empowerment, confidence and the excitement of having beautiful rings, tennis bracelets and earrings inspired them to think differently, to find a way their customers could have it all—luxury without the compromise.
They also shared deep concern over the social and environmental issues clouding the mined diamond industry at that time and felt the jewellery industry needed a more sustainable way forward.
Founded in Noosa Australia, surrounded by pristine beaches, wonderful national parks and a natural coastline that provides a grandstand view of the annual whale migration our Founders asked themselves a simple question "what joy really comes from owning a mined diamond?"
Why not offer the world a better alternative, a better stone, one with less guilt, more brilliance, more sparkle, one visibly whiter and brighter, one more responsible, and far more affordable? A stone precisely cut and beautifully crafted in a piece of luxury, that doesn't cost the earth. Why not combine these stones in fine quality solid gold jewellery? Why not offer lovers a better beautiful?
Inspired with this vision, Secrets Shhh launched breaking tradition, by combining the highest quality diamond simulants in high-quality luxury jewellery designs, meticulously crafted in solid 14 and 10-carat gold. Our Founders searched the world for the perfect stone and were completely surprised by what they found. Their search was rewarded with a stone that had the optical properties of the rarest white diamonds, D - F colour, flawless to near flawless clarity, one of extraordinary beauty and flawlessly cut. Grown in a laboratory, not mined from the earth, the stones were virtually indistinguishable to the rarest white diamond to the naked eye.
This unique and revolutionary approach to the industry represented a far more responsible approach, one that is conflict-free as defined by the Kimberly Process, more environmentally friendly and a true step towards a more sustainable outcome.
Twenty years on, Secrets Shhh remains the original and premier supplier of the world's finest diamond simulants. We are the Home of the Diamond Alternative.
We offer a vast collection of designs in luxury jewellery, engagement rings, wedding and eternity rings, fine jewellery, earrings, pendants, necklaces, bracelets, crafted in white, yellow or rose gold. Our jewellery features all the popular diamond cuts and shapes such as round brilliant cut, some with hearts and arrows, princess cut, oval cut, cushion cut, emerald cut, radiant cut, pear shape, baguette-cut, brilliant-cut along with more unusual shapes such as Ashoka cut and Ascher cuts.
Secrets Shhh is the first brand to specialise exclusively in diamond alternatives, providing customers with the freedom to choose. A choice we believe to be more relevant in today's world and one more responsible. We refer to them as "A Better Beautiful", and so do our many customers who have experienced the luxury of our jewellery.
We constantly search the world to find the finest diamond and gemstone simulants. Grown from the mineral base Zirconium Dioxide, (not carbon and certainly not to be confused with lab-grown synthetic diamonds) our stones are a near-perfect simulation, and we only simulate the best, the rarest, the finest diamond and gemstone simulants unearthed. Only stones made from the highest grades of rough are chosen and carefully assessed for their cut, fire and brilliance. We offer our stones with a Lifetime Guarantee for Internal Fire and Brilliance. Our stones are chosen from the finest selections of the highest quality AAAAA to AAAAAAA Cubic Zirconia grown.
We invite you to come into one of our boutiques or browse our range online and discover the difference for yourself.  
Secrets Shhh offers you these compelling reasons to choose your next jewellery piece from us.
Iconic Designs: They say fashion goes out of style, but style never goes out of fashion. Our Artisans make sure our iconic designs are timeless. Set around large, luxurious centre stones, our beautiful designs are comparable to the worlds finest jewellery houses, if not better. And they're for life.
Superior Stones: Our lab-grown diamond simulants are flawless in every way. Virtually indistinguishable from diamonds to the naked eye, they're cut to the exacting standards of the diamond industry for maximum brilliance and fire. We call it uncompromising quality. You'll be left speechless.
Irresistible Value: The wold should revolve around you, not the price of a diamond. We combine the finest lab-grown diamond simulants with 10 and 14-carat solid gold and sterling silver at a fraction of the cost but with better clarity and brilliance. You literally get more for less, and what's not to love about that.
Personalised Beauty: We tailor beauty to fit your style and your personality. We offer personalisation and customisation options from the stone colour and size to the colour of our gold to make sure your 'forever' is as elegant and individual as you are.
Smales Jewellers Perth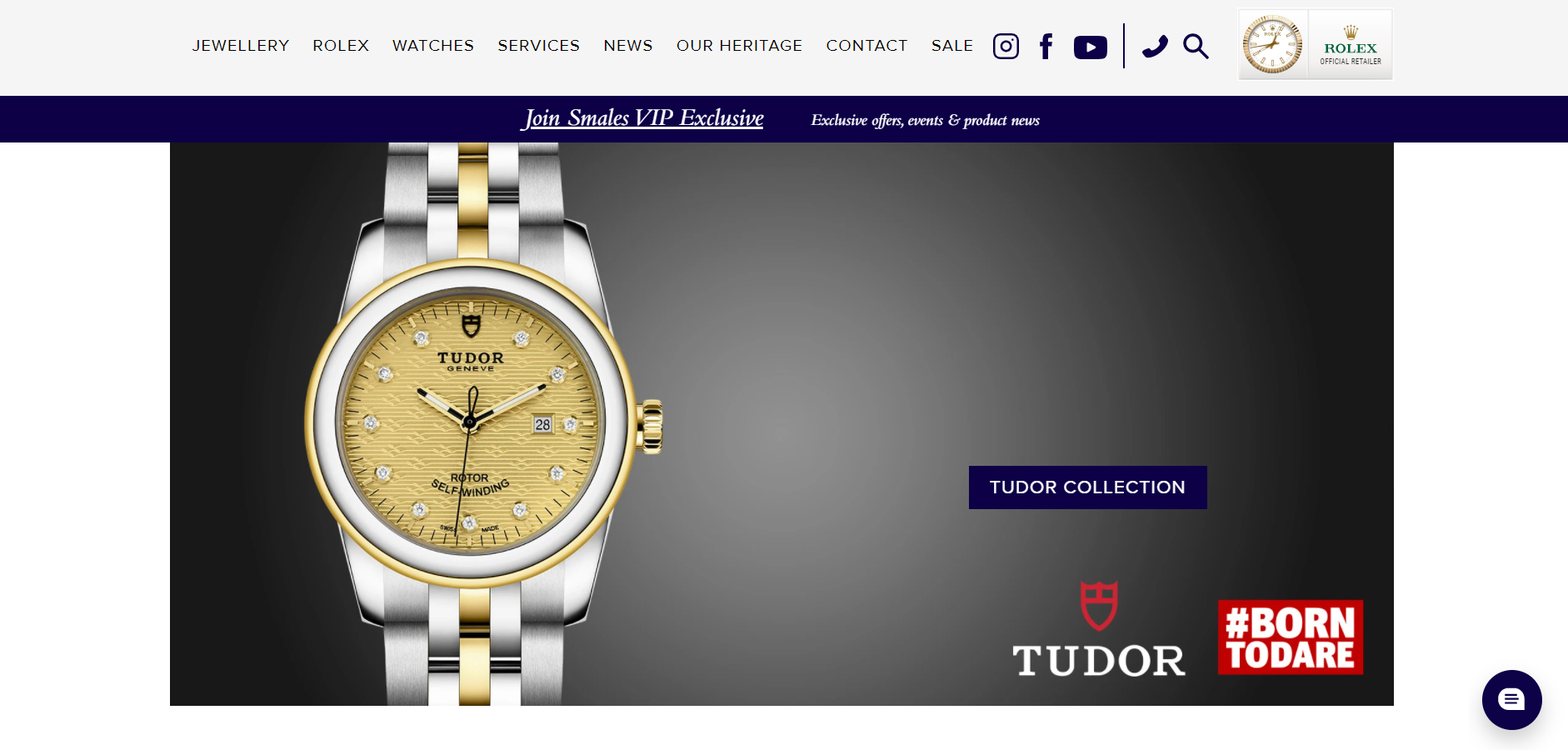 (08) 9921 7961      
Smales Jewellers are known for their experience in diamonds, jewellery design, and luxury watches in Western Australia.
With over 70 years of industry experience, the family-owned company which originated in Kalgoorlie selects only the most prestigious jewels and brands in the world.
As an Official Retailer of Rolex, Smales Jewellers are the forefront of luxury watches Perth.
Other watch brands include Tudor, Grand Seiko, and Montblanc.
As the exclusive retailer of Hearts On Fire diamonds in WA, their experienced jewellery designers Perth, Bunbury & Kalgoorlie can custom create these perfectly cut diamond rings for women & men.
Alternatively, Hearts on Fire diamond jewellery include engagement rings for women, diamond earrings and bracelets/bangles which are just as exquisite.
Smales Jewellers are also Official Retailers of Montblanc leather goods and writing instruments, Kailis Jewellery and Swarovski.
Smales Jewellers is uniquely different from other jewellery companies because not only does the company retail multiple luxury brands under one roof, and they also have watch repairs services and jewellery valuations onsite.
Browse a huge selection of jewellery and watches online or visit Smales today at one of their showrooms in Perth, Bunbury, Kalgoorlie, Karratha or Geraldton.
Bespoke Jewellery Design
Let us create your perfect engagement ring, wedding ring or other special pieces to express your individual style and personality.
Our company is unique with its onsite jewellery workshops where our highly skilled teams of in-house jewellers design and create beautiful pieces of art who will work closely with you to bring your vision to life.
Designed to your specifications, you can feel confident that your creation will be crafted to your exact requirements.
We use only the highest quality diamonds, hearts on fire diamonds, coloured gems and metals, which is combined with our commitment to quality and precision ensures workmanship of the very highest standards. Our designers are known to create beautiful one-off engagement rings for women, including yellow diamond engagement rings, princess cut diamond rings and men's wedding rings.
Smales Jewellers Subiaco, Bunbury and Kalgoolie also hold exclusive Hearts on Fire diamonds which can be incorporated into your design. These diamonds are known to be the 'most perfectly cut diamonds' and are a stand out regardless of their size.
Accomplished in computer-aided design (CAD), our jewellers can also create a realistic 3D computer-generated concepts of your piece where specific detail is required. 
Our bespoke service has a 100% satisfaction guarantee.
Smales has been Western Australia's most trusted luxury jeweller and watchmaker for more than 75 years.
Established in Kalgoorlie in 1937 by Ron Smales Senior, the store sold and repaired quality timepieces. Today, true to tradition, the business is still owned and operated by the Smales family and has expanded to include showrooms in Perth (Subiaco), Bunbury, Geraldton, and Karratha.
As one of Western Australia's oldest jewellers and watchmakers, our expertise in diamonds, fine jewellery and watchmaking is unrivalled in the state.
Our Subiaco store is an Official Rolex Retailer, with a long-standing partnership since September 2008. Smales Jewellers Subiaco is proud to be a part of this network, whereby only official Rolex retailers are allowed to sell and maintain a Rolex watch.
This flagship showroom also holds some of the finest Swiss watches in addition to Rolex, including Tudor and the Japanese brand Seiko - in particular, Grand Seiko and Seiko Astron lines are also featured in the showroom. 
Discover the Iconic & Refined Styles of Montblanc in the showroom, a new addition to our exclusive brands since 2017.
All enquiries regarding these products are welcome at our other showrooms.
Hearts On Fire diamond jewellery - 'The World's Most Perfectly Cut Diamond' - is exclusive to Smales in WA, providing us with an unmatched selection of diamond engagement rings, wedding bands, pendants, bracelets and earrings.
Smales Jewellers are renowned for their own handmade jewellery - crafted in-house by their award-winning jewellers. The business is differentiated by their local sourcing of gold nuggets, pink argyle diamonds and incredible opals designed in house for their heritage collections - a must-see if in the region.
The Kalgoorlie, Karratha and Geraldton showrooms hold Swarovski, renowned for high-quality Crystal Product Collections Such As Jewellery, Accessories And Decorations. 
Smales Geraldton and Karratha have also authorised dealers of Kailis Jewellery, known for their beautiful jewellery designed with iconic and precious Australian South Sea pearls and mixed metals.
In addition to their array of jewellery collections, Smales provides full-service watchmaking, remodelling and repair service in addition to jewellery design and repair. Smales are an Authorised Service Centre for Rolex, Tudor and Seiko. The teams can also help with jewellery valuations all year around.
Smales Jewellers is Western Australia's number one destination for the highest quality jewellery, diamond engagement rings and luxury watches. Their heritage and history have been deep seeded into the Western Australian community with a rich tapestry of design and service.
Soklich & Co Engagement and Wedding Rings Perth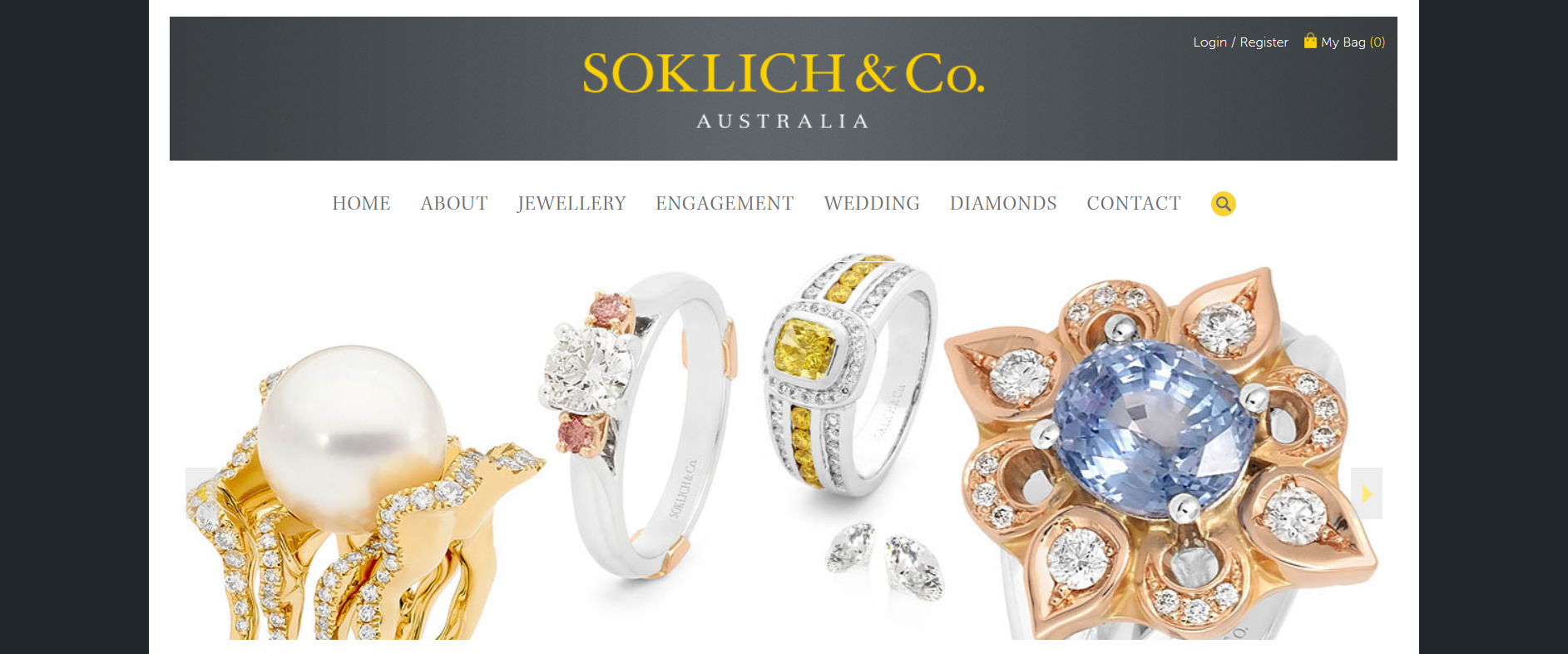 08 9367 7711
SOKLICH & CO. AUSTRALIA
On one of the hottest January days of the summer of 1954, the Soklich family arrived on the shores of Fremantle. Weeks earlier, they were living high in the Slovenian Alps where temperatures were often well below -10˚C.
It didn't take long for the Soklich family to adjust to the drastic temperature change and find themselves in the heart of Western Australia's Pilbara Region, mining for beautiful gemstones. Through a family friend, who himself was an avid rock hound, their love affair with the rugged outback began.
The first mine the Soklich family ever owned was an amethyst mine on Wyloo Station, 200km south-east of Onslow. From there – and with the help of friends like Lang Hancock, who would often fly Dan Soklich around in his two-seater Cessna, providing a birds-eye view of areas of interest – their passion drove them further into the heart of Western Australia, searching for more precious gems.
During the mid-70s, on an overseas sales trip selling Broome Pearls to London, Dan was presented an offer too good to refuse. It involved purchasing a cutting factory with a large contract to cut and polish rubies and sapphires in Bangkok. After many successful years cutting and polishing gemstones, including Australia's own Argyle Diamonds, Soklich & Co turned their hands to jewellery manufacturing.
At the same time, the factory in Bangkok was thriving, Soklich & Co was manufacturing jewellery in Australia, mainly supplying retail outlets in regional centres. Soon after, Soklich & Co moved all of its overseas operations back to Perth to focus solely on the Australian market. In the years since, Soklich & Co has developed into one of Australia's largest wholesale jewellery manufacturers, supplying high-end jewellery in Australia and New Zealand. Focused on using all things Australian, Soklich & Co jewellery features Broome Pearls, Argyle and Ellendale Diamonds and, more importantly, Australian gold and labour.
Soklich & Co has an outstanding amount of beautiful, natural diamonds all originating from the Western Australian Kimberley Region. The team at Soklich & Co, with their award-winning jewellers and designers, offer a personalised service working to the company mantra of "pure imagination captured by bespoke design".
As a family business spanning generations, we would like to welcome you into the latest chapter of our love affair with all things precious.
OM Gold & Diamonds Jewellers Perth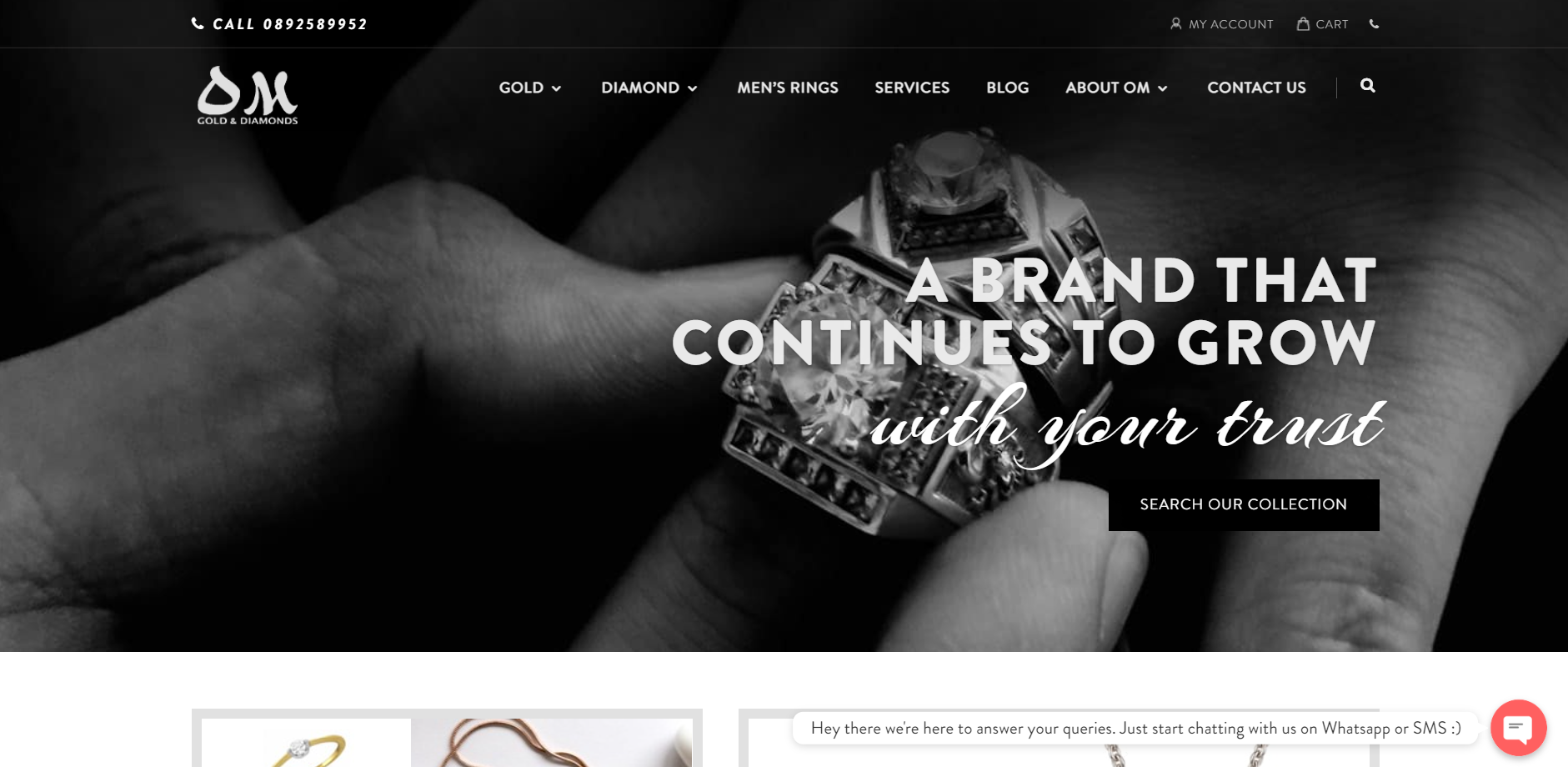 0892589952
Established in the Middle East in 1947, OM Gold & Diamonds is one of the only Indian gold jewellery stores Perth relies on for stunning, designer pieces.
We focus on creating timeless collections that are a statement in craftsmanship and quality. OM Jewellers has brought classic Indian jewellery to Perth, Australia, where our clients receive the highest level of customer service in every interaction.
BESPOKE JEWELLERY
We love making custom, made-to-order, exclusive & one-off pieces from engagement rings and wedding bands to full bridal matching sets. We have access to many gemstones and various fancy shaped stones as well, in case you want something completely unique. The whole process includes drawing out sketches and Computer-Aided drawings if need be. We can even support you with samples to try on before making the final product. We can even work with your supplied material.
TRADE-IN
Bring in your broken/unused or, maybe, unwanted gold or platinum items (including gold bars) and we can offer a trade-in value to lessen the out-of-pocket cash expenditure. Any purity/karat of gold is accepted and checked on site.
REPAIRS & ALTERATIONS
We offer all sorts of minor repairs to major rework items. Keep the sentiment with you for years, as our jewellers can masterfully restore your old items back to new.
ONSITE REPAIRS
Certain repairs can be done on the spot in our Carousel Branch or sometimes same day in other branches. Perfect for something urgent or if you are travelling or for the evening function.
COMPLIMENTARY CLEANING
All sites offer free cleaning and polishing (where available) for existing clients.
FINANCE OPTIONS
Offered through a third-party company, you can opt to pay for your jewellery over 6, 12 or 18 months. The finance is interest-free for that nominated period, with a $99 annual fee for account holders. The applications are accepted on individual circumstances, where the applicant must be over 18 years and earning a minimum of $25,000 annually as well as residing in Australia. To proceed with the application, we need a primary form of identification (i.e. Driver's license, or Passport and Medicare card), and it is advised to bring along a pay-slip.
PICK-UP & DELIVERY
In certain circumstances, where you find it difficult to get to us, we can make arrangements to come to see you, organise a courier or postal service.
GIFT VOUCHERS
If you can't make up your mind on what to purchase as a gift, get them a voucher. Especially good for those fussy, hard-to-buy-for family and friends. They can use it to top-up and even towards a custom-made item.
WHO WE ARE
Timeless collections, quality and craftsmanship, have always been the hallmark of OM Gold & Diamonds. The trusted jeweller since 1947, OM Gold & Diamonds was first established in the Middle East in 1947. The founding father of OM Gold & Diamonds, Mr. Amritlal R. Dhanak, has instilled the values of ethics, transparency and honesty in everything OM creates. Amritlal has passed on the rich history built through his company and instilled its value upon his children and generations that followed. Considered as a contemporary jeweller, OM Gold & Diamonds specialises in the latest variation of fashionable adornments in gold, diamond, rubies & other precious stones, silver, as well as platinum jewellery. We cater to 22kt, 21kt, as well as 18kt gold jewellery.
We are fully committed to providing a superior shopping experience, and our trained and experienced salespeople are here to help you make the right choice. OM Gold & Diamonds believes in customer service with the utmost integrity.
Zamel's Engagement and Wedding Rings Perth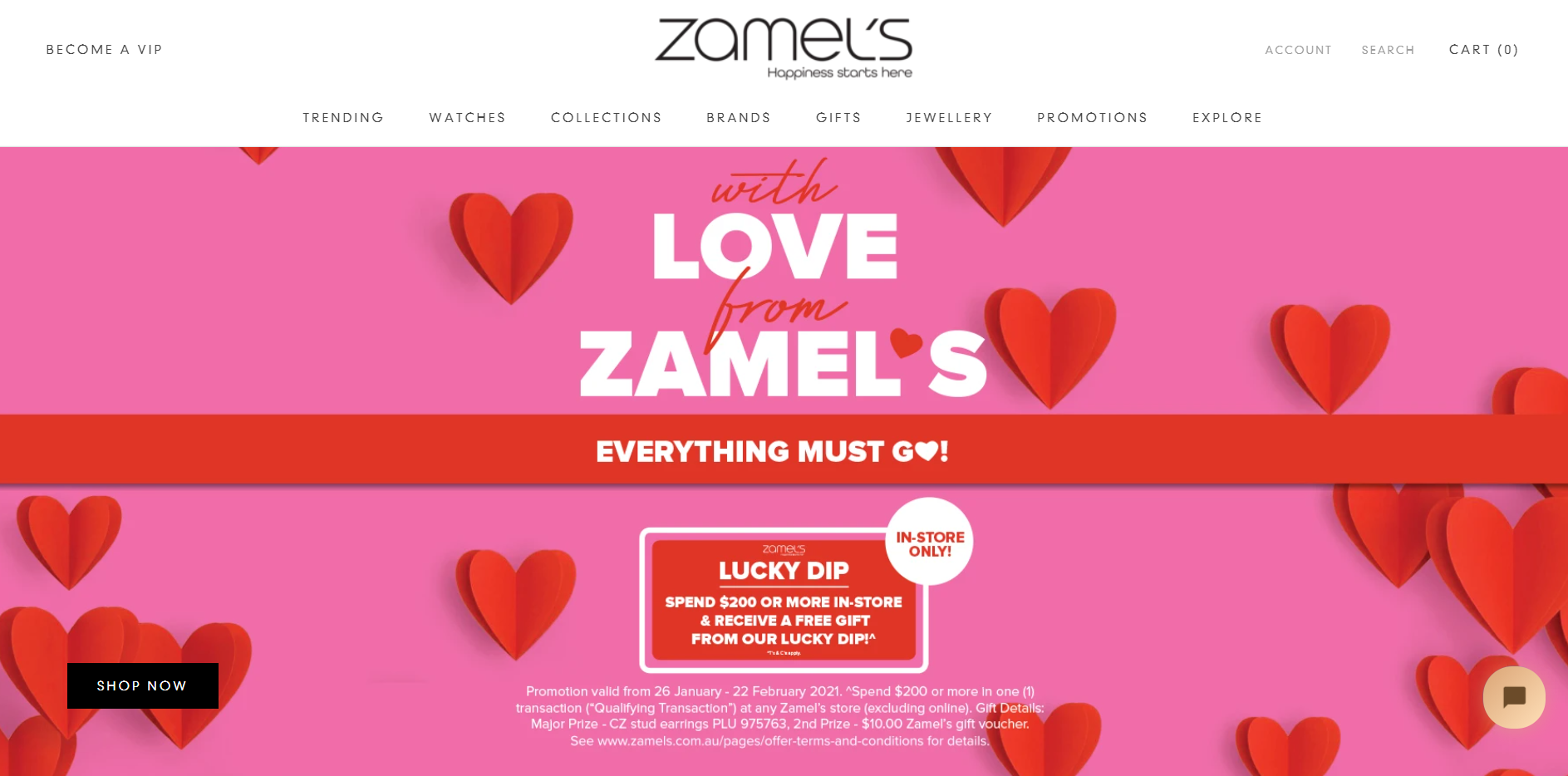 +61 8 9226 1200
Zamel's was established in New South Wales by the Zamels family in 1954, with the opening of its first store. In 1985, Zamel's acquired Vivian's jewellery chain in New South Wales and Queensland, which was rebranded to Zamel's in 2008.
Zamel's has become a nationwide iconic brand and has successfully grown into a national jeweller. Zamel's is a mid-market jeweller stocking quality diamonds, jewellery and watches along with well-known brands and in-house diamond collections.
Currently, there are 35 Zamel's stores located throughout Australia.
Jewellery Design Studio Perth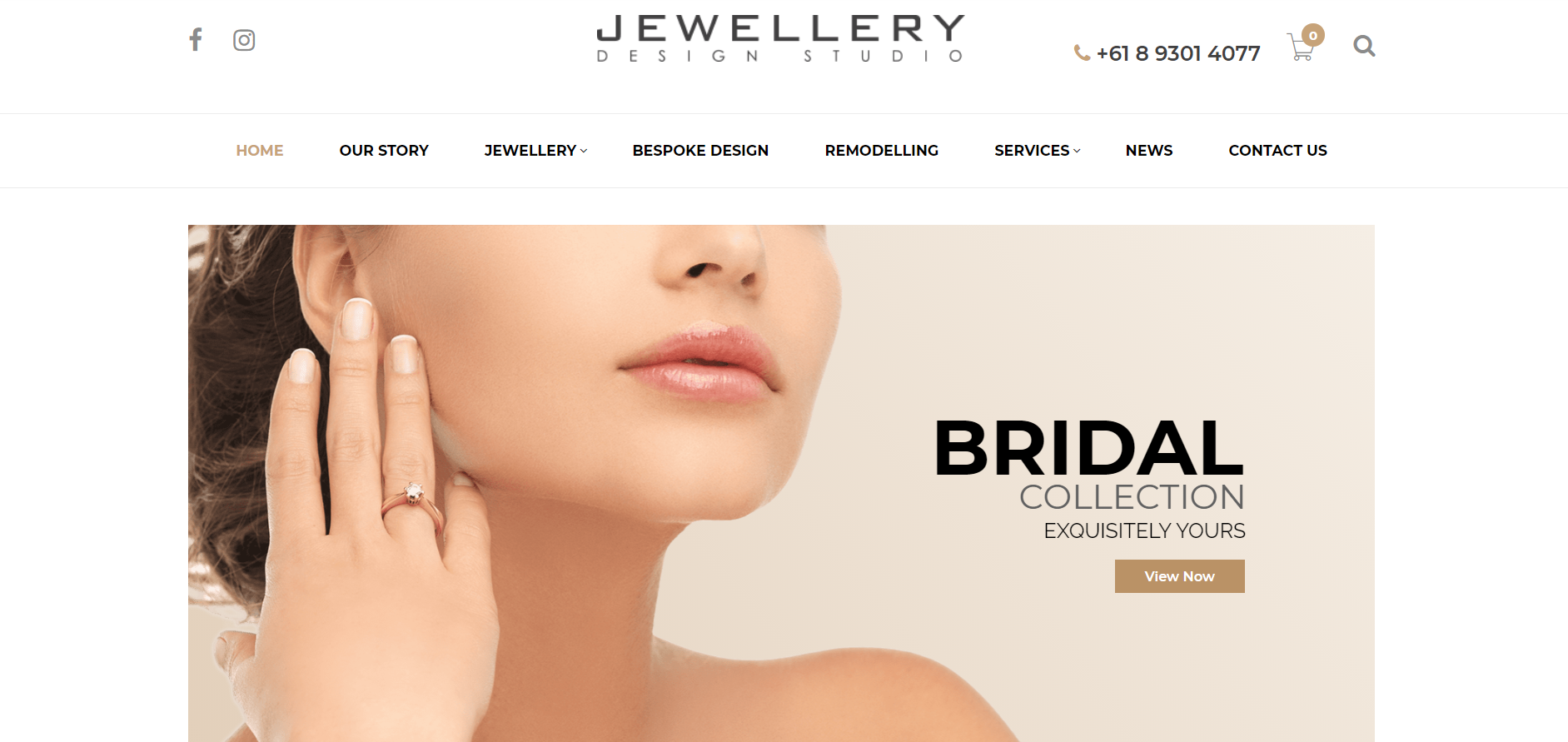 +61 8 9301 4078
Jewellery Design Studio is the creation of two like-minded individuals from opposite ends of the world, with a single vision of creating personalised quality jewellery. At the heart of the business is the creative team who will design a beautiful piece that is tailor-made for your personal needs. Be part of this fascinating journey from pencil and paper to beautiful, joyful jewellery designed to compliment your personality and unique lifestyle.
We strive to combine both design and value, bringing beautiful stones from around the world at amazing prices.
LEADING CUSTOM JEWELLERY DESIGNERS
Jewellery Design Studio is leading custom Jewellery Designers – Perth. We have been creating bespoke engagement rings, wedding rings and quality designer jewellery for over 20 years. Located in Joondalup, our studio showcases our unique style, and to assist you with your choice we carry a wide range of diamond rings, diamond earrings and custom made jewellery for you to view. 
Whether the perfect custom made engagement ring, fitted wedding band, or a custom-designed jewellery piece for a special occasion. Come and sit with our designers who will work with you, and design in front you, to conceptualise the perfect piece. Once complete your piece will be handcrafted in our studio workshop by our Master Jewellers. 
DIAMOND ENGAGEMENT RINGS
Be dazzled by our large selection of engagement rings in-store and online, and use them to inspire your own creation with the help of our designer. Our design consultations are free of charge, and we invite you to make an appointment today.
CUSTOM DESIGNED WEDDING BANDS
A speciality of the house! We haven't met an engagement ring we couldn't work with. With a large selection of men and ladies wedding bands in store and designers at the ready, your custom designed wedding band is waiting for you.
COLOURED GEMSTONES
With a passion for beautiful gemstones, we work with you in choosing the best stone for your ring design or jewellery piece. Sapphire, Ruby and Emerald are a given, but why not explore, Tanzanite, Morganite, Tourmaline, Aquamarine, Spinel and Garnet.
Our History
Sally was born and raised in the Jewellery Quarter of Birmingham, the U.K, surrounded by Diamond dealers, cutters and jewellery manufacturers, and was originally trained in hand-painted ceramics on precious metals. Her love of jewellery continued as she travelled & lived in Asia, and on arriving in Australia trained as a Jewellery Designer, Gemmologist and Valuer.
Alex was born in South America having been trained in the beautiful cosmopolitan city of Buenos Aires with its very unique style and strong European influences, and he has brought that sense of style to his work here in Perth and also trained as a Gemmologist, Valuer, & Diamond Grader, his love of watches rounds off his skills.
Together Sally & Alex bring a wealth of combined experience, & welcome you to experience the Jewellery Design Studio difference.
Brinkhaus Jewellers Perth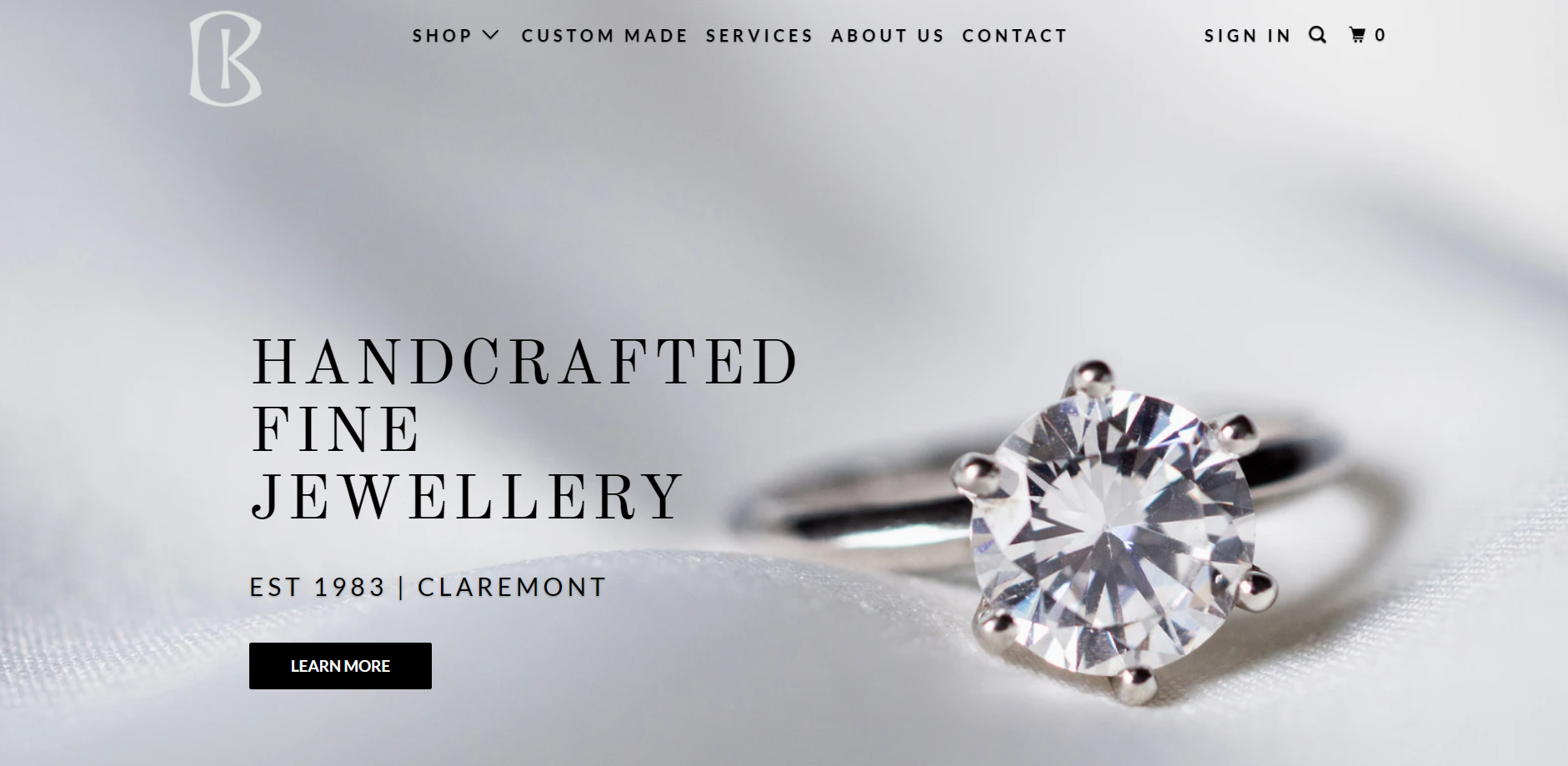 (08) 9383 3609
WELCOME TO BRINKHAUS JEWELLERS
Since 1983, we have been creating beautiful, handcrafted custom made and ready-made fine jewellery from our workshop and showroom in Claremont, Western Australia.
OUR SERVICES INCLUDE JEWELLERY REMODELLING, JEWELLERY RESTORATION, JEWELLERY REPAIRS, RHODIUM PLATING AND JEWELLERY CLEANING. 
JEWELLERY REMODELLING
Do you have a piece of jewellery or a family heirloom that you would like to redesign? At Brinkhaus Jewellers we can work with you to re-design and remodel your existing jewellery.
We specialise in remodelling diamond rings and engagement rings.
You are welcome to visit us with your ideas to discuss our remodelling services. We will listen to your ideas and draw up sketches before we create the piece just for you.
JEWELLERY RESTORATION
Do you have an antique piece of jewellery that is damaged that you are too afraid to wear due to fear of losing it? At Brinkhaus Jewellers, we can sensitively and thoughtfully restore and repair antique jewellery to give you peace of mind.
Visit us with your precious piece so we can advise you of the best way to restore it.
JEWELLERY REPAIRS
We offer all types of jewellery repairs to restore your jewellery to its former glory and give you peace of mind to confidently wear it.
Visit us for an on the spot quote for jewellery repair. Our turn around time for jewellery repairs can often be within the hour.
RHODIUM PLATING
At Brinkhaus Jewellers we offer a one-hour rhodium plating service.
Our team of talented jewellers and master goldsmiths are onsite 5 days a week (Monday to Friday) and as our workshop and store are at the same location, your precious jewellery will never ever leaves our premises. Read more here.
JEWELLERY CLEANING
If your fine gold or platinum jewellery is in need of cleaning, visit us from Monday to Friday for a complimentary clean and inspection (even if you purchased your jewellery elsewhere).
OUR GUARANTEE
When you purchase a handcrafted piece of jewellery from Brinkhaus Jewellers, you automatically become part of our family. And like family, we look after our own. Feel free to visit us for a complimentary clean and inspection at any time. We also include a complimentary jewellery evaluation with all Brinkhaus pieces. View more here.
SINCE 1983, WE HAVE BEEN CREATING BEAUTIFUL, INDIVIDUALLY CRAFTED FINE JEWELLERY FROM OUR WORKSHOP AND SHOWROOM IN CLAREMONT, WESTERN AUSTRALIA.
Our jewellery store is Perth's premier bespoke destination jeweller, specialising in custom made engagement rings, wedding bands, coloured stone jewellery and statement jewellery.
Selling individually designed jewellery, handmade by our onsite master goldsmiths and internationally acclaimed brands such as OLE LYNGGAARD COPENHAGEN, Autore Pearls and Roberto Demeglio, Brinkhaus Jewellers has become a Perth name synonymous with quality, craftsmanship and elegance.
At Brinkhaus Jewellers our workshop is onsite, so we also offer jewellery remodelling, jewellery restoration, jewellery repairs and 1hr rhodium plating. Please visit Our Services to learn more.
Specialising in platinum, 18ct yellow gold, 18ct white gold and 18ct rose gold, our goal is to ensure our clients find the perfect piece of jewellery.
We would love to welcome you to our showroom located at 24 St Quentin Avenue, Claremont to discuss your requirements.
Feel free to visit us or contact us to schedule a time to visit our showroom. You can reach us by email, phone or Facebook Messenger.
When should you buy an engagement ring?
Buying an engagement ring represents that next big leap in a relationship, and proposing marriage should not be a spur of the moment decision. An engagement ring isn't just an investment, it's a lifestyle change, for better or for worse. Purchasing an engagement ring should be an intimate process that allows the buyer to pinpoint his or her definition of perfection.
So when is the best time to buy an engagement ring? It's true that many couples do get engaged on Valentine's Day and around the winter holidays, but the answer isn't so simple. While holiday sales are a good time to get a discounted price, that doesn't mean you should rush (or delay!) the big decision.
The Best Ways to Finance an Engagement Ring
Jewelry Store Financing
Purchasing an engagement ring at a jewellery store has its perks. Your soon-to-be fiance can try on different rings and settings before you purchase to find the perfect fit. Your timing may coincide with a great sale, and they may offer you a great financing option.
But before financing an engagement ring through your jewellery store, do your research. You'll want to educate yourself on a few things:
Any promotional deals: You will likely be offered a low promotional interest rate. This promotion can potentially save you a lot of money, but be sure that you can afford to pay off the ring during that time frame.
Regular interest rate: Check the regular interest rate after the promotional period runs out. Make sure you can afford the payment at the regular APR in the off chance you don't pay it off during the promotional period.
Hidden fees or charges: With any big purchase, it's smart to read the fine print and educate yourself on any hidden fees or charges included with financing options.
Watch out for "deferred interest" credit offers. Under these plans, if you fail to pay off the entire balance in the agreed-upon period—12 months, for example—you will be charged all of the interest you weren't charged during the grace period.
You will also be expected to keep up with minimum monthly payments during the grace period. If you miss any payments—or are 60 or days late on a payment—the grace period ends, and you will be charged for any interest deferred.
Credit Card
Another option to finance an engagement ring is to put it on a credit card. But this approach takes some planning. First, you'll want to put the ring on a card with a very low—ideally 0%—APR. You'll also want that low APR to match the time frame when you plan to pay off the ring. With this planning, you won't get slapped with a high APR once the promotional period runs out.
To qualify for a low- or zero-APR card, you'll need to have great credit. If that isn't the case, then you may need to take some time to build up your credit score first. While you may be impatient to get down on one knee and propose, taking your time and financing your ring the right way will save you big.
Personal Loan
When financing an engagement ring, taking out a personal loan should be your last resort. Ideally, you'll want to secure a 0% financing deal with the jewellery store or put the ring on a low or 0% APR credit card. With those methods, you should pay the ring off before the promotional period expires. However, if you don't qualify for either of those options—due to a poor credit score, poor financial history, or some other reason—a personal loan may be your best bet.
A few tips to consider: Shop around for a personal loan with a lower interest rate—under 10% is a good benchmark. Whatever rate you ultimately find, ensure that it's lower than the average APR on a credit card, which is around 16%. Also, while the average personal loan term is anywhere from 12 to 60 months, it's wise to make the term as short as possible to save money on interest.
Avoid the busiest shopping times of the year.
Don't hunt for the perfect engagement ring on Black Friday or during busy shopping times like Memorial Day or the weeks following Thanksgiving. And definitely go online to browse stock collections; online shopping allows you to look at your leisure.
Consider pre-set designs if you need a ring ASAP!
If you need that ring NOW, your best bet lies in pre-set engagement rings. This means that the design is set with a centrepiece diamond. The only downside is that you cannot choose your own centre stone or be too picky about the details of that main diamond. But there are pre-set rings at all price points and carat weights.
Make sure your finances are ready for the purchase.
Before buying an engagement ring, you need to understand your budget and your financial bottom line. While engagement rings are available at all prices, you should not purchase a ring if you can't make monthly payments without affecting your lifestyle. Don't justify a purchase by pledging that you'll give up eating out or using less electricity. Seriously, this purchase should not overwhelm your budget. Wait and save up a little extra money so that the monthly payments are affordable. Or save up to pay off the entire ring.
So when is the best time to buy an engagement ring? When you know the relationship is ready for the next step! Of course, you also need to be in a place where you can afford the ring. Never shop during busy holiday sales and don't fall for jewellery sales gimmicks. And always remember that an engagement ring is an investment—both financially and emotionally. So take your time and let your heart (and budget!) guide you to the perfect ring.