Are you located in Melbourne, Victoria, planning a New Year's Eve Dinner idea? When you are planning for an occasion like this, you probably want everything just perfect. One of the best ways to make sure that it all turns out the way you dreamed it to select the place or restaurant yourself personally. This way, you can choose the ultimate location, the best entertainment, and the most delicious food and craft your ideal New Year's Eve Dinner.
This is a year where we need a party to herald in the next year more than ever, as I'm sure you'll agree. There are plenty of reasons to celebrate this new year's eve, and we've survived multiple waves of intense lockdowns. Melbournians have suffered more than the rest of our Australian brethren.
The hope is that even though this year was potentially your worst year yet, the new year brings with it new opportunities, a clean slate. And yes, the opportunity for us to make another inspired list of new year's resolutions that we won't keep!
For the NYE Party animals who want to have a big New Year's Eve Melbourne style, there will be many events to appeal to everyone. All sorts of events, including those with DJs, bands, or maybe even Karaoke and themes, there will be a costume, glitter, masquerade, black tie, casual, beach parties all over Melbourne, even on the water with cruises. And with so many restaurants there will be something for everyone.
Dinner At Top of Brighton Savoy Melbourne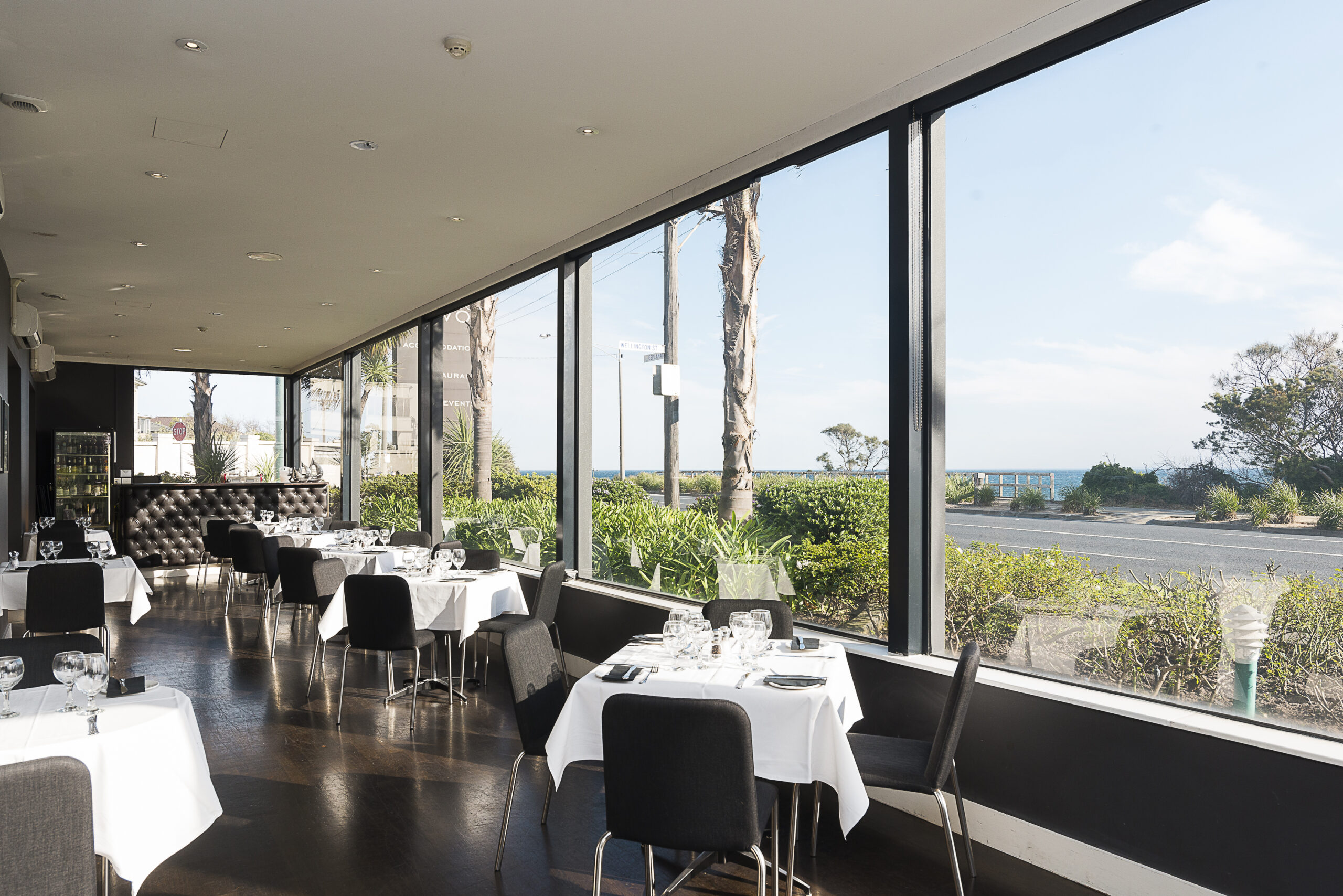 New Years Eve Ball & Dinner Dance Melbourne. 
Dance the night away
The best way to celebrate the New Year is by spending it in Melbourne with a dinner dance in the Hotel Ballroom at the Brighton Savoy. Celebrate a night of style and sophistication at the Brighton Savoy's annual New Year's Eve Ball.
Celebrate the New Year with a night of dinner and dancing with music by one of Melbourne's Premier 6 piece band BUSTAGROOVE, playing music from the '60s, '70s, '80s right up to today.
You will enjoy a fun-filled all-inclusive evening:
Three-course dinner with tea, coffee and after-dinner mints

De Bortoli Willowglen Sem. Sauvignon Blanc & Shiraz Cabernet

Debortoli Willowglen Sparkling Brut

Carlton Draught & Cascade Premium Light beers

Soft drinks
All-inclusive price of:
$TBC p.p Join a shared table of 8 - 10 guests

$TBC p.p Group Price B (Bookings of 6 -10 guests)

$TBC p.p Group Price A (Bookings of 11 guests or greater)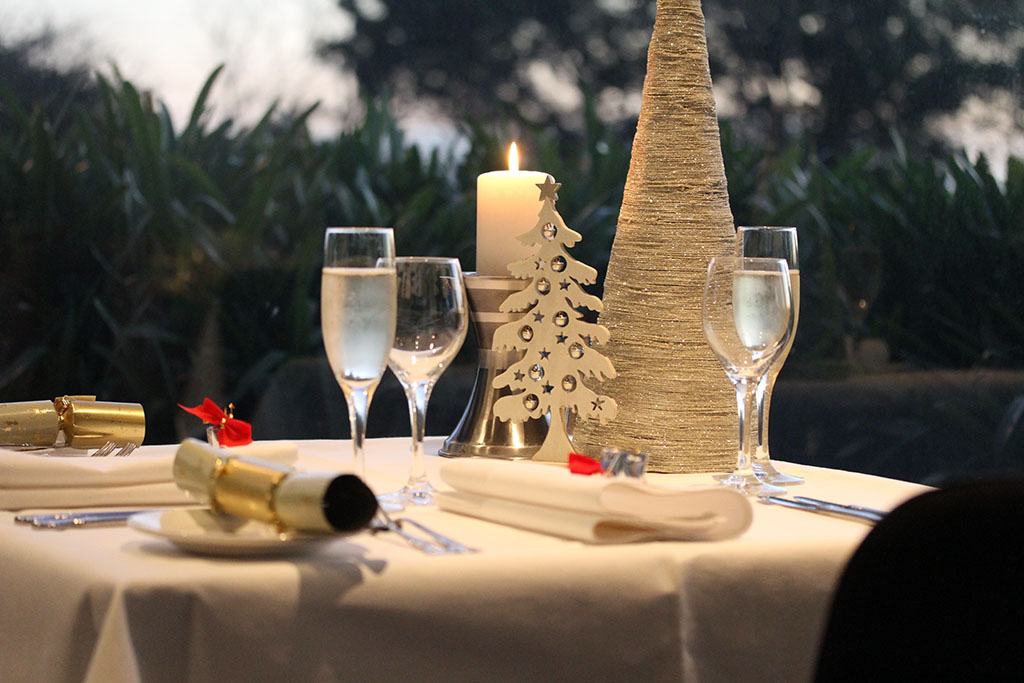 Menu
ENTREE
Mediterranean tasting plate with vegetable frittata, fetta cheese, smoked salmon, olives, sliced Turkish bread and assorted savoury items.
MAIN COURSE
Eye fillet of beef (200g) paprika mash, roast vegetable dice and a red wine jus
or
Herbed Fillet of Atlantic Salmon served with leaf spinach, roast potatoes and grilled lemon garnish.
DESSERT TRIO
Vanilla Bean Panna Cotta. Eton Mess with Honeycomb & Berries, Passionfruit Icecream
Vegetarian, Gluten-free options are available.
Visit Brighton Savoy Hotel 
Call (03) 9592 8233
Dinner At Agostino Wine Melbourne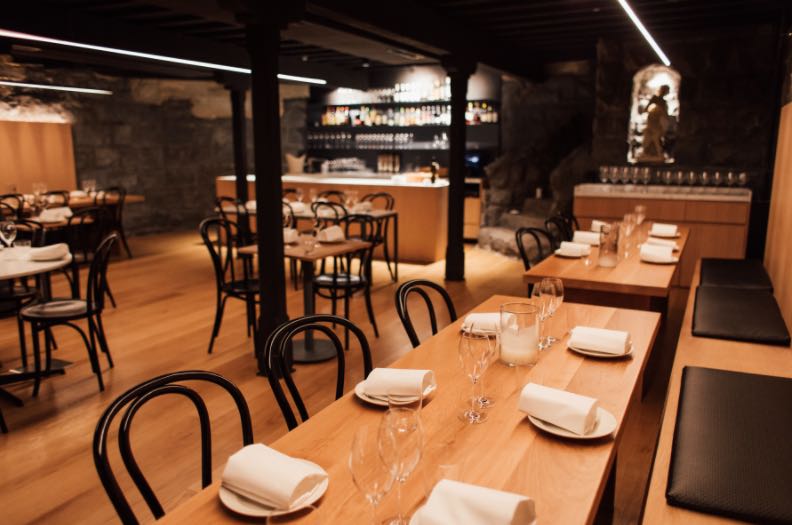 Celebrate Capodanno in Little Italy at Carlton's Agostino. With a four-course Italian feast and glass of Champagne on arrival, ring in the new year living la dolce vita! Early seatings before 6:30 pm are for 2.5 hours, so you'll have plenty of time to get into the city before midnight. Second seatings (after 6:30 pm) are welcome to celebrate the new year. 
Those looking for an extra dose of atmosphere should check out our bluestone cellar. Recently renovated, the historic space now has a state-of-the-art temperature-controlled wine cellar, its bar, vinyl-driven sound system and access to all the great food, wine and service that Agostino has to offer in one beautifully designed, completely private space. Our maximum capacity, for the time being, is up to 45 guests. But it's perfect for smaller groups looking to party too.
Visit Agostino Wine 
Call 0393471619
Dinner At Gimlet At Cavendish House Melbourne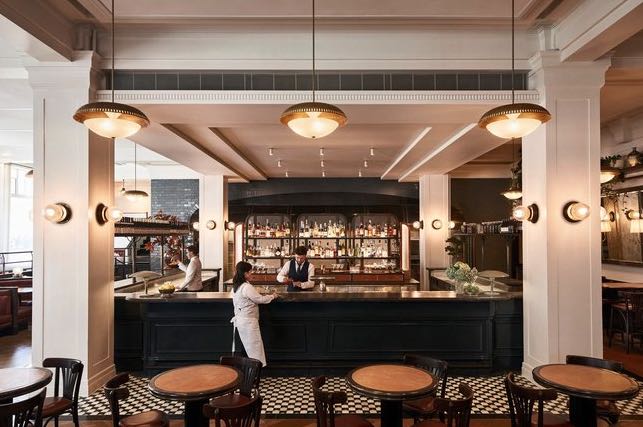 Thanks to the Melbourne Food & Wine Festival, you now have double the chance of scoring a table at one of Melbourne's trendiest new eateries. Gimlet at Cavendish House opens its doors and hits the streets this NYE as part of Street Feasts. Leave your dining to experts inside with a bespoke set menu designed by chefs Andrew McConnell and Allan Eccles or sit down for supper outside and take your pick from their à la carte menu. 
The menu reflects Andrew McConnell and heads chef Allan Doert Eccles' love of European flavours and traditions and contemporary Australian hero produce techniques. Old world meets new, with a touch of indulgence to suit the surroundings. 
The wood-fired oven is the kitchen's centrepiece, its flames touching everything from Skull Island prawns to roasted Eugowra chicken and premium dry-aged beef cuts.
Whether it's a martini and plate of oysters at the marble bar, a brief or long lunch in one of our leather booths, or a more formal three-course affair, Gimlet is for all seasons and all reasons.
Visit Gimlet At Cavending House 
Call (03) 9277 9777
New Year's Eve Dinner At Bear Brass Melbourne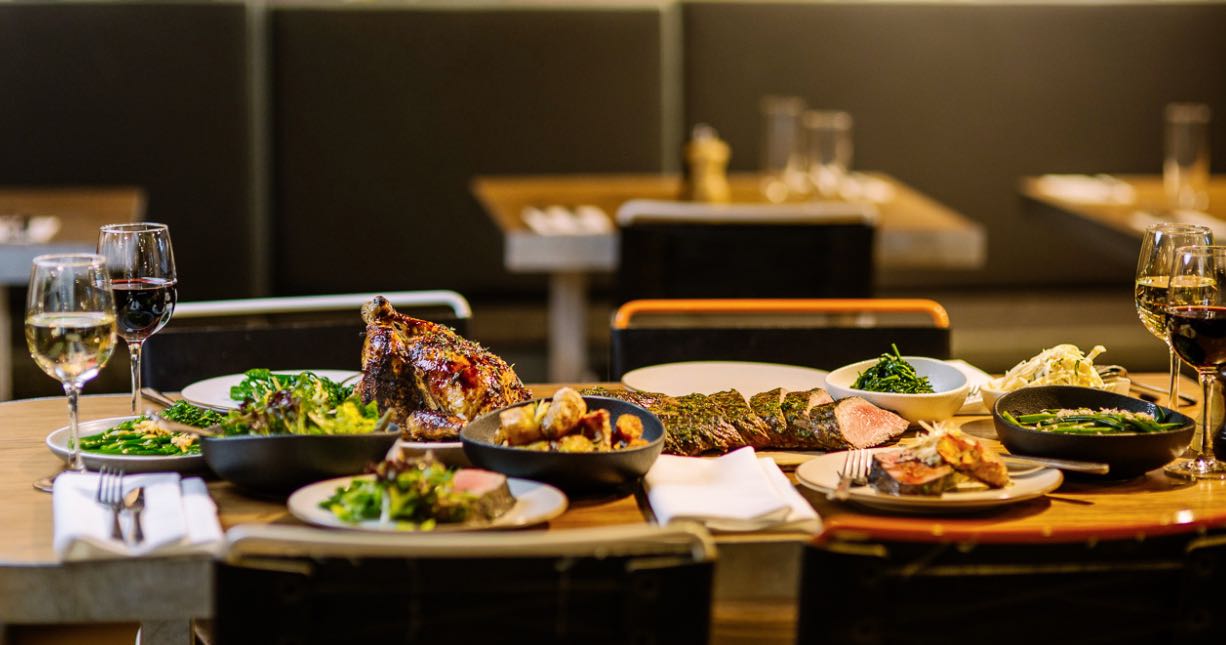 New Year's Eve by the River
Bring in this New Year's Eve at BearBrass, who always have a great themed NYE party! Dining with a 3-course dinner and then party with a DJ and watch the fireworks at 9 pm and midnight. Right on Southbank with awesome views of the Melbourne Fireworks.
Great location, and over the last few years, they have tricked up the event with a boat cruise on the Yarra for 20mins or so and awesome party that always sells out.
BearBrass in Southgate, Melbourne, brings a spark of excitement to the banks of the Yarra. Offering up a striking riverside wining and dining destination, we are an ideal venue to host various functions & events, including corporate events, birthdays, engagements, New Year's Eve Dinner, and more.
Visit Bear Brass Melbourne 
Call 03 9682 3799
Dinner At Hotel Esplanade Melbourne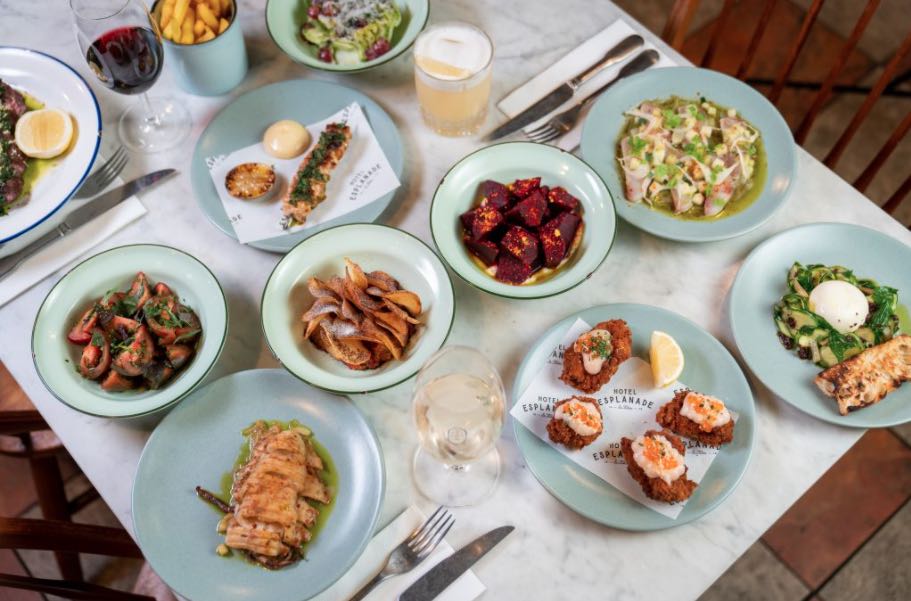 NYE Dining at the Espy
The Espy is pulling out all the stops for New Year's Eve. With 3 stages over 5 levels, expect a massive lineup of New Year's Eve acts. Enjoy plenty of food and drinks whilst you party into the New Year at this St Kilda landmark. Iconic Melbourne Venue located on the St Kilda Waterfront.
The Espy has always been, and always will be, the home of live music.
 The Basement is well and truly kicking again with Open Mic Tuesdays & Live Music Thursday.
And the Main Bar is the place to be on Sunday afternoons from 3 pm with live acts playing through until 5 pm.
Visit Hotel Esplanade 
Call 03 9534 0211
Dinner At Riverland Bar Melbourne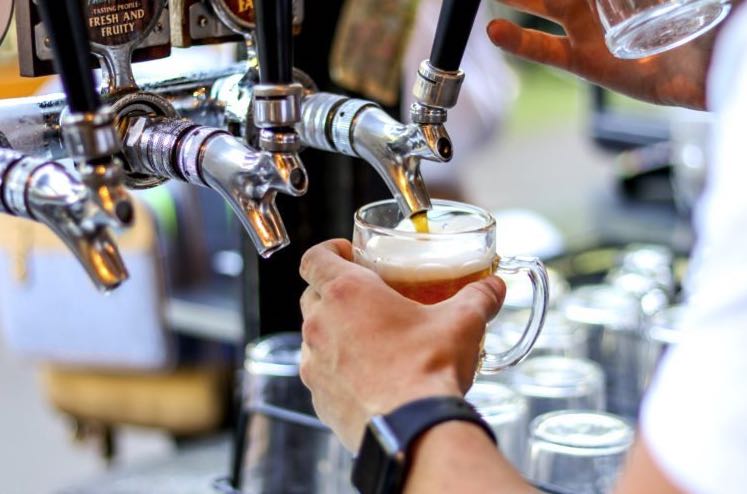 Located on the Yarra, Riverland usually boasts some of the best fireworks views over the Yarra River. Even though that won't be possible this year, on this special night, the beer garden has a killer party planned for you.
For the price of $131.53, you'll get a ticket giving you access to the very best beer and other assorted beverages. Food is also aplenty. And did we mention they have live music and a DJ?
The party officially starts at 7:30 pm, and the package "activates" at 8:30 pm. Make sure to book your ticket early as they get sold out early! Use the link below to book your ticket.
Riverland Bar is the original waterfront icon in Melbourne, where you can escape the daily grind in our urban beer garden hideaway. This iconic venue is situated on the Yarra banks in the historic Federation Wharf vaults, just below Federation Square.
Our year-round outdoor venue is the ideal spot for beers and bites while soaking up the sun in summer or basking under the heaters and warming up with one of our winter cocktails in the cooler months.
Riverland Bar provides a relaxed, warm atmosphere where people can enjoy the company of friends or grab a quick drink and BBQ sausage before the game.
Riverland Bar acknowledges the traditional custodians of the land on which we stand.
Visit Riverland Bar
Call (03) 9662 1771
New Year's Eve Dinner At The Bridge Hotel Melbourne

Experience New Year's Eve at the quirky and eccentric Bridge Hotel. In the past, The Bridge Hotel has offered all-inclusive packages and some more budget-conscious New Year's Eve experiences with small cover charges and lots of drink specials. We can't wait to find out what this year's offer will be.
Great venue with 4 bars and incorporating its cobblestone laneway.
Celebrations at the Bridge Hotel
With a collection of dynamic and unique spaces, Bridge Hotel offers a broad range of options to suit various events, sizes and budgets.
From birthday parties to corporate gatherings and intimate dinner parties, our friendly and professional team are on hand to make the process as easy as possible for you.
Book and have your function with us before the end of April, and we will upgrade your package for FREE!
T&C's apply
Visit The Bridge Hotel 
Call 03 9429 5734
Dinner At The Toff Melbourne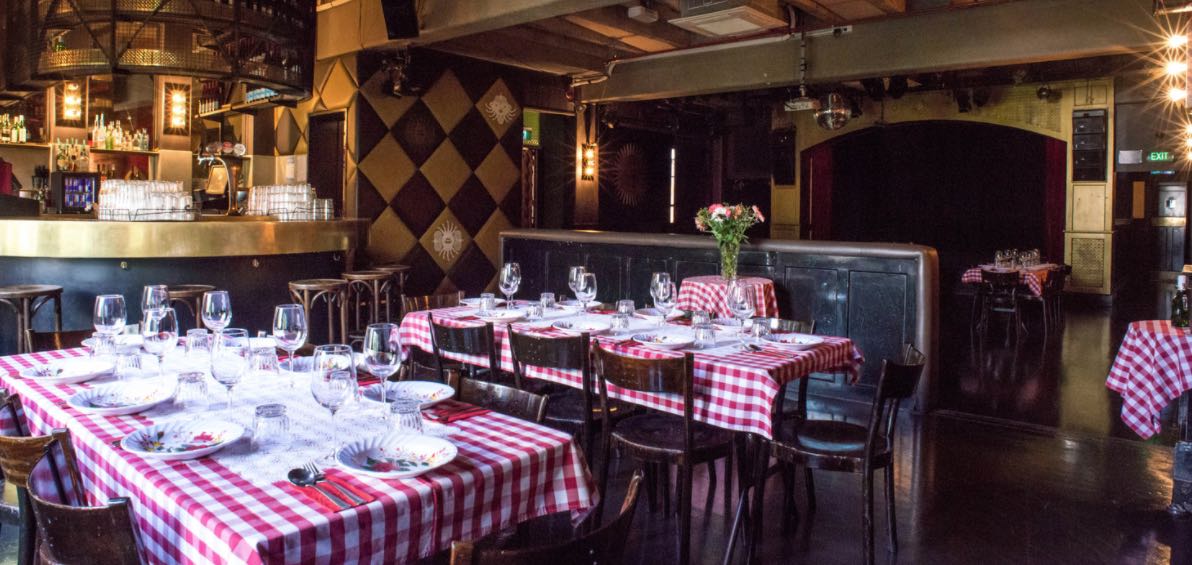 That NYE Party!
Party at the Toff in Town this New Year's Eve and welcome in 2022 in style. Located right in the Melbourne CBD centre, The Toff in Town offers a range of options when it comes to New Year's Eve. Party in the Club till late, up the ante with canapes and drinks stage-side, or indulge with some NYE Dining carriage side.
Visit The Toff Melbourne 
Call 03 9639 8770
Try New Year's Eve Dinner At H2o Docklands Melbourne 
H2o Harbourside Summer Party
NYE H2o is a staple of the Melbourne NYE scene! This event sells out every year and always has an awesome Melbourne location to call home. It features a massive open-air terrace on the Waterfront with amazing panoramic views of Victoria Harbour & the City Skyline with the fireworks right there. This is an all-inclusive event with extensive drinks & food package like no other!!
Large dance party event accommodating over 1000 people plus. The Melbourne Fireworks surround it.
Visit H2o Docklands 
Call 0418570337
Dinner At Leftbank Melbourne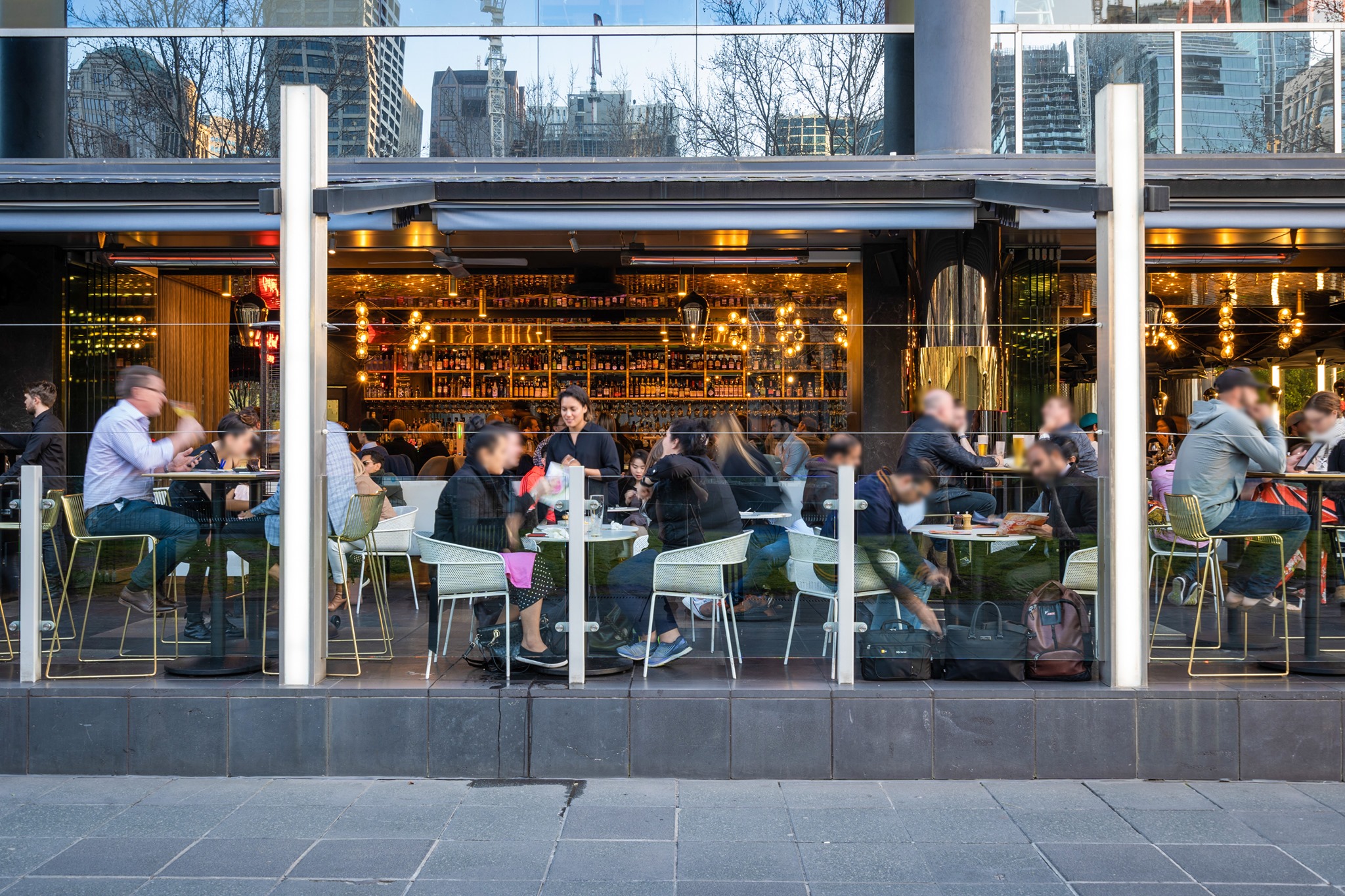 Enjoy a fabulous affair this New Year's Eve at Left Bank Melbourne. Welcome 2022 with a choice of inspired all-inclusive packages. Set down with a Multi-Course Banquet and Beverage Package or enjoy a Cocktail Party with food stations and beverage package. You'll also be treated to some fantastic entertainment as you say goodbye to 2021 in style—a beautiful venue right by the Yarra. Delicious Food.
As Melbourne's most exciting cocktail, bar and dining destination with uninterrupted views of the Yarra and city skyline, situated on Southbank near Crown Melbourne, there is no other choice. Discover Left Bank's spectacular views, superb menus and world-class cocktails.
Visit Leftbank Melbourne
Call 03 9682 4500 
Dinner At Stamford Hotel Melbourne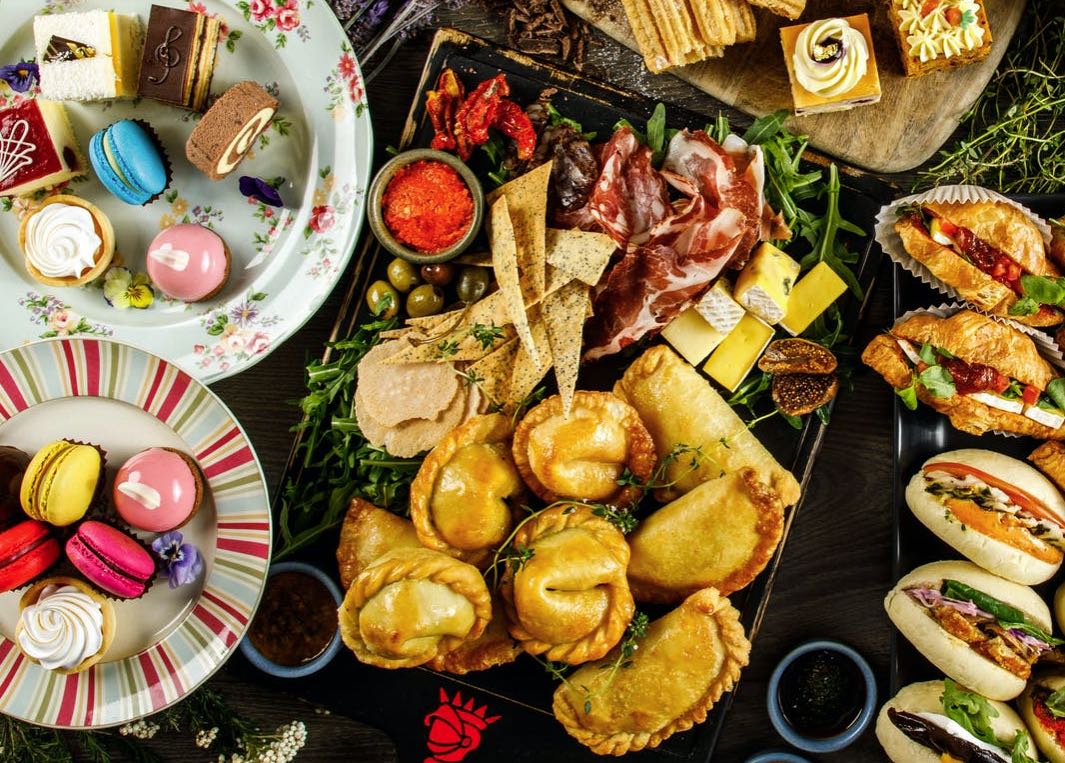 New Year's Eve Dinner
Enjoy a delicious NYE dining experience at Stamford Plaza Melbourne's exquisite Harry's Restaurant. You'll be treated to a multi-course set menu NYE dinner with all the trimming. Sit back, relax and let Harry's do all the work. Need NYE Accommodation? Check out the accommodation packages on offer at the Stamford Plaza Melbourne.
Fantastic Hotel in Central Melbourne. A great option for NYE accommodation plus a fantastic restaurant if you're after a dining experience.
Perfectly located at the "Paris end" of Little Collins Street in walking distance to the theatre district, Collins Street boutiques and Melbourne's International sporting precincts, including the MCG, Olympic Park Tennis and AAMI Park soccer stadium.
Explore Melbourne's renowned laneways and rooftop bar scenes as well as many vibrant dining options, including China Town - all within minutes of the hotel.
The hotel is easily accessible to all major freeways and roads and Melbourne's extensive tram/train network, with Flinders Street station an easy 10 minute walk away.
Enjoy locally-sourced produce and wines in casual settings of our Harry's Restaurant and Bar. Located in the heart of Melbourne's iconic theatre district, Harry's restaurant offers a variety of regionally-inspired dishes with a combination of classical European and Asian influences. From express lunch, sophisticated pre-theatre dining to our signature Taste of Singapore menu - you're spoiled for choices when you dine with us. If you are looking for something special - our High Tea in the heart of Melbourne will certainly tick the box! Relax and enjoy an assortment of meticulously crafted savoury and sweet bites served on an elegant three-tiered stand. Our convenient Catering to Go menu provides a range of delicious takeaway options perfect for corporate events, birthdays, lunches, product launches, morning and afternoon teas.
Visit Stamford Melbourne 
Call 03 9659 1000
New Year's Eve Dinner At Johnny's Green Room Melbourne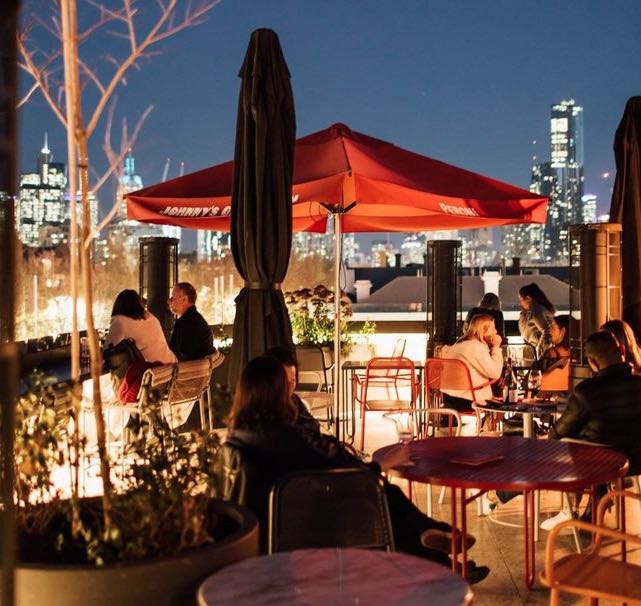 Avoiding the chaos of the CBD doesn't mean that you have to skip out on a view. With a rooftop bar, uninterrupted views across the city and an Aperol Spritz on arrival, Johnny's Green Room have NYE down pat. With two dinner sittings (5-6 pm and 8-9:30 pm), guests can enjoy a delicious four-course menu amidst the leafy green trees of Carlton. They'll be DJs all night and live entertainment as well, so you can enjoy one last hurrah before the year ends. 
The original Johnny's was a late-night, good-time Carlton classic. Its glowing neon sign drew musicians, artists, gangsters, and students who mingled at all hours, playing pool and eating Coletta and lasagne in a place where the party never ended. It wasn't always savoury, but it was never dull. With our new rooftop incarnation of Johnny's, we've retained the sense of fun but swapped the notorious pool hall vibe and clouds of cigarette smoke for amazing 360-degree views over Carlton and the sophisticated ambience of a rooftop party in Rome. Johnny's serves classic and house cocktails, local and imported beer on tap, easy-drinking wines, and a casual list of bar food's greatest hits, from grilled meat and burgers to gelato and cheese. Add neon, terrazzo, and great tunes, and it's classic good times for right now. Bring your friends. The good-time essence of Johnny's lives on.
Visit Johnny's Green Room 
Call 03 9347 1619
Dinner At Stoke House Melbourne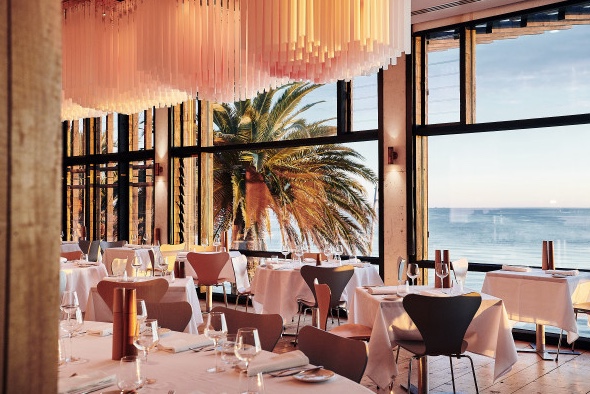 This year the Stokehouse is upping the ante with a full-blown NYE extravaganza! Countdown to midnight with the sweet sound of the waves breaking at St Kilda Beach and enjoy the last sunset of the year. If you're worried about going hungry - don't be, as guests will enjoy pre-dinner drinks, canapes of caviar, fresh oysters and more, followed by a four-course set menu. Be sure to wear your dancing shoes as there is live entertainment all night long. 
Stokehouse is synonymous with Australian beach luxe. Offering laid back charm, overlooking the water, with a vibrant atmosphere, welcome feel and generosity, matched with an award-winning food and wine offer. Escape with Stokehouse.
The dining room has unparalleled views of the sea, with custom mirrors angled perfectly to ensure all guests have water views. A feature glass lighting installation highlights the stunning interior, reclaimed timber-lined floor and walls, iconic design touches such as the Arne Jacobson Series 7 dining chair and the beach holiday colour palette.
Visit Stoke House Melbourne 
Call 03 9525 5555
New Year's Eve Dinner At Hophaus Melbourne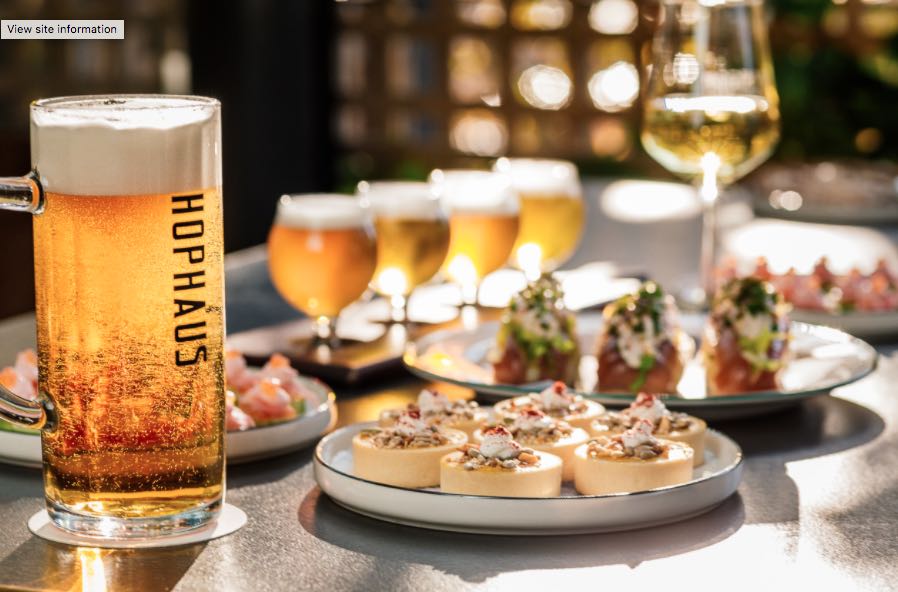 Hophaus Melbourne NYE Dining
Incredible location on Southbank in Melbourne overlooking the Yarra River. Will be able to see the Melbourne fireworks. This venue has awesome dining packages for New Years. And because of the location, a great fun atmosphere from outside will permeate in. Normally have dining inclusive packages and can cater for families.
Good reputation for fabulous food and great German-inspired drinks. The indoor event overlooks the Yarra at Southbank.
With an expansive art deco-inspired dining hall, fabulous terrace overlooking Melbourne, a glazed polychrome brick centrepiece bier bar and an open rotisserie-fired kitchen.
From smalls, snacks & salads to generous helpings of house-smoked meats, wood-fired oven & rotisserie dishes along with delicious contemporary twists on classic Euro favourites. A speciality is our whole suckling pig, smoked and slow-roasted over the coal pit – perfect for group bookings and functions.
Visit Hophaus Melbourne 
Call (03) 9682 5900
Dinner At Melba Restaurant Melbourne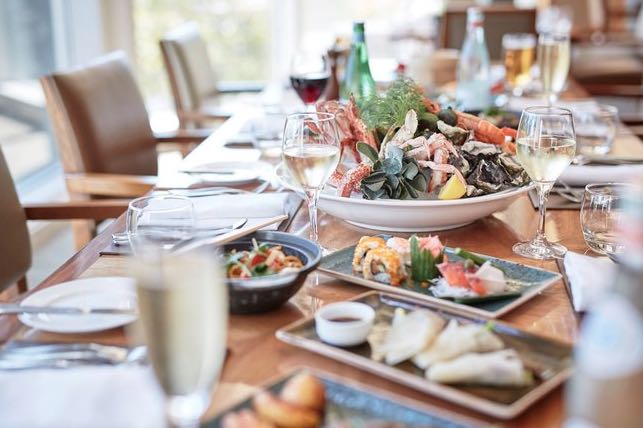 Melba Restaurant at The Langham, Melbourne, is similarly spectacular, engaging, and constantly evolving. Sample the excitement, theatre and creative genius of Melba Restaurant. Dynamically designed with interactive open kitchens and cooking stations, Melba's menu continually changes.
For a lavish and decadent New Year's Eve dinner that's hard to beat, Melba Restaurant at The Langham is the spot. The luxury hotel's buffet restaurant will be gearing up for two abundant sittings with special feature dishes created just for the night. The early sitting from 5 pm to 8pm will leave you with plenty of time to do as you please for the rest of the night. Whilst the 9 pm sitting will let you toast to the New Year with views over the city skyline with a flute of Perrier-Jouët Champagne in hand.
Visit Melba Restaurant
Call 1800 641 107
Dinner At Young & Jackson Melbourne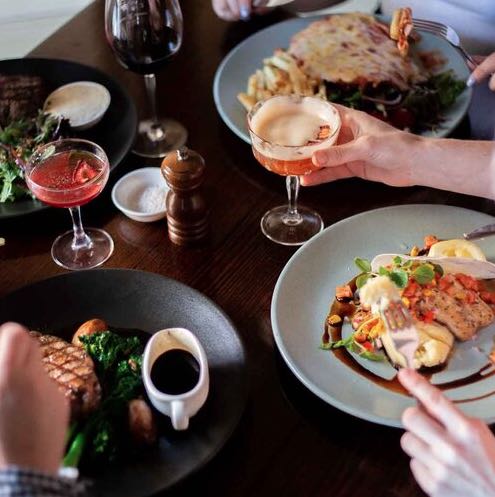 New Year's Eve Dining
See the New Year in style at a Melbourne Hotel icon. This venue always turns it on for an incredible New Year party. And with New Years restaurant and party options upstairs and downstairs, there will be something for everyone. From sit down NYE dining to dancing and partying NYE away. This will be one of the great places in Melbourne to see in the New Year.
Great central venue close to fireworks. Indoor event with a rooftop. It sells out, so be ready for this one!
Young and Jackson is Melbourne's most iconic hotel, located opposite Flinders Street Station's landmark steps. Our pub keeps a watchful eye on Melbourne's CBD's busiest part and looks over Federation Square on to the MCG and beyond.
A heritage-listed building, having been established in 1861, Young and Jackson have been beautifully restored and refurbished over the years to bring together a blend of boutique bar and a traditional pub. Home to the infamous Chloe, she is a Melbourne icon, the mascot for the HMAS Melbourne, an extremely fine artwork; she is an ingénue, a nymph, a celebrity. She is Chloe, the famous nude portrait that has graced the Young and Jackson Hotel walls since 1909. 
At our core, we're dedicated to Melbourne and all who visit. We've embedded ourselves in the community and built strong relationships with suppliers and locals alike. We're everything to expect from your traditional pub, with a modern take. We're a meeting place, a destination, a local watering hole, a place for celebration and romance. We're a place for good people to share good food.
Visit Young & Jackson 
Call 03 9650 3884
Dinner At StoryVille Melbourne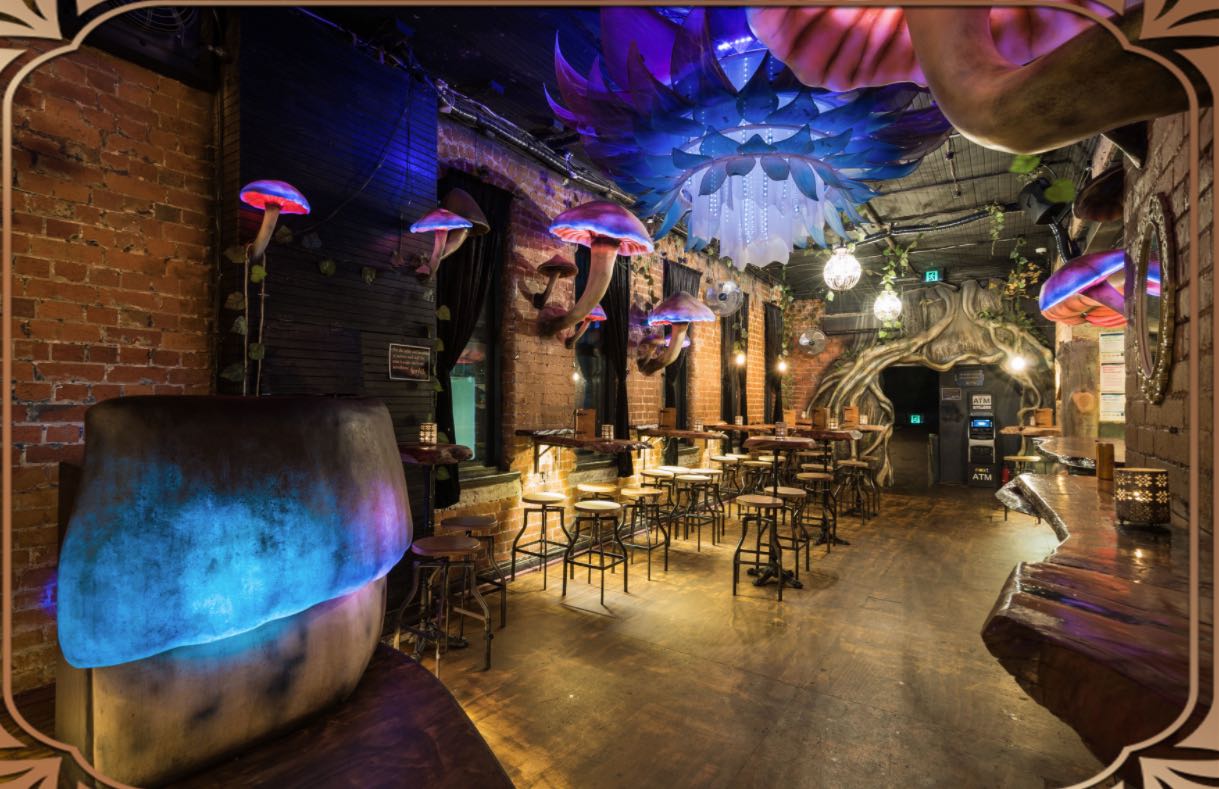 Enjoy New Year's Eve 2021 with 2 floors of music and entertainment surrounded by the stories and fables of your childhood. An intriguing location with magnificent decor. Expect an all-inclusive drinks package as you party into 2022 with a magnificent line up of entertainment to welcome in the New Year.
Fantastic fantasy-themed bar in the heart of Melbourne.
Are you looking for the perfect venue for your party? StoryVille is the answer. A unique themed cocktail bar and nightclub, catering for parties of 15-230 with a variety of beverage & food packages to suit. From corporate functions to more intimate groups, we make any celebration memorable!
StoryVille's cocktails are influenced by celebrated pieces of classic literature and some of our favourite children's books. From 'Down the Rabbit Hole' Inspired by Alice in Wonderland to The 'Goblet of Flames' inspired by Harry Potter's tales, our signature cocktails will ignite your imagination and taste buds. So, pull up a mushroom as we welcome you to our fantasy land where spirits are shaken, and cocktails are stirred for your pleasure.
Visit Storyville Melbourne 
Call 03) 9993 9034
Dinner At Pilgrim Bar Melbourne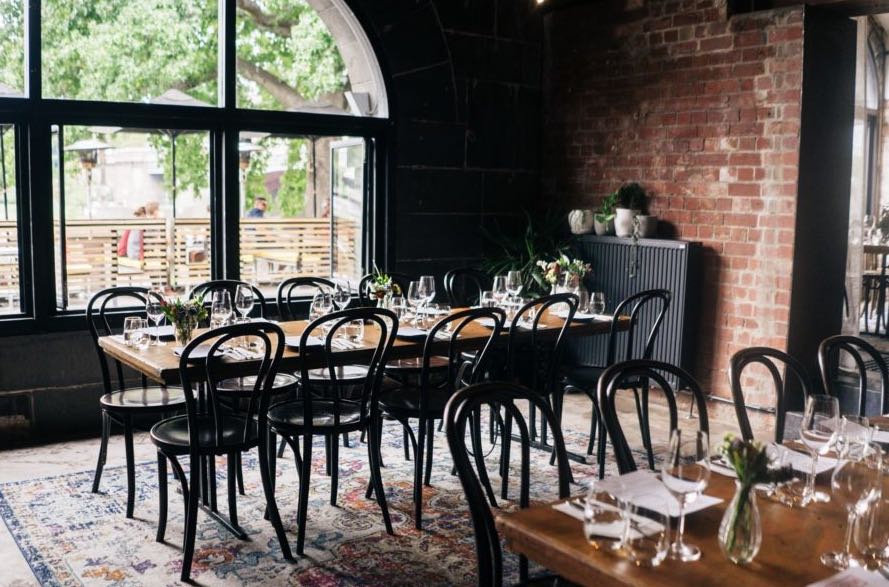 Pilgrim Bar is located on the banks of Melbourne's famous Yarra River near Federation Square. Enjoy fantastic views of the Melbourne NYE fireworks at this All-Inclusive Cocktail Party event. Tickets include Fabulous food and Premium Drinks Package featuring Beer Wine and Selected Spirits. Riverside location.
Indoor and outdoor NYE party that overlooks the Yarra River. Love the food this venue.
Located alongside the historic Federation Wharf vaults and Yarra River right in Melbourne's heart, Pilgrim is an intimate waterfront venue that proudly engages producer authenticity through its unique range of all Australian wine, beer and spirit lists. This producer engagement drives our seasonal share plate dishes, a focused menu that encourages grazing. From vineyard, distillery and brewery to your glass, from farmer to plate, the entire process and experience is a genuine one which makes our relaxed bar environment the ultimate place to laze and graze, all year round, while taking in one of the best views of the Yarra.
Pilgrim acknowledges the traditional custodians of the land on which we stand.
Visit Pilgrim Bar 
Call (03) 9654 9575
Dinner 772 Wine Bar Melbourne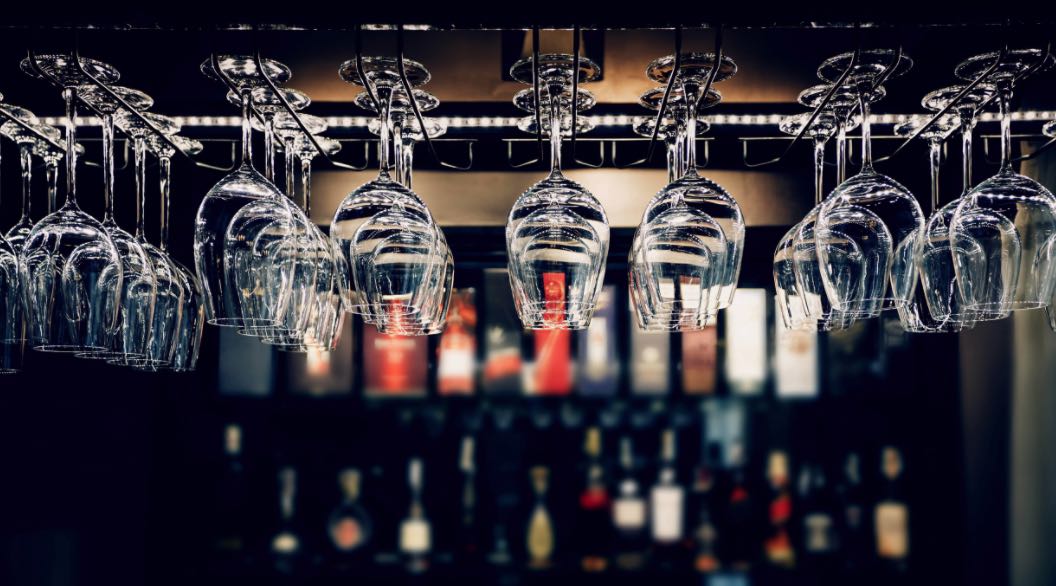 For $100, you get four hours of endless cocktails and food as you wait to usher in the new year. You also get Live entertainment. What more would you ask for during these times? Book now; tickets are limited!
Located 772 Glen Huntly Road, Caulfield South, 772 Wine Bar is inspired by old school hospitality with a creative modern twist.
Uniting wine and craft beer lovers of all ages with local eateries, 772 uniquely positions itself by supplying the beverages while you bring or order the food. The concept of BYO is flipped on its head, allowing customers to support the local community and enjoy delicious meals from the local eateries whilst tasting the finest wines, craft beers and bubbles we have to offer.
Visit 772 Bar Wine 
Call 03 9523 1995
Dinner At Trinket Melbourne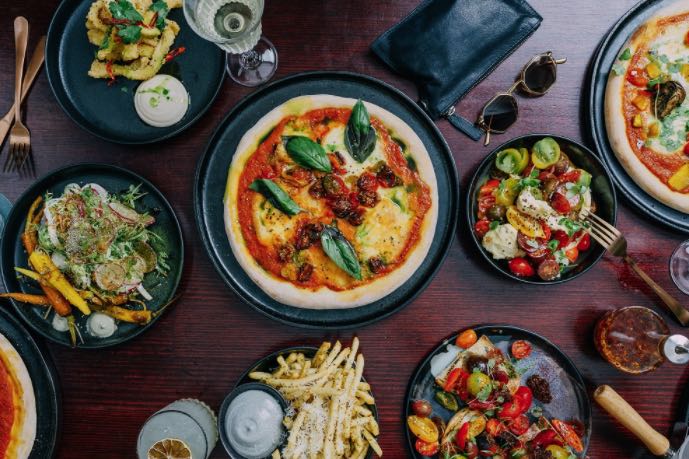 Trinket is one of Melbourne newest bars at the Paris end of Melbourne and breathes old-world charm. This unique popular venue brings the best of everything, with multiple function rooms and even a secret room. This restaurant and bar are great for groups. Can't wait to see what they have in store for their New Year's Eve theme. It's sure to sell out quickly.
Welcome to Trinket. Flinders Lane's pizza and cocktail bar. Ground floor, hang out and grab an after-work aperitif with friends, have a long boozy Friday lunch, enjoy a night out with good company, shared pizzas and quality drinksAfterer adventure in true Melbourne sty, if you're after the experience, step through the wardrobe to discover a hidden cellar bar. Here we encourage you to settle in and appreciate a well-mixed drink or two.
Late night fun encouraged!
Flinders Lane's pizza and cocktail bar. Pair with share plates, fresh salads for your lunch break, your night out, pre-theatre dinner or a long boozy lunch. When it comes to the beverage list, only a good drop will do – with specialty cocktails made with a little flair, a variety of wines to wash down your pizza, plus the beer taps are icy cold, too.
Visit Trinket Melbourne 
Call 03 9810 0044
Try The Albion Melbourne 
NYE Rooftop Soiree
Join in the Celebrations as Albion host their New Year's Eve event! Dress classy and party into 2022 with some of Melbourne Best DJ's at this exclusive rooftop and club. Choose from some spectacular ticket options from the All-Inclusive VIP Rooftop Tickets with beverages, canapes and rooftop views of the fireworks to the Club Tickets with a drink on arrival. Plus, exclusive Booth Packages are also offered.
A spectacular venue is offering a great range of options. Award-winning rooftop!
The Albion is a premium lifestyle destination dedicated to dining, drinking, nightlife, functions and events. Located opposite South Melbourne Market and a stone's throw away from Docklands, Southbank and Melbourne's city centre, the venue sprawls three floors with complete function level, decadent club and an incredible rooftop offering unprecedented views of the Melbourne CBD skyline, including weather provisions to outsmart Melbourne's temperamental skies cementing this as a go-to hot spot all year round.
Visit The Albion 
Call (03) 9645 5277
How To Stay Safe When It's Time to Celebrate
Mind your limits.
Alcohol is almost unavoidable on New Year's Eve. Even if you and your friends don't partake, you'll likely encounter intoxicated revellers throughout your night.
If you are drinking alcohol, keep in mind your limits. "Try not to drink too much, too quickly," says Dr. Edelstein. "The last place you want to be on New Year's Eve is in the emergency department." To help pace yourself, alternate alcohol intake with water or other non-alcoholic options. Also, never leave your beverage unattended. And finally, remember: It only takes 10 minutes for alcohol to reach your brain.
Celebrate safely.
Champagne is a New Year's Eve staple. But according to one study, champagne corks can reach speeds up to 50 miles per hour. (That's enough to shatter glass.) So don't forget that corks should be popped away from guests or anything of value. And use the 45 degrees rule of thumb: It's the ideal temperature to avoid spontaneous combustion and the ideal angle to uncork bottles.
Plan accordingly.
If you're going to a party or heading to a public event, make plans to arrive and leave with a group. A lot can happen on New Year's Eve, and you want to ensure you, your friends and your family are safe. Be sure to share your plans for the night and communicate your whereabouts if plans change.
To this end, pack a charger for your phone — a portable one may be especially helpful if you can't find an outlet. Be aware of your surroundings; if you get separated from your group, you will want to know where you are, where you're going and where you're spending the night.
 You don't want to end up in the ED on New Year's Eve. 
— Steve R. Edelstein, MD
A filling dinner is another way to prepare for a long New Year's Eve night. A wholesome dinner can not only help to absorb some of the alcohol you might indulge in, but it will also help you avoid nibbling on bar snacks.
 Avoid driving if possible.
Whether you're a passenger or driver, the roads are particularly dangerous on New Year's Eve. Help everyone stay safe by refusing to drink and drive, and don't let anyone around you drive under the influence of alcohol or other intoxicating substances.
If you are at a friend's house for New Year's Eve, ask to spend the night or book a room within walking distance of your festivities to avoid potential drunk drivers and the pre-existing dangers of driving in winter conditions at night.
Ultimate New Years Eve Dinner Ideas Melbourne, Victoria
Are you located in Melbourne, Victoria, planning a Christmas lunch idea? When you are planning for an occasion like this, you probably want everything just perfect. One of the best ways to make sure that it all turns out the way you dreamed it to select the place or restaurant yourself personally. This way, you can choose the ultimate location, the best entertainment and the most delicious food and craft your ideal Christmas lunch.
This is a year where we need a party to herald in the next year more than ever, as I'm sure you'll agree. There are plenty of reasons to celebrate this new year's eve, and we've survived multiple waves of intense lockdowns. Melburnians have suffered more than the rest of our Australian brethren.
The hope is that even though this year was potentially your worst year yet, the new year brings with it new opportunities, a clean slate. And yes, the opportunity for us to make another inspired list of new year's resolutions that we won't keep!
For the NYE Party animals who want to have a big New Year's Eve Melbourne style, there will be many events to appeal to everyone. All sorts of events, including those with DJs, bands, or maybe even Karaoke and themes, there will be a costume, glitter, masquerade, black tie, casual, beach parties all over Melbourne, even on the water with cruises. And with so many restaurants there will be something for everyone.