For some videographers, filming a wedding solo is a nightmare. For others, it's a badge of pride. While staffing is entirely up to each filmmaker, I tend to like the challenge of "running and gunning" through the entire wedding day with no one to rely on but myself.
Do I find myself sore the next day? Absolutely. Am I literally out of breath running from one angle to the next during the ceremony? You bet. But at the same time, I have quality control over every piece of footage, and I'm drawn to the thrill of knowing it all rests on me. That said, having an intern or assistant can sometimes be pretty nice, too.
If you're planning to film a wedding solo, rest assured — it can be done. In this article, I'll highlight my tips, tricks and gear for getting all the footage you need as a one-(wo), man band.
Shooting a wedding video on your own? Here's how to be in the right place at the right time with the best equipment for those crucial shots.
Shooting weddings can be tough. Real tough. Especially if you are doing it solo, unlike your typical film shoot, you can't ask the bride and groom to do a second take on the kiss because your ISO was at the wrong setting. Weddings take commitment, coordination, and a whole heck of a lot of planning. Let's go over how you can prepare yourself so you can be cool, calm, and collected in a chaotic wedding environment.
If you're looking for the best Video Company in Melbourne then look no further. Check out Vogue Ballroom's ultimate list.
Use multiple cameras
If you're filming as a solo shooter, you'll need at least two cameras to get the multiple angles videographers typically rely on their second shooters to capture. I alternate between the Sony A7 III and the Sony A7S II depending on the setting. (For example, the Sony A7 III has a great touch screen for pulling focus during prep, while the Sony A7S II is unmatched when it comes to low-light situations like a sparkler sendoff.) I tried one wedding as a solo shooter with one camera and believed me. I'll never do it again.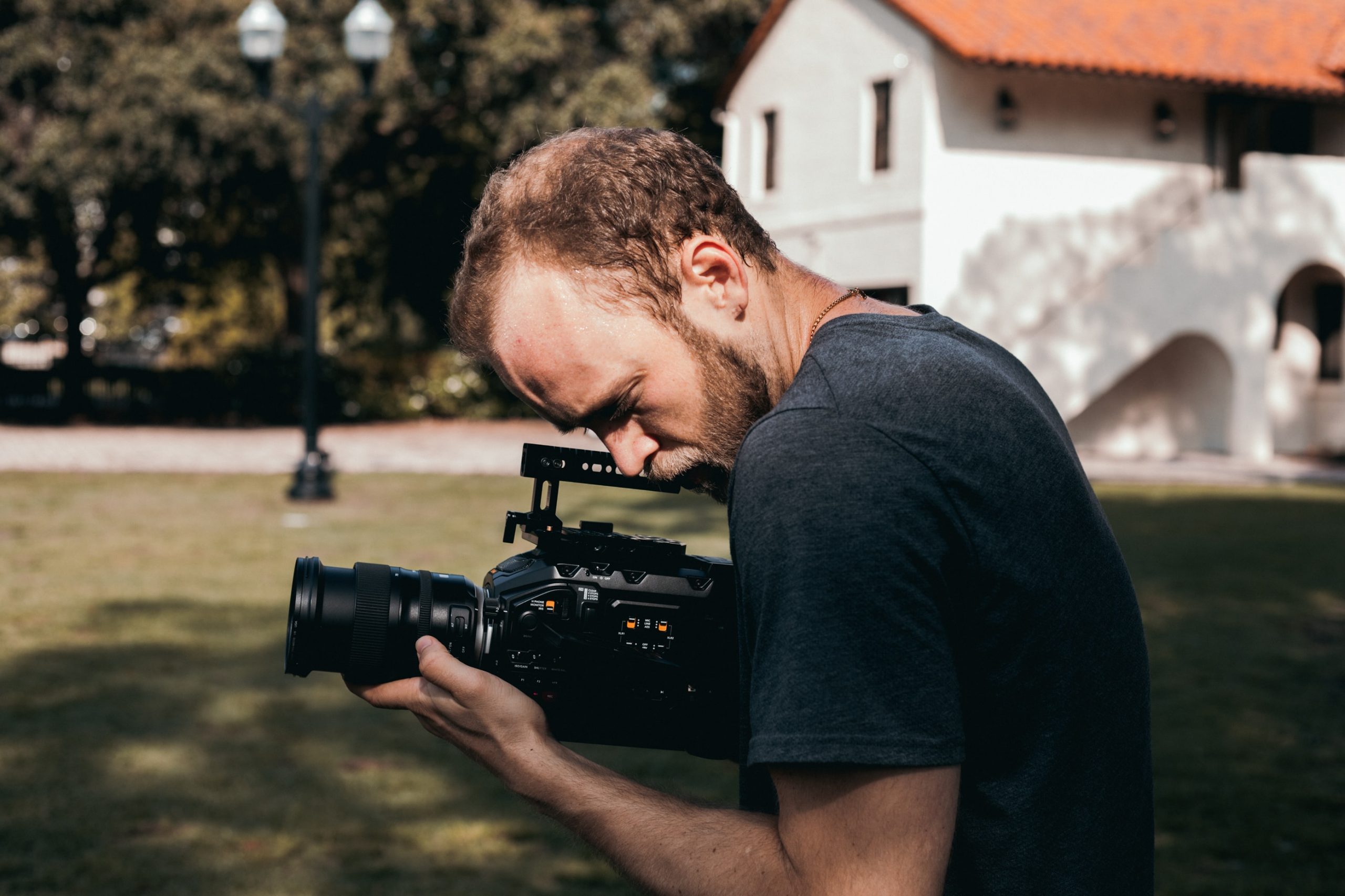 Invest in a good tripod
I spend most of the wedding day with one camera on me (on a monopod) and my second camera with a wide-angle on a tripod. This second camera ensures I capture everything start to finish during key moments (first look, ceremony, speeches and dances). Still, I must place it on a reliable and steady tripod. If not, my expensive camera could get knocked over in an instant — a risk I'm not willing to take.
Test your kit for speed before the big day
Efficiency and speed are your best friends when it comes to solo wedding videography. If it's your first (or even second or third!) time filming a wedding, get familiar with each piece of equipment, so there's no time lost on site. I've had gimbals malfunction and microphones fail, but my pre-wedding gear familiarity ensured no seconds were lost and I knew exactly what to do.
My second favourite time-saver trick? Peak Design's leash camera strap. This affordable and functional gadget lets you quickly attach and reattach the camera strap, granting you the freedom to carry your second camera hands-free when needed — then quickly unhook the strap for placement on a tripod. I have this strap on both of my cameras because it's that good — and now an essential addition to my kit.
Coordinate with the photo team
As a wedding videographer, the photographer is not your competitor. You're a team whether you're under the same business umbrella or not (after all, you have the same goal — a happy couple!). And, if you're shooting solo, the photographer is even more important because they can help (or hurt) you, depending on how the relationship starts.
I reach out to photographers ahead of the wedding to introduce myself and, when I'm shooting solo, to give them a heads up that I'll be running and gunning quite a bit (but will be happy to work alongside them for a cohesive day). I've found they appreciate my early honesty, and they're willing to help me out more come the big day — something a solo wedding videographer always needs.
Arrive at the venue early
If you're shooting a wedding solo, you better believe your time will be crunched, so you may want to get to the venue 30 minutes or an hour early to collect yourself and grab a few establishing shots without the pressure of major moments happening one after another.
Make the most of your downtime.
Or, if you don't want to get there early, use every moment of downtime to your advantage. If you know you're not going to use specific frames from the photo sessions, grab your establishing shots of the flowers or a timelapse of the clouds. If you only need to film the first five or 10 minutes of cocktail hour, spend the rest eating and replenishing. You'll need it to survive the rest of the evening!
Invest in good baggage
My background is in travel journalism and filmmaking, so I'm used to running and gunning on the road. This experience has been invaluable when second shooting weddings because if nothing else, I've learned my backpack and "carry on" have to be highly functional. For example, my first tripod bag had no wheels — and I could hardly feel my shoulders after a wedding day. I quickly invested in a roller bag, and it made a huge difference. Similarly, I found a versatile backpack I love — the Vanguard Havana Backpack — and it accompanies me to every single filming day.
As you can image, filming a wedding as a solo shooter if a pretty big undertaking. You have to live in "go mode," with your brain focused on multiple cameras (and the next key moment) every second of the day. I love the thrill and exhilaration of filming on my own, but at the same time, it's tiring. If you'd prefer to move away from solo shooting toward something a bit less chaotic, you can always make hiring a second shooter a big goal and eventual milestone for your business. If not, you can keep the wedding day hustle alive like I love to do! 
The Solo Operator's Guide for Getting Perfect Wedding Shots
The Gear You Need
One of the biggest parts of planning is making sure you have the right gear for the gig. Knowing you have the right tools for a shot you need is a huge weight off of your shoulders when it comes to showtime. Here's my list of essentials in a camera pack:
2 DSLR cameras: one main, one backup. I prefer the Sony A7s as my main due to its low-light capabilities, which comes in clutch when there is no time or space to set up lights. The backup doesn't have to be top of the line, but it's great to have if you want a stationary shot on a tripod while still getting handheld shots with your other camera.

Go-Pro with mounts.

Backup batteries. All of them, charged. You can never have enough.

SD cards. Again, you can never have enough. You do not want to run out of recording space.

Tripod.

Handheld stabilizer.

Slider.

Audio recorder.

Camera lenses (my recommendation: a 35mm, a 50 mm, and a 70-200 mm).

On-camera LED light.
Scouting Your Location
Having a good grasp on your shooting location is crucial for a wedding shoot. You have your ceremony location, your cocktails location, and your reception location. All of these places offer varying degrees of lighting, size, and ambient sounds. To prepare adequately, arrive early, and go to each location if they are all available. Familiarize yourself with the layout for each of the main events — and the vantage points you'll use. Talk to the wedding planner, and ask them to show you exactly where everything is and detail the order of the events that day.
While you're there, form a game plan for your shots. Write down a list of shots you need for every location, and visualize a pathway to transition between positions. The best thing a wedding videographer can be is out of the way, so keep that in mind.
Looking for a Video Company in Melbourne? Check out our ultimate list of videographers here. 
Pre-Wedding / B-Roll
Pre-wedding B-roll is a great way to establish your location and the aesthetic at the beginning of your video. Before the ceremony begins, walk around the venue and find things that would look great in a short clip, such as floral arrangements, surrounding scenery, and items bearing the bride's and groom's names. Use your 50mm lens for these shots since you will have time to focus up, prep the shot, and maybe even add a rack zoom. This is also when your slider will come in most handy. Since you are shooting mostly stationary items, sliders add depth to an ordinary shot and improve your production value.
The Processional
Now the processional is a bit tricky since there will be a lot of moving parts. You are going to want to get a shot of the bride walking down the aisle, as you can see in the GIF above, but you are also going to want the groom's reaction shot. That's going to be your money shot — especially if you get the groom shedding a few tears. Everyone loves a happy, crying groom.
Before you see both parties preparing to walk the aisle, take out your secondary camera with the 50mm lens and attach it to your tripod. Set that up at the left of the room fixed on the groom's location — along with a few of his groomsman in the right of the frame. They won't be on stage while you set up, so make sure you set focus on a reference item to get a clear shot.
Now it's time to grab that stabilizer because we are now on the move! Set your camera up with your 35mm lens and attach it to your stabilizer. Set up where you see the green dot in the picture above, and set the focus for the door. Now you are going to want to get shots of all the wedding party members walking in from that vantage point, but when the bride walks in, you will want to get a nice, stable shot of her entering. If you are feeling fancy, throw in a rack focus if you can pull it off.
Once she walks past you, follow the green line above and get a nice tracking shot of her walking up to the stage. Your other camera will be capturing the groom's reaction on its own. Once the bride gets into place, it's time to take the stabilizer off and adjust for the ceremony.
The Ceremony / Kiss
For the ceremony, you are going to want to grab your 70-200mm lens and attach it to your main camera. A zoom lens in this part of the wedding is integral; you will be moving around constantly, and it will produce a great shallow depth of field. Keep your secondary camera recording if you want to — make sure to check on it occasionally to see if it is still rolling. One amazing safety measure you can rely on is attaching a wide-angle GoPro to the arch or floral arrangement behind the bride and groom. That way if you miss a shot with your first or second camera, you have a backup to save you in post. This technique has saved my wedding videos multiple times, and it doesn't look too out of place.
Take your main camera with your zoom lens and start knocking out shots during the ceremony. Get some nice close-ups of the bride and groom, a medium shot down the middle of the aisle, and some shots of the parents and family watching in the crowd. Refer to your shot list, and get any shots the bride and groom specifically asked for.
Once the ceremony is coming to a close and the kiss is imminent, check on your secondary camera, then find a good vantage point for a close-up. Make sure your focus is crisp, and hold the camera steady. Be prepared for movement after the kiss, such as the couple giggling afterwards (which is adorable) or maybe the groom doing a fancy dip with his bride.
The Reception
Congratulations, you have successfully made it through the most stressful part of the day! Now, it's time to party. Remember, this stage of the night features five events you need to capture: the announcements and speeches, the first dances, the cake cutting, the bouquet toss, and the exit. Snap-on either your 35mm or 50mm lens (depending on how big the reception venue is) and attach your camera to the stabilizer. The reception usually starts slow, so go around with the main camera and grab some shots of people talking or waving, as well as some B-roll of the reception venue.
This is when you should attach your on-camera LED to the top of your kit. You'll never know when you will need it throughout the rest of the night, and it's better to have it there than to have to run and grab it out of your bag.
Be ready for the bride and groom to walk in at any moment. Most of the time, they are either running late, or the schedule has changed. Get a shot of them walking into the venue as the DJ announces the new couple (which you should pick up with your audio recorder). A cool shot you can get if you can get behind the couple before they walk in is a tracking shot from behind as they open the doors, that way you can get people applauding and cheering in the background.
Speeches
These are pretty simple. Set up your main camera and tripod with your 70-200mm lens directly toward the stage where the speeches will take place and start recording. The crucial part of this shot is the audio: set your audio recorder somewhere near a speaker, test the levels, and begin rolling. Since you have free hands now that your main camera is on a tripod, get out your secondary camera with your 50mm lens and record some reaction shots of the bride and groom. These can be great cutaways from the speech in your final video.
First Dances
The first dances are a great opportunity to pull out the stabilizer again. Use your main camera with a 35mm lens and prepare yourself for the action. When the bride and groom begin dancing, start getting some sweeping shots around them to add some motion. If you want to post up where there is good lighting for a minute, go right ahead! Try and get some close-ups of the couple while you are stationary; you will usually get some cute, loving gazes in there.
(Be sure to ask the bride and groom if the father-daughter or mother-son dances holds particular significance. For example, I once shot a wedding for a woman who was raised by a single father, and that dance meant a lot to her, so I was sure to be on point for those shots.)
Cake Cutting
This shot is, as one would say, a piece of cake. Grab your 50mm lens and go straight handheld for this one. You are going to want to get some shots of the cake before the couple cuts into it, so be sure to sneak in a few shots before this part of the night approaches.
Once the couple starts cutting, get some close-ups of that knife going through the cake, because pleasing aesthetics are pleasing. After they have their slices, choose a shoulder to shoot over. Your best bet is the groom's since you will get better facial reactions from the bride (like the one in the GIF above). They will feed each other the cake, and if you are lucky, they will smash it into each other's faces. What a great tradition. If the cake smashing does commence, make sure to do a quick slide back so you can get both the bride's and groom's reactions.
The Bouquet Toss
For the bouquet toss, you will be dealing with a large group of people, so take out the 35mm to get a wider shot. When the toss is being set up, get some shots of the crowd preparing to catch the bouquet. After that, fix your camera on the bride. Once she tosses the bouquet, track the flowers through the air to the crowd. Keep your hand on the focus ring because you never know where that thing is gonna go. Once someone catches it, focus upon them, and keep the camera rolling for a minute. There's going to be laughing, jumping, cheering . . . all the things you need for a great wedding video.
The Exit
So when the night is coming to an end, the couple will walk out of the venue through a line of people if everyone has sparklers, perfect! They produce an awesome night light that glows warmly, as you can see in the GIF above. If they don't have sparklers, turn on your LED light on top of your kit to add some fill. Attach your 35mm lens to your main camera on a stabilizer, and post up in front of the door they are leaving through. Once they exit, begin walking backwards and tracking their movements. Use the line of people to your sides to determine if you are walking in the right direction, and be sure to look back every few seconds to avoid any slips or trips. You don't want to be that guy. Track them into the car and driving away.
How to Shoot a Wedding With Only One Lens
Focus on Portraits
Since you will be using a 35mm prime lens, it is best for the portraits. The wedding ceremony is more about the couple than anyone else. The more portraits you capture for the couple will help you present your work beautifully in the photo albums.
Break up Into Smaller Groups
You should be taking photos of the guests. However, it is hard for you to capture large groups with a 35mm prime or even a zoom lens. Sometimes the guests want the photographer to take photos of all in one which is not possible with your gear.
It will be interesting on how you pair them to break up into smaller groups. You will also need to shoot the groomsmen and bridesmaid. We recommend you to capture them in pairs instead of the full group in one shot.
Be Creative Within Your Limitations
Wondering you can do it smoothly with only one lens? As a photographer, you know that the limitations may create trouble at some point. You are not carrying your best lenses for wedding photography today.
It is recommended to stay positive and shoot the show with confidence that you can manage it with one lens. A positive attitude helps in dealing with situations like these.
Keep Faith in Your Photography, Not Gear
You know photography. Gadgets or gear are the tools that let you capture the wedding, but you can take control of anything with faith in yourself. Having belief in yourself will let you shoot the wedding with one lens and one camera.
Less Gear, Less Drama
The more gear you carry will distract you and let you change the lenses again and again for every shot. Photography gadgets will take more time on deciding which lens and which camera will be the best for one wedding pose.
However, with one lens and one camera, you will be fully focused on shooting the couple, and it will turn out to be the best.
Check out our post on What is the purpose of Wedding Video editing?
One Filter for Photos
It is a must to edit the photos before you deliver to your client. This tip is for the professionals to edit all photos with one filter or preset.
You should check out these guides on best photo editing software for photographers, and free Lightroom presets. The resources will help you edit the photos beautifully, so all photos will look stunning with a similar colour and having different poses.
More important than anything else is never to lose the sense of awe and wonder you get at your first few weddings. Stay excited about the small details, revel in the excitement and nerves of the day, and always be committed to delivering the best possible product you can for the bride and groom.
The gift of seeing everything as if for the first time will set you up to capture the moments that mean so much to the bride and groom, making them happy that they trusted you to capture their special day.
Weddings are a long day for the photographer—you're usually the only one there from start to finish, from planning to capturing the special moments within the day—but they can be a huge amount of fun. You are granted a rare opportunity to meet some incredible people and be part of one of the most intimate and meaningful days in their relationship. Families are reunited, food and drinks are flowing, everyone is excited about the future, and you have the privilege of capturing it all. So make the most of it by keeping these tips handy and making things a little easier on yourself the next time you go out there.