For photoshoots and red carpet events, stylists often borrow clothing from showrooms for models, celebrities, and well-known socialites to wear.
Occasionally civilians get wind of this and ask a stylist if he/she can borrow clothing for them. Most people don't realize it's not as simple as "borrowing clothing"; it's all about politics and the behind-the-scenes pecking order, which goes in the decision-making process gets what and when.
How Do Stylists Obtain Clothes?
The first step is to be trusted as a stylist so that companies will be willing to lend you the clothes. To be charged, you need to have a decent portfolio, be proven as a stylist (which means you have done some excellent work), have a good team in place, or be doing an exciting job/assignment.
If you are making an appointment for a magazine with an excellent reputation, they should help you get an "in" so you can borrow clothes from good brands. Just mentioning their name will help. It is like a modelling agency; they will want to know who the team is before sending a model out.
To gain credibility, you need to "test", which means do shoots for free with a group (photographer, hair, makeup, and model) who are also looking to build their portfolios. For these types of nodes, borrow from local brands, buy clothes, or use your stuff. The purpose is to get great shots so that you can pitch for commercial jobs.
Once you've developed a basic level of credibility as a stylist, it will be easier to get clothes for future shoots. Here are a few of the ways to obtain clothes for shoots:
Borrow from the Press Offices. 
Brands will have press offices in their home city, and larger ones will also have in a few other towns (ex. a Paris brand may have an office in New York and perhaps one in Asia), and one of their jobs is to lend out clothes for shoots.
They will be willing to send them to you across the world if need be, when the node is "worth" it for them.
If it is an exceptional sample, know that top publications and stylists will get first dibs. If it's high-end jewellery, they send a security guard to accompany it.
We won't lie; developing contacts with the press agents for different brands is difficult (they can be total snobby assholes a lot of the time), but well worth it.
Sometimes brands will have press offices in smaller cities but no samples. If this is the case, then the local press agent can usually arrange for you to borrow from a store or get a model shipped in on your behalf.
Borrow from the Stores.
Some stores will lend clothes for shoots. If it is a big brand, they will usually need approval from the head office.
If it is a smaller brand, they might ask that you pay or put down a deposit for the clothing but are willing to refund you if things get returned in good shape. Don't mess up these relationships by replacing clothes in poor condition. If you mess something up, be prepared to pay for it!
Borrow from Local Designers. 
This is a great option, mainly if you are doing work for a local publication. Again, nurture these relationships and be good to people. Offer to pay if things get ruined, make sure the brands get credited properly in shoots and always send them copies of the images so they can see what you've done.
Shop Vintage or Your Closet. 
Many shoots feature clothing credited as "stylist's own," and as long as you aren't working for a significant glossy, this is fine.
It is ok to feature vintage pieces or older seasons if you are not working for a top fashion magazine, and this is a great trick to use when you are building your portfolio.
The Truth About Pulling/borrowing Clothes
Your ability to borrow clothing samples, which are mostly sample size, is based on the following factors:
The Merit and Weight of the Project You Are Pulling For. 
An example, if you will, is a legitimate magazine online or offline, requiring a healthy readership. The more powerful the outlet or celebrity, the more power you have in pulling.
If no one has heard of your fame or your online blog doesn't have a strong readership and an actively engaged audience, your chances of borrowing Chanel or well-known prominent designers are slim to none.
You might be able to finagle young designers who want their work photographed, but that's unlikely.
The Relationship the Stylist, Has With the Showroom. 
Your reputation is everything in this business. Maybe you have borrowed from the past and returned the item(s) late, or possibly returned damaged goods or never returned goods at all.
The showrooms likely won't grant you the privilege to borrow again. If they do, they may let you pick out items but then remove certain items from your bag without telling you. Surprise!
Who Else Is Borrowing or Shooting at That Time? 
If you're pulling for a small magazine and Vogue wants the items you requested, guess what? Vogue is getting them, no questions asked.
The showroom will protect the image of their client first and make sure the garments are shot by the best possible teams and outlets available. The exact hierarchy exists for celebrities too. Angelina Jolie will always trump a sitcom actress.
How to Ask a Designer If You Can Borrow Their Designs for a Photoshoot
Introduce Yourself and Add a Link to Your Portfolio. 
Your portfolio doesn't have to be huge, but designers would expect to see some images of models (not just landscapes).
A link to an Instagram account or a straightforward website is perfect; designers don't want to hunt for pictures and probably not look at more than about 30 pictures. 
Ask for Something Specific, but Be Open to Alternatives. 
Some dresses are very delicate and challenging to make, and designers wouldn't lend them to a photographer they didn't know unless they were very established.
Designers would be there to look after it (you wouldn't believe the number of models who try and eat or drink in white silk sample dresses!). Others are more robust or easier to clean and mend.
The best way to get a response is to say which is your preferred dress, but be clear that you'd be flexible.
Be Specific About What You Want to Borrow it For. 
There are many photographers with no real plan in place or idea of what they'll be shooting. Designers will never give a dress out to these photographers because they are cautious about which hits will make their dresses shine.
When you email, outline exactly what you want to do with the shoot, what sort of theme and genre you expect the images to have, who else you hope to collaborate with, and where you would like to shoot.
Designers are creatives, so they understand that these plans may change, but much more likely to get excited and reply if you can give them a clear idea of what the images will look like.
Mood boards are great for this, but so is Pinterest. As a rule of thumb, designers will be much more relaxed about lending their dresses for indoor photo shoots rather than for walks on the beach or through muddy fields.
Look After the Dresses, and Keep the Designer Updated on What Is Happening With the Images! 
The best way to make sure you can borrow from a designer more than once is to promptly edit the images and make sure that they've seen them and know where you are planning on submitting them.
It is understood that this process takes a month or two, but nothing puts a designer off more than lending to a photographer than having to wait months and months for images, by which point they start to look out of season.
The most important thing is that you are genuine and don't let setbacks knock your confidence. Designers can't lend dresses to every photographer that gets in touch, and it's often more of a logistical issue than a personal one. 
Do Test Shoots
You need one or two images of previous work to link to when you approach new PRs or designers about borrowing clothes. This is evidence that you are a fashion stylist.
They don't have to be published images. A great way to get these pictures is to do test shoots. Collaborate with photographers, makeup artists, hair stylists and other creatives who want to build their portfolios.
Once a PR or designer can see evidence you have shot clothes before, they are more likely to feel comfortable lending clothes to you.
Pull Clothes from Around You
No stylist starting can go straight to Gucci. Work your way up. Look at emerging designers and check out those who are still at university – you might find the next big thing.
Try local boutiques and source clothes from your wardrobe and friends. A classic trick is to buy the clothes you want to shoot, hide the tab from the camera and then return the items for a refund.
Remember that creating an image has nothing to do with the label on the item of clothing; it's what you do with that piece.
Approaching Designers and PRS for Clothes
Pulling clothes is about mutual trust. A brand or PR agency will lend out their clothes if they believe that:
The images you are planning suits the reputation they want to uphold for their brand

You will use the clothes for what you've said you would

You will take care of the clothes and return them on time
You create trust by being professional at all times – from your first request to when you return the clothes. This means taking care of the clothes, crediting correctly and being as transparent about your process as possible – including being honest if something has gone wrong.
What to include in your email approach to designers or PR agencies:
Links to one or two low res images of your work

Details of the shoot: date and location

Details of the creative team (photographer, hairstylist, makeup artist etc.) and links to their work

The mood board of the theme

Details of specific pieces you would like to borrow and why they are suitable for the story

When you can pick the items up and when you can return them
Golden Rules Stylists Should Keep in Mind When Borrowing Clothes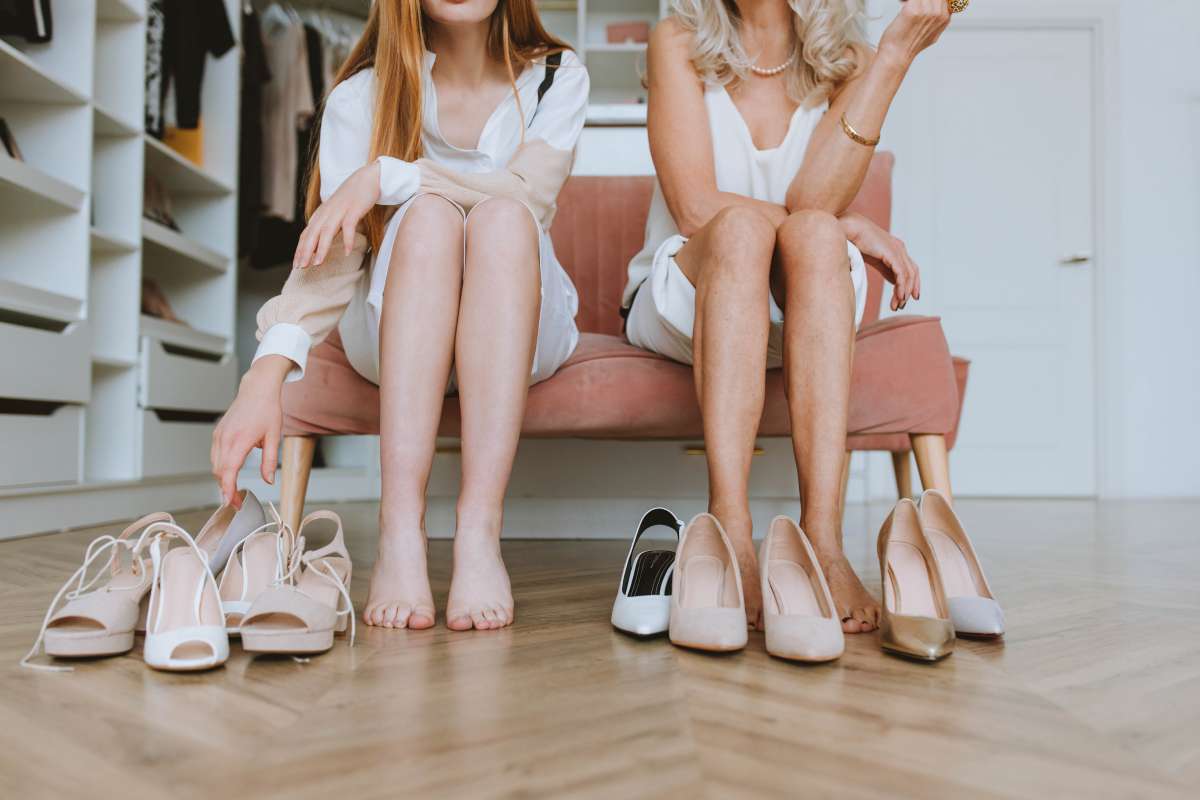 Being a stylist is a real job, which means there are real responsibilities involved. "Pulling out" clothes (the industry's term for "borrowing") from stores or designers will be your bread and butter.
So if you want to pursue a career in styling, below are some golden rules to keep in mind when you're borrowing items.
Ask Nicely.
Brands and designers are not obliged to lend you their items. And since you're the one who's asking for a favour, make sure to ask nicely and approach them professionally.
If they don't reply within the day, it's okay to send a follow-up text or email; they may have been busy, so they forgot to respond to your inquiry.
But if after that your pull-out request still hasn't been granted, respect that and refrain from bombarding them with one message after another.
Take Good Care of the Borrowed Items.
Even if it's just a pair of socks, guard it with your life (okay, fine, this may be an exaggeration). The point is, if a designer has trusted you enough to lend you his/her garments, then you should honour that by taking good care of whatever was entrusted to you.
For all you know, it might've taken someone from dawn to dusk working on that one piece of clothing—always keep in mind that there's a lot of time, effort, and resources that have been put into it, so borrowing an item only to neglect it is an ugly form of disrespect.
Credit Accordingly.
This one is self-explanatory. Especially if you did not pay a single dime for the worn item, the least you could do is give credit where it's due.
If you're posting a photo on social media, be diligent in tagging the brands or the designers—what's two minutes of your time to check the correct spelling of their names or Instagram handles anyway?
It's nothing compared to the amount of time and effort they spent working on each piece, and given that, they still agreed to lend you their prized garments. So again, make sure you uphold your end of the bargain and credit accordingly.
Return the Borrowed Items on Time.
The standard practice is to return within a week after the items have been pulled out.
Some stores are very strict with this rule, and with good reasons; for one, they have to do regular inventories, and every day that their products aren't on the shelves is a missed opportunity for them to translate those items into potential sales. That said, if you had time to borrow, then it's only fair you make time to return.
Holding onto the borrowed items for more than seven days is already pushing the envelope. But if you have a valid reason for any delay, at least handle it like a professional and inform the designer/store about the late return.
Apologize profusely, and then make sure to comply with the new date you agreed on for recovery.
Return it in the Same Condition it Was Borrowed.
If you followed #2, then this shouldn't be a problem. Although practically speaking, some things are inevitable when dealing with clothes to be worn for a photoshoot, like makeup stains, sweat, and the smell of the model's perfume that might latch onto the fabric.
If such happens, the responsible way to deal with it is to have it dry cleaned before returning it to the store/designer. Return it clean, fragrance-free, and in pristine condition.
Take Responsibility for Damaged Items.
Stores and designers inspect their items upon return to make sure everything is in good condition. If heaven forbid, something has been damaged—say, there's a snag in the fabric, or there's a missing button—the borrower is naturally held liable.
Don't think that you can run away from this responsibility because you can't and you shouldn't. If you feel there has been a mistake, the best you can do is to politely make your case by emailing the store or explaining it to the designer.
Of course, the decision is still theirs to make, and if they feel that a certain sum has to be paid, you need to take responsibility for the damaged merchandise.
Learn How to Say Thank You.
You'd think this is common sense, but there are so many stylists out there who don't know how big of a difference this two-word sentence can make.
Now, here's a gentle reminder if you want to start a career in styling: If you're going to build a good relationship with various brands and designers, know that it's not enough to tag them on Instagram and return borrowed items on time.
Be gracious, say thank you, and mean it! Because without them, how in the world do you think you can survive a career in styling?
Conclusion
In closing, if you're not able to borrow, remember that there are other options to explore and available to you. You can rent clothing and accessories from studio services that buy from the big stores. It's less complicated, and everyone is happy in the end!
And if none of this works, buy your clothes, take excellent care of them during the shoot, and return them afterwards! But note that this should only be used in desperate situations, as retailers will not be too happy about this.
The most important thing is to develop a great relationship with the press agents and brands! And of course, do great work and get credited for it! Good luck.