Eager to uncover some exciting Christmas dinner ideas? This article will provide a list of places to have Christmas Day dinner in Melbourne.
Though cooking and cleaning may be an unglamorous aspect of Christmas Day dinner, Melbourne may have the solution. Spanning across the city are plenty of places to have Christmas dinner, ranging from all you can eat smorgasbords to multi-course meals. Whether you're craving seafood, roasted meats, sweet desserts, or anything in-between, Melbourne holds plenty of restaurants open on Christmas Day to satisfy every member of the family.
Are you located in Melbourne, Victoria, planning a Christmas dinner idea? When you are planning for an occasion like this, you probably want everything just perfect. One of the best ways to make sure that it all turns out the way you dreamed it to select the place or restaurant yourself personally. This way, you can choose the ultimate location, the best entertainment and the most delicious food and craft your ideal Christmas dinner.
Ultimate Christmas Dinner Ideas in Melbourne, Victoria
Dinner At The Top of Brighton Savoy Hotel Melbourne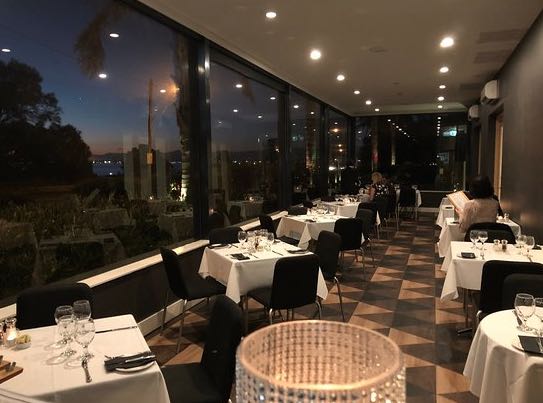 Visit their website at brightonsavoy.com.au
Call (03) 9592 8233
Christmas Day is about joining together with good friends, family and loved ones. Recommended by Domain Review as 'one of the best places for Christmas Dinner in Melbourne', share in traditional Christmas fare, sip a festive drink and celebrate in style with the Brighton Savoy.
While our capacity will be limited due to current COVID-19 and government restrictions, we are delighted to be able to host bookings of 2 adults or more. Get your favourite friends and family members, together with bookings and details, opening very soon.
Bookings Open in July 2021
Seaview Room– Join us in the Seaview Room and enjoy spectacular views of Port Phillip Bay. Our elegantly decorated tables feature crisp white linens and elegant Christmas centrepieces.
CHRISTMAS DINNER MENU
ENTREE
Seafood tasting plate prawn cocktail with a whole prawn garnish smoked salmon rosette on a blini with a horseradish cream virgin mary oysters.
TRADITIONAL CHRISTMAS DINNER
Freshly carved roast breast of turkey & smoked ham served with roast potatoes, vegetables and cranberry sauce
DESSERT
Christmas plum pudding topped with hot brandy custard and a berry garnish
FRUIT MINCE PIES, CHOCOLATE MINTS, TEA & COFFEE
BEVERAGES INCLUDE
De Bortoli Willowglen Sem. Sauvignon Blanc

De Bortoli Willowglen Shiraz Cabernet

De Bortoli Willowglen Sparkling Brut

Carlton Draught and Cascade Premium Light

Soft Drinks and Iced water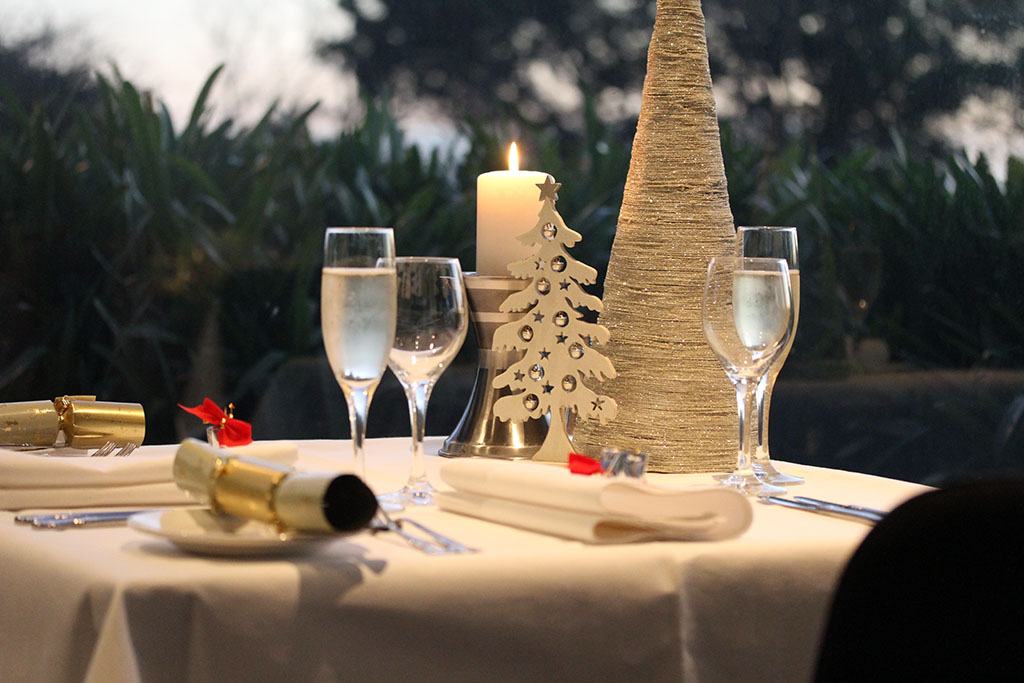 CHRISTMAS DINNER PRICING 
$TBC Adult Private table

$TBC Children 12 & Under

$TBC Children 4 & Under

$TBC High chair

 
Celebrate Christmas Dinner at Meat Market South Wharf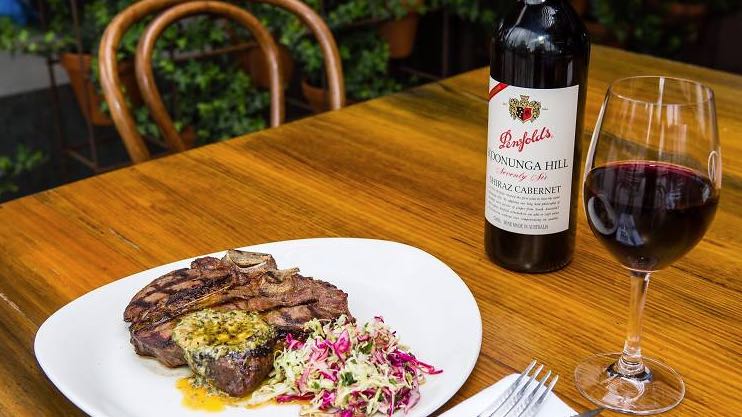 Sit down for a three-course dinner at Meat Market. Check out views of the Yarra in South Wharf as you stroll over to the raw bar containing Coffin Bay oysters and more, or enjoy your choice of prominent, including cider-brined free-range organic turkey with macadamia and apricot stuffing. There are multiple sittings, and each lasts for two hours.
A range of tasty small plates, larger mains, rustic sides & sharing platters influenced by eastern Europe's flavours, the middle east, Morocco, India, South Korea & south America form a menu focusing on re-imagined popular dishes highlighting a modern blend of traditional flavours. 
Not just about meat, the meat market also offers a range of flavoursome vegan and vegetarian options from the earth, showcasing our rich local produce.
Head straight for the steaks at this riverside venue
There's nothing quite like the taste of meat cooked over an open flame. Eat as much flame-grilled meat as your carnivorous heart desires at Meat Market. They've got beef, chicken, lamb, kangaroo, pork and seafood, all of which Meat Market strives to source from ethical producers and Victorian farmers.
The restaurant's open kitchen means you can watch your steak sizzle before sitting down and enjoying it by the river – Meat Market is right on the Yarra. There are classic bistro meals like steak fries, burgers and calamari, and more imaginative plays like kangaroo tataki. And while meat naturally takes centre stage (there are seven types of steak alone), feel free to invite your veggo friends as well with substantial vegetarian dishes on offer (like spice fried cauliflower).
Love a deal? Meat Market has a few. Mondays are butchers night with steak and shiraz specials. Tuesdays mean T-bone steaks (500g with a glass of shiraz for $65 or a hefty kilogram and a carafe for $90) while Thursdays are for Tomahawks ($95 including sides and a carafe of wine). Take advantage of happy hour as well – it's on from 4-7 pm during the week and from 2-6 pm on the weekend.
Book a table now! 
Call (03) 9008 8953
Try Melbourne Cruise for Dinner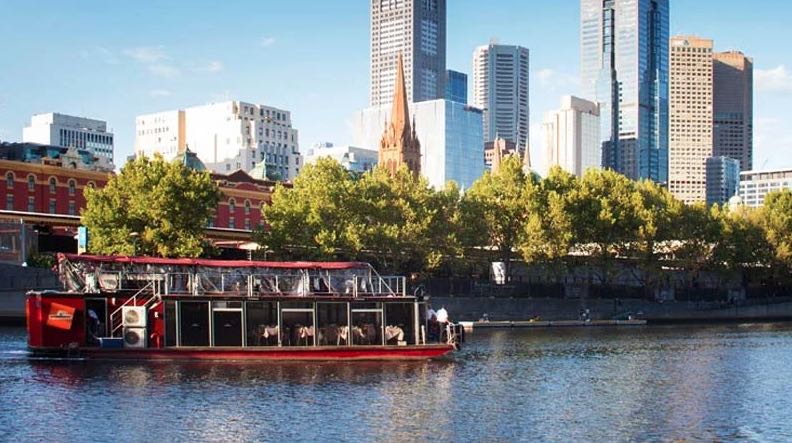 Do you want a unique and memorable dining experience? Melbourne River Cruises proudly offers stunning Melbourne dinner cruises for many different occasions. Whether you want to organise a laidback Sunday dinner cruise or more rambunctious Christmas dinner cruises, or even a New Year's Eve dinner cruise, we can provide delicious foods, refreshing beverages, enjoyable music, stunning panoramic views, an appropriate atmosphere and an unforgettable experience.
Families can enjoy a delicious Christmas Day dinner while floating along the Yarra River with Melbourne River Cruises. Running from 12 pm to 3 pm, prices for the experience are $189 for adults, $119 for teenagers, and $99 for kids under 13 years of age. 
Visiting the same restaurants or settling for a takeaway can get boring and unsatisfying after a while. Fortunately, our Yarra River dinner cruise options allow you to do something different with loved ones or colleagues. We have multiple cruise options for you to choose from, all of which take dining to new levels of pleasure::
Spirit of Melbourne Dinner Cruises – An all-inclusive 4-course dinner cruise that passes by major Melbourne landmarks, perfect for romantic first dates and anniversaries

Sunday Dinner Cruises (Winter Special) – Wrap up your Winter weekend in style with our all-inclusive 2-hour Sunday dinner cruises that let you see the city from a new perspective
We also offer Christmas dinner cruises, New Year's Eve dinner cruises and corporate dinner cruises.
Try this experience now. 
Call (03) 8610 2600
Try Ludlow Bar Melbourne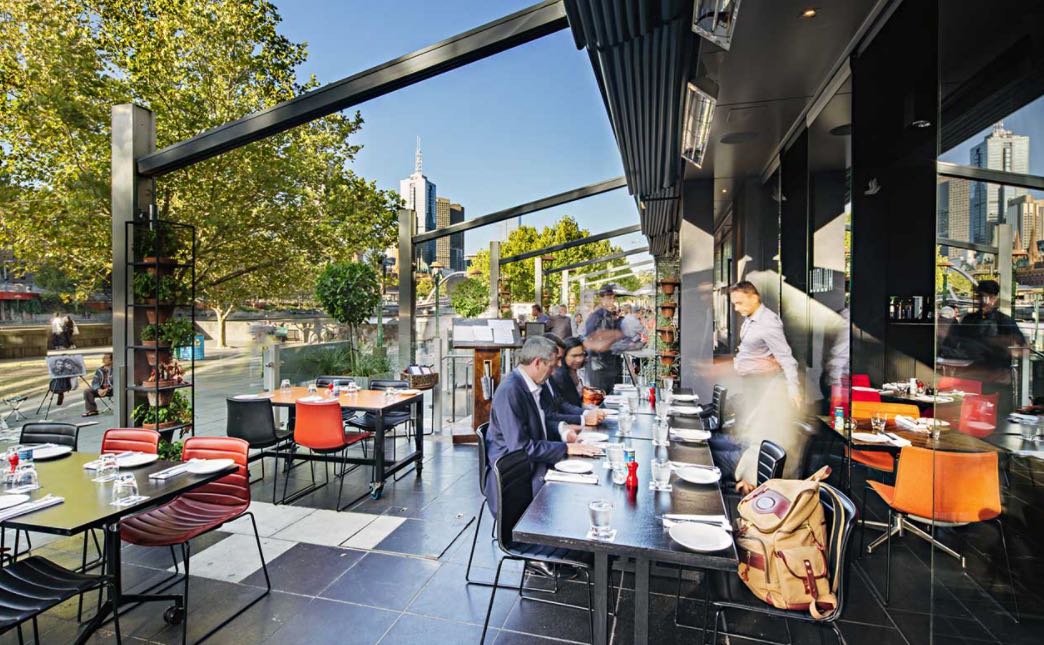 Also located in Southbank is Ludlow Bar. Check out the views of the Yarra and sit down to a three-course menu featuring classic Christmas staples like turkey ballotine served with creamed silverbeet, potato fondant and green peppercorn jus, or a seasonal berry pavlova with honeycomb and chantilly cream. There's even a separate children's menu for the little ones.
The Ludlow Dinner is Back! $25 and choose from Beef, Chicken or Veggie Burger, Fish & Chips, Pasta of the Day or Chef's Salad of the Day with a pint of local beer, cider or glass of wine.
Call 03 9699 1676
Dinner at St Ali Melbourne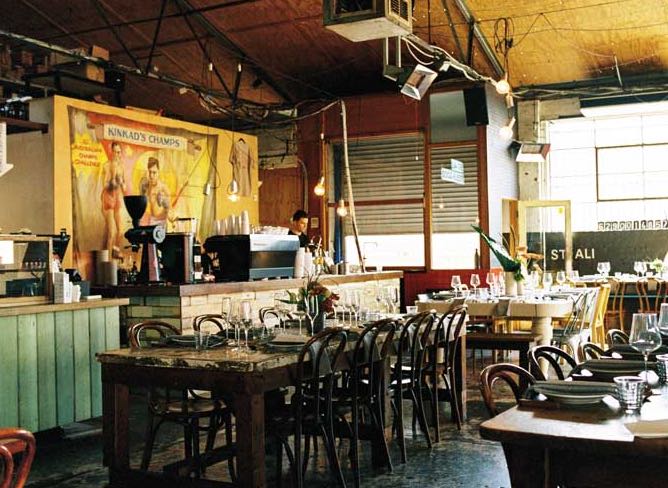 Located in South Melbourne, St Ali is open from 7 am to 3 pm on Christmas Day, making it the perfect breakfast, dinner, and dinner option for Melbourne families. The menu includes plenty of flavours, with a little something for everyone to enjoy. Head over to the St Ali website for potential updates or announcements for their Christmas Day trading hours. 
Check their availability
Call (03) 9132 8966
Dinner Celebration at Sunda Melbourne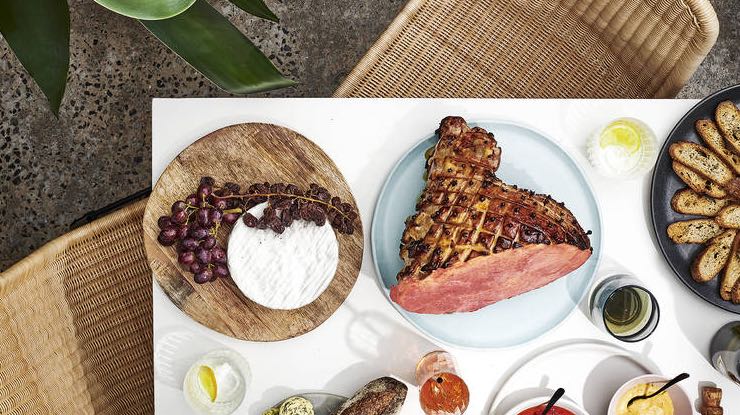 Acclaimed Southeast Asian fine diner Sunda is bringing native Australian and Asian flavours to the Hotel Windsor. Executive chef Khanh Nguyen has dreamt up a decadent six-course menu featuring over 15 dishes. Some of which will include a spin on the classic prawn cocktail, glazed ham, turkey, roasted potatoes and glazed carrots. There will be a free flow of drinks, including wine, beer and non-alcoholic beverages, and you can make it for a 12 pm or 1 pm sitting with the advice of allowing three hours for each.
A great restaurant cannot rest on its menu alone. Sunda has emerged fully-formed with one of the more interesting fit-outs of 2018 (the best descriptor is construction site-chic; the combination of red brick walls and scaffolding giving the impression of dining in a gallery space), and the switched-on team of staff are armed and dangerous with a wine list that swings naturally without being obnoxious about it. Sunda has burst out the blocks demanding our love and receiving it. Pass the funky rosé, and toast to its future.
Book your reservation here. 
Call 03 9654 8190
Spend your Christmas Dinner at The Westin Melbourne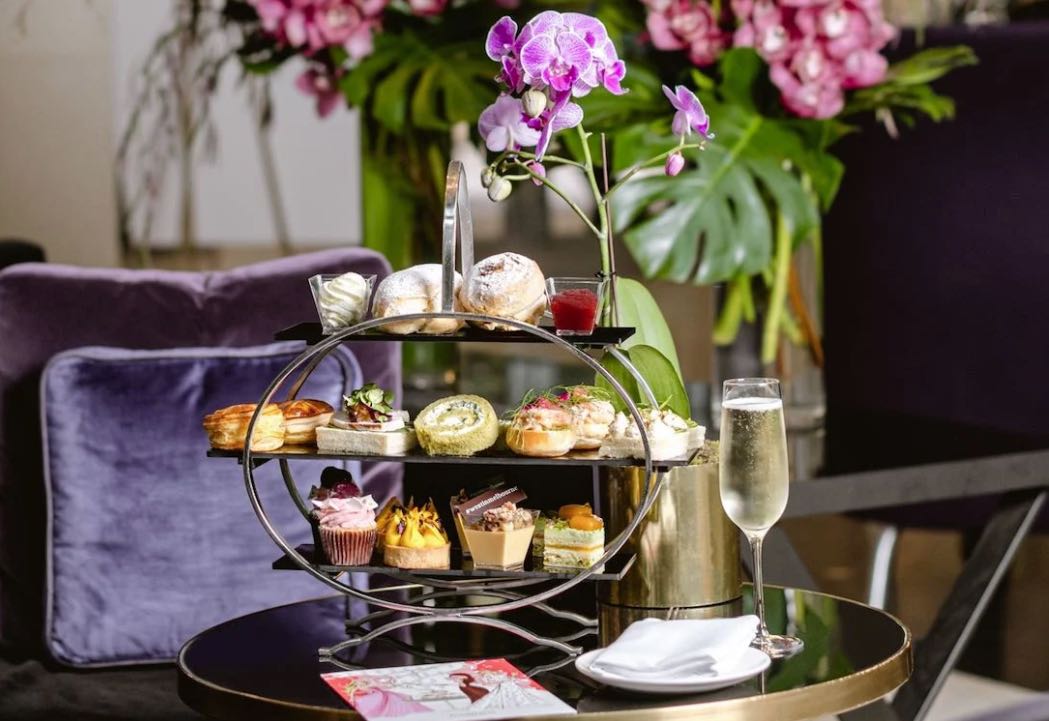 For those on the hunt for a Christmas Day dinner, the Westin restaurant may be a suitable option. Feast on a generous selection of cuisine created to be shared amongst your table. Revel in kingfish ceviche with summer flowers, baked Murray cod in a salt crust, and for dessert, traditional Christmas pudding with cognac crème anglaise, to name a few. Prices start at $199.
Escape to an urban sanctuary located in the heart of Melbourne and awaken your senses with a series of exceptional dining experiences sure to delight.
Unwind for the afternoon with friends or family and revel in a delicate selection of sweet and savoury treats. Indulge in the sophisticated surrounds of the Lobby Lounge or enjoy a takeaway in the comfort of your home.
Visit them here. 
Call (03) 9635 2222
Matilda 159 Melbourne Christmas Dinner Experience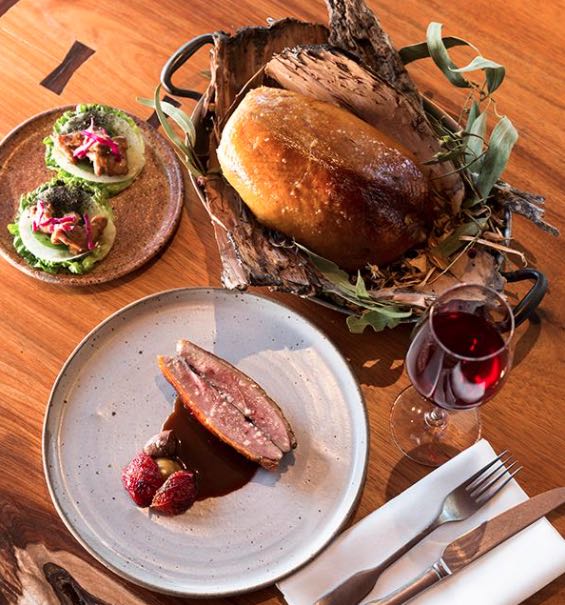 The Matilda 159 Domain is open for Christmas Day dinner every year. They've designed a special Christmas dinner set menu featuring both signature favourites and new dishes to try. Enjoy your Christmas with them at one of two sittings. 
Matilda is a visual and sensory journey and a true labour of love for me – it's named after my daughter, after all. The kitchen is fuelled by the open fire and hot coals, delivering great food, strong design and a feeling of comfort and warmth.
The restaurant is a bit more relaxed than my usual style of cooking. It's somewhere guests can often visit and be guaranteed a local piece of meat cooked exceptionally well over live flames and open grills and paired with seasonal produce.
Being across the Botanic Gardens road, designers Projects of Imagination have brought the space to life by incorporating earth, fire, nature, and water into space's interior.
Call (03) 9089 6668
Dinner at the Conservatory in Crown Melbourne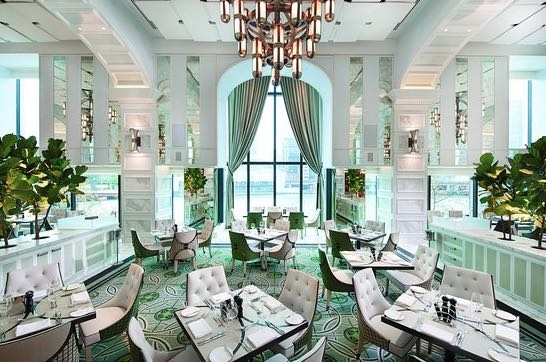 The Conservatory is known for offering a classy buffet experience in its elegant space. Still, it's switching it up for Christmas dinner and offering a set five-course menu with a glass of Piper Heidsieck Champagne per adult and live entertainment on offer. Expect the likes of blood orange and gin cured ocean trout with osetra caviar, Moreton Bay bugs, wild mushroom tortellini, turkey breast wrapped in serrano ham and a golden chocolate dessert that looks like a bauble filled with popping candies and nougatine honey parfait. 
Conservatory is Crown's upmarket buffet restaurant. There's seafood, sushi, Indian, salads and mod Oz faves in at least three sittings per day so that you can choose your adventure for breakfast, lunch or dinner.
Book a table. 
03 9292 8888
Dinner At State Of Grace Melbourne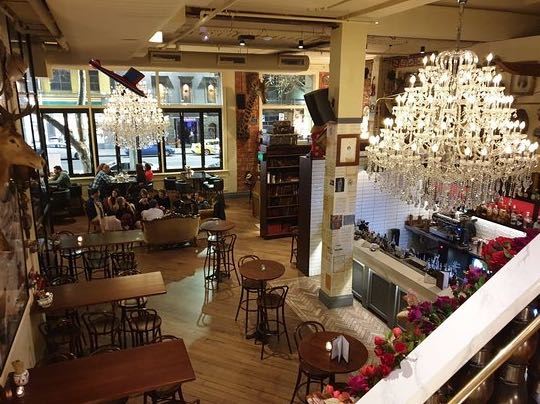 Twelve months after the State of Grace served its last drinks on Collins Street, shutting up shop along with its secret cellar bar Fall From Grace, the city hot-spot has made a triumphant return. Resurrected in style — and this time sporting a new King Street address — the well-loved venue has made one hell of a comeback. Here, old-world decor meets contemporary flair with a touch of the experimental.
Conveniently located in the heart of the city, enter State of Grace Melbourne - back as you once knew and loved (oh, the things we got up to). The new residency offers a bustling restaurant on street level with a little European flavour, hidden cellar bar Fall From Grace, and Rooftop.
Book your table. 
Call (03) 8563 0020
Dinner at Alluvia Restaurant Melbourne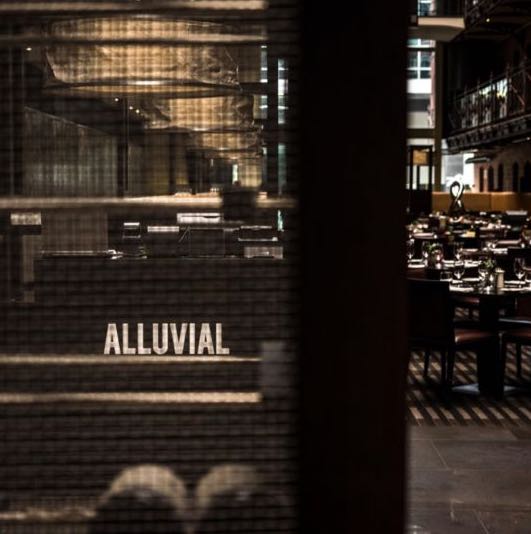 Located within the Intercontinental Melbourne, the Alluvial offered their Christmas Day buffet dinner from 1 pm to 4 pm in 2018. Visitors could look forward to an extensive seafood buffet, with prices starting from $275 for adults and $150 for kids. Otherwise, the Christmas dinner option was on offer from 6 pm, with roasted turkey to accompany the seafood buffet.
Book your reservations now
Call (03) 8627 1400
Dinner at O'Connell's Melbourne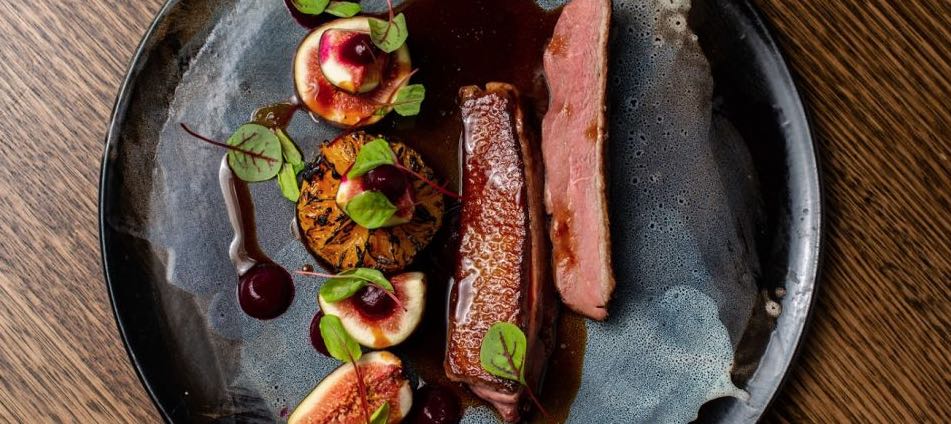 Make this year's Christmas unforgettable with their three-course dinner, with individual mains and sharing style entrees, sides and desserts for $155pp. Kids 12yrs and under are welcome to enjoy a special half portioned main while sharing the entrees, sides and desserts with the adults for $55pp.
O'Connell's South Melbourne has been home to some of the city's most well-known chefs, including Greg Malouf, Cath Kalka and Adrian Richardson. Our seasonal restaurant menu offers innovative cuisine while remaining faithful to our pub roots.
Book your dinner at O'Connell's Melbourne.  
Call (03) 9810 0086
Spend the Evenings at Aria Lounge in Langham Hotel Melbourne 
The Aria Lounge will reopen in early December. Keep an eye on their website for updates on Christmas plans.
The Langham Hotel's Aria Lounge delivered families a sweeter Christmas Day Dinner, with a spectacular high tea dining experience. The menu was available from 12 pm and 3 pm and included sandwiches, scones, roast turkey, quiche, pudding, tarts, and much more. Otherwise, the Melba Restaurant was open for Christmas Day breakfast, lunch, and dinner, with an extensive menu to suit every family member.
Fittingly for Melbourne, a city known for its many fine restaurants, dining at The Langham Melbourne hotel is always an experience to look forward to. We'll delight your discriminating palate with cuisines prepared from the fresh harvest of Victoria's bountiful farmlands and the rich Tasman Sea.
ARIA BAR & LOUNGE - A SYMPHONY OF CLASSICAL TASTES
Our discreet bar and lounge is the perfect setting for social engagements and post-event nightcaps.
During the day, the ARIA bar & lounge presents an extensive selection of teas, coffees, light meals, and Afternoon Tea with Wedgwood.
In the evening, classic cocktails and fine Champagnes are served alongside artisan wines from the fertile Yarra Valley.
Book your afternoon here. 
Call 1800 641 107
Dinner At Bistro Guillaume Melbourne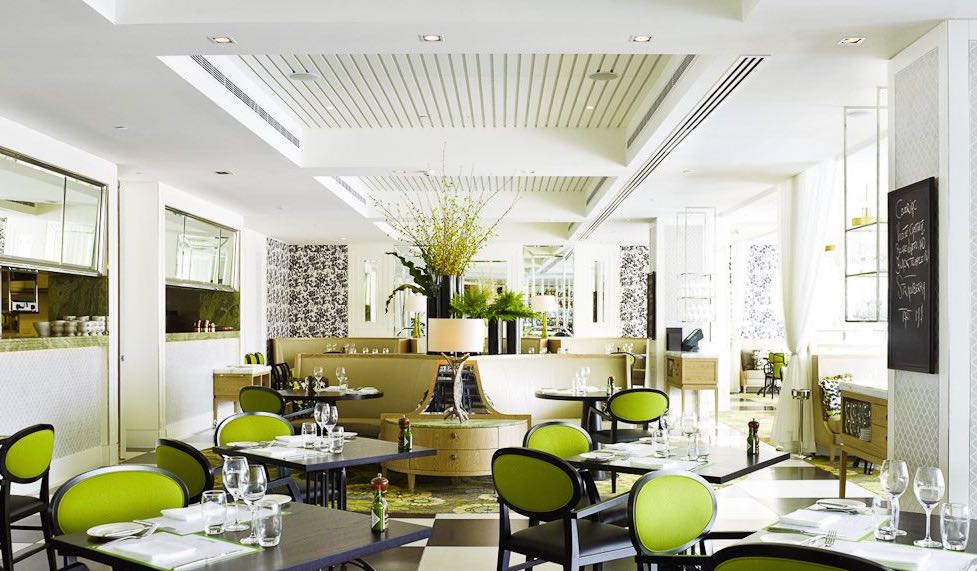 Put a French spin on your Christmas this year with Bistro Guillaume. Its set five-course menu could come with a glass of Moët & Chandon Champagne, Fraser Isle spanner crab, Lakes Entrance John Dory with smoked mussel and kombu butter, Mayura Station wagyu with pommes Anna and a truffle vinaigrette, La Luna Holy Goat with honeycomb and brioche and a classic pav to top it off with.
Inspired by Paris's popular neighbourhood cafes, Bistro Guillaume offers a menu rich with French classics in a stylish setting on the Crown Riverwalk. Relax in the modern, airy dining space and watch the world go by with views of the Yarra as you savour acclaimed chef Guillaume Brahimi's exquisite bistro fare. 
Bistro Guillaume is open and ready to welcome you back.
Book your reservation!
Call 03 9292 5777
Chinese Dinner at Da Long Yi Melbourne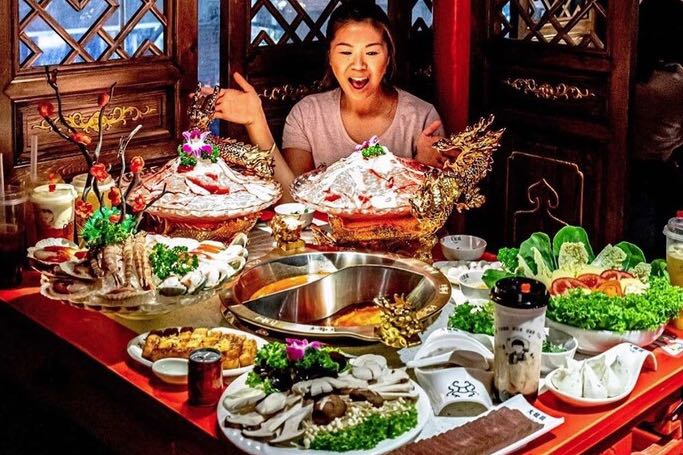 Da Long Yi offers steaming, swirling and spicy hot pots with various sauces, soups and ingredients to select from.
All soups are made from scratch, with authentic Sichuan peppercorns, onions and garlic.
There's a choice of base soups, including mushroom, spicy Sichuan, oxtail tomato, chestnut chicken and pumpkin. Pile your plates high with ingredients and fossick for freshly cooked morsels with your chopsticks.
Ensure that you have a dipping sauce that you blend from sesame oil, large amounts of chopped garlic and salt, and scald your food in the broth.
Szechuan Spicy Hot Pot – originated from Chengdu, China.
DaLongYi started in 2013 by bringing a genuine classic Szechuan style, deep-spiced soup bases and healthy foods. We promptly became one of the leaders in the hot pot market. People have been waiting in lines for hours, just for a bit of sensation.
It also became the choice of celebrities. Just to name a few: G-Dragon, Fan Bingbing, Huang Xiaoming, Zheng Kai, Aaron Kwok, Nicholas TSE, JJ Lin and many more.
We now have over 210 franchised stores in China, the USA, the UK, New Zealand, and Australia. Our slogan 'Let the world fall in love with Chengdu flavour' is realised.
Book your reservation now. 
Call 03 9041 8191
More Ways To Celebrate And Enjoy Christmas In Australia
Enjoy a Sicilian Themed Party
Do you want to see Christmas decorations in Australia that you do not often come across? Make your way to the Ballandean Valley in Queensland, where you can enjoy a Sicilian-themed Christmas in Australia 2020 party hosted by a winery every July. Owned since 1946 by the Costanzo family, the winery makes sure that the event is a very Italian affair. It even includes an appearance by La Befana, the Italian Christmas witch! With so much to do during the festival in Queensland, you don't need to worry about where to spend Christmas in Australia?
Check Out The Christmas Lights
There may not be snow in Australia during the holiday season, but there are just as many lights as anywhere in the world. Australians go all out when Christmas comes and decorate stores, little shops and the streets with beautiful bright lights. Residential areas also look amazing, with bright, festive lights everywhere. Make sure that you take the time in the evening to check out the lights.
Go On A Cruise
If you are not in the mood to cook or clean when celebrating Christmas in Australia, make sure that you head to Melbourne for the festivities. The city is one of the best places to celebrate the holiday during your stay. You can relax as you enjoy your Christmas Day and slowly sail past the city's most famous sights.
Visit Wellington Square
Are you looking to do something meaningful this Christmas? Then Perth is the perfect place to go. You can help put up Christmas ornaments in Australia in Wellington Square and give them to those who are less fortunate to make sure that they celebrate the festive season too. You can serve dinner and lend your support to those in need with other volunteers.
Explore The Nightlife
Perth is a wonderful place to celebrate Christmas in July. But if you plan to wear a Christmas jumper here in December, you will not have a pleasant time. Jumpers hold a special place when it comes to Christmas outfits in Australia, and you can have fun with them when you celebrate Christmas in Australia date in July. The city's pubs are decked out, giving you a chance to see amazing lights and ornaments. This is one of the best cities to experience Australian Christmas in summer.