Looking to make your wedding reception a fun and festive affair your guests will never forget? In addition to a delicious feast, flowing drinks, and a killer wedding playlist, some couples like to get the party started with wedding reception games, ice-breakers and other interactive experiences, which might include everything from classic lawn games to bride and groom trivia, a photo scavenger hunt, a well-stocked photo booth and plenty of activities to engage the kids, too.
These sorts of activities work exceptionally well at large, outdoor weddings with space to spread out, but there are plenty of options for indoor weddings, too. If the idea of adding a couple of games to your wedding day sounds like fun, by all means, have at it! We've rounded up the 30 of the best games and activities fit for a wedding reception that guests of all ages will enjoy.
There are plenty of ways to make your wedding an unforgettable experience, from trendy decorations to interactive food service or a personalized theme. One of the best ways to leave an impact, though, is with unique wedding entertainment. As you begin to plan, dedicate time to brainstorming wedding entertainment ideas. You might want to hire another form of entertainment in addition to a live band or D.J.—while music is an essential component of the big day, it's not the only way to keep guests occupied. Your wedding playlist is just part of the equation for a fun wedding. Live wedding entertainment can turn your ceremony or reception into a memorable experience for guests of all ages. 
When it comes to planning a wedding, everyone's expectations for entertainment are always really high.
From keeping your guests amused during the drinks reception to ending the night with a bang, there are plenty of moments when providing entertainment can make your guests' experience extra special.
Whether you fancy a firework display, outdoor wedding games or an alternative food idea to keep spirits high, check out our round-up of the best wedding guest entertainment ideas.
With all the wedding ceremony details in place and the wedding ceremony script in the works, it's now time to focus on the wedding reception ideas. Unique wedding ideas are abundant, and finding inspiration will be easy and fun. Whether it is the overall décor, an outdoor or inside setting, wedding party ideas can provide memorable moments for you and your guests.
Wedding Decor For Wedding Reception 
Eclectic Table Décor
The mix of contradicting flowers in an array of table arrangements makes for a breathtaking outcome – think elegant red roses, green leaves with berries, and various wildflowers. Add vintage stemware in different hues mixed with gold accents to achieve a stunning display.
Magical Lighting
The proper lighting is vital for receptions taking place in the evening and outdoor. Consider strings of delicate lights mixed with large hanging bulbs to achieve an enchanting look everyone will rave about.
Modern Romance
This table décor is ideal for those couples that crave romance but have a contemporary style. Flower centrepieces in blush tones, pink tablecloths and elegant personalized candles mixed with modern white chairs will do just the trick.
Confetti Filled Fun
When it gets to the newlyweds' time to leave the reception, have someone hand out confetti-filled containers. Use colours that will complement those used in the wedding or by the bridal party. This makes for a fun and colourful honeymoon sendoff for the couple!
Children Activities
Consider the children that will be attending the wedding reception. Print out fun wedding-related colouring sheets and place crayons at the kid's table to keep them engaged. If the location permits, you can also have fun games or swings for them to enjoy.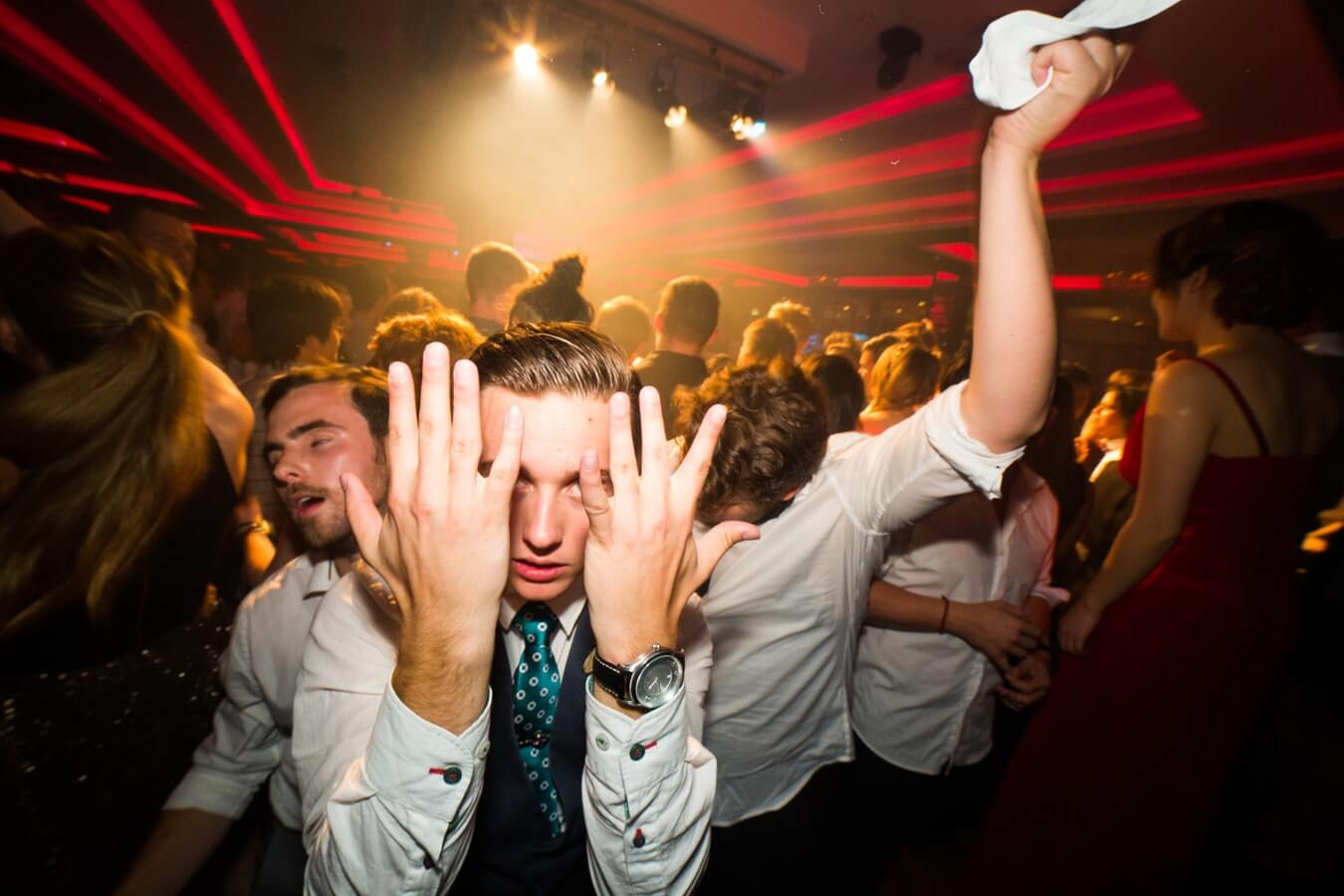 The Newlywed Getaway
Plan a fun way for the newly married couple to leave the reception. Traditionally couples drive away in fun minor sports or vintage cars. But a non-traditional motorcycle getaway can undoubtedly be a thrilling moment to the delight of your guests!
Woodsy Table Décor
Bringing the woods onto your table décor is as easy as incorporating moss garlands with leaves and delicate branches. The greenery on a wooden table, intricate crystal stemware and muted greys will feel fresh as a walk in the woods.
Herb Centerpieces
Flowers tend to be the go-to to dress a wedding reception table but using herb plants in terracotta pots instead will surely delight your guests. This idea works best for a daytime reception with plenty of natural light and wood tables.
Wood Plank Seating Chart
Natural wood can be a stunning accent to welcome guests at woodsy inspired reception. A rustic piece of varnished wood is the perfect backdrop for a seating chart. Add moss, logs and natural fibre string to add more magic.
Transparent Accents
Transparent details can elevate a modern table setting. Look into transparent boxes that feature the menu and the couple's initials for each place setting. Clear glass plates and white accents will complete the airy look and feel.
 Picture Perfect Backdrop
A chalkboard backdrop with fun props can be the perfect way for bridal party and guests to capture quirky, fun-loving moments of the special day. The bride and groom can initiate the activity and show everyone how it's done!
Celebratory Ribbon Wands
Ribbon wands can be used to welcome the newlyweds to the reception, on the dance floor or a fund honeymoon sendoff. A fun and beautiful way to have participation from party attendants. Plus, this is a great do-it-yourself project!
Mason Jar Photo Display
Mason jars are great containers, but they also make for charming wedding accents. Use them as holders for vintage pictures of family members to be displayed on the welcome table. Add a few floral arrangements around the photographs to nicely bridge the wedding decor to this idea.
White-On-White Table
A white-on-white table looks clean and fresh, especially for a garden wedding reception. It seems exceptionally crisp when paired with a wooden table and chairs. Add a few elements of green around the table, such as lush greenery in the centrepieces and a delicate branch with a few leaves on the plate.
Silver Dollar Eucalyptus Garland
Silver dollar eucalyptus garlands are a splendid yet straightforward way to decorate the sweetheart table. Add a few candles and small white flower arrangements to add a spark of romanticism. This look can easily be implemented on guest tables, especially for communal dining style seating.
Book Lover Details
Vintage books are a great way to add accents with charm and a lot of character. Stack them on a side table at the reception lounge or use them as bases to showcase the wedding wine selection for the day.
Vintage Wood Boxes
Decorate with a flair of rustic elegance by arranging a few vintage wood boxes to the cake or guest book tables. Add some lanterns, candles and plenty of greenery for a perfect arrangement.
Wood Log Card Holders
Rustic wood logs used as a name and table number cardholders can bring a beautiful feeling to any table. Match it with flower prints and wildflower arrangements. Complete this aesthetic with log slices as bases for your floral centrepieces.
Barn Backdrop
Barn weddings are full of charm and personality. Maximize the venue by picking the most exciting backdrop for the wedding cake table, add some festive paper garlands and a banner with a meaningful message for the day.
Colourful Table Runner
Add some charm to the table with an elegant and colourful table runner. You can even customize it to go with your party décor. Incorporate tall glass vases with a few leaves, branches and single flowers for a delicate touch.
Wedding Reception Lawn Games
Whether you have an affinity for corn hole, croquet or life-size board games, these classic lawn games and tabletop games will keep your guests entertained throughout the afternoon and into the evening.
 Jenga
Who doesn't love the classic block-stacking game Jenga? The traditional tabletop version adds a dose of fun and whimsy to any tented or outdoor reception area. Alternatively, upgrade to a life-size set of blocks that friends and family can build and destroy (and make again).
If you're up for another wedding DIY project, head to the hardware store for some lumber and request that it is cut into 54 block-size pieces, which you can then stain or paint or otherwise customize however you'd like.
Connect Four
An oversized version of this classic game is sure to garner attention from adults and kids alike.
Badminton
If you have space, why not set up a badminton court? The equipment is light and portable, and the classic game is easy enough for guests of all ages to play.
Ring Toss
A carnival classic, setting up a ring toss game is sure to bring out your guests' competitive spirit. For extra fun, try writing the names of guests and bridal party members on bottles and rings to see who gets paired with who.
Corn Hole
Corn hole is the perfect lawn game for couples that want to make extra activities feel like a cohesive part of the overall wedding décor. This creative couple painted and personalized their boards and the beanbags, too.
Croquet
Who can resist a round of croquet? Invite guests to grab a mallet and get a match started on the lawn.
Giant Checkers
Simple and fun, get the party started by ordering a checkers mat so large it can double as a picnic blanket—or DIY your own.
Bocce Ball
If you have lawn space, you can easily make a bocce ball area. An actual court isn't necessary—just set up balls and scorecards and let your guests have at it.
Giant Dice
Shake things up with a jumbo set of dice! This unexpected wedding reception game is perfect for bringing guests together.
High Striker
Guests will be clamouring for their turn to wield the mallet at this old-fashioned carnival game to see who's the strongest.
Group Games & Interactive Activities
Whether you're hosting an indoor or outdoor wedding reception, there are plenty of group games that will keep the party going.
Poker Station
Rent a poker table, set up 10 seats and hire a dealer for the night. A poker station is usually a big hit with the gentlemen.
The Shoe Game
This is one of our favourite games to play at wedding receptions! The newlyweds take a seat in front of their guests, sitting back to back. Each has one of their shoes and one of their partners. The emcee or a member of the bridal party acts as host, and the couple has to answer the following questions simultaneously by holding up the shoe that corresponds with their answer. Estimate approximately 15 minutes to play the shoe game, and include questions like:
Who said I love you first?

Who made the first move?

Who has better handwriting?

Who dresses better?

Who is the better dancer?

Whose phone battery always has more of a charge?

Who says I love you

more

?

Who is more likely to be running late?

Who is the better cook?

Who got the best grades in school?

Who do you love more than anyone in the world?
Though your guests won't be playing, they'll be laughing it up as your answers reveal the truth about how you view yourselves and each other in this silly game.
Word Search
Transform a chalkboard into a creative word search that your guests can try their hand at all evening long. The trick to DIY-ing this word search game is to write the individual letters in permanent paint and provide chalk only for circling words. Get creative and include personal trivia about the two of you as a couple for guests to find.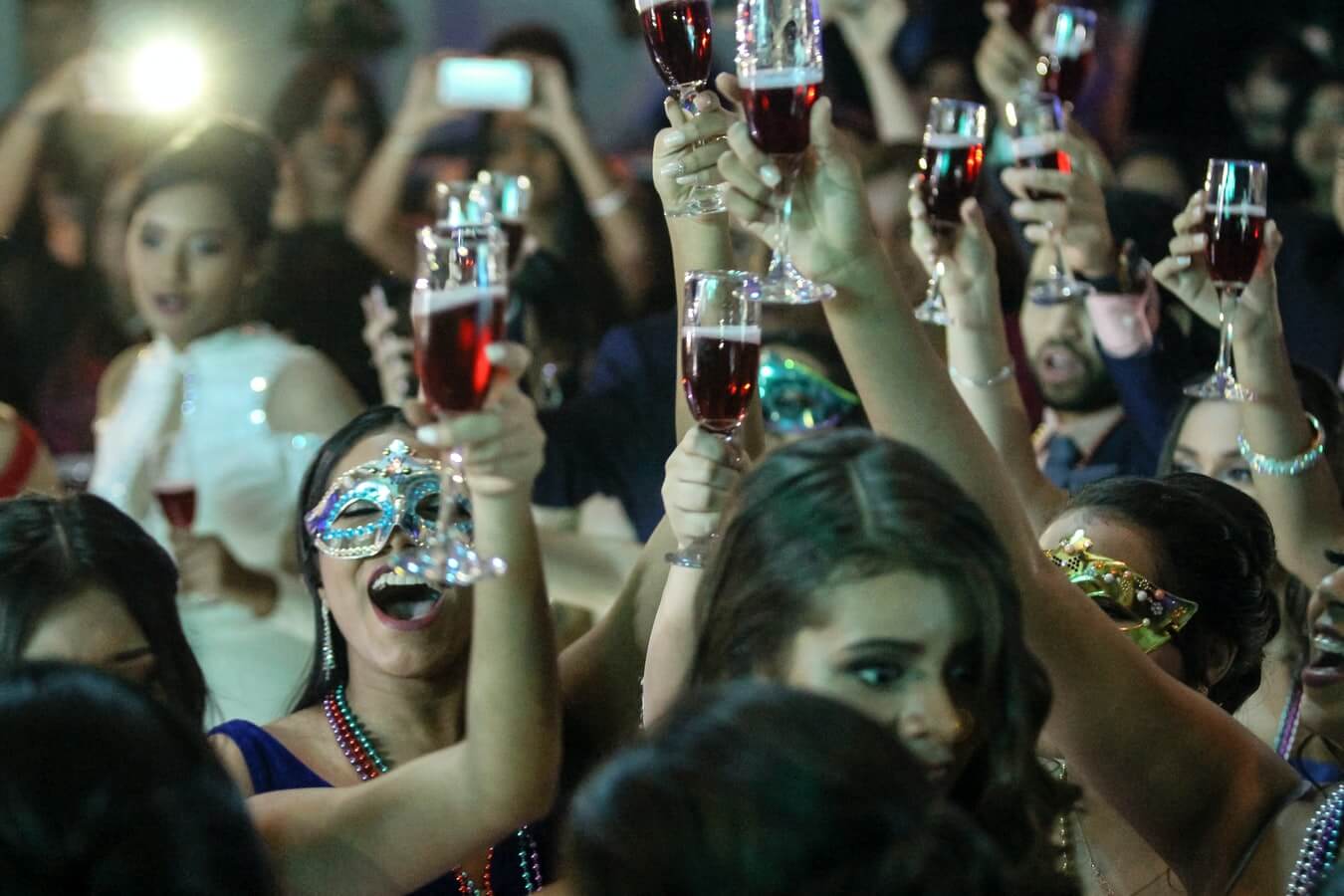 Wheel of Fun
To encourage guest interaction, consider creating a custom wheel of activities that can be spun throughout the reception. This creative option includes details like "Pick a Couple to Kiss," "Show Us Your Best Dance Moves" and the classic "Bride & Groom Kiss."
Reception Table Games
Another option is games for guests to play at their tables at the reception. Table games are perfect for breaking the ice among guests who might not know each other or whiling away the time as they wait for the newlyweds to make their entrance.
Bride and Groom Trivia
At each guest's seat, leave a cute sheet with some trivia questions about the two of you—they could be multiple-choice, true/false questions or fill-in-the-blank. Guests can fill out the questions whenever they like, and later, the emcee can read off the answers. Whichever guests get the most answers correct at their table can take home the centrepiece.
Mad Libs, the Wedding Edition
Customize these free-to-download wedding Mad Libs that you can leave on tables around the reception for guests to pick up throughout the night. It's a fun way to get everyone talking and laughing, and it will be a treat for the two of you to read later for some laugh out loud moments. (Alternatively, you can also have the emcee read off some of the best answers during the reception to give everyone a laugh.)
A Wedding Riff on Cards Against Humanity
Suppose you love the sometimes outrageously insulting game that is Cards Against Humanity. In that case, you'll love "Cads About Matrimony," which has all the ridiculousness of Cards Against Humanity but focuses on wedding and marriage topics. It's a great table game, especially for your friends' tables and bridesmaids and groomsmen (your grandparents might not always catch the occasional PG-13 humour).
Dare or Dare
Get your shy guests up, and active with dares made just for them! On the back of their name cards, or within custom fortune tellers, such as pictured above, include simple dares like "Take a selfie with the cutest guy at your table," "Kiss the person next to you" or "Take a shot with someone you don't know." The table with the most dares completed wins! (Since you'll be writing the dares, you can tailor the dares to your guests' comfort level.)
Picture Scavenger Hunt
Send your guests on a digital scavenger hunt by creating a list of 20 wedding moments for them to capture with their phones, such as the newlyweds kissing; someone cheers-ing; a group selfie, etc. Not only does this give your guests a fun activity, you'll end up with even more pictures at the end of the day.
Up the stakes with your photo scavenger hunt by turning it into a contest where you'll vote for the best photo in each category after the wedding. This way, your guests will go for quality photos, not just quantity. And don't forget to remind guests who are playing to use your wedding hashtag on social media so you can easily find all the fun snaps!
Remember that wedding entertainment can be a pricey addition to your budget. Talk to your S.O. about what elements are most important to you. If hosting an engaging celebration is at the top of the list, entertainment is a worthy investment. If you're searching for unique wedding entertainment ideas that'll impress your guests, we've got you covered. From live painters to ballet dancers, these creative suggestions go far beyond dancing—and they'll make your wedding day simply unforgettable. Entertainment is not the only way to make your guests' days better. Consider gifting them wedding favours, too.
Whatever details you chose for your wedding reception, make sure that it reflects your style and aesthetic as a couple. Remember that reception idea for big weddings can also be dialled down for smaller gatherings. You can choose to hire help or decide to do it yourself, but the critical thing to keep in mind is that the planning process should be easy and enjoyable. Consider having wedding photo books made to give to special family members and bridal party as a special memento of your joyous day.