Organising your wedding can be one of the world's most exasperating tasks, let alone locking down the perfect catering is key.
-
No matter how much thought you've put into your gown, venue and bouquet choice, sourcing the ideal catering options for your big day—including à la carte food and drink offerings to suit everyone and their dietary requirements—is a headspin for even the most stoic of brides.
-
If you're a Melbourne dweller whose wedding planning has left you fraught, here are six picks for the best wedding caterers in the Melbourne, plucked specially from the city's expansive repertoire.
Top Wedding Catering Companies in Melbourne
Well, that might not be quite true, but the quality of the wedding caterers to choose from are exceptional, so if you are planning a wedding there, you are bound to find the perfect team to suit the theme of your special day.
The freedom and flexibility when it comes to your wedding options have never been this good. You don't have to choose an all-in-one venue and compromise on any aspect of your day. You can have your wedding almost anywhere, and then craft the perfect celebration around you that best represents who you are as a couple and tells your own unique love story.
Wedding caterers in Melbourne offer an extensive range of cuisine styles, including food from many different cultures. If you want a formal three-course meal that is the epitome of fine dining, there are caterers here for you. If you want finger food, or huge share platters, a boho buffet, or a little touch of everything, you can have this too.
Some wedding caterers offer the whole package, and not only help you to design the perfectly tailored menu, but can also help with drinks packages, event styling, full-service staff and even decorations and entertainment. All you have to do is pick the ideal spot to say, 'I do.'
Dalesford Grazing - Melbourne Wedding Catering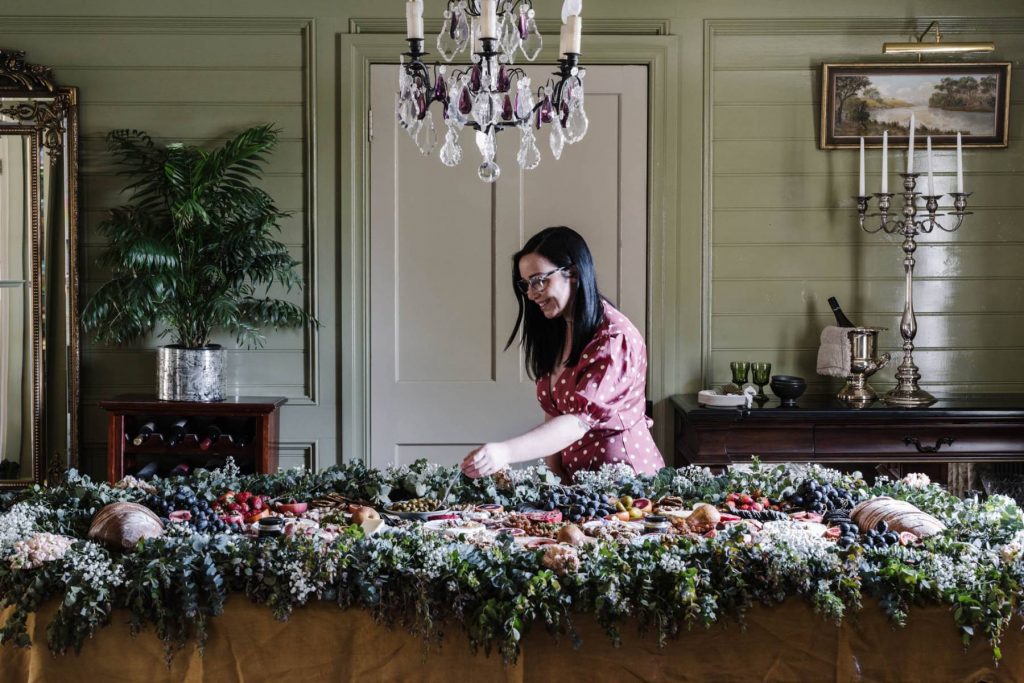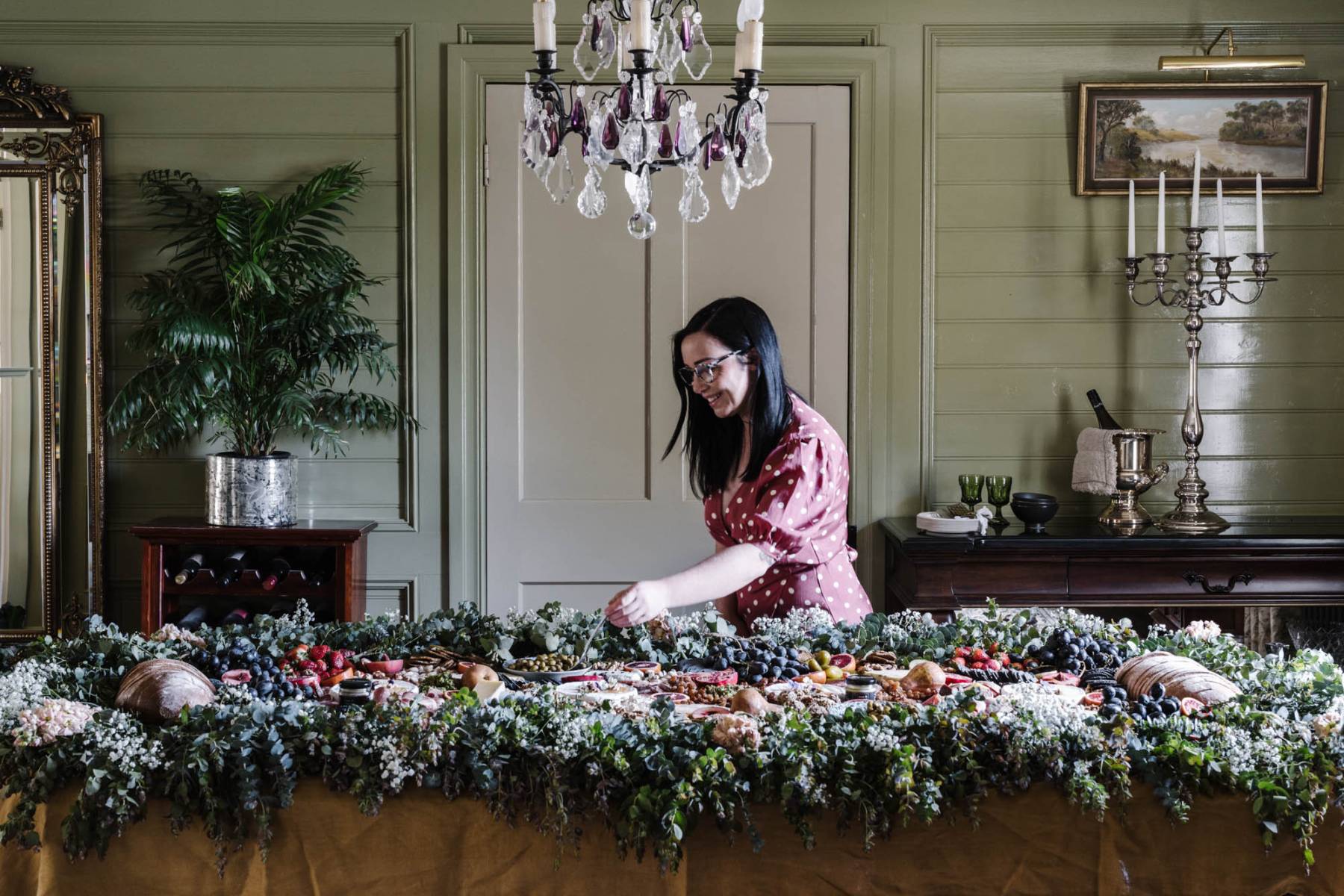 www.daylesfordgrazing.com/
[email protected]
Locally Sourced & Sustainable grazing tables based in Daylesford, catering locally as well as Melbourne and beyond. At Daylesford Grazing we pride ourselves on being as sustainable as possible and sourcing as much local produce as we can. All of our meats are free range and we offset our carbon emissions, making our carbon footprint as minimal as possible.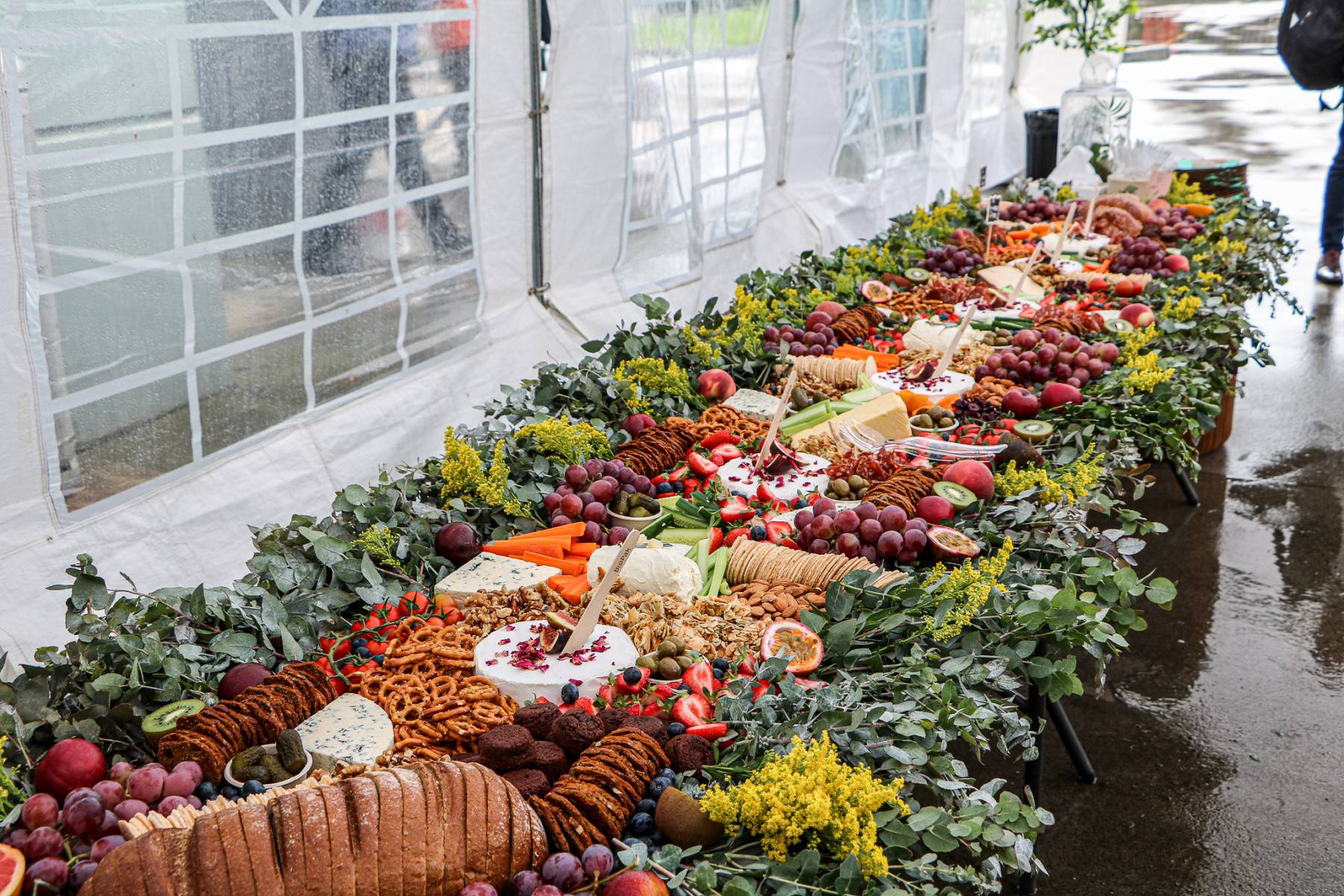 We care about the land, the well-being of our animals and farmers and taking care of our communities at the foothills of the Great Dividing Range.  We cater to all occasions; weddings, birthdays, activations and corporate functions.  Our grazing tables come with large amounts of foliage and florals making your grazing table the talk of the town. Let us help to make your special day one to remember.
Fabulous Wedding Catering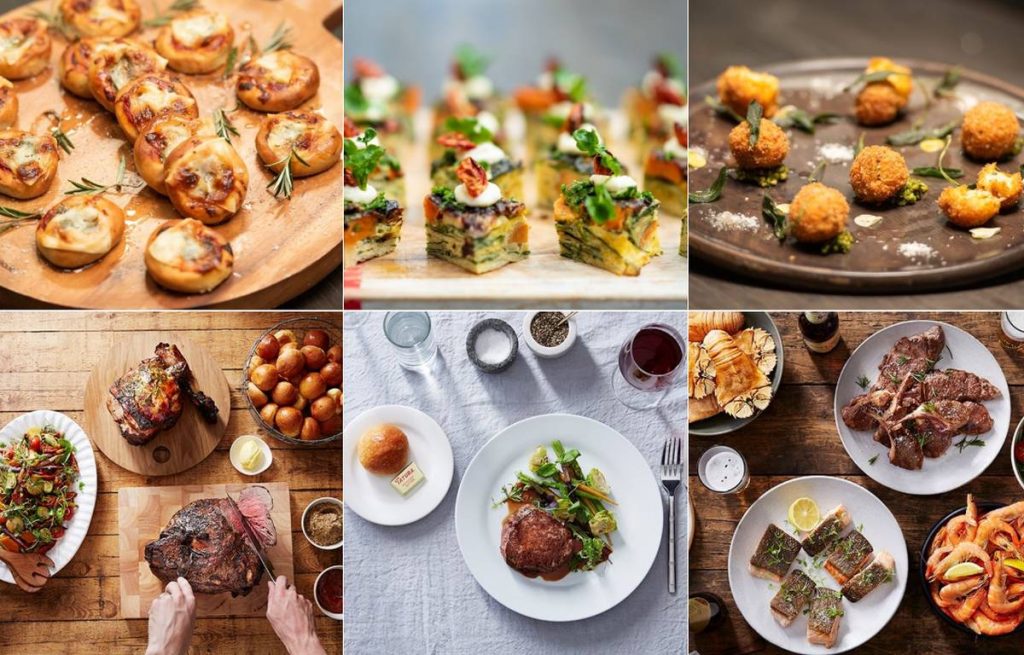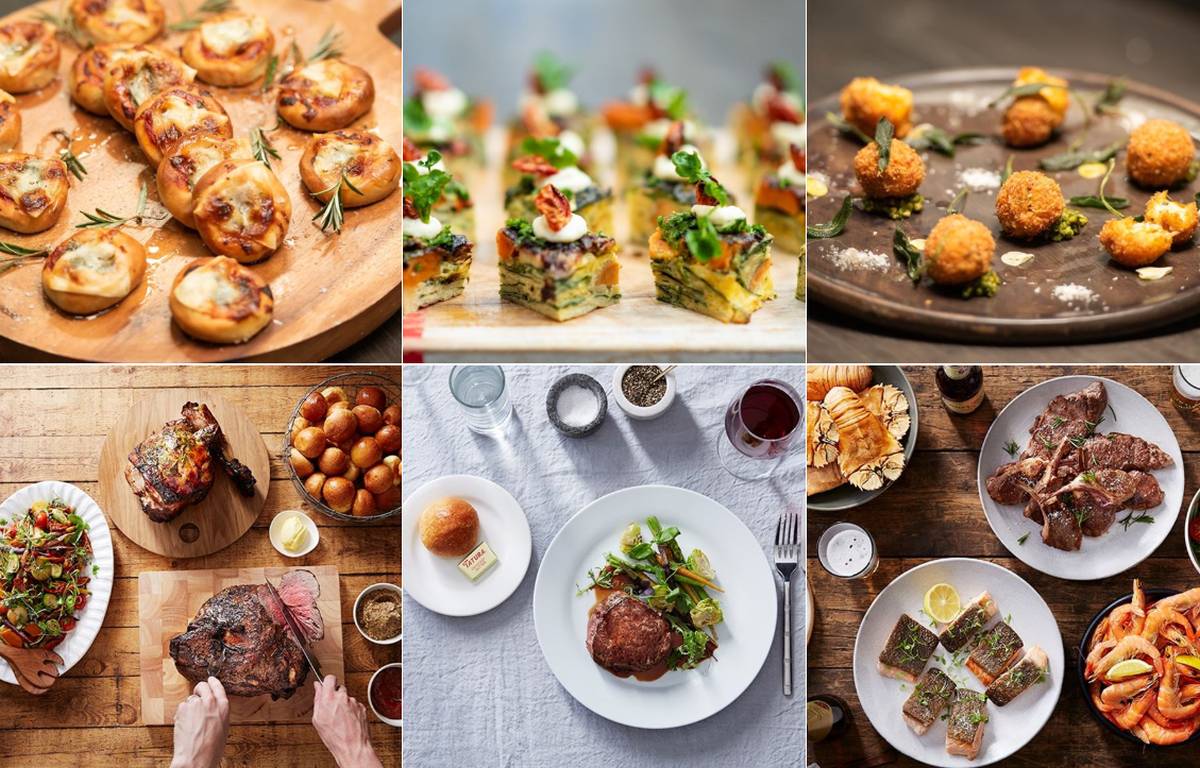 P.O. Box 21065 Little Lonsdale St, Melbourne
03 9498 4780
https://www.fabulouscatering.com.au/
Fabulous Catering is Australia's only national licensed catering company! A wedding catering service and event planner based in Melbourne, Sydney, Brisbane, Perth and Adelaide.
With 10 years and 27,000 functions to our name, Fabulous Catering knows how to put on a, well, fabulous event! It's why we're a preferred caterer for some of Australia's premier venues. From gourmet seafood BBQs and outdoor buffets to delectable canapes and three-course meals, Fabulous Catering can create the perfect menu for your perfect day - within your budget.
We're Australia's only national licensed catering company and have staff in Melbourne, Sydney, Brisbane, Adelaide and Perth. Think quality food. Think about quality service. Think Fabulous Catering!
Icecream Social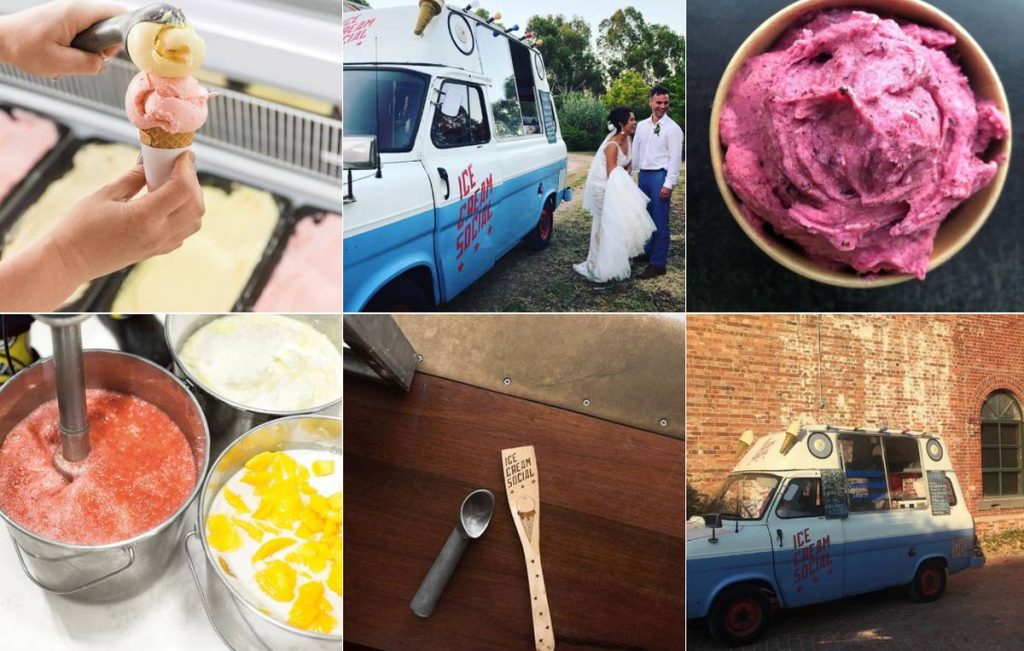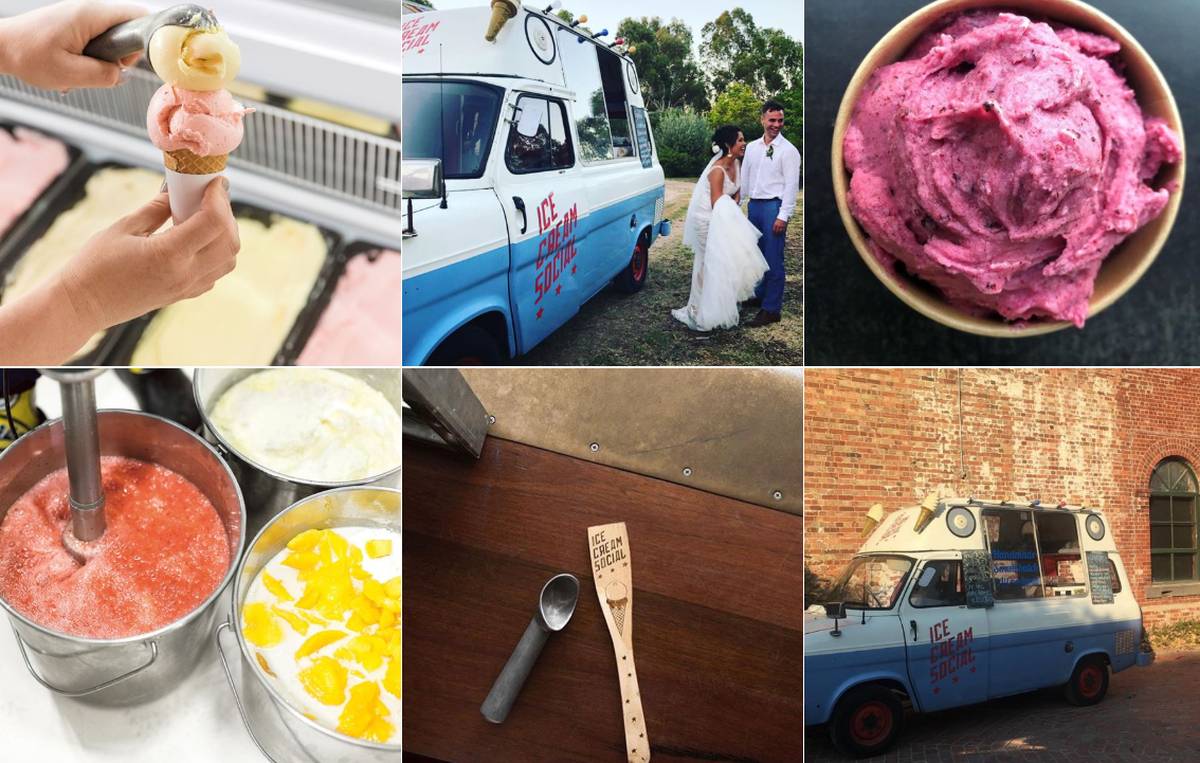 Melbourne, Victoria
03 9498 5481
http://www.icecreamsocial.com.au/
Icecream Social makes small-batch ice cream, gelato and sorbet from fresh local ingredients. We run a genuine 1980s icecream van (but with better ice cream) and do weddings in Melbourne, Castlemaine, Bendigo and beyond.
We work in consultation with you to work a flavour list unique to your event. We love churning new and different ice creams and can make you a special flavour just for your wedding. Oh, and Frankie magazine liked us too.
Treat Catering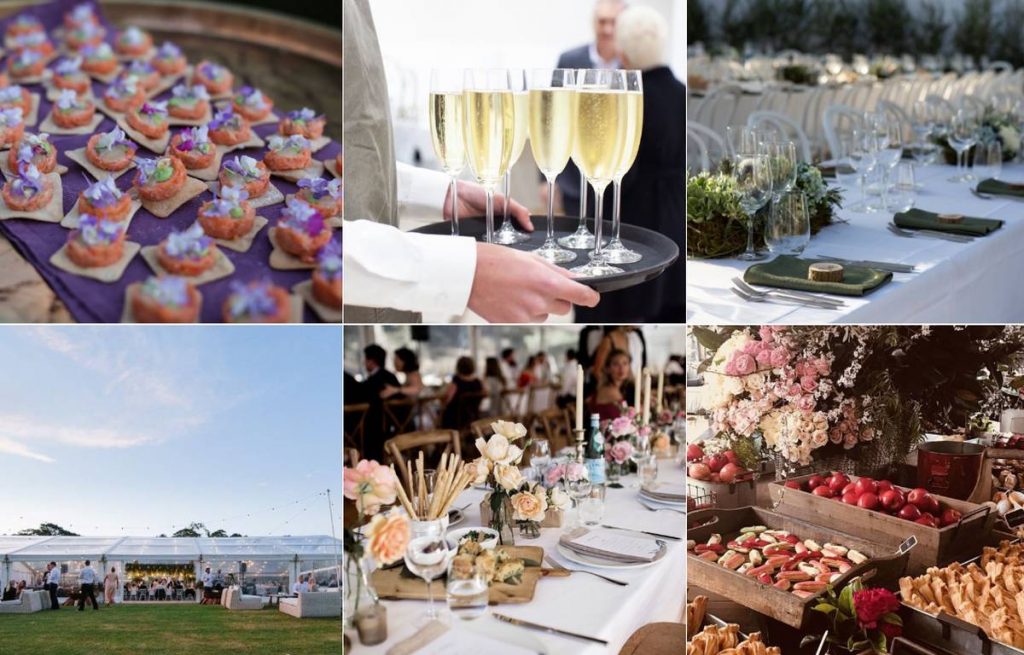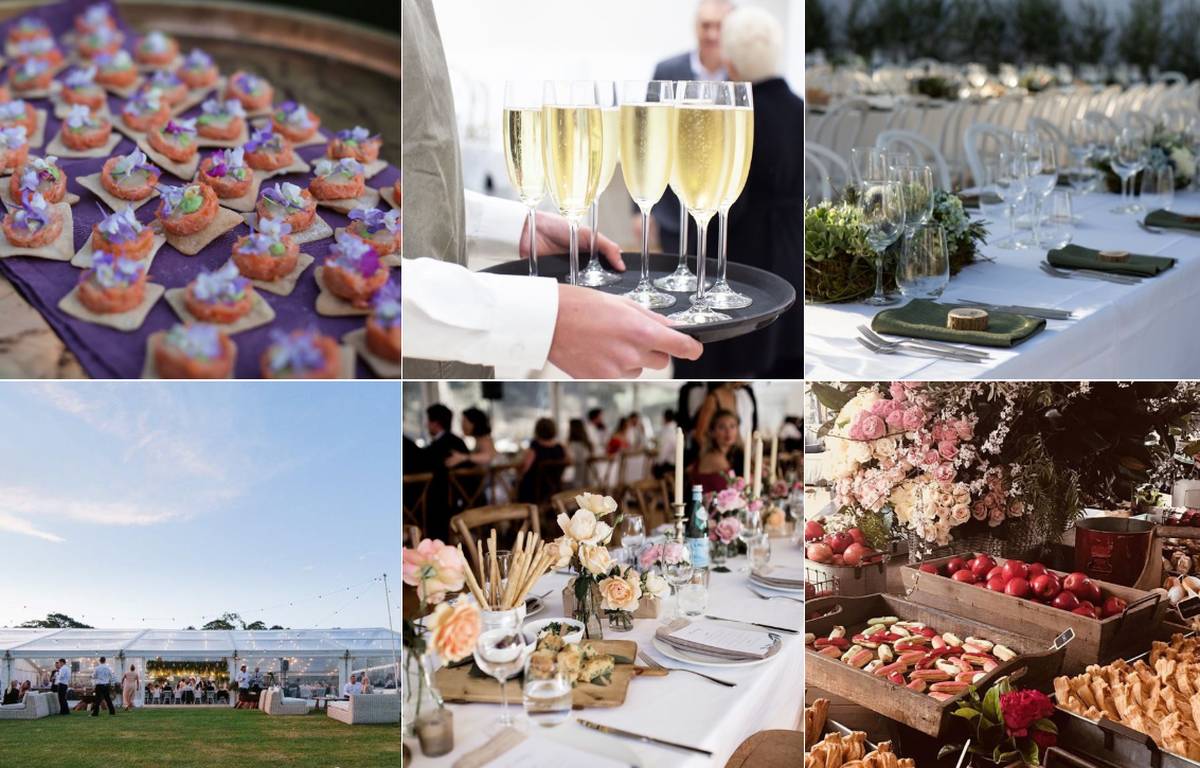 Armadale, Victoria
03 9824 7221
Food is our passion. Creativity is our culture. Excellence is our nature.
We are perfectionists who are obsessive about detail, stylish presentation and immaculate service.
Every wedding is unique.
Whether your day is to be classic & traditional or flamboyant & flowery, our approach is tailored around you. We will work closely with you throughout the months leading up to the big day, lending our expert touch to all the big and little details that make for the perfect wedding.
We love creating breathtaking, personal and luxurious weddings where every detail is beautifully realised.
Our passionate team of wedding experts are meticulous in ensuring that every aspect of the day is seamless and stylish.
It is not just about delicious food and beverages. We can design and decorate the venue; suggest beautiful linens, floral arrangements, cutlery & crockery, tables and chairs.
Beyond the reception, Treat can recommend and liaise with florists, entertainers, wedding celebrants and graphic designers.
We will ensure every part of your day is perfect
Diamond Blue Catering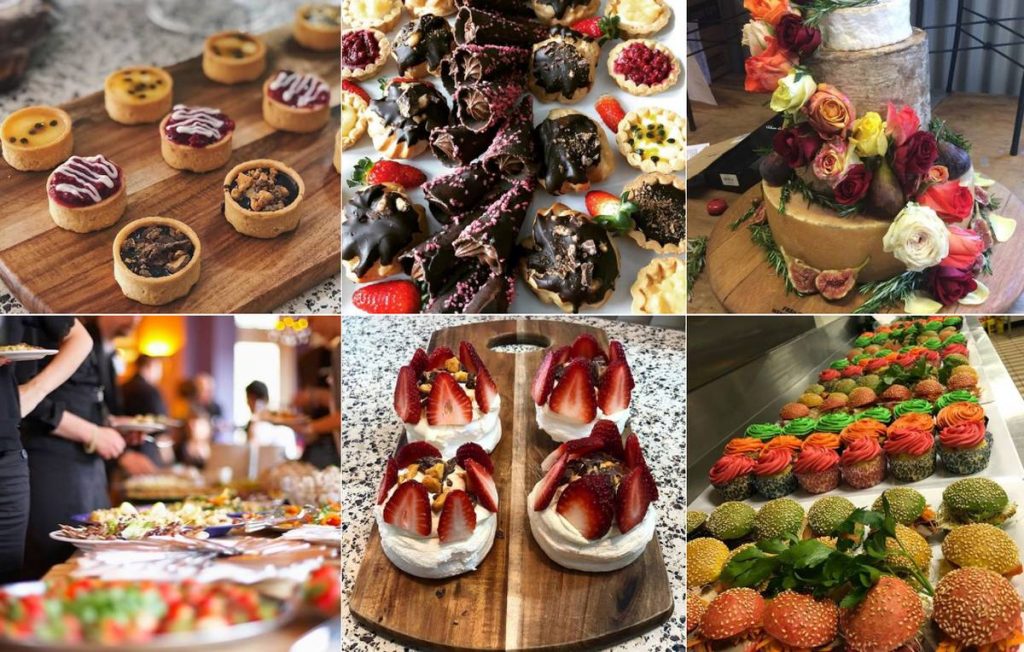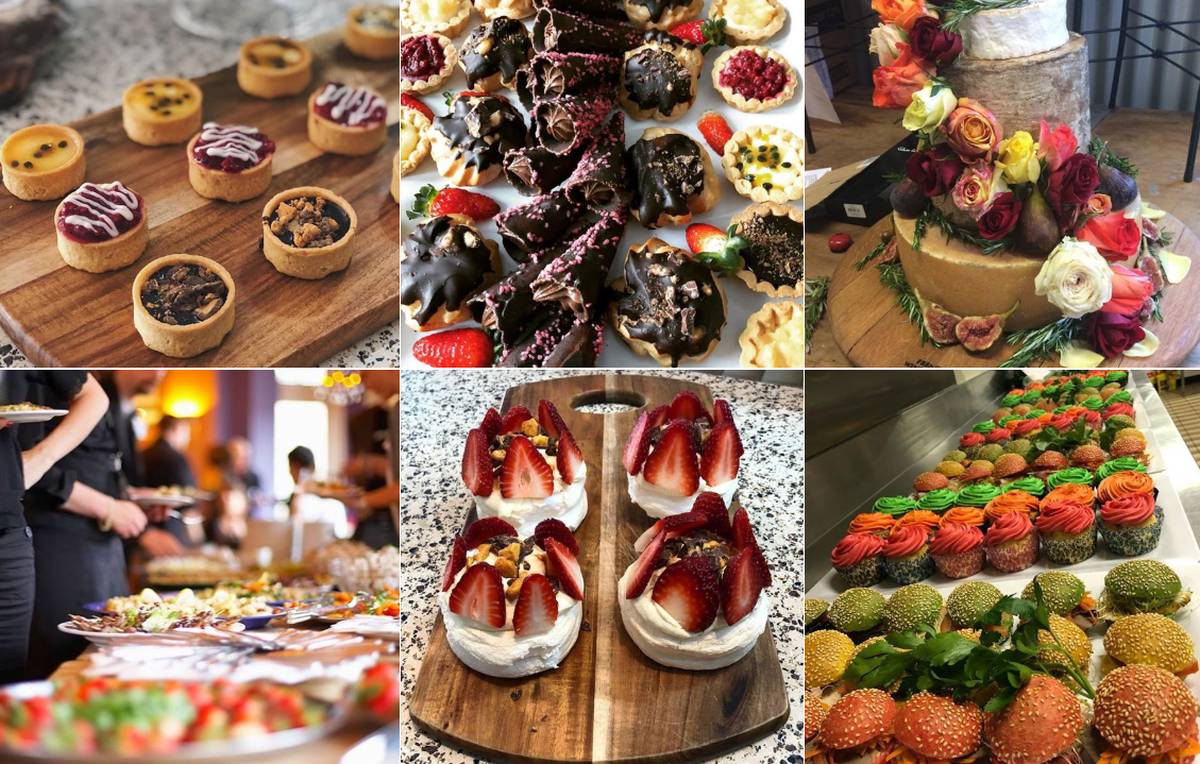 Mt.Evelyn, Victoria
03 9498 4759
https://www.diamondbluecateringmelbourne.com.au/
We allow you to choose from all of our different menus according to the type of wedding you have planned and also taking into account your budget.
Your special day needs to be tailored to your individual tastes and needs.
For that reason, we do not have a specific wedding menu but instead, allow you to choose from all of our different menus, taking into account:
the type of wedding you have planned
your budget
Diamond Blue Catering services has developed a name as one of Melbournes more personal wedding caterers, and we look forward to helping you organise your wedding day with our unique style of wedding catering.
We are one of the most popular and efficient wedding caterers companies in Melbourne. If you want a competent and trustworthy wedding caterer for your most important of days, get in touch today via the enquiry form.
Detailed on our website is a brief rundown of each menu and how they could be suited to your big day.
You can click on each menu to be taken to the appropriate page.
Please do not hesitate to call us if you require further information.
Grazings by T.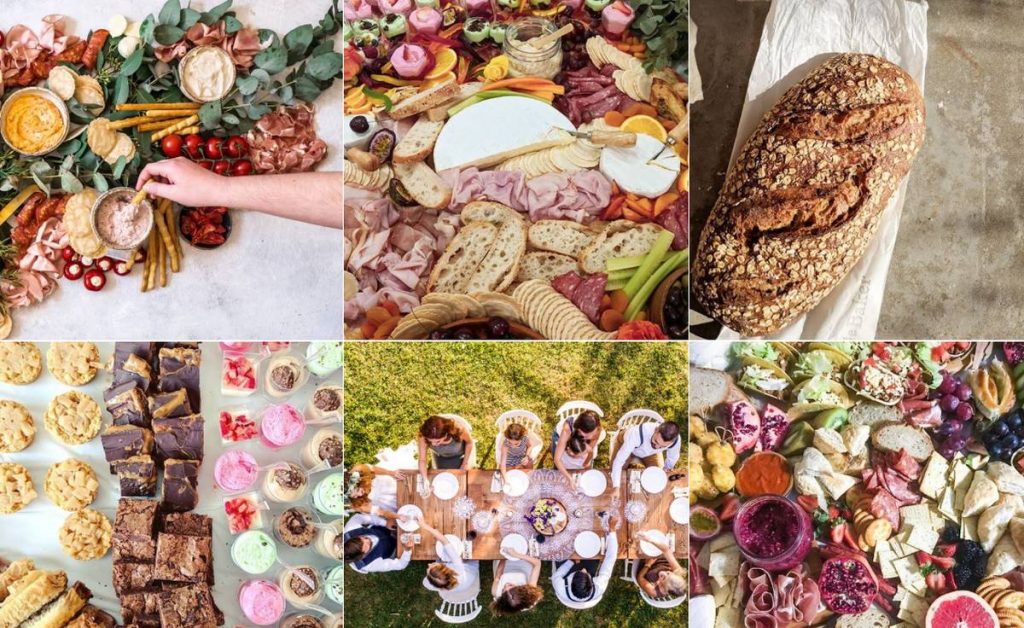 Deer Park, Victoria
0402 700 107
We do Dessert & Savoury Grazing Tables based in Melbourne
Are you getting married soon? We are your one-stop-shop for an affordable but delicious caterer for your event!
Your big day can be nervous, but with us, you'll be given ease of mind with your catering by us. We make sure every step along the way with us is smooth, enjoyable and worth every penny spent.
We work closely with all of our clients, making sure that we tweak and change our menus to make sure we cater to any dietary requirements that we came across. We have an extensive and detailed list of packages for you to choose from, making sure we cover all boundaries for your special day.
Grazings by T. can cater for all and any events leading up to your big day such as your hens/bucks night, kitchen tea and for your bridal party before heading down the aisle.
Packages available to suit all budgets.
Contact us today to discuss your needs!
Kombi Keg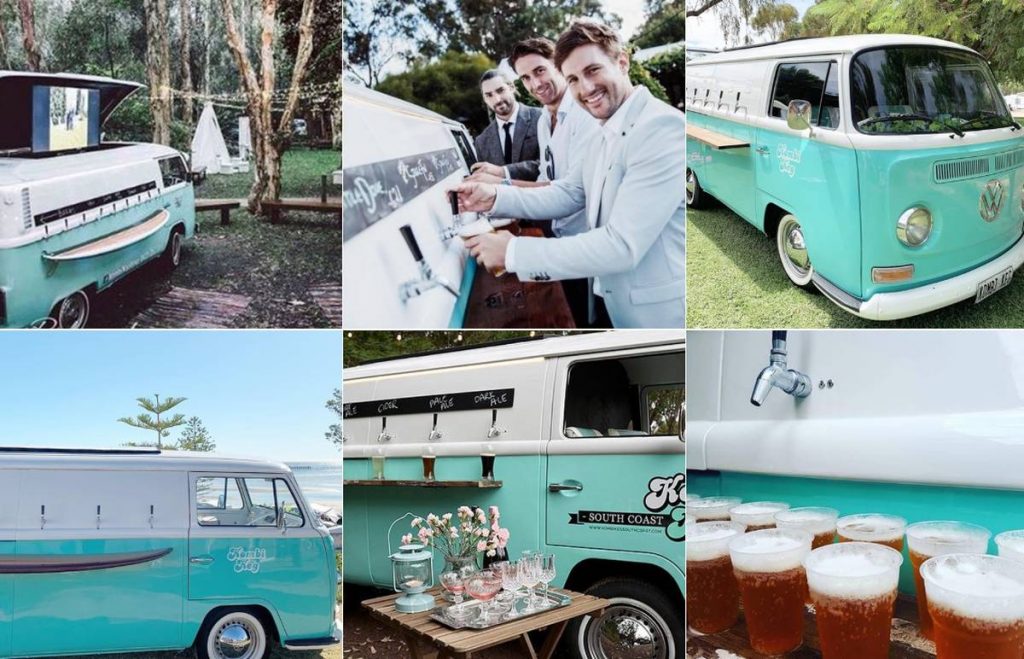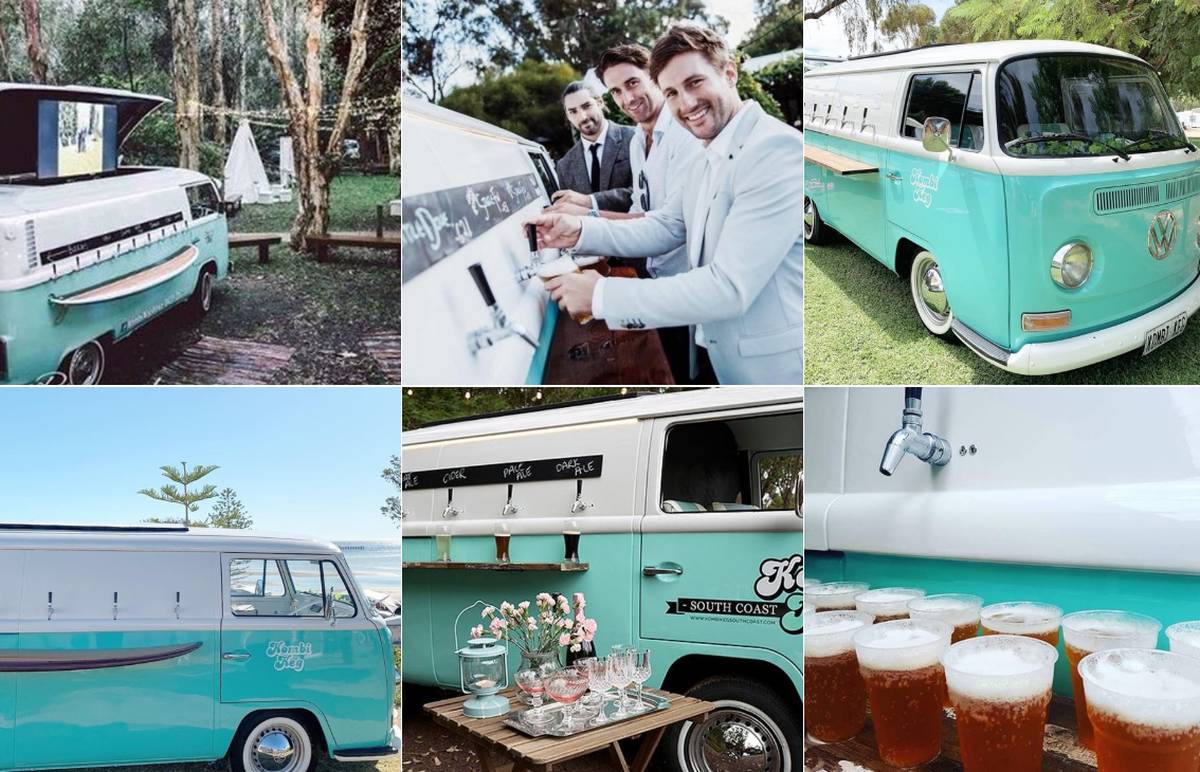 Werribee, Victoria
0459757651
'It's not a party without a Kombi Keg'
If you desire to make your event a memorable one, then 'Kombi Keg' is for you. Here at Kombi Keg we provide the Kombi, deliver your ice-cold kegs and the makings of a perfect event – all you have to do is tell us the location.
Kombi Keg is a mobile bar with a difference. Fitted with 6 beer taps, a chilled boot area for wine or soft drinks and a TV to display your choice of media. Our team can be on hand to pour for you, or you can let your guests help themselves. Once the party is over, we just pack up and drive out. It's that simple.
Hot Coals Catering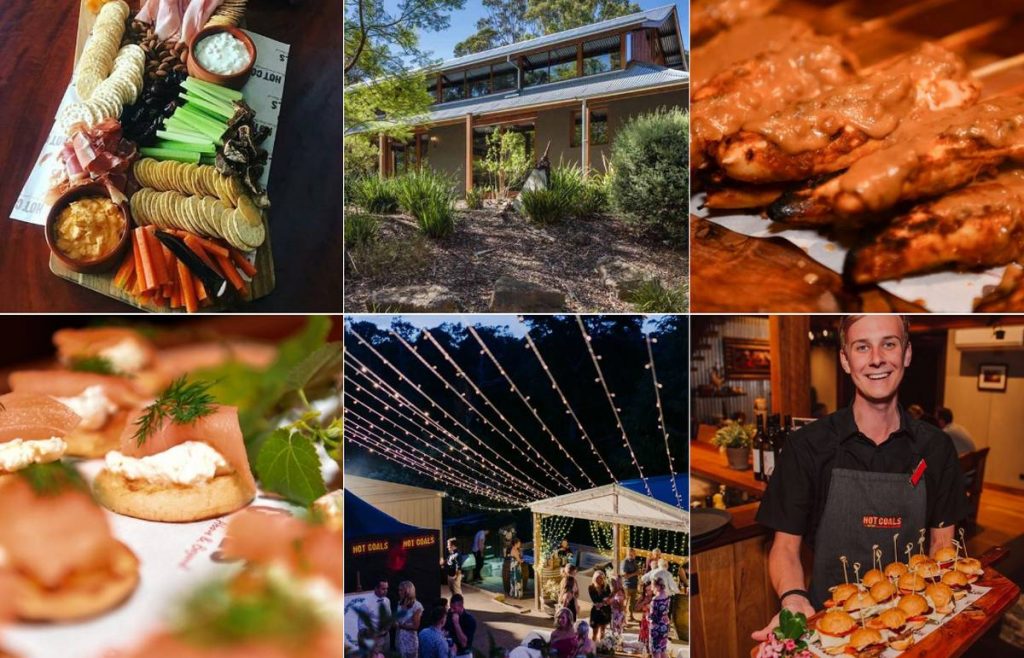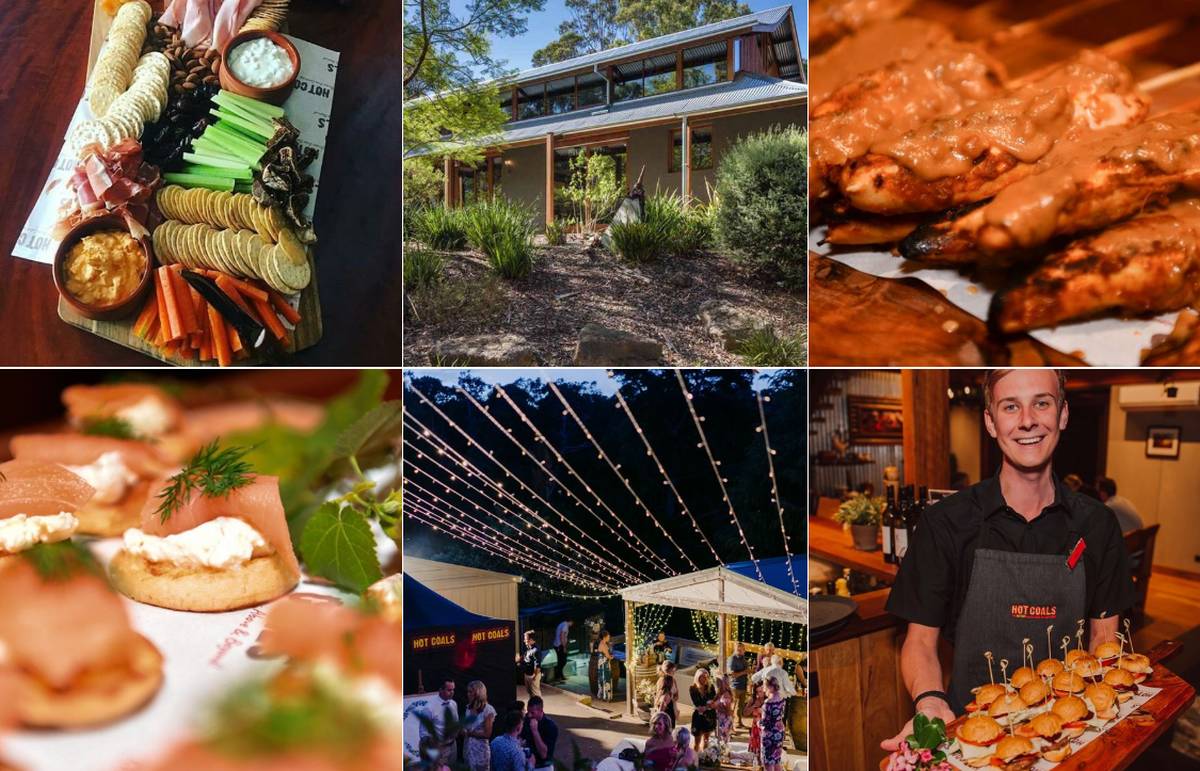 Hurstbridge, Victoria
1300 468 262
Your Perfect Wedding Day: Amazing Wood Fired Gourmet Cuisine, Stress-Free Catering with Above and Beyond Service.
HOT COALS covers all of your wedding reception needs:
FOOD
Fresh ingredients cooked on site.
Delicious wood-fired catering.
We can also cater from a venue/kitchen of your choice.
We guarantee that no guests go hungry.
Specialists in dietary requirements.
Catering Services; Fingerfood, Table Service, Platters to Table, Banquet, Grazing Tables & Buffets (Savoury & Desserts).
Wedding Cake - Cut and Plattered, Free of Charge!
BEVERAGES
Customised Beverage Packages.
Cocktails/Mocktails.
Tea & Coffee.
Bar Attendants (all RSA trained).
Glassware hire.
SERVICES
Exceptional customer service.
Professional industry knowledge and experience.
We interact with and care for your guests to ensure a good time is had by all.
We go above and beyond .. let us surprise you!
Meet the team at a free Tasting Night (*conditions apply*)
Customised quotes to suit your needs. Changeable as many times you like up until one week prior to your wedding.
HIRE/SERVICES
Having been in the industry for over 30 years, we can be your "one-stop-shop" for all your wedding needs.
Marquee
Tables/Chairs
Linen
Music
Flowers
Photography/Photo Booths
TASTING NIGHTS
Every month we have a Tasting event at our premises for you to come to try our food & meet us before you book your event!
Let us make you once in a lifetime stress free and memorable!
Fat Cats - Food Van and Fancy Catering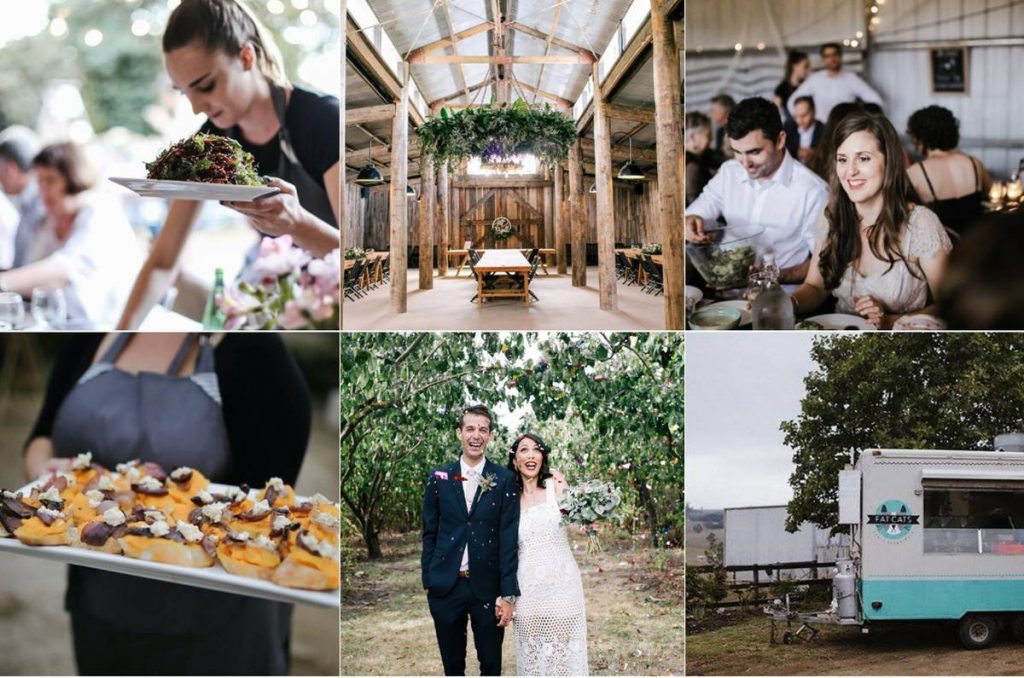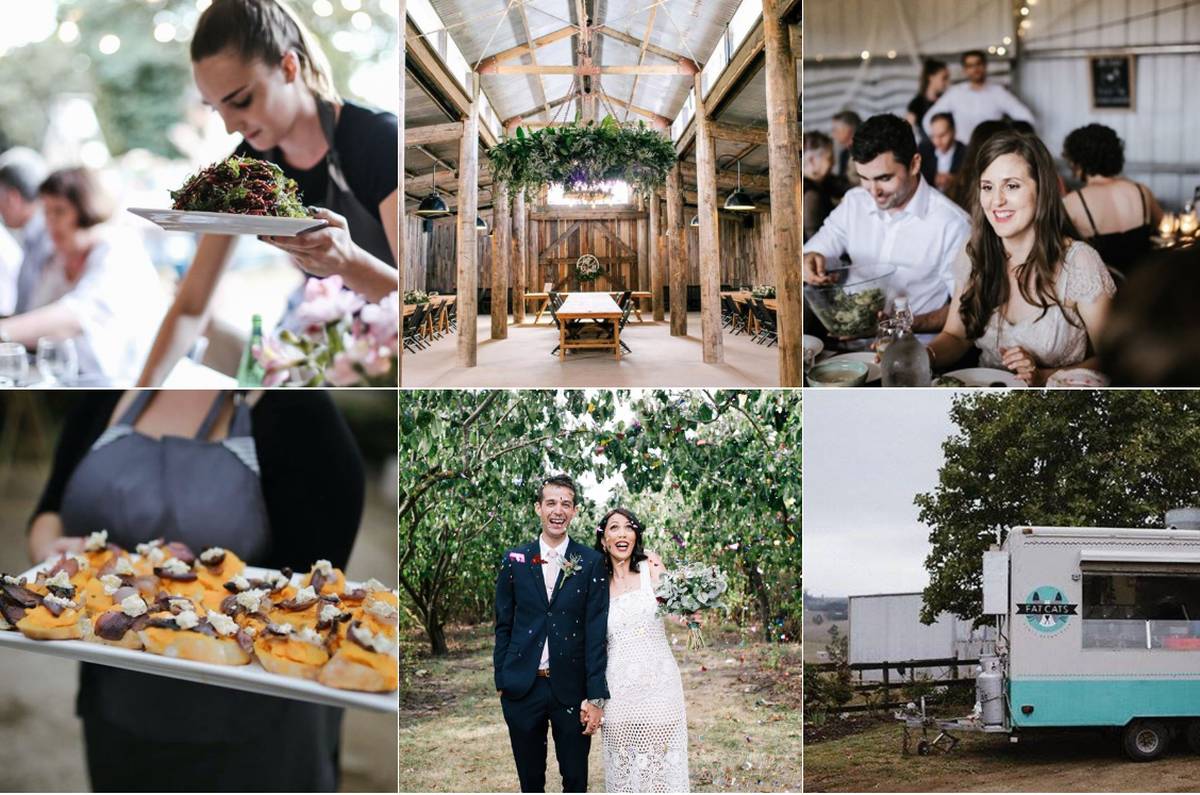 Melbourne, Victoria
03 9498 4269
https://www.fatcatsvan.com.au/
Food packed with flavour. Service full of personality. Offering unique, varied menus, serving styles and catering packages.
Fat Cats Food Van and Fancy Catering offer menus and catering packages to suit all wedding reception styles. Whether you're going for a food van festival vibe or a fancier sit-down, buffet or cocktail reception, we've got you sorted.
As well as offering a variety of wedding catering menus and serving options, we are super flexible and accommodating to your wants and needs. Our focus on customer service is obvious from the get-go.
We pride ourselves on offering something a bit different. Even our most wedding'y menu is not your typical wedding food. Think delicious juicy slow-cooked meats, and super fresh, flavoursome and interesting salads and sides. Our carefully curated selection of canapes is designed to suit the coolest of cool casual weddings or the fanciest of fancy affairs. And of course, festival food truck style wedding catering is a specialty of ours.
Most importantly, we take the fuss out of the planning for you. As a mobile food van wedding catering service, we're open to travelling far and wide across Melbourne and Victoria.
Nem n Nem
Glen Iris, Victoria
03 6135 5026
From a passion and love of cooking combined with pride of their rich Asian heritage, Ken and Kathy aim to bring the taste of Vietnamese Street Foods to Melbourne food lovers by adding more diversity to the local food truck scene.
Nem N' New draw on their rich Vietnamese heritage to dish up delicious, fresh food that tastes just as good first thing in the day, then it does the last thing at night.
Growing up in Hanoi, Vietnam, Ken and Kathy founded Nem N' Nem with the simple aim of providing people with a unique eating experience, which delivers the taste of Vietnamese street food culture to Melbourne food lovers.
Delivering simple, authentic dishes with a contemporary twist, and a seasonally adjusted menu using locally sourced ingredients, Nem N' Nem serve up visually appealing and enticing meals that offer up more than just your average street food fare.
From our hearts to your plate! ENJOY!
Eatalian Made Catering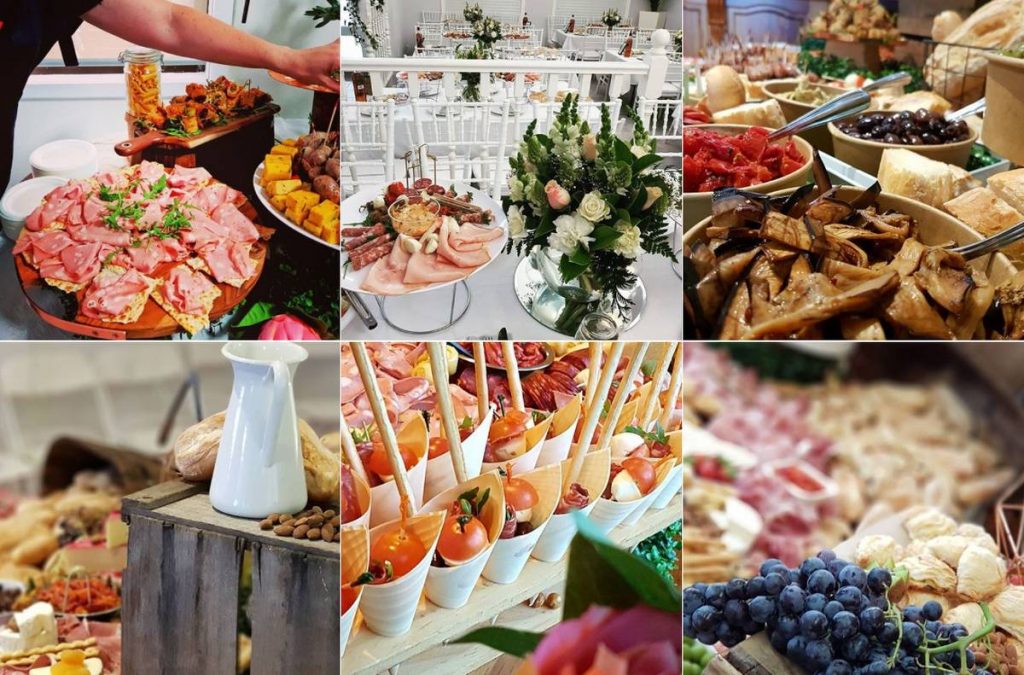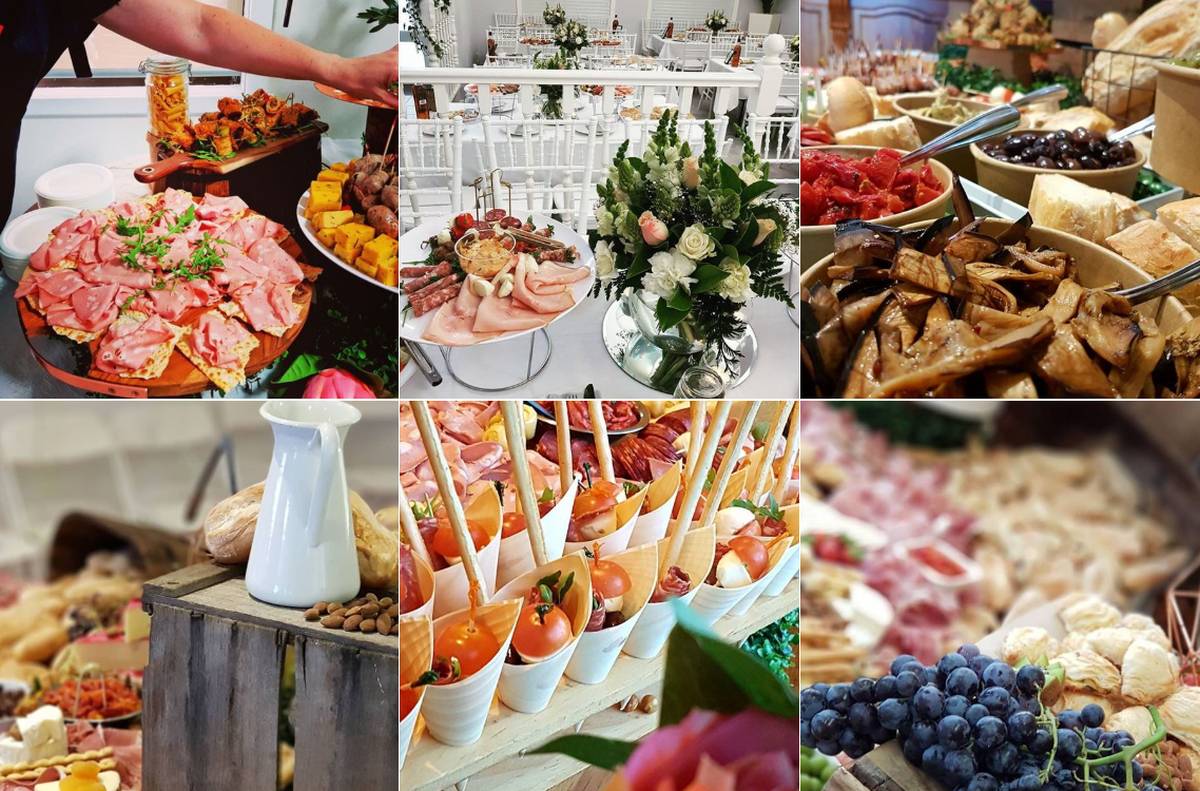 Fawkner, Victoria
03 9498 4692
https://www.eatalianmade.com.au/
Catering quality Italian party food & more to your door.
We offer affordable party packages and service to suit your budget.
Delicious Italian grazing tables perfect for your special day.
Contact us today to discuss what tasty tables we can set up for you.
Silva Service Catering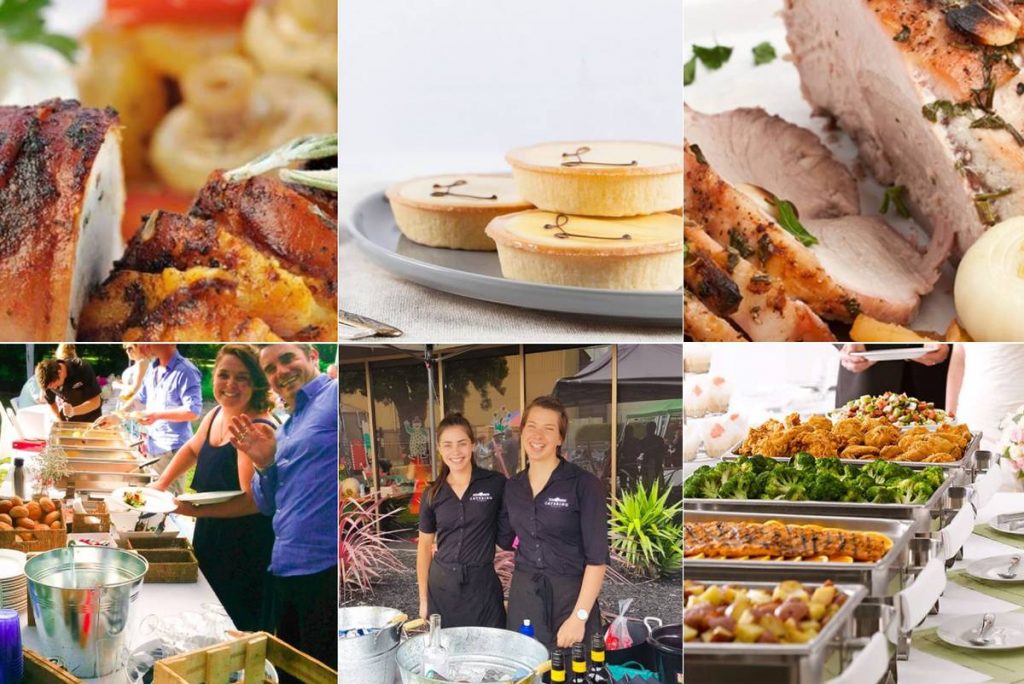 Clayton South, Victoria
03 9498 4923
http://www.silvascatering.com.au/
With literally thousands of past customers, having catered to hundreds-of-thousands happy guests, we've certainly got the experience you want for your big day.
Silva Service Catering runs a dedicated and specialised service of spit roast catering, as one of the most popular budget-friendly catering options around. These are so popular and perfect for relaxed or casual receptions. Your guests will sample succulent roasts of the highest standard, with a generous variety of freshly made food. Nobody ever leaves one of these receptions hungry!
With the ability to cater to any venue, we are completely mobile and self-sufficient.  We stand by our statement that we provide spit roast catering at its finest!
Please feel free to contact us for some sample menus and pricing. We're looking forward to working with you to help celebrate your perfect Wedding Day.
Hudson's Famous Food + Functions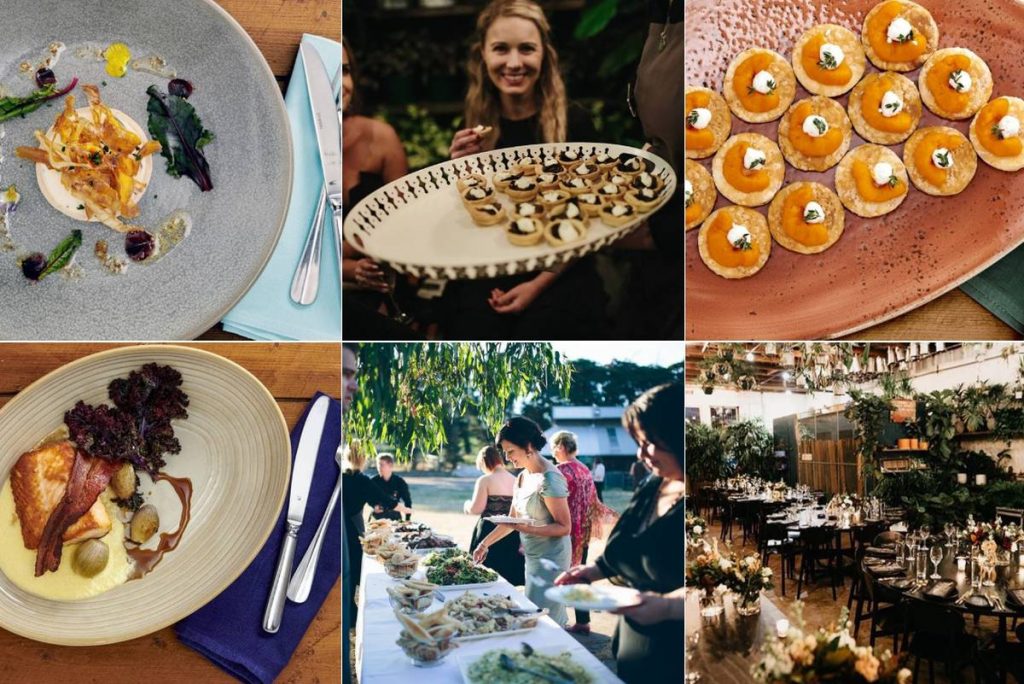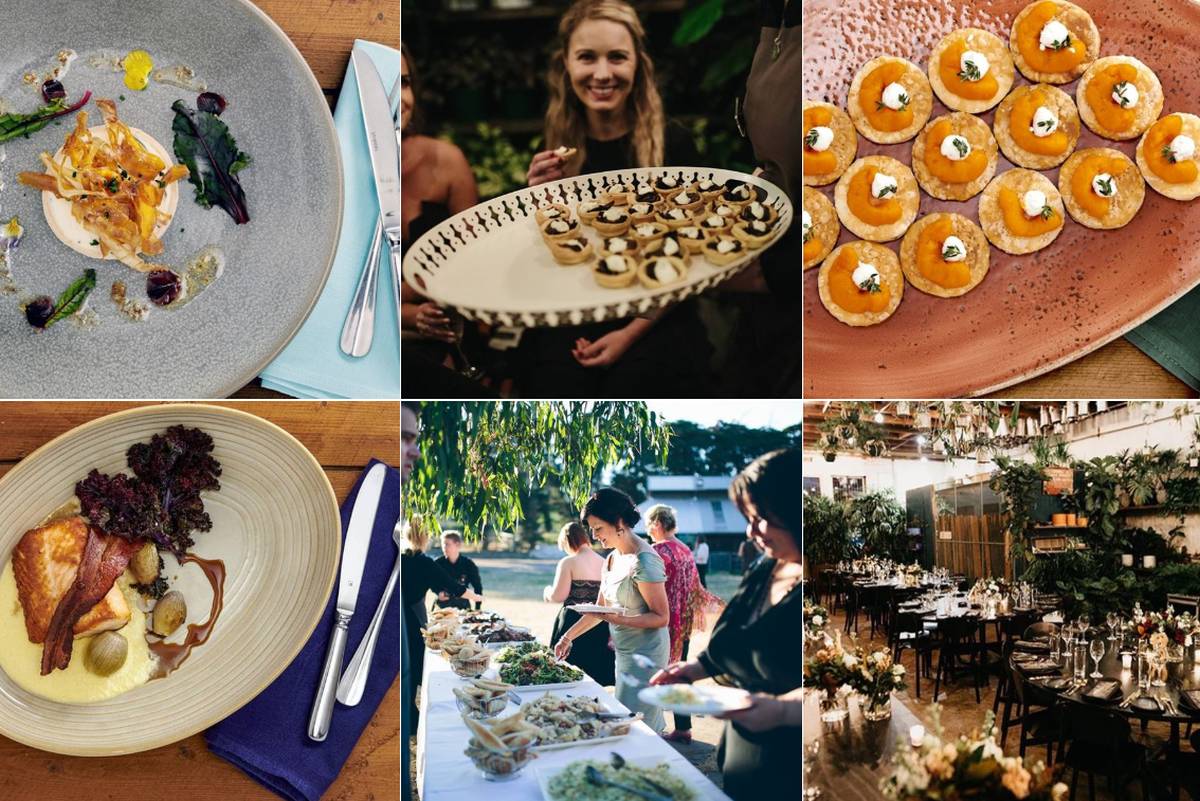 Abbotsford, Victoria
03 9498 4105
https://www.hudsonsfamous.com.au/
Hudson's Famous Catering is here to make your wedding every bit as perfect as you have always dreamed.
For over 10 years, Hudson's Famous has been one of Melbourne's leading caterers offering the highest quality food and service.
Whether you want a contemporary warehouse, a bespoke town hall or field of flowers, Hudson's Famous works with venues to create your perfect day.
Hudson's Famous is here to make your wedding every bit as perfect as you have always dreamed.
Work with us to create your perfect menu – our food is colourful, healthy and plentiful using the freshest ingredients.
At Hudson's, we know that each wedding is unique and planned based on the vision of the couple getting married. To help our clients receive the most superior and immaculate wedding catering in Melbourne, our talented and organised team work closely with the couple to ensure that their tastes are expressed faithfully in the presentation of our catering.
The Botanist Wholefoods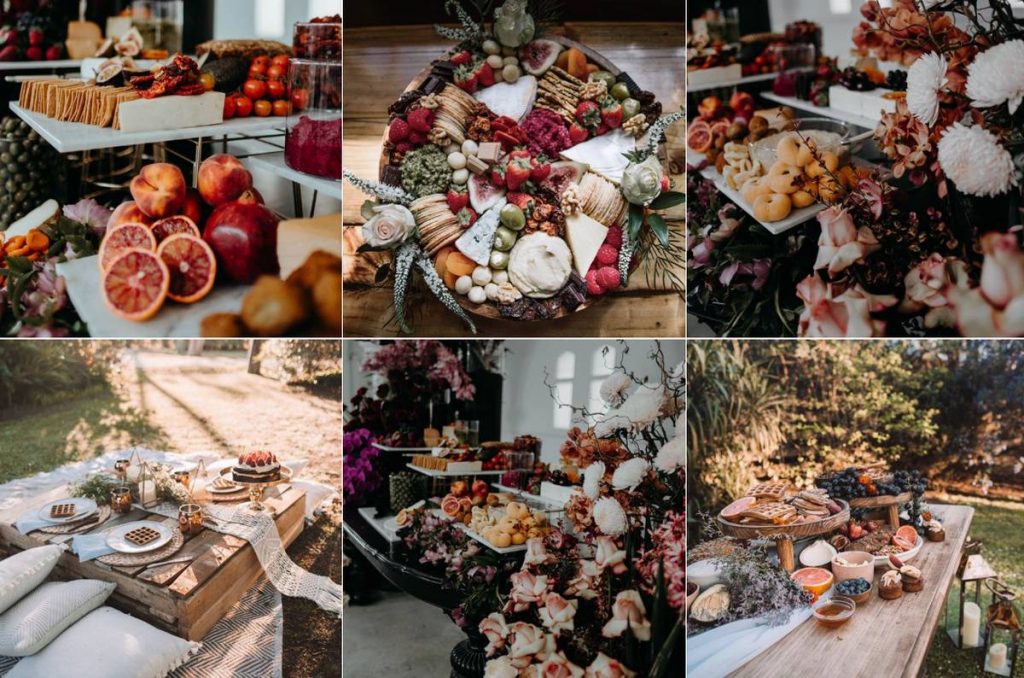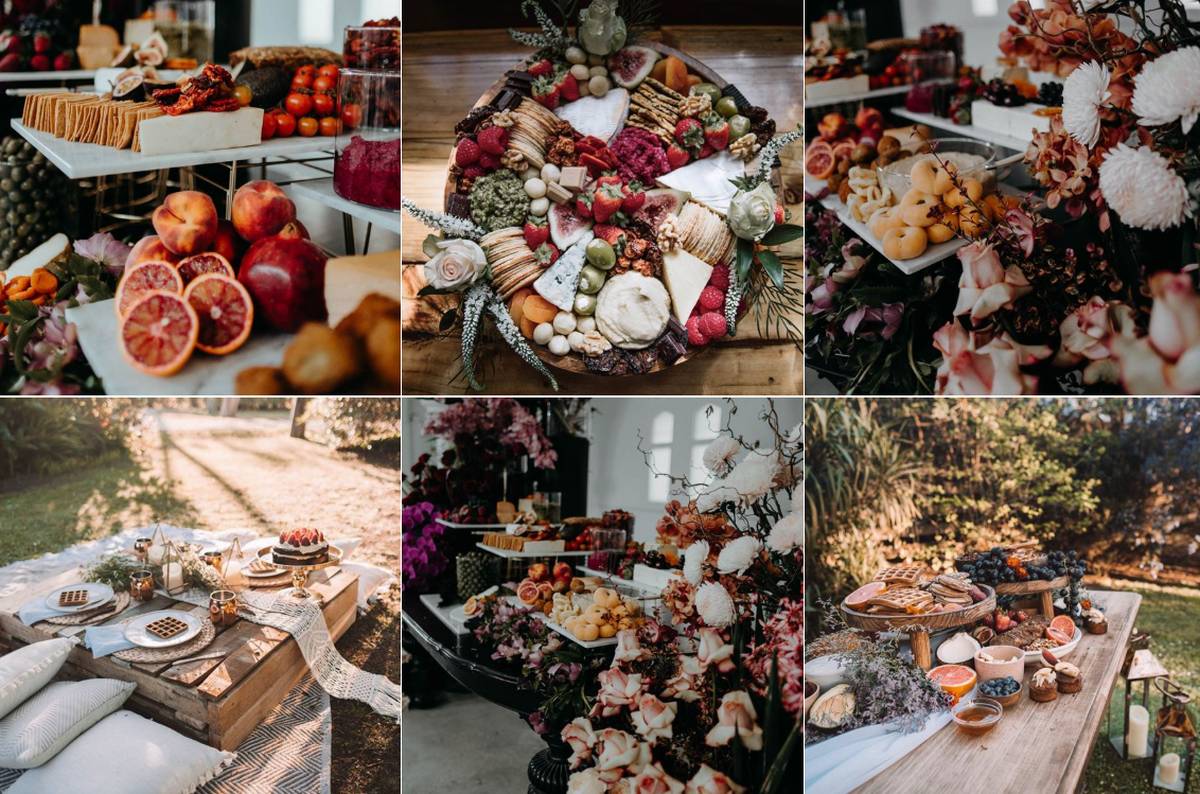 Albert Park, Victoria
03 9498 5377
https://thebotanistwholefoods.com/
Melbourne's first eco-conscious Wholefoods Catering Company is specialising in exquisitely styled & sustainably created plant-based, gluten-free and refined sugar-free Catering, Grazing Tables & Platters to nourish you and your guests.
"A visual feast! The work of The Botanist is truly living proof that healthy is beautiful!" - Lilly M.
What a beautiful opportunity to share your values of health & wellness with your guests (and get excited when they realise just how incredibly delicious healthy can be!)
The Botanist creates show-stopping Grazing Tables, artfully styled feature Platters, eye-catching colourful roaming Healthy Canapes and decadent (yet still healthy) Dessert Boards - perfect for a cocktail style wedding reception.
And we love to work with you to turn your food into a wonderful art installation, styling your catering with foliage and florals with an attention to detail that is in keeping with your wedding theme and vibe.
Grazing Tables & Platters by The Botanist feature an abundance of delicious ingredients: organic dairy, goats milk & vegan nut cheeses, artisan seed bread & charcoal crackers, colourful dips, nut butter, raw chocolates, olives, fruit + much more. All locally sourced, preservative-free, refined sugar-free and organic where possible.
Please reach out to request our Healthy Wedding Canape Menu, and to view our full Wedding Packages which include platters to nourish the hens as they ready themselves for the big day, eco gift wrapped cheese box gifts for the guests, a 'Morning After' Breakfast in Bed for the the newly married couple  + more.
We look forward to creating an incredible catering experience for you! Enquire today.
"The Botanist looked after the catering for my Baby Celebration. Sarah made the whole process easy, and I had complete peace of mind it would be perfect. However, it completely exceeded my expectations - the presentation & food were beyond perfect & satisfied all guests (including my family who has an incredibly strong sweet tooth!)" - Emma Bolger.
Peter Rowland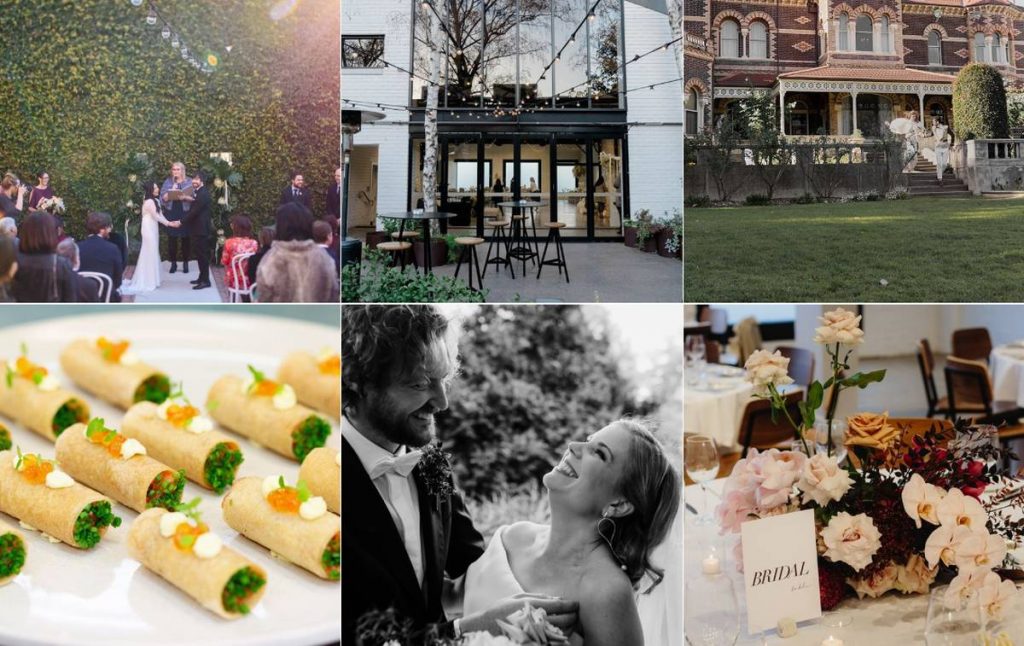 South Yarra, Victoria
03 9825 0000
https://www.peterrowland.com.au/
For more than 50 years, Peter Rowland Catering has helped brides create their perfect wedding day!
Peter Rowland is Melbourne's pre-eminent caterers, delivering complete hospitality solutions to the city's largest venues, major events and private clients for over 50 years.
An intrinsic part of Melbourne's food culture, Peter Rowland is a multi-faceted business offering total event solutions to create the wedding of your dreams and memories for a lifetime. We encapsulate a taste of elegance in our packages whilst providing you with a selection of fresh, tailored offerings.
From intimate garden weddings for 30 guests to extravagant celebrations for 300 guests in some of the most breathtaking spaces that Melbourne has to offer. Peter Rowland will provide a dedicated event planner to your wedding day, ensuring that it is a seamless and enjoyable experience.
Whether you prefer a contemporary city location showcasing the finest art, culture and history, a picturesque garden setting or perhaps a marquee on your private property, Peter Rowland offers menu and beverage options to create your perfect day with a team of chefs and event planners to ensure your wedding is seamlessly delivered.
"A great caterer has the taste of a chef, the imagination of an artist and the timing of a conductor" founder, Mr Peter Rowland, OAM
Sweet Dolce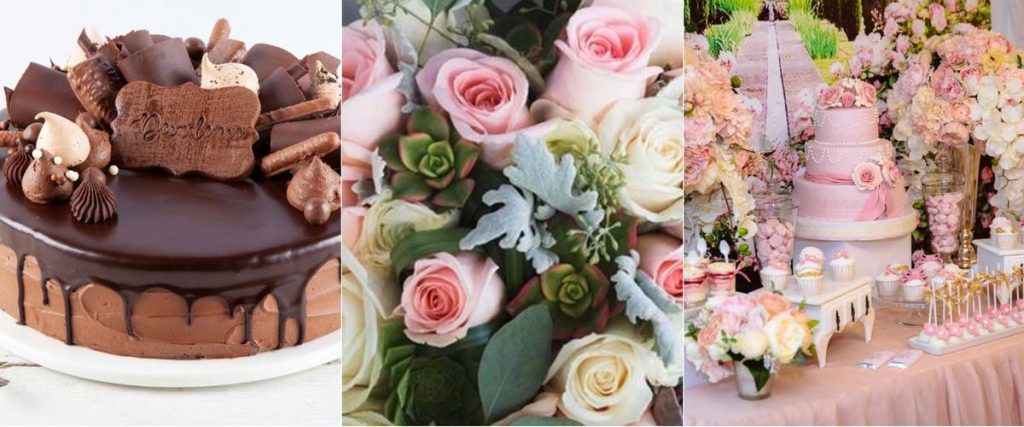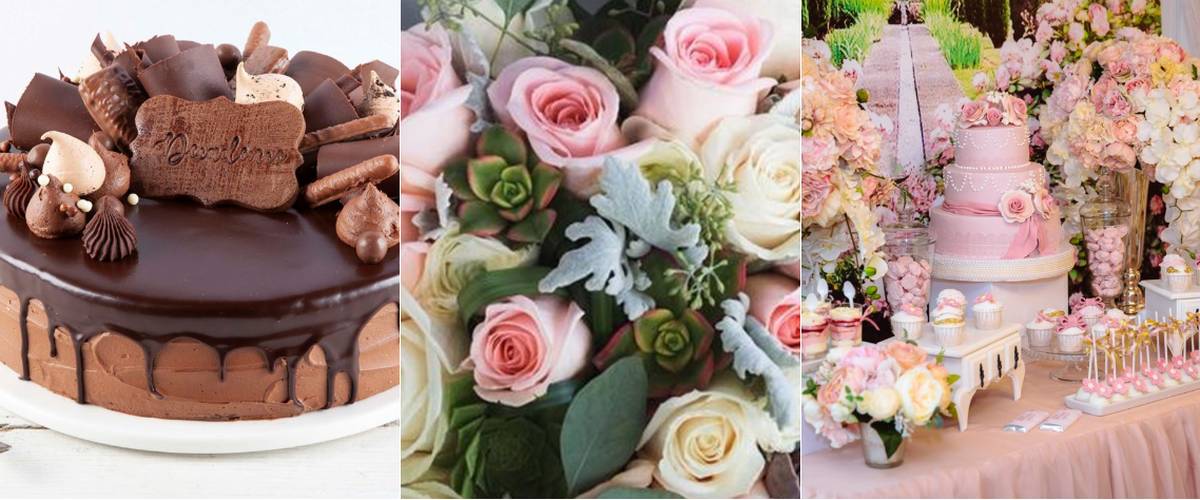 Seaford, Victoria
03 9498 5414
https://www.sweetdolce.com.au/
Dessert tables are not only beautiful to look at, but help create an atmosphere of celebration and something everybody can enjoy together.
The Wedding is a very special occasion, and the dessert table is a special feature that can be enjoyed by everyone.
In the menu section, you can choose many varieties of desserts and sweets, and then from there, we can discuss the table decoration and a special theme you have in mind.
Contact me to discuss what you would like and how I can create a unique dessert table to cater to your personal tastes.
Look forward to helping you!
Happy Camper Pizza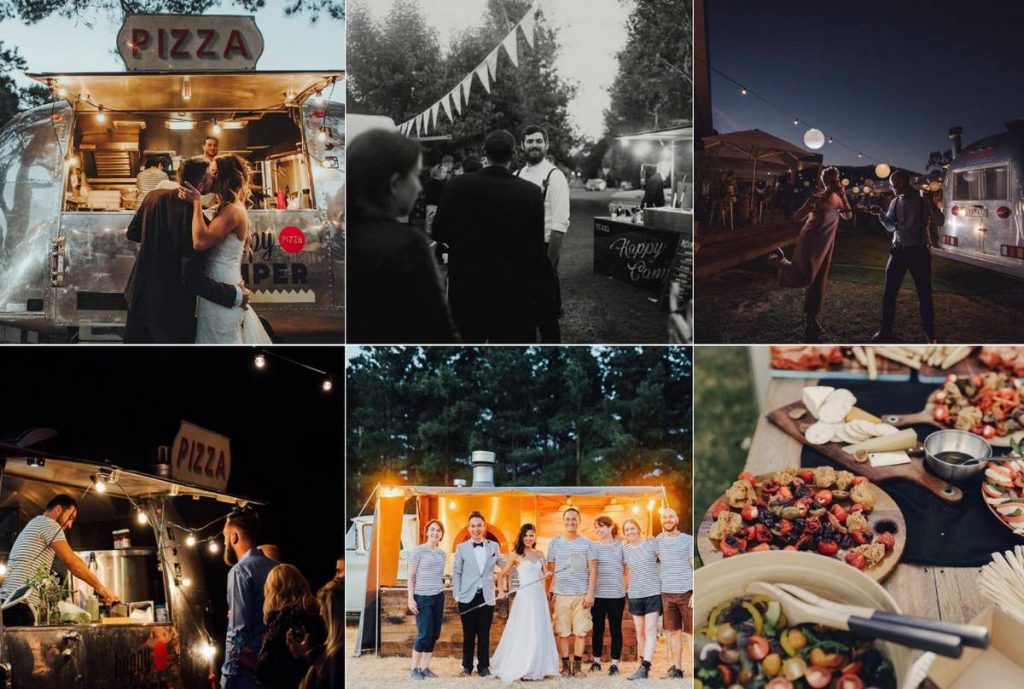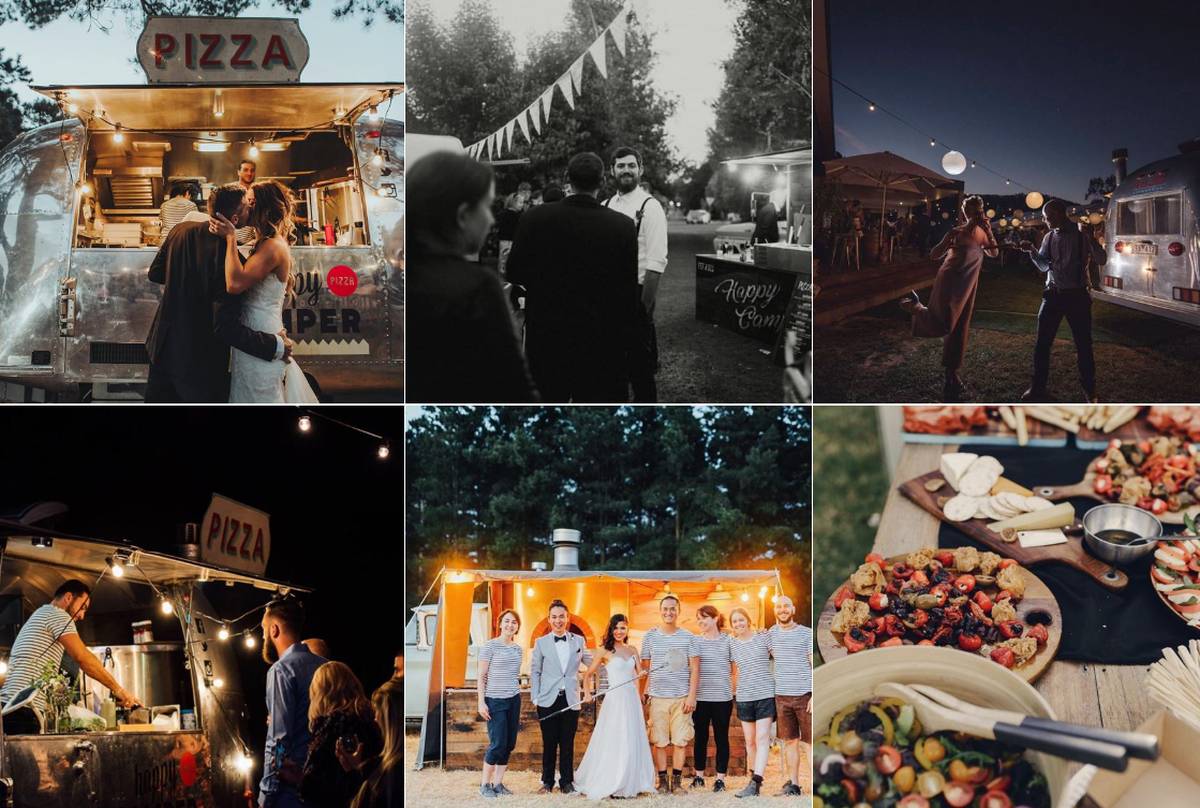 Braybrook, Victoria
03 9498 5334
https://happycamperpizza.com.au/
Not your typical food truck situation! Through an unknown feat of engineering, Happy Camper Pizza has fitted out a fleet of 1960s vintage trucks & caravans, with aesthetics as well as to-die-for catering in mind!
Happy Camper Pizza specialises in catering private functions.
Whether it is to feed 50 or 500, our beautiful vintage pizza trucks are available for birthdays, engagements, weddings, special events and corporate functions.
We have 4 to choose from - Allegra Airstream, Merri The Chevy, Joie Teardrop and Gwyneth Teardrop.
If you're looking to create an old-world feel, we can even bring our Yard Games and festoon lights along!
We have a great collection including giant Jenga, Croquet, Petanque, Ring Toss and Gant Connect Four. And we will even hang festoon lighting from our trucks for FREE.
We'd love to be a part of your big day and will tailor the perfect menu to suit your event.
Happy Camper also specialises in Grazing Tables, Salads & Handmade Gelato/Sorbet. Gluten-Free and Vegan catered for.
Carts and Containers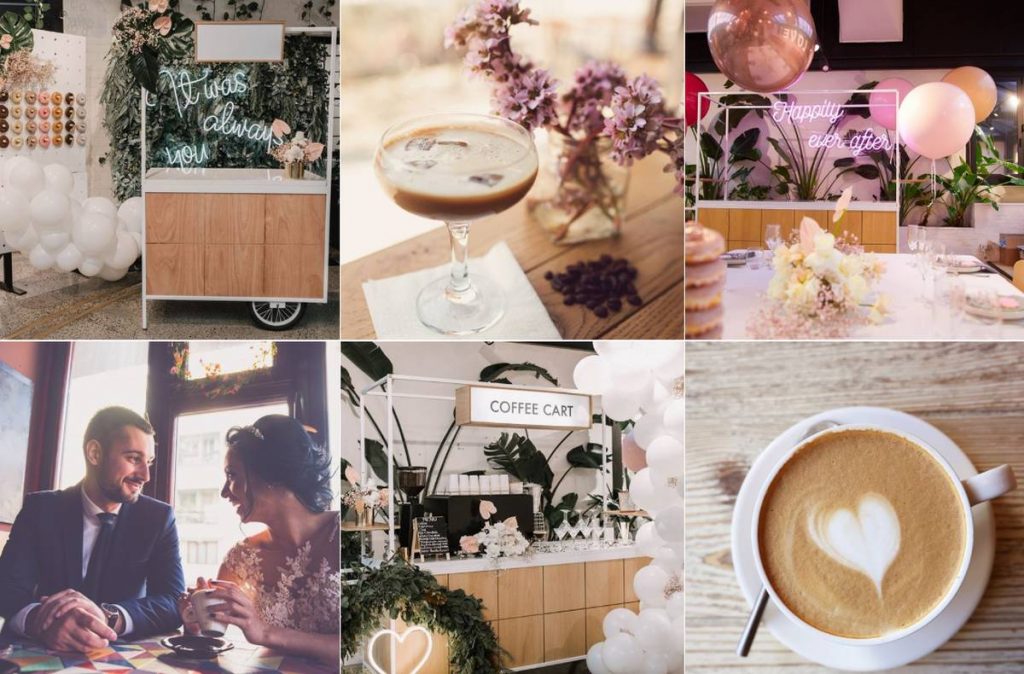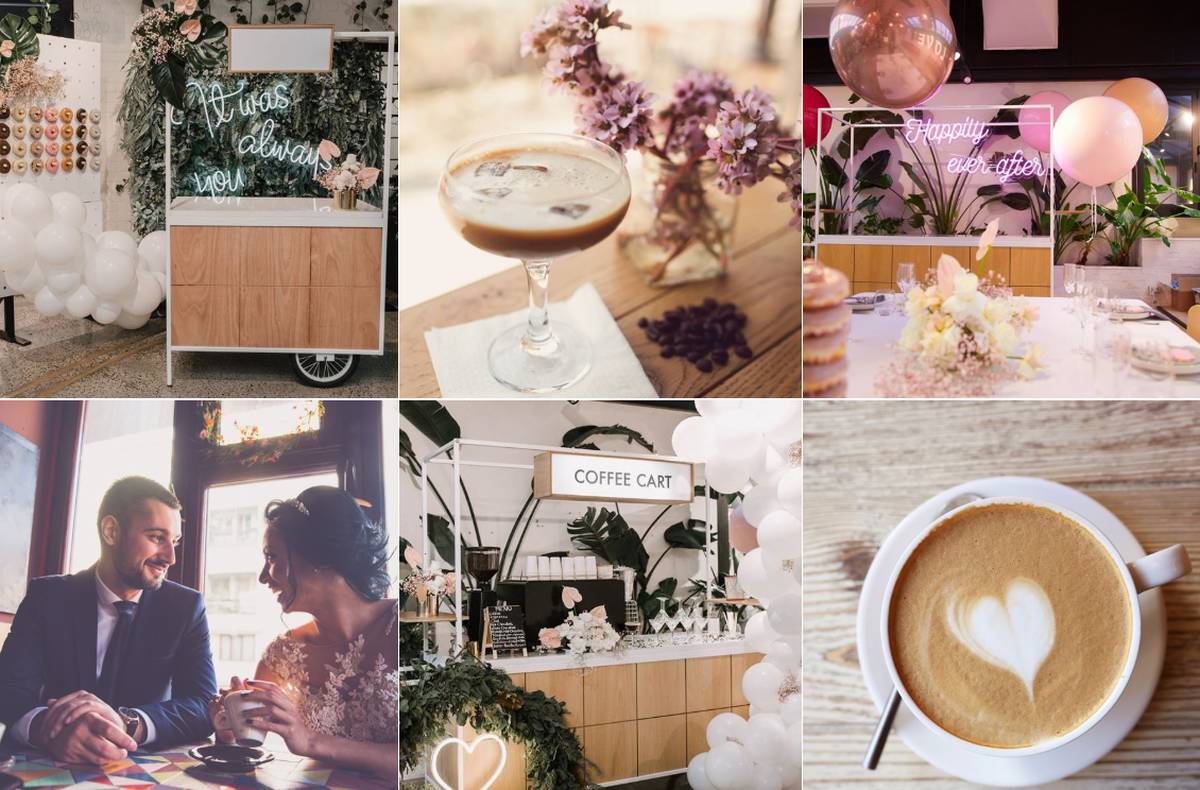 Prahran, Victoria
0438 373 520
https://cartsandcontainers.com.au/
Style or build your dream cart or container for your special day!
Looking for a unique, fun and interactive way to serve food and drinks at your event?
At Carts and Containers, our focus is to customise unique food experiences for our clients using our beautiful carts, containers or any styling platform our client requests.
Each wedding we do will never be the same as our focus is to customise the cart or container to fit the look and feel of your wedding and tailor it to your specific requirements. All elements of the cart or container can be styled and branded to have whatever customised signage, decoration and design including balloons and flowers on or around it.
With over 7 years of experience catering to major events all over Australia, we would love to bring our amazing skills, customer service, presentation and knowledge to make your wedding something to remember!
We would love to be part of your special day and make a truly wonderful and memorable experience for everyone involved.
Tap That Portable Bar Hire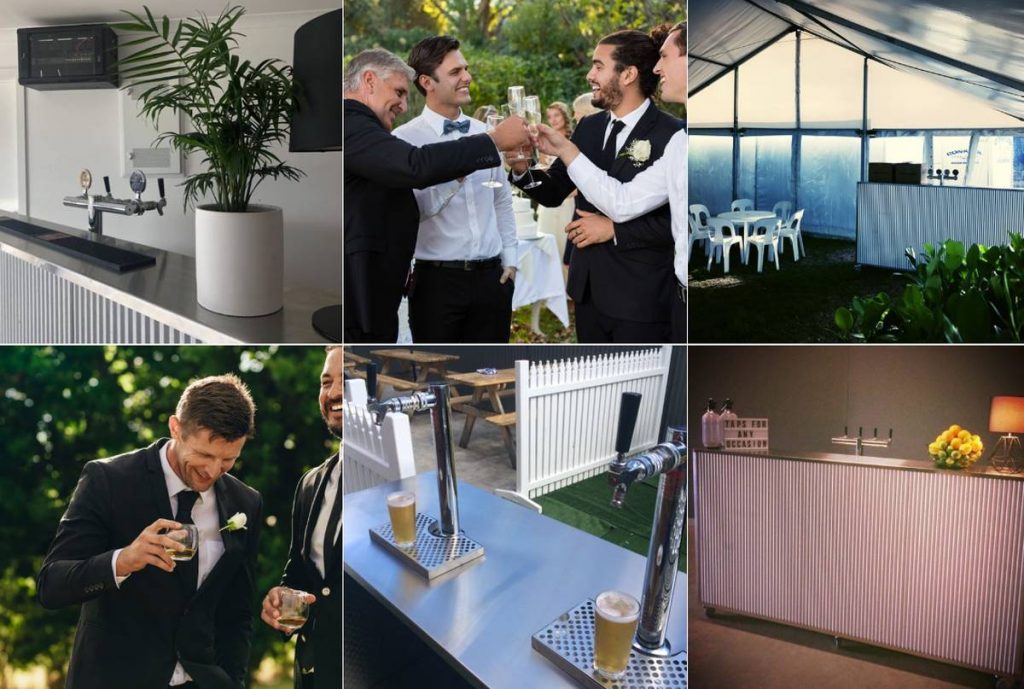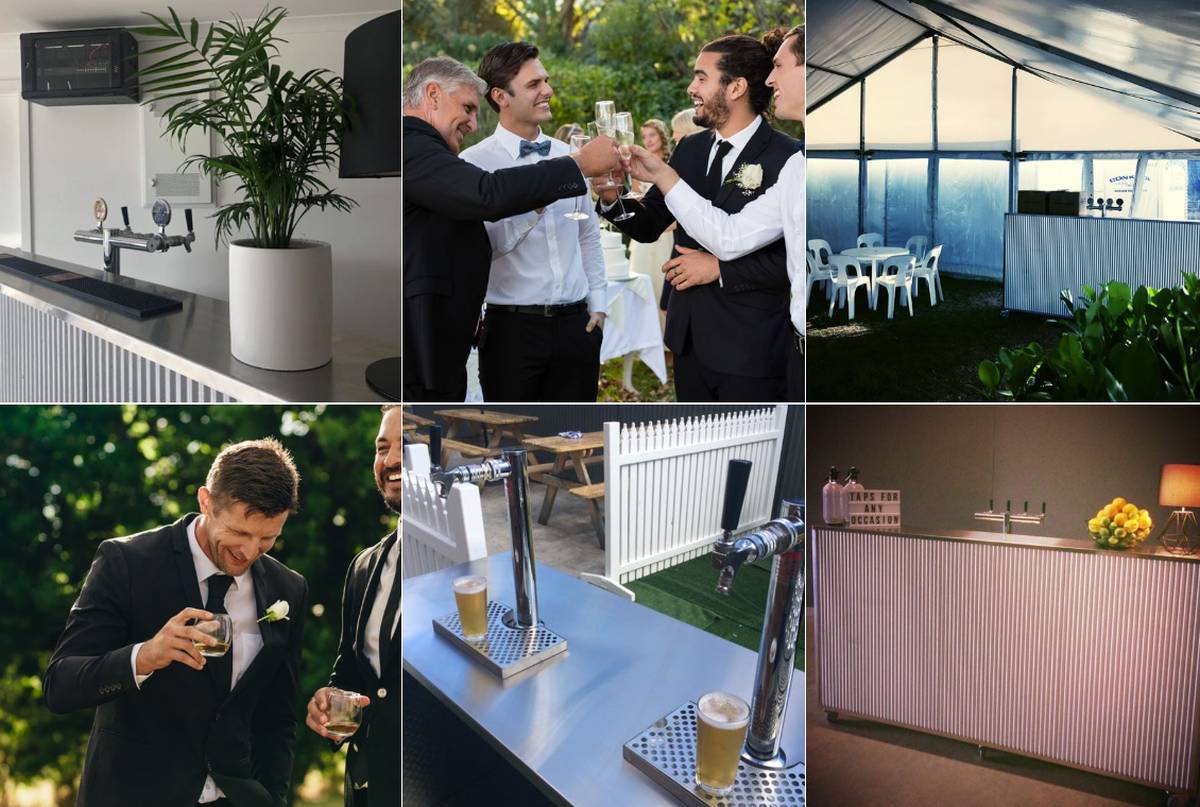 Trafalgar, Victoria
03 9498 5156
https://www.bossbarhire.com.au/bar-hire
The ultimate show-stopper for your big day.
Our portable bars are the perfect addition to your special day.
Whether you're celebrating in a rustic hall, marquee-style or are simply turning an outdoor area into the perfect space.
The possibilities are endless when you can simply wheel in the bar!
Let your guests have fun with a self-service style bar, or lay back and let our friendly staff do the work for you.
Tahina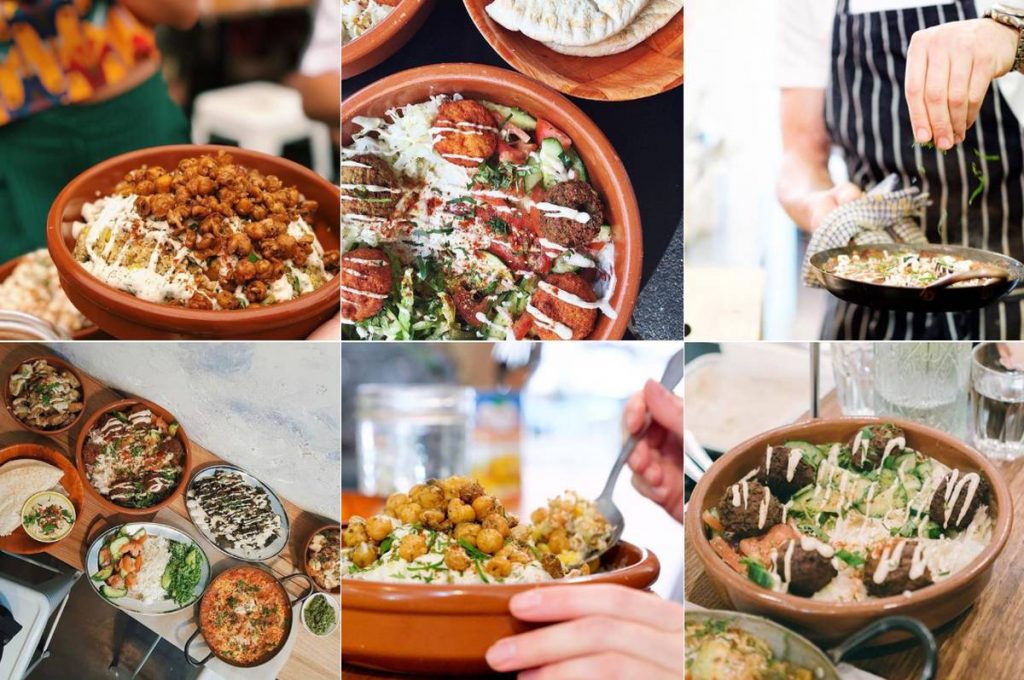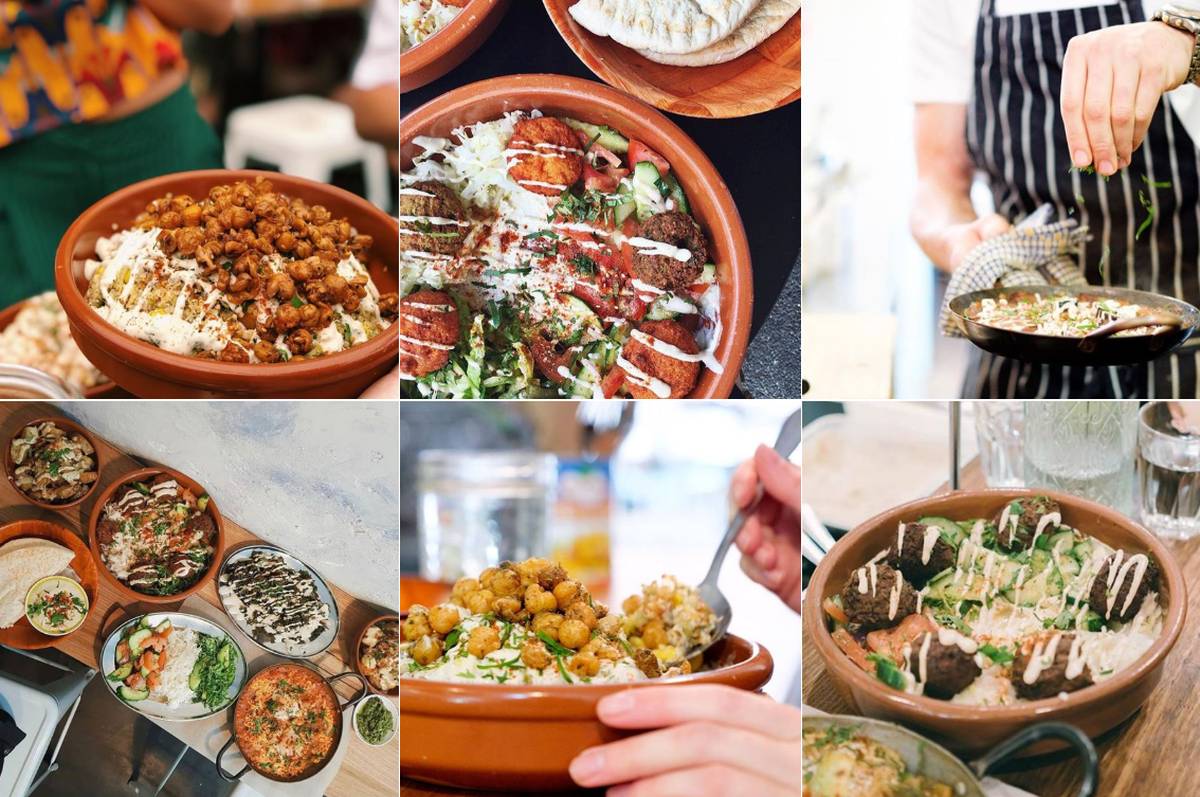 Fitzroy, Victoria
03 9498 3523
Vegetarian Israeli street food with a gourmet twist for your special day.
Roy and Nat's philosophy is simple, share what you are passionate about and nourish your body with wholesome, plant-based foods that are made with love and affordable for all.
Born and bred in Tel Aviv, Israel Roy learnt to cook traditional Israeli dishes in his Father's kitchen as a young boy. Keen to expand his career as a chef, Roy moved to Melbourne in 2012, where he met his partner Nat.
Homesick for his favourite family food Roy enjoyed recreating the flavours of Israel at home. Much to Nat's delight, this always included delicious vegetarian dishes, especially for her. Roy and Nat were soon hosting dinner parties and sharing their love for good food with their close friends and family.
We look forward to catering for your wedding day!
Miss Angie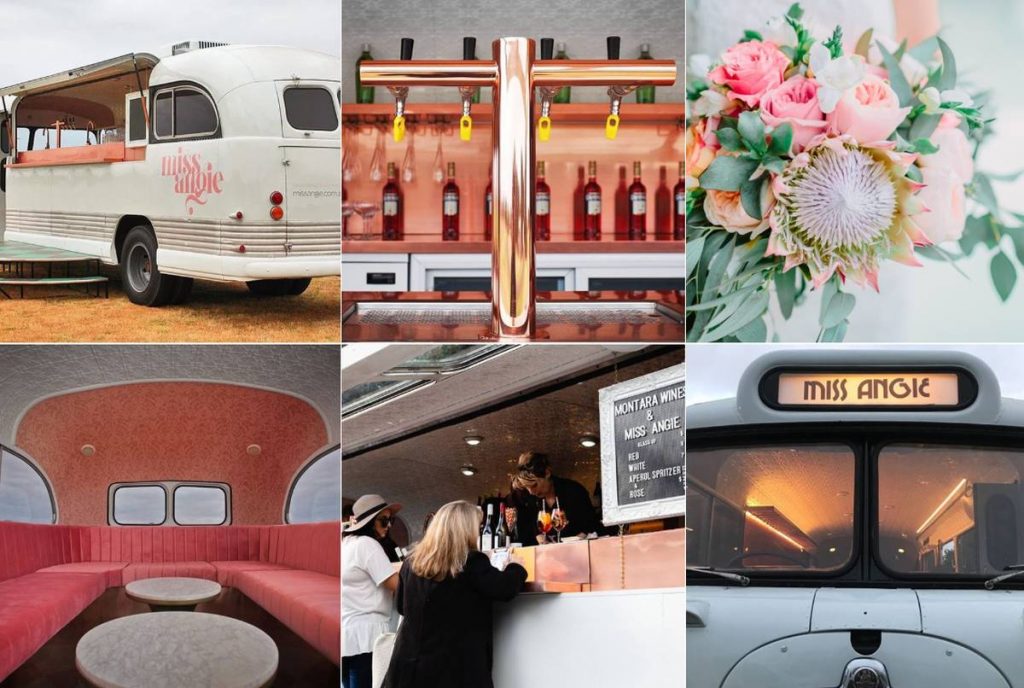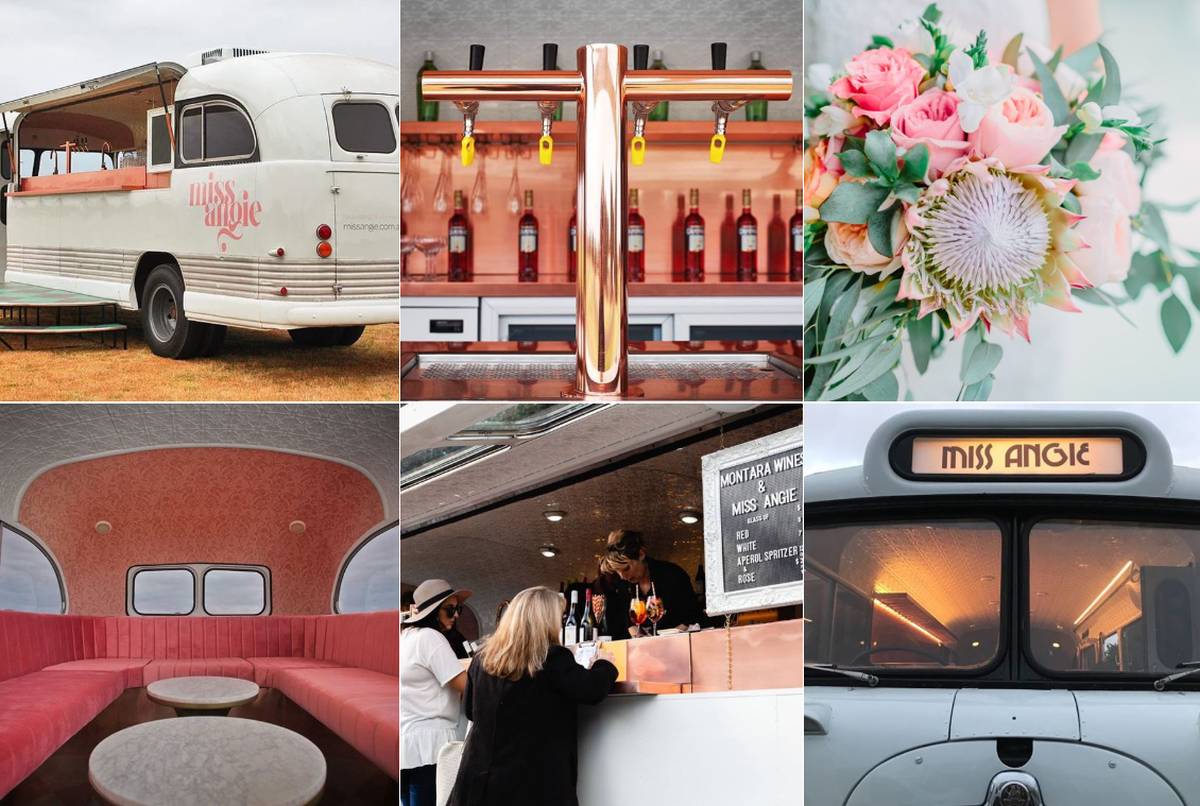 Victoria Wide
03 9498 4020
Transform your event into an experience!
A fully functioning cocktail bar uniquely fitted out in a 1960's Bedford Bus. So if you are hosting a function, Miss Angie is sure to be the bar that can drive to any destination you desire.
Miss Angie comes as her original self, or with 5 themes, however, if you give us enough time we are happy to work on a theme of your choice, or any additional personal request that are capable, to make the function of your dreams happen.
Contact us today to start planning your unique event.
Grazing Tables Melbourne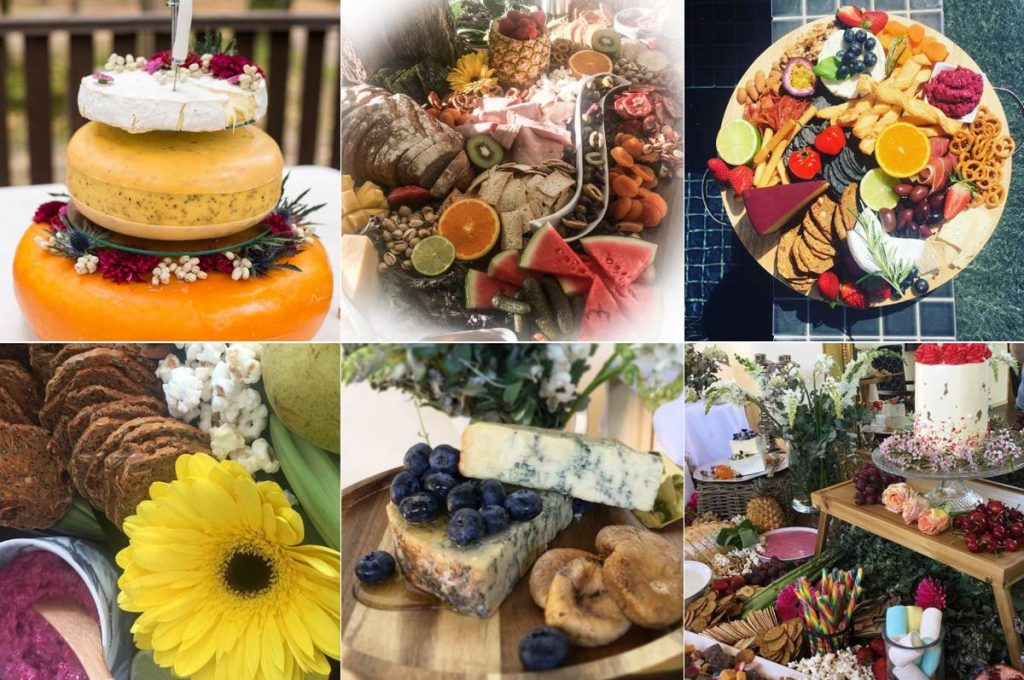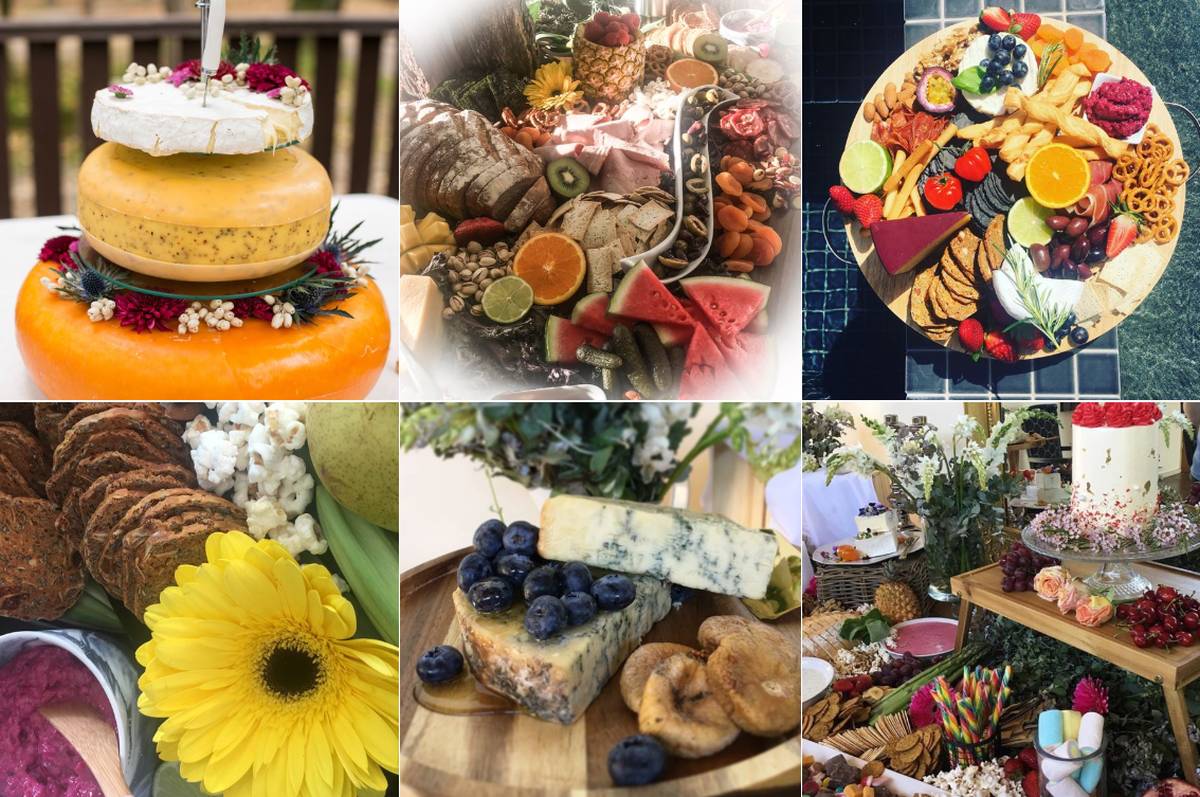 Glen Waverley, Victoria
0411 498 678
https://www.thegrazingtable.org
Grazing Tables Melbourne is the city's premier grazing company, curating tables of distinction. Our lavish tables are abundantly styled from the freshest ingredients, creating memorable experiences through the art of food.
At Grazing Tables Melbourne, we offer a wide range of premium products to suit any occasion.
We eat with our eyes, and nothing will entice you more than our lavish tables abundantly curated with a luxurious selection of the finest cheeses, curated meats, dips, seasonal fruit and vegetables, beautifully paired with artisan bread, crackers, dried fruits, nuts and rich dark chocolate.
Contact us to see how we can help make your next event a memorable one. We'd love to hear from you!
WOOD & SPOON

Williamstown, Victoria
0422 414 675
https://www.woodandspoon.com.au/
We help create extraordinary weddings by placing a strong emphasis on personalized customer service.
You've been fantasizing about your wedding day for as long as you can remember. Now that it's finally here, you deserve for it to be perfect in every way.
At WOOD & SPOON, every wedding we design and cater is an opportunity for us to share in that excitement.
We love helping couples create the most amazing day of their lives, with the people they care about most. When you tell us what your dream wedding is, we make it happen.
WOOD & SPOON is based on the belief that our customers' needs are of the utmost importance. Our entire team is committed to meeting those needs.
We help create extraordinary weddings, social gatherings, and corporate events by placing a strong emphasis on personalized customer service.
We would welcome the opportunity to earn your trust and deliver you the best service in the industry
Mint & Mingle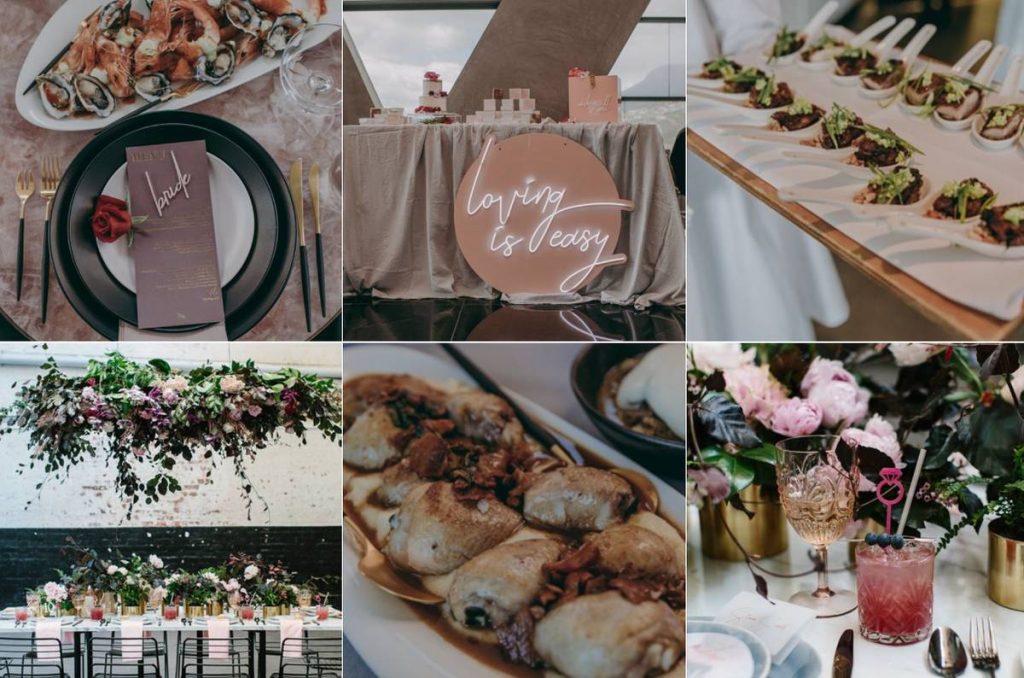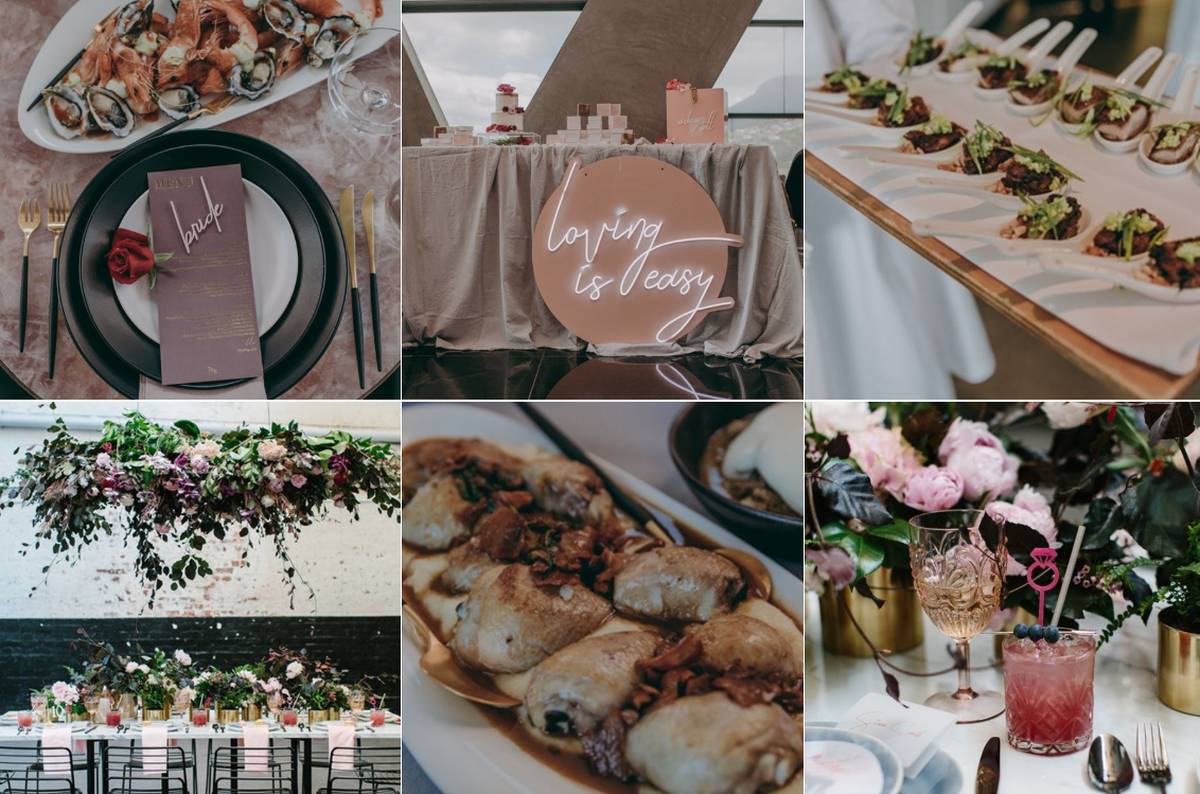 West Footscray, Victoria
1300 336 468
https://www.mintandmingle.com.au/
Stylish events / Quality Catering / Bespoke Cocktails - we aim to make wining and dining your guests the easiest part of your wedding day!
Mint & Mingle offer customised drinks, and cocktail catering packages with complete full-service bar hire starting at $25 per person.
Our food options are endless and are designed to come to you. From help-yourself platter and food trucks, through to full-service dining and grazing tables, our flexible approach to your big day is what we do best.
Our service extends throughout Melbourne, VIC and Sydney, NSW and we're able to cater any style of wedding and offer a full range of additional add-on's including event planning and coordination, staff, styling and hire.
Crystal Palace Catering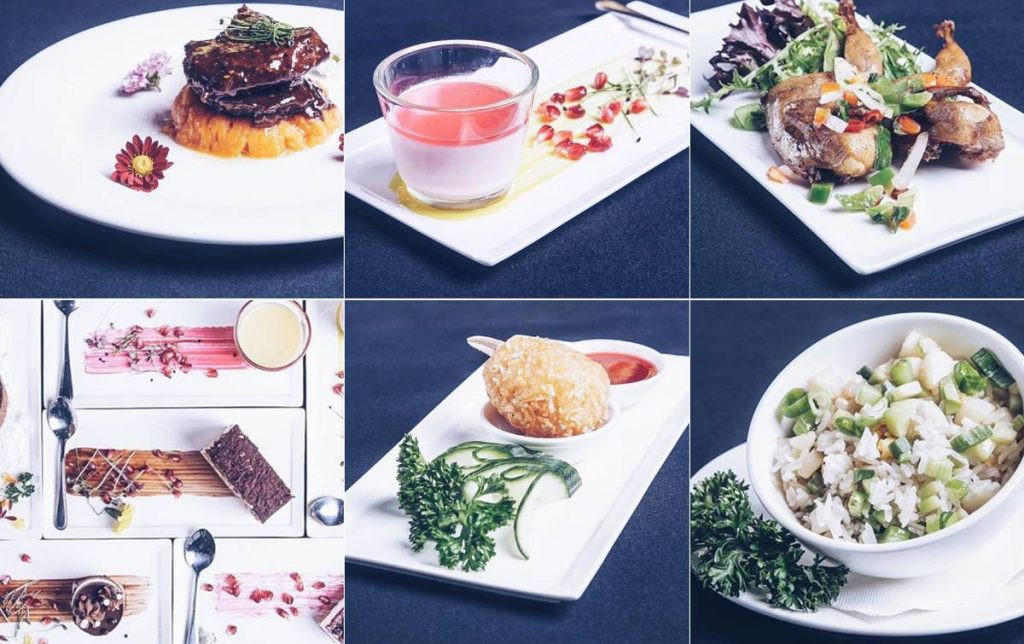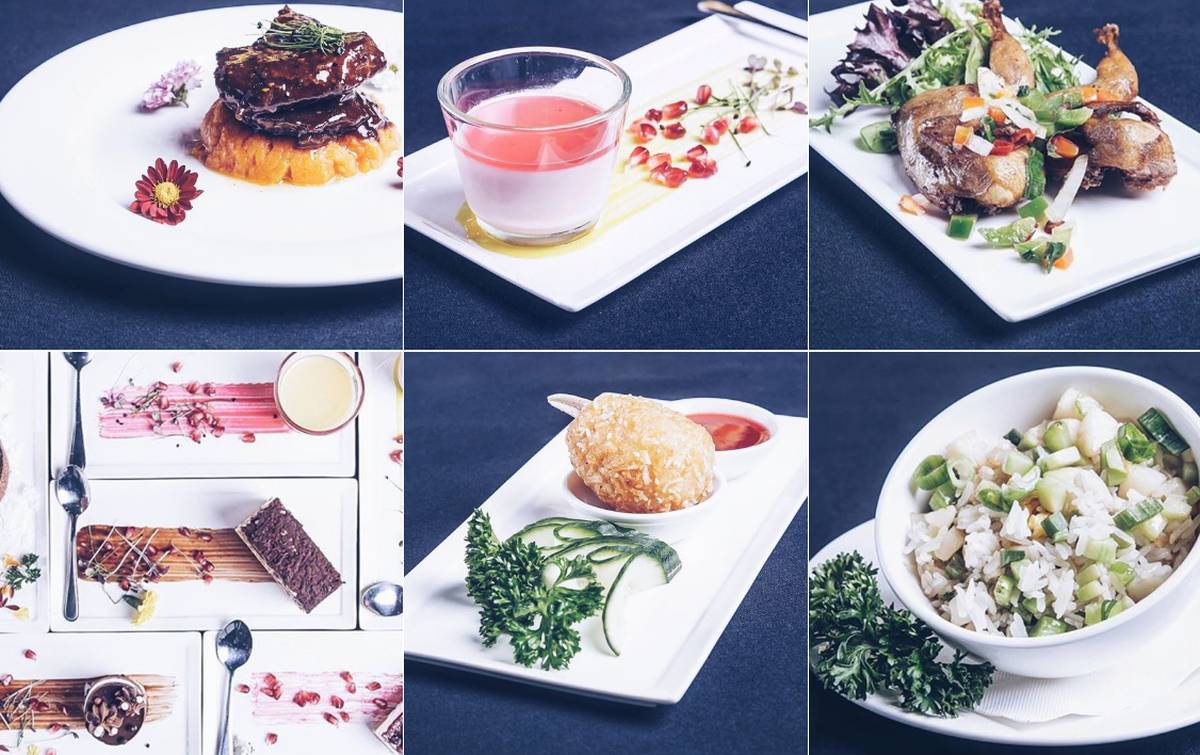 Melbourne, Victoria
03 9498 4257
With over 30 years of experience in the wedding industry, our dedicated team will guarantee you peace of mind.
With over 30 years of experience in the wedding industry, our dedicated team will guarantee you peace of mind with our exceptional food and catering services.
Widely recognised as an industry leader, Crystal Palace Catering always endeavours to exceed your expectations with consistency and creativity. Not only do we aim to please with our highly reputable banquets, our focus on customer service means that you can enjoy your magical evening with confidence.
NOTHING BUT THE BEST
Our established relationships with some of the most prominent reception venues in Victoria combined with our silver service and culinary expertise delivers to you an impeccable experience. Our attention to detail and willingness to make your day special will ensure a celebration both you and your guests will never forget. Crystal Palace Catering is honoured to be multiple winners of the Australian Bridal Industry Awards for Independent Caterer of the Year.
OUR FOOD
Crystal Palace Catering holds a unique reputation for the consistent quality of our superb banquets. With innovation and refinement, our fusion of traditional and contemporary Asian cuisine is sure to satisfy even the most discerning of palates.
OUR SERVICE
Professional, friendly and dependable service is what you can expect from our staff. Our catering company goes beyond simply great food - our staff understand the value of exceptional service and are always willing to go that extra step in attending to your requests. We believe that because this is your special day, you and your guests deserve to be spoiled!
Nutrishous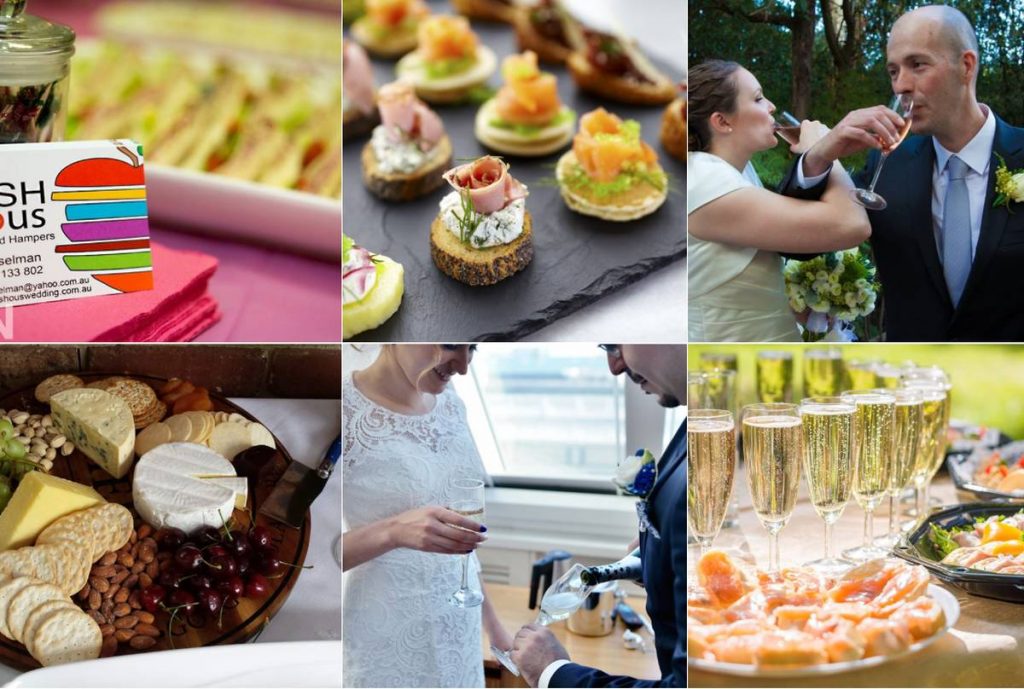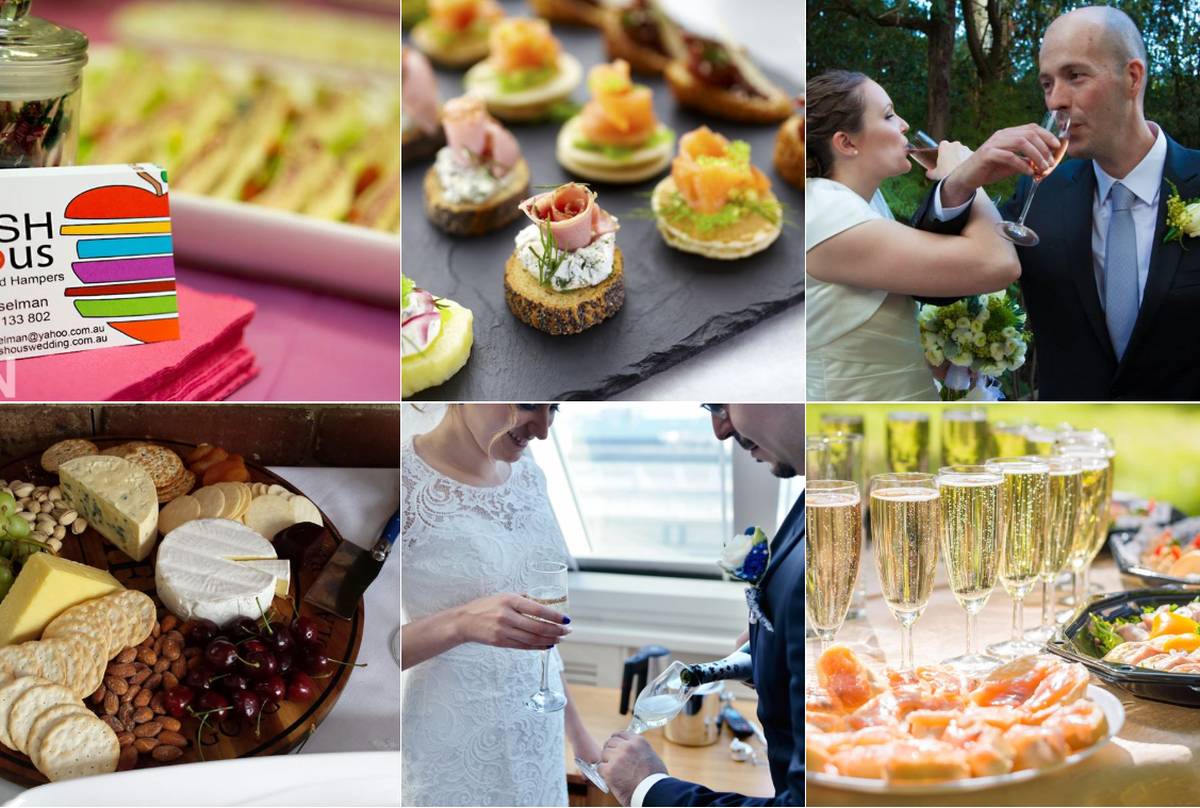 Melbourne, Victoria
03 9498 4131
https://nutritiouscuisine.com.au/
Nutrishous provides gourmet food for you and your bridal party, which is perfect for when you are too busy with hair, make-up and photos.
Nutrishous delivers gourmet food  for you and your bridal party, which is perfect for when you are too busy with hair, make-up and photos.
Your wedding day is the best day of your life, but it's also the busiest. In between the make-up, photos, ceremony, reception and all the other things, remembering to eat well and stay hydrated is easily forgotten.
Why leave it up to your mum to make the sandwiches when Nutrishous can deliver a gourmet bridal party food hamper to your door on your wedding day?
So call Trish and her team to arrange you and your bridal party a tailored survival kit, including healthy snacks and drinks or something more decadent like some champagne and chocolates. Pop in some mints to keep your breath fresh and some band-aids  for blisters and you have everything to make sure you enjoy every minute of your big day.
Moreish Catering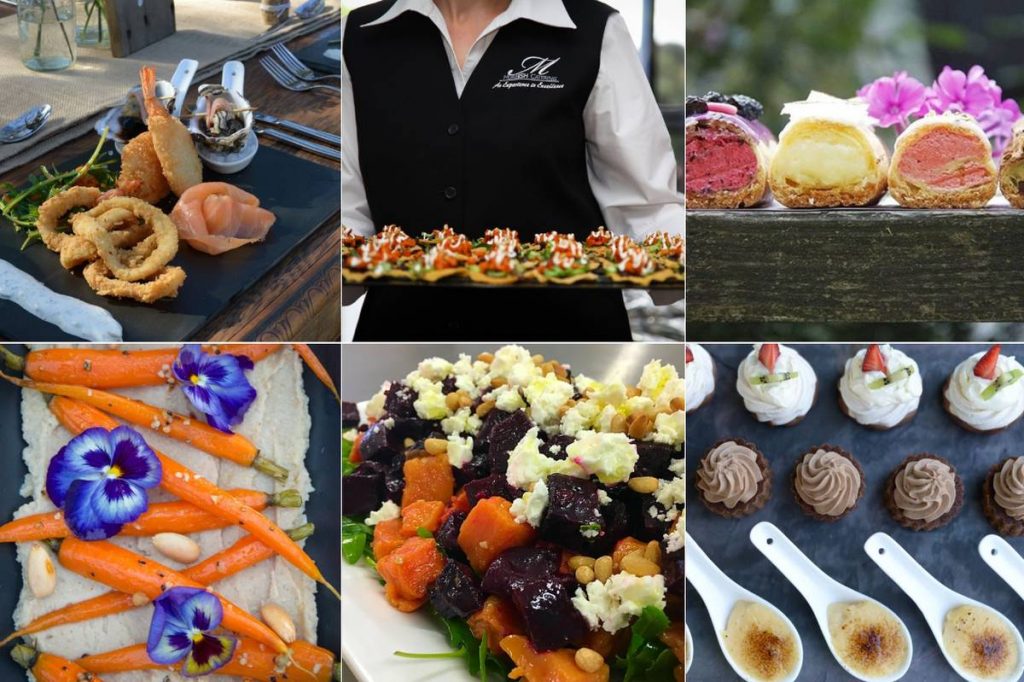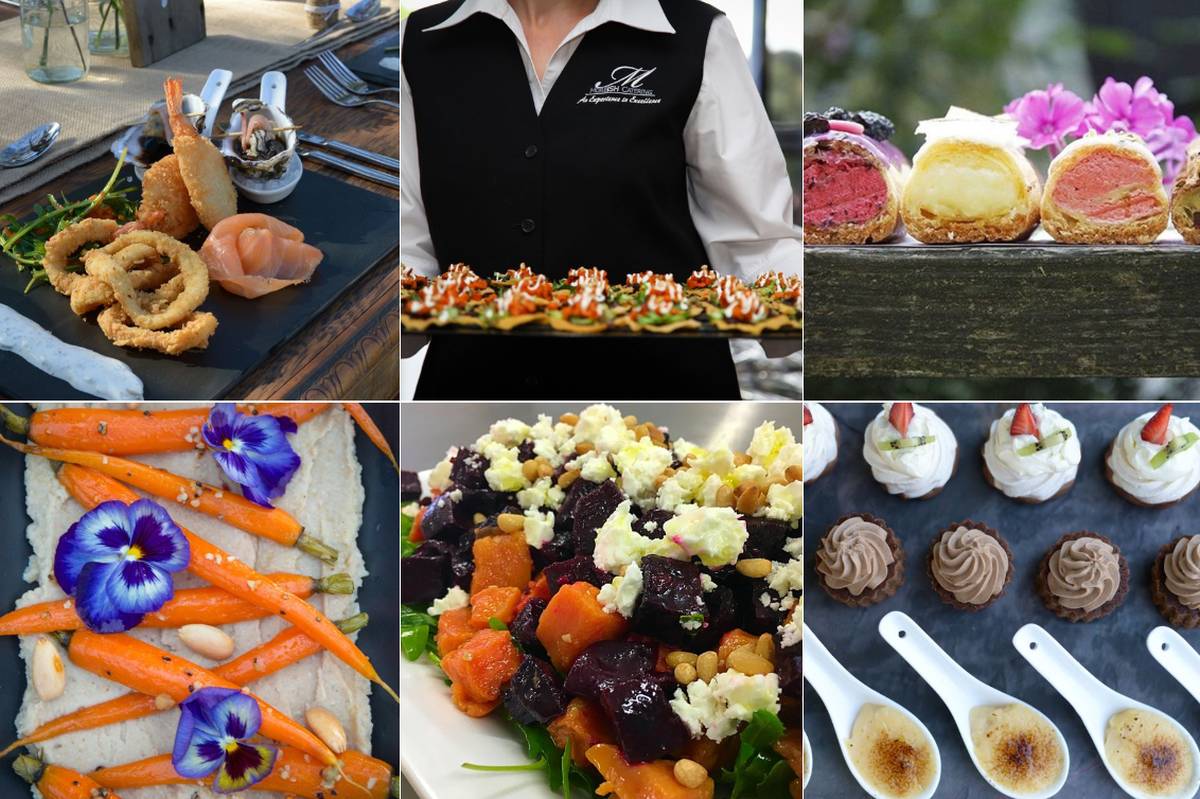 Mornington, Victoria
03 9498 4214
http://www.moreishcatering.com.au/
Our creations ooze class, style and sophistication, are leaving you and your guests feeling full, amazed and in awe.
MoreISH Catering, market leaders, is a dynamic, innovative catering company whose passion and focus is to create MoreISH food with a modern edge. Our creations ooze class, style and sophistication, are leaving you and your guests full, amazed and in awe. We believe that great weddings are those where family and friends are touched by the air of love and greeted with generous food and a spirit of genuine hospitality.
We source quality market-fresh local produce (on the Mornington Peninsula) which enables us to create menus which excite and tantalise. Each and every item is homemade in our commercial kitchen, right down to our shortcrust tartlets, to ensure you enjoy a fresh restaurant-quality experience with MoreISH food that bursts with flavour.
We are award-winning caterers who are proud to have won best wedding caterer , voted by brides, in Victoria in 2015 at the ABIA awards (Australian Bridal Industry Awards). We have more testimonials listed on our website and ratings received on our MoreISH Catering facebook page which you're welcome to check out. We are truly humbled by all the kind words and thanks. We look forward to working with you also to achieve your ultimate day!
We are so fortunate to live on the Mornington Peninsula, from its rolling hill, vineyards, markets, farms and oceans we have an abundance of fresh local produce on our doorstep which excites our taste buds and gets we creative juices flowing.  Our point of difference is that we use the local produce and make each and every item in our commercial kitchen right down to our mini tartlets.
Liquid Infusion Mobile Bar Service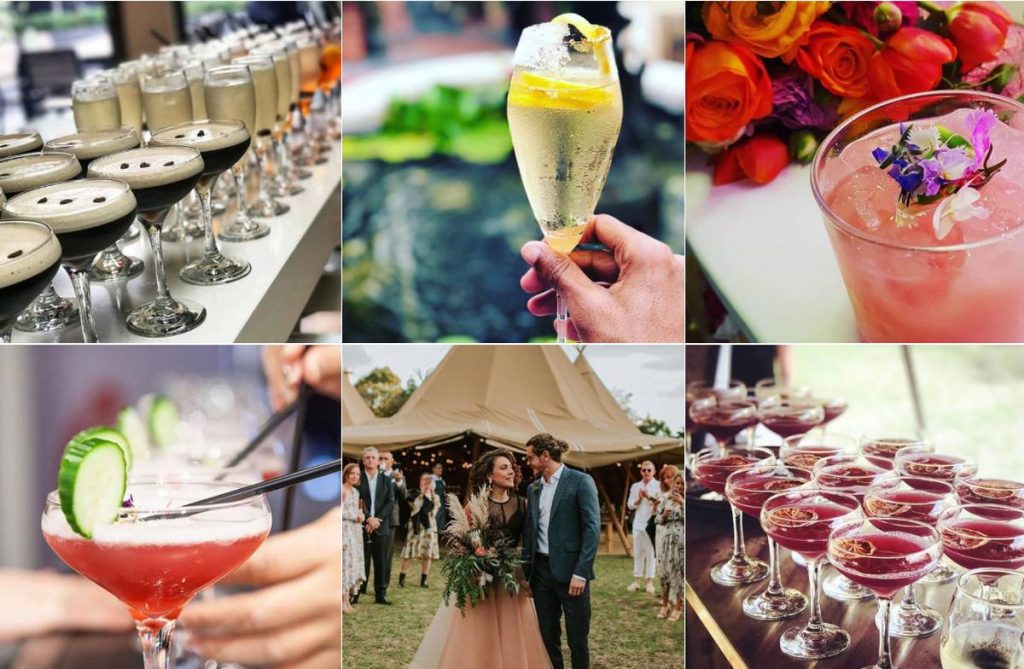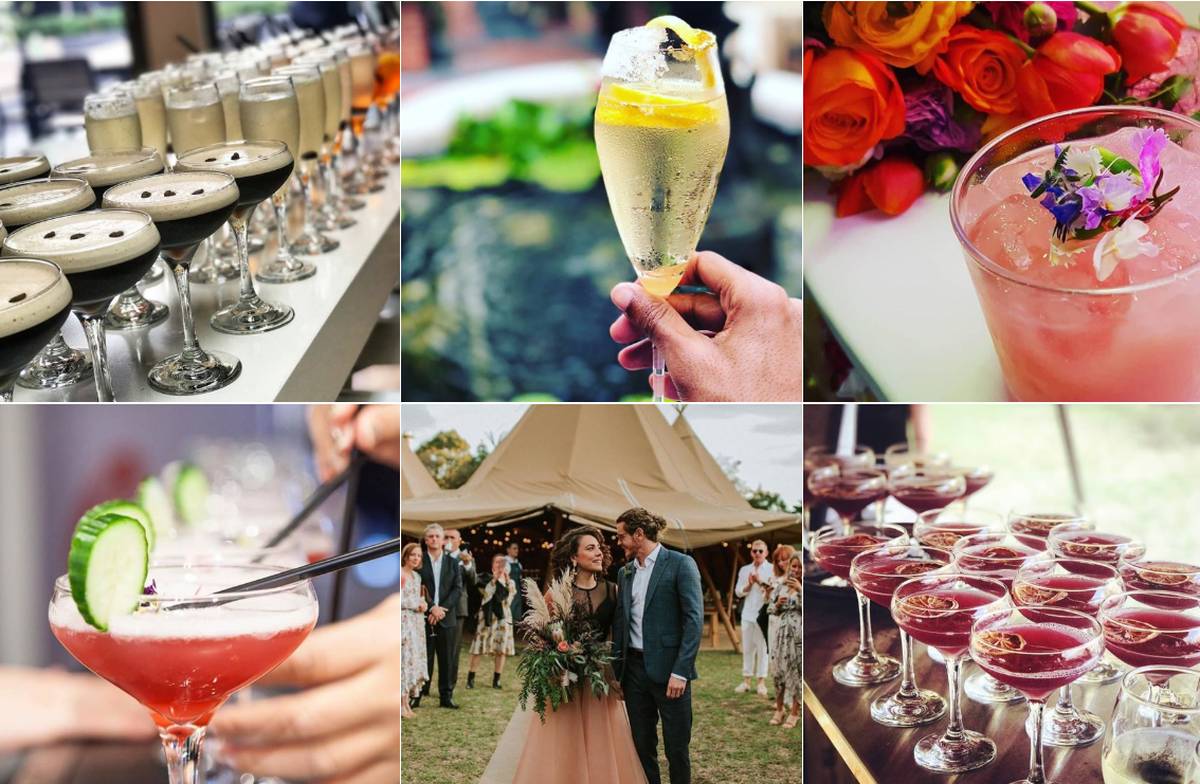 Moorabbin, Victoria
03 9498 4774
https://www.liquidinfusion.com.au/
Liquid Infusion is an ideal choice for everything 'wedding', from hen's nights and engagement parties through to the big day.
Liquid Infusion is a regular sight at all the important wedding expos, and we are proud to be the market leader in Melbourne's wedding beverage catering scene. Liquid Infusion is an ideal choice for everything 'wedding', from hen's nights and engagement parties through to the big day.
There is a lot to plan for your special day, so Liquid Infusions' comprehensive service means that you don't have to worry about organising staff, sourcing drinks, or running out of champagne on the day! Beverages can be one of the most important parts of the reception, and a smooth running bar can make a big difference to the day.
At the engagement party, add to the excitement with a Liquid Infusion bar serving up the best drinks for guests. Liquid Infusion has years of experience in catering and achieving outstanding results for weddings and engagements in Melbourne. Whether it be in a marquee, at a venue or at your home, Liquid Infusion has the perfect beverage option for you.
NEW RETRO PAPER BARBER STRAWS INCLUDED FOR EVERY WEDDING FREE OF CHARGE- IN A COLOUR OF YOUR CHOICE!!!!
All our wedding functions are equipped with our best staff, allocated more time for setting up and allocated a personal Event coordinator.
The Grecian Kitchen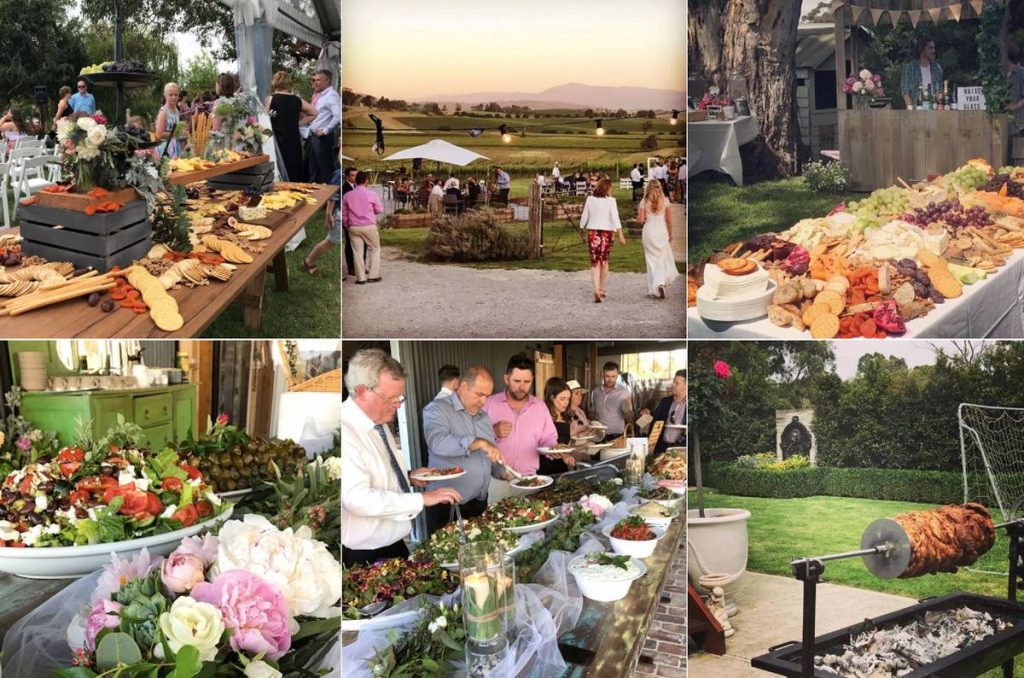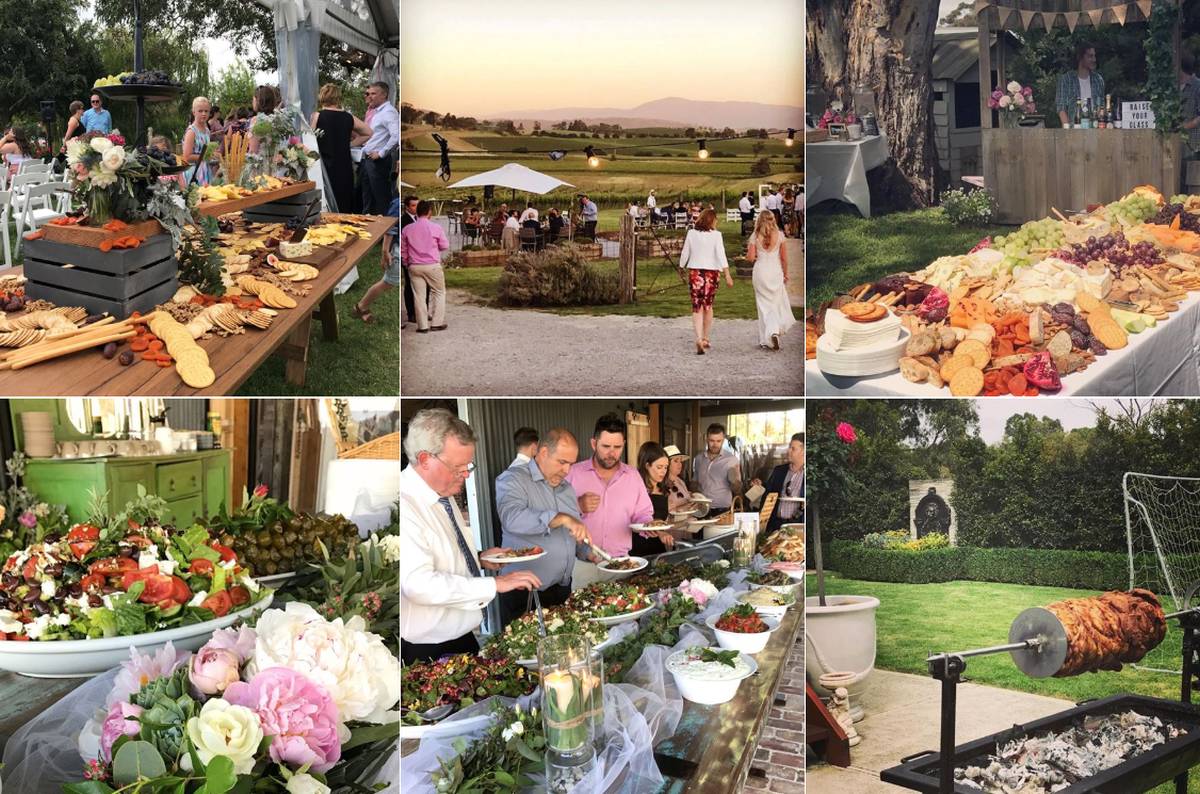 Oakleigh, Victoria
03 9498 4208
https://www.thegreciankitchen.com.au/
Our Philosophy is simple: To share our love of Grecian food and provide a fresh, unique and unforgettable experience for our Bride and Groom.
We have 20 years experience and weddings are our passion.
Experience the flavours of Greece with a Modern Twist.
Give your friends an unforgettable experience and Food they will talk about for weeks.  Freshly cooked food with attention to detail and presentation.
We bring the BBQ to you, cook on-site and bring the Freshness and flavours of the charcoal to your party.
Grecian inspired Buffet Tables, Mezzethes Platters for Finger food Functions
A variety of Sweets and mini cakes for your Dessert Table.
We specialise in Beautiful Cheese and Fruit Tables/Boards and combination Platter and Buffet Table service.
Perfect for Stand Up Functions and Wineries.
All menus tailored to your individual needs and will travel anywhere in Victoria.
Perfect for Weddings, Engagement Parties, Hens and Bucks nights.
Visit our FB page for our recent Work, Stories, Photos and Reviews.
Ghost Wines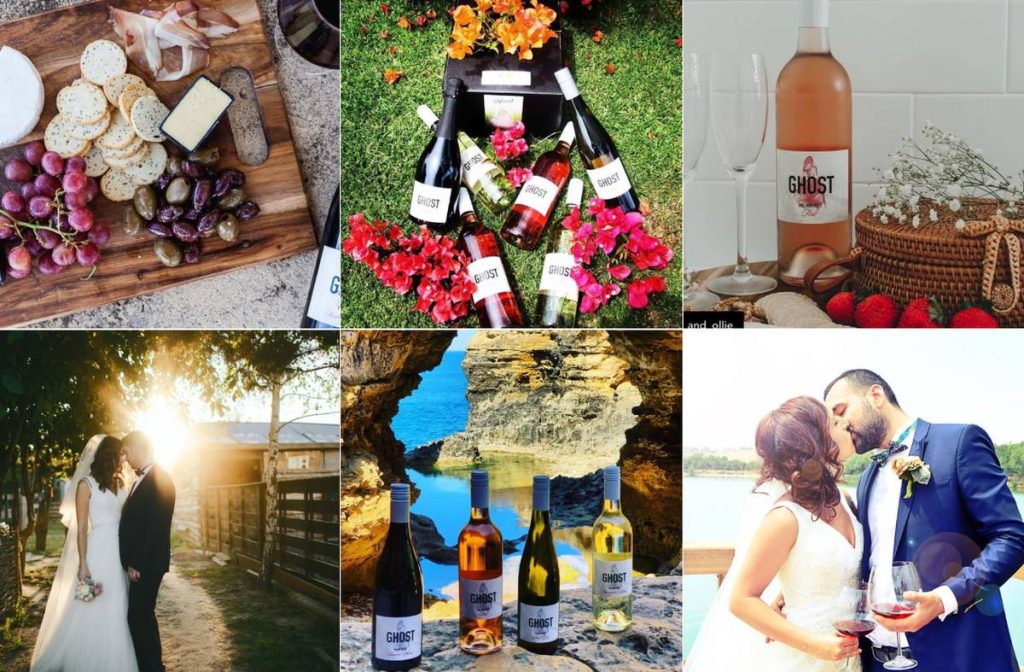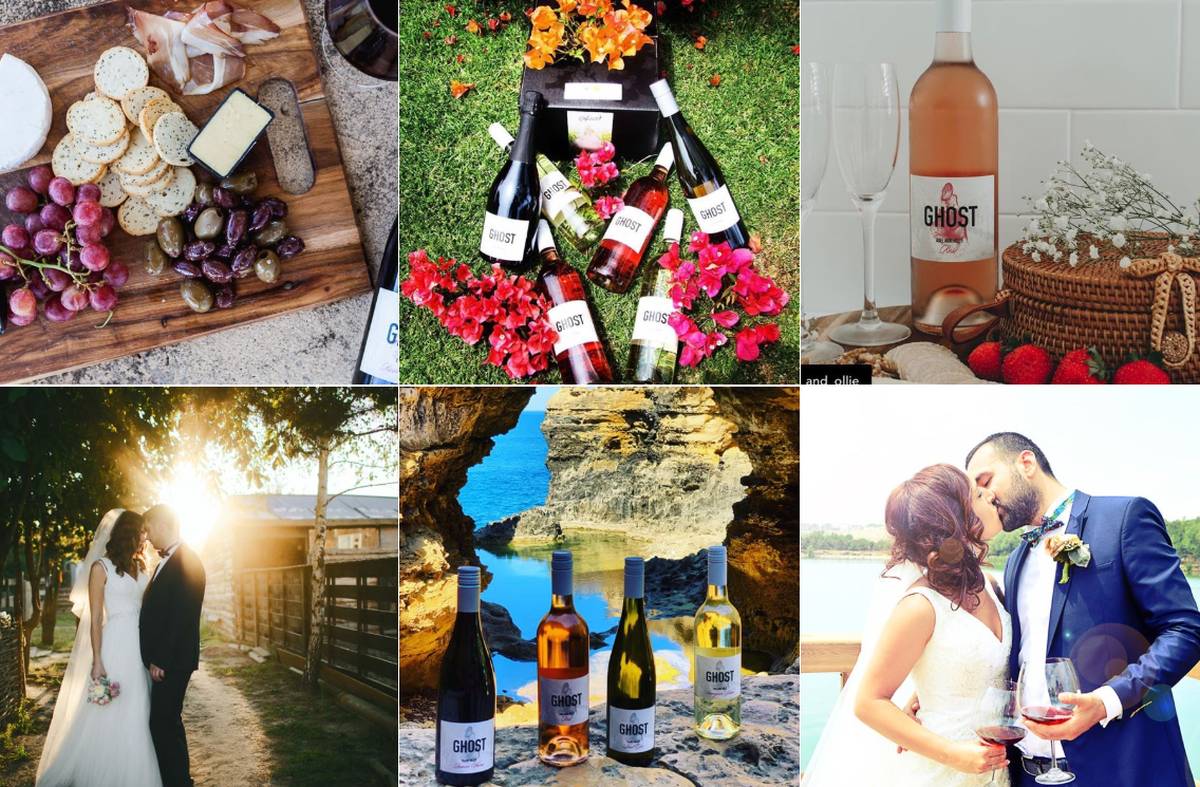 Grange, South Australia
08 6324 0917
Let us do the worrying about the quantity and types of wine for your special day!
Hi, My name is Brett, and with my Wife Angela we have created Ghost Wines. We got sick of paying too much for average wine, and after talking to some top winemakers, we saw an opportunity to sell premium wine without the price tag. We don't have any shopfront retail stores so we can sell at a big discount. The only difference between our bottle at $15 and a store bottle at $35 is the Ghost Label. We have Temperature Sensitive Labels on our bottles, so when the Ghost Turns PINK; she is ready to Drink!
We can take the stress out of your wedding wine decisions, and we'll save you money at the same time!
We can discuss your needs for your big day and send out wine samples so you can try before you buy. We also assist in providing advice on wine styles with food matching.
We offer a range of our wines under the Ghost Label but can also source other premium wine through our contacts at a discounted price. We guarantee all our wines and can promise your guests will be impressed.
Catering by Chefs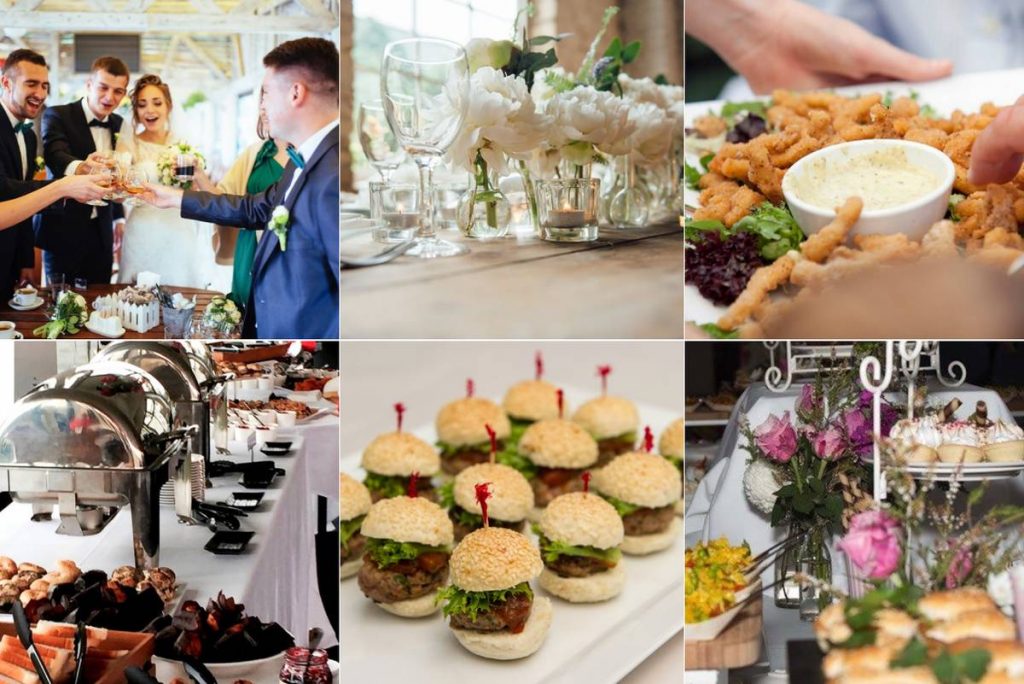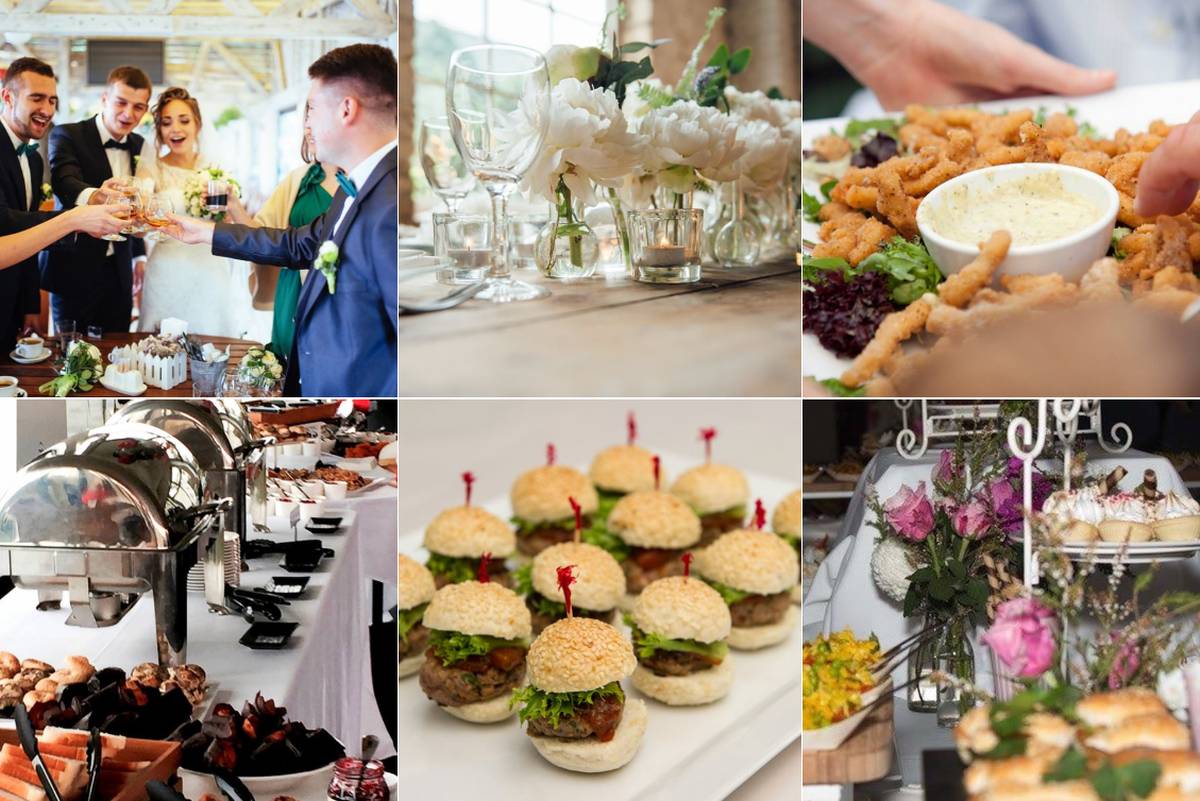 Hampton, Victoria
0407 633 322
https://www.cateringbychefs.com.au/
Planning to get married in the not too distant future? Lucky for you and your partner, wedding catering has been our speciality since our inception!
We understand perfectly that this is the biggest day of both of your lives, and we go to great lengths to ensure that it moves along with ease, providing enjoyment for all.
From full meal serving to simple platters and canapes, we've got your wedding catering concerns sorted with the extensive menus available for selection from our expert chefs.
Providing meal options which comply with everyone's dietary requirements may be hard for others, but not us! Our wedding caterers are willing to work closely with you, to ensure that no one on your guest list goes wanting on the day or for the bridal party prior. We can accommodate those who have any allergies easily and effectively, and we aim to provide you with nothing less than a service that your guests will be talking about for years to come!
We can also provide exciting platters for your event or bridal party, from a great selection of antipasto to our hot and tasty finger foods, as well as our renowned, cocktail canapes.
We can also easily provide wedding catering for both extremely large and intimately small events, making sure that you, your partner, and your guests will enjoy the food available.
Our event management team will be dressed in appropriate attire and inspire others with a smile on their face, wherever your wedding event is in Melbourne.
Bianco Latte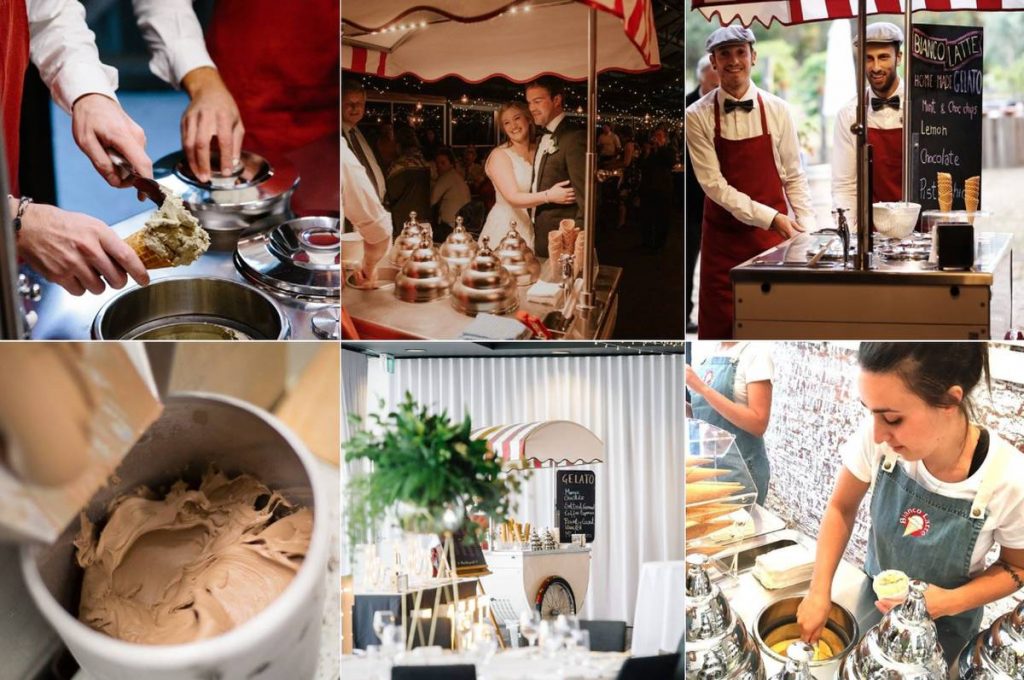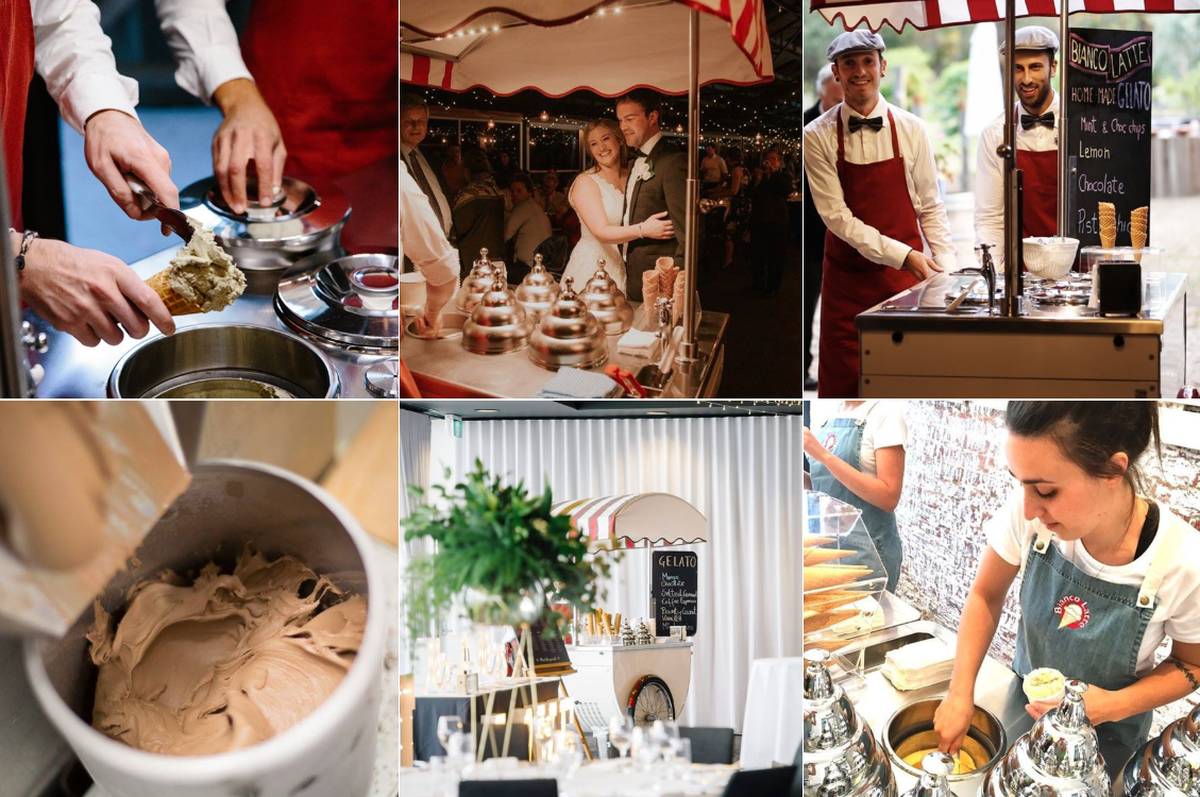 Melbourne, Victoria
03 9498 4922
https://www.biancolatte.com.au/
Indulge your guests with the finest quality of homemade gelato and sorbet, served from our beautiful vintage Sicilian Ice-cream cart!
Bianco Latte is the stand out option when it comes to adding that perfectly unique touch to your wedding day.
We manufacture all of our gelato and sorbet ourselves, and we only use fresh ingredients locally made and produced.
The countless pictures were taken with our beloved cart truly explains the distinctiveness and uniqueness of this beautiful set up which you would be lucky to stumble upon anywhere else in the world.
We would love to have a chat!
Vanilla & Co.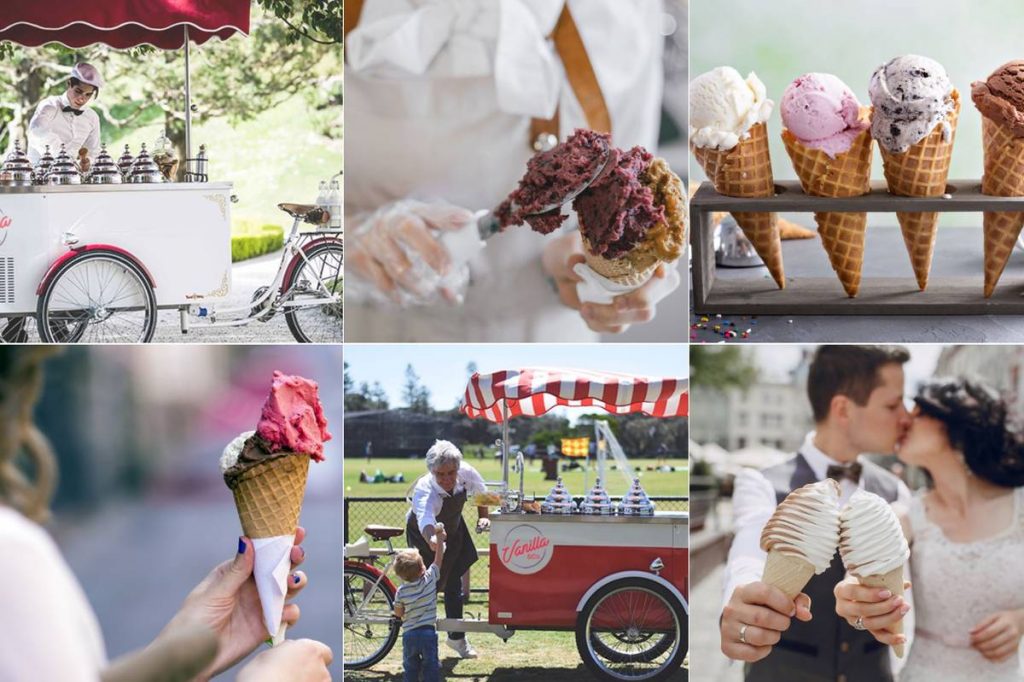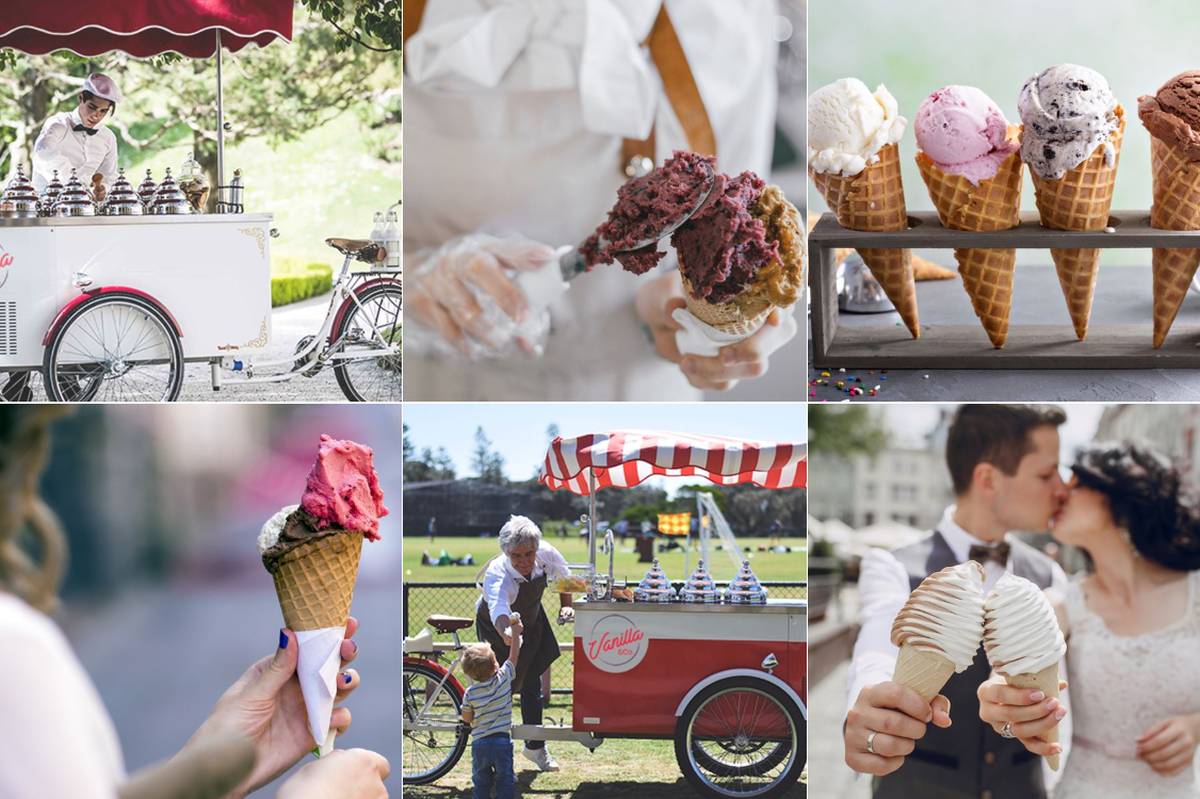 Caulfield, Victoria
03 9498 4147
https://www.vanillaandco.com.au/
Vanilla gelato is hand-made fresh to order and features over 15 of the most sought out and most loved flavours.
Gelato is universal love. It brings joy to all, and it brings people together, we have a simple yet clear goal; to bring to Melbourne our beautiful Italian carts filled with artisan gelato, providing a fun and "cool" Summer experience.
Although our inspiration is derived from our experience in Italy where we came from, it's our customers who provide real inspiration.
Allow us to share with you the joy of artisan gelato and book us to service your next party or event.
Boss Bar Hire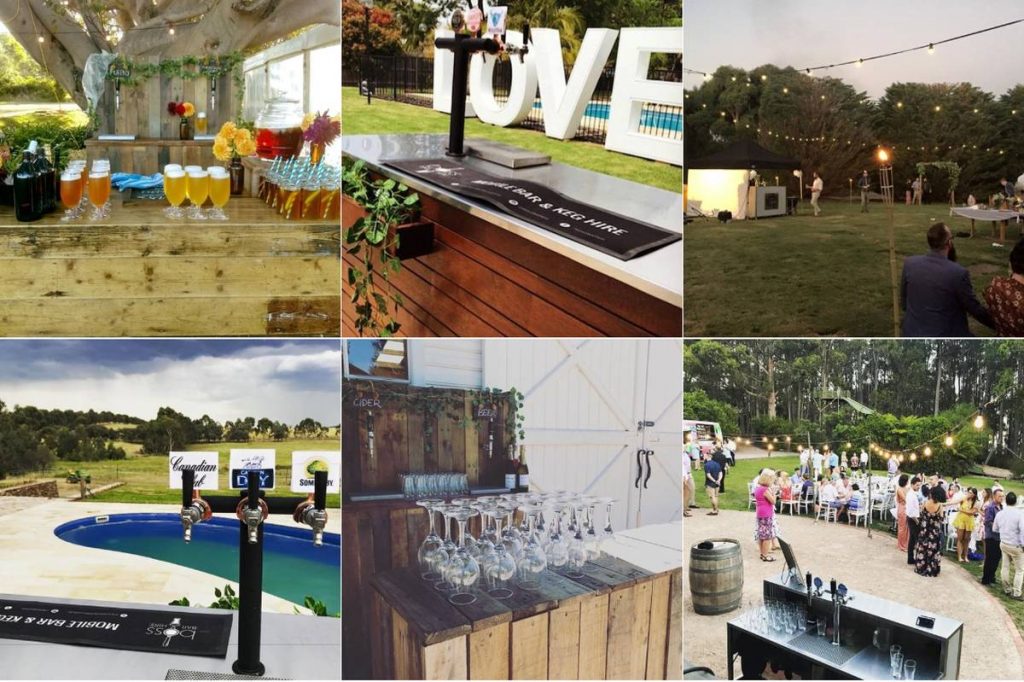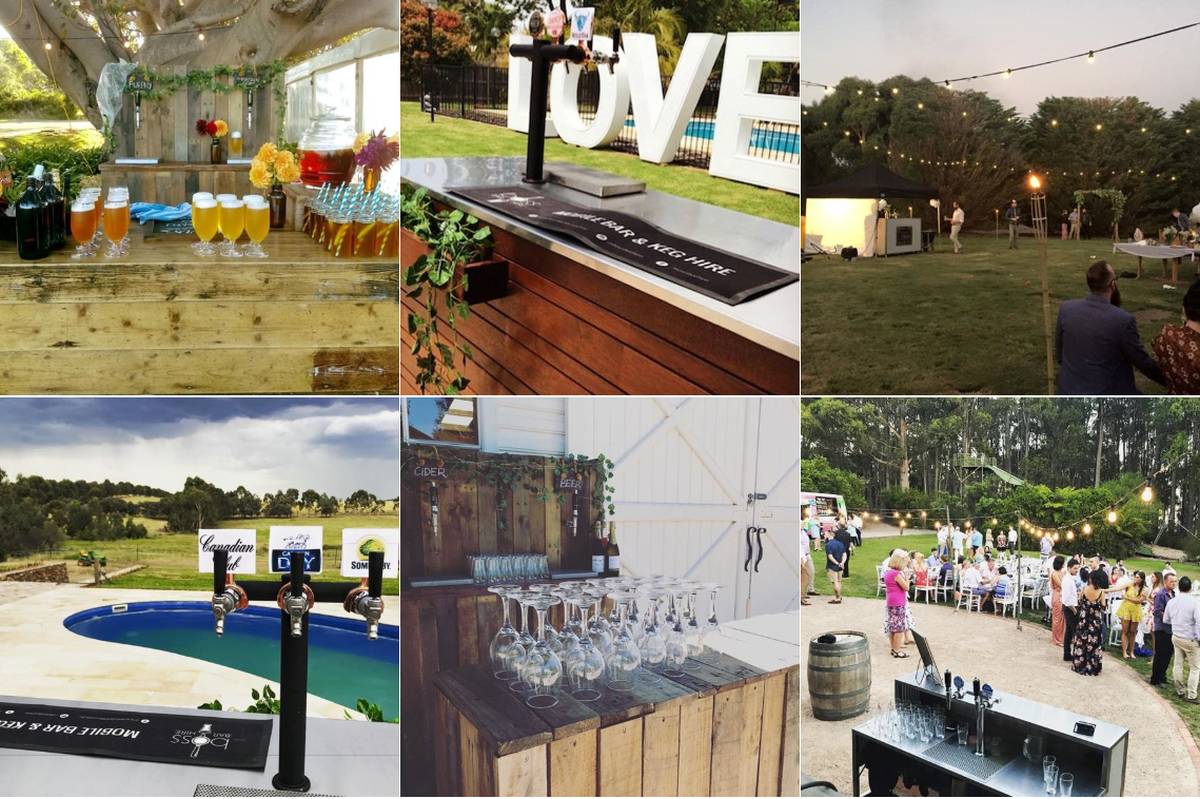 Diamond Creek, Victoria
03 9498 5265
https://www.bossbarhire.com.au/
Cater with kegs - Mobile bar hires serving beer, cider and cocktails on tap at your wedding, anywhere it may be!
Looking for a point of difference for your special day? We have a range of beautiful mobile bars to suit your needs and help you cost-effectively cater to large crowds with beer, cider and cocktails on tap.
Have your wedding in your dream location, our mobile bars can go anywhere, and you will still have to ice-cold drinks without having to worry about bags of ice melting in minutes in summer. We have a range of styles to choose from including powered, non-powered, self-serve / bartended, with 1- 4 taps.
Wedding packages available include;
Mobile Bar Hire
Bartenders
Beer, Cider & Cocktail Kegs
Wine, Champagne & Pot Glass Hire
Delivery, setup, and pickup
Why cater to kegs..?
Cost-effective - 1 keg is equal to roughly 6.5 slabs
Good for the environment - No mess, no waste and no broken bottles!
Stress-free! - Don't worry about esky's and ice on your big day
It's a crowd-pleaser! - Let's face it, beer on tap just tastes better
Did you say espresso martini on tap?? - Yes and at $3.30 per serve.
We are a small local business and build the bars ourselves, so we know the ins and outs of keg dispensing and can help you choose which bar is right for you.
We'd love to hear from you, contact us to find out about our wedding packages or to build your own package to suit your wedding.
Let's Waffle N Shake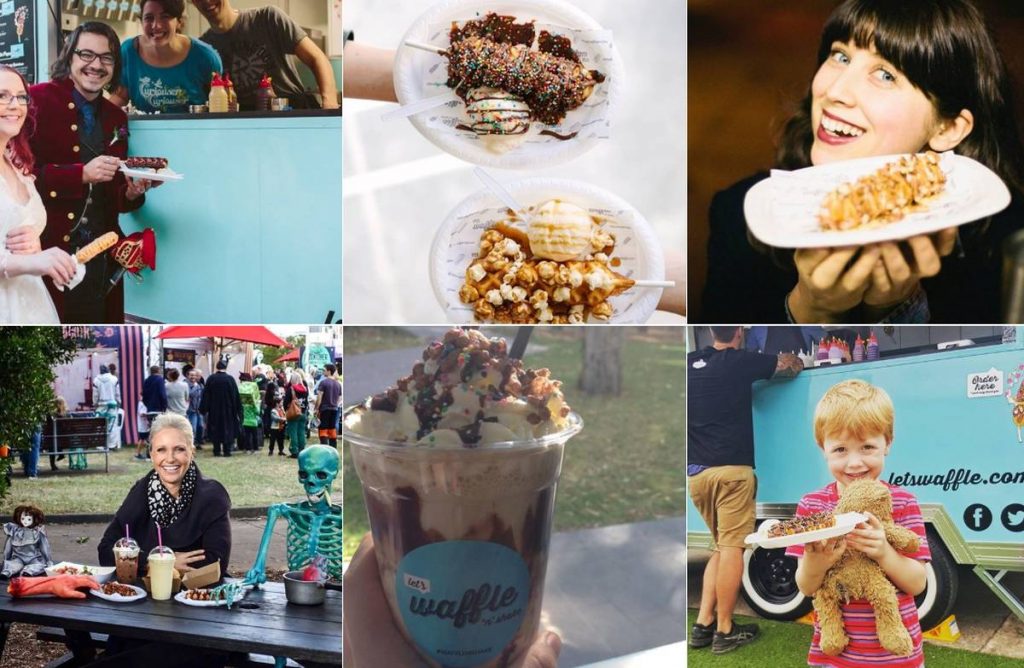 Cranbourne West, Victoria
03 9498 4165
Let's Waffle 'n' Shake up your big day!
We are the first food truck to bring Wafflepops to Melbourne. They are Belgian waffles served on a stick and covered and topped with some sweet flavours.
We have a massive variety of delicious waffle pops on the menu, including Chocolate Party Rainbow & Salted Caramel Pop. We also have super and classic milkshake flavours to choose from.
If nothing takes your fancy, you can also create your own because everyone deserves a treat!
We want to help make your wedding a little sweeter, message us via our storefront!
Going Gourmet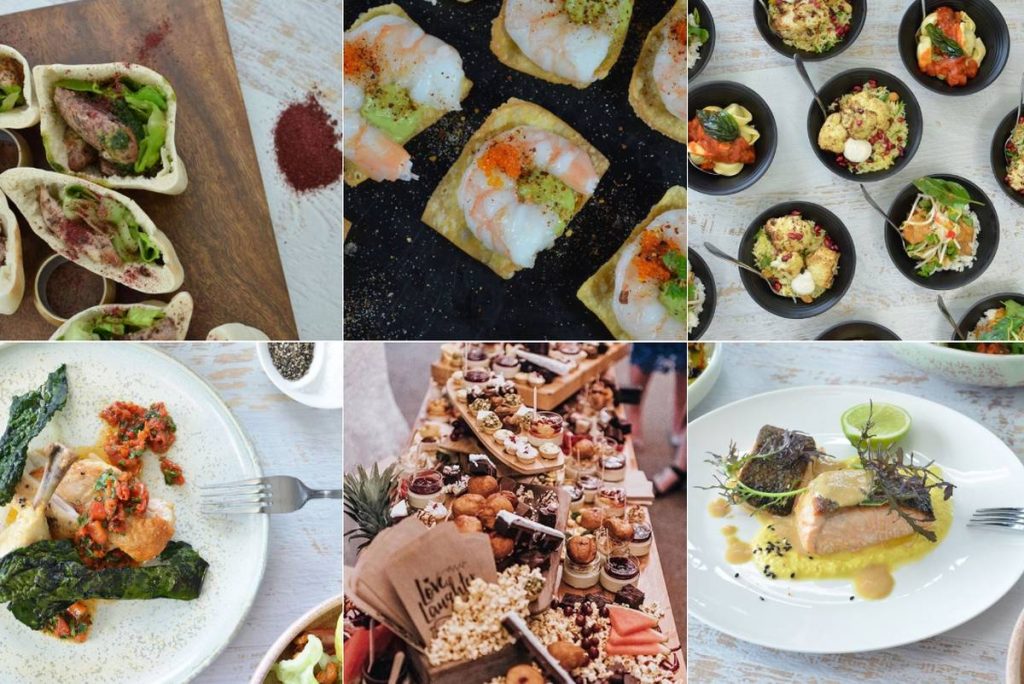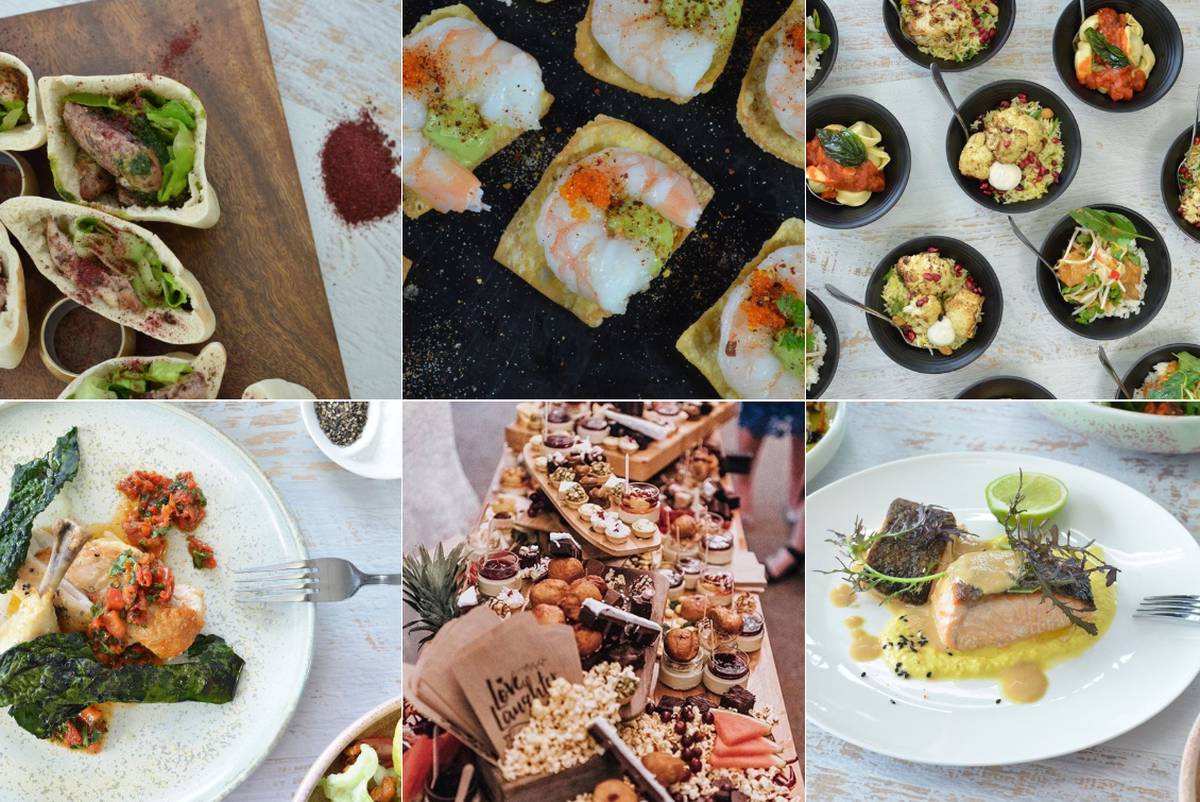 Clayton South, Victoria
03 9543 8810
https://www.goinggourmet.com.au/
We offer exceptional catering services for weddings in Melbourne and throughout Victoria.
Our team has years of experience in the hospitality industry and has become the wedding caterers Melbourne couples turn to for outstanding services tailored to their needs. We genuinely enjoy being a part of your special day, which is why we take the time to make sure everything is taken care of.
This means you can enjoy time with friends and family with the peace of mind you deserve. From gluten-free to vegan and everything in between, our professional chefs will passionately put together succulent treats that will have everyone talking.
A Country Affair - Vintage Cafe & Bar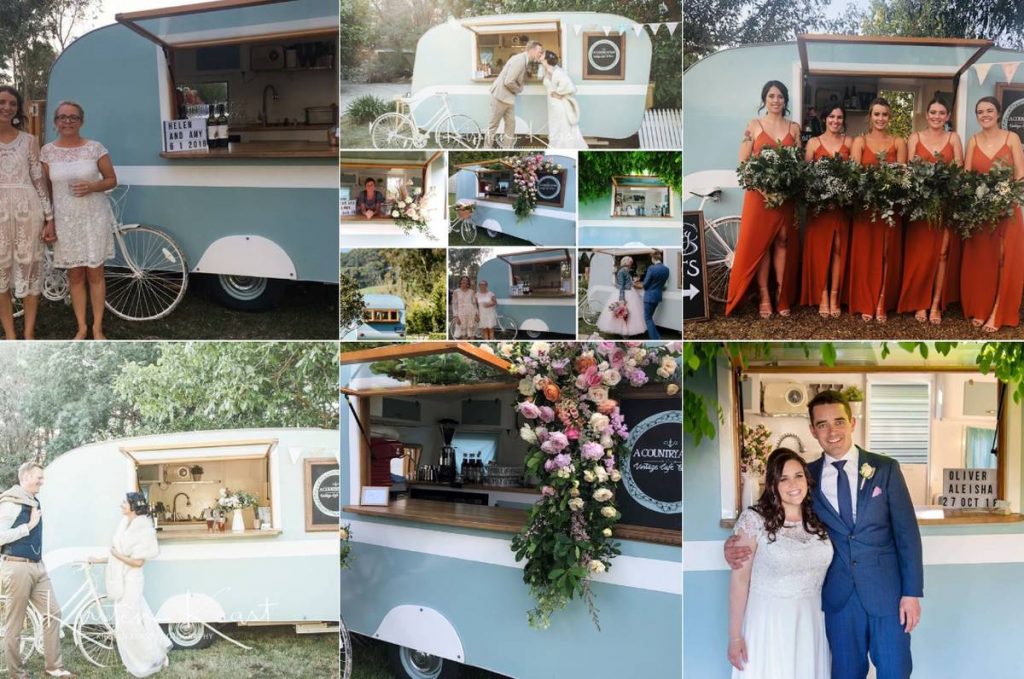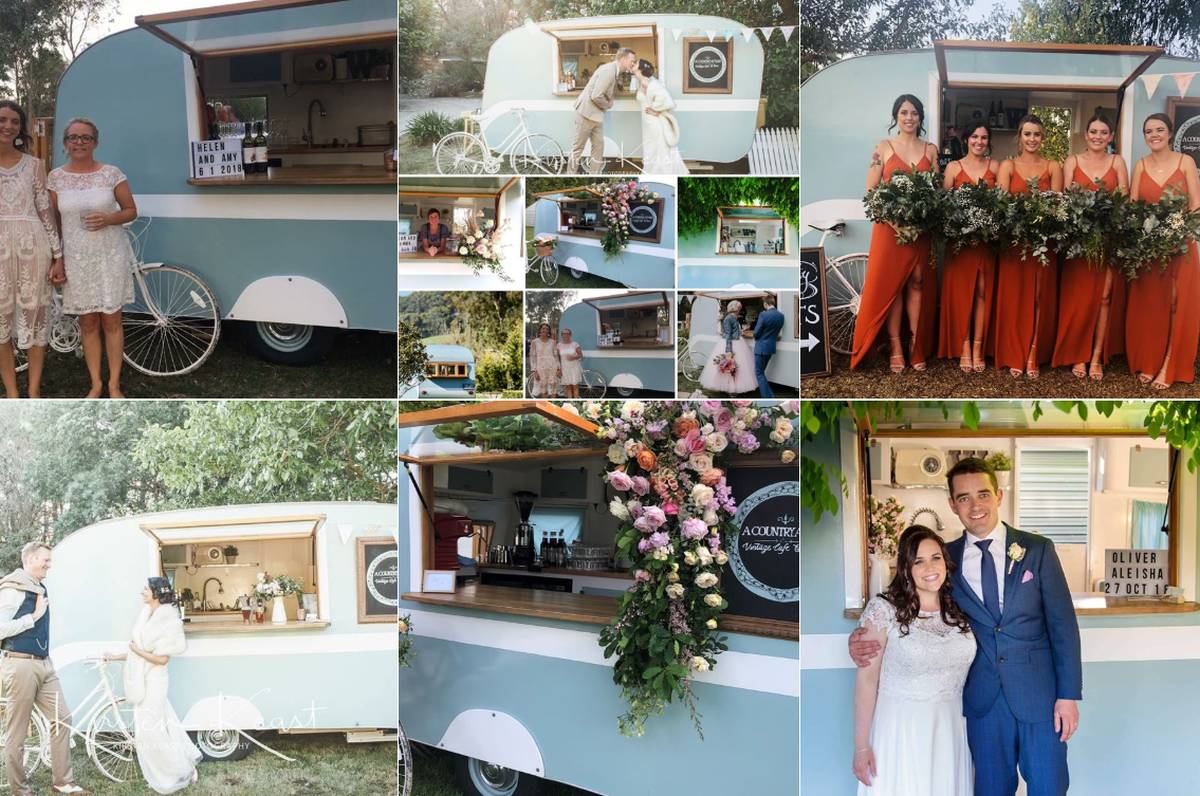 Drummond, Victoria
0488 434 113
http://www.acountryaffair.com.au/
Vintage caravan, perfect for your special day!
'Wanda' is an original 1950's caravan that has been beautifully restored and converted into a Cafe and Bar. When you hire us for your wedding, you have the extra advantage of choosing your own alcohol. This is a great way to manage your budget and select what beverages you would like to serve your guests. We also have a commercial coffee machine, so adding tea and coffee to your package is an option. 'Wanda' has a vintage style charm that will provide that little something extra to make your wedding memorable.
Our beautiful country-style caravan bar can regularly be found at weddings and events in Daylesford, Kyneton, Mount Macedon, Melbourne, the Mornington Peninsula, Bendigo, Geelong, Ballarat, Gippsland and Bright.
Wanda is always up for a road trip, so if you are based in Victoria; we're your caravan!
For any enquiries about our services and packages, please feel free to contact us
The Little Bar Cart Melbourne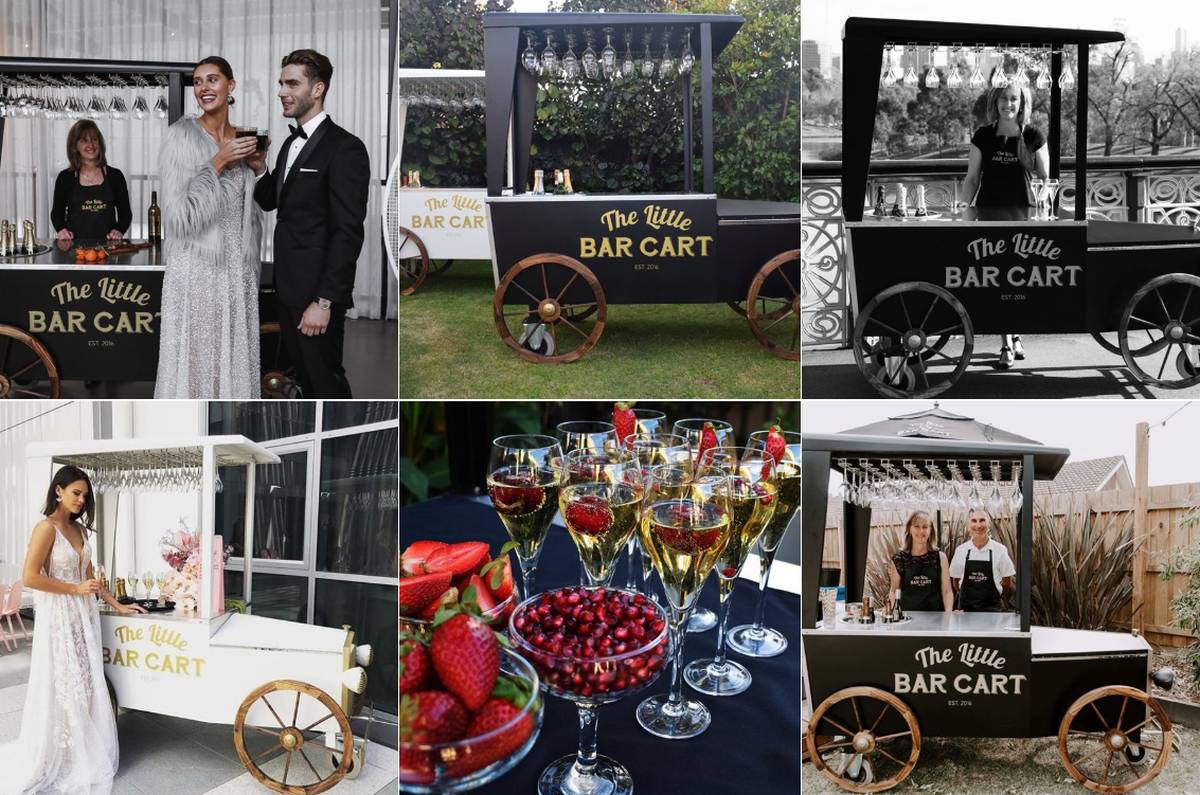 Rowville, Victoria
03 9498 3996
http://www.thelittlebarcart.com.au/
Your drinks, your way.
We have great pleasure in introducing to you, The Little Bar Cart.
Our custom designed and built Cart is a mobile bar service that is currently operating in Perth and Melbourne in Australia, but expanding soon across the country to other regions and also around the world.
The Little Bar Cart can be utilised in almost any location, indoors and outdoors.
We offer a unique, polished and professional service that will give your special day that 'WOW' factor.
We specialise in celebrations, and for hundreds of years, Champagne has been an essential part of any event or celebration, and The Little Bar Cart brings this long-lasting and popular tradition to you with elegance, class and style.
Although we love Champagne, it's not all we do! We cater to any wedding, engagement or bridal shower providing a service which includes beer, wine, spirits, cocktails and soft drink to suit your ideas and requirements.
Get in touch today.
Ed Dixon Food Design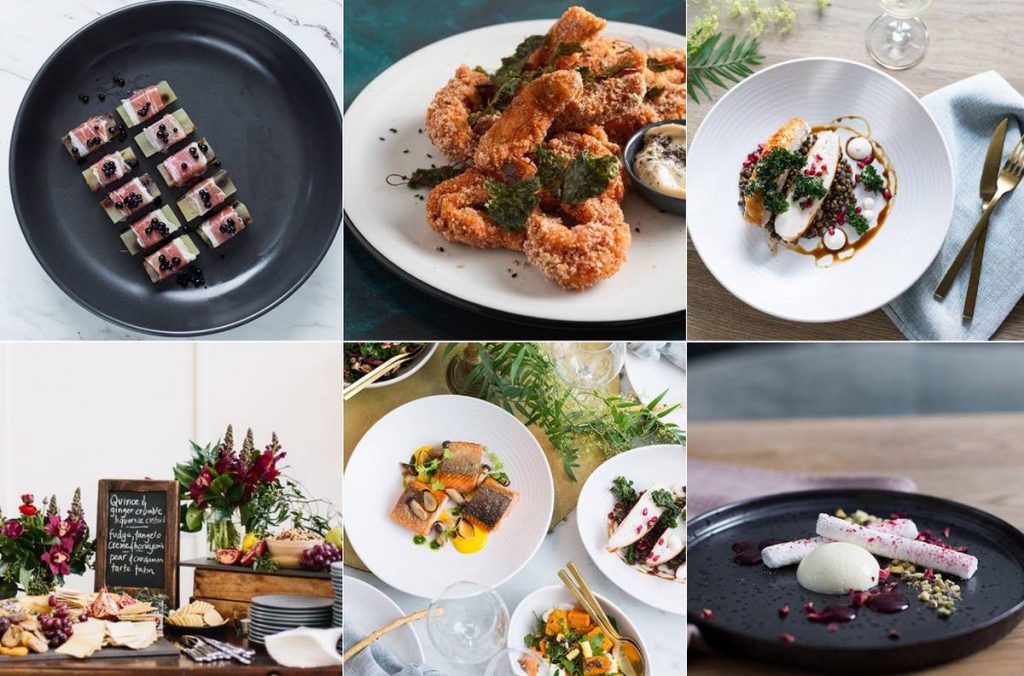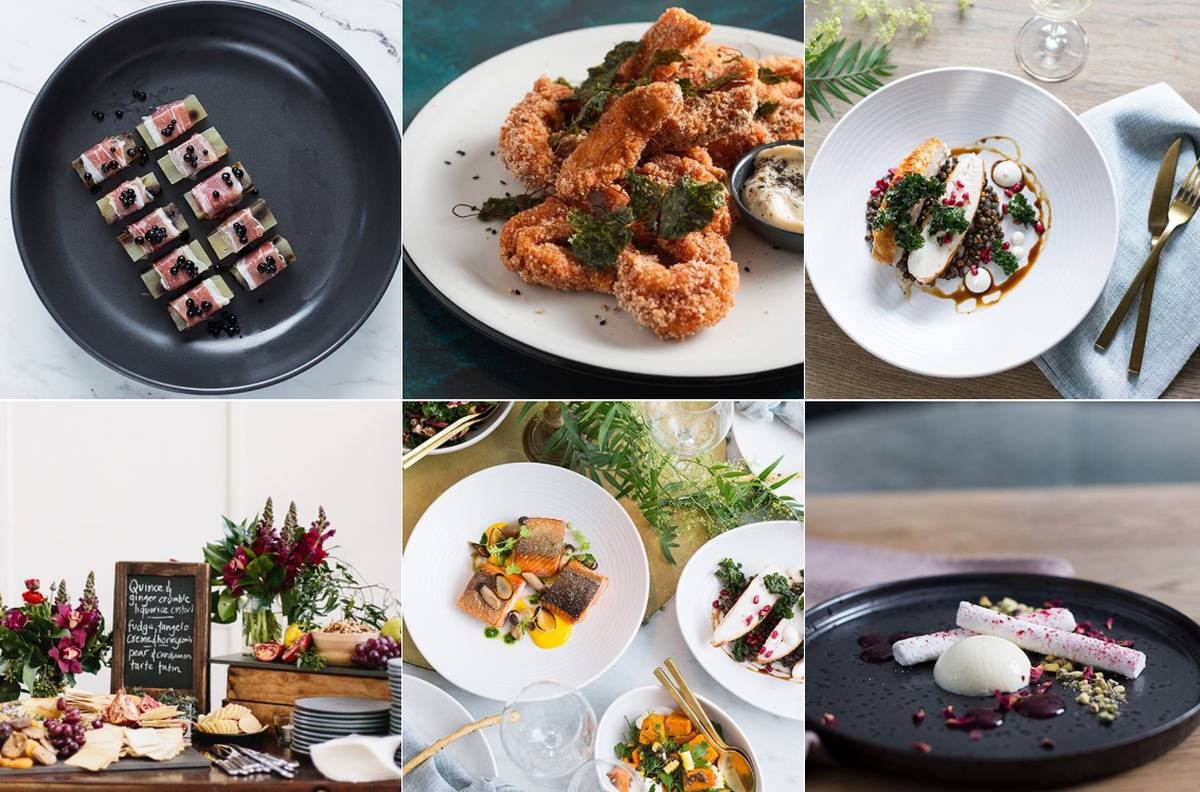 Abbotsford, Victoria
03 9498 5102
https://eddixonfooddesign.com/
At Ed Dixon Food Design, we live and love food. It's our life passion.
We understand that food is such an important element to your wedding day; it's through sharing food that we create lifelong relationships.
For this reason, we offer a range of menus and tailor our packages to what you want to eat and share with your loved ones.
Only the best food for your best day.
Guy's Gourmet Catering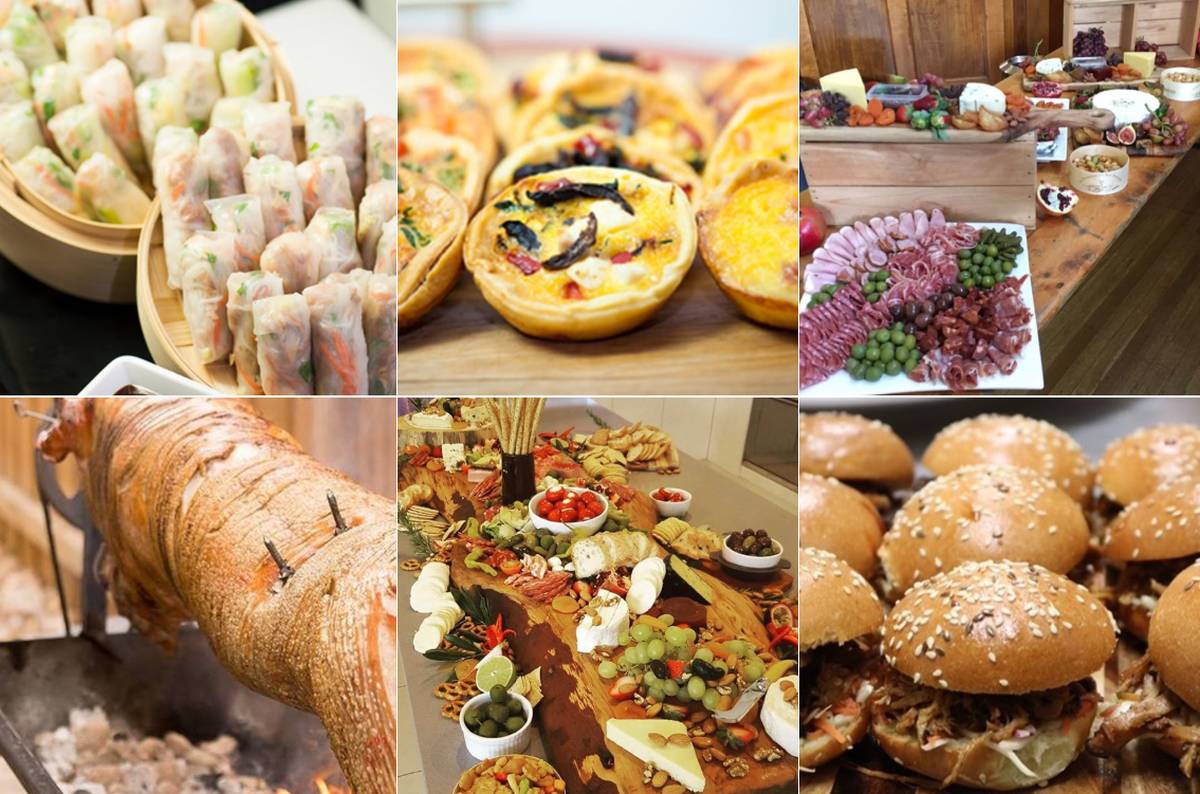 Bentleigh East, Victoria
03 9498 3698
http://www.guysgourmetcatering.com.au/
High-quality fresh produce to provide your guests with a superb dining experience.
Based in Melbourne, we cater to a wide range of functions and events, including engagements and weddings and are happy to work with you to achieve your ideal menu within your budget.
Owned and operated by a chef with over 20 years experience, Guy's Gourmet Catering caters for weddings and engagements using high-quality fresh produce to provide your guests with a superb dining experience.
Specialising in charcoal spit roast catering (cooked on or off-site), buffets, gourmet finger food and grazing tables, we can ensure your function is a culinary success.
We can cook whole pigs and lambs on the spit, and offer excellent value for money and personal and professional service.
Foxtails - Premium Bottled Cocktails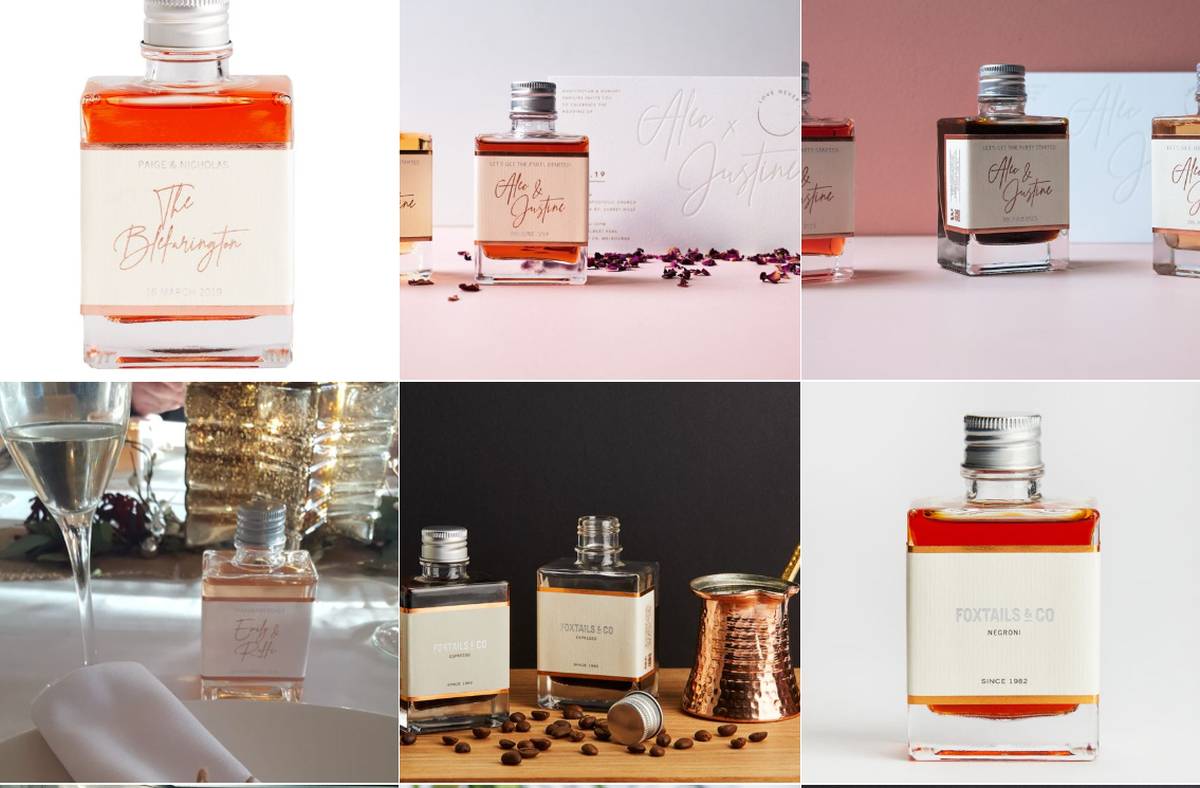 Ringwood, Victoria
1300 872 306
Personalised Bottled Cocktails 33% OFF
110ML CUSTOM BRANDED COCKTAILS IN A PREMIUM VINTAGE BOTTLE
$50 DEPOSIT NOW  -  AND PAY THE REST LATER
Made to order and custom labelled for your special day. Each carefully handcrafted from local ingredients at Three Foxes Distillery in Melbourne.
Enjoy it chilled straight from the bottle, or over ice, no mixing required our cocktails come complete and ready to drink!
Our range includes;  (Min 48 Bottles per Order)
Espresso – El Salvador origin coffee liqueur with layers of vanilla, chocolate and nutmeg.
Negroni – Classic bittersweet Negroni with exotic botanical notes and a hint of spice.
Coconut Pine & Pear – Coconut, Pineapple and Fuji Pear deliciously bound together in a light white rum.
Sweet Martini –  A daring sweet twist to the dry martini finished with blood orange and aromatic botanicals.
Cranberry Peach – Cranberry, Peach and Billberry naturally infused sweetness balanced with varietal berry notes.
We deliver nationwide
You can order a variety of flavours
Confirm your order with only $50 deposit and pay the rest later
Add any text to labels
Three Foxes Distillery is a family-owned and operated distillery that dates back four generations to 1901, with humble and honest beginnings. Coupled with our tradition, is our firm belief in creating top-quality spirits, wine and liqueurs.
This is accomplished by honouring each generation and pulling the best from them, uncompromising on quality and working together to passionately create signature flavours and bespoke spirits, liqueurs and cocktails that excite the palates of our customers.
Avec Zoe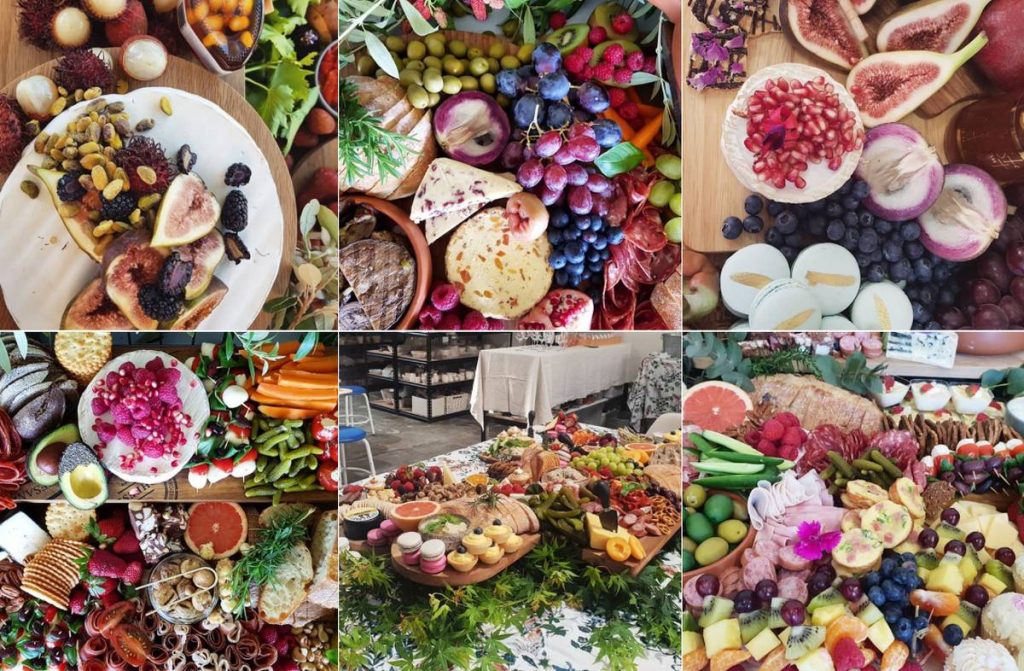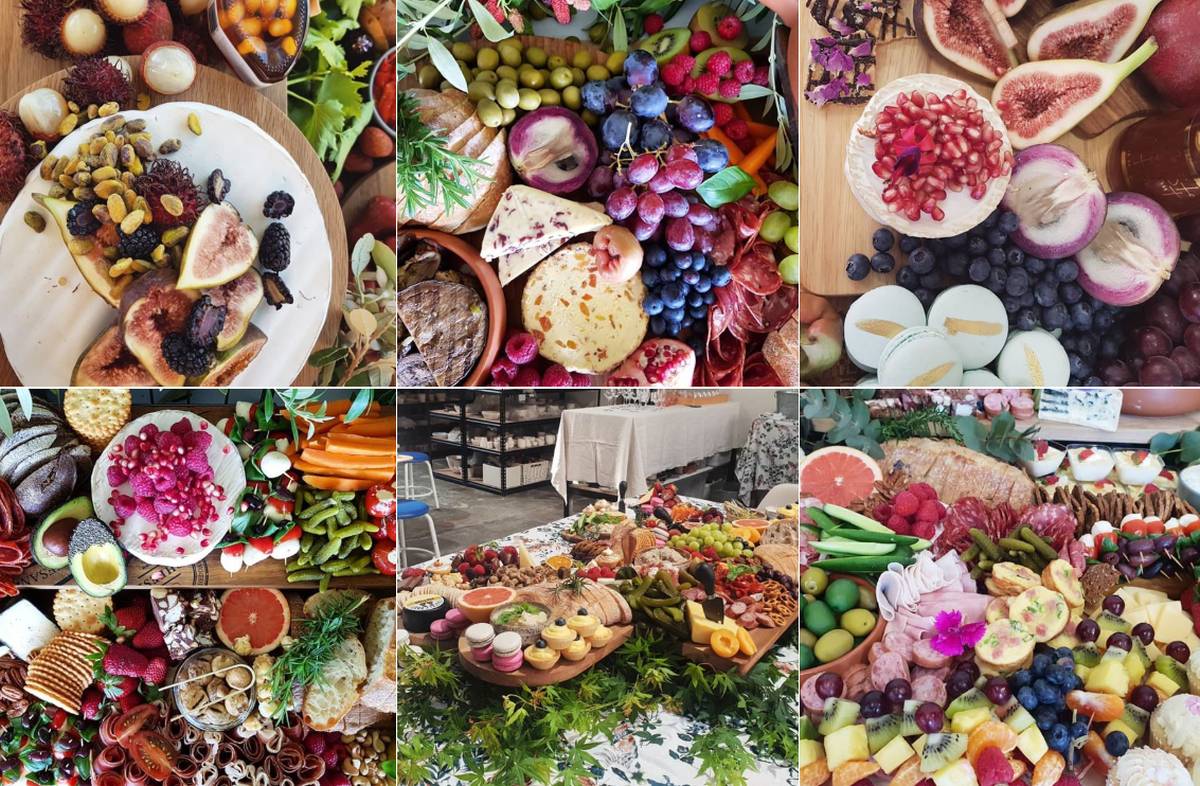 Melbourne, Victoria
03 9498 5345
https://www.instagram.com/avec.zoe/?hl=en
Memorable experiences paired with delicious food for your special day. We create platters and packages for weddings of all sizes!
Avec Zoe provides an incredible alternative to traditional catering with grazing tables and boards that add impact to your big day and create tangible appeal.
Food plays a critical and pivotal role in the atmosphere of a great event, and we're passionate about every table we create.
Enquire today!
Big Shot Cafe and Bar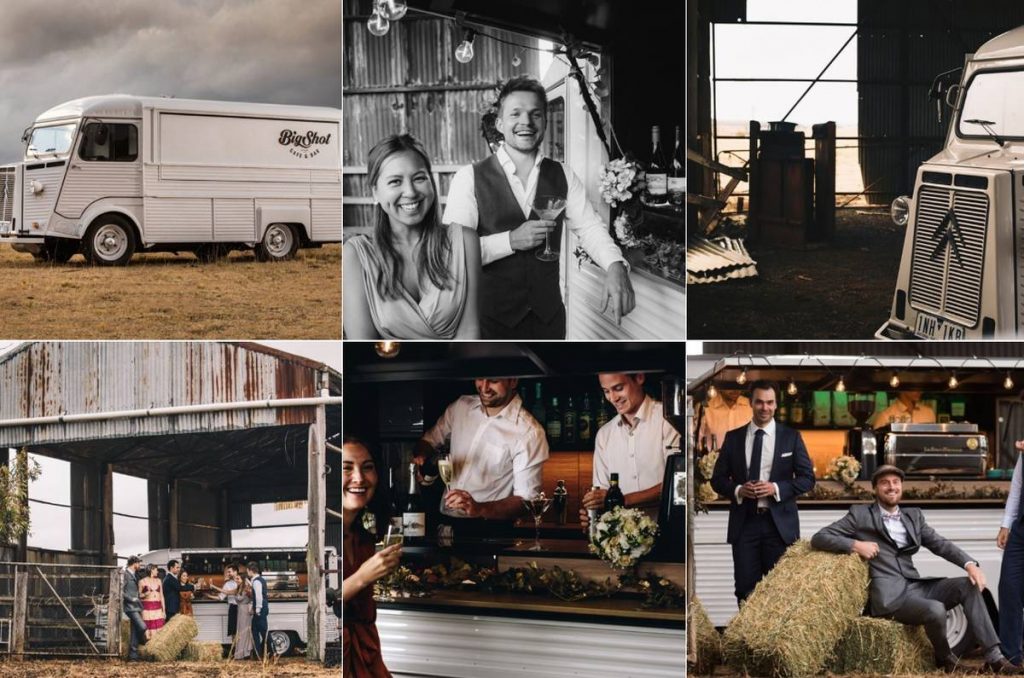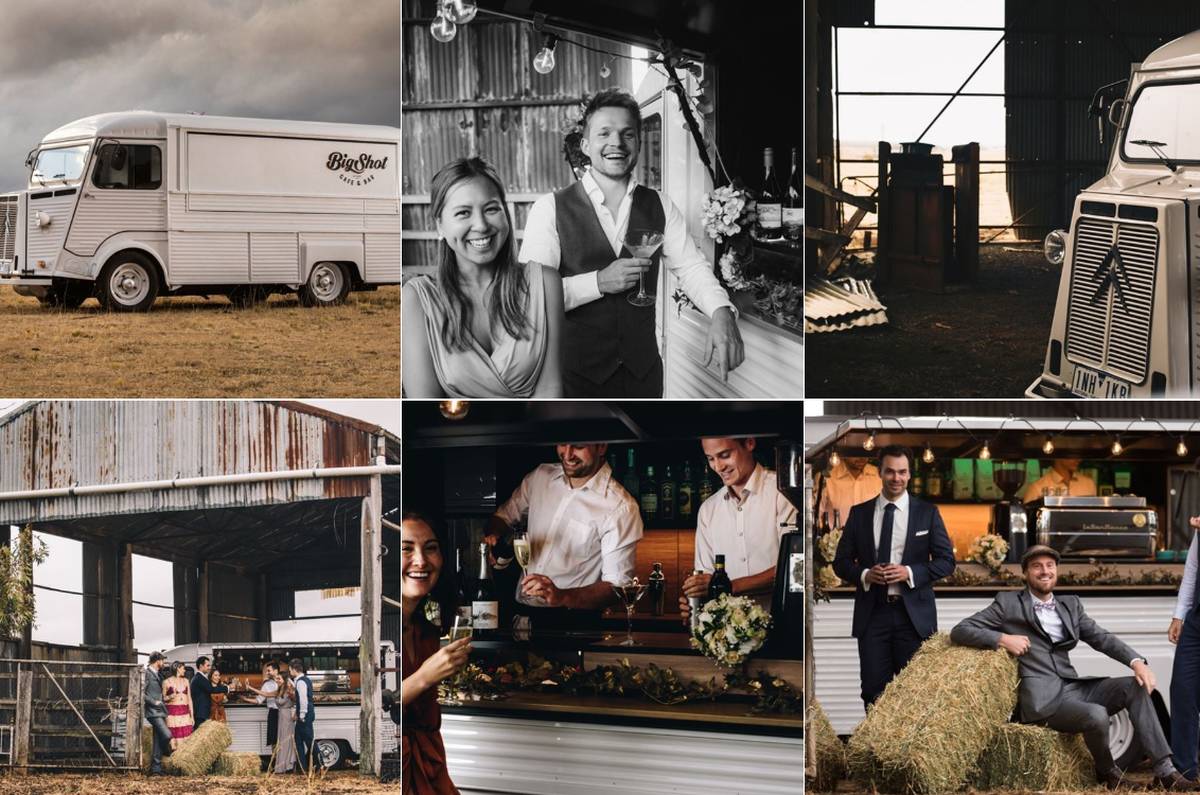 Brunswick East, Victoria
03 9498 5188
https://www.bigshotvan.com.au/
Let Big Shot bring the vintage vibes to your special day, serving up all your favourite drinks in style!
Getting married? Our immaculately restored 1969 Citroen H van 'Bernie' would love to be invited, and bring his classic French charm to share with all your guests!
The Big Shot team can offer a complete Bar and Café service for your special day, including bartenders, baristas, personalised drinks menu, glassware, lawn games, furniture, and of course, our charismatic van, Bernie.
We operate as a BYO bar service, so all we ask is that you purchase and provide the alcohol to us on location, and we'll take care of everything else. Our team of handpicked, experienced staff, will bring the party to you and your guests, serving up all of your favourite drinks and mixing up any cocktails of your choice.
When it comes to weddings, we understand there's no 'one size fits all', so we're always happy to work with you to customise the type and level of service for your wedding day depending on your needs. If you're just after a short coffee service following the wedding ceremony, we can do that too!
If you're looking to wow your guests with a unique drinks service on your wedding day or engagement party, get in touch so we can lock in Bernie for your requested dates!
Burn City Smokers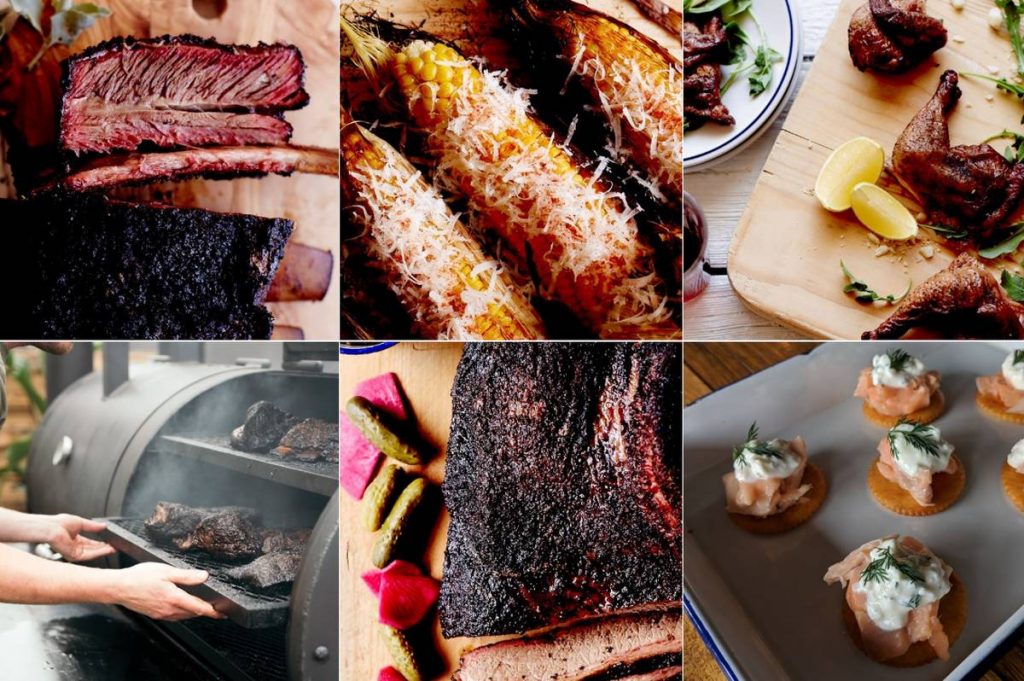 South Kingsville, Victoria
03 9498 5495
http://burncitysmokers.com.au/
When your big day arrives, you want to impress. And what better way than with a delicious feast with all your favourite flavours.
In the southern states of America, BBQ has a fanatical following. We have a healthy respect for this history and tradition, and we draw heavily from its cooking methods.
Our food is a clear representation of Melbourne - its produce, people and food culture, hence our name 'Burn City Smokers'.
Our food comes from a passion for ingredients, respect for quality and the providence of the meat and the ethical practices from the people who farmed it.
Served as elegant entrees and individually plated mains, or a buffet spread complete with all the trimmings, your guests will remember the smoky flavours long after the event has finished.
Get among the good stuff!
Port Melbourne Paletas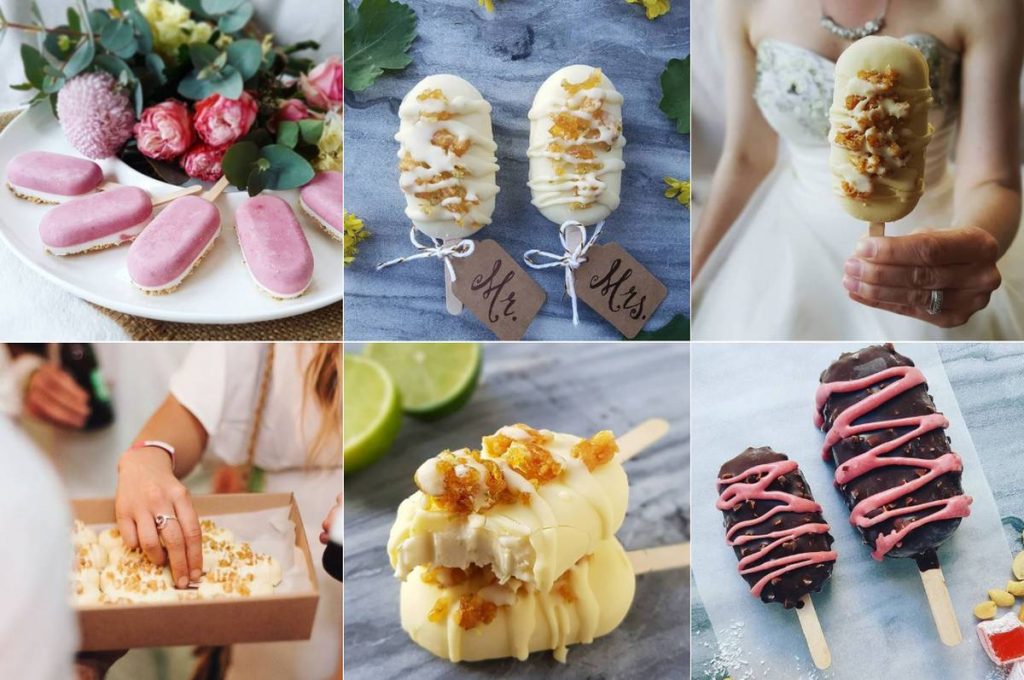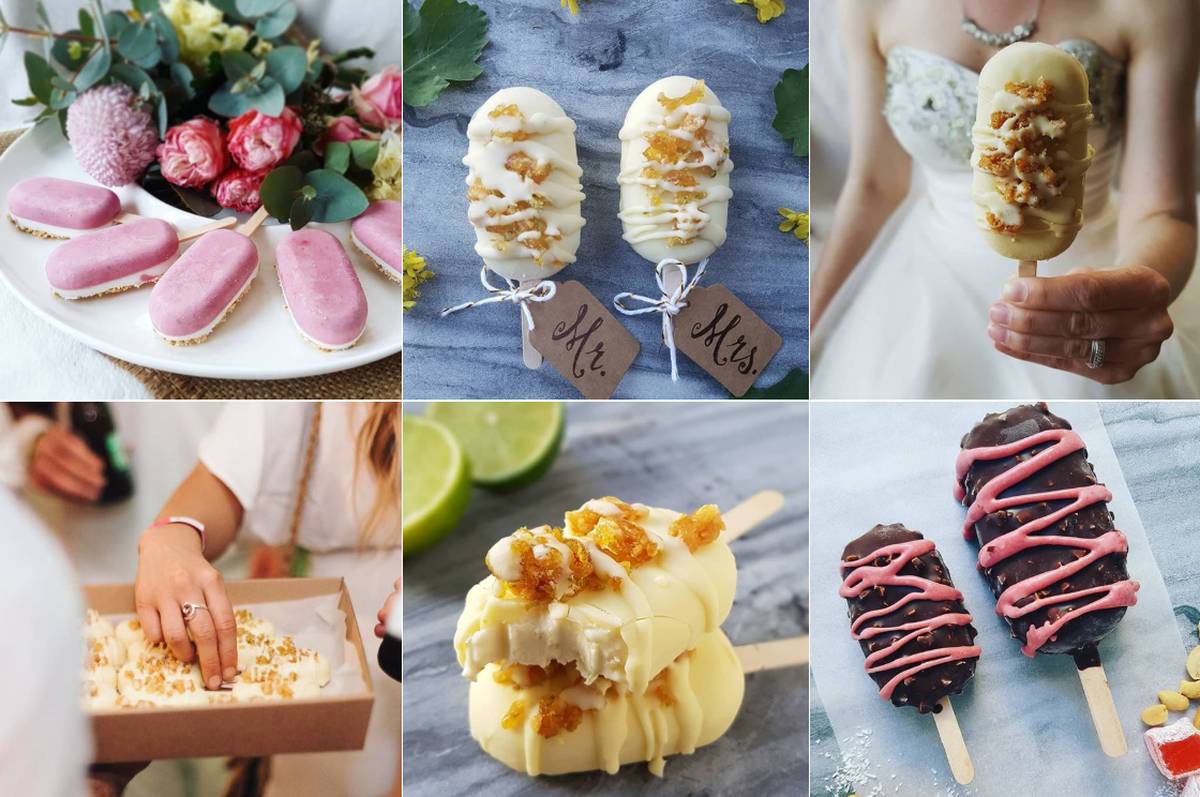 Port Melbourne, Victoria
03 9498 5043
https://portmelbournepalet.wixsite.com/paletas
Artisanal ice-cream creations, traditionally inspired, locally crafted, Port Melbourne Paletas takes popsicles out of the playground and into the providore.
The paleta originates from Latin America and is at its essence frozen deliciousness on a stick. Known as popsicles or creamsicles in other locations, the paleta maybe cream or water-based and will be slightly firmer than a standard ice-cream or gelati to allow it to remain on its stick long enough for you to eat it. Which for us is never that long!
Inspired by the intoxicating mix of sights, sounds, tastes and textures encountered during months of travel through Central and South America, Port Melbourne Paletas was borne of a love of ice-cream and a dream of crafting the perfect menu of small-batch, handmade frozen desserts.
We pride ourselves on doing the simple things right, adding complexity only where it enhances the experience. Working from our kitchens in Port Melbourne, our paletas meet exacting standards of flavour, texture, appearance and palate and are the result of thousands of hours refining ingredients and approach to produce the very best ice-cream possible.
Talk to us about how our paletas can add a unique, memorable experience to your next big day!
Mister Bartender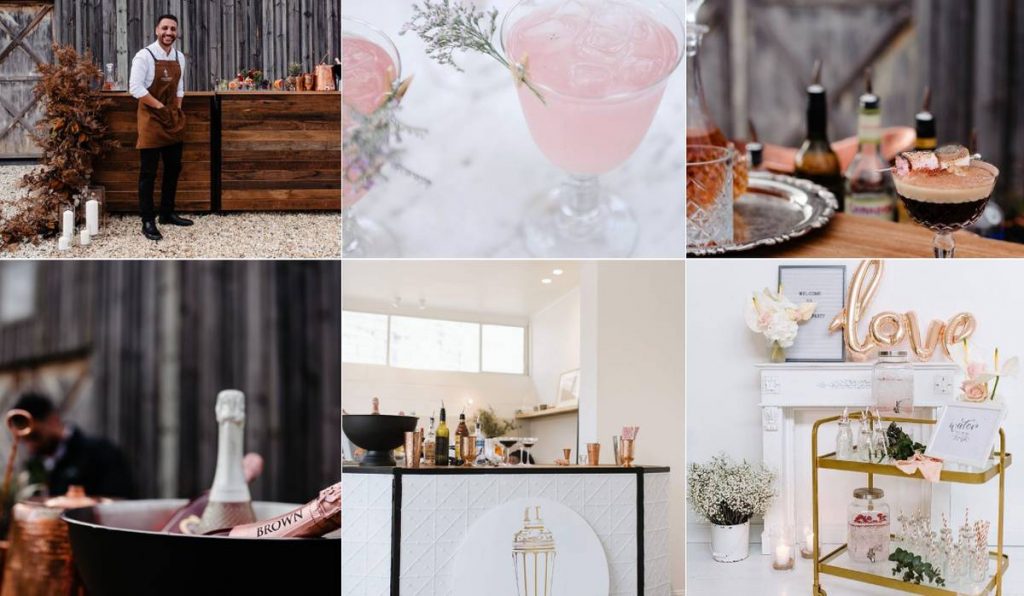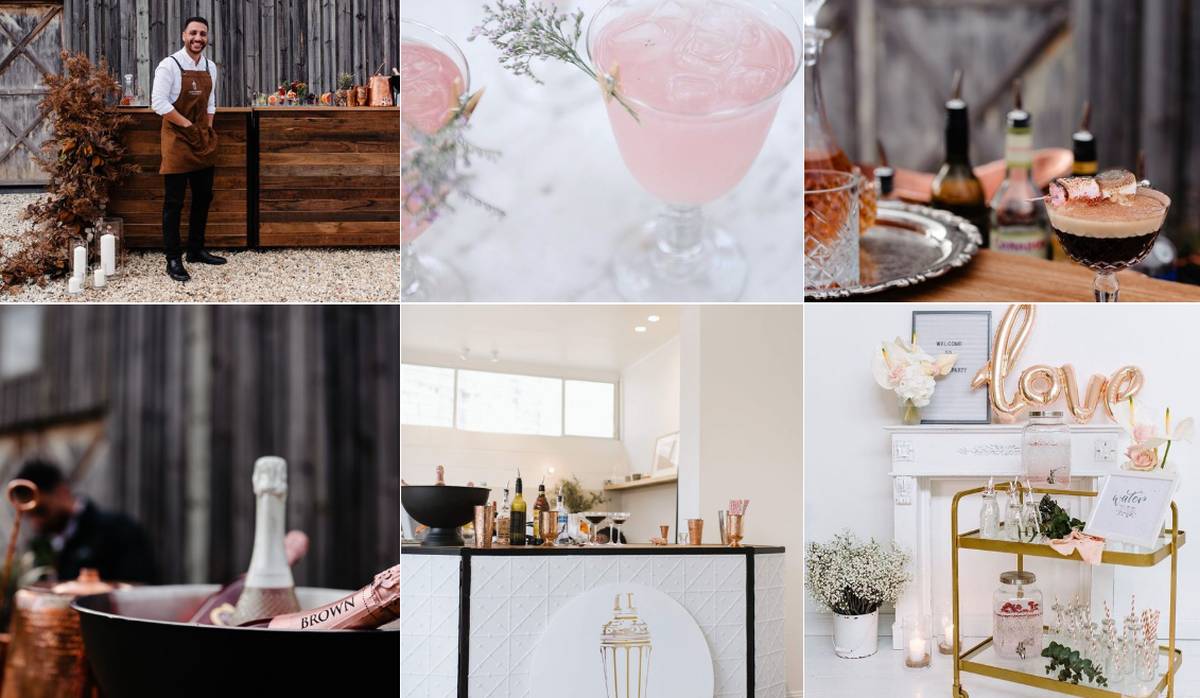 Mill Park, Victoria
0423 418 498
http://www.misterbartender.com.au/
Specialising in cocktails, our bartenders will shake up your favourite drinks that will make sure your night is as smooth as your drinks!
Mister bartender brings together a decade of bartending and hospitality experience to provide a premium and memorable experience.
Whether you want to throw an all-out bash to entertain your family and friends for any occasion, the drinks you serve set the mood.
We have all the right ingredients to make a lasting impression.
Edge Hospitality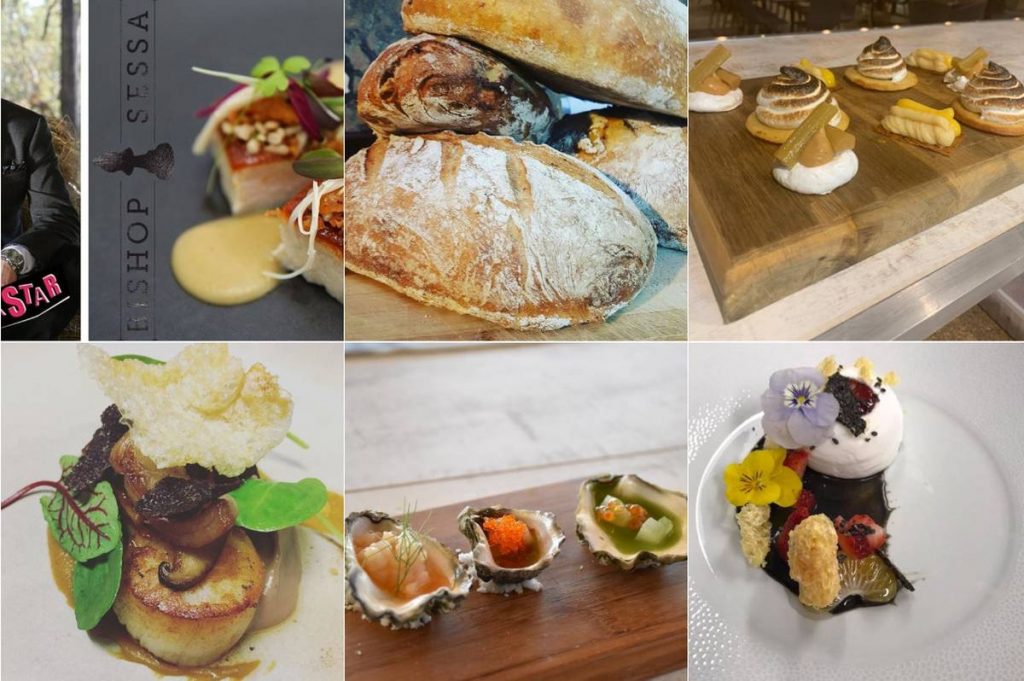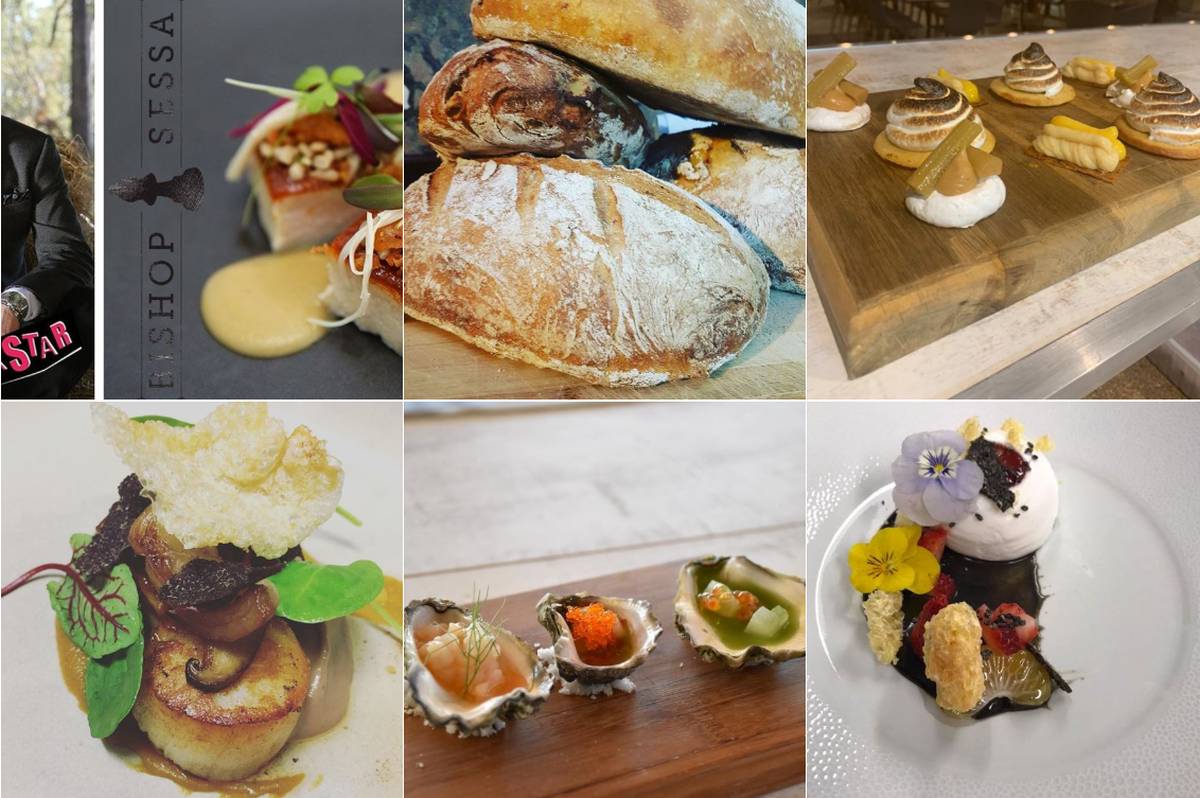 Lilydale, Victoria
03 9498 4436
https://edgehospitality.com.au/
At edge hospitality, we cook from the heart, to produce food that you and your guest will truly enjoy.
This philosophy is why we celebrate our special occasions with friends, family, food and wine.
After concluding at his well-acclaimed Sydney restaurant, Bishop Sessa, Paul is now embarking on a new exciting venture in his career.
Paul Identified a need in the catering industry for fair priced, high-quality food, and has established Edge Hospitality as the premier Event, Catering,and Management company in Melbourne.
The culinary team is passionate about producing the very best sustainable, seasonal and local produce available.
We work with the best producers and only serve the products that make us proud. This is what we believe will provide the reason the food unites people.
What's the platter with you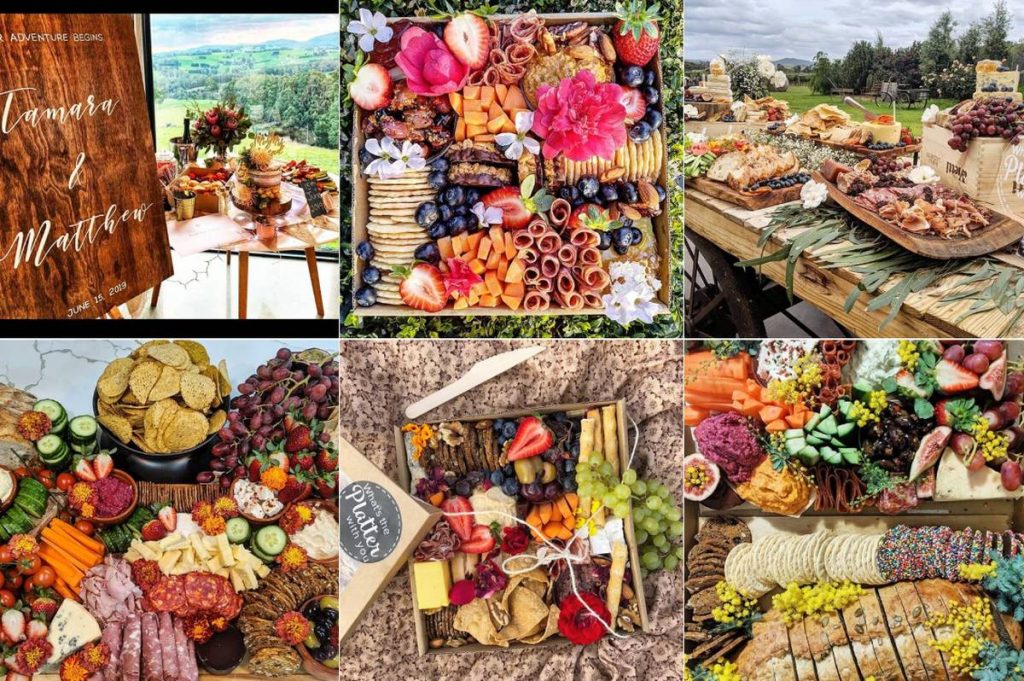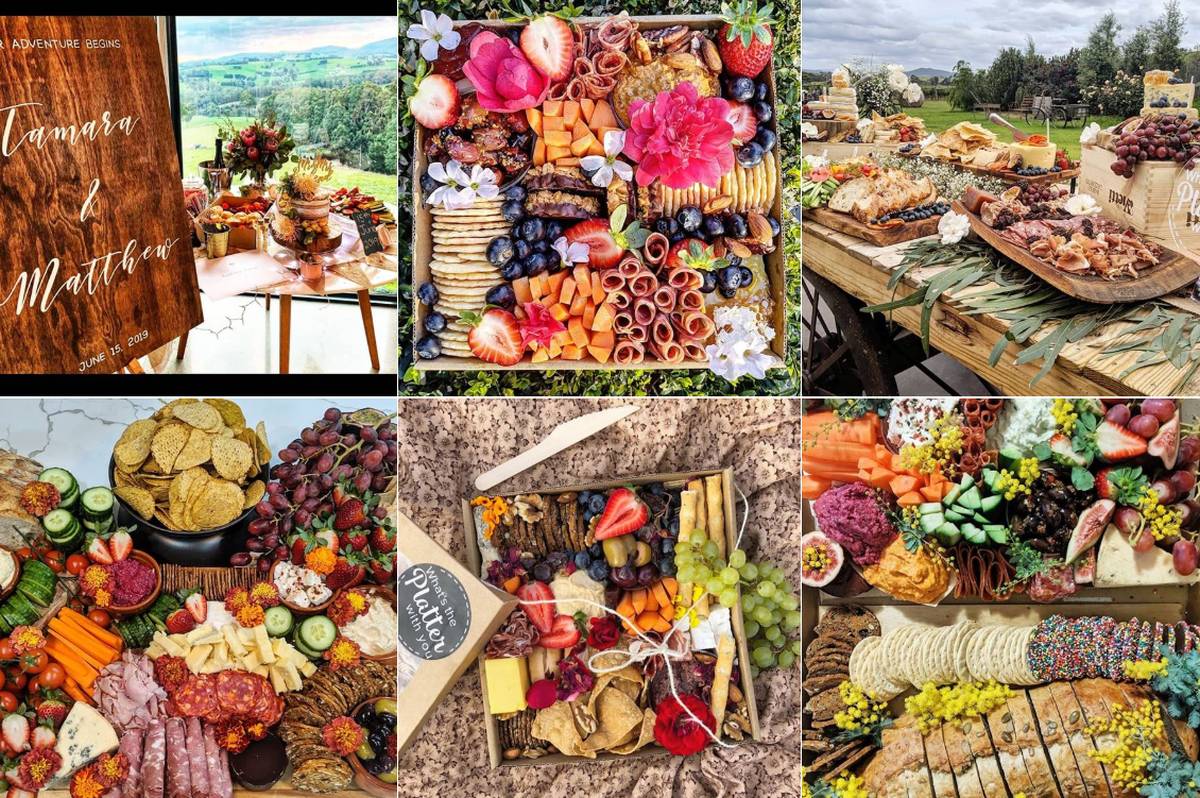 Doncaster, Victoria
0413 897 021
Creating beautiful cheese platters for you and your guest for your special day!
I've always had a passion for cooking and food from a young age due to my mother's influence.
I decided to turn that passion into a profession and began my platter business, and I have loved every minute of creating beautiful platters for my clients.
My goal is to create visually stunning platters, I aim to first draw you in with your eyes, and secondly win over your taste buds by only choosing to include the finest quality ingredients.
It makes me happy to know I have created a centrepiece for all guests to enjoy, where dietary requirements can be catered for.
Grazing By Marcelia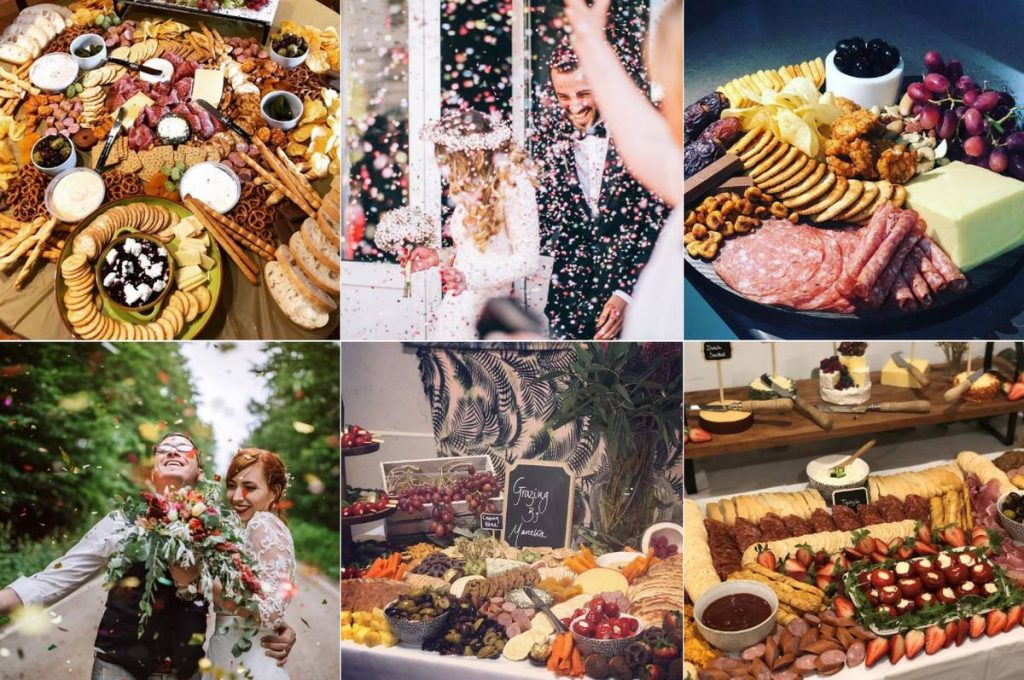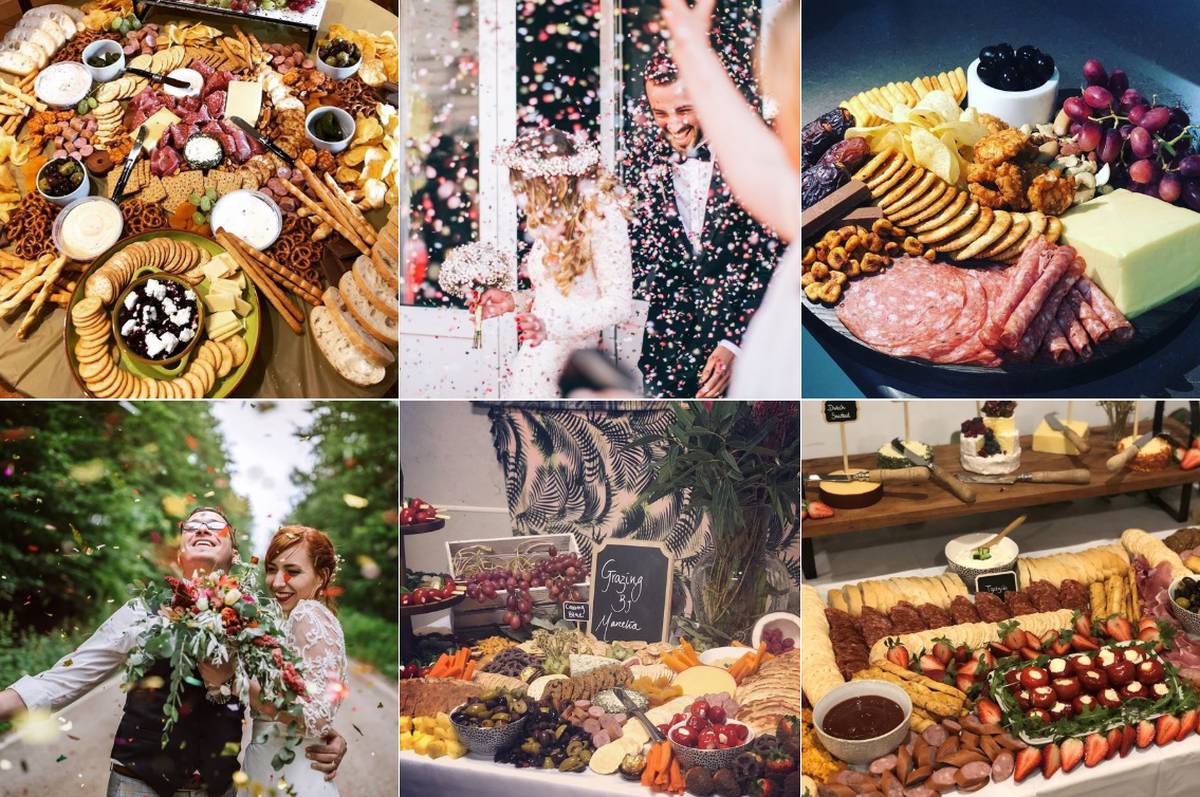 Melbourne, Victoria
03 9498 3807
https://grazing-by-marcelia.business.site/
At Grazing By Marcelia, we live and love food. It's our life & passion.
Hello & Welcome to Grazing By Marcelia!
Grazing By Marcelia offers a Platter and Grazing Table service which aims to bring you nothing but the very best for your wedding, big or small at an affordable price with our WOW factor promised!
We create custom-tailored packages that suit your every need on your big day along with our unique displays. You can customise your theme for the day, or we can create something that you'll love.
We cater for all dietary requirements so that all your guests have an amazing Grazing experience!
Something else about us:
Customer tailored packages
Complimentary quotes
Complimentary consultations
Quality produce
Quotes sent punctually
Low overheads so very competitive prices
Limp Brisket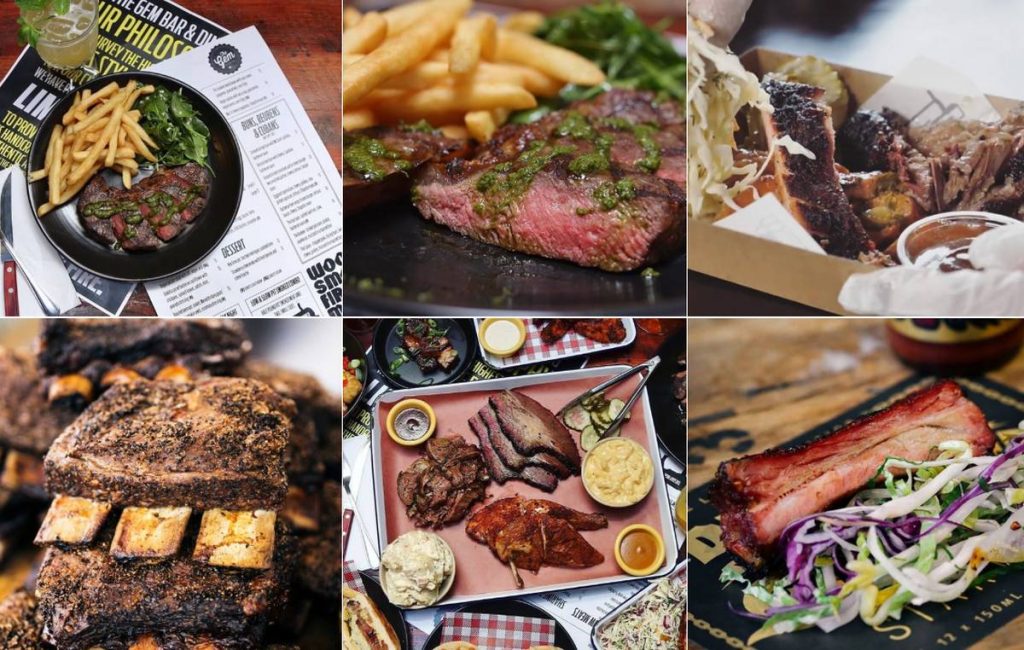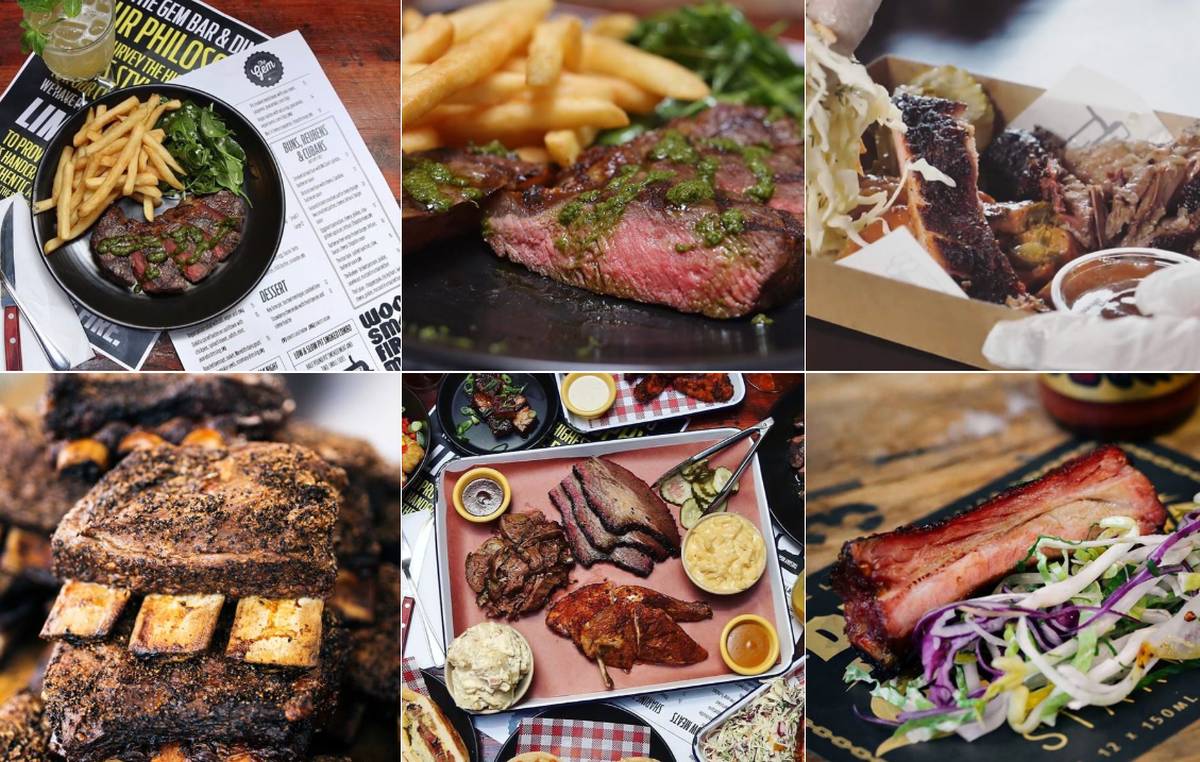 Reservoir, Victoria
03 8692 5679
https://www.limpbrisket.com.au/
The Limp Brisket team is dedicated to bringing the best quality locally grown, eco-friendly slow-cooked American BBQ to plates across Melbourne and beyond.
Pitmaster Kevin Dick hails from Melbourne with over 15 years as a chef and an enviable resume that includes working under local legend: Andrew McConnell (312, Cutler & Co and Golden Fields) interspersed with a two-year stint at HIX in Soho, London under Mark Hix.
After a summer season working for Burn City Smokers, Kevin really developed his passion for smoking meat and along came Betty, his fully mobile, 84 Deluxe Lang sticker burner imported from Georgia, USA.
Whilst barbecue meat is our speciality, we have options to suit all dietary requirements and can cater for vegans, vegetarians and guests with allergies.
Get in touch today.
The Bearded Jaffle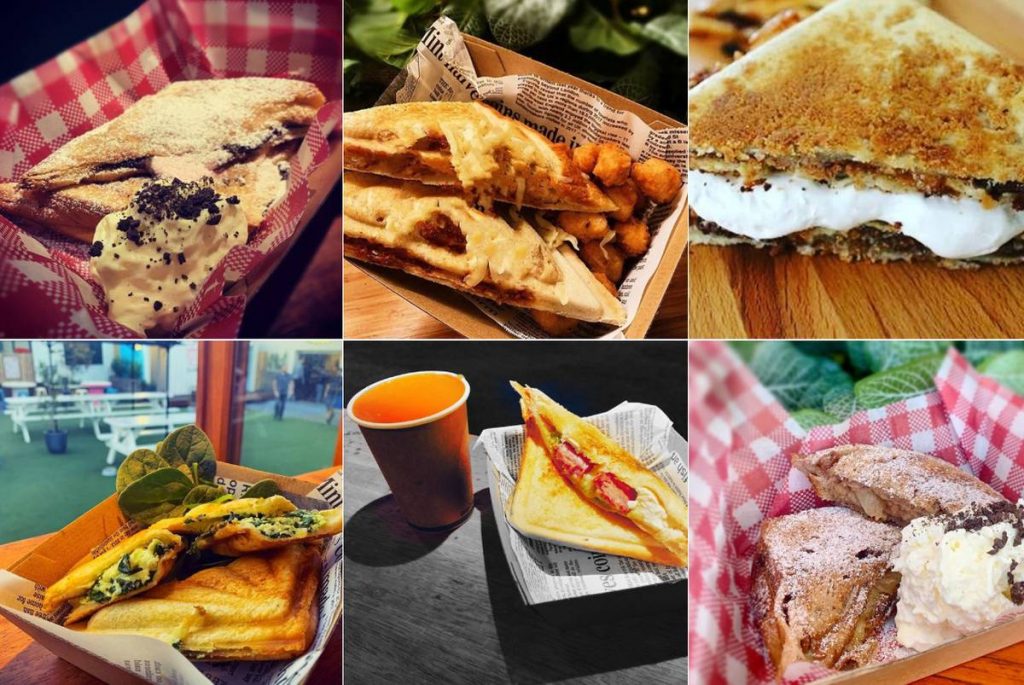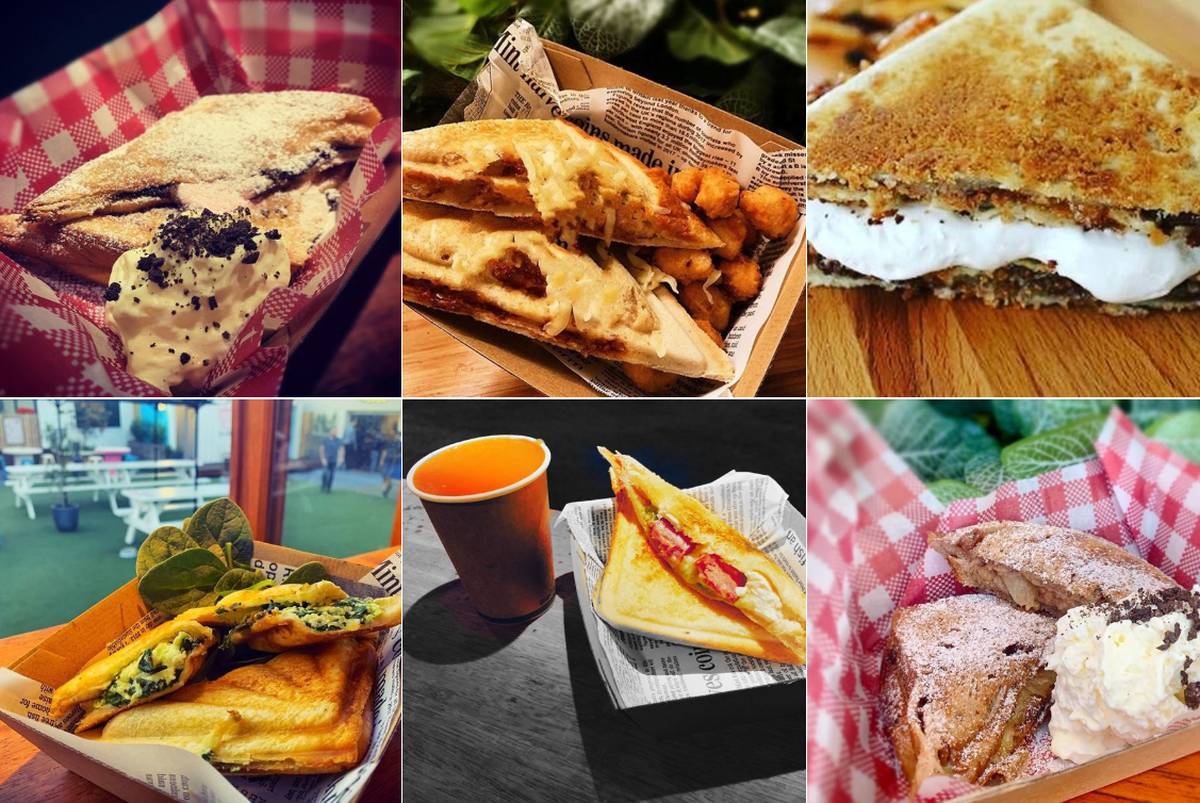 Hallam, Victoria
03 8692 5689
https://www.thebeardedjaffle.com/
A vintage 1979 Ford F100 is slinging Jaffles, Coffee, Kombucha & Slices all over Melbourne for your big day!
The brainchild of Melbourne Football Club Max Gawn, who wanted to share his love of humble, honest food & bloody good coffee.
The almighty jaffle, a staple of many 90's kids' upbringing. That's what we're about.
Showcasing the best ingredients from super-local sources.
We're experienced with even the most out-there requests and are more than happy to tailor something to suit your special day.
We look forwarding to sharing your special day with you!
Street Feast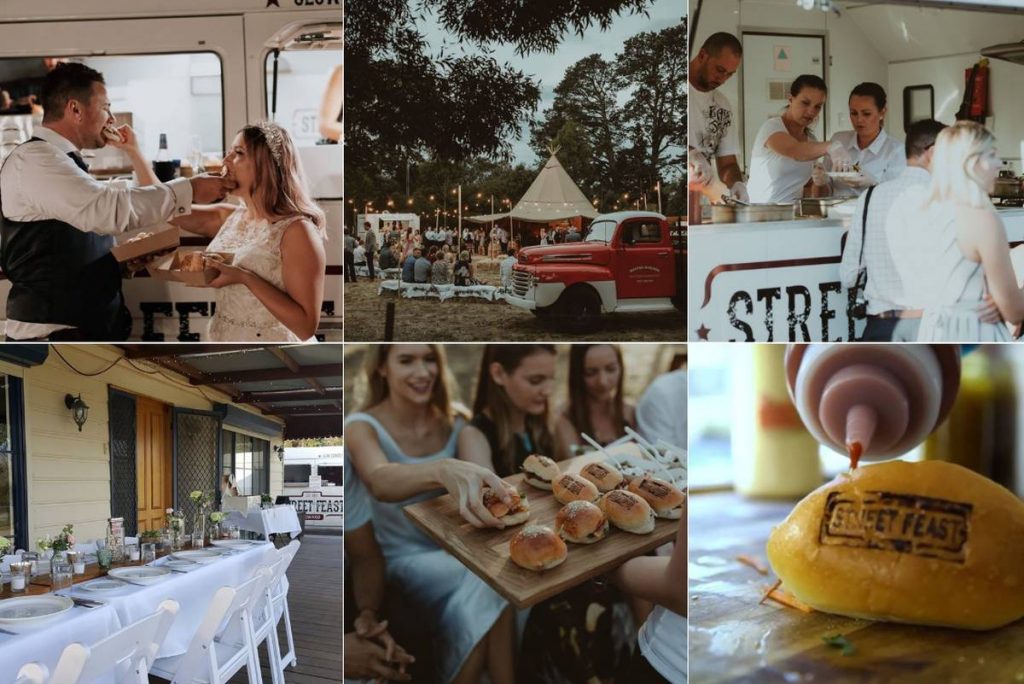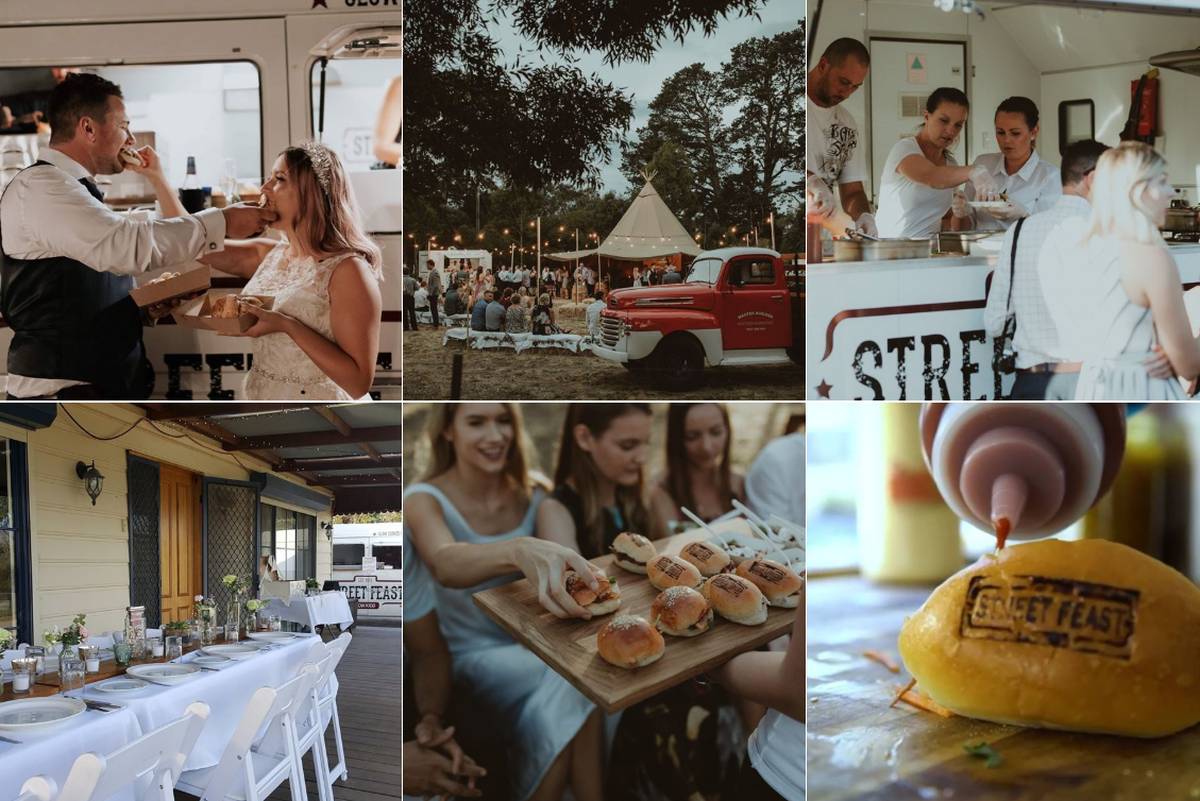 Melbourne, Victoria
03 9498 3506
http://www.streetfeastmelbourne.com.au/
Street Feast Food Trucks- since 2013, we specialise in SLIDERS: BURGERS: SALADS AND SLOW COOKED FOOD. An Indigenous-owned and ran business is all about slow-cooked food, served fast.
THINK SLIDERS: SALADS: BURGERS: MAC AND CHEESE: BLOW-TORCHED CHEESY POTATOES: THINK GREAT FOOD: THINK  GREAT VALUE : BOOK STREET FEAST
The Original Pulled Pork truck in Melbourne! Everything we serve has been gently cooked, 'low n slow'. This gives the meats great tenderness, flavour and of course, beautifully delicious. Then throw in some of our signature, secret recipe Dry Rub, and it's a taste sensation! Put some fresh, crisp 'slaw and a homemade Smokey BBQ sauce or the tasty Chipotle Mayo and well, you can't really get much better!
With over 30 years experience within the food industry, Jenni and Dale have created a great team, great products and a great experience for your wedding.
We source all our meats from Victorian Free Range Farmers so we can support local, keep the fuel miles down and allows Street Feast to provide the best product we can.
We have been Street Feast for over 6 exciting years, and we have a core focus of weddings and catering, as we are in such high demand. We book out every year with our food truck and trailer. We are sought after, and we have brides booking in 18 months in advance to ensure they can have the Street Feast experience. With so many great reviews, (check out our Facebook page), you can be sure for a great feed, catering to all your guests.
We have gleaming references and a great team on board which makes Street Feast one of the most sought after Street Food Vendors in Melbourne
The Grazing Girls Melbourne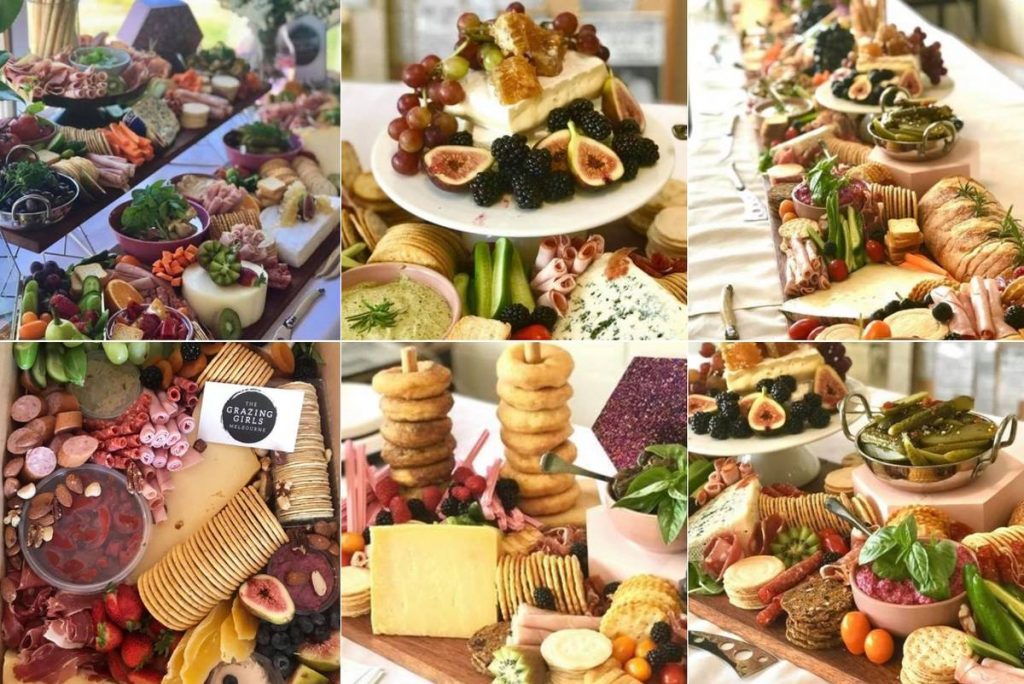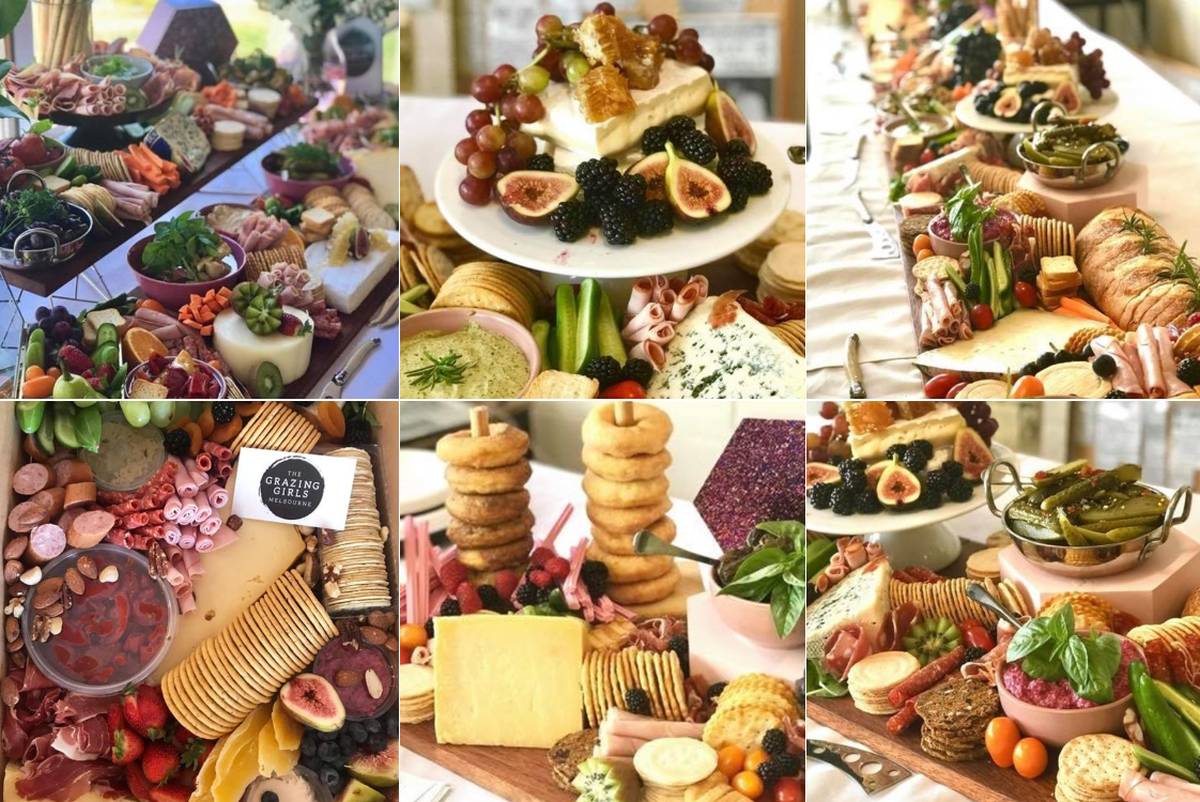 Tullamarine, Victoria
03 9498 3570
https://www.facebook.com/thegrazinggirlsmelb/
Impress your guests with a delicious and beautifully styled grazing table for your special day.
The Grazing Girls Melbourne are two sisters from Melbourne who combined their passion for good food and styling to create mouthwatering grazing platters for special events.
Catering for any event can be hard with everyone's different dietary requirements, which is why The Grazing Girls Melbourne is focused on creating spreads that make each guest feel accommodated for with none of that extra stress.
Get in touch today!
Fourside Food Design and Events
Highett, Victoria
03 9498 4996
https://www.foursideevents.com.au/
Fourside Food Design and Events cater different, do it awesome, and love it!
For your wedding, we handcraft menus sourced locally and approached your big day with a customised catering experience tailored just for you.
Our food is sourced from a carefully curated list of local suppliers and growers who provide top quality seasonal produce that we are proud to have on our menus. We get excited by fresh produce and its endless possibilities – the way it should be.
The Grazing Fox Melbourne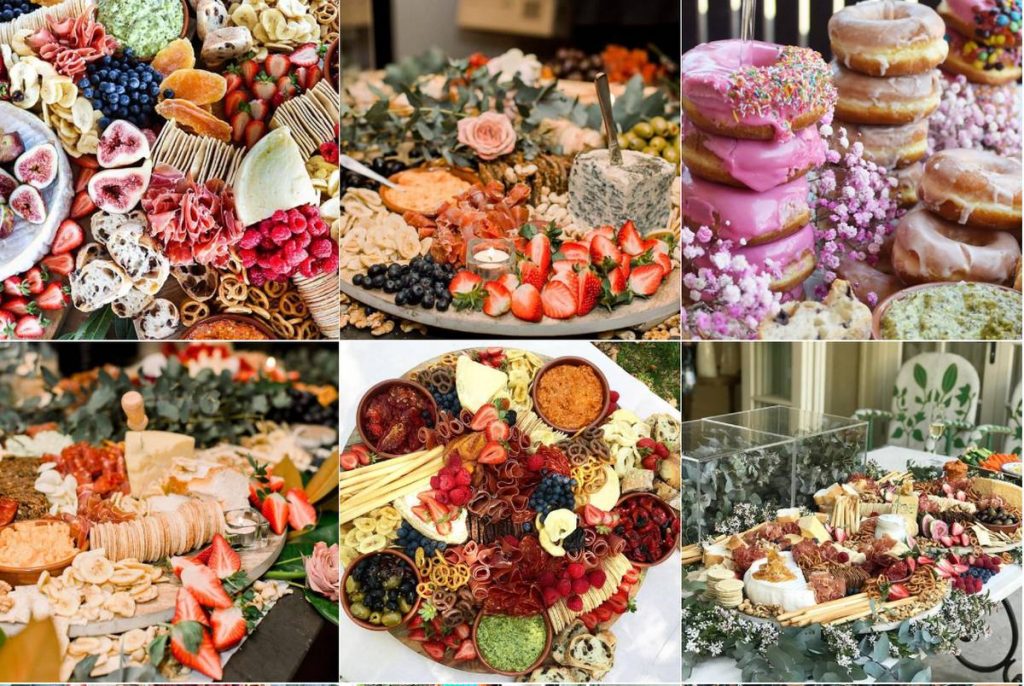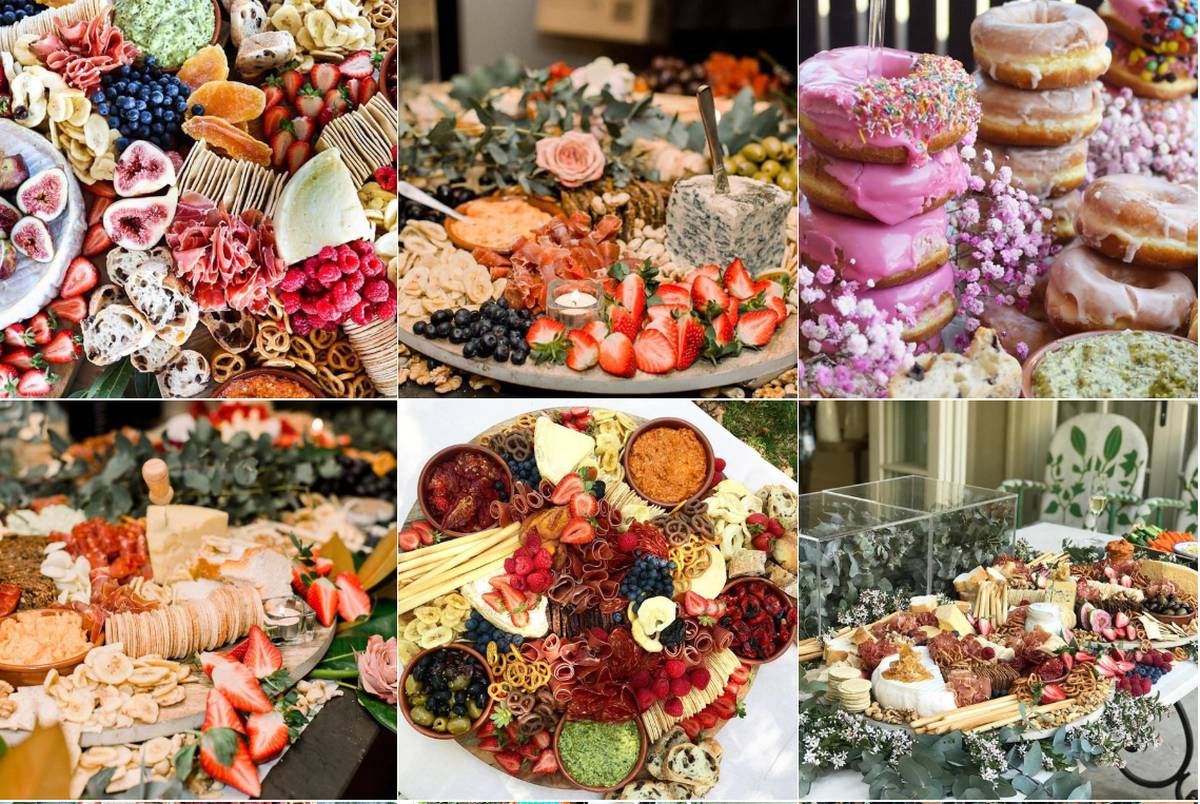 Melbourne, Victoria
03 9498 5080
https://www.thegrazingfoxmelbourne.com/
If you want your event to pop and be more interactive with your guests, there is nothing more decadent than a beautifully-styled grazing table.
The Grazing Fox is a local start-up business run by Samantha Fox who does the most beautifully-styled grazing tables in Melbourne you will ever see!
What we love about grazing is the attention to detail - the food, the foliage, the accessories - all the elements that come together to wow your guests.
Our tables, platters and boxes reflect Samantha's personality, her incredible taste and her love for food.
We would love to be apart of your big day!