Whether you're looking for a beachside or waterside wedding venue with stunning views or a unique warehouse with an industrial-chic vibe, you'll find your perfect Victoria wedding venue. 
What's more romantic than saying "I do" to the love of your life on a pristine beach, with views of sparkling blue waters that are reflecting a gorgeous sunset? There are so many beautiful beach wedding venues in Melbourne, and we've curated a list of our top favourites. The lovely Port Phillip Bay and Mornington Peninsula have some of the best beaches in the world, and you can find wedding venues that will suit your specific style—whether it's laid back and boho, or elegant and classy.
When you are planning your big day, you probably want everything just perfect. One of the best ways to make sure that it all turns out the way you dreamed it to select every detail yourself personally. This way, you can choose the ultimate location, the best entertainment and the most delicious food, and craft your ideal wedding day.
Are you located in Victoria, Australia planning a wedding and looking for the best beach and waterside wedding venue?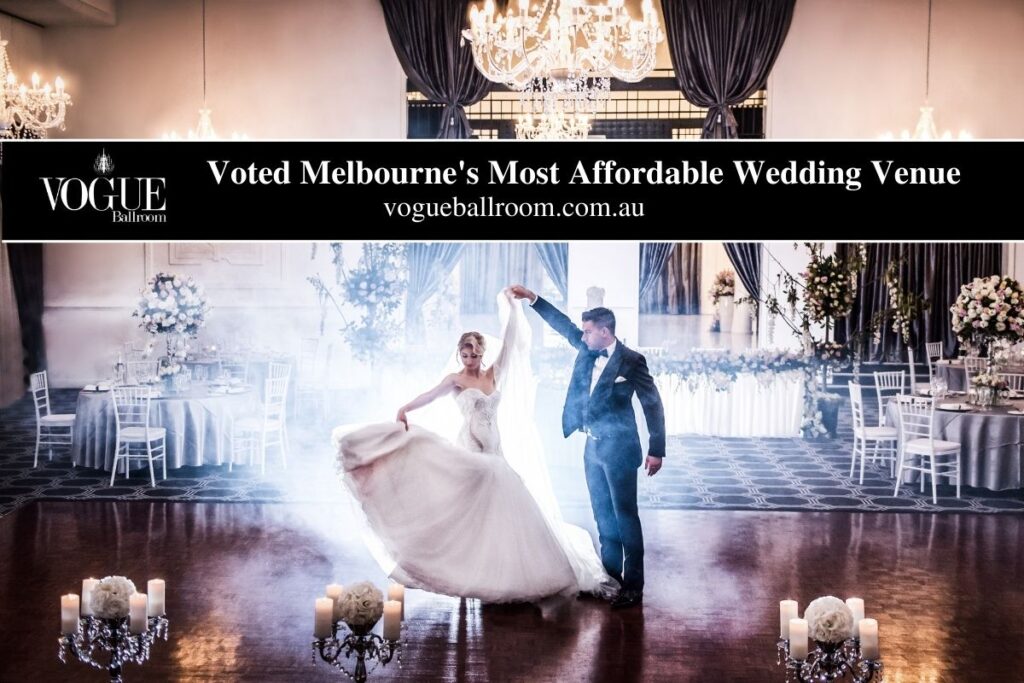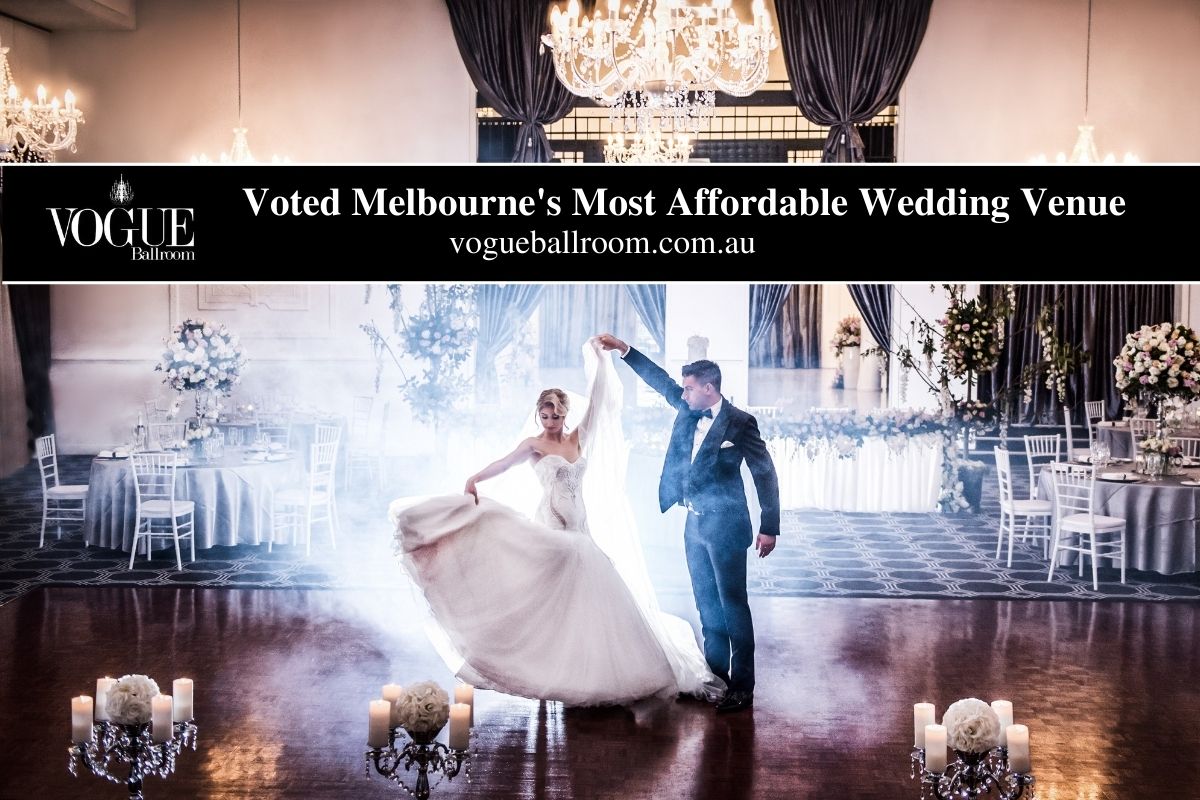 Ultimate List of Beach Wedding Reception Venue in Melbourne, Victoria
Frequently Asked Questions About Wedding Beach and Waterside
Brighton Savoy - Beach and Waterside Wedding Reception Venue Melbourne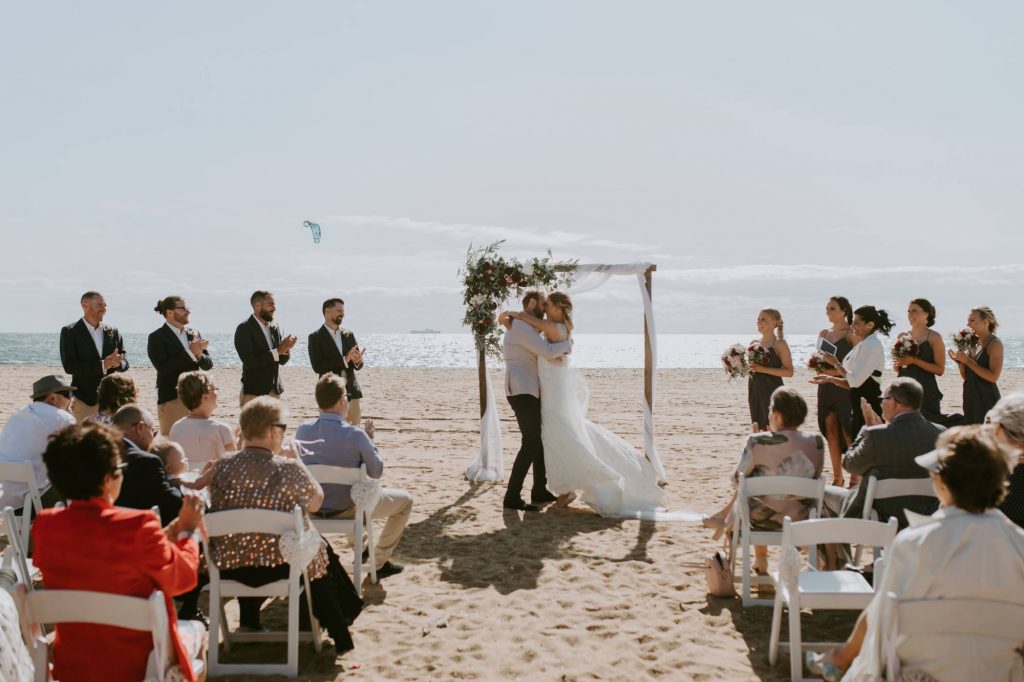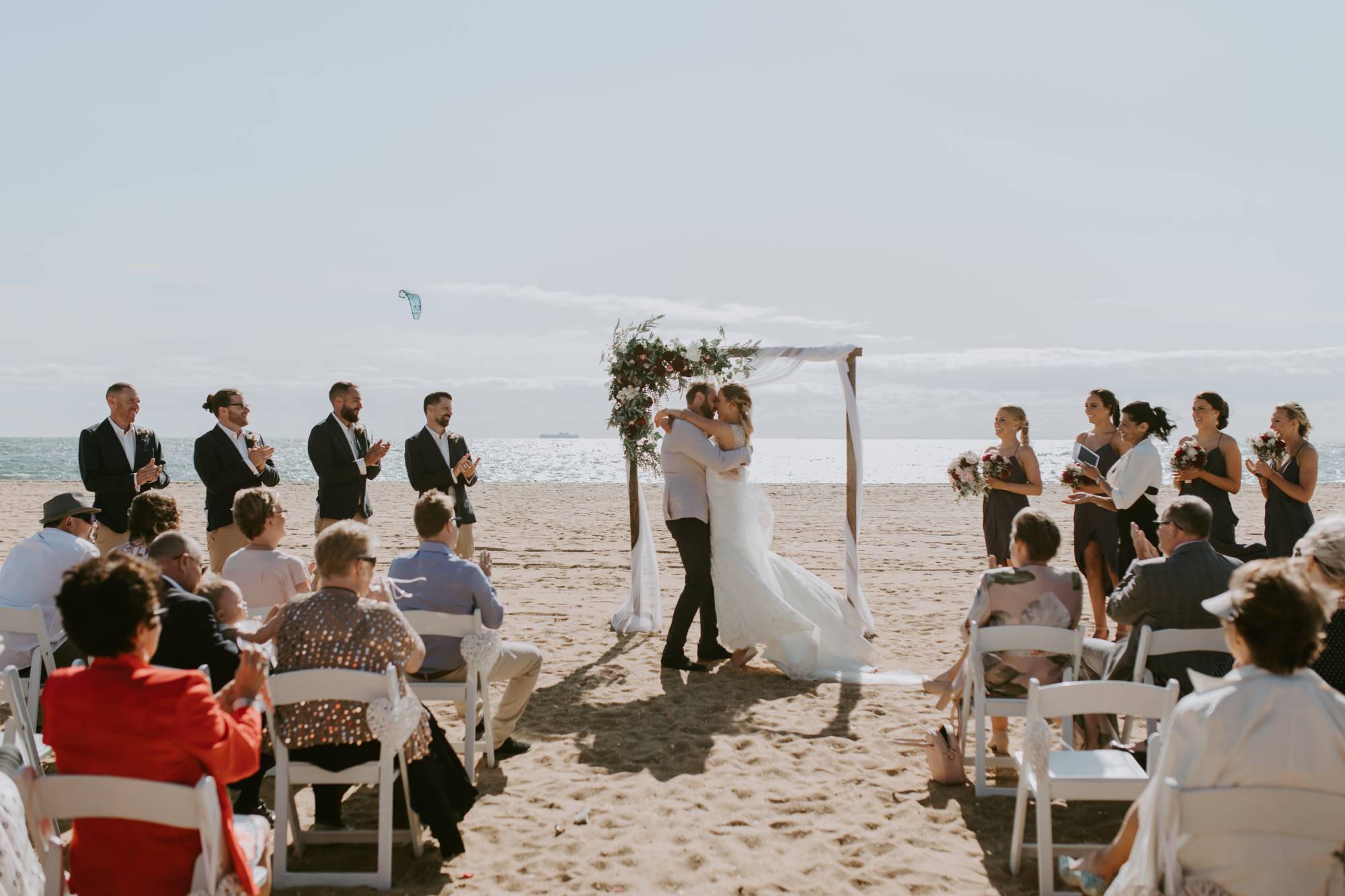 395928233
Superb Beach Hotel & Wedding Reception in Brighton
The Brighton Savoy is the area's only full-service boutique hotel and is located directly on the beachfront.
During your stay, we invite you to enjoy our full range of services including 24-hour front desk, free high-speed WiFi Internet, Seaview dining, daily housekeeping and free onsite parking, and much much more.
The Brighton Savoy has been a long-standing Bayside icon since 1967, our award-winning facilities serve as a wedding reception venue, full-service function & conference centre with hotel accommodation, and Seaview Restaurant making us one of the finest Hotels Brighton has on offer.
Owned exclusively by the Lee Family, the Brighton Savoy is one of the premier hotels in Brighton which features the best of contemporary design with unparalleled customer service and attention to detail that only a 4-star hotel can provide.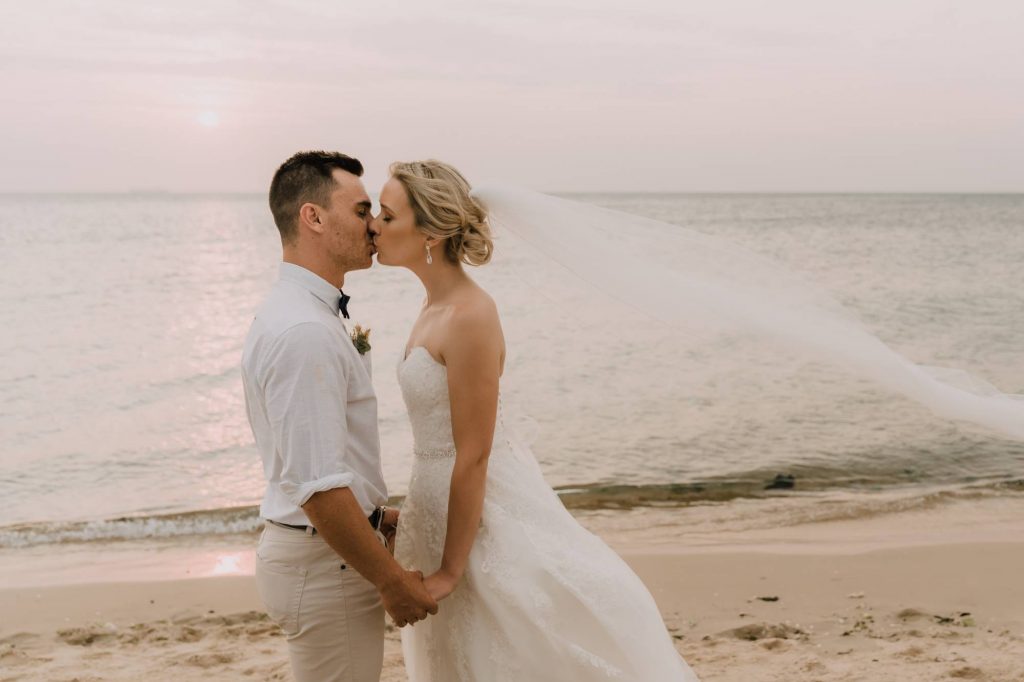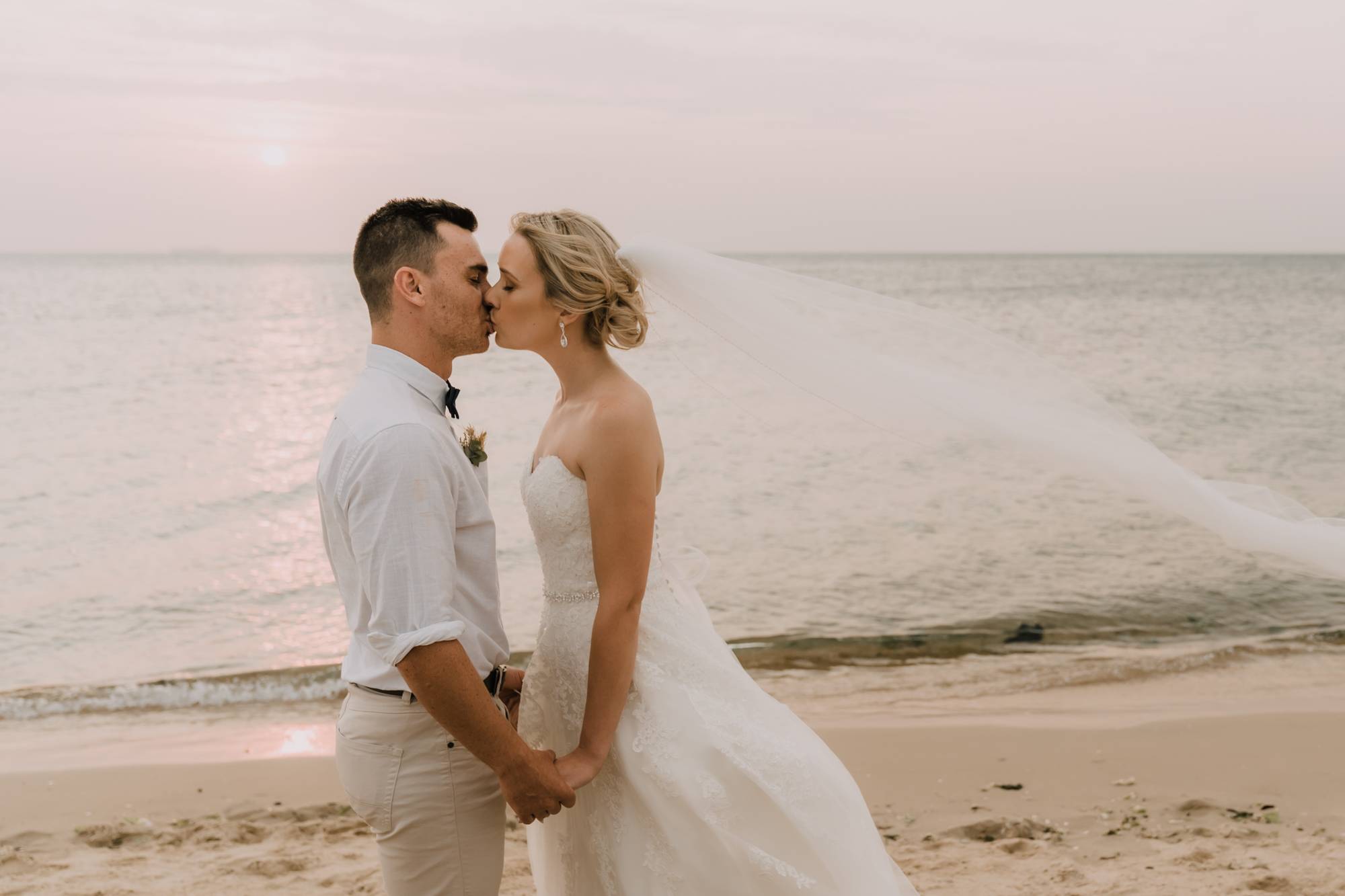 Award-Winning Beach Wedding Receptions Melbourne
The Brighton Savoy is located directly opposite Middle Brighton Beach where you will find the iconic, colourful and world-famous Bathing Boxes. Host your wedding at one of Melbourne's premier wedding venues, featuring waterfront and beachfront ceremonies, four event spaces catering from 30 to 220 guests.
We have celebrated with many bridal couples over the last 50 years in the Wedding Industry and look forward to hosting your special day with your family, friends and loved ones.
Be assured that you will have access to an experienced wedding and events team to make your wedding day one to remember.
Wedding Venue Highlights
Owned and operated by the Lee family for over 50 years.
Located 12 km from Melbourne CBD on prestigious Brighton Beach.
Hosting your wedding from 30 – 220 guests.
Wedding reception and ceremony packages available
Beach ceremonies in conjunction with the City of Bayside
Photos opportunities at the world-famous Brighton Bathing Boxes
Elegance & contemporary style
Free onsite venue parking for guests
Wedding Receptions Package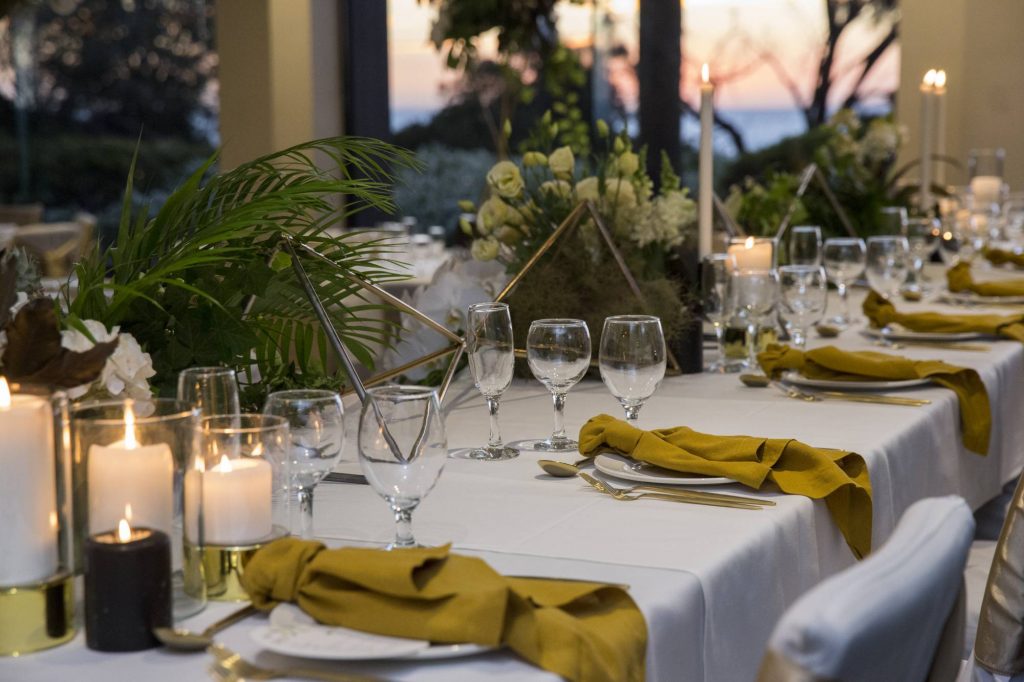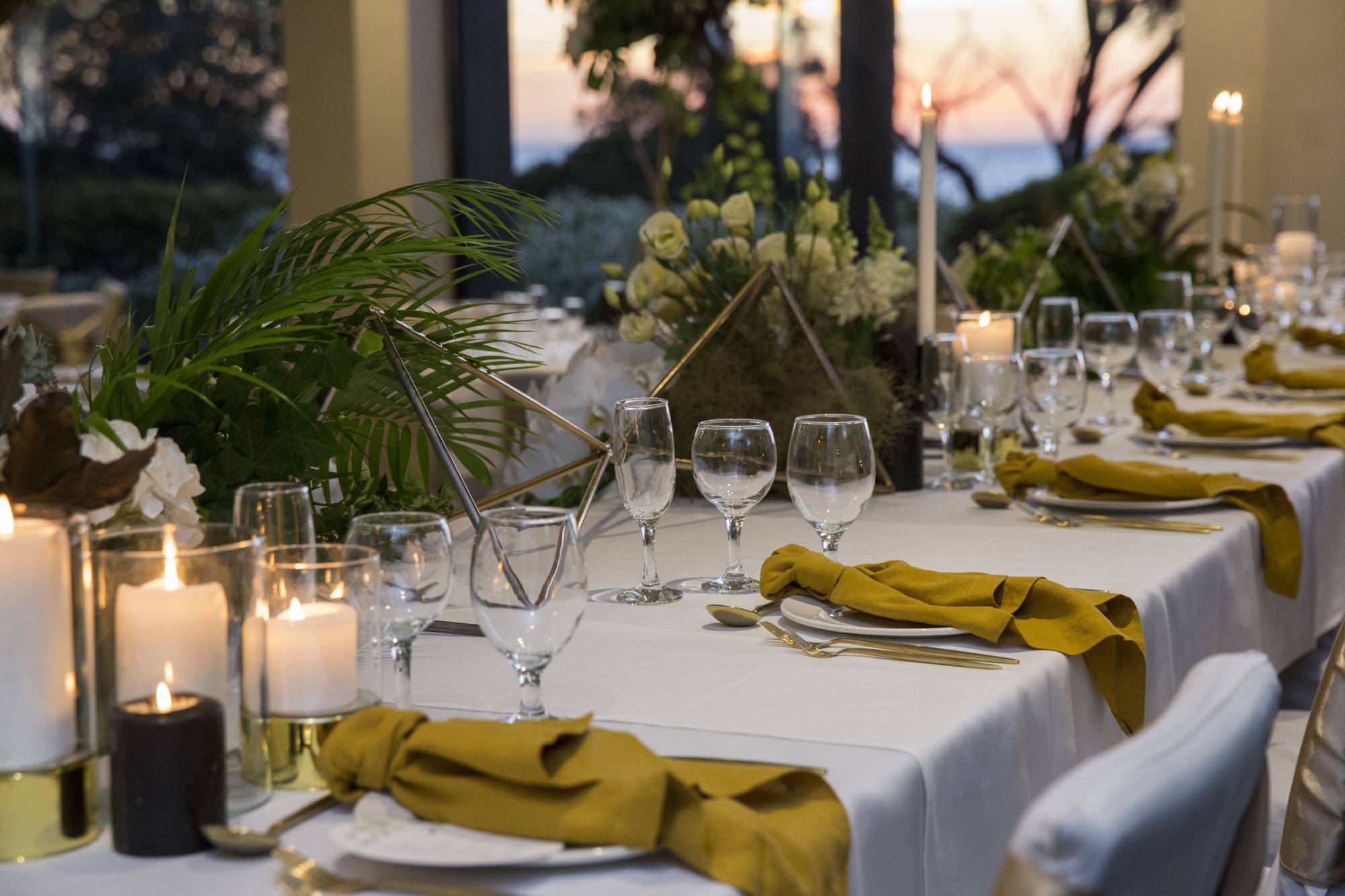 Brighton Savoy was the winner of the "Best hotel wedding reception venue from the Australian Bridal Industry Association.
Served on Guest Arrival:
Hot Savouries

De Bortoli Willowglenn Sem. Sauvignon Blanc

De Bortoli Willowglenn Shiraz Cabernet

De Bortoli Willowglenn Sparkling Brut

Carlton Draught and Cascade Premium Light

Soft Drinks and Iced water
Three-Course Dinner:
Soup or Entrée as a First Course

Main Course (Select Two)

Dessert (Select Two)

Coffee, Tea & After Dinner Mints
Beverages During Dinner:
DeBortoli Willowglenn Sem. Sauvignon Blanc

DeBortoli Willowglenn Shiraz Cabernet

DeBortoli Willowglenn Sparkling Brut

Carlton Draught and Cascade Premium Light

Soft Drinks and Iced water
Also Provided:
Hostess to overview your function and act as a Master of Ceremonies (M.C) if required

Elevated and decorated bridal table

Table centrepieces on the round mirror, with tea light candles

Central silk floral arrangement on the bridal table

White Linen Serviettes

Honeymoon Suite Package Including a Deluxe Bay view Suite with Full breakfast for two and a bottle of De Bortoli Willowglen Sparkling Brut.
Beach Wedding Reception & Ceremony Package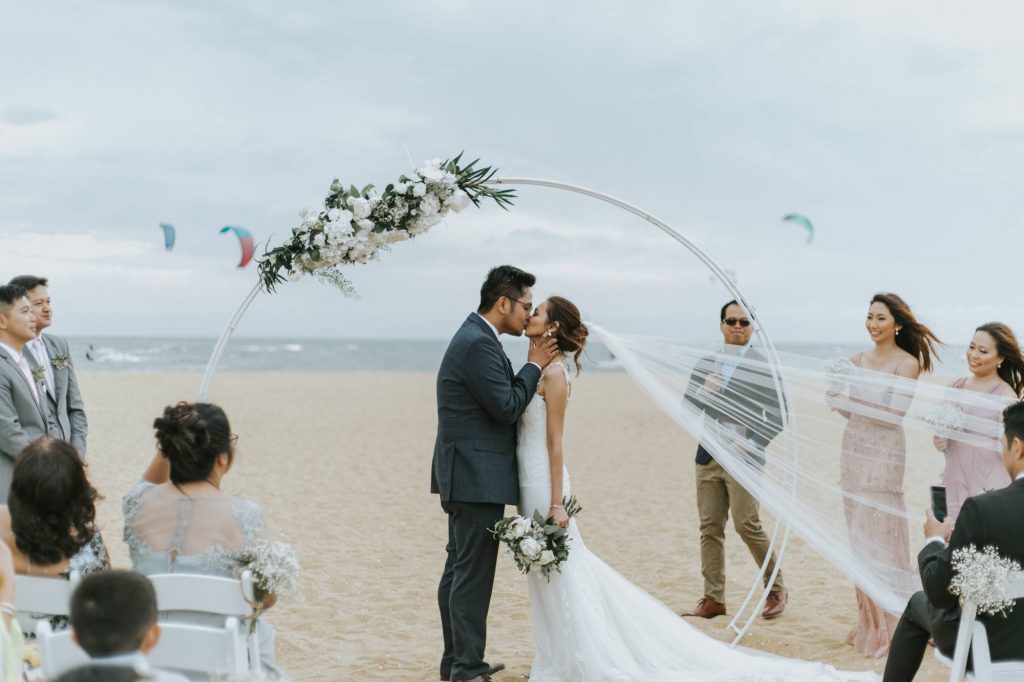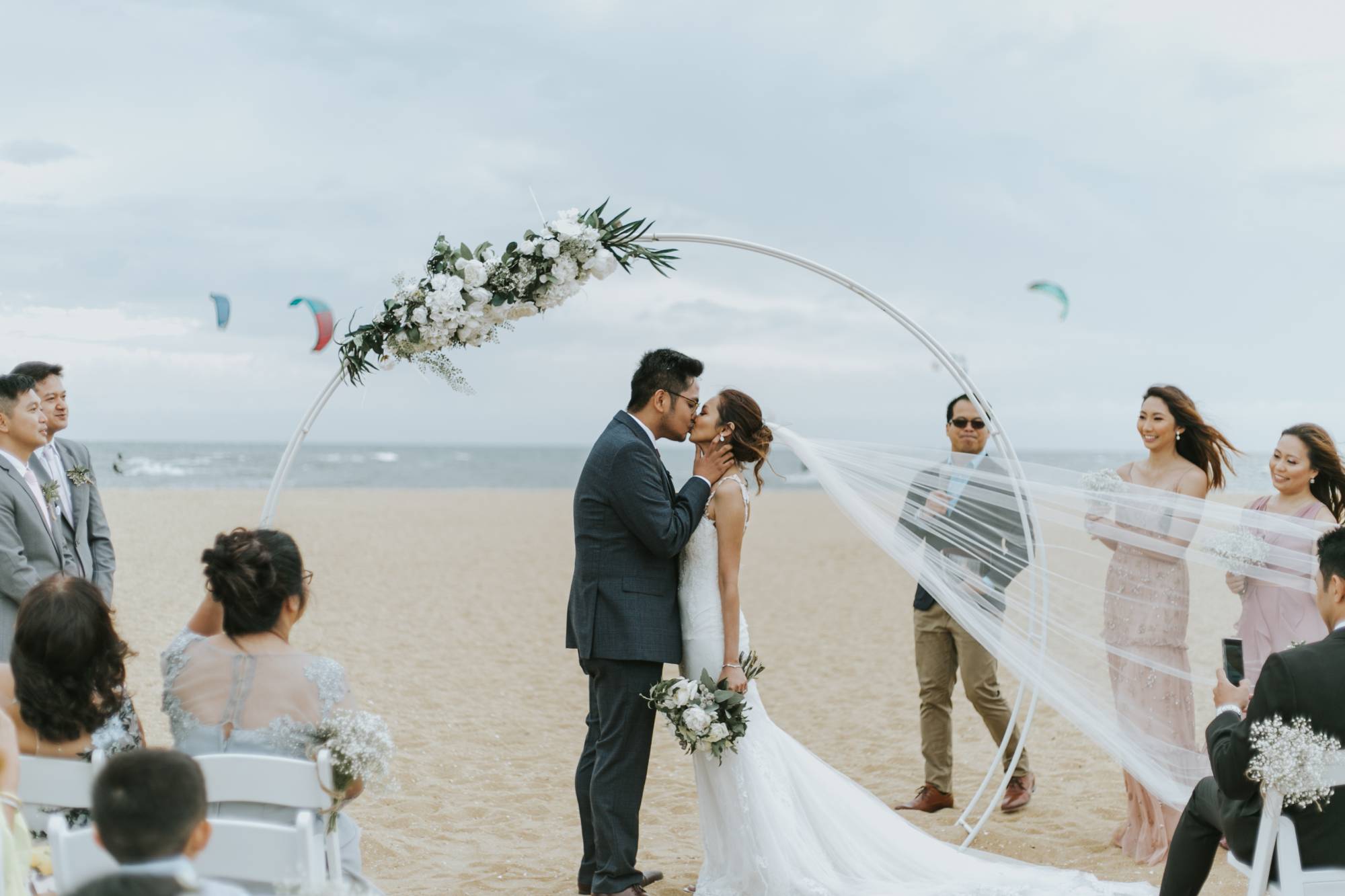 Brighton Savoy was the winner of the Best hotel wedding reception venue from the Australian Bridal Industry Association.
5.00 pm Ceremony commences (30 Mins)
Hostess to assist in the coordination of the Ceremony and for the duration of your wedding

Skirted table, silk flower arrangement for the registry signing table

Red Carpet and 24 Americana chairs for guests (no chair covers provided)
5.30 pm Hot & Cold Savouries & Beverages (60 mins)
Hot Savouries

De Bortoli Willowglenn Sem. Sauvignon Blanc

De Bortoli Willowglenn Shiraz Cabernet

De Bortoli Willowglenn Sparkling Brut

Carlton Draught and Cascade Premium Light

Soft Drinks and Iced water
Whilst guests enjoy pre-dinner service, there is time for bridal photography At locations around the hotel or on Brighton Beach Foreshore, upon your return guests are seated, and the Grand Bridal introduction commences.
Three-Course Dinner:
Soup or Entrée as a First Course

Main Course (select two)

Dessert (select two)

Coffee, Tea & After Dinner Mints
Beverages During Dinner:
DeBortoli Willowglenn Sem. Sauvignon Blanc

DeBortoli Willowglenn Shiraz Cabernet

DeBortoli Willowglenn Sparkling Brut

Carlton Draught and Cascade Premium Light

Soft Drinks and Iced water
Also Provided:
Hostess to overview your function and act as a master of Ceremonies (M.C) If required

Elevated and decorated bridal table,

Guest table centrepiece on the round mirror, surrounded by tea light candles

Central silk floral arrangement on the bridal table.

White Linen Napkins.

The cutting and serving of your wedding cake on platters – one per table

Honeymoon Suite Package Including a Deluxe Bay view Suite with Full breakfast for two and a bottle of De Bortoli Willowglen Sparkling Brut
Total Package duration is 6 hours.
Beach Ceremony Back Up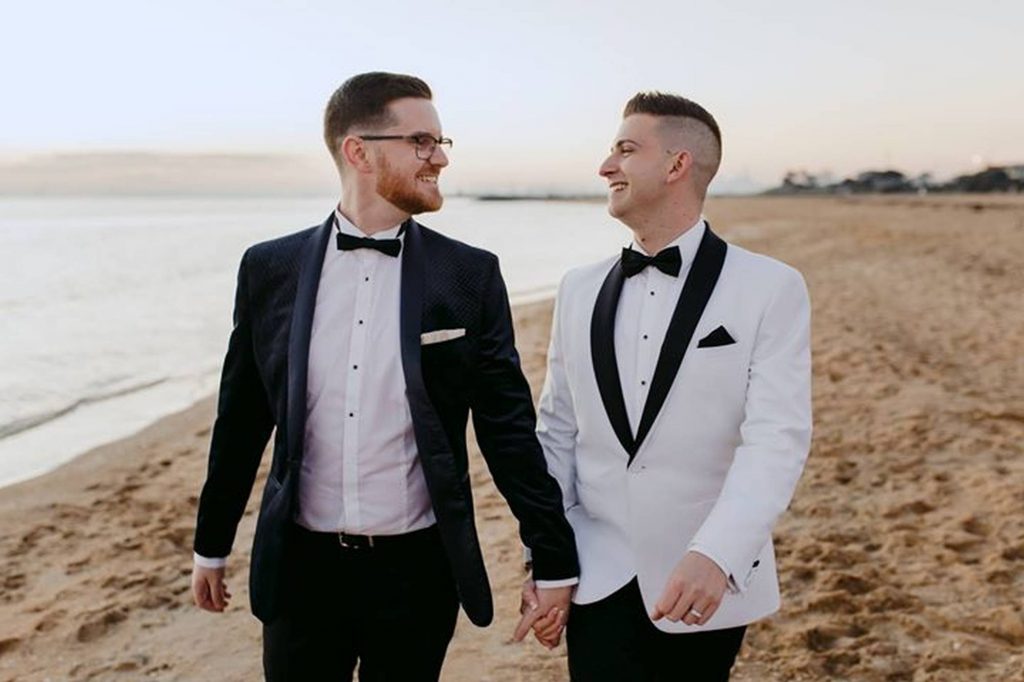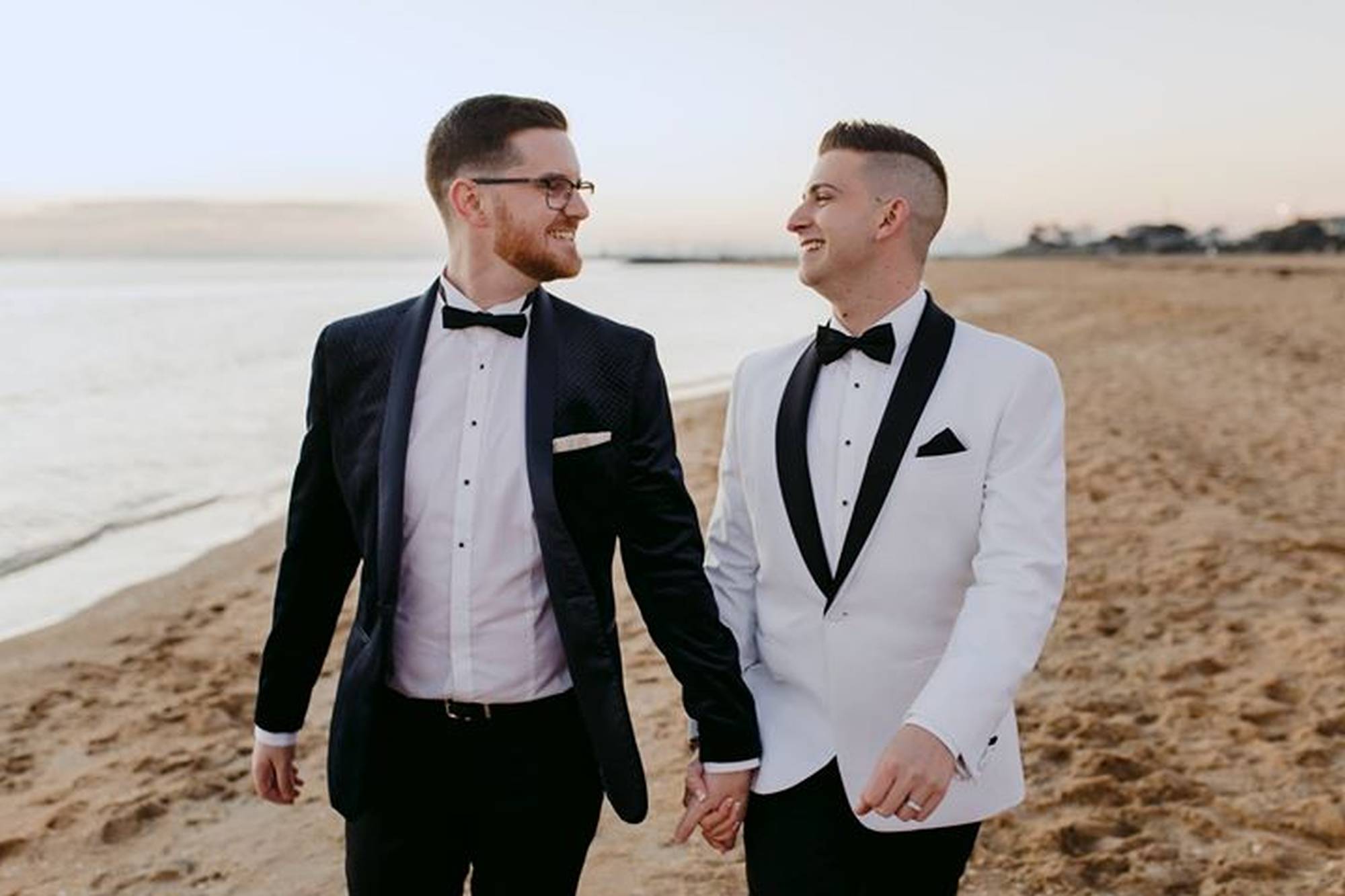 Beach weddings in Melbourne are becoming a great way to celebrate the marriage of a bride and groom.
When booking your wedding reception at Brighton Savoy, you may also wish to consider a beach wedding ceremony with a picturesque view of Port Phillip Bay and the Melbourne skyline. After your unique Ceremony, your guests arrive at your pre-dinner function area and relax and enjoy pre-dinner drinks and canapes in the lush surroundings while you and loved ones are off taking photos in the exquisite settings of a beautiful day on Brighton beach.
Encore St. Kilda Beach Wedding Venue Victoria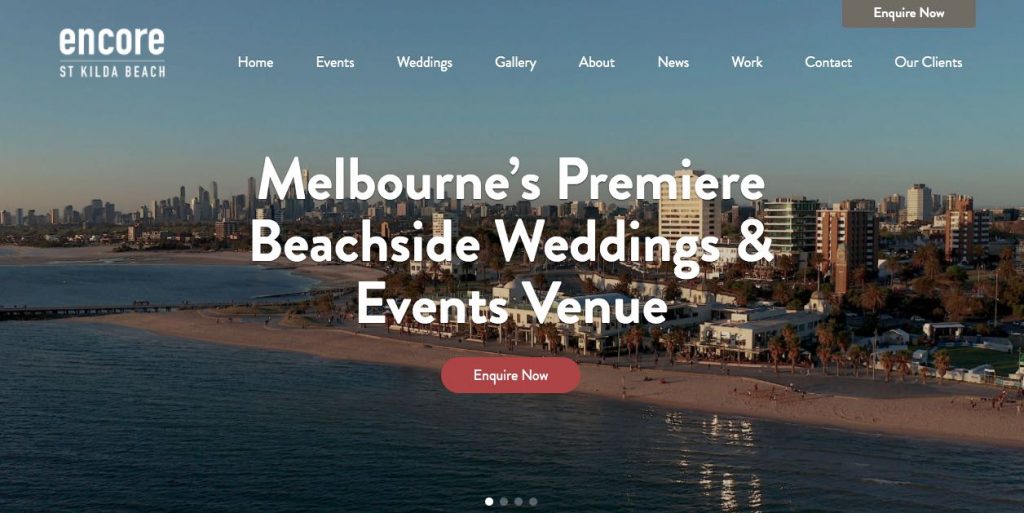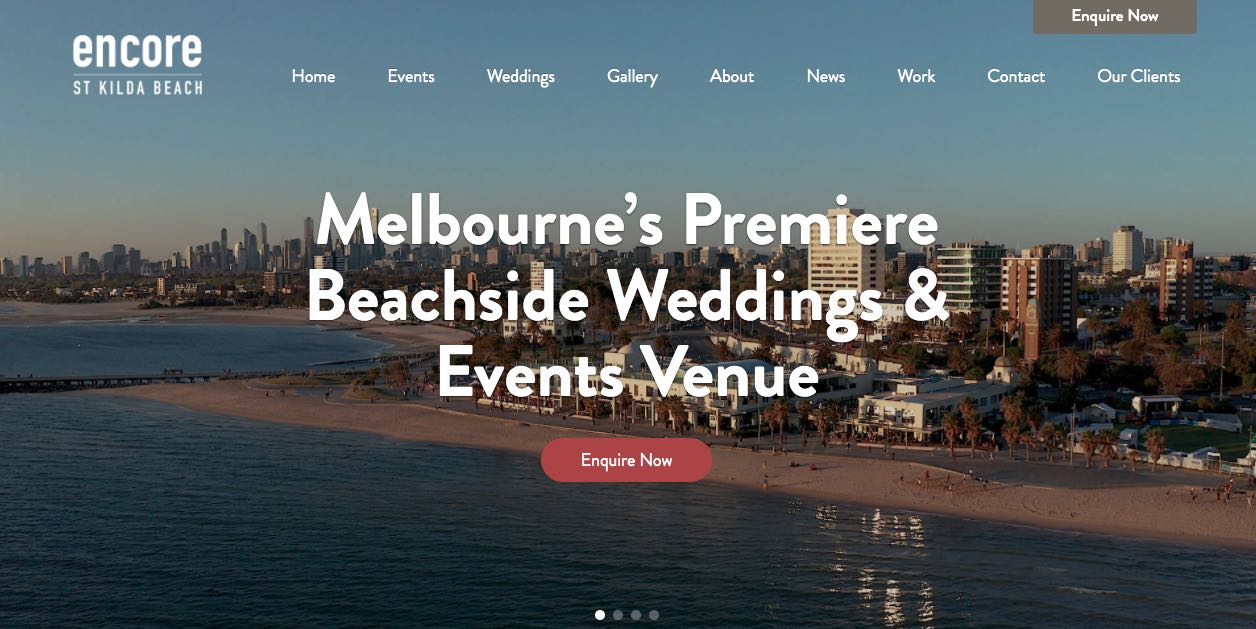 1395939033
ARE YOU LOOKING TO FIND AN ICONIC BEACHSIDE WEDDING VENUE IN MELBOURNE, VICTORIA?
Encore St Kilda provides a premium location for celebrating your special day and delivering unmatched food & wine, along with leading planning and hospitality services in the unique beachside location on St Kilda Beach.
The vision of Encore St Kilda is to offer Melbourne an event space like no other, moving away from what people have come to expect from standard venue hire offerings. Encore St Kilda has been created with the look and feel of an iconic Melbourne beachside venue designed to have personality, natural light and amazing views.
Encore St Kilda is pure of intent, unique and romantic. The design is inspired by the natural Melbourne Bayside and bright sunny cultures of the southern hemisphere. Each function area has been custom-designed with the purpose of extending interior spaces into an alfresco outdoor wedding experience.
Our award-winning wedding catering and event staff are the ultimate hospitality professions and have years of experience in customising our wedding function rooms to reflect your own personality. We help you to create a unique space that feels intimate and is aesthetically breathtaking for all to enjoy. Our event function room design can be brought to life with additions like hanging florals, drapes, mood lighting and much more.
Our beachfront St Kilda wedding venue has a capacity of 300 guests seated or 700 cocktail style events, as well as catering for smaller groups.
Encore's event space is perfect for:
Beach Wedding Receptions Corporate Events Conferences Celebrations
Our venue can hold events for up to 2500 people. We are located 10 minutes from the CBD and have a wide selection of hotels a short walk away.
The views from Encore St Kilda include Port Phillip Bay, the iconic St Kilda Pier & the Marina.
Are you looking for the best wedding venue in Melbourne, Victoria?
Encore St Kilda is the sister venue to Republica St Kilda Beach and Captain Baxter both iconic venues on the waterfront, delivering unmatched food, wine and service in the unique location fronting St Kilda Beach in the St Kilda Sea Baths.
The vision is to offer Melbourne an event space like no other, steering away from what people have come to expect from standard offerings. Encore St Kilda has been created with the look and feel of an iconic beachside restaurant designed to have personality, natural light and amazing views.
Designed by Dana Hutchins, Encore St Kilda is pure of intent, unique, familiar and relaxed. The design is inspired by the natural beauty and sun-kissed cultures of the southern hemisphere. Style is easily said and not often delivered, Encore does this by simple and minimalistic touches that complement the environment, creating an event space that will make your function remarkable. Encore is a playful, art-driven space which delivers a fresh approach in an outstanding location.
Opening in the Spring of 2011, Encore St Kilda Beach became the pinnacle of event venues in Melbourne.
The Team With a dedicated professional events team Encore St Kilda is committed to delivering on the promise of making your event outstanding. Encore staff have heritage from all corners of the globe, and the team operates on mutual respect to deliver our single mission of standout events for clients and guests.
We invite you to spend time with our vivacious team to experience the passion that Encore is known for.
The Executive Chef Matthew Dawson developed his passion for fine food in the northeast wine region of Victoria. Matthew has worked at some of Victoria's leading restaurants and is now focused on creating great food on St Kilda Beach for all to enjoy. Matt is constantly inspired by his travels and the people he meets both locally and abroad; this heavily influences his culinary style. His dishes always deliver excitement and surprise to the palate.
The Art Miranda Skoczek was commissioned to deliver the outstanding artwork that enhances Encores' uniqueness. Miranda has delivered art for Encore that is loaded with positivity and engages the viewer on many levels. The built-up layers afford her canvases with a sense of history, constant in the process of hiding and revealing.
SEA Life Melbourne - Water Wedding Venue Melbourne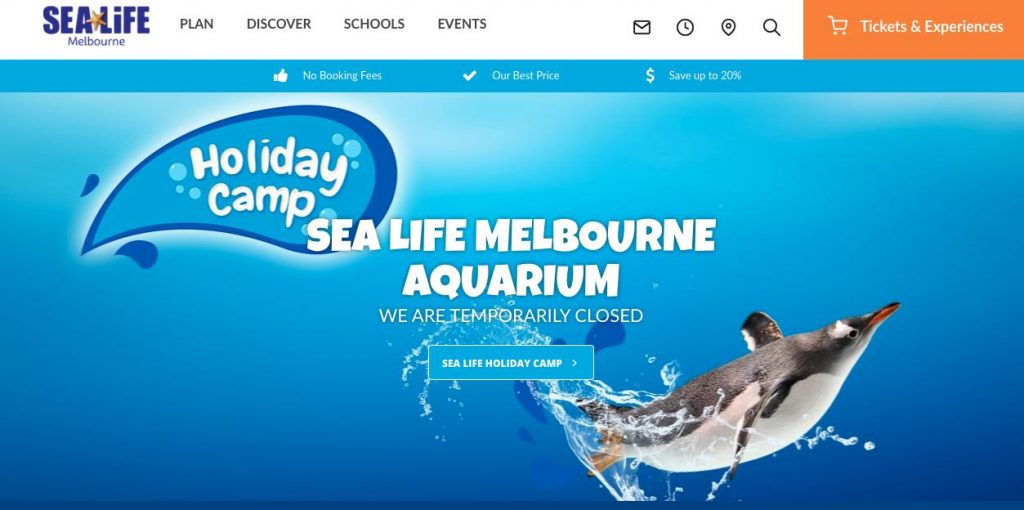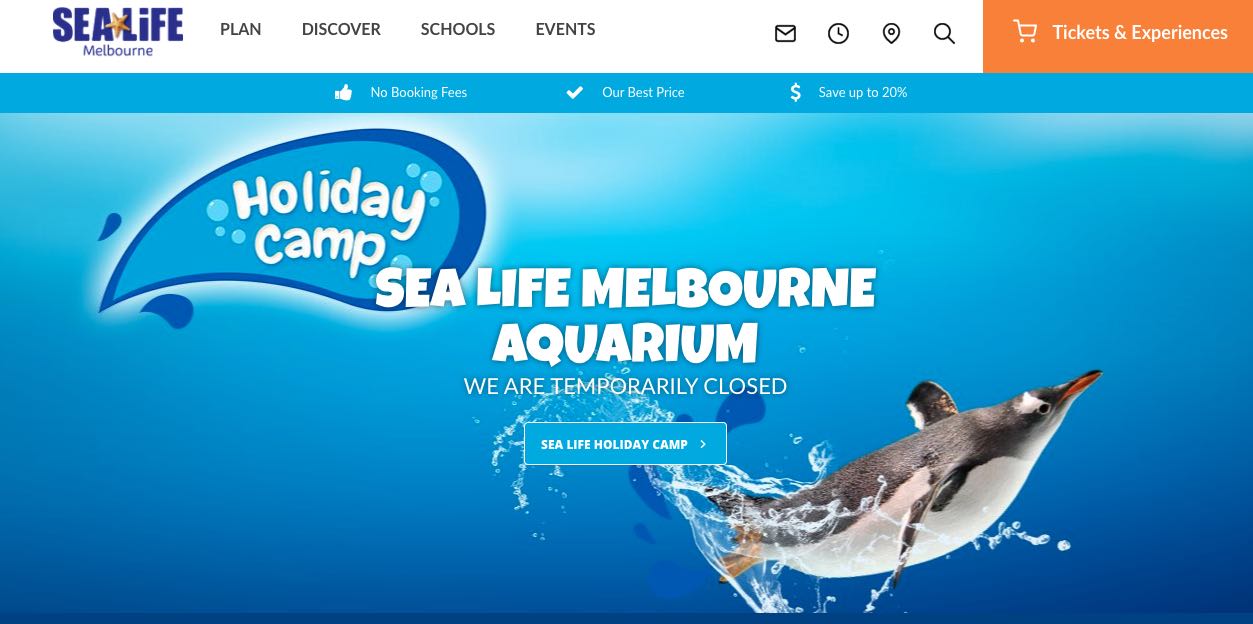 There's so much to see and do!
Dive into one of Melbourne's top attractions, SEA LIFE Melbourne Aquarium, and walk through our crowd-favourite oceanarium tunnels, get hands-on in the Discovery Rock Pools and marvel as our King and Gentoo Penguins dive in and out of the water within their icy habitat. No matter your favourite underwater creature, our aquarium never fails to create lasting memories full of fun and adventure.
Below you can read about what's on right now at SEA LIFE Melbourne. Whether you're looking for things to do with your family or a unique date idea, you'll love a trip to the aquarium.
The Ultimate Event Venue
SEA LIFE Melbourne Aquarium has 5 magical event spaces. Whether you're looking for a Corporate Function, Private Party, School Formal, or even Wedding, we have the space for you!
Our events team will use their trademark creative flair and highly personalised service to create an intimate event or something more extravagant you've been dreaming of. Our largest space accommodates up to 1,500 stand up guests.
Reach out to our events team with inquiries below, and even organise a tour to witness the splendour of SEA LIFE Melbourne. Located in the heart of Melbourne's CBD on the banks of the Yarra River, we look forward to hosting your next event against the living backdrop of majestic sharks, rays and regal penguins.
The Views Functions and Events- Beach and Waterside Wedding Venue
Melbourne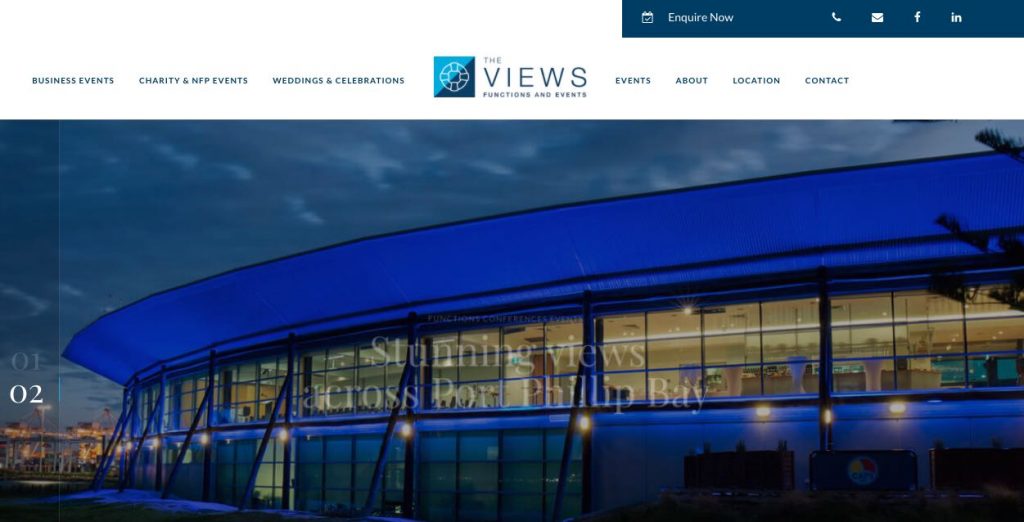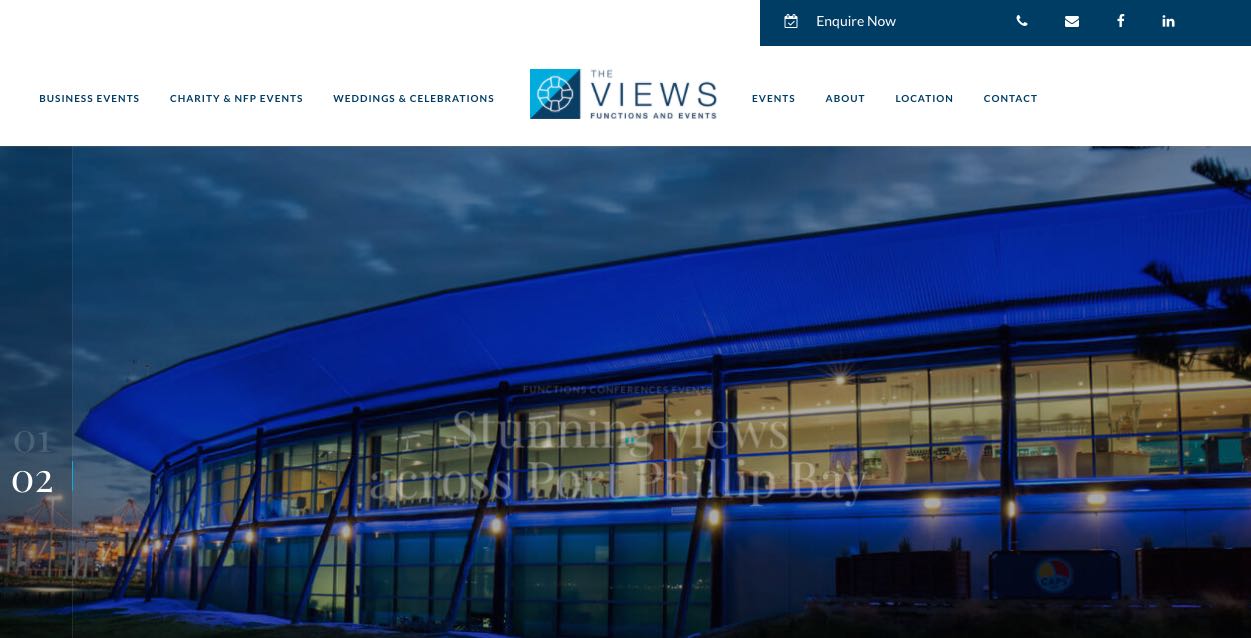 396766960
About Us
The Views is Port Melbourne's only beachfront conference venue and is located only minutes from the CBD and 20 minutes from Melbourne Airport. We offer free parking onsite and are uniquely placed to host your next meeting, conference or special event.
We are a division of Life Saving Victoria and revenue from The Views is used to support the community activities and charity work of the broader Life Saving Victoria organisation.
We have 5 separate meeting spaces, all featuring stunning elevated views over Station Pier, Port Phillip Bay and the Port Melbourne to Brighton coastline. With an abundance of natural light from our floor to ceiling windows overlooking the water, we offer a relaxed yet professional environment for delegates or the perfect backdrop for your special event.
Flexible floor plans allow for intimate boardrooms for 10, complex multi-room setup for educational and planning days, dining rooms for 180 guests and theatre-style presentations for 300.
The addition of the Boulevard Bar, two ground floor boardrooms, access to the beachside deck and adjoining beachfront grassed area for outdoor activities, means we can deliver the venue best suited to your event's needs.
Our spaces are fitted with integrated AV equipment including data projectors, 100" screens, wireless microphones, speakers and WiFi as standard inclusions. We have a range of specialised equipment including 4k data projectors, video conferencing available on request and can provide full technical support if required.
Our London trained Chef and kitchen team can work with you to create the ideal package to suit your guests, culinary tastes, and your budget. You can choose from one of our standard packages or we can develop a custom menu just for you.
Beach Wedding Venues in Melbourne, Parties & Private Functions
With an abundance of natural light from floor to ceiling windows overlooking the water, we offer the perfect location to celebrate your wedding or special occasion.
The Views is suitable for both intimate and large-scale functions and panoramic views across Port Phillip Bay provide a spectacular backdrop for photographs – plus we have direct beach access for fantastic photos on the sand.
There is ample free parking for guests, we are close to Melbourne airport for interstate travellers, and can assist with booking suitable local or CBD based accommodation.
Layouts & Capacity
In our formal spaces we can offer seated functions with ocean views for up to 180 guests. The addition of the Boulevard Bar, access to the beachside deck and adjoining beachfront grassed area provide additional options and dimensions for pre-dinner drinks or for relaxed outdoor functions if that is more your style. Contact us today for options and a no obligation quote.
Planning & Support
Our experienced team, our flexible spaces and range of catering options means that we can deliver a range of event types and styles to make your dreams come true at our spectacular Melbourne event venue. Of course, we are happy for you to take full control over planning and decoration or we can provide an end-to-end service using our network of service providers. Our rooms can be adjusted to suit the number of guests and come fully equipped with quality AV equipment to ensure all guests can fully enjoy the occasion.
Catering
Our London trained Chef and kitchen team can work with you to create the ideal package to suit your guests, culinary tastes, and your budget. We are fully licenced and have a range of drinks packages to choose from. We cater for all dietary requirements and deliver restaurant-quality food utilising our know-how, buying power and trusted suppliers to ensure our catering packages are reasonable.
Cammeray Waters - Beach and Waterside Wedding Venue Melbourne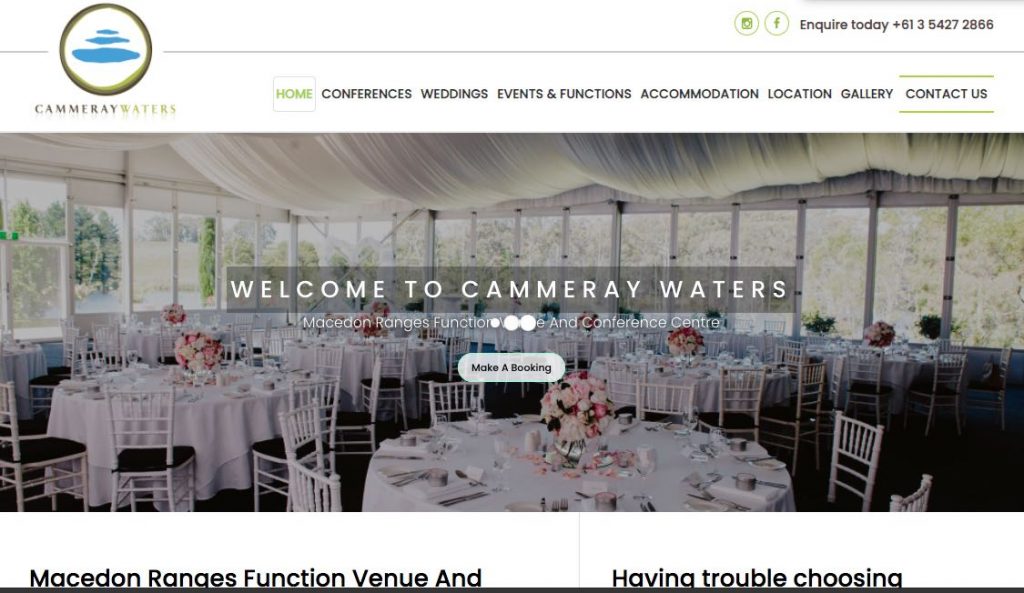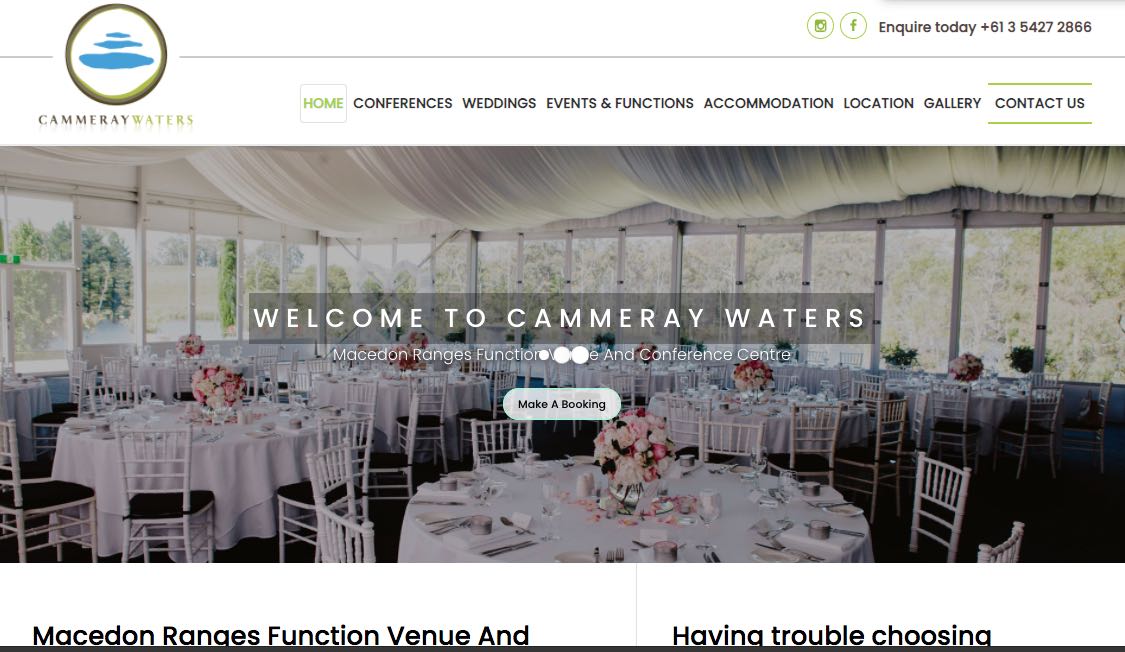 354272866
Macedon Ranges Function Venue And Conference Centre
Cammeray Waters is a stunning venue for corporate conferences and country style accommodation, located outside the village of Woodend in the Macedon Ranges. The perfect place to stay for exploring the magnificent Mount Macedon, or the best of function venues for your next corporate conference, wedding, family gathering or event. With a stunning lakeside marquee situated on the water's edge and numerous ceremony locations on the property, it is also a picture-perfect venue for any style of wedding.
The added bonus of our country venues' onsite accommodation means your wedding celebrations or conference networking can continue onto the next day with a country-style breakfast the following morning. We are also conveniently situated near Daylesford, a town of near unmatched rural grace with arts, culture and delicious dining options in abundance.
Our "Caretakers cottage" and "Whitehouse" are available to book for those wishing to self-cater. Very popular with many larger groups is our option to hire the entire property, including the kitchen facilities and bring in your own catering team or food trucks for the catering.
Amenities & Activities
Explore our recreational activities and facilities available where you are guaranteed to find something to suit your fancy. From a game of golf, shooting a round of pool or simply relaxing with a spot of fishing, Cammeray Waters has it all.
Private 9-hole Golf Course
Fishing (Choice of 3 lakes)
Pool Table
Table Tennis
Jogging Trail
Number of Mountain Bike Trails on our doorstep
The Perfect Country Venue for Your Next Event
Conveniently located near Woodend, the charming facilities and onsite accommodation, all set to the backdrop of the beautiful Mount Macedon make Cammeray Waters the most picturesque of venues for your next conference, event or function. With a host of hospitality staff at the ready to accommodate your event's every need, you will be thrilled that you chose Cammeray Waters as your venue.
Having trouble choosing between function venues?
At Cammeray Waters, just a short drive from Mount Macedon, our expert and friendly team can help you no matter what– whether you're looking for event venues for weddings, conferences, corporate events or just quiet country-style accommodation near Woodend.
Just contact our knowledgeable team today, and we'll take the time to discuss your specific requirements and find the perfect option for you.
You are welcome to get in contact with us if you have any enquiries or would like to book an inspection of the property. Office hours are from 9.00 am – 4.00pm Monday to Friday and weekend viewings are by appointment only.
Host Your Wedding in The Beautiful Macedon Ranges
With the backdrop of three beautiful lakes and the serenity of the native Australian bush, Cammeray Waters in the Macedon Ranges is one of the most idyllic venues for the perfect wedding. We have been privileged to host the weddings of a huge number of couples in the Macedon Ranges and will go above and beyond to make sure the celebration meets and exceeds your expectations. Our enchanting pavilion is set up with stunning views over the lakes and could not be more picture-perfect for an unforgettable ceremony.
When looking for wedding venues, we know how important it is that everything goes to plan, which is why provide a range of flexible options, including on-site accommodation near Mount Macedon.
Our impressive food options give you flexible choices to suit the style of the day and ensure everything you need is taken care of.
Plan your perfect wedding menu in the Macedon Ranges
The dining options we offer for weddings vary and are tailored to your unique requirements, from formal sit-down events to stylish cocktail settings. Menus are created using the finest local produce sourced from Woodend and Daylesford, along with amazing wines unmatched by other wedding venues. We ensure quality and superior taste are paramount on your most important day. We'll work closely with you to plan the catering around your needs for the day so that when the time comes, you can spend more time enjoying yourself while we take care of everything.
Being close to Mount Macedon makes weddings truly unforgettable.
With a marquee permanently located along a shimmering lake and beautiful buildings that imbue country charm, Cammeray Waters is the most beautiful of all the Macedon Ranges wedding venues and creates an intimate ambience, which is perfectly suited for all types of weddings. With exclusive use of the entire venue for the weekend and accommodation options available on-site, as well as being conveniently located near Woodend, Cammeray Waters makes your big day a most memorable event.
Book your wedding venue now
Our calendar gets booked up with weddings fast, so if you want to experience one of the most picturesque venues in Victoria, be sure to make an early enquiry on the dates you are hoping for.
Leave your details with one of our friendly staff members and us will contact you within 24 hours to discuss your options and take the first step towards booking one of the finest wedding venues around the Mount Macedon region.
Eagle Ridge Weddings - Beach and Waterside Wedding Venue Victoria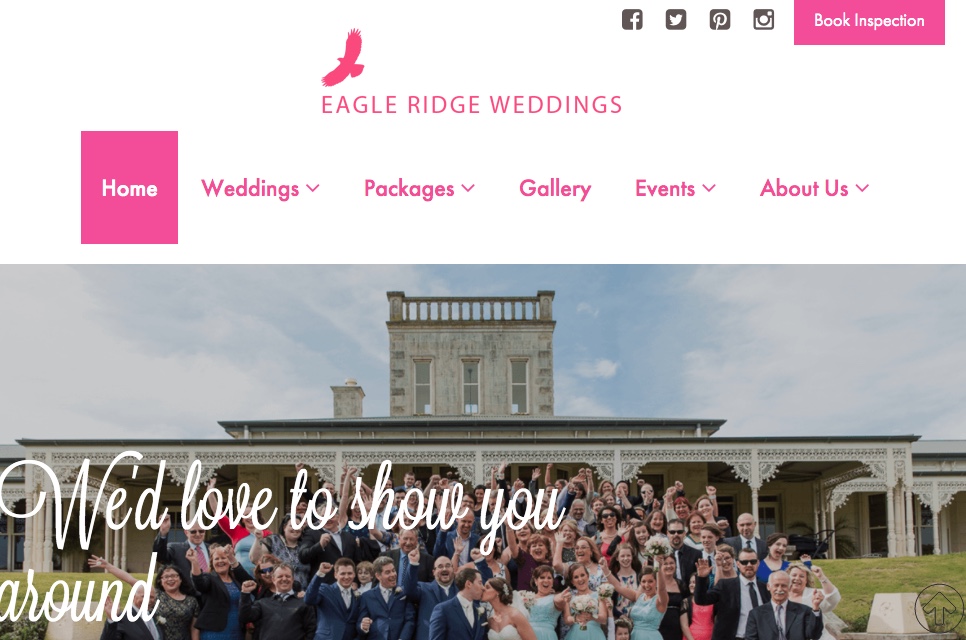 359882515
Our Venue
The wedding venue you will never forget!
Eagle Ridge Weddings is a venue built with weddings in mind. It's beauty and superiority is breathtaking. Our venue will complement and enhance your wedding celebrations.
Indoor and outdoor spaces for beautiful wedding ceremonies, options are available if the weather proves to be unkind—gardens, lawns, lakes, fountains, bridges and period style building for ideal photo backdrops.
Welcoming you to Eagle Ridge is a classic porte-cochere entrance for wedding vehicles, bridal party and guests, along with ample lit car parking.
We would love the opportunity to show you around and let you see for yourself!
Ceremonies
Our Rotunda is perched perfectly on the lake's edge. It's surrounded by rose gardens and is a simple, stylish and serene backdrop to make your vows and capture stunning photos. There is ample space for every guest to have a great view, so they can remember your special day just as fondly as you.
Weddings Packages
From traditional receptions to classy cocktails, we have a package to suit you!
Whether your style is traditional or modern, formal or casual, sophisticated or playful, we have a range of sit-down dinner or cocktail package options to suit you and your budget. We also offer a 'Ceremony Only' option if you prefer.
Sit-down Reception
Our magnificent Ballroom has played host to many sit-down style wedding receptions. Although each one is unique in terms of style, the sophisticated setting, superb food and impeccable service are our hallmarks. With competitive pricing and seasonal/weekday discounts available, our wedding venue is a stand-out choice for your perfect day.
Cocktail Reception
After a format which is a little more relaxed but just as special? With your choice of either Ballroom or Lounge Bar spaces, a cocktail set is a stylish option for your wedding reception or engagement party. Our packages offer lots of menu and drinks choices and, with a ceremony included in all cocktail packages, there is something to suit every style and budget. 
Ceremony Only
A romantic gazebo flanked by rose gardens. Lakes and rolling green perfect lawns. A stately Victorian façade with a red carpet to herald your arrival. Experienced and professional staff ready and able to make your Ceremony a time to remember. All this is yours when you choose to have your Ceremony at Eagle Ridge. Ceremonies are included in most of our sit-down and cocktail packages, but you can choose our 'Ceremony Only' package if you prefer.
Beautiful Beneagle Farm - Beach and Waterside Wedding Venue Victoria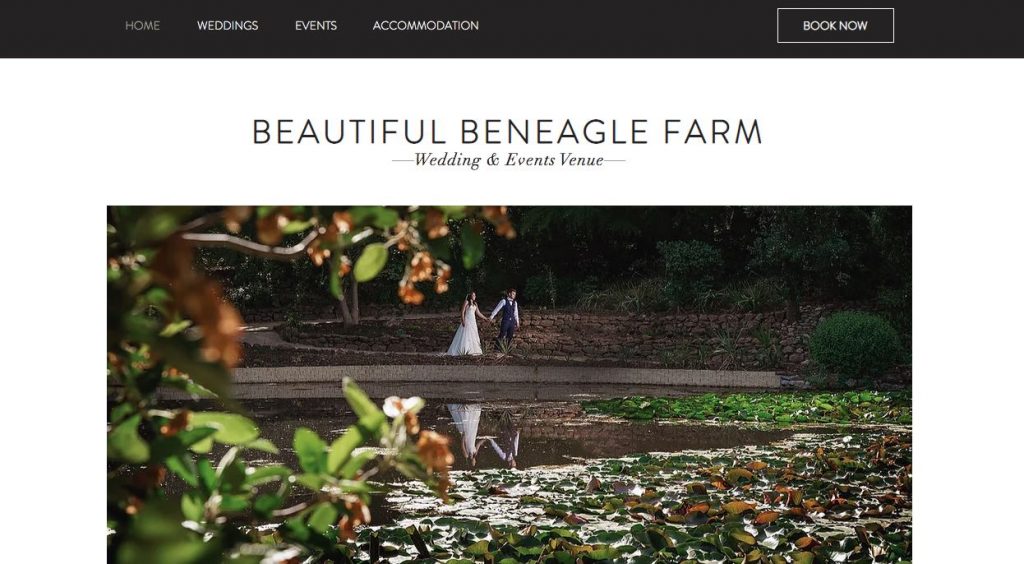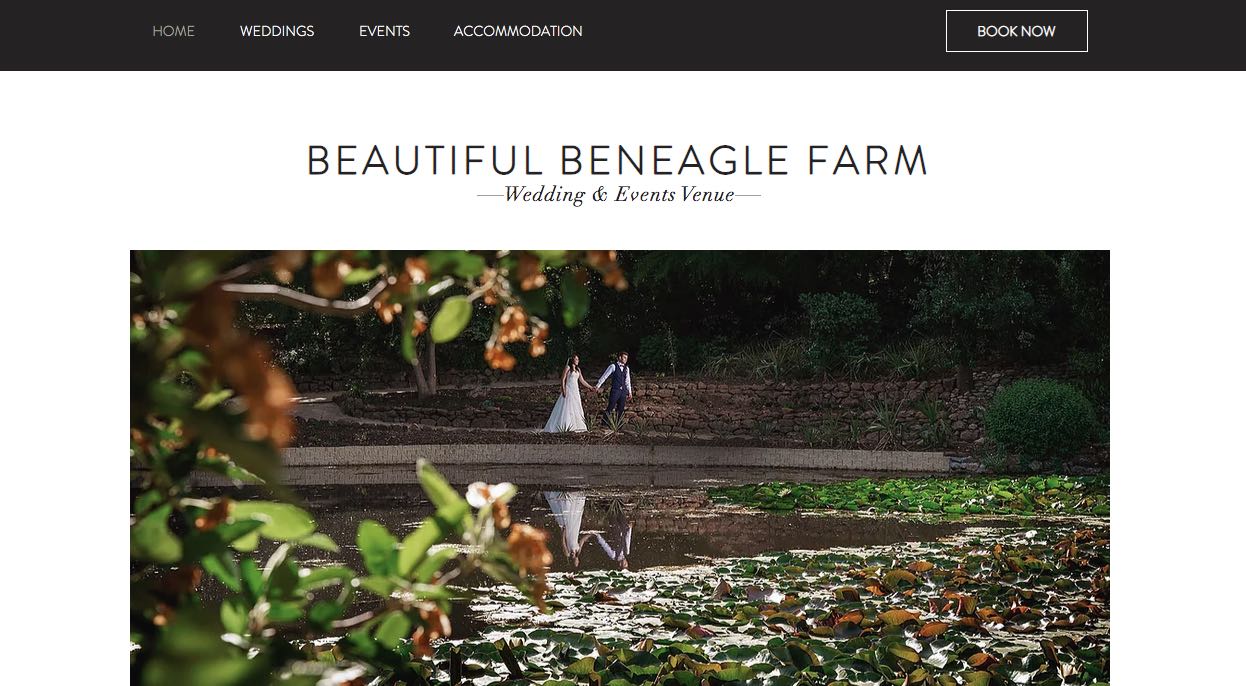 ABOUT BEAUTIFUL BENEAGLE FARM
Beautiful Beneagle Farm is a spacious, garden venue nestled in the foothills of KiewaValley, 
North East Victoria, perfect for Albury Wodonga weddings.
The tranquil gardens or pond offer the perfect location for wedding ceremonies and photos, while the white gravel marquee site has gorgeous views and space for receptions.
Beautiful Beneagle Farm can also host your next event, including engagement parties, hen's parties, birthday parties and anything else you would like.
WEDDINGS AT BENEAGLE FARM
Wedding & Events Venue
The Perfect Albury Wodonga Wedding Venue
Beautiful Beneagle Farm Gardens and Wedding Venue is nestled in the foothills of the Stunning Kiewa Valley, approximately 35km from Wodonga.
The tranquil mature 10 acres of formal gardens offer plenty of room for beautiful wedding ceremonies and receptions, with splashes of colour and contrast at every corner. Gravel paths meander through unique garden rooms, including the olive garden, the arboretum, large ornamental ponds, pagodas, boardwalks and wisteria clad arbours, all perfect locations for stunning wedding photos, or your wedding ceremony.
The white gravel Marquee site overlooks the hills of the Valley with a stunning rose-covered arbour that leads to a magnificent staircase where the bride and groom can make their entrance to their reception in style.
BEAUTIFUL CEREMONIES & RECEPTIONS
Kiewa Valley Wedding Venue
Beautiful Beneagle Farm is simply breathtaking with stunning garden views in an amazing location.​
When you book your wedding with Beautiful Beneagle Farm, you have access to the whole venue for your event.
We know that every bride and groom have different requirements and here at Beautiful Beneagle Farm we always endeavour to offer packages that suit every budget. There are many options for your wedding ceremony and reception. You can hire the gardens, self-cater, set up your Marquee, decorate and manage the entire event yourself. Alternatively, Beautiful Beneagle Farm can arrange your event from concept to execution to ensure your day will be an exception and one to be remembered!
Beautiful Beneagle Farm is able to cater for a variety of wedding sizes. We are able to comfortably accommodate up to 160 guests.
A VENUE WITH ALL THE EXTRAS
FAQ you want to know about Beautiful Beneagle Farm
Beautiful Beneagle Farm is named after the mountain it is nestled at the base of.
Big Ben Mountain in the Kiewa Valley hosts numerous eagles who soar above the farm, giving the location its name. The venue is approximately 35km from Wodonga.
There are many options available in the region for the hire of tables, crockery, marquees and special effects.
Beautiful Beneagle Farm can arrange these services, or you can manage them yourself.
We do specialise in hire of rustic and period furniture and fittings to help your marquee be as unique as you are. 
External catering is needed for our venue.
The marquee site configuration is flexible 15x25meters, and on site, power is available to allow for the management and cooking of tapas or sit-down meals.
Beautiful Beneagle Farm has private accommodation on site that you can hire for your wedding.
This is perfect for the bridal party and their preparations!
We offer a fully self-contained 2 room apartment and B&B accommodation in the main house.
There is plenty of parking space at our venue, but we do recommend hiring a bus to allow your guests to enjoy your wedding responsibly.
If you are having a smaller wedding, we can also offer a reception room that can fit 45 people. You can find out more about this feature by contacting us here.
THE PERFECT LOCATION FOR WEDDING PHOTOS
Available for photography use without a venue booking​
Beautiful Beneagle Farm welcomes photography bookings for brides, grooms and their wedding parties.
There are many photo opportunities available in our tranquil mature 10 acres of formal gardens including winding gravel paths that meander through unique garden rooms, the olive garden, the arboretum, large ornamental ponds, pagodas, boardwalks and wisteria clad arbours.
We have amazing backdrops to help you create magical wedding photos.
Metropolis Events - Beach and Waterside Wedding Venues Victoria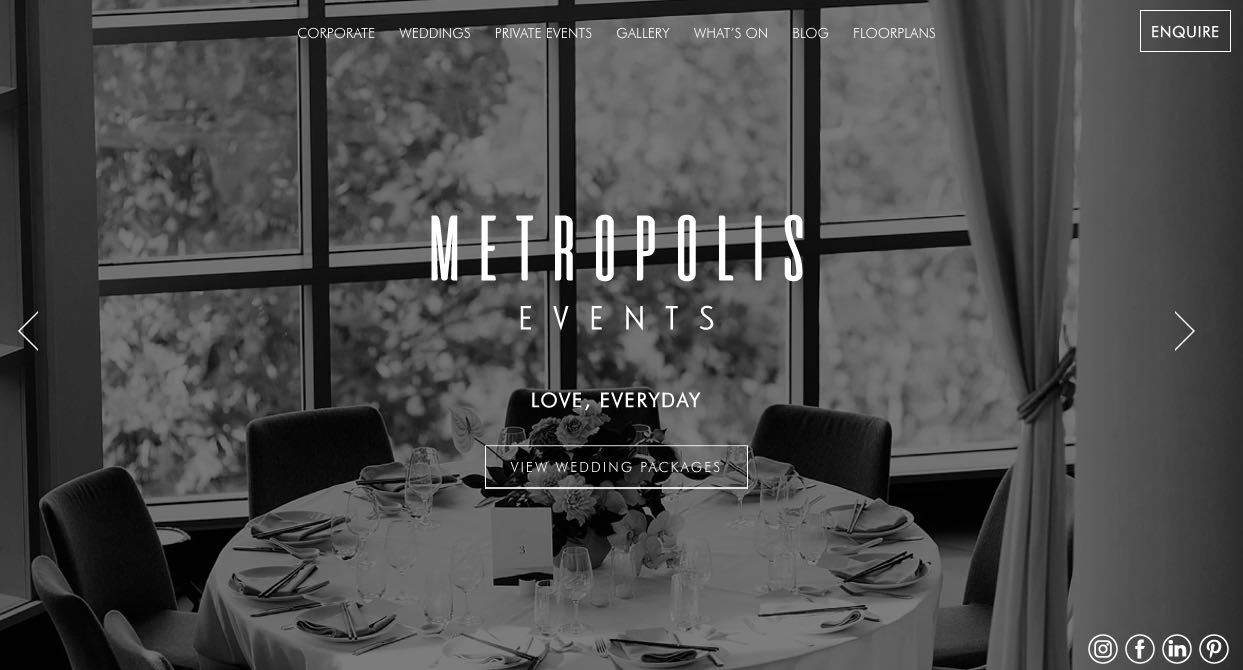 385377300
Welcome to Melbourne's most exciting premium event space with the city's most impressive views.
Metropolis Events is located on the top level of Southgate Melbourne on the banks of the Yarra River. The event space features sweeping views of Melbourne's city skyline and iconic landmarks, including Flinders Street Station, Federation Square, and Princes Bridge.
A New York loft-style space featuring a 17-metre internal dome ceiling, 9 metre high windows. An all-weather outdoor terrace, and state of the art audiovisual technology. Metropolis Events is Melbourne's most exciting premium event space.
This unique venue exudes luxury, style and sophistication from the moment your guests enter the space. Fitted with Mark Douglass Design pendant lights, two brass bars, marble features, premium mirror finishes. Contemporary furnishings and occasional pieces complement the unique event space. This chic and stylish venue is sure to take your event to the next level.
With a focus on delivering a memorable dining experience and restaurant-quality food, the innovatively designed menus are created based on seasonal ingredients from local sources. Our team of experienced in-house Chefs specialise in bespoke menus to make your event unforgettable.
Featuring a flexible floor plan, inbuilt drapes and an operable wall, Metropolis Events is a versatile space. Ideal for corporate events, gala dinners, cocktail parties, weddings, private events, conferences, car or product launches and fashion events with a difference.
Space is conveniently positioned on the Southbank. Starring direct access to public car parking below and in close proximity to Flinders Street Station, St Kilda Road trams and Water Taxis.
Metropolis Events provides the perfect backdrop and venue for the most memorable wedding.
Exuding luxury and sophistication from the moment your guests arrive, Metropolis Events also features a superbly appointed bridal suite, designer bathrooms, band green room, spacious outdoor terrace, beautiful sheer drapes and operable wall for flexible floor plans.
Re-Imagining your day
Coronavirus and the changing rules for large gatherings have meant many of you have had to move, shake and change your plans. Re-imagine your wedding celebration – there are more ways than one to celebrate your special day. 
The Park - Beach and Waterside Wedding Venue Victoria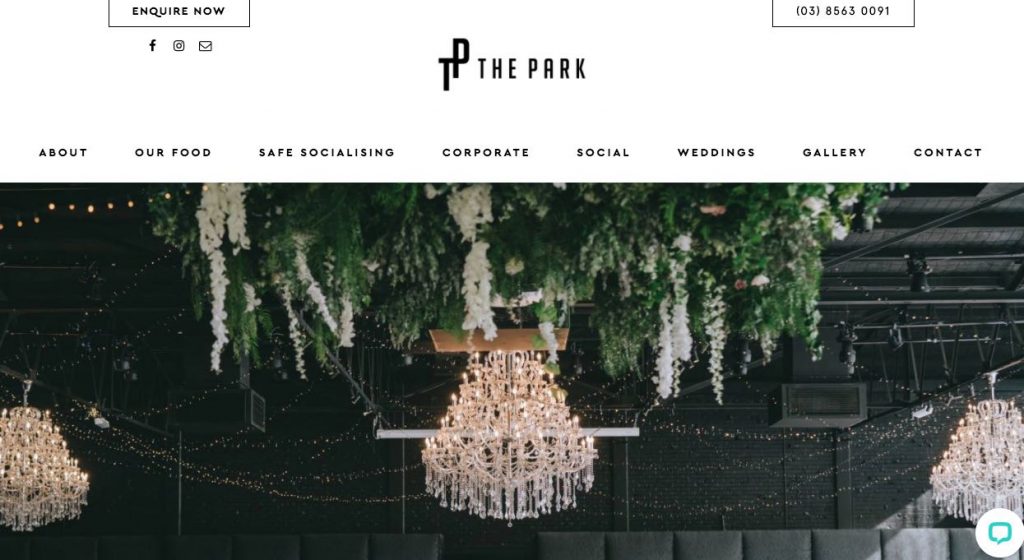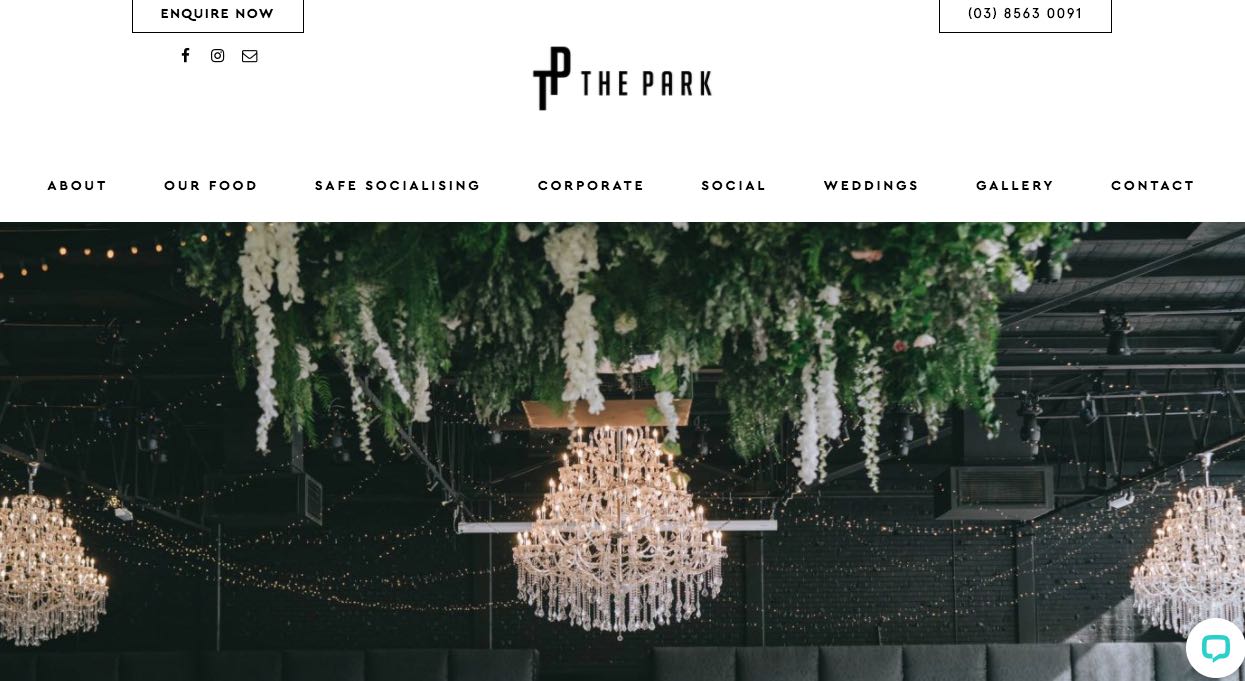 385630091 
About The Park Melbourne
Located within the highly sought after Albert Park Lake, the Park is celebrated for its tranquil views, extravagant chandeliers, open and stylish warehouse interiors and dramatic arched windows which offer an abundance of natural light from all angles.
The Park can host receptions from 50 through to 500 guests and has standing room for up to 1,000 guests. Adjustable walls ensure space can easily be configured to suit more intimate wedding parties. An outdoor, covered balcony offers the perfect location for a memorable and romantic ceremony or cocktails and canapés upon arrival.
Chef takes a modern and creative approach to the menus, working with local suppliers and seasonal influences. Wow, your guests with a bespoke menu or transform your event with an interactive Food Station!
The events team at The Park take care of every detail for your special day, providing comprehensive event consultation in the lead-up, right through to the seamless execution of your special day. Contact us today to organise a personalised meeting and tour of The Park.
Albert Park Wedding Reception & Ceremony Venue – Overlooking The Stunning Albert Park Lake
Be met with style and elegance at every angle; from extravagant chandeliers to sleek tiled walls and the modern, mirrored statement bar, this boutique space is a blank canvas just waiting for you to create something special that is uniquely yours.
The Park at Albert Park, can host receptions from 50 through to 500 guests and has standing room for up to 1,000 guests. Adjustable walls ensure space can easily be configured to suit more intimate wedding parties.
An outdoor, covered balcony offers the perfect location for a memorable and romantic ceremony or cocktails and canapés upon arrival.
The events team at The Park take care of every detail for your special day, providing comprehensive event consultation in the lead-up, right through to the seamless execution of your special day – and don't forget to ask for their little black book of favourite suppliers.
When deciding on the perfect wedding venue in Melbourne, capture the park life with the serene setting of The Park.
Dream scenes are made of this: pristine waterside setting; lake vistas; CBD outlook and proximity; stunning industrial-edge interiors and winning hospitality for wooing 50 to 500 wedding guests.
The Park Melbourne takes the wedding cake as a premium selection for your Melbourne wedding venue.
Sandringham Yacht Club - Beach and Waterside Wedding Venue Victoria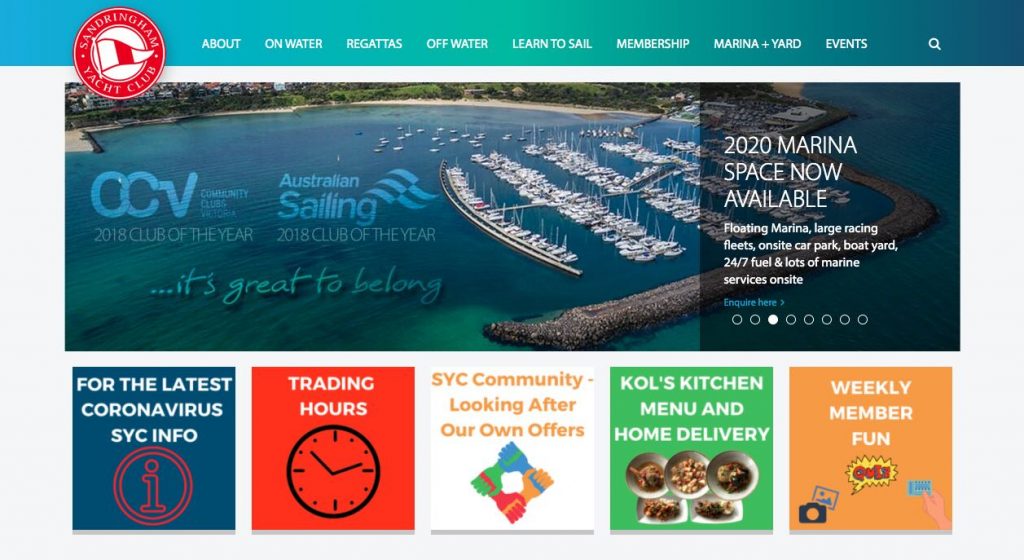 395990999
Situated on the foreshore of Port Phillip Bay, the Sandringham Yacht Club (SYC), one of Australia's most progressive and awarded yacht clubs, presenting world-class sporting and event facilities right on the water's edge.
Our 356 berth floating marina, Boating Academy, waterfront support services, newly built clubhouse and reciprocal rights with yacht clubs worldwide, offers Melbourne sailors an incomparable membership opportunity. Whether you're an experienced hand or exploring a new venture to discover the sea, SYC welcomes you.
SYC members enjoy a lively club atmosphere thanks to year-round industry events, boating activities and sailing regattas. Our a la carte restaurant offers a special dining experience with picturesque views across the bay, as do our Members' Lounge and Members' Bar where you can sit and relax with a wine or coffee.
For those seeking a distinctive location for an upcoming event, you can't go past our luxurious clubhouse. Stunning bay views, versatile rooms, and superior food and beverage service make this the perfect venue.
When it comes to making the most of the irresistible vistas over the glorious Port Phillip Bay, nothing delivers quite like Sandringham Yacht Club.
The stunning floor-to-ceiling windows and expansive balcony provide the perfect backdrop for your wedding celebration.
Picture yourself mingling with family and friends on the private terraces during sunset overlooking the bay and then move inside to enjoy SYC's exquisite menu as you dance the night away.
The ocean view is simply magnificent and whether it is summer or winter, it never disappoints! The sunsets are amazing but there is also something spectacular about being able to see the wild winter weather roll across the bay from our floor to ceiling windows.
Inside the Port Phillip Room, we can accommodate up to 250 guests seated or 400 guests cocktail with a dance floor. With your own dedicated event manager to guide you through organising your reception, your wedding celebration will be worry-free.
WEDDING CEREMONY
At Sandringham Yacht Club, we can host your Ceremony on our Southern Podium, a spacious balcony with gorgeous views of the bay for up to 160 guests. Should Melbourne's crazy weather come out to play, we can provide a private area inside the reception room as a wet weather back up option. 
Wattle Park Chalet- Beach and Waterside Wedding Venue Victoria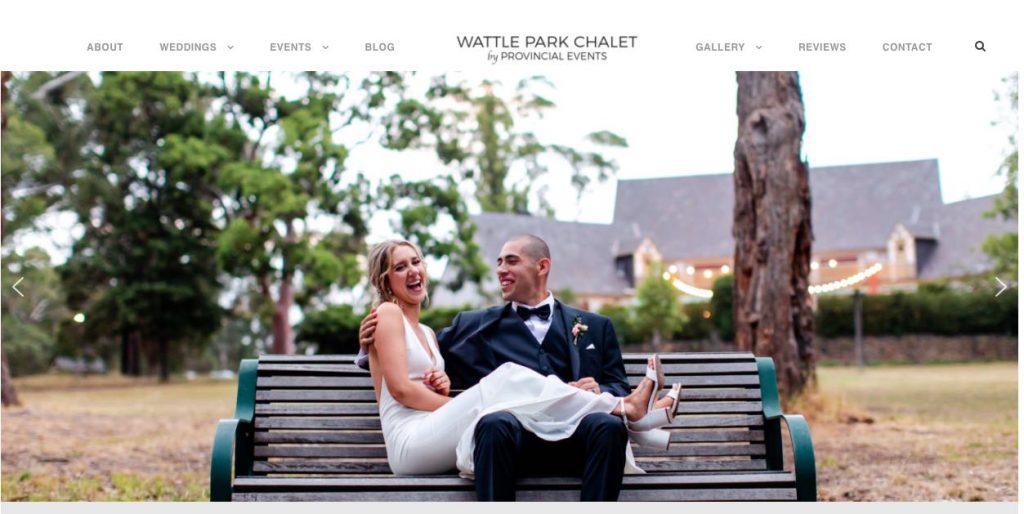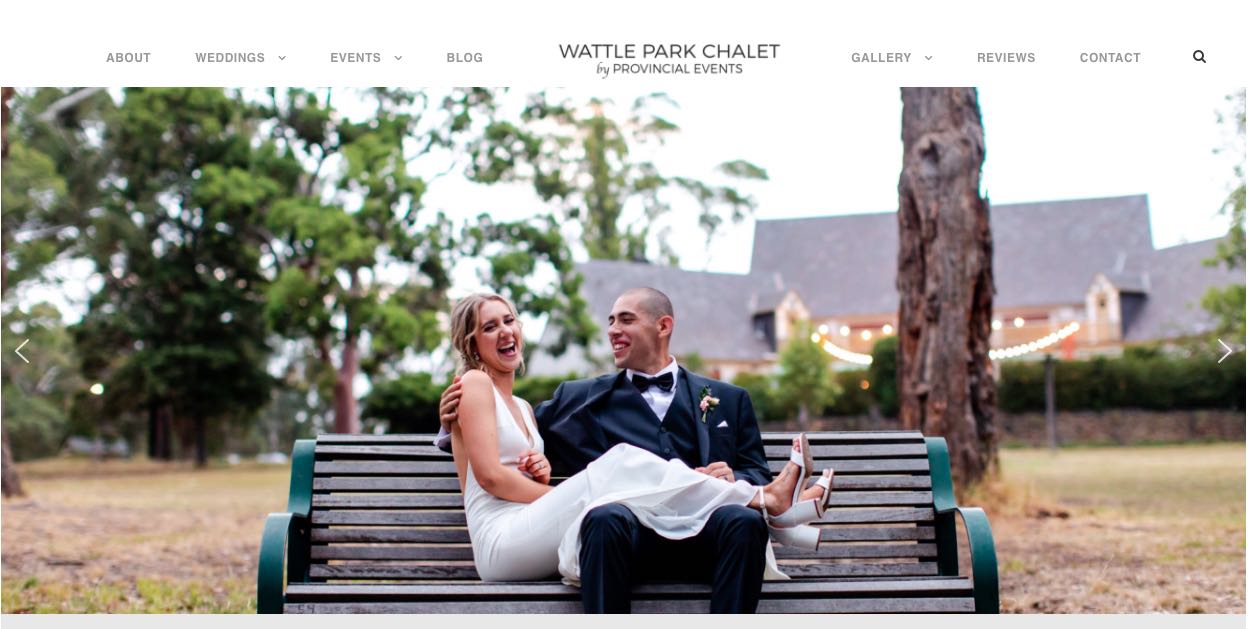 398080122
Welcome to Wattle Park Chalet
The Wattle Park Chalet offers a range of facilities suitable for celebrations, events and functions, and is a perfect venue for your wedding reception and other celebrations. The charm and history of Wattle Park Chalet make it a special place to host your function and makes it one of the highly sought after wedding reception venues Melbourne has to offer.
Our flexibility to accommodate a variety of events, combined with the team's dedication and commitment to our clients, ensures that you enjoy a great experience from the first contact to the conclusion of the event.
The Chalet is surrounded by 137 acres of parkland and is approximately 220 square metres of function space in the Grand Hall and adjacent loggia areas. It also boasts mezzanine balconies and a landscaped private garden that is licensed until 1 is on Fridays and Saturdays and 11 pm on other days. Function areas are accessible by wheelchair. 
We offer over 100+ car parking spaces while seating 40 to 250 guests, and up to 350 guests for stand-up cocktail style functions.
Welcome to the Wattle Park Chalet Wedding Planning Guide
"Where do I start?"
There is just so much information out there about weddings that it can be difficult to know where to start.
This planning page has been specifically designed for your wedding at the Wattle Park Chalet. It acts as a guide and is the starting point to organising and planning your special day.
When we hold our "Confirmation of Details" appointment no later than 2 months in advance of your wedding date, we will go over a lot of information about your wedding day with you so it pays to be organised and decide on these details early. All of this information is important to us to execute the event properly.  
Once this appointment has taken place you need to finalise the details with your suppliers such as your photographer, band/ DJ, florist, videographer etc. Please find details of some of the potential suppliers to your wedding at this link Our Friends.
Please email us the following details once you have compiled your final decisions and plans:
Guest and dietary seating list (this includes a list of all attending guests in order of where they are sitting & those with dietary requirements)

Finalised running sheet (including times finalised with your other suppliers)

Completed ceremony layout map 

Completed reception layout map (this should match the guest list provided above)

Completed COD (Confirmation Of Details) form
Events at Wattle Park Chalet
We understand the importance of hosting a great party. The Chalet is one of the great party and function venues Melbourne has to offer, with birthday parties, anniversary parties to christenings and bar & bat mitzvahs.
The Wattle Park Chalet has been an established function venue for over 85 years. With our simple packages and our expert staff, your party will be unforgettable. We offer sit-down, cocktail and afternoon tea styled parties in a variety of different ways, to suit many different formats and styles.
Whether you are planning gala dinners, banquets or summer parties, The Wattle Park Chalet is the perfect party venue to suit your special day.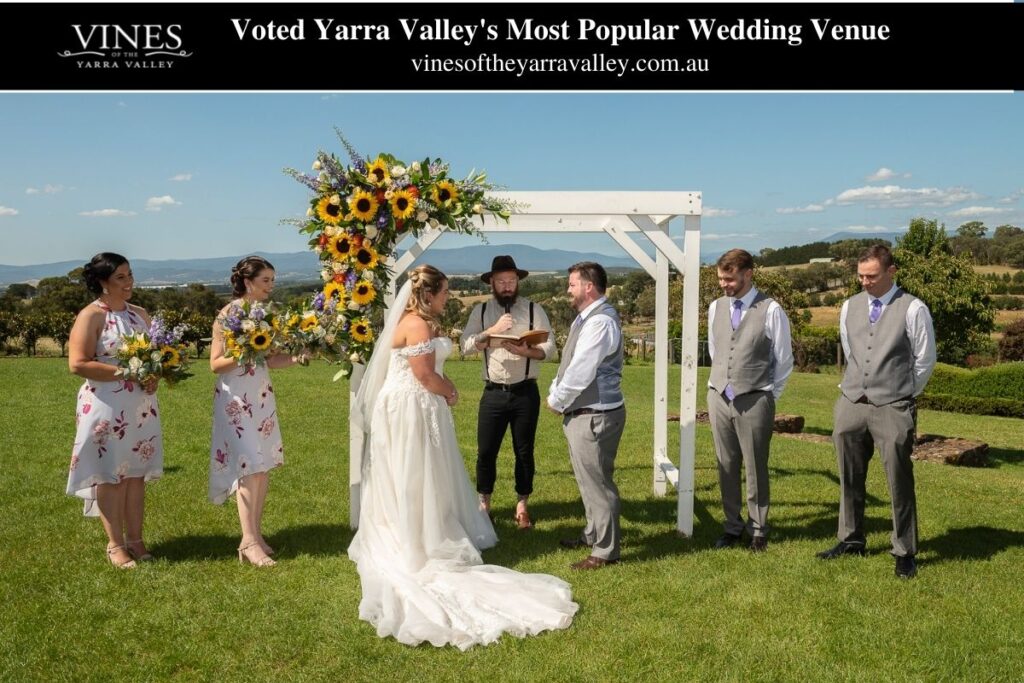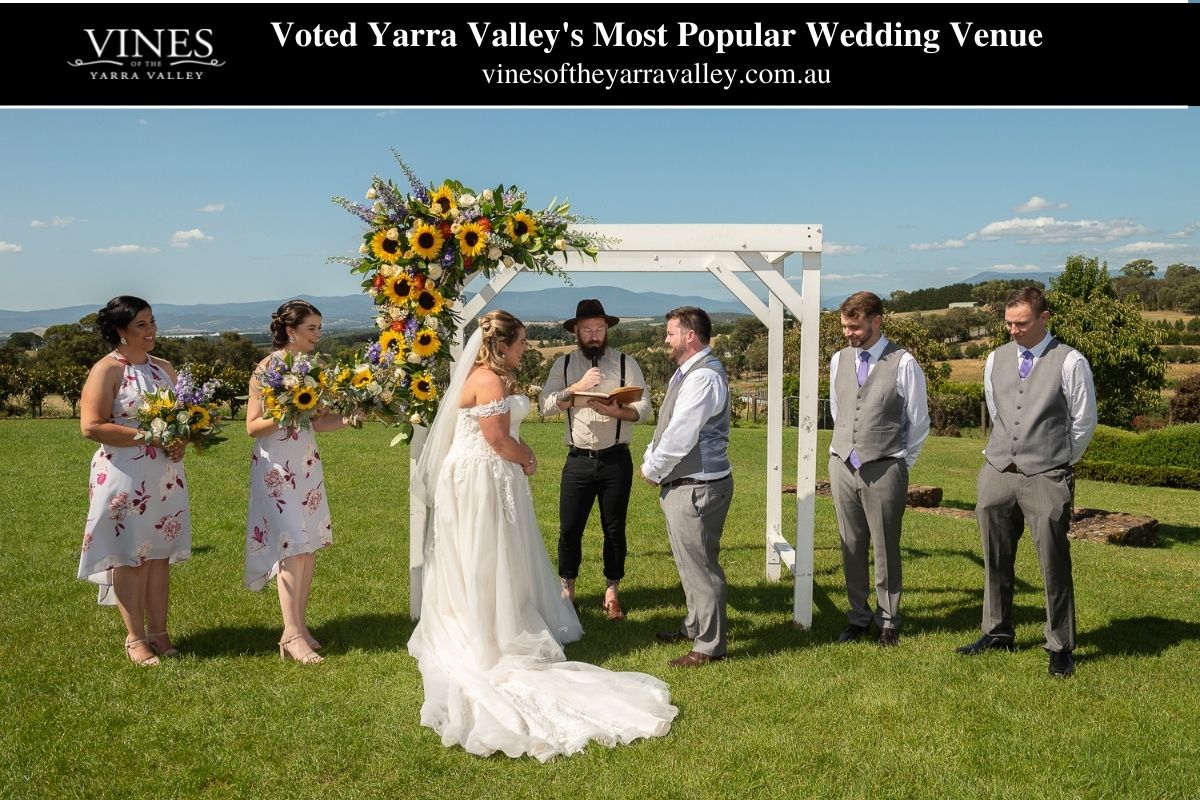 Tanglewood Estate - Beach and Waterside Wedding Venue Victoria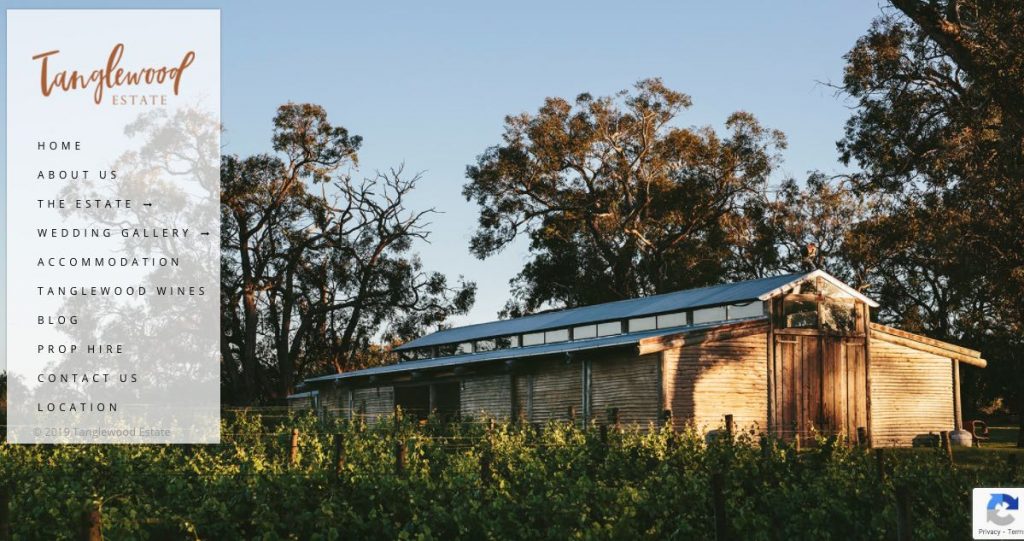 tanglewoodestate.com.au
359743325
Nestled deep within the age-old eucalyptus trees of Victoria's Mornington Peninsula, Tanglewood Estate is a gorgeous secret garden, set on more than 100 acres of bushland situated within the scenic landscape of Merricks North. The property looks out over the stunning Port Phillip Bay, with magical views of the sea.
Surrounded by beautiful flora and fauna native to the area, 6 acres of grape vines, an exquisite country-style garden, a heart-shaped dam with a timber deck and jetty for photography, Tanglewood Estate is the perfect picturesque hideaway to hold wedding ceremonies, special anniversaries or milestone celebrations. Our charming accommodation and facilities are purpose-built, enabling you to host your whole event on the property, ensuring your festivities do not have to leave the property or move on for the entirety of your special day.
We are able to tailor the perfect experience and backdrop for your unique event. Allowing you exclusive use of the property means the only people you have to share your day with are your own special guests. With a rustic barn, winery, studio and chapel, there are plenty of options to create the perfect experience for your next cherished memory.
Tanglewood Estate's newly renovated and refurbished architecture boasts a stylish and modern take on traditional country aesthetic, built of natural woods and rustic sheet metals. The finest attention to detail and care has been taken in the exterior and interior design of the property, to ensure the presence of it's classic Australiana feel is preserved and continues to live on for many years to come.
THE CHAPEL
We found and relocated a historic 110 year old wooden chapel from Woomelang in country Victoria. She has been lovingly restored and rebuilt, nestled among the trees here at Tanglewood. The large chapel windows look out to a beautiful view of the bay. The stripped-back exterior allows the chapel to blend into the natural environment, making it feel like she's been here all along. The inside is painted in a clean white making it the perfect neutral backdrop for your Ceremony. The Chapel pews seat up to 90 people plus standing room for an extra 40.
THE GROUNDS
Tanglewood consists of 50 acres of stunning 100-year-old stringybark trees in a parkland like setting. There is natural bush, a vineyard, charming homestead garden and a beautiful heart-shaped lake with a deck and jetty, facing magnificent bay views. The property has photo opportunities. 
THE STUDIO
This gorgeous mud brick building was a former artist studio; it has been revamped into an ideal venue for pre/post-ceremony drinks or small cocktail weddings. It has a kitchen, bar and upstairs lounge around every corner.
THE WINERY
A beautifully renovated Winery that seats up to 130 people. Fitted with a new state of the art commercial kitchen, bar and outdoor courtyard area. The Winery has a large timber deck that looks out over our beautiful dam and Port Phillip Bay. The winery can be used for the ceremony or reception.
Murray River - Beach and Waterside Wedding Venue Victoria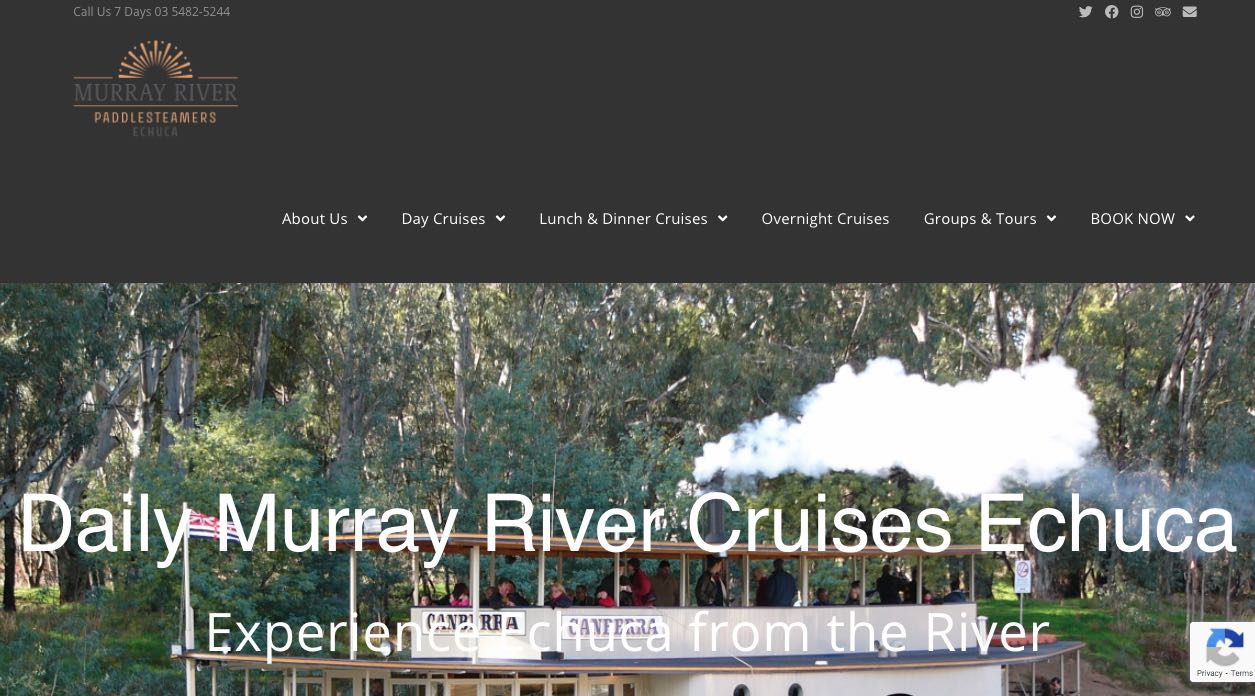 murrayriverpaddlesteamers.com.au
354825244
Murray River Cruises Echuca. A trip to Echuca Moama would not be complete without experiencing the tradition of river cruising. 
Choose a one-hour family cruise aboard the 107-year-old PS Canberra or relax with a Lunch or Dinner cruise aboard PS Emmylou.
For over 20 years we have been delighting our guests and look forward to welcoming you aboard soon!  
Cruises Now Operating Daily
We are pleased to advise that from Wednesday 30th September our daily cruises aboard PS Canberra will once again commence. 
NSW Health Orders have now been amended to allow any person who has not been in a COVID-19 Hot Spot in the past 14 days to cruise on the river without a permit. This effectively means that anyone outside metropolitan Melbourne can now cruise on the river without a border permit. We hope to welcome metropolitan residents very soon.  
Echuca Wedding Packages
Looking for a unique Australian experience to make your Echuca Wedding day memorable.
Let Murray River Paddlesteamers and our dedicated team make your special Echuca Wedding day truly memorable for you and your guests. We have been helping couples create their perfect wedding day for over 20 years and consistently receive fabulous feedback from our newlyweds. So let us do all the hard work and design the perfect day for you and your guests!
Ceremony & Reception Cruises
With three boats to choose from, we are sure to have a wedding package to suit your personal requirements for your special day. Whether it is the intimate surroundings of the iconic PS Emmylou, the old world charm of the PS Canberra or the larger spaces of the Pride of the Murray, each boat offers something different to meet your individual needs to ensure your day is truly memorable.
One Way Cruises
All boats are available for one-way cruises to our partner wedding reception venues, Morrisons Winery and Tindarra Resort. There is no better way to arrive than in style aboard a Paddle Steamer to your reception. Morrisons and Tindarra are conveniently located 30 minutes downriver from Echuca with River moorings. 
Champagne Cruises
Treat your guests to a champagne cruise, the perfect choice for your guests to relax with some bubbles pre or post-reception with hourly cruises available. Ask our friendly team how we can personalise a cruise for your guests whilst you're having your photos taken.
Tindarra - Beach and Waterside Wedding Venue Victoria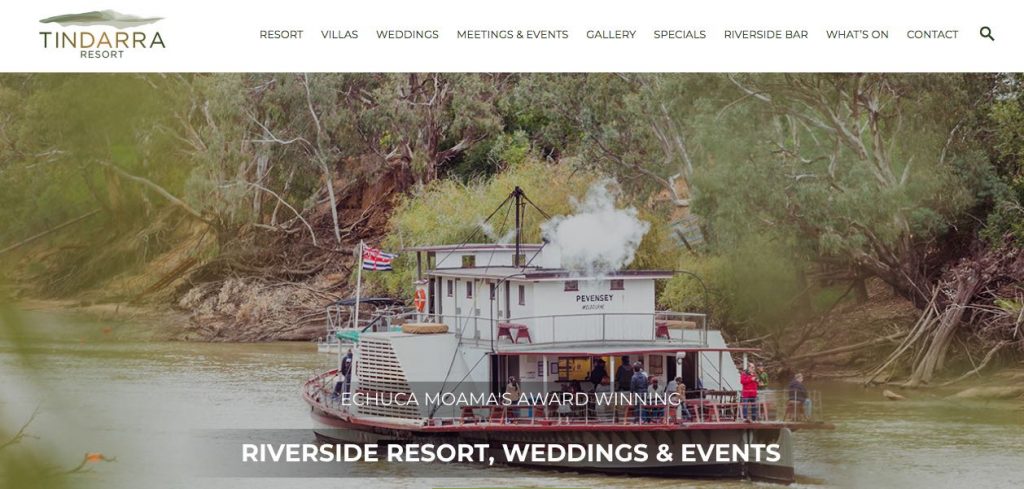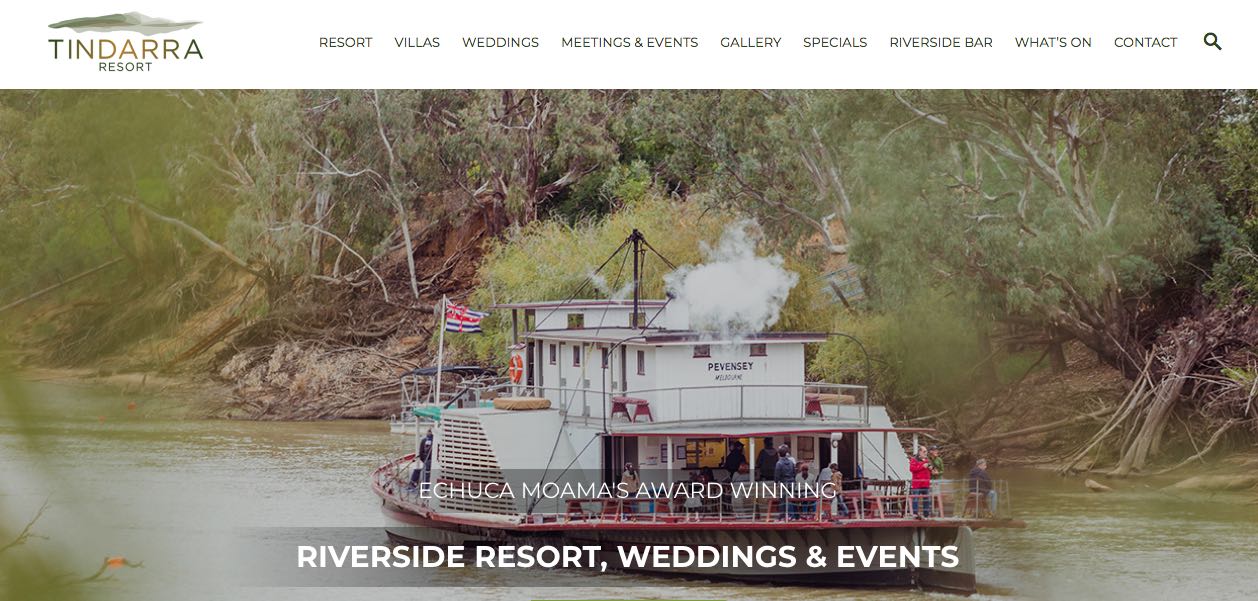 354836888
RELAX & HAVE FUN AT TINDARRA RESORT
Combine pioneering history with our modern and spacious riverside Holiday Villa accommodation at Tindarra Resort. 
Best Resort, Award-Winning & Ideal Family Accommodation in Echuca Moama – perfectly set up as a Wedding Venue, Reception Ceremony, Corporate Functions & Special Events Venue – Tindarra Resort sits beautifully on a gentle bend of the Murray River and is a couple of minutes from Echuca's iconic paddle steamers.
ECHUCA MOAMA RIVERSIDE WEDDING VENUE
Tindarra Resort makes a fairytale wedding venue, from relaxed cocktail parties at our Riverside Bar located alongside the Murray River to refined sit-down receptions in our elegant silk-lined marquee.
A wedding venue with 300m of spectacular river frontage relaxed atmosphere and tranquil ambience, ensures you and your guests have an unforgettable Echuca Moama wedding experience. Getaway from it all and celebrate in your own unique way just over 2.5 hours from Melbourne. Our wedding coordinator Emilly takes care of all the details – from decor and setup through to refreshments, catering and music – allowing you to completely relax and enjoy your wedding day under the river redgums and your night under the stars. Why not stay a few days in our modern and spacious studios, 2 and 3 bedroom villas? We offer full access to the pool, romantic cave spas, tennis court and more, and also can even host a brunch on your final morning for you and your guests.
Most of our Wedding Couples choose Exclusivity at Tindarra for the sole reason that your wedding becomes more than just that one day, it becomes a weekend away with family and friends that will never be forgotten. Spend the day before your wedding onsite! Exclusivity allows you to see the full set up of your Ceremony and Reception the day before your big day with the ability to place your final touches on the styling. We conduct your rehearsal in the late afternoon, so your evening is available to spend it as you wish, have the boys relax in our hot spas, have a pamper night with the girls in our Villa's or we can arrange a Pre-Wedding Dinner booking at a local restaurant for both the boys and the girls to spend time together before you part your separate ways for the evening. Your Wedding weekend can then conclude the morning after your wedding reminiscing on the night before with your family and friends while Tindarra puts on a Garden Buffet Breakfast on the banks of the Murray River.
ECHUCA MOAMA RIVERSIDE EVENTS & CONFERENCE VENUE 
The Riverside Bar offers truly unique events and conference venue for functions of any kind,
whether it be a corporate function, business meetings, family gathering, office party, Christmas party or special event.
From setup and catering to clean up, our dedicated events team works with you to ensure your function is a great success. With the magnificent Murray River as a backdrop, you can be sure your private function will be one you and your guests will remember forever.
Pilgrim Bar - Beach and Waterside Wedding Venue Victoria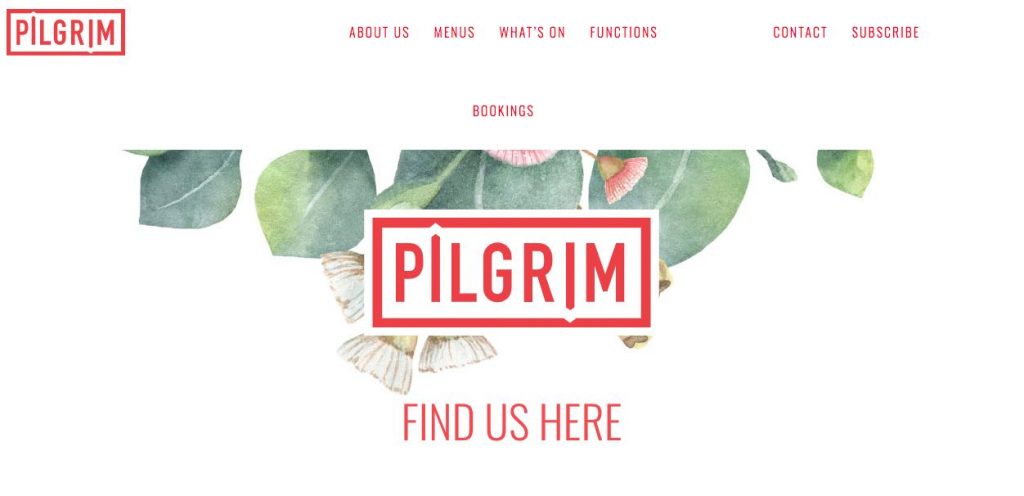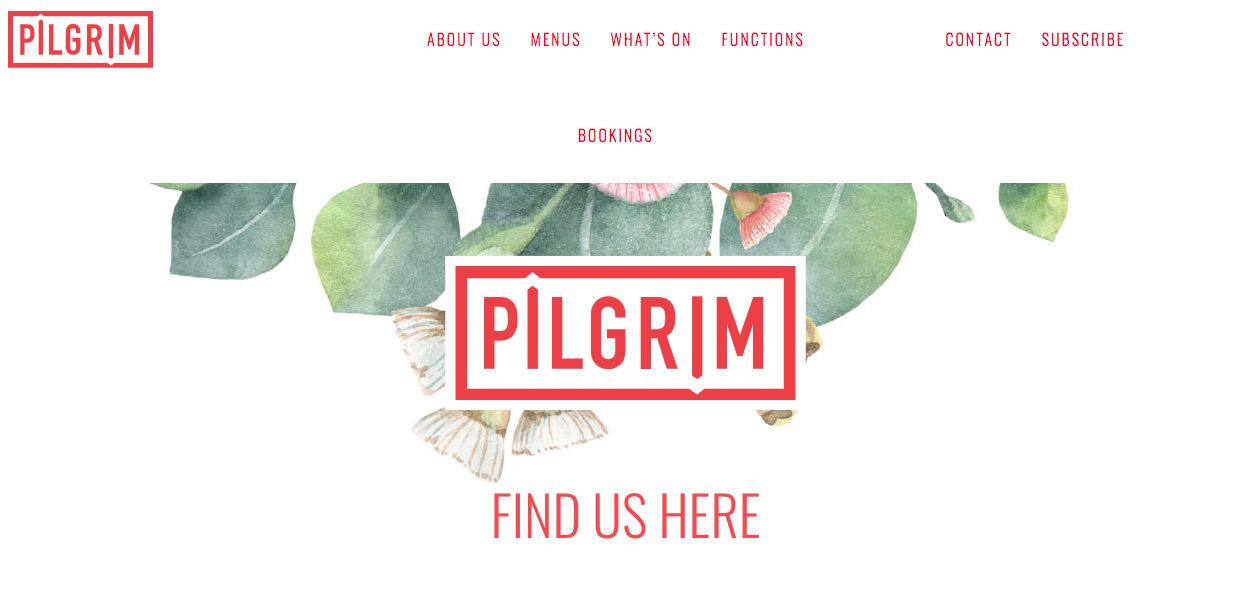 396549575 
ABOUT US
Located alongside the historic Federation Wharf vaults and Yarra River right in the heart of Melbourne, Pilgrim is an intimate waterfront venue that proudly engages producer authenticity through its unique range of all Australian wine, beer and spirit lists. This producer engagement drives our seasonal share plate dishes, a focused menu that encourages grazing. From vineyard, distillery and brewery to your glass, from farmer to plate, the entire process and experience is a genuine one which makes our relaxed bar environment the ultimate place to laze and graze, all year round, while taking in one of the best views of the Yarra.
Pilgrim acknowledges the traditional custodians of the land on which we stand.
Pilgrim's new events space, The Vaults is where the historic Princes Walk boat sheds are given a new lease of life in Melbourne's drinking and dining scene. Iconic bluestone walls and exposed brickwork frames this intimate space, accented by wooden furnishings and lush greenery.
The "Arts End" is a dedicated cocktail function space perfect for intimate gatherings. Within this space ceiling, heaters and retractable clear awnings offer warmth in the cooler months, with the option to open up for warmer summer nights. Guests will be impressed with the beauty of the outlook, with uninterrupted views of Arts Centre Melbourne and the city skyline.
Waterfront location, Southbank and Arts Centre views, picnic and cocktail tables, house music, ceiling and feature lighting, garden up-lights, ceiling and free standing gas heaters, clear awnings and umbrellas.
Pilgrim's inside facilities offer warmth and privacy within luxuriously rejuvenated heritage Vaults. The bold exposed brick dome ceilings enclose a variety of softly finished velvet banquettes, mismatched statement chairs, modern lamps and mirrored surfaces. Eyes are endlessly drawn to the dome-shaped windows allowing the breathtaking view outside to flow in.
Includes
River and Arts Centre views, banquette seating, interchangeable tables, chairs and couches, feature mirror finishes, house music, decorative lamps, ceiling and feature lighting, gas radiators and fans.
The "MCG End" is located on the banks of the Yarra River and boasts fantastic views of the heritage-listed boatsheds. The wooden exterior and flexible floor plan offer a private space with versatility, ideal for your next function.
Includes
Waterfront location, MCG views, picnic and cocktail tables, house music, ceiling and feature lighting, garden up-lights, ceiling and free standing gas heaters, clear awnings and umbrellas.
FULL VENUE
Pilgrim Bar is the ideal venue for exclusive networking cocktail functions. The intimate waterfront setting boasts one of Melbourne's most unique panoramic city and river views with a twist of laneway ambience. The professional service standards of the team are accompanied by private music options, indoor & outdoor spaces plus the added comfort of numerous ceiling heaters and awnings for all-year-round comfort. There is also a feature bluestone window to watch the chef create his magic or an opportunity to perch on a stool and watch the rowers float up and down the river.
Includes
Waterfront location, MCG & Southbank views, picnic & cocktail tables, mic, centralised live music, house music & iPod connection, ceiling & feature lighting, garden up-lights, ceiling & free standing gas heaters, awnings & umbrellas main bar, beverage station, tray service, *pop-up bar (*additional fee)
Berth - Beach and Waterside Wedding Venue Victoria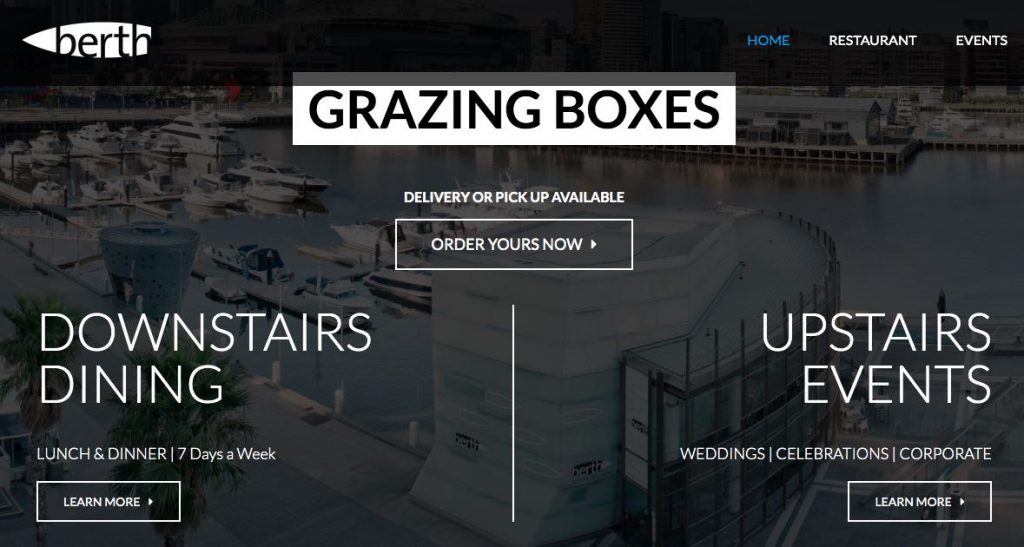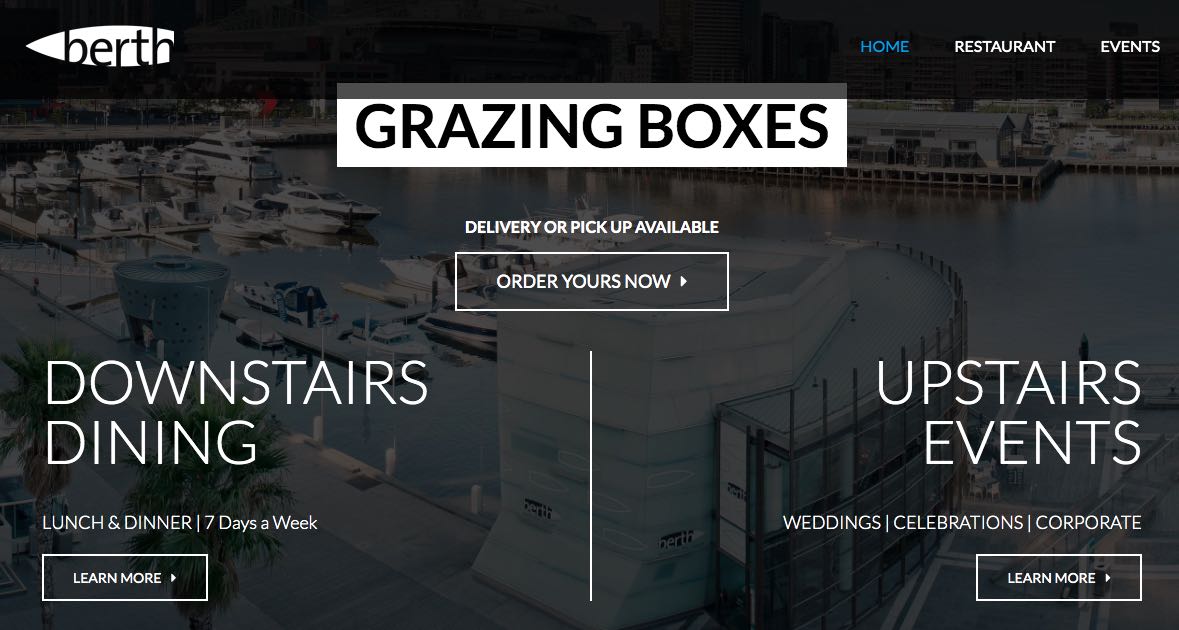 396700199
Premier Melbourne event venue. With floor to ceiling windows & breathtaking panoramic views over Victoria Harbour and the Melbourne city skyline, Berth offers a unique purpose-built event space that boasts style, sophistication and waterfront views. Choose from a range of sit down and standing event packages. Berth plays host to a range of Melbourne events to include corporate functions, weddings, birthday milestone celebrations and christenings.
CELEBRATIONS
Berth hosts cocktail engagements, big age birthdays, corporate parties and anything else that gives reason to celebrate!
Berth understands the importance of your special day, offering a wonderful variety of restaurant-quality finger food & by incorporating the delightful handheld mini-meals, guests are guaranteed to be well fed!
If you would prefer a traditional style dining experience offering the elegance of a formal occasion with the option to welcome guests with canapés on arrival or add shared table starters. Our team will ensure they go above and beyond to provide exceptional service & first-class food to suit your needs.
WEDDINGS
Berth Upstairs will make you fall in love all over again. 
Specialising in Melbourne weddings, Berth understands the importance of your special day, offering restaurant-quality food backed by a professional team that will provide the highest level of service to make your day a truly memorable experience. Our wedding venue plays host to a range of sit down dining and cocktail standing events. Choose to host your wedding day in the heart of Melbourne at Berth. Book a site visit with our events team today and start planning your special day in Melbourne's premiere waterfront wedding venue.
CONFERENCES
Situated in New Quay Docklands, Berth is located in one of Melbourne's newest corporate business hubs and is within walking distance from Melbourne's CBD and Marvel Stadium.
Berth Upstairs is a completely private space, which can be transformed into a professional boardroom, classroom or theatrette. Berth is geared for any event with in house AV & conference equipment. Whether you require a team-building workshop, seminar, product launch or you need to organise the office Christmas party, Berth has you covered.
SUPPLIERS
At Berth we do allow external event stylists. You are welcome to organise your own suppliers or use the preferred ones on our list. We have put together a compilation of the best suppliers we have found around Melbourne. These suppliers have all done work at 'Berth Upstairs' and have a good understanding of what works in the space. We also work closely with Quest New Quay, the best local accommodation within walking distance. Check out the accommodation brochure for further details on how to book your discounted preferred rate with instant confirmation.
Harbour Room Beach and Waterside Wedding Venue Victoria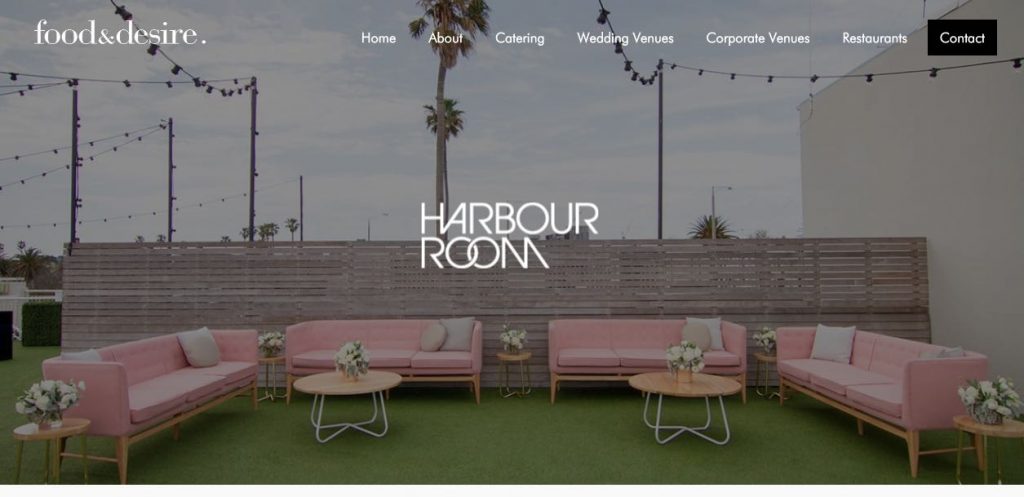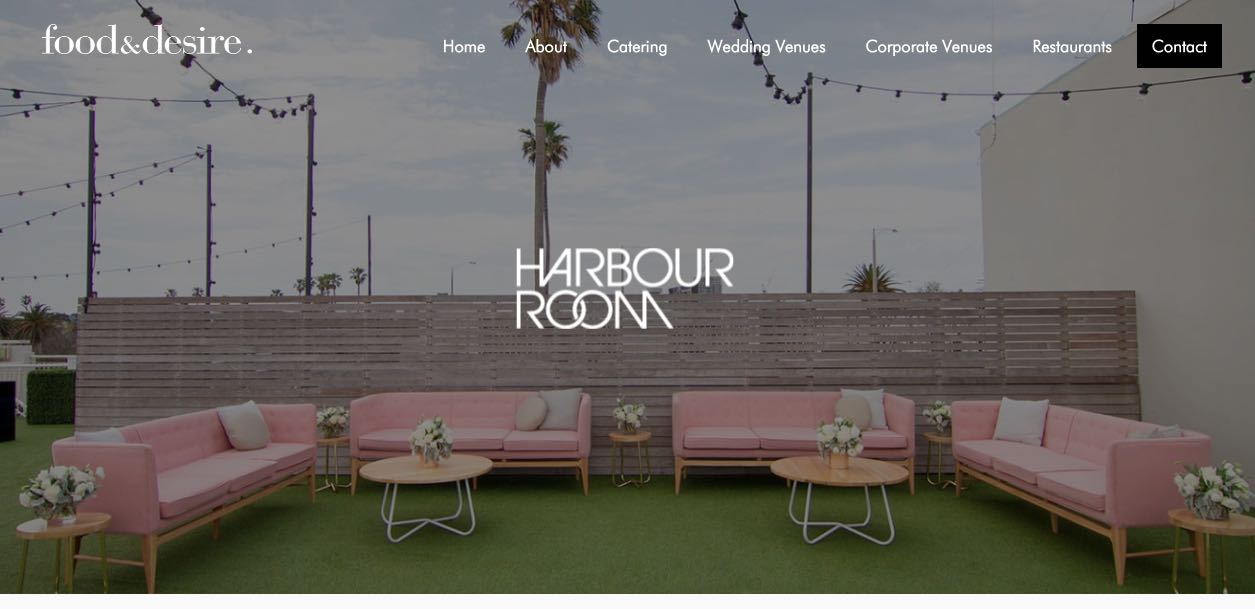 386466000
With panoramic views of St Kilda beach, pier and remarkable sunsets, the Harbour Room is located upstairs at the Royal Melbourne Yacht Squadron. The Harbour Room has distinctive designs and furnishings, capturing the periodic character of this iconic waterfront venue.
Rooftop
The Harbour Room rooftop which overlooks the amazing views of St Kilda beach is the perfect event space for a variety of celebrations starting from wedding ceremonies to corporate cocktail parties. 
Marquee structures (either 8mx10m or 8mx15m) can also be erected on the rooftop catering for up to 100 seated, and 150 stand up celebrations.
At Harbour Room, food&desire offers you a dedicated and highly skilled events team who ensure that every facet of your wedding is executed with the highest level of creativity, integrity and attention to detail. Most importantly, food&desire understands and embraces the request to make your wedding as special and memorable as we do.
ROOFTOP
A diverse event space, whether it be a ceremony in the sunshine or a cocktail party under the night time stars, the St Kilda rooftop at Harbour Room, RMYS is the perfect backdrop.
For the ultimate corporate event, look no further than the picturesque Harbour Room. Located on St Kilda's beach in the Royal Melbourne Yacht Squadron (RMYS), the Harbour Room showcases some of the city's finest panoramic views. Complete with St Kilda's best 'rooftop' where cocktails are served on sunset, or a marquee (can be erected) under the stars, this venue offers flexibility and alfresco dining.
With impressive corporate catering by food&desire your conference, dinner, cocktail party or meeting will experience the highest quality of food, wine, and service.
The Pier Geelong - Beach and Waterside Wedding Venue Victoria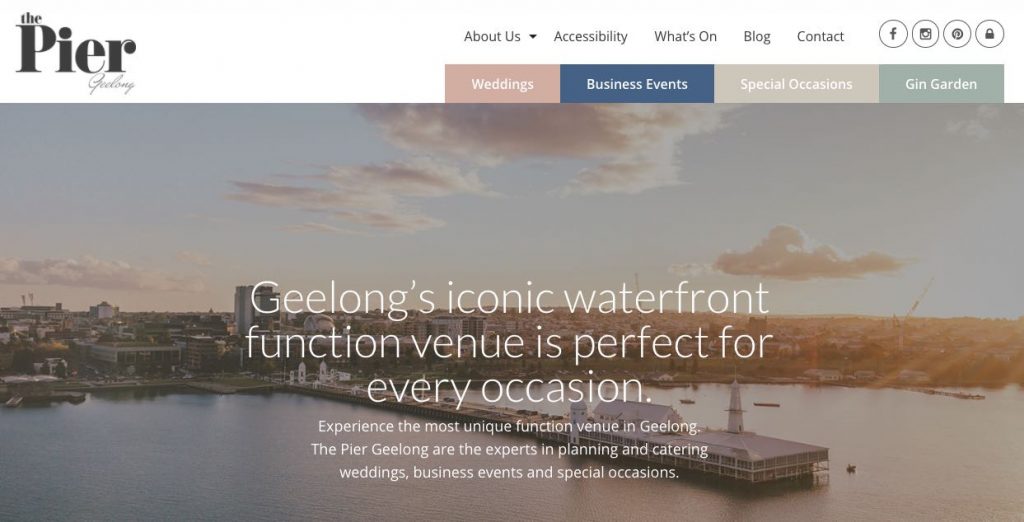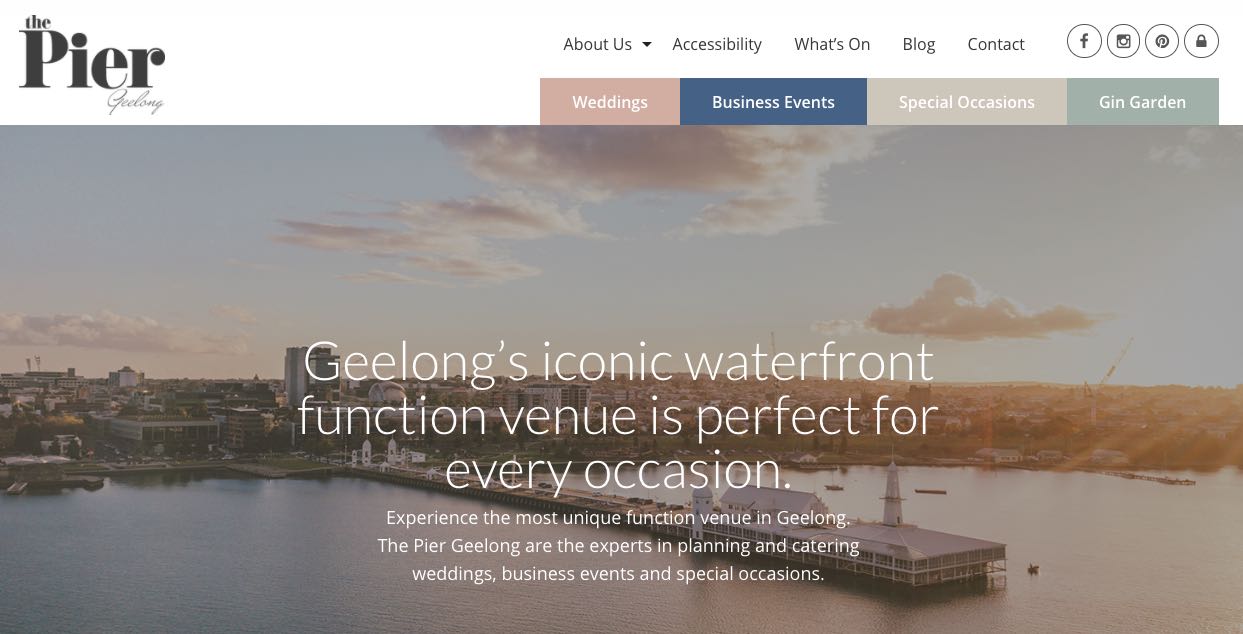 352226444
An iconic Events, Function, Conference Centre and Wedding Reception Venue on Geelong's stunning waterfront.
The Pier Geelong is a waterfront function centre, creating stunning events with exceptional photo opportunities, some 250 metres out over the iconic Cunningham Pier, with floor to ceiling windows and spectacular uninterrupted bay views.
One Venue. The Complete Experience. This is the Pier Geelong.
All elements of your event whether it be a wedding, business event or special occasion can be held in one location, allowing guests to experience many different and unique aspects of the venue, bar and restaurant.
The venue is the largest custom-built events centre on the Geelong waterfront allowing flexibility for small intimate events of 20, to large events of up to 1000 guests.
A part of The Pier's complex is one of Geelong's most popular restaurants Wah Wah Gee, which provides an extensive range of Asian inspired food. Guests are also entertained upstairs at the exclusive Wah Bah, one of Geelong's newest nightspots. Both are perfect areas to host your dinner rehearsals, pre and post-reception drinks and a relaxing lunch post on your wedding day.
Key Features
Floor to ceiling windows allowing ample natural light

Uninterrupted waterfront views

Caters for over 700 guests sit down or 1000 cocktail style

Flexibility to adjust rooms to cater for intimate occasions

Six function room options for any occasion

Exceptional 5-star culinary experience

World-class audio-visual equipment
Geelong's iconic waterfront function venue is perfect for every occasion.
Experience the most unique function venue in Geelong.
The Pier Geelong are the experts in planning and catering weddings, business events and special occasions.
A wedding venue located in the heart of Geelong's vibrant waterfront precinct.
Located on the picturesque Geelong Waterfront, The Pier Geelong is the most versatile wedding venue in the Geelong and Victorian region, offering a complete wedding experience with a range of spaces and services to accommodate every moment of your big day.
Under an hour from Melbourne's CBD and just 20 minutes from Avalon Airport, The Pier Geelong is a truly unique function and wedding venue perched 250 metres out over water on Geelong's iconic Cunningham Pier.
At The Pier Geelong our reputation goes beyond our bay views and uniquely designed function and wedding centre. We are considered the leaders in premium event hospitality. Our philosophy is to continue being the pioneers in event catering and hospitality in the Geelong and Victorian region.
Your Corporate Event Deserves A Room With A View.
Our team of professional events specialists work closely with clients to deliver corporate solutions tailored to specific needs and budgets. No matter what the size or style, The Pier Geelong prides itself on delivering seamless, stunning, high-quality successful business events that will see you return year after year – from a boardroom meeting of 20 people up to 1000 delegates.
The Pier Geelong houses seven function room options for weddings, special occasions, receptions, engagement, corporate events and more in a spectacular multi‐purpose built venue. We take pride in providing Geelong and the surrounding region with the best quality service and beautiful rooms to suit every requirement. We have experience putting on exceptional functions and events.
To make a booking or discover more about what we can do for you, please do not hesitate to get in touch. A stunning wedding venue for all seasons!
Located on the picturesque Cunningham Pier perched 250 metres out over the water, The Pier Geelong is the most versatile wedding venue in the Victorian region. Our ceremony and reception venue is the perfect location for all seasons, offering effortless natural beauty with 360-degree views of sparkling water, occasional pods of dolphins swimming past, yachts sailing in the afternoon and amazing sunsets over the bay.
Our enclosed glass Terrace features retractable windows and welcomes the fresh ocean breeze and sound of lapping waves against the pier, allowing you to hold your wedding by the water regardless of the weather.
Stay in the one spot and enjoy your Wedding Ceremony followed by…the big reveal, your Wedding Reception!

Add a point of difference and entertain your guests at Wah Bah, perfect for your guests to relax prior or to keep partying afterwards.
The Pier is proud to be announced the 2019 Geelong Wedding Business Awards Reception Venue of the Year, as well as an Official Silver, Approved Australian Bridal Industry Academy Partner.
Clifftop Phillip Beach and Waterside Wedding Venue Victoria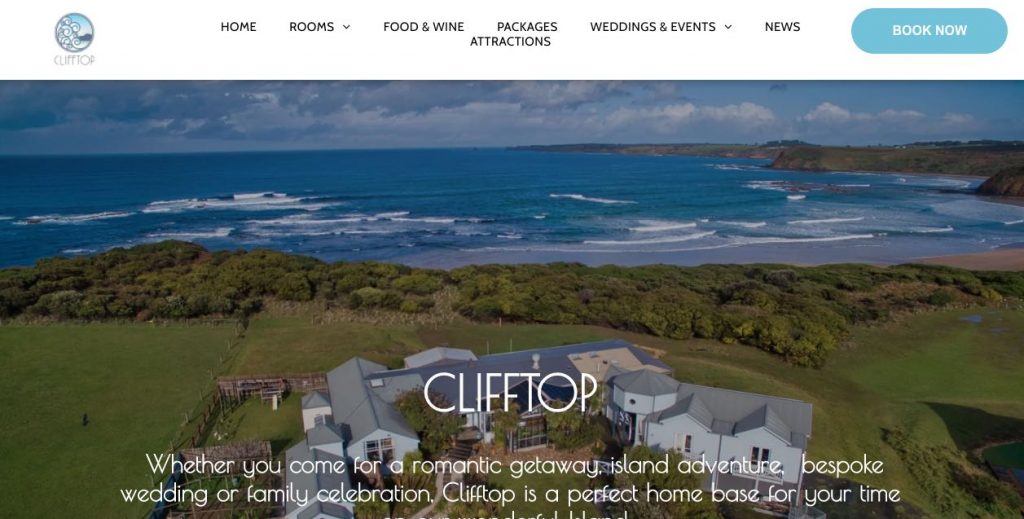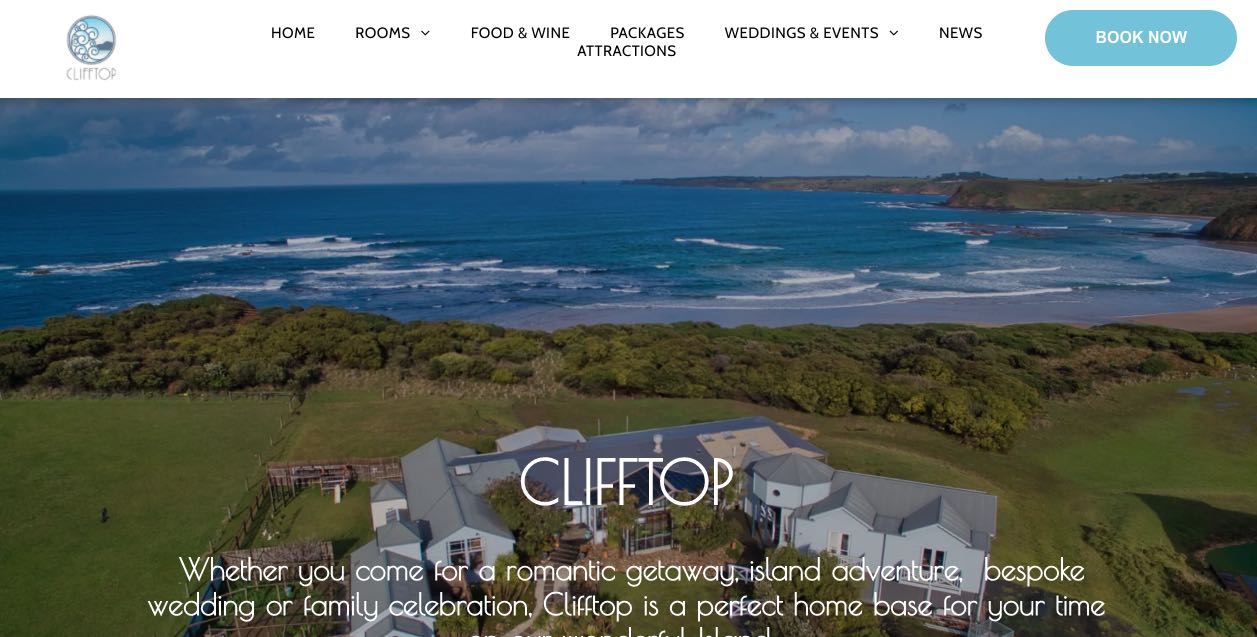 359521033
CLIFFTOP
 Whether you come for a romantic getaway, island adventure, bespoke wedding or family celebration, Clifftop is a perfect home base for your time on our wonderful Island. 
In The Heart of Phillip Island
Sheltered by the native vegetation above Smiths Beach, Clifftop Phillip Island offers guests a stylish, comfortable Island experience. Our charming guesthouse offers:
Magical views, 
Elegant light-filled suites, 
A cosy shared space with fireplace, carefully stocked bar & standard-sized pool table 
Delicious supper trays, & indulgent breakfasts
Regular visits from a variety of island wildlife.   
Beautiful Surroundings
With the ever-changing waters of Smiths Beach, Pyramid Rock and the Bass Strait on one side, and beautiful rolling farmland on the other, Clifftop is located within easy reach of all Island attractions including; the world-famous Grand Prix track, the newly rebuilt Penguin Parade and the seaside town of Cowes. Clifftop is still far enough from the crowds to offer privacy and serenity. 
Weddings
Cocktails on the lawn, a ceremony overlooking the ocean, formal indoor seating for groups of up to 50 guests, cocktail parties or marquee events overlooking the ocean for groups of up to 120. 
Creating Your Perfect Day
We limit the number of wedding dates per season in order to ensure that each event is custom designed to reflect your own special style and outlook, with no minimum spend or minimum numbers. We love small intimate weddings as much as we love large gala celebrations.
From relaxed and informal to stylish and refined we will be on board to make sure you have your wedding your way, with our dedicated and experienced team available to provide as much or as little support as you wish.  
The Baths - Beach and Waterside Wedding Venue Melbourne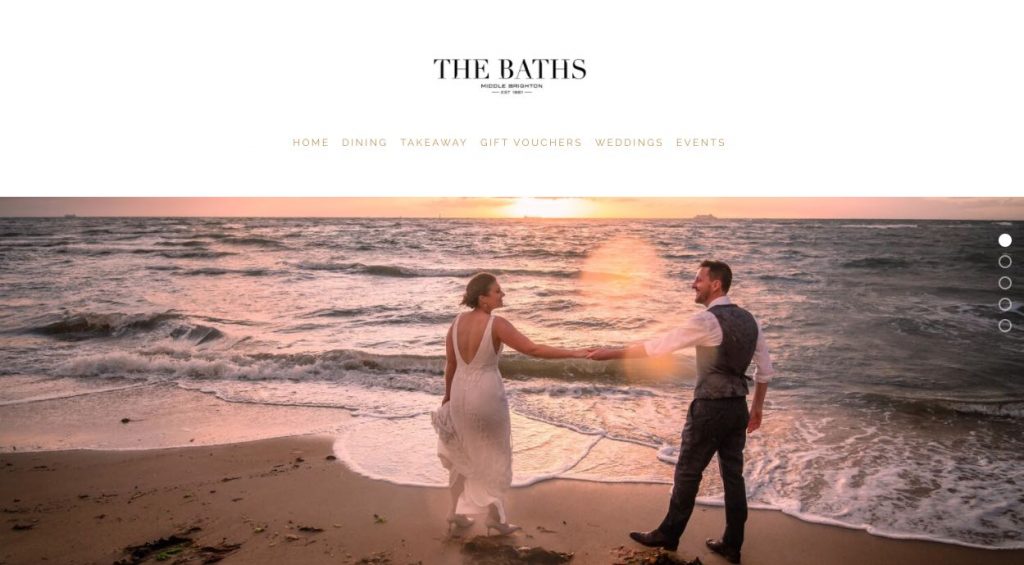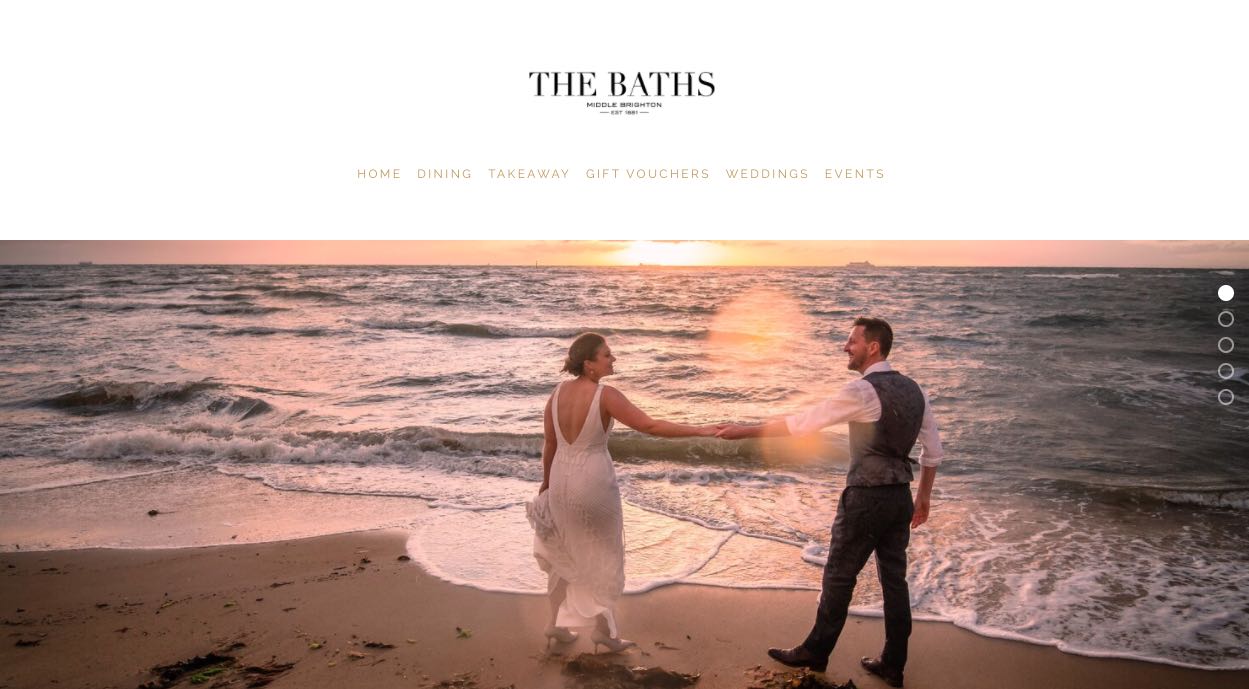 395397002
Welcome to the baths upstairs from birthdays, mitzvahs, product launches, corporate events, anniversaries to everything in between.
Upstairs at The Baths is a unique event space, perfect for any event big or small. Situated directly on the waterfront, Upstairs features floor to ceiling glass windows and a dramatic backdrop of the bay and cityscape. The beautiful view can also be enjoyed from the large outdoor decking that wraps around the venue.
Congratulations!
Search no further if you are looking for a relaxed, contemporary and unique Bayside venue with superior food and drinks to host your special day.
Ceremonies
Melbourne weather can be unpredictable, with multiple ceremony areas the elements won't catch you out.
Reception
The Baths Upstairs is Melbourne's premier wedding and events venue with breathtaking panoramic views of Port Phillip Bay, the city skyline and sunset backdrops. The versatile Upstairs venue can be customised to suit smaller weddings from 10 guests up to larger weddings of 200.
Roomba's - Beach and Waterside Wedding Venue Melbourne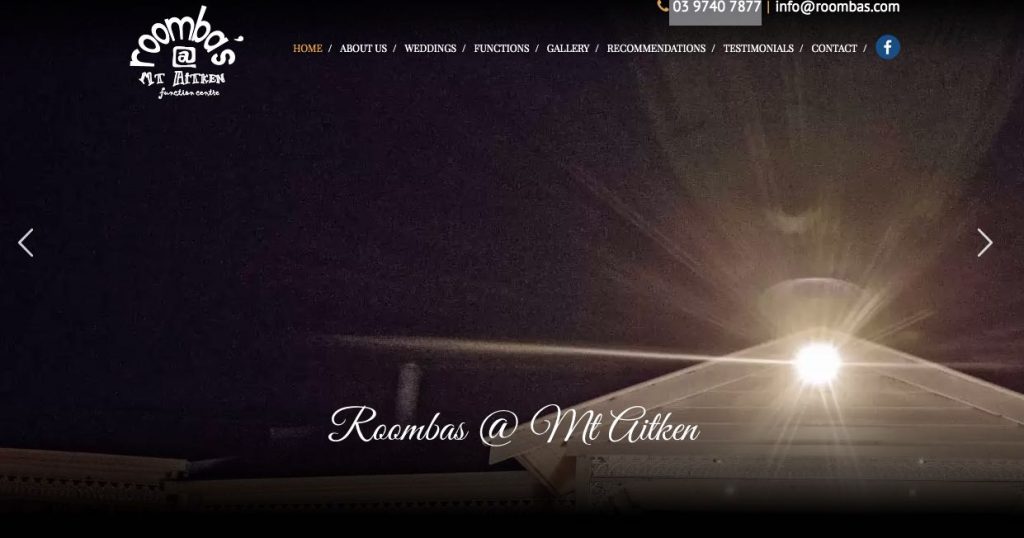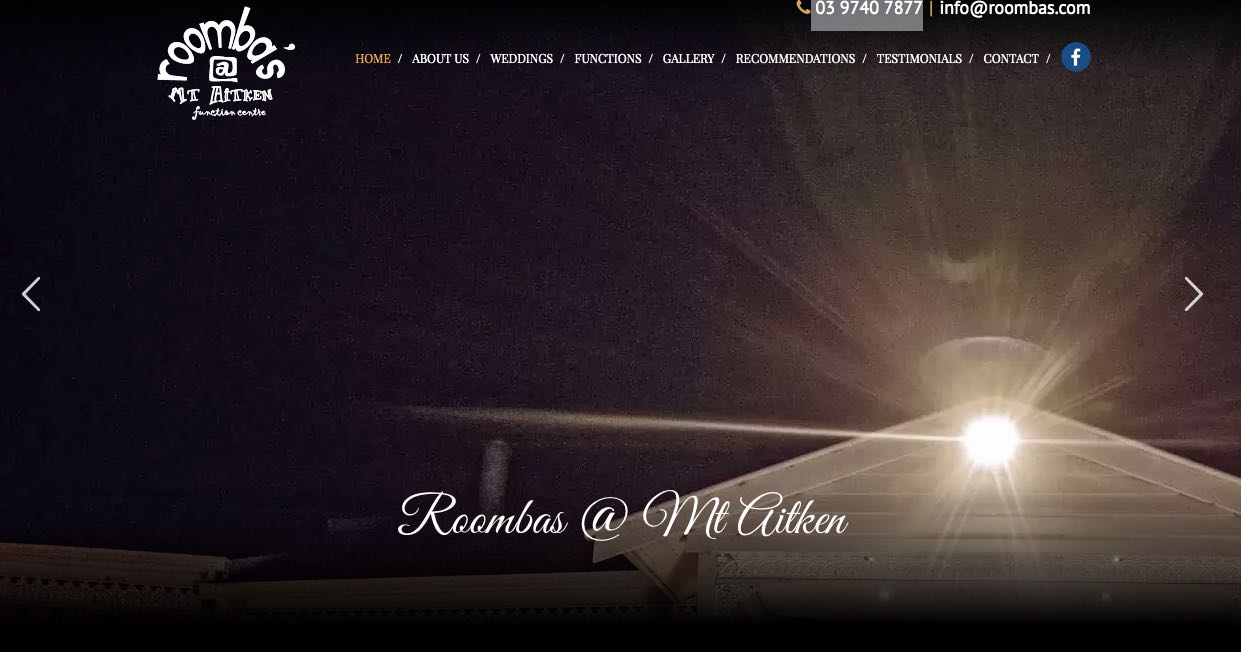 397407877
About Us
We are a family run business, with myself, my husband and my daughter who is involved. We originally got into the industry due to my daughter Simone finishing her Double Bachelor degree at Uni in Hospitality & Tourism, my husband Tony's extensive knowledge in the liquor industry with over 40 years experience & my natural flare for the love of food and design. With all of these factors put together we have created a unique little business that is very busy. Being a family we care about our cutomers who we also treat as family.
The building was constructed in 1974 from Blue stone originally used in the streets of Port Melbourne. Roomba's renovated & refurbished the venue in February 2012, creating the perfect setting for a modern/country style function. With our sleek black bars in our classic foyer area, and a touch of French provincial fittings surrounding our warm & cosy fireplace, makes it the perfect back drop for your special occasion.
The high roof made up of ceiling beams were collected from the Dalgety Wool store established in 1884, giving the venue a spacious feel.
Our magnificent staircase that once held pride in the Masonic Lodge in South Melbourne Victoria, leads you up from the foyer to our Bridal room furnished with that country French Provincial touch.
Our large function room draped with classic style mirrors, wrought iron French style chairs adorned at each table which are very comfortable & plenty of room to dance on our timber floors, with a very long bar with your favourite beers on tap along with wines & spirits ready to help you celebrate your special occasion.
Weddings
At Roomba's we pride ourselves in hosting a superior wedding reception. We are a small family run business, with a small team that specialises in the planning and organising of your event. Therefore you can feel comfortable knowing throughout your journey with us you are dealing with the same faces.
Our Main function room is suited to a more elaborate reception for a larger group, with a beautiful outdoor sitting area overlooking part of the Macedon Ranges. Providing plenty of photo opportunities or a place for simply enjoying the views along with a drink and some canapés. This room hosts 60-130 sit down style or up to 230 cocktail style.
Upon arrival, once your Ceremony has ended or your reception is about to start, you can have the choice of placing a tab on the bar or beginning your wedding package. In which guests are treated to pre-dinner drinks and canapés whilst you are off having photos around the property.
With each room specifically designed for photo opportunities, it is a photographers dream should the weather be unsuitable outside as we have spent the time and effort ensuring that each room has a different look to create the perfect photos for your special day.
Our Basic Wedding Package is per head inclusive of beverages over a time period of 5hrs. We have 8 different package styles for you to choose from to suit your budget style.
Don't hesitate to fill out our enquiry form on our contacts page and we will email you our Wedding package & pricing. Along with answering any questions you may have.
Functions
Roomba's at Mt Aitken has a variety of package options for every occasion at an affordable price with lots of added extras to take the stress out of your function.
From a Canapé style function to a formal sit down. Or why not mix it up a little & have both?
All of our Food is prepared & cooked on the property by our in-house Chef & we also have the same regular team of in-house staff servicing your function. Making your function personal.
We also offer a huge range of centerpieces and decor to hire or are included in your package, which makes it a one-stop shop—saving you time & money.
Christenings are a popular choice with a separate area for any entertainment the children may require.
See some photos in our photo gallery page.
Please contact us so that we can send you a tailored package to suit your needs, as we have far too many to list due to our flexibility.
The Farm Yarra Valley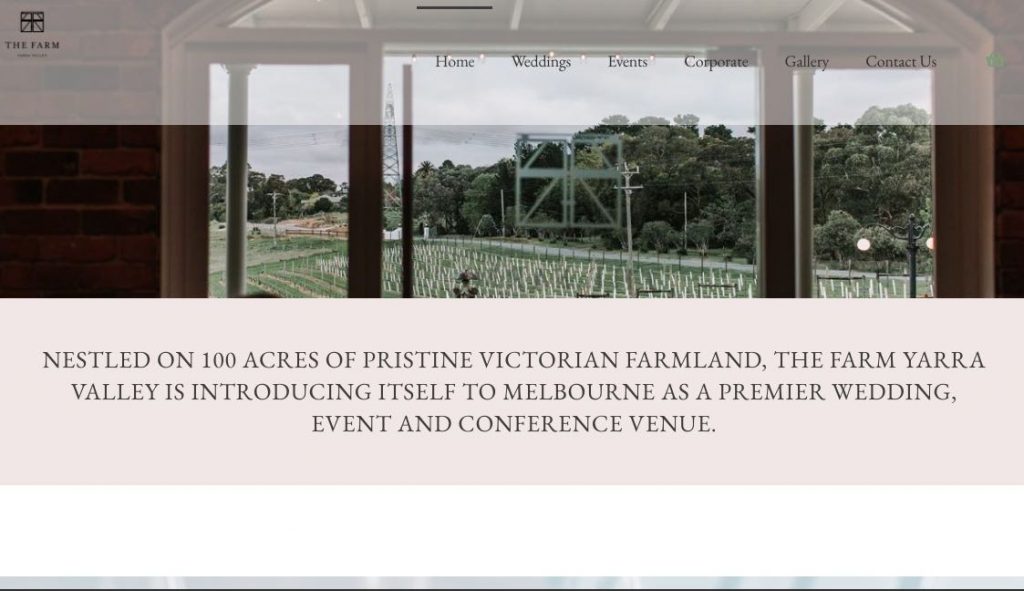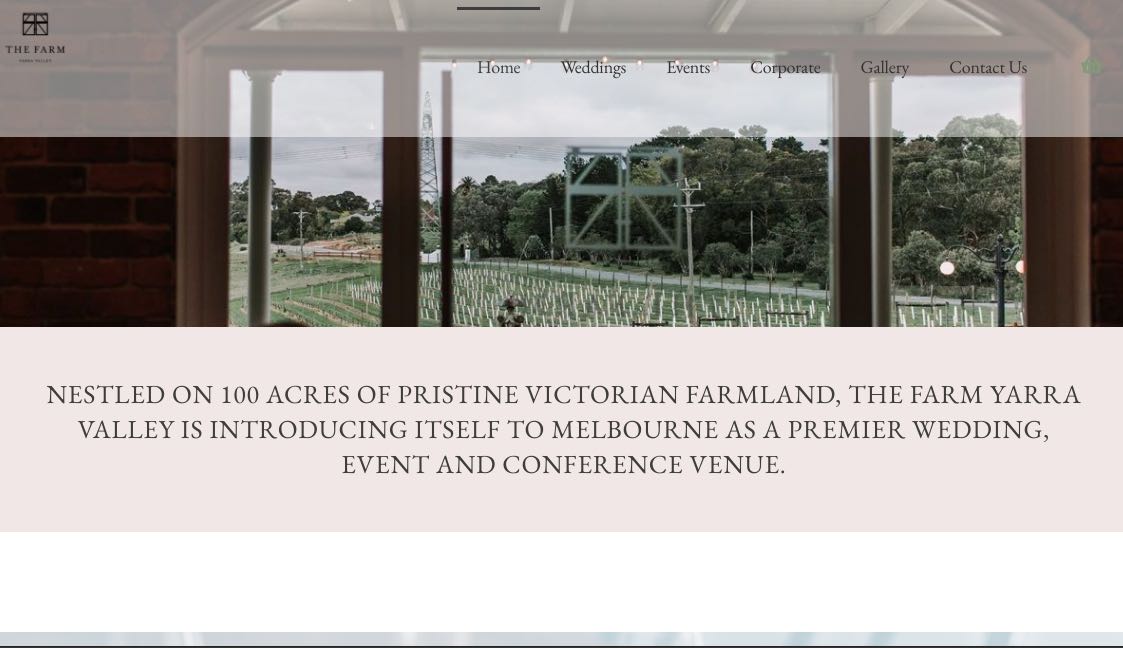 thefarmyarravalley.com.au
398799064
You will find our elegant farmhouse at the top of a hill that looks out to rolling lawns, gardens and vineyards. Redbrick walls and antique fixtures define the interior with the building opening out onto a generous timber verandah, a classical fountain and stately bluestone steps.
At The Farm, we pride ourselves on strong community ties. With local producers making beer and wine on-site and our seasonal menu featuring vegetables from our kitchen garden and locally grown produce. The gardens, vineyards and Oak Walk all provide beautiful backdrops for photos.
Our professional team will work with you to make your event as special and individual as possible.
We would be delighted to hear from you to discuss your event. Whether you're hosting a product launch, a conference or a significant birthday, our team can tailor an event to suit your needs.
Our main space can accommodate a seated function of up to 110 guests and cocktail events for up to 200. To arrange a time to visit us at The Farm and discuss our packages in more detail, please contact our events team.
If you are interested in holding your Ceremony onsite, we have a beautiful barn facade and a picturesque hillside for you to choose from. There are also a number of ideal photo locations for you to capture the perfect images from your perfect day.
WEDDINGS
The Farm Yarra Valley provides the perfect environment for you to create an individualised event that all of your family and guests will remember forever.
Situated on 100 acres of prime rural land only 30 minutes from the CBD we provide the perfect setting for your special day. Our unique venue showcases locally sourced produce, with our packages featuring handcrafted beer and wine made on-site, and produce sourced from our own curated kitchen gardens.
Moanmoan Murray - Beach and Waterside Wedding Venue Victoria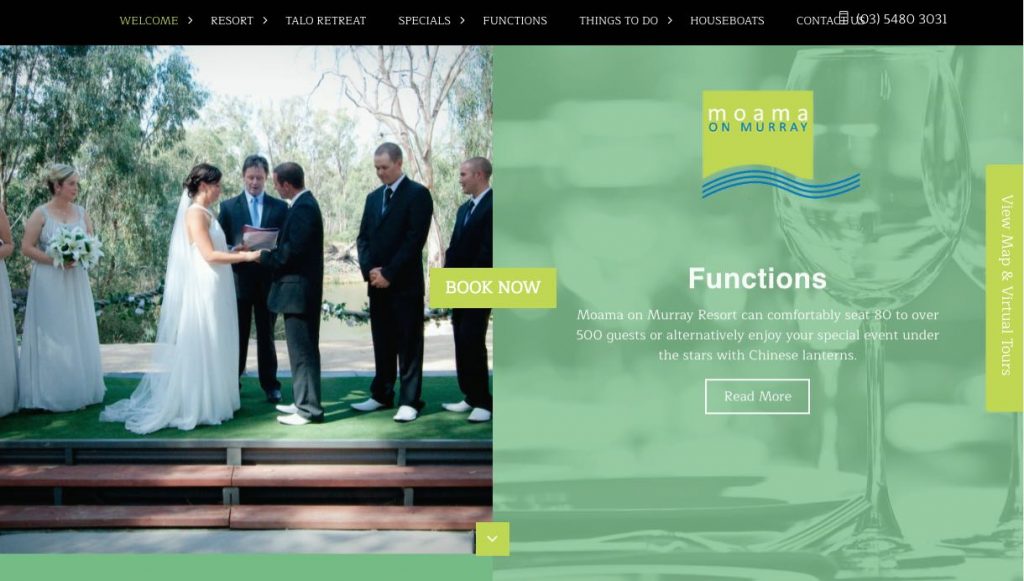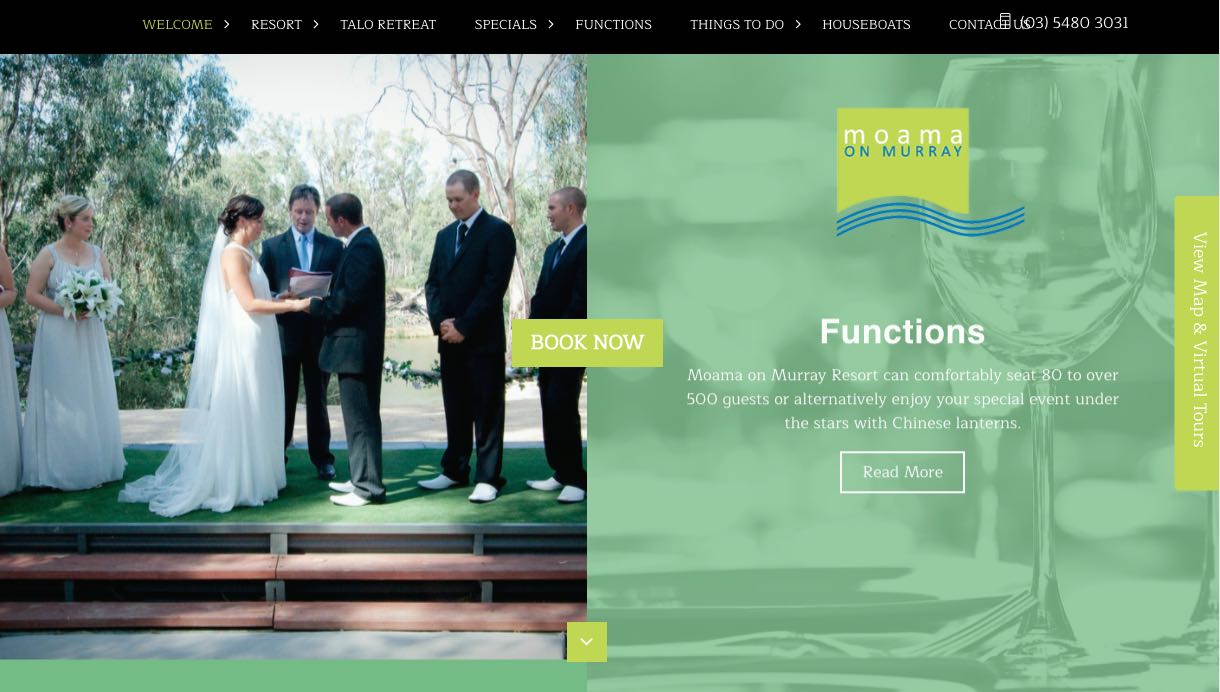 354803031
Conference, wedding and event venues
Located on the banks of the Murray River, Moama on Murray Resort offers four beautiful function wedding or event spaces to choose from for your special event:
Riverside
Overlooking the Murray River amongst the beautiful gums.
Red Gums
Nestled amongst majestic gums on the banks of the Murray River.
Dungula
Overlooking the lake and providing the perfect venue for conferences and events.
Ratlin Rosie
Fully restored 1920s train carriage for a more intimate function.
Moama on Murray Resort venues can comfortably seat up to 500 guests and has a variety of accommodation on site.
There are many different ways to arrange and organise your wedding or event at Moama on Murray Resort. Hosts are able to enjoy a unique event with very individual experiences and memories. Indulge yourself, your friends and your family and stay the weekend in our villas, boats or yurts. Make your special event a memorable getaway!
The most picturesque Echuca/Moama accommodation destination!
There are two types of accommodation at Moama on Murray Resort. Choose from self contained villas or glamping at Talo Retreat which is located within the resort.
The self contained villas in this premier Echuca/Moama accommodation resort offer guests a relaxing holiday in a serene bushland setting with the added attraction of resort-style amenities. 
Accommodation options to suit all needs with combinations of:
One-bedroom villas – queen or king bed – (king bed can be split)

Two-bedroom villas – 1 queen bed and 2 sets of bunks

Three-bedroom villas – 2 queen beds and a set of bunk
Beach weddings are a favorite among couples looking for a casual, outdoor setting for their big day. Truly, there's something magical about saying "I do" with your toes in the sand and the ocean as your backdrop. You might think that the best beach wedding venues require a flight and a passport—but it turns out there are plenty of fabulous beach venues right here in the Melbourne, Victoria While these locations are a bit harder to find than, say, barn venues, there are certain Melbourne spots that have an abundance of beaches where you can wed. Whether you're looking for a local venue or open to a destination wedding, there are plenty of beach wedding venues to choose from.
Want to have a fantastic destination wedding but don't want to learn a foreign language or take a 12-hour plane ride to get there? No problem! Some of the best destination wedding venues are right here in Melboure, Victoria, from a ranch to Dandenong ranges, to a beachfront resort in Brighton and everything in-between. The places we've included below are not just unique, they're all gorgeous locations where you'll love to spend time with your family and friends.
Few things are dreamier than getting married with your toes in the sands and the sound of the waves in the background, but you don't need to have a passport to make this dream a reality. There are all sorts of incredible Brighton beach venues right here in the Melbourne, and many of them offer both picture-perfect ceremonies in front of the water and beautiful receptions where you and your guests can dance the night away.
Having your wedding on the beach? For shore-loving couples, there's nothing more romantic than the sounds of the surf, the sand between your toes and the sultry, salt-tinged air as you say your vows. And if you want to invite the whole gang, think about a fun-filled wedding weekend and reunion at an activity-rich resort, beach or lakeside town. Whatever you decide, beach weddings are often memorable, unique and offer a plethora of options. But to make sure everything goes off without a hitch, here's what you need to know.
Destination Beach Wedding
Considering a wedding at a beach that isn't close to home? A destination wedding is a fun way to get married while you, your family and friends are all on vacation together. Unlike a hometown affair, you can't assume everyone will be able to attend, especially if the journey is far and costly. Planning a destination wedding starts with choosing a destination, of course. Your beach wedding could happen almost anywhere in the world, like the Caribbean, Mexico, Europe, Fiji, New Zealand and South Africa. Once you choose a destination, you'll want to choose a venue that fits your style, party size and budget. It's a good idea to take a trip there, in advance, to check out options in person before committing.
Wedding Planner
While it may seem like getting married on the beach will be a figurative breeze, we recommend hiring a planner to handle the unforeseen logistics of a beach wedding. Whether you need a permit for a specific area, or you need someone to handle hordes of sunbathers plopped down where your altar will be, it's good to have a pro on hand to help with these sticky situations.
Work with a bridal consultant who specializes in beach weddings, since they'll have the know-how you need to pull of this type of shindig.
For a destination wedding, it's important to get a wedding planner based in the area where you'll be married to help you navigate a particular beach's requirements (since these can vary by county and within towns). Planners also serve as expert eyes for finding—and overseeing—local vendors.
Photography
First off, you'll want to find a photographer who's shot beach weddings. Shutterbugs not experienced with beach photography may be unfamiliar with the proper lighting techniques. Also, take advantage of the beauty of your natural surroundings: waves crashing in the distance, a sunset backdrop beside the water's edge. For great candids, loosen up. Kick the sand, turn a cartwheel or simply stroll hand in hand. In addition, prepare a list of must-have shots in advance.
What to Wear
Typically, beach brides don't opt for a ball gown because they might be too cumbersome and look overly fussy. Seaside weddings call for a gown made of lightweight fabric—anything else and you'll be weighed down and hot. Also, remember: It could be windy. A long veil and long hair could get blown into your face. An updo could be a good choice to keep your tresses tame.
Grooms and groomsmen often sport linen suits, but if it's really hot, guys can forgo the jacket and wear a loose shirt and pants. For the bridesmaids, light, airy fabrics are key; for comfort, try cotton, crepe or linen. We think nothing says "beach wedding" like a simple sarong or sundress blowing in the breeze.
Flowers
Beautiful blooms add bursts of color to any space, including the beach. Consult with a local florist to choose the right flowers for your fete—some island locales might have limited options.
Direct sunlight and heat are no-gos for many blossoms, and you'll want flowers that last. Those that wilt easily, like freesia, poppies and bouvardia, aren't good choices. But gorgeous orchids, chrysanthemums and plumeria are surprisingly hardy and hold up well in almost any kind of weather. Or opt for non-floral décor. For beach-themed centerpieces for example, fill large conch shells or colorful beach pails with your chosen flowers.
Food & Drink
A beach wedding in Hawaii will be quite different from a seaside ceremony in the South of France, and your menu can reflect that. Incorporate foods and customs of the area. Hawaiian weddings, for example, can involve local delicacies such as poi and roast pig. Similarly, Caribbean choices include jerk chicken, and almost any beach locale can offer fresh seafood. When selecting your menu, also consider the temperature—many foods will spoil in the heat. For example, a raw bar is best done inside where there's air-conditioning. Many fresh fruits and veggies can go bad if left in the sun, and cheese will melt. Cocktails can be made with tropical or local flavors as well. In hot weather, instruct servers to keep guests' water glasses full so they don't get dehydrated, and don't get too tipsy from drinking alcoholic beverages quickly.
Time Of Day
Most beaches don't have much shade so heat is an important consideration. The Australian coastline is also prone to be windy. To counteract these conditions consider getting married early in the morning, or an hour before sunset. Don't forget to check the tide times — the last thing you want are waves lapping at your feet. Tides are noisier coming in, so pick a time when the tide is going out.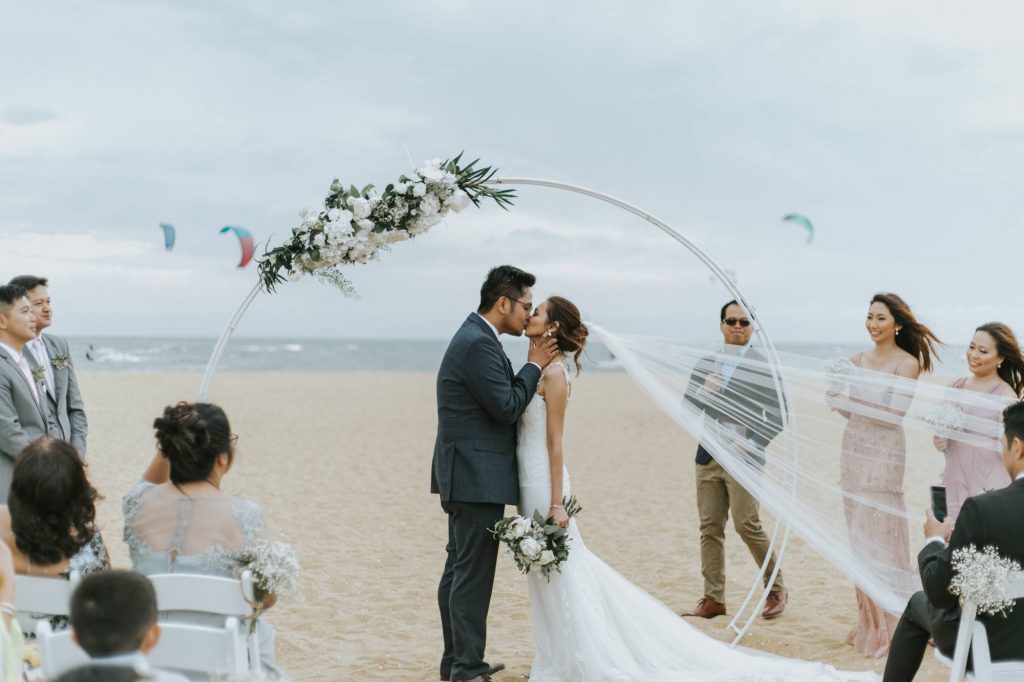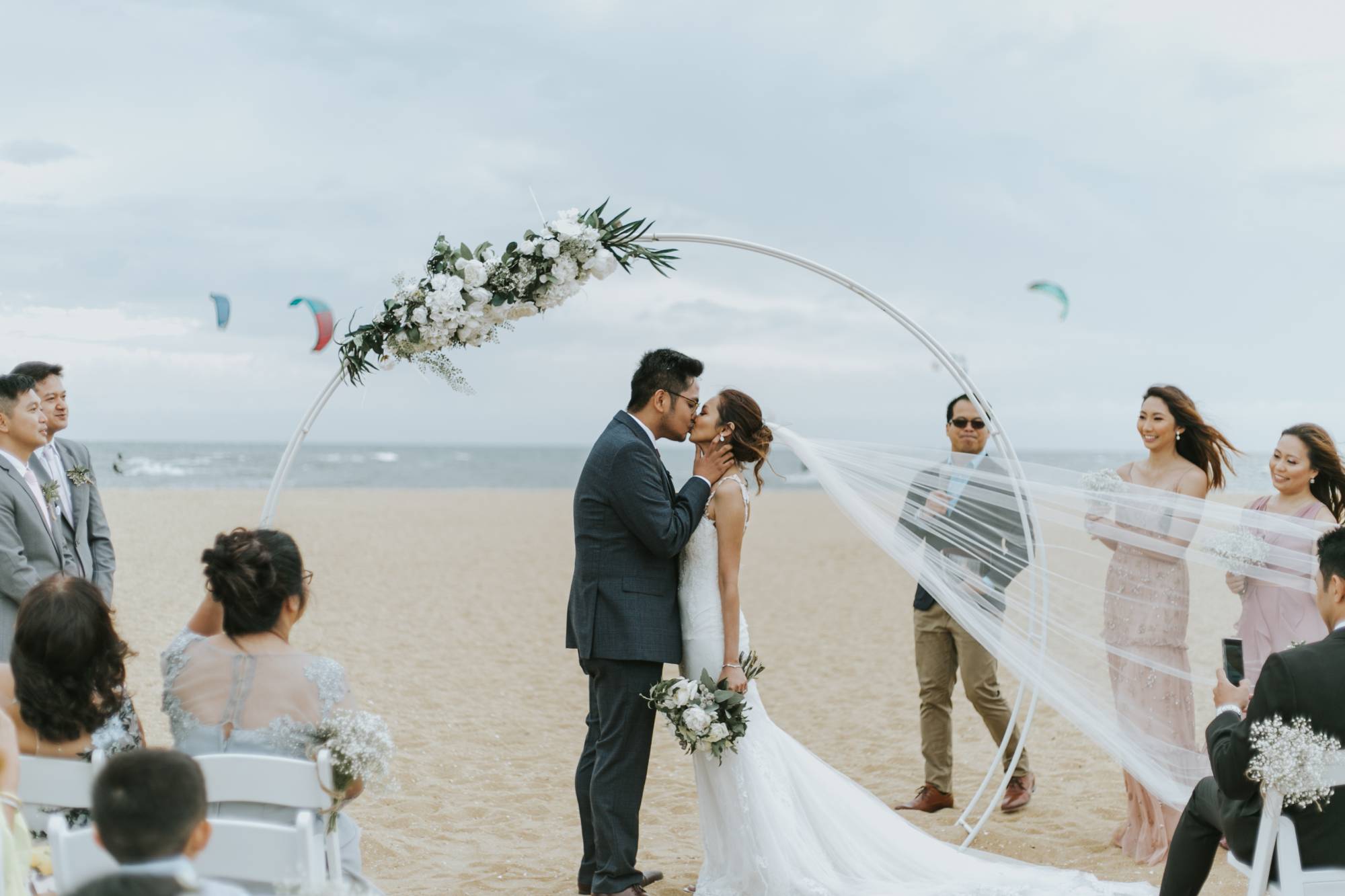 Beach Wedding Attire
The beach is not the place for a fully beaded custom made ball gown with a hoop skirt, or a dark three-piece suit. Your surfside wedding outfit should be made of lightweight fabric that will float beautifully without flying away in a gust of wind. A long veil may get in the way, and loose long hair could end up in your mouth when trying to say your vows. Linen suits look casual and elegant and pants and a shirt are a great choice too. Comfort should always be the primary consideration on your wedding day, especially when you're waterside.
Beach Flowers
Pick flowers for your bouquets that will survive in the hot sun. When it comes to decorating the ceremony space (if you need to at all), think about rocks, shells, driftwood or other found objects from nature.
Couple Support
A little known trick to assist with the logistics of a beach wedding is to bury a large piece of plywood, carpet or perspex just under the sand where the celebrant and couple will stand. This helps the wedding party feel more secure and supported, and will also save the day if a ring is dropped.
Speak Up
Beaches are noisy, with the sound of waves, wind, birds and the general public. Even with a small number of guests, you will need a portable PA system to amplify the spoken words during the ceremony. Your celebrant should have a battery-powered speaker and microphone. Make sure your entrance, signing and exit music is upbeat and loud so it can be heard clearly over the ambient noise. When you are saying your vows, project your voice a little more than usual.