Being in love and getting engaged is an amazing time of life that should be enjoyed to the full. The culmination is the wedding day, but unfortunately, many brides are so tired and stressed on the day they can't really enjoy it.
You've spent tireless hours planning, fawning, crafting, revelling, and swooning over your wedding and the fact that you get to marry the person of your dreams. But guess what? When your wedding day finally arrives, all of your plans are going to be set in motion, and it's time for you to sit back and enjoy!
The Reason Most Couples Never Enjoy Wedding Day
Wedding planning is inherently crazy – no one will deny that. You have to work out every detail from the date to guest list to coordinating multiple suppliers and sticking within a budget. You want everything perfect, yet you are stressed that all of your planning will waste on the big day. No bride or groom wants a disastrous wedding day, so often, the fear of that happening consumes the couple.
In an ideal world, weddings will go 100 per cent as planned. But, in reality, every single wedding has a hiccup, including those planned by the best, most expensive wedding planners. That is because there is no such thing as a perfect wedding day – after all, you cannot control a dozen people.
One of your suppliers maybe a few minutes late, the weather could change a few days prior to the event, etc. Not everything is, nor will it be in your control – but that is okay. Looking for the ultimate Wedding Reception Venue in Melbourne? Look no further, Vogue Ballroom is here.
Ways to Make Sure You Enjoy Your Wedding Planning
Make Sure You Wake Up Refreshed
Go to bed at a reasonable hour the night before your wedding. While that may be hard with any last-minute planning, still aim for at least six to eight hours of sleep. That might mean having the hen party the week before the wedding – so you aren't up at all hours of the night. Being refreshed and well-rested will help you remain calm at the wedding too.
Hire a Planner
Duh! At the very least, you should enlist the help of a Month-Of planner. This way, you can let your planner finalise and secure all vendors for you in the weeks leading up to your big day so you can relax and enjoy the fun stuff – like bridal showers, your bachelorette party, and the final dress fitting! Your planner should step in and take over-communicating with your vendors, making your job as the bride easy. All you have to do is communicate with your planner, and she/he will take care of everything! Finalising numbers, arrival times, and even making any changes- your planner will take care of it all. This will also eliminate the "so-and-so said this" and "but she told me …." confusion that can happen in the days leading up to your wedding. It's so important that you, your planner, and your vendors, are all on the same page- and a planner will ensure this. Case and Point: You change your toasts from before dinner to after your dinner. You'll need to tell the caterer, venue, DJ, photographer, videographer, planner and the ever-so-important Toast Givers! Wouldn't it be MUCH easier to pass the information along to your planner and let them pass it along to your other vendors? Yep, we think so too!
Trust Your Vendors
You spend tireless time researching, vetting, studying, interviewing, and choosing your vendors. So you should definitely feel confident in them by now. You have been working with them side-by-side to plan this big day, so why stop trusting that they will do the best job for you on your wedding day? Give them space (this means not peeking in on how your reception setup is coming along!) and have confidence they'll handle everything for you. Especially your planner. She is hired as your liaison and vendor-wrangler. She is there to represent you and will do just that, but you have to trust she's got it covered! Intervening and not allowing her to do her job creates confusion, chaos and wastes precious time! You hired your planner (and all your other vendors) for a reason – remember that. Also, if there is a vendor who you feel like isn't on par, discuss it with your planner, and she can handle it for you. The whole goal is to not have to worry about anything, right?
One more tidbit along these lines: when creating your timeline, trust your vendors' experience and suggestions. They have probably executed a few more weddings that you have and have learned a boatload of stuff along the way. They are not trying to steer you in the wrong direction – they too want your day to be better than you could have ever imagined!
Invest in a Fab Notebook
When it comes to your wedding, a notebook or wedding planner will really be a bit of a lifesaver. Lists and weddings go hand in hand, so having a place to jot down thoughts, ideas and list after list will help keep you sane. It's also the perfect spot to pop any lovely fabrics or wedding tears you come across – have a handy planning journal specifically for Irish brides – you can pick it up here.
Get Organised
What does your to-do list look like for your wedding day? If you have many tasks on your list, consider narrowing them down and leaving your wedding day open. There is no need to wake up and rush off to errands. Instead, enjoy a morning of relaxation. The less you have to do on an actual day – the more relaxing and breathing time you have. Also, consider doing something for yourself on wedding day – such as going to the spa for a bridal massage and pedicure or even taking a morning yoga class.
Staying on top of things will mean less stress. A cute wedding countdown sign will have you super excited and will ensure you're on track! Keep everything together in one place (a dedicated email address or folder can come in very handy) so you don't lose your mind looking for it and give yourself plenty of time to tackle your tasks. You don't want to finally get around to emailing your band of choice, only to find out they booked your date last month.
Eat and Stay Hydrated.
It seems like a no brainer, right? But let me tell you – not eating and drinking water can ruin your wedding day. Once upon a time, I had a bride who did not eat or drink enough water. And on her wedding day, she was too weak to even stand for her wedding photos. She took all of her pictures sitting in a chair. So not eating on your wedding day totally not worth it! Plus, staying hydrated will help your skin glow in your pictures. And in case you need me to mention the obvious… staying hydrated will also hopefully prevent you from over-drinking and getting sloppy from too many mimosas in the morning!
You are busy on your wedding day, but make sure you eat a good, solid breakfast (preferably one that has protein in it) and drink plenty of fluids. Being hungry and/or dehydrated on the wedding day is no way to start off that special moment. If you do not eat or drink, you may be too weak to enjoy your wedding or, worse, have a killer migraine that will ruin your wedding all together.
Get Comfortable
When shopping for your wedding dress or suit and accessories, pick attire that makes you feel comfortable and confident. If that means wearing flats instead of heels, go for it! And when it comes to hair and makeup, don't overdo it. Looking and feeling like the best version of yourself, not an unrecognisable glam but, is totally the way to go.
If you never wear heels in your daily life, why torture yourself with stilettos just because it's your wedding day? Especially during your reception, don't be afraid to kick off your shoes and slip into something more comfortable – like slippers! With a long gown, no one is going to see your shoes anyway, so you might as well wear something that'll help you let loose.
Let Others Help
It can be hard to let go of the planning reigns and let others in on your ideas for your Big Day. But delegating will free up time so you can concentrate on the fun stuff or things that really matter to you. People want to help, so take some of the stress off yourself and let them.
Get your mom typing up labels for your invitation envelopes, your sister looking for bridesmaid dresses or your aunt, who is a whiz with a wooden spoon, making your dessert table treats. It means fewer tasks on your to-do list – whoop!
Looking for a Wedding Event Planner? Look no further, Vogue Ballroom have you covered.
Have Fun Days Out
Make a big deal out of your wedding excursions! Tastings, venue visits and sampling one delicious wedding cake after the next are all fun wedding milestones, so make a bit of a day out of them. And use your shopping days to have girly fun with your mom, sisters or friends – indulge in a bit of pampering, have a celebratory cocktail when you find your dream dress (or your mam's MOB ensemble) and some lovely lunches where you can all enjoy the build-up.
Get Friends Involved
The DIY project you'd your heart set on lovingly crafting will fast become a chore if you're going it alone. Rope in friends to make it more fun. Have a monthly girls' night where you have a bit of a catch-up, a couple of glasses of wine and tackle some of your wedding projects, whether it's cutting out place cards, gluing rhinestones to wedding stationery or making your very own wedding signs. Another cute idea is to have them share Pinterest ideas with you so you can all indulge in some gorgeous inspiration together.
Celebrate With Everyone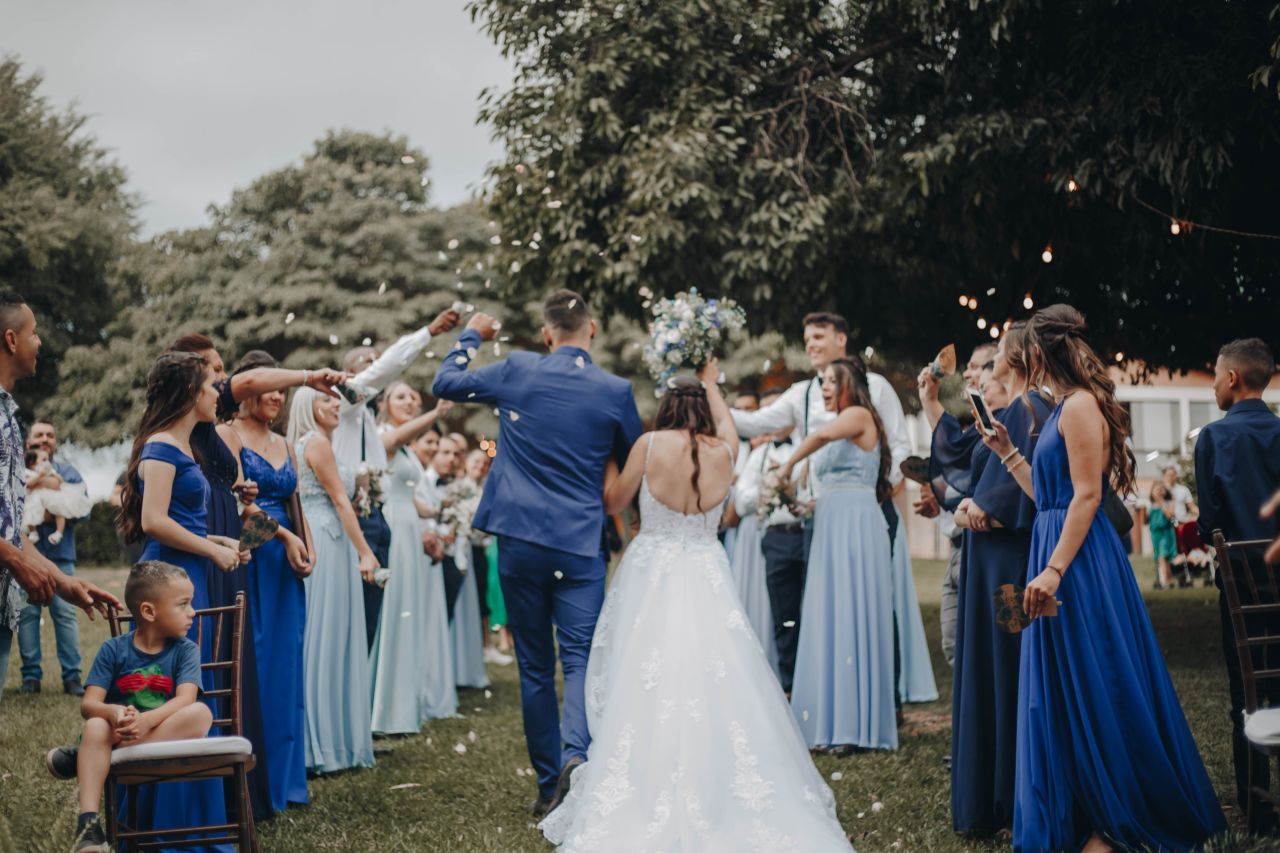 Some couples seem to forget that their wedding is a celebration. If you are having a wedding, you should be there celebrating with your guests. Get out on the dance floor and have some fun – and don't just dance during the usual ones. Mingle with your guests, have a chat with everyone that came to your wedding and thank them. Just let loose and enjoy the event – you've earned it. Do not sit there fretting about the cake cutting being five minutes late, do not check your phone every minute to see if a supplier is running behind and definitely do not worry about the drunk guests – they are only embarrassing themselves, not ruining your wedding.
Your wedding can be as exciting as you want it to be, as long as you remember the most important. You are there to marry the person you love and celebrate that love. Everything else is just filler.
Avoid Confrontation
It can be tough. Everyone has an amazing piece of advice for you once you flash the ring. People want to help, and most suggestions are made with the best intentions at heart, but sometimes you just don't want to hear it. Be polite and thank them but if it's not for you, just let it slide. You don't have to go along with any element you're not happy with for the sake of tradition, because it's the done thing or because someone's putting pressure on you.
Timing
It's easy to live in a wedding bubble and forget about all else. While you're super excited about the centrepiece idea you came across on Pinterest or the adorable sign you've got to have for your niece, your other half may not have the same enthusiasm after a day's work. Nothing will bring you back down to earth quicker than an argument with your partner, so set specific times to discuss wedding-related stuff to avoid unnecessary tension.
Take Breaks
If things become too overwhelming at any point during the day, it is perfectly okay to take a short break. After the ceremony is a great opportunity to steal a few moments alone, and sneaking away for a few moments during dinner or dancing at the reception can be a welcome respite, too. It might be a good idea to have a code word with your new spouse and/or your wedding party members to signal that you need some solo time—even if it's just to go to the bathroom to freshen up.
Wedding Free Time
While your wedding is a huge and such an important part of your life, it isn't the only part of your life. It can be hard to enjoy something when you live and breathe it, so make sure to take some time away from the Excel spreadsheets and planning notebook for normal stuff like cinema dates with your ladies, a night on the couch with a good book or a slap-up dinner with your partner. You'll enjoy the time you do spend wedding planning way more.
Treat Yourself
This is such a special time so make it extra meaningful and special with some fun touches. Treat yourself to something you've always dreamed about, whether it's a gorgeous pair of shoes, a fab garter or the prettiest bridal robe in honour of the wedding morning, something you can peek at when it's all getting a bit too much, that will make you smile. And if all else fails, remember why you're doing this in the first place – that person you get to call 'Husband' or 'Wife'.
Do More of What Makes You Happy
Your friends and family love you just the way you are, so don't feel pressured to fit into the "bride" box. Plan the wedding you know you'll enjoy. Are you a sweets aficionado? Splurge on the elaborate dessert display — we're pretty confident your guests won't complain about having more options.
Are you a crafting queen? Go ahead and DIY as much as your heart desires. And, conversely, if you don't have a crafty bone in your body, don't stress yourself out by taking on projects — it's okay to outsource everything. Focus your attention on the elements of your big day that you know will bring a smile to your face, and don't sweat the small stuff. 
Looking for the perfect Wedding Stationery in Melbourne? Look no further, Vogue Ballroom has you covered.
Follow these ways during your wedding day to instantly reduce your stress level simply by putting someone else in charge of the little details. A day-of coordinator makes sure that everything is in place so that you can truly be a guest at your own party.
Knowing that someone else is covering the itinerary and ensuring everything is running on time will instantaneously relieve a couple of any wedding chores or duties. As a result, [you] will have more time to relax and let loose.