Writing your day-of wedding timeline can be a tad overwhelming in the best of times. Putting together a wedding timeline while the world is also navigating a pandemic and social distancing and nothing stays the same way for more than two minutes that is a whole other challenge. And while we can't make the world a more predictable and less overwhelming place (though we wish we could), we can help you figure out how to figure out this particular—and still pretty important—task.
First of all, a note about why you need a wedding timeline (and YES, you need a day of the timetable). When you attend a wedding that goes well, things seem to flow from one thing to the next magically. People seem to know where to go automatically. You don't spend a moment thinking about logistics because you're having so much fun. Well, that's a little bit of a trick. The reason things seem so effortless is that somebody behind the scenes (possibly a wedding planner, perhaps an ultra-organized member of the wedding couple, maybe a friend) spent a lot of time outlining what would happen when, who needed to be where, and what objects needed to be in place at what times. The document that outlines all of that information is the day-of wedding timeline. It's arguably the most vital document in all of the wedding planning, and yup, I include elopements in that.
Here is the truth: even if you've attended a lot of weddings, you probably haven't paid much attention to how long each aspect lasted (barring the rare occasion that you end up in direct sunlight at an hour-long outdoor ceremony on a 90-degree day, which nobody forgets). So when it's time to get started putting together your wedding day timeline, it can be hard to figure out where to start. So we put together templates for a few different types of weddings to ease you into the process. Yes, very much, including 2021 weddings.
The key to a wedding day timeline that runs smoothly is planning ahead. Breaking down your entire wedding day into an organized timeline helps to keep everything on track when the big day finally arrives. The more detailed you can make the plan, the better. As a rule of thumb, wedding ceremonies typically last 30 minutes to an hour—although short and sweet wedding programs are okay, too—and most wedding receptions usually last four to five hours.
Expert wedding planner Tessa Lyn Brand of Tessa Lyn Events helped us create a sample modern wedding reception timeline based on a wedding starting at 5:30 p.m. (Adjust timing as necessary to work with your ceremony start time).
Note that this wedding timeline also assumes the ceremony and reception are being held at the same venue, which means guests won't need to travel to a separate party location before cocktail hour can begin. If you're having your wedding reception at a different site, make sure to add travel time, accounting for the time it will take for the guests to make their way to the post-ceremony festivities.
Unless you decide to elope, your wedding will have two parts. The first is the ceremony, where you and your partner exchange I dos. And the second is a reception, where you celebrate those I hairstyles with friends and family. While both of those events are part of the overall wedding planning, much of your time and energy is spent on the wedding reception.
Of course, if you want a long and elaborate ceremony, you might focus less on the wedding reception. But for the most part, the wedding ceremony is a joint effort between the happy couple and the officiant. Unless you have specific requests or activities, your officiant will take the lead on the ceremony itself. After all, they've done this more than you have!
Meanwhile, you'll be busy picking flowers (which are used throughout the day), choosing centrepieces, booking a DJ, and deciding on food. And all of those details directly affect your reception! During all this wedding planning, you're probably asking yourself, "What activities should I plan for the reception? And will there be enough time?"
Wedding Length
Most weddings don't last more than six hours. That includes time for the ceremony, reception, photos, and any special activities. Usually, the ceremony lasts about an hour, and the remaining 4 to 5 hours are saved for the reception. As you plan how much time to spend on each element, don't forget to factor in your location.
For example, if you're hosting the ceremony and reception in the same venue, every minute counts towards the whole event. On the other hand, if guests have to travel for your wedding reception, that affects your timeline! You might not shorten the ceremony to accommodate the drive, but guests will certainly have less time to celebrate at the wedding reception.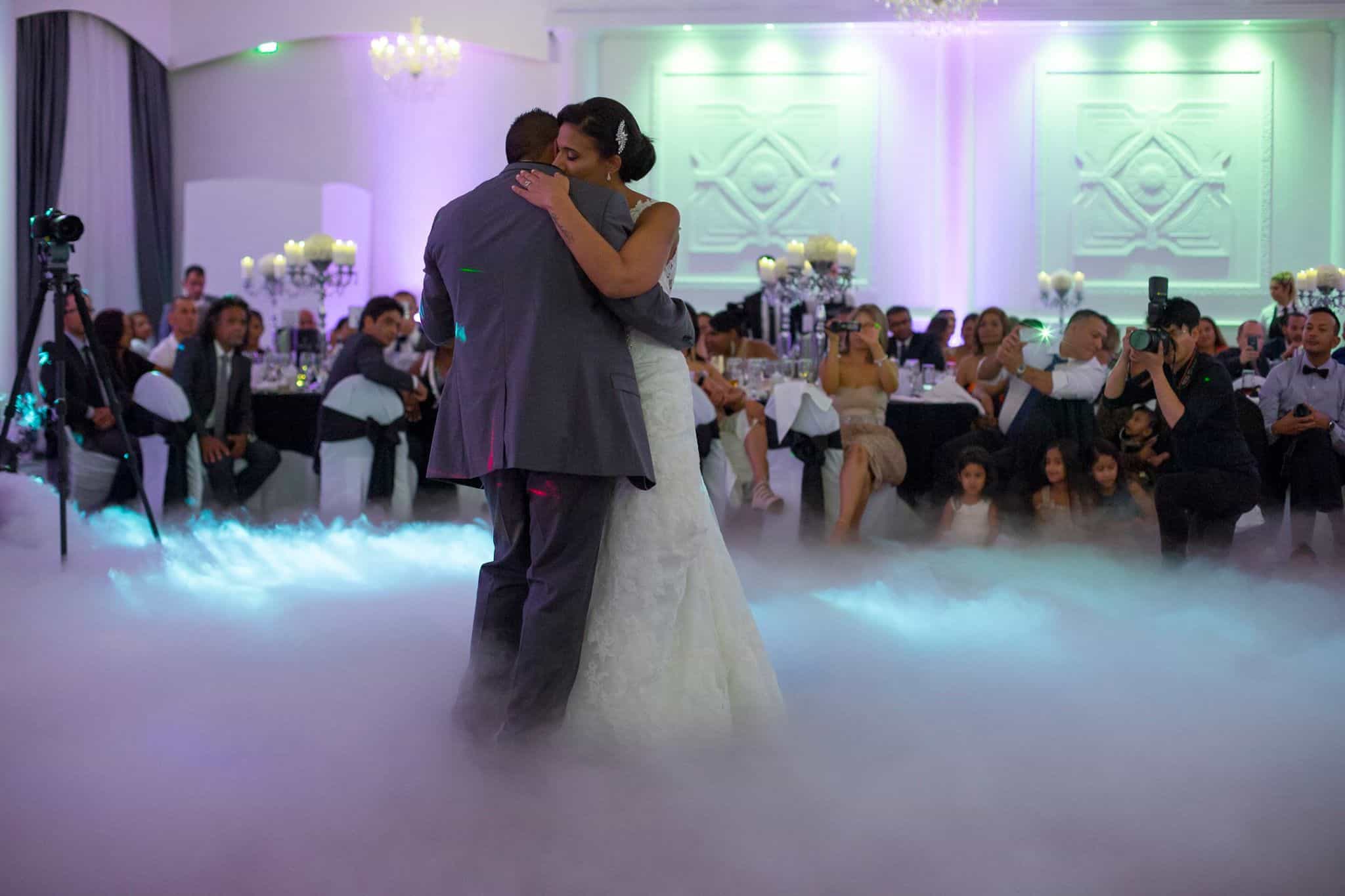 Wedding Reception Timeline
Guests Move From Ceremony into Cocktail Hour | 1 Hour
While your guests are mingling with each other after the ceremony is a good time to do your couples session and formal family photos. Although the bride and groom typically won't be able to attend the cocktail hour, it's still a nice time for your guests to relax and enjoy some hors d'oeuvres and drinks before they go into the main reception. Check out this Wedding Photography Timeline for suggestions on how much time should be allotted for the cocktail hour based on how many formal photos you want to be done.
Guests Are Seated in Reception Hall | 15-20 Minutes
Your wedding coordinator and DJ/MC will get all of your guests rounded up and seated in the reception hall so that they are ready for the party to start. If necessary, they will explain how guests can find their seat and give any other special announcements. The start of getting your guests into the reception and the estimation of how long this will take based on how many are in attendance is an essential part of your wedding reception timeline.
Wedding Party Entrances | 5-10 Minutes
Your DJ/MC will announce your family and wedding party entrances here. This is a fun time for your wedding party and immediate family members to enter the reception hall with a funny dance or action that gets your guests excited and ready for your grand entrance.
Bride and Groom Grand Entrance | | 5-10 Minutes
This is your time to celebrate being introduced for the first time as the newlyweds that you are. Pick your favourite party song and strut your stuff! Make sure the bride and groom entrance is separated from the other wedding party entrances on your wedding reception timeline so that you can have your own shining moment in the spotlight!
First Dance | | 5-10 Minutes
After making your grand entrance, all eyes are on you, and it is a perfect time to go straight into your first dance as a married couple. Whether your dance is choreographed or just a slow and sweet moment to a sentimental song, this is your moment to shine together.
Welcome Speech | 5-10 Minutes
Now you and your forever honey are seated at your head table, and it's time to thank your guests for coming. This can be done by the bride and groom or the mother and father of the bride. In some cases, this is also a good time for a blessing from a family member to commence the meal.
Dinner is Served | 1 Hour
Make sure you grab your food first, chow down and be sure to enjoy the wedding meal you selected! If you want, you can make your rounds and greet your guests before returning to your table for the toasts. This is if you haven't set aside other time to mingle with your guests somewhere else in your wedding reception timeline. If you do choose to take the mealtime to greet or take photos with each table, make sure you allow yourself at least 3 minutes per table and adjust the
mealtime accordingly.
Toasts | 30 Minutes
While your guests are still in their seats, finishing up their meal is a great time to go through the toasts. It's a good idea to start with the Best Man and Maid of Honor toasts and then follow with anyone else you have asked to toast. If it weren't the bride and groom that thanked their guests for being a part of their wedding day before the meal, now would be a great time to do so… before the dance party starts!
Family Dances | 15 Minutes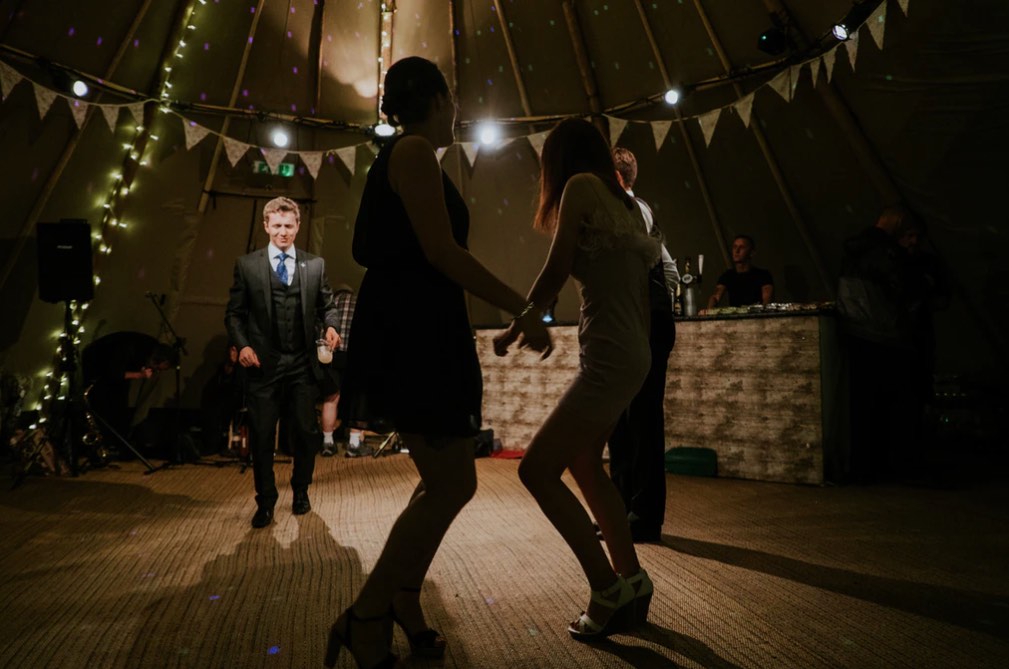 This is a perfect time in the wedding reception timeline to start the dancing portion of your party with the mother & groom and father & bride dances. After the last family dance, you can have your DJ ask all your guests to come to the dance floor for a group photo. This gets everyone up and out of their seats and on the dance floor, so when the music hits you will have a good crowd to get the party started!
Open Up the Dance Floor | 30-45 Minutes
Now it's time to get your groove on! Start off the power dance session with an upbeat song that will get everyone in the room moving. Between bursts of high energy songs interlaced with some slow jams is a great opportunity to do your garter and bouquet toss or any other fun activities you have planned on your wedding reception timeline.
Cake Cutting & Dessert | 30 Minutes
The cake cutting ceremony lets your guests know that the party is almost over and can be done about an hour before your grand exit or the end of the reception. After the bride and groom cut their pieces of cake, have your DJ play some slow to mid-tempo songs while your guests enjoy their dessert. During dessert is also a good time to thank your guests for coming!
Reception Sneak out Photo Session | 20-30 Minutes
During the last dance set and after dessert is served is a great opportunity for the bride and groom to sneak out for their nighttime couples session. This is a very important time to schedule your wedding reception timeline with your photographer. This is when they will get the romantic nighttime shots that document the perfect end to your beautiful wedding day. Just make sure to come back for your last dance!
Keep the Party Going | 30-40 Minutes
After dessert has been enjoyed and the sugar rush begins to kick in, it's time to keep the dance party going! This last dance set will simultaneously coincide with your nighttime photo session on your wedding reception timeline. Have your DJ announce when he is playing the last song, so your guests know this is their last chance to get out there and dance before the party's end. Choose an upbeat, big hit that will get everyone out on the dance floor to shut the party down!
Grand Exit | 10-15 Minutes
After the last dance, have your DJ/MC usher everyone outside for you to make your grand exit to your getaway car. Then, it's honeymoon time… and we will just leave that timeline up to you.
Arrange for a final song with your DJ or band ahead of time and alerted that the song is coming up. Say your final goodbyes and hug your final hugs. If you're having an exit with sparklers or another festive flair, have a designated member (or members) of your bridal party organize all the guests along your exit path and hand out the goods. When your final song comes on, grab hands and dash happily ever after!
Don't Want the Reception to End?
Of course, once the party starts, sometimes you don't want it to stop. And just because you need to leave the venue doesn't mean you have to end the celebration. You have lots of options for a wedding after-party. For example, you can order rideshare for you and your wedding party to a nearby bar. Or, you can invite guests to the venue restaurant or bar, if applicable. You can even crash someone's hotel room—with their permission, of course! Just don't bring the party to your suite. You've had a long day and will want the opportunity to sneak away and sleep if you need to.
Conclusion
Unfortunately, your wedding reception can't go all night long. At least not at your wedding venue! You will, however, have plenty of time to cross off all your wedding traditions and tear up the dance floor with friends and family. And, if you're not ready for the night to end, take it somewhere local, or see if a member of your wedding party will offer their hotel room for a few hours.