Planning a wedding can be very stressful. Weddings are expensive, and the bride wants perfection on her day. One of the most expensive items is the wedding dinner or reception. What's the difference between the two, and which should you have?
Exchange vows in the garden or out in the vineyards or up on the rooftop, then move on to the ballroom or barn or courtyard for cocktails and reception. While this sequence of events has become the wedding norm, many couples are still opting for two separate event venues—especially those that want a more specialized ceremony space!
If your wedding fantasy has always included saying "I do" in front of the crashing surf, or on a mountaintop, or in a soaring redwood forest, then your perfect all-in-one venue options will be more limited—and maybe even more costly. In this case, booking two different event venues may involve a bit more effort, but sometimes it's the only way to get exactly what you want!
Historically Speaking
A reception is a celebration after the wedding. Traditionally, receptions were held to welcome and feed wedding guests. Lavish weddings didn't often happen until after World War Two. Indeed, most weddings occurred at the home of the bride's parents. The parents' income and status often determined how elaborate things were. It became popular to invite lots of wedding guests when folks started having receptions at dance halls. People could invite more guests, so the event became more of a party.
Today, the wedding dinner and reception are combined. The sky's the limit for modern couples. The reception and dinner can be held at home. Likewise, wedding venues are very popular. The ceremony, reception, and dinner are held at the same place. Dinner is more common when couples have evening weddings. Guests start to get hungry and expect something to eat.
Disappearing Traditions
Receiving lines used to be mandatory at wedding dinners. The line gave everyone a chance to greet the wedding party. Modern wedding planners feel this tradition takes up too much time. It's becoming customary for the bride and groom to visit each table. Further, the tradition has been replaced by a booming D.J. who announces the wedding party. If you have one, the proper order for a receiving line is parents of the bride, parents of the groom, bride, and groom, maid of honour and the bridesmaids.
A wedding dinner used to be a very formal process. There were several courses, and guests would give toasts between them. Modern wedding toasts are very simple and limited to two or three minutes. Additionally, the tradition of the head table has changed a bit. The table was at the front of the room and reserved for the bride and groom and the wedding party. Modern couples want to sit among the guests. Dancing was reserved for after the wedding dinner. However, at reception/dinners, the couples can dance whenever they want.
A lot of food is generally served at a modern wedding reception. Some food is necessary if alcohol will be served. There can be so much food at a reception that dinner isn't missed. One woman treated guests to a mashed potato bar at the reception. Everyone was stuffed because there were so many potato toppings. Couples with more elaborate weddings are more likely to have multi-course dinners. Wedding reception and wedding dinner are interchangeable terms.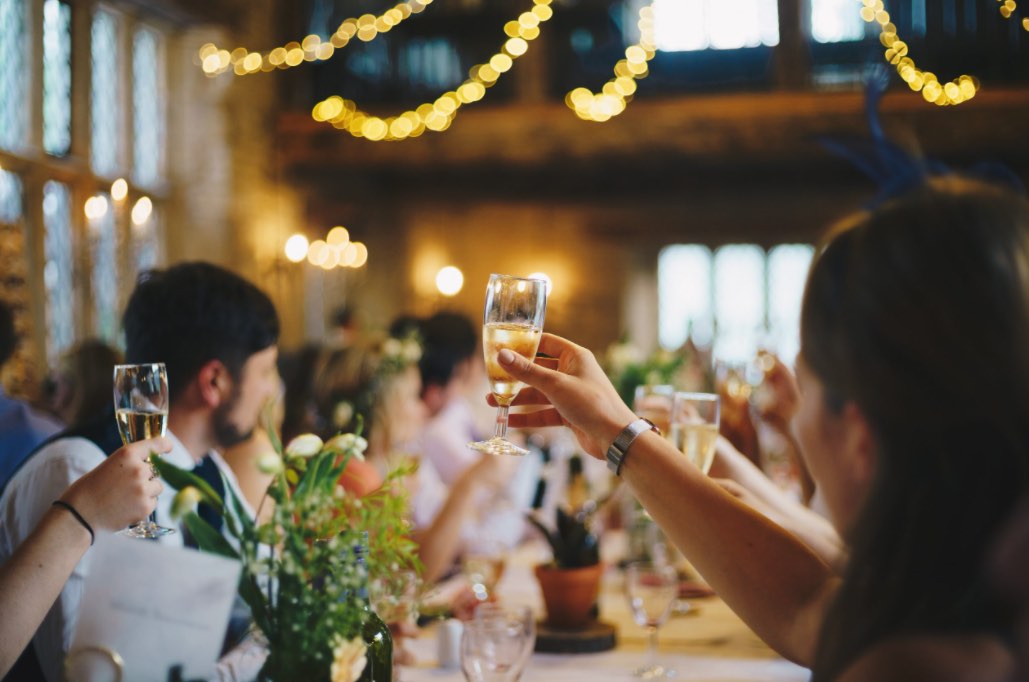 The Difference 
The ceremony is when you are married. The exact ritual details will depend on your religion and culture unless you want to skip to a minimalist legal wedding. Commonly the bride is presented to the groom, the two recite vows to each other, and are declared married by an appropriate religious or legal authority.
It is staged like a performance, with guests as the audience.
The reception takes place after the wedding, usually at another location. It's a social event when everyone celebrates the new bride and groom. People hang out, eat, talk, and dance. Food can run the gamut from a buffet of snacks to a full sit-down dinner. Sometimes there is live entertainment. In Western-style weddings, the couple shares their first dance together while everyone watches and feed each other wedding cake.
Since family members and friends may have travelled long distances to attend the wedding, the reception is a chance for everyone to socialize.
Honestly, there's not a lot of difference these days between a wedding reception and dinner. A reception and dinner can be as elaborate or simple as the bride and groom want. It's not uncommon for couples to have themes like a wedding hoe-down. Lots of barbecues are sure to be served. One couple can have a reception after the wedding and, later, everyone goes home. Drinks and hor'd oeuvres served at the reception. A wedding dinner is a little more formal, often with a sit-down dinner. Learn more about wedding dinners by contacting villarussocatering.com.
There Are Several Perks Of Hosting Your Wedding Ceremony And Reception In The Same Place:
One-stop shopping. Booking one location (with one venue manager!) for your entire event versus trying to orchestrate things at two separate venues streamlines so many aspects of your big day.

Shorter Commute. You don't have to worry about the logistics (and extra expense) of transporting everyone from the ceremony site to the party. And your guests don't have to worry about finding parking spots at multiple venues!

Seamless cocktail hour. There's no awkward gap between saying "I do" and getting yo' cocktails on! And you can relax knowing your nearest and dearest are happily nibbling on apps while you're posing for newlywed pix.

Upcycled décor. It's way easier to repurpose décor when your ceremony and reception spaces are in the same place. For example, your ceremony arch can double as the background of your sweetheart table!

Better attendance. With just one location, guests who may have a problem attending a ceremony and reception at two different venues won't have to choose between them.
Here Are Some Tips In Case You D.O. Opt For The Separate Ceremony And Reception Locations:
Make travel time short. In deference to your guests, keep travel time between the ceremony and reception sites to 30 minutes or less—and no more than an hour. Take local traffic trends (and the weather forecast!) into consideration.

Show guests the way. Be sure to provide accurate maps for BOTH locations (either with the invites or on your wedding website).

Mind the gap. If there's a large chunk of time between the ceremony and reception, give your guests the heads up well in advance so they can plan accordingly. List some nearby activities on an invitation insert or on your wedding website where guests can have fun while killing time until the reception starts. And try your best to keep the gap between 60–90 minutes, max.

Avoid parking hassles. Some landmark or off-the-beaten-path locations have very limited parking and possibly even challenging roadways. Organize designated parking areas with the venue managers in advance, or if it's in the budget, book a shuttle service!

Don't flip out. While having separate venues does away with the need to "flip" the room, you may still have to schlep your floral arrangements, makeup bag, extra paper goods, or other items from the ceremony to your second destination. Please make a list of all the essential things you'll need to transport, and ask your Maid of Honor or a trusted family member to take charge of getting them to the reception.
How to Make the Gap Between Your Ceremony and Reception Work for You
Inform Your Guests
Make sure your guests know well in advance whether they'll be on their own for a few hours before your reception begins. Add a section to your wedding website with recommendations for nearby activities and entertainment options (including lunch spots and your favourite places for a drink!) where they can pass the time—and don't forget to include it in any welcome information or gifts you provide.
Schedule Photos
What should you, your families, and your wedding party do during all of that time? Take pictures! Use it as a chance to explore the setting you've chosen for your wedding and get those location-specific shots that you'll really remember.
Do Touch-Ups
Especially if you're getting married in the summer, use that pre-reception time to have your hair and makeup touched up. You'll want to look just as fabulous when you walk into a cocktail hour as you did walking down the aisle.
Have Some Alone Time
Another great way to use up that gap? Have a little one-on-one time with your new spouse! Arrange for your hotel to deliver a delicious lunch (with champagne, of course) to your honeymoon suite and take some time to bask in the post-ceremony glow. Better yet? Have your maid of honour or planner help you out of your wedding dress so you can slip on some leggings and a button-down shirt (so you don't mess up your hair or makeup) and enjoy that newlywed meal in comfort.
Feed Your Loved Ones
Make sure your wedding party gets fed during the gap, whether it's with you and your partner or as a group, while the two of you slip away for some quiet time. The last thing you want is for them to be totally famished once cocktail hour begins.
Provide Transportation
If your reception venue isn't nearby, make the most of that gap time by helping to get your guests to the party. Inform them of when shuttles will be leaving or how to grab a designated car service like Uber, then make sure cocktail hour is ready to start as soon as they walk in the door.
Greet Your Guests
Another great thing about having your reception a few hours after the ceremony is that you'll be able to get to a cocktail hour before everyone else does. If you're planning to have a receiving line, do so on the way into the cocktail hour space so you and your guests can say hello, then they can grab a drink. Even if you're keeping things informal, having time to take photos and do touch-ups before the reception begins means you'll be able to attend most of your cocktail hour, leaving you to mingle as you see fit.
Why You Should Have Your Ceremony and Reception at the Same Venue!
You've decided to choose forever with the love of your life! Now, it's time to get down to the details of wedding planning. If you've never planned out a large event, this can seem a little daunting from the onset. Who's paying for what? What type of food should we have? Should we do a first-look photo shoot or use a more traditional approach? Traditional vows or hand-written?
Simply put, there's a lot of questions to be answered! Before you let any stress settle in, let's start with your first step that'll help decide some of your other choices. With this, I'm talking about finalizing a venue. Before touring any venues, you and your spouse-to-be will want to discuss whether you'd prefer to have the wedding ceremony and reception at the same place or separate locations. While all-in-one venues are certainly much easier for everyone, there are still plenty of couples intrigued by utilizing two different venues. 
Having said all of this, I wanted to focus this week's blog post on the dilemma between having your wedding and reception at the same place, in comparison to using two different locations. As some of you may already know, here at Madera Estates, we typically hold the ceremony outside in front of the Grand Fireplace before having the reception in the Hacienda. The main reason behind this wants to create an easy and stress-free experience for our couples. However, this is just one of the many benefits of this approach!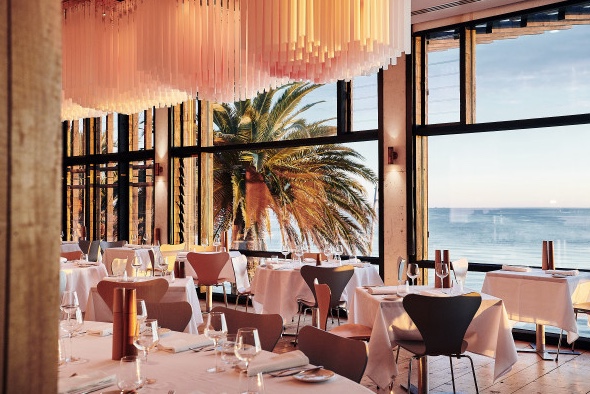 Easier For Out-of-Town Guests
If you have any guests travelling from out-of-town, having both events at the same venue will make the lives of these individuals so much easier! They won't have to worry about finding transportation for getting from point A to point B. Additionally, if there's any gap between the ceremony and reception, they won't have to worry about finding some sort of entertainment to fill the downtime.
While smartphones should ease most of these concerns, there are those "what if?" questions that will pop into your head. If there's a wreck on the highway, will they be able to figure out an alternate route? We've all been there when you're in a new area, and Siri struggles with finding the correct location. That's yet another possibility to consider. To add to it, when this gap is actually occurring, you'll be plenty busy with all of the post-ceremony pictures and certainly don't need to worry about being the travel guide! 
Bad Weather!
We hate to say it, but you can't always control "mother nature." Unfortunately, bad weather is just sometimes unavoidable. In the case of bad weather, it's important always to have a backup plan. By planning on holding both the ceremony and the reception at the same place, you're able to make this a reality. In short, most all-in-one wedding venues will allow you to do a flip, where you would hold the ceremony inside and then switch to the reception afterwards. Since the weather here in Conroe (or anywhere, for that matter!) can be tough to predict, we always ensure our couples that a plan B is available if inclement weather were to strike! The Hacienda can be dual-purposed also to hold a ceremony! As a bonus, you won't have to worry about your guests getting back out in the bad weather to commute to the reception!
While it can be a bummer to have a little rain or drizzle, it can certainly create some amazing photos! Just look at these from a wedding we held at Madera Estates a couple of years ago!
Save Money!
Last week on the blog, we discussed budgeting for your dream wedding! This topic doesn't always get as much attention as it deserves, but it will always be important! As you go through the wedding planning process, you'll want to carefully examine any ways you can save a few bucks on areas that aren't necessarily as pressing items as others! With this said, one easy spot to save some money on is a transportation and rental costs. So, as you might guess, holding both events at the same venue would save you from paying to transport a lot of people from one venue to the next!
One Location, One Venue Manager, One Call!
Throughout your wedding planning process, you'll likely have your fair share of meetings with vendors. From the photographers and videographers to the caterers and florists, you'll have plenty of meetings. Most likely, the first vendor that you'll meet along the way is the venue manager! Well, if you're considering the all-in-one approach, you'll only need to make sure that one venue is open on the date you plan to get married. No back-and-forth calls to the ceremony venue and then to the reception venue. If your all-in-one venue is free, you're good to go! This is one-stop shopping at its finest!
Shorter Commute = Better Attendance
If the ceremony and reception are being held at two different places, you're instantly placing a dilemma on your guests. If they're worried about getting from one to the other, they might consider just attending one of the two. More often than not, they'll opt only to attend the reception. With just one location, however, this shouldn't be as big of a decision!
Easy Day-Of Schedule
One of a wedding planner's primary responsibilities is to create a timeline and schedule for the actual wedding day. Depending on the wedding itself, this can be easier said than done. When couples opt to hold the ceremony and reception at different places, you'll need to make sure to account for travel time, which, as you might guess, also isn't always easy to predict! 
On the flip side, I'm sure any wedding planner would tell you that a "Day-Of" schedule is much easier when you don't have to worry about getting everyone from one location to another. Once the ceremony concludes, the cocktail hour starts and post-ceremony photos are held!