There's no doubt about it – searching for a wedding venue is great fun, but picking the option that works best for you can be an intimidating process. Site tours are one of the most important steps you can take toward booking a venue, and it's essential to come to a tour with a goal in mind and a wedding venue checklist in hand.
Choosing your wedding venue is one of the first big decisions you'll make in the wedding planning process, and it's not to be taken lightly. The wedding venue you choose will set the tone for your entire big day, from your décor to your attire and more. But with so many wedding venues to choose from, how do you decide which one is right for you? This wedding venue guide showcases the different types of wedding venues available, provides a wedding venue checklist to help you kick off your search, advises on what questions to ask a wedding venue, takes you through the styles and aesthetics of different wedding venues, as well as contains helpful advice from experts on how to find the wedding location of your dreams.
What are the most popular types of wedding venues?
Weddings are tailor-made to the couples' interests. Non-traditional venues are edging out the old standbys, but the standards haven't lost their appeal. Some of the most popular venue options include:
Hotel venues: Ballroom, banquet hall, events facility, terrace, balcony
Rustic venues: Events Barn, outbuilding, farmhouse, tent
Waterfront venues: Beach, boat, dock, lake house, beach House
Houses of worship: Church, chapel, synagogue, mosque, temple
Country club: Garden, golf course, patio, pond
Historic venues: Landmark property, museum, mansion
Natural venues: Garden, vineyard, park, forest
Destination venues: Villa, resort, castle
Modern venues: Gallery, aquarium, warehouse, loft, brewery, distillery
While couples may not have their theme, menu, or vendors figured out during their venue search, they'll have narrowed down the list of venue types — or at least know what they don't want — and likely have a few ideas for style. But, again, seeing your venue firsthand may be the deciding factor: Once they can picture their wedding, other details may fall into place.
Understanding the critical details of the event
It's a great idea to help your clients narrow down a few details that will help them select a venue that meets their needs. Your venue might look great, but if it won't host all of its guests, then what's the point? It's important to tie down a few key details before engaging with the client on booking your venue to avoid wasting your (and their!) time looking at venues that are not suitable.
Who is on their guest list? It's a good idea to sit down with your clients to look at their guest list. At this stage, it doesn't need to be final. However, it will help you to know how many people they are expecting.
Now that you know who they are inviting, the next essential detail you need to sort is the dates. Take a look at their shortlist of possible dates, and make sure that you don't have previous bookings on the specific dates they have chosen. This is also where you could discuss seasonal availabilities and pricing variations with them to entice them with a bargain potentially.
Less important than the date, but a consideration nonetheless is the time. When will the ceremony start, and what time would they like their reception to begin?
How much are they prepared to spend? Their budget is the next important consideration. Remind them that the cost of hiring your venue is not the only cost in hosting the night. If they want to bring in musicians, a DJ or a photographer, they will need to consider these costs. Again, this is an opportunity to position yourself as a kind and knowledgeable business to engage with and let them know that you're here to help make their day as stress-free as possible.
Location. Ask them how their guests will be getting to the venue, and let them know about the various transport options available to them. If your venue is relative 'far away from home for them, provide them with information about the nearest towns and accommodation. This is an excellent opportunity to collaborate with other local businesses if your venue doesn't have its accommodation facilities.
Be prepared to answer questions.
As couples set out inspecting different venues, they're bound to want to know just about everything about your venue. Therefore, you need to be armed and prepared to answer both the big questions and the nitty-gritty details, as the more knowledge and information you can provide to your clients on the first meeting, the more trustworthy you come across. Here are some examples of questions you might be asked.  
Venue size and capacity. Your venue must meet its needs for size and capacity. Usually, couples will ask this question even before they arrange for an inspection. However, be prepared to delve into more detail, such as the specific guest limits for each room and how many guests your facility can cater for in terms of meals.
This is an obvious one – make sure to grab their contact details!
Make sure that you are confident with the different pricing packages that are available for renting your venue. This is a significant selling point for potential clients. If they love your venue after their first visit (which they hopefully will!), you must offer them a range of different options to give yourself more chance of securing the sale.
As we mentioned before, you must know about the available nearby accommodation for their guests. Do some prior research and ask your potential clients where they are from on the phone before they come to inspect your venue. This will let you know if you need to have information about accommodation options available on hand.
Let them know about the distance your venue is from various locations, such as the nearest bus terminal, airport, central town etc.
Make sure you know about the decorating capacity for your venue. Couples will often come to inspections with a specific theme in mind, and you must be well-versed as to what extent they can bring their decorations into your venue, as well as the setup and clean-up arrangements.
If your venue is an outdoor venue, be prepared to offer them a bad weather backup. Depending on the location of your venue, many potential clients can be concerned that their special day is going to be ruined by bad weather, so it's essential to have an alternative space for them if this occurs.
Things Couples Want from a Wedding Venue
Couples want to stay within budget.
Colour schemes and dress choices may not be set in stone at this point, but the budget is often non-negotiable. Be up-front about budgeting, disclose added costs, and tell the couple what they get with a contract. Surprises are great for proposals but unwelcome when it comes to venue cost.
The ease and potential savings of an all-inclusive venue may win over budget-conscious couples. DIYers may opt for an à la carte venue that allows them to amp up the personal touches. Others fall somewhere in between. Be open to adjusting packages to suit couples: Personalized touches and custom-crafted contracts can win over couples looking for something outside typical venue agreements.
Deal-seekers and couples with smaller budgets may be willing to go for an off-season booking, a weekday evening, or a Sunday wedding rather than a Saturday. Accommodating these bookings can fill your venue during slow seasons and give their budget a break.
Couples want all the facts upfront.
Couples look for details on venue limitations and restrictions early in the process. Knowing that a venue will suit their needs increases comfort with signing a contract. When giving a site tour, point out bathrooms, highlight included areas, let the couple explore the space, and praise unique features — but don't leave out the essential facts.
If the venue has a solid event cutoff time, couples who intend to party into the wee hours of the morning need to know. Sharing restrictions ahead of time prevents disappointment when the caterer on the couple's must-have list isn't on your venue's preferred vendor list. Of course, prospective clients may look elsewhere if their needs aren't met, but it also opens up the dialogue for ways the venue can adjust, even if it's not part of the usual contract. For example, find ways to source dusty rose chair covers instead of the standard white or black, or offer a shuttle service to balance the couple's hesitation over a lack of on-site parking.
Straightforward contracts give careful planners the information they're looking for. Don't bury the details. The goal is not to lock a couple into a contract but to be the perfect place for them to celebrate. Disclose deposit, cancellation, and refund conditions, and explain the policies, so couples are comfortable with signing a contract.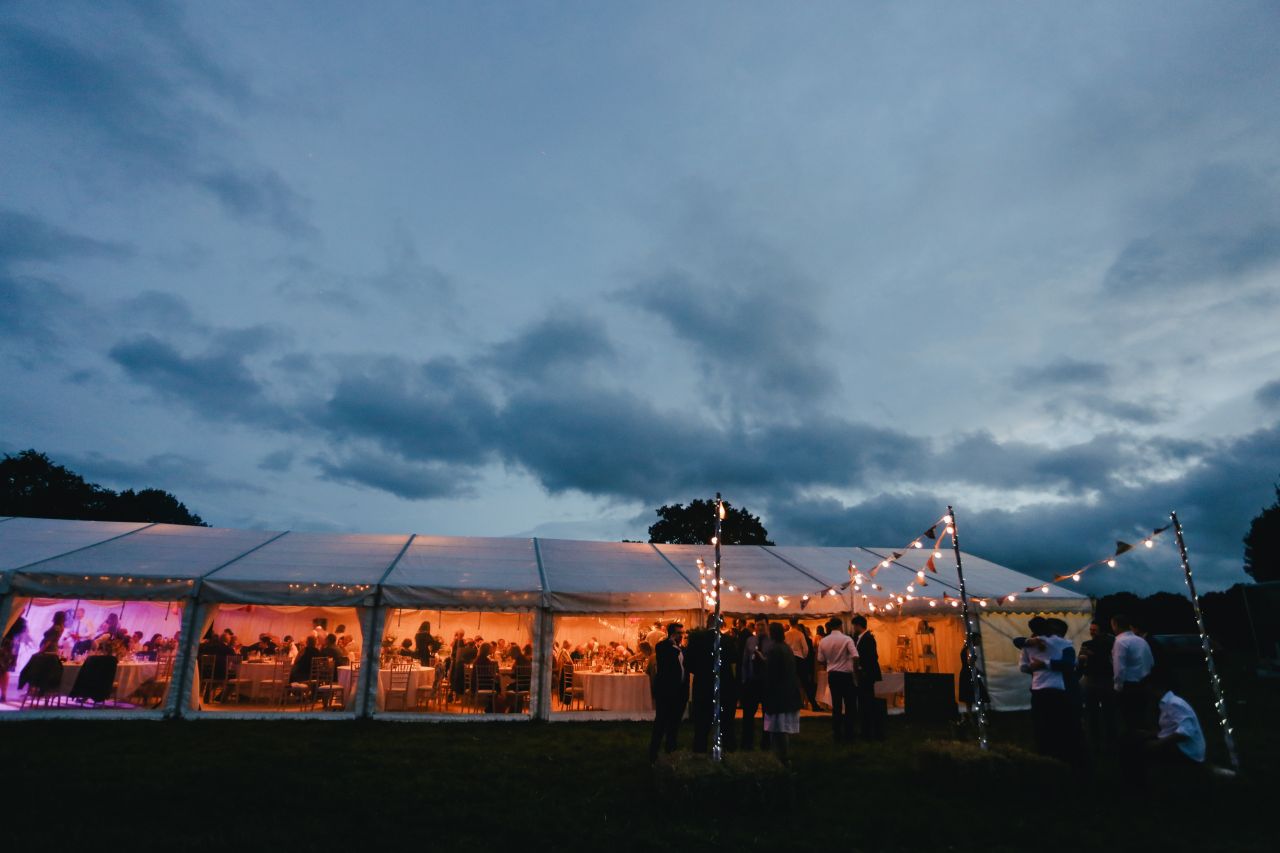 Couples want resources to make the planning process more manageable.
Provide resources for the wedding planning process, so couples know where to look when choosing a venue. Offering tools, inspiration, and access to information about the venue or industry can forge relationships with planners and couples alike.
Couples want honesty in communication.
Couples want to know that their booking location will be the same on their wedding day, without unexpected changes. Planned upgrades, remodels, or landscaping changes should be shared with the couple so they don't fall in love with a water feature or stained glass window that's slated for removal.
Couples look for honest hosts:
Communicate any venue limitations.
Be specific about what you can accommodate, so there are no surprises during setup.
Share details about electricity, lighting, sound systems, or setup procedures required for events.
Couples want to make an entrance.
Transportation options and parking access can be deciding factors for couples. Do you offer a shuttle service, or does your venue have a convenient metro stop? Do you provide a unique transportation option — a hayride to the barn, a chauffeured vintage car to small gatherings, or a gondola to a mountaintop chalet? Shout it out in your wedding venue marketing materials and on venue tours. Connect with local limousine companies, busing charters, trolley services, and private shuttle companies to create transportation package proposals or to have recommendations in mind should the couple ask.
Couples want wedding venue site tours to painting a picture.
Whether the couple comes with a list of wants or looks to the events coordinator on staff for advice, win bookings with site tours that feel special. Wedding planning is a time when people want to feel pampered and taken care of. Site tours are an excellent time for a special treat — a little champagne is a classy addition to evening tours, chocolates and petite cakes satisfy the sweet tooth, and bruschetta made with tomatoes and herbs fresh from the inn's garden show off your venue's catering expertise.
Play up gardens and events spaces, but don't leave out non-traditional backdrops. Couples planning an intimate gathering may prefer to say their vows around the cracking firepit with only a handful of attendees, an adventurous couple may be drawn to the rocky mountaintop, or the vineyard may be favoured over a rose garden.
Consider the seasons and make sure you're pitching the best view for the timing. Even if they make multiple visits throughout the seasons, couples count on you to know your venue. Provide backup plans for inclement weather, valet options in case of a downpour, and show that you can meet challenges that arise during the process.
Couples want fantastic references and rave reviews.
Couples want to be sure you have their greatest desires at heart. So whether they want a venue that can honour their zero-waste wedding request or that has a solid backup plan in case of late-season snow, references from your most steadfast supporters can ease their concerns.
Word of mouth and solid online reviews help a couple feel at ease and narrow down the venues on their list. Vendor relationships are a positive mark for couples, too: If the vendors they want to work with know and love your venue, you'll earn extra points. Forge relationships with photographers, caterers, wedding planners, DJs, and florists and enjoy the advantages of word-of-mouth marketing. Consider more than testimonials: Provide plenty of information and make it easy for couples to reach out for a site visit or submit an RFP.
Couples want options for easy transportation.
Provide an unforgettable shuttle between the ceremony and reception locations. Show couples you can set the mood with horse-drawn carriages, golf carts, rowboats, or a party bus. But, don't leave the transportation to the wedding day alone. Offer an airport shuttle service or sightseeing tours in the contract or provide free come-and-go parking on-site or parking garage passes for the entire wedding weekend.
Couples want guests to gush about the experience.
Celebrating with friends and family is one of the main goals of any wedding, and much of the heavy lifting falls on the shoulders of the on-site coordinator, catering, and venue staff. Show the couple what kind of impression their day will leave with packages built to dazzle. Of course, the food, music, and scenery play a role, but there are plenty of ways to wow the guests.
Couples want unbeatable extra perks.
Deals on the honeymoon suite, private spa treatments, reward points toward a honeymoon package, or free brunch and mimosas for the wedding party. There are plenty of ways to treat the wedding couple like royalty.
Provide free lunch and beverages for meetings with the on-site planner, no strings attached.
Set couples up with the music buff on staff to design the perfect custom playlist.
Turn the cake tasting into a cake-decorating class for the couple and their closest friends.
Add a wedding extra to sweeten the deal: Coordinate the photo booth with props or truck in pinball machines to help the groom surprise the arcade-loving bride.
Couples want to be able to picture their wedding at your venue.
A couple may hesitate when it comes to pulling off the Art Deco wedding bash they've been dreaming about if they can't see what your space looks like all decked out. So they're looking to your expert staff to give them an inside look at the venue.
Use photo-realistic 3D event diagramming software to impress couples. Personalized event layout plans and custom virtual tours show what their day can be. Including photos on the website — both from marketing efforts and sourced from real couples who have exchanged vows at your venue — gives them an inside look.
Staged spaces — rather than dark, empty rooms — can set the scene, and not just for photos, either. Fresh flowers on a fully-set table, catering staff passing plates of appetizers, and bar staff standing ready to serve up a cocktail can transform the space from plain to full of potential.
An open house lets a couple get a look at your space and see your events chops in action. Host a wedding expo, vendor showcase, or meal and wine tasting event to get interested couples in the door and show them why you're the perfect fit.
Take your time to ask questions and consider different parts of the wedding, guests access the venue, room for parking, space to move around for your guests, what happens if it rains? Then, take lots of notes, take photos and come back and review.