We've seen our fair share of weddings over the years. There are plenty of overused trends, classic and traditional trends, and also the popular Pinterest/Instagram trends.
But what makes a wedding unique and unforgettable?
Keep in mind that you, as a couple, and your guests may have different ideas of what is unique when it comes to the wedding, but it's important not to lose sight of the vision you have for this big day. You will be surprised at how easy transforming little details will impact the day!
Your wedding reception will be one of the most important and memorable events of your life. Make sure you create an experience that showcases your unique style and taste. Once you have a plan for your out-of-the-box wedding reception ideas, search out the right vendors in your area to help you bring it to life.
From tricked-out transportation to mouthwatering midnight snacks, these unique wedding ideas for your ceremony and reception are sure to make a last impression.
To help keep your wedding planning process as stress-free as possible, we have gathered ways to make a unique wedding and make sure it is unforgettable.
How can I surprise my wedding guests?
Little surprises throughout the day can make a wedding really magical for the guests, especially when you schedule unexpected entertainment at natural lulls in the day. For example, when you have your photographs or between the wedding breakfast and the evening reception.
It can be difficult to think of ways to keep guests entertained that haven't been done at weddings before, though. Our top tip for wowing your guests is to keep all your ideas a secret in the run-up to the big day and only tell a few trusted people who you might need to help you.
Keeping your cards close to your chest means that every small detail, from personalised place settings and an evening outfit change to fireworks and a flash mob first dance, will be a complete surprise for your guests.
Spend time looking through the inspiration section of For Better For Worse and at other real weddings to get ideas that'll delight your guests too. Vogue Ballroom has proven itself to be an iconic wedding venue and function centre in Melbourne. Book today so you don't miss out.
How can I make my wedding different?
The easiest way to make sure your wedding is different and unique is by making sure you don't copy anyone else's big day. By choosing suppliers, decor, and a venue that you love as a couple and make you both happy will ensure that your wedding is different from any that have come before.
If a meddling member of your bridal party says they don't like something you've chosen, just ignore them. It's your wedding, not theirs. Forget what you think a wedding "should" look like and instead focus on what your perfect big day could look like.
Try and steer clear of any venues that only offer a cookie-cutter service with no room for your preferences or suppliers that don't listen to your ideas and try and convince you to have something you don't like. You don't want your wedding to be exactly the same as what happened at the same venue the day before or have the same cake as 100 other couples just because the cake maker likes that design.
Sit down with your partner and talk about what your dream wedding day would look like. Discuss what you both love in everyday life and try and incorporate these elements into your big day.
If you're both massive Harry Potter fans, then why not walk down the aisle to Hedwig's Theme and have chocolate frogs as your wedding favours? Perhaps you've never worn a dress in your life, so why start on your wedding day? Don a cool white suit instead. In short, do what makes you happy, and before you know it, your wedding will be as different as you are from every other engaged couple.
These things will help you personalise your special day and make your wedding just as unique as you!
Guest List & Creative Invitations
​Choosing who will be by your side on your wedding day is very important, and not as easy as you may think. First things first, figure out who you want at your wedding and who you don't want at your wedding. Check out our exclusive list of Wedding Invitation Ideas to help you choose the perfect invitation for your guests. If you need some help:
Check out this helpful invitation diagram.
With the help of your significant other, come up with a guest list.
Give your guests at least eight weeks notice.
That way, they have no excuses to miss out on your special day.
Here are a few ideas for your "Save the Date" invitations:
Add a pop of colour
Keep it simple
Use a scratch-off to reveal the date
Include a photo of the two of you
Include Meaningful Details
Amongst all of the decor and pretty flowers, it's the meaningful details that will make your wedding day feel that little bit extra special. Take a moment to think about any significant items that hold a special memory to you, and consider how you might incorporate these into your celebration.
For example – do you have a treasured family heirloom passed down from a loved one? Maybe you could attach an antique piece of jewellery to your bouquet or sew a patch of special fabric into the lining of your dress.
You can also draw inspiration from your shared hobbies and passions. For example – are you both keen surfers and love spending weekends at the beach? Collect some shells and use them as personalised place cards, or incorporate them into your centrepieces. Do you enjoy travelling all over the world together? Switch out the traditional guestbook, and have your guests sign a globe instead!
Include Fun Signage
Signage is another creative way to put a personal stamp on your styling, from colourful neon lights to handwritten calligraphy or rustic wooden boards. You can display your favourite quote, an excerpt from your vows, your initials or even a fun catchphrase to get the party started!
Custom signage also works perfectly as a photo backdrop for guests, allowing them to capture some happy snaps throughout the evening.
Ceremony Seating
Give your guests a WOW factor as soon as they enter the venue. A creative seating pattern is sure to leave a lasting first impression. Traditionally, chairs are set up in rows behind one another. Mix it up and place seats in a half-moon design on both sides of the aisle. This gives guests a better viewpoint than having to peer over the person sitting in front of them. If you choose to have an intimate ceremony, consider seating guests in a circle around the proceedings.
Another unique way to change up the seating for your ceremony is to choose seats other than chairs. Depending on your theme, benches, hay bales, or even picnic blankets would be eccentric.
Accents are fun when picking wedding colours, but what if you took that concept and made the guest seating the accent of the ceremony. Use minimal decor for the arbour and aisle while amplifying the decor of the seating. Choosing extravagant floral pieces to place at the end of rows or wrapping the chairs in coloured ribbon to make bows would be appealing to the eye AND unforgettable!
A Unique Bridal Entrance
Since you got engaged, you've dreamt of the moment that your guests see you at the end of the aisle for the first time – their faces in complete awe. Let's get creative and make sure everyone remembers your entrance.
Make your big debut by renting a snazzy ride to drop you off at the end of the aisle!
Alternatively, some couples might enjoy walking in together – or to each have a separate entrance processional.
Choose alternative entertainment
Dancing and live music might be off the cards at Covid weddings, but that simply gives you the chance to look outside the box and have an alternative form of entertainment that might just work better for you as a couple anyway, especially if you're not really the dancing types. Think about forms of entertainment that allow for easy social distancing or only involve one of two people at a time like a caricaturist, a sleight of hand magician, a tarot card reader, circus performers, fireworks, and ice breaker games.
An Enthusiastic Celebrant
What's better than adding a dose of personality to your ceremony? Hiring an outgoing celebrant will bring your sweet union to life! It's always refreshing to see a celebrant that isn't staring at their script the whole ceremony. Not only will this capture the attention of friends and family, but it will also keep them from counting down the minutes until the next event and be fully present in the moment.
When choosing a marriage celebrant, always make sure you've read their reviews and spoken to them on the phone first to ensure they understand the vision you have for your ceremony and that their personality matches the vibe you want to go with.
A Unity Ceremony
Another way to make your wedding unique and unforgettable is to incorporate a unity ceremony. A unity ceremony is a symbolic ritual. In place of vows, you and your groom-to-be may choose to light a unity candle. The unity candle will symbolically show the blend of two lives. The celebrant will light two individual taper candles, and together the couple will light the unity candle representing their new chapter together.
Include your guests in the union and have a unity bowl ceremony. A unity bowl is where guests fill a bowl with coloured stones during the ceremony. The stones representing different people, qualities and attributes, will be given to the newlyweds after the ceremony to remind them of the tremendous support from family and friends!
Guest Transportation
Whether your reception is around the corner from the ceremony venue or down the road, provided transportation is always a plus. The older guests will thank you for offering rides to and from their vehicle and venue locations. This will also avoid receiving a phone call that a guest is lost trying to find the second venue. Renting golf carts or tour buses is a unique option to make a positive impression on loved ones.
Reception Entrance
Instead of trying to time your newlywed entrance just right with the DJ, spark the beginning of the celebration in a fun way! Gather your bridal party and form a parade leading inside the reception with the band following behind you, encouraging the party! This will be a great way to take the guests by surprise and get them on their feet.
Another unique reception announcement to heighten the energy is to incorporate The Zaffe, originally a Lebanese wedding tradition. As the newlyweds and their bridal party enter the reception, the dance floor fills with guests, and they all dance to kick off the celebration. If your members are a little more introverted, but you still want an entrance that will charm your guests, have the newlyweds introduce each member in a sweet or witty manner!
Meal Choices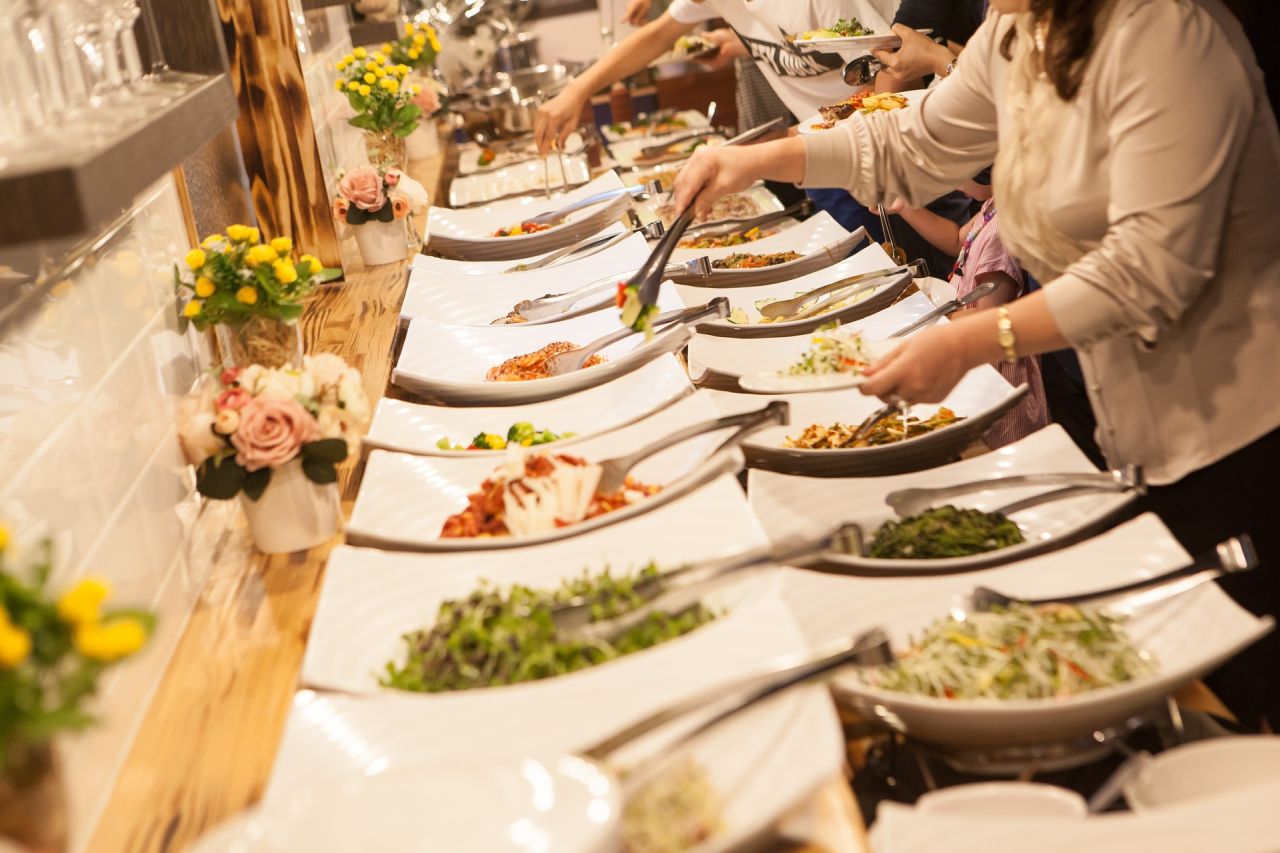 While the other aspects of the wedding are fun and games, the fact is that your wedding guests like to be fed well, however this doesn't necessarily mean that you have to serve a 5-star meal. Some of our favourite unforgettable wedding meals are served festival style.
If you have an outdoor wedding, catering vans may be a great option to serve up delicious steak sandwiches, falafels or gourmet burgers! Another option would be to serve savoury canapé's in the middle of guests' tables for them to self-serve. We have compiled an exclusive list of Melbourne Wedding Caterers to help you choose your perfect catering option.
Why not ditch the reception dinner altogether? Alternatively, invite your guests to brunch after a beautiful morning ceremony. Serve a variety of hot favourites like french toast and croissants as well as fruit and yoghurt!
Serve Signature Drinks
Who doesn't love a signature drink? Serve up a cocktail that has a special meaning to you both, or work with your bartenders to design your custom concoction. You can also give your signature drink a witty name, serve "his and hers" cocktails, or create a fun sign that explains the meaning behind the beverage.
Personalise Your Wedding Favors
Wedding favours can get a bad rap (let's be honest, how many random trinkets do you have stashed in your kitchen drawer?) – but when they're done well, they make a beautiful souvenir for your guests.
Personalise your favours by creating something meaningful, memorable and useful that comes from the heart. Maybe your grandma has a secret family recipe for raspberry jam – so whip up a batch with her and create personalised jam jars! Or, maybe you guys share a love for travelling around the globe – so why not design monogrammed luggage tags to inspire your guests for their next trip?
Create a Photo Wall
Your wedding day is a huge relationship milestone, so why not take a trip down memory lane by displaying some meaningful photographs? We love the idea of a dedicated photo wall or photo table filled with significant images that tell a story from your past.
You can include photos of you and your partner as kids, your favourite holiday snaps, milestone moments – even photos of your parents at their very own weddings. This is also a beautiful place to pay tribute to any family members who are no longer able to join you on the day by displaying a treasured photo you love to look back on.
Reception Games
During the party, it can be easy to get wrapped up, making sure your guests are enjoying the evening, that you as a newlywed couple may not get to fully enjoy the moment. Take time during the reception to stop the festivity and entertain your guests because they are all here- you!
Newlywed games like The Shoe Game will have guests involved and joining in the interaction. Simply sit the bride and groom down in front of the crowd back to back. Each has one of their shoes and one of their partners. The MC or member of the bridal party will ask questions like:
"Who said I love you first?"
"Who made the first move?"
"Who cooks better?"
The couple will answer the questions by holding up the shoe that corresponds with their answer!
Wedding Exit
Don't let the fun stop after the music ends! Be sure your friends and family leave overjoyed.
Ditch the rice from tradition, and instead, have your bridal party hand out tambourines and other noisemakers to send you off. To light up the night, hand out sparklers and form an honour guard of guests while you and your new beau run through the middle. A sparkler send-off would make breathtaking photos!
For a sweet and romantic exit, gift your guests with custom wedding bubbles they can use to send their love to you on your new journey as husband and wife!
What better way to show your appreciation to loved ones than to thank them individually. As many of them may have driven hours to be present, a farewell circle lets them know that this day wouldn't have been the same without them. Gather guests in a circle and personally thank them for their support.
Ditch Traditions
Our final tip? The key to creating an authentic and personalised wedding is to simply do things your way from beginning to end. While some wedding traditions can be sweet and sentimental, others might not fit your style. Instead of feeling pressured by what a traditional wedding "should" look like, draw inspiration from your personality and relationship. This will ensure the end result is a celebration that feels unique, genuine and completely personal to you and your partner.
So before making any big decisions, sit down together and brainstorm your ultimate wedding vision first – whether that includes walking down the aisle with your pet, swapping the cake for a round of espresso martinis, or hosting an intimate long lunch. Let's be honest; with so many weddings to attend, your guests will probably appreciate something a little different!