Don't worry! With so many couples opting for budget-friendly weddings, the good news is that you can still decorate your big day in style while also being smart with your budget. So when decorating your wedding reception, consider these tips that will leave your day looking beautiful but won't break the bank.
Sticking to a budget can be one of the most challenging parts of planning the big day. But we get it; the last thing you want is your ceremony or reception to look like it's been put together with cheap wedding decorations. What if we told you there are ways to decorate your big day without breaking the bank elegantly? Inexpensive wedding decorations can be just as gorgeous as higher-end options. We show you plenty of ways to cut corners and still pull off a gorgeous celebration.
The first step is to set a budget. Then, find vendors that'll help you plan accordingly. Looking for cheap wedding centrepieces, for example? Try brainstorming ideas with your florist for cost-effective options. If you're searching for more affordable ways to supplement your decor, check out this list. You'll be surprised by just how much you can do with some tissue paper flowers and a set of string lights! Shop the best budget wedding decorations for any style below, with plenty more tips on making your special day stand out.
Limit your guest list.

Host the ceremony or reception at home or outside. 

Ask friends and family to exchange skills for presents.

Do-it-yourself whenever possible. 

Use a dummy wedding cake. 

Time your wedding wisely. 

Scout out vendors.
Scour your decor home. 

Make double use of flowers. 

Borrow from friends and family.

Make it metallic! 

Fancy up your linens. 

Brighten up the space. 

Forage the outdoors.

Get fancy with writing.
Do the first look. While this may not seem related to wedding reception lines, if you do a first look for your photography, you will be able to greet guests during your cocktail hour. 

Make your receiving line shorter. 

Go table by tale. 

Host a pre-wedding party. 

Cull the guest list.
Brides should opt for a modest, floor-length gown for a classy and elegant look. Modest dresses exist, even if it seems at times like they don't. The groom should engage a tux or other fine suit, and the bridal parties should opt for more formal attire.
January, March, April, and November can be far less expensive months for marrying. Venue prices may be lower, and vendor prices may be significantly lower simply because the demand isn't as great. On the other hand, February and December aren't value priced because St.
Choose A Reception Venue That Doesn't Need A Lot Of Decor.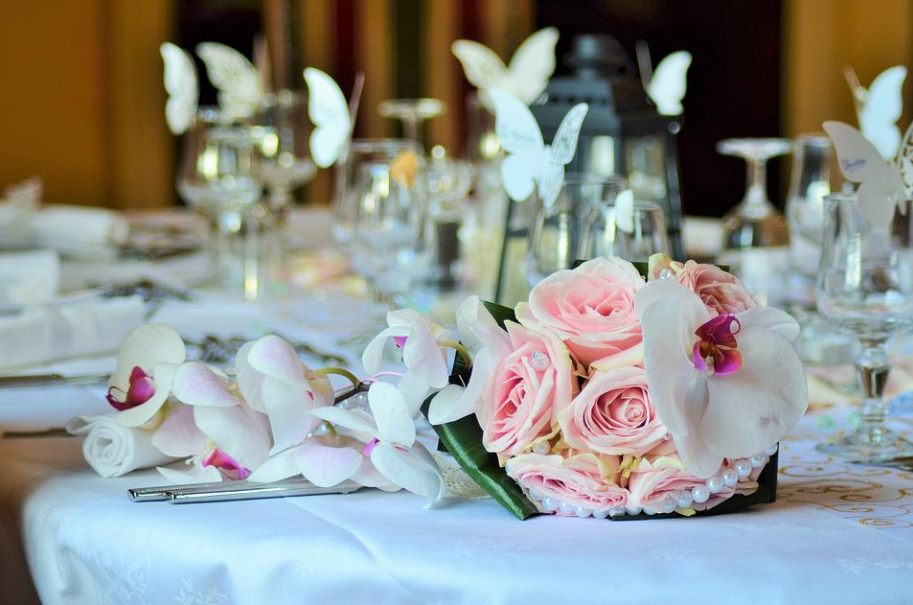 If you have the perfect location for your reception—think of a gorgeous garden or an opulent ballroom—then it's unnecessary to splurge on many decor items; the venue will speak for itself. Anything from a fancy vineyard to a chic art gallery or a cosy greenhouse is a great option that doesn't require many accoutrements.
Use Items You (Or A Friend) Already Own
Look at your household items or those belonging to your friends and family. Do your grandparents own some cool vintage dishes you can borrow for the dessert table? Does your best friend have some glam throw pillows that you would add just the right touch to your cocktail lounge area? Do some digging, and you'll find some gold close to home.
Create Your Lighting
A mantle with candles for wedding decorations
The lighting at your wedding reception is responsible for creating the mood. Thankfully, you can create your ambience fairly cheaply. Strings of twinkle lights and tons of candles are easy ways to create a romantic and intimate feel to the festivities and can be purchased for a fraction of your budget. Candles in all shapes and sizes will add a lot of character to the night, and don't forget that using old Christmas lights is a great wallet-friendly option.
Make A Photo Wall
A photo wall is an easy and simple decor feature that will save you money and is a fantastic conversation starter. Make it family-oriented with old wedding photos from both your parents and grandparents. Or create a collage of your own love story. This way, you're saving money, and you'll add a touch of personality to your decor.
Use Flower Alternatives
Florals for a wedding can quickly add up in price, but there are a few ways to work around the cost. Use faux flowers that look surprisingly real, or craft your flowers with coloured tissue paper. Maybe there's a local community garden where you can pick flowers for centrepieces. Another alternative to the typical blooms from a wedding florist is hanging planters from a home improvement store or greenery and "filler" from your local garden shop.
Turn To Mother Nature For Free Decor Elements
A table at a wedding reception is decorated with greenery instead of flowers. 
Mother Nature provides us with beautiful scenery and "accessories" every day. From leaves and flowers to acorns, pine cones, and even branches, there is a lot to gather from the great outdoors that will help add that special touch to your reception. So, get creative! Venture outside and see what gifts you have right in your backyard.
When In Doubt, Rent What You Need
Renting accessories or tableware is usually cheaper than buying them outright. However, if there's a certain look you're going for at your wedding reception, and you can't find it for cheap or to borrow, then make room in your budget to include a rental company that can provide you with exactly what you're looking for.
If You Can't Rent, Buy Second Hands.
A seating area outside at a wedding reception is decorated with vintage furniture. 
Can't rent it? Then visit antique stores, thrift shops, flea markets, and estate sales to find what you're looking for at low prices. You'll be amazed at the beautiful bargains you can find. Bonus: if you like something enough, consider it an investment in your home. Maybe that vintage dish set will also be perfect to use at home for entertaining guests as newlyweds!
Decorating your wedding needn't cost a ton of money. By planning, allowing your creative juices to flow, and not being afraid to get your hands a little dirty with some DIY projects, you can decorate your wedding to fit your Pinterest dreams on a budget.
Burlap Ring Bearer Pillow
Adorable burlap ring pillow affordable ceremony decor. This burlap pillow will keep your rings safe and secure on the day of. The best part? You can include your initials or wedding date on the tag to make it a meaningful keepsake.
Decorative Candle Lantern
Vintage white lanterns are an affordable wedding decoration idea
Ornate vintage details only look expensive with these wedding lanterns, which can be used to light up a space or as a unique gift cardholder. Or, pick up a few paired with some cheap and cheerful flicker lights to create gorgeous centrepieces.
Use White Christmas Lights
Many people use white Christmas lights on their back porches as a simple and elegant decoration. And these lights can make a beautiful addition to any wedding reception venue! They can be hung from the ceiling, around tables, around the cake, or in potted plants. If you don't want to use Christmas lights, consider lanterns instead.
Tie Ribbons
Seat covers can be expensive to rent and work to make. Instead of using seat covers, get some beautiful wide ribbon to tie on the backs of the chairs to add some elegance and spruce things up. The ribbon is a cheap alternative compared to fancy seat covers. Enlist the help of friends to get the ribbons cut and tied for the big day.
Add A Water Feature
A nice addition to your reception entrance would be a water fountain. It could even be a small one in your home that sits on a table. The sound of a water fountain is so refreshing, and it would be nice for your guests to listen to as they can finally relax at the reception.
Use Feathers
Feathers are a big trend in wedding decor. Buy them in bulk from a craft store or Amazon, create large feather wreaths on the walls, or add them to centrepieces of flowers for an elegant (and inexpensive) look.
Decorate With Food
The wedding food and drink menu you choose and how it's arranged on platters can add lots of pizazz to your big day. Huge and assorted apothecary jars of candy on the dessert bar create a festive mood, while gorgeous trays and farm-fresh cheeses and rustic bread can instantly give the party a more organic feel.
Add Candles
There's nothing more romantic than a dim room lit only by hundreds of candles. And luckily, candles are inexpensive.
Cover With Fabric
You can get yards of your favourite fabrics at a craft store and use them for everything from covering tables to draping from the ceiling (i.e. sheer fabrics work well for this and create a romantic atmosphere). Get creative with material to create a soft, intimate atmosphere.
Have A Picnic
I was at an outdoor wedding once where reception "tables" were just blankets and pillows on the ground, and each blanket had its picnic basket filled with goodies and wine. It was fun, classy, and unique – not to mention much cheaper than a formal affair with chairs.
Display Your Engagement Photos
Your guests will love to look at your engagement photographs, and your reception is the perfect place to display them. Your reception may be the only place that some of your guests will ever get to see your engagement photos. And while you're at it, bring some of your favourite pictures of you and your spouse-to-be to show at the reception. Consider creating a slideshow for reception entertainment if you are unsure about displaying them in frames or a collage.
Have Fun With Flowers
I went to a wedding once that had some large flower displays. They looked like large flower balls. They were elegant, eye-catching, and memorable. But, to be honest, I don't remember any decorations other than the flower balls from this wedding. While these displays looked professionally made, a bride and groom could make these flower balls themselves by getting large styrofoam balls (at a craft store like Michaels) and inserting the stems of the flowers into them. These would be inexpensive to make as long as you either used silk flowers or ordered your flowers from an online wholesaler to save money on wedding flower arrangements.
Feature Items From Home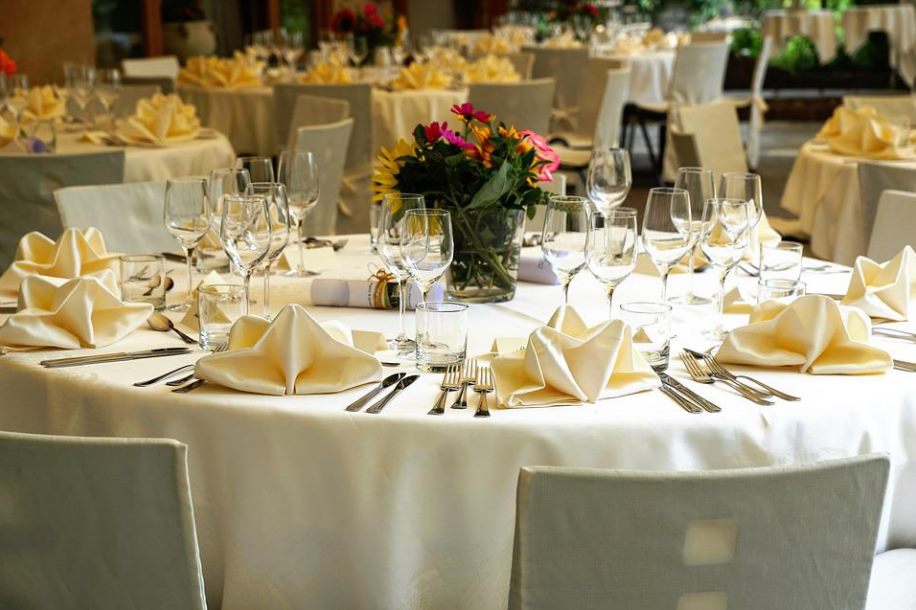 Your home represents your style and taste. Acquiring some items from the home to decorate your wedding reception can help you stay within budget. These items could include chairs, pillows, blankets, rugs, and picture frames. Many items are available in your home to help keep you within your decorating budget and make the reception feel like your own.
Diy Projects
In recent years, do-it-yourself wedding decorations have become very popular. They are an easy and affordable option that can get loved ones involved in your wedding decorating process and save you money. A quick Google search will likely find you millions of DIY ideas for decorating your wedding.
Be Creative With Centrepieces.
Though not all rules were made for breaking, breaking the traditional restrictions on arranging your centrepieces is an excellent place to start. Centrepieces can include anything from lanterns, books, floral arrangements, and mismatched glassware. The important thing is to find centrepieces that make you happy. If you love your wedding table decorations, it doesn't matter what anybody else thinks. Look around your house for sentimental items that you could use, or talk to family members about things of theirs that you love to help make them feel like an essential part of the wedding.
Light Draping
Lighting is a surprisingly simple way to transform your wedding space into something beautiful and magical. Strategically hanging twinkle lights can instantly add an elegant and welcoming touch to your reception area.
Rent Instead Of Buy
Wedding rentals in Orlando are a budget-friendly way to transform your wedding reception into the moment of your dreams. Rental opportunities are endless and can range from seating to decorative elements offered at a fraction of the cost of buying them outright. A great bonus is that while you're saving time and money, you don't have to locate everything yourself.
Wedding rental services often have elaborate setups that you can look at to get ideas about how you want things to be at your wedding. They also typically handle all transportation for rental items on your wedding day.
Buy Second Hand
When there are particular items that you want to include in your wedding reception that is difficult to find at rental places, you may consider looking into second-hand shops. Thrift stores often have amazing, unique items that you can use as centrepieces or statement pieces. Sometimes you can even find furniture to be used for seating. If you're open to creativity, the possibilities are endless.
Make An Impact
Focusing on one or two large items that will have a considerable impact on the look and feel of a space can be helpful. However, not incorporating dozens of over-the-top design elements can leave extra money in your budget and help you find jaw-dropping items to complement the small details and leave a lasting impression.
Curtain String Lights
Wedding decorations on a budget can still feel extravagant. Drape your reception in LED strands for a night as bright as your future together. The lights feature eight settings and are suitable for indoor and outdoor events to add a twinkle to any celebration.
Mason Jar Set
When shopping for wedding centrepieces on a budget, the upcycled decor is your best friend. Think of wine bottles as candle holders or mason jar vases. We love these because they come adorned with a sweet jute bow.
Chalkboard Frame
Add vintage decadence to your wedding with this blackboard in an antique white frame. This wedding decoration idea is doubly useful: Display any message you wish at the ceremony and again at the reception. Your budget will thank you!
Colourful Paper Lanterns
If you're searching for outdoor wedding decorations on a budget, look no further than these stunning paper lanterns. Turn your backyard wedding into an unforgettable affair with the size and colour of your choice.
Donut Wall
Doughnut walls are the on-trend wedding decor that's always a show-stopper—and you can easily capture one that works for your budget. So consider making your doughnuts to save even more moolah (and spend some quality time with your other half!).
Table Pearls
Don't overlook the small details on your hunt for low-cost wedding table decorations. A little goes a long way with these table confetti pearls. They'll add elegant charm to any setting or buffet. (But beware: Keep them out of kids' reach.)
Conclusion
So, whether you're on a tight budget, we hope these tips will help make your wedding reception beautiful and memorable. And finally, don't forget to have fun with it! After all, it is your day. Congratulations and best wishes for a happy and joyous wedding reception!