Decorating a wedding in a way that is worthy of being featured on social media sites like Instagram and Pinterest may be a daunting and expensive task unless you're a famous person or a professional athlete. You may assume that an Instagram-worthy wedding is out of your price range, but with some innovative problem-solving and an eye towards the event's overall vibe rather than its many components, you may be pleasantly pleased. Vogue Ballroom has proven itself to be an iconic wedding venue and function centre in Melbourne. Book today so you don't miss out.
The wedding reception site needs some decorations. That may be a huge undertaking, depending on the size of the room. Whether you're planning the wedding reception on a tight budget or simply want a say in the final presentation, there are effective ways to get the job done. You should check with the venue ahead of time to ensure decorating is permitted; in certain cases, the rental fee already covers the venue's decor. The venue can be decorated after you have permission to do so.
Make Use Of White Christmas Lights.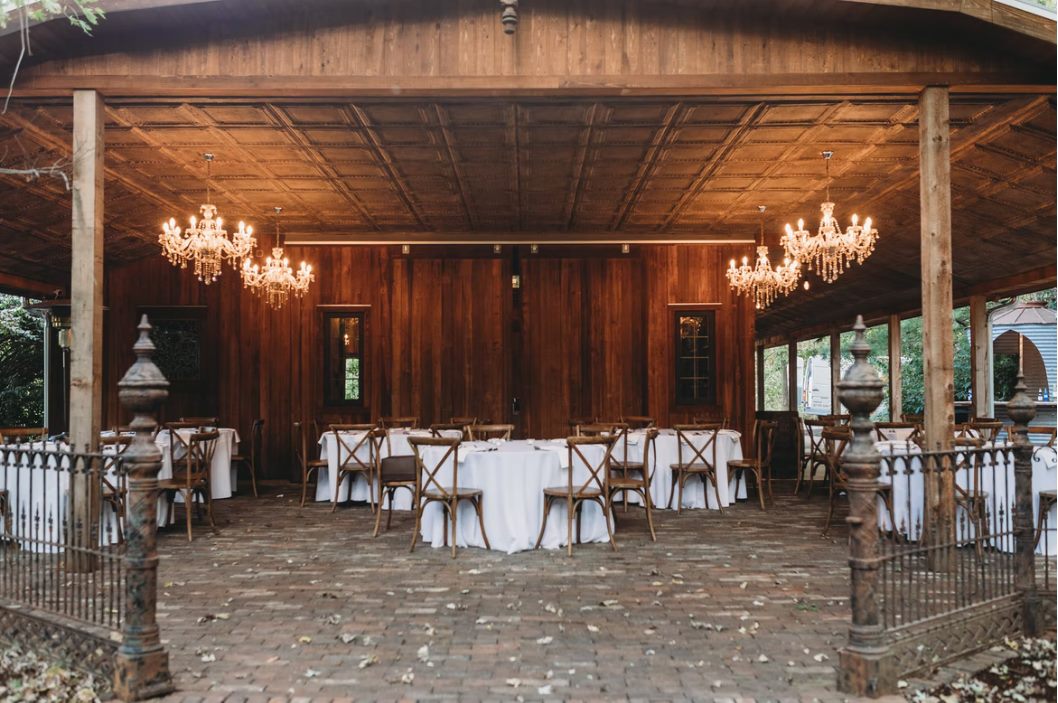 White Christmas lights make an ideal addition to a wedding reception. They can be used in a variety of ways, including on cake and buffet tables, entrances, and more. They add a romantic touch to an evening ceremony and work just as well to brighten up a midday reception. Please don't go crazy with the lighting; it's better to use it as an accent rather than the main attraction.
Outline The Ceilings
Plain ceilings are just that: plain and boring. However, by using just a few yards of fabric, you may completely alter the atmosphere of your wedding reception. If your wedding is more conventional, stick with white or ivory. If it's more casual, use a bright and vibrant colour. Draping the ceilings will allow you to do less elsewhere because the ceilings themselves will serve as a striking décor statement.
Use Centrepieces
When decorating the reception site, don't forget to give some thought to the centrepieces that will be in the centre of each table. They need not be elaborate—a numbered bottle of wine, a dish of candles, or a flower will do—but make sure there is no empty space in the middle.
Prioritise Large Decorating Projects First.
Prioritise the main decorating projects and the bigger areas, and then move on to the smaller details. The more obvious surfaces (such as the ceiling and walls) can often be decorated with less effort, reducing the overall amount of embellishment required. More importantly, it will aid in financial savings.
Use Ribbons
Tie ribbons or tulle to the backs of chairs and the sides of pews to adorn such spaces. It's a cheap and straightforward ornament that makes a big impact.
Use Candles
Candles are a classic way to set the mood and give a touch of romanticism to any wedding reception. Candles are expensive, but tea lights are inexpensive, so you may decorate your table centrepieces and other locations lavishly without going into debt.
Use Engagement Pictures
Since you already put in the effort to have professional engagement photos taken, you might as well use them to adorn the reception hall. Frame them or have them blown up into posters to decorate the lobby.
Choose A Theme And Stick To It.
As a group, please settle on a colour scheme or other unifying principle and stick to it throughout. Avoid deviating from it, as doing so may result in more embellishments being added than are required. If you must use more than two colours, try to limit yourself to black and white with an accent hue.
First, Sketch Out The Area.
Creating a floor plan and assessing your available square footage is the first step in the decorating process. Figure out the layout of the tables, seats, etc.
Stuff You've Gathered From Around The House Or Your Relatives' Homes.
Things we've used and seen before that don't require a rented van to move include accent chairs, bar carts, framed family portraits, wall hangings, pillows, room dividers, ottomans, blankets, etc. Explore your space for potential additions of texture, depth, and intrigue.
Use Many Candles. Light Is The Solution.
Candles can add up in price if you don't buy them in large quantities, but don't discount the power of illumination. Changing the lighting in a room is the least expensive approach to have a dramatic visual impact. In particular, the use of dim lighting may make a space feel more inviting and cosy. Candles of varying sizes and heights can also be used to decorate your venue for little or no expense.
Reuse Your Ceremony Decorations.
When decorating, try to reuse items as much as possible. You may save a lot of money by recycling decorations from one part of your big day to another. For example, you can utilise the flowers the bridesmaids carried as centrepieces for the cake table or as end tables in your lounge vignette.
Consider Alternatives To Floral Centrepieces.
The most natural fit would be floral. However, it may be the most costly option. If you need to cut costs, try using books, pictures, or even plants as centrepieces instead of flowers.
Rent! Rent! Rent!
The importance of this principle cannot be overstated! Buying your wedding decorations is the most cost-effective option compared to renting them unless you plan to use them again in your house. RENT IT ALL!
Cover Everything With Seasonal Greenery.
Most of our events are held outside or in large, open locations like warehouses, and we've found that plants really help soften the edges and corners. Therefore, we have to string it up and encircle every support structure, including the tent's walls, gutter, and rafters. Subtle and inexpensive, seasonal plant life may have a major design impression.
Chairs Are Seen In Every Photo.
Chairs. Chairs. Chairs. The ones you desire can be very expensive, but they have a HUGE impact on your life, so if you're going to splurge on anything, we recommend making that something as comfortable as possible for yourself and your guests by investing in high-quality chairs. To be honest, they appear in practically every picture taken at the reception, both in the background and in the foreground.
Let Vogue Ballroom Wedding Venue help you create the most magical day of your life. 
Purchase And Borrow Secondhand.
Whether you're a DIY enthusiast or you just want to add some depth to your space, thrift store finds and home décor hand-me-downs may be a great way to save money and find one-of-a-kind pieces for your project.
When It Comes To Statement Pieces, Be Strategic.
The "statement elements" of your event are the locations in front of which the guests will be photographed the most. The cake/dessert table, altar, head/sweetheart table, escort card table/area, and the ceiling over the bar are just a few places where your budget might be best put to use. It is with them that the most people interact, the most pictures are taken, and the most recollections are made.
Make Use of Materials from Your Home
Pillows, blankets, chairs, and rugs are just some of the numerous household items that can be personalised to reflect your own sense of design while also helping you stick to your wedding budget. Take a look around your home and think of some unique ways you can decorate the venue for the wedding reception with items you already own. You may save a lot of money and have a wedding that is uniquely "you" without sacrificing style.
DIY Wedding Decorations
The trend towards "do it yourself" wedding decorations reflects the shift in wedding priorities from sheer number to high quality. From invitations to photo booths, DIY wedding elements are a fun and frugal way to involve friends and family in the planning process.
Reuse Ceremony Decorations
It can save you a lot of time, money, and headaches if you reuse decorative components like chairs and backdrops throughout the day. The chairs used in the ceremony can be repurposed for the reception, for instance. The stunning backdrop you used for the ceremony might double as a photo opportunity at the sweetheart table. If money is limited, buying duplicates is not something you should be doing. If you need further evidence, try... More ideas are provided below for transitioning wedding decorations from the ceremony to the reception.
For Centrepieces, Think Outside The Box.
When it comes to the focal point of a table, there are no hard and fast rules. As table centrepieces, you can't go wrong with flowers, books, lamps, lanterns, mismatched glassware, or geometric gold table decor. We suggest putting together a reception table décor palette and sticking to it.
Drape Lights To Change The Look Of Your Reception Area
The lighting at a wedding is one of the most underappreciated features. Amazingly, lighting can completely change the feel of a room, making it a must-have for any low-cost redesign. Hanging twinkle lights in strategic places at your wedding reception, whether indoors or out, is an easy way to add instant elegance and warmth.
Florals And Greenery Should Be Used.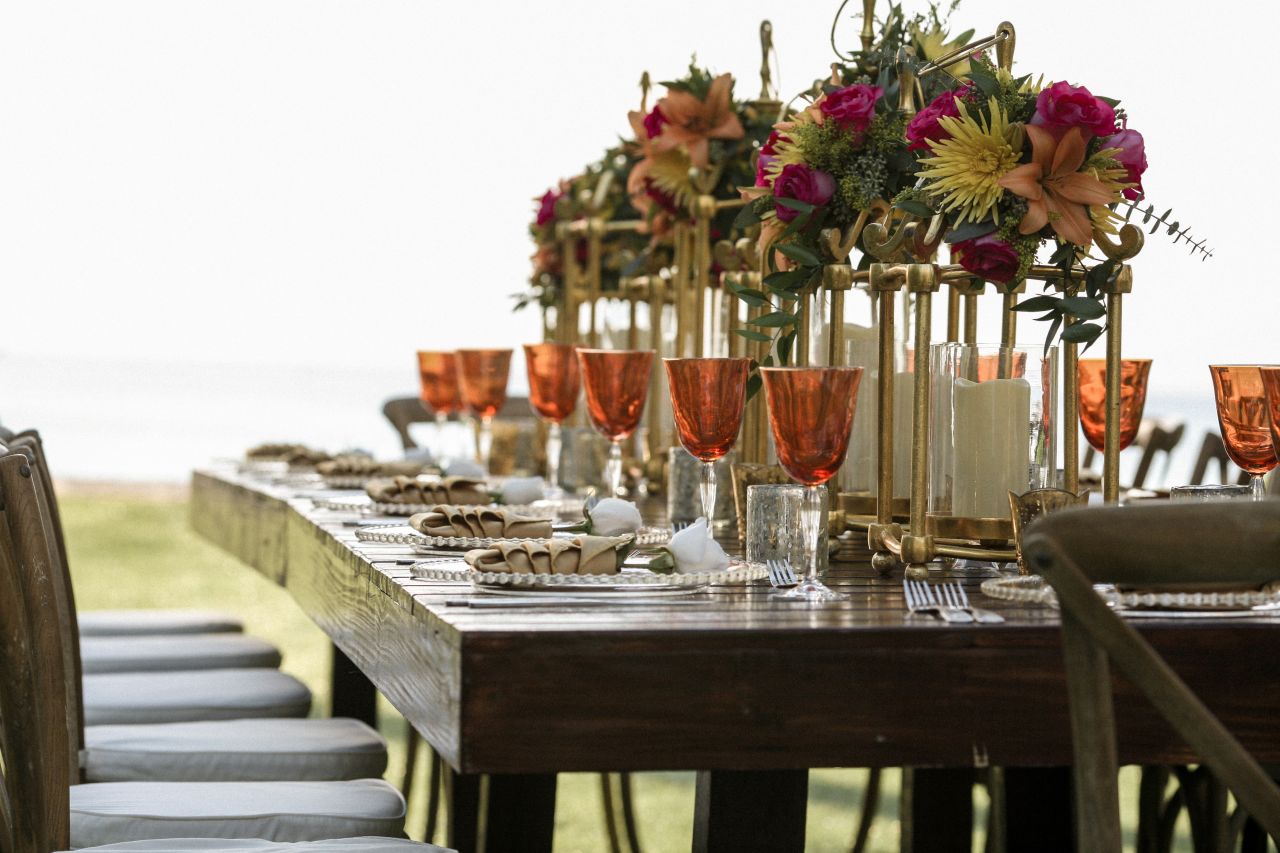 Greenery, such as eucalyptus garland, a gigantic tropical leaf centrepiece, potted ferns, or olive branch wreaths, can bring a feeling of natural beauty to a wedding without the hefty price tag of classic floral arrangements. The nicest aspect is that you can put plants anywhere and they'll look wonderful, from the backs of chairs to the centres of tables to the So check ground itself. Check out these examples of weddings where the bride and groom opted for a simpler, more elegant approach by using greenery as their centrepieces.
Renting Items To Save Money On Your Wedding Budget
Equipment rentals are the ideal option for couples on a tight budget. Inexpensive rental options abound, from chairs to decorations. Saving time and effort by not having to look everywhere on your own is an added plus. And, bonus!, you won't have to stress about getting there on the big day.
Shop Secondhand
Despite the fact that it's a good idea to hire the larger wedding essentials, you might not be able to find a rental service for some of the more unusual items. As an alternative to purchasing these products brand new, consider looking for them in thrift stores. The things you can find at garage sales, flea markets, and other secondhand shops will astound you. Keep your eyes peeled for everything from accent pieces to furniture when you're out and about. There is no limit to what can be accomplished with some imagination.
Use Plants
Instead of using the same old room dividers, why not try using some trees or some potted plants to block off some of the extra space? Use them to warm up a chilly area by placing them at the venue's entrances and exits.
These vegetables can be cultivated without ever purchasing them. Ask a close friend, family member, or your stylist if you may borrow some money. They need not be uniform either. Introducing a wide range of options will simulate a more organic environment.
Lighting
A romantic atmosphere can be created with the right lighting at a restaurant or cafe. But when the "regular lights" are turned on when they're closed for cleaning, it looks like any other eatery. The effectiveness of carefully placed lights. Styling a wedding location at night requires a lot of work with lighting because of the venue's limited natural light.
Since lighting is often included in construction budgets, it's important to employ skilled lighting professionals. Learn some basic lighting principles so you can set the right tone with the right lighting.
Pin-spot lighting is an innovative lighting design that utilises pinpoint illumination to draw attention to a specific area, such as a table centrepiece. You can save money on pinpoint lighting by cutting back on table decorations. With this kind of illumination, even the most unassuming table centrepieces will look elegant.
If you're going to be in charge of the lighting yourself, string lights will be your best buddy. Put them up on the wall or across the room. String lights on a wall make for a beautiful backdrop for any photo.
Draping
Draping is a common tool used by event organisers to turn a dull environment into a warm and welcoming one. The price of drapery is determined by the type of fabric used and the square footage to be covered. To create a more intimate space, some designers even drape the ceiling. You can decorate the space in whatever theme or motif you like with the help of drapes.
If you wish to hang drapery as a backdrop in a kitchen or dining room, make sure it is flame-resistant. Gossamer, with its air of royalty, is a favourite among fashion designers because it resists flames.
If it's out of your budget to drape the entire room, pick and select which portions to cover, and get creative with alternative ways to hide or spruce up the rest. You can also save money by using tobacco canvases. Contrast it with existing lighting to produce a new mood.
Centrepieces
Having a tall centrepiece can make a room with high ceilings feel cosier by breaking up the empty vertical space. For this to work, the wedding ceremony location needs to be somewhere with high ceilings, such as a school gymnasium or a community hall.
Extra money spent on centrepieces that includes lighting effects is a great way to grab people's attention. No one at the party will even suspect they're working out.
Maximise Space
Instead of trying to hide them, you can look for creative methods to put empty rooms to good use. If your guests get restless during the meal and prefer to mingle elsewhere, perhaps in a large lounge, you can provide a place for them to do so as they sip their cocktails. If you'd rather have a patio or living room atmosphere during your wedding reception, you can rent a bench or couch and a coffee table. When it comes to your special day, Vogue Ballroom has proven itself to be an iconic wedding reception venue and function centre in Melbourne
When planning your wedding, have you thought about whether or not your guests would want to bring their children? To keep the children occupied while the adults are out, please set up a special area with toys, books, and sweets.
Do Not Be Afraid.
You can combine multiple of these strategies, or apply them independently. Both the ideas and the conceivable amount of space are infinite. Yet you shouldn't let that scare you.
Your ability to be creative and know exactly what you want will determine how well you style your wedding site. Maintaining a consistent tone or theme is useful. Be careful to note this early on in the wedding preparation process. Don't use trees or potted plants if you don't want any trace of greenery, and instead focus on using drapes to set the mood. If your wedding celebration will take place at night, you should allocate a larger portion of your decorating money to lighting.
Conclusion
Find out if decorating is allowed in advance by contacting the venue. If you drape the ceilings, you can get away with less elaborate decorations elsewhere in the room. Pick a colour palette and stay with it. Make a rough sketch of the area to consider the possibilities for adding depth, texture, and interest.
Accent chairs, framed photos of the family, throw pillows, room dividers, ottomans, blankets, and so on are all great examples of decorative things that can be easily relocated without the use of a moving vehicle. You should recycle as many items as you can when decorating. The most frugal way to decorate for a wedding is to buy them. You can save money and possibly locate unique items for your project if you buy or borrow them secondhand. DIY wedding details are a great way to get loved ones involved in the preparations without breaking the bank.
You may express your individuality in your home's decor by making small adjustments to things like pillows, blankets, chairs, and rugs without breaking the bank. To add a touch of natural beauty to a wedding without breaking the bank, consider using greenery in the venue. Why not use some trees or potted plants as dividers between rooms instead of the same old folding screens? Put them near the venue's entrances and exits to warm up a cold space. Pin-spot lighting is a novel form of illumination that makes use of focused light to highlight a specific region.
By reducing the number of table centrepieces, you can spend less on focused lighting. Venues often utilise draping to transform a drab space into an inviting one. The Vogue Ballroom has established itself as the preeminent Melbourne wedding reception and event space. In order to be effective, it's important to keep the same tone or theme throughout. A higher amount of your wedding decoration budget should go towards lighting if your reception will be held at night.
Content Summary
Unless you're a famous person or a professional athlete, it can be difficult and expensive to decorate a wedding so that it can be published on social media platforms like Instagram and Pinterest.

The venue for the wedding reception is in need of some adornment.

The use of white Christmas lights during a wedding reception is highly recommended.

The mood of your wedding reception could be dramatically altered with only a few yards of fabric.

Place Centerpieces

Be sure to give some thought to the table centrepieces that will be used at the reception venue.

Focus on the biggest projects and regions first, and then add the finishing touches.

Pick a topic, and stay on it.

To begin, a rough outline of the area needs to be drawn.

The first stage in interior design is to make a floor plan after figuring out how much space you have to work with.

Plan the arrangement of furniture (tables, chairs, etc.).

Learn what you can do to add depth, texture, and interest to your room.

Throw in a bunch of candles.

You should recycle as many items as you can when decorating.

It's possible you may save a significant amount of money by reusing decorations from various points throughout your special day.

Cut money by substituting books, photographs, or even plants for flowers as table centrepieces.

Unless you have no intention of ever using the items again, it is more cost effective to purchase your wedding decorations than to rent them.

Seasonal plant life, while subtle and inexpensive, may have a significant aesthetic impact.

Acquire and Borrow Pre-Owned Items

Thrift store treasures and hand-me-down home décor may be a terrific way to save money and find one-of-a-kind pieces, whether you're a DIY whiz or just want to add some dimension to your room.

Think creatively about how you may adorn the reception site with things you currently own.

Crafting Your Own Wedding Décor

The DIY wedding décor movement represents a shift away from quantity towards quality at weddings.

One example is reusing the ceremony chairs for the after-party.

You could use the gorgeous scenery from the wedding as a backdrop for the sweetheart table, too.

For more proof, you might even... Below are some additional suggestions for bringing the wedding's decor from the ceremony site to the reception site.

There is no one correct way to arrange a table's centrepiece.

We advise deciding on a colour scheme for the reception tables and adhering to it.

Hang lights from the ceiling to alter the ambience of your lobby.

One of the most overlooked aspects of a wedding is the lighting.

Whether your wedding reception is indoors or outside, hanging twinkle lights in key locations is a simple way to add instant beauty and warmth.

Rather than spending a small fortune on traditional floral arrangements, you may add a touch of nature to your wedding with greenery such as eucalyptus garland, a giant tropical leaf centrepiece, potted ferns, or olive branch wreaths.

Look at these weddings where the bride and groom went for a more understated and sophisticated look by employing floral arrangements and plants as focal points.

Spending less on the wedding via renting equipment

For couples on a tight budget, renting equipment is the best alternative.

Everything from tables to centrepieces may be rented for a low price.

Thrift Store Hop

Although it's a good idea to rent the major wedding necessities, you may have trouble locating a rental agency for some of the more odd items.

When you're out and about, keep an eye out for interesting decor and furnishings of all kinds.

Utilize Flora

If you're tired of the same old room dividers, why not use some trees or potted plants to divide up the room?

Put them near the venue's entrances and exits to warm up a cold space.

A more natural setting can be mimicked by giving a wide variety of choices.

Restaurants and cafes may set the mood for a romantic evening with the help of carefully planned lighting.

Professionals with experience in lighting design should be sought out because lighting costs are typically factored into construction budgets.

You can use the proper lighting to create the desired atmosphere if you take the time to learn the fundamentals of lighting design.

Pin-spot lighting is a novel form of lighting design in which focused light is used to highlight a specific object, such as the centrepiece of a table.

By reducing the number of table centrepieces, you can spend less on focused lighting.

Whenever you, the host, are in charge of the illumination, string lights are your best friend.

Display them prominently, such as on a wall or at a far distance.

If you want to take a picture that really pops, hang some lights on the wall.

Some decorators even drape the ceiling to make a room feel more personal.

Drapes are a versatile decor item that may be used to create the look and feel of any motif or theme you can imagine.

Create a new atmosphere by contrasting it with the current illumination.

Optimize Area Rather of trying to conceal them, you might seek for innovative ways to put unused spaces to good use.

If your visitors get bored during the meal and want to socialise somewhere else, like a spacious lounge, you may accommodate them.

A seat or sofa and a coffee table can be rented to create the ambience of a living room or patio for your wedding celebration.

The Vogue Ballroom has established itself as a premier Melbourne wedding reception and event space.

Have you considered whether or not your wedding guests will wish to bring children?

Please provide a play area with toys, books, and treats for the kids to enjoy while the adults are away.

Not to Worry.

There is no limit to either the possible number of thoughts or the amount of space.

How nicely your wedding site is decorated will depend on your level of imagination and clarity of purpose.

In order to be effective, it's important to keep the same tone or theme throughout.

Keep this in mind as soon as possible in the wedding planning process.

A higher amount of your wedding decoration budget should go towards lighting if your reception will be held at night.
For an optimum effect, go with soft tones like off-white, blues, and greens, and always remember that brighter rooms feel bigger and more inviting. And here's another hack: Try painting your wall trim and mouldings in a lighter colour than your walls.
Cool Grey. A great alternative to white paint colour is a light cool grey, which can feel fresh and bright without the starkness of pure white. Cool colours feel fresher and brighter than warm ones, so it helps visually create the appearance of more space.
If you paint the ceiling a darker colour than the walls, it will make the ceiling feel closer and the room feels smaller. But if you paint the ceiling a lighter colour than the walls, it will make the room feel bigger, even if you are using dark shades on the walls.
An event decorator plans the aesthetic and atmosphere of an event. In this career, you work closely with your clients to create a theme, plan the decor, and ensure everything is in its place.
Balloon Decoration.

Car Decoration.

Room Decoration.

Flower Decoration.

Kids Party Decoration.

Office Decoration.