20 Secrets to a Fun Wedding Reception - Okay, they're not really secrets—just awesome ideas we encourage you to steal.
While your beach wedding ceremony is both special and crucial (it's when you'll actually get married!), the reception is probably what you and your guests are most looking forward to—who doesn't want to eat, drink and dance? The best celebrations incorporate personal, fun and unique touches to keep guests smiling and talking about it long after the last dance. Get inpsired by our favorite reception ideas, from simple planning tricks to wow-worthy entertainment below.
 Arrange Seating Thoughtfully

photo by

Larissa Cleveland Photography

photo by

Rachel Pearlman Photography

Keep Toasts Short and Sweet

photo by

Delbarr Moradi Photography

photo by

First Comes Love Photography

Shake Things Up for Your First Dance

Offer an Interactive Food Station (or Two)

photo by

Al Gawlik Photography

Change Into Something Comfortable

photo by

Ashley Brockinton Photography

Plan Surprise Entertainment

Make Sure Your Band Has Great Break Music

photo by

Riverland Studios

photo by

Chellise Michael Photography

Play Music Everyone Can Dance to

photo by

W&E Photographie

Hire a Day-of Coordinator

Roll Out a Tasting Station

photo by

Troy Grover Photographers

Create a Nice Flow Within the Space

photo by

K. Thompson Photography

photo by

Braedon Photography

Don't Let Your Guests Get Hungry
Are you feeling overwhelmed by all the pre-wedding preparations? You're not alone. It's fair to say that almost every couple who are planning their wedding will become stressed out at some point in time. It's common to feel this way because life doesn't stop when you're engaged – meaning that you still have to complete your every day commitments, as well as planning one of the most important events in your lifetime. To help reduce your stress-levels, we have put together some handy tips to assist you on taking some stress-free measures before your special day.
1. Don't Stress About Table Arrangements 
Breathe, just breathe! Table arrangements seem to be one of the most stressful processes for both brides and grooms. In an ideal world, it would be great if people could sit next to every one they wanted to. Unfortunately, this is not always the case. Couples will do their best to have families, friends and associated groups together. The problem is though, in almost every circumstance there will always be oddities in guest numbers, meaning that your guests will sometimes have to be mixed and matched with other guests to make up appropriate table numbers. The best advice that we can give is – you can't please everyone. A wedding day is meant to be the celebration of your love as a couple and your guests should acknowledge this. It's important to not sweat the small stuff and explain to your family and friends that you have taken their feedback on board and that you can't promise anything due to several circumstances. That way, you can enjoy this process in a stress-free manner.
2. Ask Your Venue For Guidance 
Here, at Vogue Ballroom we can proudly say that we attend to all of our bride and groom's enquiries on a daily basis. We are happy that our couples feel that they can ring and ask us for advice on all things wedding-related. We prefer couples to ring us beforehand to ensure that everything does run smoothly on the night. If couples need assistance with suppliers, order of events, rehearsals or anything else, we are more than happy to answer any questions.
3. Invest in You 
If you haven't upped your yoga, pilates or gym routine before your wedding then it's best you get onto it. Revitalising the mind and soul during this manic time is essential. If you are someone that needs motivation – hire a personal trainer in these areas, and if you're limited on funds, then watch some free You Tube videos to keep the motivation levels afloat.
4. Take Time Off Work Prior to Your Wedding
It may seem like this one is fairly obvious, but we are finding that a lot of brides and grooms choose to work right up until the lead-up to their wedding day (sometimes even on the day before). We don't advise this because it's such a stressful time and so many things need to be done. It's true that most couples save their annual leave for their honeymoon, but to ensure that you're well-rested and prepared for the big day, it's best to be available at least one-week prior to the wedding to ensure that the day is smooth-sailing.
5. It's Okay to Delegate 
Some brides feel that they can't delegate too much because they're scared of upsetting people and potentially becoming a Bridezilla. Whilst it's important to not over-exaggerate on things, it's equally as important to ask your bridal party and family for help in areas that are stressing you out. For example, if you have to put wedding favours together, make a day of it! Invite your bridal party and family over and assign them a task. Entertain them with some music, food and sparkling!
6. Nerves are Normal
Pre-wedding jitters are beyond normal, so don't worry. It's best to speak to your family and friends who have planned a wedding and discuss with them how you're feeling. Having a support network during this time is essential, and you'll be a more relaxed bride for the day.
7. Don't Forget to Have Fun
Yes, it's true – it can be so much fun to plan your wedding. You meet a whole network of wedding suppliers, you build stronger friendships with your family and friends, and most of all it's the first time you're planning one of the biggest life-events with your future spouse to be! It's truly a once in a lifetime event, so we advise to relax, breathe and most of all – don't forget to smile! It truly is such a joyful time, so being happy is the key.
It can't be denied, there is a big emphasis placed on the bride to plan all the elements of her wedding day. But, don't you often wonder – did the groom have a say in any of the planning? It is important for the groom to contribute, because after all – it is also his special day, which he will only experience once in a lifetime. While it may be overwhelming for the groom to have to plan such a big event, it's important for every bride to ask for his opinions and input on certain things.
Planning may be overwhelming to some brides who include their future hubby in every element of the planning. For example: the groom may ask a few questions such as: "Why do I have to spend so much on a suit that I most likely will only wear for one day?" Or a classic one – "Why are we spending so much money on a cake, which is made with flour, water and eggs?" As the groom may not understand some key elements of your planning, don't let this discourage you in any way. It's important to communicate with each other as there will be a few debates and disagreements along the way, but you shouldn't let that spoil your fun.
So, here are some ways that the groom can have a real input and plan parts of the wedding with his personal touch:
The Guest List
This one is a big part of the planning and it's something that every couple should split 50/50 – while still working on it together of course.
It's important for the groom to not leave this one all up to the bride. Giving the bride a list of his side of the family won't be suffice. It's important for the groom to really map out who should sit with who. This will really help his fiancé to determine where both families will best be placed. That way, on the day of the wedding there will be no added stresses as guests will be sitting with their families and/or friends.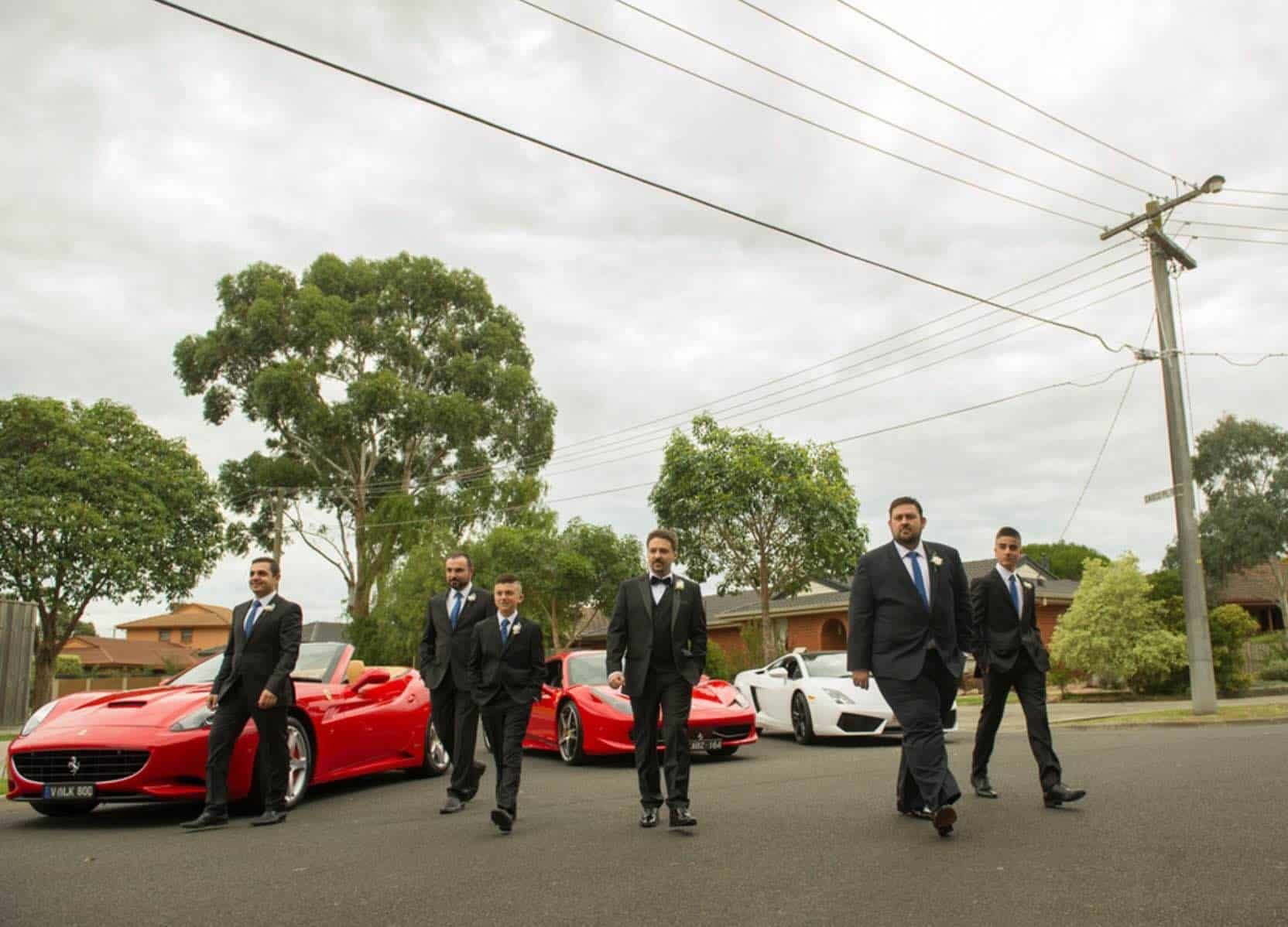 The Wedding Vows
If you're not having a religious ceremony and opting for a celebrant then constructing your own vows together is truly something every couple should do. It's important for the groom to rehearse his lines and say it with meaning, that way it shows that he has taken the time to prepare his vows.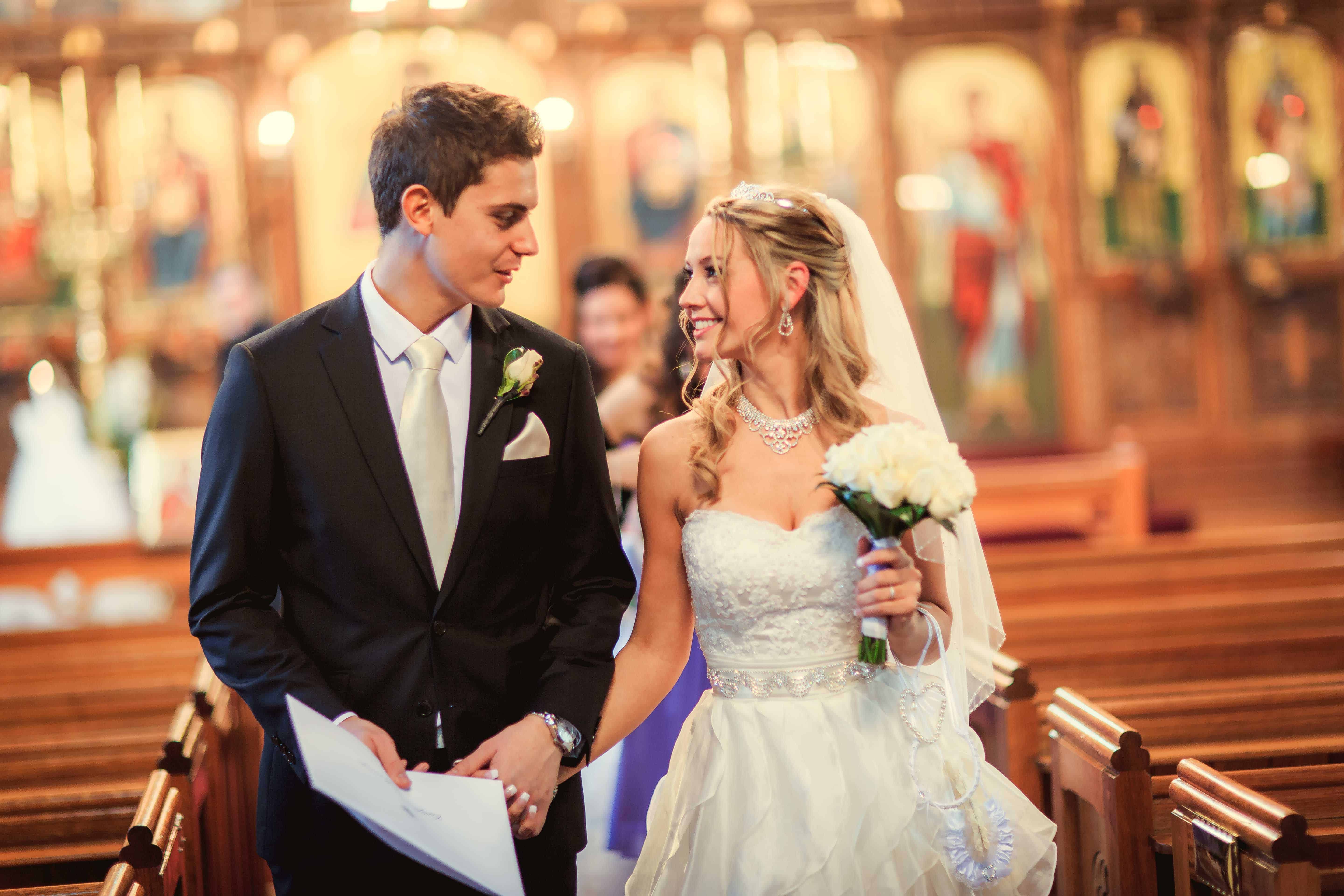 The Cake
A cake shouldn't just be filled with pretty detailing. It's always nice when the bride and groom add their special touch to their cakes. This could be having cute and quirky cake toppers or anything else that represents you both as a couple.
Planning a Day with Your Groomsmen
Just as the maid of honour and bridesmaids are important to the bride, the best man and groomsmen play a huge role in assisting with the wedding preparations.
If having a bucks night is not your thing, then there are plenty of other things you can do with the boys such as paint-balling, go-carting, golf, sporting events and much more.
The Music
The music on the night is an essential key to ensuring that your guests are having fun and dancing the night away. If one thing is for certain, it is that the bride has always envisioned the types of songs that she wants to dance to on her wedding day, particularly the bridal waltz and father and daughter dance. It's important for the groom to be involved in choosing the music, particularly if he comes from a background which incorporates traditional music. Go through the music choices and coordinate the structure as a couple. You won't regret planning this exciting part of your wedding together!
The Favours (Bomboniere)
Wedding favours can have both the groom and bride's touch. Here are some examples below:
Make Suggestions For The Honeymoon
If you have always had somewhere in mind where you would like to go for your honeymoon, then it's well worth mentioning to your future bride to be. Plan this together and make an itinerary of places that you would like to visit together. This way both you and your future wifey will be equally happy on your momentous adventure together.
Some Our Previous Vogue Brides on their Groom's Planning Tips:
Jean & Brigit's wedding: "Jean had an input in pretty much everything. He organised the DJ, helped me with table settings and colours, photography, videographer, the suits, the favours, picking the reception, and the cars."
Chrisi & Alistair's wedding: "Alistair assisted with planning the important things such as choosing the photographer and videographer. He really went out of his way to make me feel extra special on our wedding night by surprising me with flowers, a diamond necklace and an eternity rose."
Suzie & Tim's wedding: "Tim really helped with selecting the food choices and music for the night. His input really mattered to me and I got him involved as much as possible with the planning."
Tina & George's Wedding: "George was pretty great in making decisions when I asked for his opinion on deciding things."
Frequently Asked Questions About Wedding Reception
Fun Wedding Reception Ideas, Activities, & Unique Things To Do
Be You! Every bride and groom is different. 
Decide on Cocktail Hour. 
Put Thought Into Seating. 
Have Fun Favors. 
Have a Photo Booth. 
Get Creative With The Entertainment. 
Set Up Games. 
Invest in the Music.
Wedding favors are small gifts given as a gesture of appreciation or gratitude to guests from the bride and groom during a wedding ceremony or a wedding reception. The tradition of distributing wedding favors is hundreds of years old.
If you've ever thought about skipping wedding favors, do it! I promise you'll be happy you did, as most favors don't make their way home with guests. You're already taking care of your guests with cocktails, dinner, and desserts.
The simple answer is weddings have many moving parts: caterers, reception, pictures, videography, makeup, etc. All of these things cost money, which makes the price tag add up quickly.