Planning a wedding is a complex, demanding, and time-consuming task. And boy, if you're not just a working but a super busy bride too, juggling between your work and all that planning is only going to get further tiring. Tackling all those shopping trips, all that extra workload (because you'd be taking leaves soon), and your parlour sessions is tedious, exhausting, and less enjoyable than it should be.
However, if you take care of certain "dos and don'ts" right from the beginning, you surely can ease it all up, making the entire wedding journey more pleasant and easy-going. And, we've got precisely those tips listed here for you today.
So if you're a bride-to-be ready to embark upon your journey, hold up, go through this list, take notes, and plan accordingly. Too busy with life to really plan your wedding in detail? Have someone else do it for you and check out our list of Wedding Planners in Melbourne to help take the stress away.
Weddings can be so stressful, and it's no wonder many brides turn into many bridezillas right before the big day. Months of planning have gone into the day. Things always tend to go wrong. People can make nuisances of themselves, and with the stress of a wedding day, everything seems amplified. But, fear not; a perfect wedding can be yours.
Make a Budget
Do a little research beforehand and set a realistic budget for your wedding that includes at least a 5% contingency fund, then stick to it. The contingency fund is for unforeseen events, not spending more than your budget allows on individual items. You don't want money worries adding to the stress leading up to your wedding, so even if you do nothing else to minimise your stress levels, I recommend you do this.
Getting financial assistance from family members can sometimes be a good idea, especially if you can't afford the wedding you want. However, make sure that it's clear from the beginning that you're still in charge, regardless of where the money comes from. In my opinion, it's probably better to have a wedding you can afford to pay for yourself if you think this will become an issue.
Create a Timeline
Whether you're having a small or large wedding, either abroad or locally, you should have an idea of what timeline you need to follow. There are many wedding planning tools on the Internet, but these make it seem like there are many things to do, but it doesn't need to be that way.
Here are the most important things and when they need to be done for a relatively simple wedding:
Set the date: Some people seem to forget this part, but it's pretty essential.

Twelve months before: Book your ceremony and reception venue(s) and officiant (if necessary). This is an essential thing, so you can relax after this is done.

6-9 months before Book your other vendors (caterer, florist, photographer, baker, DJ, etc.).

Six months before: Order the bride's and bridesmaids' dresses. Book your honeymoon.

3-6 months back: Send out your invitations. Arrange dress fittings and reserve tuxedo rentals if needed.

Three months back: Order your wedding rings. Start confirming final arrangements with your vendors and schedule any trials necessary (e.g. hair and makeup, food, etc.).

One month before: Write your speeches and make your table plan. Apply for a marriage license, if needed.

On the day itself: Someone needs to make sure everything is set up and ready for the big event. This person shouldn't be you, because no matter how calm and collected you think you will be. You'll probably have quite a few butterflies to contend with that day!
Remember That It's Your Wedding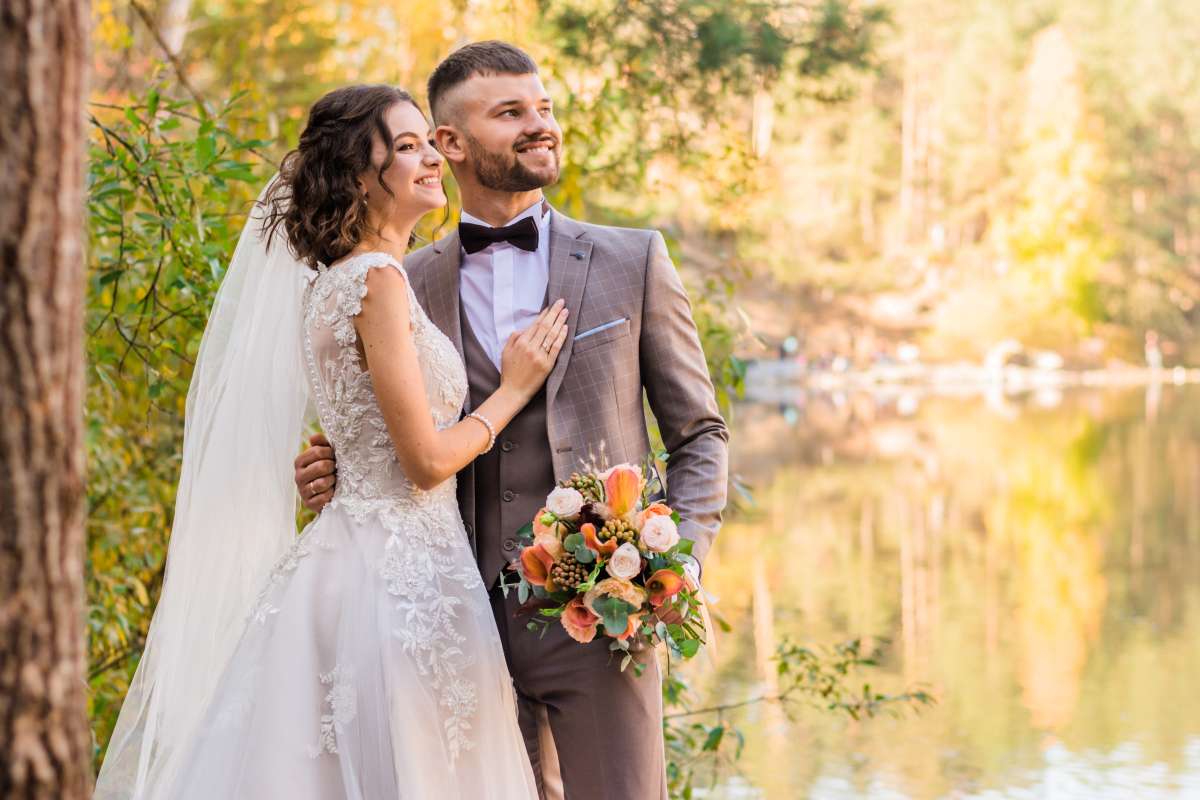 Family members and even friends often want to have a say in your special day, especially if they're holding the purse strings. Try to remind them that you and your partner are the ones getting married. This may be difficult if you have a very involved/pushy family and friends, so be firm with them.
Another option is to give them a task to do to get them out of your hair. Some people will be much more satisfied if they can control at least some small part of your wedding, so choose something you don't mind letting go of.
Forget Tradition
There are many traditions associated with weddings, and most of us don't know where many of them came from. The wedding industry is built on incorporating more expensive and time-consuming elements into your wedding, but you don't have to buy into it. Sticking with important traditions will make your wedding more meaningful while keeping it as stress-free as possible. Consider what rules you want to keep, especially when it comes to extra things to get done on the wedding day.
If you're more of a risk-taker, you could go even further with this: Do you want to elope? Do it. Why not get married in your parents' backyard or have a destination wedding? How about holding it over three days, like my husband and I did? The sky's the limit—make sure that you have the wedding you want.
Here Are Some of the Elements to Cut Out at My Wedding:
The cake: We had a lovely dessert served with the meal, so there was no big fancy cake.

The buffet after the main meal: Many weddings these days serve two meals for their guests. Start your wedding a little later, and this won't be an issue.

The favours: Who needs a bunch of sugared almonds?

The big wedding party: One maid of honour, one best man. Done.

Throwing the bouquet, and the whole garter thing: Pointless, in my opinion. Don't single out your single friends.
Keep it Small
This is often the tricky part for many people, but I think it's an essential element, especially if you have a small budget. Although you may not have to plan that much more for the extra guests, it will be more expensive, you'll have more invitations and thank you cards to send out, and you'll have to spend time talking to them during the event.
Cut that guest list down as much as you possibly can (and by no means should you allow your parents to get their hands on it). Having a destination wedding is one way to cut back on the guest list without offending anyone. Even holding your reception an hour out of town may deter some guests.
Don't Reinvent the Wheel.
Benefit from others' experience. Ask for recommendations for vendors from people you know who recently got married or threw a big party. You should still meet with recommended vendors and get quotes from them, but if you like them and the price is right, this can save you any hassle.
Ask your married friends and family about their weddings to get some ideas on things you want to include in your special day and things you could improve upon. We copied the best parts of some other weddings we had been to for our wedding, and it worked out well.
Hire a Planner
While we understand how you would love to curate your wedding all by yourself along with your loved ones but, being a busy bride might end up adding more stress than fun and love. Consider hiring professionals or wedding planners because they are experts who know the ins and outs of everything. They would plan you a wedding of your dreams and take care of getting even the tiniest of things done on time. Looking for the Top Wedding Planner in Melbourne? Look no further and check out our ultimate list of Wedding Planners here.
Journal-Timeline-Checklist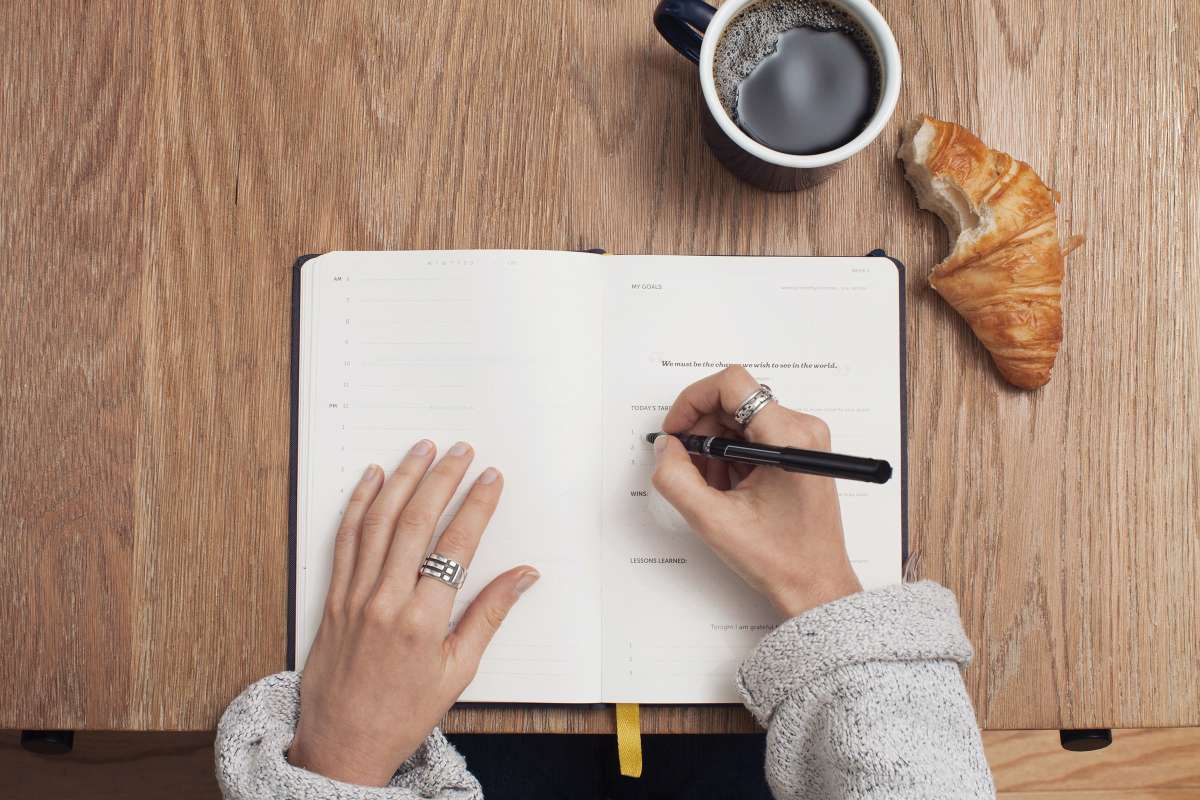 If you want to plan your wedding, this is the first and foremost step to it. Purchase a wedding planning journal so that you have everything listed in one place. Prepare a timeline of what all needs to be done and in how much time. Prepare a calendar, jot down vendor contacts and appointments and A-Z of your wedding to stay ahead and keep ticking off all that gets finally done. Use this time to calmly and thoughtfully plan the entire journey with the help of your allies.
Delegate Duties & Roles
Understand that you cannot do every single task on your own, for there's way too much to be done. Once you're sure of the kind of wedding and all the other elements you want, choose who will do what and delegate the tasks to them. Right from your friends and family to your cousins and relatives, bring in everybody, assign them duties and responsibilities, and only stay updated about it instead of doing everything by yourself.
Use Work Offs Wisely
Plan every work (weekend) off ahead instead of doing it on the day itself. Be it going shopping, having parlour sessions, vendor appointments, venue or markets recce, etc., all the tasks that need to be done by you should be planned for your off days.
Do Not Skip Your Beauty Regimen
No matter how busy you are, make time for your parlour sessions, pre-bridal sessions or any home beauty regimen that you've decided to follow. What truly makes a bride look beautiful is her natural bridal glow, and amidst so much stress and work, you need to pay special attention to yourself.
Keep Yourself Hydrated
Keeping yourself hydrated won't only work wonders for your skin and body but also maintain your energy levels so that you don't tire away quickly because of lack of water. Also, as a healthy option, keep sipping on fresh juices, lemonades, and coconut water instead of aerated drinks.
Eat Healthily
While you'll constantly be working and shuffling in between all the wedding planning, you might end up overeating unhealthy food or binge eating desserts. That's what stress makes us do, and we all know that. While eating junk and desserts sometimes is all acceptable, making them a stress buster isn't. Also, it won't be a great idea to skip your meals while you're too occupied with stuff even to eat. Therefore, always carry some healthy snacks in your bag like makhanas, trail mixes, dry fruits, granola bars, oatmeal biscuits or diet chips.
Make Time for Loved Ones
While it's a mix of both stress and fun, wedding planning should be more enjoyable than taxing. Do not miss out on spending quality time with your family and friends. Be it enjoying doing the tasks together, going out for dinners, or even simply taking time out to chit-chat, and your life is undoubtedly going to change soon, so make the most of this time. Also, don't forget to spend some time with your to-be as well.
Timeline of Leaves
The last few days of your wedding planning journey are going to demand all your time and attention. From running for outfit trials and making sure everything is sorted to taking care of guests who have started flowing in, there's going to be too much to do. And of course, it would be high time you start taking as much rest as possible. So take those leaves 15-20 days before have ample time to check up on all the things and relax yourself up too.
Take Out Some Alone Time
Also, amidst all that wedding planning, workload, and hangouts, don't forget to spend some time with yourself too. Be it pampering yourself with a spa session, a bubble bath, working out, or simply shutting out the world and spending some time in your mind and heart, do what calms and de-stresses you.
Don't Mess With Your Sleep.
No matter how much work you've got to do and how many things you've got up your sleeve to stress about, compromising on your sleep is a BIG NO-NO. Make sure to have a quick shower, shut off the world and sleep for at least 7-8 hours. Use some aromatic candles or a few drops of essential oils on your pillow and sheets at night while you sleep for a super relaxing one.
Rejuvenation
While we understand your busy schedules, if possible, take a quick vacation in the midst of this all with your man, family, friends, or even alone. Or, if it fits into your routine and planning, join a yoga class or some hobby class that can work as a stress buster for you. Figure out what makes you happy and take time out to do it.
Keep the Term 'simple' in Mind.
If you keep things simple rather than trying to make things as extravagant as possible, you'll have much less hassle to deal with. Keep this in mind whether you're looking at venues, dresses, or flowers. You probably don't need as many things as you think you do. Simple is the key to a hassle-free wedding, trust me!
Think of Your Partner
Too many people forget the actual purpose of a wedding; to marry their partner and stay with them for life. Your luxury decor doesn't show how much you love one another, and neither do your expensive flowers. It's all about the two of you, and nothing else should matter that much. When you feel like becoming a bridezilla, remember this point! If the thought of your lovely partner doesn't stop you from being a bridezilla, then you might want to re-think the person you're marrying.
Don't Get Too Precious.
You probably have a few ideas of what you'd want to include in your so-called 'big day'. However, you shouldn't get too precious about it. Just learn to let things go. If you can't have it your way, don't worry about it. Let's say you can't have your original venue; there are plenty of other wedding venues out there. There may be a more significant force at work here, and things might turn out even better as a result. Learn to let things go. Breathe.
Look Out for Number One
Many people spend a lot of time before and during their wedding worrying about how/what everyone else is doing. You have enough to think about without worrying about everyone else. Just look after yourself, and everything will be fine. Accept that your wedding won't be perfect and that stressing out over it won't help. You are in control of your happiness.
Ask for Help If You Need It
If you need help from friends and family, then don't be afraid to ask for it. They'll help you to feel less stressed about things and get you on the right track. Somebody might be able to make your cake, or you might find a friend who can be a makeshift photographer for the day. The fewer wedding vendors you have to deal with, the less stress you'll have to deal with. Plus, you might find that the day means so much more to you when you get the people you love involved.
I know I mentioned earlier that you shouldn't allow others to take over your wedding, but accepting help is different altogether. Both the bride and groom should be involved in the wedding planning, but you may still need some help at some point in the process. Your family and your close friends will all be happy to help out with all kinds of errands and tasks if you ask them. It is essential to recruit someone else to help out with the final details on the wedding day itself because you both will have a lot going on and won't have time to organise everything yourself. If you want a lot of help, you may even want to consider hiring a wedding planner/coordinator.
Weddings have become more and more complicated over the years. Just remember that yours doesn't have to be that way if that's not what you want. A wedding is about two people who are in love committing to each other, often with the bonus of being the biggest party they'll ever throw for their friends and family. If you focus on this, keep it simple and relax, then your wedding should go off without a hitch! Good luck.
Remember, Nothing Goes to Plan
Nothing ever really goes to plan. I think you'd struggle to find a bride whose wedding went exactly to plan. Prepare for mistakes, and prepare to let them go. Nobody will likely notice, whatever the error may be! There are a ton more tips you can use to ensure your day is stress-free. Planning will only get the better of you if you let it! Need help planning your wedding? Check out our list of Wedding Event Planners here.
Are you ready for a hassle-free wedding day? Remember to breathe and let things go. Keep in mind what's important. You'll be fine!