Deciding where to have your honeymoon can be tough – especially with so many options near and far. Should you choose locally, interstate or travel abroad? Sometimes travelling abroad simply isn't worth it, with travel time and jetlag cutting into your holiday time. With so many beautiful places in Victoria, you may as well make the most of the short time you both have off work to enjoy your honeymoon, without the fuss of travelling a huge distance. Here's a few options to explore for honeymooning in Victoria. 
Daylesford
Located a 90-minute drive from Melbourne in Victoria's Spa Country, arty Daylesford is home to an array of galleries, pubs, quaint cafes and restaurants. If you're feeling especially adventurous, you can go glamping in a luxurious tepee. Nearby Hepburn Springs has several indulgent day spas to visit, so you'll definitely have a relaxing time when you yourself to a trip to Daylesford. 
Wilsons Promontory
If you're an active, outdoorsy couple, Wilsons Promontory, or "The Prom" is a great choice. With plenty of hiking trails, birdwatching and other wildlife spotting opportunities, beach views and spectacular landscapes, there's so much to see and do in this incredible pocket of eastern Victoria. 
The Grampians
Another wonderful place for the outdoors inclined, the Grampians offer pinnacle hikes, waterfalls, forests, incredible views and tranquil vibes. If you like wildlife, there is an abundance around the area to observe, and as you're driving back towards Melbourne you can go along the scenic Great Ocean Road. 
Sorrento or Queenscliff
Situated on the Mornington Peninsula, Sorrento is historically a popular holiday destination for the elite, and offers beautiful translucent water and quaint wooden jetty, delicious seafood dinners and a charming feel. Queenscliff is equally as gorgeous and historical, with a number of museums to peruse. You could even take the ferry between the two. 
Lorne
Another seaside gem, Lorne offers the Great Otway National Park, and surfing lessons on the beach if you're up to them. A diverse array of activities to discover! 
The Dandenongs
Have your honeymoon among the towering Mountain Ash trees and ancient ferns. Rent a quaint B&B and spend your time wandering the many gardens that the area has to offer. 
Before you choose the honeymoon location, first you must choose the reception venue. At Vogue Ballroom, we offer a range of wedding packages to help organise the big day and make sure it's the best it can be.
Winter is here and by the looks of it, it's going to be a cold one! For all upcoming winter couples who are soon to be married and want to stay local and travel within Australia or New Zealand, we've put together some great honeymoon travel ideas to add onto your adventurous and romantic itinerary.
O'Reilly's Rainforest Guesthouse,  Gold Coast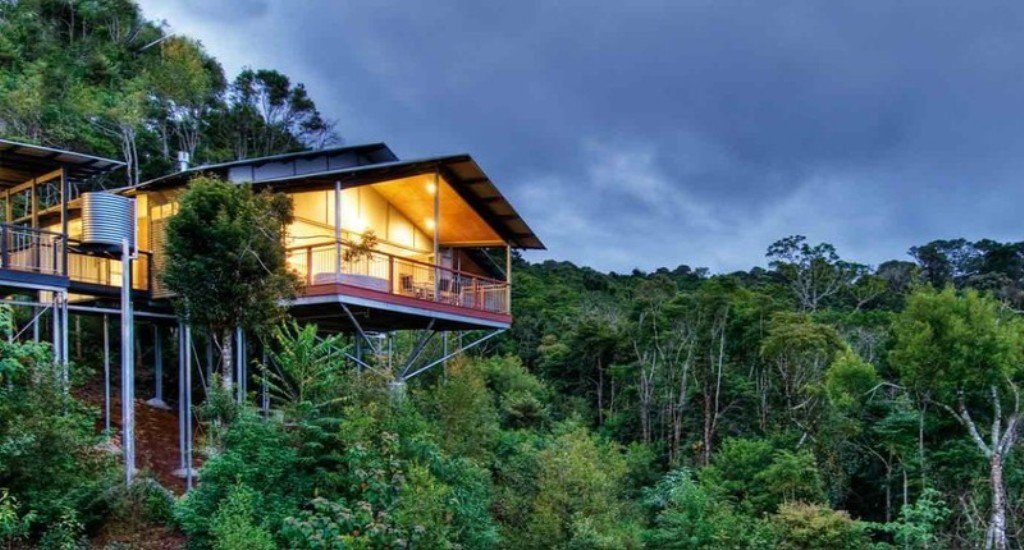 This hidden treasure is nestled in the heart of Gold Coast's rainforest. There is truly a lot to do from bush walking on the hiking trails to viewing the picturesque waterfalls. After a long day, you can return to your guest house to wind down and enjoy a massage, followed by dinner with some sparkling.
Blanket Bay Lodge, New Zealand
Located in the heart of the Southern Alps on Lake Wakatipu in New Zealand, Blanket Bay is all about optimum relaxation. The resort has exceptional mountain views, award-winning food and plenty of adventure-packed activities. It's definitely a perfect choice for a honeymoon getaway.
Sea Temple Resort and Spa, Port Douglas
Imagine spending your honeymoon in a luxurious villa with a swimming pool by your doorstep. Sea Temple Resort and Spa boasts on the beachfront of Four Mile Beach. This  resort offers an exquisite food and dining, which is truly fit for any couple after a 5-Star honeymoon experience.
Paihia Beach Resort & Spa, New Zealand 
This remarkable resort is located in Bay of Islands, New Zealand. A real highlight of this place is the fine dining experience at the resort's restaurant Provenir, which offers the best quality food sourced from Northland. There are a lot of great activities in surrounding areas such as dolphin cruising, sight seeing tours at Hokianga Harbour and travelling on the Russell Passenger Ferry to view the picturesque ocean views.
Woodland Cottages, Yarra Valley
Any honeymoon is made complete with this divine location in the heart of Yarra Valley. Apart from pampering and relaxation, there is plenty to do during the day such as visiting the Yarra Valley Chocolaterie, wandering through the TarraWarra Museum of Art and enjoying a walk through the scenic vineyards while sipping on the finest local wine. Yarra Valley's  location takes the stress out of travelling abroad and it will truly create an unforgettable honeymoon experience.