Whether you're looking for an exclusive five-star hotel, a beachside restaurant with stunning views or a unique warehouse with an industrial-chic vibe, you'll find your perfect Melbourne wedding venue for year 2021. 
Located in Melbourne, Victoria, planning a wedding and looking for the best wedding venue? When you are planning your big day, you probably want everything just perfect. When it comes to a wedding reception, we agree, as your choice of venue is what can turn an enjoyable celebration into a memorable extravaganza. One of the best ways to make sure that it all turns out the way you dreamed it to select every supplier yourself personally. This way, you can choose the ultimate location, an exclusive five-star hotel, a sophisticated restaurant with spectacular harbour views or even a luxury vessel, and craft your ideal wedding day.
We're proud to be working with some of the best wedding venues in Melbourne.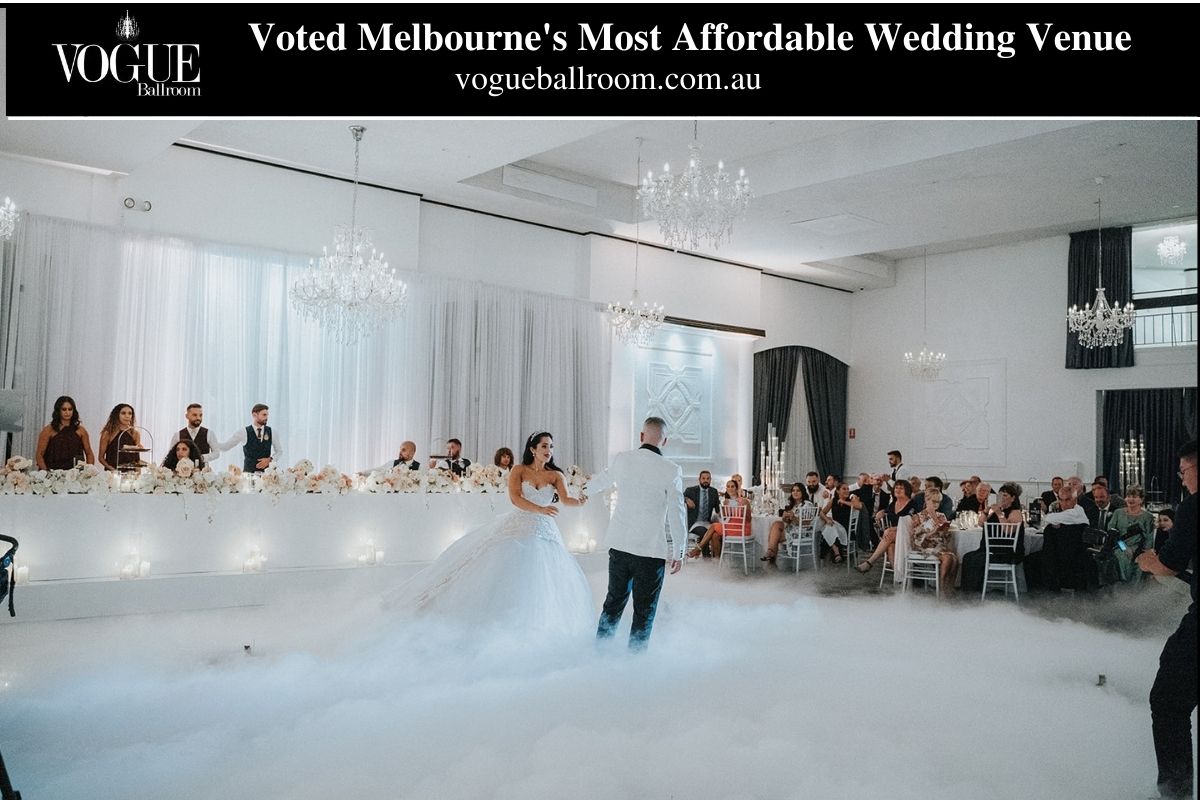 Best Wedding Reception Venues in Melbourne, Victoria
Vines of the Yarra Valley Wedding Venue Melbourne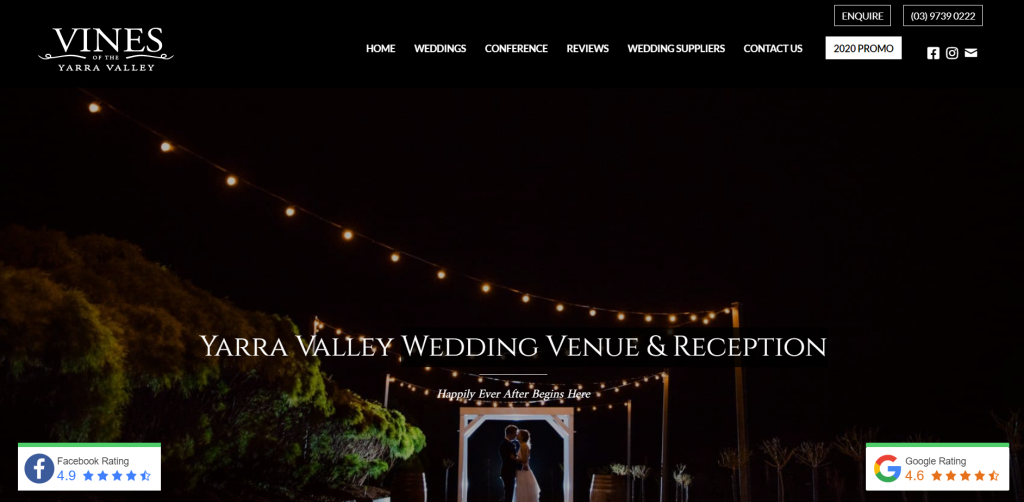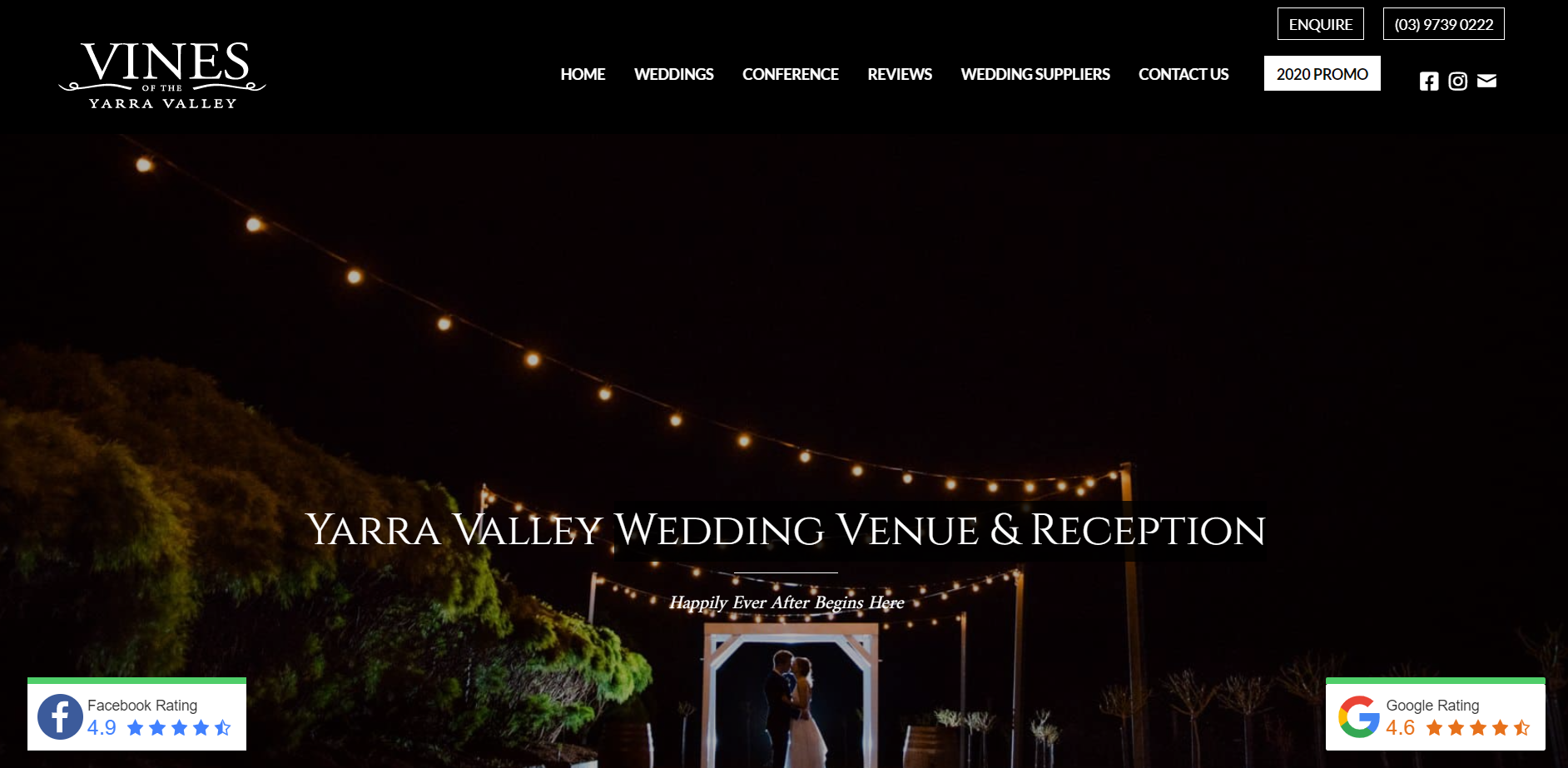 (03) 9739 0222
Premier Yarra Valley Winery Wedding Venue
Vineyard Wedding Venue, Breathtaking Backdrops, Exclusive Location, Romantic Experiences
Vines of the Yarra Valley Wedding venue is a stunning property located at the Yarra Ranges gateway just 45 minutes from the Melbourne CBD. Surrounded by acres of vineyard in every direction, lush lawns and magnificent rose gardens, we provide everything you need in one location, including free ceremony time. We offer a ceremony location on-site with 360 panoramic views of the valley and mountain ranges.
Witness The Best Views of the Yarra Valley All Year Round
Vines floats above vineyards on Helen's Hill and offers the Yarra Ranges' best views, making it a perfect location for your Yarra Valley wedding reception. We host stunning Yarra Valley weddings year-round at Vines, taking advantage of our various indoor/outdoor facilities, depending on the weather. Our facilities are versatile and accommodating, designed to maximize spring and summer's open-air freshness and fall and winter's crisp light and a cozy warmth.
Vines of the Yarra Valley Magical Wedding Receptions
Breathtaking 360 Degree Backdrops of the Valley 
Vines of the Yarra Valley is a spectacular wedding venue located just 45 minutes from the Melbourne CBD. This unique setting is ideal for couples who want their wedding in a setting of natural beauty. Surrounded by 150 acres of vineyards and offering some of the region's most outstanding scenery, Vines of the Yarra Valley is a fabulous boutique reception and function venue nestled at the gateway of the Yarra Ranges. 
Weddings at Vines are a 'choose your own adventure' style, where the bride and groom can create their very own dream wedding from scratch. We will assist you with all aspects of the organizing to make the entire experience absolutely seamless.
Luxury Winery Wedding
Rest assured, our team will do everything possible (and more) to take the stress out of your wedding day. The Yarra Valley Vines offers one simple, elegant and stress-free solution for one of the best days of your life. At The Vines of the Yarra Valley  we understand the significance of the most important day in your life. 
Our team of Internationally trained Chefs, your passionate Wedding Co-ordinator, our friendly and attentive service staff, will oversee all details of your Wedding Day. This ensures that we will make it the most treasured and memorable experience of your life.
Our spectacular clubhouse is both modern and elegant offering stunning course and valley views while our beautifully manicured gardens encompass the venue and provide the ideal setting for your ceremony or to capture those unforgettable memories.
Our Weddings Department is led by a professional team of wedding specialists with a wealth of experience in the industry and strives to plan your special day to perfection.
Catering to all types of nuptials, from small, intimate affairs to large, lavish events, our destination will be with you from start to finish, boasting picturesque ceremony locations, multiple options of mouth-watering menus, spectacular views, and on-site accommodation.
Over 30 Years of Experience in the Wedding & Entertainment Industry
Family Owned & Operated - Loving Wedding Professionals
Husband & wife combination George & Angela Ross have delivered over 1000 memorable Melbourne weddings with over 30 years of industry experience in the wedding & entertainment space. For many years they've run the award-winning wedding venue Vogue Ballroom, catering for larger weddings capable of servicing up to 400 guests.
"Our sole ambition is to inject beauty, passion and grandeur into your wedding as we create memories that you will cherish forever."
Award winning cuisine, expertise, renowned service, and attention to detail will ensure that your wedding is a truly memorable occasion at Yarra Valley's best wedding venue. George & Angela deliver passion, pure joy to couples along with happily ever after. 
Lavish Elegance Blended with Rustic Glam
The rustic, vintage charm of the breathtaking 150-acre vineyard Estate makes it one of the most sought after wedding venues in the Yarra Valley. Photographers LOVE being told they've got a wedding shoot here, fairy lights twinkling both indoors and over our unique outdoor courtyard dance floor, amazing food options, a full alcohol licence, charming wet weather contingencies, a variety of ceremony areas - the list of what we have on offer is quite simply amazing. 
Whether you are looking for a 'country-style' long table type reception, a wine-barrel style cocktail reception, a vintage themed intimate gathering or any variation of these, Vines of the Yarra Valley is the wedding venue that sets the benchmark for styling options.
Vogue Ballroom Wedding Venue Melbourne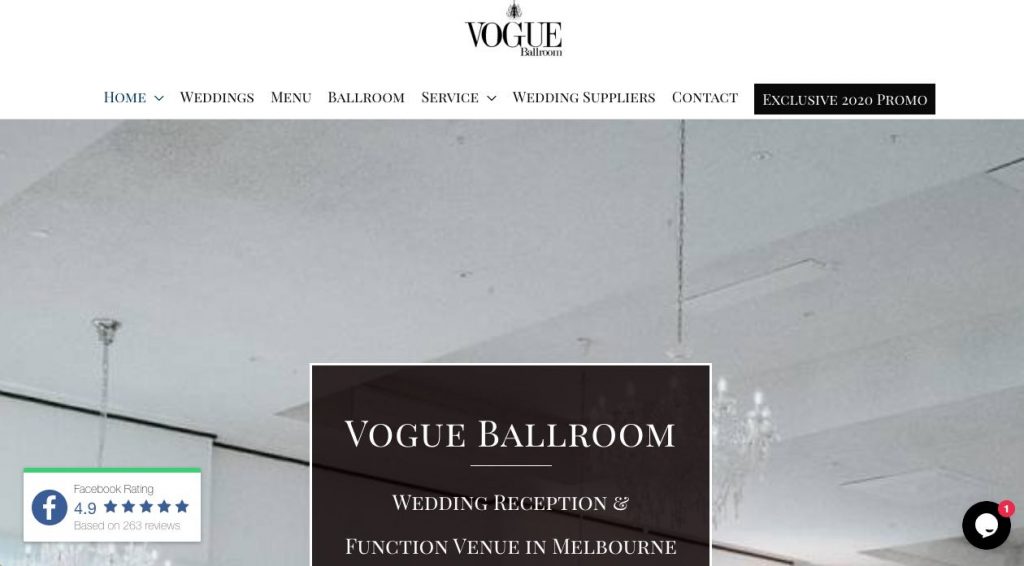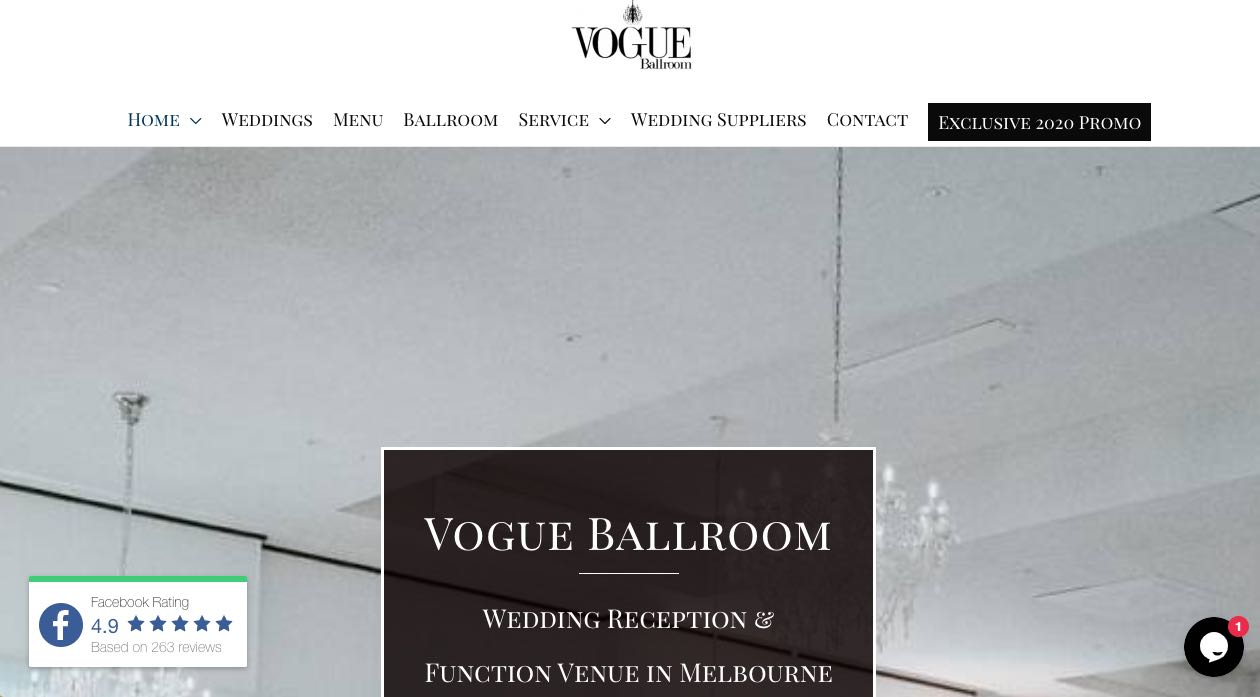 (03) 9802 2471
Melbourne's Iconic Wedding Reception Venue
Vogue Ballroom, an exciting wedding and reception venue located in Melbourne's south-east suburbs of Burwood East, a short 20 minutes from the city center.
Vogue Ballroom is where Melbourne "happily-ever-after" begins in grand style. The moment you say "I do," weddings at Vogue Ballroom are an elegant and luxurious affair.
From our Grand Ballroom with its exquisite details, sparkling crystal chandeliers, and majestic staircase, brides-to-be have a wealth of elegant options in the selection of their wedding venue for their special day.
Vogue Ballroom has proven itself to be an iconic wedding venue and function centre in Melbourne with a highly reviewed track record when it comes to your special day.
Looking for an Elegant wedding reception venue in Melbourne?
It is all about creating the right ambiance for your magical Melbourne wedding day.
At Vogue our grand ballroom is exclusively yours. A beautifully presented and decorated free standing building with its own car park facilities. Our team of expert wedding specialists, event planners and chefs will work closely with you to create a wedding experience that is truly magnificent, ultimately unforgettable and lives up to your expectations and dreams in every way.
We will assist you every step of the way to ensure that you have the perfect ingredients for your wedding day.
Our wedding ballroom is equipped to deliver the best wedding day ever
Vogue Ballroom is one of Melbourne's finest wedding venues situated in the South-East only 20 minutes from the city. It's the perfect wedding reception venue in Burwood East for your big day. We have one large function room able to cater for 370 wedding sit-down dinner or over 400 gala ball events. We take all the stress away by providing full catering, room set-up and décor and even cake if you need! We've got all the contacts to guide you in finding the best wedding photographer, decorator or where to buy a gorgeous dress. Our beautiful reception area is also perfect for wedding ceremonies.
Vogue Ballroom is very flexible and understands how special your wedding day is. The team will strive to cater to your wedding's specific needs, no matter how big or small! It is all about creating the right ambience for your wedding day. At Vogue Ballroom our ballroom is exclusively yours for your event. That's right, beautifully presented and decorated free standing building with its own car park facilities.
Wedding Reception Catered for by our internationally renowned Chef.
At Vogue Ballroom, we pride ourselves on our quality menu and will provide a complimentary tasting for you and your family before the big day. This gives you the opportunity to select your menu and matching wine to your taste. Select your menu from our Chef's specially designed options, or our chef will work with you to come up with the perfect feast for your taste.
Award winning cuisine, expertise, renowned service, and attention to detail will ensure that your wedding is a truly memorable occasion at Melbourne's best wedding venue.
A Modern Day Classic Wedding Ballroom Venue
The elegance displayed in the Vogue Ballroom is nothing short of breath-taking. The tall ceilings are adorned with crystal chandelier. The marble foyer is a sight of grandeur. The balcony overlooking the whole ballroom makes the perfect spot to showcase a newly married couple. This building was designed to showcase the grace and sophistication that most brides seek for their big day.
Luxurious décor, an exquisite bridal lounge gives Vogue Ballroom its own unique level of opulence, that flows through the pillar less ballroom making it the perfect venue to host your celebration. Vogue Ballroom's six-meter high French provincial crystal chandelier lined ceilings, custom-designed carpets, iconic wall paneling, crushed silk drapery to its gracious marble foyer, lavish stone bathrooms and the mezzanine balcony overlooking the whole ballroom. 
Our gracious foyer is perfect for your pre-event drinks and canapés, and your guests will wait in style and comfort for your grand arrival to the venue. We also cater to onsite ceremonies should you want your entire wedding to be held at the iconic Vogue Ballroom.
Every Vogue Wedding is as Unique as the Couples that Marry
With 30 years of experience in the Melbourne wedding and hospitality industry, George and Angela Ross have a long history of delivering memorable Melbourne weddings with over 500 5-star reviews. Vogue Ballroom is their success story in Melbourne, Australia – an elegant wedding venue that has justifiably earned a reputation as "Melbourne's Best Wedding Venue."
Brighton Savoy Wedding Venue Melbourne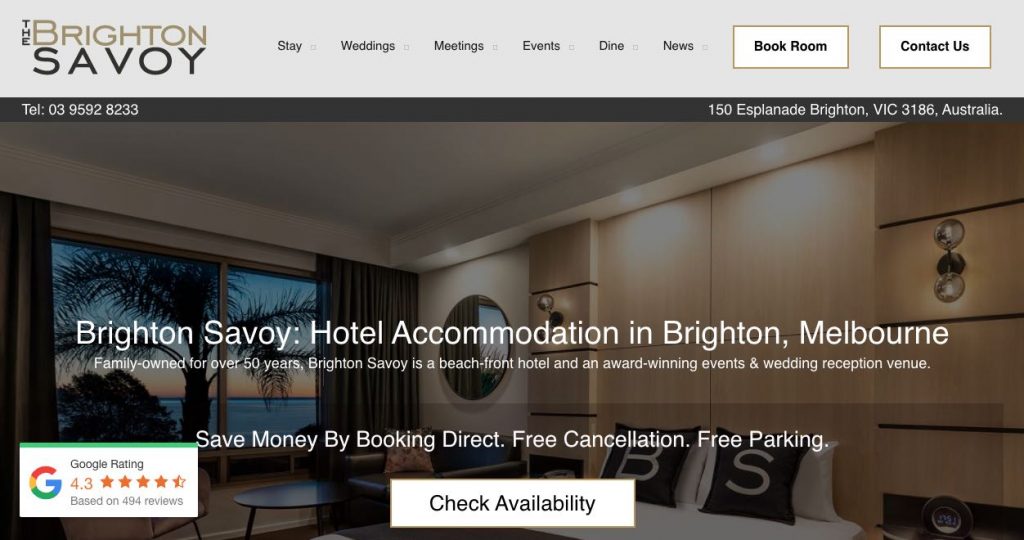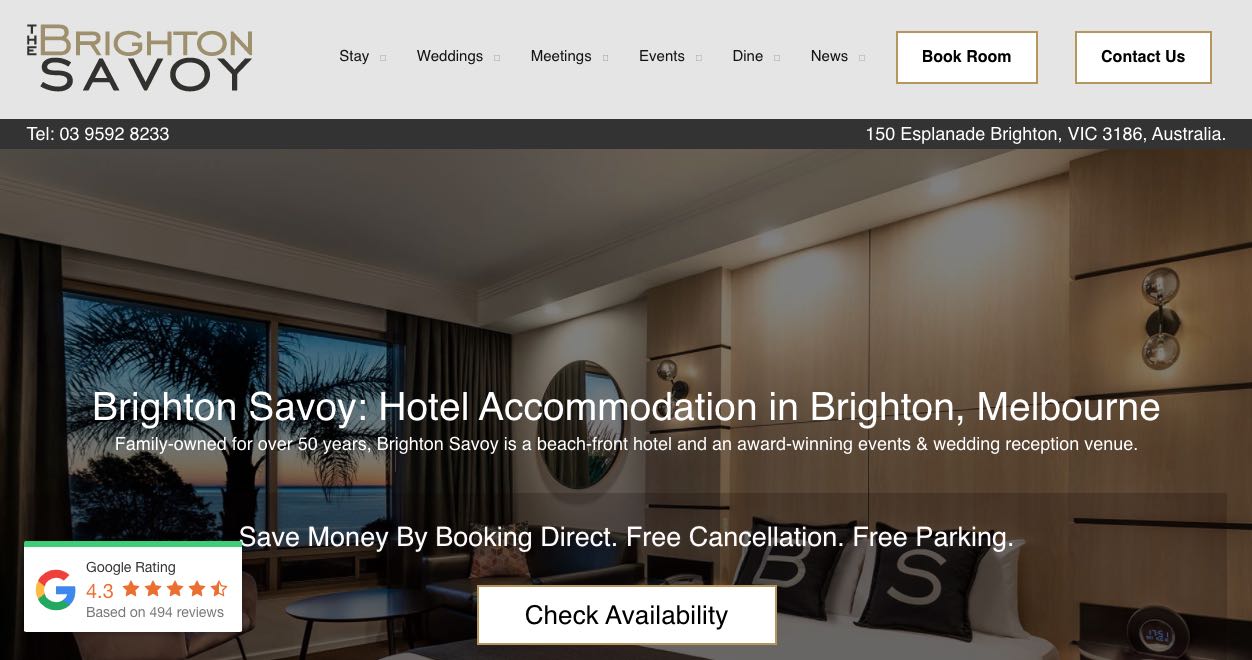 03 9592 8233
Book Now, pay on the day of arrival, free cancellation at the Best Hotel in Brighton|
Superb Beach Accommodation & Hotel in Brighton.
The Brighton Savoy is the area's only full-service boutique hotel and is located directly on the beachfront.
During your stay, we invite you to enjoy our full range of services including 24-hour front desk, free high-speed wi-fi internet, Seaview dining, daily housekeeping and free on-site parking, and much much more.
The Brighton Savoy has been a long-standing Bayside icon since 1967, our award-winning facilities serve as a wedding reception venue, full-service function & conference centre with hotel accommodation, and Seaview Restaurant making us one of the finest Hotels Brighton has on offer.
Owned exclusively by the Lee Family, the Brighton Savoy is one of the premier hotels in Brighton which features the best of contemporary design with unparalleled customer service and attention to detail that only a 4-star hotel can provide.
Magical Beach Wedding Receptions
Welcome to a place made for love stories. Where Melbourne's famous Brighton Beach boxes meet the Port Philip Bay amid a panorama of the Melbourne city CBD, Brighton Savoy Hotel & Wedding Reception Venue nestles itself on the sandy shoreline. Here, everything your wedding could want is just stepped away, allowing your celebrations to flow seamlessly from one unforgettable moment to the next while our team of detail-devoted professionals combine their magic with those incomparable surroundings.
As the waves glide against the shore, a gentle breeze rustles through your hair. You can distinctively hear birds chirping, over the soft instrumental music you chose specifically for this moment. Everything is perfect, just like you've always dreamed…
There's no doubt that a beach wedding is romantic.
You find a beach, throw on a dress or lightweight suit, skip the shoes, and get ready for a tropically themed walk down the aisle. Many people who want a hassle-free wedding opt for a beach wedding. Beach wedding venues often have a relaxed ambience, ideal for lively celebrations that feel like a true vacation.
Melbourne's Most Highly Reviewed Beach Wedding Reception Venue!
When it comes to weddings, we are as dedicated to your day as you are to each other. From bespoke menus to designer romantic details, Brighton Savoy is the place for beachside romance. Our charming neighbourhood is a fun and laid back place to gather friends and family who can explore and discover local treasures during their stay. Special accommodation rates will also apply to any of your guests choosing to stay with us.
With sweeping bay views as your natural backdrop, there's no better way to say I do. Whether you're picturing an intimate gathering, lavish canape soiree or sit down banquet, your day will unfold exactly how you imagine. Brighton Beach Bathing Boxes are an iconic part of Melbourne's makeup and the perfect wedding setting for a day by the bay.
Award-Winning Wedding Receptions Melbourne
The Brighton Savoy is located directly opposite Middle Brighton Beach where you will find the iconic, colourful and world-famous Bathing Boxes. Host your wedding at one of Melbourne's premier wedding venues, featuring waterfront and beachfront ceremonies, four event spaces catering from 30 to 220 guests.
We have celebrated with many bridal couples over the last 50 years in the Wedding Industry and look forward to hosting your special day with your family, friends and loved ones.
Be assured that you will have access to an experienced wedding and events team to make your wedding day one to remember.
Wedding Venue Highlights
Owned and operated by the Lee family for over 50 years.

Located 12 km from Melbourne CBD on prestigious Brighton Beach.

Hosting your wedding from 30 – 220 guests.

Wedding reception and ceremony packages available

Beach ceremonies in conjunction with the City of Bayside

Photos opportunities at the world-famous Brighton Bathing Boxes

Elegance & contemporary style

Free onsite venue parking for guests
We offer a range of wedding packages, including our five-hour reception package, six-hour ceremony and reception package and an onsite backup option for those looking to have their ceremony on the beach.
Brighton Savoy is also able to host commitment ceremonies and has packages available upon request.
Sheldon Reception Wedding Venue Melbourne
 
393648222
About us
On your wedding day, of all days, everything must be perfect. Sheldon Reception is family owned and operated and is committed to providing an unforgettable experience for you and your guests. 
With three sumptuous reception rooms, catering for 70-650 people, you are assured of a totally professional approach to working with us to plan your special day. 
Entrust your wedding reception to Sheldon, and it will truly be an Unforgettable Story to be told. 
Sheldon Reception
prides itself on providing a professional, comprehensive approach to working with you to plan your special day. Trust the venue's wedding coordinators, with over 20 years of experience, will help you to create that picture-perfect wedding you have always wanted. 
From entertainment and wedding cakes to prestige cars, Sheldon Reception has everything you need to not only make your day run seamlessly but be extra special.
The impeccable service standards, superb presentation and friendly staff will ensure you and your guests have an unforgettable experience.
Bliss Room
The features of this room are unique to Sheldon and emerge to delight and surprise your guests. You slowly ascend through the floor to greet your guests in a fully enclosed beautiful glass elevator. 
Delphinium Room
Romantic and elegant, this magical room seats 70-240 people in air-conditioned comfort and is perfect for that smaller wedding or special event. With superb lighting, the ambience is charming and surprisingly intimate.
Sheldon Gardens
The Sheldon Gardens offers very flexible seating arrangements, depending on your function's style, and is also very popular for dinner dances and a wide range of corporate events and luncheons.
Tatra Receptions Wedding Venue Melbourne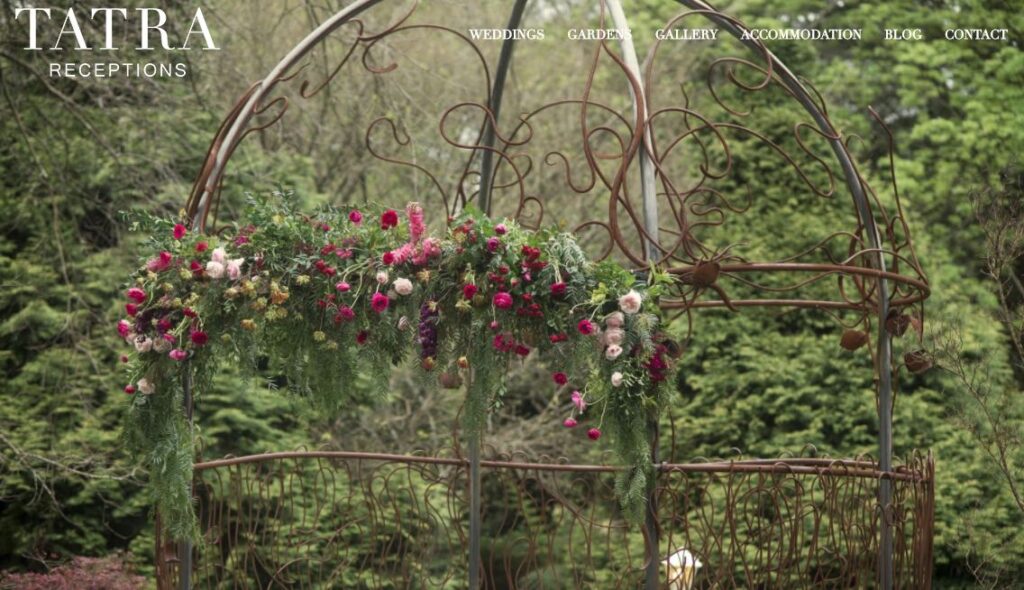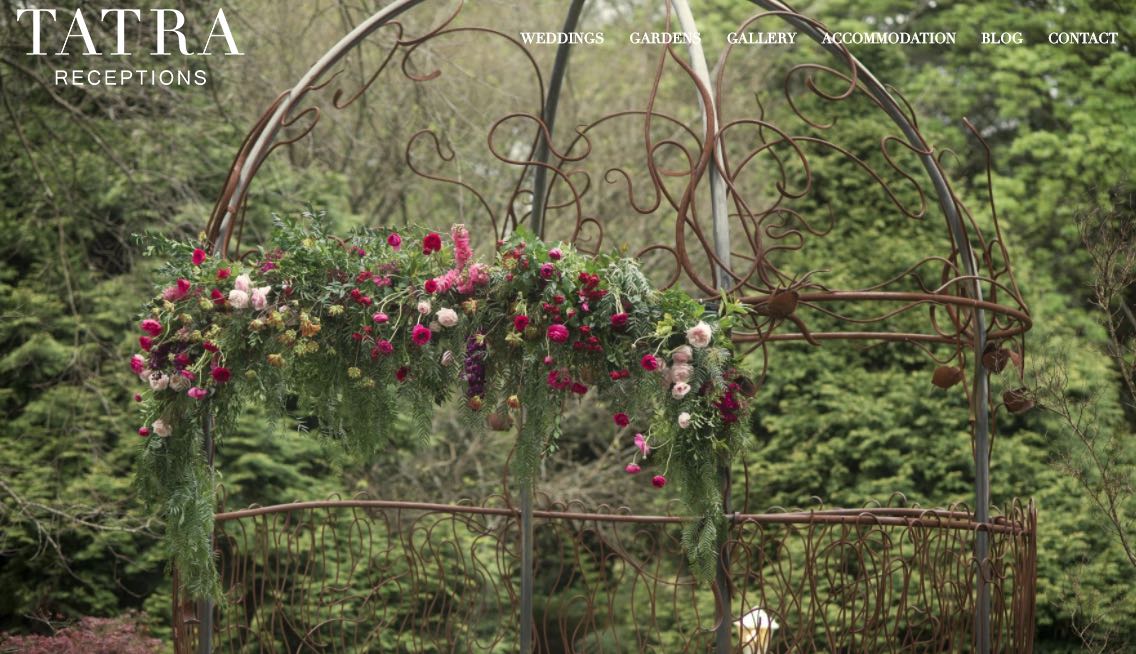 397511065
TATRA'S NEW LOOK
We're proud to announce that our recent stunning renovations of Tatra Receptions are complete.
Our new transformation includes:
Modern white Napoleon banquet chairs available to all of our Brides & Grooms (we are the only wedding venue in Melbourne with these specially imported chairs)

Stunning handcrafted steel doors, designed to bring the forest into our grand ballroom

A new neutral colour palette in calm tones, modernising our entire venue

A brand new Calcutta marble bar

A whimsical, woodland-themed bridal change room, styled as the perfect retreat for you & your bridal party on your special day.

Updated entry foyers with hardwood floors & new artwork

Contemporary, free-form floral arrangements, available to all of our Brides & Grooms

Modern decor & colour accents, including a walkway of mirrors, couches & a revamped window seat spanning the length of our pre-dinner room overlooking the Dandenong ranges forest.

We're excited to share the first photos of our new look below.
MELBOURNE'S PREMIER GARDEN WEDDING LOCATION
Tatra Receptions is one of Melbourne's premier wedding reception venues. We are located in the Dandenong Ranges, just one hour from Melbourne's CBD.
Set amongst ten acres of established gardens, with soaring views of the Dandenong Ranges forest, Tatra Receptions is your dream wedding destination.
THE BALLROOM
Our ballroom is a short walk from our onsite wedding ceremony locations. Couples can choose our rustic timber chapel, wrought iron cupola or gazebo for their ceremony.
Our spacious ballroom features spectacular views of our acres of gardens. Our ballroom is well equipped with chandelier lighting for your wedding reception with our bar, dance floor & cozy fireplace.
We cater to between 80 & 250 guests.
GARDEN WEDDINGS
Tatra Receptions' vibrant gardens & choice of outdoor ceremony locations are perfect for a garden wedding.
Our handcrafted wrought iron cupola is framed by lush lawns & forest greenery. Many couples choose to celebrate their special moment under our romantic cupola, with the backdrop of the Dandenong Ranges forest.
Our spacious gazebo is an ideal option for an outdoor wedding ceremony, set amongst our spectacular gardens.
INDOOR CEREMONIES IN OUR RUSTIC CHAPEL
Tatra Receptions' light-filled chapel features high ceilings and floor to ceiling views of the Dandenong ranges forest.
Our chapel is furnished with handcrafted timber ceremony pews and can accommodate up to 180 guests, allowing you an all-weather option for your wedding ceremony.
OUR PACKAGE
Exclusive use of Tatra Receptions
Your choice of our chapel, wrought iron cupola or gazebo for your wedding ceremony

Chandelier lit ballroom for your wedding reception (seating 80 – 250 guests)

Exclusive access to our grounds for your wedding photography (with over 10 acres of established gardens there is no need to travel offsite)

Personal wedding co-ordinator & Master of Ceremonies

State of the art sound system for speeches & formalities

Complimentary accommodation for the Bride & Groom in our honeymoon suite

Onsite lodging (28 guest suites)

Ample onsite parking
Wedding styling
Fresh floral table arrangements in your choice of glass vases or candelabras

Tea light candles for each table

Use of our White Napoleon chairs (imported especially for Tatra)

Personalised table menus, place cards & guest list

Wishing well
Menu
Selection of pre-dinner drinks & canapes

A gourmet three-course meal served alternating, with shared platters also available.

A 5-hour premium beverage package including Yarra Valley wines, full-strength & light beers, non-alcoholic fruit punch & soft drinks

Tea, coffee & chocolates

Complimentary cake cutting & cake bags
Crown Hotels Melbourne Wedding Venue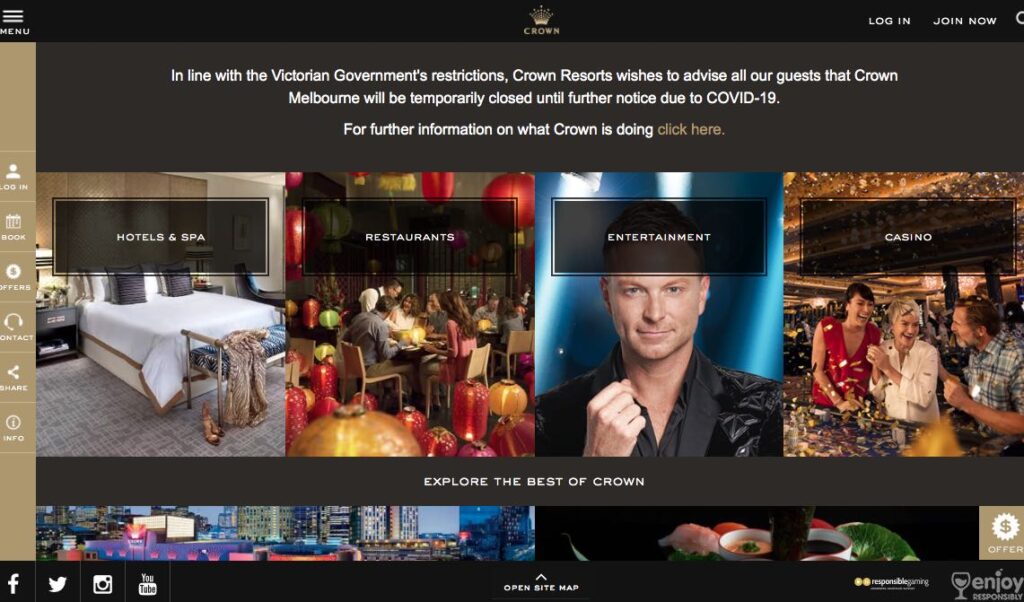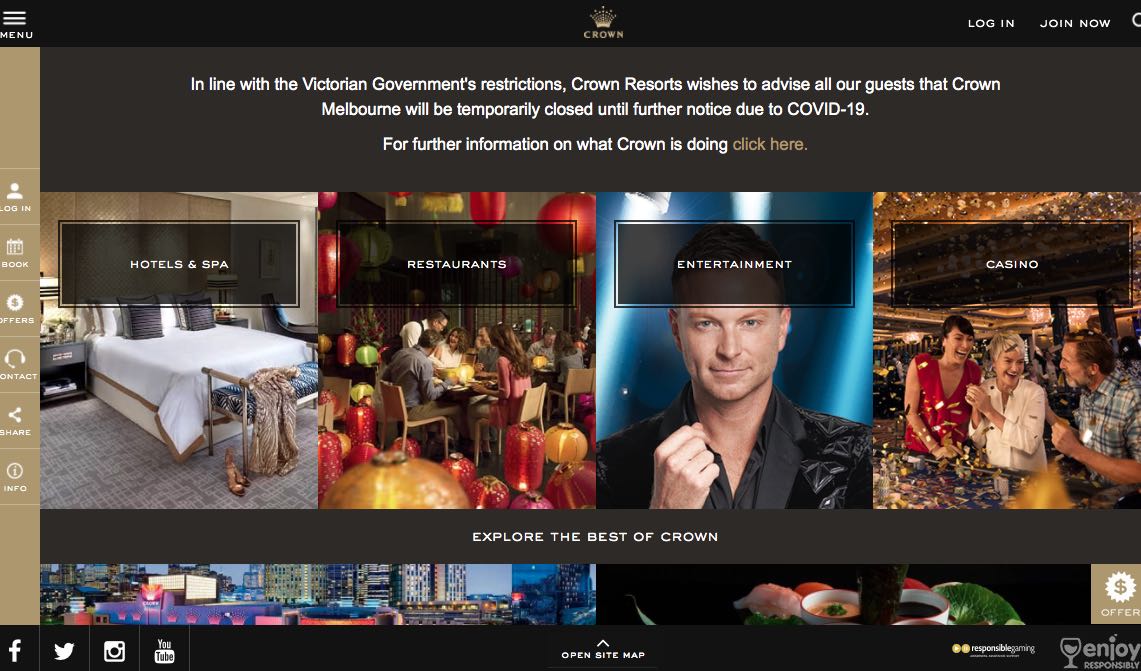 392928888
Events & Conferences at Crown Melbourne
Crown Melbourne excels in delivering world-class service, premium catering and excellence in on-site technical support. Our five-star facilities, attention to detail and highly trained staff, make Crown the perfect choice for your next event in Melbourne.
Venues
Whether that is a marquee on a rooftop, a grand ballroom dazzling with lights or a fragrant garden room bursting with florals, anything is possible at Crown.
Our exceptional variety of unique venues will ensure that you and your guests experience a truly unique and unforgettable time.
Menus & Packages
Crown Events & Conferences is the perfect choice for your next event, offering extensive and versatile event facilities. Our menus are curated by Award-winning Executive Chef, Kelly Jackson and his team. Kelly's multicultural and modern approach, using predominantly locally sourced ingredients, gives our menus a quality rarely seen in such a large scale. 
Whether you are planning an intimate gathering or massive celebration, Crown Events & Conferences offer everything you need to make your special event a spectacular one.
Witch Mount Estate Wedding Venue Melbourne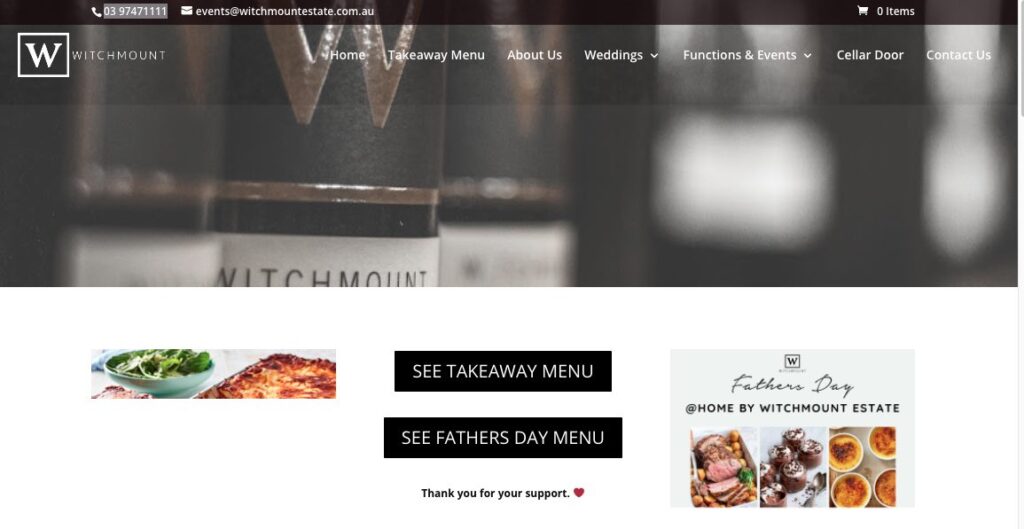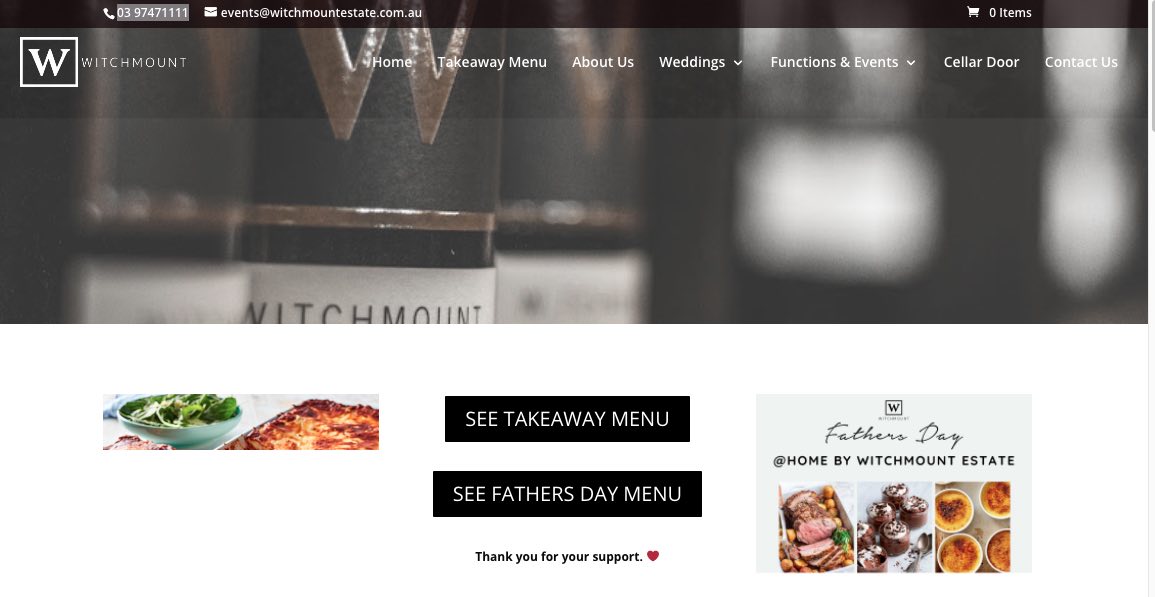 397471111
Function and events space, promising a breathtaking setting for all kinds of celebrations.
Something magical happens when you find the place you truly belong, where you're welcomed like family and cared for sincerely at every moment. Whether for a wedding, engagement party, your child's first or 13th birthday celebration, a baby shower or business conference, you and your guests will be greeted with warmth and spirit of generosity like no other.
Witchmount Estate is a place to come together and connect, with beautiful hospitality, a place to create unforgettable memories with those you love the most, a place you want to be.
Established in 1991 and nestled on 100 acres with 65 acres of vineyard, Witchmount Estate has proven itself as a luxury events venue located only 30 minutes from Melbourne.
The event space is thoroughly heated and air-conditioned to ensure the utmost comfort and convenience. The landscaped and festoon lit outdoor lounge area is perfect for pre-drinks for guests. Suitable for up to 300 guests in a cocktail setting or up to 260 seated, Witchmount Estate is an exceptional destination for all kinds of events.
Our expert dedicated events team will guide you through the planning process and ensure your event exceeds your expectations. From the moment you secure your event date, you will have your own event coordinator assigned to be on call to offer guidance on everything from entertainment and lighting right down to entrées and canapés.
So whether you're seeking advice and inspiration or know exactly what you want, our team of experts have the skills to bring your vision to life.
YOUR SPECIAL DAY, CREATED YOUR WAY AT WITCHMOUNT ESTATE
Established in 1991 and nestled on 100 acres with 65 acres of vineyard, Witchmount Estate has proven itself as a luxury wedding venue located only 30 minutes from a member. Understanding every couple is unique and specialise in bringing couples' dreams to life. Allow us to help you create the wedding of your dreams immersed in the most picturesque views. Our expert wedding team will guide you through the planning process and ensure your day is exactly as you dreamed.
Established in 1991 and nestled on 100 acres with 65 acres of vineyard, Witchmount Estate has proven itself as a luxury wedding venue located only 30 minutes from Melbourne. The event space is thoroughly heated and air-conditioned to ensure the utmost comfort and convenience. The landscaped and festoon lit outdoor lounge area is perfect for pre-drinks for guests.
Suitable for up to 300 guests in a cocktail setting or up to 260 seated, Witchmount Estate is an exceptional destination fit for a memorable wedding celebration. 
Tie the knot in one of our beautiful ceremony locations surrounded by your nearest and dearest…
Make use of the numerous locations around the grounds to capture your photos after the ceremony, while your guests enjoy drinks & canapés served in our outdoor lounge.
Crest on Barkly Wedding Venue Melbourne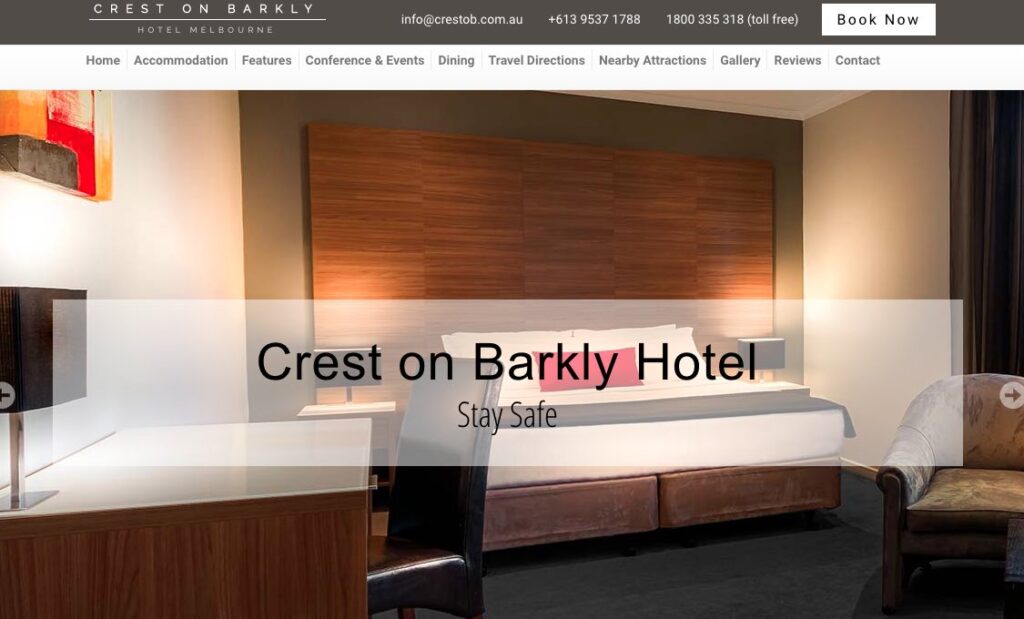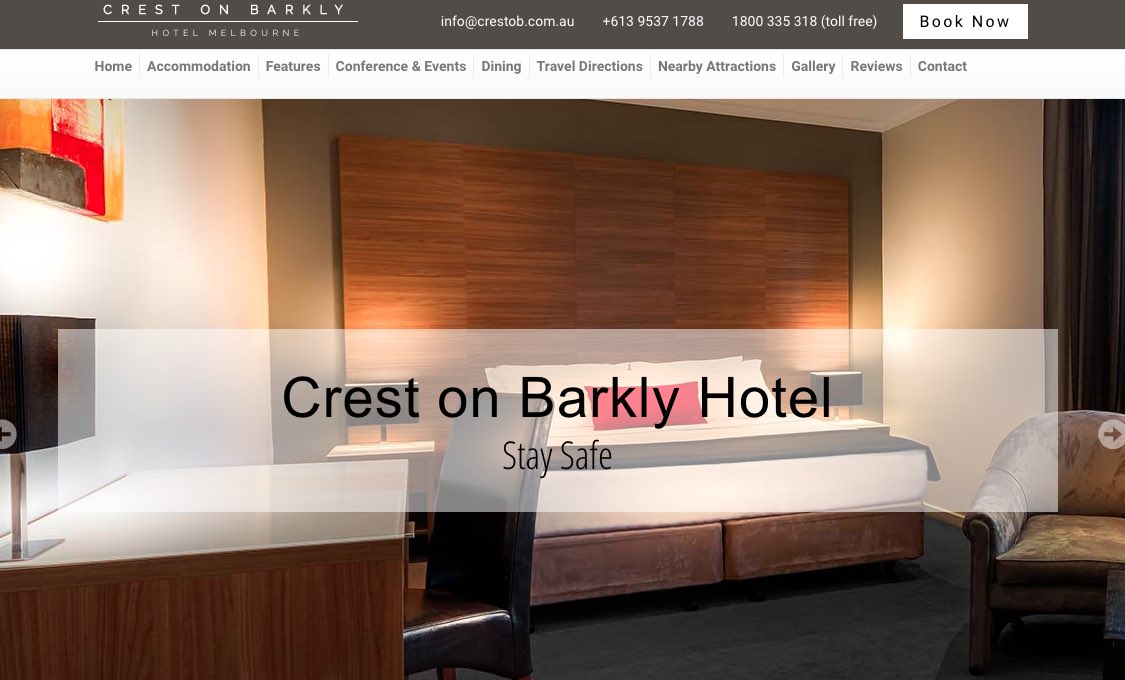 395371788
Crest on Barkly Hotel Melbourne
If you set out to find Melbourne's ultimate location for a business/tourist hotel, Crest on Barkly Hotel would be right at the top of your list.
Crest on Barkly Hotel is in one of Melbourne's ultimate business and tourist destinations.
Crest on Barkly Hotel is located right behind No. 1 St Kilda Road Melbourne. Just 8 minutes from Melbourne's Central Business District. St Kilda Road is recognised as one of the most prestigious business locations in Melbourne.
Melbourne's famous trams run past the door ready to take you to those marvellous Melbourne attractions you've heard about. St Kilda, the hub of Melbourne tourism with beaches, Albert Park Lake, the Grand Prix circuit, Luna Park, Aquatic Centre, arts and crafts markets and famous cosmopolitan Acland Street are all just a short walk from the Crest on Barkly Hotel.
Meet at Crest on Barkly
Ideally located in St Kilda's heart, Crest on Barkly caters for a variety of Functions, Events and Conferencing. Our multiuse site is perfect for your next occasion, whether corporate, intimate or celebratory. Crest on Barkly can easily facilitate functions, events and conferences ranging from 20 to 700 people.
Luna Events Wedding Venue Melbourne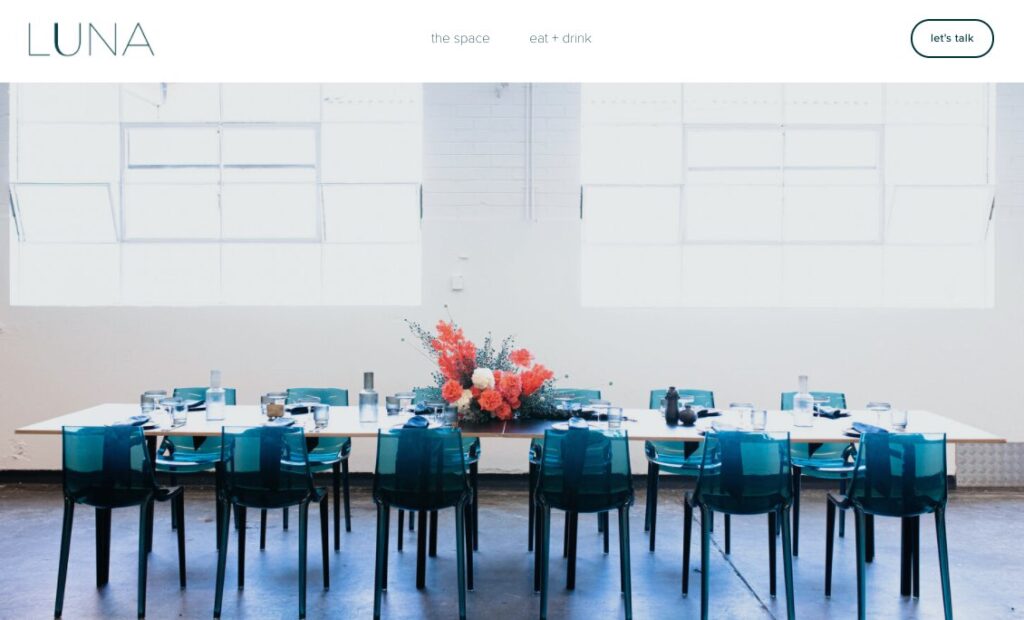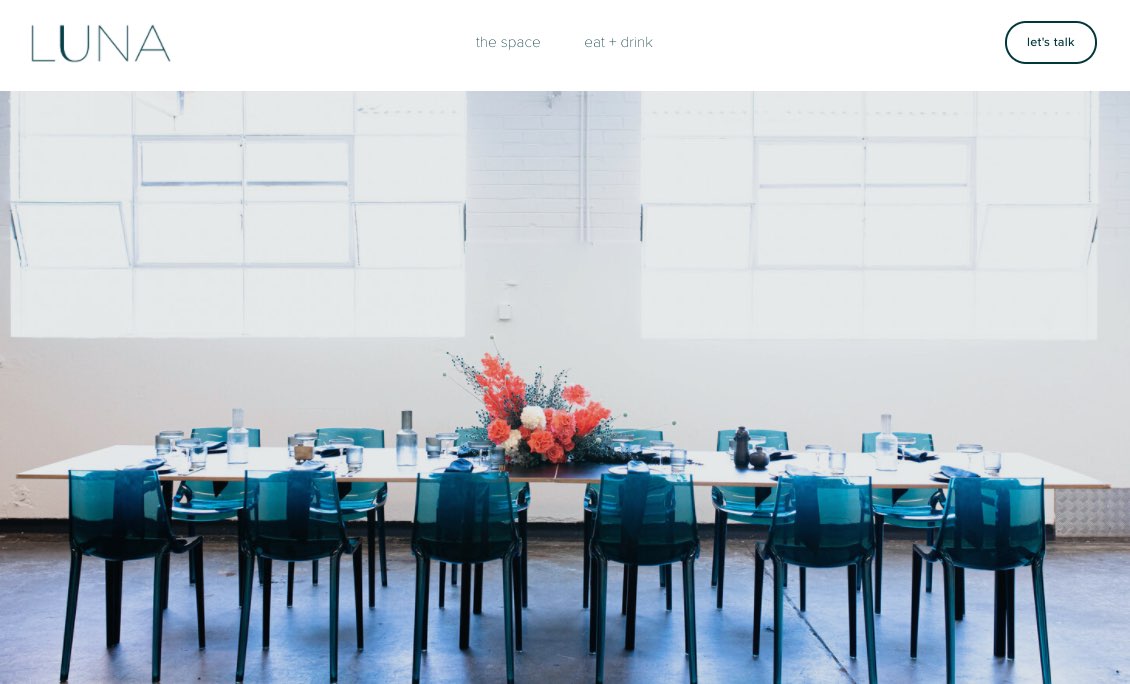 418156280
Presenting unlimited possibilities to create, feast and celebrate, Luna event space is now open.
This industrial warehouse has been converted into an ideal venue, where minimal aesthetics allow for complete creative freedom. Sweeping natural light surrounds throughout the day, reflecting off polished concrete floors and white brick walls. Indoor and outdoor spaces provide ample opportunities for bespoke areas to excite and engage guests, and as night draws in, even the largest events feel intimate and personal.
Two Ton Max Wedding Venue Melbourne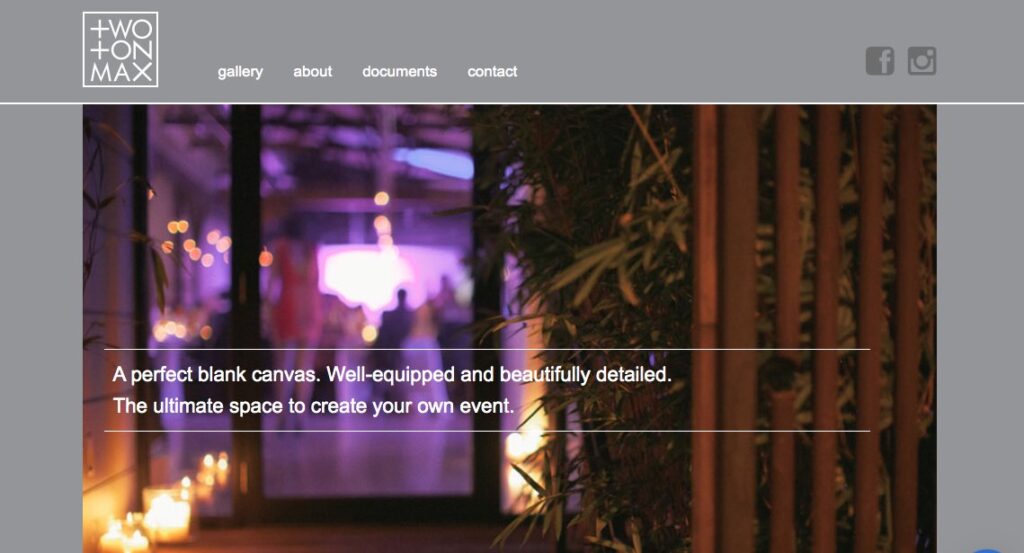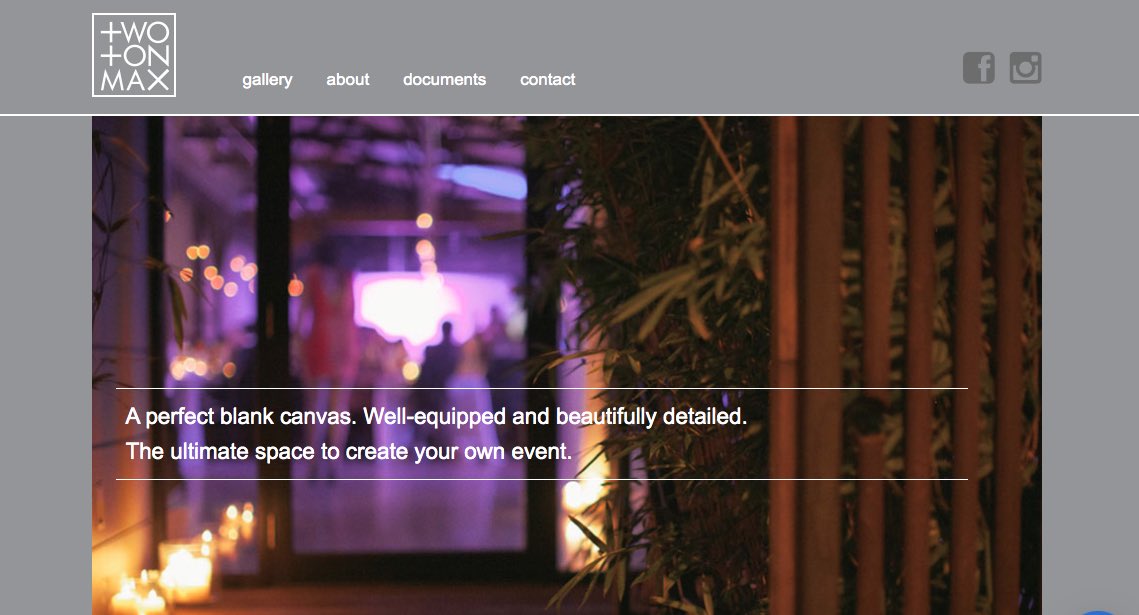 478650887
A perfect blank canvas. Well-equipped and beautifully detailed. The ultimate space to create your own event. 
Twotonmax is a sensitively transformed, beautifully detailed industrial warehouse located in North Melbourne. Hidden behind an anonymous street front, it is a blank canvas you can quickly and easily transform. This is a rare opportunity to create a unique event, with your own choice of caterer and limitless options for decorating and furnishing the room.
The venue's stunning burnished concrete floor, neutral white walls and discrete lighting are easily enhanced with additional fixtures as required. An oversize marble service bar is coupled with a commercial kitchen, sparkling bathrooms, air conditioning and other facilities, all well integrated into the venue. The vintage overhead crane (two-ton max capacity) can be called into duty should it be required.
Direct street access allows for easy bump-in, ample rigging points and flexible electrical layout make it a comfortable venue to quickly and effectively tailor. The platform offers you the opportunity to create a unique event in the style you choose.
Capacity:
200 people seated
Venue Features:
Polished concrete floor
Private outdoor garden/smokers' area
Direct street access via a secure gated pedestrian entry
Internal height in excess of 4.5m
Marble service bar 3.6m x 1.0m
Filtered natural light via skylights throughout the space
Access:
Vehicle access via roller door
Functioning 2 ton overhead crane
Amenities:
Heating and A/C
Male and female toilets and separate staff facilities
Commercial kitchen, back-of-house area
Particular outdoor area for additional cooking/refuse store/staff egress
Audio/visual:
Integrated stereo with iPod cradle, cordless mic, and lapel mic
Permanent video projector
3 phase power up to 32 amps
Security system
Pre-wired circuitry for additional lighting as required.
Location:
The venue is located on the fringe of a warehouse precinct, close to Macaulay Station (100metres) and excellent road access via Citylink or other main arteries. It is approximately 3km from the CBD. On-street parking is unrestricted and is particularly abundant after regular business hours. There are no residences in the vicinity.
Green:
Twotonmax has been developed with the environment in mind. Firstly, it is a re-use of an existing (ancient) building, so it benefits from low encapsulated energy. In some instances, the materials usually discarded during the demolition phase have been re-crafted and employed in the finished product. Examples of this include the slatted timber cladding on the entry gate and bulkhead areas, the central timber stairs, and the metal fence and handrail components.
Equally importantly, all consumables used in wet areas and all cleaning products used in the venue are carefully considered to be environmentally sensitive and wherever possible, non-toxic.
History:
Just a few years ago twotonmax was a small part of a rambling industrial workshop involved in the manufacture of generator equipment. Although its proportions seem generous for its current use, it was woefully inadequate for bulky items' daily movements – sometimes as big as shipping containers. Once the massive engineering business had vacated the building in favour of wide roads and high clearance, the building that remained was able to tell a long story of hard work.
By looking at the array of columns and beams, the patchwork of brick and concrete floors, and the piecemeal arrangement of driveways and overhead cranes, it was possible to track changes over time and understand the chapters of the building's life.
In the process of resurrecting functional spaces from the industrial chaos that had evolved seemingly without a plan, one area immediately stood apart. Beneath a thick layer of diesel soot, ignoring the distraction of brackets, shelving units, and decades of redundant plumbing conduits and electrical wires, was a relatively unmolested gem. Cleaning, careful removal of clutter and the addition of modern infrastructure have all occurred without significant disruption to the original building. Wherever possible, materials have been recycled and redeployed to new use, so they're still part of the evolutionary story.
The area now occupied by Topomax was initially built around 1910-1920. During its century of working life it has housed a company that manufactured ship's boilers, then general welding/boiler making, then heavy industrial roller shutters, and finally the generator business. During each period the building was modified to suit the work of the day. Large pulleys, beautifully detailed in steel and laminated timber, hang overhead as a reminder of a time when enormous engines drove canvas belts, that in turn gave motive power to equipment in the workshop.
When electricity became available the travelling overhead crane was added to the mix. Its scarred metal and elegantly efficient designs were an important influence on the venue's style and tone. The ever-present spectre of the yellow crane, spanning the entire space and waiting patiently to be called into action, left no doubt the forum should be named in its honour.
Leonda By The Yarra Wedding Venue Melbourne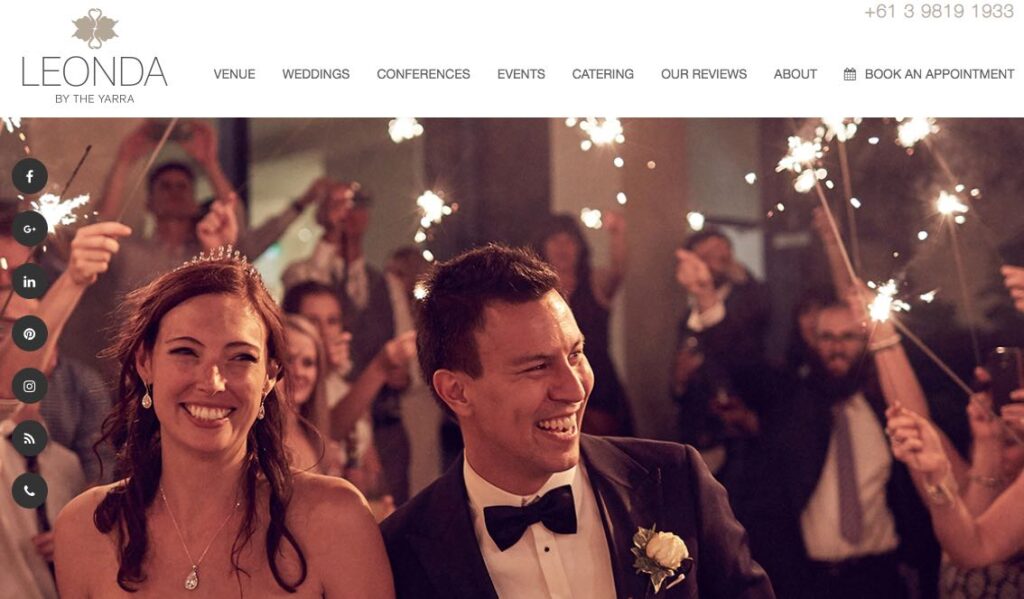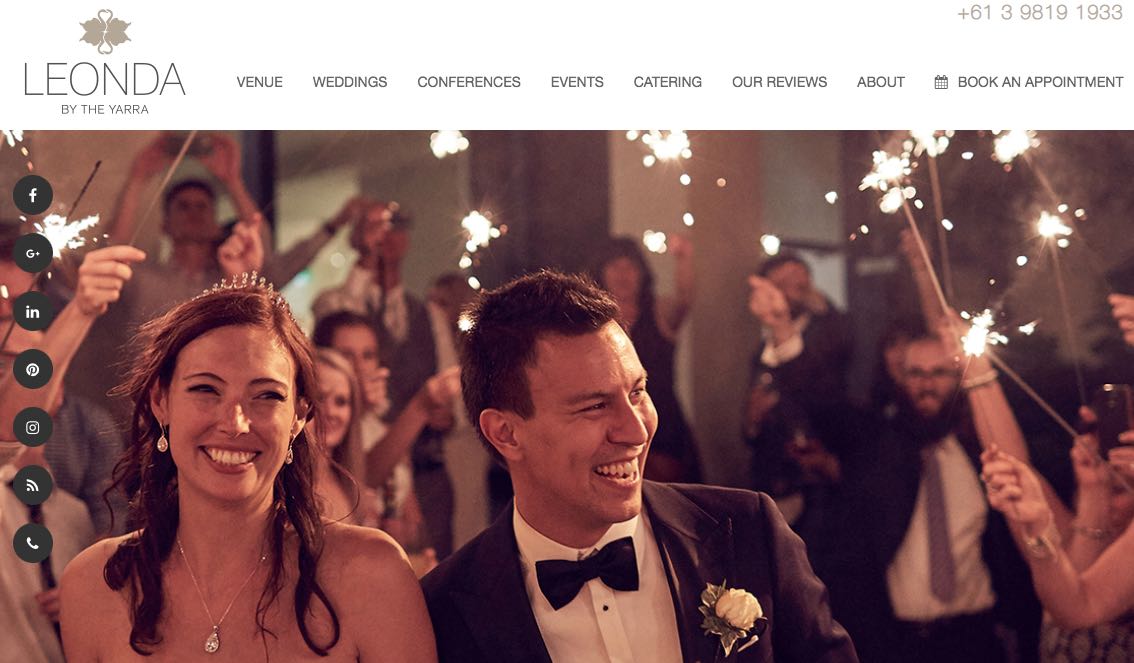 398191933
MELBOURNE'S PREMIER WEDDING VENUE
LEONDA BY THE YARRA
Where your dream day will come true
Create the most memorable day of your life within the surrounds of the willows on the banks of the Yarra River, where the culmination of riverside surrounding, restaurant-style cuisine and exceptional service will ensure all aspects of your special day are perfectly realised in one of Melbourne's leading elegant wedding reception venues 
Our commitment to your total satisfaction has earned our reputation as one of the leading sleek wedding venues in Melbourne – this means that we will provide you with one of Melbourne's best wedding venues and work to create your perfect night meet your personal needs.
WEDDINGS AND CEREMONIES
When you meet your partner at the end of the aisle to get married, you want to be in a beautiful setting. A space that will signify the beginning of your joining and a new journey unfolding. Leonda By The Yarra offers three picturesque areas to suit anyone's needs. Two indoor ceremony options and one outdoor option with the gorgeous Yarra River as a backdrop.
Here at Leonda, we are incredibly flexible and can tailor our space to suit your needs. Whether you want an elegant ceremony in our courtyard followed by a fully catered event in our Garden Room or you simply just want to walk down the Leonda aisle and then move your event elsewhere after, we are here to support and offer you anything and everything to make your special day memorable! After your unique ceremony, your guests can relax and enjoy pre-dinner drinks and canapés while you and loved ones are off taking photos in the exquisite settings.
Suppose you wish to conduct your wedding ceremony at a church or park. In that case, Leonda recommends a list of various churches and famous parks such as the Burnley Gardens, Royal Botanic Gardens, Alexandra Gardens or Fitzroy Gardens to hold your ceremony.
 What's included in our Wedding Packages
At Leonda we have thought of EVERYTHING (and we mean EVERYTHING) to ensure that your special day is everything you dreamed of and more. From the moment you first visit us, all the way through to the Big Day, nothing is too big or small for our team to handle to ensure that your wedding journey is seamless.
RACV City Club Weddig Venue Melbourne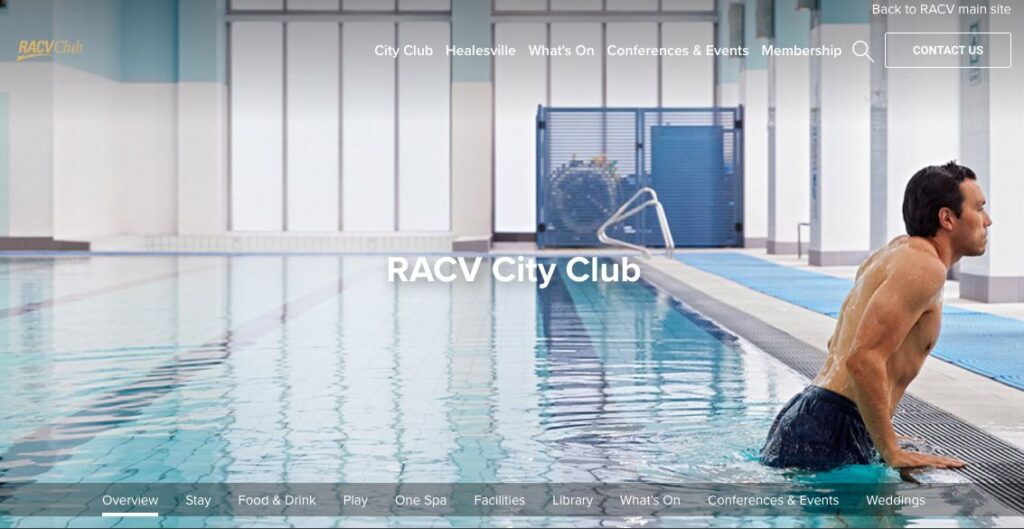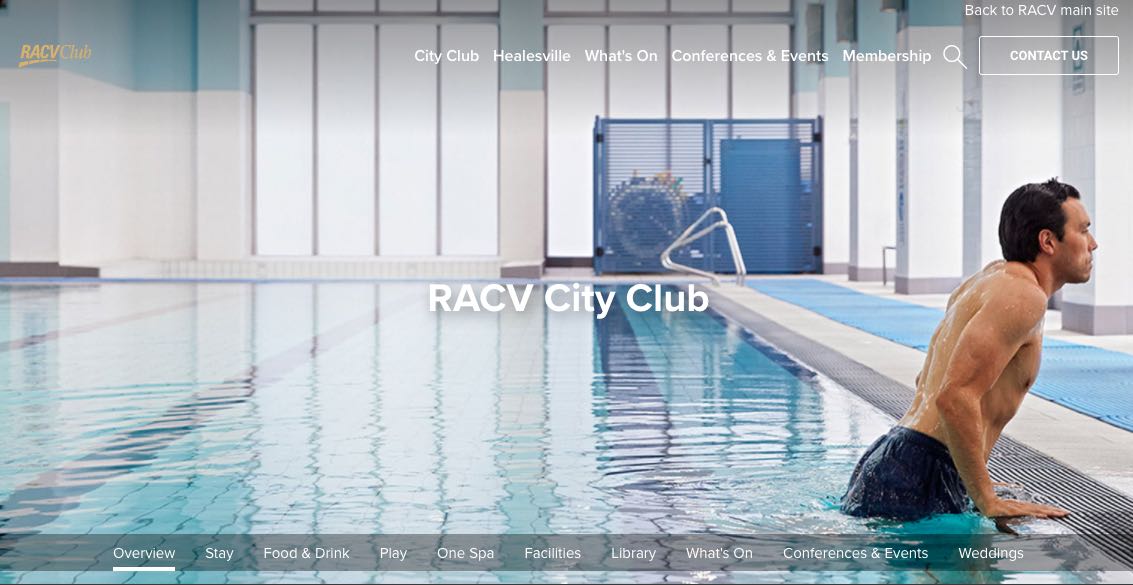 399448843
City Club
RACV City Club is just a stone's throw from Melbourne's retail precinct, Federation Square, theatres and major event venues. Conveniently positioned in the heart of Melbourne's CBD at 501 Bourke Street, the RACV City Club caters for the social, leisure and business needs of all Club Members.
A range of stylish dining venues and entertainment options make the City Club the perfect place to celebrate a special occasion or to enjoy a coffee, social drink, business lunch or intimate dinner.
Book your event at RACV Clubs in Melbourne CBD and the Yarra Valley
Whether you're looking for the convenience of a Melbourne CBD location or the country charm of Healesville, RACV Clubs has a conference or event venue for you.  
Conferences & Events at City Club
With over 100 years of tradition and experience, RACV Club has earned generations' esteem as one of the finest Clubs in the world. Conveniently positioned in the Melbourne CBD's heart at 501 Bourke Street, RACV Club features impressive conference and event facilities.
Only one club can provide the combination of experience, flexibility, imagination and atmosphere with impressive facilities including the 120 seat, floor to ceiling glass Club Pavilion. Conferences, meetings, weddings, family celebrations, product launches, award nights and gala events - there is a venue to suit every occasion. High-quality AV systems, comfortable and spacious rooms and innovative menus catering to all tastes will ensure your conference or event at RACV Club exceeds your expectations and is a truly memorable occasion.
Conferences & Events at Healesville Country Club
The Country Club provides extensive choices for conferences, car launches, executive retreats, planning days and corporate golf days. Located just over 50 minutes from the CBD in the Yarra Valley heart, a world away from city distractions, it is the ideal location for your next corporate event. Comprising of 14 unique event spaces, catering for both small and large conferences. The pillarless ballroom boasts spectacular views over the great dividing range with plentiful amounts of natural light, inbuilt AV and flexible space to allow cars into the room. Maximum capacity of up to 220 guests. Contemporary stylish accommodation, 80 rooms on-site with king-size or twin share configurations, combined with exceptional recreational facilities, provide the ultimate conference destination.
The ideal venue to celebrate your wedding
Spectacularly sited at the foothills of the Great Dividing Range, the Country Club is located in the heart of Victoria's premier wine region, the Yarra Valley, just over an hour's drive from Melbourne's CBD. A complete redevelopment of Healesville Country Club has created a superb venue for a fairytale wedding in a beautiful country setting.
To ensure every aspect of your special day surpasses expectation, RACV Healesville Country Club provides you with your own personal wedding coordinator. Your wedding coordinator can assist in planning and overseeing all aspects of your wedding day from themes, table decorations and last-minute details, through to ensuring the comfort of you and your guests.
Venues
Whether your wedding involves a small number or 200 people, you need to see the beautiful wedding reception facilities available at the RACV Healesville Club.
Our Couples
Browse images & videos of weddings at RACV Healesville Country Club. With stunning views & packages, your wedding here is bound to be beautiful.
Packages
Want the perfect wedding? See the fantastic wedding packages available at the RACV Healesville Country Club. Read more online & get in touch for more details.
The Melbourne Zoo Wedding Venue Melbourne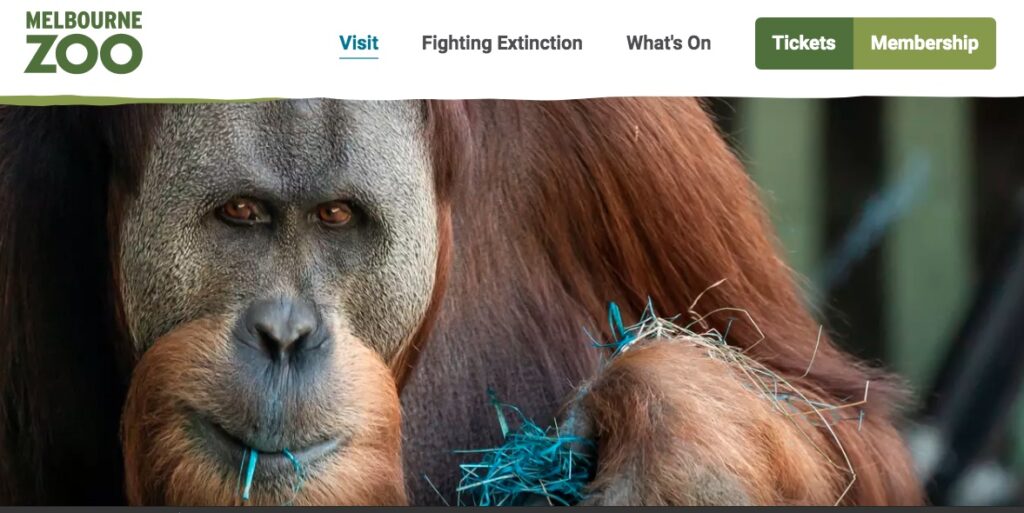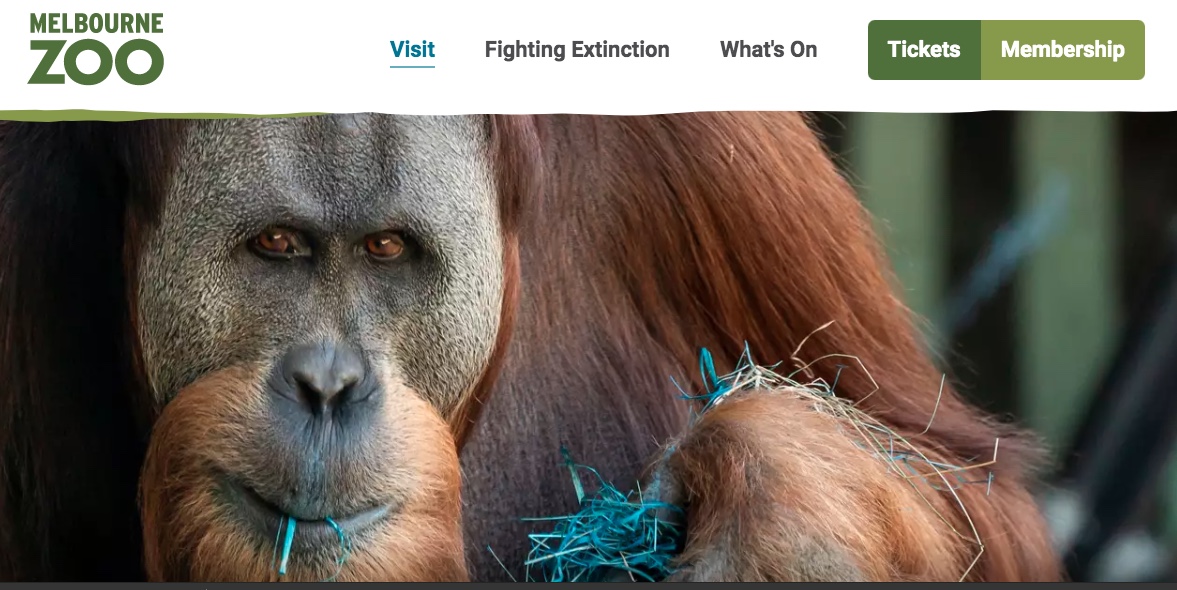 1300966784
About Us
Saving wildlife is not what we do; it's who we are.
Zoos Victoria is a world-leading zoo-based conservation organisation, dedicated to fighting wildlife extinction.
Our three zoos are Healesville Sanctuary, Melbourne Zoo and Werribee Open Range Zoo. Each one provides a unique and immersive experience that attracts visitors from around the world.
Our zoos inspire animal lovers of all ages. And by strengthening the connection between people and wildlife, we hope to protect the future of animals and their homes.
Our essential work includes breeding and recovery programs; we've built partnerships with local communities, fellow conservationists, and like-minded organisations — close to home and in far-flung corners of the world.
Thank you
We're a not-for-profit organisation, so every dollar counts. Each time you visit one of our zoos, donate, buy a souvenir from our shops, or share what you've discovered, you're helping us to protect wildlife. So, thank you.
Manor on High Wedding Venue Melbourne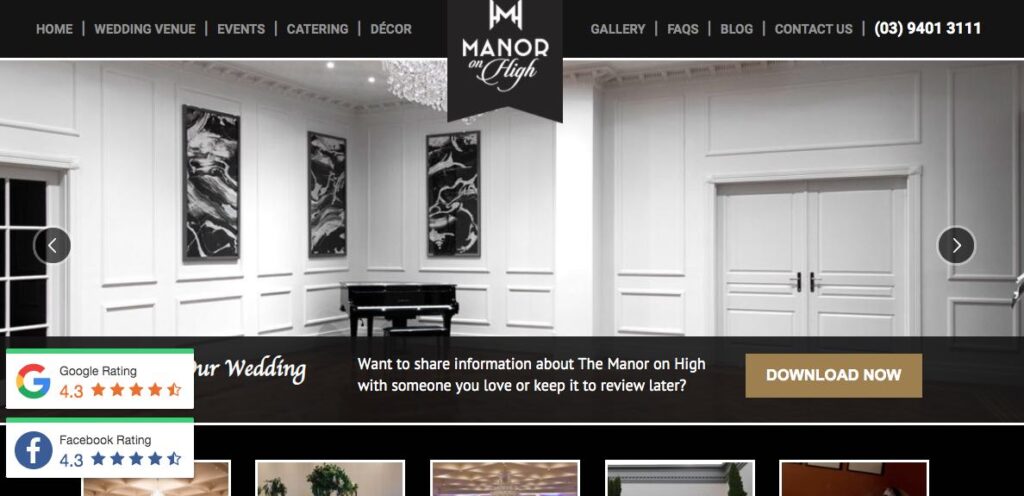 394013111
The Manor on High Wedding Reception Venue Melbourne
Our luxurious rooms, delicious catering options and lavish outdoor settings combine to become a perfect option to satisfy your small and large wedding venue needs.
Here at Manor on High, our contemporary styling embraces and compliments the highest standards of event excellence. Our commitment to delight individual tastes as earned us a reputation for exceptional quality at the top of expectations.
Directing over 300 wedding event celebrations every year, the Manor has gained a reputation as one of the best wedding reception venues in Melbourne.
We invite you to explore our rooms, services and grounds. Each room is accompanied by bridal quarters, a cigar bar lounge, and a private courtyard. Whether you're after an intimate, luxury wedding venue or a large event space, Manor on High has the options to accommodate your event needs.
Decor & Ambience
We know how vital décor and ambience are and with that in mind, our events team offer a range of modern and stylish chair options and table centrepieces. These are all included in your per person package.
Each of the pillar-less rooms features impressive crystal chandeliers setting the tone for luxury, elegance and style. Fully air-conditioned and centrally heated, each room has its own grand foyer entranceway and ample complimentary parking. The private cigar and bar lounges are complete with dedicated baristas.
A range of AV equipment is readily available. We work with event partners whose wide range of event theming options are guaranteed to delight.
The Centre Ivanhoe Wedding Venue Melbourne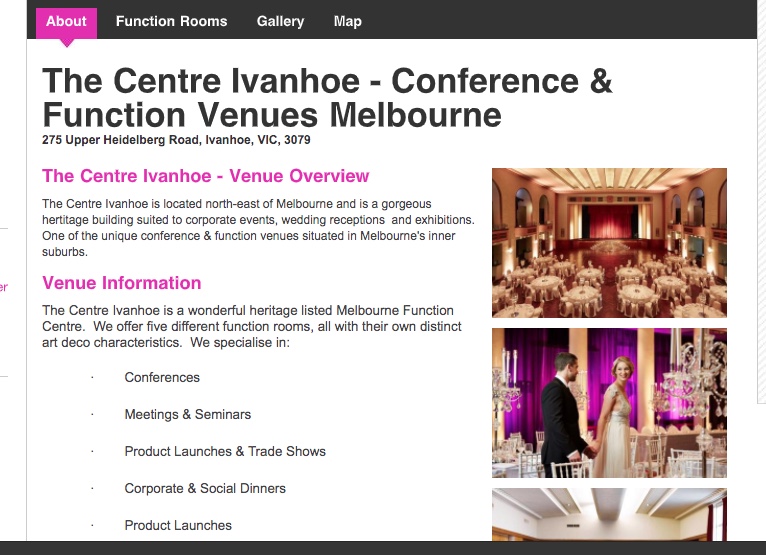 394904300
With its stunning Art Deco design, brilliant feature lighting and large parquetry dance floors, The Centre Ivanhoe creates an elegant atmosphere for all celebrations.
You will be the centre of our attention when you host your wedding at The Centre Ivanhoe. 
Capture timeless, glamorous photographs against a backdrop of Melbourne's finest example of Art Deco architecture from the era to cherish always.
Wedding Receptions and Ceremony
Duration varies • POA
The Centre Ivanhoe can cater for Wedding Receptions of 40 to 450 guests.
Wedding Ceremonies from 20 to 500 guests
We offer flexible packages and can tailor our menus to suit your individual needs. 
Windmills Gardens Wedding Venue Melbourne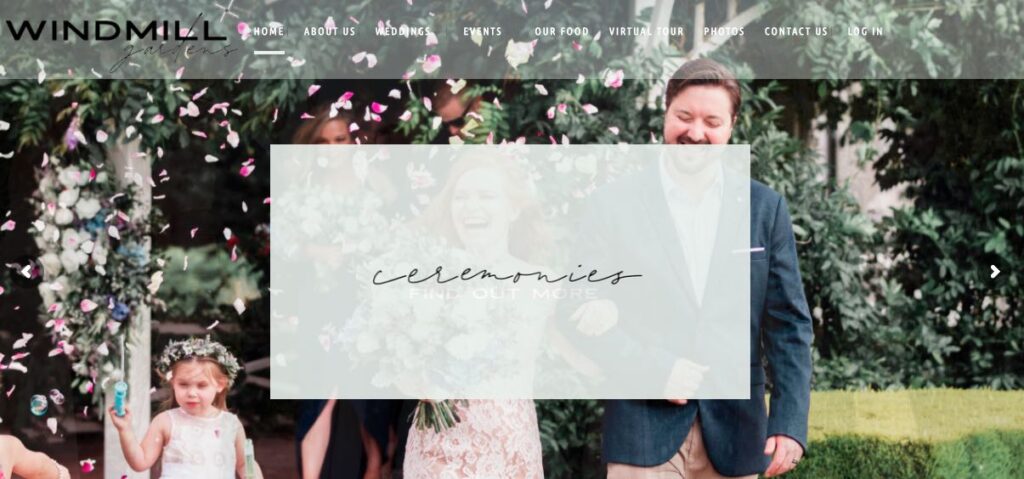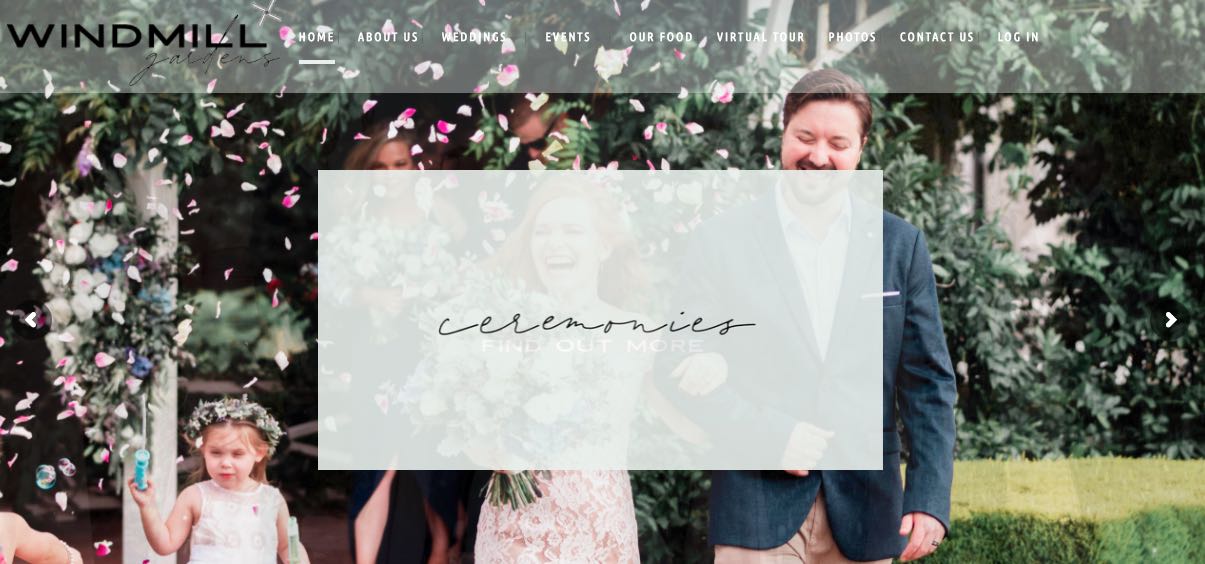 97471100
EXCLUSIVE PRIVATELY OWNED, FAMILY OPERATED EVENTS VENUE.
Featuring an extensive international menu catering for all occasions and all culinary backgrounds.
Windmill Gardens is one of Melbourne's most unique, exclusive, fully serviced event venues.
Located 25 minutes from Melbourne's CBD, our dining room offers picturesque views of our manicured gardens and lake. Our versatile dining room caters to functions from 60-220 seated, including dance floor and 350 cocktails. Our fully furnished foyer & outdoor courtyard are available for entertaining guests during pre-dinner drinks & canapés.
Windmill Gardens also offers ample secure, off-street parking for 180 cars.
With many years of experience in the hospitality industry, we appreciate the importance of catering to every individual occasion.
Royce Hotel Wedding Venue Melbourne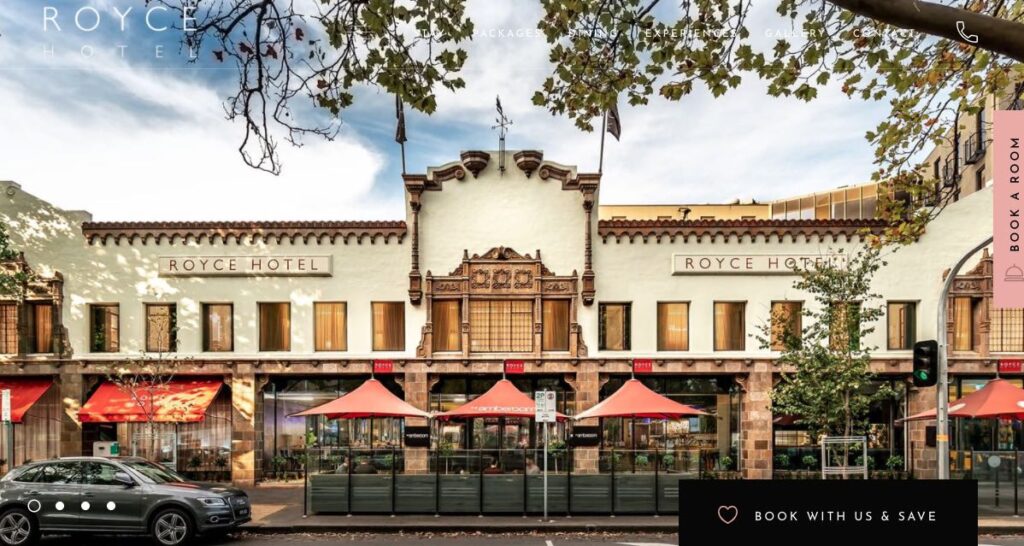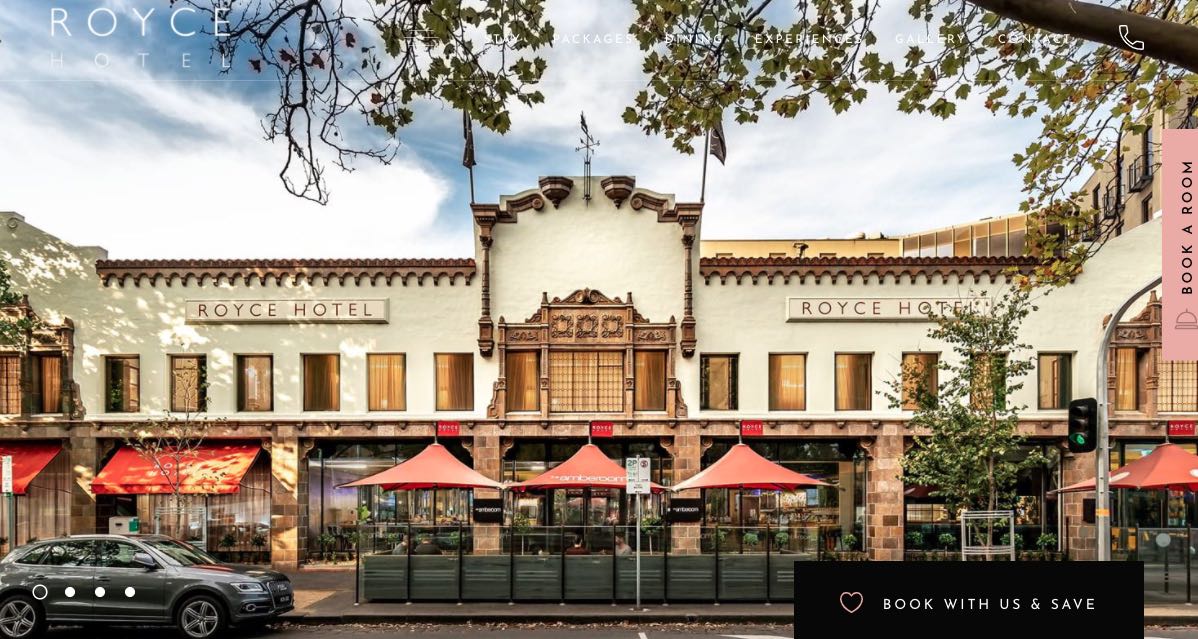 396779900
BEAUTIFUL CEREMONIES
Celebrate that special day with elegance and style
Experience Melbourne's 5 Star boutique hotel, where a mix of design and luxury come to life to create a memorable wedding. Perfectly located on St Kilda Road next to the Royal Botanic Gardens. Under the magnificent domed ceiling of the Royce Ballroom, we will arrange the perfect setting for your wedding. The venue has 12 flexible event spaces to choose from, each with their own special and unique atmosphere. The Royce Ballroom, private dining rooms, purpose-built boardrooms, Dish Restaurant and outdoor courtyard, are all available.
MEETING SPACES
Experience Melbourne's 5 Star boutique hotel, where a mix of design and luxury come to life to create a memorable event. Perfectly located on St Kilda Road next to the Royal Botanic Gardens.
Under the magnificent domed ceiling of the Royce Ballroom, we will arrange the perfect setting for any occasion. Whether it be your important corporate event, wedding, birthday, anniversary or engagement, celebrate it in style.
The venue has 12 flexible event spaces to choose from, each with their own special and unique atmosphere. The Royce Ballroom, private dining rooms, purpose-built boardrooms, Dish Restaurant and outdoor courtyard, are all available for any occasion.
Tolarno Galleries Wedding Venue Melbourne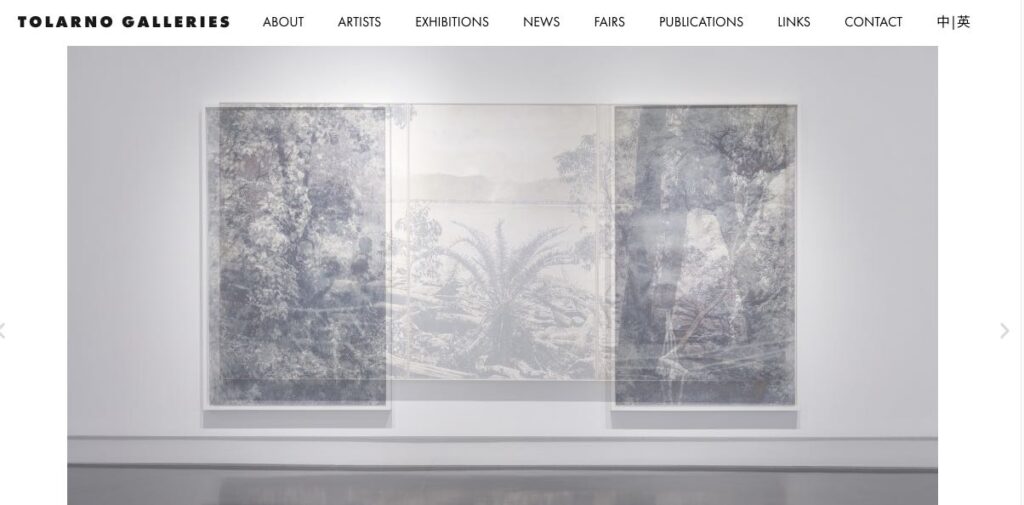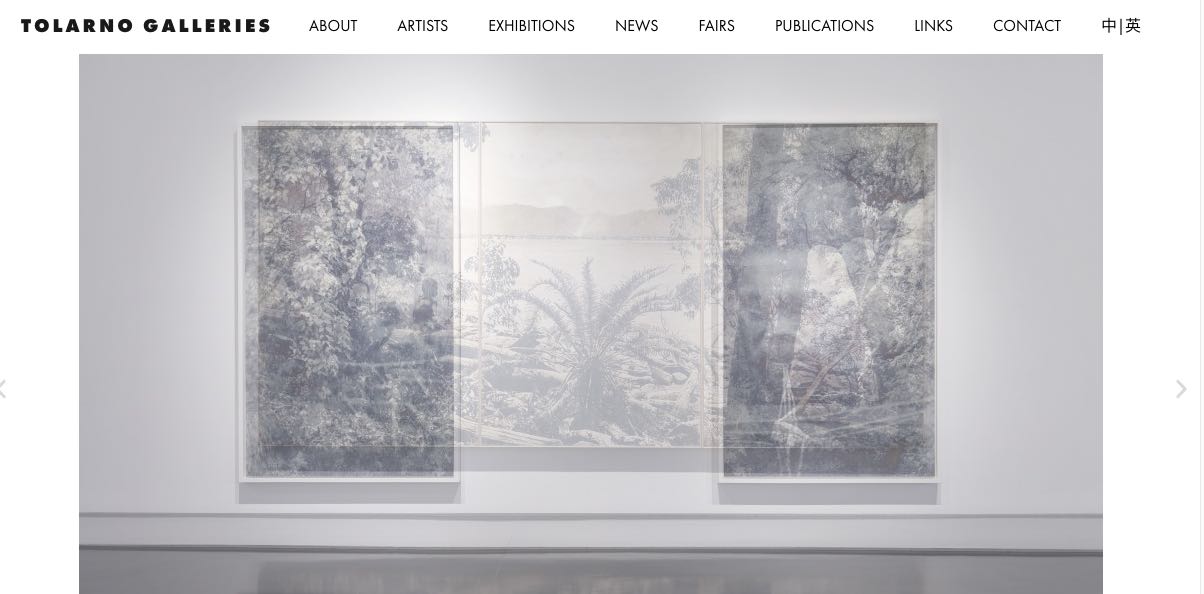 455044398
TOLARNO GALLERIES
TOLARNO GALLERIES is known as one of Australia's most stimulating exhibitors of contemporary art and design. Established in 1967, it has a rich history of presenting innovative and challenging work and of nurturing artists through their careers. In the early years, exhibitions by modern masters including Bonnard, Dali, Chagall, Matisse, Picasso, Pissarro, Renoir and Vuillard, were shown alongside new works by Rauschenberg, Johns, Rosenquist, Warhol, LeWitt and Koons. Significant bodies of work were established by the pioneering Australian modernists Charles Blackman, John Brack, Arthur Boyd, Joy Hester and Albert Tucker.
In more recent times, four artists have represented Australia at the Venice Biennale: Patricia Piccinini (2003), Howard Arkley (1999), Judy Watson (1997) and Bill Henson (1995). The dynamic exhibition program, ranging from video, film, photography and installation, to painting, sculpture, digital media and cutting edge design, attracts the attention of collectors, curators and critics from around the globe.
Director Jan Minchin, previously Curator of 20th Century Australian Art at the National Gallery of Victoria, is mostly known for working closely with artists, curators and collectors to support the newest work of both up-and-coming and established artists.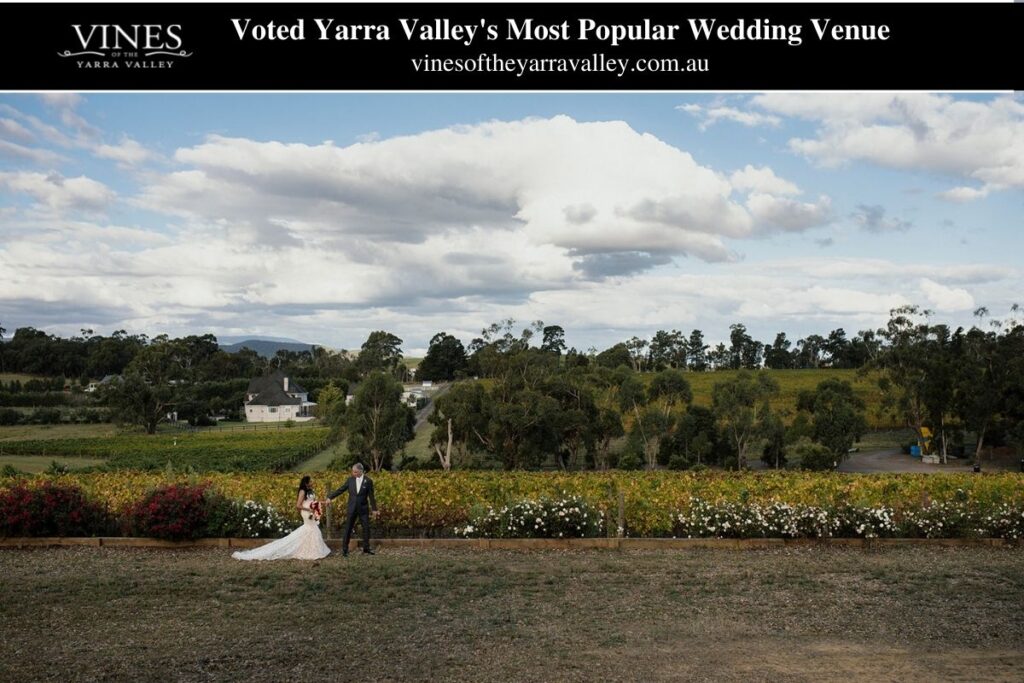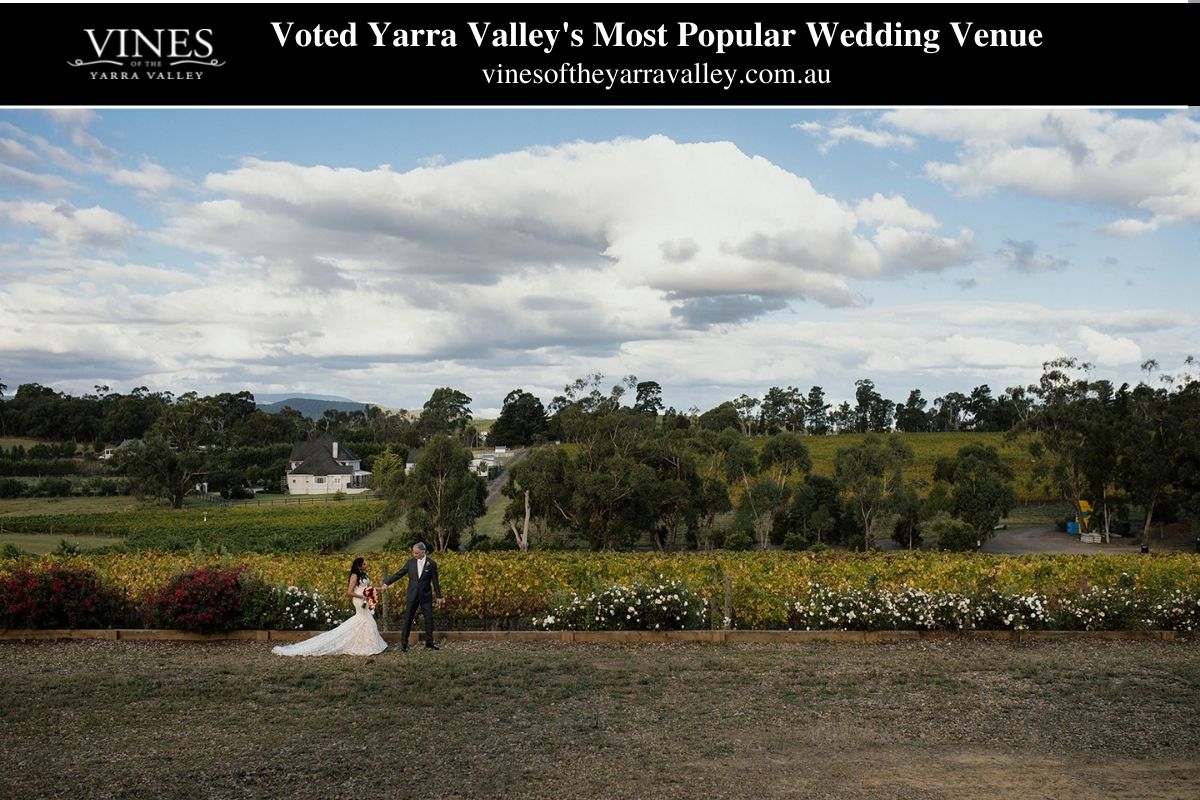 All Smiles Wedding Venue Melbourne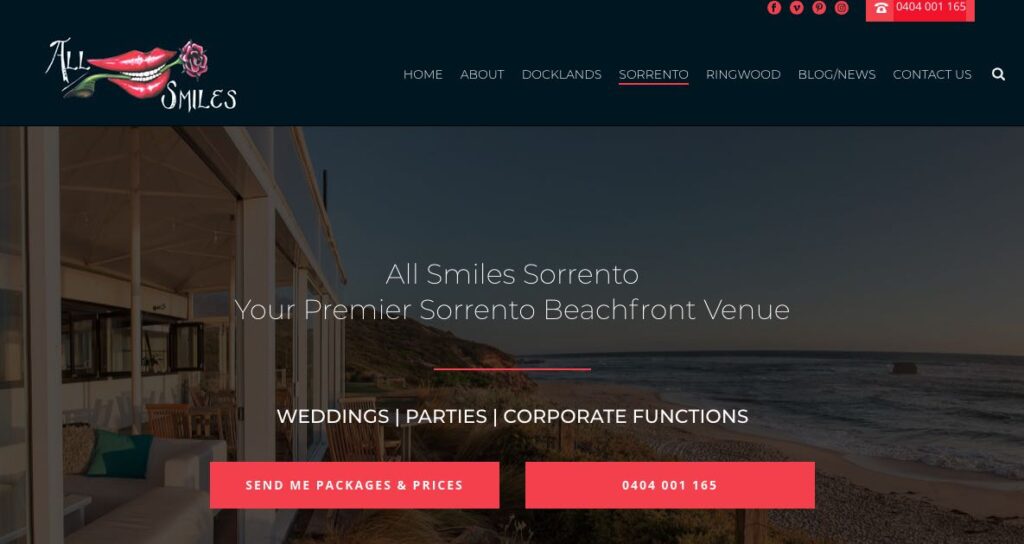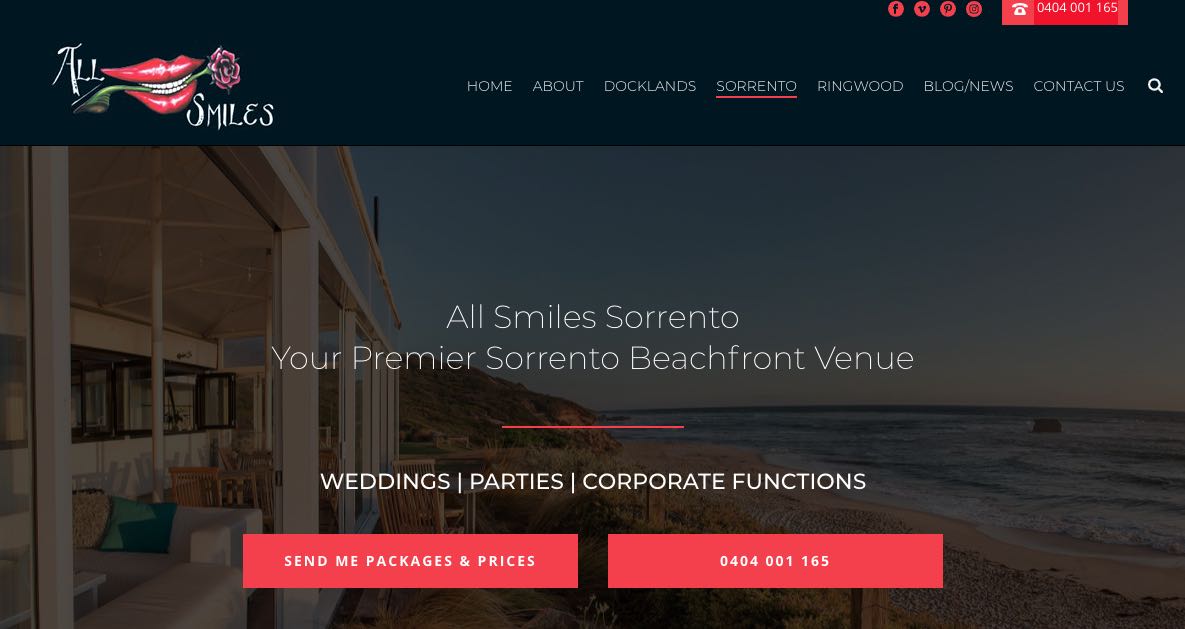 404001165
All Smiles was established in 1997 with our first venue in Ringwood East. We added our Docklands and Sorrento locations to create a trifecta of areas perfectly suited to Cocktail Functions/events and weddings.
Our Passion.
We have dedicated a large portion of our lives, helping others have the time of their lives. We've spent many years perfecting our food and drink offerings and find ourselves in a position where our guests know we have their best interest at heart. We are professionals at throwing a party and not just any party but a party you'll remember. Every aspect of our business has been constructed to make sure our guests have a fantastic event, and this has always been our passion.
Our Service.
Some say that our name, 'All Smiles' is silly they just don't get it! We, however, say that it is the absolute essence of what we stand for. We are incredibly fortunate to have the best staff in the industry who share the same passion and values on personal service that we have since our inception in 1997. We are very proud of our unique venues and fantastic food, but it is truly our people and the level of service they provide that sets us apart.
Not just a normal cocktail function
We aim to provide a far more social environment for you, your closest friends and family to enjoy incredible food, a fantastic venue and outstanding service.
The Food Quality and Quantity
Probably the biggest concern for people choosing a cocktail style event is the food. Not just the quality, but more importantly, the quantity of food served. This is a genuine concern, as we have all left cocktail functions and gone straight to McDonald's on the way home. We guarantee that this will never occur at our cocktail functions. The other concern with food is Quality and variety. No one does it better. Our menus are designed to appeal to a broad cross-section of people and are created using only the freshest of ingredients.
All Smiles Melbourne Waterfront
Cocktail Wedding Receptions
All Smiles Melbourne Waterfront at the Docklands is set in a spectacular waterfront location overlooking the majestic Victoria Harbour in Melbourne. This stunning function venue with its modern architecture and high ceilings offers a relaxed environment with well-appointed surrounds, creating the perfect atmosphere for any event. With world-class facilities and sweeping panoramic views of the magnificent City of Melbourne skyline towards the famous Bolte Bridge, this wedding and cocktail venue will provide the perfect setting for one of the best nights of your life.
All Smiles Sorrento
Stunning Contemporary Venue
All Smiles Sorrento Beach Side is an exciting, contemporary venue set overlooking Sorrento's back beach, situated on Victoria's fabulous South East Coast. Boasting 180-degree views of the ocean, this function room and wedding venue is conveniently located two minutes from Sorrento's main street and just 60 minutes from Melbourne. The platform has several lounge suites and plenty of additional seating, ensuring all guests are comfortable throughout the duration of the night – no matter how high their heels are. All Smiles Sorrento Ocean Beach provides a unique indoor/outdoor setting that will not be forgotten.
All Smiles – Ringwood East
The original venue, Est. 1997.
The original All Smiles is a vibrant and multifunctional venue that has a chic industrial feel. This idyllic venue specialises in Cocktail Functions for all occasions. Perfect for a 21st or milestone birthday, engagement party or special event. Our fantastic venue exudes a warm, casual feel, ready to be enjoyed by you and your closest friends & family
All Smiles – Cocktail Weddings & Function Venues.
Locations
All Smiles has three spectacular function and wedding venues located in and around Melbourne, specialising in fantastic cocktail wedding receptions. Our first is located the ocean beach aloft at Sorrento on the glorious Mornington Peninsula. The second and newest of our event and wedding venues are located in one of Melbourne's landmark buildings, perched over the water at Docklands with uninterrupted views of Victoria Harbour, New Quay promenade and our panoramic City of Melbourne.
The original All Smiles venue is located in Ringwood East, established in 1997 our Ringwood location is a vibrant multifunctional venue made with a chic industrial feel.
Commitment to Service
Variety and volume of food are absolutely paramount, together with an exciting yet comfortable environment that is accommodating for all that are present. Add the best staff and service in the business, and you have the perfect combination for an unprecedented cocktail wedding reception, corporate function or event celebration.
We want every one of your guests to say, "That was the best wedding or function I've ever been to!"
Take your time to research
Please take a little time to peruse the photo galleries for each of our function venues, featuring a selection of images from some of our recent cocktail party weddings and functions. You can also read some of the fantastic testimonials that we receive every week from our two spectacular wedding venues.
If you are as passionate as we are about your special day is one to remember for all the right reasons, please allow us the opportunity to show you first hand, our stunning function venues around Melbourne and how we can make your wedding or event the best it can be!
Season 5 Resort and Spa Wedding Venue Melbourne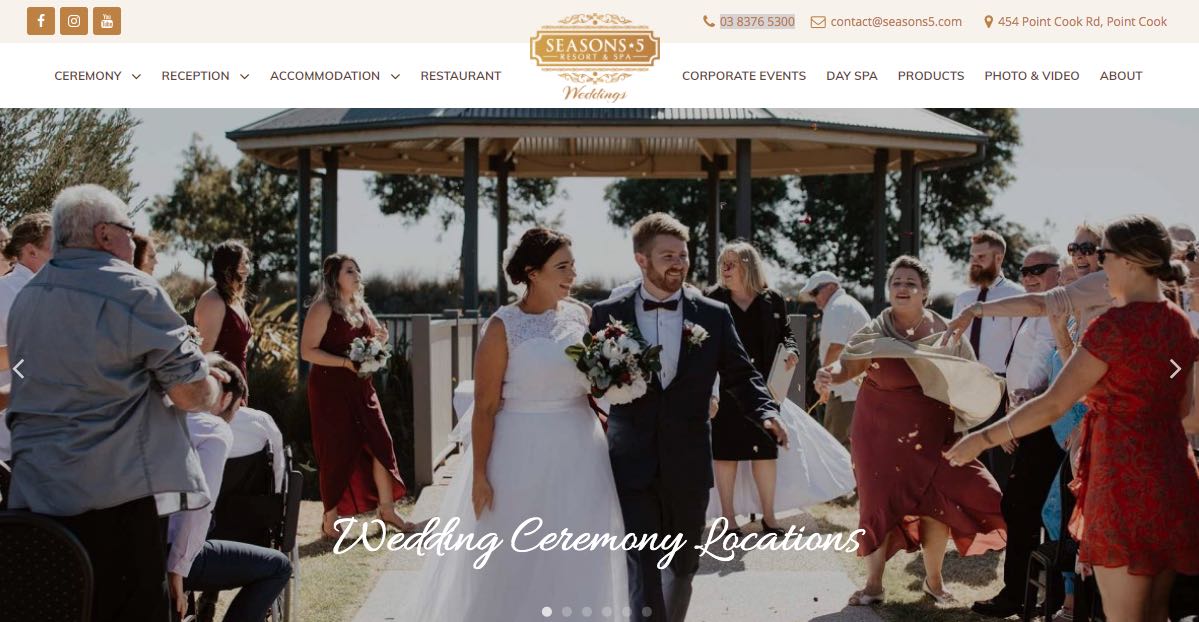 383765300
At Seasons 5 Resort & Spa, our stunning resort offers a truly indulgent and memorable setting for your wedding day.
We are the biggest venue in Melbourne's West, located in Point Cook. We are just 35 minutes from Melbourne's CBD, and 30 minutes from Melbourne Airport and Avalon airport. At Seasons 5, we cater for a range of functions and corporate events. Our flexible venue allows us to cater for your specific requirements including conferences, parties, small intimate weddings from 50 guests to grand celebrations for up to 500 guests.
Choose a lawn wedding in our tranquil gardens under the gazebo or have a romantic ceremony in The Chapel. For your reception, the ballroom is the ideal setting for a grand affair, seating up to 450 guests.
With a range of accommodation overlooking beautifully landscaped gardens, 300 car parking spaces, an indoor heated swimming pool, fitness centre and a day spa, our accommodation at Seasons 5 Resort & Spa is tailored to meet the needs of your wedding party.
Seasons 5 also boasts our very own on-site restaurant, Cinnamon Bay Restaurant, which is open to hotel guests as well as our local community. Whether it is an intimate dinner with a loved one, breakfast or just a casual coffee with friends, the modern Australian cuisine served at Cinnamon Bay Restaurant is sure to impress.
THE CHAPEL
Imagine starting your beautiful beginning exchanging vows in a stunning, light-filled setting. Boasting floor to ceiling windows that overlooks the scenic gazebo and private lake on one side, and a beautiful olive grove on the other, the breathtaking Wedding Chapel is the perfect backdrop for an "I do" to remember. 
Our non-denominational chapel also offers beautiful hardwood floors, soaring high ceilings and outstanding acoustics. Seating up to 120 guests, The Chapel provides a charming setting for your special moment.
THE GAZEBO
The pavilion is set between a private lake featuring a stunning waterfall and beautiful lush gardens. This is the most charming and natural backdrop to commemorate the magic of exchanging your vows to one another.
The pavilion can accommodate both intimate weddings or larger ceremonies, seating up to 300 of your guests on our beautifully manicured lawn. Seasons 5 Resort & Spa invites you to The Gazebo, a tranquil and peaceful setting for your once in a lifetime wedding ceremony.
THE BALLROOM
The Ballroom at Seasons 5 is a truly unique venue for your wedding ceremony featuring stunning interior design. The ballroom boasts crystal chandeliers, custom-designed carpets, iconic wall panelling and luxurious décor. With several custom ceremony options available, The Ballroom caters for large wedding ceremonies for up to 500 of your guests.
The Savoy Hotel Melbourne Wedding Venue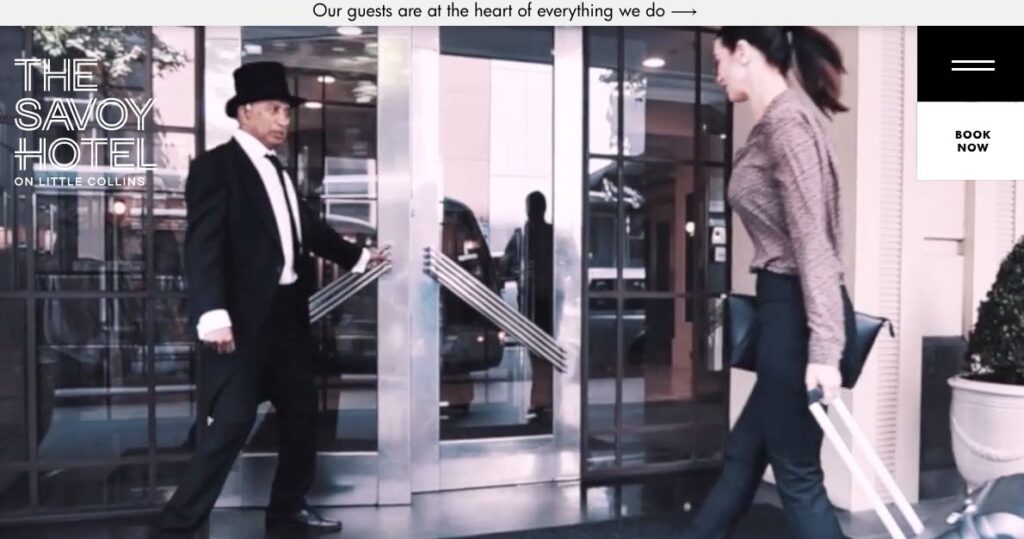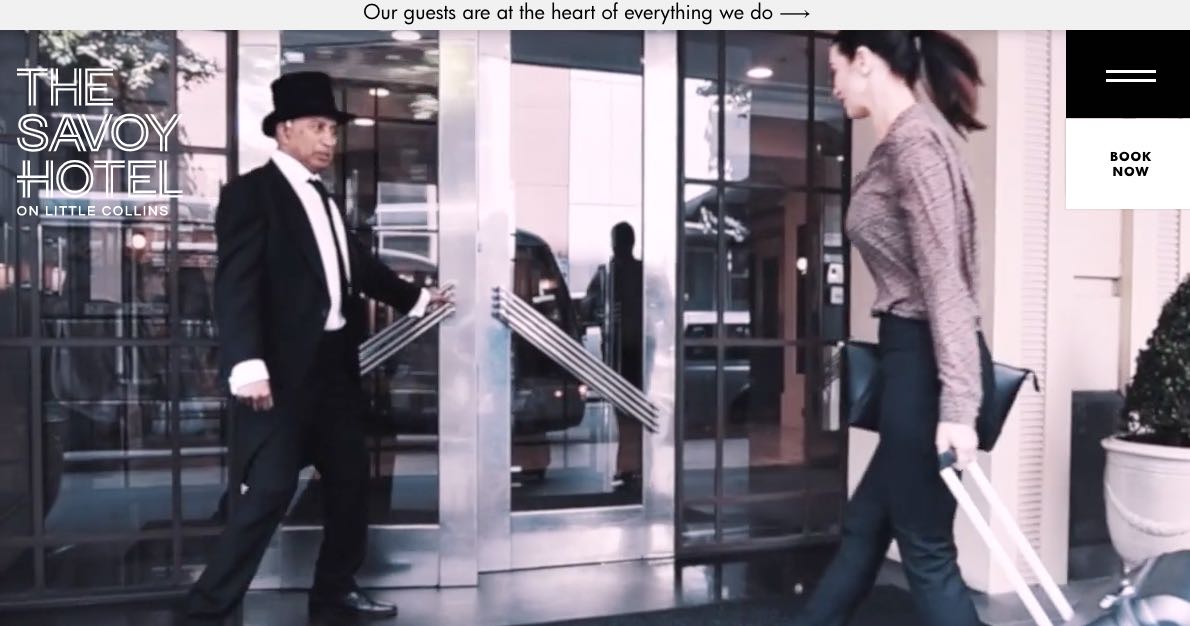 396228888
The Story of The Savoy
After an extensive refurbishment, The Savoy Hotel on Little Collins has reunited with its rich heritage. The building has a vibrant history of owners, events and famous patronage. It has had many incarnations, from its origins in the 1880s to its Art Deco reincarnation as The Alexander Hotel in the 1920s, to its time as Melbourne's iconic Savoy Plaza in the 1960s.
Situated opposite Southern Cross Station on Spencer Street, the building originally opened as Alexander's Family Hotel in 1866. Charles Alexander designed a classically detailed Victorian architectural building reflective of the era, across three-levels. In 1926, new owner James Richardson lavished £300,000 on the structure and another £50,000 on furniture and fittings in an American inspired 20th-century refurbishment.
Coupled with the vision of his design partner Leslie M Perrott, the Hotel Alexander was the first Australian hotel equipped with ensuite bathrooms and temperature-controlled rooms. On 31 January 1928, Premier Hogan officially opened the remodelled 200-room Hotel Alexander. Leslie M. Perrott, went on to design the Chevron Hotel, and Hotel Australia, which became the social epicentre of Melbourne in the 1940s.
The Federal Hotel group bought the Alexander Hotel in 1951 for £450,000, renaming it the Savoy-Plaza. Albert Argenti – maître d' – became renowned in Melbourne over the next decade, hosting a who's who of international show business including Louis Armstrong, Nat King Cole and Ella Fitzgerald. Several famous Australians, including John Farnham, Rolf Harris and the Seekers, began their careers there. Frank Sinatra, performing at Festival Hall, was a guest, as were Ava Gardner, Fred Astaire and Anthony Perkins during the filming of 'On the Beach'.
The Victorian Government bought the Savoy Hotel in 1974 and turned it into the Police Cadet Training Academy. In 1987 the Nauruan-owned company Spencer Investments bought it and spent $46 million restoring the Savoy Park Plaza Hotel to its former glory, reopening it in May 1991.
Toga Hospitality renamed it to the Vibe Savoy Hotel Melbourne in 2004. With a vision of returning this magnificent hotel to its former glory, TFE Hotels embarked on a multi-million-dollar refurbishment in 2018. Award-winning architects Woods Bagot have respectfully designed the lavish restoration of this remarkable building. Woods Bagot is famous for extraordinary hotels world-wide and lifestyle and commercial projects such as Sydney's The Ivy complex and Melbourne Convention & Exhibition Centre, and the contemporary aesthetic has returned this heritage building to its authentic history.
Renaming the hotel to The Savoy Hotel on Little Collins, Melbourne, the hotel reopened under the TFE Hotels Collection banner in November 2018. Each of these beautiful discovery hotels has a sense of story, place and purpose. This magnificent hotel will reclaim its position as a grand hotel of Melbourne, as it was when it opened in 1928 to be known as the most desirable stay in the heart of this fascinating city.
Weddings
The Savoy Hotel on Little Collins has an elegant and timeless charm offering the perfect setting for your unique wedding in the heart of the city. With a beautiful Victorian façade and internal grandeur of an Art Deco heritage building, The Savoy Hotel on Little Collins is centrally located in the heart of Melbourne. Opposite Southern Cross Station to easily accommodate international and interstate guests, the hotel boasts 163 contemporary rooms with a stylish Art Deco design, hosting your wedding guest's accommodation needs in unstated luxury for your magical day. Our Grand ballroom offers an ideal location, from handcraft beaded chandeliers to Victorian silk drapes, the room oozes sophisticated luxury from the moment you step inside. If you are planning intimate or extravagant, formal or informal, we can tailor the right package to suit your wedding needs.
Our Executive Chef works with you to select the most appealing wedding menu catering for all dietary requirements. From canapes to antipasto's, cheese platters to four-course meals, you will be delighted with the perfect menu options available for your big day. We can even cater for children under 12, with a dedicated kid's menu. A delightful array of beverages is available to toast the happy couple, cheers the speeches and enjoy with your meals. Choose from an expansive curated local and European wine list, Australian craft beers and ciders or a sparkling wine to quench your thirst. Know what you want, but unsure where to start? Our dedicated events team are here to help you plan your day right down to the very last detail. From menu selection, seating arrangements, celebrants, cakes and flowers, or on-site parking, we can offer referrals to help you make your day just as unique as you are. Whether it's an intimate affair or a big party of 320 friends and family, we're here to make your wedding day an unforgettable event.
PACKAGE OPTIONS
SAPPHIRE WEDDING PACKAGE – $86 PP (MINIMUM 60 GUESTS)

Includes your selection of 10 canapes pieces per person with a 3 hour Savoy beverage package and more.

EMERALD WEDDING PACKAGE – $129 PP (MINIMUM 60 GUESTS)

Includes drinks and canapes on arrival, two-course alternative drop menu, 4 hour Savoy beverage package and more.

RUBY WEDDING PACKAGE – $159 PP (MINIMUM 60 GUESTS)

All-inclusive wedding package which includes drinks and canapes on arrival, three-course alternate serve menu, 5 hour Savoy beverage package, your choice of table centrepieces, floral arrangements and chair covers, plus a devoted Wedding Host to attend to your every need.

DIAMOND WEDDING PACKAGE – $390 PP (MINIMUM 90 GUESTS)

The ultimate wedding package including free-flowing drinks and canapes on arrival, four-course premium alternate serve menu, 5-hour premium beverage package, your choice of wedding cake, flowers, diamond wedding bands, six-tier Champagne tower, pianist, The Savoy three-piece band, Savoy gift for every guest and an array of extras.
St. Andrews Conservatory Wedding Venue Melbourne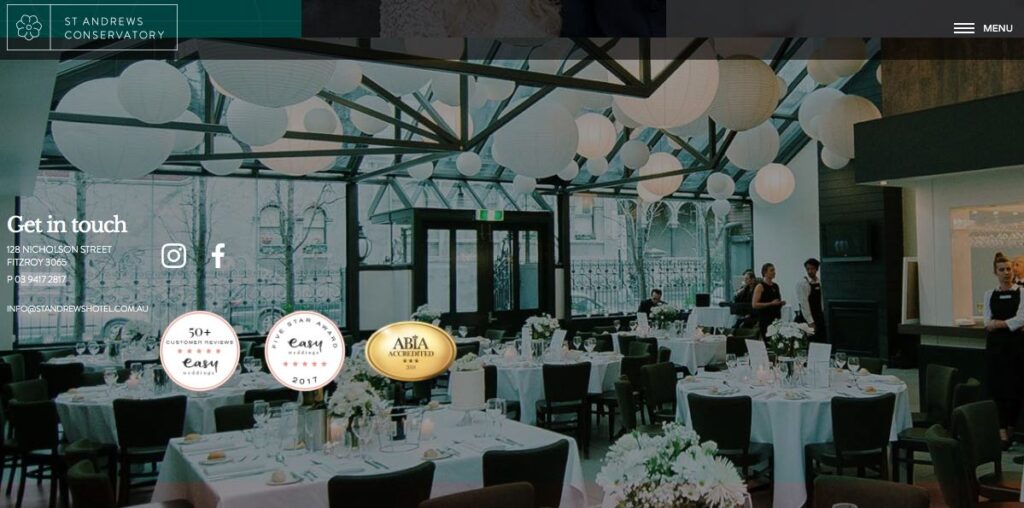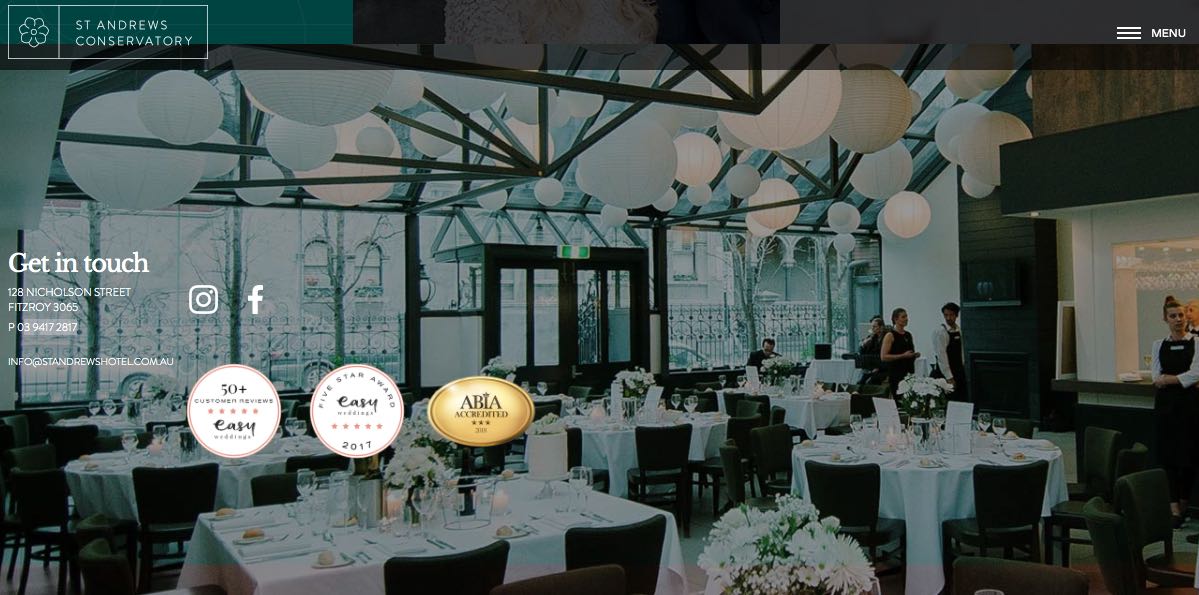 394172817
The St Andrews Conservatory is the jewel of Melbourne's iconic St Andrews Hotel.
The St Andrews Conservatory is impressive and contemporary; the setting is perfect for any special occasion, whether you choose to celebrate with lunch, dinner or canapes.
By day, the brilliantly refurbished Conservatory is filled with natural light spilling from its distinctive glass roof. This feature is hung with delicate bamboo lanterns which, in the evening, illuminate the venue and give a sense of romance.
A cosy fireplace and the option of dance space add to the exceptional atmosphere and timeless style of the Conservatory. Catering to suit all your function needs and understanding your budget, this space can host up to 120 seated, and 160 cocktail style (with dance space).
Large or small, any budget, any menu. Weddings, engagements, birthdays, christenings, corporate seminars or office parties. We've catered to virtually every type of special event, and we make it our speciality to adapt perfectly to the customer's unique needs.
Our central location also makes us a sensible and friendly alternative to big-city hotels.
Cocktail Weddings
The St Andrews Conservatory is an award-winning unique, intimate and contemporary Cocktail Wedding Reception Venue located in Melbourne. We can host up to 160 people with a dance floor.
We pride ourselves on delivering an utterly stress-free Cocktail Wedding Reception. Management and staff strive to ensure that your wedding reception runs smoothly and that all your guests have a wonderful and memorable evening.
On your special day, you deserve nothing less than exceptional. We understand that one of the most important aspects to you is food quality and quantity because it's important to us too. With an extensive selection for you to choose from, our cocktail wedding menu is sure to excite. You can rest assured your guests will leave feeling full and impressed by the food.
We understand the organisation required to make your wedding a success, and this is why we offer you an all-inclusive package:
Your chosen selection from our menu

5-hour premium beverage package

Freshly brewed coffee and tea service

Wedding Cake cut garnished and served

Dance floor

Microphone & AV equipment for speeches

Floral centrepieces and tea light candles on each table

Dedicated wedding coordinator for an entire evening

White table linen

Complimentary room hire
Seated Weddings
The St Andrews Conservatory is an award-winning unique, intimate and contemporary Seated Wedding Reception Venue located in Melbourne. We hold up to 120 people comfortably with a dance floor.
The most appealing aspect of our Seated Wedding Packages is that you will be served restaurant-quality meals that are immaculately prepared by our Executive Chef. Each course is ordered individually by your guests, thus avoiding the problems of plate swapping.
Your guests will choose from the three entrées, three main courses and two desserts that you have selected from our menu, and your guest's individual needs will be catered for by our professional staff.
Seated wedding reception at the St Andrews Conservatory is the ultimate way to celebrate your special day.
Our all-inclusive packages include the following:
Assorted canapés upon arrival

Two or three-course menu

6-hour premium beverage package

Assorted fresh bread rolls

Mains served with shared garden salad

Wedding Cake cut garnished and served

Seasonal fruit and local cheese platters per table

Freshly brewed coffee and tea service

Personalised printed menus

Dance floor

Microphones & AV equipment for speeches

Flower centrepieces on each table

Tea light candles

White table linen and white linen napkins

Dedicated wedding coordinator for an entire evening

Complimentary room hire
The Hotel Windsor Wedding Venue Melbourne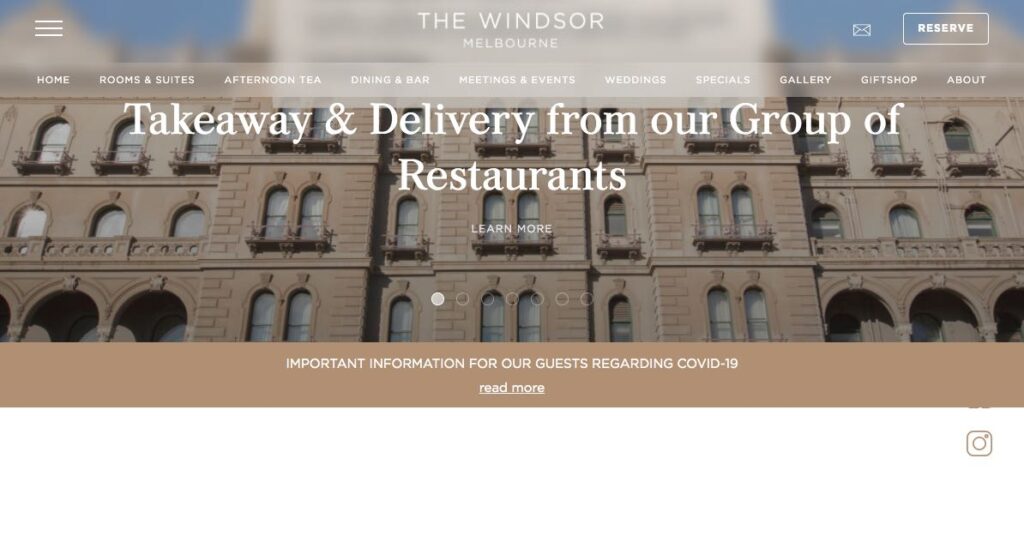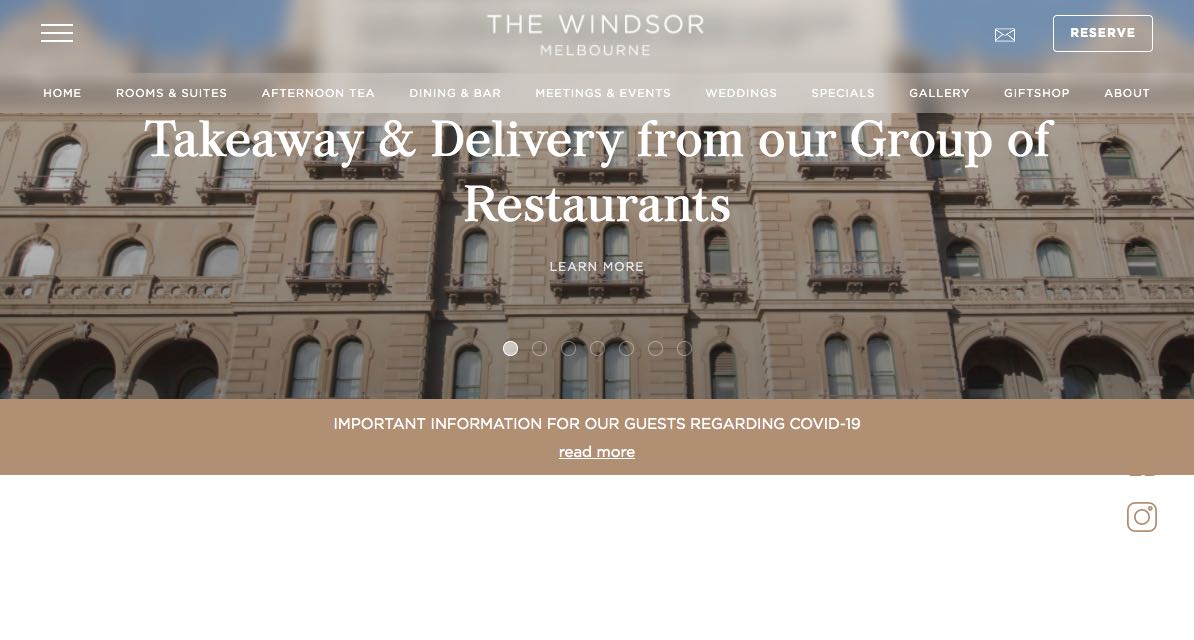 396336000
MELBOURNE'S GRAND HERITAGE HOTEL
The Windsor is Australia's most loved and renowned grand hotel, pre-dating The Savoy in London, The Plaza and The Waldorf Astoria in New York, The Ritz in Paris, and Raffles Hotel in Singapore. Established in 1883, it combines the classic beauty and architecture of the Victorian age with the graciousness of that bygone era.
Located across the stately Parliament House and next to the famous Princess Theatre, The Windsor is only steps away from Melbourne's luxury boutiques, theatres, laneways and Chinatown, with the picturesque Treasury, Fitzroy and Carlton Gardens a short walk from our doorstep.
On June 3 1923, with renovations complete, the hotel hosted a luncheon attended by His Royal Highness, The Prince of Wales. In honour of this occasion, the hotel has appropriately renamed The Windsor.
The Windsor has been a home away from home for many famous Australians during their stay in Melbourne. Former Prime Minister Sir Robert Menzies kept Suite 306 at The Windsor for many years; it is now known as the Sir Robert Menzies Suite in his honour. Notable international guests included members of the English cricket team, who were frequent guests at the hotel, despite patriotic local factory workers' efforts to disrupt their sleep by 'accidentally' knocking over the empty milk churns in the laneway.
Stars from the world of film and theatre have always been drawn to the elegance and style of The Windsor. Sir Laurence and Lady Olivier (Vivien Leigh) stayed during their 1948 season at the Princess Theatre; Sir Robert Helpmann was introduced to the hotel as a child and regularly remained throughout his life. Celebrated opera performer Emma Calve occupied a suite during her tour of Australia in 1910, and Barry Humphries and Dame Edna Everage are regular guests whenever they are in town.
Keith Michell once made a late-night request for the collected works of Shakespeare, which was promptly fulfilled when a set was found on display in the lobby; Meryl Streep set up a personal gym in her accommodation during the filming of Evil Angels. Renowned actors Sir Anthony Hopkins and Gregory Peck have occupied Suites at The Hotel Windsor whilst in Melbourne, as has a sporting legend, Muhammad Ali.
Weddings & Celebrations
BEGIN YOUR HAPPILY EVER AFTER AT THE WINDSOR
Our grand hotel has played host to countless weddings over its 137 years, charming couples with its old-world romance and classic grandeur. From your red-carpet arrival to honeymoon departure, our Windsor Wedding Planners look forward to celebrating your special day with you and turning it into an unforgettable one.
Epocha Wedding Venue Melbourne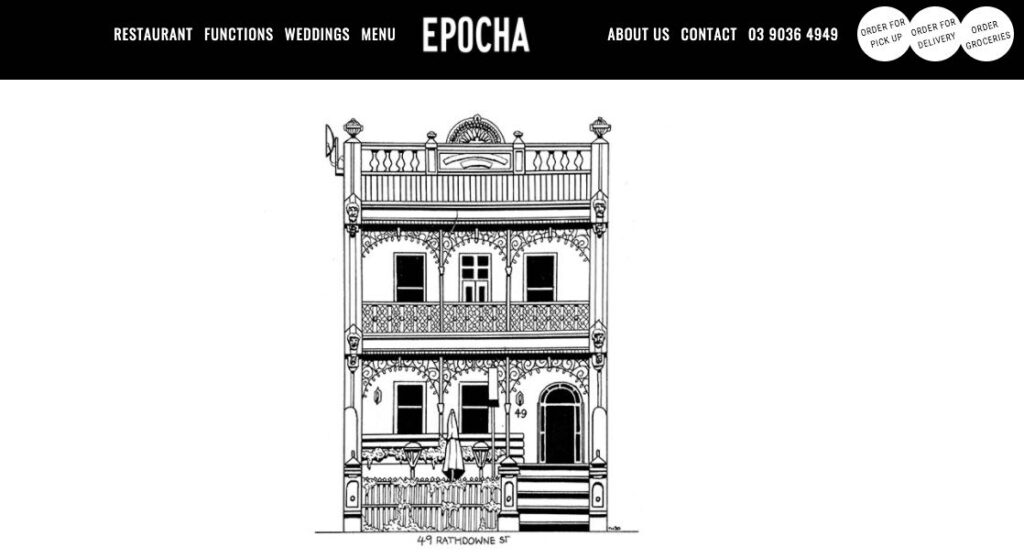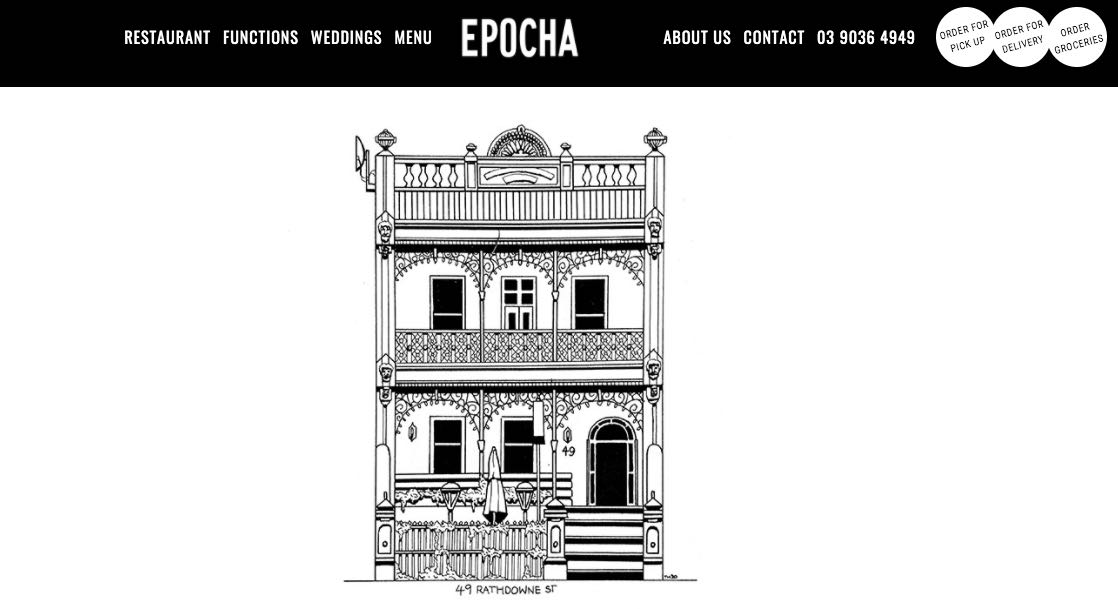 390364949
Epocha is a contemporary European restaurant, café and event space set in a stunning Victorian terrace on the city fringe of Melbourne, located overlooking Carlton Gardens.
Our offerings draw inspiration from our European culture and its cuisines whilst using the best of local Australian produce.
Currently, our restaurant is closed to the public due to the Covid-19 pandemic. However, we are operating a delicious takeaway menu and click-and-collect grocery store to support our local community.
WEDDINGS AT EPOCHA
Epocha is an intimate, quintessentially wedding venue in Melbourne set in a stunning Victorian terrace on the city fringe of Melbourne. Located overlooking the Carlton Gardens and a short stroll from the CBD makes us the ideal choice for a wedding venue, for wedding receptions and ceremonies.
Epocha is a versatile venue that can cater for both seated events and cocktail parties with several spaces to suit groups large and small. Our professional and experienced team is here to ensure the details of your special wedding day are seamless and personal.
OUR WEDDING VENUES
THE GREEN ROOM
Our semi-private dining space on the ground floor is a highlight of Epocha Restaurant. The Green Room, slightly elevated from the main dining room floor, features a beautiful parquetry table and is the perfect venue in Melbourne for an intimate special occasion, like a small wedding.
SEATED CAPACITY: 8 TO 10 GUESTS
THE MAYBELLE ROOM
The Maybelle Room is a light and spacious room on the first floor and includes exclusive use of the balcony overlooking the scenic Carlton Gardens. It is ideal for private dinners, cocktail parties and intimate wedding receptions. The Maybelle Room is connected to Hannah's Bar, and for larger events, both spaces can be hired exclusively.
SEATED CAPACITY: 12 TO 36 GUESTS
COCKTAIL CAPACITY: 60 TO 80 GUESTS
EXCLUSIVE USE
Exclusive use of Epocha offers a larger space for seated group events with the option of canapés and pre-dinner drinks at the front of the restaurant or on the first floor in the Maybelle Room.
SECURING YOUR WEDDING RECEPTION VENUE
Tentative bookings will be held for seven days only. If verbal or written communication is not received within this time, we reserve the right to cancel the booking and allocate the wedding venue to another client.
Credit card details are required to be held on file, along with a deposit to confirm your booking and secure the reservation. The deposit amount required will be specified at the time of booking.
FOOD AND BEVERAGES
You can confirm any dietary requirements one week before your event. Any changes after that to the agreed menu and beverage choices would need to be made through management.
Epocha's sommeliers (wine stewards) will serve pre-select wines. If the preferred selections of beverages are not available, we will substitute them with drinks of equal value.
Please note that unless otherwise specified, all lunch events conclude at 4 pm, and all dinner events at 11 pm. Time extensions can be requested with prior notice and are dependent upon availability.
No food or beverages of any kind are permitted to be brought into Epocha for consumption by guests, except for Celebration Cakes. A cakeage fee of $5 will be charged per guest for cutting, plating, and serving.
DECORATIONS
You are welcome to bring flowers or any themed decorations to the wedding venue to suit your event, as long as they are discussed with Epocha Restaurant prior to your event. Please note we do not allow confetti on any part of the premises or any decorations to be affixed permanently or temporarily to any walls, ceilings, or fixtures. Also, In line with our policy on sexual harassment, any decorations or paraphernalia that might offend other guests or our staff – including sexually suggestive materials – are not permitted.
AUDIO-VISUAL EQUIPMENT AND PERFORMANCE
Epocha uses the wireless Sonos system for all audio in the Wedding venues you hire. If you wish to provide your own music, you may create a playlist on Spotify and submit it to the management no less than one week prior to the event.
Please advise us in advance if you wish to access the Sonos system and equipment.
Audio Visual equipment can be organised through our external rental company. External contractors are welcome but must liaise with Epocha for logistical reasons.
Please advise Epocha of any planned live entertainment or performances before paying the confirmation deposit. Volume and content of all audio-visual playlists, presentations, and performances played in the venue are at the discretion of management.
PRE-FUNCTION DETAILS
Table plans, seating arrangements and playlists must be presented one week prior to your event. Place cards, final guest list (if applicable) 24 hours prior to your event. Any particular items required from outside of Epocha Restaurant may be delivered after 9 am on the morning of the event and removed at the conclusion of the event.
CANCELLATION POLICY
3+ months cancellation: $50 administration fee.
2-3 months cancellation: 50%.
1-2 months cancellation: Forfeit of deposit.
Less than one month: Deposit forfeited + cancellation fee equivalent to 20% of total estimated food and beverage charges (based on last numbers provided).
Less than one week: Deposit forfeited + cancellation fee equivalent to 50% of total estimated food, beverage and AV charges (based on last numbers provided).
Take a look at our packages in our brochure below to view the menu pricing, beverage options and terms and conditions of hiring our venues for your wedding. If you have any additional questions, don't hesitate to contact us and we will be happy to help.
Arco Restaurant Wedding Venue Melbourne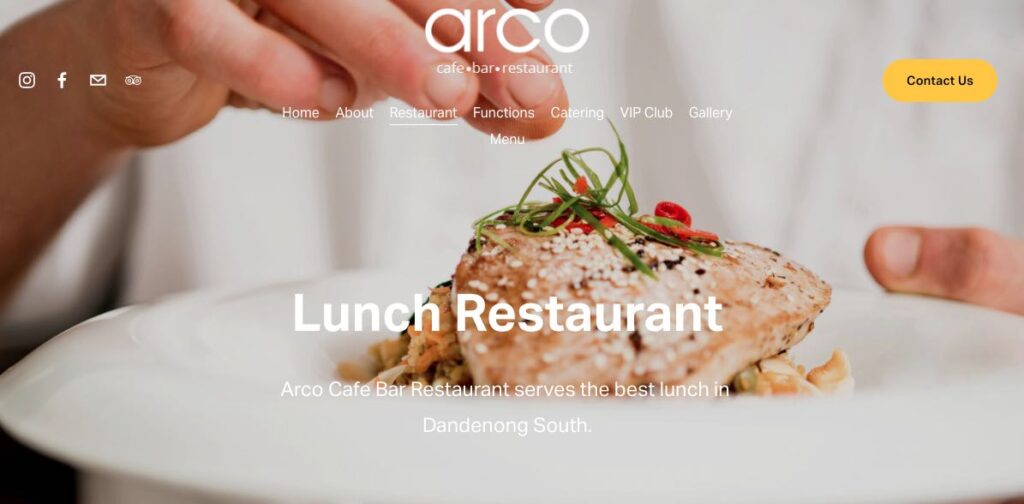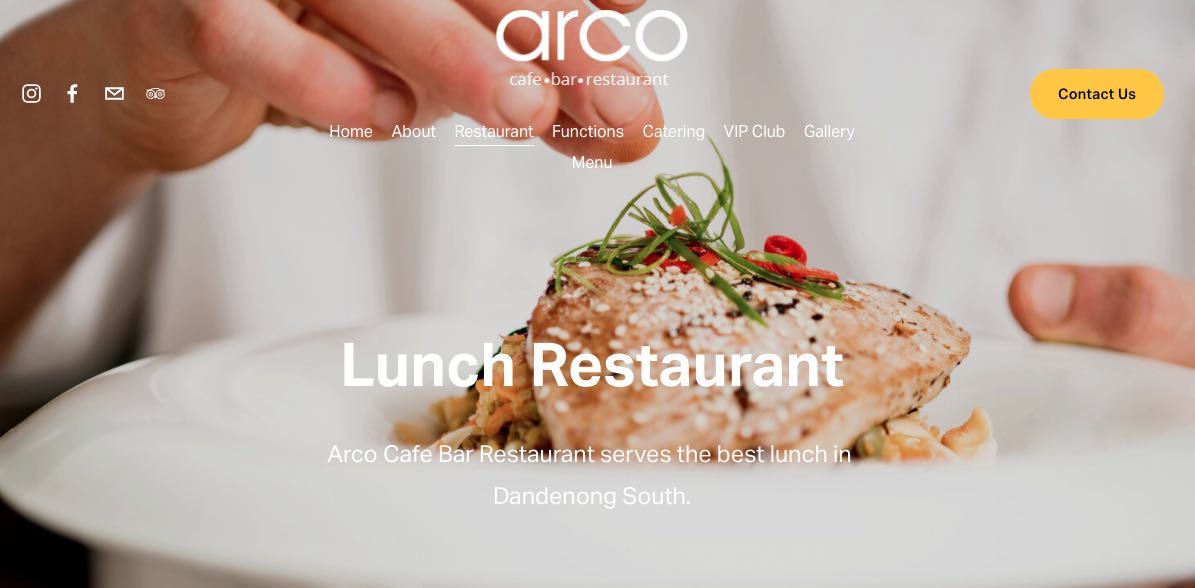 397998799
A Feast for Your Taste Buds
In business since 2007, Arco Cafe Bar Restaurant is the perfect place to dine for your breakfast, brunch and lunch.
We understand that everyone has different tastes, and that is why we offer full a la carte menu with predominantly Italian cuisine and dishes from around the world to suit your palate. 
Drop by to experience alfresco dining in earthy surroundings. Open for breakfast and lunch from Monday to Friday from 7 am to 4 pm.
Arco Cafe Bar Restaurant, in business since 2007, offers a contemporary dining experience located in a state-of-the-art business centre in Dandenong South (Lyndhurst).
We provide the best dining experience to our customers by offering exquisite mainly Italian cuisine but not limited fantastic staff and a great atmosphere we combine city-style dining and sophistication in a casual, relaxed environment.
Dandenong Wedding Venue
Look no further than Arco for your special day.
Gorgeous Modern Décor and Outstanding Restaurant Cuisine
Arco prides itself on being warm and welcoming, and our aim is to customise your special day with all the elements that matter most to you!
Nestled away in a beautiful and unique natural setting overlooking the stunning lake where wild birdlife abounds, Arco is Dandenong's hidden gem. 
Gorgeous modern décor and outstanding restaurant cuisine marry perfectly within this chic lakeside oasis and wedding venue.
Arco prides itself on being warm and welcoming, and our aim is to customise your special day with all the elements that matter most to you!
Restaurant Weddings Melbourne
We are located in Dandenong South, approximately 30km south-east of Melbourne CBD.
Restaurant weddings are becoming more and more popular in Melbourne, and it's no wonder why – guests enjoy a more relaxed setting whilst enjoying incredible food and outstanding service.
Our venue can accommodate everything from a wedding ceremony, a cocktail wedding reception to sit down banquet from 30 to 130 guests.
With a dance floor, ample parking onsite and dedicated staff there to provide flexible and affordable solutions, look no further for your Dandenong wedding reception venue.
Contact our event coordinators Richard or Ceza on (03) 9799 8799 or [email protected] so we can help realise your vision and make your special day a truly memorable one.
Our venue can accommodate everything from a wedding ceremony, a cocktail wedding reception to sit down banquet from 30 to 130 guests.
Whatever your vision, we'll help you make it a reality. 
True South Wedding Venue Melbourne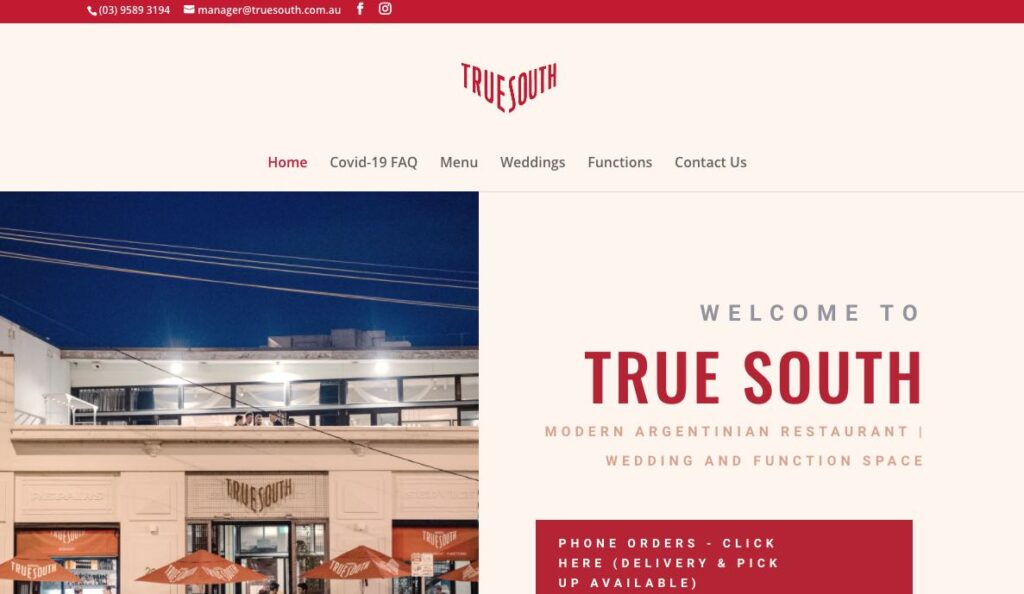 395893194
HISTORY OF TRUE SOUTH
Located in the picturesque Bayside suburb of Black Rock, True South holds a prime position as the areas best and biggest Restaurant, Bar and Function Space.
Once used as an auto repair shop, this modern gastropub has undergone a colossal renovation, keeping the original facade. Still, completely stripping back the inside to create the generous space it is today.
The talented chefs at True South offer a modern Argentinean/South American menu served in the newly converted setting. The food is designed to share with a mix of small and large dishes creating a communal dining experience.
With a range of spaces, True South is the perfect venue for any event. Our Bay View Room is a favourite for Weddings with striking views from the first-floor balcony over Black Rock beach. Smaller groups fit perfectly into our Dining Room, complete with its own bar, which can be transformed from private dining to a stand-up cocktail event.
A True South wedding is truly memorable for its location, the beautiful room and the culinary experience. Imagine the romance of a coastal wedding with Argentinian inspired food and a range of beer, cider and wines to match. With stunning views across Port Phillip Bay, your guests will be blown away by the pictures and will enjoy the modern industrial fitout.
Conveniently located in Bayside, we offer flexible seating arrangments and indoor and outdoor options. Our approach to dining is a fusion of the modern and traditional; our dishes are designed to share with family and friends in a communal atmosphere.
We specialise in both cocktail and seated events and will tailor our Argentinean menu to suit. Our new, industrial event space is the perfect canvas to transform into a space that reflects your personality and style.
Cocktail | 180 max
Seated | 90 max (70 with dance floor)
CELEBRATE YOUR SPECIAL DAY WITH US!
298 BEACH ROAD, BLACK ROCK 3193
Located on the upper level, True South enjoys elevated and uninterrupted spectacular views of the beach from the Bay ViewRoom's elegance with its abundance of natural light. Mesmerising sunset views await you and your guests while you celebrate your wedding day at this fantastic location.
With a modern contemporary feel, the Bay View room provides an exciting and unique alternative, to the ever-present predictability of mainstream reception venues. The Bay View room is a full canvas waiting to be transformed to your individual taste, guest list and budget. Your guests will be blown away by our modern Argentinian menu, which can be tailored to meet individual dietary requirements. If this isn't enough, capturing the perfect wedding photo couldn't be more comfortable with the beach conveniently located just across the road.
Our wedding coordinator, Rebecca, and banquet staff provide experience and dedication to ensure your day is a huge success. We will provide you with ongoing support and assistance from initial enquiry through to your wedding day.
Not sure where to start? Let us help you get started today!
Sherwood Receptions Wedding Venue Melbourne
 
393334977
Sherwood Receptions
Sherwood Receptions is a 130-year-old history homestead situated amongst natural bushland that radiates both charm and elegance. Located opposite the Woodlands Park Reserve and 5 minutes from the Melbourne Airport.
Secure courtyard with manicured gardens

Tudor ceilings and polished floorboards

Large dancefloor and open fireplace

Experienced event coordinators

Perfect for both Winter and Summer events

Packages to suit your needs and budget

Easily accessible
Weddings
The outdoor courtyard lends itself to conducting intimate Wedding ceremonies as well as an area to serve pre-dinner drinks and canapés. For summer comfort, the function room is fully air-conditioned, making the venue perfect for both summer and winter weddings.
A Wedding is an extraordinary and personal occasion, and our experienced event coordinators are available to assist you in designing a package to suit your own individual requirements whilst attempting to meet your budget expectations.
Sherwood Receptions is open for inspection Mondays, Wednesdays, Thursdays, and Fridays and 10 are to 4 pm and Saturdays by appointment only.
Rundle Hall
Our Rundle hall is the main venue for large gatherings accommodating up to 220 guests. With its unique heritage architecture, our entrance is sure to impress.
Courtyard
Our courtyard is a private garden setting perfect for Wedding Ceremonies. Book your ceremony and wedding party conveniently in the one location.
Little Henri Wedding Venue Melbourne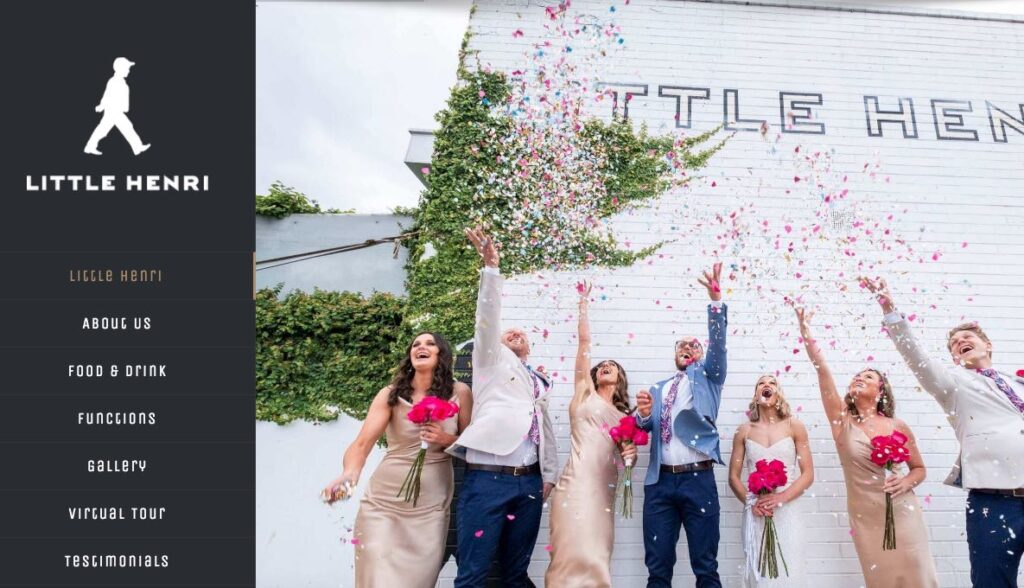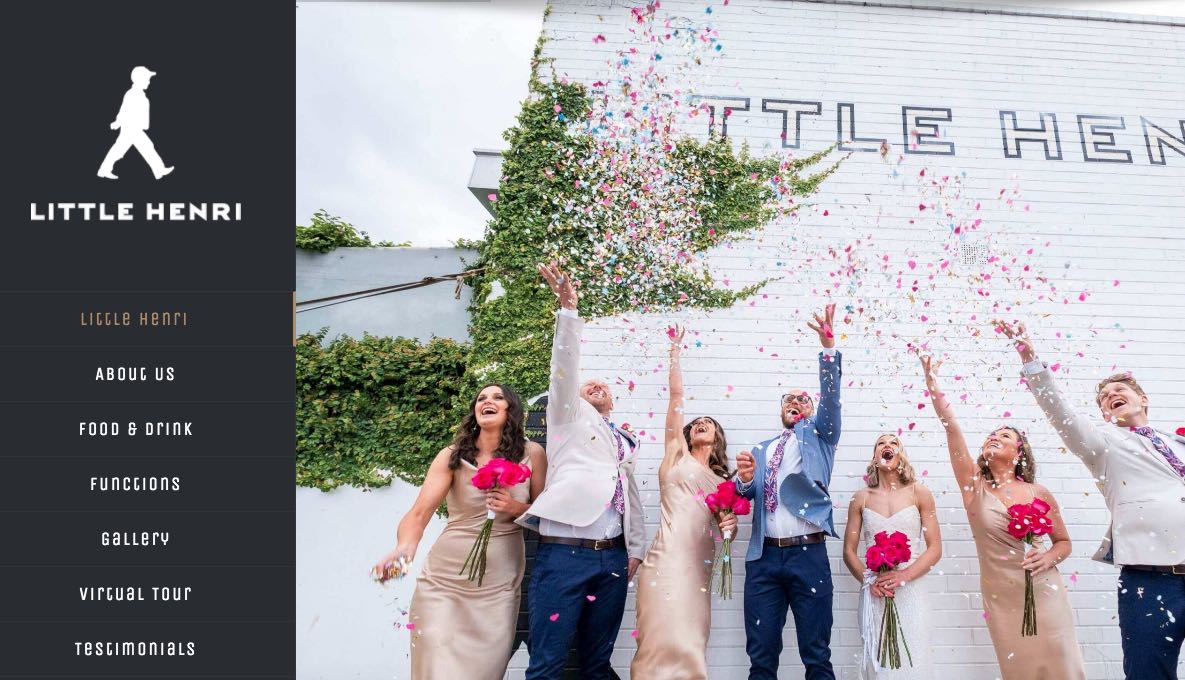 394848857
CAFE
LITTLE HENRI FOOD AND DRINKS.
Little Henri is not really so little…..but a relatively spacious place built as a nod to the balance between old and new that Melbourne is so well known for.
Little Henri pays tribute to local history in its name, settings, and design.
Until 1994 Thornbury was a part of the lovely City of Northcote and, in a nod to that shared history, Little Henri is named after Sir Stafford Henry Northcote himself — or 'Little Henri', as we liked to call him. He was the 3rd Governor-General of Australia (1903-1908) and was dedicated to, and influenced Melbourne's development and culture.
Right at the top end of High Street, at the junction of Dundas and High Streets and Plenty Road, look for a corner where little silhouettes of a boy run along the walls. Here, you have found Little Henri. Once inside, space opens up like you wouldn't expect from the street; high ceilings, a beautiful round counter, and a backyard that is just asking to be brunched in making this cafe unsuspectingly sizeable.
DESIGN: The cafe is a converted bank and still has the original safe door. It's exterior, and the interior reflects rustic and distressed finishes and yet is trendy, sleek and sophisticated in its simplistic design. An interior with deep textures complementing a mix of earthy furnishings combined with natural lighting, and an exterior of a covered courtyard, as well as a large leafy open courtyard, emanates a welcoming and relaxed ambience.
FUNCTIONS
LITTLE HENRI FUNCTIONS.
User – Friendly: While honouring the past, Little Henri also ensures that it caters for the trends and needs of the present by providing excellent food, drinks and service. It is all these features combined that make Little Henri not only a great eatery by day but have become a popular function venue by night to celebrate all sorts of occasions, including weddings. So whether you are in the mood for a quiet and relaxed coffee/meal break, or a get together with friends, or a meeting with colleagues, or to celebrate a significant occasion, Little Henri is the place for you.
Little Henri's open and flowing spaces can accommodate a myriad of functions ranging from formal sit down dinners to casual contemporary standing affairs. Whether your process is for a wedding, an anniversary, a milestone birthday, or a unique corporate event to impress your client and/or reward your staff, Little Henri has the setting, the expertise and the passion for making your experience one to remember and feel proud about.
The venue can accommodate up to 70 people for a formal sit down affair, and up to 150 people for a stand-up experience. Functions can be held in the central interior dining room, the covered courtyard, and/or the upper open courtyard. Utilising all areas is an ideal and magical option – starting your celebration with canapés and champagne in the yard followed by a selection of entrées, mains, and desserts in the dining ending the night with supper dishes around the bar.
We have food and drinks packages from which to choose. We also specialise in putting together individual packages tailored to your specific needs.
Rupert on Rupert Wedding Venue Melbourne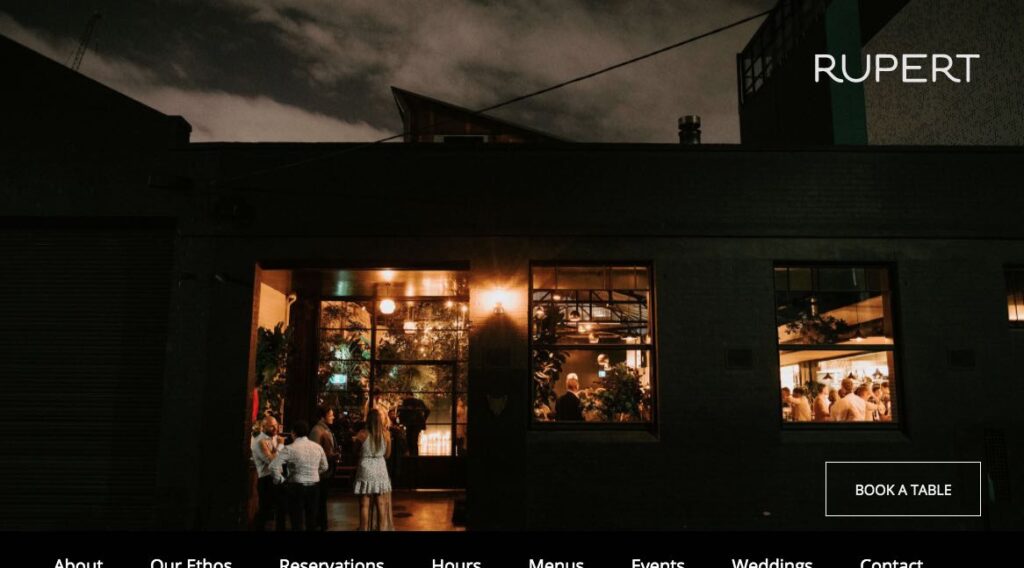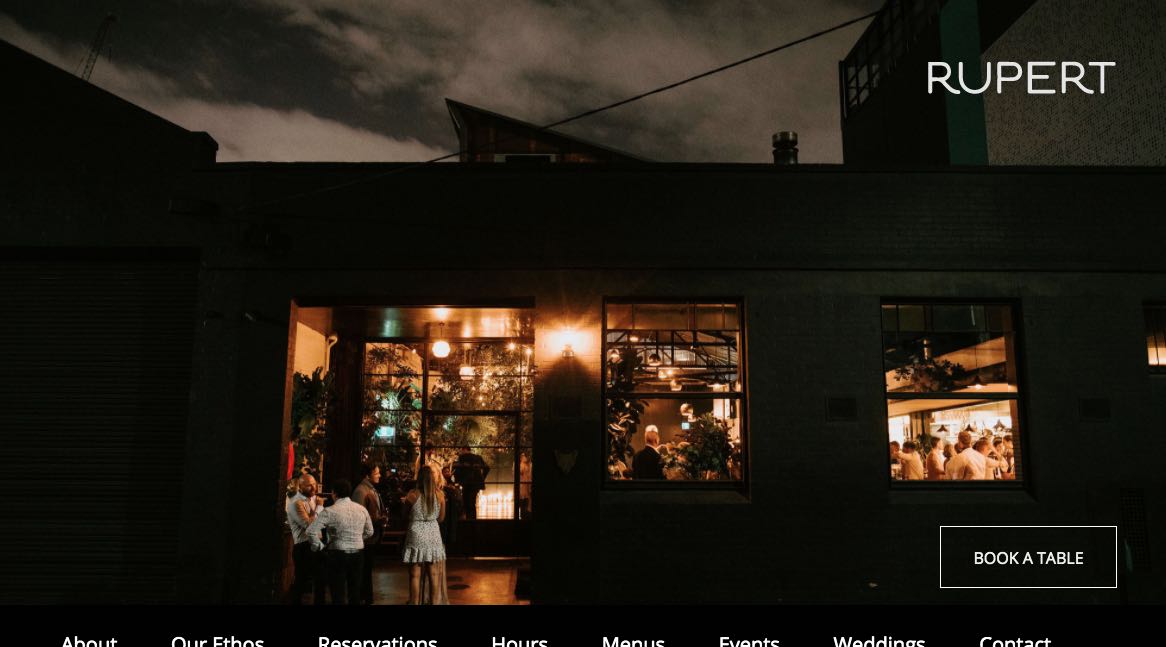 394197702
Welcome To Rupert On Rupert
Rupert on Rupert has come a long way since it first opened its oversized industrial doors in early 2015. An original passion project of husband and wife team Ric and Mali Corinaldi, this lovingly converted warehouse restaurant stakes its claim proudly in the hospitality nexus of inner-city Collingwood. Ric's dream was to create a space that could exist in any city in the world, with an aesthetic that would entice both community gatherings and romantic dates alike; a sanctuary that guests would long to return to again and again.
While Rupert continues to project the mysterious allure of an undiscovered backstreet gem, once inside, space is anything but unassuming. Full to the brim with an ever-evolving indoor garden, quirky vintage furniture, polished concrete floors, and handsome alchemy of steel, copper and glass, Rupert hints at exclusivity but delivers an ambient and sun-drenched warmth. The venue's combination of cosy corners, communal tables and expansive spaces accommodates a whole spectrum of memorable moments, from intimate to ample in size, from personal to business in nature.
We hope you enjoy your time with us.
Rupert on Rupert has come a long way since it first opened its oversized industrial doors in early 2015. An original passion project of husband and wife team Ric and Mali Corinaldi, this lovingly converted warehouse restaurant stakes its claim proudly in the hospitality nexus of inner-city Collingwood. Ric's dream was to create a space that could exist in any city in the world, with an aesthetic that would entice both community gatherings and romantic dates alike; a sanctuary that guests would long to return to again and again. 
While Rupert continues to project the mysterious allure of an undiscovered backstreet gem, once inside, space is anything but unassuming. Full to the brim with an ever-evolving indoor garden, quirky vintage furniture, polished concrete floors, and handsome alchemy of steel, copper and glass, Rupert hints at exclusivity but delivers an ambient and sun-drenched warmth. The venue's combination of cosy corners, communal tables and expansive spaces accommodates a whole spectrum of memorable moments, from intimate to ample in size, from personal to business in nature.
Ceremony
The verdant beauty of Rupert's plant-filled Conservatory offers a truly breathtaking backdrop for a wedding ceremony. Evocative of an evergreen Cathedral, the length and grandeur of the space makes for the perfect wedding aisle.
With a transparent ceiling reminiscent of an outdoor tavern, waiting guests can bask in the beautiful seasonal shifts in light throughout the year, whilst staying fully protected from the unpredictable Melbourne weather.
Couples are welcome to engage a recommended florist to customise a bespoke floral arbour or wedding arch, or simply take advantage of the abundance of potted trees and plants that Rupert has in the house to create a personalised ceremony space.
With no extra fee to have the ceremony on site, couples are encouraged to enjoy the convenience of hosting both their ceremony and reception within the one venue, removing the need to travel from one location to the next through heavy traffic and risk breaking the magical spell that is cast during this special occasion.
The Bride and Groom (or any combination of the two) can rest assured that all expressions of love are more than welcome at Rupert on Rupert. Couples can trust their experience will be all-inclusive and hassle-free, coordinated with equal parts exuberance and expertise by co-owner and Wedding Manager Mali. An incurable romantic, with a passion for creative collaboration, Mali chaperones her clients towards an experience that is as personally meaningful and unique as possible. Whether all the bells and whistles are called for, or something a little less traditional appeals, Mali and the Rupert team ensure excellence is delivered with heart.
Reception
MAKE AN ENQUIRY
Rupert on Rupert offers a unique location to host your wedding. Whether the preference is for an intimate gathering or a more opulent bash, this beautiful venue provides several exceptional spaces to celebrate.
The Main Dining Hall can seat a maximum of eighty guests for a shared feasting banquet, or up to two hundred for a standing cocktail style party. With its high cathedral ceilings braced by the modern beauty of crisscrossing steel rafters, the fit-out pays homage to the best in inner-city warehouse conversions. Space can be uniquely configured depending on the number of tables required and has the flexibility to accommodate a dance floor if cavorting on the cards.
The Conservatory is the natural choice for post-ceremony cocktails and canapes. Guests can mingle amidst the lush oasis of trees and plants that enrich the space, savouring the 'outdoor' ambience with no concerns for inhospitable weather. Festooned with soft Edison lighting, this evergreen sanctuary becomes a starlit wonderland once the sun goes down.
 The Cocktail Lounge, nestled to the very back of the venue, is an unexpected treasure. With its own fully stocked bar showcasing a premium spirit selection, this is the perfect haven for the wedding party to steel the nerves with a pre-ceremony whiskey, or share an espresso martini or two before dancing. Resplendent with the old world comforts of leather chesterfields, vintage lamps and mid-century cabinetry, the lounge also provides a luxurious refuge for guests to retreat to when good conversation is called for later in the evening.
Greenfields Albert Park Wedding Venue Melbourne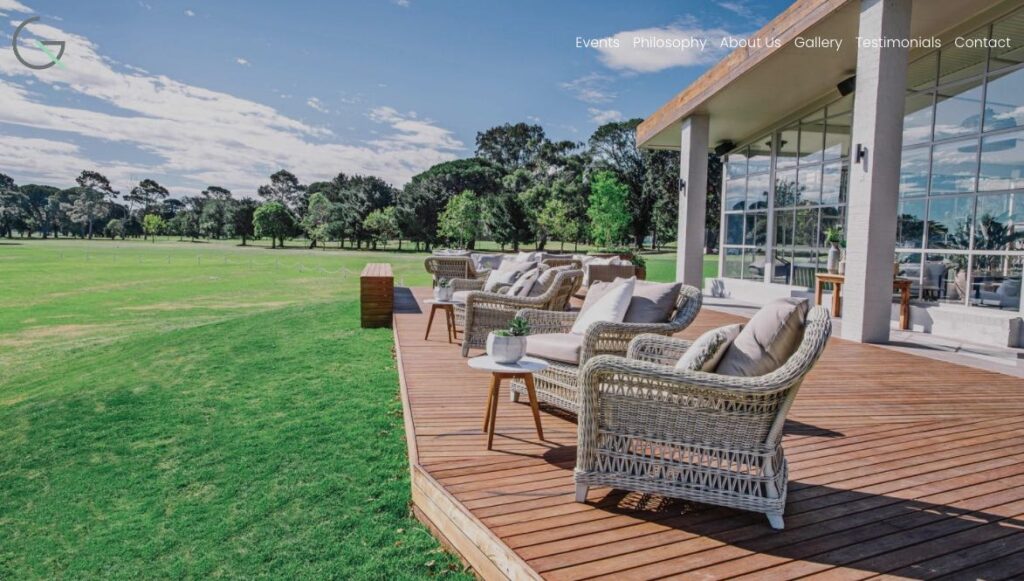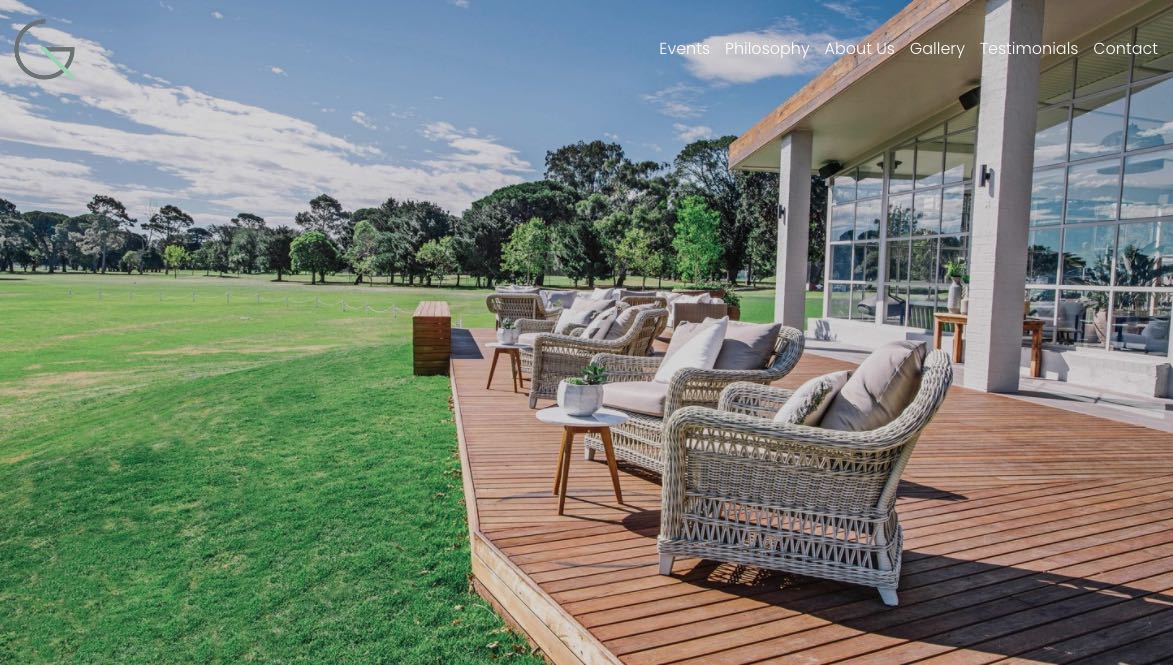 395108416
Venue
Greenfields Albert Park will transport you to the remote region of Byron Bay, all within 3km of Melbourne's CBD. Our finishings and decor has been mindful, hand-sourced from all over the world. Including the streets of Spain and France.
To discover our space in 360 degrees, click here.
Parking is available onsite. The car park is owned by Parks Victoria, offering approximately 115 spaces. Guests are required to pay via the parking meter.
Weekday hourly rate: $5.40 per hour
Weekdays 5 pm to 9 pm flat rate: $5.40
Weekends flat-rate fee: $5.40 per day
Our All-New Menu
Watch as our Head Chef, Nick Korceba talk all things new menu, products, and his personal favourite dishes.
Weddings
You're happily ever after starts here. With sweeping views of Albert Park Lake, nestled next to Albert Park Golf Course and with the city skyline as a backdrop, Greenfields Albert Park was created as an urban city sanctuary and is an idyllic setting for your wedding celebration.
We have designed various unique spaces at Greenfields Albert Park so that every time someone enters they are able to experience something different – from the vast sunset deck, enclosed outdoor BBQ grill bar, lower inside deck with feature mosaic tile and suspended fireplace. There is even a suite for the bridal party as a private retreat.
The main space includes a range of custom handmade and hand-finished elements, created by local artisans from France to the Philippines. The ingredients are layered to build a warm, tactile environment, which prompts relaxation and connection.
At Greenfields Albert Park, we treat you like our family and go out of our way to ensure your wedding day is a resounding success. Your peace of mind is our ultimate goal.
Chapel 1885 Wedding Venue Melbourne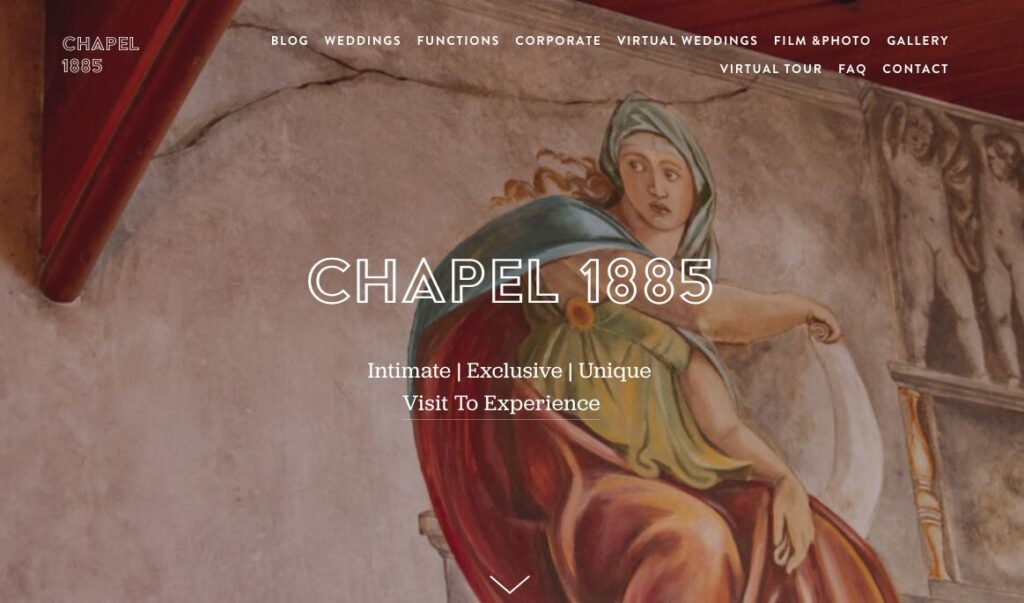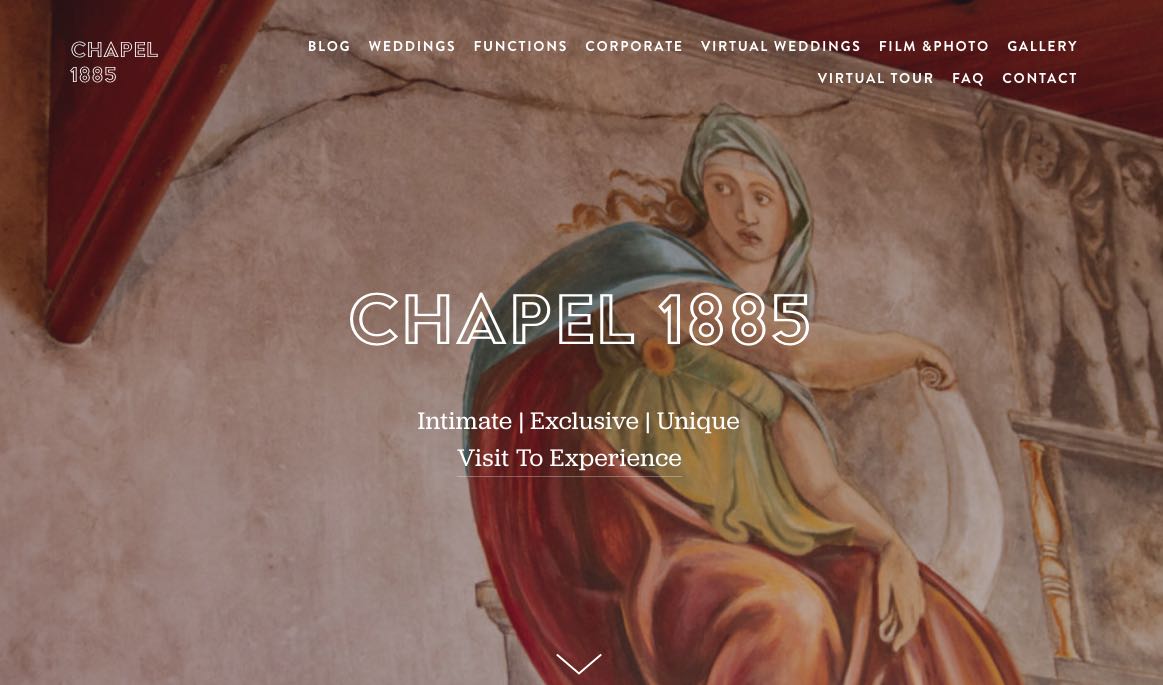 478668371
WEDDINGS
Built-in 1885, this former church is a heritage-listed treasure in the heart of Collingwood.
Combining the historic charm of a church with the romance of a luxurious New York loft, it's the perfect space for an intimate and memorable wedding.
Designed in the Gothic Revival style, the original building combines exposed brick walls with a stunning timber ceiling handcrafted by 19th-century shipbuilders. Large arched windows fill the interior with light, while intricately painted murals and chandeliers add the finishing touches. A beautiful view of Clifton Hill and the surrounding skyscape creates a romantic backdrop for photos.
The chapel also offers a grand piano, fireplace, two sitting rooms, a bar space, kitchen and a private bridal change room. A small courtyard on the premises away from food service is also available for the convenience of our guests.
Chapel 1885 is happy to offer you the flexibility to host outside vendors of your choice. We are also pleased to recommend our preferred caterers.
FUNCTIONS
Chapel 1885 is a stylish function venue that radiates old-world charm and new-world sophistication.
Built-in 1885, this former church is a heritage-listed, family-owned space in Collingwood that offers a truly unique and intimate setting for your next function. 
Shipbuilders handcrafted the chapel's stunning, original timber ceilings. The loft-style interior is decorated with lavish murals and chandeliers. A large, arched window offers plenty of natural light and a lovely view of Clifton Hill and the surrounding area. 
Space is home to a grand piano, fireplace, two additional sitting rooms, bar space and kitchen. A small courtyard on the premises away from food service is also available for the convenience of our guests.
Chapel 1885 provides an elegant, historic and intimate space for a truly memorable function. 
You can select your own caterer and dress up space as you wish, allowing you to create your event in your own way.
VIRTUAL WEDDINGS
A lot has changed for Melbournians in recent history, but that doesn't mean we can't enjoy special moments with our loved ones.
We offer Virtual Weddings to help you enjoy your special day with loved ones abroad and those who can not attend your ceremony and reception. Our team provide you with a way to be linked online (using Zoom) to enjoy the day and make sure nobody misses out. Our simple solution means that all your loved ones will be able to witness and experience your special moments from anywhere in the world. All they need is an internet connection and a device to connect with (either a smartphone, tablet or computer) to join in the festivities. Our team will provide your online guests with simple instructions on how to get set up and have everyone connected in no time.
With the current circumstances and nobody being able to travel, our virtual weddings will enable you to have your uncle in Scotland or cousin in Italy be able to attend your wedding via the internet. We will stream your ceremony and reception to all invited. We can also have "chat rooms" set up where you can group online attendees as they would be grouped on a table, meaning you'll be able to speak to them directly at any time. You will have our technical specialist available on hand throughout the proceedings to assist with anything you need.
If you'd like to find out more about our Virtual Weddings, don't hesitate to contact us for a quote.
Lancemore Wedding Venue Melbourne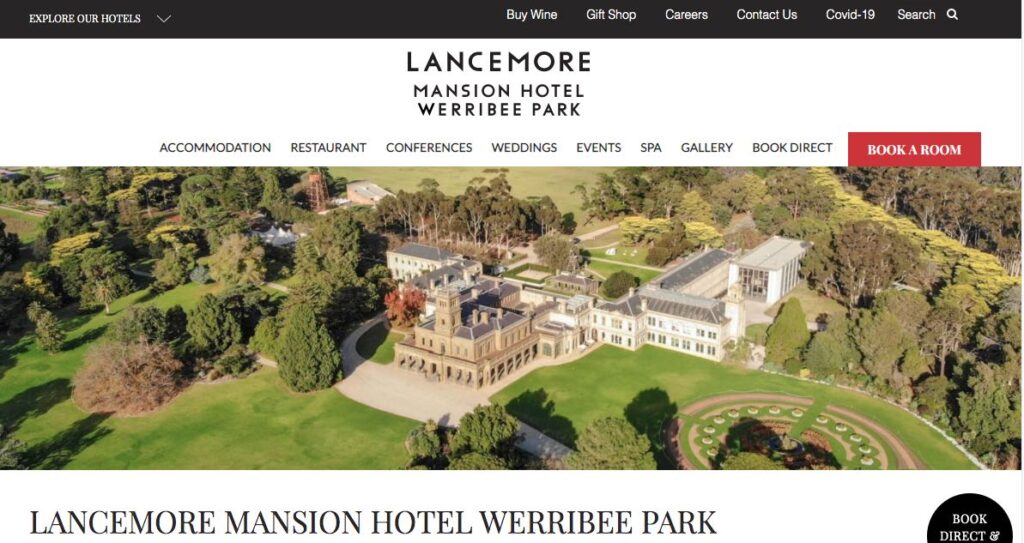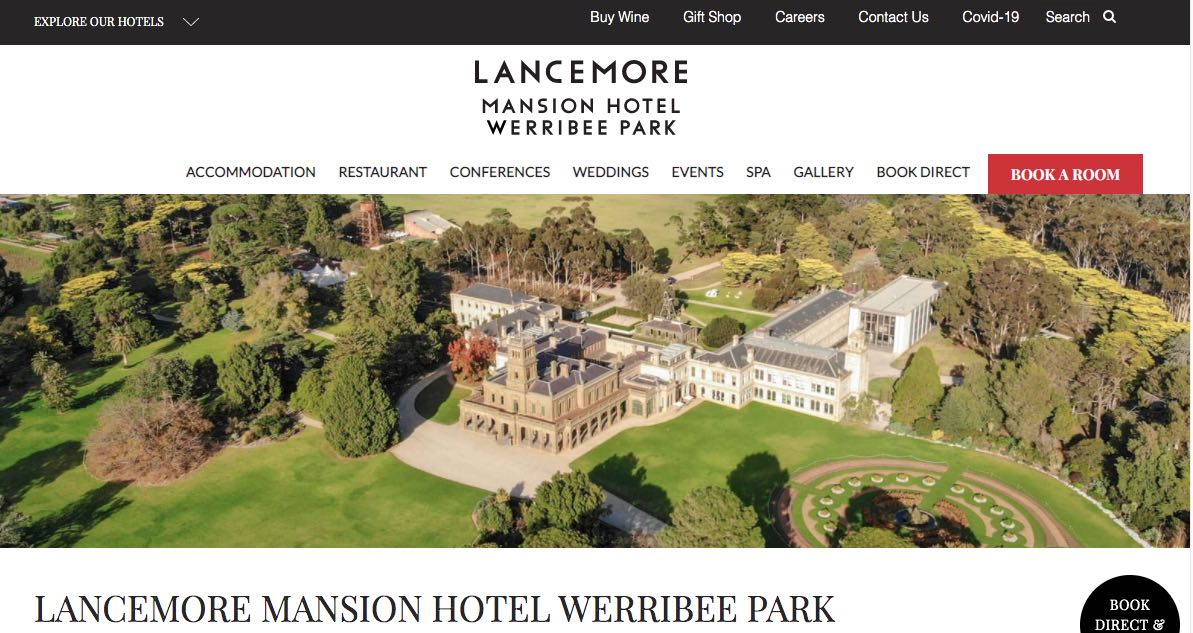 397314000
ABOUT THE LANCEMORE GROUP
It is better to travel well than to arrive.
Our collection of award-winning boutique hotels are as individual as you are. We understand the reason you travel is for unique, tailor-made experiences which are in tune with your needs, so when you stay with us, it's hard not to feel special.
From our genuine service to our informal professionalism; our timeless designs and spectacular locations to our mouthwatering food and wine, we strive to get the little things right and to appreciate that your time is the ultimate luxury.
MORE THAN A WEDDING VENUE
You've dreamt of this moment for most of your life, and now it is here…
This is your day. You are the star; the centre of attention. Our properties are your theatre, the stage to act out your dreams. It helps that we have years of experience planning weddings and it helps that our stunning hotels are the perfect backdrop for your perfect day.
We know that planning a wedding is an art form. Every detail must be flawless. It is a reflection of you and everything you imagined this day to be.
From a picture-perfect location for your ceremony and photos to a gorgeous reception venue bursting with happiness, everything in one place – including a luxuriously appointed bridal suite and guest rooms for all. Topped off by ethereal Day Spas or private areas to help make you feel as beautiful as you will look, few wedding venues can offer as unique a combination as you and your groom.
Wedding Receptions
A stunning blend of the contemporary with the warmth of tradition; our reception venues will accommodate just about any bridal need or want. From extravagant gala affairs to intimate gatherings of only the closest family or friends, we have a place and package to suit.
Wedding Ceremonies
There's no limit to your imagination when you're surrounded by such beautiful scenery and picture-perfect backdrops. And as you create your own history, your guests are nearby – enjoying canapés and drinks before the real celebrations begin. There's no limit to your imagination when you're surrounded by such beautiful scenery and picture-perfect backdrops. And as you create your own history, your guests are nearby – enjoying canapés and drinks before the real celebrations begin.
Food & Beverage
Our critically acclaimed and award-winning chefs will present a delicious fusion of local, seasonal produce. And when paired with our very own Halliday-rated Lindenderry Wine or the best of regional varietals, as well as premium beers, spirits and soft drinks, there's nothing but good cheer and laughter to be had.
The Dingley Hotel Wedding Venue Melbourne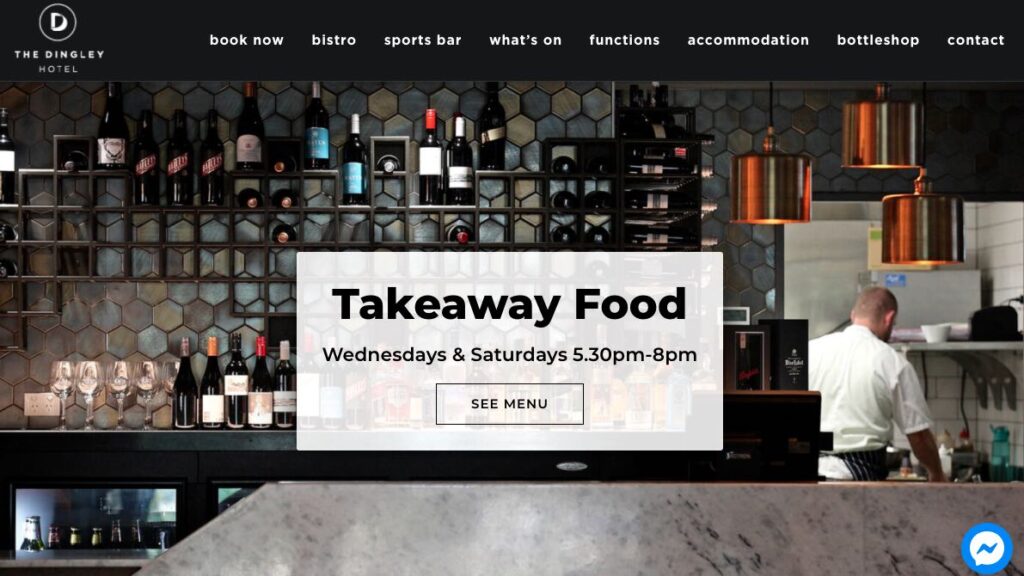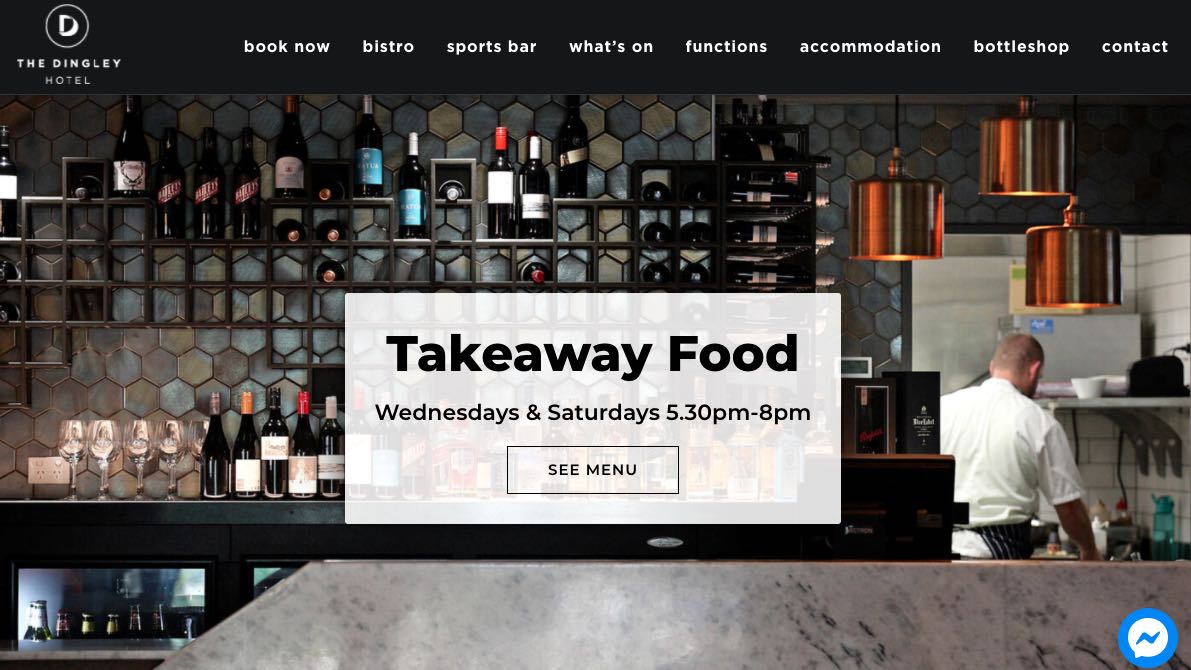 395522000
Stay With Us
Dingley is located at the gateway to some of Victoria's best natural attractions. Situated only minutes from Moorabbin Airport, you can experience world-famous sandbelt golf courses, shopping destinations, and the beautiful wineries and surf breaks of the Mornington Peninsula. The Dingley Hotel is the ideal base for your next south-eastern escape.
Contact our staff for more information or make a booking below.
EVENT SPECIALISTS
The Dingley Hotel is a spectacular event space in Melbourne's south-east. With capacity for large-scale corporate and personal events, a vast range of rooms and configurations for functions of all styles, and an experienced events team, this is the ideal location for your next event.
Private Events
The Dingley Hotel features four distinctly different function spaces, plus ample accommodation and parking. The Mason Room, Grange Bar, Forum Room and Alfresco Dining. Whether it's a cocktail party, formal banqueting, weddings, meetings & conferencing or drinks after work, we have the perfect space for you.
Corporate Events
Let our professional team tailor a package to suit your needs. With over 20 years experience The Dingley Hotel is the perfect destination for all your conferencing & event needs.
The Dingley Hotel features three conference rooms, we can arrange anything from group accommodation bookings, conference spaces, and audio-visual needs, to pre-dinner drinks and bistro or private dining options.
Choice of three conference rooms

Onsite accommodation and parking

Onsite bistro dining, bars, sports bar and TAB facilities

Catering & beverage packages to suit your budget

State of the art audio-visual equipment
MASON ROOM
Cocktail style events 50 to 80 guests

Seated events 30 to 60 guests

Theatre up to 80 guests

Conference up to 30 guests

Newly renovated with contemporary styling

Private courtyard & amenities

Audio-visual equipment included
Weddings
The Dingley Hotel offers complete wedding packages in both the Grange Bar and Forum Room. With over twenty years experience our dedicated functions manager and her team will work closely with you to help plan your special day. From menus and floor plans to tables and room settings.
We have menu, beverage and accommodation packages to suit every budget.
GRANGE BAR
Cocktail style wedding 80 to 200 guests

Seated wedding 50 to 100 guests

Private entrance, courtyard & amenities

Private fully serviced bar

Parquetry dance floor

Staging and audio-visual equipment

Onsite accommodation and parking

Complimentary executive suite for the wedding night including breakfast*

10% discount on guest accommodation*
FORUM ROOM
Cocktail style events up to 400 guests

Banqueting up to 250 guests

Private entrance, foyer, balcony & amenities

Private fully serviced bar

Parquetry dance floor

Large stage & audio-visual equipment

Suitable for gala balls, conferencing, presentations, expos, events & weddings
MASON ROOM
Cocktail style events up to 80 guests

Seated events up to 60 guests

Private courtyard & amenities

Suitable for smaller private functions, cocktail parties, meetings & corporate events
GRANGE BAR
Cocktail style events up to 200 guests

Seated events up to 100 guests

Private entrance, courtyard & amenities

Private fully serviced bar & parquetry dance floor

Staging and audio-visual equipment

Suitable for private functions, cocktail parties, birthdays, weddings, and smaller corporate events
ALFRESCO DINING
Cocktail style events up to 120 guests

A La Carte up to 50 guests

Limited menu 50 to 80 guests

Heated outdoor dining

Fully serviced bar with premium wines, beers & spirits
BISTRO DINING
Open seven days a week for lunch & dinner

Fully serviced bar with premium wines, beers & spirits

Extensive a la carte menu

Cocktail menu

Table service
Enter your email below to stay in touch with all the latest news, special events and offers from The Dingley Hotel.
The Dingley Hotel offers complete wedding packages in both the Grange Bar and Forum Room. With over twenty years experience our dedicated functions manager and her team will work closely with you to help plan your special day from menus and floor plans to tables and room settings.
Studley Park Boathouse Wedding Venue Melbourne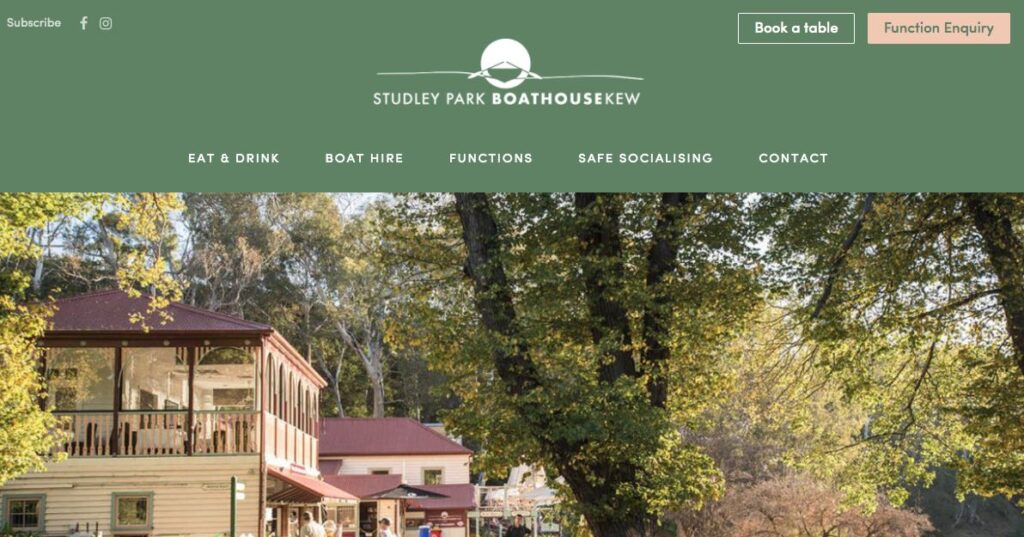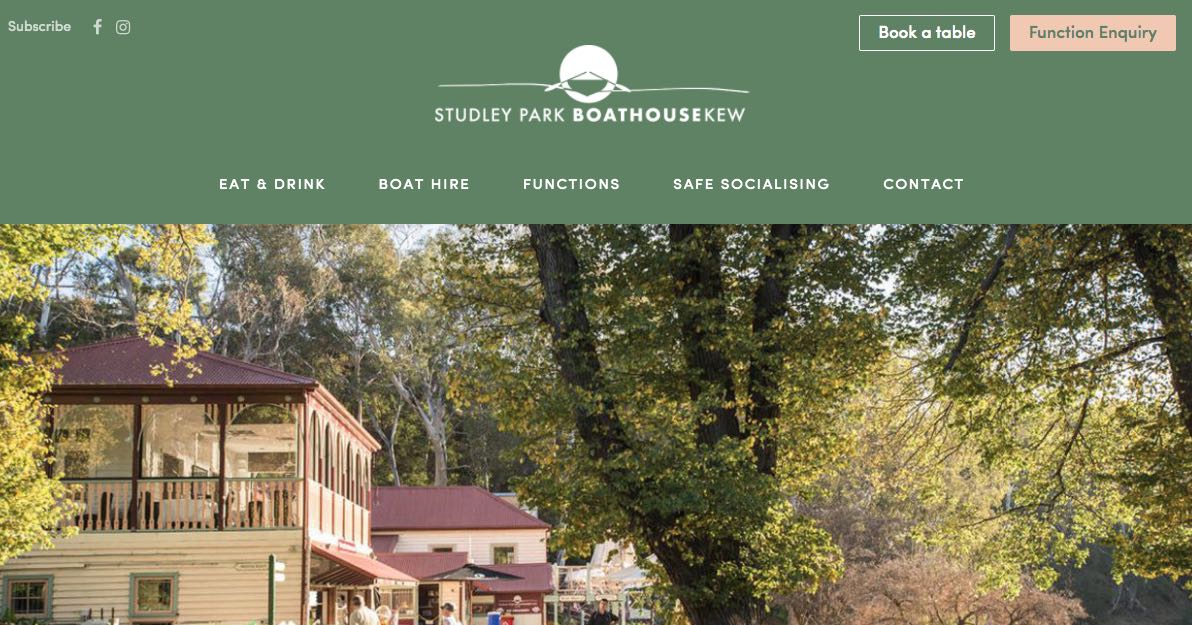 studleyparkboathousekew.com.au
385630028
MELBOURNE'S BEST RIVERSIDE DINING
The Studley Boathouse is the first boathouse in Melbourne's history – a boating and diving favourite for decades. Just 10-minute drive from the Melbourne CBD in Kew, the history-rich location offers a cafe, restaurant and event space.
Plus, our fleet of rowboats, canoes and kayaks are available for hire so you can experience the Yarra River's scenic views from the water yourself.
One of our best-preserved and best kept secrets is right at your doorstep!
PRIVATE DINING & FUNCTIONS
Located on the picturesque upper reaches of the Yarra River, surrounded in nature, The Boathouse has three dynamic spaces for your next function or event. From corporate functions to the wedding of your dreams, get in touch with our talented Functions team for more.
WEDDINGS
We present to you a location like no other, unsurpassed in our attentive service and providing a unique culmination of new and old. We offer tailored menus and diverse spaces for you to experience your special day.
With three great spaces to choose from, The Balcony room can accommodate up to 76 people as a seated style venue and 120 people as a cocktail party; The Terrace area can accommodate up to 80 people as an established style venue and 120 people as a cocktail party, and The Riverbank can host up to 120 people as a cocktail party venue.
From the moment the ring is placed on your finger to celebrating with your closest friends and family through the night, we will endeavour to make your dreams a reality.
The Bank On Collins Wedding Venue Melbourne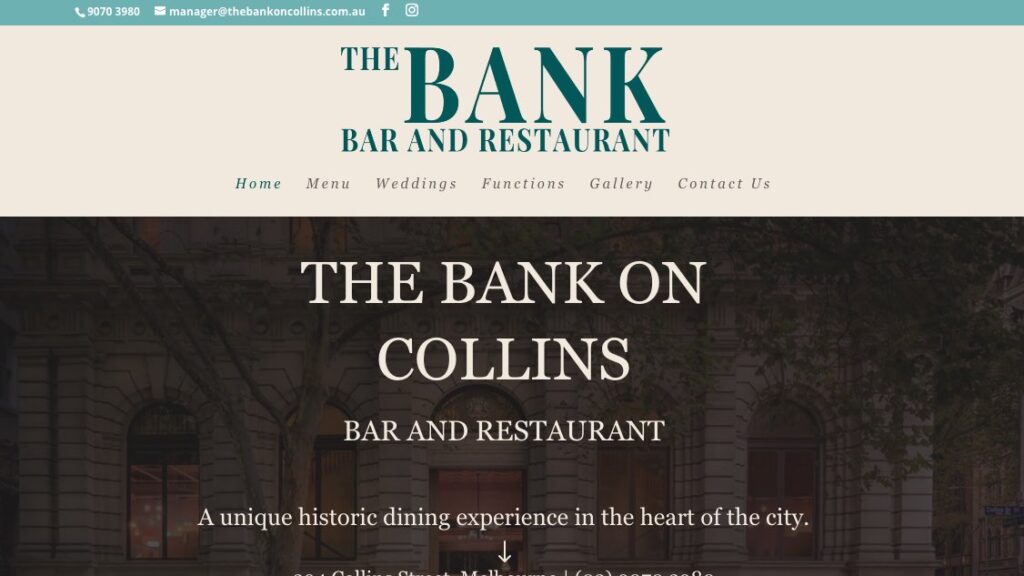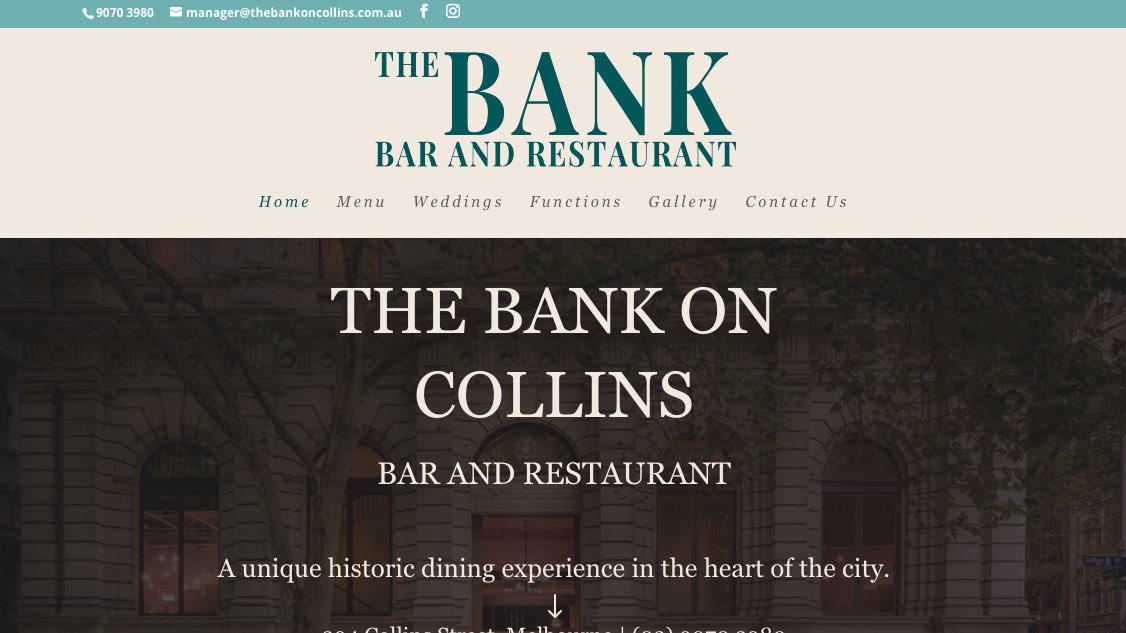 90703980
Welcome To The Bank on Collins
Construction of The Bank of Australasia commenced in 1876 designed by architects Reeds and Barnes. They created a restrained two-storey classical building constructed of imported Omaru stone, a rusticated base, prominent cornice and grouped corner pilasters. The principal architect Joseph Reed also designed the Melbourne Town Hall, The State Library and Exhibition Building. 
Now the ground level is home to The Bank on Collins Bar and Restaurant. Offering excellent service, food and drinks and a grandeur space for weddings and functions. The high ceilings and decor will leave you in awe while you enjoy modern Australian dishes at the Bank on Collins. A sophisticated twist on classic meals. It's the kind of place where you can start with oysters, then also order traditional parma.
With such a broad culinary appeal and excellent city location, the Bank on Collins has become a favourite for work lunches, functions, lazy weekend breakfasts. If you have had a long day, we hope you'll join us for a happy hour on Monday – Saturdays from 5-7 pm.
Melbourne's Historic Wedding Venue
A wedding at The Bank on Collins is truly memorable for its location, the beautiful heritage building and the culinary experience.
This iconic Melbourne building was built in 1876 from New Zealand Omaru stone with ornate metal railings. Originally home to The Bank of Australasia, the site is now heritage listed with its architectural aesthetic, second to none of the old world era. The Bank has a rich history and luxurious finishings and boy, is it worth a look if heritage in every sense of the word is your vibe!
Right in the heart of Melbournes city centre, The Bank on Collins provides a setting that is unmatched in history, grandeur and ambience. With its elaborate heritage detailing, The Bank on Collins is the ideal venue for your wedding.
Cocktail | 300 guests
Seated | 110 guests
Celebrate your special day with us!
Dreaming of a beautiful wedding? The Bank on Collins has much to offer with high ceilings and dramatic arched windows overlooking Melbourne City. The large chandeliers bring a lovely warmth and touch of glamour to the venue, which is just waiting to host an elegant wedding celebration.
WHAT MAKES THE BANK ON COLLINS THE BEST VENUE FOR YOUR WEDDING?
The Bank on Collins is an idyllic indoor wedding venue in Melbourne offering a grand entrance opening up to high ceilings with graceful and ornate heritage detailing. The striking interiors have a rich history, and luxury finishing's creating endless photography opportunities onsite and Melbourne's surrounding streets.
If you're searching for a venue with elegance and charm that will leave your guests with a memorable experience, The Bank on Collins is the best venue for you.
WHAT ARE THE INCLUSIONS OF THE BANK ON COLLINS WEDDING SPECIAL?
We offer 20% off wedding bookings made before August 31, 2020. This is valid for weddings booked up until December 31 2021. Terms and condition do apply.
When you choose The Bank on Collins as your wedding venue, the complimentary use of our in-house audio-visual equipment and the PA system is provided when minimum spend is met. We will also offer furnishings such as dining tables and chairs as well as accessories such as linen and tealight candles. Our professional team of bar staff, waiters and chefs are at your disposal to celebrate your special day! You are welcome to consult with our dedicated Event Coordinator when planning your wedding day
We include personalised menus per table, a dance floor and various cocktail-style and seated wedding packages starting from $110pp. Our food and beverage packages that are designed as a base for you to work from can be customised to suit your preferences.
The Gables Wedding Venue Melbourne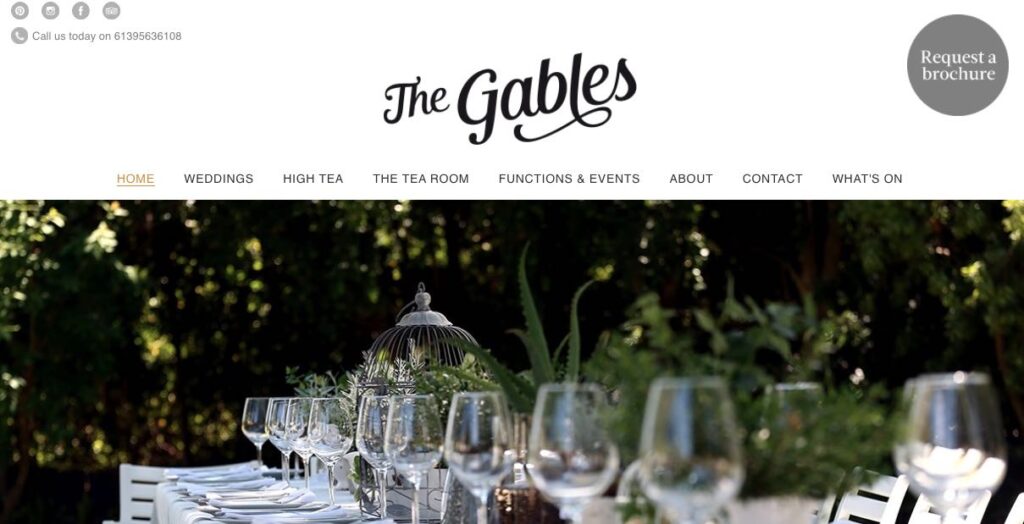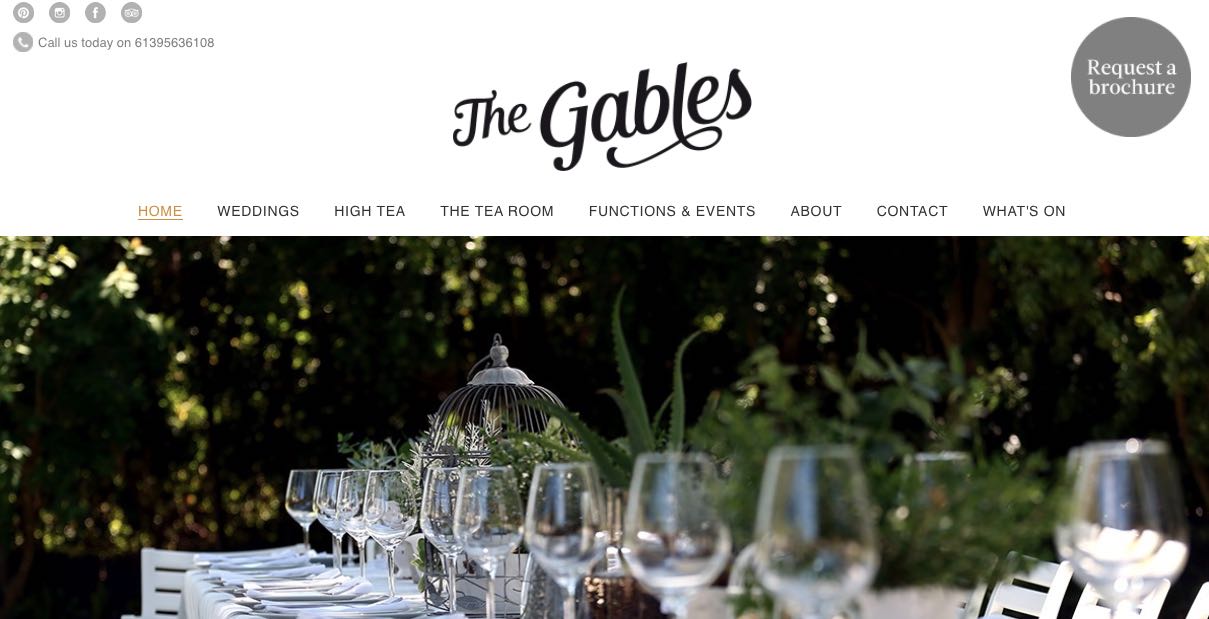 395716631
The Gables is simply one of Melbourne's finest venues for weddings, business functions or private dinner parties. Located in the heart of the Gascoigne Estate, East Malvern and surrounded by 100-year-old cypress trees, The Gables is a striking example of Victorian period architecture in the Queen Anne style.
No detail has been spared in the maintenance of this century-old residence, from the stained glass windows and open fireplaces to the classic furnishings and elegant period detailing.
You and your guests will be delighted at the charm and elegance of your surrounds. The sweeping drive, tranquil garden and gazebo, perfect for wedding ceremonies, further enhance your experience.
The Gables provides personalised service in a truly unique environment, for up to 120 people. Our menu is first class, offering a selection of formal dinners, elegant informal dinners, cocktail parties and afternoon teas. Also, we can cater for much smaller, more intimate groups with a la carte dining, a first for a venue of this calibre.
Weddings
The Gables is a boutique wedding venue in Melbourne. Garden wedding ceremonies are held in our beautiful gardens. Our menu is first class, offering a selection of items for formal dinners, elegant informal dinners, cocktail parties, and high teas.
What's included
Bride and Groom suites

Fresh flowers throughout

Five arm silver candelabra

Tea light candles throughout

Individually printed table menus

Damask table linens

Background music and Wi-Fi

Hospitality trained staff

Off-street parking

Lolly buffets available
Wedding Ceremonies
The Gables garden was initially designed in 1902 by William Guilfoyle, the landscaper who designed the Royal Botanical Gardens. The Gardens today are simply magnificent and include a rose-covered gazebo perfect for gardens ceremonies.
We also offer our recently refurbished PeacockRoom's attractive indoor ceremony option,m which boasts leadlight windows polished floors and an open fireplace.
Weddings in our garden may be held one hour before you receive $650.00 this price includes the use of the bride and groom suites prior to your wedding and all setup costs.
Wedding Cake
If you would like your wedding cake to be served as a dessert, we will do it with fresh berries, a berry coulis and double cream. We will also offer an extra entrée served alternately as a substitute for the wedding cake served as dessert.
Beverages
All packages include bottled red and white wine, champagne, light and stout beer, orange and apple juice, sparkling apple cider, soft drinks and mineral water.
Garden Weddings
The Gables is surrounded by a lush and leafy garden with 100-year-old cypress trees.
Initially designed in 1902 by William Guilfoyle, the landscaper who designed the Royal Botanic Gardens, today it offers the intimacy of a private, grand garden for weddings of all kinds.
We can stage a sumptuous long lunch under the shade of a magnificent tree, set up your ceremony by the rose-covered gazebo, provide an acoustically designed sound shell for musicians or create a great modern statement with food trucks parked on the grounds of this beautiful Victorian estate.
Should the weather conditions change, we can seamlessly move the wedding to an indoor ceremony in our beautiful Peacock Room with leadlight windows, polished floors and open fireplace.
We offer several package options and are very happy to work with you to create the wedding you envisage.
Cleveland Winery Wedding Venue Melbourne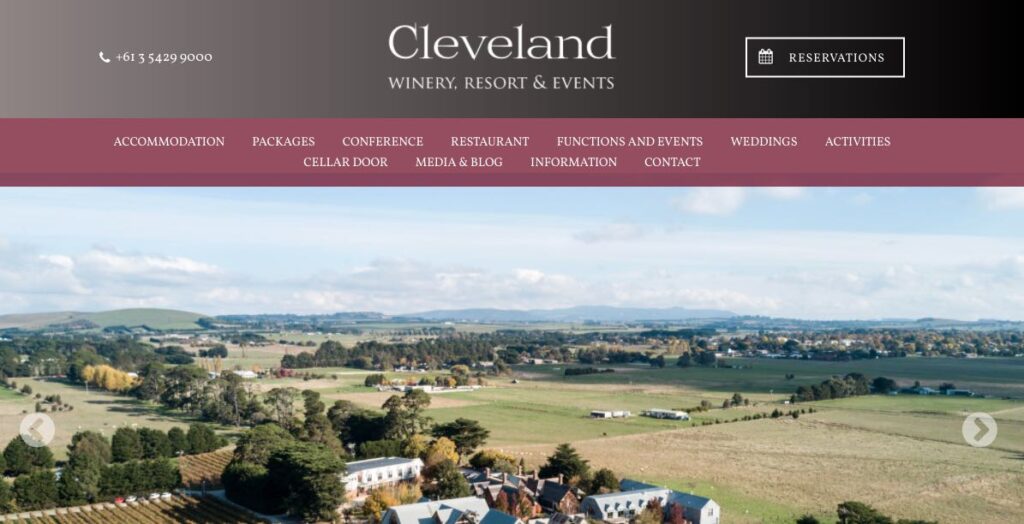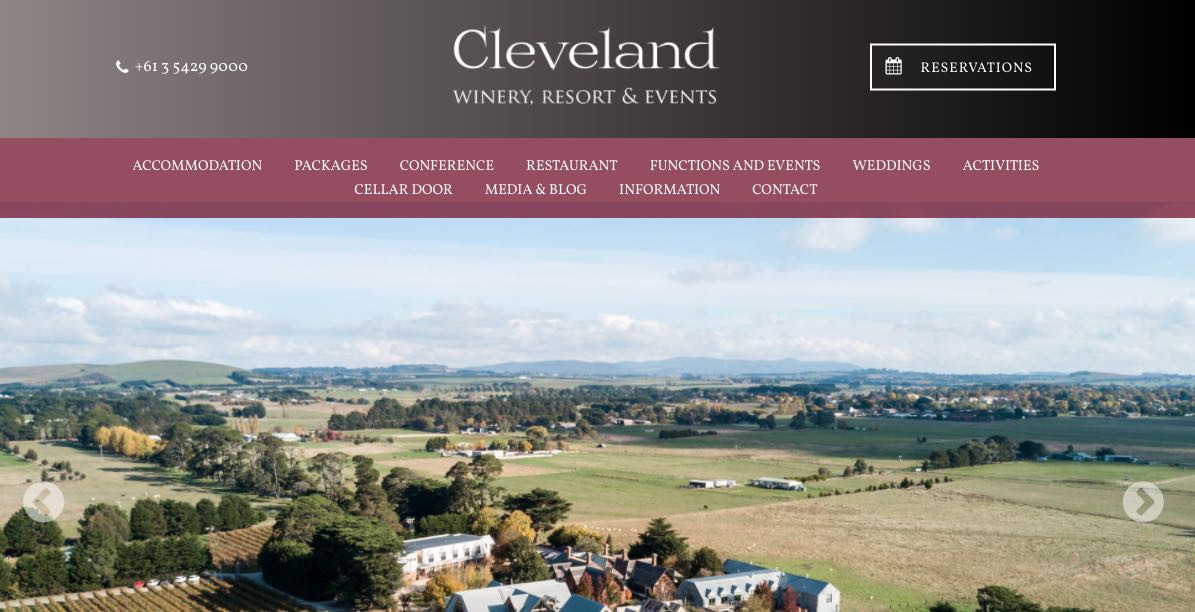 354299000
Welcome to Cleveland Winery!
Experience the best of the Macedon Ranges when you stay at Cleveland Winery. Situated in the historic country township of Lancefield, Cleveland Winery is less than an hour's drive from the Melbourne CBD and 40 minutes from Melbourne Airport.
Base yourself at the centrally located Cleveland Winery and be inspired by the variety of antique shops & art galleries dotted throughout the region, satisfied by the acclaimed local food & wine and amazed by the natural beauty of the local attractions such as Hanging Rock.
Featuring 50 beautifully appointed spacious suites with comfortable king-sized beds and ensuites, the resort also includes an original country Homestead built-in 1887 that can sleep up to 12 guests. As well as an underground Cellar Door where guests can sample some the best wines from across the region, the property also has an onsite a la carte restaurant & wood-fired pizza oven, tennis court & fitness centre, guest lounges with billiard tables, darts & table tennis.
With its comfortable country accommodation, tranquil vineyards, dramatic undulating landscapes and delicious local food and wine, Cleveland Winery is the ideal location to experience the best of the Macedon Ranges.
Your Macedon Ranges Wedding Venue
With a picture-perfect backdrop of vineyards and undulating countryside, Cleveland Winery is a stunning Winery Wedding Venue located in the picturesque Macedon Ranges, 45 minutes north of Melbourne's CBD and only 30 minutes from Melbourne Airport.
When you have your Macedon Ranges Wedding at Cleveland Winery, you also benefit from the added advantage of having your reception, ceremony and accommodation all in the one beautiful location.
Cleveland Winery offers guests beautifully appointed country-style accommodation so you can turn your special day into a weekend of memories shared with family and friends. Guests at your wedding can also take advantage of our discounted accommodation rates when you booking your wedding at Cleveland Winery.
Our comprehensive Wedding Packages feature everything you will need to make sure everything runs flawlessly from start to finish.
The Ceremony
Cleveland Winery offers several stunning ceremony locations for couples wishing to say I Do. Teams can exchange vows amongst the vines, undercover in our Chardonnay Terrace or in our manicured gardens.
The Reception
Whether it's a large formal affair or a small intimate dinner with close family and friends, Cleveland Winery provides Newlyweds several reception options to help keep celebrating your big day!
Over Newton Castle Wedding Venue Melbourne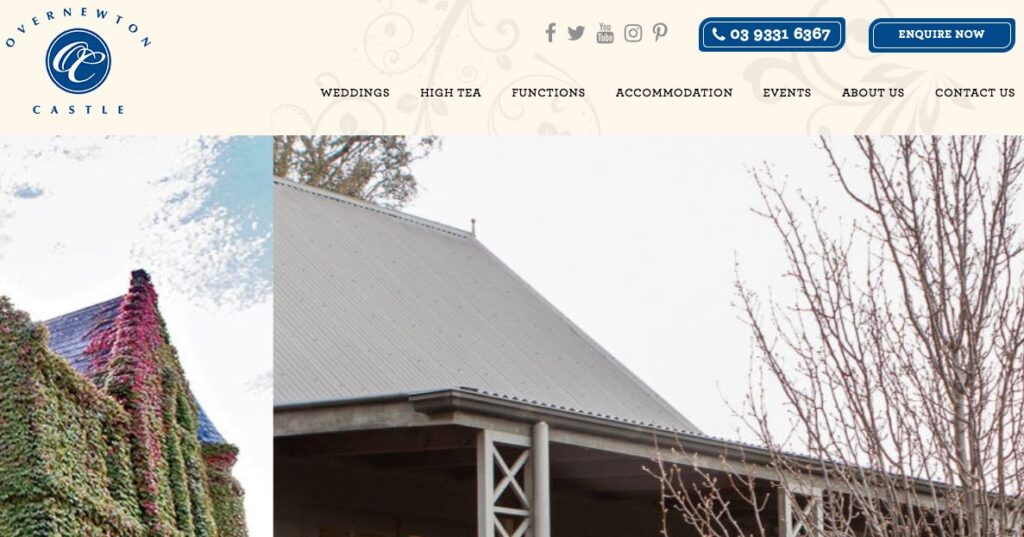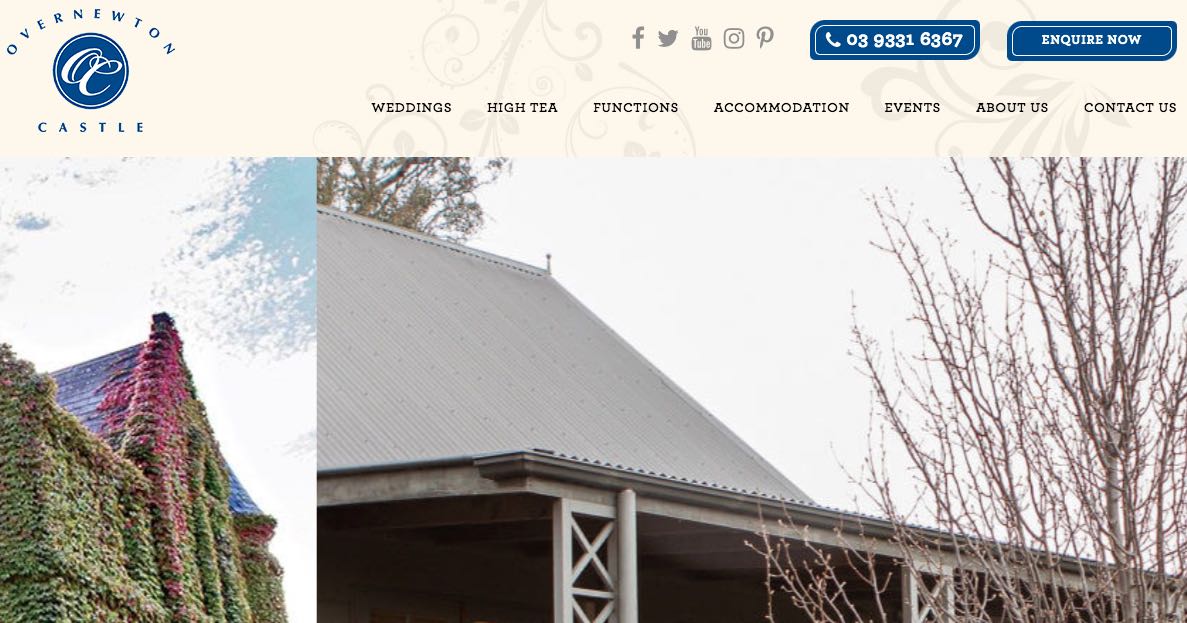 393316367
Private Wedding Venue & Hotel in Melbourne
As you plan one of the most memorable events of your life – your wedding day – you'll want to make sure it's an unforgettable experience. Everything from the time and date through to the photography and the reception plays its own part towards creating a day full of romance and celebration. One of the most critical points of consideration for your wedding day is the location. When deciding on venue hire in North Melbourne, you want a place that not only looks breathtakingly stunning but also accommodates everything from the needs of the bride and groom through to the city's dynamic weather patterns. If you're looking for gorgeous wedding ceremony locations in Melbourne that will make your day perfect, arrange an appointment to view Overnewton Castle.
North Melbourne's Diamond – A Picture Perfect Wedding Location
Located in the suburb of Keilor, north-west of the CBD, Overnewton Castle is one of the most famous mansion wedding venues Melbourne has to offer. It's highly favoured for its stunning indoor and outdoor wedding photography opportunities, where you can have access to our historic mansion built in the 1840s as well as our beautiful gardens situated on acres of land. Our exclusive non-denominational chapel makes for a perfect indoor location for your ceremony, or if you prefer an outdoor ceremony, our picturesque English garden parties make for a beautiful alternative. All your wedding venue hire needs are catered to at this one convenient, picture-perfect location.
Extensive Range of Function Centre Opportunities
Overnewton Castle also operates as a function centre for a range of events, including high tea, christenings, corporate functions, milestone birthdays and more. We also provide high tea afternoons throughout the year; places are always in demand, so book early.
A Brief History Lesson
William Taylor built Overnewton castle in 1849. The Scotsman bought 13,000 acres of rich grazing land just west of the Keilor township. Taylor made a simple single-storey bluestone colonial-style homestead. This consisted of 6 rooms with large shuttered windows and wide verandahs. The homestead was positioned on a gentle slope overlooking Keilor and afforded extensive views of the surrounding countryside.
During the 1850's Keilor became an essential and busy stopover for travellers on their way to the Victorian Goldfields. This included the building of 2 schools, a new bridge and a new hotel.
It was not until William Taylor returned from a trip to Scotland in 1859 that the grandeur of his dreams became apparent. He set about turning the functional colonial homestead into a miniature Scottish Baronial Castle. The Stately two-story wing was added, along with the bluestone Dairy & Butcher Shop and the Private Billiard room now used as a chapel for wedding ceremonies.
Overnewton is built in the Victorian Tudor style, inspired by 16th century English & Scottish architecture. The Scottish baronial style is characterised by its rough-textured masonry, steeped pitched roofs and overhanging battlement corner turrets. The candle snuffer roofs show the influence of French architecture. The bluestone walls were quarried on the estate and rendered with a yellow gravel and stucco finish. Above the master bedroom's large windows is the Taylor family crest – a mailed arm and fist enclosing a dagger and the motto "Semper Fidelis" (always faithful). Above several other windows are the carved initials of HT, T 1859 and WT.
After the completion of this wing, the homestead consisted of over 35 rooms including seven bedrooms (the master room included a small circular room and a dressing room) schoolroom, library, drawing room, two kitchens, five servants rooms and the Billiard room. There are still many original features such as tiles in the bathrooms, claw foot bath and the old IXL wood stove in the kitchen. Several outbuildings on the estate include a bluestone butchery and dairy, lamp room, boot room, coach house, stables, woolshed, shearing sheds and machine shed.
William Taylor passed away in 1903 aged 85 and six months later is wife Helen aged 71 passed away. Their eldest son William Henry continued to manage the estate until he passed away in 1939 aged 81 and his wife Beatrice in 1948. The estate remained in the Taylor family until 1959.
The Carr Family purchased Overnewton in 1959. They raised their three children on the property using part of it as a family home, and the downstairs rooms were used as a wedding reception centre.
In 1975 Dr. L. J. Norton purchased Overnewton Estate to raise his own family on the property. Since then there have been many upgrades and changes to the property including mains water in 1976, a fire in 1980 burnt the old timber stables. Dr Norton purchased back 6 acres of land which included a drystone wall and some of the original outbuildings.
The years have been kind to Overnewton, today it remains much the same as when it was initially built. Hidden away amongst the old trees, it has seen many changes throughout the years. Gone are the days of horse and carriages, gaslight and servants, but the old world grace and charm along with the elegance, grandeur and atmosphere of a bygone era still remain. Having been restored over the years and an elegant dining room added to the estate, this is definitely a hidden treasure.
Unforgettable Weddings at Overnewton Castle
Overnewton Castle has been host to thousands of weddings since 1961 and is one of the leading wedding venues in Melbourne. With open fireplaces for the cold winter months and over 4 acres of a pristine English garden, it's a picturesque backdrop for a castle wedding in Melbourne.
Being situated in Melbourne, you can't always rely on the weather. Suppose you're unable to have your wedding ceremony in our garden. In that case, we also have a one-of-a-kind non-denominational chapel available, initially built by William Taylor as a Billiard Room and prefabricated in Scotland. Twelve etched pen and ink portraits on oak panels adorn the walls. It's like no other wedding venue you'll find anywhere in Melbourne or in fact Australia.
Photo Only Packages
Along with ceremonies and receptions, Overnewton Castle offers picture only package options on the private residence during selected times. Bookings are essential, and payment is required in full on a reservation, with no refunds or transfers available once booked. Overnewton Castle is quickly becoming a landmark location for wedding photos, so places are limited for those not hosting their castle wedding in Melbourne with us. Contact the office today to enquire about your wedding date.
Unique Wedding Reception Venues
With elaborate sitting rooms, stunning architecture, plenty of natural light and elegant interiors, our wedding reception venues in the Melbourne western suburbs are sure to impress. Overnewton Castle also has an unparalleled reputation for our tantalising meals and exemplary service.
Your first entry as a married couple will be an unforgettable moment, with all your family and friends clapping and cheering as you weave your way through to the Bridal table. The large dining room features a breathtaking crystal chandelier and a beautiful bay window which shadows you as you sit to eat your first meal as husband and wife. Through the many windows in the dining room, you will also see the floodlit gardens and 1000's of fairy lights.
Your personal wedding package includes:
Exclusive use of the venue and gardens

The use of our pristine English gardens for your Wedding photographs

Professional wedding coordinator to help you create your wedding day

Ample free off-street parking and disabled access for your guests

Private Bridal suite to freshen up in

Menu and beverage packages to suit your tastes – Bespoke packages available

Portable dance floor

Gold Candelabra centrepiece and white table linen
Please don't hesitate to contact us for any further questions or to book in a time to view this wonderful ceremony and affordable wedding reception venue in the Melbourne western suburbs.
If you wish to receive a package which has pricing inclusive, please click on the wedding information pack below and fill in your details so we can send an up-to-date package to your email address.
Alencia Wedding Venue Melbourne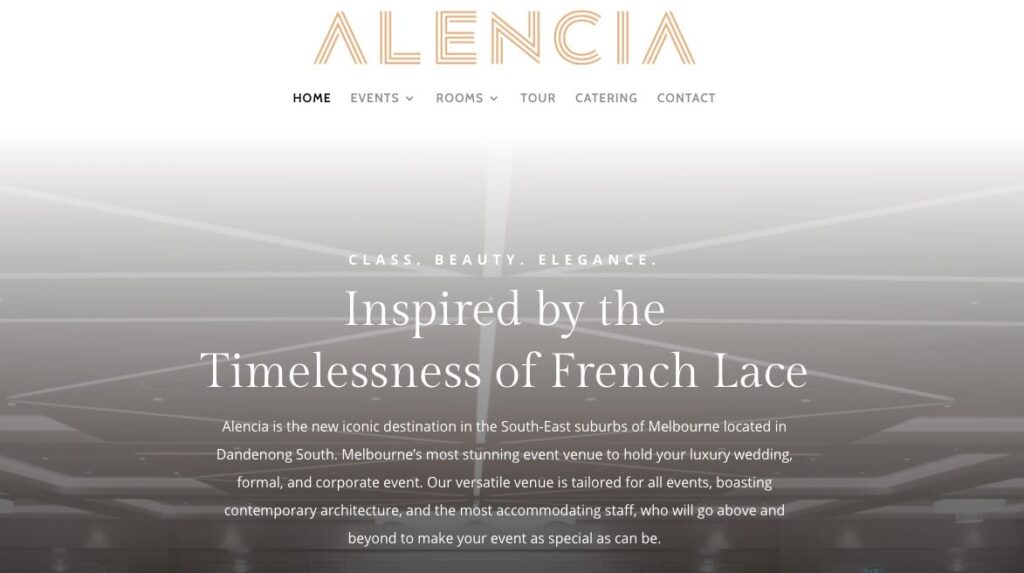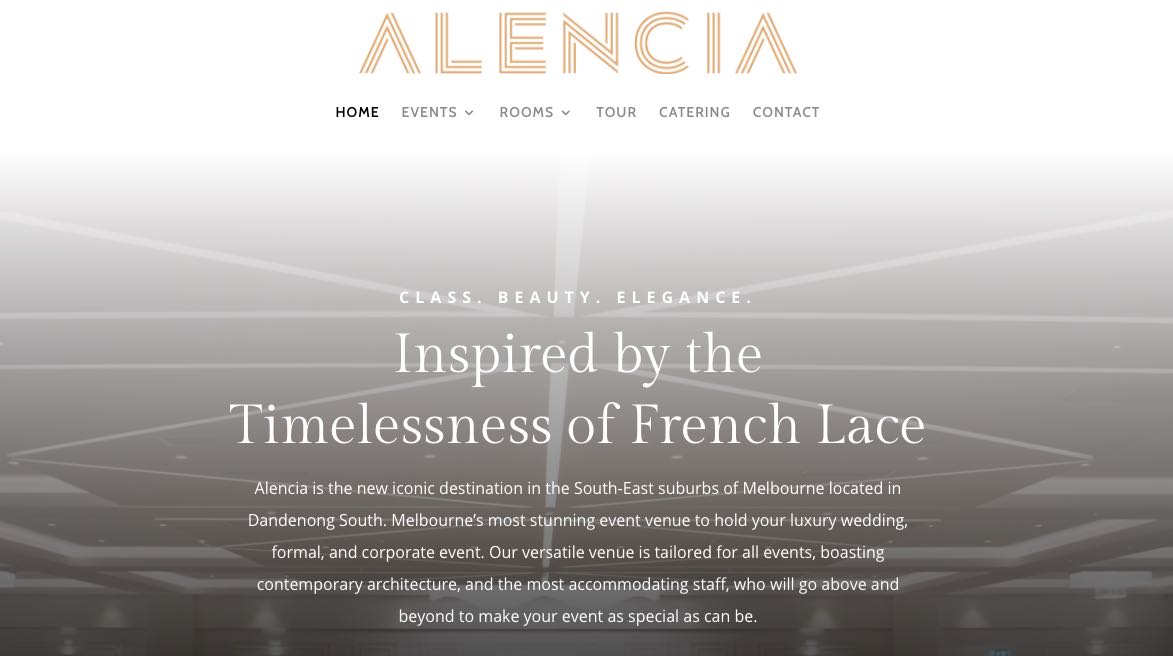 397922383
Inspired by the Timelessness of French Lace
Alicia is the new iconic destination in the South-East suburbs of Melbourne, located in Dandenong South. Melbourne's most stunning event venue to hold your luxury wedding, formal, and corporate event. Our versatile platform is tailored for all occasions, boasting contemporary architecture, and the most accommodating staff, who will go above and beyond to make your event as unique as can be.
Designed to Inspire
Alicia — a destination inspired by the heavenly detailing of 17th century French Alençon lace. Renowned for its sufficient netting ground, floral patterns, and intricate weave, Alençon lace is a premium trim used for wedding gowns and bridal veils. Like the refinement of French lace, Alencia's venues are flawlessly designed to enthral, entrance, and exhilarate.
Weddings
AS ALLURING AS LACE
The Newest Melbourne Wedding Reception Venue
Host your modern wedding celebration at the new Melbourne wedding reception venue your guests won't soon forget located in Dandenong South. Alicia is Melbourne's premier wedding spot. Destined to dazzle, our passionate team promises to deliver an event that checks every one of your must-have features off your list.
YOUR PREMIER WEDDING DESTINATION IN MELBOURNE — INSPIRED BY THE TIMELESSNESS OF FRENCH LACE
Alicia—a destination inspired by the heavenly detailing of 17th century French Alençon lace. Renowned for its sufficient netting ground, floral patterns, and intricate weave, Alençon lace is a premium trim used for wedding gowns and bridal veils. Like the refinement of French lace, Alencia's venues are flawlessly designed to enthral, entrance, and exhilarate. The locale is everything. Evoking grandeur and elegance, our spacious new ballrooms boast contemporary architecture and soaring ceilings.
Our hospitable wait staff will be at your service, delivering a first-class catering experience. Whether you are hosting a stand-up event or a sit-down banquet, our passionate chefs will make every bite remarkable, from canapés menus to full-course meals in the newest Melbourne wedding reception venue.
Vue On Halcyon Wedding Venue Melbourne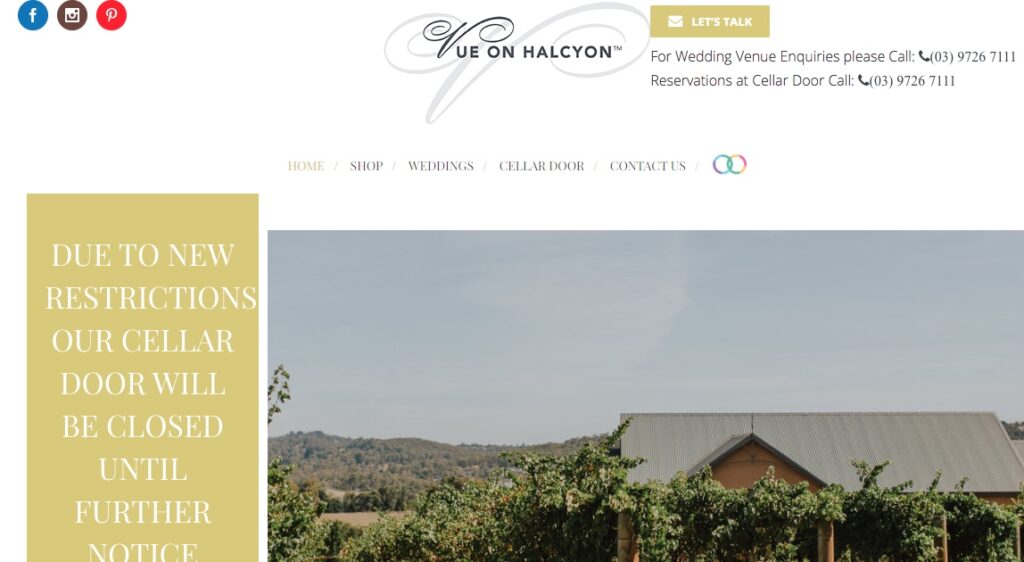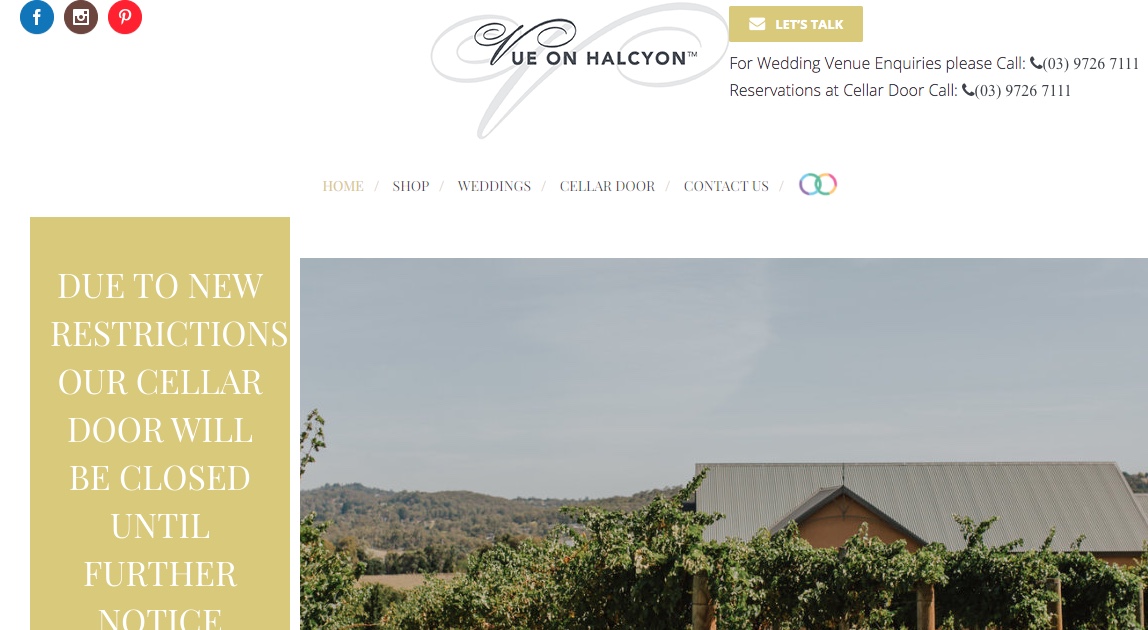 397267111
Welcome To Vue On Halcyon
A Contemporary Wedding Venue Entwined With Country Style And Elegance. Located At The Entrance Of The Yarra Valley, Vue On Halcyon Offers A Wedding Venue For Those Discerning Couples Who Appreciate Wonderful Food, Great Wine And Friendly, Intuitive Service. It Is The Perfect Location For Your Wedding Ceremony And Reception. Imagine Uninterrupted Views Of Rolling Hills And Historic Vines As You Begin Your
OFFERING ONSITE CEREMONIES
Choose our stunning Chapel featuring exposed timber trusses OR exchange your vows in the picturesque vineyard setting.
COME ONE AND ALL
Catering for your nearest and dearest of 80-150 guests and only 35mins from Melbourne.
AN ALL-INCLUSIVE OFFER
Our wedding packages are designed to leave you with very little to plan. Showcasing elegant dishes made from premium ingredients and complemented by estate wines.
EVERY DETAIL MATTERS
No two weddings are the same; we provide a flexible approach to help you achieve your perfect wedding day from start to finish…towards a perfect 'beginning'.
EXPERIENCE ESSENTIAL
It would be our privilege to host your wedding day we will deliver a wonderful wedding experience effortlessly and seamlessly.
Eynesbury Wedding Venue Melbourne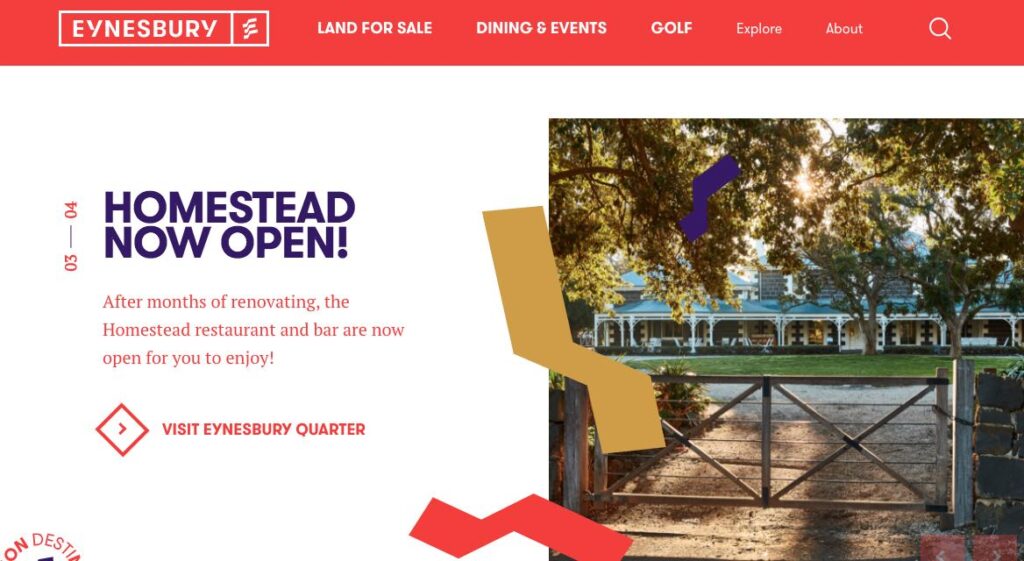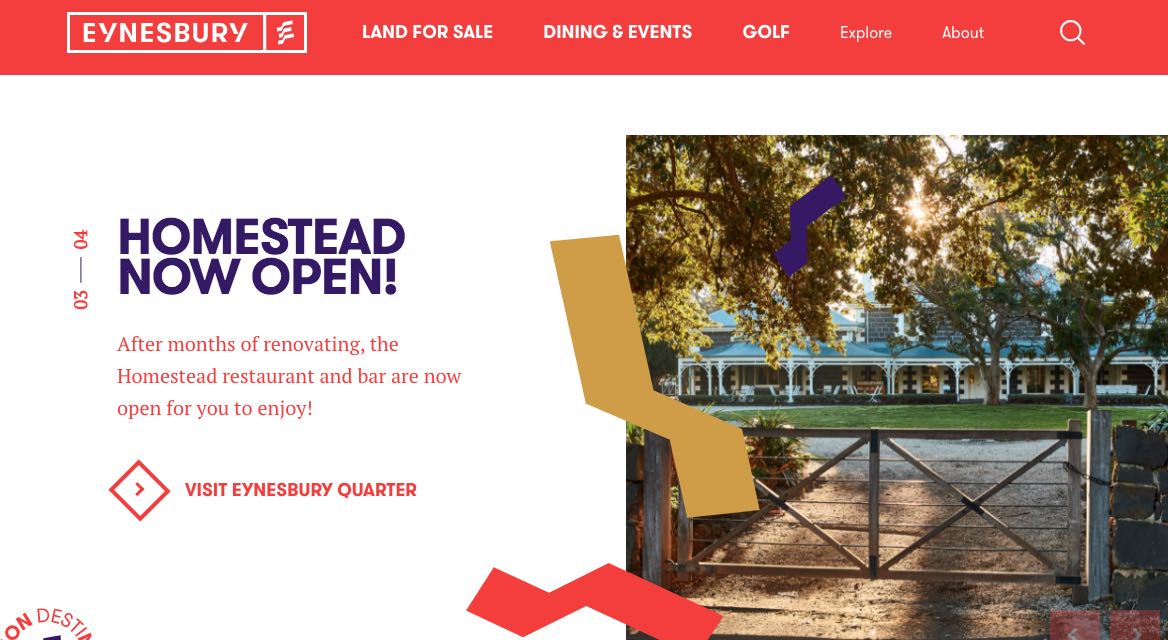 399710402
WEDDINGS AT EYNESBURY
Just 40 minutes from Melbourne CBD, you'll find a genuinely idyllic and memorable setting. Dating from 1872, the Eynesbury Homestead has only been stylishly renovated with a new restaurant and bar. There are stately rooms, formal gardens and a dedicated wedding marquee. All set against the backdrop of the golf course, heritage buildings and native forest. And it's all here for you to make your own.
AN IDYLLIC LOCATION
Set beside Eynesbury Golf Course, this magnificent 1870s bluestone homestead features beautiful gardens and an ornamental lake. Eynesbury wedding ceremonies typically take place in the gardens followed by a reception in the clear-span marquee or inside the manor for a more intimate wedding.
Terrace Reception Wedding Venue Melbourne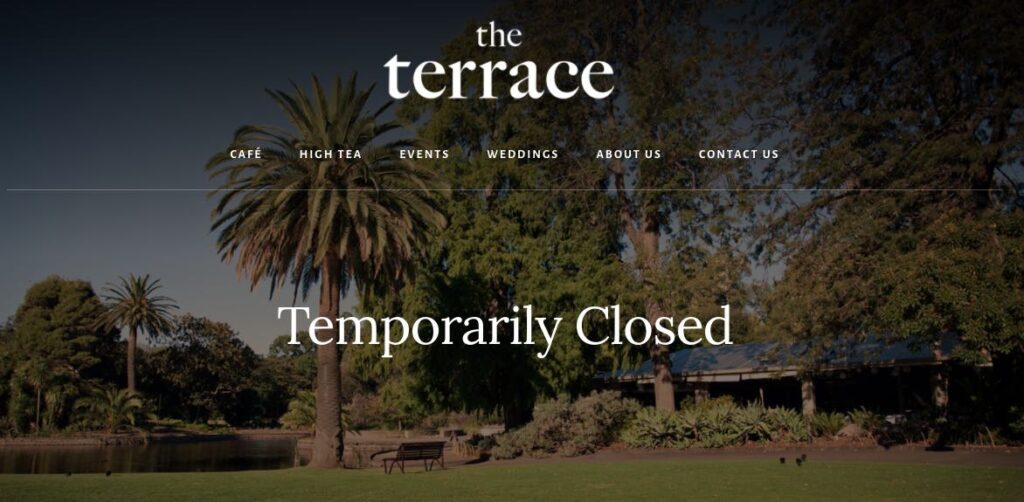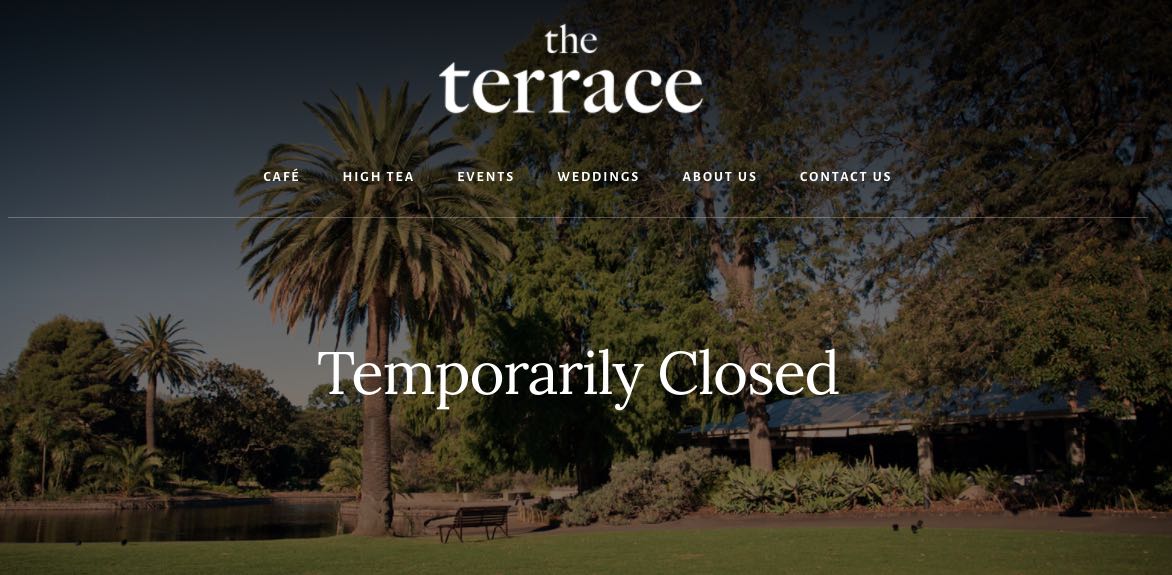 398209590
The Terrace Team has made the difficult decision to close from Monday, July 27 in line with current Government restrictions and to assist in slowing the spread of COVID-19. We hope to be back soon, and we thank you for your patience and continued support during these difficult times.
We will keep you updated with any changes via our Instagram and website.
Weddings
Creating a stunning backdrop from our covered outdoor terrace, the spectacular Ornamental Lake provides a gorgeous setting for couples to celebrate their special occasion.
Guests will delight in mingling at our picturesque venue, where floor-to-ceiling windows can be opened on balmy nights accentuating already striking views of the stunning gardens. From your engagement party, rehearsal dinner, bridal shower to your wedding day, we can join you on every step of the way.
Located in Melbourne's Royal Botanic Gardens, you have the choice of lush green lawns framed by exotic plants for you your ceremony or within close distance, beautiful Melbourne churches and Victoria Marriage Registry.
While our stunning indoor and outdoor space can cater 60-180 guests comfortably for a sit-down function, we can also cater for 300 guests for a cocktail soiree. 
Our highly-experienced team of wedding coordinators understands that every wedding is unique, and we take great pleasure in attending to your specific needs. Our wide range of premium food and beverage options can be highly-tailored to suit your extraordinary occasion perfectly. 
The Panama Dining Room Wedding Venue Melbourne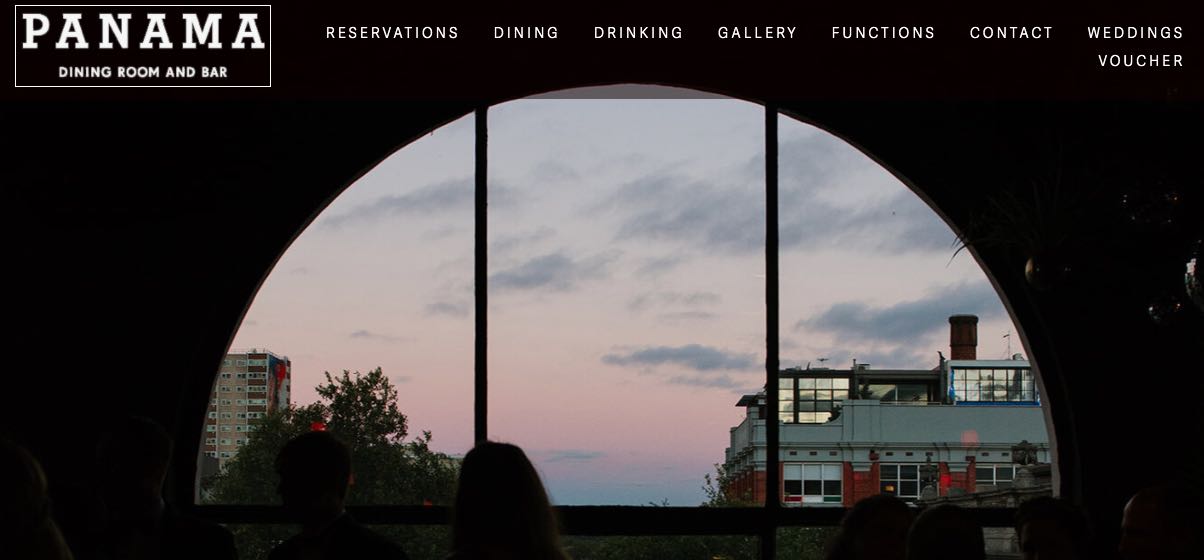 394177663
WEDDINGS
To enquire about a wedding, please submit an enquiry via our functions page. We will reply within 24 hours by email.
The atmosphere that you helped create was terrific and is a feeling and memory that we will never forget. Along with the beautiful food and fantastic service from the hospitality team, we could not have wished for anything better. 
To cap it all off, working with you was such a delight. You were easy to use with and also very helpful in suggesting recommendations to help make our special day, that little bit better. 
FUNCTIONS
Panama Dining Room is the most dynamic function venue in Melbourne!
We are available to book exclusively for lunch or dinner, all seven days of the week.
*Minimum spends apply for the exclusive use of the entire venue
Marnong Estate Wedding Venue Melbourne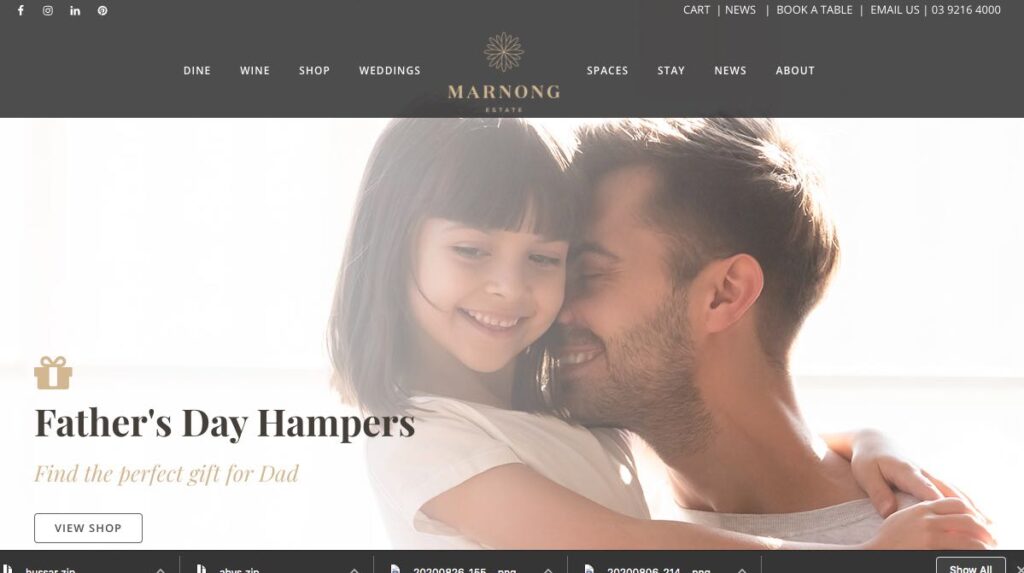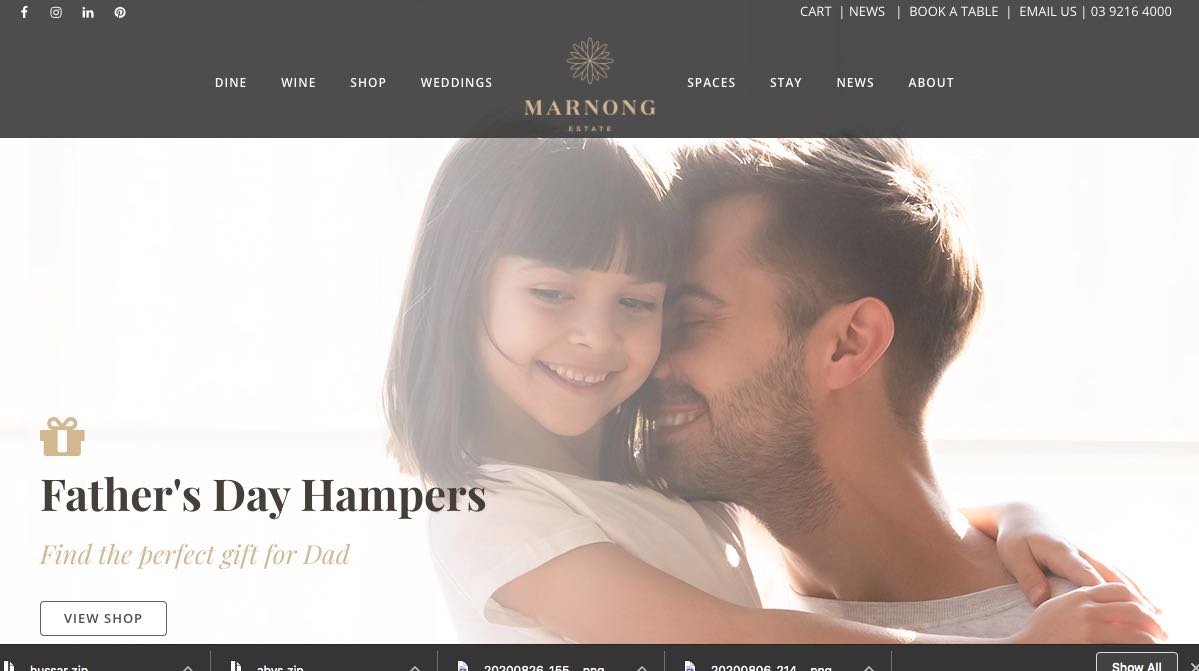 392164000
Welcome to Morning Estate
Situated only 15 minutes from Melbourne airport and 35 minutes from Melbourne CBD, Marnong Estate has something for everyone. From boutique accommodation in our Historic Homestead to private dining in Bankvale Run restaurant, or from weddings to conferences and special events – it's all here for you to enjoy with us.
A world-class tourism facility
Morning Estate North of Melbourne
Morning Estate is a new community tourism project located in Melbourne's northern region, just 15 minutes from Melbourne Airport and 35 minutes from Melbourne CBD. This exciting initiative has created a world-class tourism facility whilst focusing on sustainability and protecting the rich history of the Homestead and its location. Reviving the existing Homestead and establishing an integrated heritage resort facility, vineyard, brewery, and agribusiness is contributing to the local community by providing an authentic cultural and historical experience. The first of its kind in the region.
The Homestead has been restored to its former glory and now provides a beautiful escape for our guests. The original Marnong Homestead was constructed in sections over some decades.
The rear part of the Homestead, comprising two long rectangular buildings with individual hip roofs, is the earliest part of the building and is constructed of roughly squared, undressed bluestone blocks laid in even courses. The long buildings are positioned side-by-side with a corridor in between, the whole running transversely across the rear of the rest of the Homestead.
The western-most structure of the rear section is lower in height and possibly housed the kitchen and other outbuildings. The second structure, now almost in the centre of the present Homestead, possibly incorporated the living and bedrooms. The front half of the Homestead, which faces east, is substantially built of brick and is Victorian in styling with the front façade featuring pairs of windows on either side of a central door with a stained glass fanlight sidelights.
The roof to this front section is typically M-shaped, and the chimneys are also Victorian in styling. The front veranda may have continued initially down both sides of this front section but has been truncated on the south side and filled in on the north side at a later stage. At the south end of the adjacent older bluestone structure, there is also a faceted bay window, which would have been added at the same time as the front section.
BANKVALE RUN
The substantial rural holding is now known as Marnong, and once called Green Grove, started off as a portion of a run called Bank Vale, which was held in the 1840s by William John Turner Clarke.
In the early 1840s, the Scotch Company was no longer able to maintain the venture, and the run was subsequently taken over in early to mid-1841 by Clarke who quickly installed John Edols, a young overseer, in the vacated manager's hut. This was Clarke's first undertaking in a district where he was within less than two decades to own the freehold title to more than 100,000 acres. In the immediate area, however, by July 1841 he had installed his brother Lewis on the small Plover Plains run, which lay to the west of Bank Vale on the other side of the Deep Creek. And by the late 1840s, Clarke had taken over the Hill Head run which adjoined Plover Plains on the north.
The run they set up, Bank Vale, lay some twenty miles north of Melbourne, to the east of the Deep Creek (or Saltwater River), and just beyond the site of the future village of Mickleham. The land comprised undulating open pastures and was well suited for sheep. From such descriptions, it would appear that the present Marnong property is situated in what was the southwest part of this run.
The Bank Vale run itself was described as 'one of Clarke's most cherished stations and his only home in the Sunbury District. It was the address to which Hoddle wrote a letter in July 1850 informing Clarke that part of the Hill Head run had been leased to Captain James Pearson.
Today, after serving multiple uses, Marnong Farm has been restored to its former glory. Morning Estate now hosts the historic Homestead with a provincial feel and fittings which takes you a step back in time. Viewing the surrounds and walking the farm grounds, you can really soak in the history and reflect upon the use of the land.
Say 'I do'. At Marnong Estate
Offering a unique setting with endless possibilities and an incredible backdrop, your day will remain a wonderful memory for years to come. Our stunning locations include The Angliss Rooms with their panoramic views of the Macedon Ranges and other unique spaces, including The Shed for that more historical feel and our estate gardens. Quality food and wine are at the heart of what we do, matched with service excellence.
"Where dreams come to life".
CEREMONY
With over 1,200 acres, Marnong Estate provides an abundance of locations to host your ceremony and create a unique reception that will match your dream.
RECEPTION
Create an unforgettable experience at the heart of your celebration with incredible food and beverages matched with service excellence.
ACCOMMODATION
With luxurious accommodation to complement your event, Marnong Estate offers our historical Homestead or well-appointed Cabins. The perfect way to complete your celebration.
The Reception
Celebrating your wedding day with family and friends will be one the of most memorable experiences of your life. Let us host and ensure you have the most beautiful day. With over 1,200 acres, Marnong Estate provides an abundance of locations to host your ceremony and create a unique reception that will match your dream.
Working with you every step of the way, our dedicated team will help you create the wedding of your dreams. 
Luxury Accommodation
With luxurious accommodation to complement your event, Marnong Estate offers our historical Homestead. This luxury accommodation has four suites, with our deluxe suite complete with claw-foot bath and fireplace. A guest lounge for family and friends to gather and private dining facilities are also available to enjoy (additional costs apply). Or perhaps, enjoy a break in one of our indulgence Cabin's offering a bespoke and impeccably personal experience, promising sweeping panoramic views over the sweeping vista's and the opportunity to escape.
You can book the entire Homestead, Cabins or individual suites. Please consult your wedding coordinator for your exclusive rate—the perfect way to complete your celebration.
Our Spaces
Featuring a contemporary, modern design, Marnong Estate is famous for its breathtaking views of the Macedon Ranges and its award-winning menus. If you're looking for a Melbourne wedding venue for your special occasion, then you've come to the right place.
Town Hall Broadmeadows Wedding Venue Melbourne
 
393566700
Town Hall Broadmeadows has been a fixture in the landscape of Melbourne's north for more than half a century. In 2019, the venue underwent a multimillion-dollar makeover that has seen it enter a new and exciting chapter as a contemporary space for weddings, corporate, private and community events. 
A charming venue steeped in history
It was November 1964. The Beatles had just swept through Melbourne on their world tour, Dawn Fraser had won Olympic gold in the 100-metre freestyle for the third time in Tokyo, and Ron Barassi had captained Melbourne just weeks before to a thrilling Grand Final win over Collingwood. In Melbourne's northern outskirts, the burgeoning suburb of Broadmeadows was facing unprecedented growth, as baby boomers chased the dream of a new home in the aftermath of the Second World War.
In the 20 years prior, more than 15,000 people had moved into the suburb - most spurred on by the promise of a spacious precast concrete house on a large block, where they could raise a young family. To meet that growth, the former City of Broadmeadows embarked on an ambitious Town Hall development. 
Built at the cost of £450,000, the Town Hall was one of the largest buildings of its type in Victoria at the time, heralding an exciting future for Melbourne's north.
When former Opposition Leader Arthur Calwell officially opened the new venue to much fanfare, he described it as a magnificent hall that had no equal in Melbourne. It was front-page news across Melbourne's newspapers, and those who had the courage and foresight to embark on the project were recognised and congratulated.
Over the next 50 years, the Town Hall grew into an iconic landmark for the community. From weddings and debutante balls, gala dinners, cocktail parties, school dances, concerts, parties and an AC/DC gig – you name it, the Town Hall has seen it.
We've honoured the building's unique history by restoring key architectural design features while transforming our interior to provide a vibrant and contemporary space for today. The venue's grand façade, iconic red brickwork, floor-to-ceiling windows and mountain grey gum floors have been painstakingly restored by hand. 
A space for every occasion
The Main Hall 
Catering for up to 450 people seated and 800 people standing, the Main Hall can be tailored to host a wide range of private, business and community events. The expansive space features original details of the building, including floor-to-ceiling windows, mountain grey gum timber floors and a balcony, which is accessible from the second floor. 
Space is supported with the latest audio and visual technology - including state-of-the-art presentation screens, lighting and speakers - plus scalable dancefloor and staging options to bring every event to life.  
The Blue Lounge 
The Blue Lounge provides a touch of glamour to the Town Hall. Sophisticated and atmospheric, it offers a place to celebrate in style. Ideal for events catering for 50 to 100 guests, the lounge is adorned with blue velvet drapes and original red brick walls, a beautifully restored upright piano, and a large suspended timber sculpture by artist Robbie Rowlands.
Located on the second floor, it provides direct access to the balcony and a bird's eye view of the Main Hall. 
The Bar 
Ideal for arrival and pre-dinner drinks or events catering for 100 to 150 guests, The Bar is located on the first floor and provides direct entry to the Main Hall. Enjoy a wide selection of wine, beer, spirits and non-alcoholic beverages before an event in the main hall; or book out The Bar for a more relaxed celebration.
The Gallery 
The Gallery is one of Hume City Council's dedicated visual arts venues showcasing both local and international talent. It presents an annual program of innovative and engaging arts, cultural and heritage exhibitions. The Gallery offers a unique backdrop for pre-dinner drinks and functions catering for 150 people. 
Meeting Rooms 
Four meeting rooms, catering for groups of six to 20 people are located on the first and second floors. With presentation and teleconferencing capability, Wi-Fi connectivity and the latest in audiovisual technology, they are ideal both for meetings or as breakout spaces during business events. Available for hire seven days a week.
Your wedding will be one of the 
most important days of your life 
A blank canvas to make your own 
Accommodating wedding ceremonies, sit-down receptions and cocktail receptions for up to 450 guests, the Main Hall provides a perfect setting for your big day with a backdrop of stunning floor-to-ceiling windows and mountain grey gum floors. With customisable floor and seating plans, a state-of-the-art sound and lighting system and exclusive access to our venue, we can tailor your wedding to match your vision.
Wedding packages starting from $110 per person
Take advantage of never-to-be-repeated introductory prices across our packages of five-hour wedding packages for 2020, and 2021 with our wedding packages start from $110 per person. 
Great food is the cornerstone to delivering a truly memorable event. 
We're passionate about delivering an exceptional standard of food. Our menu is sustainably-sourced and of the highest quality, and able to cater for a selection of tastes, dietary requirements and cultural traditions.
Our menu is matched with a wide range of Australian and international beers, wine and spirits. 
A commitment to service excellence
With more than 30 years' experience working across the hospitality and event industries, our team takes great pride in delivering exceptional service. Our passion for what we do means we'll go above and beyond to ensure your guests leave with a lasting memory of warm hospitality. 
Our dedicated onsite event coordinator, together with our experienced and professional staff are ready to team up with you to deliver your dream wedding. Our excellent attention to detail will ensure that your special event is truly memorable for you and your guests, and you don't have to worry about a thing on your big day.
Discuss your unique needs with our experienced team.
Inglewood Estate Wedding Venue Melbourne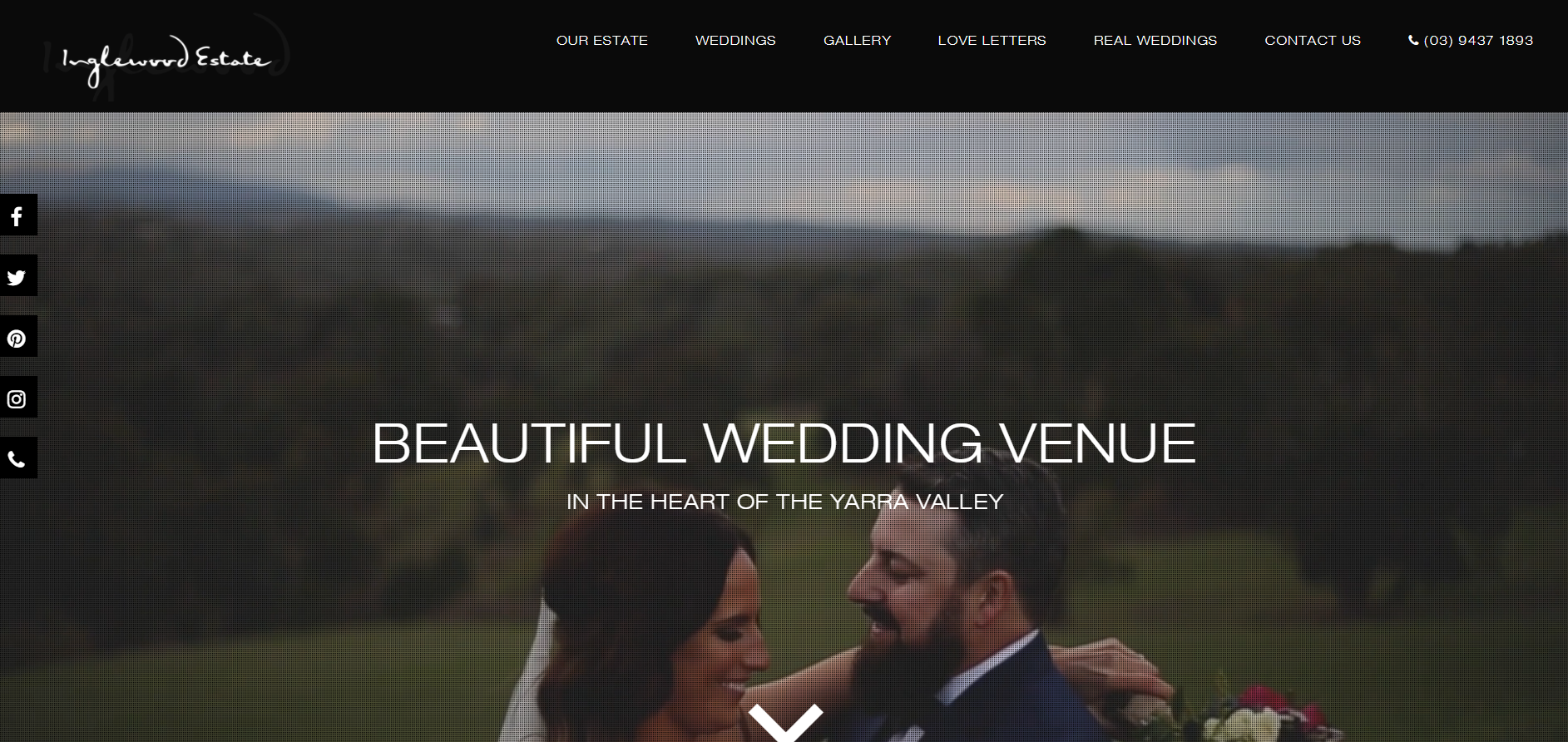 394371893
WEDDING AND FUNCTION CENTRE | KANGAROO GROUND
We have been specialising in weddings for over 15 years

You will have the undivided attention of our experienced wedding coordinators

We will help in the planning leading up to and on the day

We have been finalists since 2007 in the Australian Bridal Industry Awards

We have a private non-denominational chapel on the grounds
WEDDINGS
Having exclusive use of the Estate on your special day means you have the undivided attention of our experienced and dedicated wedding coordinators.
They will help in the planning leading up to and on the day, to ensure that your guests are attended to from the time they arrive for your ceremony until they farewell you at the end of your reception.
We realise your wedding day is one of the most important days of your lives.
We aim to create a relaxing and enjoyable day for you and your guests, so please don't hesitate to contact us to discuss any special requirements to help us ensure that your special day will create memories to last a lifetime.
CHAPEL
The Chapel can seat 110 guests, with plenty of standing room. It boasts an antique harmonium and pews, stained glass windows, stunning flower arrangements, wrought iron candelabras, and organza pew bows.
The Chapel is air-conditioned and has a quality sound system inside and out, as well as restrooms and ample on-site parking.
The beautiful Chapel Gardens include a breathtaking lake with jetty, a seasonal waterfall, replica colonial buildings, antiquated horse-drawn carts, a windmill and much more, perfect for memorable wedding photography.
Declare your love for each other in front of family and friends inside the hand-built Chapel. Or if you prefer a garden ceremony, enjoy the surroundings of the property's gardens and lake.
Our exclusive Chapel Bar is available for drinks after the ceremony if you book your Wedding Ceremony and Reception at Inglewood Estate.
RECEPTIONS
Inglewood's Reception Centre is a fully licensed private venue with a fantastic atmosphere. Formally the old hay shed on the property, and our reception centre is full of character, charm, history and true country style.
The Reception Centre has spectacular views, sensational food and friendly, professional staff.
Set in stunning private gardens with a duck pond and vineyard, the Reception Centre has two open fires, air conditioning, and a stage for live music.
Inglewood's Reception Centre has ample off-street parking and wheelchair access.
We specialise in wedding ceremonies and receptions, corporate events and private functions.
COTTAGE
Inglewood Cottage is the original farmhouse on the property, built-in 1893.
One of the last few remaining original timber cottages in Kangaroo Ground.
Extensively renovated & styled for gorgeous pre-wedding photographs, Inglewood Cottage is now available exclusively to our brides for use on their wedding day. Inglewood Cottage allows each bride and their bridesmaids the excitement of getting ready together in a luxurious, relaxing and private location.
exclusive use for Inglewood Estate Brides

cottage available for use on the day of your wedding from 9 am

champagne lunch included on the day

your wedding coordinator available for you throughout the day

house professionally styled for pre-wedding photographs
Amora Hotels Wedding Venue Melbourne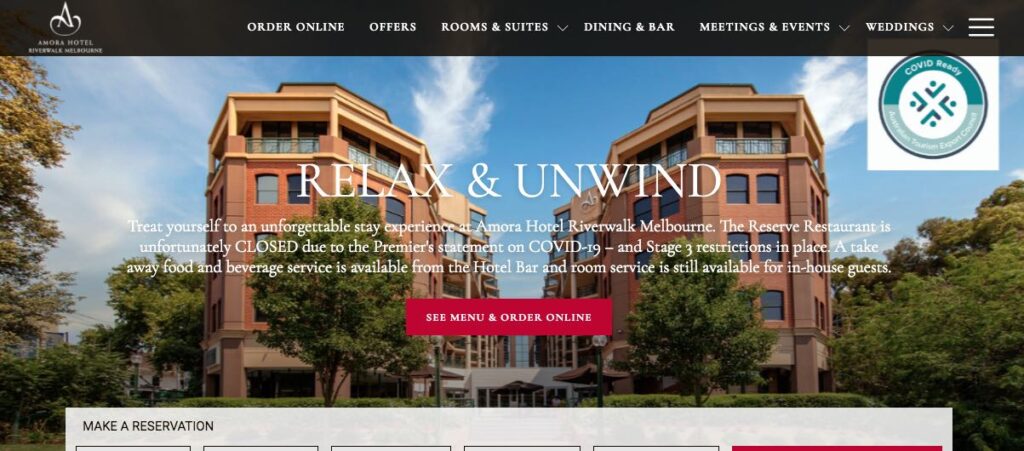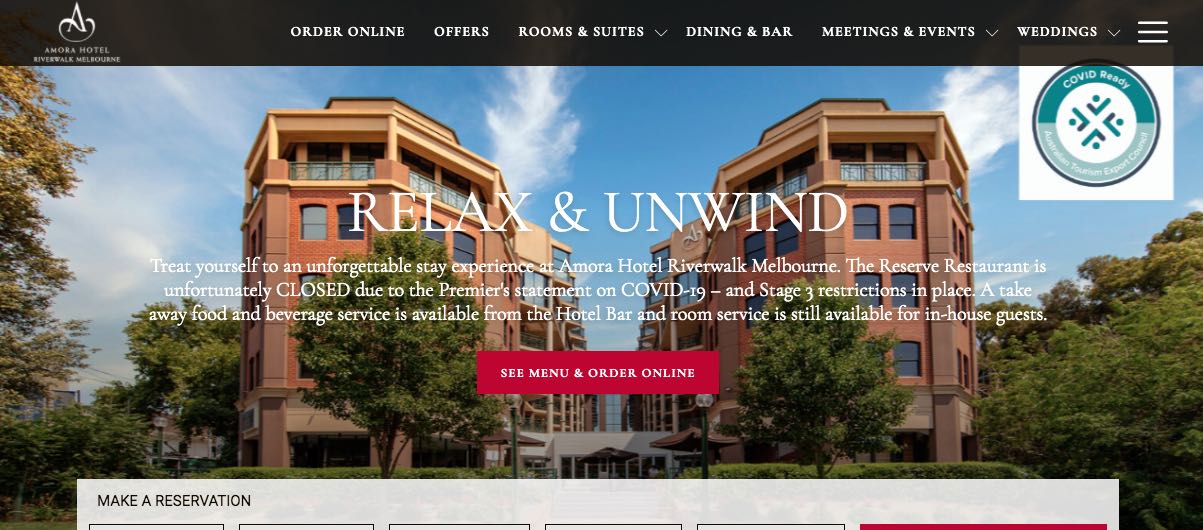 392461200
ABOUT AMORA
WHETHER YOU'RE TRAVELLING FOR BUSINESS OR PLEASURE, IT'S THE LITTLE THINGS THAT MAKE A HUGE DIFFERENCE. ARRIVING AT AN AMORA HOTEL, YOU'LL SEE THIS IN EVERYTHING WE DO.
Located in the hub of bustling cities, our hotels in Australia and Thailand provide so much more than a great nights sleep. Wine, dine, relax, meet, explore or play it's up to you.
The Amora Group owns and operates a range of high-quality hotel properties in Australia and Thailand, with a focus on Business Class accommodation and superior service. The location of our stuff is ideal for both business and leisure.
MEETINGS & EVENTS
MAKE YOUR NEXT EVENT ONE TO REMEMBER
With versatile spaces offering beautiful natural light, let our professional team take care of your next meeting or event. Our facilities can cater to intimate boardroom meetings to large company conferences, offering the latest in audiovisual technology. With prime corporate meeting venues located in Australia and Thailand, make your next event one to remember.
Wattle Park Chalet Wedding Venue Melbourne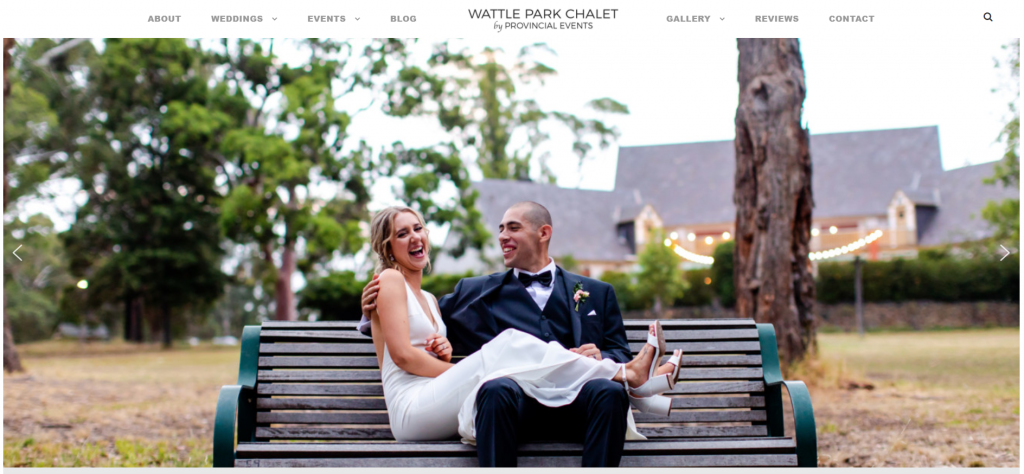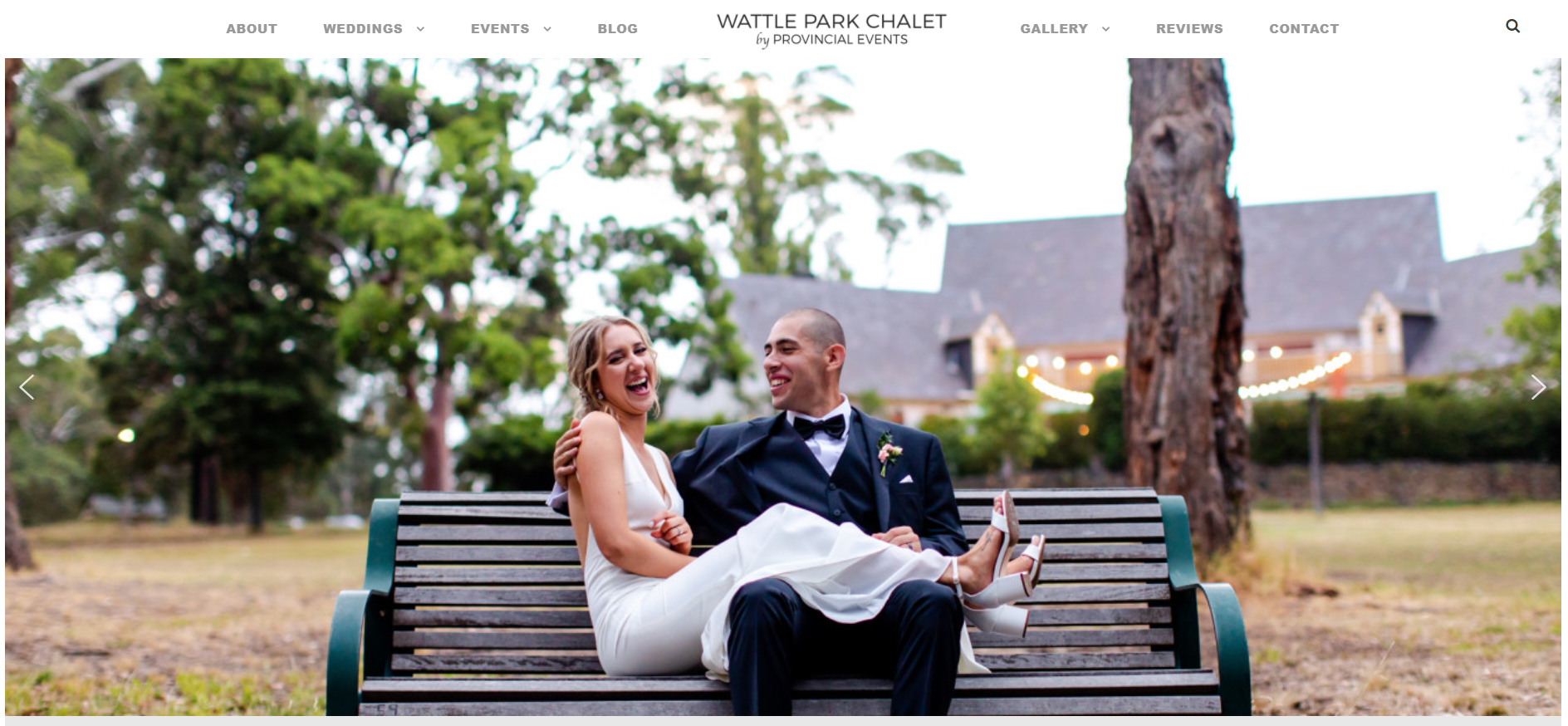 398080122
Weddings
Wattle Park Chalet has hosted thousands of wedding receptions in Melbourne since 1928. It is one of the most sought after wedding reception venues Melbourne has to offer, a great landmark in one of the worlds greatest cities. This spectacular, heritage listed, Tudor style building is a versatile Melbourne event venue suitable for hosting all manner of events: wedding receptions, conferences, christenings, birthdays, Christmas parties and many more. Our culture of hospitality means that your whole experience from the first contact to the moment you drive off to start your married life will be one of great joy.
Wattle Park's Beautiful private Garden is perfectly suited for your garden wedding ceremony. The Private Garden boasts the elegance & classic fairy tale setting that brides and grooms have been searching for.
Events
At the Chalet, we offer a wide range of events from School Formals and Debutante Balls, to fundraisers, anniversary parties, birthday parties and even christenings.
Wattle Park Chalet's rich history of well-organised events means that you're sure to have a great time.
Seating up to 200 guests in our Grand Hall, the Wattle Park Chalet has the space to create a perfect party for you.
Weddings at Wattle Park Chalet
With an atmosphere to complement its history, Wattle Park Chalet's timeless look is perfect for a marriage filled with elegance, charm, and an abundance of character. The Chalet is an exclusive heritage-listed wedding venue in Melbourne, set in 137 acres of stunning native parkland, with access to a private garden for you and your guests to enjoy.
With its 1920's charm and timeless features, let your imagination run free and decorate and style the Chalet your way. The reception venue can cater to all your needs, from an intimate wedding reception with 40 of your closest family and friends to a more lavish affair with 200 guests (350 for a cocktail wedding reception). Our team will guide you through your wedding journey, making the planning process of your special day simple and easy.
We welcome equality and look forward to all weddings at Wattle Park Chalet.
Wedding Receptions and Ceremonies
Wattle Park Chalet's beautiful private Garden is perfectly suited for your garden wedding ceremony. The Private Garden boasts the elegance & charm that couples have been searching for.
Guests have access to the entirety of Wattle Park, 137 acres of parkland to explore with numerous photo spots to choose from. Wattle Park Chalet is Melbourne's Original wedding reception and ceremony venue.
We take a bespoke approach when it comes to designing and styling weddings. You can decorate and customised the space to your liking, from flowers to festoon lights to photo booths. An exceptional occasion requires an extraordinary setting and outstanding service. We understand how important it is for your day to be perfect. Our team will work with you to ensure that you have the wedding of your dreams.  
Garden Ceremony Capacity: 250 guests
Sit-Down Wedding Reception Capacity:
18 Round Tables & Bridal Table: 200 guests
20 Long Tables & Bridal Table: 152 guests
Sit-Down Garden Reception Capacity: 
12 Round Tables & Bridal Table: 130 guests
14 Long Tables & Bridal Table: 90 guests
We can arrange all the outdoor furniture and equipment hire if required.
Cocktail Weddings
Set on the iconic grounds of the 137-acre Wattle Park, The Tudor style Wattle Park Chalet has all the space you'll need for your stylish cocktail wedding. We cater for a maximum of 450 guests in The Grand Hall, Loggia and Private Garden areas.
At The Wattle Park Chalet, we love a party. Let your imagination run free and decorate and style the Chalet your way. Whether you are planning an intimate soiree or a large event, our team will guide you through your wedding journey, making the planning process for your wedding day simple and easy.
You can choose to customise the room with any and all of our furniture, such as bar stools and tables, ottomans etc. Your wedding will be delivered in style with our good range of menu items to choose from.
Cocktail Wedding Capacity:
350 guests
Inclusions:
5 Hour Function and Drinks duration
Foodservice of 12 items over 3 hours
Extras:
When you book your wedding, we can help make your wedding memorable with Ice cream carts, festoon lighting, fireworks, candy buffets, photo booths, marquees and more!
Indoor Wedding Ceremonies
The Wattle Park Chalet has hosted hundreds of wedding nuptials inside our historic Grand Hall.
Seating 200 or 350 standing guests, the Chalet is a versatile Wedding Ceremony Venue.
You will have exclusive access to The Grand Hall, giving you plenty of time to say your vows and take photos in the sprawling Park.
Wattle Park is also available for photos for your special day. The Chalet's old English charm gives your wedding photos that extra little something to make your day unforgettable.
When holding your Wedding Reception at the Chalet, indoor wedding ceremonies at the Chalet are free as a wet weather plan.
Inclusions:
MP3 and CD/DVD compatible PA sound system

Data Projector

Decorative up lights and fairy lights

Red carpet

Dedicated Events manager
We also offer our drinks package as an option for after the ceremony.
How to Choose the Perfect Wedding Venue
Talk to a Planner First
Yes, before you start looking at spaces. "Planners are much more familiar with the capabilities of a space, the layout, and the time and items you'll need to really transform it," says Alliey Kline-Weichelt, lead planner and CEO of Sash & Bow in Green Bay, Wisconsin. If there's a creative way to make it unique or a quirk about the space that could make your vision hard to accomplish, your planner will know.
Choose a Venue That Aligns With Your Vision
"This might seem obvious, but seek out venues that fit the aesthetic you have in mind, says Kait Costanti, co-owner and creative director of Bash in Bozeman, Montana. "If you're planning a modern wedding, look at art galleries, well-designed restaurant spaces, or warehouses. On the flip side, a wedding incorporating more natural elements works well with outdoor venues such as parks, backyards, and ranches. Choosing a venue that fits in with (and enhances) your theme will enable your wedding to feel more connected to the space."
"Knowing how many guests you're expecting to invite before you go looking at venues will help save you from headaches and heartaches down the road," says Holly Patton Olsen, wedding planner and owner of Seattle's Perfectly Posh Events. "If you choose a venue that is too small for your guest list and more guests RSVP 'yes' than you can fit in the space, you might be in a tough situation." Couples often underestimate how many people they will invite (or how many their parents will want to add), so have that conversation early to know what you're really working with.
"This will also help you break down your budget, as some costs are very dependent on the number of people you're inviting," Olsen says.
Meet the facility director
When you visit the venue, make sure you understand who your go-to person will be for all the logistics of your wedding. You will want to see if you are comfortable working with this person. You can have the perfect venue, but if you are not confident in the staff, your wedding can be adversely affected.
Remember Your Budget
"It's more than just how much renting the space will cost," says Kline-Weichelt, since venues with in-house catering (like hotels) will charge a price-per-plate. "Décor and floral design will also drive the cost up." Know how much your total budget is, as well as approximately what your design will cost to execute. If adding that on top of the cost of using the space blows your budget out of the water, you'll either need to scale back your design or look at more affordable spaces. Adds Olsen, "Break down your overall budget by category, prioritizing more funds for vendors that are a higher priority.
If you select your venue first, and then realize it's more than you should have allocated, it's an uphill battle to stay within your budget when you still have a dozen other people to hire."
Stay True to Yourselves
"With the influx of Pinterest weddings, a lot of couples choose venues based off of the style of a wedding they fell in love with online," says Costanti. "But it's important to ask yourselves what feels authentic to you two as a couple, and to choose a space and a design that's a representation of who you are." And remember that, while a venue might have looked gorgeous with a different theme or design scheme, it may not be the perfect canvas for yours.
Frequently Asked Questions About Wedding Venue
The wedding packages are usually cheaper than private venues or even free when having certain numbers of rooms booked. The more rooms your guests book, the easier will be for you to negotiate extra perks for the event.
The average wedding venue cost in the U.S. is $6,000, with most couples spending between $3,000 to $11,000. Note that these are only averages and pricing varies widely depending on a variety of factors, like whether in-house catering is included.
It depends on the cost per plate, but most receptions for 100 people cost around $5,000 to $10,000, with the average cost being around $7,000. The average cost to cater a reception can vary, as the type of catering offered and the cuisine can both affect the cost per plate.
Most common types of event venues
Bars, pubs, and clubs. If you're organising a party or live show, there are few better-suited venues to hold it in than bars and clubs. 
Restaurants. 
Hotels. 
Conference centres. 
Business centres. 
Community centres. 
Sports clubs. 
Art galleries.