In Indian culture, food is a love language in itself. The vibrant spices, colours, and flavours of South Asian fare are infused into so many traditions, especially weddings, and a great Indian wedding catering menu will embrace this. Whether you serve solely traditional Indian dishes or offer guests a more elaborate culinary experience that also reflects you and your groom's tastes, travels, and family backgrounds, food will be a memorable and immersive focal point of your big day.
When it comes to planning for the overall Indian wedding catering cost, remember, food and drink alone can eat up half of your wedding budget. You want to find a catering team that will embrace the vision of what you want to serve your guests and help you customize it in a way that is uniquely representative of you and your groom.
Located in Melbourne, Victoria, planning a wedding and looking for the best Indian wedding catering suppliers? When you are planning your big day, you probably want everything just perfect. One of the best ways to make sure that it all turns out the way you dreamed it to select every vendor yourself personally. This way, you can choose the ultimate location, the best entertainment and the most delicious food, and craft your ideal wedding day.
We've created an ultimate list of Indian Catering suppliers in Melbourne, Victoria to save you time and money.
Ultimate List of Indian Caterers in Melbourne
Aagaman Indian Restaurant - Indian Catering Company in Melbourne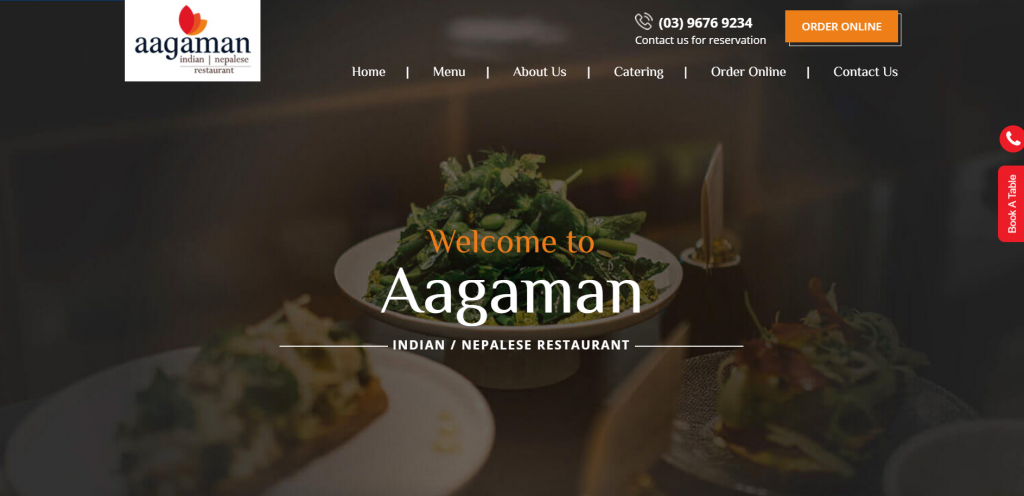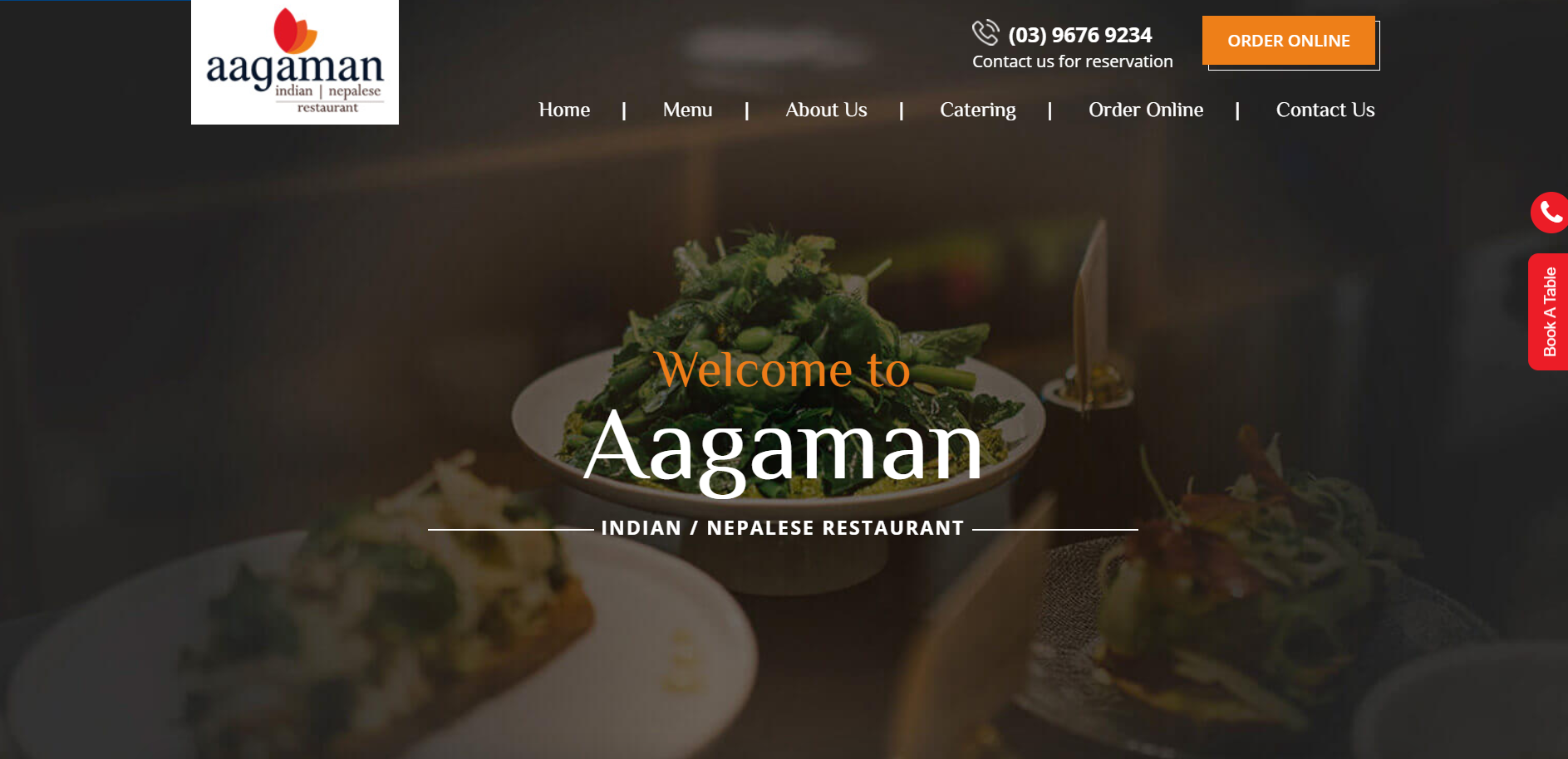 +61 3 9676 9232
Aagaman Best Indian Restaurants Melbourne
Aagaman is one of the nice Indian Nepali cuisine restaurants. The restaurant is located on the bustling Bay St in Port Melbourne. Aagaman arrives with a unique array of Indian and Nepalese delicacies created by chef Ram Sapkota, with distinct clean flavoured curries and mastered tandoor cooking. Designed truly for the enjoyment of food and drinks over a conversation.
Aagaman is a Hindi word that means "Arrival". The name here signifies the arrival of the restaurant as a steep start towards a food philosophy that is driven by a desire to present an eclectic and expansive Indian repertoire, bursting with flavours and originality, as a multi-sensory dining experience and a highly personal one.
The result is a vibrant, sophisticated place full of energy; it's a place for gathering, celebration, a place for business and pleasure.
Perfect Indian Wedding Catering Melbourne
Your Wedding day is supposed to be the cheeriest moment of your life. At Aagaman, the best Indian wedding catering in Melbourne, we understand what it takes to make an Indian wedding really incredible—splendid Indian food. And in Melbourne, delicious Indian food starts and stops with Aagaman. Our restaurant in Port Melbourne is one of the most Indian frequented restaurants in Melbourne.
Aagaman Iconic Wedding Catering Services Melbourne
The good news is that now you can bring the taste of authentic Indian food to your wedding party thanks to Aagaman, which now offers Indian wedding catering in Melbourne. Our Caterers know now there is no point to look elsewhere when you can bring the taste of your favourite Indian restaurant at your wedding.
Not just the food part, we can create the wedding of your dreams with beautiful decoration, outstanding wedding catering services, live music, and an experienced team who will take the stress off your shoulders and organise this magical day in a manner you always wanted.
Another advantage of choosing Aagaman catering over other Indian caterers in Melbourne for your upcoming event is that Aagaman specialises in vegetarian food catering. That means we'll cook vegetarian dishes separately.
Everything from the area of cooking and storage to refrigeration of ingredients will be done separately. Our staffs are specially trained to avoid any sort of contact of non-vegetarian ingredients and preparations with the vegetarian ones. We take pride in gratifying an assorted array of palettes. The choice is yours—either take your pick from our varied mouth-watering Indian dishes or choose yet-another Indian caterer in Melbourne.
Babaji's Kitchen South Indian Restaurant and Catering - Indian Catering Company in Melbourne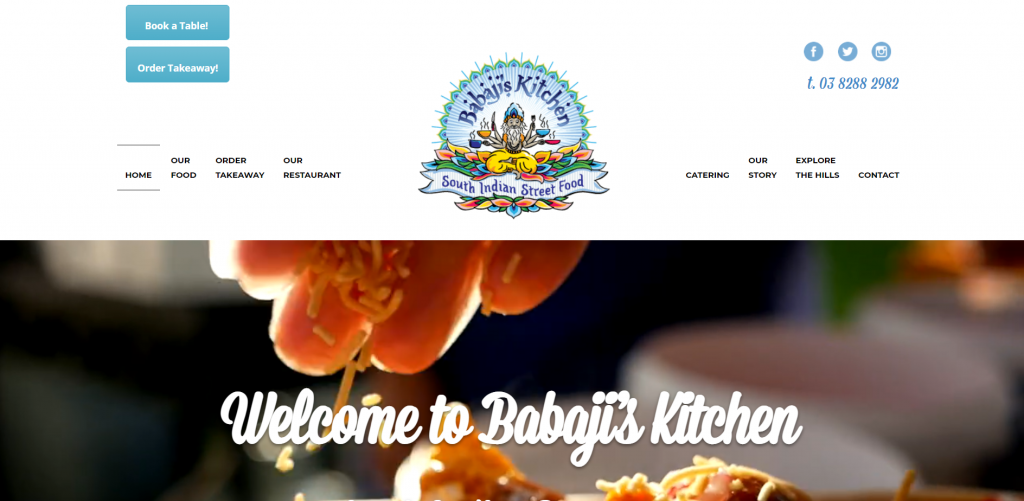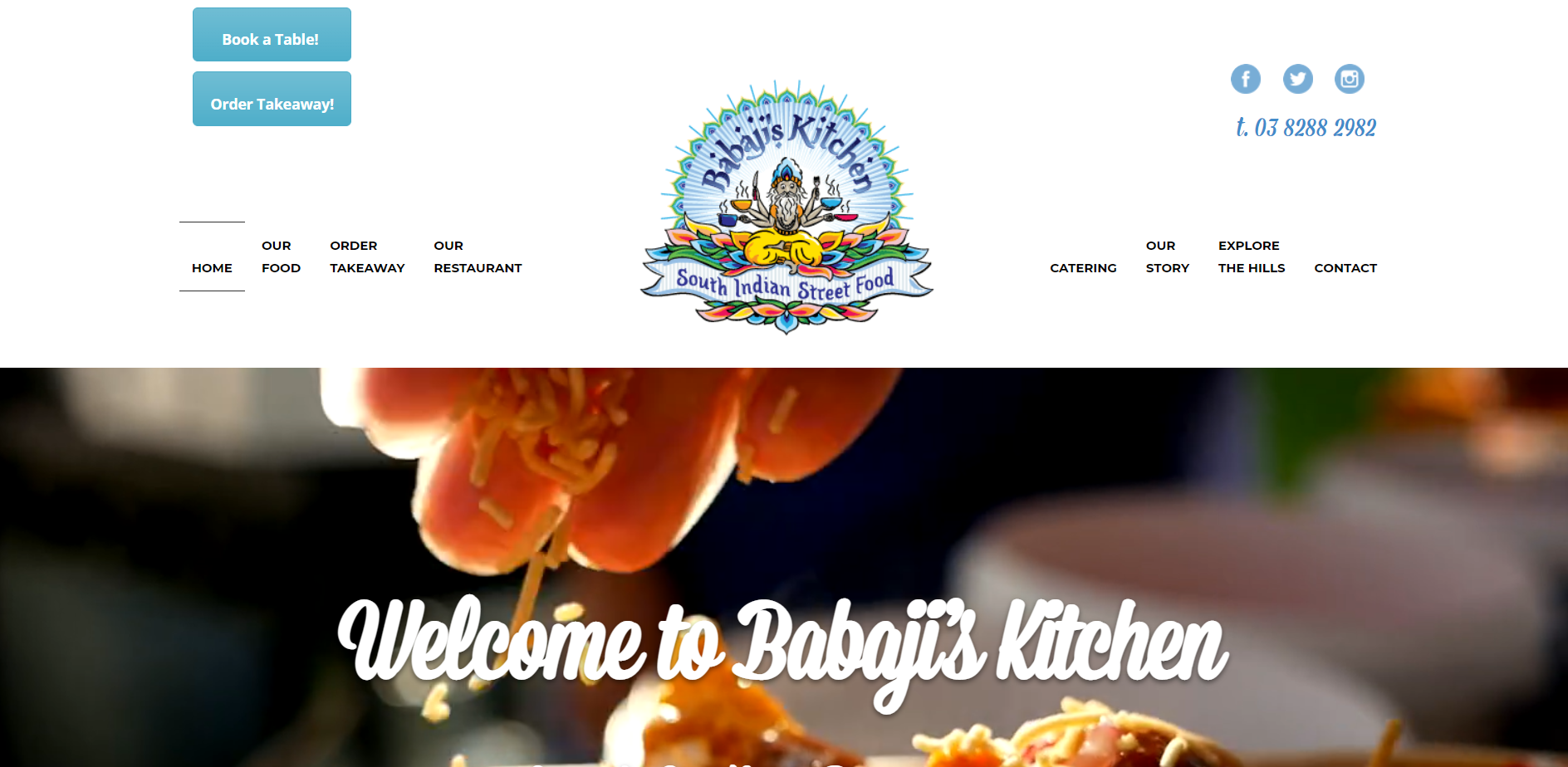 +61 405 765 386
Our Story
Our unusual story begins in a humble fisherman's village on the Arabian coast of Kerala, South India; where an Australian girl Billy, meets an Indian boy Max, with Mallu spice running through his veins.
Cooking his way to her heart, together they ran a beachside restaurant, serving fresh fish and village-style cuisine, attracting guests from around the globe, until eventually settling in the lush mountains of Melbourne.
Missing the dishes of Max's birthplace, Babaji's Kitchen was destined to be born. From establishing themselves at festivals and markets across Victoria to eventually opening their first street food restaurant in Puffing Billy's hometown, Belgrave. Babaji's pride itself on bringing people together with great food and South Indian hospitality, (no matter what cricket team you follow!)
Street Food Catering
We stand out from the crowd in our 3m x 3m or 6m x 3m street set up, topped with our Keralan temple umbrellas.
Unlike a food truck, we can set up just about anywhere whilst your guests get to watch the cooking happen right in front of them from our authentic Keralan hotplates. From Indian pancakes (dosa) to your favourite Indian street tapas (chaat) – expect entertainment and delicious food in one! The way Indian street food should be!
Chai / Pani Puri Cart
Our vintage Indian chai cart, 'Lakshmi', is a wise old girl who makes a pretty tasty cup of authentic Indian chai along with mouth-watering Indian snacks (chaat)
Perfect for weddings, product launches or 'ladies lunches' … she's charming, adaptable and always the talk of the town!
South Indian Banquet
Coconut trees swaying, the subtle smell of mustard seeds, curry leaves & Keralan spices tempering, it's this little bit of tropical Kerala we bring to you. Choose from our selection of authentic Keralan curries (served on a banana leaf if desired!). Available with full service or as 'pick up' from our Belgrave restaurant.
We support:
Community Casseroles – Cooking meals for those in our community who are struggling financially.
The rebuilding of Mallacoota – We've raised over $4500 for a fellow business in Mallacoota, helping them to sustain their businesses after the bushfires in Dec 2019.
Our local primary schools – Each month donating 20% of proceeds from all kids meals to our local schools on a rotating cycle.
We are committed to:
Supporting local – Where we can, we source our vegetables locally. Our free-range meat is supplied by Greg's Tender Joint in Belgrave South.
Being green – We encourage you to bring your own reusable containers; however, when this is not possible, we only use 100% compostable containers when ordering a takeaway.
Camberwell Curry House - Indian Catering Company in Melbourne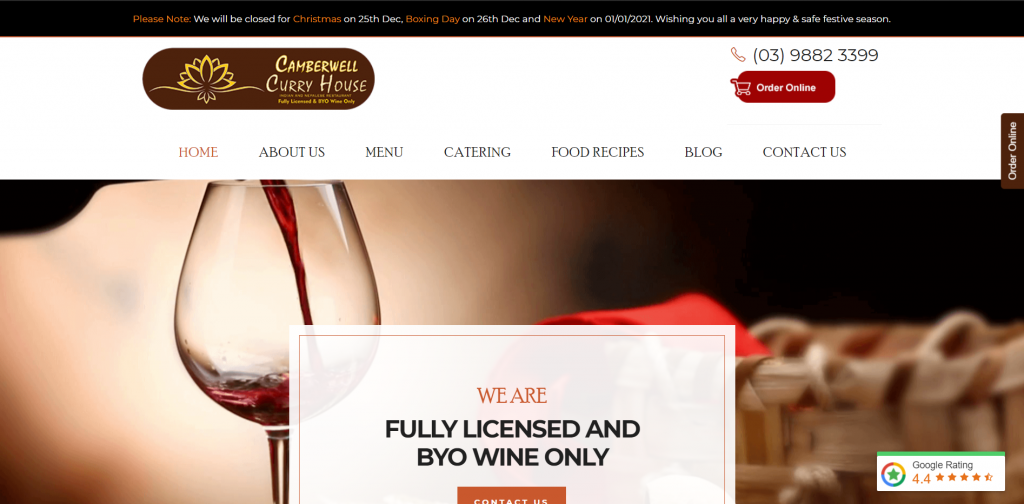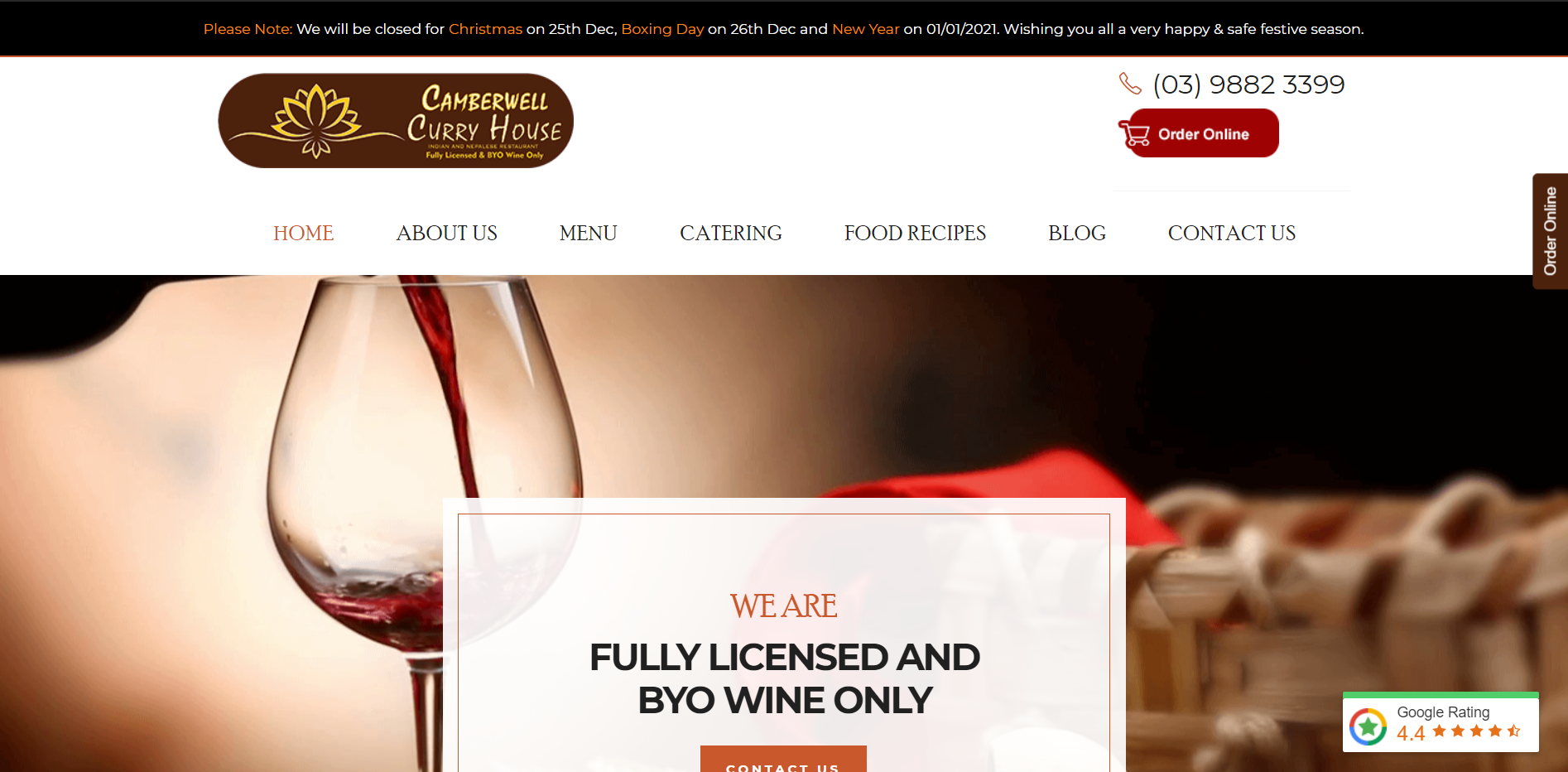 (03) 9882 3390
Indian Restaurant | Nepalese Restaurant
A contemporary yet intimate dining experience and a menu that spans the subcontinent, from rich butter chicken masala to Bhindi Masala, Camberwell Curry House best Indian restaurant in Melbourne Australia, true to its name, is a house of authentic and innovative curries by chef Tilak Niure that are served up with awesome views across Camberwell. Book a seat beside the window and launch yourself into the Tipsy tandoori salmon at Nepalese restaurant Melbourne.
Best Indian Restaurants in Melbourne – Camberwell Nepalese Restaurant
Camberwell Curry House is the place to attain salvation for the votaries of Indian food belief. Camberwell Curries have the exclusive signature of Cheer and endowmentótrue artists zealous to craft taste from the handpicked ingredients. The bespoke customer care that graces your presence to the varying needs truly makes this abode of taste a forte of gastronomic joy. Thus, Camberwell Curry House is considered among the best Indian Nepalese restaurant in Melbourne.
With an assorted balance of vegetarian and non-vegetarian dishes to choose from, This Nepali restaurant in Melbourne is a palate of discerning taste. The epitome of yesteryears of the opulent India, Lamb Vindaloo is made of neat lamb slices prepared in boiling gravy while, the unparalleled favourite, Chicken Korma made from boneless tandoori chicken drenched in spices and cooked in cashews and a thick gravy, will leave you mesmerised.
These and many more delights await you at our Nepalese restaurant in Melbourne.
The result is a vivacious, classy place full of energy; it is a place for gatherings, and celebrations, a place for business and pleasure, a Nepalese restaurant in Melbourne, Australia you canít stop coming to.
Wedding Catering Service in Melbourne
What do you look for when choosing a wedding caterer?
Camberwell Curry Café is an Indian Nepalese restaurant Melbourne that provides Indian wedding catering in Melbourne. At Camberwell Curry Café, we comprehend the fact that it's hard to choose the right caterer. With years of experience in the restaurant business, we can make one thing ascertain that what we do, we do our best, be it catering, restaurant management, or anything else we are into. There are reasons we are quite famous in.
Did you know?
Couples on average spend $40,000 on weddings, more than ever before

The average is almost double in the case of Indian weddings

Couples are getting even more considerate while choosing the right wedding caterer.

When it comes to Indian wedding catering, you need a specialist as the caterer. An everyday caterer won't do.

Whom should you choose in Melbourne as the wedding catering consultant?
Without saying, you should look for a caterer that provides the best of everything. And if it's a traditional Indian wedding, the caterer's experience in catering for Indian weddings matters the most. Factors you should consider while shortlisting wedding caterers in Melbourne:
The Cost
What's included in the package; what you have to arrange on your own?

Where will the caterer prepare the food?

Will it take care of the pre-and post-cleaning?

Food quality, and if it's an Indian wedding, how experienced is the caterer in Indian cooking? Is he an established Indian wedding caterer?

Is Camberwell Curry House Melbourne is the wedding catering consultant you were looking for?
If you were looking for a caterer with the skills, knowledge and attention to detail, you are making the right choice. Many of our competitors take the wedding as "yet another event". For us, a wedding is more than just an event. Wedding catering is drastically different from birthday catering or business luncheons; it requires a profound understanding of a series of vital elements, which will affect the outcome.
Why choose us?
Professional assistance of wedding catering consultants

Flexible wedding catering packages

Great artistry in food preparation and presentation

Wide range of wedding catering menus
What is comprehensive wedding catering?
"Our chefs will work closely with you!"
At Camberwell Curry House Melbourne, we tailor our wedding catering packages to suit the budget, number of guests, type of food, taste, and style. You can ask to arrange a special wine to celebrate the wedding toast, special meals for children or decorations to suit your tradition. Couples will have chairs to sit on and a fully robed wedding table, including flouncing. For the guests' tables, you can decide on linen, satin, or organza table overlay. Moreover, you can choose an extensive range of centrepieces and a satin chair cover available in diverse colours.
Frequently Asked Question About Indian Foods
Indian food, with its hodgepodge of ingredients and intoxicating aromas, is coveted around the world. ... Heavy doses of cardamom, cayenne, tamarind and other flavours can overwhelm an unfamiliar palate. Together, they help form the pillars of what tastes so good to so many people.
It's the lack of overlapping flavours, scientists say. Indian food is lauded for its curries, mouth-burning spices and complex flavour pairings. With its use of cardamom, cayenne, tamarind and other pungent ingredients, the resulting taste combinations are unlike anything found elsewhere around the world.
Indian food can cost 45% more than similar-priced dishes at comparable Chinese and Thai restaurants. Indian food has a lot of ingredients, expensive spices, long cooking times, and less competition so it can drive the prices higher than other types of food.
If you're going to an Indian restaurant for the first time, I recommend you order the following.
Samosas. 
Tandoori Chicken. 
Butter Chicken or 'Murgh Makhani' 
Channa Masala or 'Chole' 
Basmati Rice. 
Naan (Indian bread) 
Raita.
Biryani is one of the most popular Indian cuisines that is served in all parts of the world. Experts say, this is a classic concoction of rice and chicken and has more variants than any other dish in the world.
Curry Vault Indian Restaurant & Bar - Indian Catering Company in Melbourne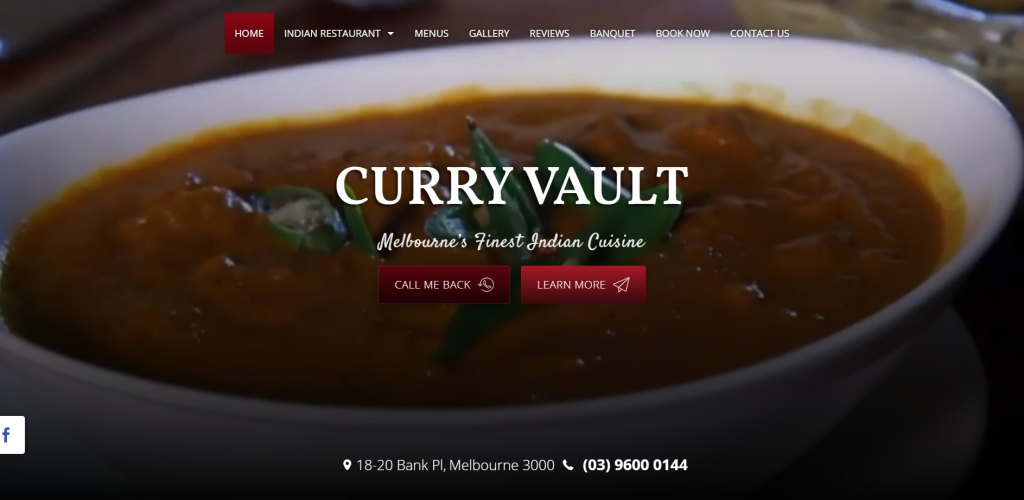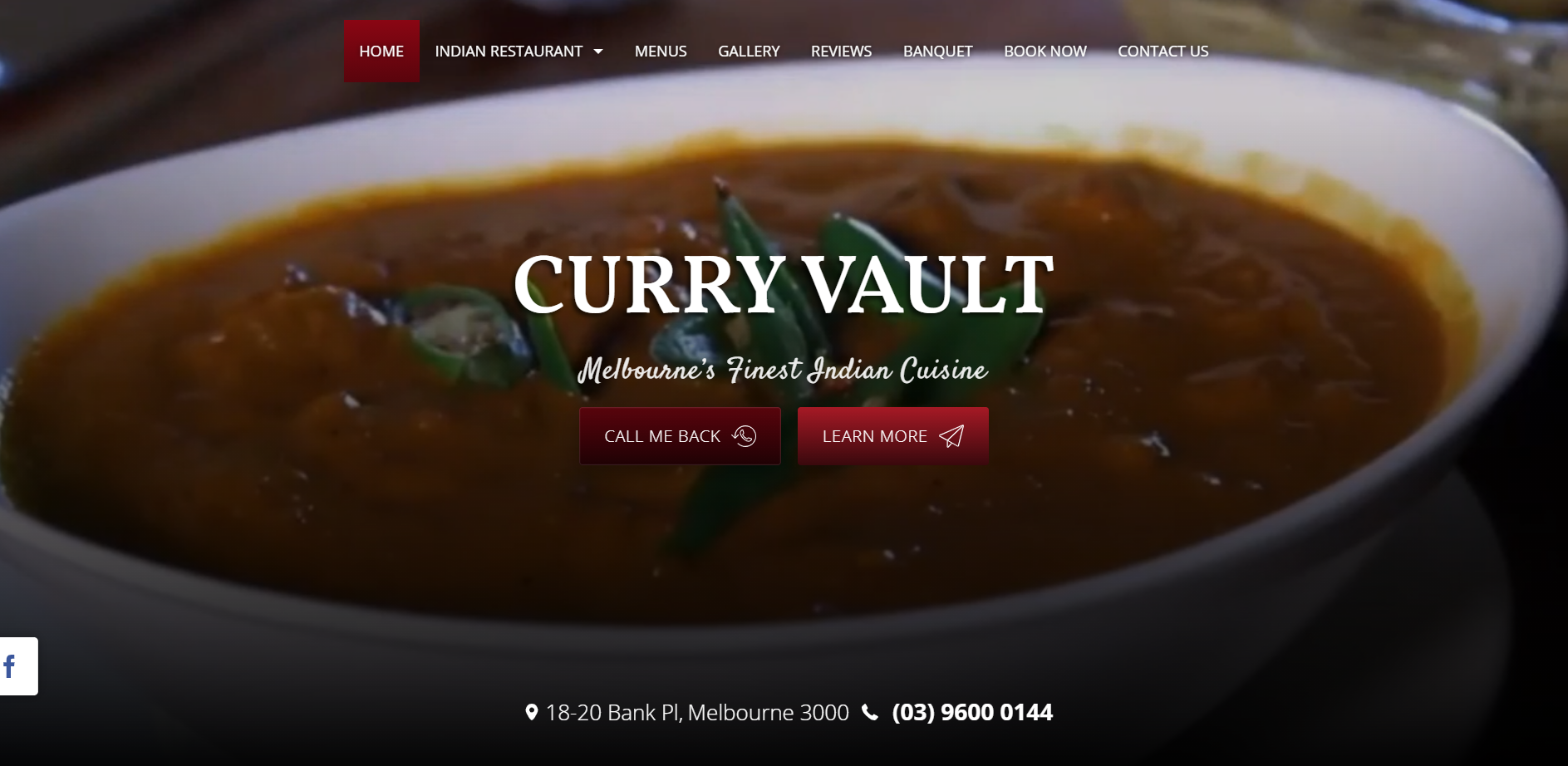 (03) 9600 0145
CATERING SERVICES
Curry Vault is the premier Indian restaurant in Melbourne offering quality catering services for both corporate and party events.
We can take care of your business or personal function and ensure your guests are treated to fine Indian cuisine made with love and passion from the best ingredients on the market. We will organise the food and drinks and even set the atmosphere to suit your event and needs.
OUR DIFFERENT BANQUETS
Whether your event is welcoming 4 people or more, Curry Vault has you covered with a wide range of banquet options to suit various needs and dietary requirements.
Our 3 types of banquets are:
Banquet Menu

Curry Vault Banquet

Maharani Banquet (or Queen Banquet)
All our banquets come with appetisers, starters and main courses. The Curry Vault Banquet and Maharani Banquet have the addition of accompaniments and desserts, respectively.
Our services:
Indian cuisine

Takeaway

Wine bar

Catering services

Business functions

Personal functions

Fine dining
We guarantee:
12 years of experience

Wide range of Indian dishes

Cater for vegetarians and vegans

Host any type of event

Professional and friendly service
Serving:
Flavours of Indus Indian Restaurant Carlton - Indian Catering Company in Melbourne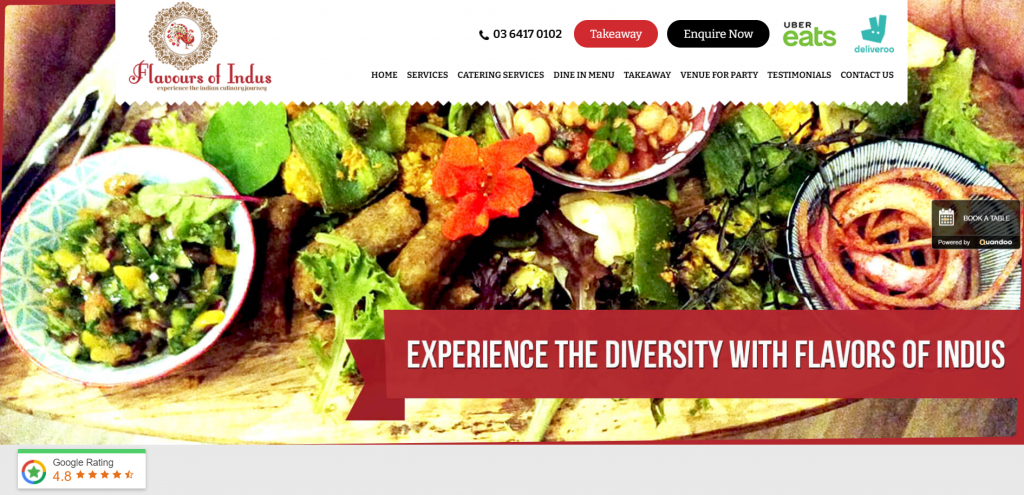 03 6417 0101
LYGON STREET INDIAN RESTAURANT
OUR EPIGRAM
Timeless Aroma, Authentic Indian Flavours cooked with Love and Care will delight your time spent dining with FLAVOURS OF INDUS - An Indian Restaurant in Lygon Street.
We prepare our recipes by delicately balancing the spices and flavours to suit everyone's taste palette. The restaurant has been a favourite of diners from Melbourne CBD and from neighbouring Universities.
Quality over Profits is our Motto! We ensure our diners get the best of taste and quality food that gives a sense of fulfilment and satisfaction to our diners.
We serve the best of both - Classical and Modern Indian dishes within an elegant and relaxed ambience designed to give you a memorable culinary experience and to savour India's true taste.
Flavours of Indus is a full-service restaurant, with an in-house dining room which seats up to 70 guests and also has a party hall for 30 persons. We also take home delivery and take away orders.
WHAT WE OFFER
Flavours of Indus has an array of selected curries, kebabs, rice dishes, traditional Indian breads and also many more dishes to choose from. We make separate spices for each dish rather than using and repeating generic base gravies, in an endeavour to bring for you the best. We are open for Lunch and Dinner Service.
ENGAGEMENT AND WEDDING PARTY CATERING
Popping the question wasn't hard. But finding Indian engagement and wedding party catering services is difficult!
Why don't you try the Flavours of Indus! We bet you will not be disappointed.
A leading engagement and wedding catering services in Carlton, we are popular among the Indian diaspora in Melbourne.
With a variety of flavourful and delicious Indian dishes, we will create beautiful memories. We offer a customised menu that will create an excellent impression on your guests.
Whether you want to have an intimate or a big fat engagement and wedding party, we offer the right selection of food and drinks for a delightful experience.

Create memories with engagement and wedding party catering in Lygon Street!

We provide an assortment of Indian delicacies that suits the Australian palate.

We will customise your menu. If you want something that is not on our menu, we shall prepare it!

Delicious Indian/Western desserts for guests with have a sweet tooth!

You select the venue, and we will cater. Whether your wedding party is at your home, on a beach, or in your backyard, we will come there and serve you.

Are you out of interesting engagement and wedding party ideas? We will help you plan and think of out-of-the-box ideas!
Impress your Guest with Simple and authentic Indian flavours!
Jai Ho Indian Restaurant - Indian Catering Company in Melbourne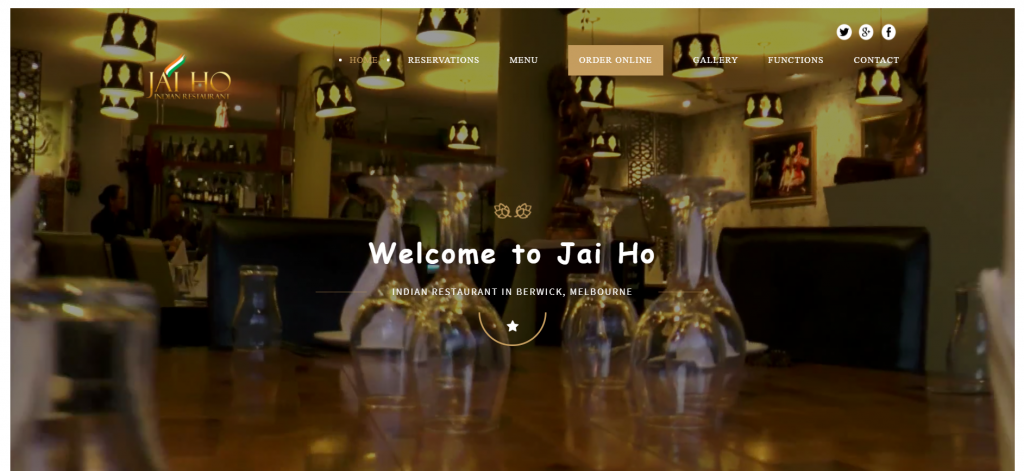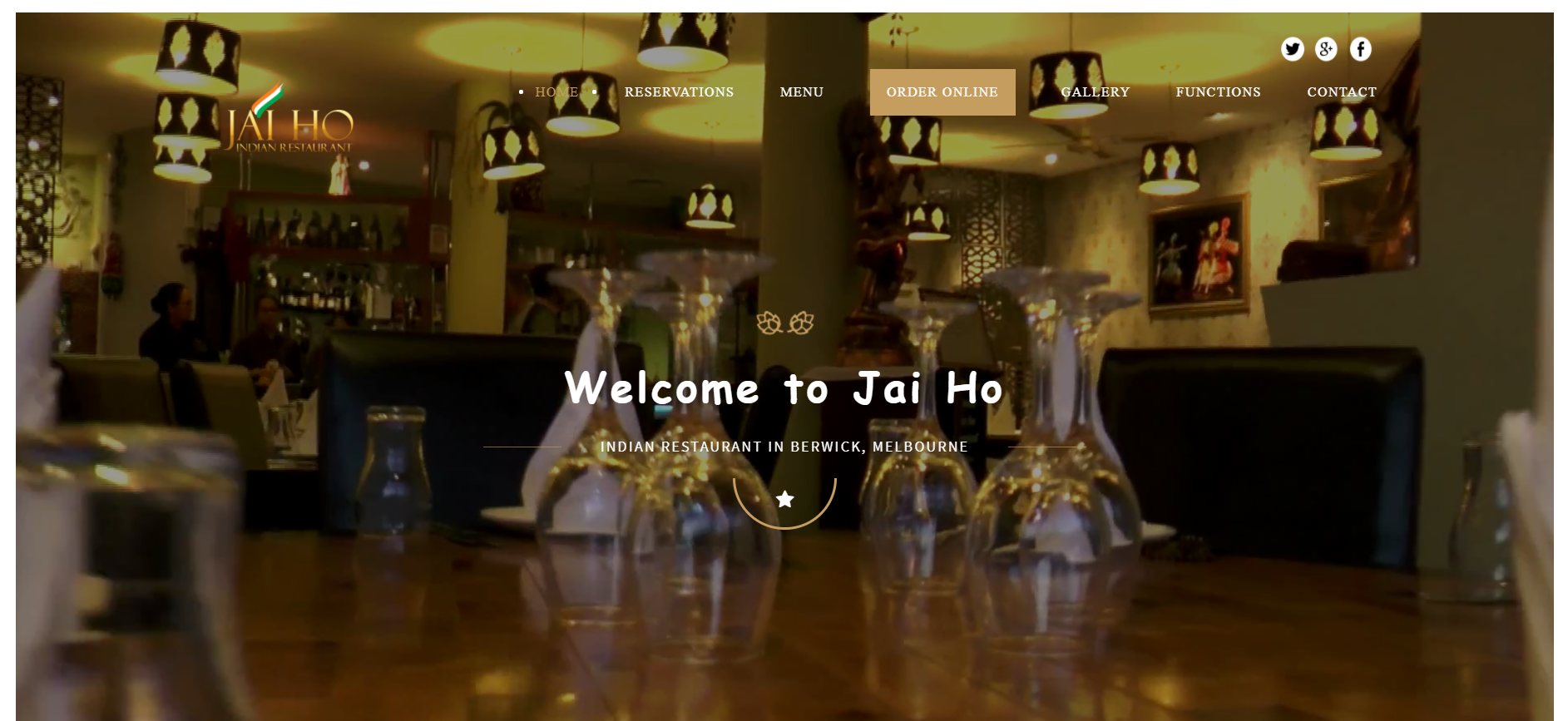 jaiho-indian-restaurant.com/berwick
03 97075270
Melbourne is a melting pot of cultures and cuisines, and there is a growing love for Indian food. Jai Ho is a family-friendly Indian restaurant Berwick. It is a well-known fact that Berwick is a hub for the Indian community. Jai Ho offers authentic tandoori cuisine. It is not just another restaurant in Berwick, and it has actually won awards for Melbourne's Best Indian Restaurant.
Fine Dining Indian Restaurant in Melbourne
When it comes to deliciously flavoured and aromatic food, Indian food tops the charts. And add to that, the vibrant colours of the variety of dishes that Indian food Melbourne has to offer makes the entire experience more exciting. Indian cuisine is continuing to gain popularity globally with Indian restaurants popping up all around the world. Indian cuisine is seen to be an assortment of traditional spices, rich herbs and sauces. While Indians prefer to have their dishes on the spicy side, most global fans like to take it easy in terms of the spices blended in the dishes.
Melbourne is a melting pot of cultures and cuisines and has witnessed a growing love for Indian food and fine dining Indian restaurant Melbourne. And this is probably why Indian restaurants Melbourne seem to be flourishing as more people discover the variety and textures of authentic Indian cuisine. The inspiration for starting our Indian restaurant in Melbourne, Jai Ho Indian Restaurant came from wanting to be part of Melbourne's culinary offerings and adding to its rich multi-cultural cuisine heritage. We offer authentic Indian food in Melbourne. Jai Ho Indian Restaurant Melbourne is a place where traditional tandoori techniques meet contemporary Indian style. This dining Indian restaurant Melbourne offers authentic Indian tandoori cuisine and has won awards for being best Indian restaurant Melbourne.
Jai Ho Indian Restaurant is a family-friendly restaurant located across many Melbourne suburbs, including Hoppers Crossing, Hawthorn, Collingwood and Richmond, and is at the hub of the Indian community. What started as a humble beginning in 2011 was soon bustling with families and friends enjoying a good meal, parties and functions at our Melbourne Indian restaurant. To give our customers a traditional and ethnic feel we created inspiring interiors at Richmond and Hoppers Crossing outlets, with Indian art, handmade furniture and even a 'Baithak' (traditional Indian low seating).
Jai Ho Indian Restaurant is a family-run business that manages to be true to our traditional recipes and continues passing it on to our future generations to continue offering authentic Indian food in Melbourne. Living up to the honour of being the best Indian restaurants in Melbourne, we are committed to the freshest, finest produce and to creating an exquisite and memorable experience for our guests.
Jai Ho Indian Restaurant is a trusted name in the food industry with a massive and loyal customer following. Jai Ho Indian Restaurant is a must-visit to all those who wish to experience India's authentic taste and colours. Come; discover the rich diversity of Indian cuisine at the top Indian restaurant in Melbourne.
INDIAN RESTAURANT IN BERWICK, MELBOURNE
Are you thinking of enjoying some delectable Indian delicacies? What are you waiting for? The most reputed and popular Indian restaurant in Berwick is known for its friendly ambience and amazing food. We have not just won several awards for our high-quality food and excellent service, but most importantly, we have won the hearts of numerous food aficionados. We specialise in authentic Tandoori cuisine. We are immensely proud of our highly innovative and creative chefs who consistently come up with truly mouth-watering Indian dishes but sometimes with a little twist. Head over to Jai Ho Indian Restaurant, the best Indian restaurant Berwick for the finest ever dining experience.
Jai Ho Indian Restaurant, a pretty well-known restaurant in Berwick is your ultimate destination for authentic Indian food. We serve some lip-smacking street foods of India including Papdi Chat, Aloo Tikki Chat, Bhel Puri, Samosa, Onion Bhaji and much more. These popular street foods of India are truly delicious that would be tantalising your taste buds. We are the best Indian restaurant in Berwick thanks to our extensive menu that showcases diverse dishes from authentic Indian cuisine. We also offer mouth-watering vegetarian and non-veg starters such as Paneer Tikka, Hara Bhara kebabs, including some innovative dishes such as honey gobhi and chilli cheese. We offer a warm and inviting atmosphere that is just perfect for chilling out with friends and family. Jai Ho Indian Restaurant is the most reliable Indian restaurant Berwick, and you can enjoy some delightful treats here, including Seekh Kebab, Tandoori Chicken, Chicken Tikka and a lot more.
Jai Ho Indian Restaurant is a superlative Indian restaurant in Berwick not for nothing. We have top of the line chefs in the food industry who are culinary experts. They offer an incredible variety, quality, taste and texture of the food that leaves you dumbfounded. Come to the most happening Indian restaurant, Berwick. Some of the Chef's Signature Dishes are truly fulfilling and very well presented. They include lamb kofta curry, Punjabi goat curry, Murg Kali Mirch, Paneer Bhurji etc. This restaurant in Berwick is famous for its authentic and tasty food. We rely on top quality food, and our ingredients are mostly fresh and healthy. We are the best Indian restaurant for authentic Indian fish delights such as Fish Masala, Fish Makhani, Kashmiri Fish and many such superb selections. Our chefs provide yummy prawn dishes including Chilli Prawns, Prawn Masala, Kashmiri Prawns and much more.
We are equally acclaimed for our spectacular food presentations, prompt services and scrumptious dishes. Jai Ho Indian Restaurant is currently regarded as the leading restaurant in Berwick. We offer banquet facilities so that you could celebrate your special occasions including birthdays, weddings, anniversaries right here with professional help. We also have well-organized take home services too. Now you could relish our delectable delicacies from the privacy of your homes. Jai Ho Indian Restaurant is the new-era Indian restaurant that offers a wonderful range of authentic beef delicacies including Beef Vindaloo, Beef Korma, and Beef Rogan Josh.
We at Jai Ho Indian Restaurant take major pride in our brilliant chefs who have extensive knowledge about traditional Indian spices and flavours and come up with mind-blowing authentic Indian dishes such as Butter Chicken, Chicken Tikka Masala, Chicken Curry, Chicken Vindaloo and many such authentic Indian fares. We are a premium Indian restaurant in Berwick, thanks to our highly reasonable prices, great cooking, careful sourcing, expert grilling and top-notch services. Come today for a never-before gastronomic experience!
CATERING SERVICES
Jai Ho catering offers a customised menu and personalised service. We observe strict hygiene policies and ensure the use of freshest produce to deliver food of the highest standard. Whether it is a birthday party, festive celebrations or anniversaries, our team will ensure your party are a success. We can undertake catering orders for as many as 1000 guests. Orders can be delivered at your choice of time and venue. Special dietary requirements can be catered for (vegetarian, vegan, gluten-free, Jain food, dairy-free). We proved a unique catering style by arranging live stalls, including live 'Tandoor stall' at your venue. We also prepare pre-packed meals for sports events. Whatever your occasion we guarantee to make it a huge success with our impeccable service and appetizing food while keeping your budget on the mind.
Kantipur Restaurant - Indian Catering Company in Melbourne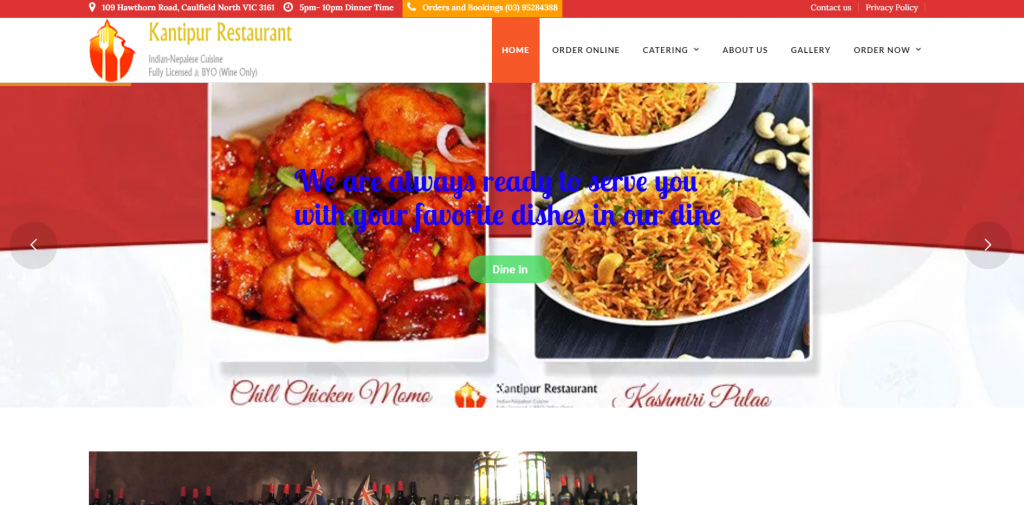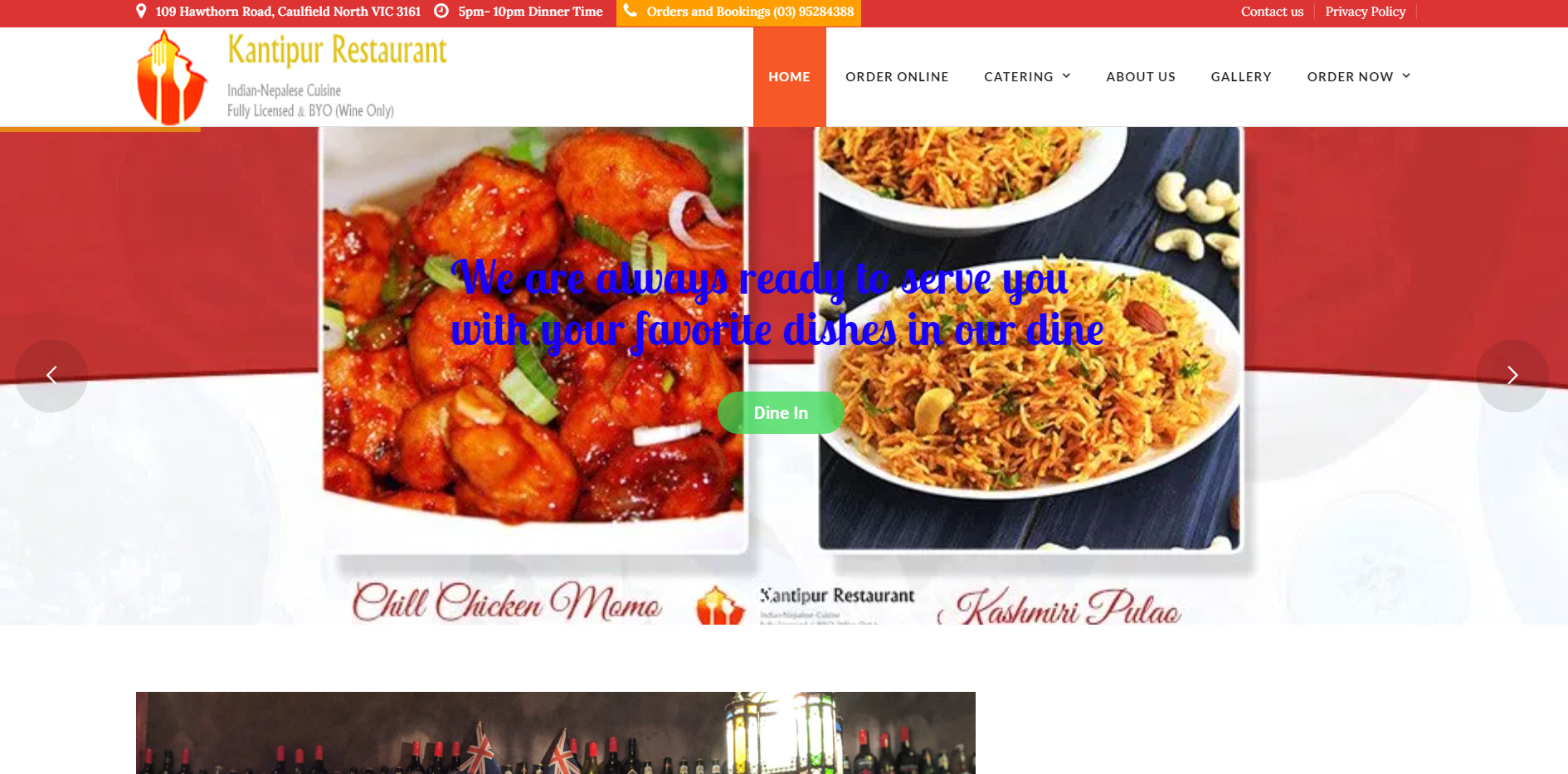 (03) 95284383
NEPALESE RESTAURANT MELBOURNE NEPALESE AND INDIAN CUISINE AT ITS FINEST.
Feeling hungry? Not sure where to start? As one of the best Indian restaurants in Melbourne, Kantipur Indian and Nepalese Restaurant offers a warm welcome to all our customers.
Kantipur Indian and Nepalese Restaurant brings you a taste of the country's rich culinary heritage with a delicious variety of recipes. Handpicked from Nepal's royal kitchens to the homes of South India, these dishes offer a truly delightful dining experience.
From the magnificent Himalayas to the vibrant and colourful streets of Kathmandu, Nepal offers a multi-ethnic and multicultural variety of cuisine. Kantipur Indian and Nepalese Restaurant, a traditional Nepalese Restaurant serves the freshest traditional Indian and Nepalese cuisine in Melbourne. You'll find a mouth-watering variety of authentic dishes made from traditional cooking techniques. We combine the culture and heritage of India and Nepal and create an incredible dining experience.
Our aim is to source quality ingredients and prepare all dishes in-house, taking no shortcuts. With over 19 years of experience and everything we do at Kantipur Indian and Nepalese Restaurant, has remained unchanged throughout: to give diners a refined experience of regional Indian and Nepalese cuisine.
Visit us and enjoy our true essence of Nepali cuisine with warm Nepalese hospitality. Book your table with us. Order takeaway food or call us for the home delivery and indulge in the flavours of real Nepal.
Dhanyabaad!
WEDDING CATERING MELBOURNE, INDIAN WEDDING CATERING
Your wish is our command- is what we tell our clients!
A wedding starts with "Will you marry me?" and ends at "I do". We are everything in between.
At Kantipur Indian and Nepalese Restaurant, we promise to provide you with an exceptional catering experience from the simplest to the most extravagant of affairs. We ensure your happy memories are extended fully through our Indian and Nepalese cuisine. We want everyone to leave your event feeling cared for, catered to and sated with delicious food.
Celebrating The Tastes of India With Our Indian Wedding Catering Service in Melbourne
Food is an important part of any celebration. An Indian wedding is celebrated with rituals and splendour. Given the diverse cultures and their particular traditions in the country, an Indian wedding hosts a wide selection of dishes. Kantipur Indian and Nepalese Restaurant provides one of the finest Indian wedding catering services in Melbourne.
Breathtaking Function and Party Venues: Your Wedding Reception, Your way
We have the ability to deliver an exceptional wedding catering experience in a range of different functions and venues of all shapes and sizes.
There are a lot of different ways to create a stunning wedding reception that goes beyond the traditional dinner.
Our wedding catering package includes:
Unsurpassed signature dishes with live counters

Hassle-free, joy-filled event with personalised service

Elegant fully-staffed wedding luncheon or wedding dinner

The exclusive vegetarian menu can be designed according to the needs

Traditional Indian recipes made with authentic herbs

Breathtaking wedding suites & party function venues

Elaborate buffets and customised menu

Bespoke party function venues

Party platters and much more
Nothing lifts the mood of a wedding like a good drink. Whether you need a fully serviced bar, non-alcoholic drinks or hot beverages, we will get the right wedding drinks.
Choose from our range of menu options, including:
Cocktail themed menus; customised buffets

Barbeques,high-tea and cocktail party receptions

Formal dining or our very own ' Indian or Nepalese cuisine menu'.
Let us be your wedding caterer. Get in touch with us to start designing your custom wedding catering menu.
Kasba - Indian Catering Company in Melbourne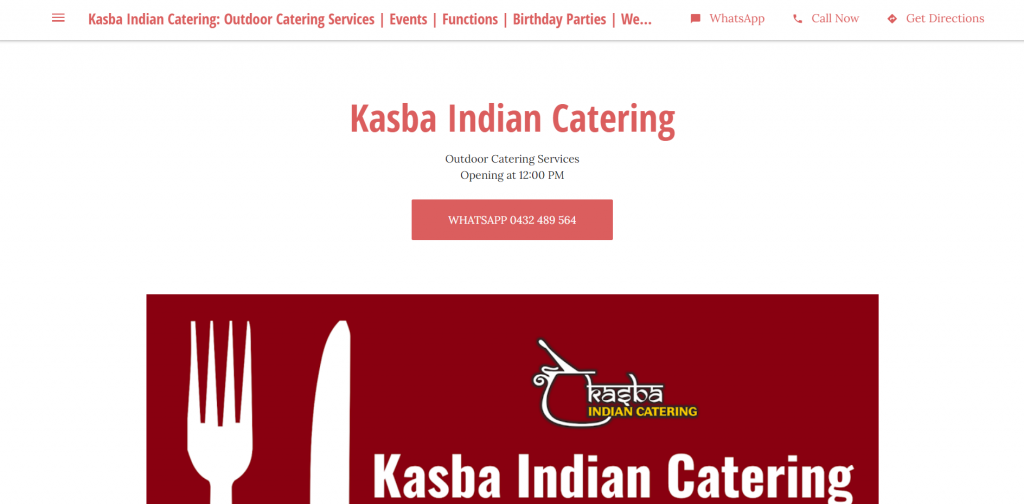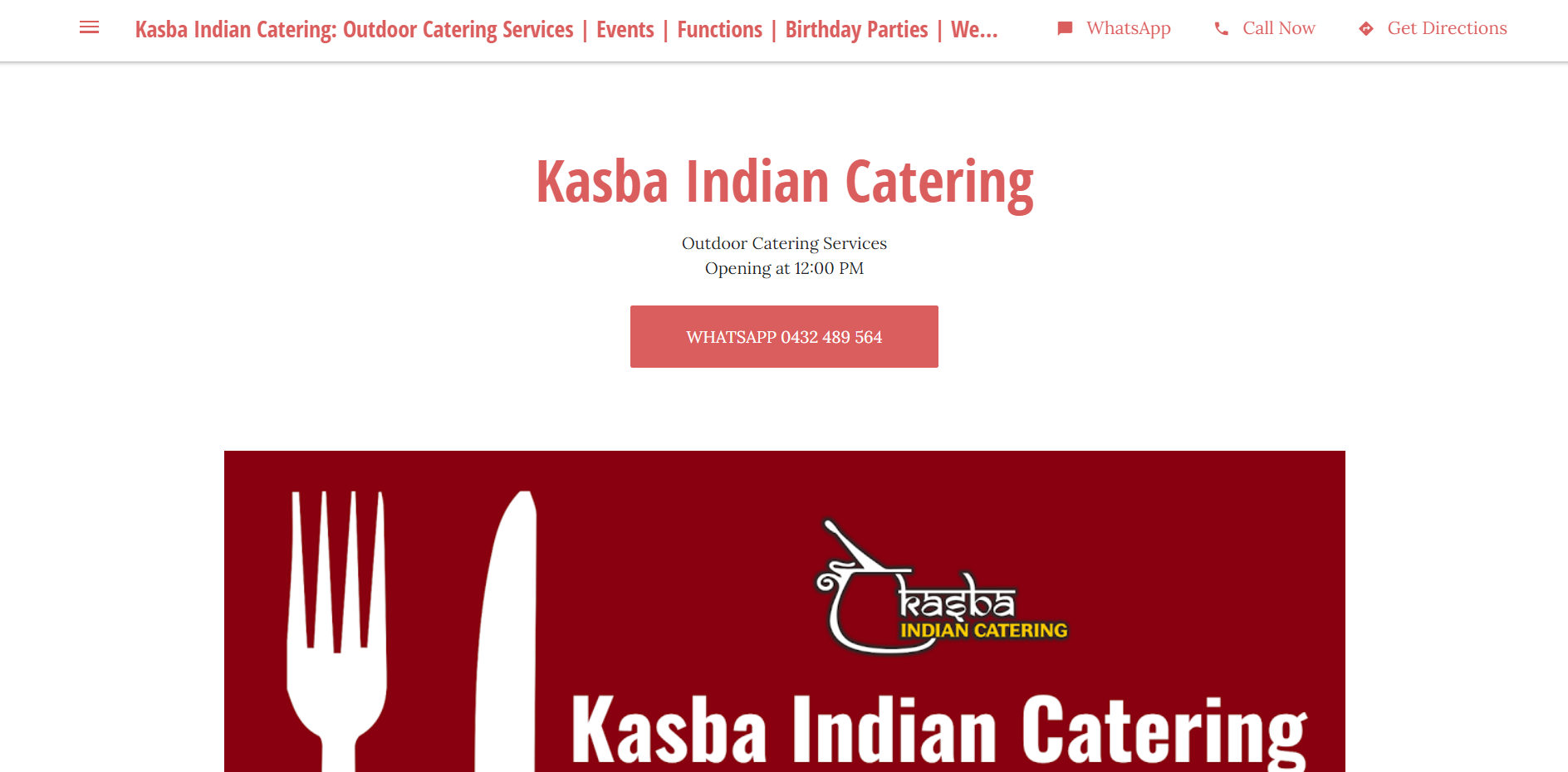 kasbaindiancatering.business.site
0432 489 567
Kasba Indian catering to your function is to thrill with scrumptious and visually stunning dishes, with high standards, tailor-made to suit your needs, for an event experience that will surpass your expectations and generate great, lasting memories.
We provide custom packages as per your requirements. 
Aside from catering, formal dinners, corporate events and parties, we also love to cater birthdays, private parties, retirement parties, cocktail parties, office luncheons, banquets, funerals & celebrations of life, school services, stag and doe parties, baby showers, s and homecoming parties... and any other kind of party you might like to throw.
We provide you chafing dishes/food warmers for your home catering for your perfect house warming functions, birthday parties, anniversary, corporate events or any celebrations to complete buffet set up with all disposables.
If you are looking for a pick-up, we can cater as per your requirements too. All you need to do is just discuss your requirements & we will make it hassle-free.
Nirankar Nepalese Indian Restaurant - Indian Catering Company in Melbourne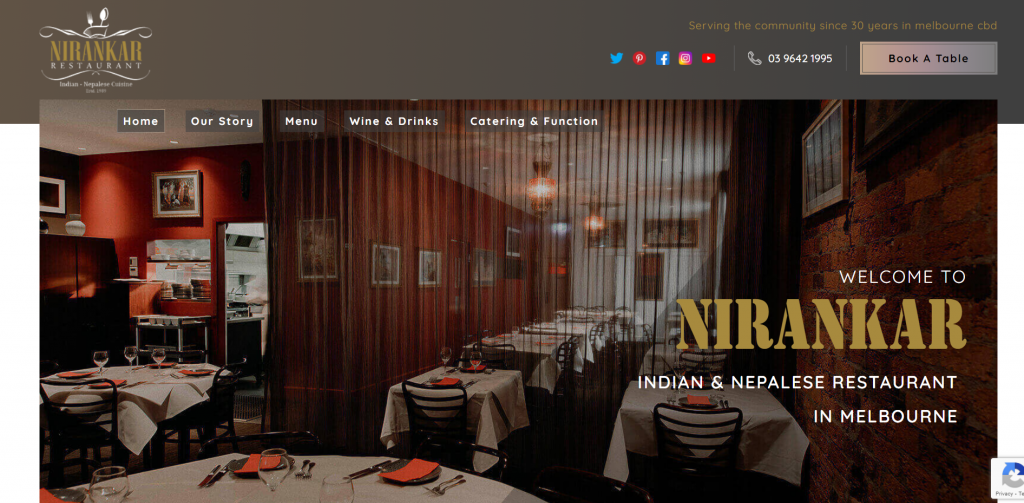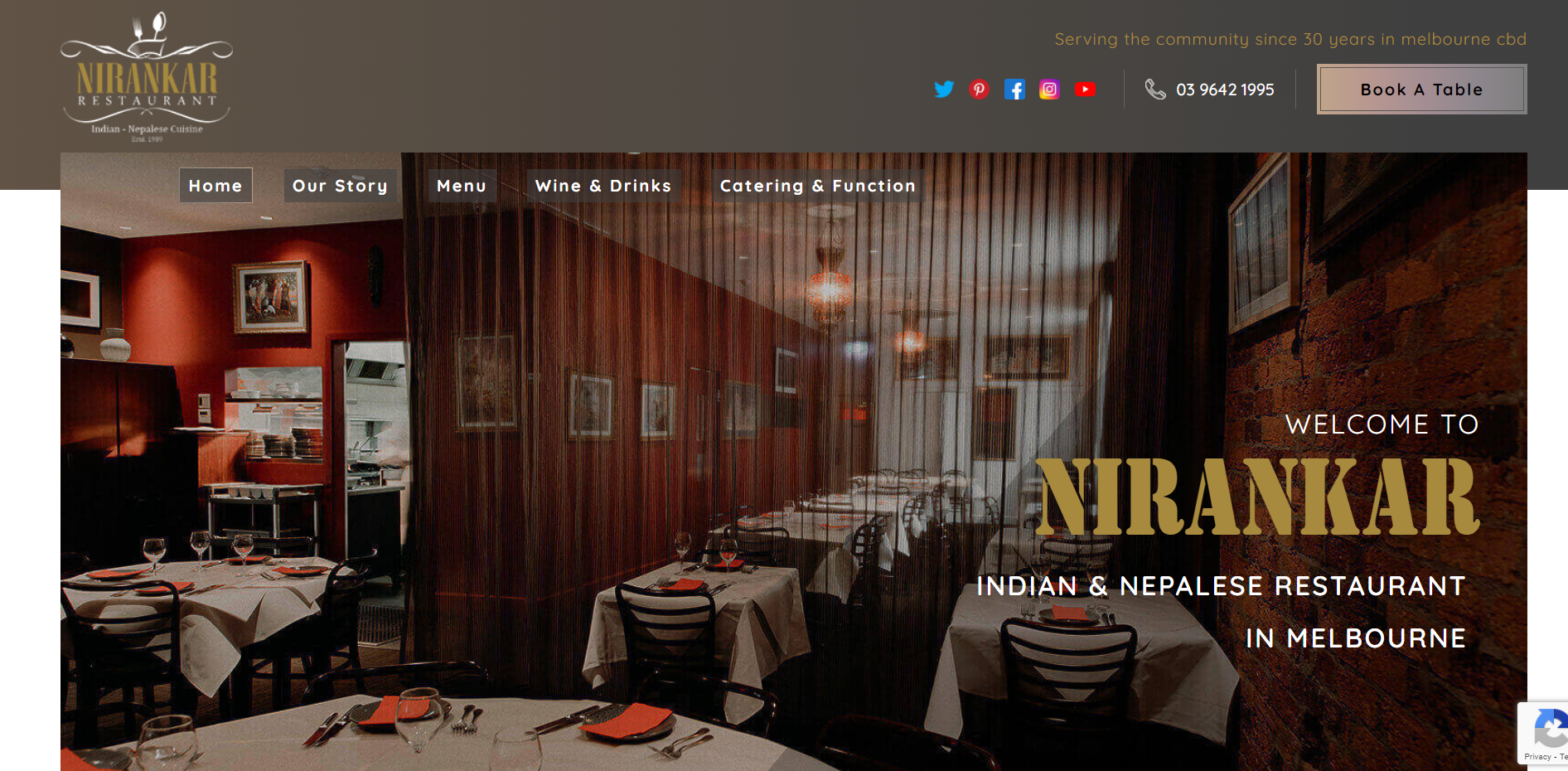 +61 3 9642 1993
Top Indian & Nepali Restaurant In Melbourne CBD
Nirankar is located in the heart of Melbourne CBD and has been serving a wide range of traditional and authentic Indian and Nepalese food in a warm & homely environment for 30 years.
Nirankar is an authentic and modern Indian – Nepalese Bar, Function and fine dining restaurant in Melbourne CBD. Nirankar is the perfect venue for a special celebration, corporate conference and seminar or business meeting, cocktail party, a relaxing and romantic evening, a quite dinner or a takeaway. Our friendly professional staff will ensure that you are not disappointed.
At Nirankar, we strive always to use the freshest produce and give the best value for money. We pride ourselves on our vast array of dishes, combining various herbs & spices which create tastes and aromas that are diverse and unusual, from fiery hot to delicately sublime. With mild to hot curries and lightly spiced as well as more about flavours, the menu will appeal to all connoisseurs of this traditional cuisine. Nirankar is a fully licensed restaurant with a variety of wines and drinks on the menu. Restaurant seating capacity is 120.
Come and savour the difference and may Nirankar (Eternal Bliss) always be with you.
Indian Food Catering.
Premium Indian food catering in Melbourne serving all your needs!
Let us bring Nirankar Restaurant to your venue.
No matter what we claim, our taste buds are biased towards the flavours closer to our heart. Indian cuisines are generally accustomed to various spices, making Indian catering services more mouth-watering than bland.
At Nirankar, an Indian and Nepalese food restaurant in Melbourne CBD, we understand what it takes to be an Indian cuisine at its best. We constantly look for new possibilities that Indian food catering has to offer, while not forgetting the uniqueness and flavour that authentic Indian catering has always offered.
From sumptuous North Indian Cuisines from Lucknow to "Shahi Biryani" of Hyderabad, here all are blessed with flavours to tantalize your taste buds; This Indian and Nepalese foods caterer, today stands as the one-stop solution for all your event needs regarding Indian food catering in Melbourne.
Offering our service as one of Melbourne's best Indian catering restaurants, Nirankar's Indian food catering services serve mouth-watering dishes at the best price—true to its motto – Quality Food at a Quality Price.
Celebrate our great food with an enjoyable time, sit back and let us serve you and your guests the best Indian food by the best Indian food catering in Melbourne. 
Function Venue
Nirankar is the perfect venue for holding private events such as birthdays, anniversaries, baby naming ceremonies and wedding receptions, corporate function, cocktail party, brand and branch launches.
Do you want to invite a crowd over for drinks, or your next promotion party? Are you not finding the appropriate place to make it happen? Then keep your worries aside and enter Nirankar, one of Melbourne CBD's best function venues offering an authentic blend of Indian and Nepalese foods, and among top-notch corporate function venues in Melbourne CBD.
The perfect setting for turning any wedding reception, corporate function, charity gala, and social events such as Bat Mitzvah, birthday parties, anniversary parties, and trade shows and corporate parties into a grand celebration, this Indian and Nepalese food restaurant takes pride in providing personal attention to make each and every banquet function, truly special.
Assisting you in every phase, we make your event a success—from your initial booking through to the end of your special day.
The catering staff are specially trained to create an ambience of romance and joy, tailor-made to support your day, to be remembered forever. In addition, we will be happy to recommend florists, musicians and other services that you may need to compliment your day.
Nirankar is the ideal location for mixing business with pleasure. Companies and organizations looking for corporate function venues in Melbourne CBD, have made Nirankar their venue of choice. Whether it's honouring a retiring colleague or demonstrating a new product, our staff is well trained to take care of every aspect of your function, with dedicated function rooms in Melbourne CBD, providing the best services and finest cuisine corporate and small business events.
From breakfast meetings to birthday parties, our function rooms in Melbourne CBD have everything to offer. 
Rajbhog Indian Restaurant - Indian Catering Company in Melbourne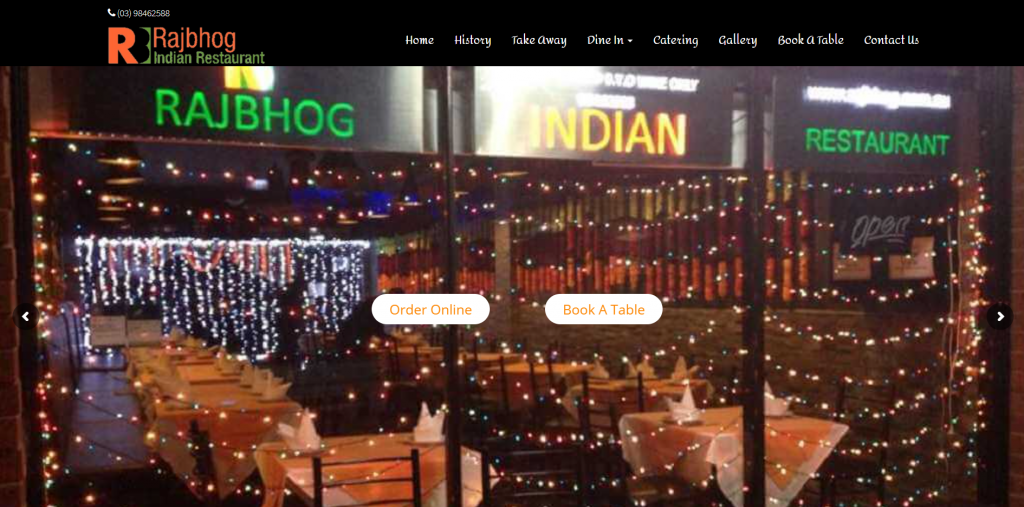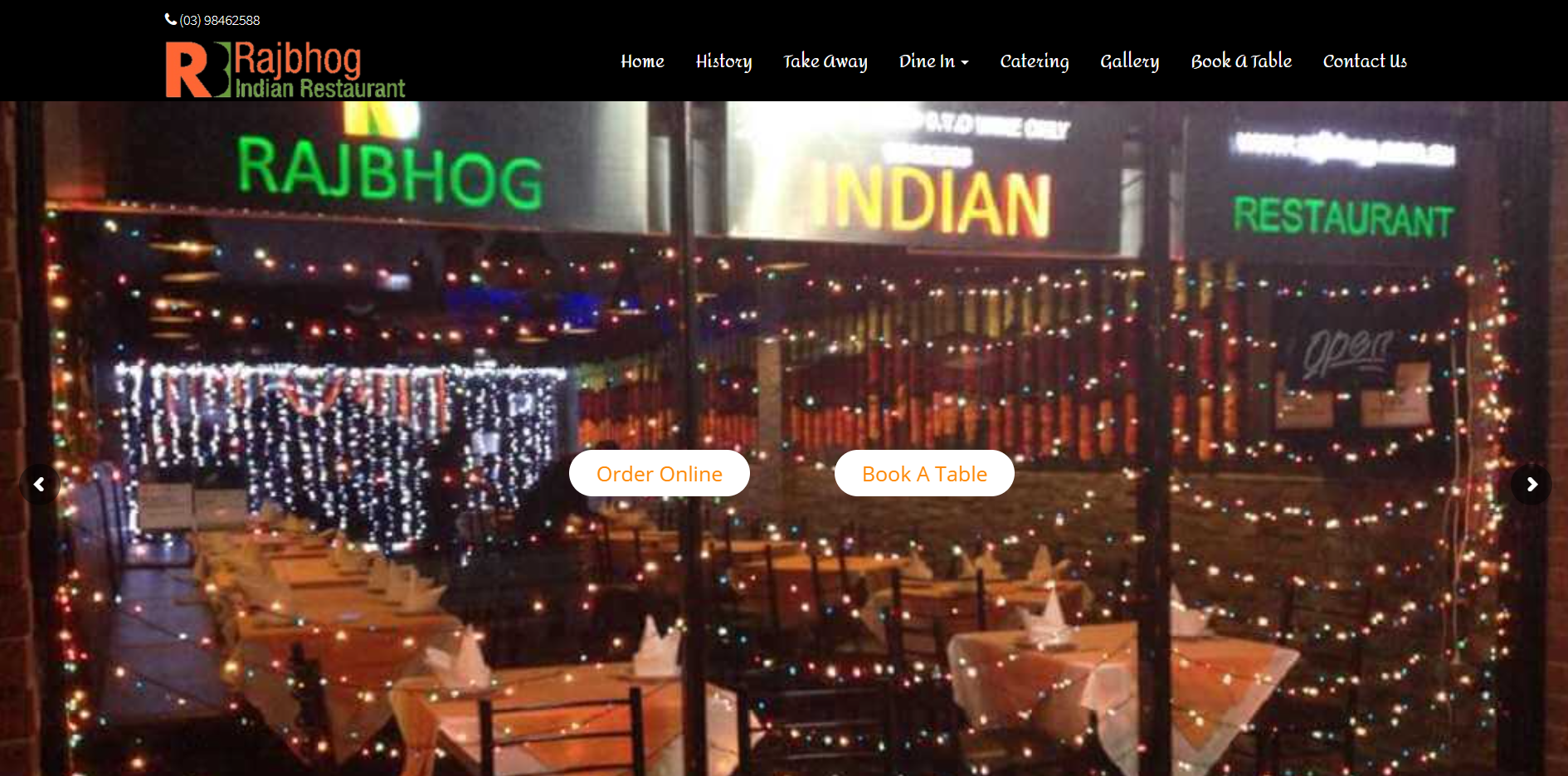 (03) 98462583
Welcome to the Rajbhog Indian Restaurant
Located in Templestowe in the heart of the eastern suburb. We are only one and one with no other branch.
The name Rajbhog translates quite literally as sophisticated. A ROYAL FEAST. We are a family-owned Indian restaurant established in 2000. Rajbhog enjoys restaurants with superior service, and varied menus incorporate both traditional classic favourites and original new dishes that apply eastern flavours with a western twist.
Budget-minded families will love Rajbhog many attractions which serve up great food and fun and festive atmosphere!
Our chefs and staff serve delicious Contemporary Indian Cuisine. The presentations are fresh and artistic, the menus inspired recipes passed down from generations of a family from India, and the service is superb. Seasonal menus feature fresh seafood, meat and vegetarian dishes.
Rajbhog has the heritage and history to claim its title as one of Melbourne's foremost Indian restaurants. Head chef, Mr Satwinder's grandfather, passed the knowledge of fine Indian cuisine down to his father, how in turn thought the skills and flavours that have served him so well.
Rajbhog holds the distinction of being the first Indian restaurant in Australia to serve the sought-after Gujarati style while also excelling at North Indian and tandoori food. Every meal has the signature touch that customers have grown to know dinners featuring Gujarati food and Monday night smorgasbords. Traditional desserts add colour and excitement to the closure of any meal, and the prices of all dishes are more than attractive.
Sachin Garg Catering - Indian Catering Company in Melbourne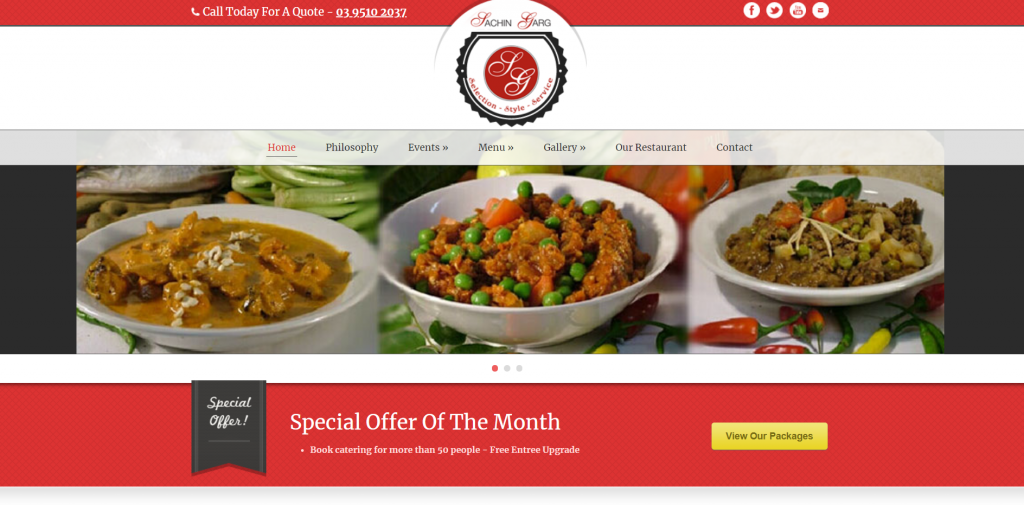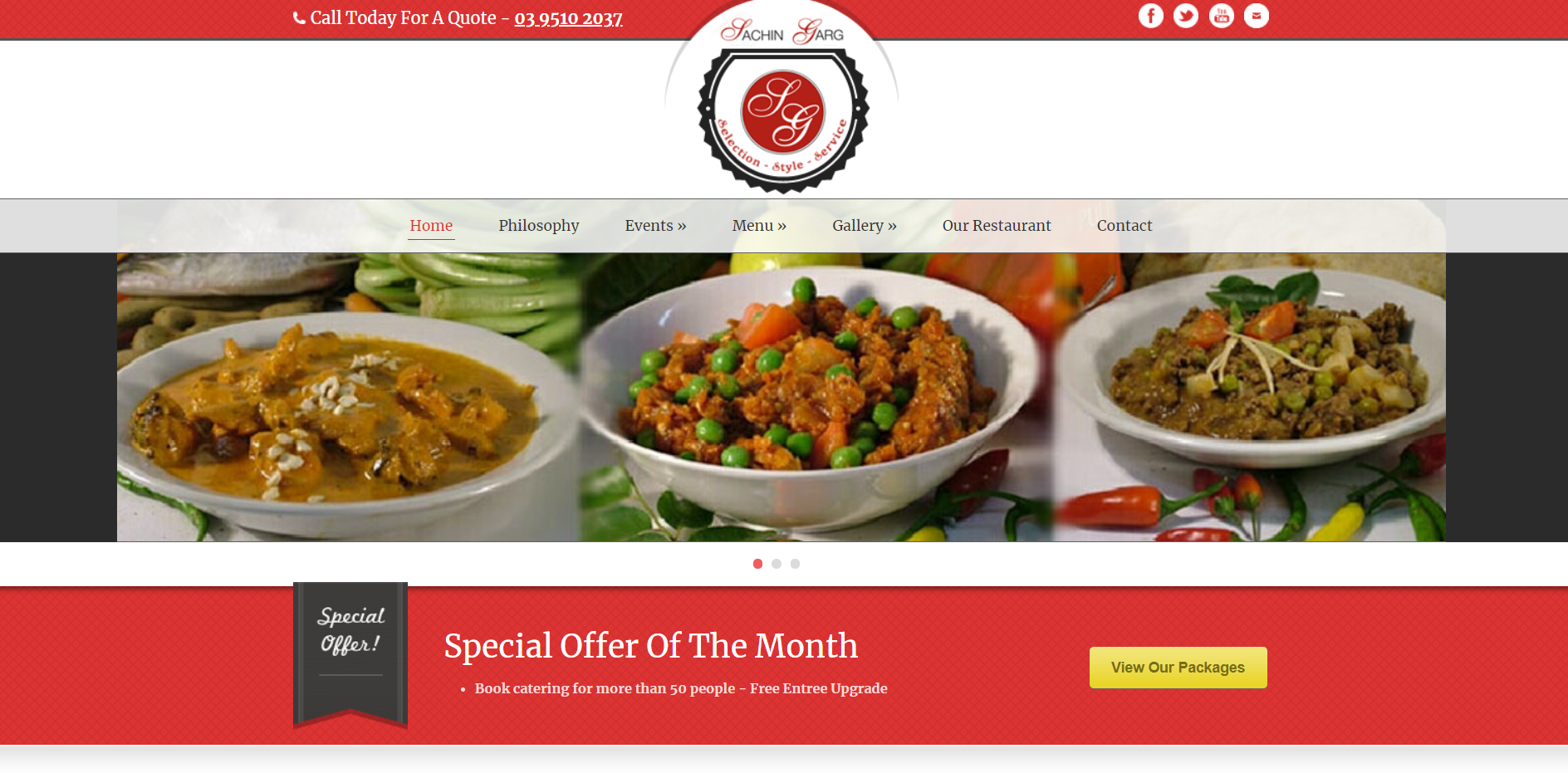 03 9510 2034
Welcome to Sachin Garg Catering!
Provide delicious authentic Indian Cuisine for a wide range of events – including party catering for special birthdays or elegant cocktail parties, office catering for groups or corporate functions and elegant wedding catering – no event too big or small!
You can depend on us to add warmth and hospitality to your occasion by combining our fresh, high-quality, great-tasting food with a 'can-do attitude' – Guaranteed to impress the pickiest of your guests and make your event a success!
What makes an occasion truly memorable for you?
Catering can create a package customised for every taste & catering budget. Our menu contains an incredible selection of mouth-watering dishes, reflecting the rich variety of textures and flavours embodied in Indian cuisine – from traditional heart-warming favourites to the more exotic and vibrant 'crowd-pleasing' dishes – it's all at your fingertips.
Get in touch with us today and take that first step towards making your event a delicious and memorable occasion for you and your guests – go on, they'll thank you for it!
Sachin and his staff would love to hear about your event – feel free to call us for an informal discussion and free quote or alternatively visit the Contact us page to make an online enquiry.
Thinking wedding catering? Think Sachin Garg.
SG Wedding CateringWe takes pride in our weddings, be it for our son, daughter, sister, brother or most importantly our own. Emotions are always high, and the stakes are high, everybody wants a perfect wedding, one that everybody thinks about and says 'wow'.
Selection, style and service, those are the key elements that make your wedding catering memorable, or not so memorable. With over 200 years of hospitality experience, let us do the hard work, with love, care and passion.
We will provide you with not only excellent food but also the perfect meal experience. Our professional waiting staff will contribute to a smooth sailing event, allowing you to relax and enjoy the day you have worked so hard. You have done all the hard work, now let us take it from here.
Yo India - Indian Catering Company in Melbourne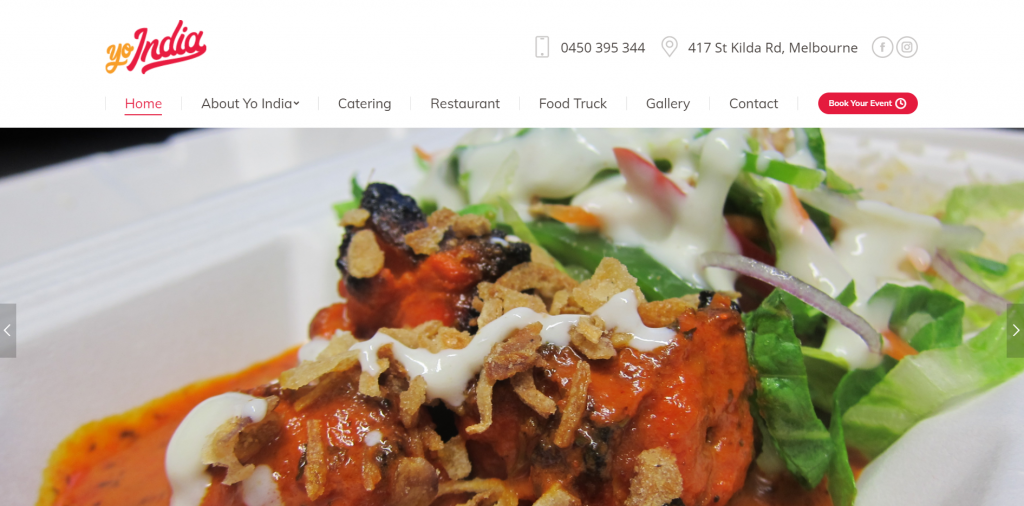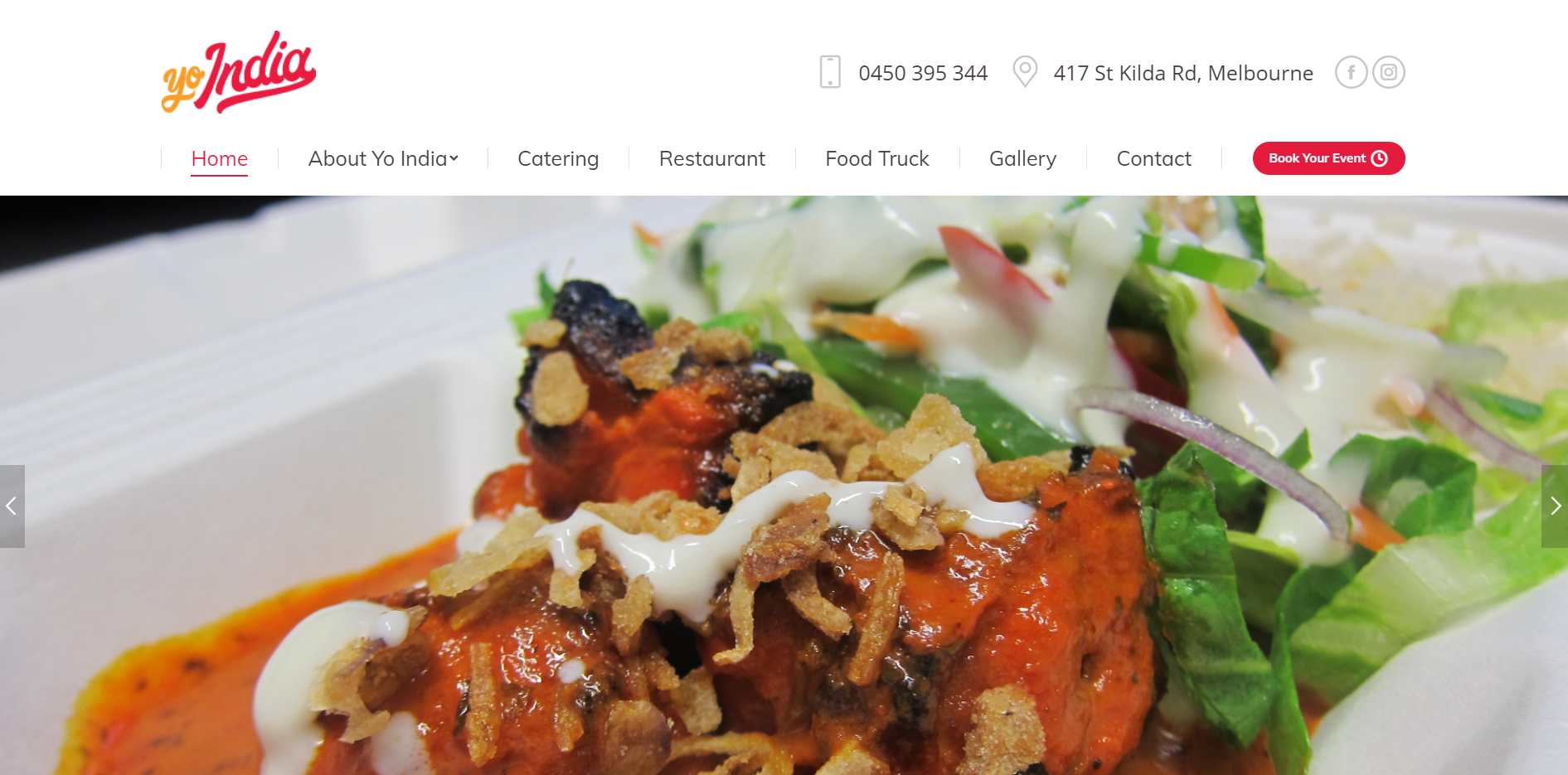 0450 395 346
Who is Yo India?
Food Truckn' around Melbourne and beyond since 2014.
Yo India started on the streets of Melbourne in 2014 as a food truck. What started of as a little family dreaming of sharing their love of food, culture and hospitality to some hungry locals in Footscray has transformed into a feeding an ever-growing of Yo India loving community all over Melbourne and beyond.
Yo India brings you the Taste of India, with some Indian classics and also our own spin on dishes with touches of Lebanese, Mexican and Chinese. 
At Yo India, our passion is creating delicious food out of real ingredients. We like to speak the language of Indian cuisine, and we know the key to this is with sourcing the best products and forming a relationship with the producers. We know that our hospitality towards our producers and staff is just as important as our hospitality towards our customers.
We know it's not always easy, but its the Yo India way.
Our Promise to You
Quality
It all starts with sourcing fresh ingredients and sourcing local. Then it's about great preparation. Lastly, it's about the details to ensure you are enjoying our service.
Communication
We believe that hospitality is only true if it's extended it firstly to our staff, our suppliers and anybody associated so that we can truly give our customers true hospitality.
Good Vibes
Whether it be sitting down at our Restaurant our grabbing a delicious meal at Yo India Food Truck at an event, you'll know that our team is passionate about ensuring you enjoy yourself.
Yo India Catering
Taste of India all over Melbourne and beyond.
At Yo India, we understand that every event has its own rhythm and flow, and we are happy to dance along to the beat. Yo India provides delicious Indian food to corporate functions, beautiful weddings and engagements, special birthdays or any small and large party.
Every event we cater to has our own personal touch to ensure you are comfortable and do what is important, having a great time with your guests. We take care of the rest. We know that a successful event means paying attention to the details. We know it's about great tasting food. We know it's about ensuring everyone is having a good time. Guaranteed to impress – even the fussiest one.
Why choose Yo India
Delicious Food
We know it starts with mouth-watering food. From canapes, mains to an elegant buffet. From traditional to modern, all at your fingertips.
Efficient Service
You will find our warmth and our hospitality on every occasion.
Our Attitude
Our main is to ensure that we can deliver the food and service exactly how you wanted it. Be it on a countryside winery or at an office space.
Our Flexibility
We know every event has its needs. Whether it be menu, service type, budget, have a chat with our friendly team.
What foods should be served at an Indian wedding?
An Indian Wedding is incomplete without serving some finger-licking food to the honourable guests. Earlier a Halwai along with his team used to take care of the entire menu, but recently professional wedding caterers have replaced them in the kitchen. Latest food trends with international dimensions and unique exhibits are sizzling up the wedding venues these days. Well, the new food format and exotic world cuisines are fine, but it is essential to keep our Indian palates satisfied with the desi lip-smacking food from the galis (streets) of India.
Dal Makhani
Originating from Punjab with a western twist, this creamy and buttery dish is a must-have at your wedding. Practically, there cannot be any wedding or a party without Dal Makhani.
Made with lentils, red kidney beans, cream and butter, this dal is undoubtedly everyone's favourite when it comes to weddings. The richness of this recipe and its flavourful taste has made this dal recipe a hit at weddings and parties in both North and South India. Dal Makhani is best teamed with Naan, missi roti or jeera rice.
Mutton Biryani
This non-vegetarian recipe is prepared by marinating mutton in a melange of spices like cumin powder, coriander powder and star anise powder and is assorted with cooked rice. A perfect main dish recipe, this biryani is best served hot with raita for a tempting dinner and is a true bliss for non-veg lovers.
Litti Chokha
Quite a unique and most talked about the roadside food of Bihar is now giving an authentic experience to the guests at the wedding. In fact, this love of Bihar has now started appearing everywhere.
Most of the weddings today are serving this humble and tasty dish with a makeover. You too can let your guests have a lesson of Bihar's food heritage with the brownish balls stuffed with satto masala (bhuna chana atta).
Zafrani Pulao
Let's have rice. As this is the first item your guests are going to take on their platter, how about Zafrani Pulao. It is a noted dish of Hyderabad and from the mountains of Kashmir. Rice being an essential part of any Indian wedding we must see to it that it is not so heavy so that guests can enjoy the rest of the menu. It is a fragrant recipe with perfect blends of traditional ingredients like Dry fruits, Milk, Saffron, Sugar and more delicious things. Your guests are going to love this.
Dahi Bhalla
You will find the appetite of your guests increasing with every spoonful of creamy yoghurt-rich bhallas. A great way to inject some vintage and old memories into your wedding menu is including this rustic and cool street food. Light on the stomach and tasty to the palates; this mouth-watering dish so beautifully sings the flavours of India.
To know more about Indian Wedding, check out our post on What happens at an Indian wedding?
Aloo ki Tikki
Aromatic tawa-fried aloo tikki stall is a perfect choice to display the roadside heritage with aplomb. Also, you can always play safe and woo your guests with this miraculous dish. In simple words, any wedding will be incomplete without the infamous aloo ki tikki. Offering a great delight to the foodies especially veggies these small mashed potato tikkis are always a hit!
Onion Kulcha
You can also have Onion Kulcha for your guests. It is a clichéd and simple recipe. Aromatize it with a delicious Onion and mint stuffing. Flour mould is swayed into a flat, round shape and cooked in an earthen oven until it is golden brown. Later, dress it with butter. It is undoubtedly a winner of hearts. It is perfect if you are having a wedding at night as people tend to have some Roti type item at night.
Pasta Primavera
Children simply love this dish. Freshly chopped vegetables are the main ingredients of Pasta. These are cooked in a pot filled with salted water till they are soft and pasta is boiled. After that, the boiled pasta and the vegetables are dressed with Garlic and Olive Oil and garnished with shredded Cheese. You are surely going to win many fans with this dish at your wedding.
Originated from Canada, their main ingredients consist of Pasta and freshly chopped vegetables. Cook it in a pot filled with salted water till it's soft yet not melted. Dressed with Garlic and Olive Oil and garnished with shredded Cheese. You are surely going to win many fans with this dish.
Dal Bukhara
It is the famous recipe of ITC Maurya Hotel. It is made only with Urad lentils. Dal is a must item in a desi wedding. It is a thick recipe with the lots of Butter and Cream used in its preparation. It is going to melt your guest's hearts. It will go well with Zafrani Pulao or Onion Kulcha. Parents with small kids will be happy for this as even though it is heavy, it is not so spicy, so a child will easily gulp it.
Sheepshead Fish
Steam this fish in banana leaf packets with a mustard paste that is filling but soul-filling, the aroma is soul-warming. It is a delicate and spicy delicacy that is perfect for a wedding. Sheepshead fish is easy to eat as it has fewer bones. The recipe consists of shredded Coconut, Salt, and Mustard Seeds paste, Turmeric Powder, Hot Green Chilli Pepper Paste and Mustard il. Needless to say, fish is the must-have item in a Bengali Wedding. It's a dish close to a Bengali's heart.
Dahi Baingan
You can have this for your vegan guests. It is such an Eggplant recipe. It is made of Brinjal fried in oil and dipped in the Curd. You can add Onion and Garlic in it to make it spicy. You get this as a compliment in every Oriya restaurant. It is deep-rooted in their culture. It is an authentic and easy dish from the land of Punjab and Orissa. Oh! Heavenly!
Butter Chicken
Butter Chicken is one of the most popular Indian chicken dishes. Typically served with roti, naan or pulao, butter chicken recipe is made with a rich and creamy tomato gravy. With rich tomato gravy and butter floating on top of it, this non-vegetarian recipe goes really well with the bread of all kinds such as naans, rumali rotis and even tandoori chapatis. You can also pair this with any raita of your choice. 
Let's have some chicken now. A Chicken item is a must in a marriage occasion. What can be better than this! Chicken cooked in Tandoor with simple Curry that has Butter. There are many compositions and spicing of the marinating of Chicken. Spices include Cumin, Asafetida, Cinnamon, Cloves, Coriander, etc., the cream is used in the paste or as a garnish. Add Cashew Sauce as a thickener. Try it and relish the burst of Indian flavours! Balle! Balle!
Gajar Halwa
People do love innovations, but the old 'hot halwa' has always given them a kick. This super-yummy dessert will have every other guest at your wedding huddling up to it.
After all, who on earth can hold on to their taste buds when there is an option as luscious as halwa, for a winter Indian wedding food menu; it would be like a match made in heaven. Isn't it?
Risottos
Risottos have become common in Indian weddings these days. As pasta is something all kinds of people indulge in today, risottos are seeing a rise on the wedding menu and are loved largely by everyone, including elders. Italian staple risottos have replaced pizzas and kinds of pasta in the popularity index. They are light and bland, and hence hugely compensate for the spicy Indian flavour.
Paneer Pasanda With Corn Pasanda
For your vegetarian guests, why not include this one? Fill Paneer pieces with green Chutney, shredded Paneer and your favourite Nuts are mixed and cooked in a delightful Onion-Tomato curry to give your guests a royal feel. Vegetarian guests will enjoy this lavish dish. It is such a dish that no one can refuse it.
Amritsari Paneer Tikka
Amritsari Paneer Tikka is a flavourful dish as it looks and will be loved by people of all age groups! Amritsari Paneer Tikka is a delectable vegetarian recipe prepared with paneer, dried fenugreek leaves, garlic paste, ginger paste, carom seeds, and gram flour. You can pair this tikka recipe with your choice of drink, and it will be the best time you will have while having an appetizer. Try this Punjabi recipe and enjoy with your loved ones!
Amba Khatta
Let's have some Chutney. This dish is from Oriya kitchenette. It is an appetizing tangy chutney of mango. This flavour is subtle and meticulously spiced that will delight your guests 'palate. You can switchover mango with grapes. It is all the more apt for a summer season wedding. We bet that your guests are going to come to you again for the recipe. Keep it handy.
Gajarkahalwa
Now that is something without which a wedding buffet is incomplete..!! It is a candied Dessert treat. Make it by putting crushed Carrots in a vessel containing a measured limit of Water, Milk and Sugar and then cooking while stirring in uniform intervals till it's in the way you like. You can have it dry or with its stock. Garnish it with Cashews and Almonds. Pair Almonds and Cashews in Ghee for some time before you do the garnishing. Let's make your guests fall in love with you.
Fruit Kesari
Maybe you would like this one as dessert. The core ingredients are rava, fruits and dry fruits. Fruit Kesari is the South Indian form of Sooji-ka-Halwa. One of the two puddings is a must-have. It is the most loved vegetarian dish, which is not only healthy but soulful in taste. Let it be any festival or occasion; Fruit Kesari fits well everywhere.
​Jalebi
Jalebi is a popular Indian dessert made with maida and sugar syrup. Served during weddings, this dessert recipe is loved not just by kids but adults too. The crisp sugary spirals taste brilliant when served piping hot along with chilled rabri. Try this delicious recipe.
Puranpoli
How about this one? The Jaggery-stuffed Chapatti can be savoured with ghee or with a variety of Gravies. It is one of the traditional dishes of Maharashtra. It is equally famous with Gujaratis. Marathis use Bengal gram while Gujaratis use split Pigeon Peas. They call this dish Vedmi. You can serve it with Jaggery or Potato Gravy. Oh! I am hungry!
Gulabjamun
A sweet is a necessity in Indian ceremonies. This sweet is made with Khoya and Paneer. Khoya or Mawa is used to prepare Gulabjamuns. Khoya is dry evaporated milk which is obtained by continuously stirring the milk on a less flame till moisture evaporates. It is then moulded to round shape fried till it gets its rich brown colour and soft when you take a bite. It is dipped in Sugar Syrup to get that glace and that extra sweetness. Let's make your guests crave for more. Grab a bite.
Gulab Jamun is a quintessential Indian sweet made during special occasions like weddings. It needs some basic ingredients like khoya, milk and sugar. Unlike Rasgulla which needs to be cooked with a lot of care, Gulab Jamun can be prepared easily and pairs well with a number of dishes like samosa, kachoris and even custards and ice-creams.
Shahi Paneer
This North Indian recipe can be best enjoyed with roomali roti, butter naan and jeera rice. Cooked using paneer, yoghurt, milk, onion and a melange of spices. Creamy, aromatic and rich in taste, this is one of the best paneer recipes that can be cooked in wedding parties. Try it!
Veg Makhanwala
A popular dish on the Indian wedding vegetarian food menu list is the veg makhanwala; we must say there is not a wedding which won't have this dish.
It's got a rich, creamy taste to fill your mouth and is deeply enjoyed with naan, tandoori rotis and missi roti as well. Furthermore, it is also nutritious!
Wedding Cake
Last but not least you can have a wedding cake which was invented to bring fortune to all visitors and the couple. Nowadays, chefs and cake artists use different things to create a cake that usually depicts the theme loved by the couple. Gum Paste, Fondant, Cream, Marzipan and Chocolate are among the common ingredients used. Enjoy the wedding! And rest assured that your guests are completely satisfied with you.
Golgappa
Ah! Did it just make you mouth watery? What can be better to end a wedding menu than our very own GolGappa. Child or adult, everyone will love it and thank you for adding it. I am sure they are going to look forward to it. Make sure you get the hygienic GolGappe wala so that people don't hesitate to munch them. Trust me you will be doing a nice favour to kids. Have a blessed wedding.
Golgappa Bhel Puri is a North Indian chaat recipe which is made by combining the two most famous street snacks, Golgappa and Bhel puri. It is an ideal snack recipe for people who love spicy chaat!
Pinot Gris
Let's say cheers to the couple with this grape wine. Oh, it's a sweet wine famous in the land of France, the land of good food. 'Gris' means grey in French describing the fruit, which is a greyish-bluish fruit. The chilly climate and volcanic soil of its birthplace are perfect for its perfect sweetness. Cheers! To the newlyweds!
Expect to see the embodiment of the country's heritage and rich culture in the menu for the wedding reception when it comes to Indian weddings. How was the food? – is the first thing that anybody asks after you return from a wedding in India. The hosts' only goal is that every wedding guest returns with a satisfied and full tummy; in fact, the amount of food cooked during an Indian wedding is enough to feed an army. Food occupies such an importance in the Indian wedding scene.