Choosing a wedding date is one of the most important planning decisions that you'll have to make as a couple — it will impact every other aspect of your big day. You may have an idea of where you envision yourself walking down the aisle or what you want your cake to look like, but until you decide when you'd like to get married, you can't commit to anything. You might be asking yourself, "How do I pick a date that works for everyone and is still special to me?" or "Where do I even start?"
For every couple, the process is unique, and that's part of what makes your wedding date so unique to you. I hope that by sharing some planner insight — as well as my experience as a real bride — I can help you find the perfect time to say "I do." 
When considering dates for your big day (and factoring in the wedding dates to avoid), there are pros and cons to choosing a day in one of the most popular wedding months. On the bright side, most popular wedding months are in demand for a reason. These months are usually known for temperate weather, and they're not during super-popular travel seasons, so it may be easier for guests to book travel and accommodations. However, there is a downside to setting your date in one of these popular months. Demand for venues and vendors is likely high during these times of the year, so unless you have a super-long engagement, you might find certain vendors to be booked up. Also, some venues and vendors charge more during the "peak season," so you might find certain costs to be higher. 
There are so many things to think about when it comes to planning a wedding. How many people will come? What venue will you choose? What food will you serve? But before you can answer any of those questions, you probably want to decide when the big day is going to be.
According to wedding planners, there are better times of the year to get married than others — it all depends on your priorities.
INSIDER spoke to Lisa Kahn, owner of Lisa Kahn Events in Southern California, Renny Pedersen, owner of Chicago's Bliss Weddings and Events, and Tessa Brand, Southern California-based Tessa Lyn Events, to figure out what the best seasons are to get married in.
Choosing your wedding month and date is a crucial first step in the wedding planning process, along with selecting your venue, photographer, and caterer. The time of year in which you decide to get married will dictate a lot of your subsequent planning and will stick with you for the rest of your life (hello, anniversary).
Tips on Planning Your Wedding Date 
Take the weather into account.
The most popular months to get married are June, September, and October, and it's no surprise why — the weather is gorgeous in early summer and fall. In general, you can plan for weather based on records and standards, but always remember to continue to track it throughout your planning process as well.
I've planned weddings where we've encountered some unseasonably strange weather — those of you who live in California remember that December/January heatwave we had! — and the best way to deal with it is to add some cushion in your budget for items like throws or fans. Think about your guests and their comfort level.
Consider all the factors of an off-season date.
Getting married in January or March might help cut your rental venue fee down, but you have to be prepared to make sacrifices in other areas. For example, let's say that peonies are your absolute favourite flower, and you can't imagine having a bouquet with anything else. Depending on the time of year, it may be hard (if not impossible) for your florist to find them at a price that fits your budget. (In general, off-season flowers are costly.)
The same concept applies to Friday vs. Saturday weddings. Although a venue might be able to give you a break on their minimums for a Friday reception, be aware that the rest of your wedding vendors might not be able to.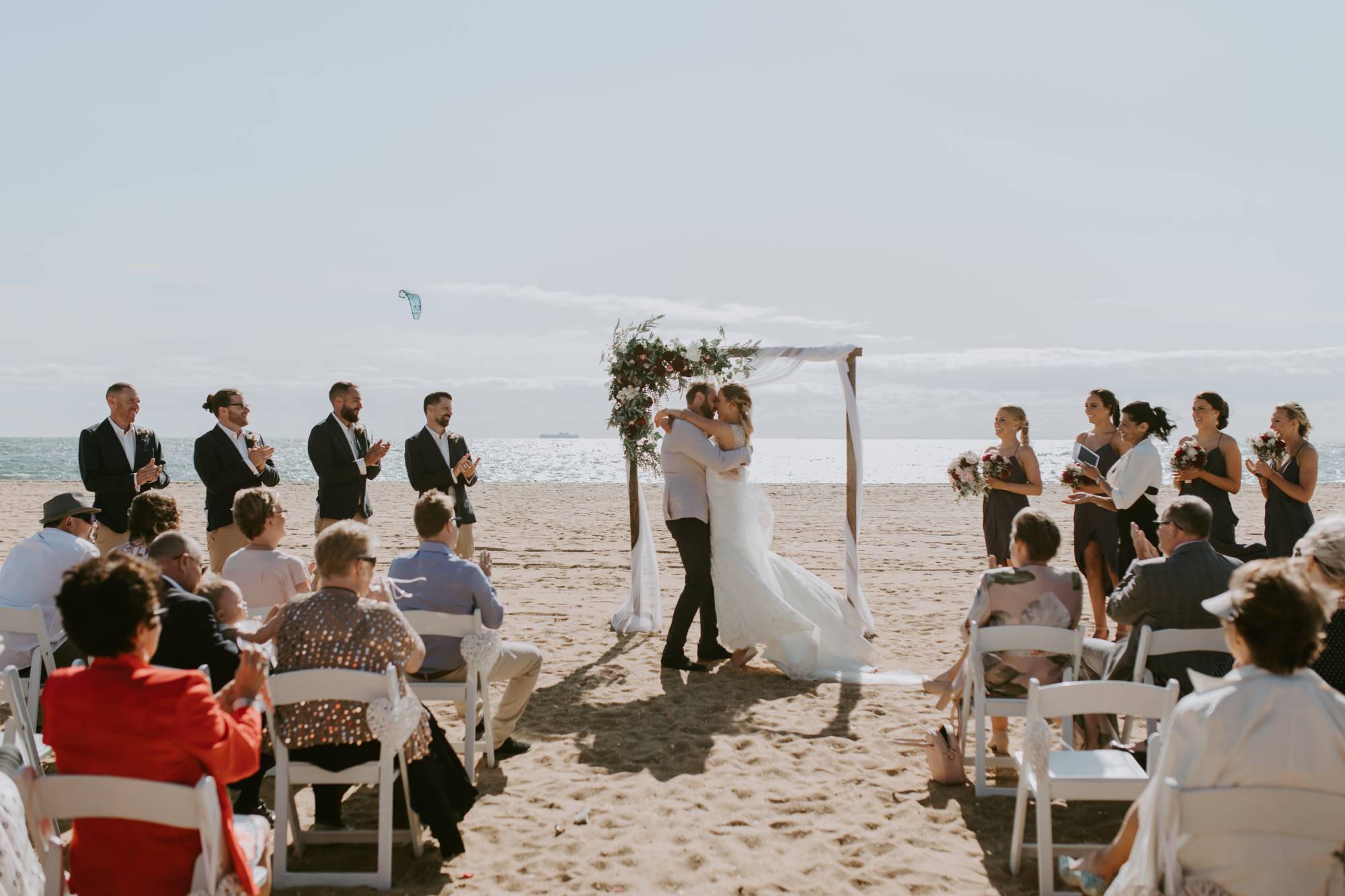 Lead the date selection process by creating a list of what you envision for your wedding day.
Imagine that your wedding day has finally arrived — what do you see? A lush rose garden as the backdrop for your ceremony? Vineyards dripping with grapes ready for harvest? Snow-covered mountaintops? By narrowing down your potential wedding date to one season (or two), you can cut down your options in half. 
Think twice before getting married on a major holiday.
In addition to Christmas, Valentine's Day and New Year's Eve, you may also want to reconsider tying the knot on religious holidays, event weekends (depending on your location), major sporting events, Father's Day and other holidays of this nature, and September 11th.
Although holiday weddings can be super fun and festive, your wedding date is something you want to celebrate for years to come because of the meaning behind it — not because it was also NYE. Another thing to keep in mind is the high costs that are associated with holidays weddings. For example, the price of roses during Valentine's Day is unbelievable, so having them on your big day could really put a dent in your overall budget.
But perhaps the most significant factor to consider is your guests. As much as they love you, do they really want to spend a significant holiday celebrating you instead of being able to observe them? Yes, your wedding is about the two of you, but you also want to make it an event that your guests are excited about and can afford to attend. Hotels, flights and car rentals can all get very expensive, especially during a holiday weekend.
Focus on what you want your wedding day to be and how to portray that on a date.
You should have your potential dates narrowed down to a month or two at this stage, and this is where it gets fun! Within the months that made it to the final round, are there any meaningful dates to you as a couple or as individuals? Do you want to honour a family member who is no longer alive by getting married on their birthday or anniversary? Are there any dates you want to avoid?
Give yourself plenty of time, and don't rush it!
I have planned full weddings in just a few months, and we've all seen how weddings can be pulled together within weeks on TV. However, what you might not be aware of is its cost to ensure that a big celebration can be executed quickly.
When a bride reaches out to me and asks if we can plan her big day in a short amount of time, I always tell her that anything is possible, but there might be areas that she will have to sacrifice. For example, a custom wedding gown can take over a year to create, depending on what you want. Also, your custom logoed favours, centrepieces or invitations may not end up exactly how you had planned.
Think about other aspects of your wedding and how they will all play out.
Now, depending on what other aspects of your wedding are important, you might want to keep an open mind to a few dates. What if your dream venue is booked or your favourite photographer is out of town? Better yet, what about the important people in your family? You will want to make sure they can attend! 
What is the Best Month for a Wedding?
June, September, and October are considered the best months for a wedding. June, traditionally, is the most popular month to get married, simply because of the mild weather. With that being said, there's no wrong time to get married to the love of your life (though it does help to have good weather).
In most parts of the country, the late spring through early fall months are typically thought of as "wedding season," but there is so much more to it than that. Let's walk through the year and look at the pros and cons of each potential wedding month.
Note: Keep in mind that while season matters greatly, geography is a factor as well. We have broken the seasons down very generally below. However, even still, a winter wedding in the Florida Keys is going to differ drastically from a winter wedding in Lake Tahoe, where the cold weather and snow hazards will be much more significant. Be sure to factor in your location when picking your perfect wedding month.
Spring
March, April, May
March comes in like a lion and out like a lamb. April showers bring May flowers. These are the traditional sayings that correlate with the spring months that we love so dearly. Emerging from the cold of winter, spring is such a welcoming time to host your special day. Without many calendar conflicts (St. Patrick's Day, Passover, and Easter are the only holidays in the spring), your spring wedding should see good attendance. And after the drab, loneliness of winter, your friends will probably be busting at the seams to get out and celebrate with you.
A spring wedding is a gamble, though, simply because the weather is so unpredictable. Will it be sunny and warm, or is a cold snap going to hit? Even still, the gamble may pay off if you can land one of those quintessential warm, flowery days. In April and May especially, you might begin to encounter increased pricing and competition with other brides for vendors and venues as "the season" set in. We're talking: wedding season.
Springtime is a season where your elegant taste may shine the brightest. For brides longing for neutral colour palettes, table settings filled with whimsical blossoms, and dreamy, romantic details—spring just may suit your fancy. You will also love this time of year to the creative types, as it can be the perfect outlet for DIY flower crowns, pistachio macaron recipes, and you in a side chignon to make their mark. And the weather's sweet breezes will bring a calmness to you—no bridezillas here! The gentle souls of springtime will find that even if all doesn't go as planned, as long as the day is filled with love, everything will turn out quite all right.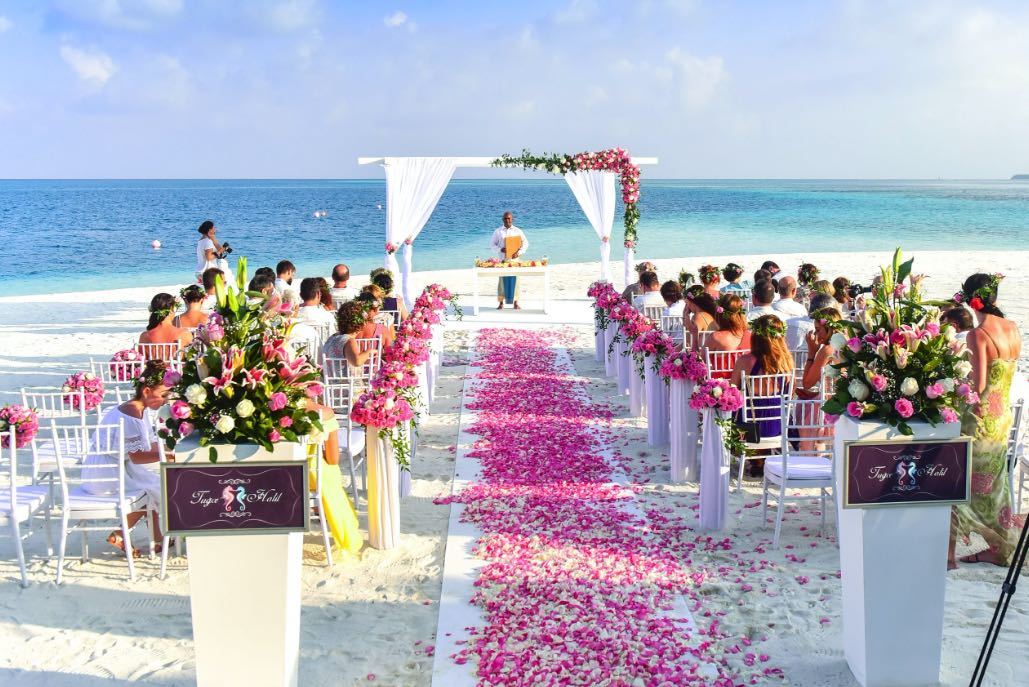 Summer
June, July, August
Wedding season is in full swing by mid-May, with June being traditionally the most popular wedding month. These hot months offer long days and vacation time. Many of your wedding guests will be able to get away from their lives to attend your wedding thanks to more relaxed work schedules and school breaks. Far removed from the winter holidays, your guests are more likely to have a little extra room in their budgets for travel and wedding gifts. An abundance of flowers and fruits are in season in the summer, so you will have countless floral options and your pick of delicious produce.
However, these sunny wedding months are not quite that simple. Rising temps is definitely something to take into account. While it may look like a glorious day outside, if it is 100 degrees, you are going to be one sweaty bride with a bunch of hot and sticky guests. You can also just go ahead and count on venues and vendors being harder to book with steeper prices because of seasonal competition. Finally, vacation plans or other weddings may conflict with yours when it comes to your guests' attendance.
Brides who pick summertime crave carefree fun! Most likely, they won't want to keep guests inside—these free spirits will be bringing friends and family out in the warm temps with mobile bars, backyard rendezvous, or ceremonies on the beach. Type-A personalities can come alive in the summer, looking to showcase gorgeous statements like an arch filled with roses, olive branches and colourful veronicas, sparkling outdoor chandeliers, or even a decked-out getaway car. Perhaps you'll be so inclined to create a theme for the evening, a la Havana Nights or Seaside Soiree—whatever your heart desires!
Fall
September, October, November
Oh, fall weddings, how loved you are! There is something so magical about the changing of the leaves and the cool, crisp air. A fall wedding month will make for cooler temperatures, happier party guests, and fewer bugs. And with a plethora of pumpkins, there are some very festive and unique wedding themes to embrace.
In these wedding months, possible conflicts include the beginning of a new school year, Halloween, and Thanksgiving. There are also fewer flowers in season, so you may have to be willing to re-imagine your ideal floral arrangements. And if you and your partner are football fanatics, a fall wedding month might prove difficult to schedule around big game days. What if you accidentally plan your wedding for the most important match-up of the season?
Destined for the eternally trendy, fall is when most of the latest fashions emerge from the elite creative enclaves. You're likely already in tune with them—whether you're showing off chic and sleek palette colours or filling up with printed materials—from colour-blocked invitations to off-the-cuff designs on your table seating cards or even funky china patterns on your gift registry. You may be more likely to wear a different colour dress—like Chrissy Teigen's red number or Zosia Mamet's daring black gown. And like many of autumn's weather patterns, you're also a bit unpredictable. It's no wonder you'd consider treating your loved ones to a pre-planned dance number with your new spouse or bringing guests out of the reception venue to witness a surprise fireworks show!
Winter
December, January, February
A winter wedding month can be a hidden gem. Gleaming fireplaces, evergreen trees, snowy winter landscapes, less wedding competition (and thus negotiating prices), and more vendor/venue availability make a winter wedding very appealing for couples. There is something so romantic about wrapping up in warm blankets in front of early sunset and clinging to each other for warmth.
But for all of the pros, there are still some cons to a winter soirée. Depending on your wedding location, getting snowed in (or out) could be a factor. There is less green outside, making for less picturesque landscapes that might force your wedding photo session indoors. And Hanukkah, Christmas, and New Years. While these holidays are considered "the most wonderful time of the year," they can create many conflicts for your special day. Travelling can be more expensive and rugged around the holidays, not to mention that money will most likely be a bit tighter for people, too.
Those who wed in winter are eternal optimists—they'll see beauty in all things, especially magnificent, white backdrops. If you're a snow-loving type of gal, your eyes will be found twinkling with flakes at the thought of a horse-drawn carriage, a blazing fire during the reception, and the aroma of pine and cinnamon filling the air. Your cold-weather colours of choice may be fairy-tale evergreens and bright reds, or even icy blues or silvers. Wintertime brides will be content simply with their essentials—in this case, hot cocoa, rustic elements, a cozy stole, your spouse, and the ones you love around you keeping toasty and dancing all night long.