Here's a little secret: No matter what kind of wedding you have, it's bound to be a fantastic reflection of the two of you. From the formality of the day to the food and the entertainment, every choice you make is a chance to reveal a few of your identities, both as individuals and as a couple, to your guests. But if you're looking to play up the personality, focus on the details.
Who says your reception is the only fun part of your wedding day? There's no reason why your ceremony shouldn't be as exciting, meaningful, and inventive as your reception, right? We think yes, and that's why we enlisted the help of planners from around the country to talk about the wedding ceremony—and specifically, how to personalize it. We've picked their brains on everything from cocktails to vows to the final applause.
Too busy with life to really plan your wedding in detail? Have someone else do it for you and check out our list of Wedding Planners in Melbourne to help take the stress away.
Your wedding day is all about you and your partner, but sometimes your personalities and opinions can get lost in the traditional decorations, outfits, and food. Here are seven ways you can easily make your wedding a little bit more personal.
Choose your playlist.
Instead of relying on the DJ, who will probably play some cheesy classics whether you ask for them or not, make your playlist filled with your favourite songs. You can include music that has real significance to you and your partner and can tailor it for all the different parts of the wedding day. All you need is a laptop, MP3 player, or iPod, and a set of speakers, and you're all set.
Project images of you and your partner
Hire out a projector and, à la Pippa Middleton and James Matthews, use it to project photographs of you and your partner. You could launch the images anywhere you want, whether that's on a wall inside the venue or against a screen outside. Make sure to include some of your oldest friends as well so that you can all spend the night reminiscing over your younger years.
This trend is becoming increasingly popular, so you will need to be imaginative with your hashtag to avoid matching someone else's. A unique hashtag is not only a way of personalizing your wedding; it is also a helpful way to keep track of the photos from the day and anecdotes that you may have missed. You can make a big sign to let everyone know what it is or add it to the wedding programme.
Write your vows.
Writing your vows is the ultimate personal touch to any wedding. It will allow you to tell your partner how you truly feel and show them how much you care. Your vows don't have to be gushy and romantic, though; if you both have a sense of humour, you can write funny or silly vows. Just make sure that somebody is videoing the ceremony, so you don't miss out on that magical memory.
Custom cake toppers
There are loads of options for cake toppers out there. You could get somebody to custom-make your toppers so that they look exactly like you, like the ones below from Character Creations; you could get your names made out of wire, acrylic, or wood; or you could create your own at home. The choices are endless, so make sure you choose something that truly represents you and your partner.
Use old photographs
Instead of using table numbers or place settings, why not ask your friends and families for nostalgic photos of them before the wedding and use them to indicate their seats or tables? Another option is to create a display of old photographs, such as your parents and grandparents on their wedding days, for people to look at as they enter the venue. 
Personalized wedding favours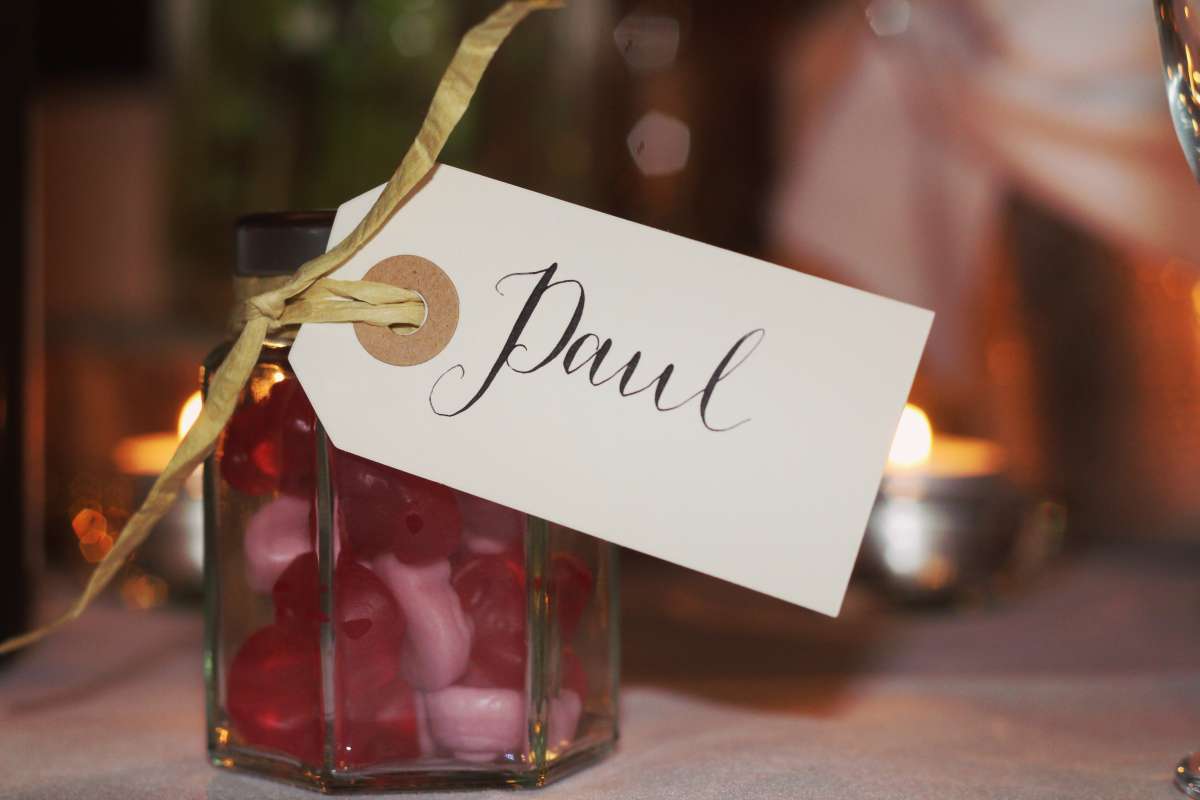 Create your wedding favours instead of buying pre-made ones like sweets. Get in touch with a local artist or draw your design, and get it turned into enamel badges, stickers, or even jewellery for people to take away with them. You could include your wedding date, caricatures of you and your partner, and items and symbols representing your relationship. 
Personalize the Program
For starters, you want to design a program (and print it) that is personal to you as a couple. Include fonts you love, fun facts, and readings and song selections unique to you.
Meaningful Venue & Location
Let the setting of your weddings allow you to share your love story. Select the city where you first met, a museum where you had your first kiss, a hotel you visited together during your courtship, or a venue near the spot where you became engaged. The options are endless!
Invitations & Paper Goods
Allow your invitations and the stationery used throughout your wedding to show off your personalities. If you love to travel together, why not incorporate a passport theme for your paper goods? Even adding a custom monogram or motif will help your personalities shine through.
Host Cocktails Before the Ceremony
Start the celebration as soon as guests arrive by hosting an hour-long cocktail party before the ceremony. This will give everyone a chance to mingle and ensure that even your chronically late college roommate will get there in time for the main event. Keep it simple by serving just one festive cocktail or champagne. You'll have more time for cocktails later.
Tease Their Taste Buds With a Snack
Give your guests a light bite as they're waiting. This is a time to serve a favourite dish or give a preview of what's to come—whether that's an Italian-inspired feast or your aunt's world-famous soul food.
Plan Pre-Wedding Activities
If you're marrying at an excellent location like a museum, zoo, or scenic mountain top, give your guests the option of taking a fun behind-the-scenes tour before your I dos.
Welcome Boxes 
Ideal for out-of-town guests, we recommend providing a welcome bag or box filled with your favourite snacks and beverages. This makes your loved ones feel special, and it's also an excellent opportunity to share some of your favourite things with friends and family.
Weekend Itinerary
If you're having a destination wedding weekend or if many of your guests will be travelling to your weddings, consider providing an itinerary for an entire weekend complete with activities you enjoy. For larger weddings, supply a list of your favourite spots in the city for guests to check out once the festivities are over.
Honor Late Loved Ones
An easy way to personalize your wedding and make it meaningful is to honour your late loved ones and family members who are no longer with you. Some couples do this by having a table with photos at the ceremony or reception, while other couples choose a subtler route.
Personalized Aisle Runner
One of the most beautiful visual ways to personalize your ceremony is to have a custom aisle runner featuring your monogram. 
Sharing Your Favorite Foods
Whether you do so during cocktail hour, the dinner service at your reception, or by way of late-night snacks, more and more couples are selecting fare that they love to eat – at formal events and laid-back dinners at home. Talk to your caterer about crafting high-end versions of your favourite comfort foods.
Signature Cocktails
Perhaps you and your beloved have a libation that you love to share after a tough day at work, or you each have a favourite drink that you always order at the bar. In addition to beer, wine, and well drinks, have one or two signature cocktails that guests can enjoy – while learning more about your beverage (s) of choice.
Meaningful Escort Cards
Instead of having a calligrapher, write your guests' names on escort cards; get creative! Make guests feel special by incorporating personal photos instead of traditional stationery or have an illustrator create custom portraits of each guest.
Adorn Your Guests With Favors
Gift your guests with boutonnières and fresh-flower hair clips. Arrange them on trays near the beginning of the wedding aisle. If your wedding has a distinct theme, wearable favours are a great way to set the mood. Looking for the Top Wedding Planner in Melbourne? Look no further and check out our ultimate list of Wedding Planners here.
Specialty Wedding Favors
More and more couples are skipping favours that end up in junk drawers and choosing more personal options. Share your famous limoncello recipe from a vacation you took together, or have your grandmother bake homemade cookies instead.
Include Your Pets
Even if your venue restricts your dog from walking down the aisle with you, there are many ways to include your furry friend without them being present. Name a cocktail after them or incorporate their drawing in signage or other paper goods.
Create Your Special Dances
If sharing your first dance doesn't feel quite right without including your son or daughter, by all means, include them! We've also seen couples extend the traditional mother-son and father-daughter dances to include sibling dances as well.
Personalized Notes
One way to personalize your wedding and make every guest feel special is to provide your loved ones with handwritten notes thanking them for being with you on your special day.
Write Thank-Yous Ahead of Time
Make guests feel welcome from the moment they arrive by writing them personal notes and leaving them at the ceremony entrance. Another plus: By giving cards, you can skip the receiving line, giving you more time for photos at the reception.
Have Fun With the Ring Bearer
Have your adorable ring bearer carry your bands on something unique, like a personalized pillow, a memento box, or even a pet! Oh, and let the ring bearer have fun with his attire, too. You know this little guy feels oh-so-cool in his bowtie and shades.
Add Pizzazz to the Flower Girl's Style
These little ones are special to you, giving them props to make their role even more fun. We'll always love a fancy tulle skirt, but we're super into the idea of a cat-shaped purse if you're fellow cat ladies.
Bring Meaning to the Bouquets
Have your girls carry your favourite flower or one that's special to you. For instance, if your late grandmother's name is Rose, it would be sweet to have a bouquet of roses in her honour.
Before the wedding, write a letter to your partner—and they should do the same for you. During the ceremony, place love notes and a bottle of wine in a box and take turns hammering it shut. Open it on your 10th anniversary.
Choose Meaningful Processional Music
Meaningful processional music is a must. Is "Sweet Child O' Mine" your song? Play it. Pick a song that speaks to you and your relationship.
Go Nontraditional With Your Walk
Buck tradition and walk down the aisle with your guy. It's a poignant and sweet way to kick off your new life together.
Flout Your Favorite Words
Put a calligraphed runner behind the altar—or even on the ground for your walk down the aisle. This is a great place to showcase words that are meaningful to you, whether they're your vows, lyrics from a favourite song, or a verse from a ceremony reading.
Show off the Backdrop
Place something pretty behind the altar. May we suggest a circle installation, a flower-filled display, or—even better—the Pacific Ocean.
Ask Your Bestie to Officiate
Are you not having a religious ceremony? Ask a friend to be your officiant. (It's free to get ordained online through the Universal Life Church). 
Switch up the Ceremony Structure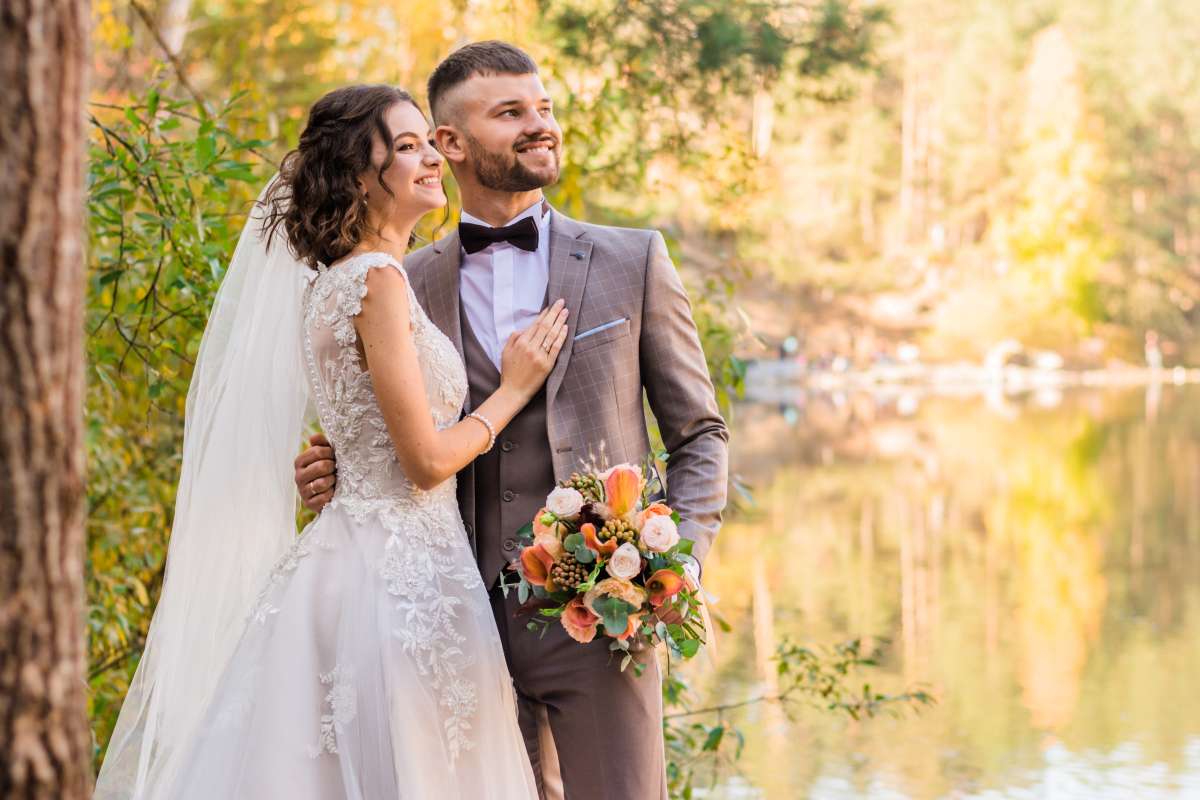 Seat guests in a circle around the altar. You'll feel surrounded by love. Or you can wind your way through your guests during the processional. Create a winding aisle when it works out with the layout of the venue. It can look whimsical, and this way, the bride, gets to walk past more guests than if it were just a straight line down the aisle.
Write Your Vows
You can make these what you want them to be, but we love the idea of reciting passages you've written to each other or exchanging promises in unison. But no matter your delivery, make sure you're on the same page to ensure they're the same length and equal parts romantic and funny.
Mad Lib With Your Guests
Want to write your vows but don't know where to start? Fill in the blanks and get inspired. And if that's not an idea for you, no worries. You can always make a game of it by including your guests in fun at cocktail hour.
Choose an Alternative to Readings
Forgo readings and ask a few people to stand up and share their marriage wisdom. Make sure to ask them to keep the speeches short politely.
Do you have musically talented friends? Ask him or her to sing a meaningful song during the ceremony instead of reading.
End the Vows With a Dance
Don't wait until the reception for your first dance. Ending your vows cheek to cheek can be lovely. Or, you can liven the tempo with a fun dance down the aisle.
Hire an Artist
Capture this sacred moment forever in the form of a custom oil painting or watercolour. This gift is something you'll be sure to cherish in your new home together. It also provides a fun talking point for guests during the cocktail hour.
Acknowledge Your Special Guests
Share the joy by stepping into the pews for a quick hug from your BFF, grandmother, nephew, etc. Take your time, and don't feel rushed.
End It With a Toast
End the ceremony on a celebratory note: Have the ushers pass around your favourite drink (single-malt scotch or tequila shots and lime) and make your first toast as husband and wife.
Exit in Style
Nix the tossed rice and have guests wave ribbon wands or sparklers as you exit the ceremony. Or place party-store tambourines, kazoos, and other noisemakers on seats so guests can jam while you walk out.
Conclusion
While selecting your desired colour palette can be seen as personalizing your celebration, many brides and grooms choose to take the customization process a bit further to design an event that feels genuinely unique to them. After all, you'll be spending months planning the details of your special day, so why not make sure each one shares a part of your personality or love story? Check out our ultimate list of Wedding Planners in Melbourne to help you organise a stress-free wedding.
From the location itself to the emblem on your paper goods to subtle elements that will make your guests feel extra special, we love when couples infuse their backgrounds into the big day. Your wedding is a day that celebrates your love, and we think that it's an excellent opportunity to be a reflection of who you are as a couple. Instead of hosting your loved ones for a party, take them on a journey of your story and share all of your favourite things with all of your famous people.