Wedding jewellery is an integral part of the bridal look. It is your big day, so choosing the right kind of jewellery is important. Choosing bridal jewellery can be very overwhelming. There is an array of styles of jewellery available for your wedding day. So, it is difficult to choose the right kind of jewellery based on your skin tone and wedding dress. It is your big day, so leave no stones unturned to get yourself the best jewellery. The goal is to find the right jewellery items that complete your look and adds elegance to your beauty. Getting the right necklace, wedding diamond band, or earring is a challenging task. The aim is to get exquisitely crafted jewellery pieces that are authentic yet do not require that you spend a fortune on them. People often find it a little difficult to get the right jewellery items for the wedding.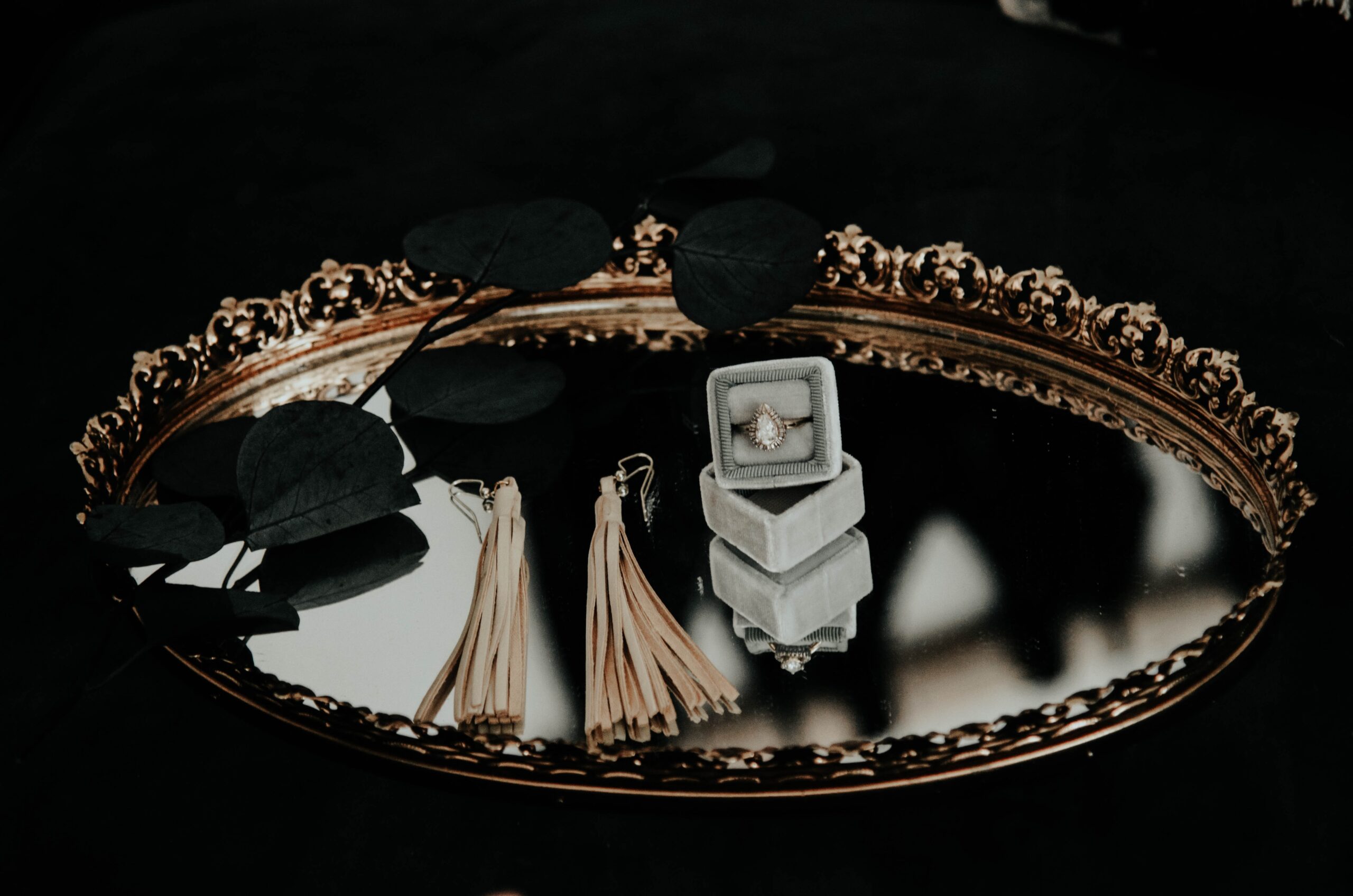 Which Jewelry Fits Which Wedding Dress
When choosing jewellery for your wedding dress, you should pay attention to the wedding dress's fabric, neckline, and processing details. If you use a necklace adorned with stones in a wedding dress with stone adornment, you may strain the eyes of people watching you. All you have to do is choose a simpler pendant and avoid looking too complex.
The bride's hair and bridal crown models should also be considered in the selection of jewellery. If you used your hair open on your wedding, the eyes would be on the necklaces, rings, and bracelets rather than earrings. If you have a bridal bun, an elegant earring that fit your wedding dress can make you look very nice.
Brides with short stature or small face should stay away from shaky and big earrings. If you are using a big, shaky earring, take care not to use a necklace. You can prefer a ring and a bracelet instead. If you do not have thin and elegant fingers, you should not use thick, large rings. Short ladies should not use leash type necklaces because they make their necks look even shorter.
Your jewellery that is compatible with your wedding dress and your hair as a whole should not prevent your beauty. Instead, it should help to reflect it. Don't overshade your beauty just because a single jewellery piece looks so assertive, trying to catch the harmony.
At Temple and Grace, we have a huge range of jewellery Sydney.
Jewellery Which Will Complete Your Wedding Dress
Are you ready to meet the bridal jewellery that will sparkle your most special day? You can be a perfect bride by choosing a jewellery piece suitable for the style, details, and cut of your wedding dress. Do you wonder how? Of course, by choosing jewellery such as necklaces, earrings, bracelets, and bridal sets which are indeed wedding jewellery, you can use to complete your wedding dress. The accessories you use must match your wedding dress to make the most stylish combo and the bridal model that night where you feel like you are on the cover of fashion magazines.
Just follow the tips to choose the right pieces to support your style while not overwhelming your wedding dress. Bring the right wedding dresses and jewellery together to dazzle and shine. Sometimes a small necklace can help you, and sometimes a flashy earring can be your best friend. Here are different suggestions for different wedding dresses!
The Top Rules for Accessorizing Your Wedding Dress
Match Your Metals
You may not realize this, but some metals look better with certain dress colours. As a general rule, ivory is best paired with gold since it highlights the fabric's creamy tint. For a pure white dress, choose accents in silver or platinum or with pearl detailing—gold may clash with brighter white hues. You can have your pick with a diamond-white gown—this barely off-white colour looks amazing with yellow gold, rose gold, silver or pearls. If the dress you chose is already embellished with beadwork, let that dictate your accessories' colours. For example, if your gown has gold beading, pick a necklace, bracelet or earrings with a gold base. 
Less Is More
You don't need a veil, tiara, earrings, necklace and a sash. Accessories add a unique touch to your look—which we love—but one too many can be downright distracting. Before you start buying, take an inventory of your gown's standout features and then base your choices around them. If your dress has an ornate neckline, opt for a pair of drop earrings instead of a necklace (that might look too busy). For a gown with a simpler style, try a bold statement necklace or fascinator. When it comes to earrings, take a cue from your hairstyle. If you're leaving your hair down and over your ears, small studs or drops will do. But for an updo, you might want something a little more dramatic, like a pair of chandelier danglers. It's always a good idea to avoid designs that closely mimic the embellishments on your gown—you don't want to look too matchy-matchy. 
Know Your Veils
The veil is the iconic bridal accessory. From flirty birdcages to regal cathedral-length styles, there's no shortage of options. But there are a few things you should keep in mind as you narrow down the type of veil you plan to wear. First of all, you'll want your veil to match the exact shade of your gown (colour blocking is better left to your day-to-day look). And be mindful when choosing a style—if your dress has a lot going on, stick with something simple that won't steal the spotlight. If showing off the back of your dress is a must—say, you have gorgeous embroidery or beading—choose a sheer veil rather than one with two layers of tulle. Lastly, Consider your body type: Longer waltz or floor-length veils will elongate a petite frame while mid-length styles, like fingertip or elbow-length veils, can visually cut you in half, making them a better pick for taller brides. Like a birdcage or bandeau, short styles work for all shapes and sizes and lend a fun, retro vibe to your gown.
Top It Off
Are veils not your thing? From hair combs to fascinators, there are plenty of other ways to top off your look. Choose your hairstyle before you pick your accessory since some types will look better with updos than others. A flower crown, for example, is best with loose locks. You should also consider your hair type—dainty accessories may be perfect for fine hair, but won't be as noticeable in thick waves. Most importantly, make sure whatever you pick feels secure while you're moving around. 
Think Beyond Jewelry
Looking for a super-simple way to add a bit of personality to your wedding dress (and help create the illusion of curves)? Add a belt or sash. Just because your dress doesn't come with one, doesn't mean it won't look great—a fashionable fastener is an easy way to customize your gown and change its look without having to make expensive alterations. And whether you go with a classic satin sash or metallic leather belt, it will give your dress an instant upgrade. The key to choosing the right waist-cincher is to find one that works with your body type. Thin belts are best suited to short torsos, while wider belts work well with longer ones. If you're an apple shape, think about a beaded or heavily embellished belt to flatter your midsection. If you're petite, a belt with V-shape appliqué will elongate your body. As a general rule, stick with a style that's no more than three-inches wide—you don't want to overpower the rest of your gown. 
Keep It Comfy
No outfit is complete without the perfect pair of shoes—and your wedding day look is no exception. Of course, you'll want a killer pair to go with that gorgeous dress, but that doesn't mean you have to compromise on comfort. Don't forget: You'll be standing for long periods of time, and you don't want to be cringing in pain before you've even hit the dance floor. While shopping, consider the heel's height (obviously the taller you go, the higher the pain potential), the type of straps and the material. Your feet need to be well supported (think: ankle and toe straps overslip-on) to avoid instability. Look for high-quality natural materials. They're infinitely more comfortable than synthetic ones and are also a lot more durable, meaning you'll be able to wear them again.
For the best fit, go shopping at the end of the day, when your feet are swollen from activity, and give yourself plenty of time to break in your new kicks before the wedding. Wear them around the house a couple of weeks prior to the day, noting any areas that are prone to blisters. To make your shoes more comfortable, consider buying moleskin, heel grips, strap stickers or gel insoles designed specifically for heels. Are shoes too strappy to conceal an insole or grip? Pick up a spray, wax or cream that protects against friction or provides anti-inflammatory pain relief to keep your feet happy.
Cover Up
A stylish cover-up is a must if you're getting married during the cooler months or at a house of worship that requires you to cover your shoulders. From boleros to capelets and fur stoles, the options are endless. (Bonus points: It makes for an easy transition look between your ceremony and reception.) The key is to choose one that strikes the perfect balance with your gown. Simple, understated styles can be paired with more embellished cover-ups, like a beaded capelet with scalloped edges or a bold sequined or feather bolero for added personality. For already ornate gowns, try a more minimal accent to avoid looking too over the top. A delicate lace jacket, sheer tulle cape or a chiffon wrap will keep you warm without competing with your gown. Another option? A classic cardigan, the perfect complement to a rustic or more laid-back affair. 
Consider Your Décolletage
Pairing your neckline style with the proper adornment can add character to your wedding gown, or even highlight a unique feature. 
If your dress is a sweetheart or strapless, skip the necklace and focus on an elegant pair of chandelier earrings instead. Wear clear crystal for a sleek look, or add punch with a hint of colour. Try using a meaningful gem, like your birthstone, or pick a hue from the flowers in your bridal bouquet. If you're going for a flirty, fresh look, include two or three small fresh or silk flowers in your hair to add a soft, organic feel. Vintage elegance more your style? Pay homage to the past with an art-deco-style bracelet or some roaring twenties–inspired feather barrettes.
Got a V-neckline going on? Whether you opt for a pendant or choker, this style begs for a little décolletage decoration. A thin chain with a simple pendant, like a locket, is an elegant way to accessorize, while pearls (single- or double-stranded) are always a classic choice. If you're going for a more decadent look, a crystal choker or statement necklace with matching earrings could be the perfect combo.
And if your gown is halter (or reverse halter), think about what's best for a shoulder-baring style: Skip the necklace and focus on dressing up your tresses. Headbands are a great way to add panache to your wedding updo, be it a sleek bun or loose ponytail. But if headbands aren't quite your style, try adding some sparkle to your hair with intricate crystal hairpins. If you've got a curly mane, five to seven hairpins are the perfect number, while brides with thinner locks (or shorter hair) need fewer—just two or three pins will do the trick.
Stick to What You Know
Although it's a special day, don't stray too far from your normal style. If you rarely wear jewels, there's no need to drown yourself in diamonds on your wedding day. The goal is to look and feel like the best, most beautiful version of your regular self. 
Wedding Jewelry Do's and Don'ts
DO mix borrowed with new.
Long gone are the days where everything is matchy-matchy. Boring! To look put together, cohesively express your style. The finish of your jewellery should be similar, but feel free to mix and match, as long as the general shape and/or era echo the same tone. This is the perfect opportunity to blend your something borrowed (think: heirloom) with a new piece. You can incorporate your grandma's vintage brooch or your mom's favourite bracelet and still exercise your style.
DON'T wear a necklace with this season's asymmetrical gown trend.
A one-shoulder gown is already a statement in itself. Adding a necklace to your look is a definite no-no. Not only will it have you looking unbalanced, but it ruins the interesting line of the gown and stops the flow of the eye to your face. Opt for a spectacular pair of earrings and a bold cuff.
DO bring your headpiece when trying on earrings.
If you're wearing a headpiece, make sure you bring it when selecting jewellery -- especially earrings. You'll need to consider proportion and the finish of the embellishments, not only against your face but also against the line and style of your gown. The goal is to enhance your look, not add competition.
DON'T wear a watch.
We know you have a schedule to keep, but this is your day, so skip the watch and let your planner or family handle timing. Think of all the close-up shots of your hands -- at the altar, with the bouquet, your wedding bands -- there are few things less elegant than donning a wristwatch. Choose a shimmering bracelet instead.
DO mix finishes: your ring is its entity.
Pay no mind to the finish of your wedding band when selecting a finish for your bridal jewellery. What you should think about is the "season" of your skin, the colour of your gown (I'm partial to antique finishes for ivory and pastels), the colour of your gown embellishments and your wedding vision (go shiny for classic and modern, antique for rustic and vintage, etc.)
DON'T over-accessorize.
The last thing you want to look like is you and your 5-year-old niece were playing Pretty Pretty Princess before walking down the aisle. For extreme-chic looks, I love the "less is more" concept. If you want to make a statement, choose one part of the body to accentuate with a large piece, and balance the rest with small baubles. For a traditional affair, you're almost always safe with earrings and bracelet combo.
DO give yourself enough time!
Bridal jewellery is all too often lumped into the "accessories" category and barely mentioned against its counterparts: shoes, hair and handbags, yet it's such an integral part of pulling together your look. Make sure you select your jewellery for three months (minimum!) before the wedding. This way, you'll have time to receive your order (pay attention to delivery times for custom jewellery), try it on during your gown fitting, and make any necessary exchanges.
DON'T compromise personal style.
This isn't the day to try something new or go out of your comfort zone. All too often, I've seen brides head for trends, rather than expressing their true style. There's enough to stress about on the day, much less adding the feeling you're out of your skin. Go for classic beauty, and you'll walk tall and enjoy your pictures for a lifetime.
DO incorporate colour into jewellery.
It was shades of pink, and now it's passionate red. Or is it Tangerine Tango? Whatever your colour scheme, incorporate a matching or complementary hues into your jewellery. If you're walking the aisle in white, but want to add some pizzazz, try fun jewel-toned earrings. Or, gift your bridesmaid's colourful pieces that can be worn in everyday life too.
DON'T cut corners -- quality lasts a lifetime.
Every girl has her budget -- especially in this economy --, but your wedding is not the time to go cheap on accessories. Those to-die-for Jimmy Choos you'll only see in that wedding shot where you lift your dress? Awesome. Teen store earrings in every shot? Not so much. Choose quality pieces you can wear again and maybe even pass on to your daughter someday.
DO wear your wedding jewellery after the big day.
Unlike most everything you'll purchase for your wedding, your bridal jewellery is something you can wear on multiple occasions: your honeymoon, anniversary, formal events -- and depending on the style -- perhaps to dress up an everyday look. Again, if you buy quality, it's an instant heirloom.
DON'T wear wire earrings.
Unfortunately, wire earrings often fall under the category of handmade (and of course, cheap, which I'm fully against). I don't mean to discourage the DIY girl or a wonderfully thoughtful gift, but here are my two cents: wire earrings are too informal. Just don't do it.
DO change jewellery for the reception.
By now, you know that simply changing your jewellery can completely change the look and feel of your wedding style. So even if you aren't letting your hair down or changing dresses, this is the perfect opportunity to try those statement earrings you loved or add bangles to make a stack (after all, you won't have to worry about clanking noises once the party's started)!
It may not be easy to try your jewellery on with your dress before your wedding day, but it's always better to try just in case the jewellery you've picked looks different once you've got your dress on. We also think that it's essential to wear jewellery, like what you wear every day.
This might seem a bit strange at first, but if you are used to wearing silver as your everyday essentials, you might feel strange wearing yellow gold on your wedding day. If you're not used to wearing a statement cuff or earrings but think they would look amazing on your wedding day by the end of the reception, heavy earrings will certainly feel uncomfortable if you're not used to them.
However, this doesn't mean that you can't wear some jewellery just for the ceremony or the reception. Swapping the studs, you wore to the service for a pair of party earrings for the evening can help get you in the party mood after a long and tiring day.