It's common for brides to spend many months finding their perfect wedding dress, while not as much thought goes into finding the perfect groom's suit, and this can end up being left until the last minute.
While finding your husband-to-be's ideal suit might not be as high up the priority list as securing the wedding dress of your dreams, there is more to it than walking into a department store and picking up the first navy wedding suit you set eyes on.
Looking for the ultimate Wedding Reception Venue in Melbourne? Look no further, Vogue Ballroom is here. 
When is the best time to order your wedding suit?
Although couples marry all year round, high season is May to September, which means there are periods of increased demand at suit hire companies. September through to January is the busy enquiry stage when grooms and their best men are doing their initial research. January through to April/May tends to be when grooms and their groom's men order their outfits.
If you're hiring your suit, don't leave it too late, particularly if you are marrying on a Saturday in high season, or around the time of other periods of high demand such as race meetings and especially if you are hoping to hire a number of identical suits for a big grooms party.
Another thing to consider is the variety of sizes needed. If there are ushers or relatives needing exceptionally large sizes (i.e. up to a 60in chest) or very small, junior versions of the same suits, these may need to be sourced from other branches.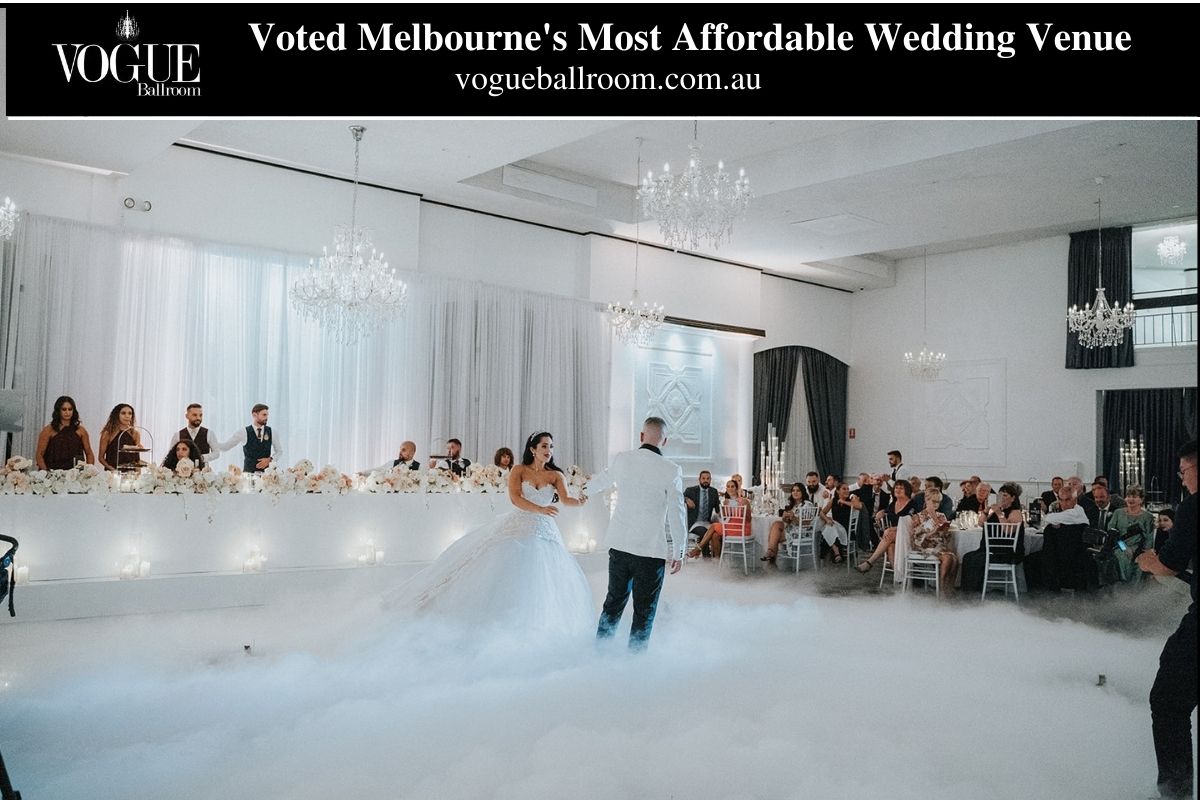 When should you collect your wedding suit?
Most hire specialists will have your outfits ready for collection a week to ten days before the big occasion so that you can have a final fitting and make sure that no sizing errors have been made and no-one has lost/gained too much weight. Never leave it until the day before.
Read on for our advice on Which Colour suit is best for a wedding?
When does your wedding suit need to be returned?
Outfits are usually returned the first working day after the wedding. This is no job for a newly-married groom, so ask your best man to return it on your behalf.
What happens if any of the wedding suits are damaged?
Most rental agreements will include an accidental damage waiver payable with the hire fee so standard rips, tears and marks will be covered. However, top hats are often not included under this policy because so many over-excited groomsmen throw them into the air and lose them! Never attempt to wash or sponge wine or grease stains because you will invariably make it worse. Leave the cleaning to the experts.
Groom's Calendar
10-12 Months Before:
Pick out the engagement ring (if not yet selected).

Announce your engagement.

Discuss wedding plans and budget with fiancée and all parents.

Select your best man, groomsmen, ushers (one usher per 40 guests).

Help plan engagement party.

Discuss ceremony and reception sites, with your fiancée.

Attend a Bridal Show to receive special discounts and start getting some ideas.
8-9 Months Before:
Meet with the officiant (minister, priest, rabbi, etc.) to discuss the ceremony.

Start compiling your guest list.

Begin making your honeymoon travel plans.
6 Months Before:
Visit gift registry with a fiancée.

Arrange for transportation to the ceremony, and reception for the wedding party.

Complete your honeymoon plans.

Register with nearest Tip Top Tux location and pick your tuxedos and accessories. Have a list of attendants including Best Man, Groomsmen, Jr. Groomsmen, Ring Bearer, Fathers, Grandfathers, Ushers (one per 40 guests), and a list of any other attendants.
3 Months Before:
Send Tip Top Tux Size Cards to any out-of-town members of the wedding party.

Complete the guest list.

Pick out and order wedding rings.

Pick out and order groomsmen gifts.

Plan rehearsal dinner with parents.

Choose gifts for your bride and wedding party.

Update passports for honeymoons abroad.
1 Month Before:
Make sure all men have been measured for tuxedos at Tip Top Tux.

Get your marriage license.

Make appointments for personal grooming.
2 Weeks Before:
Attend a bachelor party (please don't drink and drive).

Adjust insurance policies, bank accounts, utilities, etc.
The Week of:
Pick up your tuxedo at Tip Top Tux… remember, try it on, in the store, to ensure a proper fit.

Pack for the honeymoon.

Get cash for gratuities and officiant's fee.

Take a deep breath… you're almost there.

Enjoy your rehearsal and dinner.
The Big Day:
Double-check all details, wedding rings, and transportation… marriage license.

Get to the ceremony on time.

Relax and enjoy your wedding!
The Day After:
Return the tuxedos to Tip Top Tux.

Drop off the bride's gown to be cleaned and preserved at Tip Top Tux
We often talk about finding your dream dress, but what about finding your dream wedding suit? The search for your perfect blazer and trouser combo can be just as epic and challenging, and it can be tempting to settle for the first thing you try on! But wedding suits are reasonably large investments, so it's only fair that you walk away with something you're smitten with!
It helps to do your research so, today, we're bringing you some handy tips to make suit shopping easier, faster and less stressful for all involved. Follow this expert advice, and you should be able to find a sharp, affordable wedding suit that you can't wait to slip into on your wedding day!
Check out our post on What should a groom wear?
Before you start looking for wedding suits:
Check out our post on real groom style before you go shopping, to get a better idea of what's out there and what you like. "A groom should look online at key looks he likes and bring examples into the store," David tells us. "Then, one of our wedding specialists can advise whether this look is suitable and make suggestions."

Try your best to do a run-through of your wedding day grooming routine on the day you suit shopping. If you're not looking your best, you probably won't love any suit, or think it's right for your wedding!

It's a good idea to have a chat with your partner before you go shopping, particularly if they've already purchased their wedding-day outfit. Most couples prefer to keep their outfits a surprise, but you can still decide on a style - formal, elegant, relaxed, colourful, fun, hip, classic, etc.

Think about the season in which you're getting married. "Flannel and tweed fabrics are great for a winter wedding and give a warm, soft look to the groom's look," David says. "For summer or destination weddings, it's very important that the groom chooses superfine wool or linen fabric. Otherwise, he will be too warm to keep his jacket on."

Research the menswear brands that are stocked in your chosen store - there's no point scheduling multiple appointments with stores that all carry the same brands. Here's our guide to where to shop for grooms' suits in Ireland.

Read our handy guide to groomswear lingo, so that you understand all the necessary language before your shopping trip. This will save you having to ask what a "peaked lapel" or a "band collar" is!

Set a budget. A made-to-measure tuxedo and casual ready-to-wear suit, for example, will be priced very differently. "The main difference is the fabric," David tells us. "We have up to two thousand fabrics to choose from all varying in weight, composition and colour. The second factor is construction, whether the suit is canvassed or fused, and the final factor is the extras, such as pansy lining, pearl buttons etc."
What to bring when shopping for wedding suits:
If you've already got your heart set on a certain accessory, for example, shoes, or cufflinks, bring them with you. Don't worry if you haven't bought anything yet - in fact, this is preferable! And the guys in store will help you choose the finishing touches.

Leave the gym or sports socks at home! Instead, opt for a thin pair of dress socks.

Ask a friend or family member to go with you, but choose the person wisely! Ideally, it should be someone who you trust to give an honest opinion, and who also has a good knowledge of menswear and great personal style. Avoid bringing too many people - hearing four or five different opinions at once can be overwhelming!
Things To Consider For Your Suit
Wedding Suit: Should You Hire or Buy?
The best advice on whether to hire or buy the wedding suit is "Hire what you will not want to wear again. Buy what you would want to wear again." If your groom has always wanted a tailor-made custom suit, take this opportunity to splurge a little and have a suit made which he will wear for years to come. If he is unlikely to wear a full suit ever again, rather hire and save a little.
Choosing a Wedding Suit Style
The time of day and season that you get married in will play a huge role in what type of suit will be purchased or hired. In summary, midday weddings you can opt for a light coloured suit made of breathable fabrics. If the wedding is a little more informal, you can also have an open-neck shirt without a tie. Some grooms even choose shorter length pants with a collared shirt and suspenders, especially for beach weddings.
If you're getting married in the cooler months, go for a darker colour like navy or grey, made from heavier fabrics. You could even go for waistcoats to create a very formal look. The classic tuxedo is always a winner but should be updated by having the pant leg fit a little slimmer. The most important part: the suit must be tailored. A well fitted inexpensive suit will always look better than an ill-fitting expensive suit. Spend a little to have the suit fit perfectly.
Choosing a Wedding Suit Colour
When you look for suit colours, there are a few things to keep in mind:
the wedding theme

the season

the availability

and the colour variations between the groom & his groomsmen
Your wedding theme is probably the biggest factor when you think of the colour of your suit. For a vintage style wedding, you probably want shades of grey or light brown. For a more modern wedding, a suit with a white blazer and black pants. For a classic look, but a little different, navy blue is always a good choice.
For other colour schemes, the choice of suit colour can become more daring and creative. Bottle green, burgundy, royal blue – there are plenty of choices. But keep in mind that the more creative colours are probably more difficult to find when you start shopping!
You can find a black suit at any menswear store – but if you want a specific colour, you might need to consider having a custom suit tailored. When doing that you can be as specific as you want. But the price tag might be a bit more depending on the material and colour availability. So this is a very important point to keep in mind if you are budget conscious.
As mentioned in point 2, the season of your wedding might influence both your choice of suit style and colour. For example, having your groom in a classic black tuxedo might look very smart – but if the wedding is outside in the sun during the blistering summer months, expect him to be sweating a lot! We recommend lighter colours for the warmer months and darker colours for the colder months.
The last thing to consider for colour choices is the difference between the groom and groomsmen suits. Traditionally the suits for the groom and his entourage are not the same. Your groom needs to stand out from the group so that all the guests can see that he is the important one on the day. An easy way to do this is to keep the suit styles similar but just alter the colours slightly. It doesn't mean you have to go with a completely outlandishly different colour! You can even just change the colour of the accessories as long as there is a small identifiable difference between the husband-to-be and his party.
What Accessories Do You Need?
This is where your groom and groomsmen can have a little fun. Gone are the days of boring ties. There are so many options on the market lately, from skinny ties to bow ties, even wooden laser cut bow ties and boutonnieres. Even ties and bowties don't have to match perfectly, and many grooms choose to have all the groomsmen wear ties with different patterns and fabrics, but with similar colour schemes. If you are going with a plain solid suit colour, your accessories offer the opportunity to add a dash of colour to your look.
We have compiled the ultimate list of Wedding Jewellery in Melbourne to help you choose the perfect accessories. 
Menswear Extras You Need to Look At:
Shoes & Socks

Ties

Cufflinks

Suspenders

Boutonnieres

Pocket Squares

Watch  
Pocket squares are also very trendy at the moment, as men return to the fashion of yesteryear. Make the pocket squares interesting by using fabric that matches the colour scheme but with patterns, or use this as an opportunity to add a pop of colour. If you choose to go for suspenders, you could add a splash of colour to match the wedding colours. We have also seen plenty of weddings where the groom and groomsmen wear interesting socks – from complementary colours with unique patterns to quirky, bright socks.
Usually, you want your bridal party to match each other and look smart. This does, however, mean that your groomsmen all need to wear the same colour and style of suit. When you choose your suits, you need to consider who will be paying for the groomsmen suits. If you expect them to pay for the suits themself, be considerate and don't choose the most expensive option! Nobody wants to spend thousands on an outfit that they might probably never wear again.
And if you have kids in your bridal party, you'll have to keep in mind that the suit style you get has to offer child sizes as well.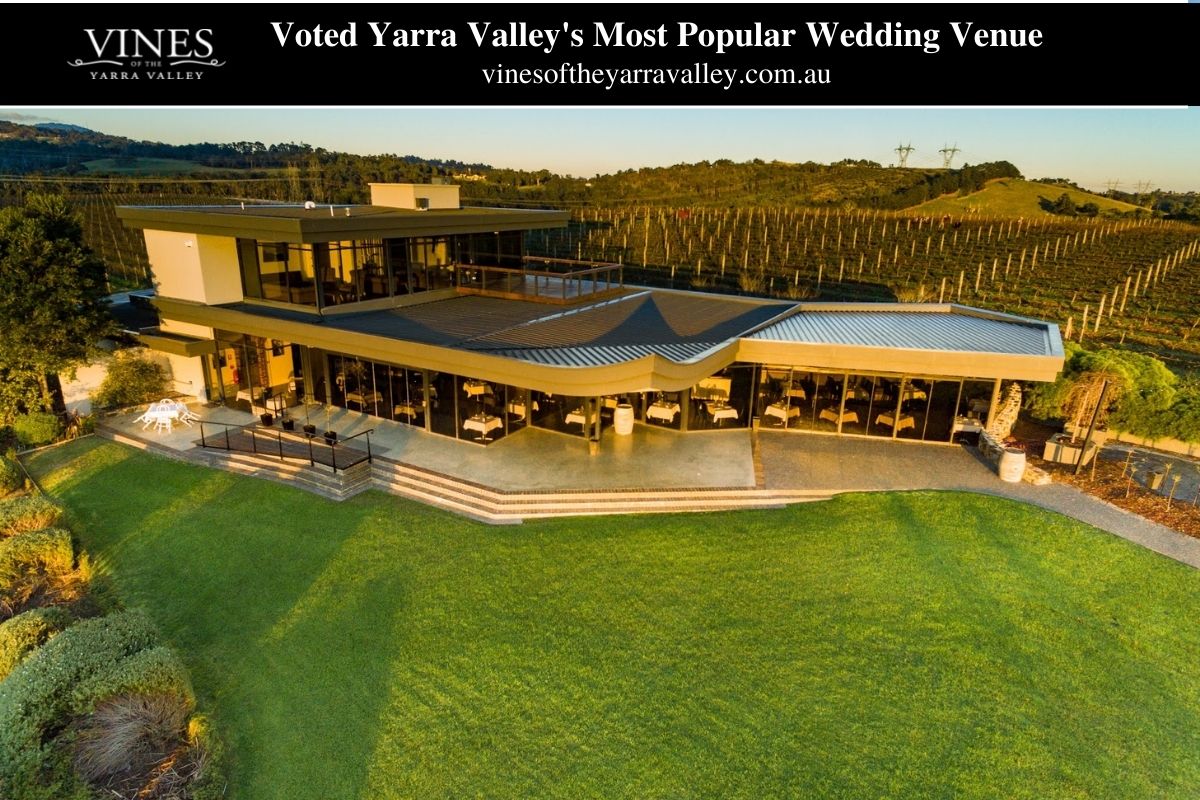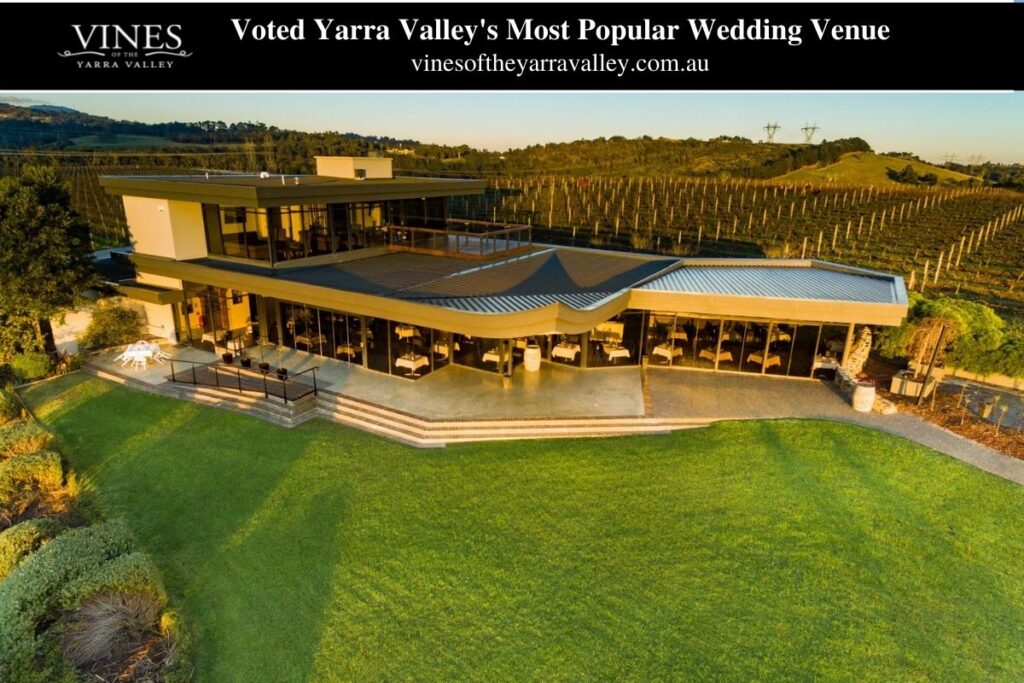 75% Groom's Suits Bought in Six Months Before Wedding
While most brides will begin searching for their wedding dress as soon as they are engaged, shopping for the groom's suit only usually starts six months before the wedding according to an Easy Weddings poll. 75% of couples than took part in the poll said they would begin shopping for the groom's suit in the last six months before the wedding, and 43% said they would leave it until three months or less before the big day.
Shopping for the groom's suit can begin later than shopping for the wedding dress for a number of reasons. There are fewer decisions to make about a groom's suit; he only really needs to choose the style and the colour. For a formal daytime wedding, a morning suit is appropriate, and for a formal evening wedding, a black or white tie is the standard. Many grooms are choosing casual lounge suits for more relaxed weddings, and some are opting for linen suits or just smart trousers and shirts for the beach or outdoor weddings.
A groom's suit is likely to need fewer alterations than a bride's wedding dress, which means it can be bought later. While wedding dresses are often made to order, a suit is more likely to be bought off the rack. A groom may want to wait until a few months before the wedding to look for his suit as he will want to make sure he has the latest season's style.
25% of couples said they would look for the groom's suit nine months or more before the wedding. This group is likely to include couples who are having a tailored groom's suit that is made to measure. This will take longer, and the groom will need to attend fittings. If the rest of the men in the bridal party are wearing the same suit as the groom, the couple might want to start shopping earlier to make sure they find something that works for the groomsmen and the fathers of the bride and groom as well as the groom.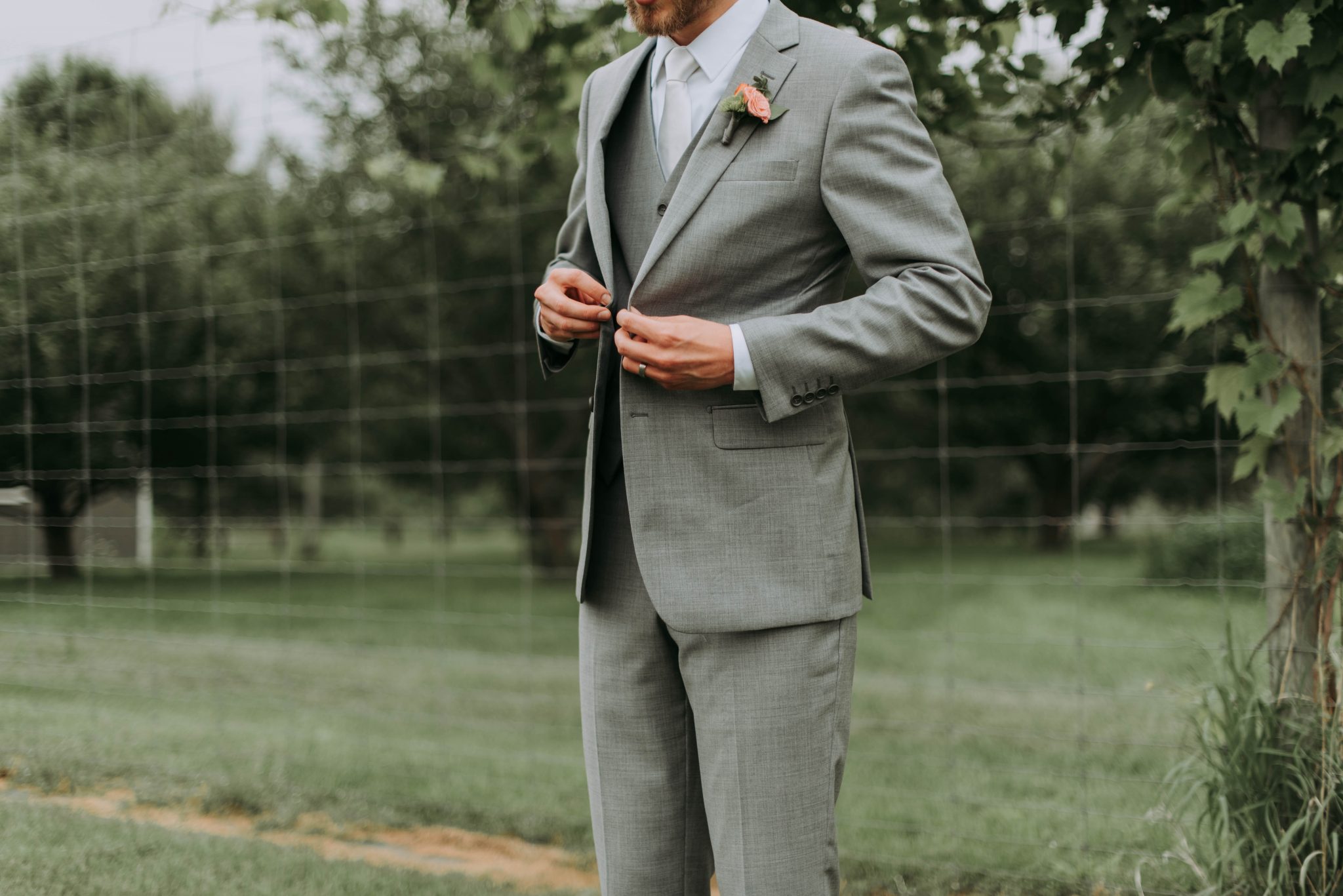 Frequently Asked Questions About Groom's Suit
As a groom, a beautiful navy blue suit or light grey suit would look fantastic.  Colour is another key component. Always have a mind toward what the bride is wearing. Lighter colours work well [for spring], but a black or a navy tuxedo is seasonless and always appropriate.
Groomsmen.
Whether the groom and his groomsmen are buying new tuxedos or suits or renting for the occasion,
his family
 is traditionally responsible for paying for that outfit (Note: In many modern weddings the groomsmen pay for their own outfits.)
Ideally, ordering your suit 4-6 months out is what we recommend. This gives the groom and the wedding party plenty of time to get their suits, try them on, and get any necessary in-person alterations made.
Groomsmen traditionally wear a suit or a tuxedo that matches or complements what the groom has decided to wear. Matching with the style and feel of the groom's look (as well as with the female attendants) will help ensure the entire bridal party is cohesive—especially in photos.