Your wedding venue, especially for a reception with catering, can take up as much as half of your overall wedding budget, so you want that contract to cover key points and be in its best state to protect your wedding adequately. Note: Do NOT sign a wedding venue contract on the spot. You should read through it carefully and consider any details that may need to be edited or added. If you're working with a professional and reputable venue, it won't be an issue for the platform to update the contract.
Choosing your wedding venue is a significant decision (and a pricey one too). According to The Knot Real Weddings Study, booking a wedding venue is the most expensive decision couples make while planning. Given the high stakes, you want to make sure your wedding venue contract is comprehensive. Take our word for it: You want to make sure you're covered down to every last little detail before you sign the dotted line. While it may be an expensive decision, it's a cost most couples deem worthy, as 86 percent of all couples who wed last year booked a professional wedding reception venue.
It's not as fun as picking out flowers, trying on day-of outfits or tasting cakes, but finalizing your wedding venue contract is possibly the essential part of the wedding planning process. After all, you don't want it to be the week of your wedding and realize that your venue doesn't have a liquor license.
After you find that perfect venue for your special day, you want to make sure that it is truly yours. So make sure that your venue contract has the basic information necessary to avoid last-minute budget-busters and snafus.
You wouldn't buy a house or a car without knowing exactly what you're getting into, right? The same holds true for a wedding. A wedding is a significant financial undertaking, and wedding contracts ensure you know exactly what you're getting, when and how you'll pay for it, and, perhaps most importantly, what happens if those services aren't able to be delivered in full. So don't sign on the dotted line without spending some time with the pages.
"As elementary as it sounds, read the contract," says Caroline Fox of The Engaged Legal Collective. "This is a huge investment. You shouldn't throw 10 or 15 thousand dollars at something without knowing what's going on."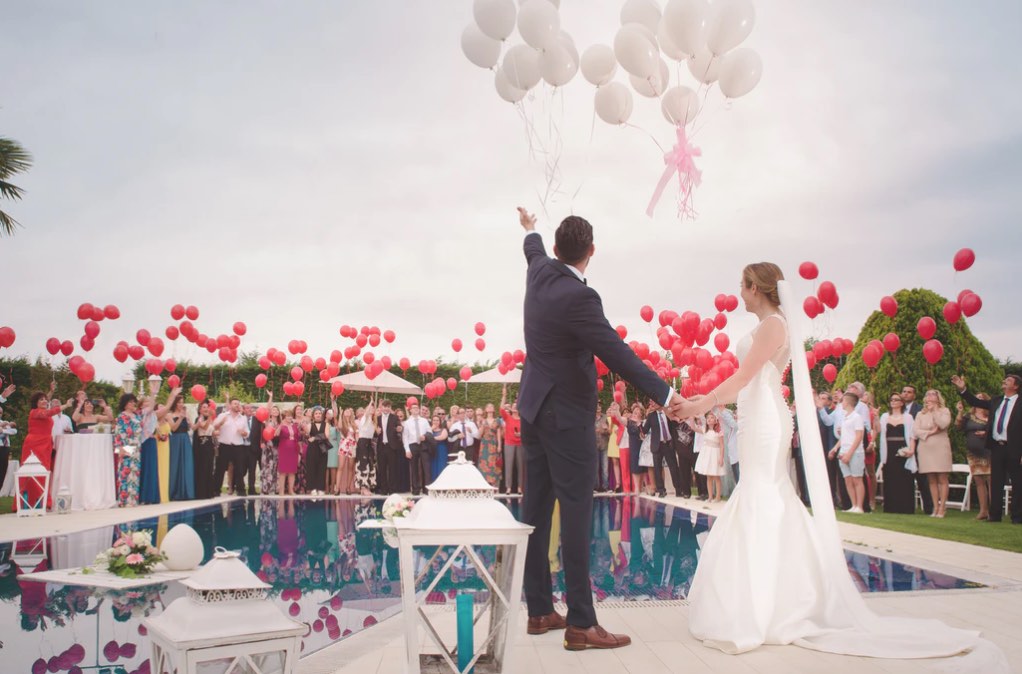 Why Are Wedding Contracts Important?
Wedding planning can often feel like it's all romance and butterflies, but, at the end of the day, working with a vendor is a business transaction—and it's crucial to ensure the components of that transaction are clear to both sides. "A contract makes sure everyone is on the same page," says Fox. It also protects both parties from potential issues." 
To that end, you should expect a contract from pretty much every vendor participating in your big day. One-off purchases—an Etsy cake topper, for example—will be the exception. Still, anything involving custom work (an escort card wall), payment instalments (your dress), or goods used and services performed on the wedding day (furniture rentals, photography, etc.) should come with a formal agreement.
"Making sure that everything you expect from the vendor is in the contract is the most important thing," says Fox. "If it's not in the contract, it doesn't necessarily matter. You could have something in an email, but that doesn't necessarily count. If you want it, put it in the contract." For the rest of the document, think like a journalist: Determine the who, what, when, where, why, how, how many, and how much of your agreement, and be sure those items are included.
Getting everything written down on paper is essential should any legal or payment issues come up during the event planning process. Plus, it helps set up clear boundaries and expectations for both parties from the get-go.
And, should anything unexpected happen, your contract will relieve you of any possible harm to your business as well as costly fees. Here are some other great benefits to having an event contract:
Contracts set you up for success. This year's event trends show that event planners are in high demand and have to book out farther in advance than ever before. This means getting a contract in place will make it easier to remember what you agreed on initially since you can refer back to it when you get started.

Contracts help identify important company performance metrics. You can use them as a tool to find areas of strength or weaknesses.

Contracts provide a guide for what to do in any circumstance, which is why Entreprenuer.com calls contracts the business owner's best friend.
You technically can work without a contract. But if you do, you'll need to highly document every client communication online and neatly store all other relevant papers. Everything else around the project you can think of.
This is why having an agreement signed by both parties at the start of the project makes everything more accessible and less emotion-driven along the way.
How do you write a contract agreement?
Using an event contract template (like the one we've outlined below), you should write a contract agreement with as much detail as possible. No matter how many times you've previously discussed it or what you might consider common knowledge, it pays to write every specification down.
Because event planners, in general, offer a wide variety of services, your clients might have some expectations regarding what you'd be willing to do for them or what's included in your fee.
This is why simply listing out services, or other pertinent contract items isn't enough. You must go through and fill out every relevant bullet point with as much detail as possible.
Once you've filled out your contract agreement, run your draft by a trusted resource, business manager, or lawyer. They'll be able to confirm how legally binding the agreement is and help you reword things to protect your business during the transaction better. 
Basic Information Needed on Your Wedding Venue Contract
Your name(s).  
We know this sounds obvious, but there are stories on the web that can make your eyes water. Most of these stories could have been avoided by checking for simple minor mistakes like this. This may seem obvious, but it's always a good idea to get everything in writing. You'll likely be in contact with your wedding venue during the planning process, so this will come in handy.
Your wedding date.  
Check the day AND date to ensure that all of the information is correct. Example: If a salesperson types Saturday, July 12, 2009, on your contract, you have left your wedding date up to chance since July 12, 2009, falls on a Sunday. Also, make sure that the year is correct — This may sound obvious, but I have heard stories about brides scrambling to secure a new venue because their wedding contract had the incorrect year.
You want to know exactly what you're signing up for, so double-check this one. For reference, the average dinner and dance reception is about four hours, but it can be longer if it includes the ceremony.
The start AND end time of your wedding day.  
This time should allow for the following:
A.) Getting ready (this is only necessary if you plan to get prepared at the venue).
B.) Pre-event and post-event pictures.
C.) Ample time allotted for your vendors (especially your caterer and your wedding designer)to set- up beforehand and tear down after the reception.
The Actual Location.  
Making sure that the ceremony and reception space are included in your contract seem obvious, but you don't want to be surprised with what I call "the okey-doke." Here's the "okey-doke" scenario: You think you are getting the Grand Ballroom because your salesperson told you it was available on your wedding day. However, you find out 8 weeks before your special day that your wedding is taking place in the Petite Ballroom (very tight fit, but it still works) because the Grand Ballroom wasn't noted in your contract. Unfortunately, the Grand Ballroom is no longer available because a venue salesperson assigned that room to another much larger wedding that booked after you signed your contract. If you have nothing in writing regarding the actual room name, you have a challenging battle ahead of you regarding the Grand Ballroom.
It may seem over-the-top, but it's always best to get everything in writing. Ask for a thorough description of the actual space, but include other details as well. For example, make sure to include your décor—the colour of the walls, flooring type, and type of chandeliers. Don't forget to include any amenities, like a stage or a getting-ready room.
Itemized List of What the Site Will Provide
Again, this may be an uncomfortable ask. Is it really necessary to go through every single detail? Absolutely. Request an itemized list that includes everything the side will provide (from waitstaff to linens, plus special services like coat check and valet parking). Make sure that you're completely aware of what you're purchasing and what will cost extra. This will minimize the possibility of unexpected extra fees on your wedding day.
Name of the Manager Working on Your Wedding Day (and Name of a Substitute)
It's always a good idea to get the names of the people in charge of the space on your wedding day if you need their help. Get the name of the manager who will be working on your wedding day and the name of an acceptable substitute in case something comes up.
Proof of Insurance and Liquor License
Don't just take their word for it—make sure both are included in the contract, so there's absolutely no risk.
 Anything Else You Want Set in Stone
Do you want an extra hour of reception time for a little more cash? Make sure you write that down on paper so it can't be changed on the day of.
Setup, Cleanup, Overtime and Other Fees
We know how important it is to stay on budget, which is why we insist on getting this detail in your wedding venue contract. Be aware of any extra fees or costs that may come up so that you can avoid them.
Balance and Due Date
Again, getting a deadline on paper is always a good idea.
Cancellation and Refund Policy
Sometimes things happen, and you have to cancel your celebration. Make sure you know exactly how the venue handles those situations, so you're not surprised in the event it happens.
One of the biggest mistakes that couples make is shying away from asking questions, according to Danielle Couick, principal and creative director at Magnolia Bluebird Design & Events. Remember that a wedding venue is usually a pretty big investment, so make sure to ask about anything you're not clear on. Don't be afraid to get specific. For example, if they are including the cake in your package, ask to get some more details, so you know exactly what you're getting.
Once you feel like you've got the answers you need, sign the contract (and breathe a sigh of relief). Your biggest decision (after choosing to get married, of course) has been made. The rest of your planning will now begin to fall into place—we promise.
Common Wedding Contract Terms
Here is a glossary of terms you may encounter in a wedding contract.
Retainer: Retainer is another word for a non-refundable deposit. It's the fee you pay to reserve a vendor's services on the date of your wedding. It's typically non-refundable unless your vendor is the one who needs to cancel.

Liquidated damages: You'll see this term in the clause about the retainer. It's essentially the legal term for a non-refundable deposit and is used as compensation for booking your event, and any work is done upfront.

Jurisdiction and Venue: This term refers to where lawsuits regarding your contract can take place. "If you're having a destination event, your vendors may have jurisdiction in a venue of that location," says Fox. "So you couldn't sue them in your home state."

Act of God: An act of God is a subclass of a force majeure event. The phrase is often used to classify events outside of human control or creation, such as fires, floods, lightning strikes, earthquakes, and hurricanes. An act of God would not include things like labour strikes or government restrictions resulting from a pandemic. 

Waiver: Waiver addresses lapses in payment. "Just because you miss a payment by accident or your vendor lets you slide on one, it doesn't mean you can do that in the future," says Fox.

Severability: This term is used to uphold a contracting overall if a certain portion of the contract becomes unenforceable. That portion of the contract can be nixed or severed without nullifying the contract in its entirety. 

Indemnification: You'll see this term in contracts for large-scale events and contracts outside of the wedding world, too. "Indemnify, defend and hold harmless" means you'll compensate for any harm, losses, or legal liability that arises from your event.
Do Both Members Of The Couple Need To Sign A Wedding Contract?
It's recommended. Though it's no fun to think about worst-case scenarios, you want either member of the couple to be able to make changes or terminate a contract if the couple splits up or someone dies. That's exponentially harder to do if you're not included in the contract in the first place.
Can I Negotiate Or Ask To Have Something Removed From A Contract?
Absolutely! A wedding contract summarises an agreement between two parties and should only be signed once the two parties are in complete agreement on its terms. Discuss the revisions you'd like to see in the contract with your vendor before giving it your signature.
What Is A Contingency Plan?
Generally speaking, two types of contingency plans are needed in an event:
Contingency if there is an issue with the event itself

Contingency if there is an issue with the vendor
Any vendor that is a single provider of services should give you an idea of what happens if they become sick or unable to work your event. They'll usually have an associate or back-up professional that can take their place, and you'll want to be sure the plan is clear in the contract. For example, contingency plans needed if there is an issue with the event itself—weather-related, for example—might not always be explicitly listed in the contract. However, those are still things you'll want to discuss with your vendor in advance.
"Do you need to get a tent for an outdoor event in the chance it rains? What if there is a drought and the florals are unavailable? Does your planner have a back-up plan if your event gets moved indoors? These are the things experienced vendors will already have in their heads because they've seen and been through it all," says Fox. "A newer, fresh-faced vendor, however, may not be thinking about these types of creative solutions in advance."