Of course, you're going to look stunning at the altar. And while all eyes turn to the bride, the groom gets his fair share of attention too. So finding your groom's style is just as important as finding your own. But where to start? We'll always love a classic tux, but some trends shouldn't be discounted when it comes to groom style. We've rounded up the best new groom trends to get you your guy looking just as sharp as you.
We're only halfway through 2020, and already we're seeing some seriously stylish grooms. We saw men pushing the typical wedding-day boundaries with fashion hats, sparkly shoes, and unexpected suits. There is a fresh take for the destination groom by pairing a navy sport coat over an all-white outfit. Some grooms opt for classic tailoring in new colours, others are in denim, T-shirts, or sneakers. And for a wedding with two grooms, explore coordinating looks.
A classic black tux is the easiest way to look undeniably sharp, but we'll always suggest a touch of personality on the big day. Below are some of our favourite groom trends to inspire you and your future husband.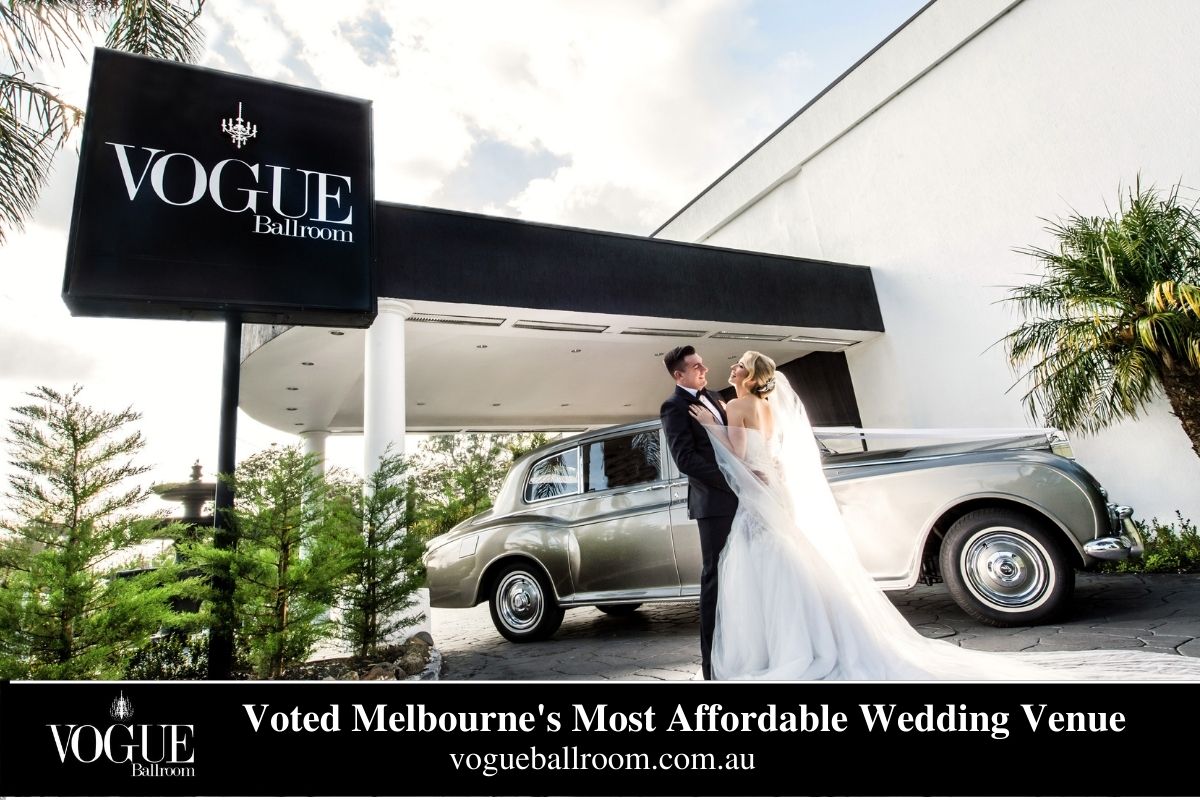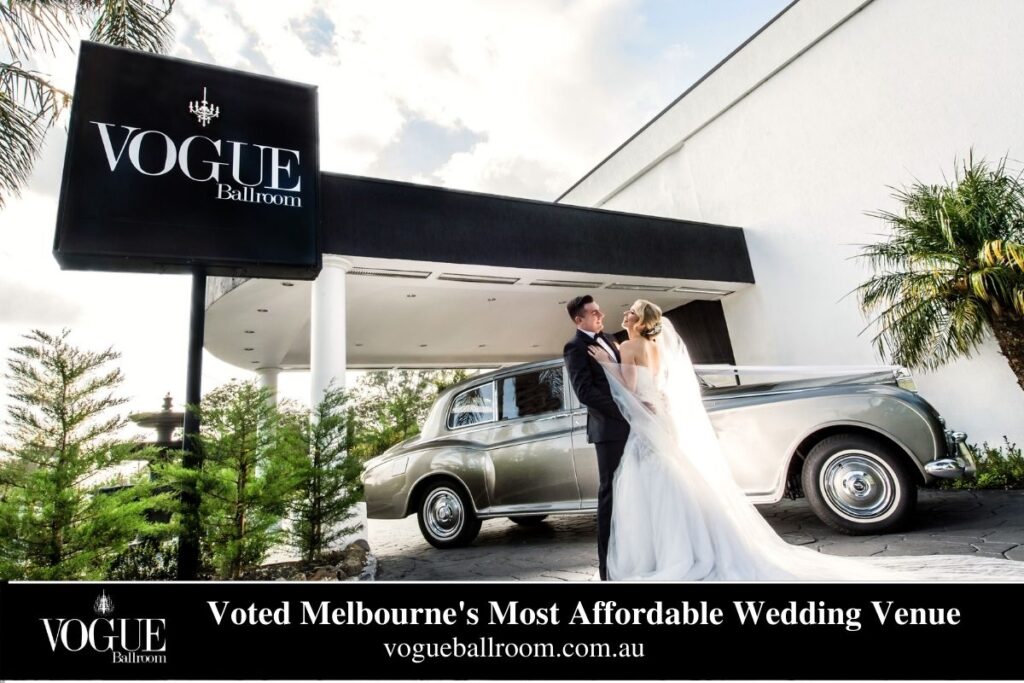 A groom's attire can be broken down into four categories: Very Formal, Formal, Semi-Formal, and Informal. As mentioned above, the wedding theme will have the greatest influence as to the choice of attire. However, the time of day of the wedding is also another big influencer. Lastly, the wedding colours will also have a determination into what the groom wears on his wedding day.
Vogue Ballroom has proven itself to be an iconic wedding venue and function centre in Melbourne. Book today so you don't miss out.
Very Formal 
Very formal weddings are typically morning or late evening weddings. The groom would wear a complete tuxedo including vest, white bow tie and tails, and shirt with striped trousers. The very formal wear is also commonly accompanied with a top hat, walking stick, and gloves.
Formal 
It fits for a "black tie" event for the groom and groomsmen. The attire can be either a black tie or bow tie. The tuxedo also includes a vest or cummerbund. Rented formalwear can include the following: jacket, vest or cummerbund, pants, suspenders, shirt, cufflinks, tie, studs, and shoes.
SemiFormal 
This is where a bit of personal taste and fashion meld into the formal arena. Colour can be infused into the formal style in the tie, cummerbund, vest, and also the shoes. The groom can also add a fashionable suspenders accent to the outfit. Current fashions include colourful jackets and pants to add a personal groom's flair to the wedding.
Informal
Informal can start the chart on the high end with a suit. Dark suits are preferred in the black, grey, and navy spectrums. A great tip is the material should match the season – flannel in winter and cotton in summer. Blazers can also be worn with jeans.
People like to talk about weddings in superlative terms. Your wedding should be the "happiest" day of your life, the "most important" day of your life, the "biggest" day, and so on.
I'd like to think your wedding should also be one of your best-dressed days.
Whatever form your ceremony takes, it certainly merits your sharpest appearance.
In many cases, it's also going to require some coordination with groomsmen or general wedding themes. And since you'll be making up 50% of the pictures, thinking carefully about your clothing is almost as important as the bride's (I have to be careful as a few brides may read this).
The options for dressing sharp on your wedding day are as varied as wedding ceremonies. However, these basic guidelines will steer any man straight.
Check our Top Wedding Dress Shops In Melbourne for your list of some of the most exclusive dress shops.
The Classic Two-Piece Suit: Modern Elegance
A simple two-piece suit is often the simplest and most striking option for a groom.
Fancier options like tuxedos and morning coats are often rental-dependent in the United States unless a man and all his wedding party happen to own formal dress clothing already.
They also come with rules of style that many men may not be entirely familiar with.
If you want the men in the wedding to look sharp, are on a strict budget, and wish to avoid risking a faux pas – stick to the single-breasted men's suit.
Also, you don't need to purchase a new suit for your wedding if you already have a simple, solid-colour suit in charcoal grey or dark navy.
This may sound strange coming from a man who sells clothing for a living, but these dark formal colours are entirely appropriate for a wedding day, and many men will be just fine using a suit already in their wardrobe assuming it's in excellent condition.
Worn with a white or other light-coloured shirt and a simple tie, a dark solid coloured suit gives a man an understated elegance that pairs well with most bridal styles and fits the importance of the occasion. By the same token, if a new suit is needed, it's never a bad purchase. The new suit, assuming a quality garment is purchased, remains useful after the wedding as a piece of dress clothing ready for business or other semi-formal occasions.
The Solid Colored 2 Piece Suit
The best wedding suits are a charcoal grey suit or deep navy blue suit, although lighter grey, khaki, and blue suits have their place in the summer months and at exotic locales.
Avoid brightly-coloured suits as they are novelty items and too gaudy for a wedding unless you are getting married in Vegas. In that case, email me a picture.
In the United States, we have a bad habit of planning our weddings around specific colour themes. I realize that most of the grooms reading this have little control over this, but if you can resist.
It's OK for a high school prom – not for grown adults looking to share their vows publically. You should aim to not exactly match your necktie, boutonnière, and pocket squares but rather have them complement you and the bride.
Lastly, try to avoid heavy patterning which distracts the eye and can clash with bridal styles.
Formal patterning like pin-stripes has business associations that are out of place at a celebratory event. Keep to a solid or semi-solid dark suit for the most elegant look. Check out our post on Beautiful Wedding Vows From Couples.
A Word on Black & White Suits
Black suits are sometimes seen as a more relaxed version of a tuxedo for wedding garb. That's a somewhat imperfect understanding. Black is a high-formality colour, but because of its associations with tuxedos and evening wear, it may not be appropriate for a wedding setting.
Wearing black indoors has the unfortunate effect of washing out many men's complexions and creating a stark contrast that overpowers in photographs. Also, groomsmen and guests are less likely to own a pure black suit than they are a more conventional grey or blue suit, so it may not wind up being much more convenient than the fancier black tie or morning dress options anyway.
The groom does not typically match the bride and should avoid a white suit. White is traditionally bridal, and an overwhelmingly white colour palette tends to wash the couple out. If your bride is wearing a traditional white dress, we strongly recommend a coloured suit.
Unless you're dead set to the idea of a black or white suit, consider a charcoal grey or navy blue instead. These colours are easier to match, much more practical in terms of availability, and are classic staples that have been used for decades.
Wedding Suit Styles and Cuts
A wedding suit doesn't have to be a simple single-breasted, two-button jacket — though it certainly can be. Single-breasted jackets are understated, simple, and dignified.
If you feel the need for a little more exuberance on your wedding day, a double-breasted suit adds weight and formality to the outfit but is a high-formality garment that should only be worn with a necktie and a formal dress shirt. An open collar isn't an option with a double-breasted jacket. They may also be less comfortable for prolonged wear, especially when sitting.
An equally formal yet more versatile option is a three-piece suit ensemble; this adds formality and elegance to the basic men's suit by matching it with a vest. Matched waistcoats fill a similar role to double-breasted jackets, but can always be removed to make the outfit a simple single-breasted two-piece suit.
Wedding photographers usually like to get "relaxed" shots of the groom in just his waistcoat and shirt, often with a jacket slung over a shoulder, so be prepared to do some taking off and putting on of clothing if you go with the vested suit.
As the groom, all eyes will be on you (and your partner) on your wedding day, so of course, you want to look your best. Need help figuring out what to wear? Don't worry—we've got you covered. Follow the rules below to look stylish when you say "I do." 
Rule 1: Your suit or tux should fit the formality.
At the most basic level, your attire should be appropriate for your venue and match the overall vibe of the wedding. If your wedding is in the daytime or outdoors, you can wear something a bit more casual (think: lighter-coloured suits made of fabrics like seersucker or khaki). If it's an evening affair in a ballroom or swanky hotel, go with either a dark, well-tailored suit or a tux. Want to get even more formal? White tie (a black tailcoat, white shirt and white bow tie) is the ultimate in formalwear and ideal for an extra-luxe venue. 
Rule 2: Your attire should coordinate with your partner's. 
Another fairly obvious one, but it has to be said: Remember, your wedding is your first opportunity to show off your style as a couple, so make it a joint effort. While you may not know exactly what your partner is wearing, you'll want to be sure your styles work together. So if her dress is a bedazzled ball gown, you won't want to wear a lightweight linen suit—a classic black tux is more like it. Other combos that work: a rustic lace gown paired with a tailored tan suit, or a streamlined city-chic gown with a slim-cut grey suit. 
Rule 3: Your body type should dictate the suit. 
The key to looking sharp is dressing for your body type. If you're tall and slim, most tuxedos and suits will look good on your frame. To add bulk, try a double-breasted suit, which will make you look broader. To slim down, try a fitted suit with a little bit of a nip in the waist to give the impression of a leaner silhouette. Skip lighter-coloured suits since darker hues are slimming. And to elongate the body (and add some height), go for a two­ or three­-button jacket with a low ­button stance. 
Rule 4: The fit should be perfect. 
Even the most expensive tux on the rack will look and feel awful if it doesn't fit right. You should be able to move around easily—do lots of twists, turns, and arm raises to make sure there's plenty of mobility to show off your dancing skills. Regardless of whether you're renting or buying, most shops will custom tailor the purchase. Here are a few basic tailoring rules:
The jacket sleeve hem should fall at the wristbone with about one-fourth to one-half inch of the shirt cuff showing below.

The bottom hem of the jacket should cover the butt, and the vent shouldn't pull open. If it does, that means it's too tight.

The collar should lay flat on the back and sides of the neck without any gaps or bulges.

Pants should fit comfortably when standing and sitting and break across the top of the shoes, so they cover the top one-third.

A bow tie should fit snugly around the collar.
Rule 5: Your look should coordinate with your attendants. 
Traditionally, the groomsmen wear attire that's the same as or similar to that of the groom, but it's up to you. Even if you aren't planning for all the men in your wedding party to wear the same suit or tux, it's important that their outfits match in style and feel with yours. (It will look a little bit off if you're up there in a tux while your buddies are wearing casual khaki suits.) Matching doesn't just end with the guys either—your whole wedding party should have a cohesive style. To achieve this, aim to pair your groomsmen style to that of the bridesmaids—for instance, if the bridesmaids are rocking a vintage vibe, the guys can don retro three-piece suits. 
Rule 6: Your accessories should set you apart. 
Now that everyone is matching and coordinated, it's time to pick your extras. To achieve a unique look, it's all in the details. Spice things up and wear a special boutonniere or a bow tie, vest, necktie, cummerbund or cuff links in a different colour or style. If your wedding palette has two colours, you can wear one of the shades while the rest of the guys wear the other. For a luxe affair, have the groomsmen each wear a tux with a black bow tie and black vest, while you don a white tie and white vest. Don't be afraid to inject your personality into your outfit. Musical? Add a treble clef to your boutonniere.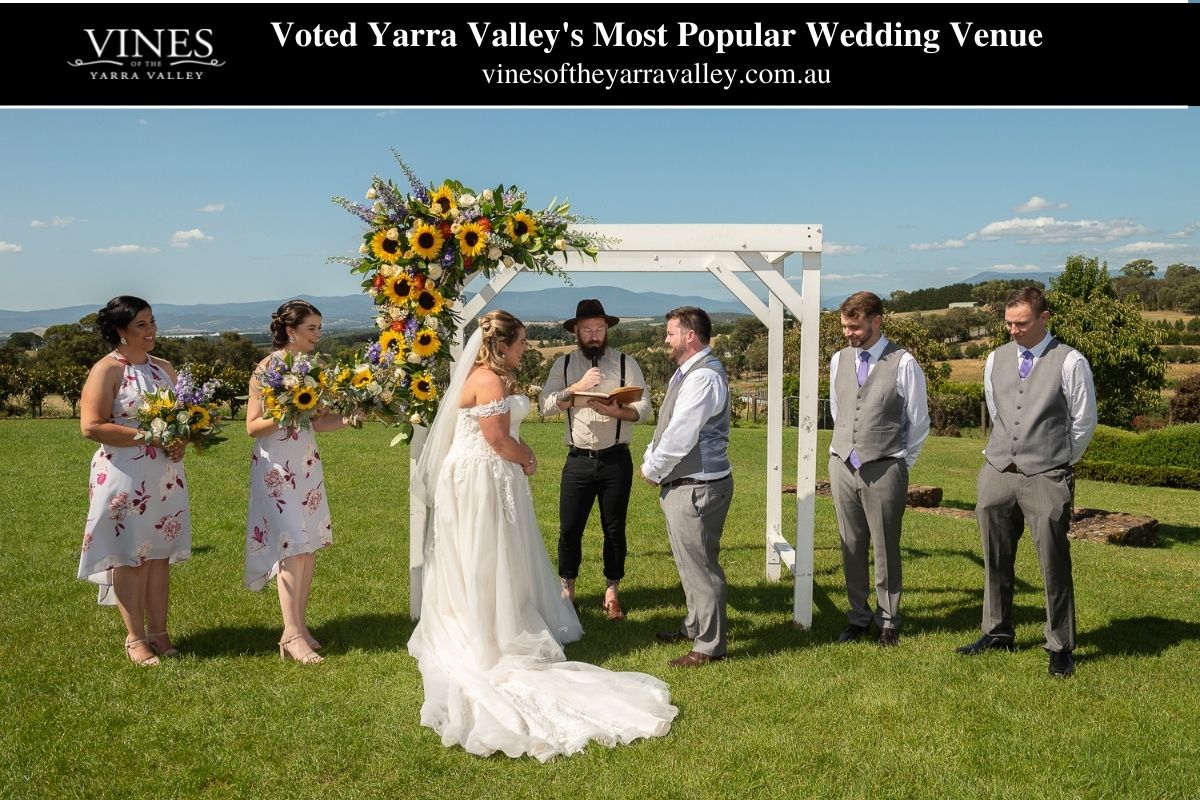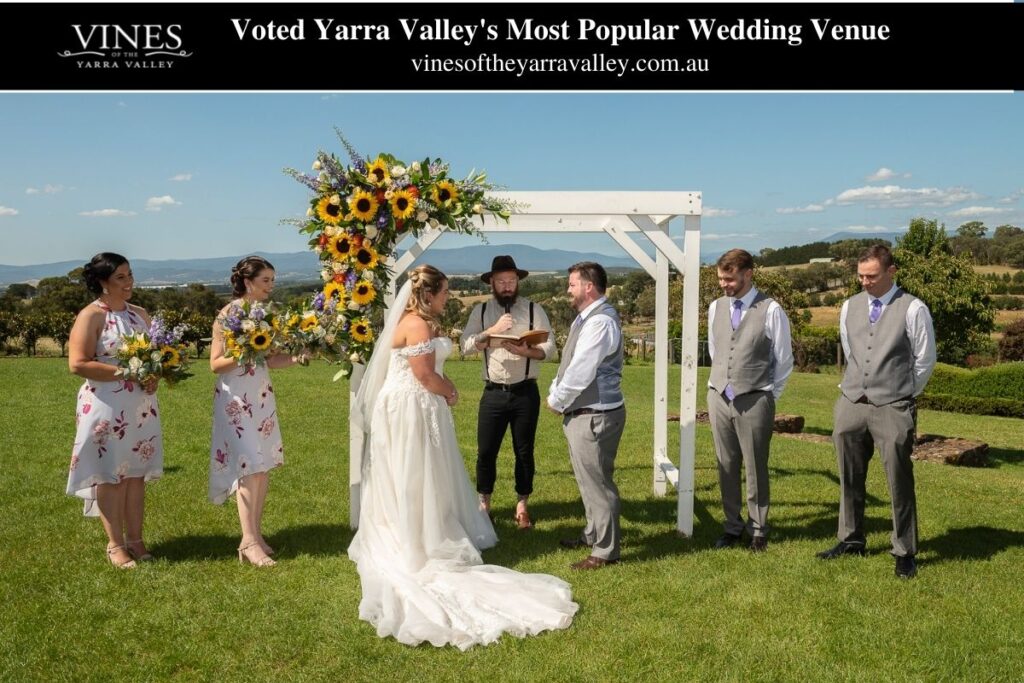 What Accessories Do Grooms Need?
A fun (and optional!) way to inject some style into your wedding-day look is with accessories! Both suits and tuxedos can be customized, and here are just a few ways to spruce them up:
Dress Shirts
Dress shirts for suits come in every colour and pattern under the sun, and even shirts for tuxedos are available in multiple styles—from plain and pleated fronts to a variety of collars and cuffs. Remember to think about which style tie you prefer before shopping for your shirt.
Vests
Adding a vest changes your look from a two-piece suit to a three-piece suit. Also referred to as a waistcoat, it's an easy way to add a colourful pattern to your suited ensemble.
Cummerbunds
Cummerbunds are a tuxedo accessory that covers the waist and are worn with a single-breasted jacket. Traditionally, men don't wear cummerbunds with long ties.
Suspenders
Suspenders not only pump up your style, but they also keep your pants firmly in place while you dance the night away!
Belts
The type of belt you choose usually depends on the colour of your suit. Traditionally, a black suit requires a black belt if you choose a blue suit, though a brown belt can look terrific. (Just be sure to match your shoes to your belt, since a wedding is a more formal occasion.)
Pocket Squares
A pocket square is a handkerchief tucked into a suit jacket pocket. It's yet another opportunity to colour coordinate!
Cufflinks
Cufflinks are like jewellery for your dress shirt cuffs. If you're wearing a tuxedo, the cufflinks should match the shirt studs. For a suit, you can get as creative as you like. Beer cap cufflinks, anyone?
Ties
The typical black tuxedo tie or bow tie look is perfect for formal events…but ties come in every colour and pattern imaginable, so have fun finding the one.
Socks
Although socks are usually pretty invisible, it's a real kick to see a quirky, patterned sock peek out from under a pant leg!
What Should You Wear On Your Wedding Day To Look Your Best?
Well, the good news is. You can wear whatever the hell you want or what you and your partner desire. That being said, most grooms that I've talked to that didn't dress up very much for the wedding, regretted later on when they look back at their wedding pictures, and most of them always want to put the best foot forward. Now, that's on a personal level but also sartorially.
In all reality, what the groom wears depends upon the theme of the wedding. If the wedding is at an upscale five-star heel, then a tuxedo would be the most appropriate attire. However, if the wedding is a relaxed beach wedding, then sandals with dress pants and shirt would be most appropriate for the wedding day. Although the bride may decide as to the wedding theme, the groom still has a very important decision as to what to wear.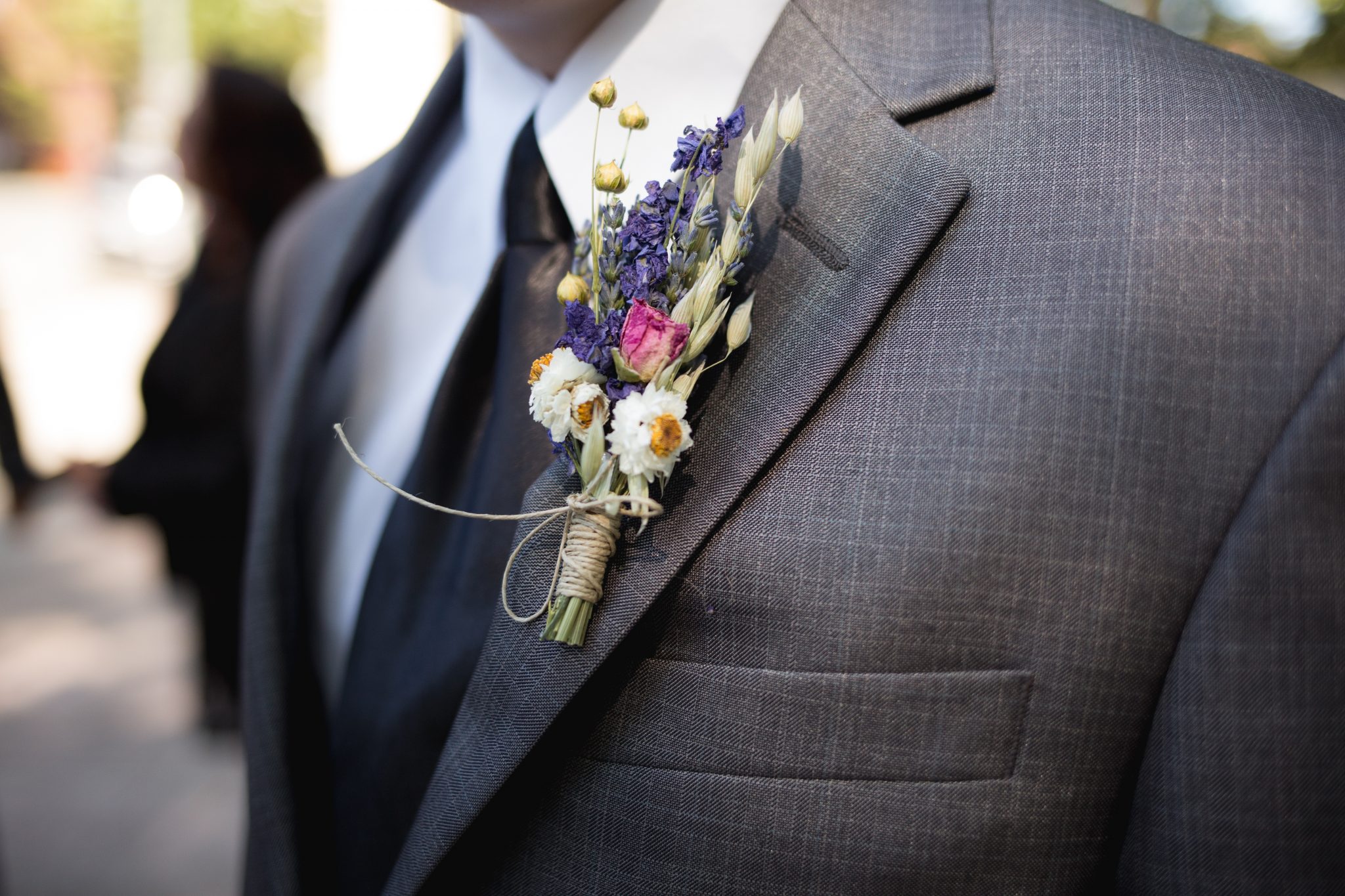 Groomsmen traditionally wear a suit or a tuxedo that matches or complements what the groom has decided to wear. If your wedding is in the warmer months, daytime, or outdoors, you can utilize lighter-colors, more casual fabrics such as khaki, and suits (or even jackets and slacks) as opposed to tuxes.
Bottom line: Opt for a tuxedo if your wedding is a formal or black-tie evening affair, and stick with a suit for a more casual or daytime event. That said, there's no hard and fast rule—so if YOU just want to feel fancy go ahead and strut that tux no matter what type of wedding you're having!
As the groom, there's no hard and fast rule that says you have to have to perfectly match the rest of the guys. In fact, more and more grooms are choosing to differentiate themselves by wearing contrast jacket and trousers. For example, you may want to wear a patterned suit, while your groomsmen wear plain suits.
Traditionally, a groom and his groomsmen wear matching tuxedos or suits, but today there are no hard rules. If you want the groom and groomsmen to wear the same attire, whether it be a suit or a dress shirt and pants, consider the following: Gray suits with burgundy ties, for example, would be a way to stay on-theme.