By inviting guests to your wedding, you can finally start to plan for the big day. It's important to send out wedding invites at the ideal period, which is neither too near to the wedding date nor too far in advance. In case you've already sent out save-the-date cards, guests should have already made arrangements for travel and lodging and checked out the wedding website, but our invitation will act as a gentle reminder. In addition, you'll need timely RSVPs from your guests so that you can determine the final headcount and arrange the seating chart.
If you put some thought into your wedding invites in advance, you can ensure that everyone who is invited can mark their calendars for the big day. It's best to give guests at least two months' notice, and for a destination wedding, you'll need to start planning even earlier.
However, keep in mind that sending out wedding invitations too early is rude.
When Should You Send Invitations?
You should start addressing invitations three months prior to the wedding. Get in touch with your calligrapher about 4 months before the big day. Make sure you check in with them to see when they'll need your invitation list and guest list. Vogue Ballroom is your ultimate Wedding Reception Venue to create your dream wedding.
We recommend sending out wedding invitations eight weeks in advance. You'll give your visitors plenty of time to respond to your invitation, whether they need to arrange travel or take time off work to do so.
Choosing An RSVP Date
After sending out invitations, you must ensure they are returned on time. Having a system in place like this makes it easier to manage minor but important aspects, including such labelling place cards and setting up seating charts. You should also enquire as to when the caterer requires final headcounts in order to finalise the drinks and food.
Three weeks before the wedding, have guests respond by that date. Invite guests at least six weeks in advance, and have them respond no later than two weeks well before wedding.
You can always give those guests a call if you find yourself in a circumstance where they haven't responded. Get a verbal RSVP or respectfully request a written one by mail so you can include all of their information.
Destination Weddings
It is customary to send out "save the date" cards for just a destination wedding about six months ahead of time. Your guests will appreciate having this extra time to save money and look into other housing options. The invitations can be sent out eight to 10 weeks prior to the wedding. ​
It is recommended to request guests' attendance commitments three to four weeks well before departure date, as destination wedding excursions sometimes involve additional festivities beyond the ceremony and reception. Doing so will allow you to better plan for the arrival of your guests, from the number of welcome presents you should have on hand to the number of local excursions and specialised packages you should reserve.
What Should Be Included?
The full web URL to your wedding website can be printed on the first save or the other smaller card to refer guests to for additional information. This is a common choice for engaged couples because it spares invitation recipients the hassle of filling in unnecessary information.
Do not include gift registry information, as this could give the impression that it is required when in fact it is not. Your wedding website can feature personalised elements like a registry.
There is no better place to tell guests of important details, such as the uniform policy, than on the wedding invitation. These particulars should be written in the invitation's lowest left or right corner. If you want to include information about attire on the invitation, keep it brief so that everyone can read it. Expressions like "business casual" or "black tie optional" will do. Saying "I do" at Vogue Ballroom is an elegant and luxurious affair.
When Should You Send Out Wedding Invites For A Destination Wedding?
Wedding invitations for a destination ceremony should be sent out earlier than those for a ceremony in the bride and groom's hometown. Invitations to a destination wedding should be sent out at least three months in advance. You should give your guests a bit extra notice in case they need it to make travel and hotel arrangements (ideally they will still have done so when you sent out can save dates, but some folks are slackers!). Since you will likely need additional time to arrange the upcoming wedding (and any team projects or events), you should probably set the RSVP date for about six weeks before the event.
Check out our post on What can I DIY for my wedding?
When Should You Send Out Wedding Invitations For A Hometown Wedding?
When hosting a wedding in one's hometown, one has a bit more leeway in terms of when invites are sent out. If the vast majority of your visitors won't have to travel far to attend your event, then you should have plenty of time to prepare before the big day (about six to eight weeks). If you want to have ample time to create your seating chart, make your escort cards, and deliver your final number to the caterer and the venue, you should set the RSVP deadline for around two to three weeks before the big day.
What About Invitations To The Rehearsal Dinner? When Shall We Distribute Those?
After receiving your wedding invitation, your guests may be curious as to whether or not they are invited to the rehearsal dinner. Rehearsal dinner invites should be sent out a week or two following the wedding invitations. That way, if necessary, your visitors will have time to reschedule their trip. Even if most of the same people will be attending both the wedding and the rehearsal dinner, the invitations for the two events should be issued to them separately.
When Should I Start Looking At Wedding Invitation Styles?
Okay, let's rewind for a second. Giving yourself plenty of time to browse the plethora of wedding invitation options and choose on a design that complements your theme and colour palette is essential. We suggest that you start looking at stationers around six months before the big day, either by browsing online or reading the reviews of area stationers on the a site, and then visiting a handful to see what they have to offer in person. You'll have plenty of time to double-check the spelling and grammar on your invitations, place your order, and have the envelopes addressed by a professional calligrapher if you so choose. It is recommended to employ a calligrapher as soon as possible because their schedules fill up quickly.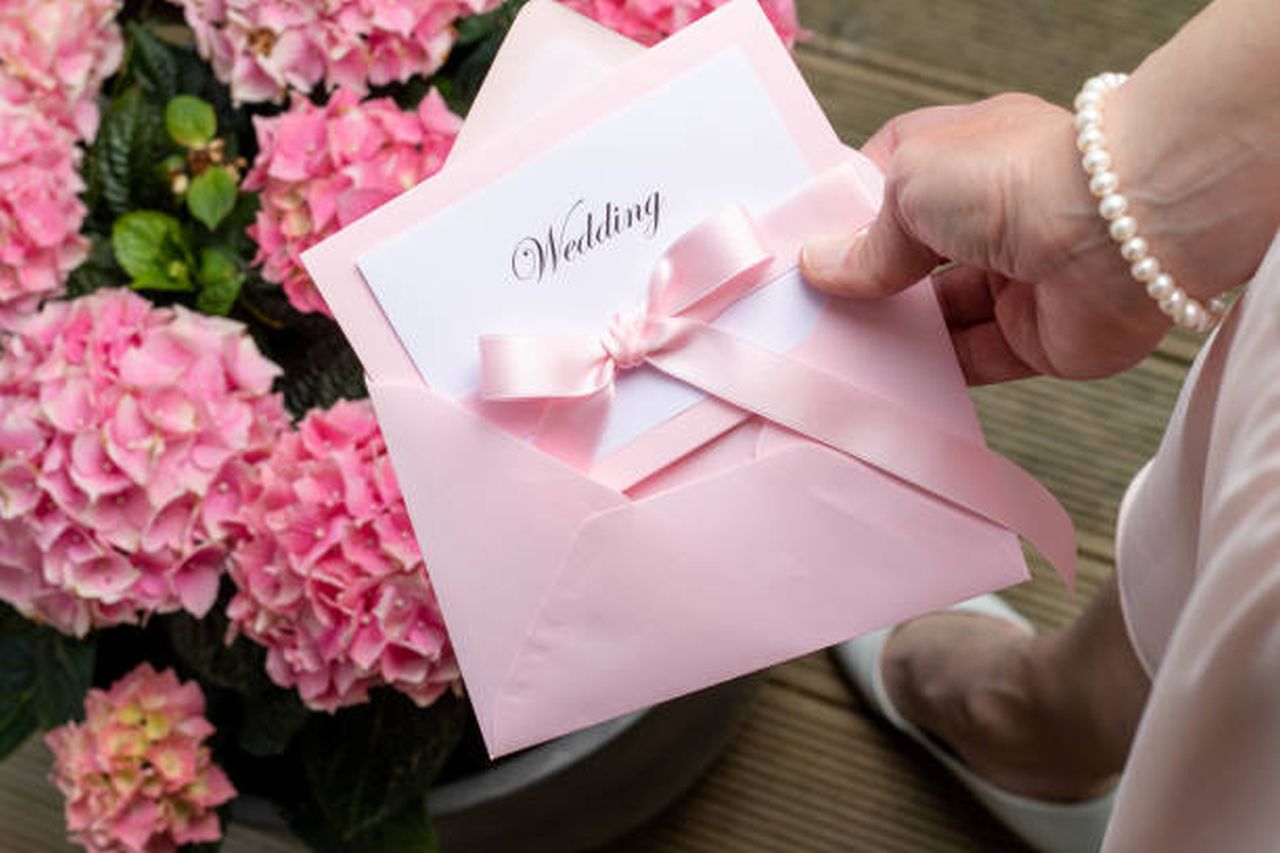 Frequently Asked Questions About Wedding Invitations
Timing Your Wedding Invitations
Our recommendation is to send out your invitations between 8 to 12 weeks before your wedding, but if you need more time, 16 weeks early is acceptable.
Traditionally, invitations go out six to eight weeks before the wedding. That timeline gives guests plenty of leeways to clear their schedules and make travel arrangements if they don't live in town. If it's a destination wedding, give guests more time and send them out three months before the wedding.
If you're not sending save the dates, the best time to send out wedding invitations is 9 to 10 weeks before the wedding. Just two weeks more gives a little more of an indication.
We'll take a look at a few here.
Registry information. Topping the list of what not to include in wedding invitations is registry information. 

No kids. 

Too much information. 

Too many different fonts and font sizes.

The bride's married name. 

An incomplete address/location.
Traditionally, the parents of the bride issue wedding invitations. This tradition dates back to when a bride's father arranged marriage for his daughter.